Miam Miam
Bugis
200 Victoria Street #02-14 Bugis Junction Singapore 188021
Tel: +65 6837-0301
Westgate
3 Gateway Drive #01-21/22 Westgate Singapore 608532
Tel: +65 63699065
Opening Hours: Monday – Friday 11:30 am to 10:00 pm
Saturday – Sunday 11:30 am to 10:00 pm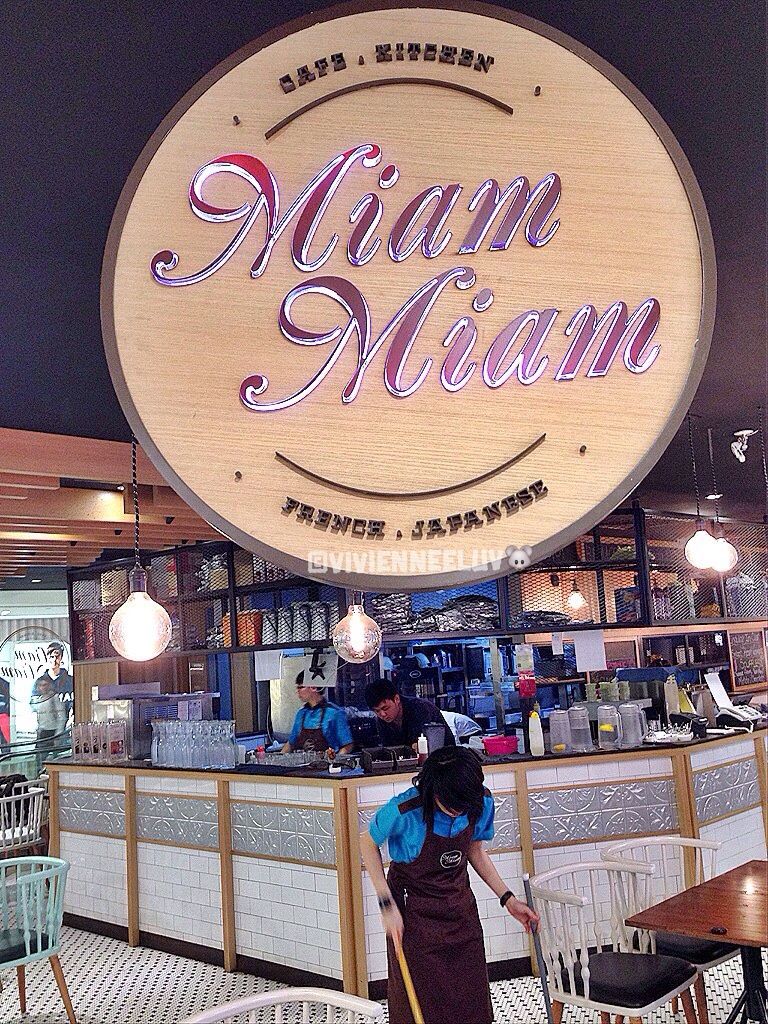 Miam Miam - I believe this is not a stranger name to all of you,
is Yum Yum in French! A short introduction of
Yum Yum
Miam Miam before I introduce a game that is currently ongoing till 31st October 2014!
Miam Miam is a casual Artisanal French café-restaurant that brings together a mixture of French Artisanal Cuisine & Techniques with influences derived from traditional Japanese preparation & cooking arts.
Everything in Miam Miam is made from scratch, and all are very standardised.
Pastas were equally weighed at 120grams, ingredients too and the sauce is individually packed, to ensure a standardisation in all their food.
Matcha latte were also whisked.
So after you placed an order, you may need to wait for 15-20 mins before your food arrive at your table because they cook with love.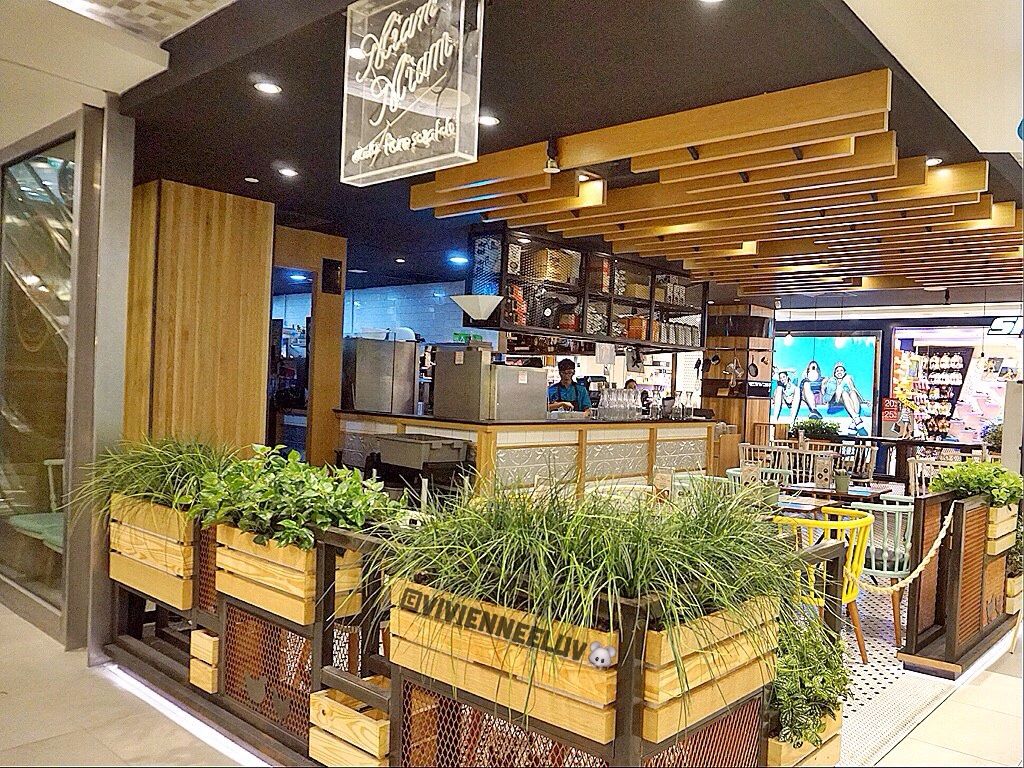 The decor here is simple and clean, very comfortable and cozy for diners. Every table has a call-bell which you can press to call for service. I love any restaurants with such technology.
Those without, sometimes no matter how we waved out to the staff when we were out eating, they still did not see us. *annoying*
And now, the

GAMES

!
Miam Miam had launched 2 new competitions in the month of October.
One competition plays tribute to tic-tac-toe that has transcended generations.
Another is an Instagram contest, where the picture with most likes wins a Beats Headphone worth S$420!
#1) TIC-TAC-TOE CARD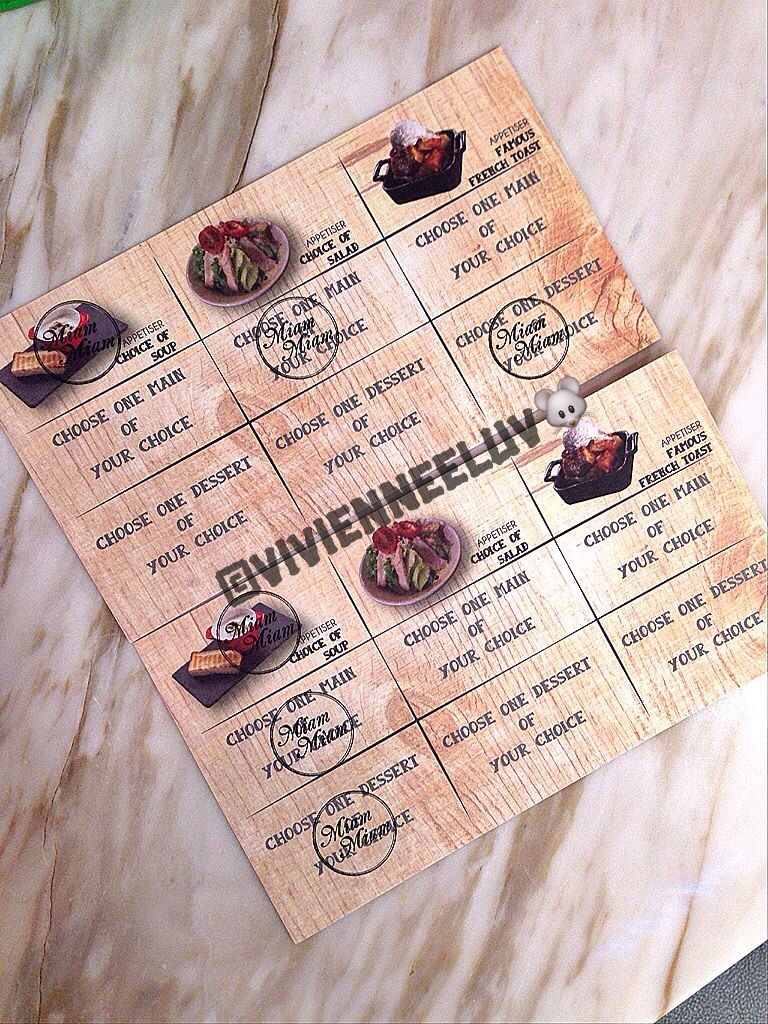 What you need to do:
1) Order one matching item in the Appetiser, Main Course and Dessert category each to form a line (just like the above, cards will be stamped when you make payment at the counter). Remember to also snap a picture of the food. (I will tell you why later)
2) Come back on your next visit to redeem a complimentary PREMIUM MATCHA SOFTEE from their friendly staff.
Do note that:
- 1 bill transaction entitles you to multiple card but each diner is only entitled to 1 card.
- Each completed card will count as one entry.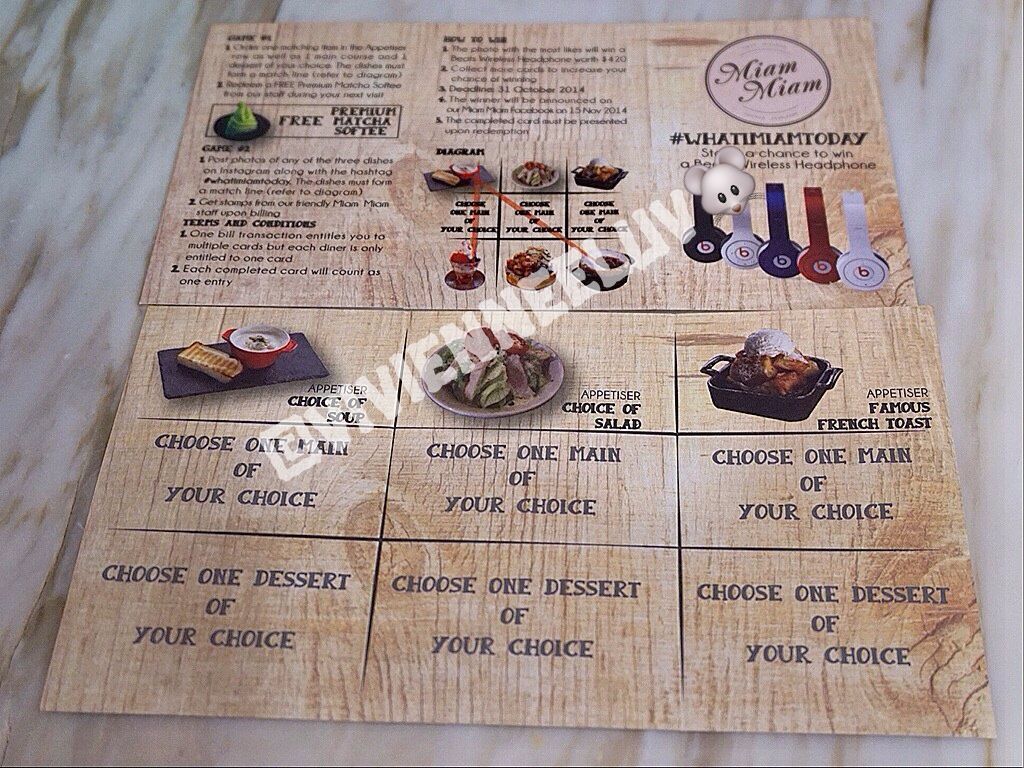 #2) INSTAGRAM CONTEST
In the 1st competition, you have collected the stamps and formed a straight line, its time to post this yummy food on your instagram!
What you need to do:
1) Post photos of any of the three categories dishes on your instagram & hashtag #whatimiamtoday
Picture with most likes will win the BEATS HEADPHONE worth S$420!
(accounts cannot be private, if not we cannot see your pictures!)
Deadline is on 31st October 2014 & the winner will be announced on Miam Miam Facebook on 15th November 2014.
Please note that completed card must be presented upon redemption.
I am sure you already know the game & rules. Time to look at my picture now!
PEANUT BUTTER & BANANA MILKSHAKE S$8.20
Creamy peanut butter and fresh banana, blended with milk. Or you can also opt for no peanut butter, which makes it Banana Milkshake. But don't do that because this is so creamy, thick and good. Peanut butter milkshake so far has never go wrong yet.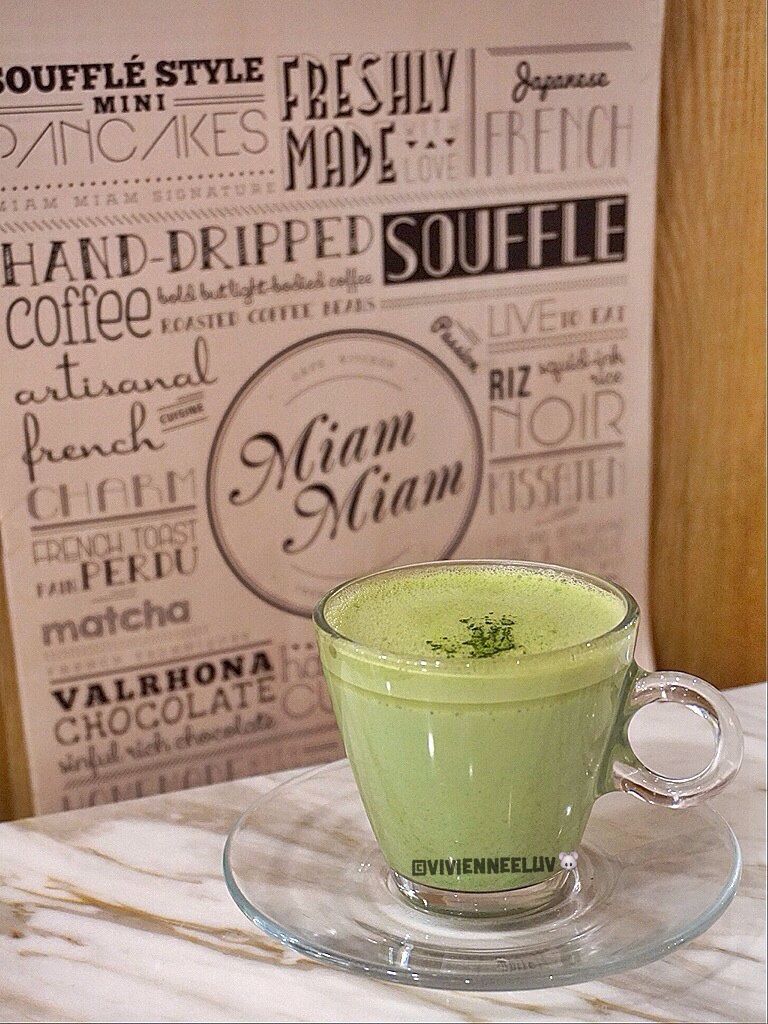 MATCHA HOT CHOCOLATE S$7.80
Warming and slightly decadent, this drink is the perfect sweet treat for any time of the day. Sip slow and you can enjoy the creamy yet delicate flavour.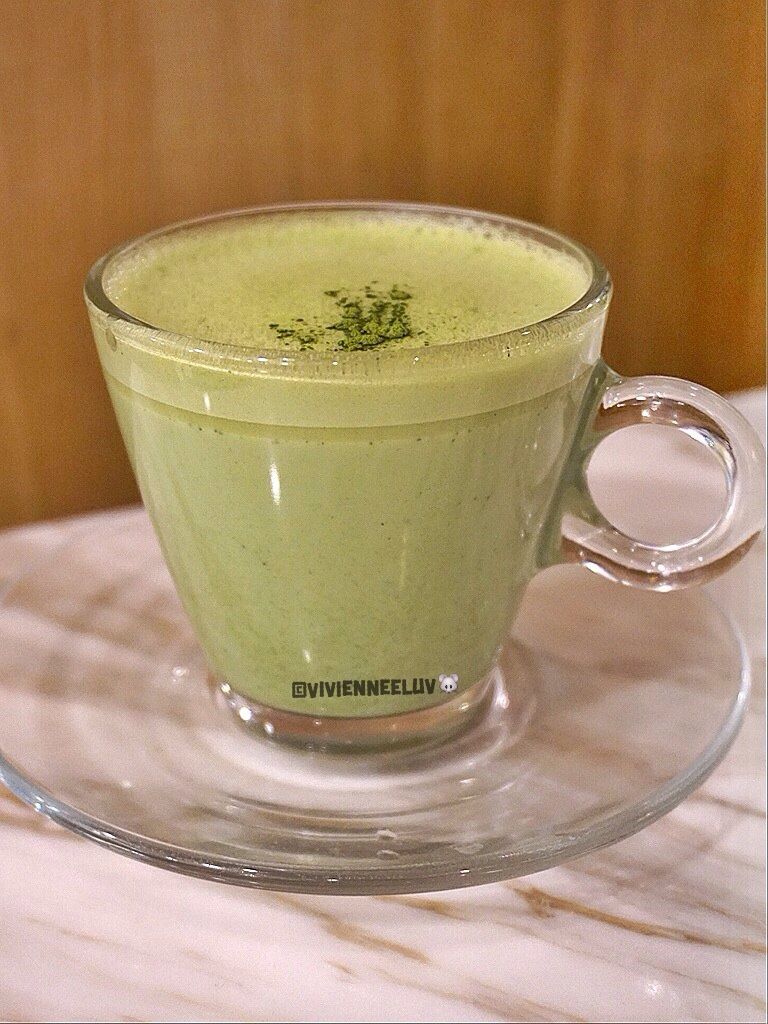 MATCHA SMOOTHIE WITH RED BEAN CREAM S$8.80
Matcha softee blended with their special matcha honey and ice, topped with a scoop of homemade red bean cream.
ICED MATCHA LATTE WITH MATCHA SOFTEE S$8.80
We find that the matcha latte is a little bland, we prefer the matcha smoothie with a heavier matcha taste!
CLAM CHOWDER
Minestrone is also available. Ask their friendly staff to see what is bubbling for that day! Prices of soup from S$5.80 onwards.
RIZ AU CURRY S$15.50
Baked rice with homemade japanese curry, pork, frankfurters, broccoli, cheese & egg. Voted the favourite among my dining companion!
MAC & CHEESE S$14.50
Oven-baked fresh pasta shells with Miam Miam's selection of 4 special cheeses with crunchy Japanese breadcrumbs. Not the usual Mac & Cheese out there.
Don't expect to take a video porn of the cheese, because it is not how it look like. Not much of the ''cheese pulling'' out of the pot. It is a little dry to me, and I am not a very cheese person.
MIAM MIAM SPAGHETTI S$15.80
My personal favourite! Miam Miam's all time favourite, sautéed with frankfurters, tomatoes, baby spinach and protein… bacon! Tossed with french butter and their secret broth & shoyu.
Couldn't stop eating this, and I cleaned up the plate, thanks to my dining companion who didn't eat much of the spinach, tomatoes & brinjals/egg plant. Lucky me. :P
Japanese style spaghetti is lighter and has cleaner flavours than in the west, thats why this is perfect for me!
SOUFFLE AU CURRY S$15.50 (curry rice with fluffy cloud of egg, cream & cheese)
SOUFFLE DE NUAGE S$15.50
(tomato rice with fluffy cloud of egg, cream & cheese)
Souffle, yes and not a dessert this time! Its is rice topped with fluffy clouds of egg, cream and cheese.
And you get to choose from 2 different rice, the curry rice (the same curry as Riz Au Curry) & fresh tomato sautéed rice.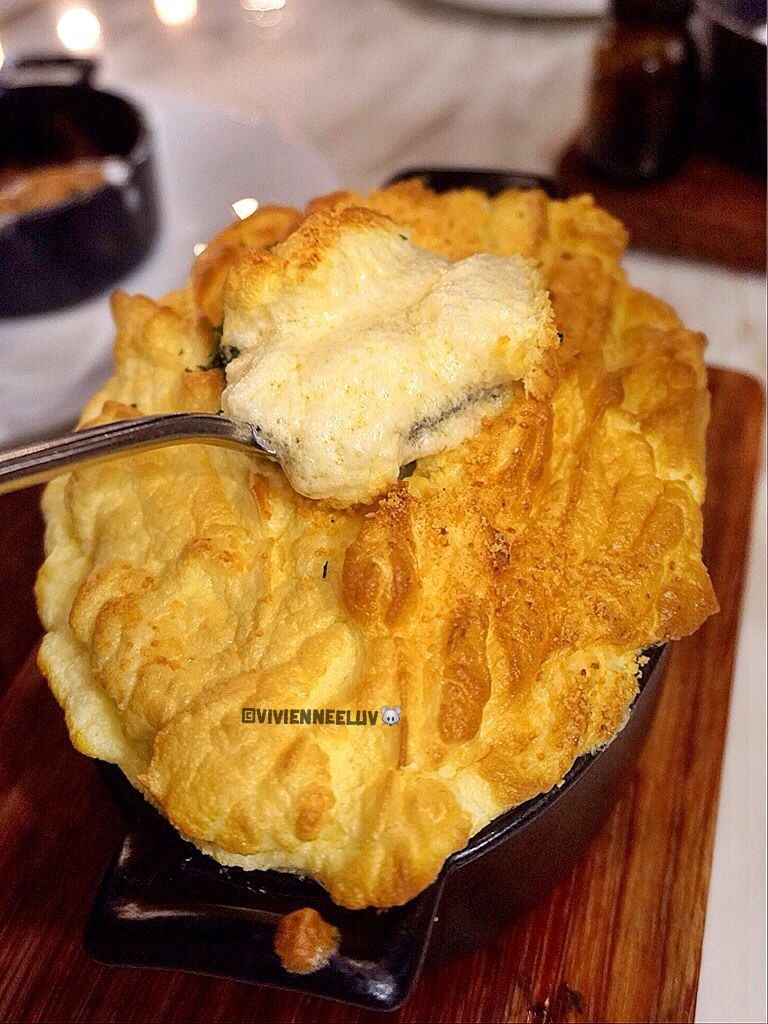 I would suggest this dish to be shared, as on twice occasions I had soufflé rice and I couldn't finish, halfway through, I felt that I already had enough. So why not order a few mains and share among your friends, you get to try everything too!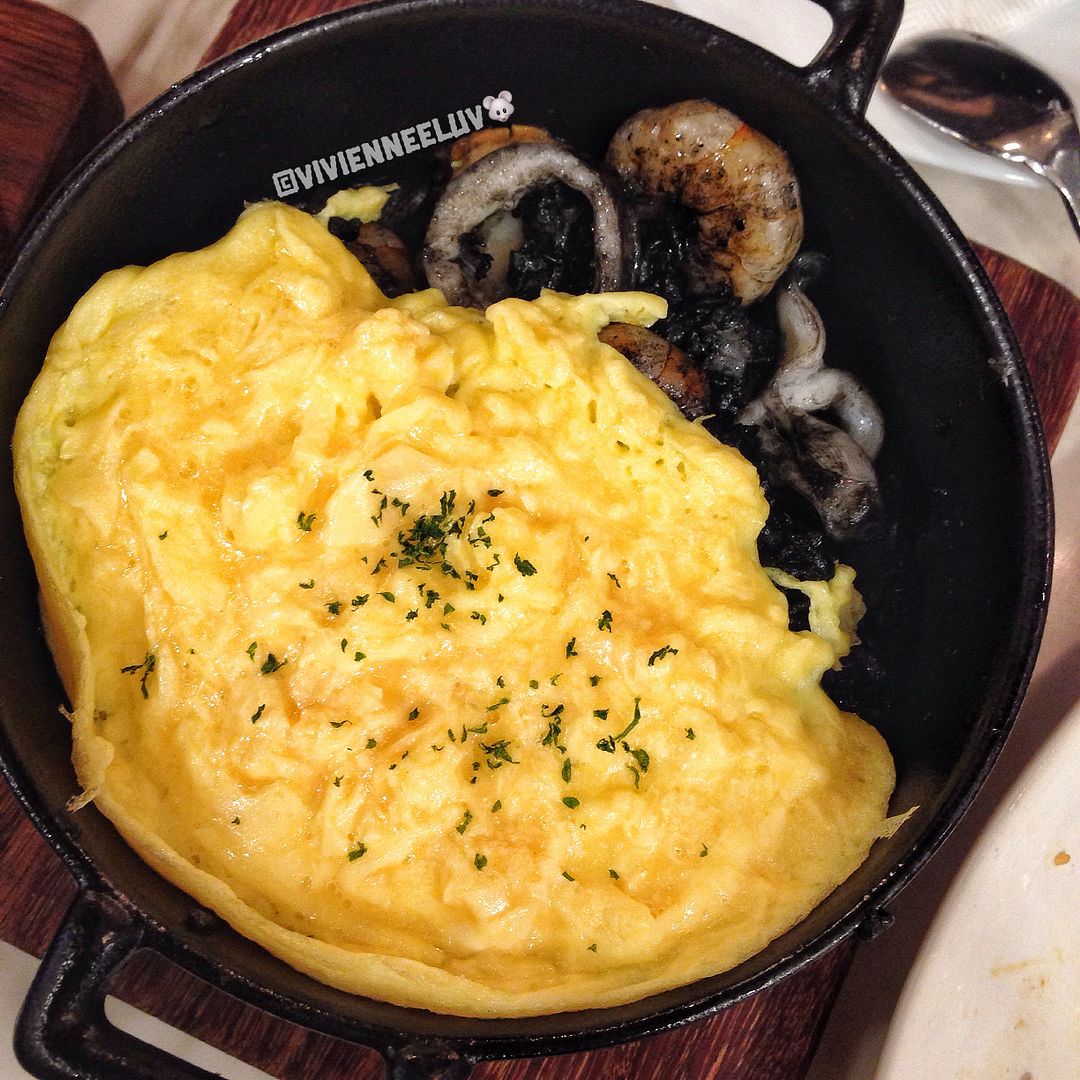 RIZ NOIR S$16.50
I am sorry I couldn't capture anything black/brown/yellowish. Have to make sure the egg is not too bright and the black rice can be seen.
It is actually Squid Ink Rice with Assorted Seafood & Omu Eggs. I think I am the only one who think that squid ink rice smells great! But after eating, I dare not open my mouth to talk or smile, to prevent myself from showing the black lips and teeth :X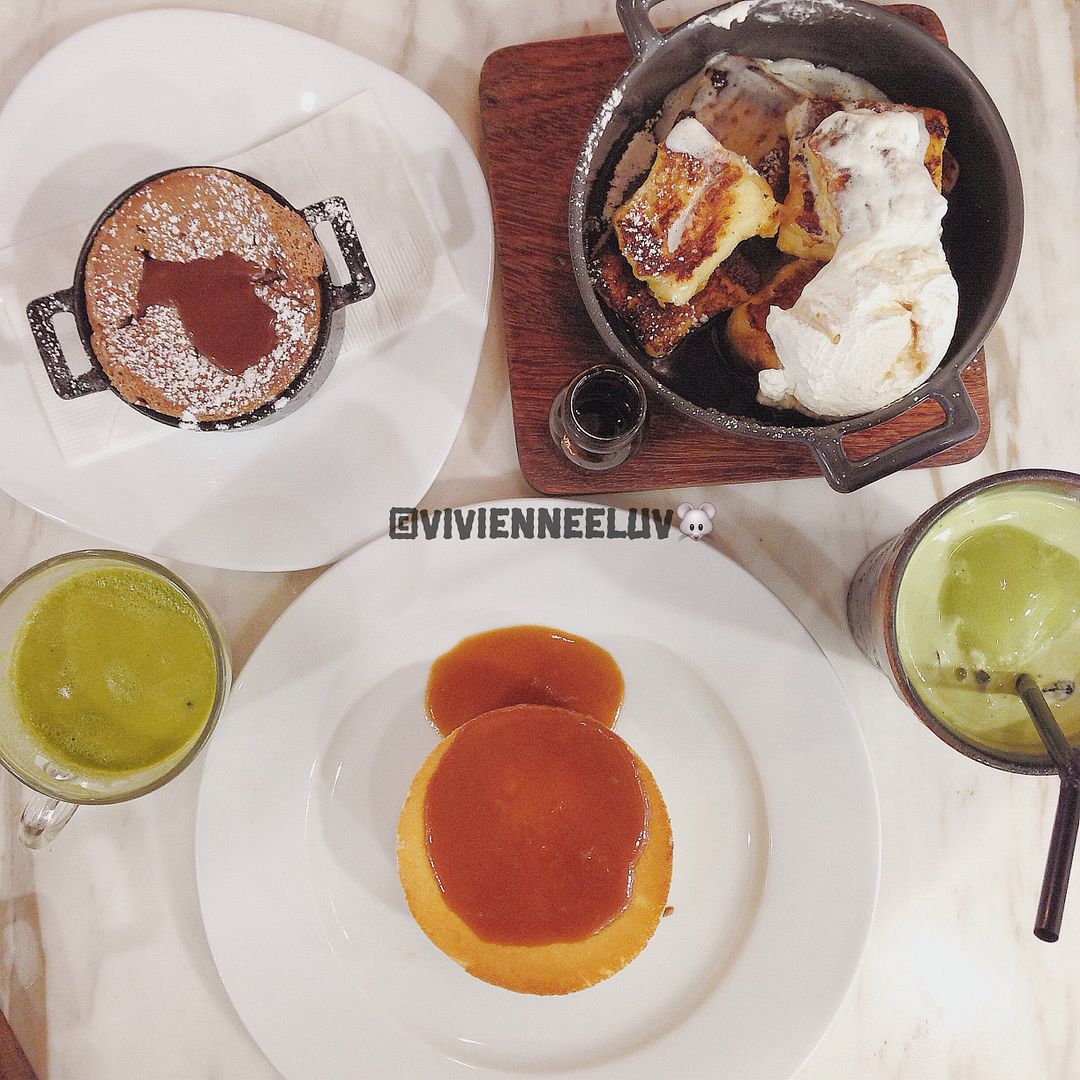 Here come the much awaited desserts!
MIAM MIAM FRENCH TOAST S$9.80
I see that this is an absolute must-order for every table! Soft & fluffy toast sprinkled with icing sugar and topped with a dollop of cream.
Surprisingly the cream is not sweet or not overly sickening after a while. It is non fat, you have to give it a try.
CREAM CHEESE SOUFFLE PANCAKE S$10.80
The thickest pancake you can ever find. It has cubes of cream cheese inside this thick piece of pancake, it comes with caramel sauce and I would think that the pancake will be too dry without the sauce.
You may also choose to top up S$0.80/S$1.20 for whipped cream & vanilla softee respectively.
VALRHONA CHOCOLATE SOUFFLE S$13.80
Indulge in a true moment of ecstasy with heavenly decadent melted chocolate on top of your soufflé. Its a little sunken here as we took too long to snap pictures. Nonetheless, we enjoyed this sinful treat.
They have soufflés with matcha & vanilla too!
Lastly, please remember to collect the stamps on the game card & upload your photos to instagram!
OTHER PROMOTION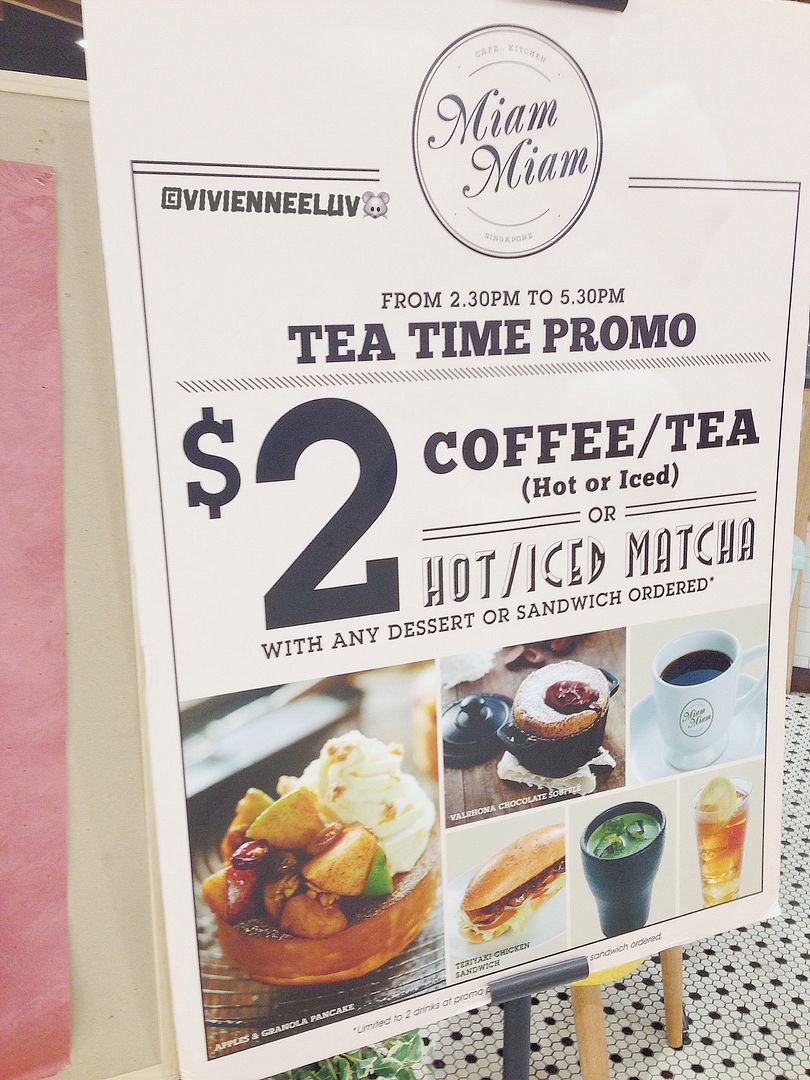 Thank you Miam Miam for having us for the awesome food!