Harry's @ Boat Quay
Address: 28B & 28C Boat Quay Singapore 049818
Tel: +65 65383029
Opening Hours: Sun to Thu & non weekend PH 11.30am to 1am
Fri, Sat & eve of PH 11.30am to 2am
Happy Harry's Day!!!!
As I have blogged before about Harry's and its makeover last month when I was invited to their Marina Bay Link Mall's branch, Harry's is no stranger to Singapore's food & beverage scene.
Its iconic flagship outlet at Boat Quay proves to be a game-changer after its million dollar makeover. Come to think about it, its been a few years since I last stepped into Harry's as it used to be too dark and made me feel like sleeping after a few drinks. After seeing the revamp of MBLM & Boat Quay, I am so convinced to go back again & again as it gives a cozy feel now!
Its been such an honour to be invited to Harry's 22nd birthday & reopening of Boat Quay's outlet party! We start off the party with a boat ride, which I enjoyed myself so much, its not just a sight-seeing boat ride.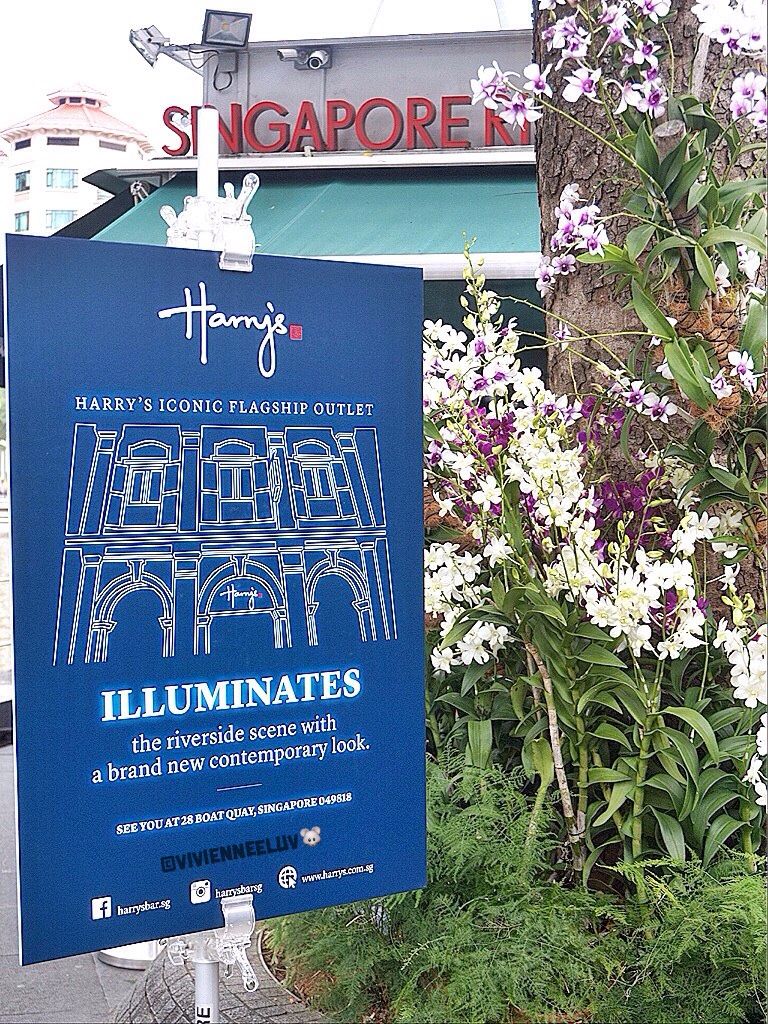 Iconic flagship heritage outlet looks set to illuminate the riverside.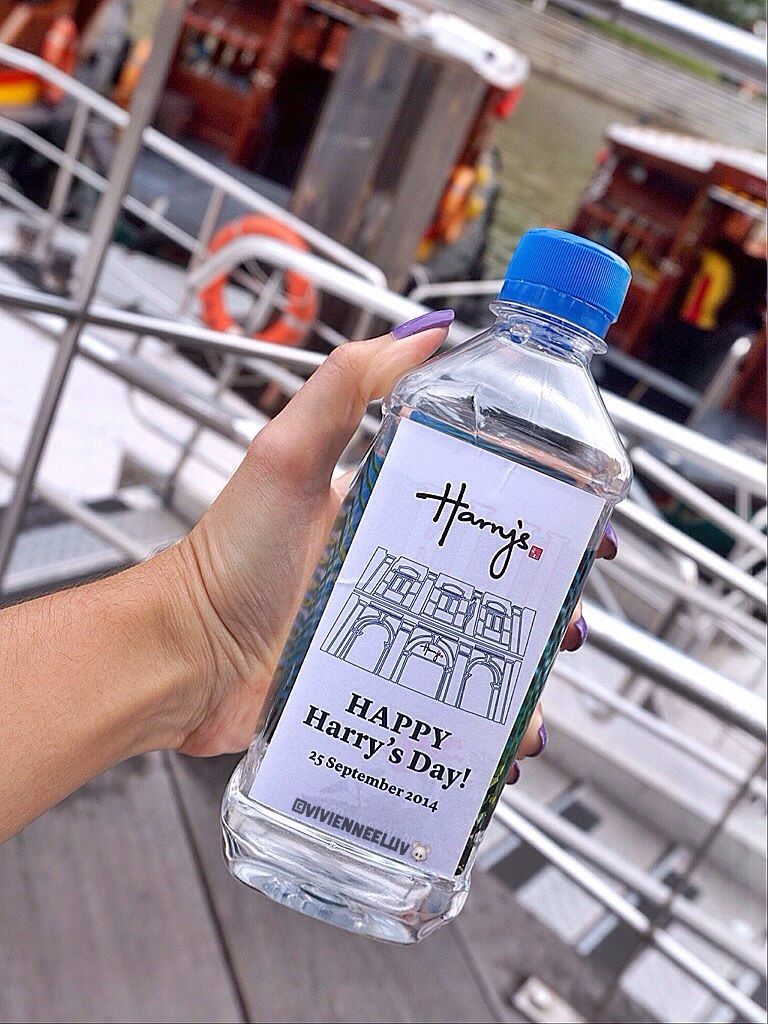 Our ride of that day!
Onboard the boat as Jeffrey tells us about Harry's history, followed by games, we won Harry's tee shirt!
Founded in 1992 as the first Jazz bar in the area, Harry's Boat Quay has grown from a quaint shop-house to a stunning establishment, serving quality drinks and delectable treats for every occasion.
Now, Harry's has 20 outlets situated at key business districts and suburban areas; but this eponymous outlet still remains a firm favourite amongst locals and tourists alike.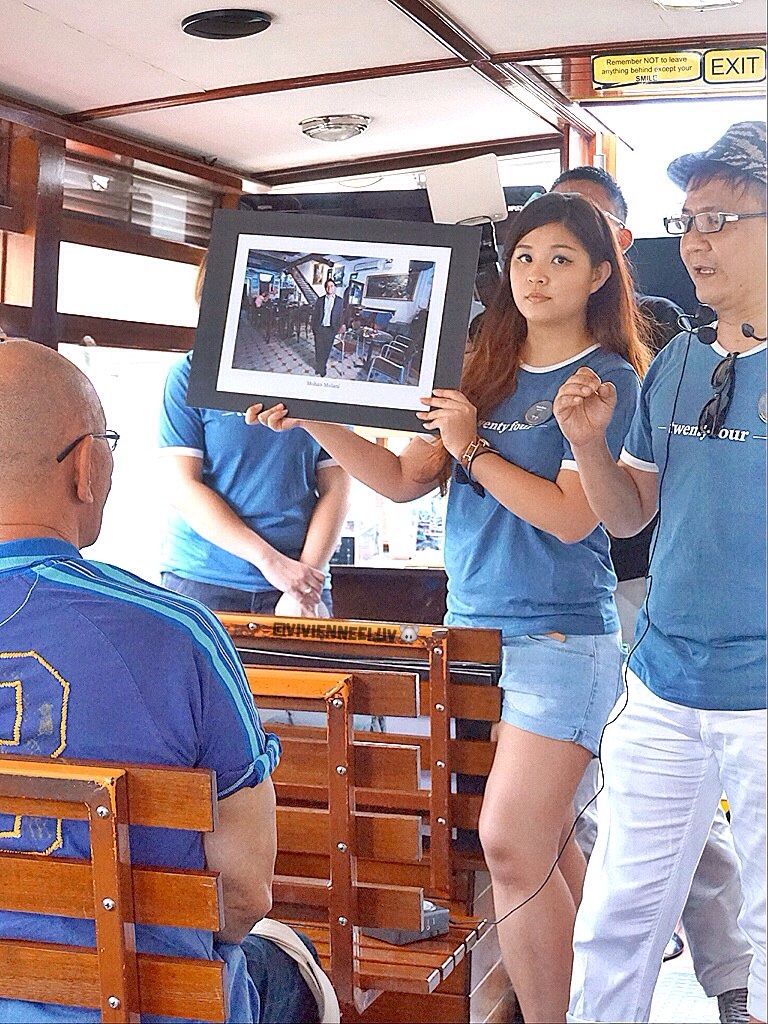 With 22 years of history, Harry's Boat Quay is home to many guests from all walks of life, including its most infamous regular - Nick Leeson.
When Leeson caused the collapse of UK's 230-year old Barings Bank in 1995, an international limelight was cast on Harry's as it was his favourite hangout. And so, a shooter was created. We tried the shooter later at Harry's. Show you later!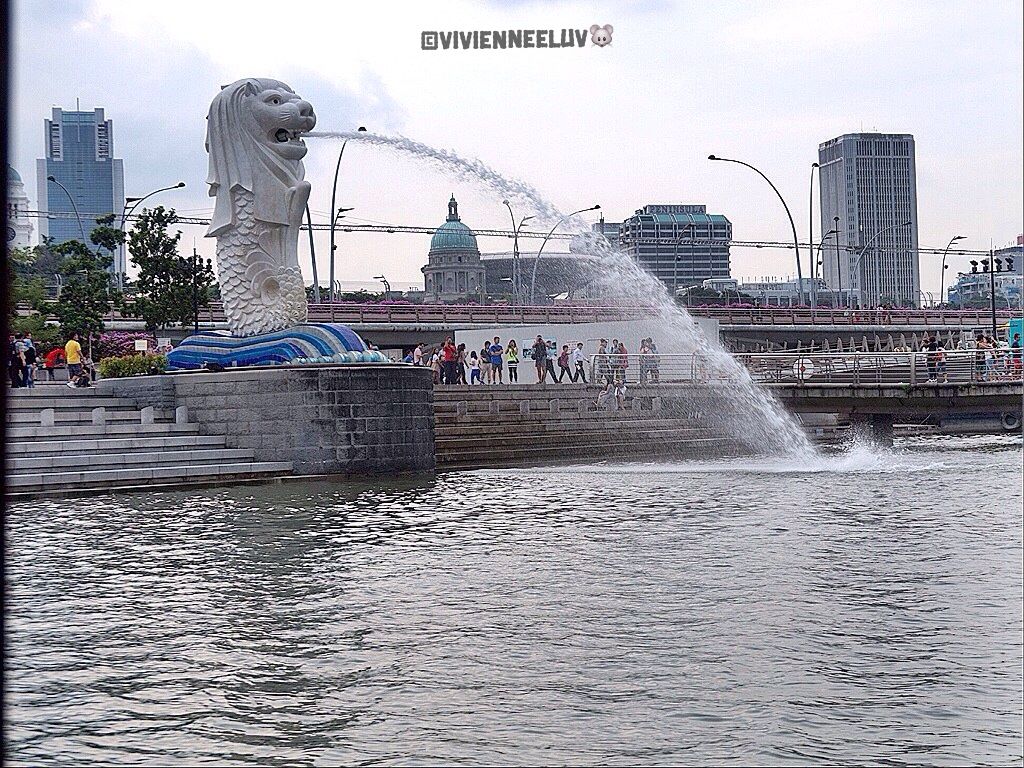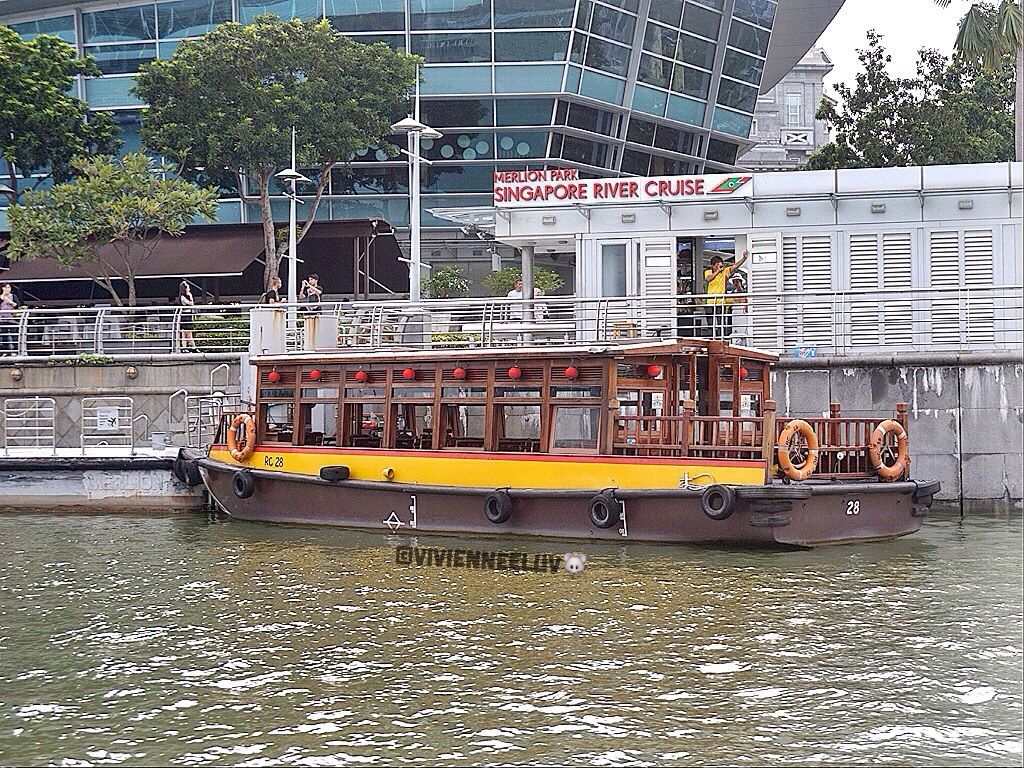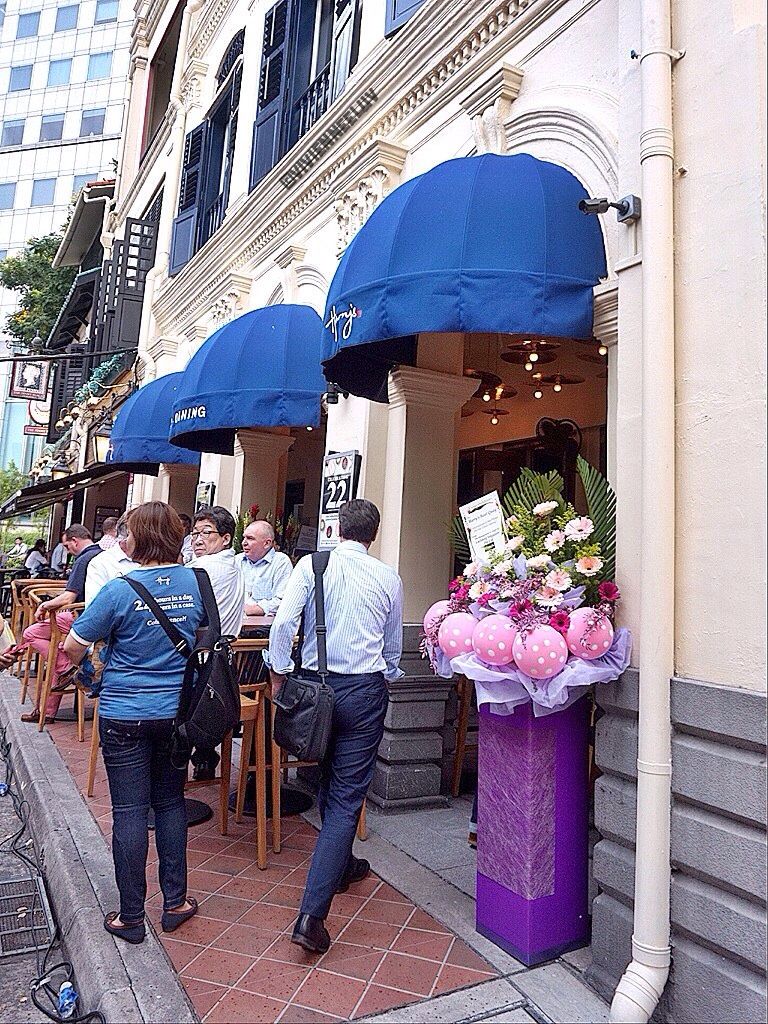 Our boat arrived at Boat Quay! We were greeted by Harry's team on the shore and led by Karen, Nat, Jeffrey and Harry's team to Harry's!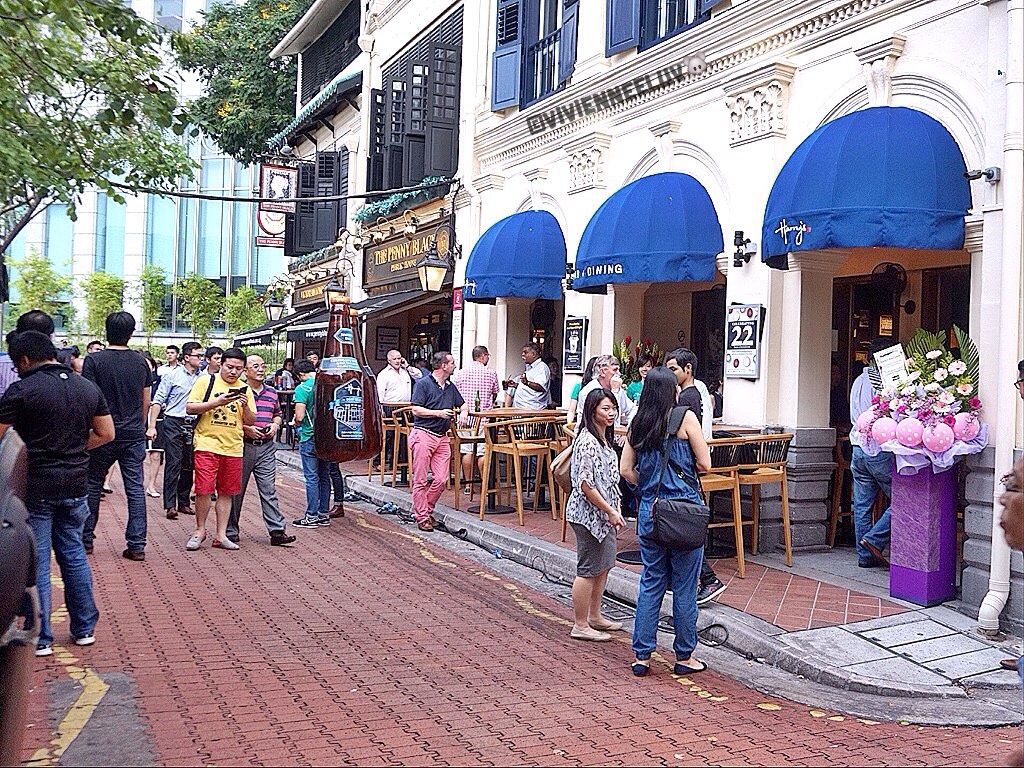 My photos don't bring justice to how beautiful this place is, at about 6pm maybe. (After the boat ride)
We were shown to the stairs leading to level 2, Harry's Dining Room.
Decked out in fresh coat of white with navy blue window caopies, the facade beckons one into the inviting and intimate living room of Harry's. Characterised by touches inspired by musical references as a salute to Harry's heritage, many will find themselves admiring the novel light fixtures in the form of the horn and trumpet.
''Beauty is in the eye of the beer holder''
''Laughter is not the best medicine, Lager is.''
''Chemically speaking, alcohol is a solution.''
''I used to think that drinking was bad for me… so i gave up thinking.''
Love all the whimsical quotes here at Harry's.
Harry's Dining Room is also ideal for private events and corporate functions, it offers a similarly cosy ambience with a lovely view of the Singapore River.
DRINKS
With an extensive variety of alcohol from premium wines and spirits to beers, patrons can choose among 9 brews that are available on tap, including the signature HPL (Harry's Premium Lager), Asahi, Kronenbourg 1664, Carlsberg Grren and Somersby Apple Cider among others.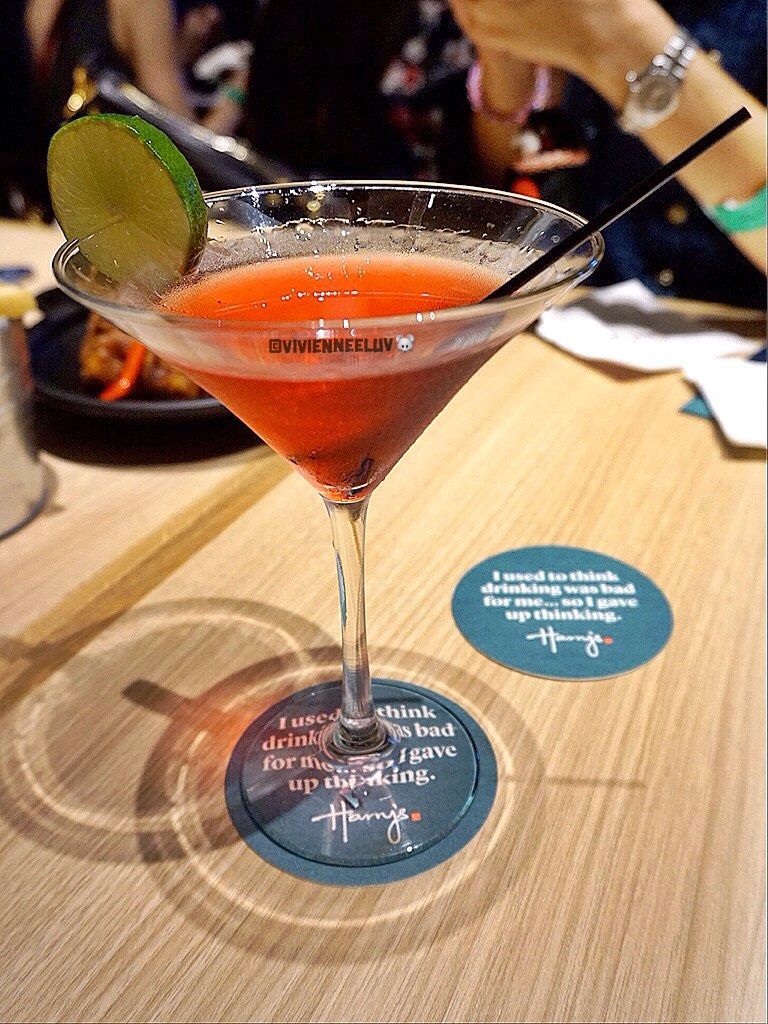 EYE CANDY S$15
Vodka, watermelon liqueur, lemon juice, grenadine.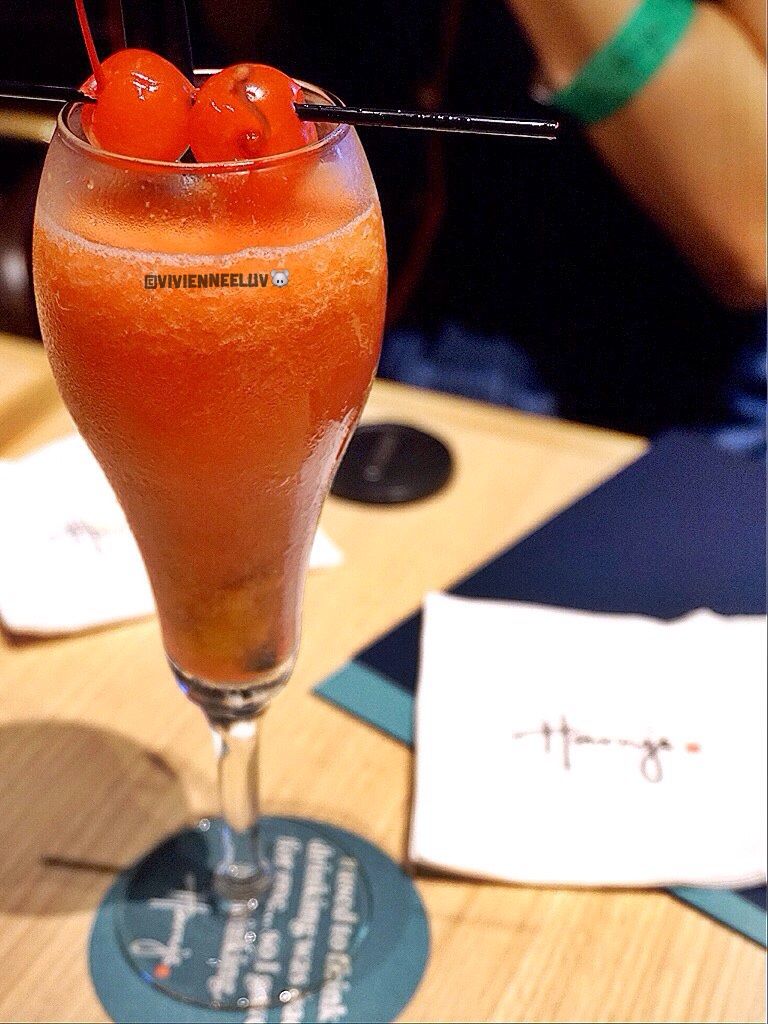 HARRY'S BELLINI S$15
Peach schnapps, sliced peaches, grenadine, sparkling wine.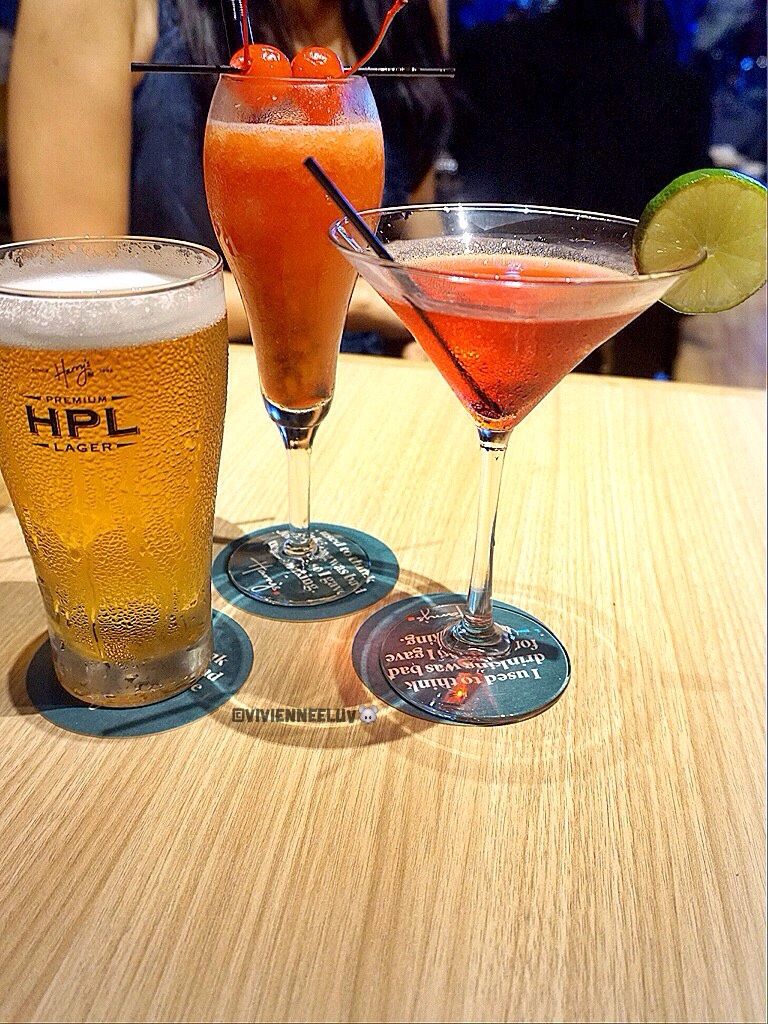 HPL HARRY'S PREMIUM LAGER
S$7 for half a pint
A
deep golden lager beer known for its pure floral happiness due to its characteristic malt taste and crisp finish.
FOOD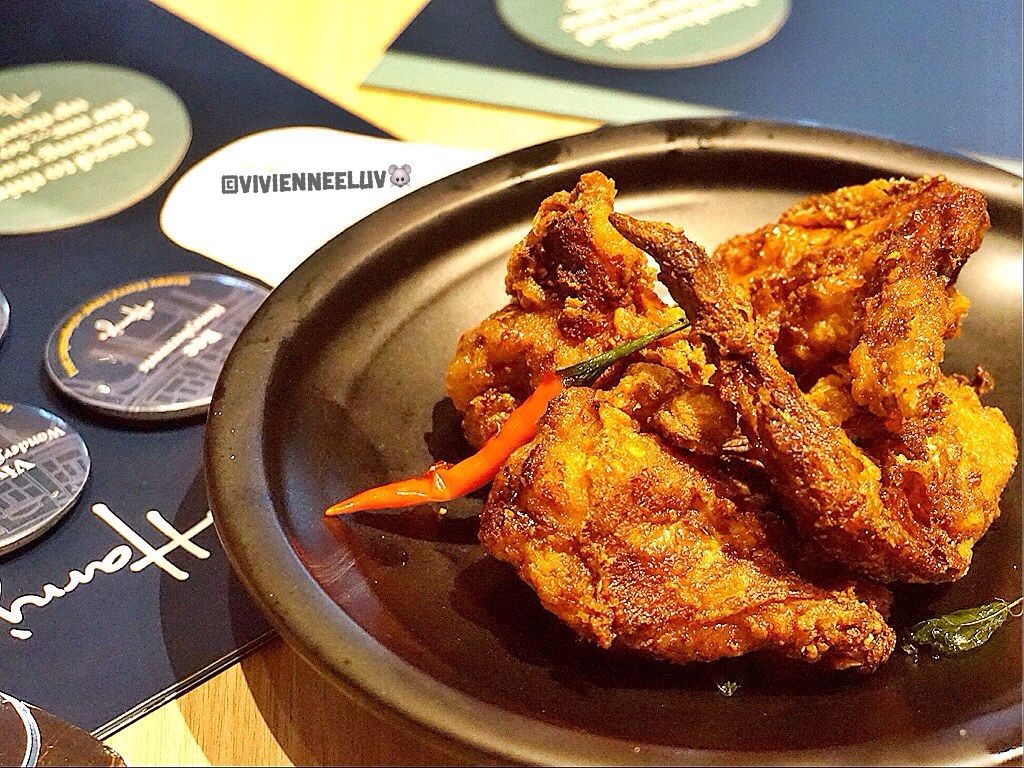 Harry's Wingmen S$8 for 4 pieces | $11 for 6 pieces
Signature dishes are a must-try, no matter how many times we have been to Harry's!
It is their secret marinade (blend of spices and seasoning) and deep-frying them to render a delightful crunch that makes these wings deliciously additive,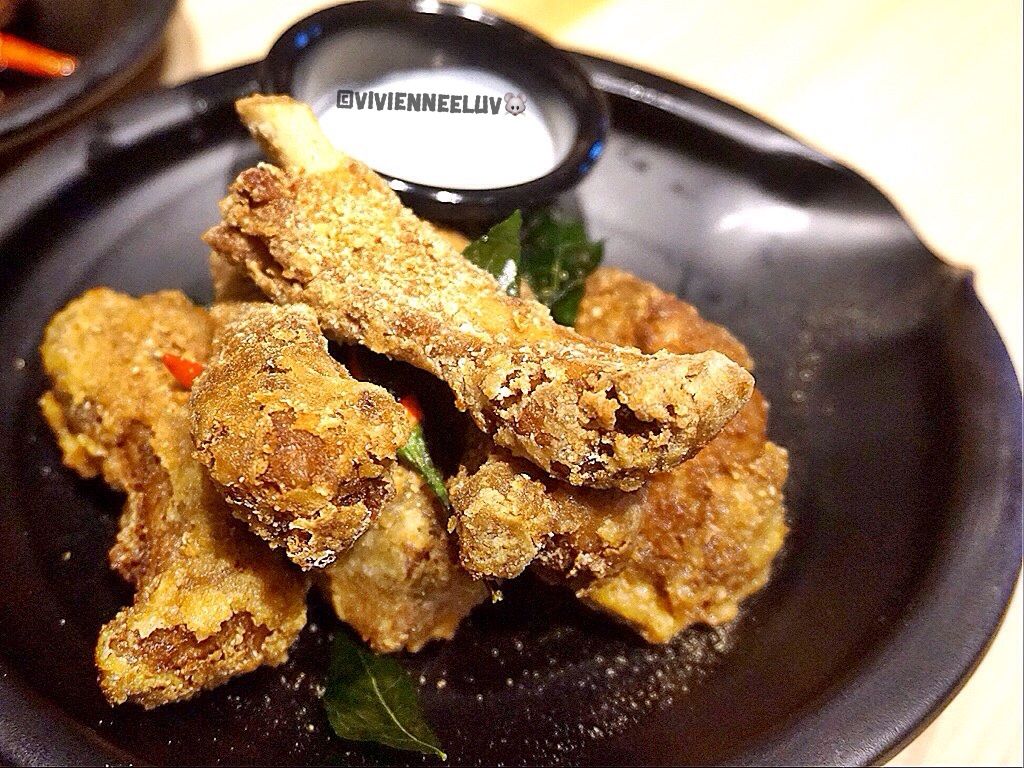 CRACKIN' RIBS S$17 for 6 pieces
Cooked once for tenderness, and deep fried for double the pleasure, these crispy baby-back ribs are accented with curry spices and balanced with our refreshing mint yoghurt.
My first time trying deep fried ribs, it was good. Use your hands as it is more shiok this way!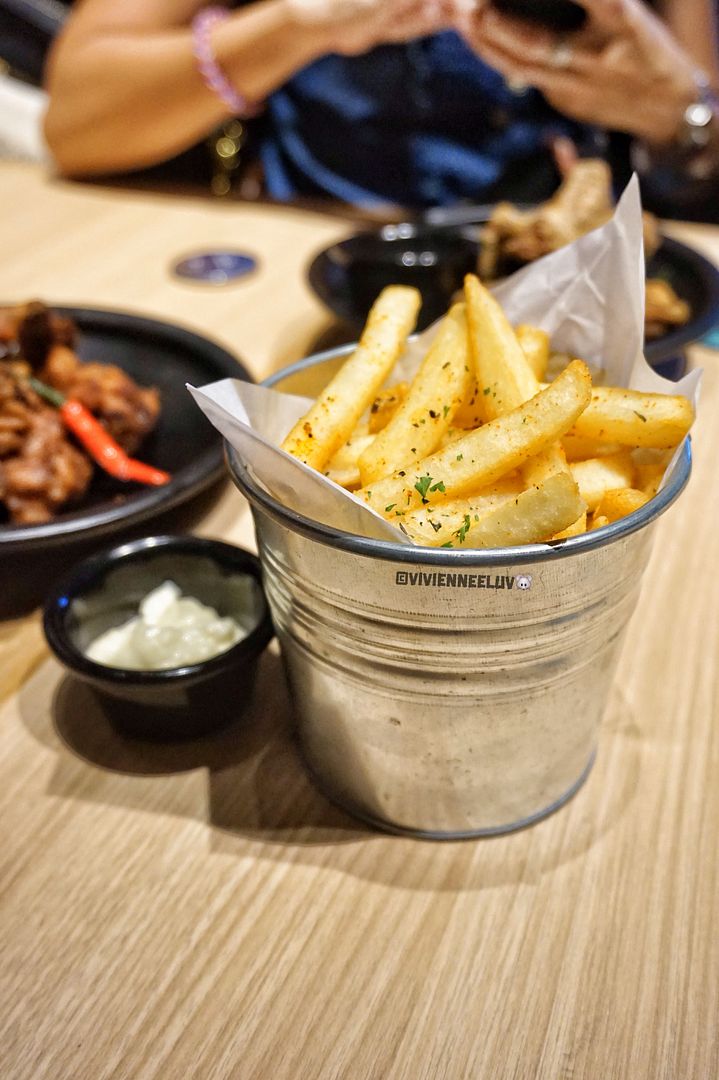 CHIPTEASE
Temptingly crispy fries seasoned with cajun spices and rosemary, served with a creamy aioli.
SPICY PRAWNS & WAKAME FLATBREAD S$24
Flatbreads as its name described, its flat, which is to my liking and which also mean I can have a few more slices and not feeling stuffed!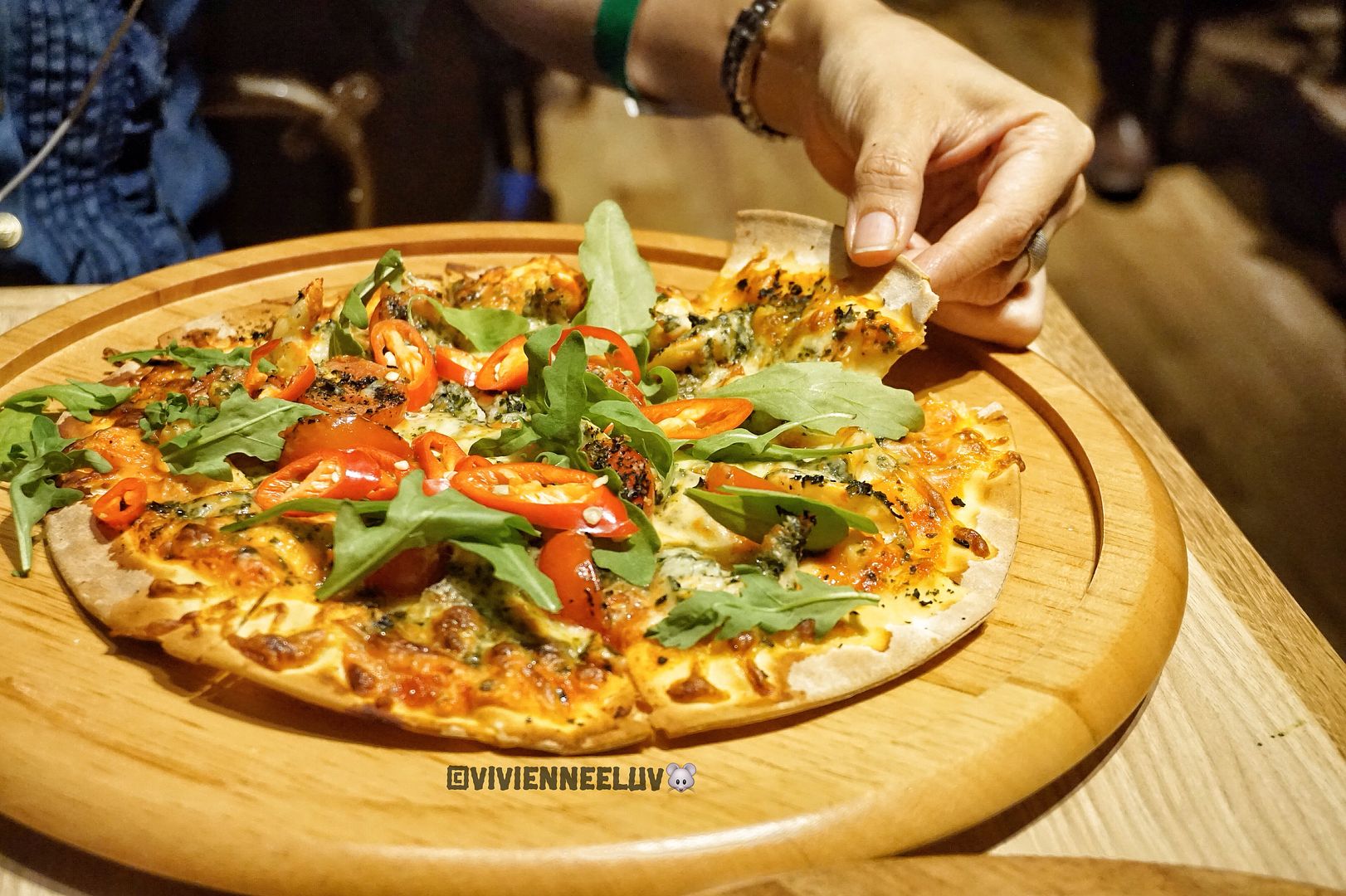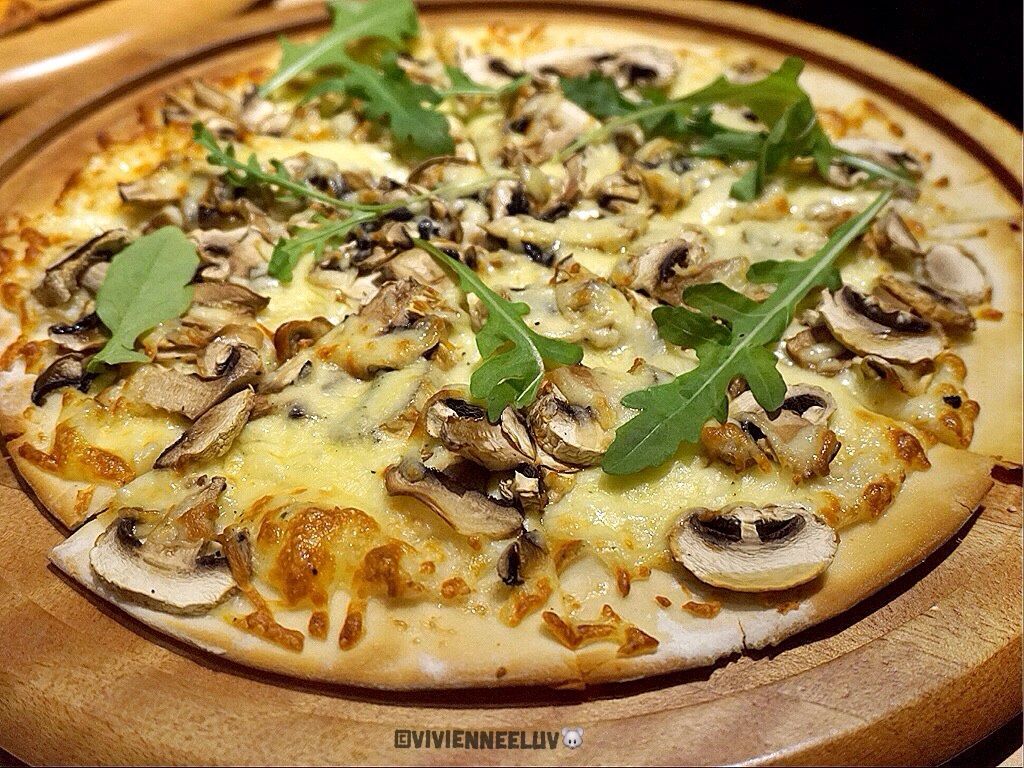 Mushroom & Truffle Oil Flatbread S$20
It smells so nice while we were taking pictures, its make me want to tuck in so anxiously. I don't like anything that has overwhelming taste of truffle, this is perfect! Everything was just right.
Other toppings available:
Pulled Pork & Coriander S$20
Meat Sauce & Sausage S$24
Tomato Confit, Mozzarella, Fresh Basil & Rocket S$16
Apple & Pear Crumble S$15
So glad that they served us my favourite dessert in Harry's!
Crowned with a buttery crust with vanilla bean ice cream is the most perfect way to end a meal.
The warm caramelised apple & pear chunks eaten with buttery crust and cold ice cream is orgasm in your mouth. Come try it yourselves!
Black Forest Sundae S$16
A classic pairing of Movenpick's ice cream topped with freshly baked mini brownie squares and dark cherries twist.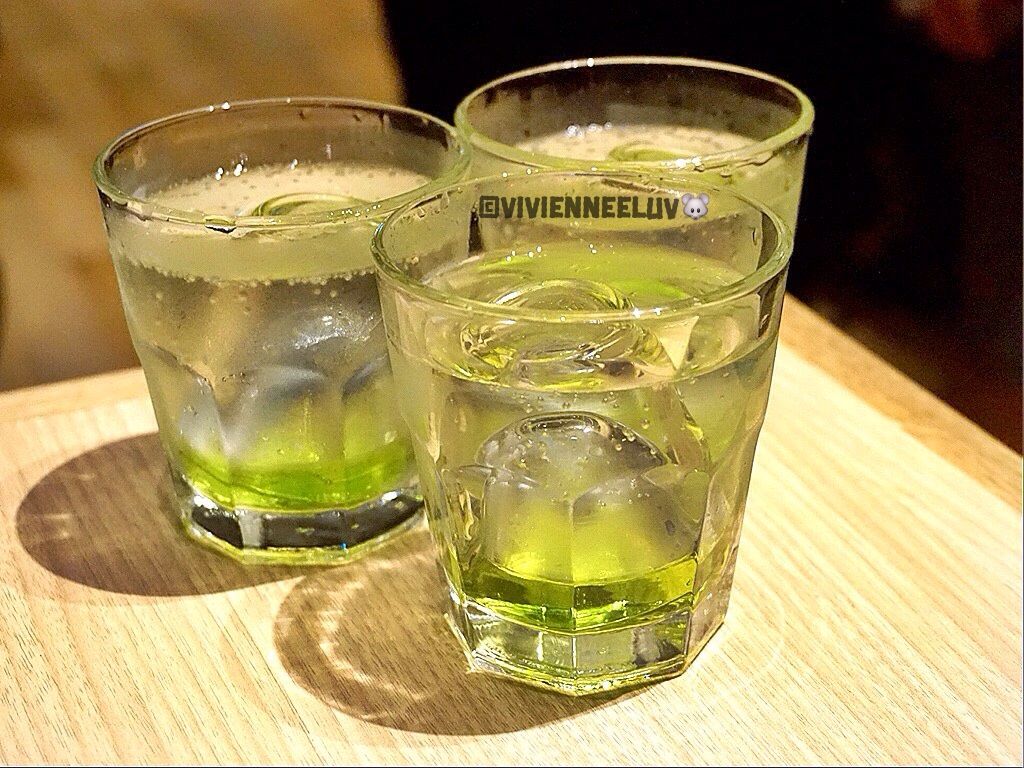 BANK BREAKER (KING OF SHOOTERS) S$10
As mentioned earlier, this shooter was created because of Nick Leeson. It is a deceptively sweet concoction of a potent shot of midori muskmelon liquor, whisky and soda water.
Its is sweet at first but leave a slight bitter aftertaste, describing how Leeson break the bank with lots of money (sweet) but went tio jail in the end (bitter).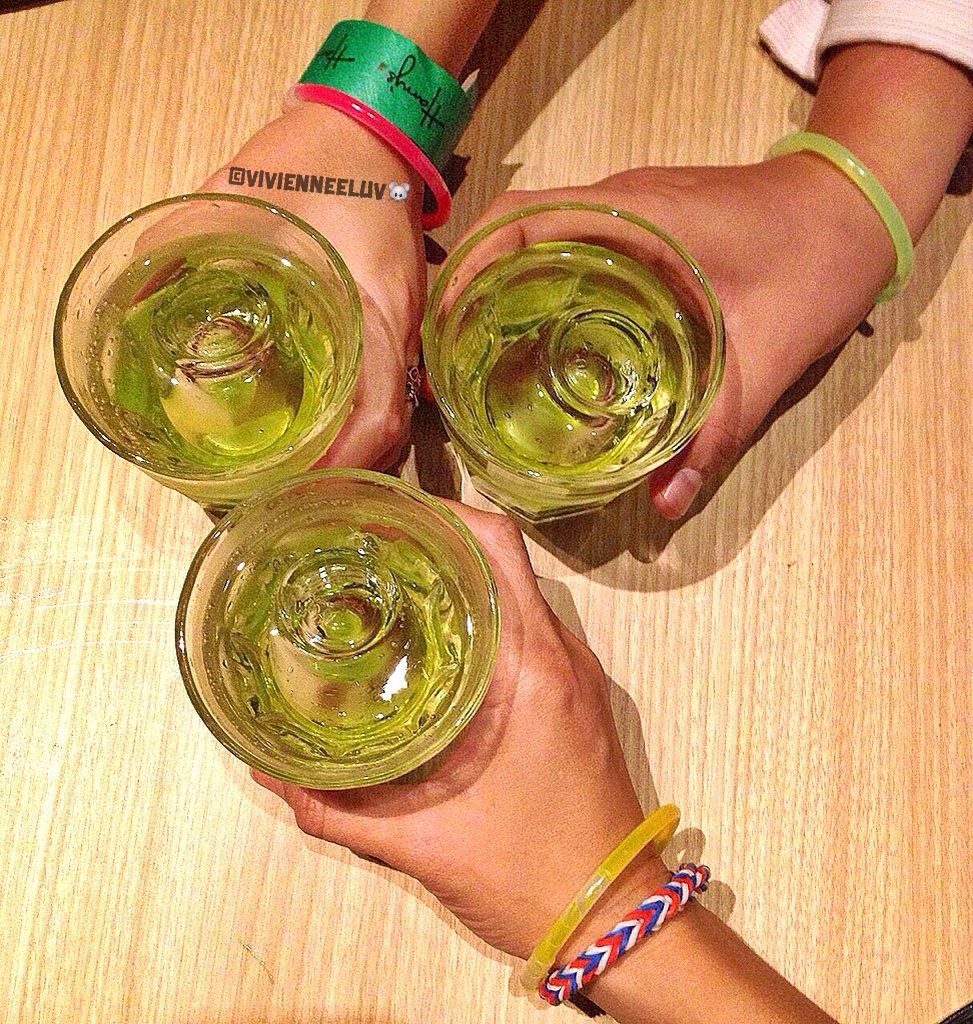 Cheers with my dining companion that night. Love the company!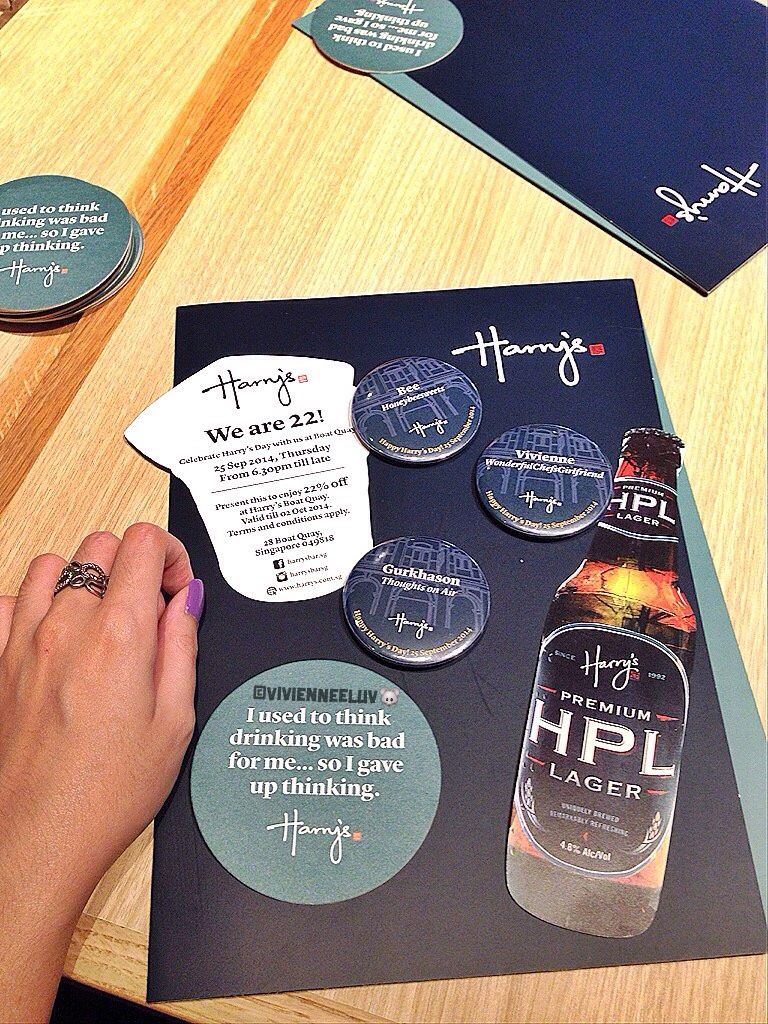 You know Photo Booth used to be very popular (not sure if it is now), because it instantly develop a photo for you & your friends. Now they are taking it to a higher level.
What we did was to take a selfie/wefie/groupfie, post on instagram and hashtag whatever they wanted us to tag. Soon, they came to us and pass us our photo! How cool is that! Save the hassle of the bulky photo booth as some venues cannot permit that kind of space, take a picture with your phone is perfect! Such a brilliant idea.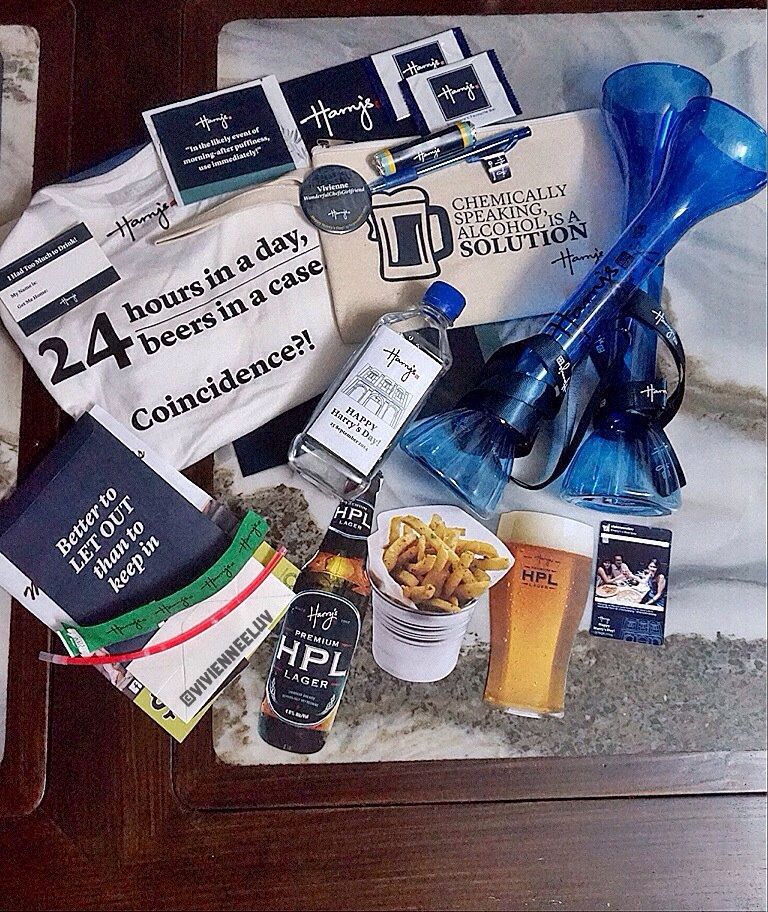 \
The loots from Harry's and spot the tee shirt that I've won on the boat ride by answering question.
Thank you Harry's for hosting us, we
definitely had a awesome day at the party. Happy Harry's Day!!
Lastly, sista brought me her homemade DAIRY FREE DOUBLE CHOCOLATE AVOCADO COOKIES and some chocolates! <3