Last updated: March 2013 (Pictures with my gore face updated too!)
Current products/services that I am using. (Will update this space slowly because all my pictures are in a mess)
Before I start, maybe I will introduce my face. The condition & everything.
If you know me personally or had follow this blog , I will always say I have very OILY skin.
I think so far, I have never seen anyone (whom i know) with oily skin like mine:
- Face turns a little oily 30 mins after washing, be it i apply moisturiser or apply nothing.
- People said those who put make up, the face will be oilier, but mine is the opposite. I put makeup (foundation/powder), my face will take about 2 hours before it turns shiny. I think I don't have to show you a picture of my oily face. Just imagine a pan, greased with oil, preparing to fry an egg. It is THAT shiny. No joke.
- Most importantly, if I leave the oil on my face, not blotting it, not washing my face, the oil will sting my eyes. No joke. How do I know? Because over the weekends when I sleep till late (at least a 8-10 hours sleep), when I wake up, opened my eyes, checked my phone, my eyes sting! I have to rub off the oil that is on my eyelids with a cloth of my tee shirt.
With these points above(actually should have more but maybe I will just update as and when I remember), how can such an oily skin not have breakouts right?
I have hugeeeee pores, and pimpled face. Pimples & acne leave scars on my face. I have pimples every now & then.
Oily skin, pimply face, big pores is enough to kill a woman.
So I always read magazines and googled and read forums to see what is good or bad for skin etc. So might be true, some might not be. I don't know.
So I went on to try many different products. Such as:
Sk2, Clinique, (ai ya why I cant remember any now!), Laneige, Niks, and I even went to see a good skin doctor at Maple Clinic.
All, ALL doesn't help. TOTALLY.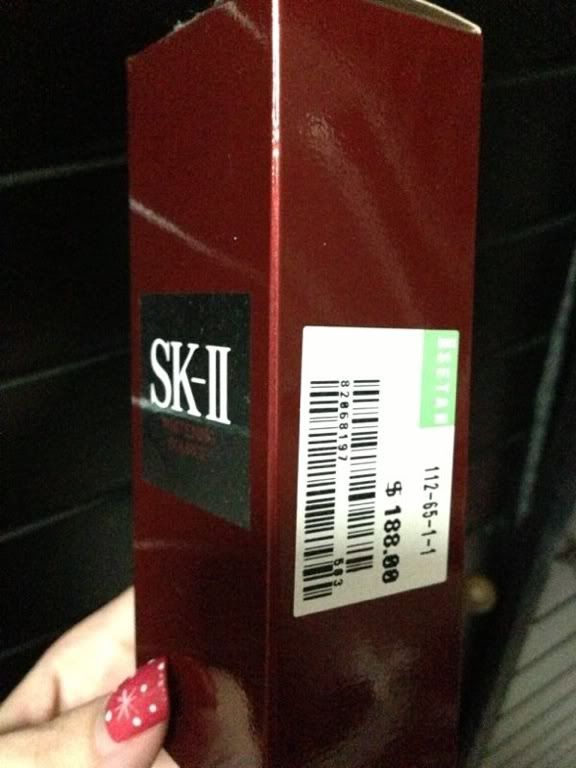 Sk2: Spent thousands of dollars on it. Every 3 months, I will go stock up and each stock up cost will be S$300+.
I dont know if its really THAT GOOD because my face is still pimply and pores are still big and scars are not lightened too. But maybe it helps in making me look younger than my actual age now? I dont know. But I had since stopped using SK2 for about maybe 5 years or more. :X
Skincare:
Facial at Tina's (Facial Therapist's name), Contact: 81820563 S$68 per session
I just want to say I am very very thankful to have met my Facial Therapist, Tina, Small Gal, Jie Jie (she is younger than me) in my life. Too many nicknames.
When I chanced upon her services from blogger, I was sceptical.
BAD SKIN: You know because all my 26-27(when I met Tina)years, are spent on trying on the wrong products on my face. Some I don't even know if its right/good/wrong for my face. Since secondary school days, I had very bad skin. Very super oily skin, big pores, new pimples/zits every week (I really mean every week). Then I tried ways & means to buy many raved-about products like concealor, foundation, BB creams. Loose powder is not even in my list because it is way too light to cover my pimple scars (they are really reddish and awful). By describing these, I really wished I had a camera then. Actually I have, but why would I want to take a picture of my rotten face. I mean I NEVER NEVER see that one day my face would ''recover'', so there is no point taking any pictures. I used to use ZA 2-way cake, the coverage is awesome! I read forums, they said ZA's 2-way cake clogged their pores badly but I cannot bring myself to change because coverage is more important to me then. My make up routine is Makeup Base - BB cream or liquid foundation - 2-way cake. People said that my skin is not as bad as what I have describe. Because they had never seen my barefaced and my foundation is too thick for them to see my scars. And I had new scars every week. WTF!
NO HARDSELLING: Now, I am glad and VERY VERY GLAD that I trust her. I told myself ''go once, and see how.'' You know facials are expensive. I had listed facial salons to try, or even wanting to go for their trial facials (because its cheap S$38), but I did not. I hate HARDSELLING. I HATE IT. Hate it so much that I could scream at the people who tried to hardsell to me. (My temper is not good)
From the blogger's post, she said that Tina is not pushy, and very gentle. So I thought, ''why not? Try once, and if she is not good then don't go again lo.'' Some more I am not young already. I had never extract any thing off my face, and I makeup everyday, I know my face is dirty.
MET AN ANGEL: So I finally whatsapp her, asked for price and booked an appointment. I was very pai say. Really. Pai say. Bareface in front of a stranger, and she need to touch my dirty face. So pai say that I really want to apologise to her. So after that one time, she told me one sentence that I feel really touched wtf. ''In the beginning, you should go for facial like once every 2-3 weeks, once got improvement then you can go once a month. You need not come to me, you can go to any basic facial.''
Like that only and I very touched, because I know she is not one of those who will cheat my money. She even told me to go to other facial salon also can. So long as I can get my face cleansed, and extracted then my face will be better and smoother. (I believe I had very super clogged pores, I know it myself because I just know it). She really CARED for my face, more than whether she can earn money from me or not. Such an angel.
When you go facial salons, be it those famous ones or not famous (like even neighbourhood), they confirm will sell you their cleanser, makeup remover, moisturiser, essence, oil or any shit that you can think of and most importantly, package. Must sign 10-20 facial treatments (Imagine 1 facial is $80. If its 10-facials package, its already S$800.) Don't say I am stingy. You know it. If you sign already and the salon close down the next day, how will you get back your money?
I seldom type such a long post because i am plain lazy, but today I feel really thankful for her. We had become more than just a customer and facial therapist. Looking forward to every session with her, because every session is filled with the latest news, latest gossips, and lots of laughters.
Wanted to upload my rotten face pictures, but they are all in my hard disk and I dont want to reformat it (because i will lose my pictures) to be able to use on my macbook, so.. goodbye to those pictures. I will try to find a rotten face picture of my face and update here. Stay tune if you would love to see. And the picture below, is my bare face while waiting for her to prepare mask for me. It looks ok like this although not perfect but I am very happy and I know that my face is still making improvements.
I will try to find my old pictures on my then-disgusting face!
Late 2011 after I started facial for quite a few months: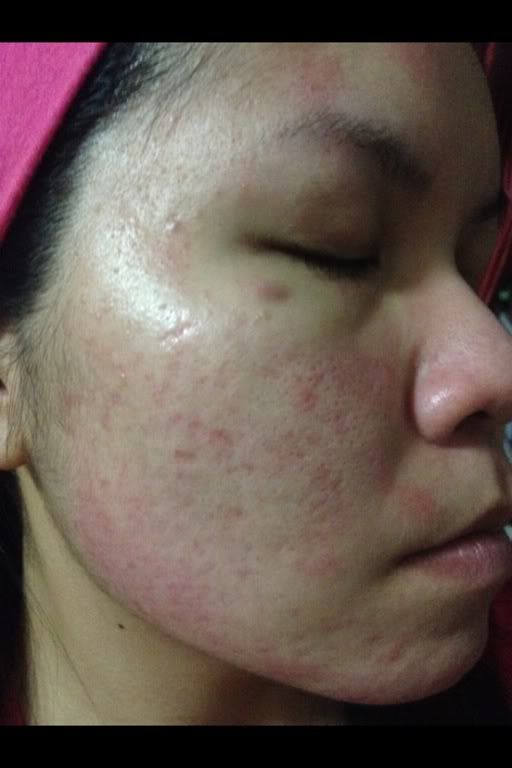 My bare face and sorry if it scares you. Because my face is damn red and itchy every night after removing make up.
Somewhere during mid 2012:
December 2012 face, during facial:
19th January 2013 (with make up though but I just ant to show how it looks like with make up on!):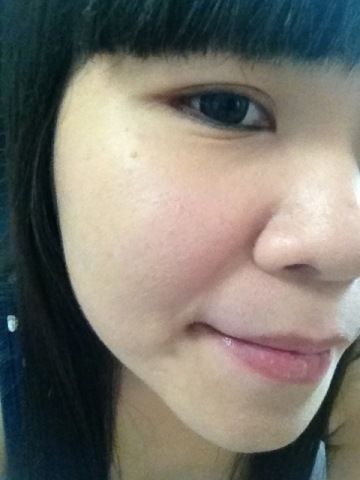 Late January 2013: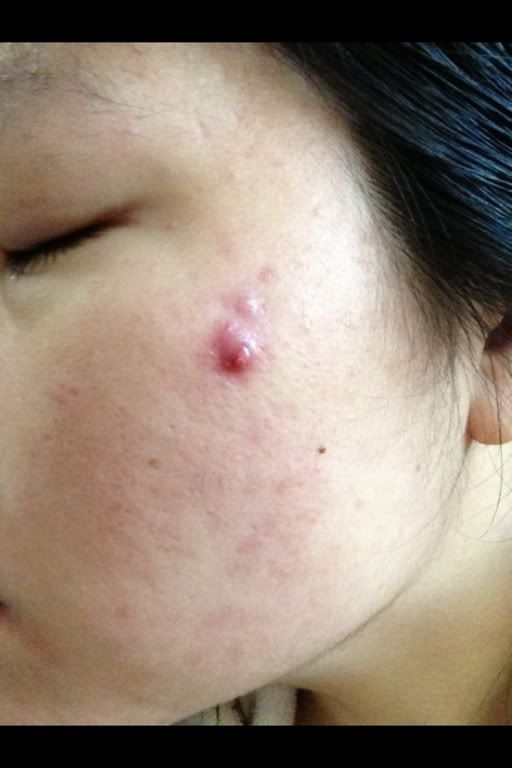 Took this picture on my left profile because I wanted to show Tina my HUGE ASS pimple, that is waiting to explode.
Actually my left & right is almost the same, same kind of redness with red spots. I will try to post my right profile so that can compare better. But this picture of my left profile looks quite smooth (To me, I am very thankful already, although it is still far from perfect).
And cannot be my left & right is so much of a difference. So this is actually the contrast over these 1-2 years of facial, the hard work from my facial therapist and i am so freaking thankful for her. Really. From the bottom of my heart.
10th Feb 2013: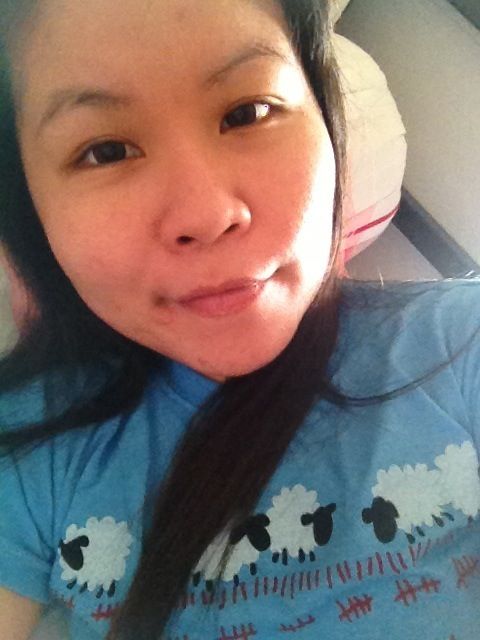 April 2013: I took an old picture from above, and took the same side of the face to compare. Don't you feel touched for me? :D
Makeup for the face:
Liquid Foundation - Chanel Mat Lumiere S$70
Into my second bottle (30 ml, I just realised its very little) now! I have dumped all my BB cream for this liquid foundation as I find that my ''swear-by'' brand - Dr Jart, gave me clogged pores. Now that my skin is better, and I heed the advise of my facial therapist, Tina, I chucked all my BB creams away (Ginvera, Dr Jart, Liole, Elisha Coy, Skin 79 and a few more maybe. But I swear by Dr Jart, gives the best coverage & texture for me).
So, 1 bottle of Chanel Mat Lumiere can last me about 6-7 months with daily usage, 1 usage is about 1 pump (but trying to cut down on this, as I do not want my face to be slapped with too much liquid foundation/foundation/powder.