MEDZ Bistro & Bar
Address:
24 Raffles Place, #01-01 Clifford Centre
Singapore 048621
Tel: + 65
65361917
Opening Hours: 8am to 10pm Monday to Thursday
8am to 11pm Friday
8am to 6pm Saturday
Close on Sundays
About 3 weeks ago, I brought darling here for their Kirin Frozen Beer. I had always wanted to come here for their Kirin Frozen Beer, I think this is by far the cheapest Kirin Frozen Beer in Singapore! I am back here this time round with K and my food khakis for more food & booze.
At 6.40pm, MEDZS is bustling with life!
After 9pm, it all quietened down. Peaceful chill out night!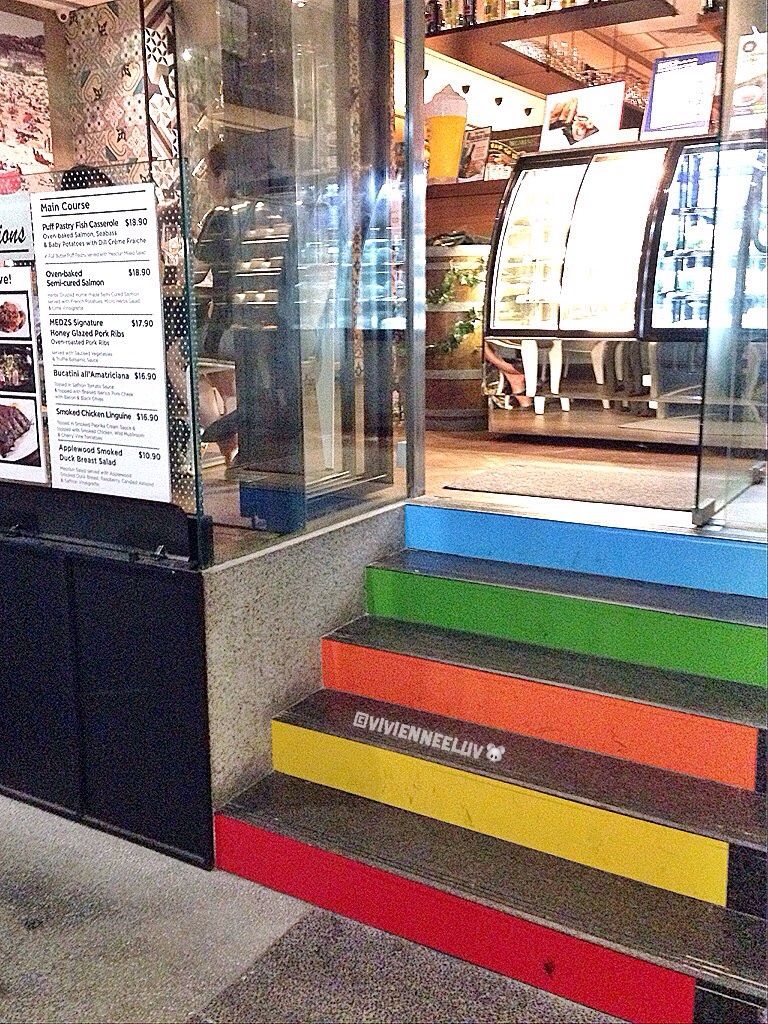 I guess by now, you all know MEDZS as the place that sells rainbow cakes, maybe this explains the rainbow steps!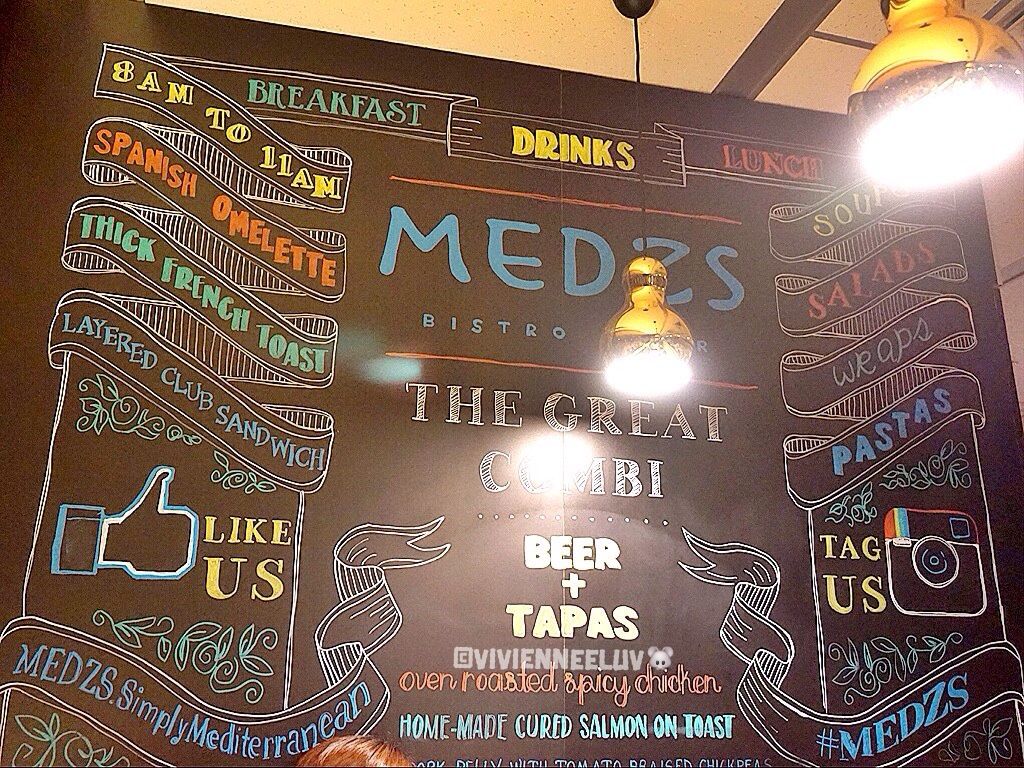 MEDZS' third outlet - MEDZS Bistro & Bar, is located at Clifford Centre. This is a unique Bistro-by-Day, Doorstep-Bar-by-Night concept. With an all-day dining menu, patrons can enjoy an array of breakfast, brunch and dinner items at great values. In the establishment's arsenal of beers include Kirin Frozen Fruit Beer and Erdinger —all going at the best prices too!
You didn't read wrongly at the start of the post, they open at 8am, serving breakfast like muffins, toasts, sandwiches, pancakes & omelette.
ORDERING
Every table will be given a order chit (double page).
Indicate what you want.
Proceed to the cashier counter to place your order and make payment.
Wait for your food to arrive!
DRINKS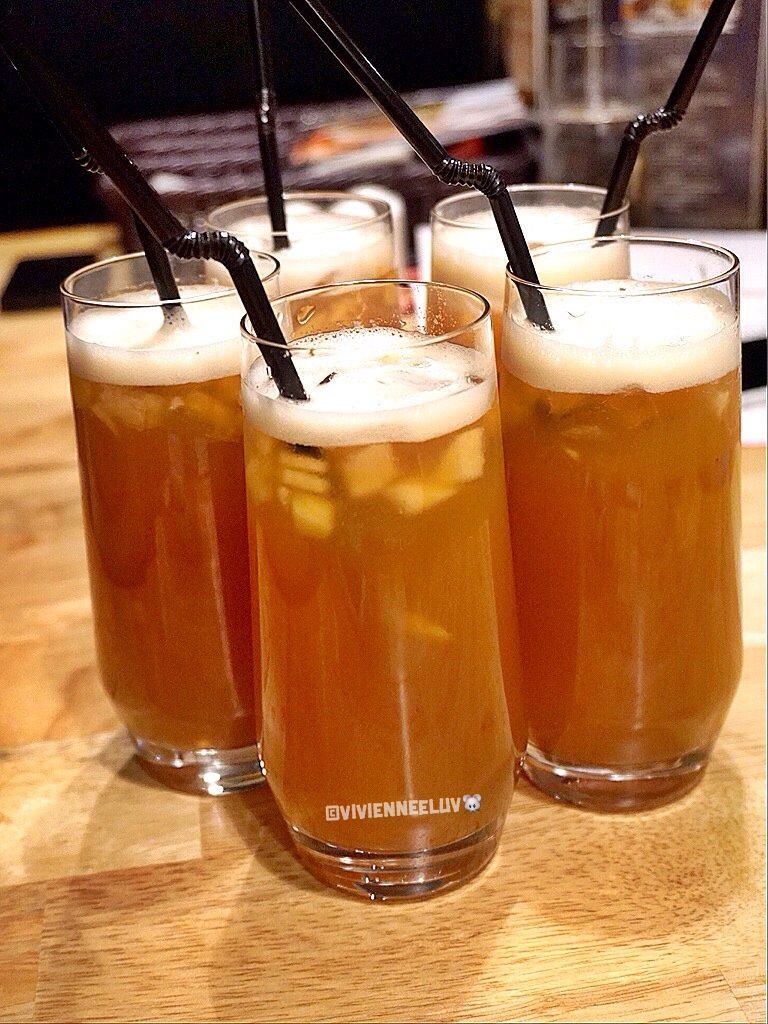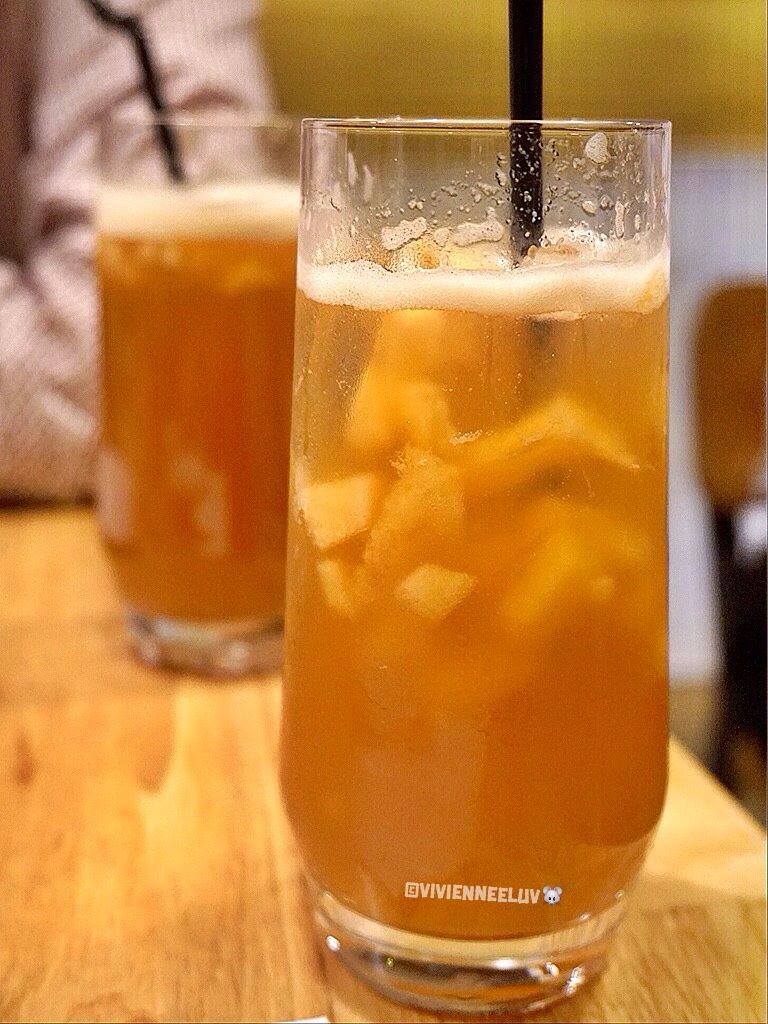 ICED MELONDEW TEA S$5.90
I think I saw Twinings Tea somewhere, I think the tea brewed from Twinings, with added flavours, melon pieces and ice, it was served to us.
Each glass was inconsistent (as you can see from the picture with a few glasses of melon dew tea) with the melon bits and coldness of the tea, 1 glass was warm, not even iced. However, it is still a refreshening drink.
FROZEN KIRINS S$6.90 (Half Pints) - comes in Mango, Lychee, Peach, Peppermint, Lychee flavours.
They come in full pint too at S$11.90. I had full pint elsewhere for near to S$20!
Would love to see more flavours here! My personal favourite is Lychee.
Mango & Strawberry Frozen Kirin tasted like its had a thick layer of syrup.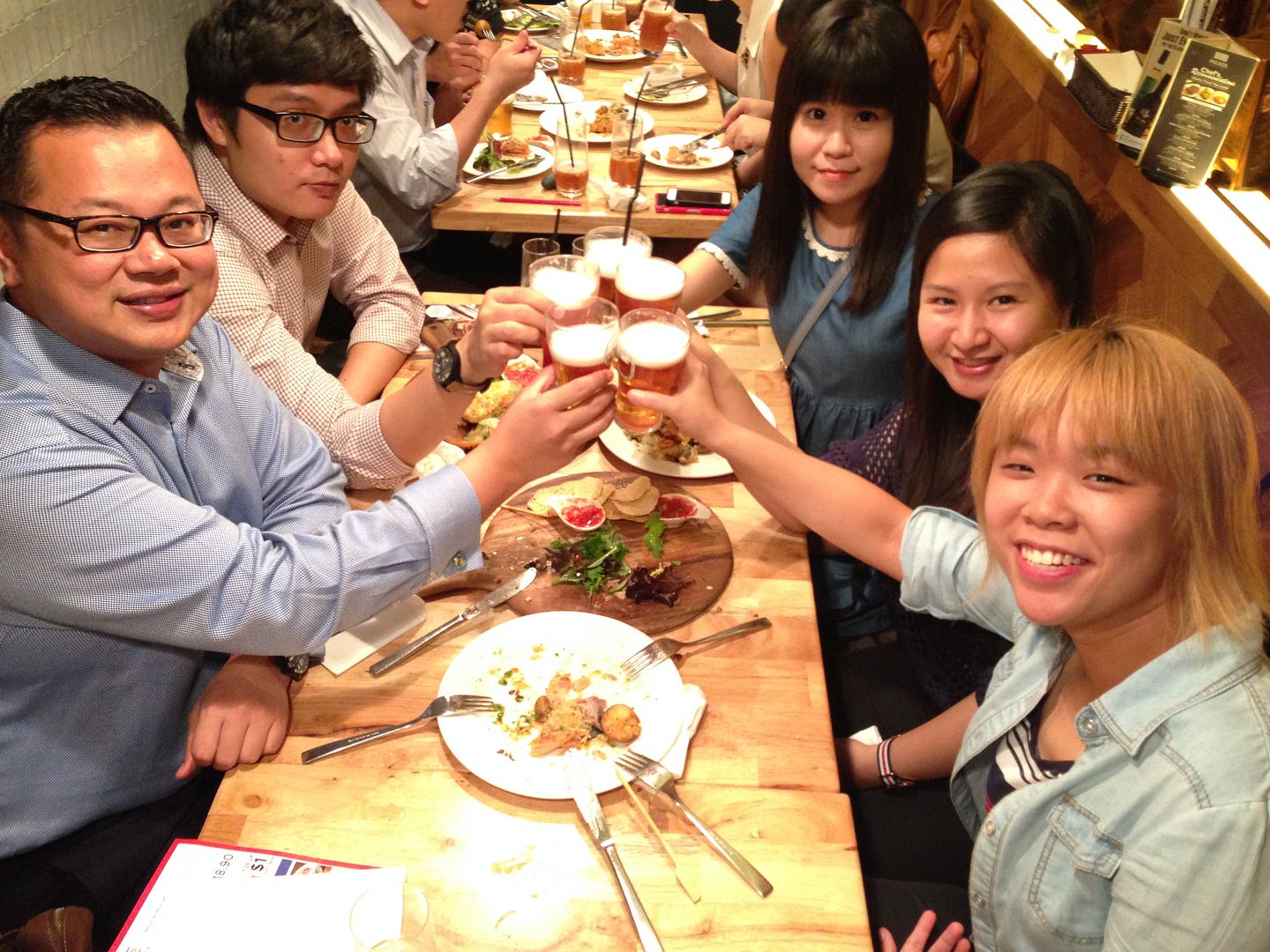 Here is a toast to you from my food khakis Jacq & Nikki, Brother Wilson, K and myself! CHEERS!! Food indeed taste better when you dine with awesome people!
Decorated by K, with some chocolate bits from our desserts.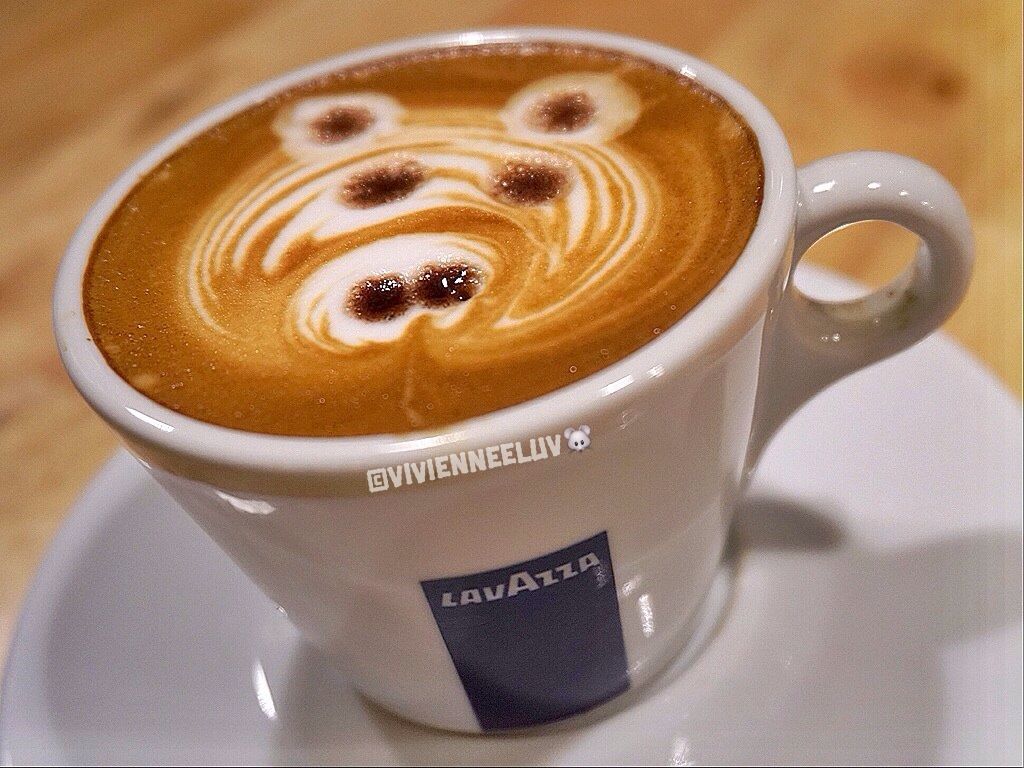 CAPPUCINO S$4.90
The brother then ordered a cup of Cappucino that caused both tables a commotion. Nobody will expect cute coffee arts in their cup of coffee. For the price, it is good, the cute art is a bonus.
Flavoured & normal lattes cost the same too!
FOOD
APPLEWOOD SMOKED DUCK BREAST SALAD S$10.90
Musclun salad served with applewood smoked duck breast, raspberry, candid almond & saffron vinaigrette. As MEDZS Bistro & Bar is located at Clifford Centre, this salad is perfect for ladies who want to eat light during lunch.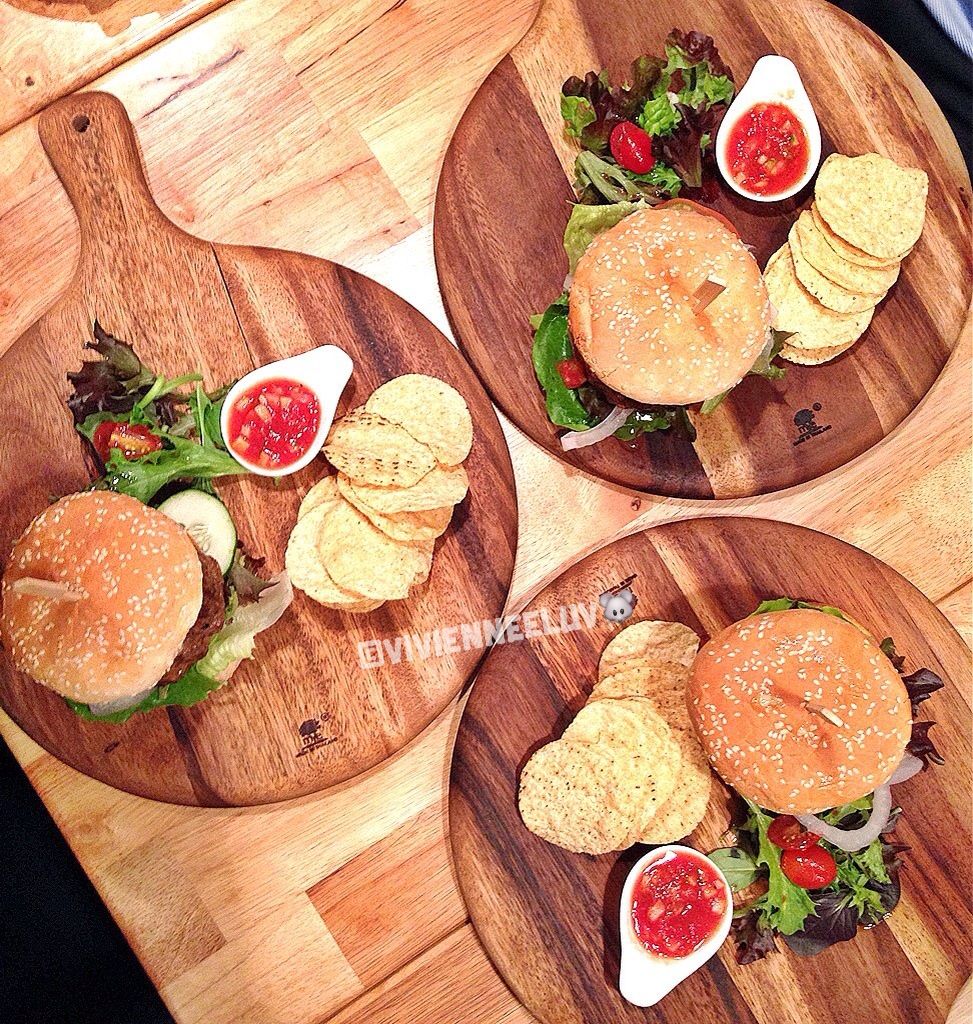 MEDZS SIGNATURE BURGER S$19.90
When we were served these 3 sets of burgers, we go 'woooowwwww'', its huge, I don't think i can finish 1 set by myself.
Grilled gourmet beef patty with provencal herbs on mesclun greens topped with pan seared foie gras, pesto aioli and spicy salsa.
The above 2 pictures are the best I could capture for the burger close up.
I am not a foie gras person as i don't find it nice. It is expensive and it stinks. After eating this foie gras, I think is it very good, it doesn't taste as bad as those I had tried before. S$19.90 for a huge burger, with thick beef patty and foie gras, who is complaining?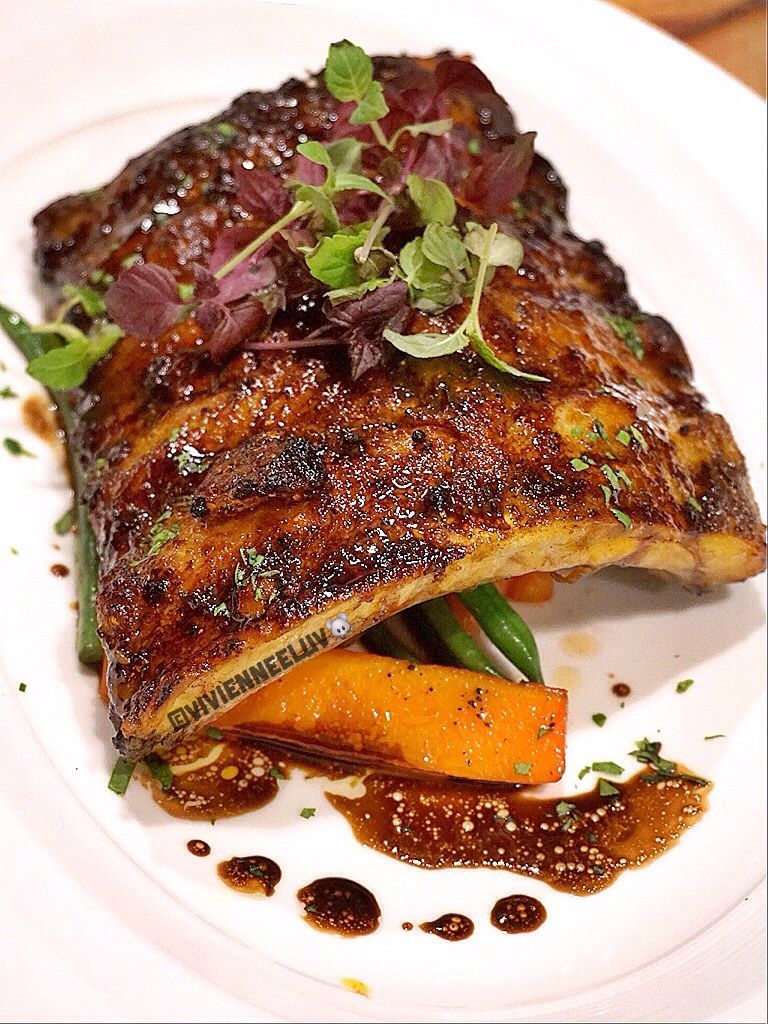 MEDZS SIGNATURE HONEY GLAZED PORK RIBS S$17.90
Oven-roasted pork ribs served with sautéed vegetables & truffle balsamic sauce. I love the sauce that was drizzled over the ribs. The meat on the ribs is tender, doesn't come off with much effort.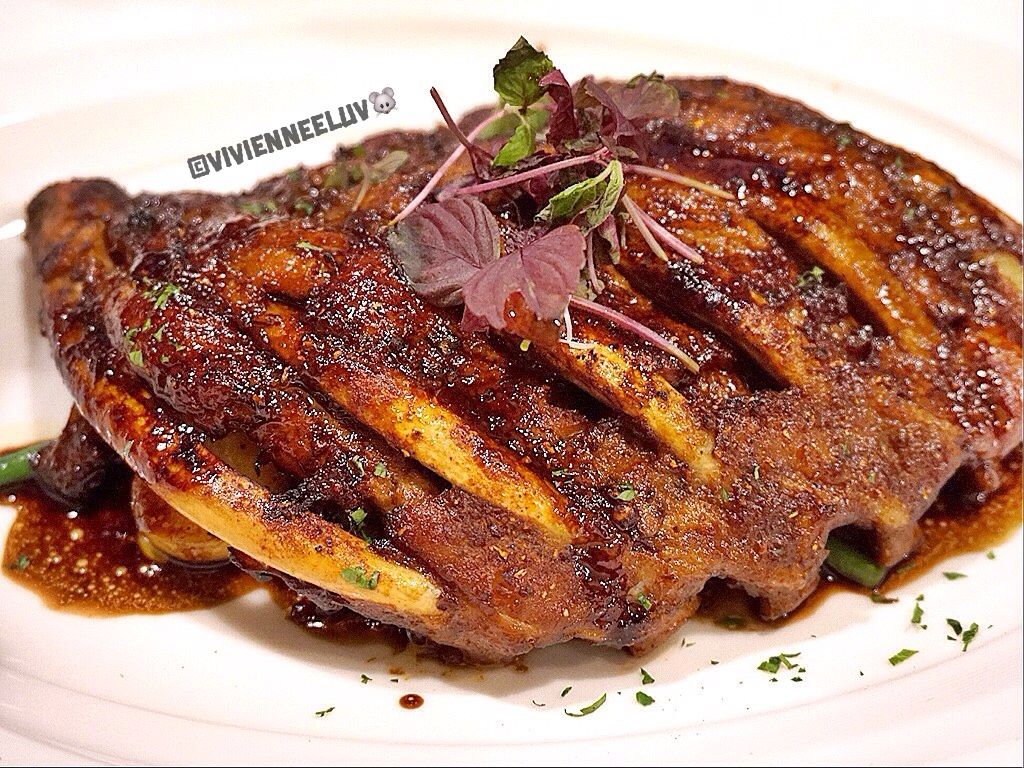 OVEN-BAKED SEMI-CURED SALMON S$18.90
Herbs crusted home-made semi-cured salmon served with french potatoes, micro herbs salad & lime vinaigrette.
Semi-Cured means to preserve the fish by smoking or salting it. Everyone commented that the salmon is way too salty, I find it to be alright. Maybe I didn't eat the correct part of the salmon. Apart from the saltish-ness, it is a very thick slab of salmon which was so evenly cooked. If I were to cook this piece of salmon, i think it will look burnt on the outside, uncooked on the inside.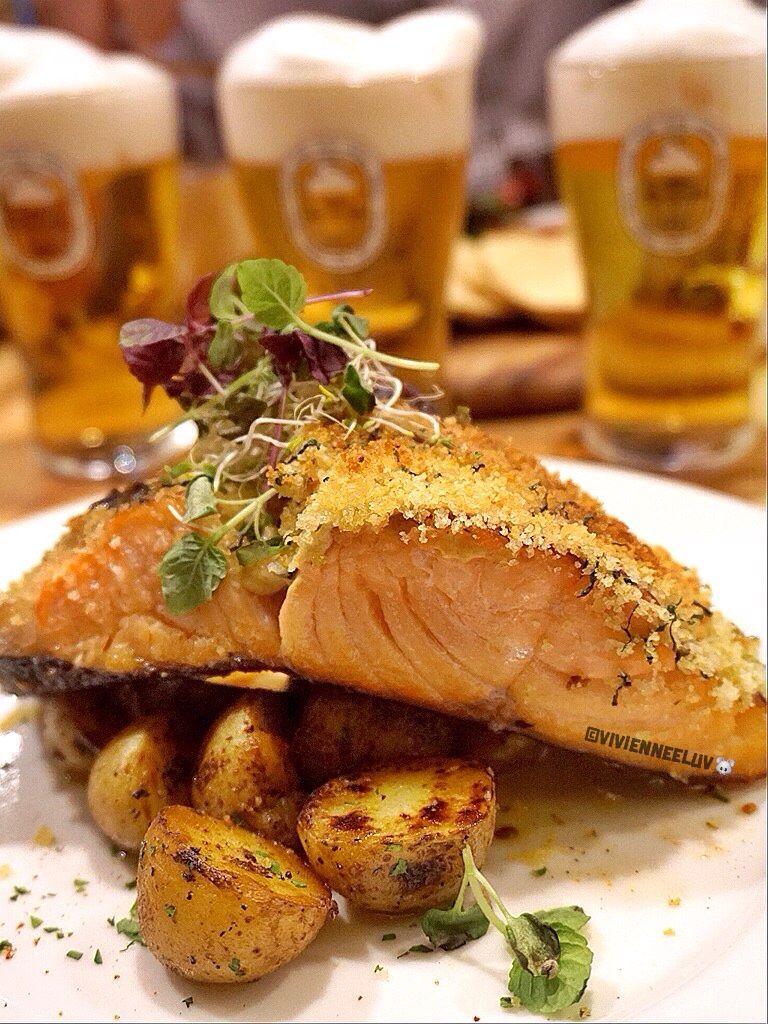 DESSERTS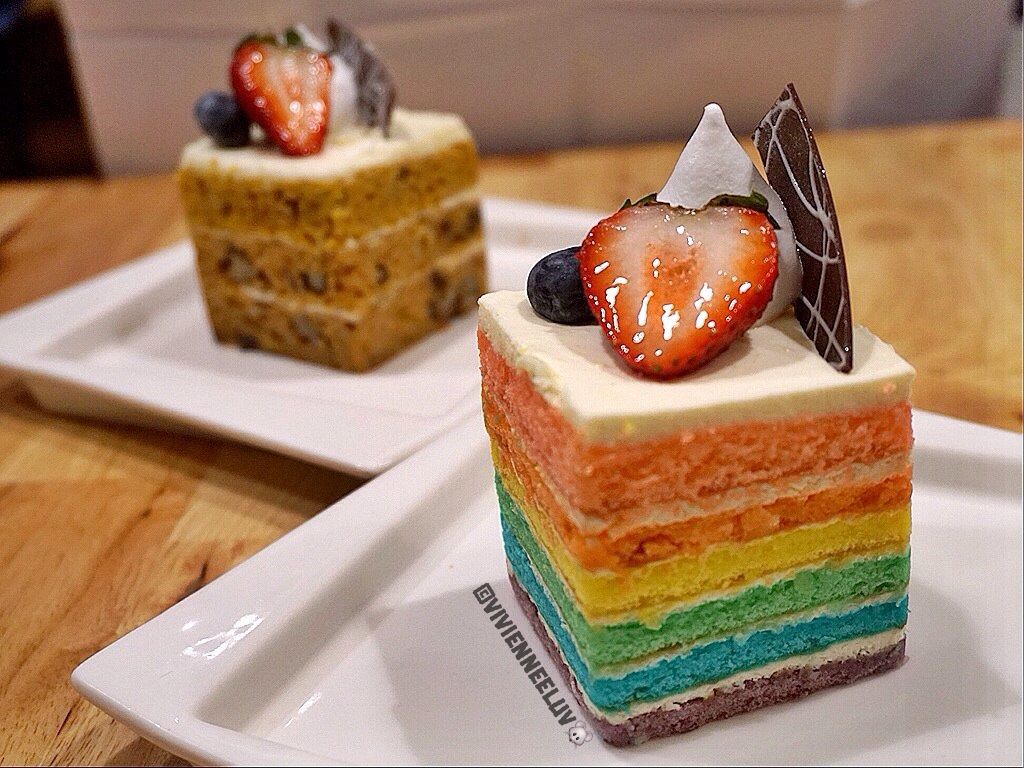 MEDZS SIGNATURE RANBOW CAKES S$6.90
We were served desserts!! Needless to say, we have the MUST-TRY and most POPULAR Rainbow Cake, that most of the people claims that it is the best rainbow cakes around. I do agree.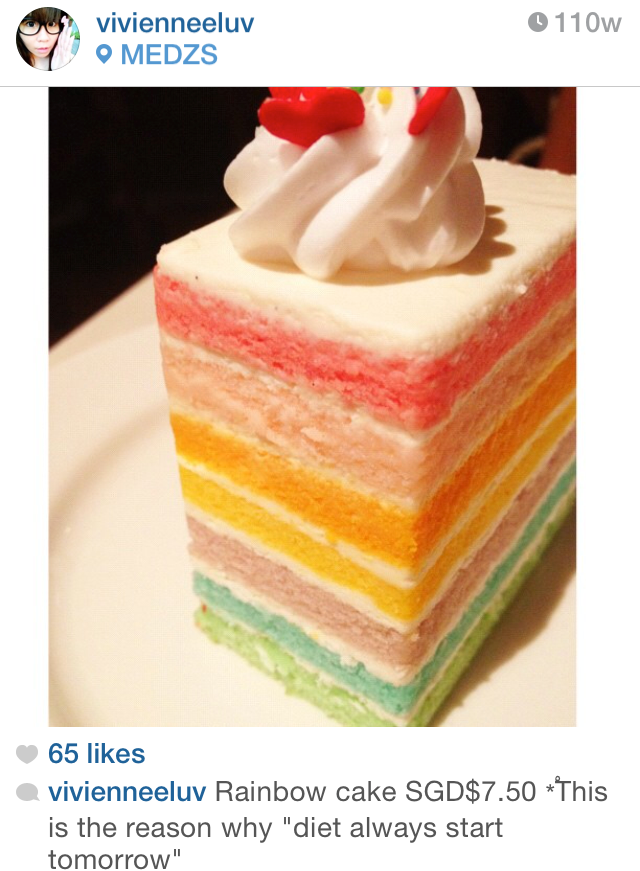 I went to serve my old MEDZS Rainbow Cake post which was dated 2 years ago. They actually make it prettier now and its cheaper! WOW!!!! I never thought that things can get cheaper and prettier and taste nicer!
I don't remember the one we tried 2 years back was yummy enough for us to go back a second time. Thumbs up for the improvement!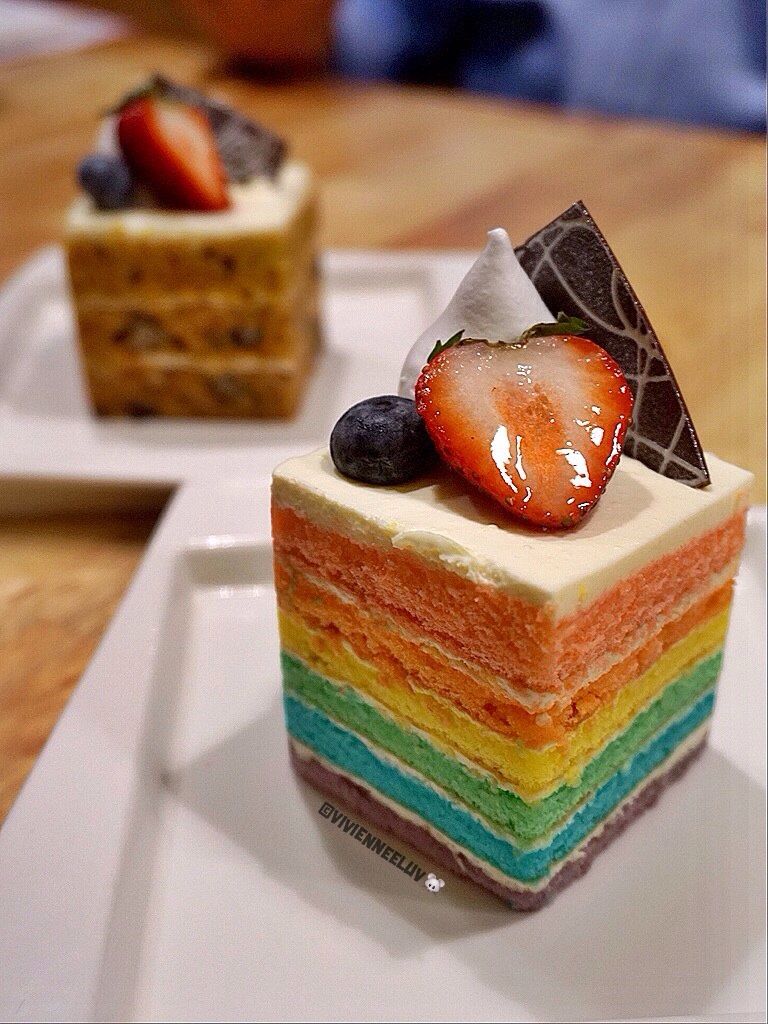 First of all, its not only photogenic, but very photogenic.
Secondly, it is not dry. Most rainbow cakes I had was dry & tough. This is soft and even its chilled, it doesn't turn dry & tough. Nikki says it taste lil ice cream. Almost. Poor friends, even after forking the cake, I still have to take a picture before we can all start eating!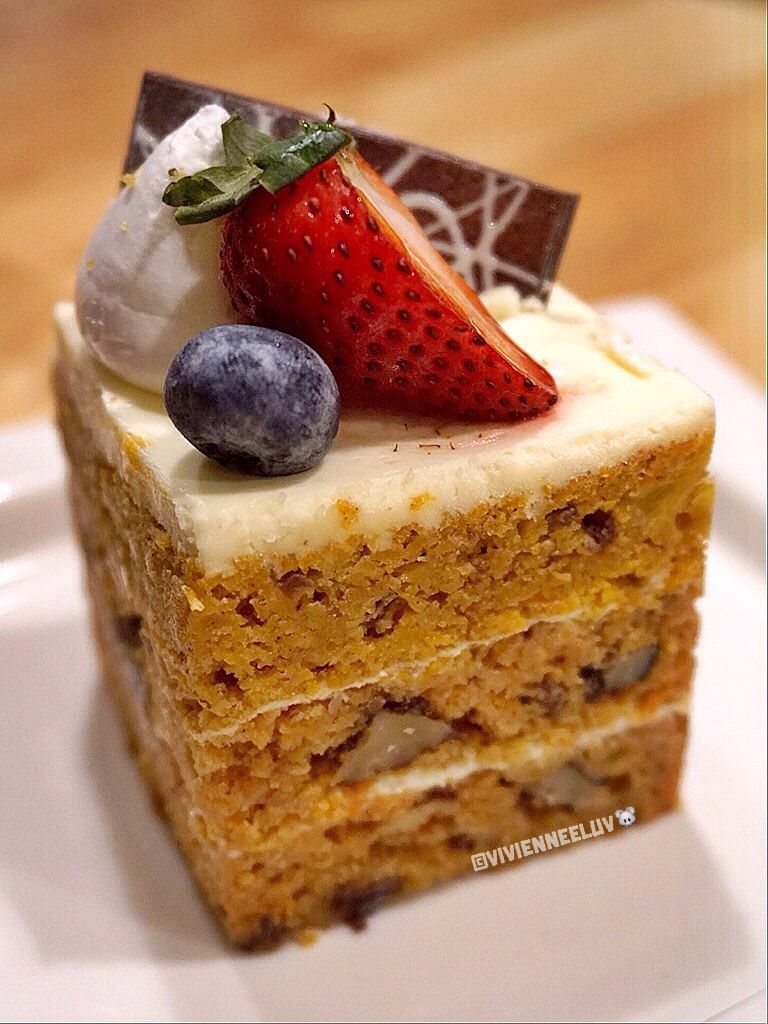 CARROT CAKE S$5.90
Definitely one of the better carrot cakes out here! Nikki says its as good as the famous C bakery! I have not tried that so no comments from me, except that its soft and moist, not overly creamy.
PROMOTIONS
MEDZS will also roll out promotions such as the 'Everyday Mojito' special. For each day of the week, a flavoured mojito cocktail will be priced at S$8.90. The flavours include orange, melon, Mexican, English, etc.
Thank you MEDZS for having us. Good food makes our tummies happy!