Chabuton Singapore @ Tampines 1
Address: 10 Tampines Central 1 #02-09/10 Tampines 1 Singapore 529536
Tel: +65 68540335
Opening Hours: 11.30am to 10pm
In July this year, Chabuton opened its first outlet in Singapore at 313 Somerset!
MICHELIN STAR
Boasting a well-curated menu by an award-winning chef, Chabuton is the reason why a ramen trend has swept Bangkok & Japan. Consumers in Singapore can also savour the restaurant's high-quality and gratifying ramen! Chef Yasuji Morizumi is the first ramen chef to ever receive a Michelin star. All the ramen recipes featured on CHabuton's menu are created by Chef Yasuji Morizumi and was crowned the ''King of Ramen'' by TV Champion, a popular TV programme in Japan. All ingredients used are either imported from Japan or sourced or produced by companies specially appointed by the Japanese headquarter team.
JAPAN & THAILAND
The recipes used at Chabuton Singapore are the same as the other Chabuton outlets in Japan & Thailand. Chabuton is extremely popular in the 2 countries mentioned, with 9 outlets in Japan and 14 outlets were set up within 4 years in Thailand, making it one of the fastest growing ramen chains there.
CHEF YASUJI MORIZUMI
The chef's stellar career began back in 1980s where he started out working as a French chef, paying great attention to the intricate details of every dish. He combines his extensive experience of French Cuisine and traditional Japanese cuisine with his passion for giving guests a modern take on ramen that is authentic and simple and has a taste to remember. Chef Yasuji now uses his expertise to supervise Chabuton, through these ramen dishes, Chef Yasuji pays tribute to the simplicity and long heritage of Japanese cuisines.
GRAND OPENING
Three months after the opening of its first outlet at Somerset, Chabuton opens a 2nd outlet, this time right in the East at Tampines One and we got to meet Chef Yasuji on its grand opening day!
Now, even more Singapores can get to indulge in the award-winning ramen!
As yo know, things are getting more expensive here, inflation inflation inflation! I was surprised that I can still get ramen at S$12-S$13! Whenever K and myself went out for meals, spending S$60 is a norm. With S$60, it could get us 2 meals to Chabuton. YAY!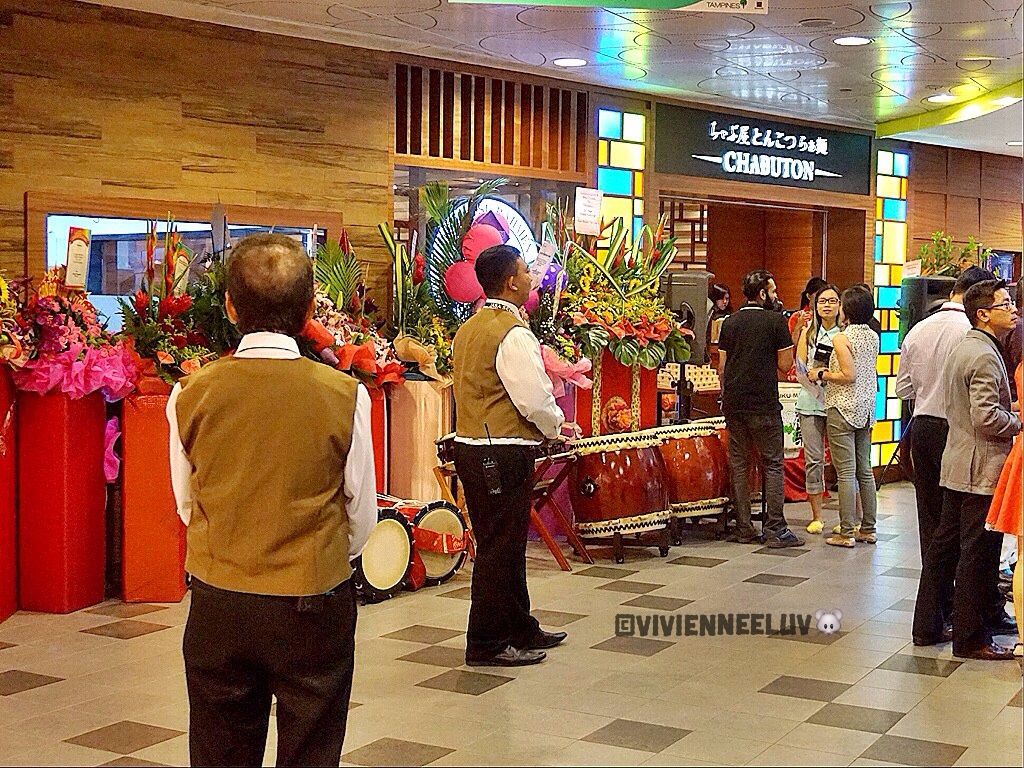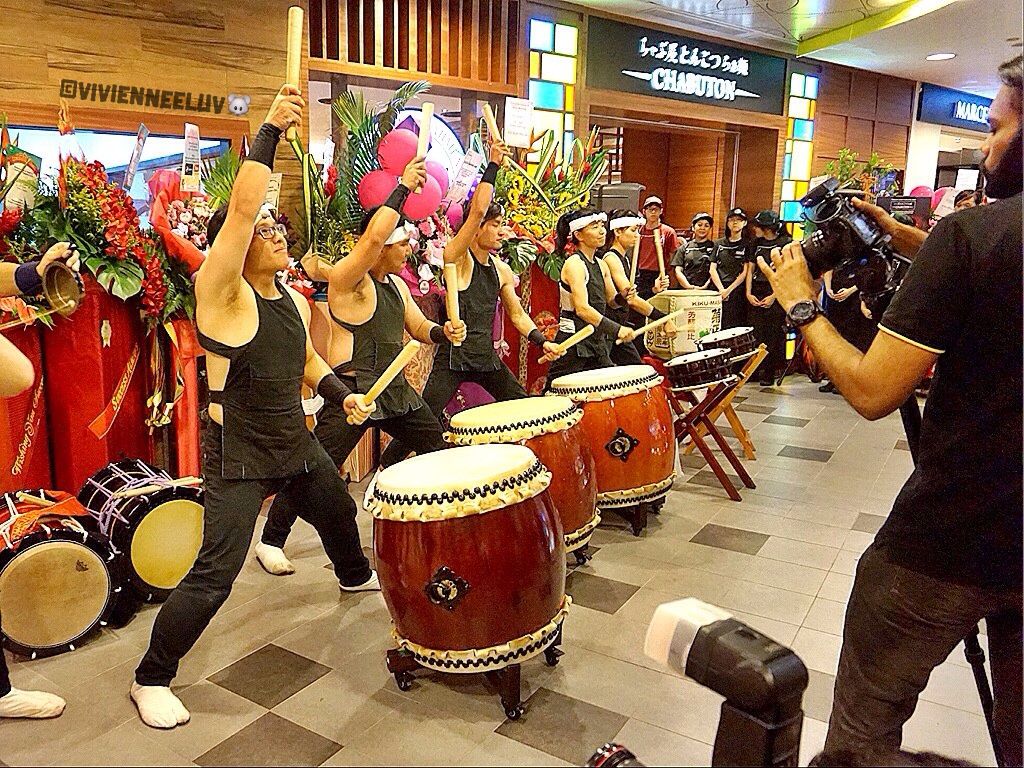 Taiko Performers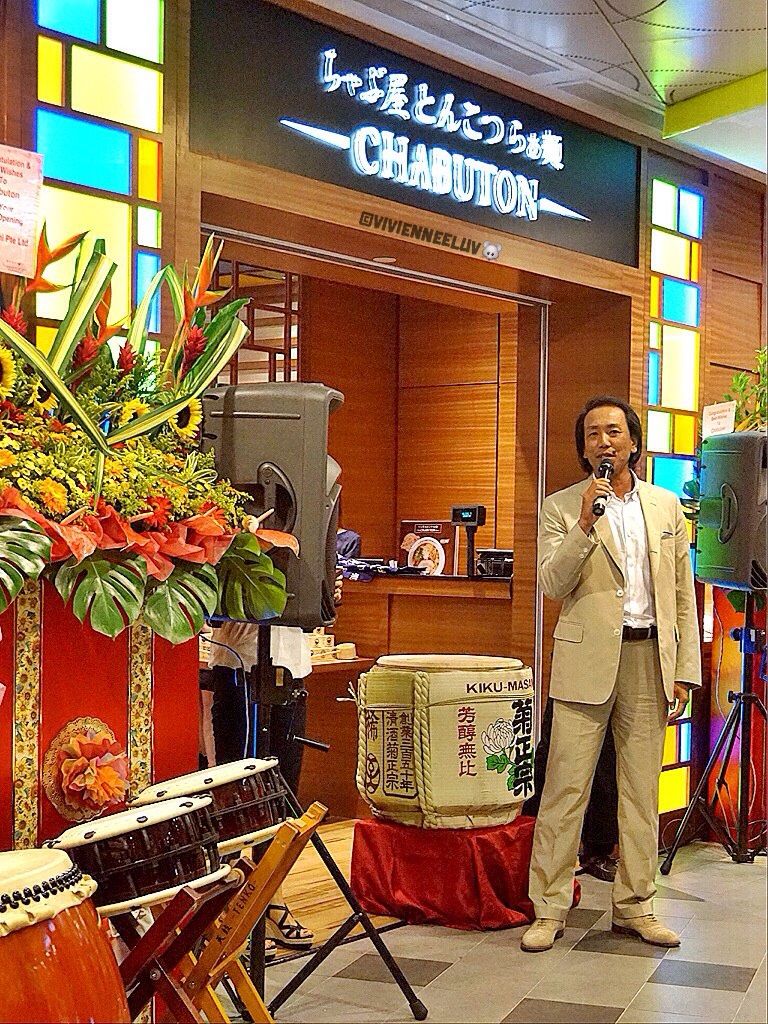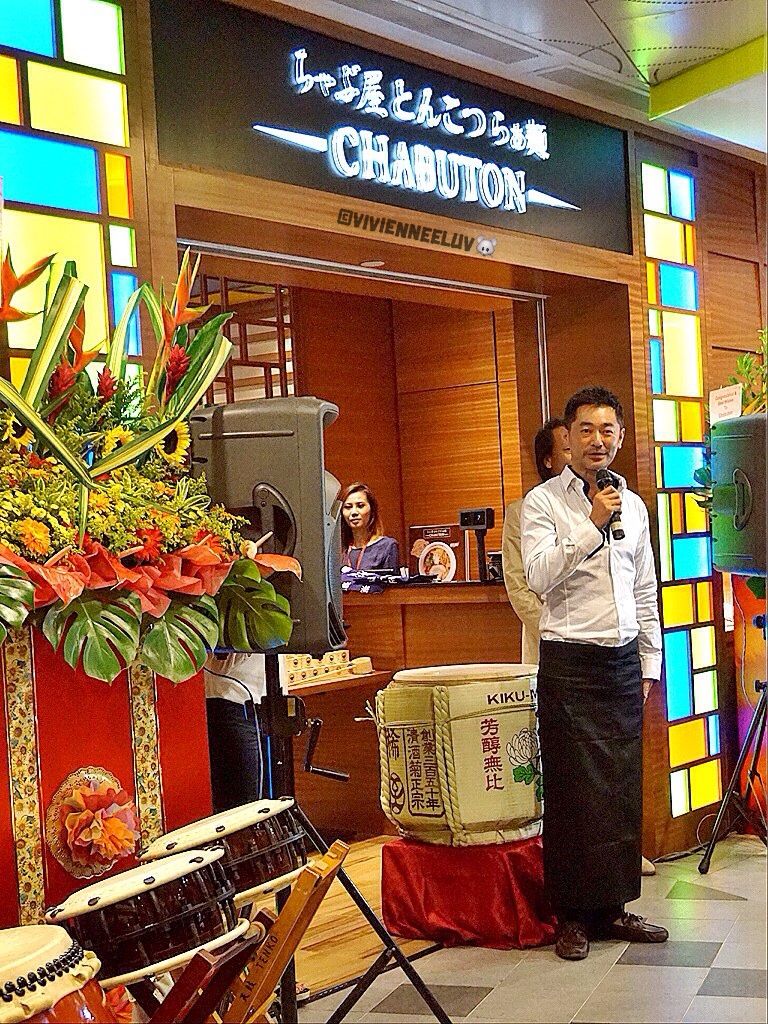 Chef Yasuji giving a speech in Japanese.
(Pic Credit: Asiastyleasia)
Screenshot of a instagram picture because I did not manage to capture this.
Kagami Biraki - a ceremony where the Japanese will break open the wooden casks of Sake with mallets during major occasions like store openings, wedding and other celebrations.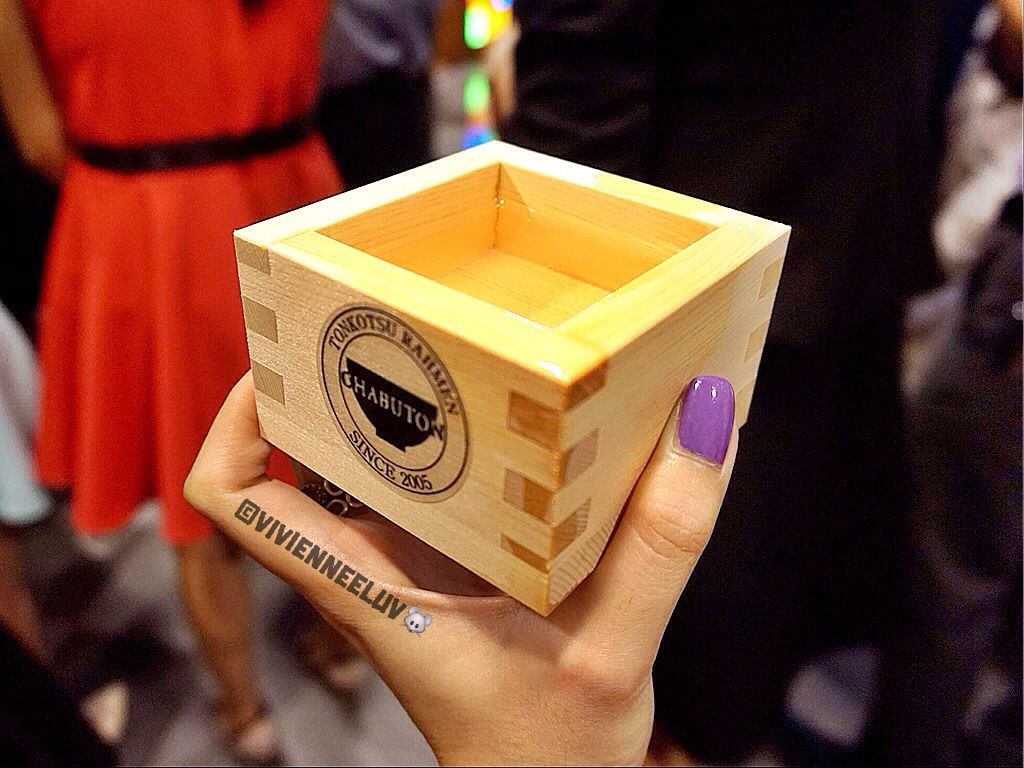 We were all served sake in masu on the corridor of Tampines One. Its like a party and indeed something worth celebrating for!
MASU
Formerly, sake was sold by volume in a wooden box measuring cup, known as a mass
which has a volume of 180 ml
and was also used to drink.
In the past, the wooden box was said to complement the traditionally brewed sake, as it is brewed in a wooden

cask

but in modern times, the masu is shunned by sake purists because the wood affects the flavor of the sake. Furthermore, tradition requires the masu be filled to the rim as a sign of prosperity. Masu are now commonly made of

lacquerware

or even of

ABS plastic

. As the traditional sake-serving cup and a symbol of prosperity due to sharing the same pronunciation as the Japanese word for increase/proliferate

, the masu is still used in modern times for the purpose of ceremony or to show generosity. In some Japanese restaurants, the server may put a glass inside the

masu

(or put the

masu

inside a saucer) and pour until the sake overflows and spills into the secondary container to symbolize this wealth.
FOOD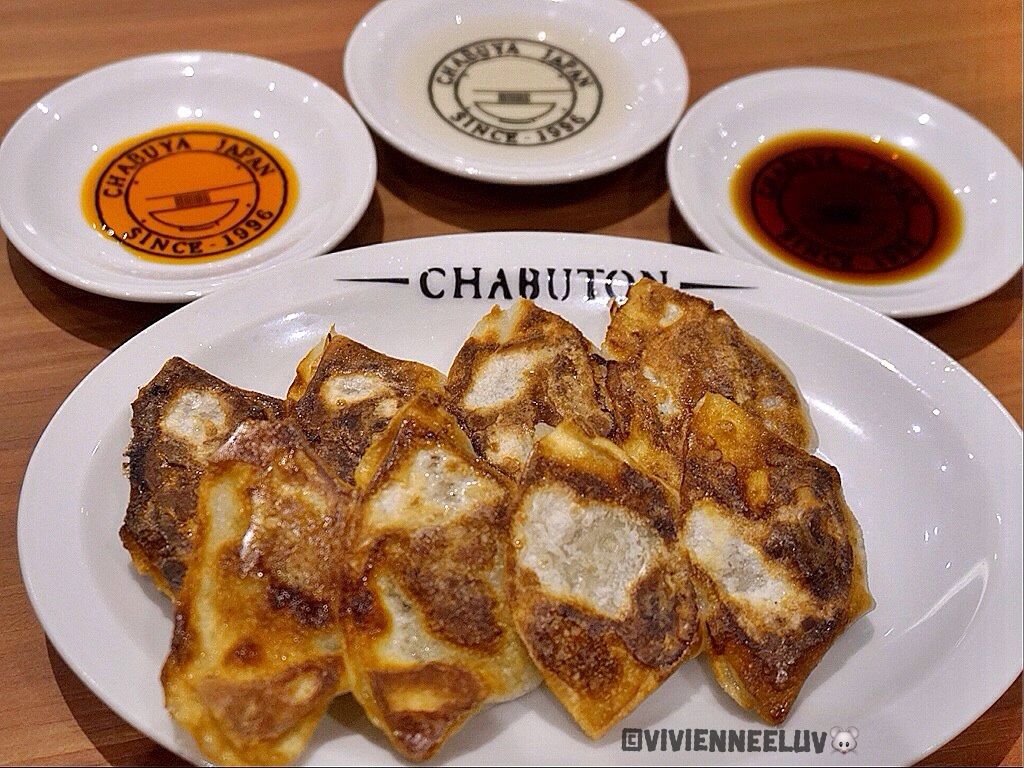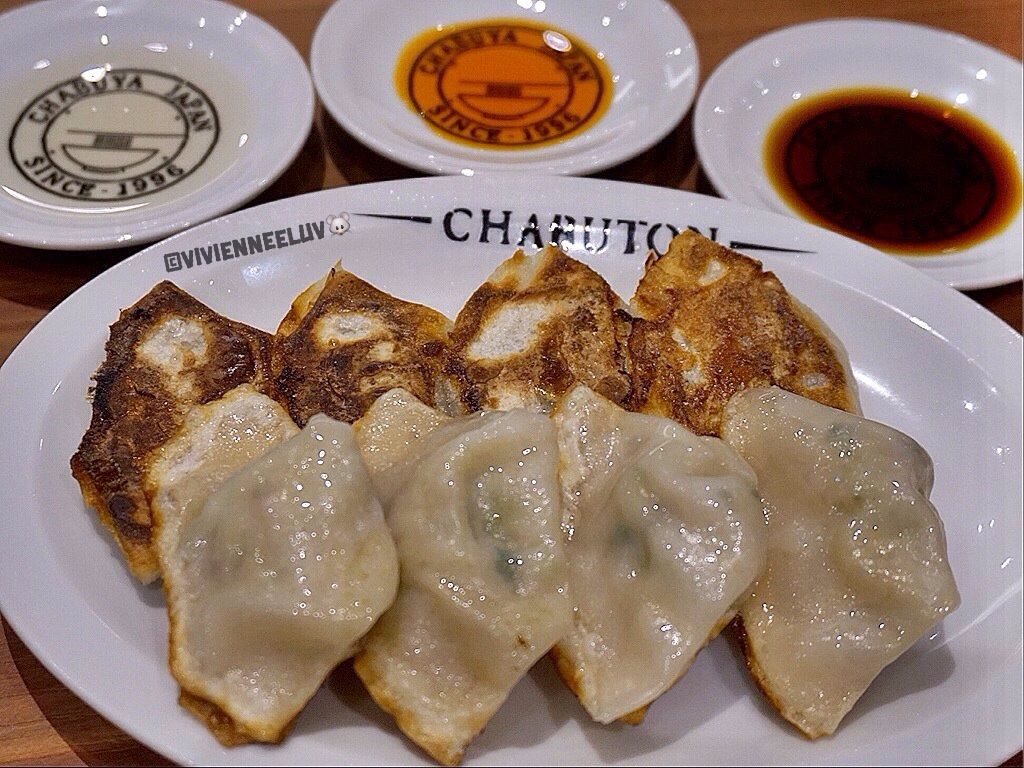 HITOKUCHI GYOZA S$5 for 8 pieces
Bite into these dumplings served as a perfect side dish to Chabuton's ramen dishes. 1 side of the skin is pan fried until crispy, inside is soft & juicy pork meat filling and these are bite size too! Just pop the whole gyoza into your mouth, savour the gyoza and every single drop of juice!
CHABUTON TONKOTSU RAMEN S$11.90 for regular portion
The rich & creamy broth is the culmination of many hours of simmering pork bones. A slice of char siew rests atop the al dente ramen, japanese leek, bamboo shoots and white sesame are also added to enliven the overall taste.
You can have a say in how you want your ramen and broth to be prepared, from texture of noodles to how unctuous and salty you want the broth to be.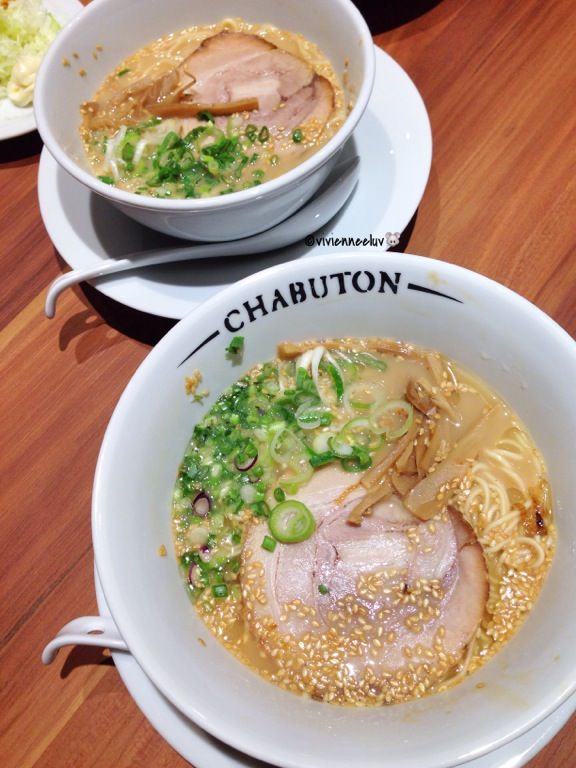 CHABUTON TONKOTSU RAMEN S$8.30 for junior portion
Foreground is the regular portion which you saw earlier on, the one behind is the junior portion, good for those who are small eaters, or those who want to order more side dishes but ramen is still a must-have, so a smaller portion to satisfy that craving.
Weekday Lunch Set is available from 11.30am to 5pm.
A junior Chabuton Tonkotsu Ramen + 1 side + Dessert + Beverage at only S$12.30!
SOFT BOILED EGG S$3 ala carte
Chabuton's ramen don't come with eggs, but if you feel that egg is a must-have in your bowl of ramen, you can top up S$1 to enjoy these soft boiled egg.
The eggs that we were served are inconsistent, some are runny, some are almost hard boiled, however they are improving on this because to Japanese, eggs are just secondary. Most importantly is the ramen & the broth, don't you agree? Whats a good ramen when the ramen sucks but eggs are awesome right?
Apart from soft boiled eggs, you can also add on Buta Kakuni (pork belly) S$2.80 to your ramen. (Ala Carte Buta Kakuni S$6 / 2 pieces)
There are other toppings to your ramen such as:
Kara Kara S$1
Menma (Bamboo Shoot) S$1
Moyashi (Bean Spout) S$1
Piri Kara Negi Char Siew S$2
Shaki Nagi (Leek) S$1
Nori (Seaweed) S$1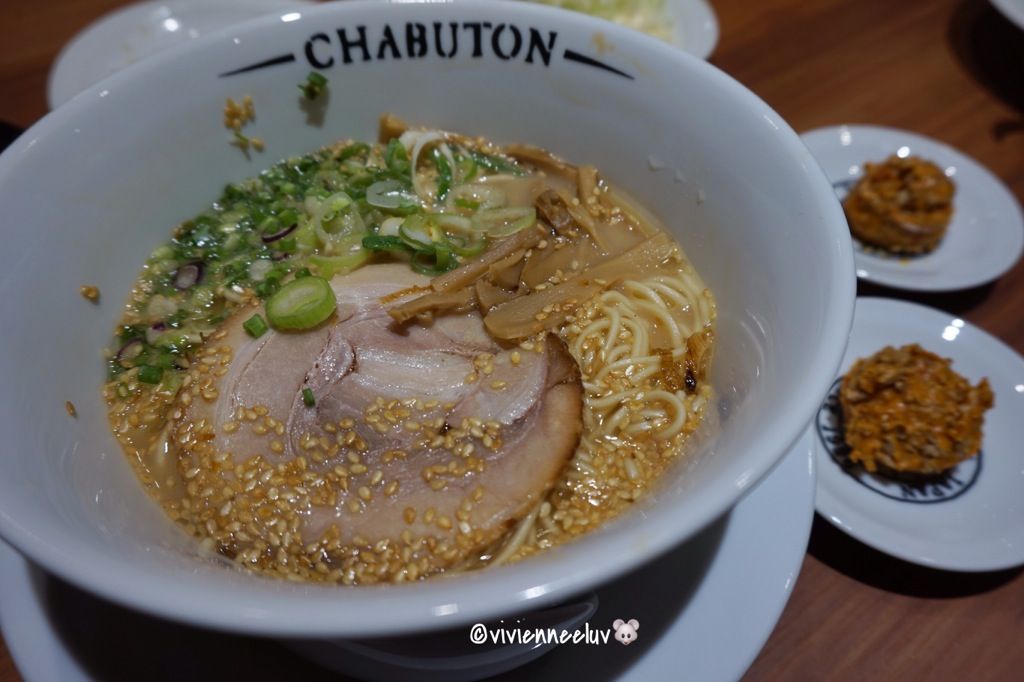 CHABUTON KARA KARA RAMEN S$12.90
What you will get is the kara kara topped directly into the bowl of ramen. We requested them by the side.
Kara Kara is a homemade spicy minced meat, it enhances the flavour of the broth.
In my opinion, as Singaporeans, this is not spicy. I prefer the one without.
SHOYU ZARU RAMEN S$10.50 / S$11.90
Thin-style cold ramen served with warm japanese soy dipping sauce.
There is an instruction card that comes with the ramen, telling us that after finishing the noodles, we can ask for Wari soup to pour into the Shoyu, and enjoy it as a soup.
I love the thin-style noodles, it has a chewy texture which I like.
Left: Wari Soup
Right: Shoyu dipping sauce
Noodles: in our tummies!
K do us the favour by pouring the Wari soup into the shoyu dipping sauce.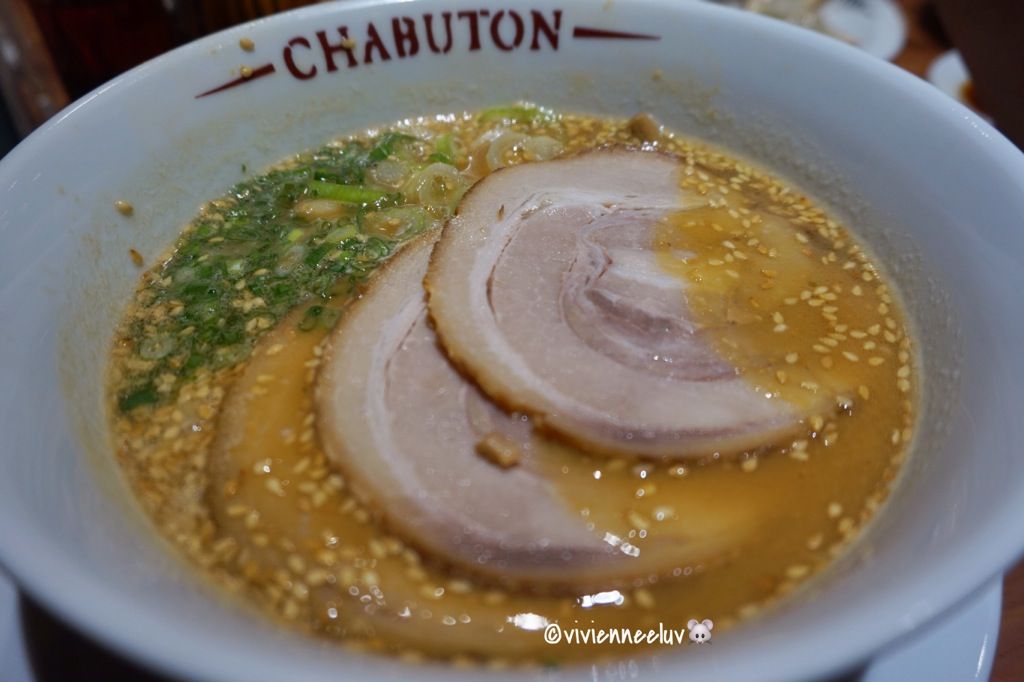 CHABUTON MISO CHAR SIEW RAMEN S$15.90
Authentic Uki-Kouji miso flavoured pork bone soup ramen topped with extra char siew and japanese leek.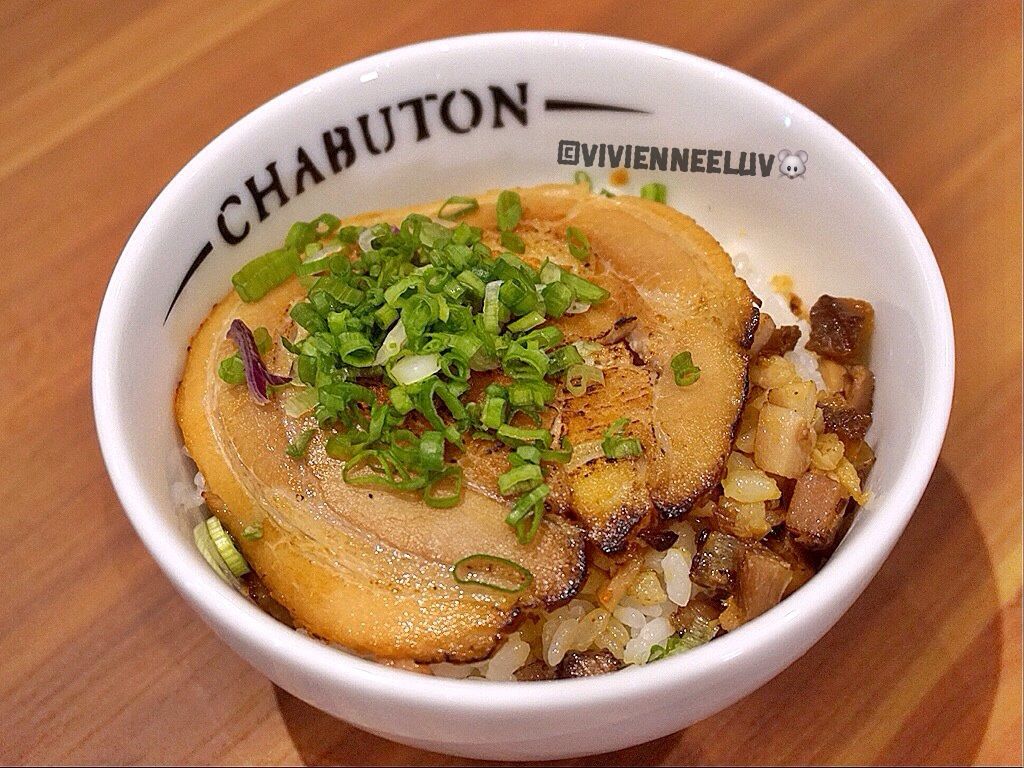 CHAR SIEW DON S$4
Torched char siew resting on pickled vegetables & smaller pieces of char siew in special sauce and rice.
This is found on the menu together with the sides and of course from the price, it is a mini don.
You can order a mini don and a junior ramen to make it a meal! Genius combination!
Love how the char siew taste like after torching, however as you rigged in further, its a little dry. It will be perfect if there is more sauce in the don!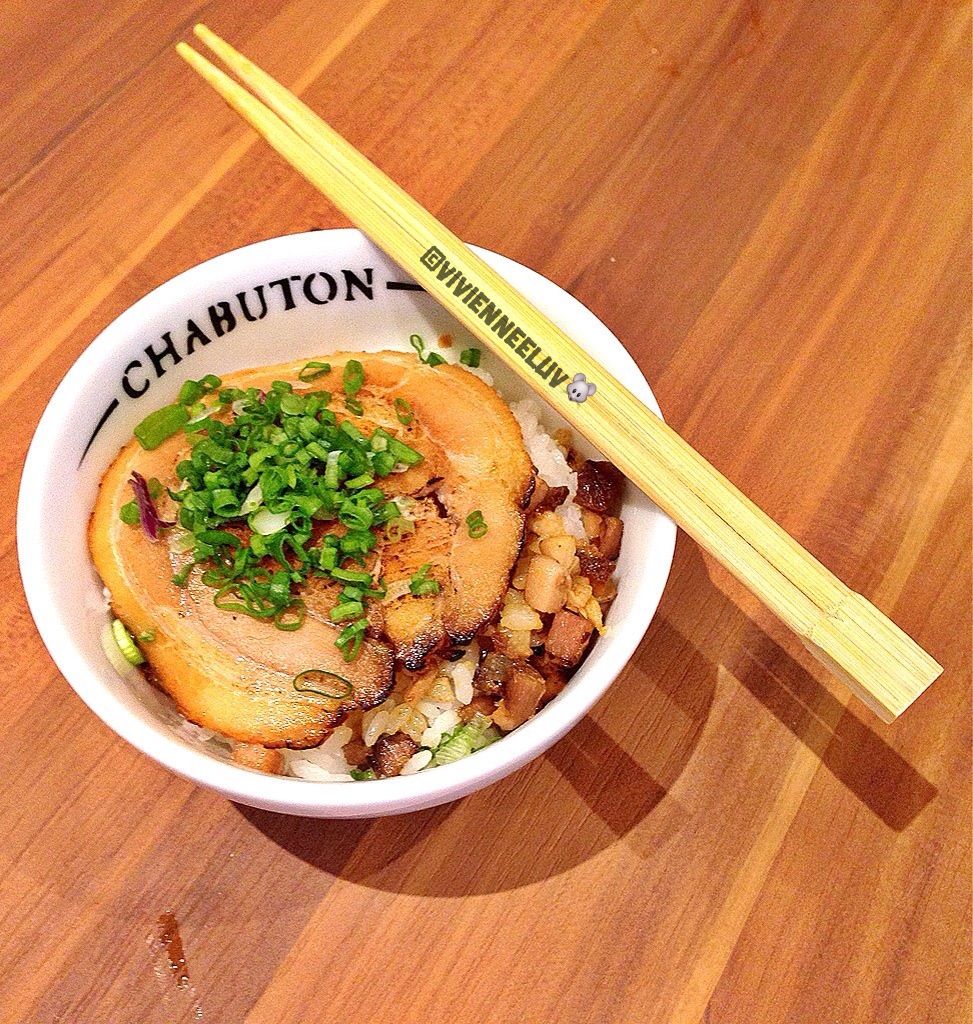 IKA KARAGGE S$5 - fried squid
These squids are as good as I first tasted them in 313 outlet! Love the crispy batter that goes well with the fresh squids.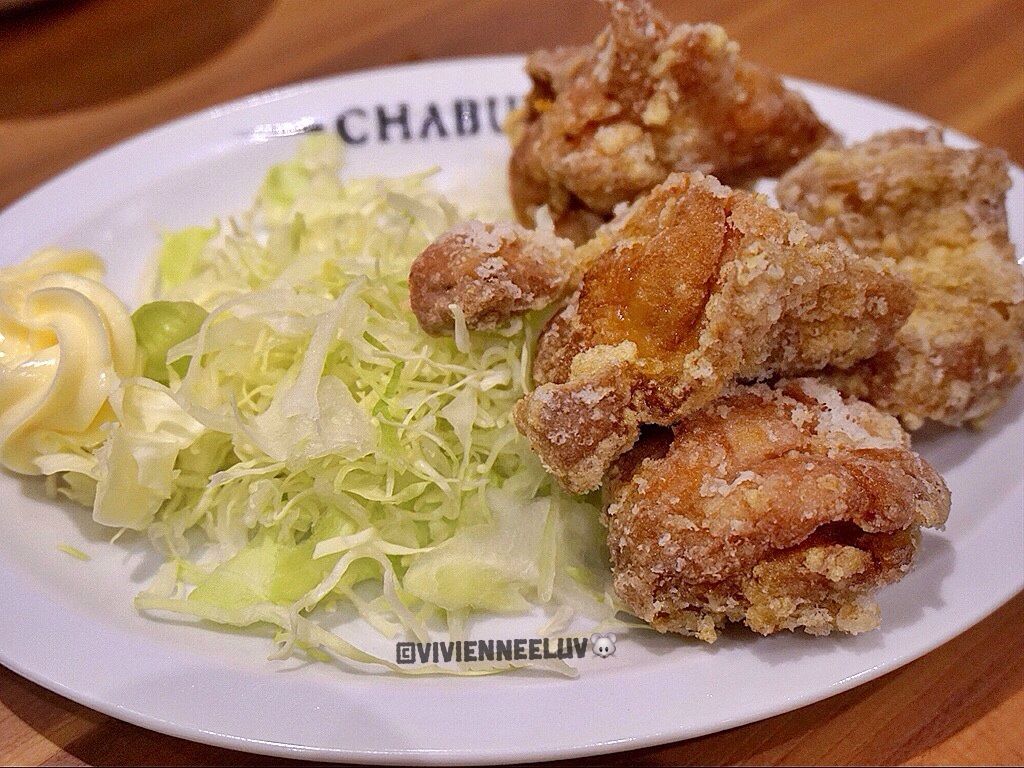 CHICKEN TATSUTA AGE S$5 - fried chicken
K almost finished the whole plate! Sweet and juicy piece of fried chicken. I think both squid & chicken are must-have sides.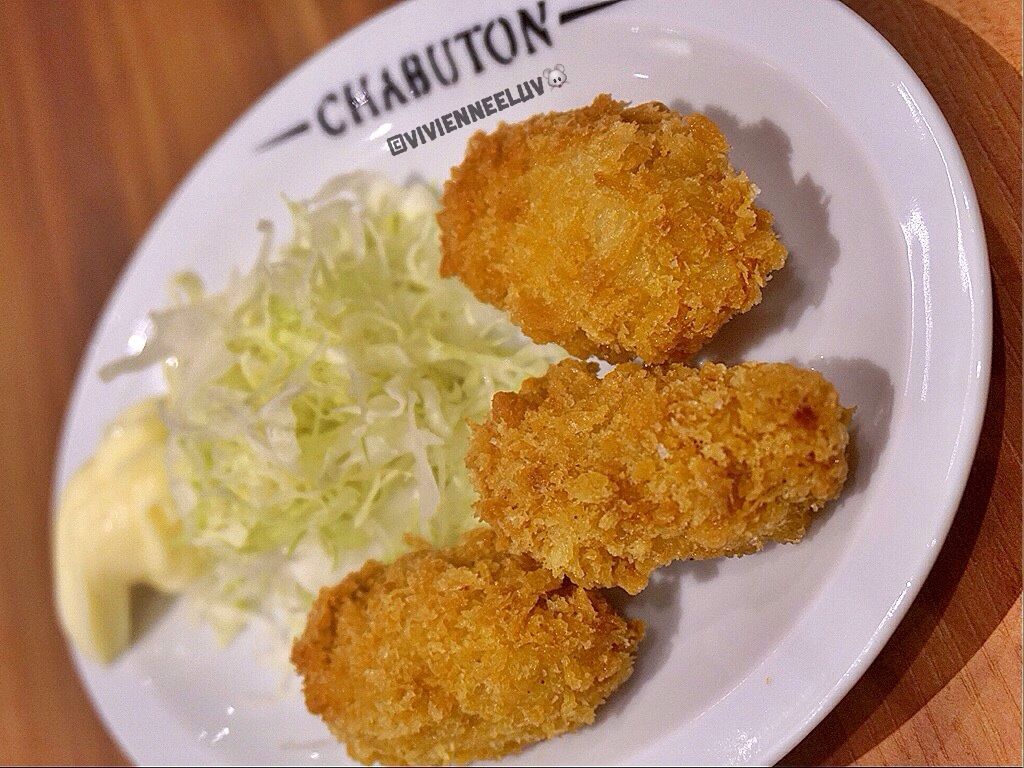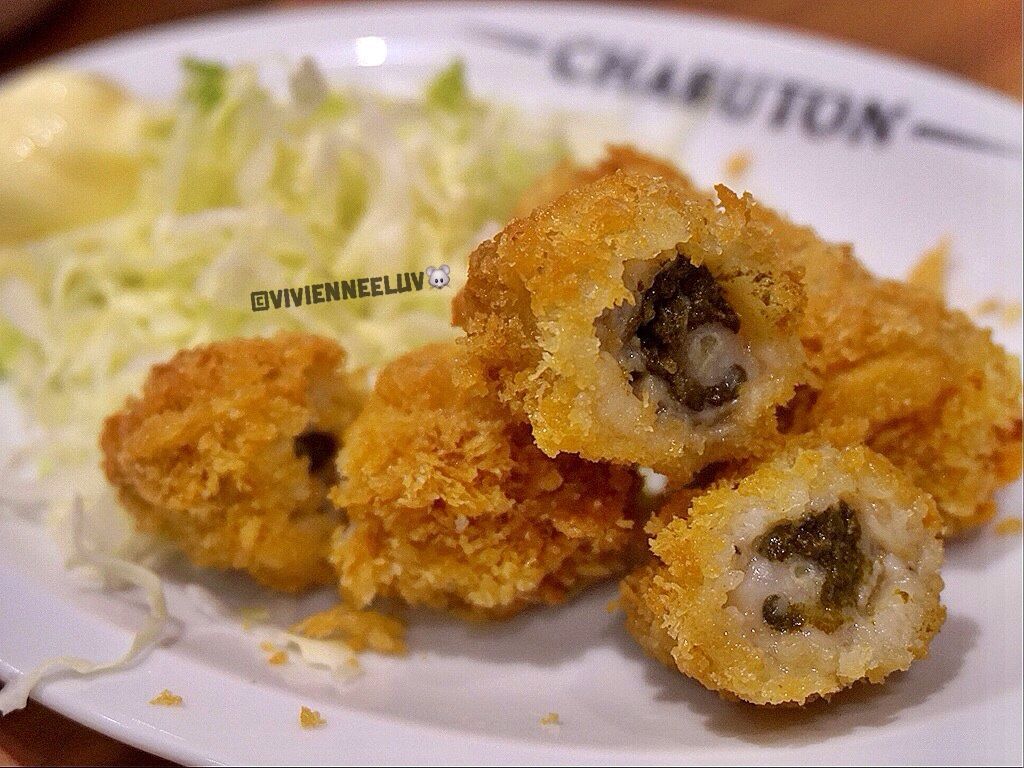 KAKI FRY S$6 - fried oyster
I am not an oyster person, but don't mind to try 1 or 2 pieces. I guess anything fried makes it better. I couldn't stop eating as the batter is so crispy, the oysters are fresh, they don't have a stinky metal kind of taste in your mouth.
KONNYAKU JELLY S$2.50 for 2 pieces
Comes in flavours like apple, peach, lychee & grape.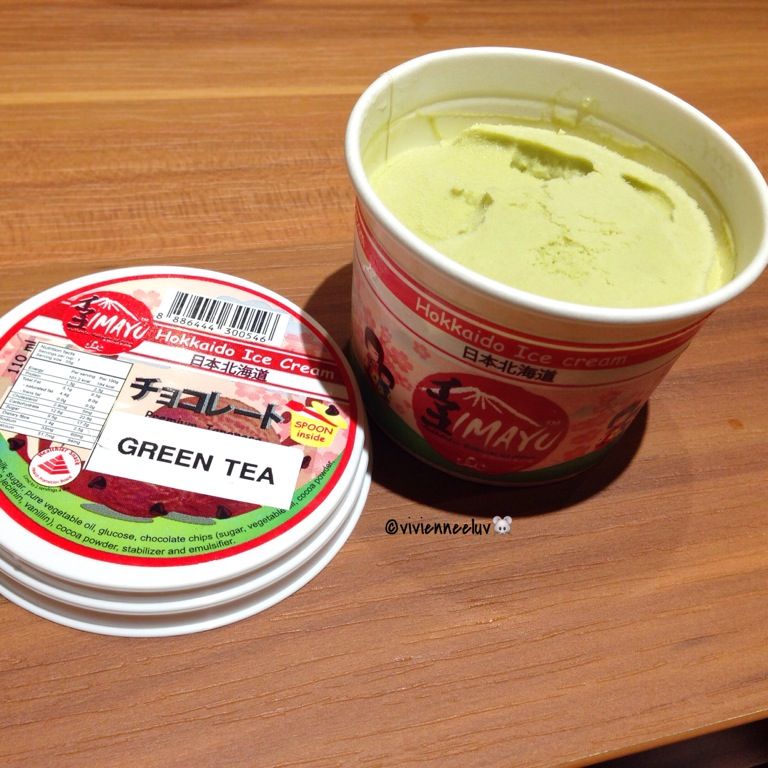 MATCHA ICE CREAM S$2.50
Comes in chocolate flavour as well.
I love strong matcha flavoured food/drinks, this is a little too mild for me though. But still a sweet treat after a wonderful meal!
Thank you Chabuton for having us at your Grand Opening party of your 2nd outlet!