Infuusa - sugarfree, more antioxidants, natural ingredients, hydration, time saving.
There will be a 20% discount for orders over S$25 for my readers.
Key in promo code ''infuusatirsula'' upon checkout! Till 7th Nov 2014!
Friends who know me will know I am famous for not drinking plain water. They will go like ''she ah… don't drink plain water one.'' but over these 2 years, I have been trying hard to at least drink a little bit (not even 1 glass a day).
Sometimes I could literally feel my body is like a machine being overheated. Then I will quickly flushed iced water down my throat, then I feel like puking because water is tasteless. O.O
With all the unhealthy food I am eating right now, I don't feel right to not drink any water to flush out the toxins.
So I started making my own infused water, I bought a cute bottle (although I don't drink water, but i couldn't resist buy cute water bottles. Sometimes I buy bottles to motivate me to drink water but it all fails) to make infused water, especially lemon water. Then I got LAZY and stop making them. BOO!
Thank god, at Tirisula Yoga, in the midst of doing yoga, Pamela brought out cold bottles of Infuusa tea to quench our thirst, after that I met Wei Lieh & Infuusa at the workshop.
Its not the first time I heard about Infuusa, but I was too lazy to check them out previously.
When I went for a jog (3km haha!) with K last time, we will buy a bottle of H20/100 PLUS/Aquarius. Wei Lieh says its no need for us to drink that. The calories we burned, we actually put them back into our body with those isotonic drinks. Which makes sense. He is right. No wonder I didn't feel good after jogging and so we eventually stopped exercising :X
Infuusa was started last year by Wei Lieh. He noticed his members (he was teaching classes in gym) drinking water & sports drink, which is so wrong, he decided experimenting cold brew - infusions water & tea. This is something refreshing, natural and low calorie.
And then he realised infusions take at least 4 hours, no one wants to wait so long for a drink isn't it? So he did experiments after experiments, and came out with a sachet infusion which only takes 3 minutes! So Infuusa was borne!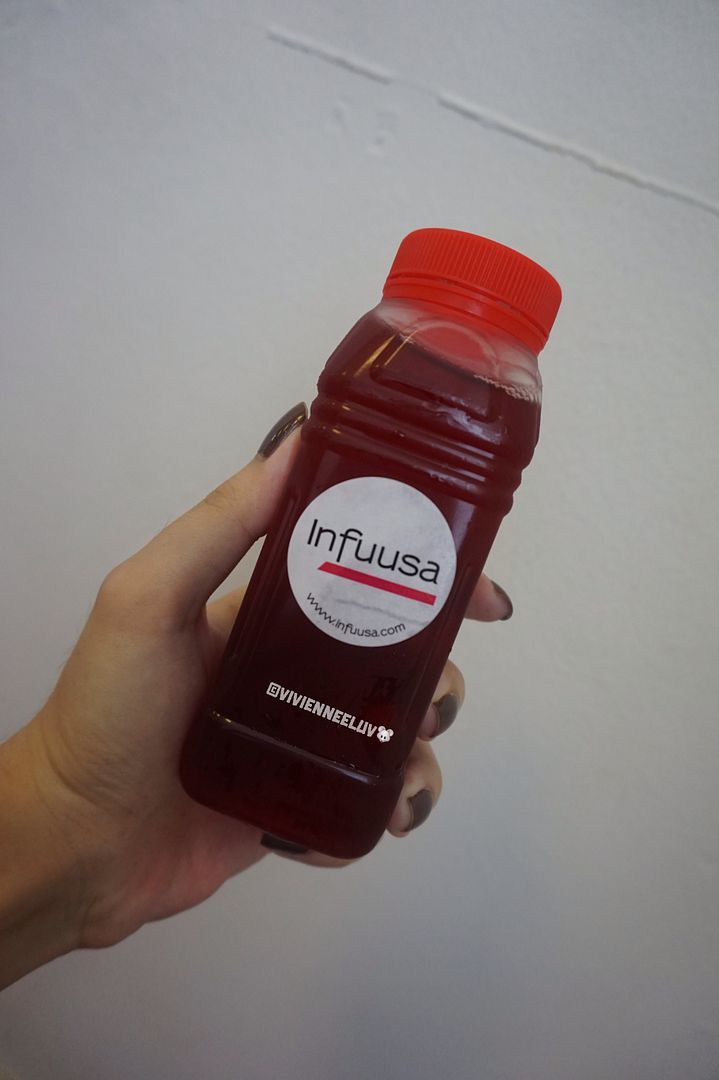 This is a winner in our yoga class. Everyone prefers this to the other drink Wei Lieh had prepared for us (except me).
QUAD BERRY S$13.90 (a packet of 10)
Ingredients: Apples, Hibiscus petals, Elderberries, Blackberry leaves, Rosehip shells, Flavours, Raspberries, Strawberries, Blackberries, Blueberries.
Each sachet makes 500 ml of this tasty beverage. Some said it taste like unsweetened Ribena. Just make this drink in cold or room temperature water!
Reni & myself enjoying the cold brew in the midst of yoga!
LEMONGRASS GINGER S$13.90 (a packet of 10)
Ingredients:
Organic Ginger, Organic Lemongrass, Organic Liquorice Root, Organic Spearmint.
Each sachet makes 500 ml of this tasty beverage. Just make this drink in cold or room temperature water! Recently I am so into lemongrass drink, because it taste so good! So I am the only one who voted for this drink :P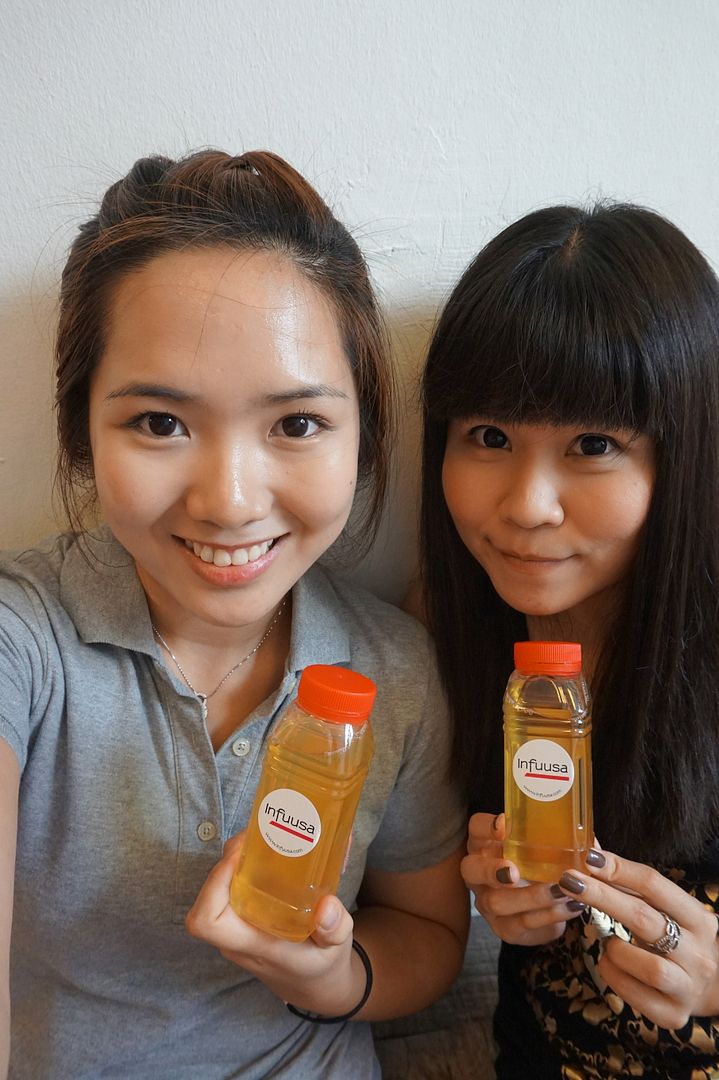 All freshened up after Yoga, enjoying our second bottle of Infuusa!
Pictures taken during the workshop: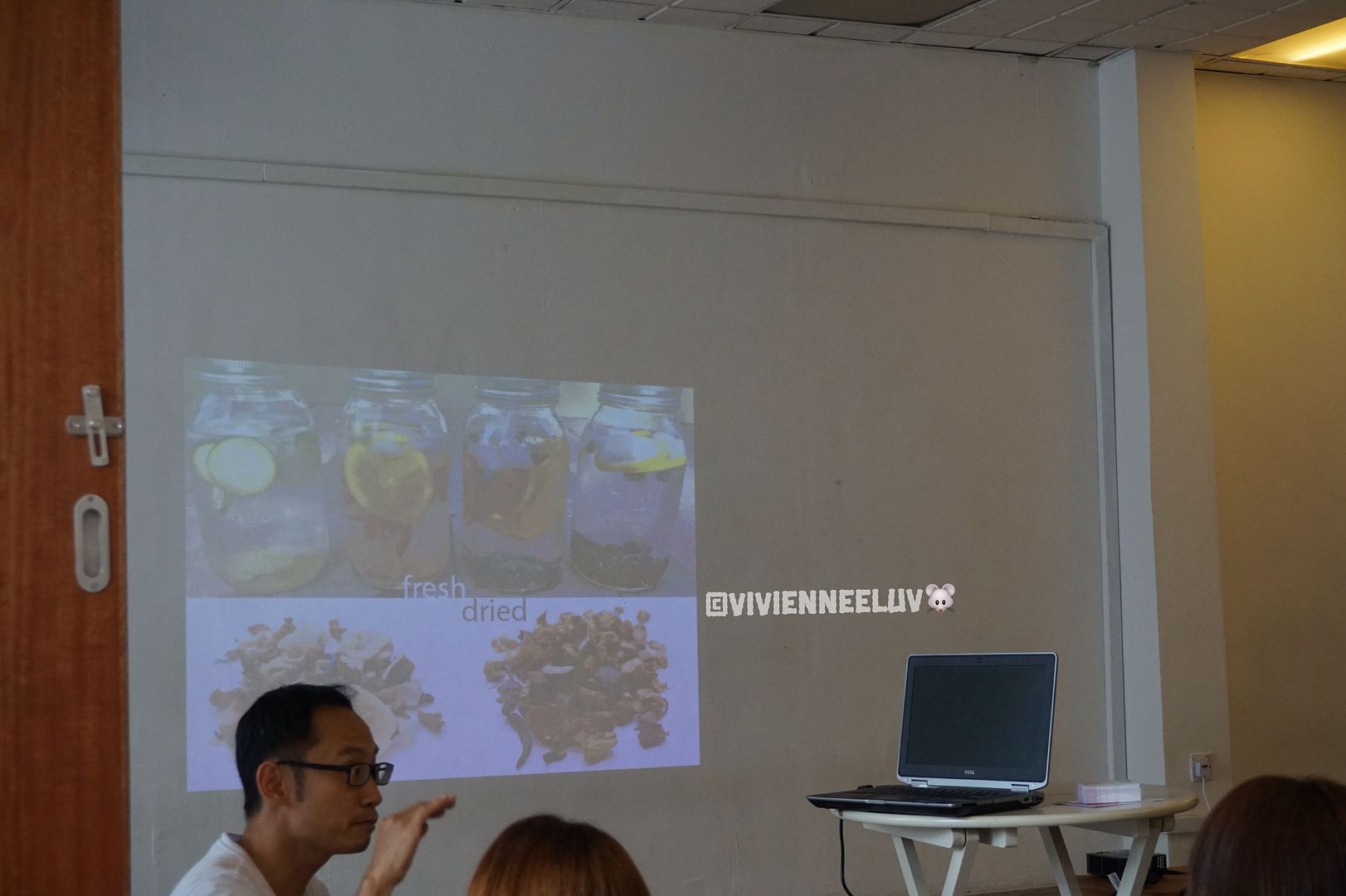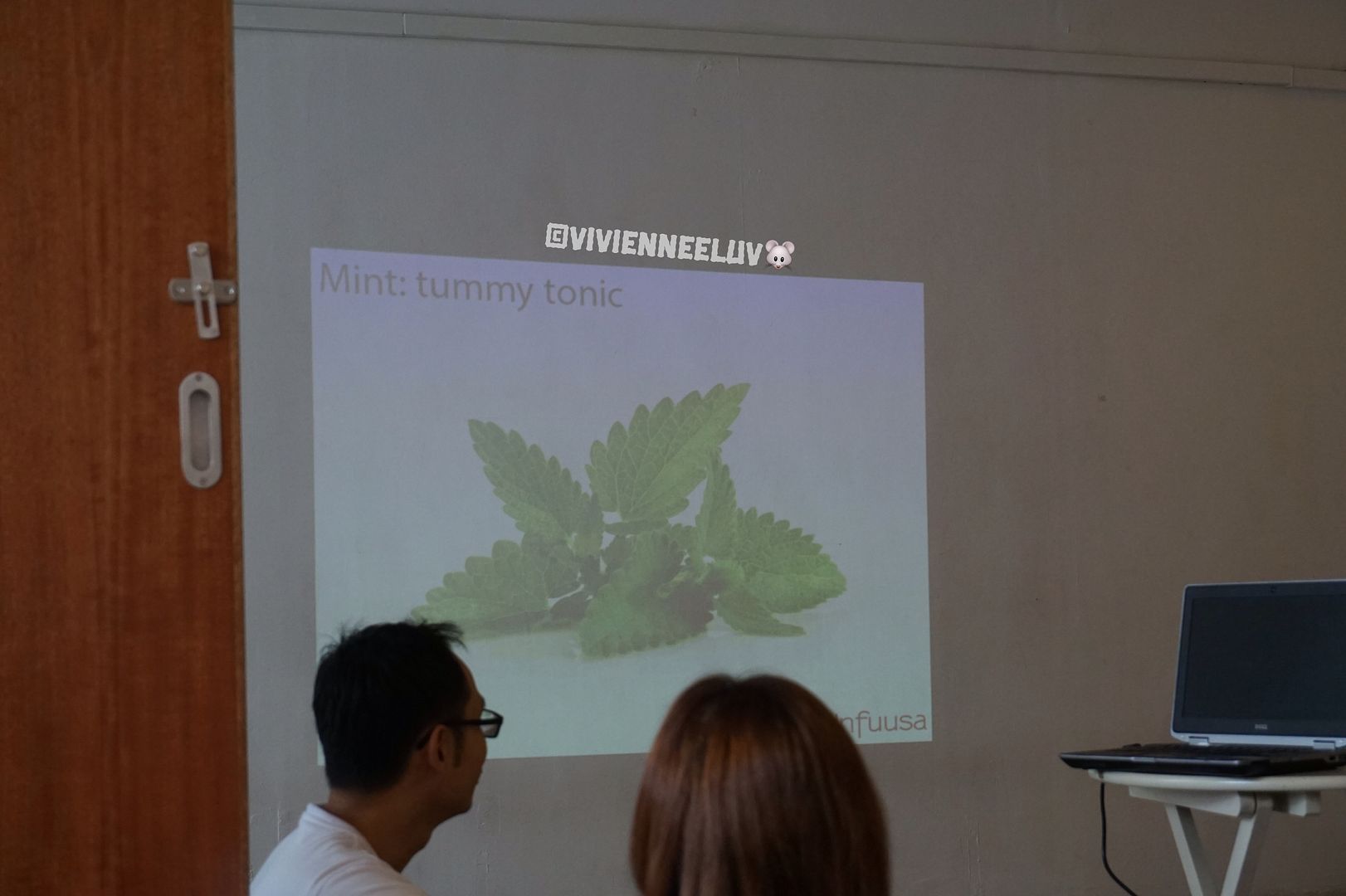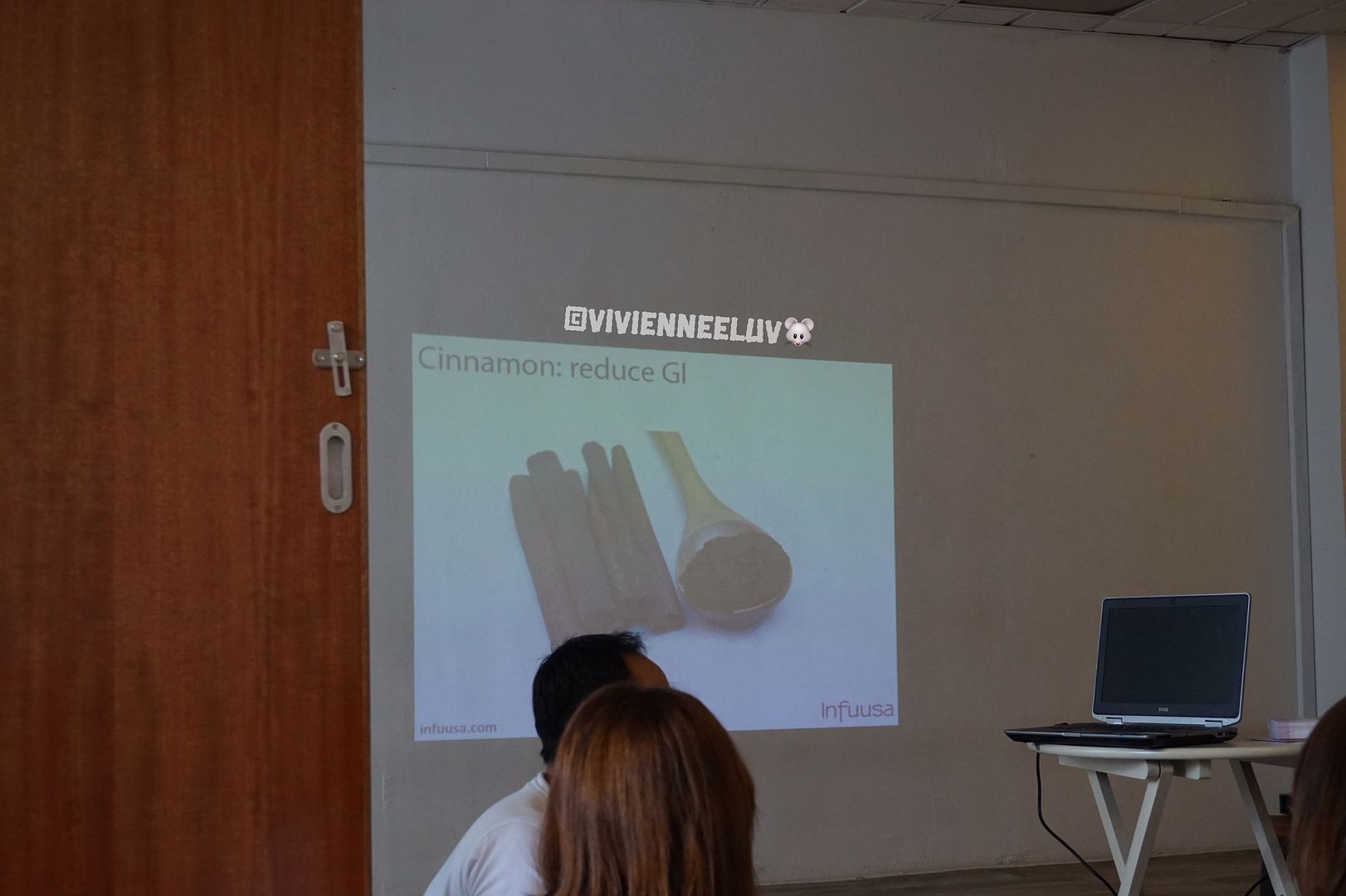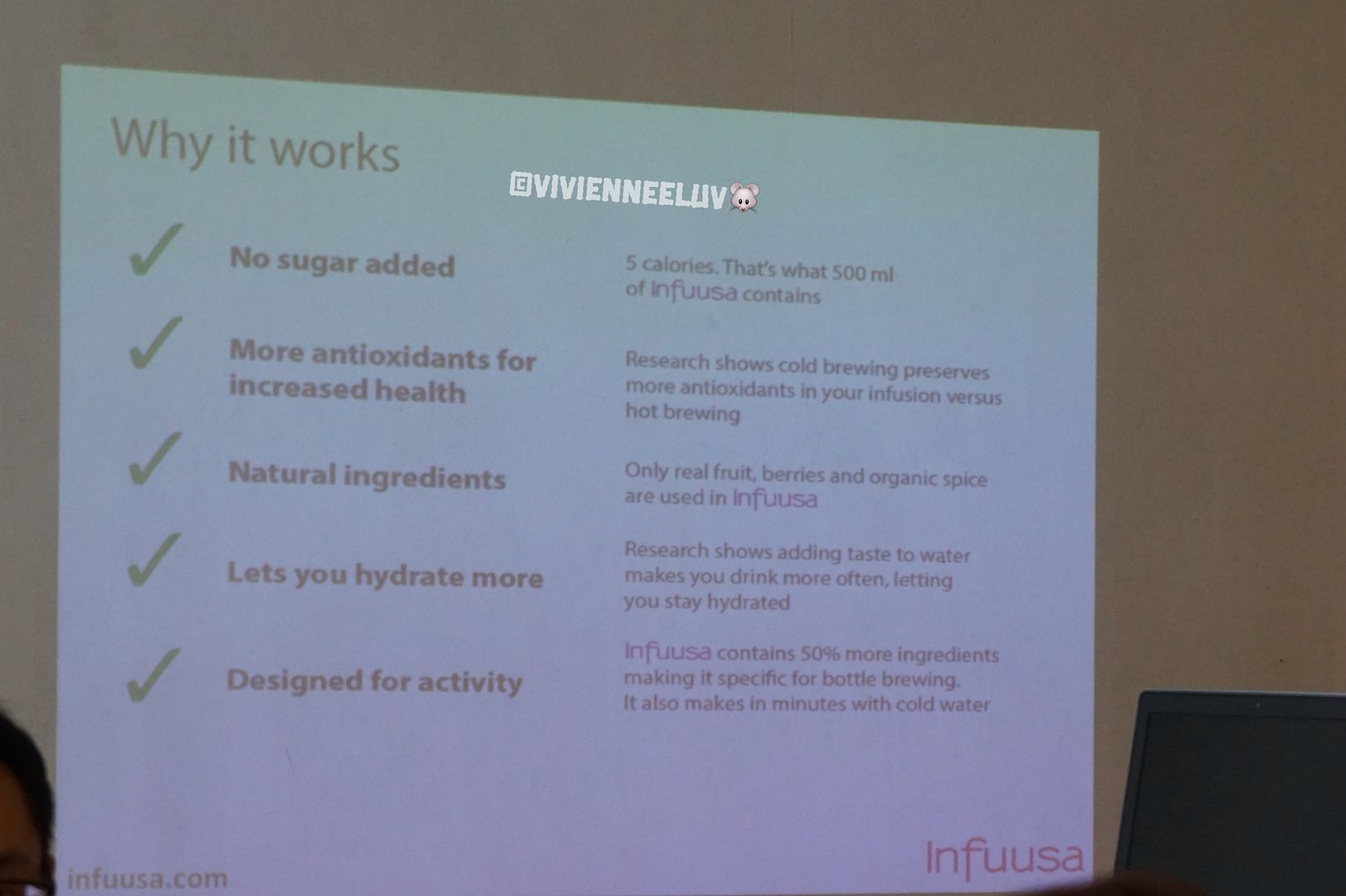 Thank you Infuusa & Tirisula Yoga!
Drink hydration, eat calories people!
Visit http://infuusa.com