Lee Kum Kee - the secret to becoming a master chef at home
Lee Kum Kee was established in 1888 when its founder Mr Lee Kum Sheung invented oyster sauce in Nanshui, Zhuhai, Guangdong Province of China. With a glorious history of 125 years, Lee Kum Kee has become a household name as an ethnic Chinese enterprise as well as an international brand and a symbol of quality and trust.
My summarised version of how oyster sauce was actually ''borned'' is by accident.
Mr Lee was cooking a pot of soup, and he accidentally left it to boil and over boiled, the soup then thickened and it became a tasty pot of oyster sauce!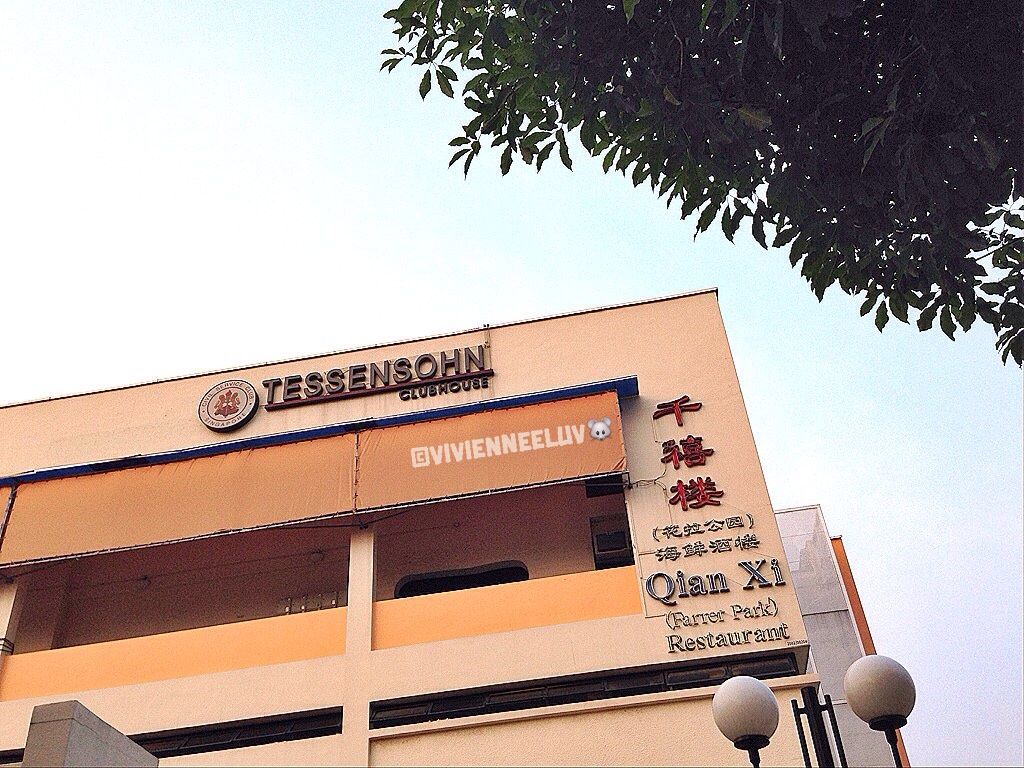 Lee Kum Kee is not an unfamiliar brand to many of us. Ever since I was young (old enough to watch my mum cook), I already know the presence of Lee Kum Kee. I remember the tall glass bottle of Oyster Sauce that my mum had always used. Of course she also used other sauces from Lee Kum Kee, but the 1 significant sauce is the Oyster Sauce!
Lee Kum Kee sauces are popularly and widely used all over the world: from the busiest kitchens in the best gourmet restaurants to family kitchens just like mine.
Its been a couple of months since we last had a cookout session. Today's session is a little different as we have Chef Edwin (Ex-chef from St Regis) with us, showing how to whip up 3 dishes + 1 soup using Lee Kum Kee's Menu-Oriented sauce in just 30 minutes. You are right, no typo, 30 minutes.
We had the honour to be here at Civil Service Club's Cooking Studio to not only watch and learn how Chef Edwin cooks, as well as did some hands on, ourselves too!
Menu- Oriented Sauce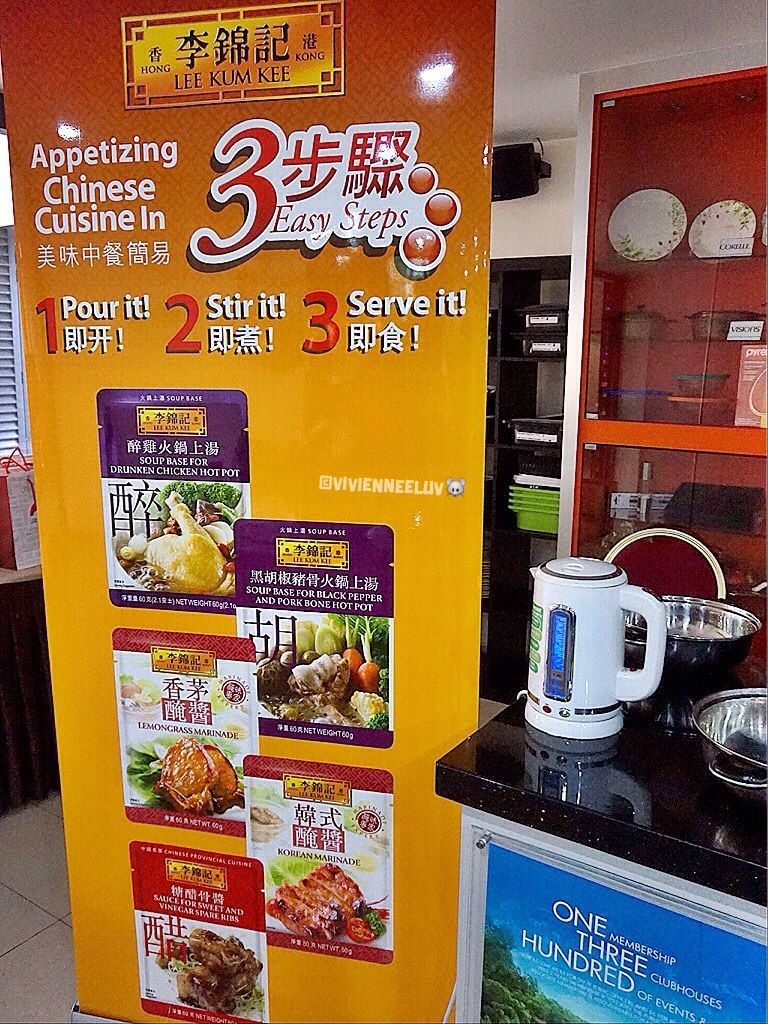 When you go to supermarkets, I am sure you have came across Lee Kum Kee's menu oriented sauce. You can never miss them because there are an existing 19 of them!
Now 5 more variants had join the existing 19, which makes it a total of 24! 1 day cook 1, you can rotate for the whole of one month.
Menu-Oriented sauces are ready made (wide range of variety, 24 of them!), delicious and save time in cooking! I have experienced it myself, I will share my experience (without the chef's help) in my next post.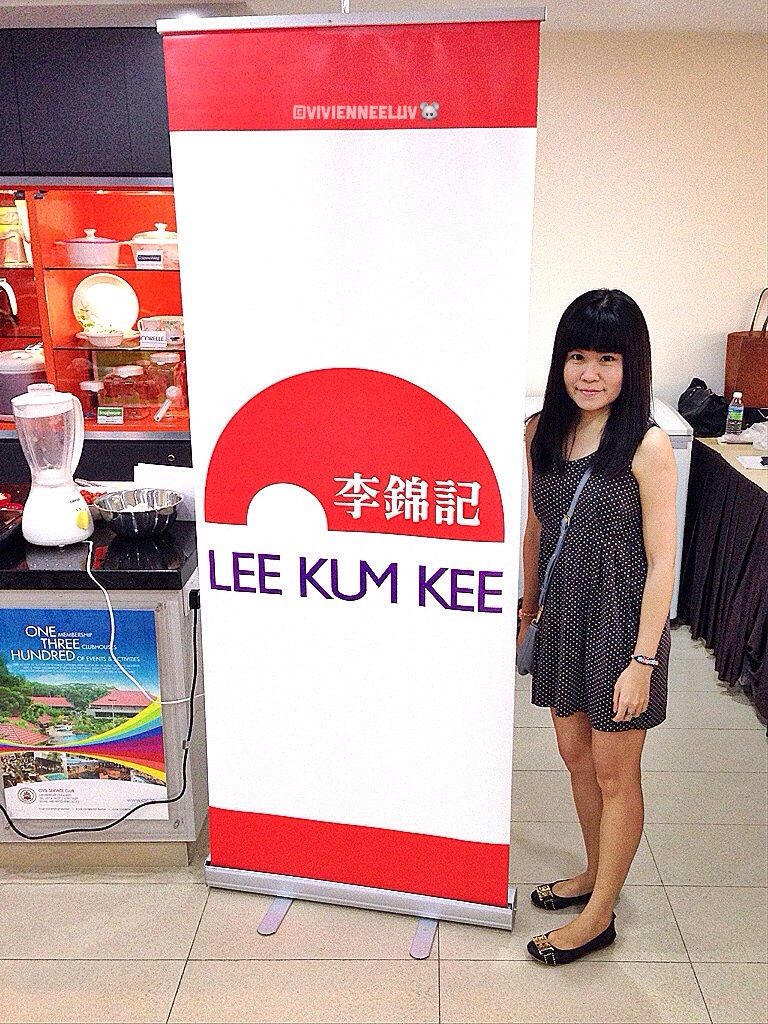 A shot of myself & Lee Kum Kee before the chef starts the cooking!
All the sauces!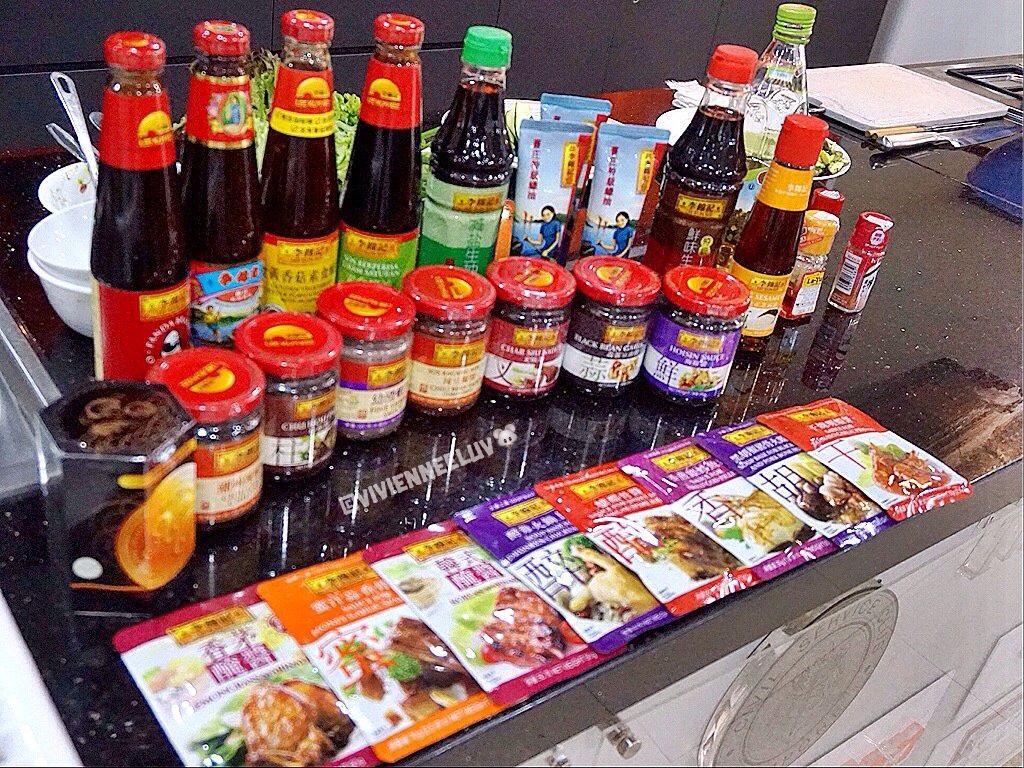 PREMIUM OYSTER SAUCE
Since 1888, Lee Kum Kee strictly followed their secret recipe and insisted on using only the most robust and mature oysters that have grown for at least 2 years in good aulity waters free from contamination and meeting national standards. A rich oyster extract is produced from the best selection of oysters, which is then scrupulously simmered into the finest oyster essence made to bring out the natural freshness in all the food it touches.
This is not a facial cleanser or some new pearl face cream.
This is not a new type of oyster sauce either, its the same old premium oyster sauce but has a modernised packaging, that comes in a tube form. I love this packaging, because whenever I took the glass bottle of oyster sauce, I had this feeling that I will drop it. But for my mum, I think she would still prefer the traditional glass bottle.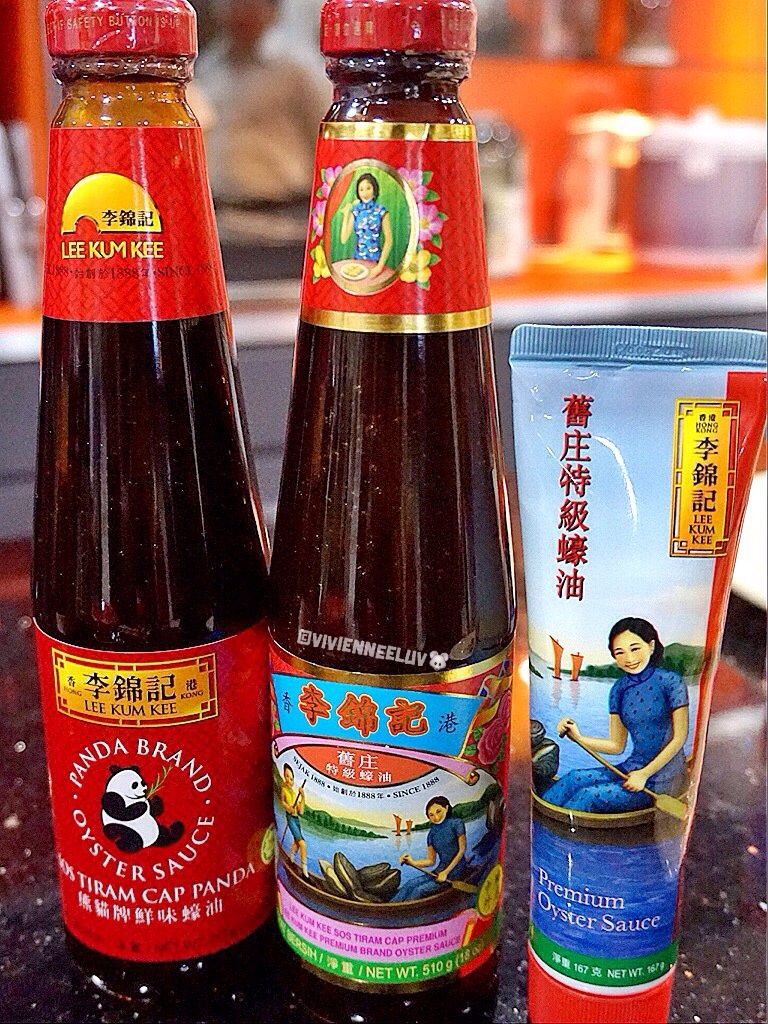 OYSTER SAUCE
2 different grade of oyster sauce here.
The Panda one being the lower grade but is still very good, I have this at home. After my mum finishes this, i will be getting her the premium one instead!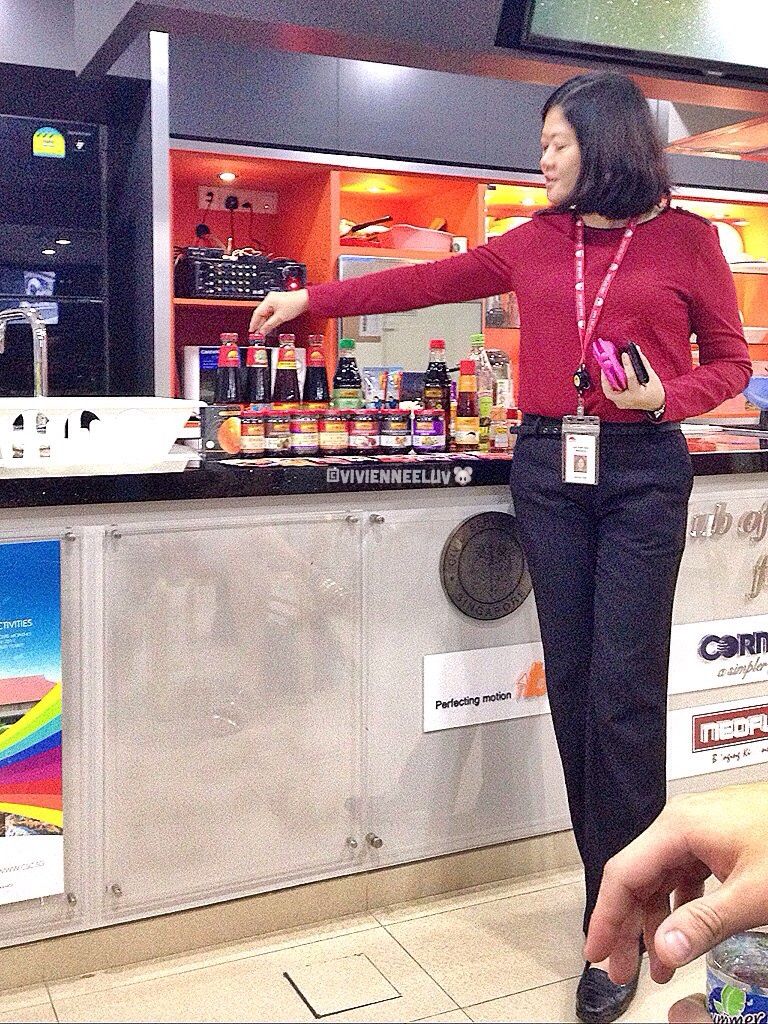 Jenny introducing the sauces and sharing the history of Lee Kum Kee's to us.
4 dishes in 30 minutes by Chef Edwin
Now its Chef Edwin's turn to share with us some cooking tips and demonstrate to us cooking 4 restaurant-quality dishes within 30 minutes! You enjoy the pictures while I share the recipes!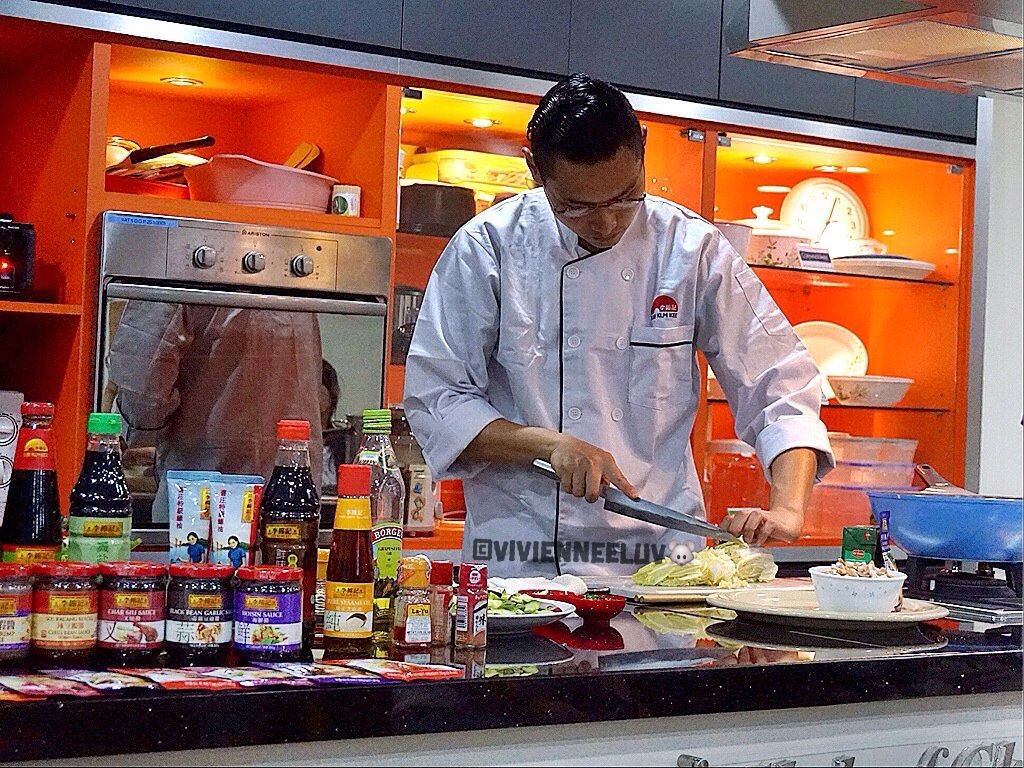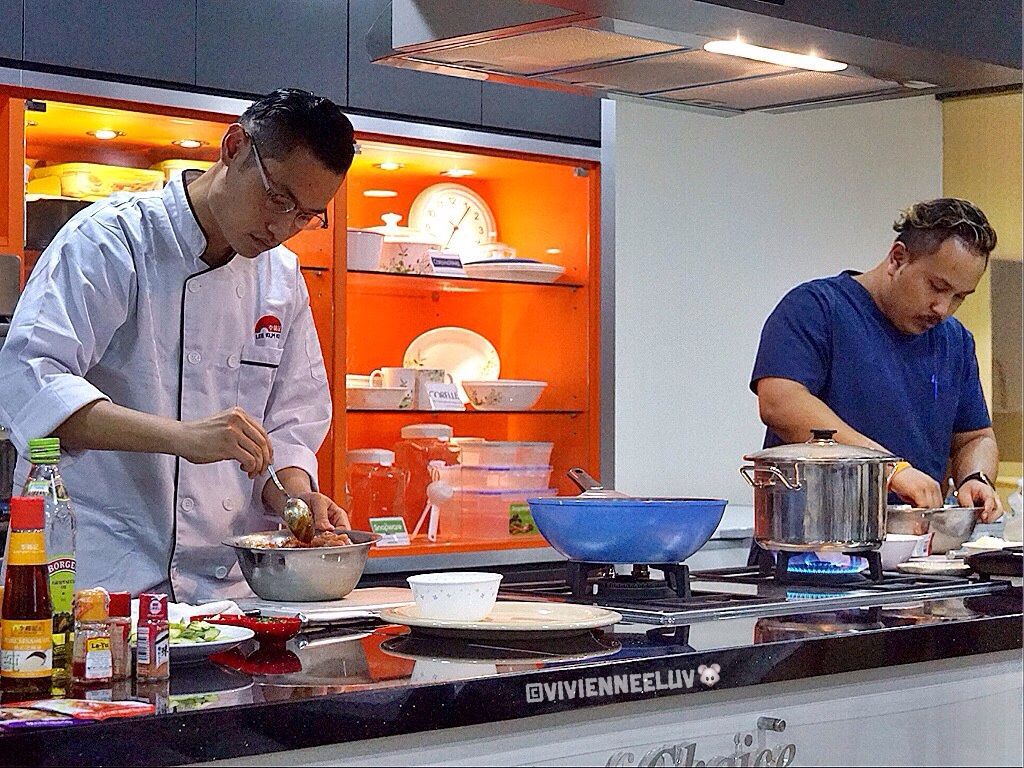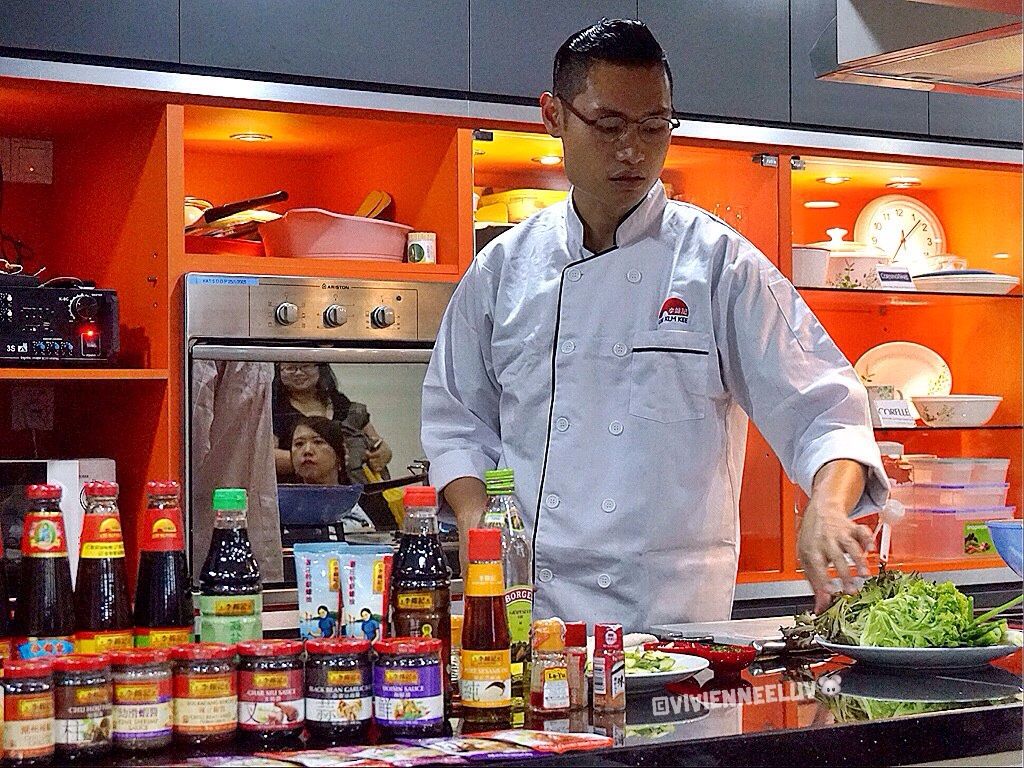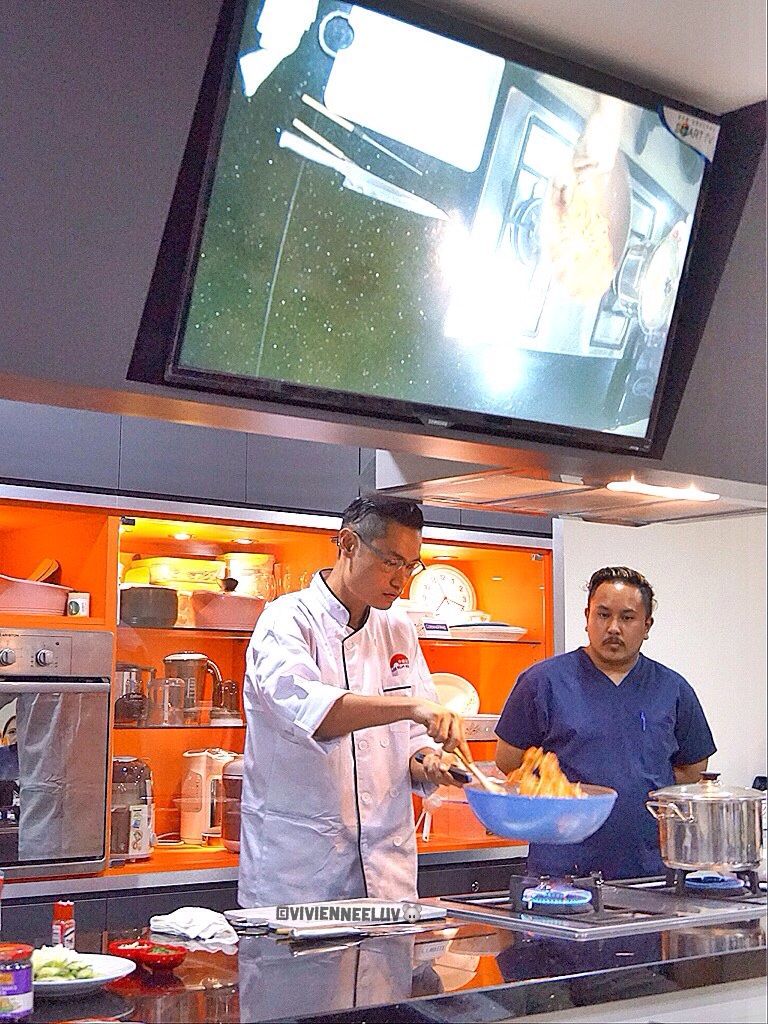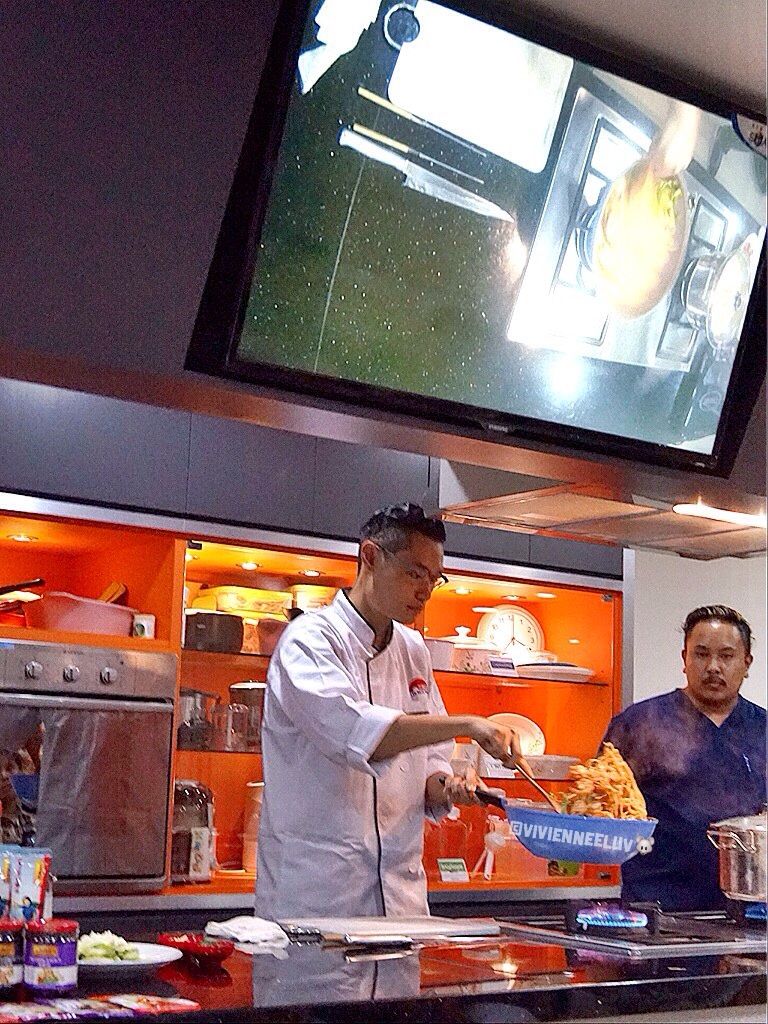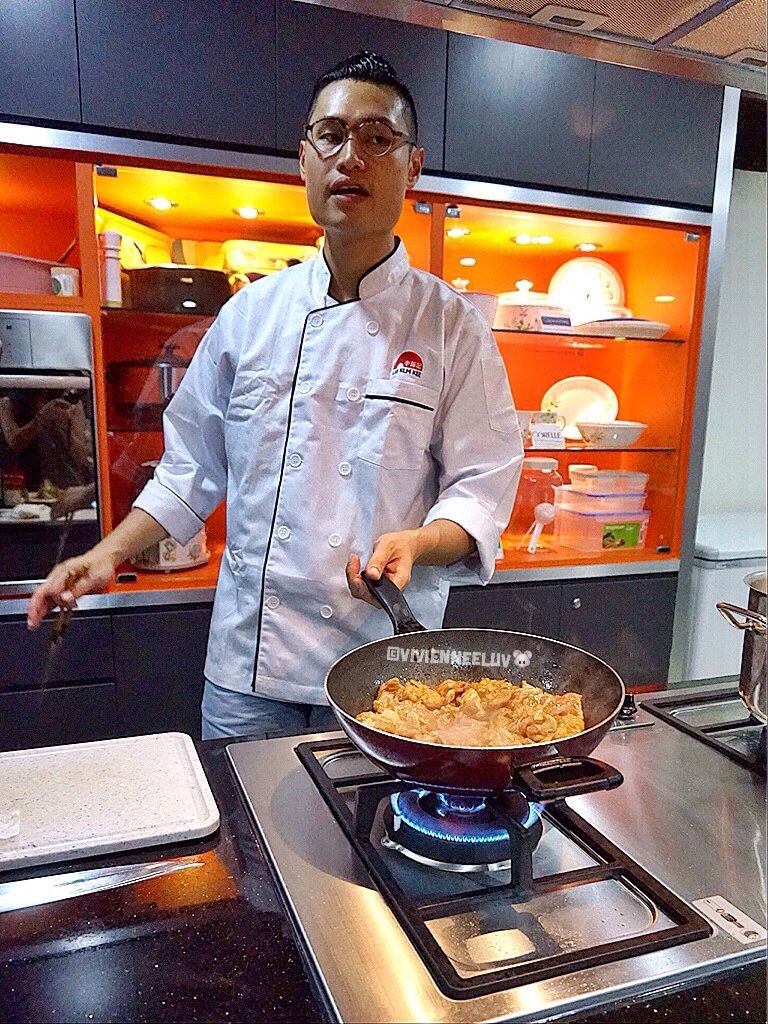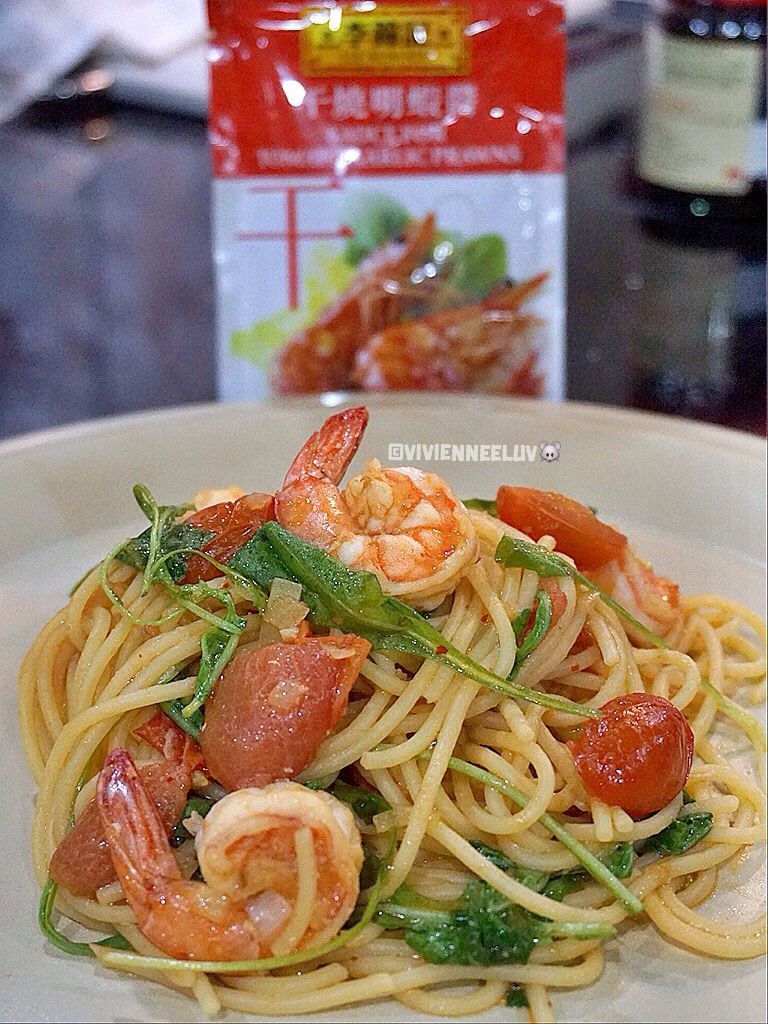 SPICY PRAWN & TOMATO PASTA
Need:
1 packet of Lee Kum Kee Sauce for Tomato Garlic Prawns
200g Tiger Prawns (peeled)
60g Cherry Tomato
1 clove Garlic
20g Onion (dice)
150g Spaghetti
40g White Wine
20g Rucola
Olive Oil for frying
Method:
1) In a pan, heat olive oil, add in garlic and onion & sweat till fragrance.
2) Add in prawns and deglaze with white wine.
3) Add in Lee Kum Kee Sauce for Tomato Garlic Prawns.
4) Add in spaghetti and toss evenly.
5) Add in rucola salad and serve.
KOREAN PORK SALAD
Need:
1 packet of Lee Kum Kee Korean Marinade
200g Pork Belly Slice
100g Negi
100g Mesclun Salad
100g Chili Powder
Chili Oil
Lee Kum Kee Premium Light Soy Sauce
Lee Kum Kee Pure Sesame Oil
Method:
1) Marinate pork belly with Lee Kum Kee Korean Marinade for 10 minutes and pan fry till light golden brown.
2) Thinly slice nevi and mix mesclun salad.
3) Mix salad with chill powder, chill oil, Lee Kum Kee Premium Light Soy Sauce & Lee Kum Kee Pure Sesame Oil.
4) Toss pork and salad together and serve.
Read on, as we form into teams and whip up this salad in a very short while! :D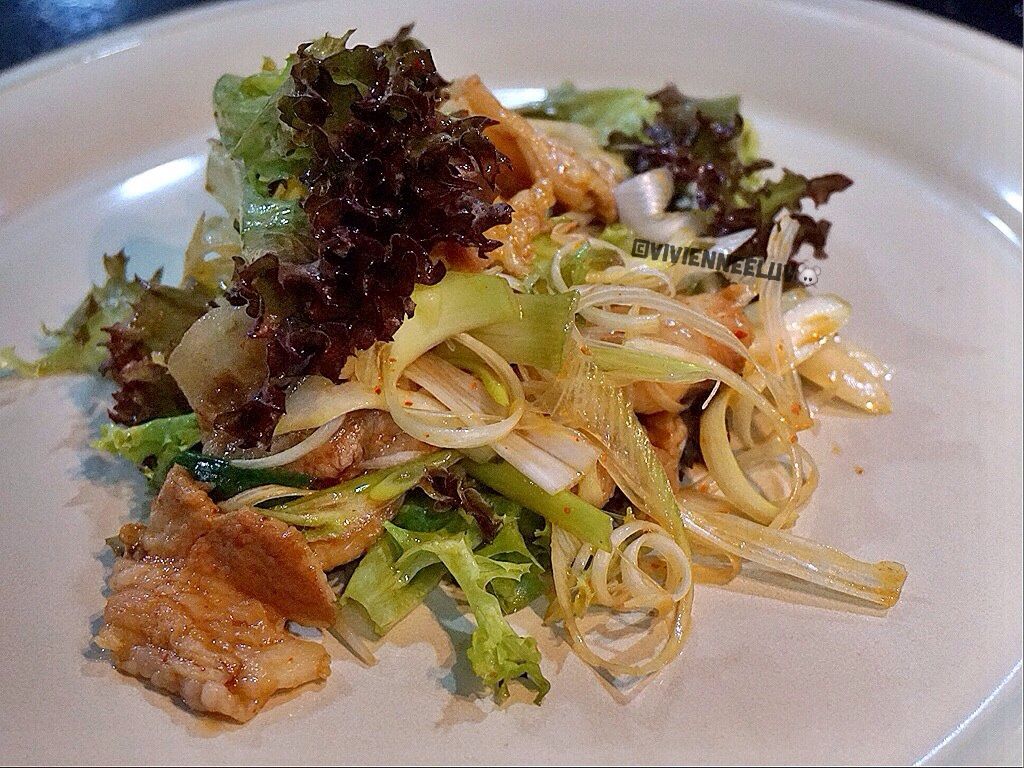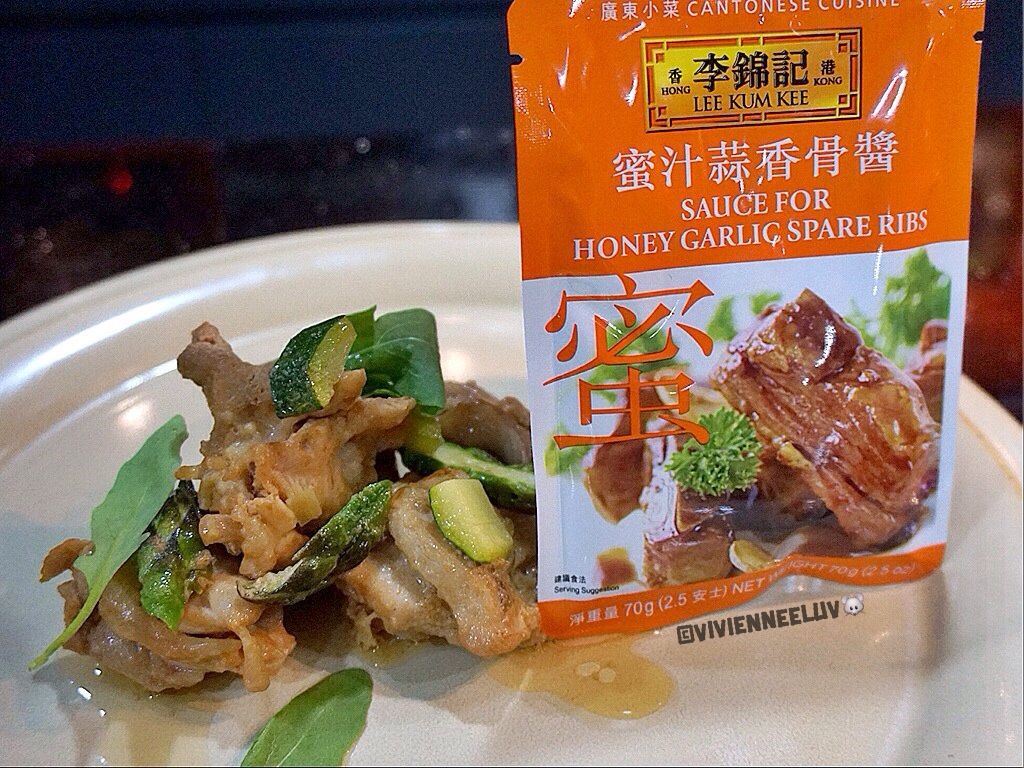 HONEY GLAZED CHICKEN WITH ZUCCHINI
Need:
1 packet of Lee Kum Kee Sauce for Honey Garlic Spare Ribs
300g Chicken Leg (dice)
50g Onion (dice)
50g Zucchini (diced)
Olive Oil
Black Pepper Crush
Salt
Method:
1) Peel and dice zucchini then blanch, refresh them with ice water and put aside.
2) Marinate chicken with Lee Kum Kee Sauce for Honey Garlic Spare Ribs for 10 minutes.
3) In a frying pan, sweat onion till fragrant, add in chicken and sear till brown, add in zucchini and sauté. Serve.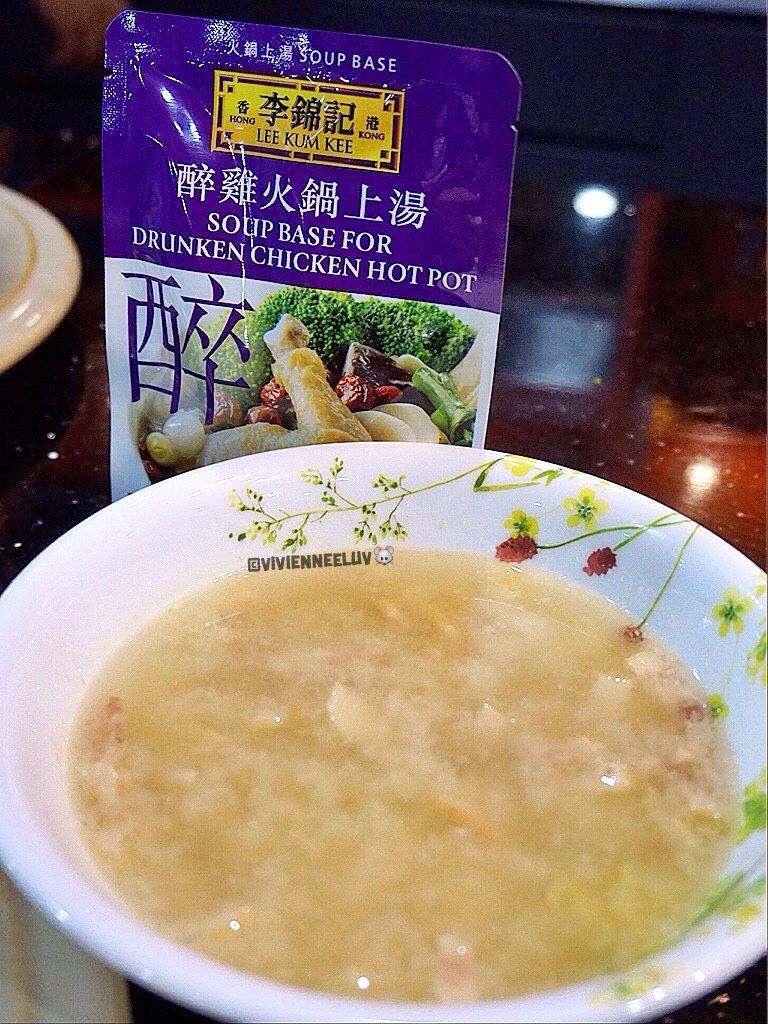 DRUNKARD CHICKEN, BACON & CORN SOUP
Need:
1 packet Lee Kum Kee Soup Base for Drunken Chicken Hot Pot
50g Bacon Streaky
1 packet Corn Kennel
100g Cabbage
20g Butter
1 Litre Water
Method:
1) In a pot of boiling water, add in Lee Kum Kee Soup Base for Drunken Chicken Hot Pot, cabbage, 1/2 corn kennel & simmer 10 minutes.
2) Using a hand blender, blend soup mixture, monte with butter & strain.
3) In a frying pan, saute bacon & corn.
4) In a soup bowl, place bacon & corn in it & add in soup slowly.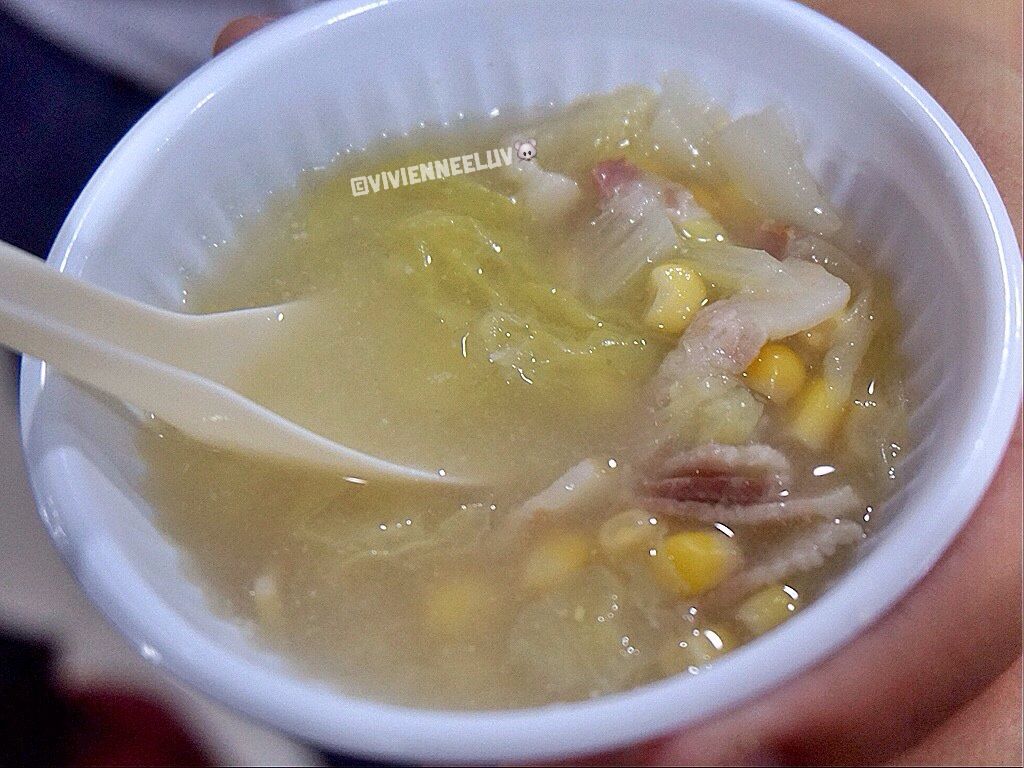 3 dishes + 1 soup! All within 30 minutes!
All these Menu-Oriented sauce (in packets) you see in this post are selling at S$1.90 at NTUC Supermarkets (currently there is a promotion S$4.95 for 3 packets) & S$2.10 at Cold Storage Supermarkets.
Cookout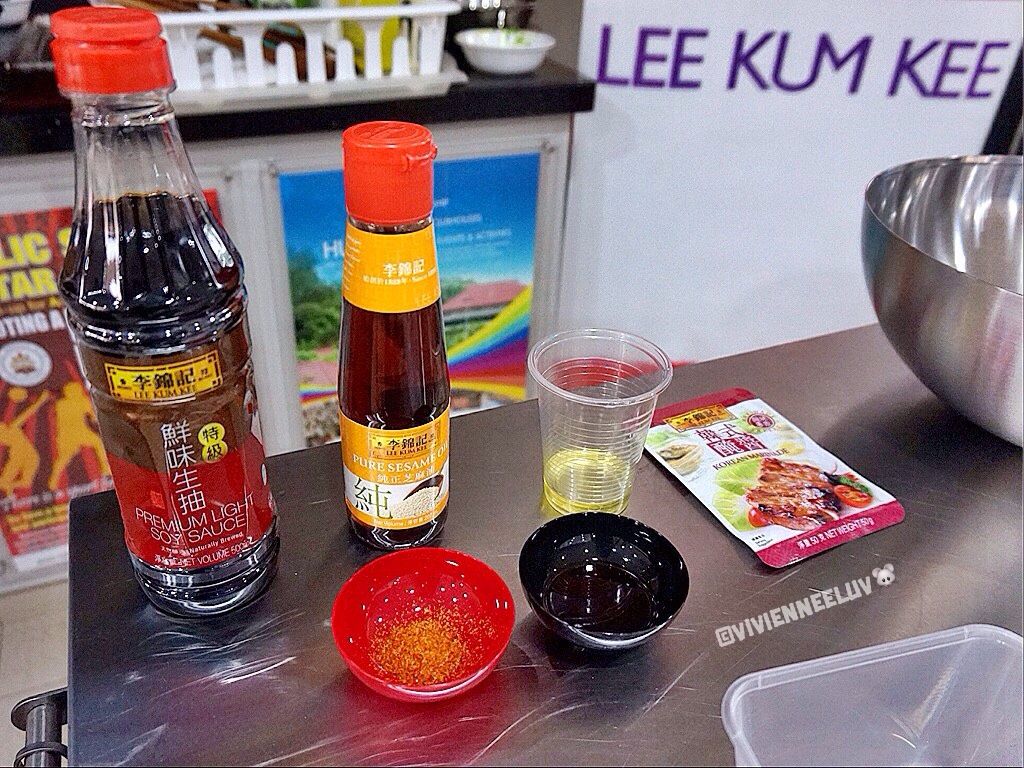 Now, our turn to make KOREAN PORK SALAD!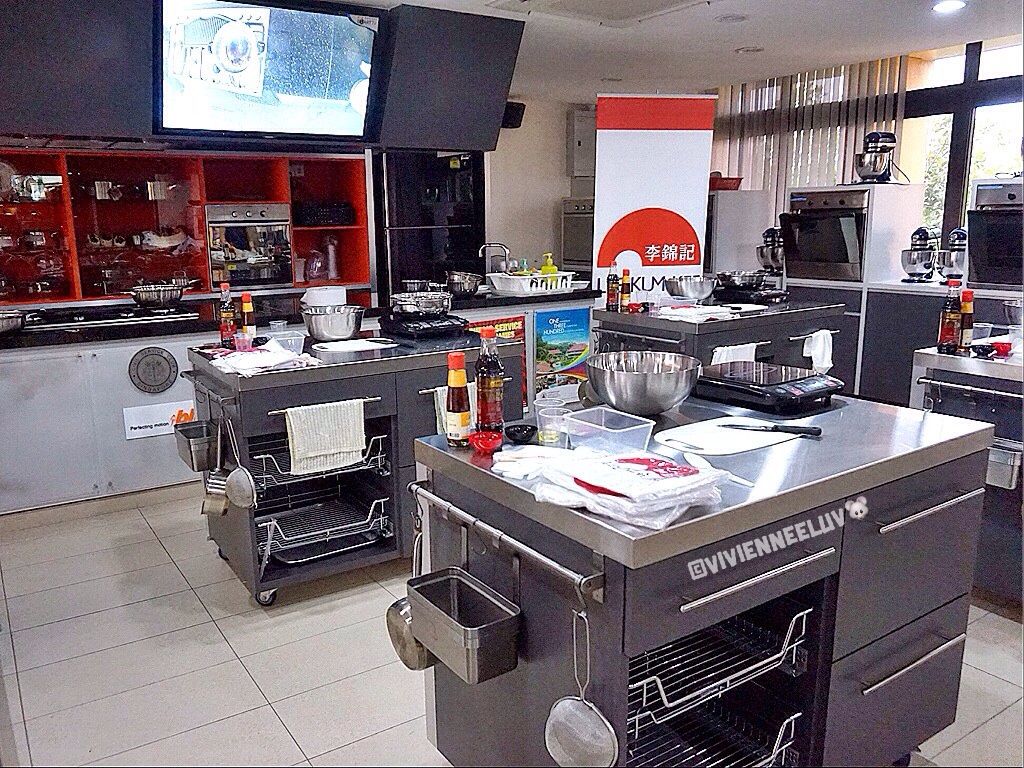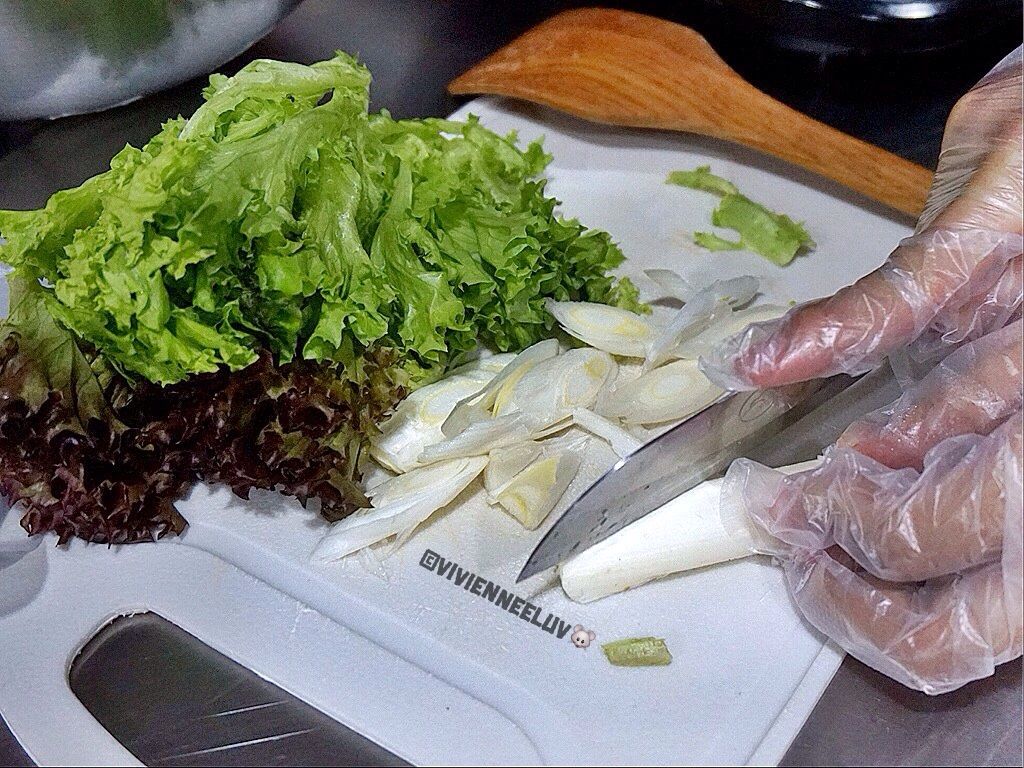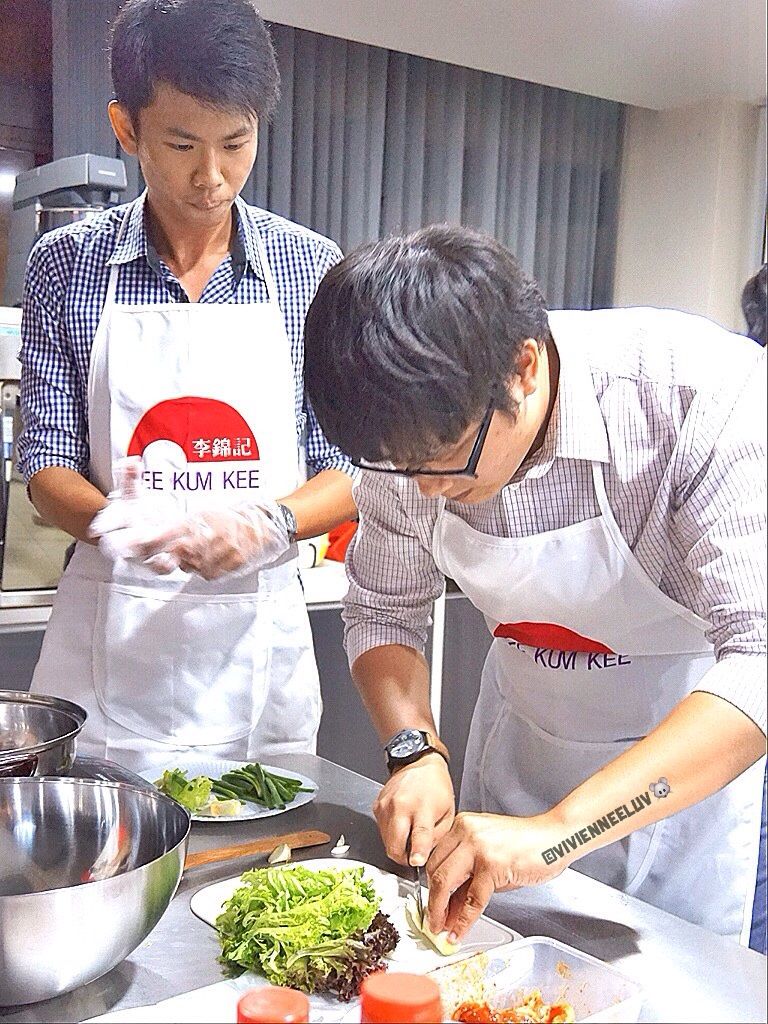 The boys busy preparing the food….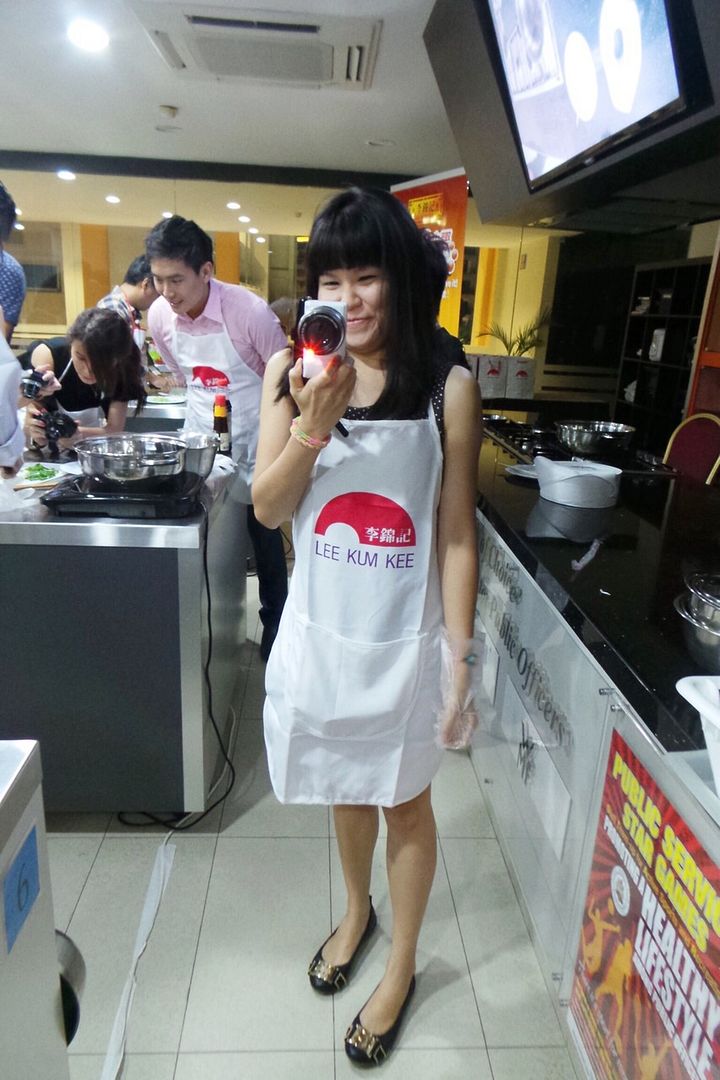 (Pic Credit: Lirong)
We gals playing around, snapping pictures :P
The pork here looks so delicious! Just pork with the marinade, and fry! We have tried and it is very tasty!
KOREAN PORK SALAD
And below are some other pictures taken by Lirong & on Lirong's camera: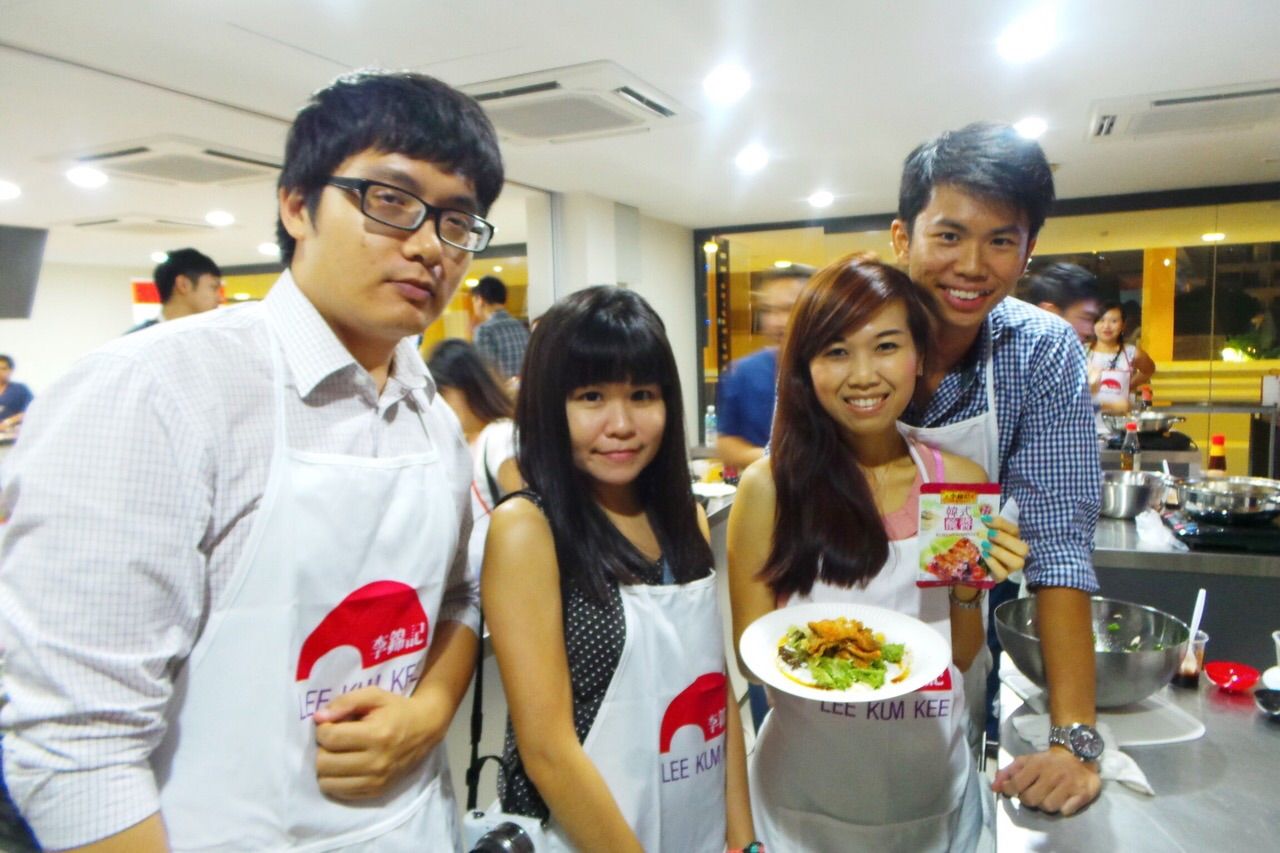 Group pics!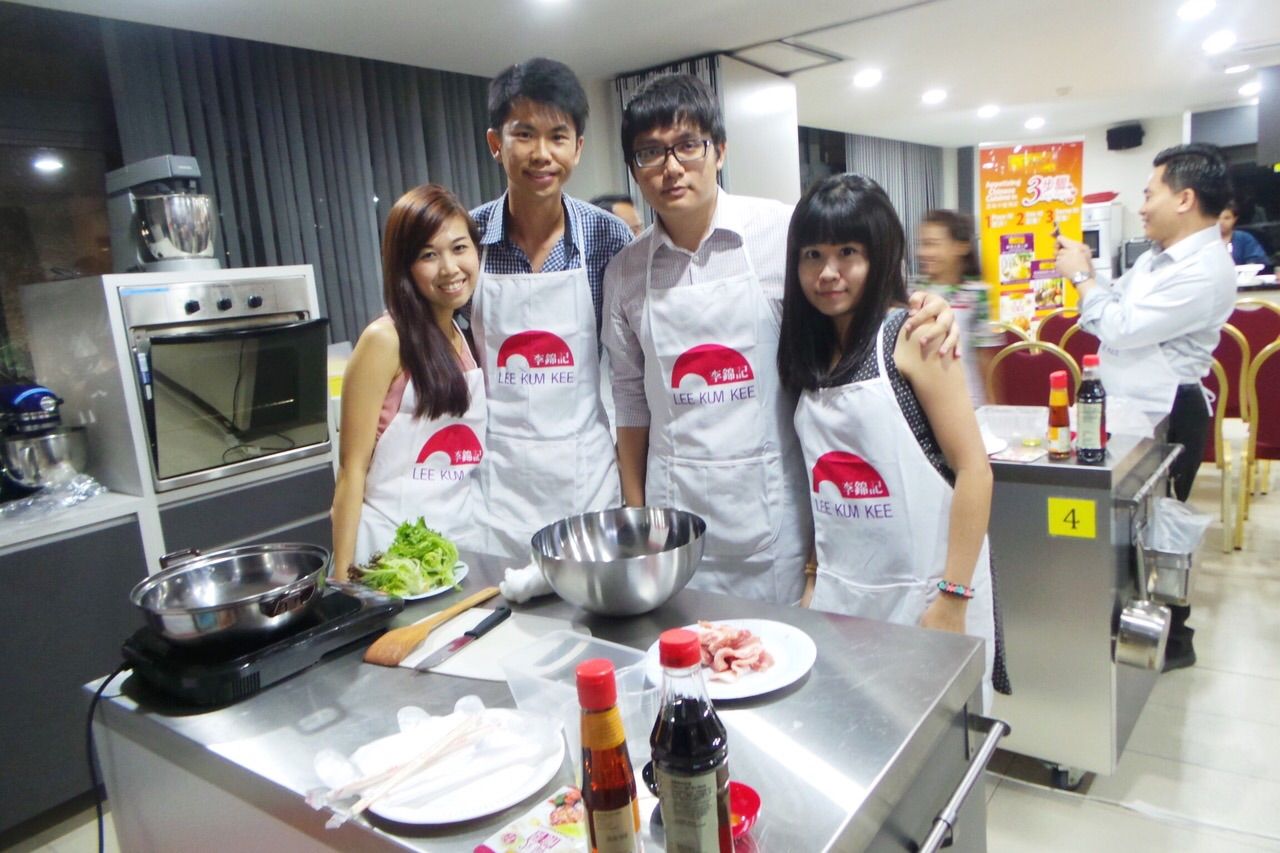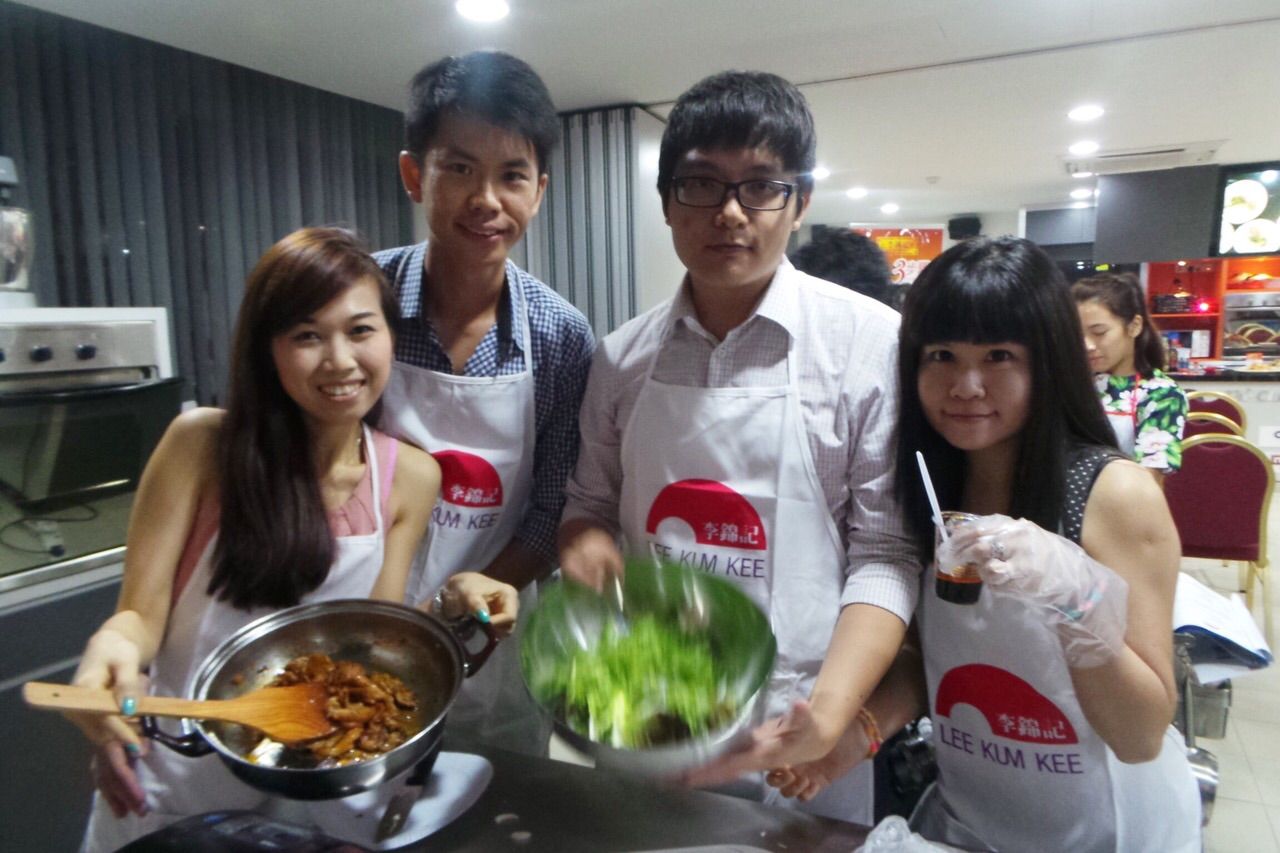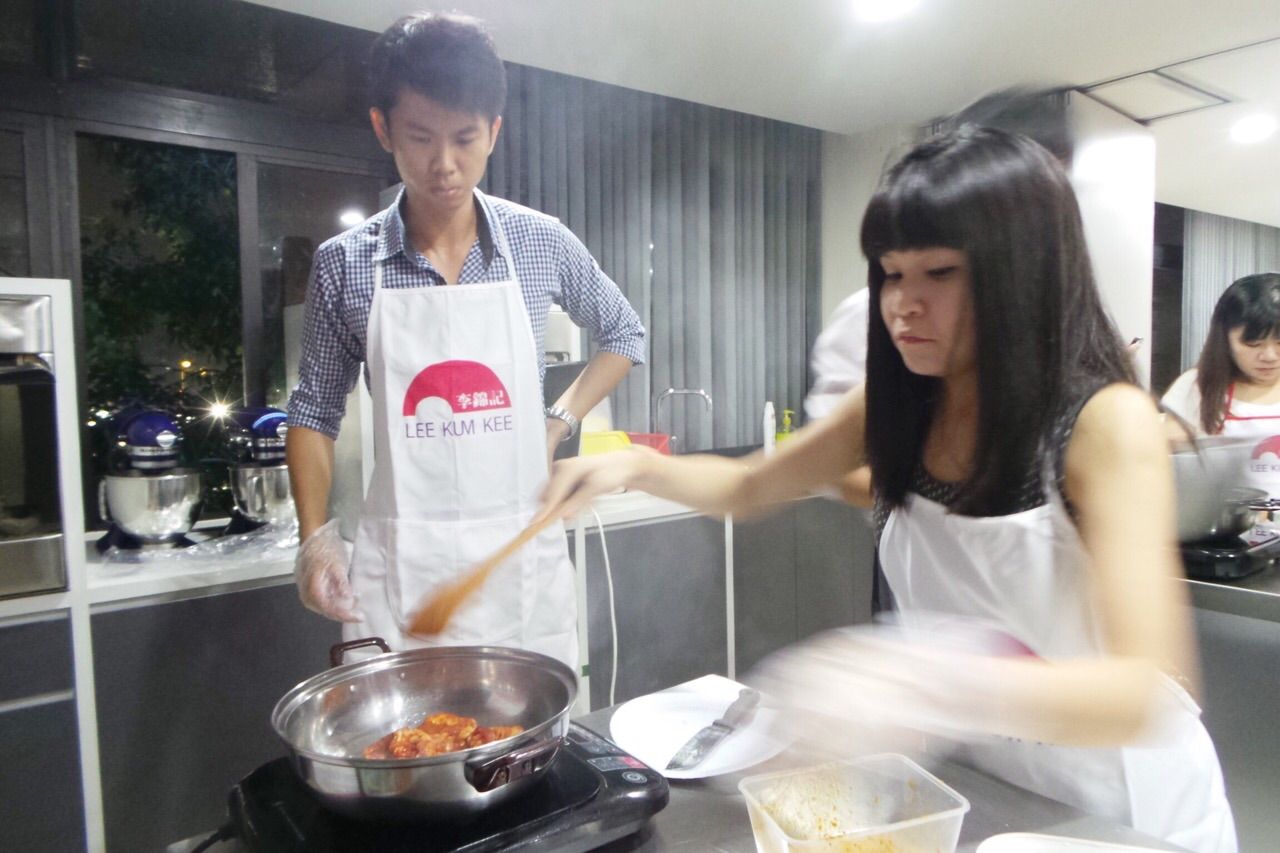 YG giving a stress face in these 3 pictures, i do cook at home ok!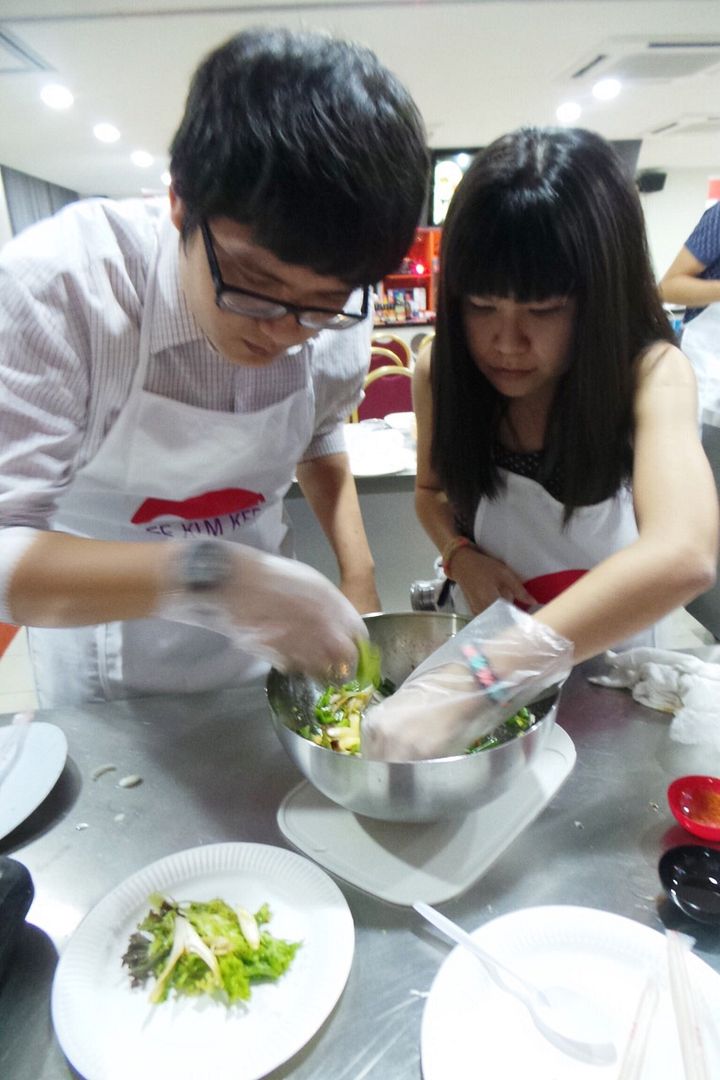 Looks like digging for gold but actually we are trying to toss the pork and salad together.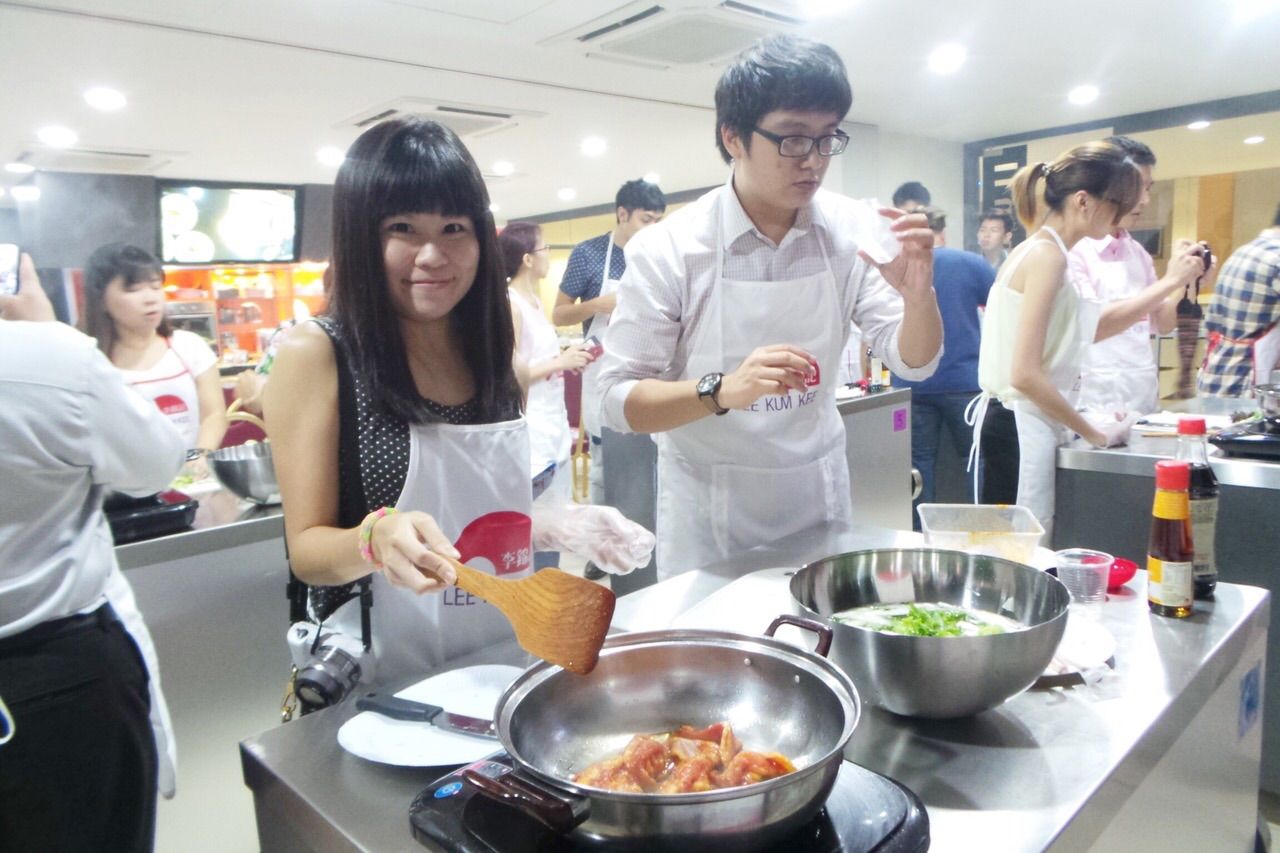 Actually we let the guys do most of the job. Good husband quality! Tried & tested :P
When it comes to Lee Kum Kee products, no worries at all! Even guys can do it very well!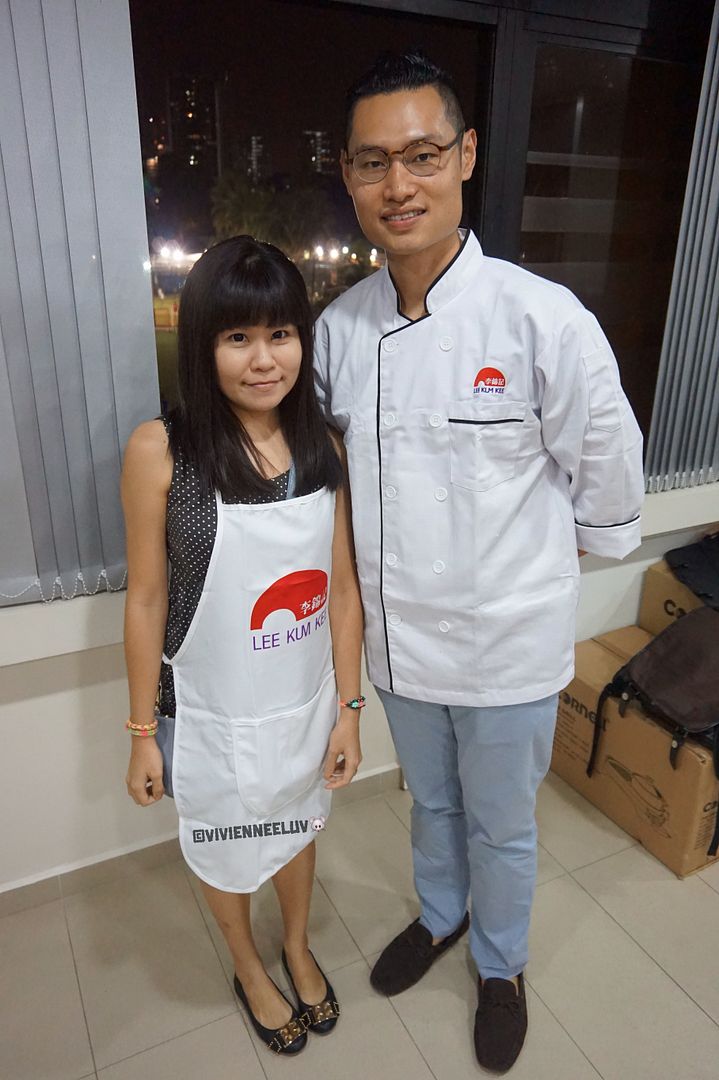 Lastly a picture with Chef Edwin. *Super tall*
With these ready-made sauces, all it takes is only 30 minutes to cook up a scrumptious 4-course meal for a family of four. Now you can be your own master chefs at home! Try it!
Thank you Lee Kum Kee for having us!