We all know that the Dragon Boat Festival is just around the corner, on 2nd June 2014.
Whenever this festival is coming, I would remember it as ''Rice Dumpling Festival'', because its when everywhere is selling rice dumplings. I loveeeeee rice dumplings, I could eat them daily.
This Dragon Boat Festival, the team of culinary chefs at Din Tai Fung is proud to present the return of its popular Rice Dumpling with Flavoured Pork which has garnered a steady following of fans since its first launch in 2012.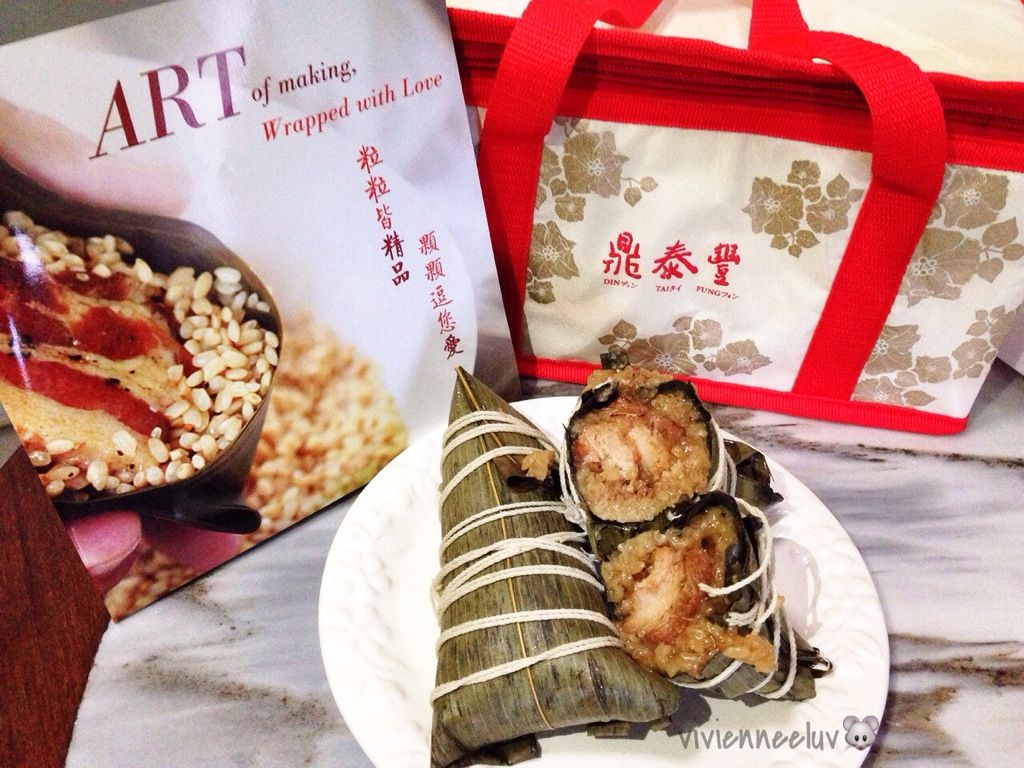 Rice Dumpling with Flavoured Pork is filled with succulent premium pork belly steeped in a secret marinade recipe and stuffed within tender top grade Taiwan glutinous rice for a soft and chewy texture. The dumplings are then wrapped in bamboo leaves, allowing the rice to absorb the fragrance of the leaves and tender pork, creating a heavenly aroma and flavour in every mouthful.
Available at all Din Tai Fung restaurants from 1 May – 2 June 2014 at S$6 per piece.
And if you had noticed the pretty flowery yellow and red bag behind, its actually a limited edition insulated picnic bag, you can get it for free with every purchase of 10 dumplings or for S$8.90 with any dumpling purchased.
Art of making, Wrapped with Love
1.

Thoughtful Preparation
Top grade Taiwan glutinous rice is lightly flavoured with premium soya sauce and marinated by hand to avoid damaging the rice grains.
用上

选

的

酱

油加入糯米

,

然后用手慢慢翻

滚

糯米

让酱

油均匀地裹住每

颗

米粒

,

达到

调

味

调

色作用。
2.

Marinated in Secret Recipe
Each piece of premium pork belly is sliced with precision and is then marinated in 15 types of spices and condiments for 8 hours to ensure each piece of savoury fork-tender meat is brimming with robust flavours.
将特

级

五花肉精准地切成薄片。然后用

15

种

调

味料及佐料把肉片腌制

8

个小

时

,

这

能保

证

每一片肉

调

味均秤

,

可口

软

嫩

,

满

溢醇厚

风

味。
Using bamboo leaves, each dumpling is hand-wrapped and stuffed with glutinous rice and a piece of pork belly, hand-wrapped into a unique pillow shape. Each dumpling is measured in weight and length, to ensure consistency in taste and presentation.
每

颗

粽子裹有糯米及一片五花肉

,

采用台湾竹叶手工包成独特的枕状外形。

为

保

证

口感及外形的一致性

,

每只粽子的重量和

长

度必

须

均等。
Dumplings are wrapped around 8 times with a string to ensure that an even amount of pressure is applied to render a perfectly shaped dumpling that is deeply-infused with natural flavours from the rice and pork.
将粽子用

细绳

捆扎

8

圈,以确保粽子得到均匀的蒸

压

,使其不

仅

充

满

来自糯米和肉的自然

风

味,同

时

亦呈现完美外形。
Dumplings are steamed over low heat for 2 hours and served hot.
Next up:
Specially imported from Din Tai Fung Taiwan, our Red Bean Rice Dumplings are hand-made using top grade Taiwan glutinous rice and generously stuffed with the finest red bean paste. Rich in minerals and fibre, each mouth-watering bite will leave you craving for more.
The best thing is that it is a
vailable year-long
at all Din Tai Fung restaurants, for S$5 per piece.
And the next great best thing is, they are having a promotion currently, from 1 May to 30 June, Diners can enjoy a complimentary piece of Red Bean Rice Dumpling with a minimum spend of $90 at Din Tai Fung while OCBC Cardmembers only need a minimum spend of $80.
Thank you DI Tai Fung for the rice dumplings!
Din Tai Fung
PPlease click here for DTF outlets.