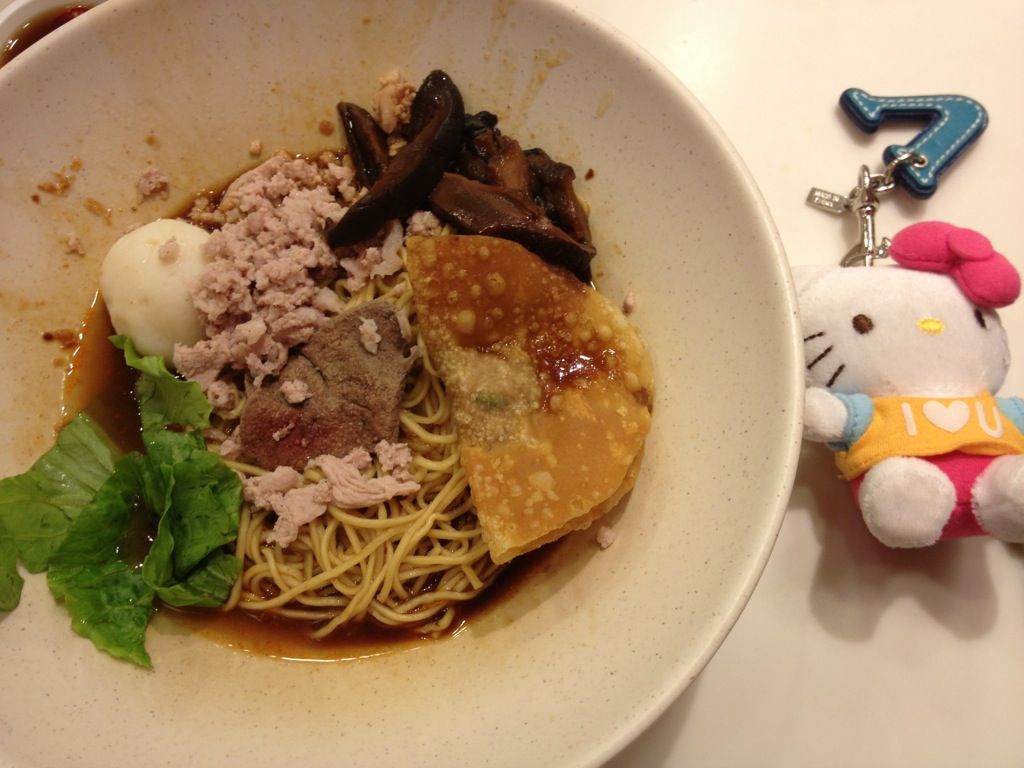 E.A.T serve really good minced meat noodles (because got vinegar, so unfair).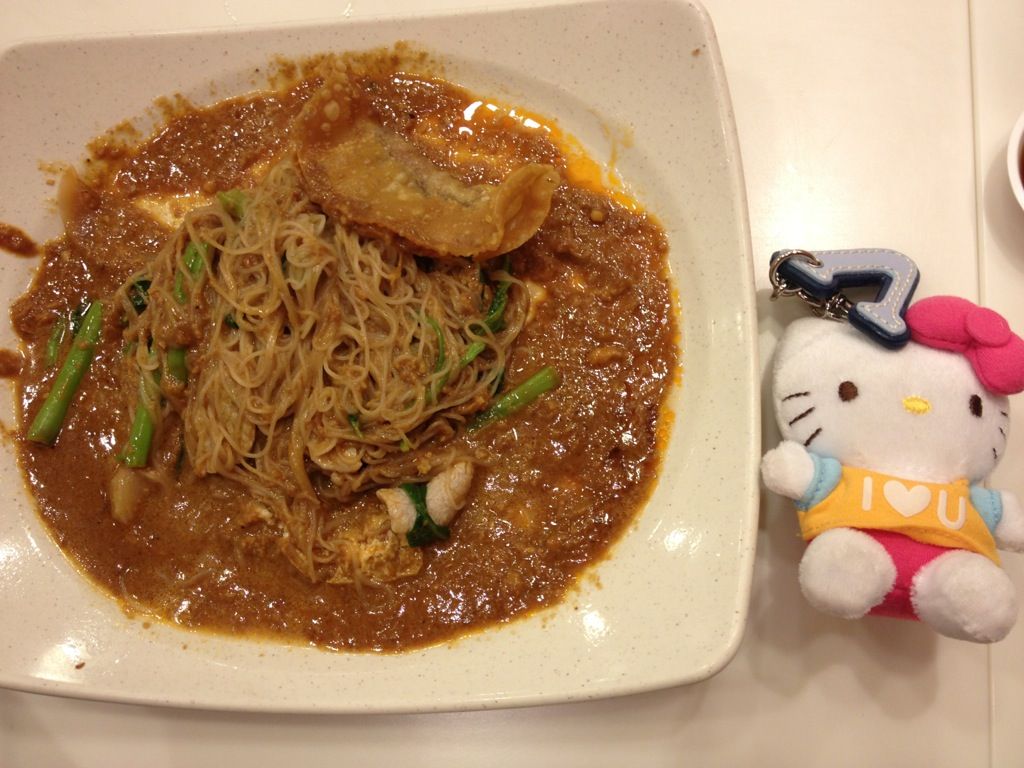 Look at this (not eaten) satay bee hoon. I call it a Kitty size of bee hoon. Too stingy, too little for S$4 if i am not wrong.
Next, I went Paris Baguette, with my bitch finally!
We had a very punny whatsapp conversation just before we meet up that I would not want to show here for fear that I will be beaten up because it sucks too badly.
Basically, we don't find the menu appealing, thats why we did not order anything from the menu, we went to the bread counter and ordered Seafood Chowder, and then went to the other counter to order some sandwiches. B wanted wedges only but wedges comes only with main course and they don't sell wedges alone.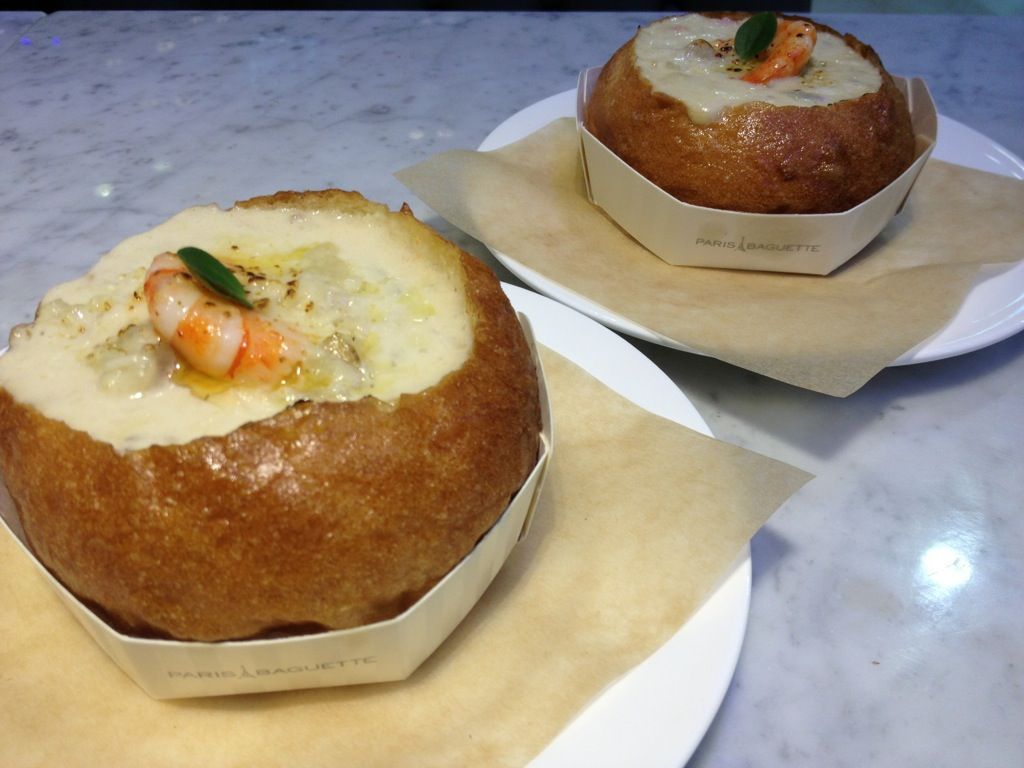 Recommended Seafood Chowder to the bitch S$6 each.
I recommend this to her because I love it sooooo much, the bread is so far the most delicious bread I have ever eaten in SIngapore, it QQ, very nice to chew/munch on.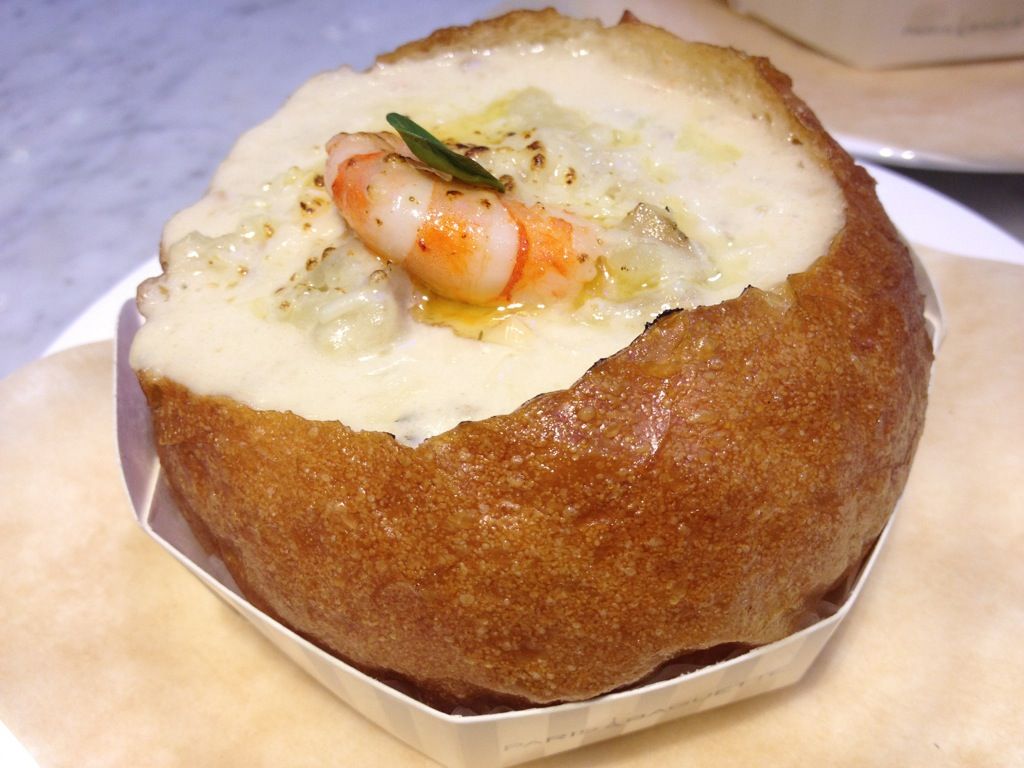 However.... that day, the chowder taste a bit sourish which the 3 of us agreed. We discussed for quite long (because I ate this before and it doesn't taste like that), before we decide to call out for the waiter to inform him that the chowder taste a little sourish.
The waiter then informed his manager and some of the kitchen staff, and the waiter collected the 2 chowders back, and (because the kitchen/food preparation area is open, so I am able to see most of what is happening) I saw the chef tasting our chowder. OMG we were a little shocked. They are not afraid that our slightly eaten food is contaminated with bad bacteria. haha.
Ok anyway, the manager came and said that they will change another 2 new chowder for us.
Anyone been to Paris Baguette would have known that the chowders were already prepared before hand, all the staff need to do is to take the whole thing (chowder in a bread bowl and heat it up.
So actually, we think also know that these 2 sourish bowls of chowder MIGHT taste the same as the new ones that they are going to give us.
So, they heat up another 2 bowls of chowders and brought them to us and apologised again. (Thank you very much)
We felt a little bad now, because we don't mean to cause any trouble, all we want to do is, in any case that the chowder turn bad, at least they can throw it all away and not sell them.
Anyway, we tasted the 2 new chowders, still a little sourish but not as sourish as the previous ones. Anyway we gladly accept it, we were already glad that they changed a new one for us.
Mango surfing sandwich S$8.50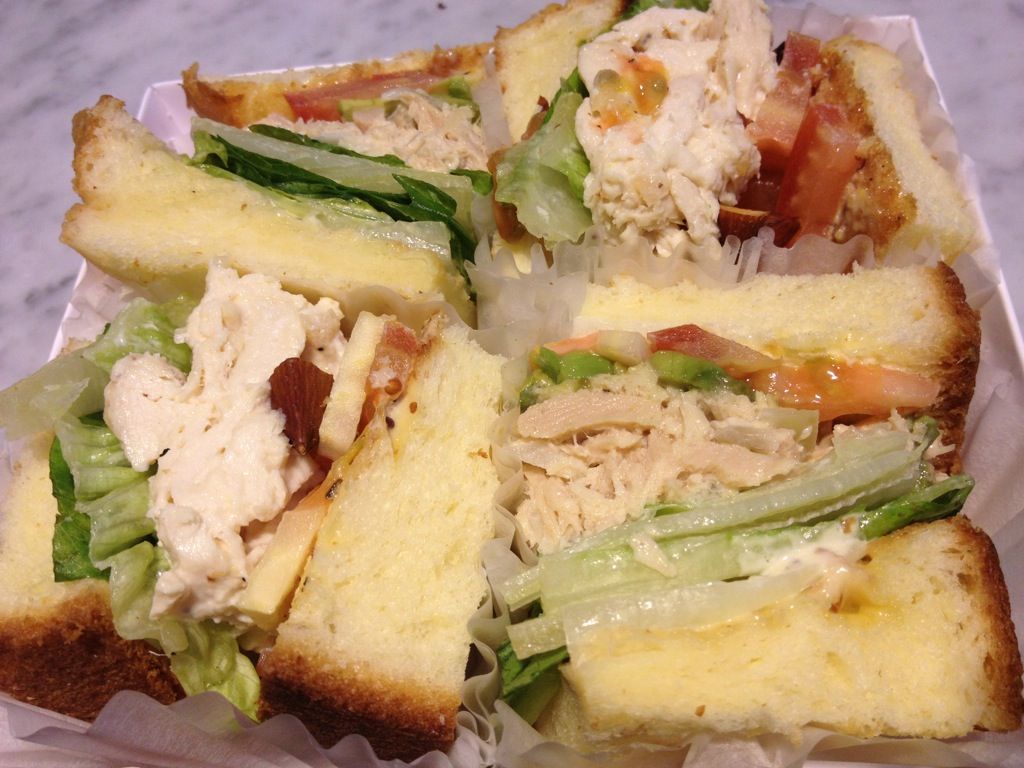 Some chicken sandwich that I had forgotten the name.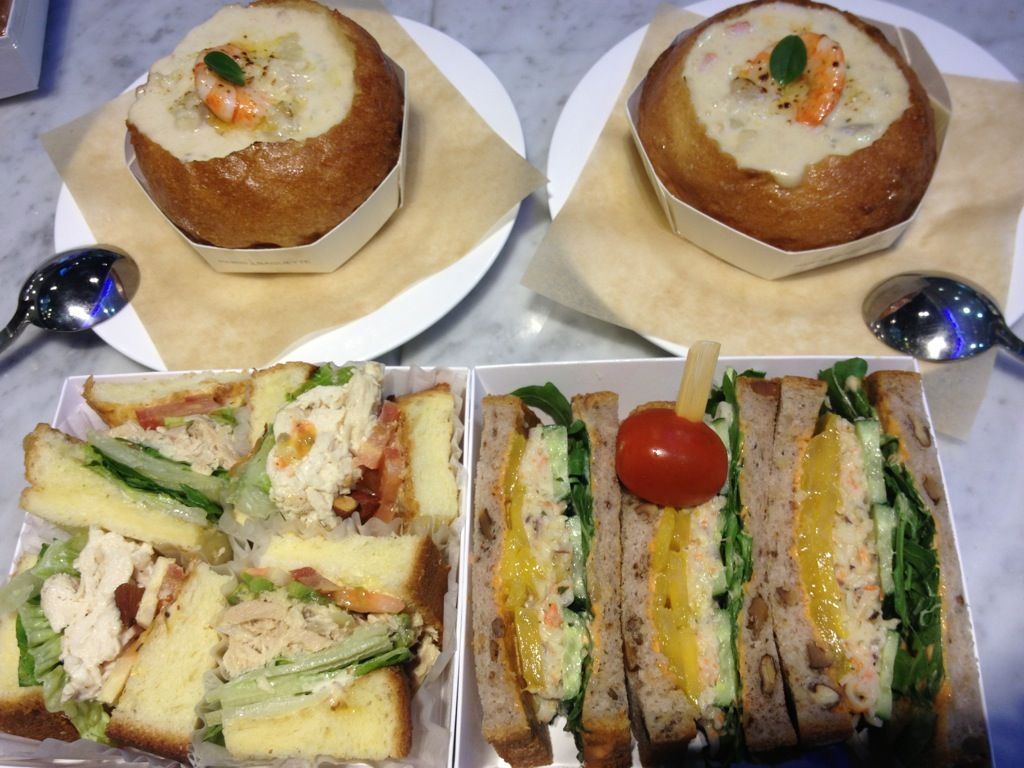 What we had ordered before we taste the first batch of chowder.
Egg Brioche Sandwich S$7.50 which is so good too! Relatively these 3 sandwiches that we had ordered, all are good, no complaints.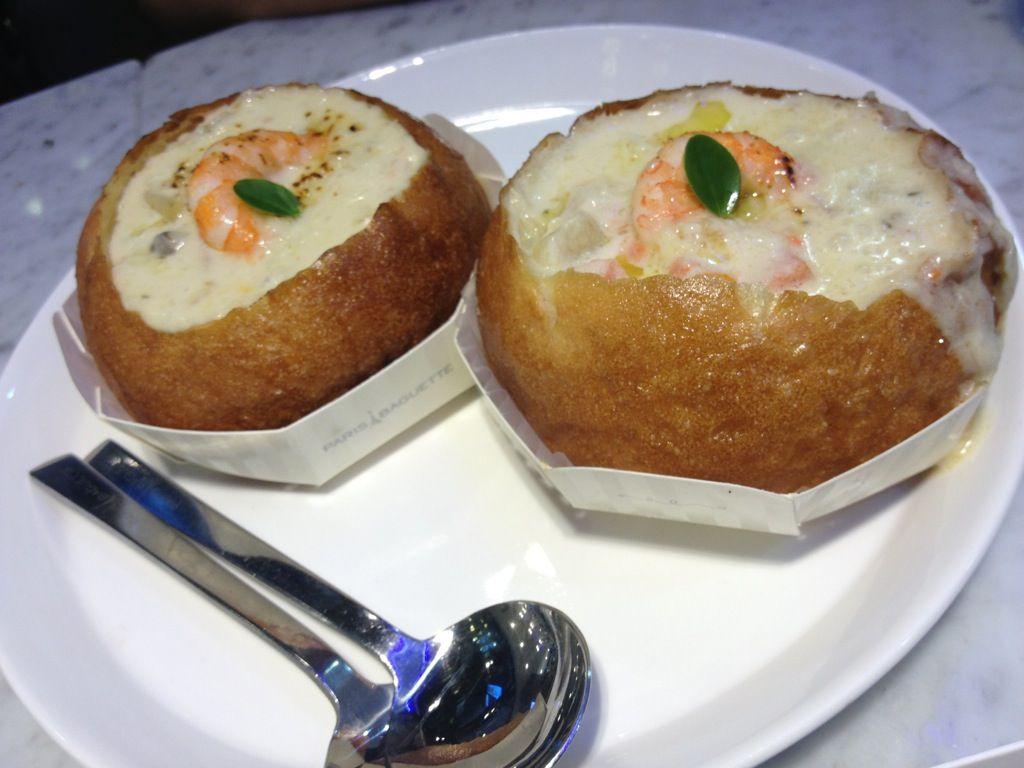 Here comes the 2 newly heated up chowders. (thank you once again)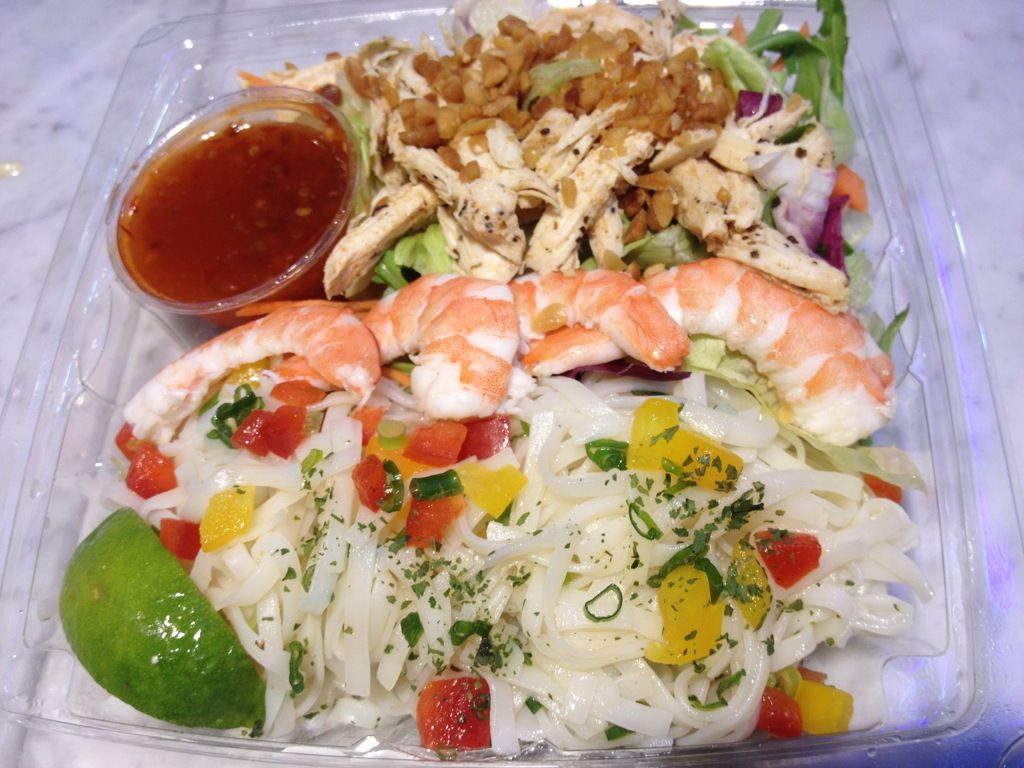 We will try our best to finish the chowder because the staff took the effort to taste & change it for us. But we still go ahead and order ... (my 2nd favourite here) Phad Thai Noodle Salad S$8.50.
This is so awesome that you have to try also (if you like sour), very appetising and its a cold dish by the way.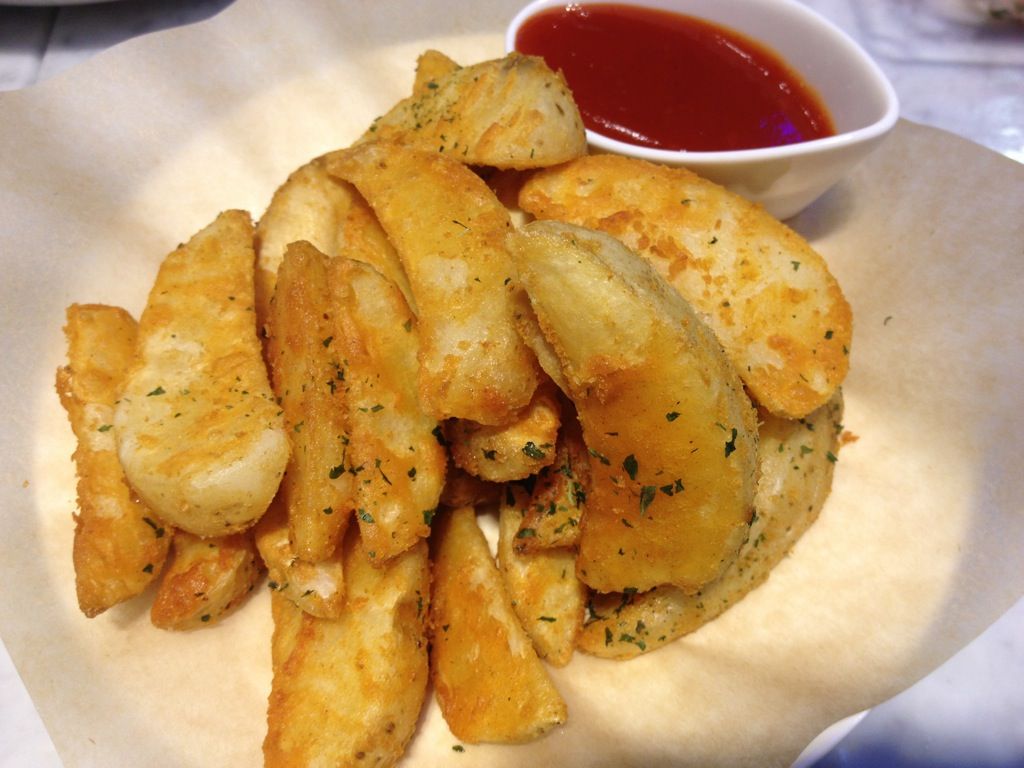 Then suddenly the manager came to us with this plate of wedges (OMG B's wish came true??). Earlier on while placing order with the manager, he asked if there is wedges, now to show their sincerity, they served quite a huge portion of wedges to us. OMG thank you. We were already very very thankful, and with this wedges we were even more guilty and happy and glad and thankful. Thank you very much once again Paris Baguette for your fantastic service which we will never forget.
Nonetheless, I had a very wonderful evening/night filled with lots of laughters during dinner and after.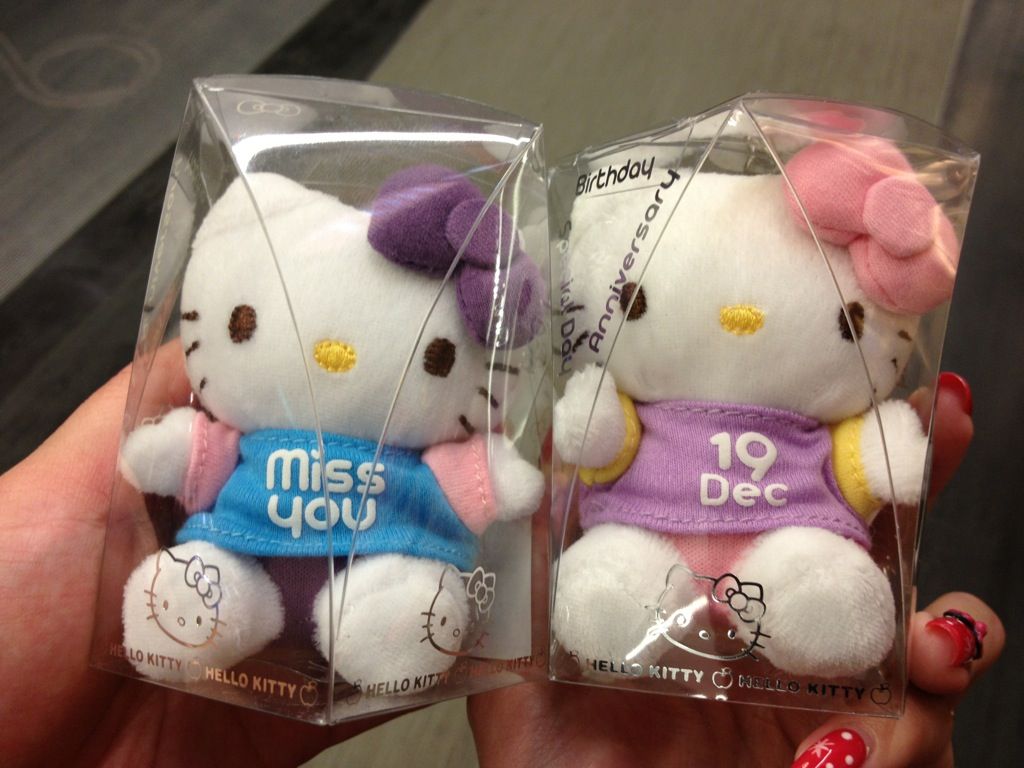 The bitch gave me a box of gifts, right side: another kitty OMG.
Refer to my
previous post
on this kitty, remember I cursed the fellow who bought the one & only piece at Prologue. Its the bitch OMG, can you imagine my joy???!!! NOW I chose to believe, whats mine, will be mine.
So I dragged her to prologue after dinner because I wanted to buy her birthdate for her. But no more already, so i bought ''Miss you'' instead.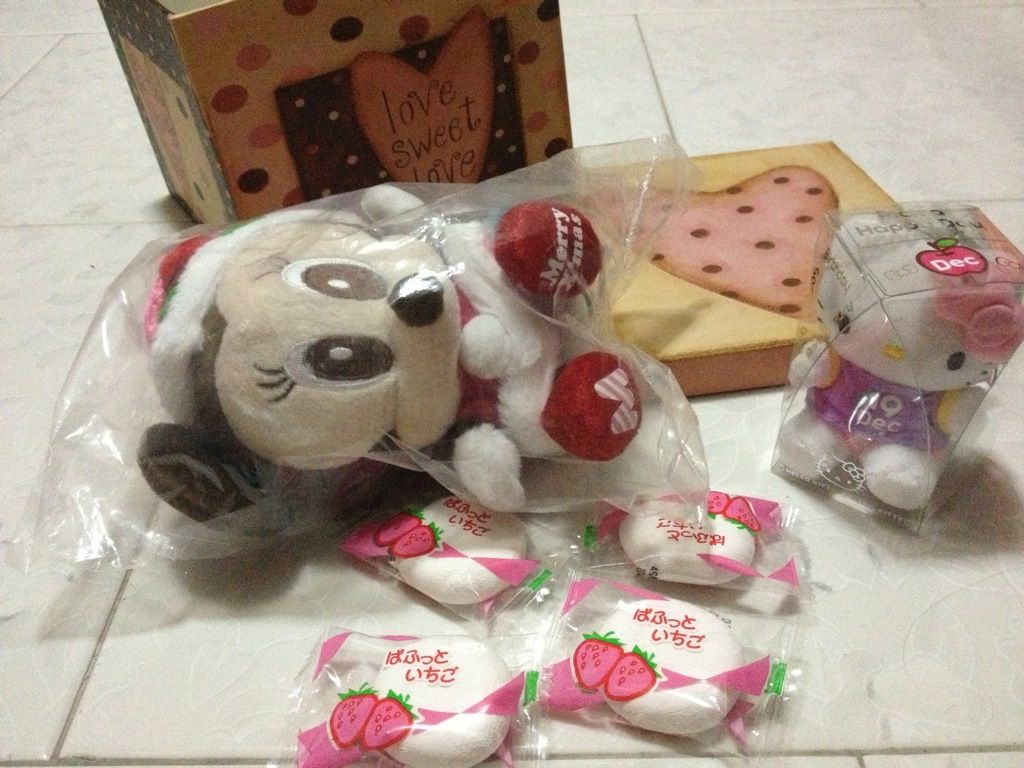 These.... were supposed to be sent to my office before my birthday but it was returned to her because the courier couldn't find my office I guess. OMG. Thank you bitch. Thank you, and I am really touched.