Scheduled this post today because I know I will not be in time.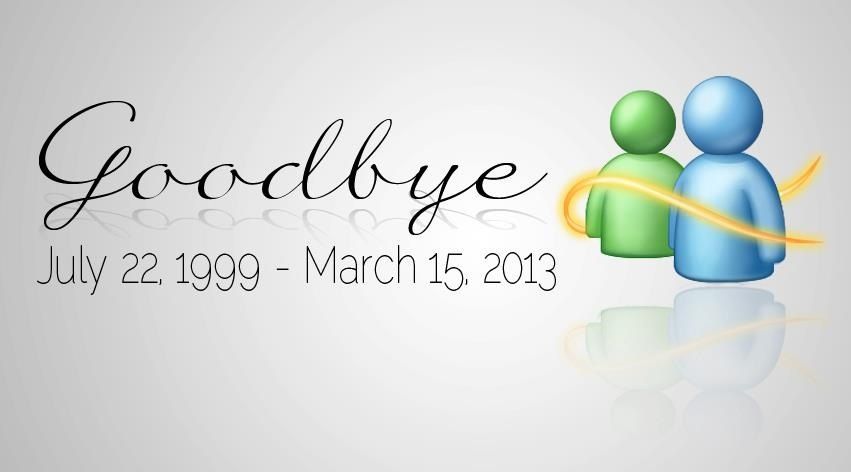 Thank you for all the good & bad in MSN. Started MSN since I was in Secondary 4 (Year 2000), wow I didn't know MSN started in 1999.
When daddy first bought us a computer (that time was DIAL UP wtf. We have to listen to this slightly-ear piercing sound and connect to the internet, and I remembered we can only use 18 hours of internet in ONE MONTH. FML then.), MSN was already pre installed there. I know NOTHING about email, MSN, IRC, ICQ.
So, I anyhow signed up for a hotmail email address and the email address is xiaomei68 @ hotmail.com. But I had now forgotten my password, although I did try for many years after, to log in. I remembered in my MSN messenger there is only 1 contact (a stranger, because I heard of IRC, but I don't know how or where to start using IRC, so I explored MSN and found a place for strangers to chat. So we chatted a bit, most of the time, playing with emoticons only).
Slowly, I figured out IRC, then most of friends started to have internet, but they used ICQ! So I have no choice but to install ICQ (cute, with the door knock sounds and the ''uh oh'' sounds, but I still find MSN more user friendly, too bad still NO FRIENDS want to chat with me on MSN). Slowly, I guess thats when I ditched the email address, then i forgotten my password etc etc.
Then I went to Poly, where I have to do projects, then more & more people started using MSN yayyyyyy! So I signed up for another new email account and start MSN shits again! Then I guess the telcos launched broadband, no more shitty dial up connections (half way can disconnect one), can use computer the WHOLE day and don't have to worry about expensive bills because its one rate.
Thats when during the holidays or even after I graduated from Poly, I can stay up very late (5am daily), chit chats with friends on MSN and do whatever sort of nonsense.
Slowly, I got into relationships and MSN keeps us connected
wtf
. (Quarrels are also made easier with MSN, we can quarrel without seeing each other faces, no need hear screams & shoutings from the other party)
Then I found a job after graduating, I cannot use the office computer to MSN, I used Google Chat from my gmail. HAHAH! Traitor.
Then the launch of iPhone. Logged in MSN the whole time and because technology is so advanced, people are not using MSN anymore. Last time when I logged in to MSN, a whole list of 50 people are online. Now, not even 10. Now we have 3G on our phones, whatsapp anytime, anywhere. People started to ditch MSN :(
I did try to download iphone apps that support MSN, but there is no one there to chat with me already. So I gave up. Because whatsapp is more convenient now. Sending pictures through mobile MSN is a bitch and its very lag.
Well, its sad to say Goodbye to MSN. You will be missed, and I will never forget the wonderful and not-so-wonderful times (喜怒哀乐) on MSN. Thank you for seeing me grow up, from 2000 to 2011 (or somewhere there, thereafter I stopped logging in). So, thank you for these 10 years, seeing me through ups and downs in life.