| | |
| --- | --- |
| Address: | Blk 3A Clarke Quay Singapore 179021 |
| Tel: | +65 9633 9146 / +65 9105 5973 (Alice) / +65 6338 3195 |
| Opening Hours: | 3pm to 12am Sunday to Thursday (last order 11.45pm) |
| | 3pm to 1am Friday to Saturday and eve of PH (last order 12.45am) |
| Website: | http://www.quaysidedining.com |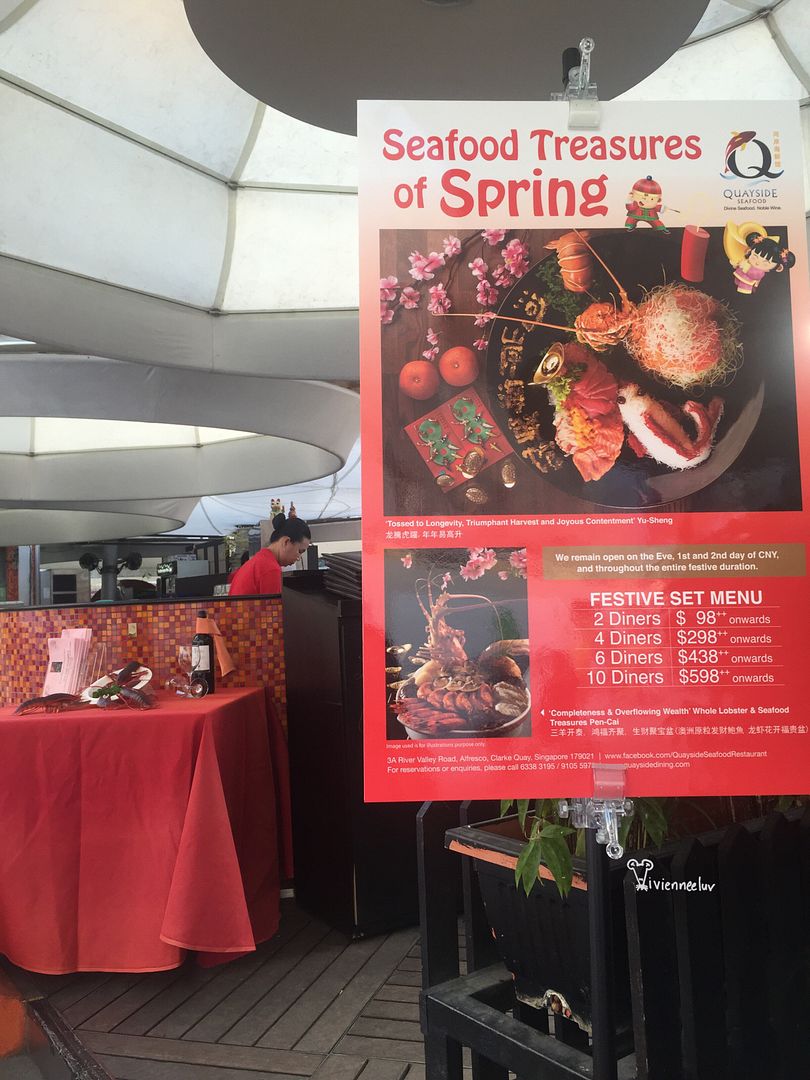 Quayside Seafood welcomes the year of the sheep with its brand of auspicious Chinese New Year creations from its Golden Trove menu. With the freshest quality ocean picks, we get to indulge in Quayside Seafood's ala carte dishes and reunion meals.
1. The Place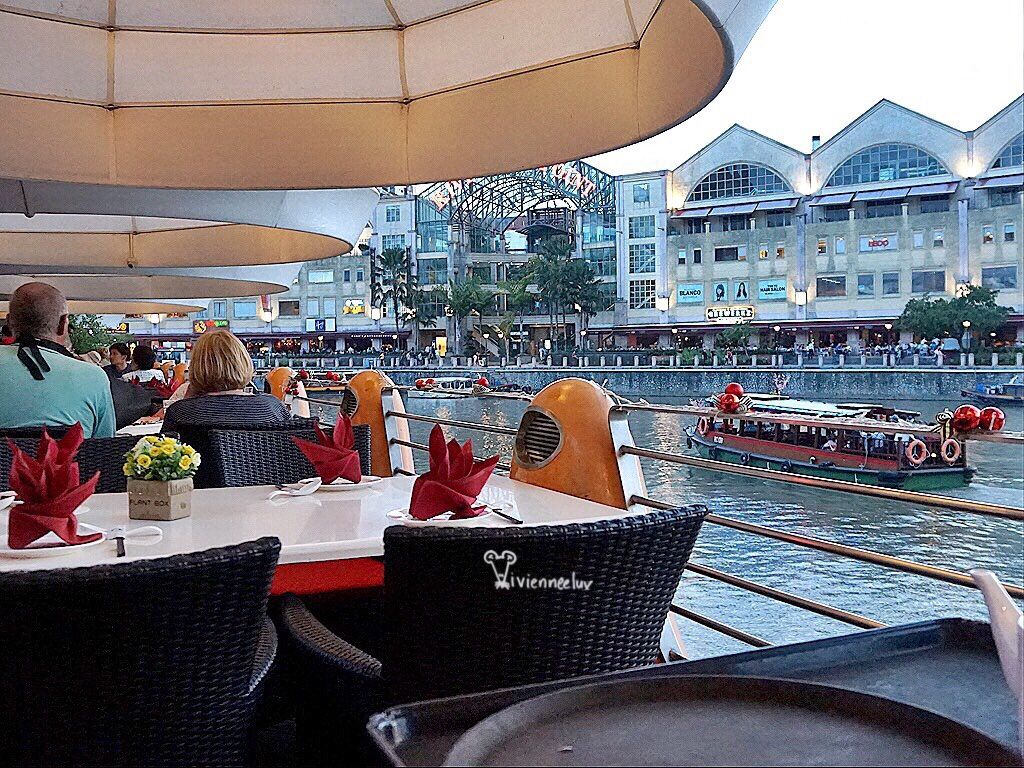 One of the weekday nights sees us dining at alfresco Quayside Seafood on Singapore's first ever lilipad flooring with a stunning river view! Lucky thing it was breezy that night, with great food and good company with friends and newly made friends. We enjoyed ourselves very much.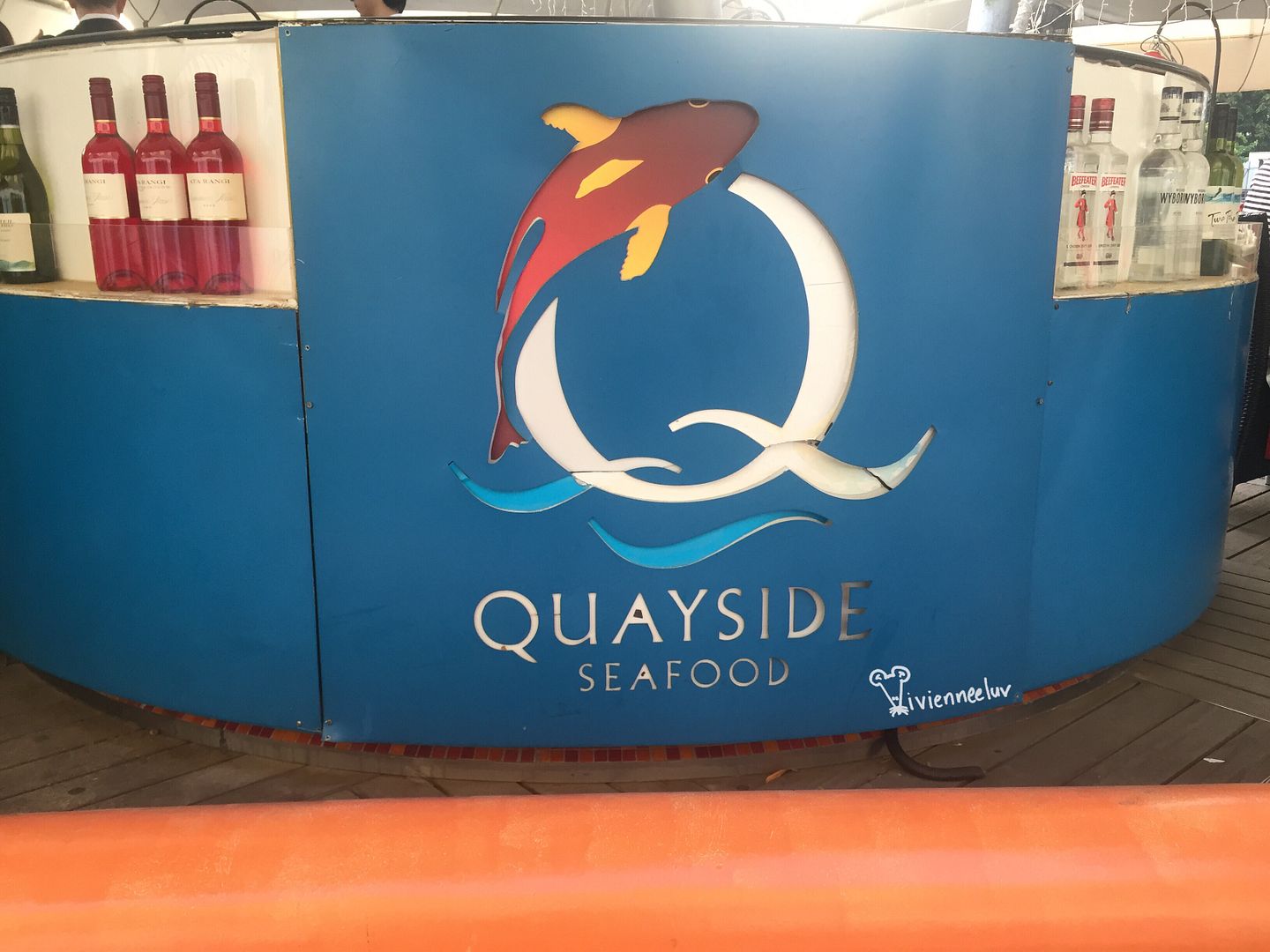 Note the long chopsticks, its for tossing the yusheng later on, and its very heavy to toss yusheng with long chopsticks but its fun, as you see the yusheng flying around, landing on hands. :P
Taken right from my seat! So pretty.
2. Food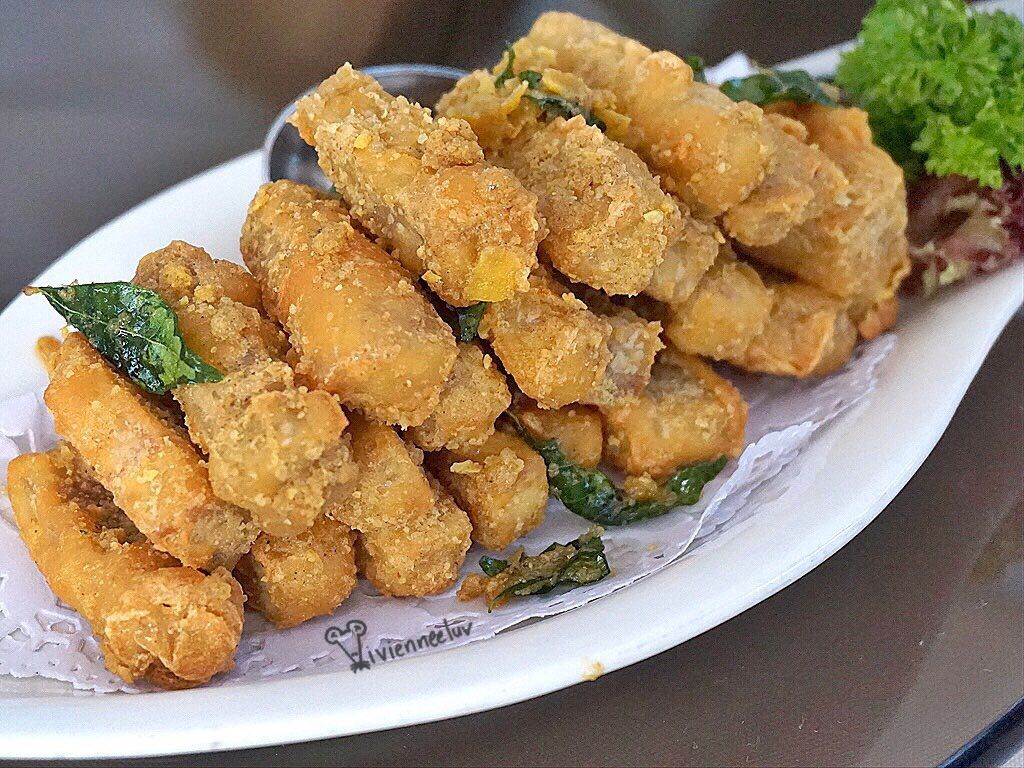 Fried Taro Sticks
We were famished, thank god we were served some appetisers first. We can't stop munching on these Fried Taro Sticks which make a good appetiser.
Cucumber with Thai Chili Sauce
Refreshing dish that we can do at home! A great idea.
''Prosperous'' Pipa Tofu S$68.80
Serves 4-6 pax, dine in only.
The loquat-shaped pan-fried tofu with fresh crabmeat and diced prawns, finely diced Chinese mushrooms, fresh bamboo shoot slices, minced fresh water chestnuts, and served with "Fa-Cai" sauce.
This is one of the appetisers, the chunks of water chestnuts added crunch to the tofu.
Deep-Fried ''Prosperous'' Fresh Oysters in Cantonese ''Bi Fung Tang'' style 家肥又屋润发财丰收 (避风塘炸生蚝) S$58.50
Serves 4-6 pax, dine in only.
Deep fried Air-Flown Australian Fresh Oysters served in its shells, and dressed with a sprinkle of cut red chilli and garden-green spring onions, packed with the perfect punch of crunch for the non-traditionalists or deep-fried food lovers. 🙋 Its perfect for people like me, who is not a fan of raw oysters.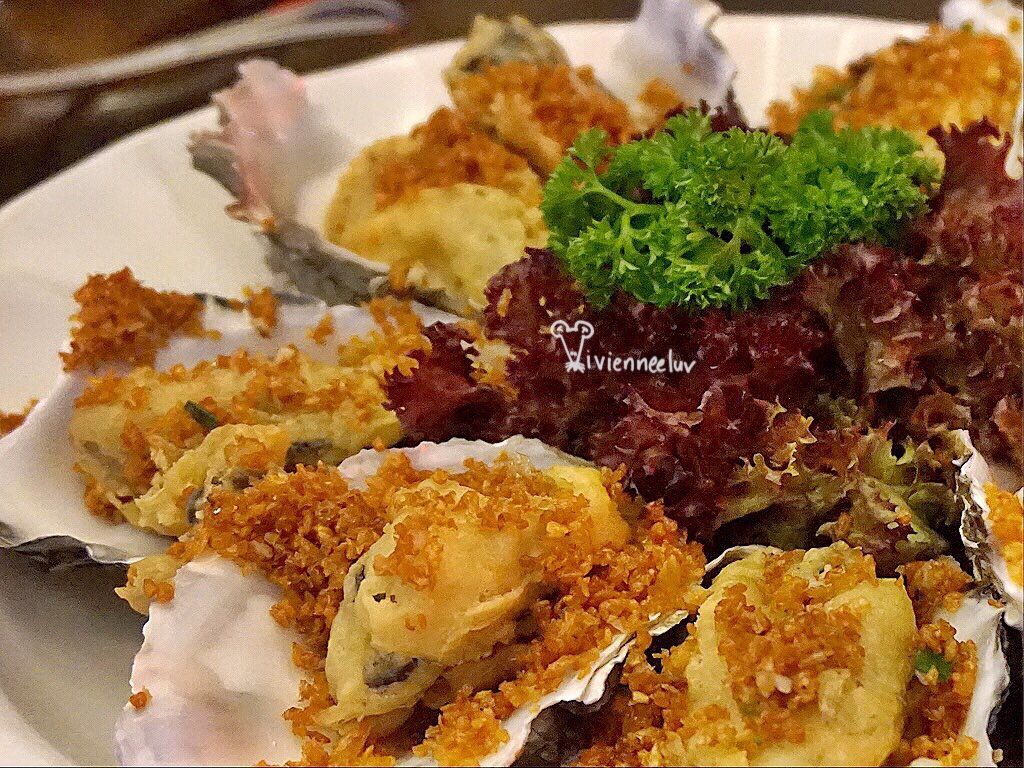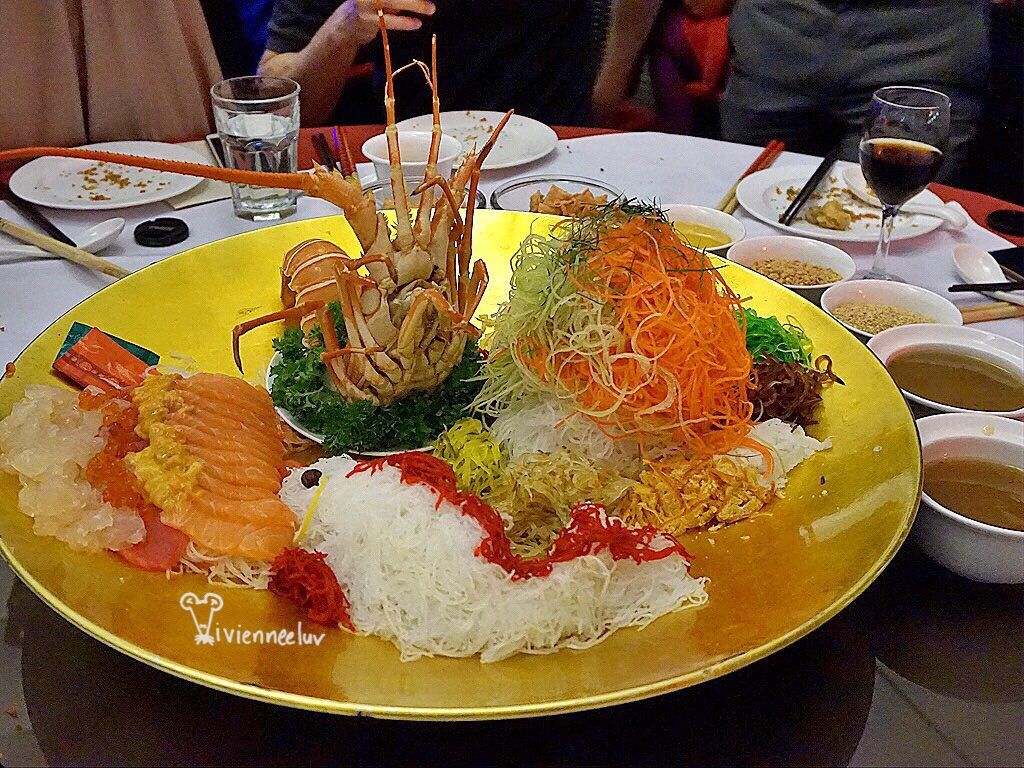 'Toss to Longevity, Triumphant Harvest and Joyous Contentment' yu-sheng, "龙騰虎 躍, 年年易高升" S$128.80
Serves up to 8 pax.
I must say this is one of the most beautifully plated lobster yu-sheng I have seen this year.
A must-have for every Lunar New Year, where everyone gather to shout blessing of endless fortune, wealth, youth, good luck, prosperity in business and promotion at work and longevity as we toss the yusheng high up
in the air.
I usually run out of blessings to say, you will always see me going ''huat ah'' only. HAHHA!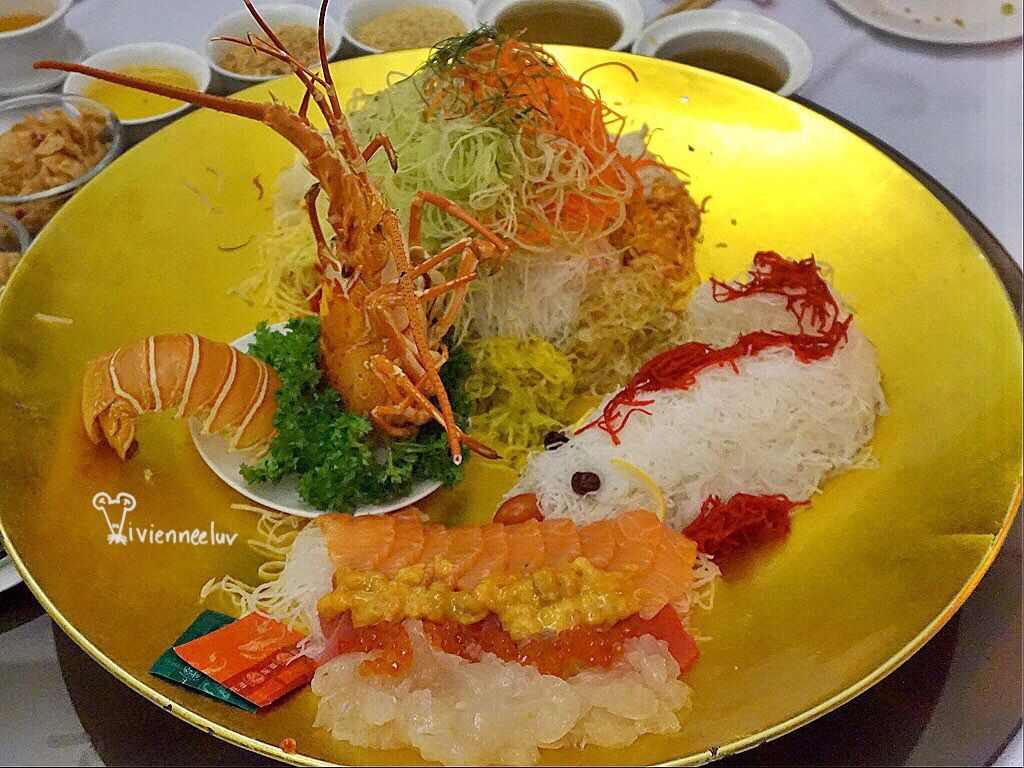 This colourful auspicious lou hei by Quayside Seafood is packed with the fresh Australian lobster meat, generous slivers of fresh tuna, the crunchy bites of conch and sea urchin, salmon roe that pop in the mouth, and crisp shredded radish.
"A Wealth of Good Fortune" Baked Rack of Lamb (grass- fed) "吉星拱照" (大发香煎羊仔架) S$78.80
Serves up to 6 pax, dine in only. 1-day advance order is required.
In celebration of the festive season, the chefs at Quayside Seafood showcased their rare talents with this unconventional creation.
Marinated for 1 hour with the brand of garlic, spring onions, coriander, honey and Japanese shoyu seasoning sauce, it is pan seared for 30 seconds on each side to seal the marinated flavours, and each cut is cooked at 180 degrees in a preheated oven for 3 minutes. This delicacy is lightly seasoned with truffle oil, and accompanied with thin strips of deep fried yam, and toasted sesame seeds.
Each bite of the lamb leaves a subtly spicy aftertaste, tender and tasty, with heaps of fried taro strips which is so irresistible! It was Wayne's favourite dish of that night!
''Prosperity All Year Round'' Baked Turbot Fish with Whole Garlic in Claypot S$15 per 100g
Dine in only.
Fish, the band of merry ambassadors of the ocean, is often held in high regards by the Chinese and this is especially so during the festive season.
Representing wealth and abundance of luck, fish of all types have its commanding place in any feast. To symbolise completeness, any creations that feature fish are served with head and tail intact to ensure a good start and finish to the year.
When this dish was served, it has a garlic fragrance which is so appetising to me.
After that we learnt that the fish is first steamed in the claypot for 5 minutes, and then claypot-baked with burnt garlic for 8 minutes, resulting in its refreshingly sweet and firm texture. The homemade bean paste and a generous dose of roasted garlic, garnished with chives, further intensify the overall taste.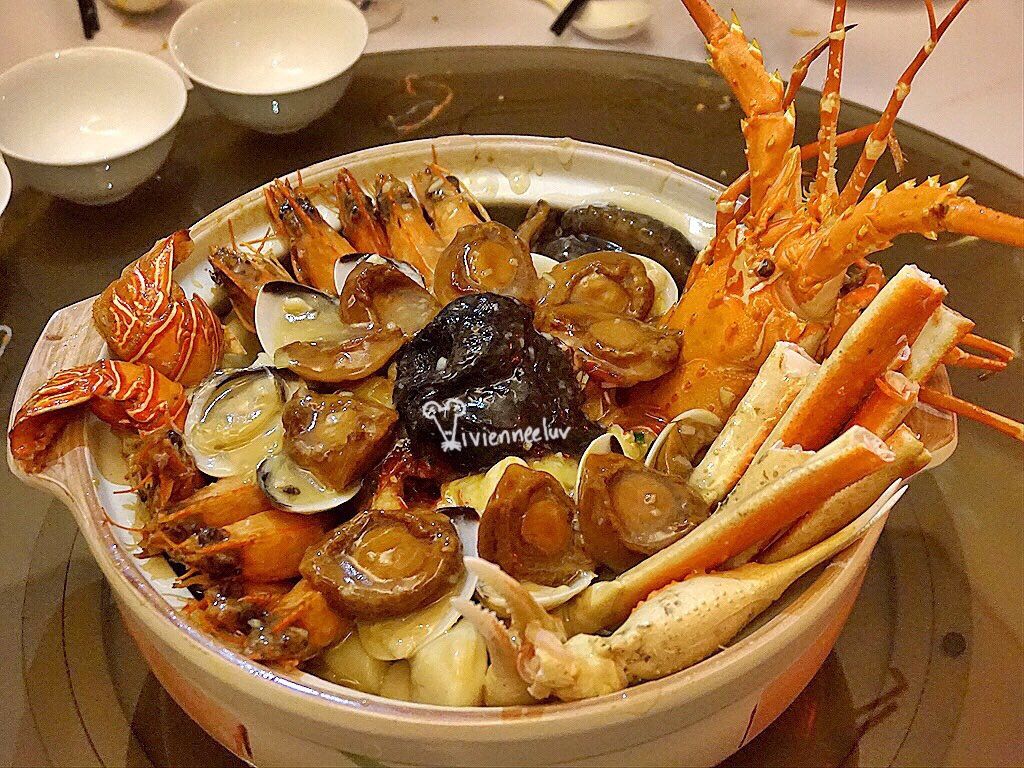 'Completeness and Overflowing Wealth' Whole Lobster and Seafood Treasures Pen-Cai, "三羊开泰, 鸿福齐聚, 生财 聚宝盆"(澳洲原粒发财鮑魚.龙虾花开福贵盆) S$328.80
Serves up to 6 pax. Additional diners at S$53 each.
The festive pot comprises 13 luxurious ingredients namely whole lobster, 10-head Australian abalones, healthier-choice hormone-free whole chicken, hybrid grouper fillets, la-la (mussels), Alaskan crab claws, king prawns, South African spikes sea cucumber, fresh whole scallops, whole shiitake mushrooms, taro, tender wawa vegetables, and dried oysters.
This whole pot of pen cai was placed in front of us, and it smelled like it has hints of truffle in it! And after eating 1 of each 13 ingredients, I was so stuffed! Happy belly.
"Harmonious" Claypot Prawns with Crystal Rice Vermicelli (Tang Hoon), 千事吉祥如意, 红利双收 (大虾冬粉) S$58.80
Serves 4-5 pax.
Vermicelli is the anchor of every Chinese birthday celebration as it symbolises longevity in its endless strands of thin rice rolls in the form of noodles.
The auspicious al dente crystal rice vermicelli is fried in premium oyster sauce with fresh garlic and Chinese parsley, and every single strand mops up each drop of the garlicky gravy.
Dong fen is my favourite among all noodles, so I am quite bias towards this dish. Both Wayne & I love this dish as the dong fen soaks up all the goodness and flavour.
Another luscious and delightful choice is the
"Gather Greater Fortune" Fresh Lobster Congee, 祥龙映金锅, 发财丰收 (龙虾粥)
. (no pic)
The golden seafood broth is double-boiled for 30 minutes over low-fire with the creamy lobster roe and the delicious taste of the grains is intensified by the essence of the fresh lobster meat and a healthy sprinkle of cut spring onions. A minimum order of 2 lobsters is required and this is retailed at market price.
3. Desserts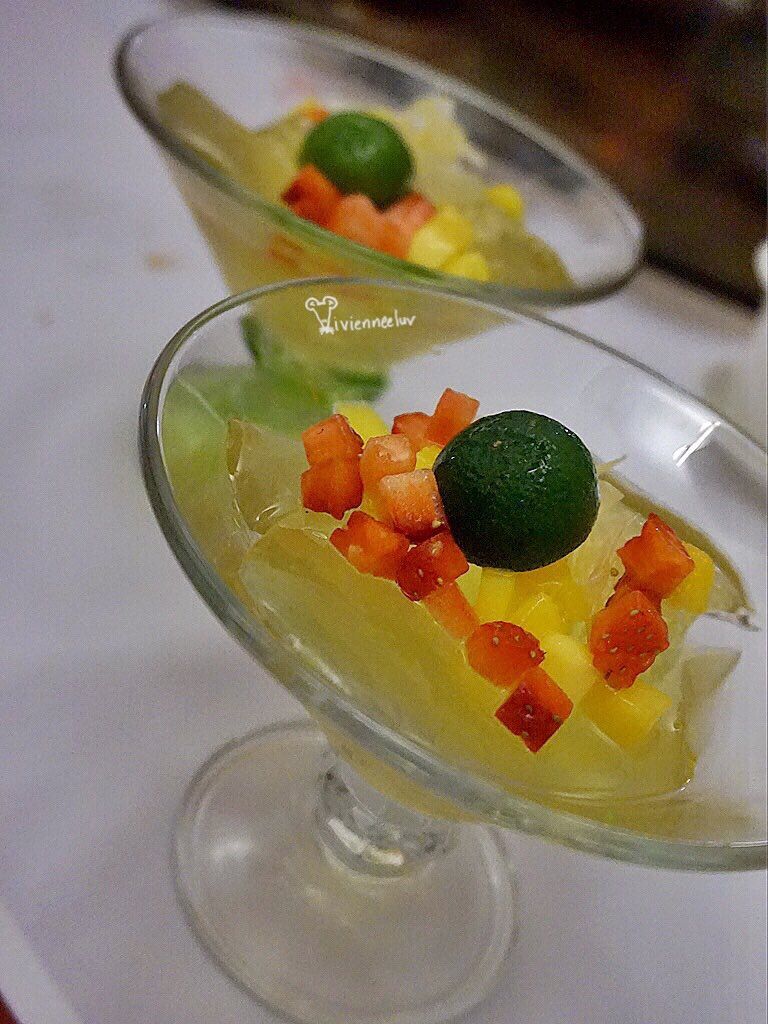 ''Bountiful Treasures'' Chilled Lemongrass Jelly
Desserts to end our night. I thought it was the perfect dessert to balance off the sinful dishes we had earlier. Very refreshening, very chilled lemongrass jelly. I would request for more if my stomach is not bursting :P
Mee Tai Mak Chendol
Quayside Seafood then surprised us with another round of desserts, and it is so special! Its like mee tai mak in chendol minus the coconut milk.
Thank you for having us, Quayside Seafood! Friendly service, good ambience & awesome food!