12 Marina View Asia Square Tower 2 #02-10 Singapore 018961
Tel:
+65 6844 9969
Website:
http://www.taoseafoodasia.com
Email:
taoseafoodasia@gmail.com
Opening Hours:
11.30am to 2.30pm
6:00pm to 10:00pm Monday to Sunday
Last order by:
9.30pm
The following dishes are available from 3 February to 5 March 2015. 2-day advance order is required for takeaway creations.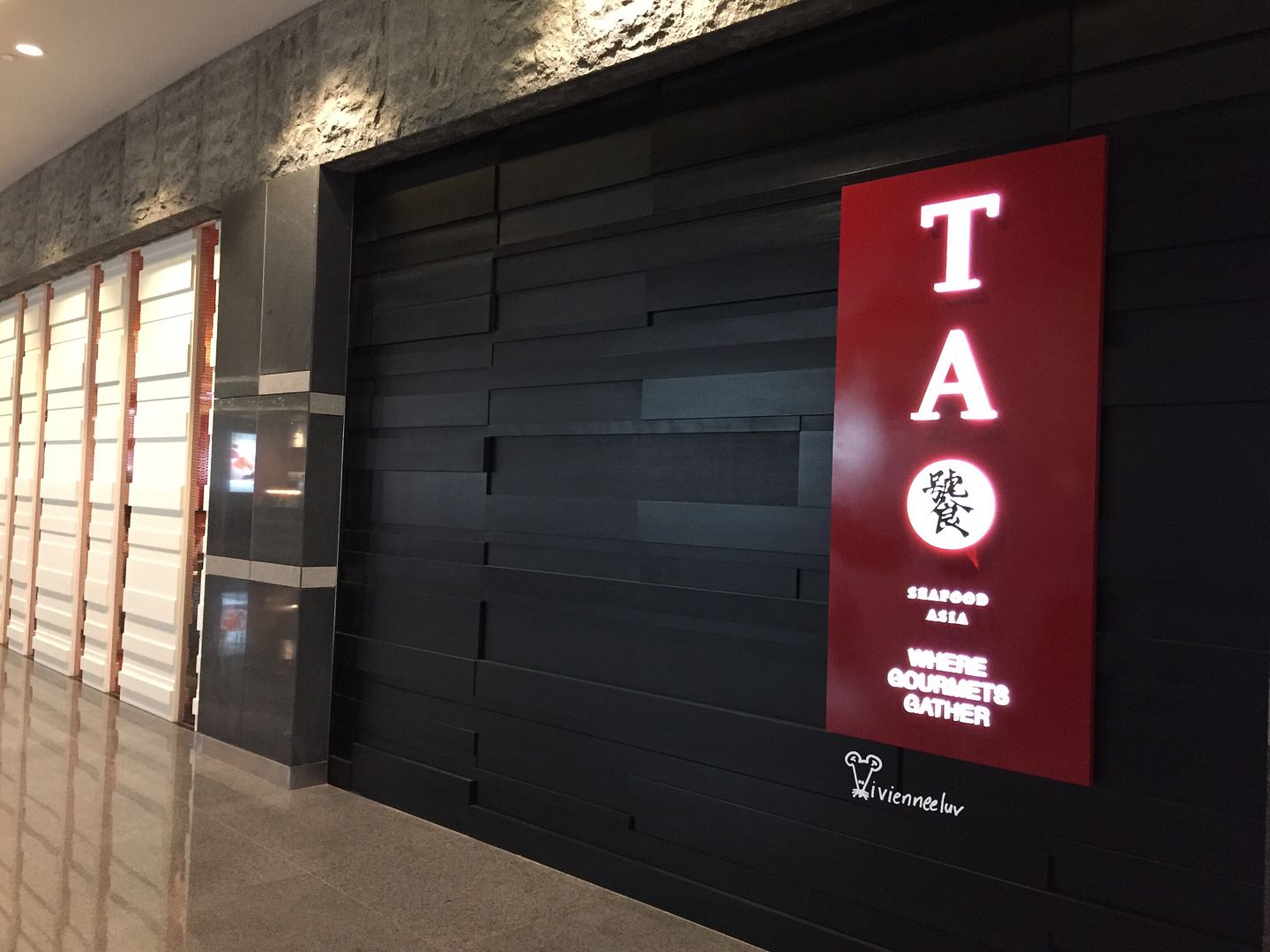 Shepherd in the Year Of The Goat With TAO Seafood Asia's Thai-Teochew Yaowarat Creations this Chinese New Year.
TAO Seafood Asia is actually not a new name to us.
A few months ago,
K & I were at their stall ''fUn''
, also located at Asia Square Mall's food court, we fallen in love with the rice, the sauce makes it flavourful and the green chill is spicy and superb!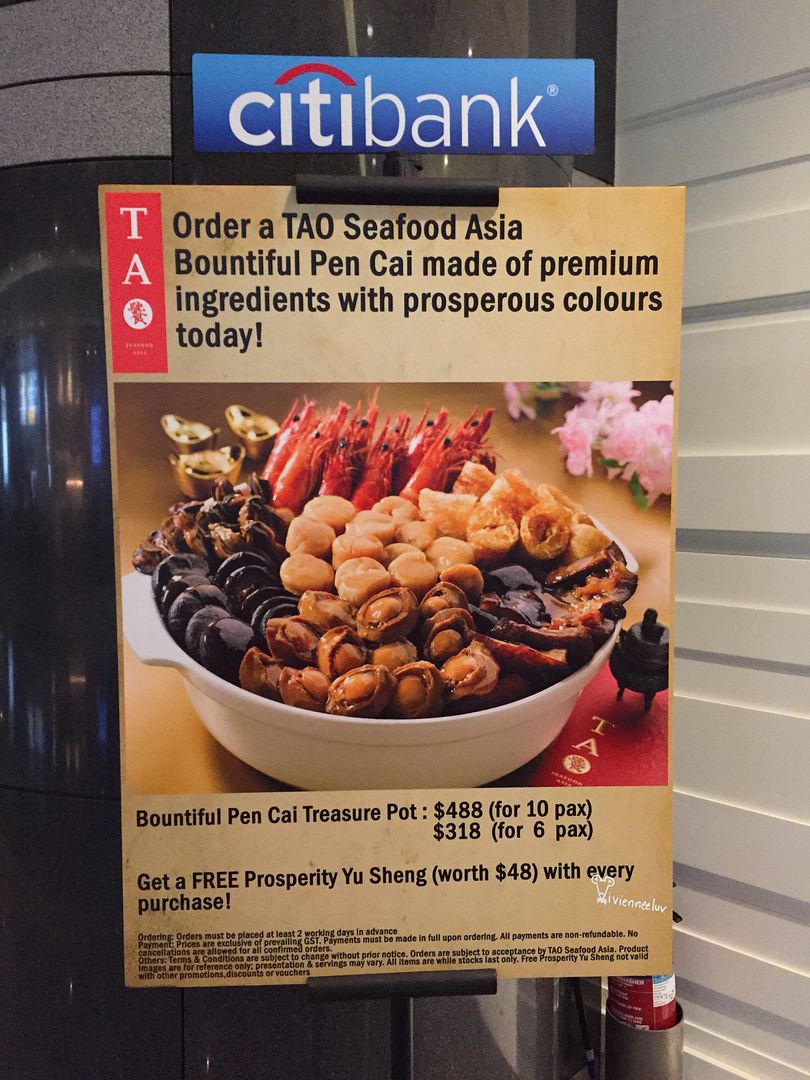 Last week, we were here to try them out, especially the Chinese New Year dishes!
Our door gifts which they arranged it into a
福.
Will reveal what it is, at the end of this post.
1. The Place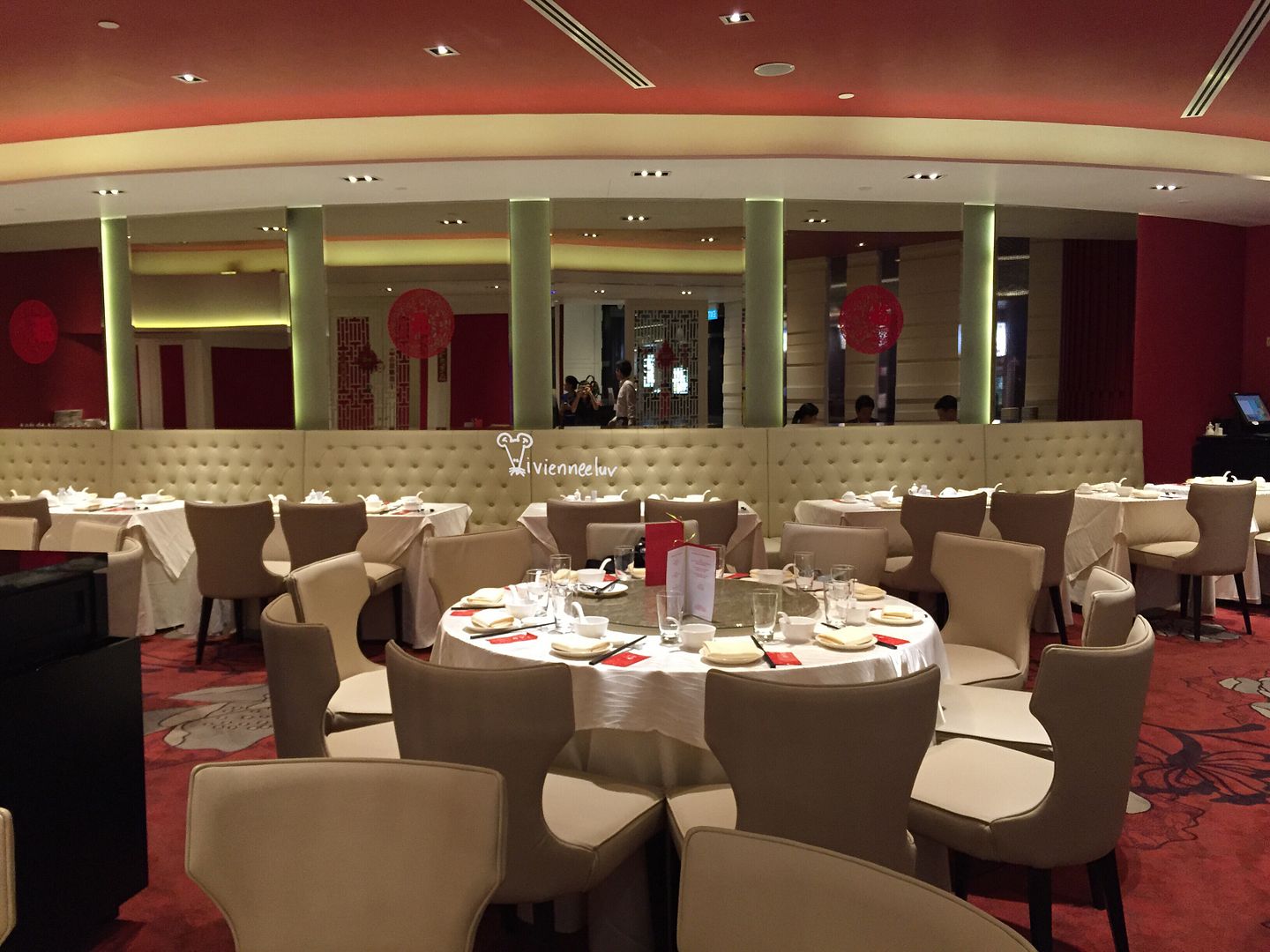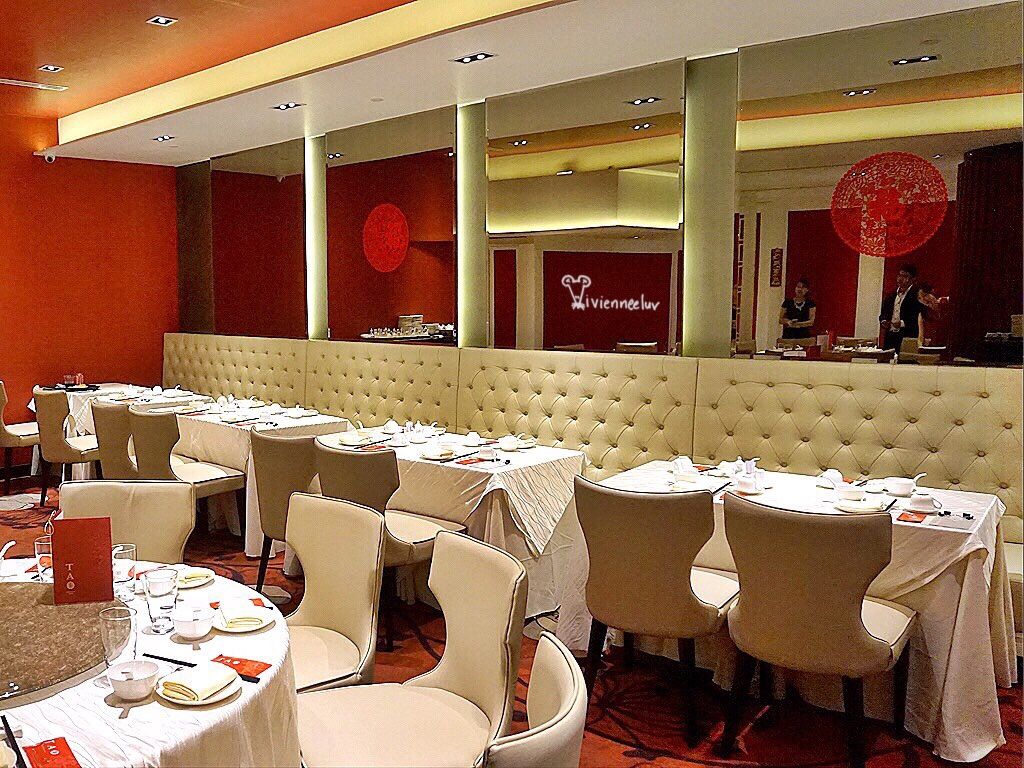 In hues of red and white, brightly lited, K even joked that we can hold our wedding here! :P
The chairs are really big and comfortable, I share the space with my big bag.
There are 2-3 private rooms which I think is suitable for gathering with my girlfriends + family, as our ''family'' is growing, from 4, to 8, and to 10 now!
2. Drinks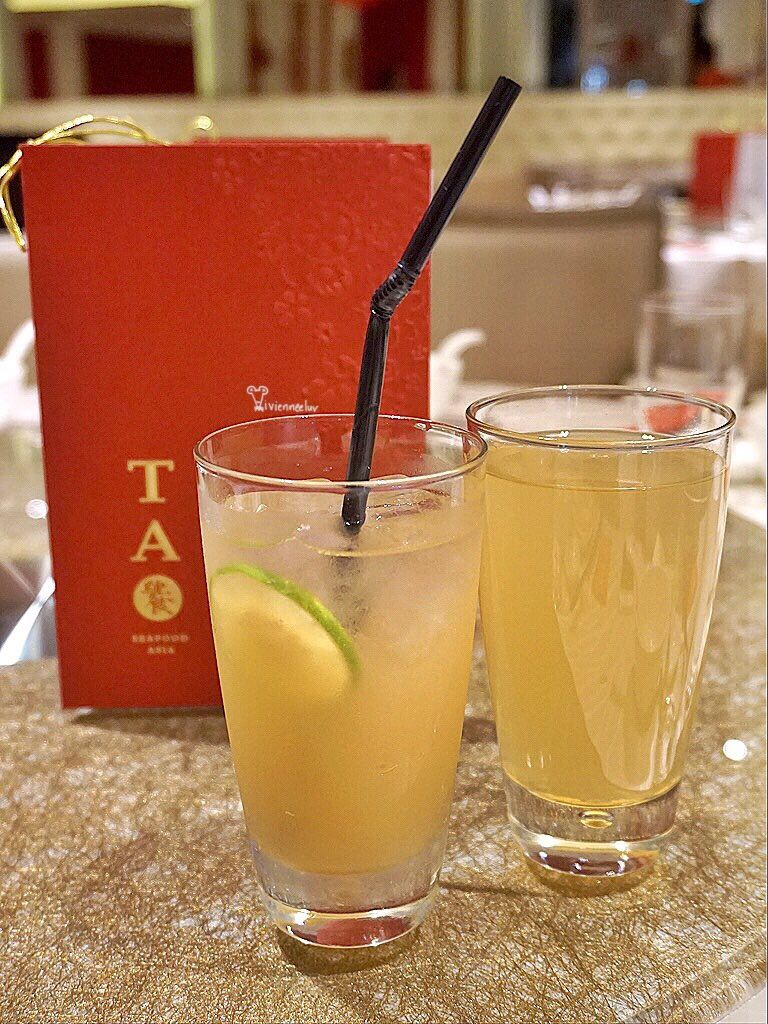 Lemongrass with Rock Sugar
We were first served Lemongrass drink, so refreshening! My currant favourite drink, no joke. I actually bought lemongrass teabags to brew in the office, but it taste nothing like this one here at TAO!
Crispy Fish Skin with Salted Egg Sauce S$10
This is an appetiser which is on their regular menu. Before this dish was served, I imagined it to have a salted egg dip, super layman I know.
But it is actually fish skin deep fried before being pan tossed with salted egg sauce.
In the background, it is the green chill sauce that I was talking about - the one I had at ''fUn''.
This special Yaowarat-style green chill sauce's unparalleled spiciness will awake all the senses the moment it touches the palates and enliven all that it tastes. Try it and you will know why we love it.
TAO Supreme Prosperity Yu Sheng 三羊泰 捞生 S$128++
Serves 8 to 10 pax. 1-day advance reservation for dine-in and takeaway is required.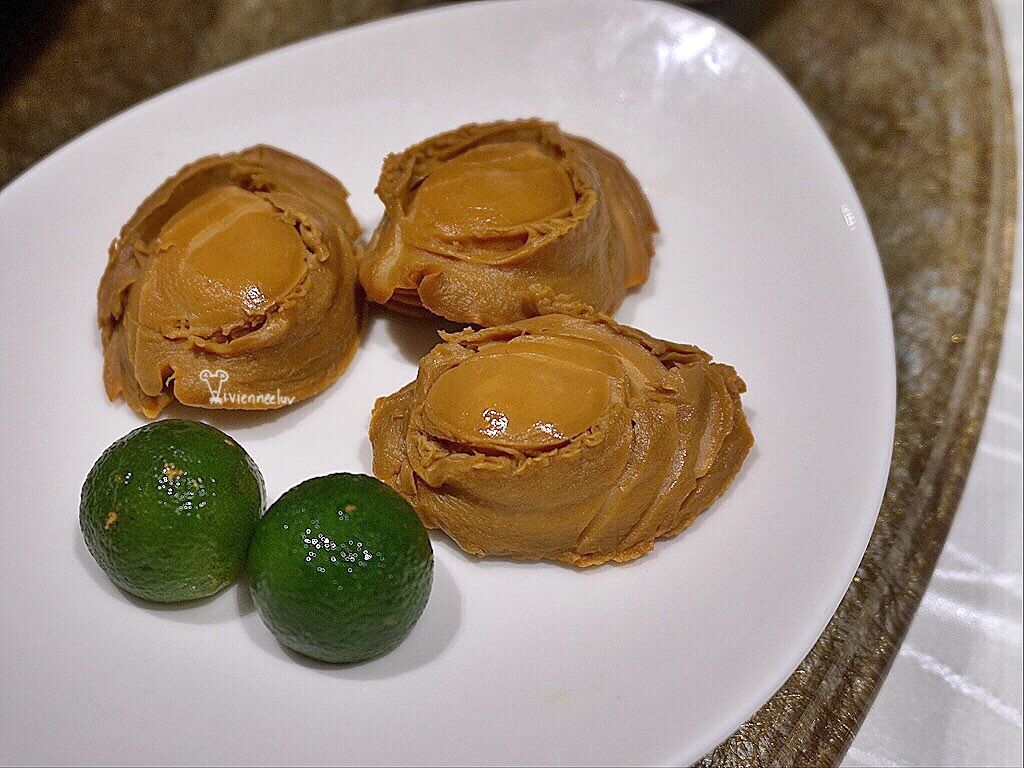 This earns its name with its 18 ingredients from 4 categories namely, seafood, greens, fruits and nuts! From abalone, salmon roe, crispy deep-fried fish skin to the fresh slices of mango, blueberries, strawberries, each of the ingredients lends a distinctive taste and aroma that perks up the appetite and sizzles the taste buds.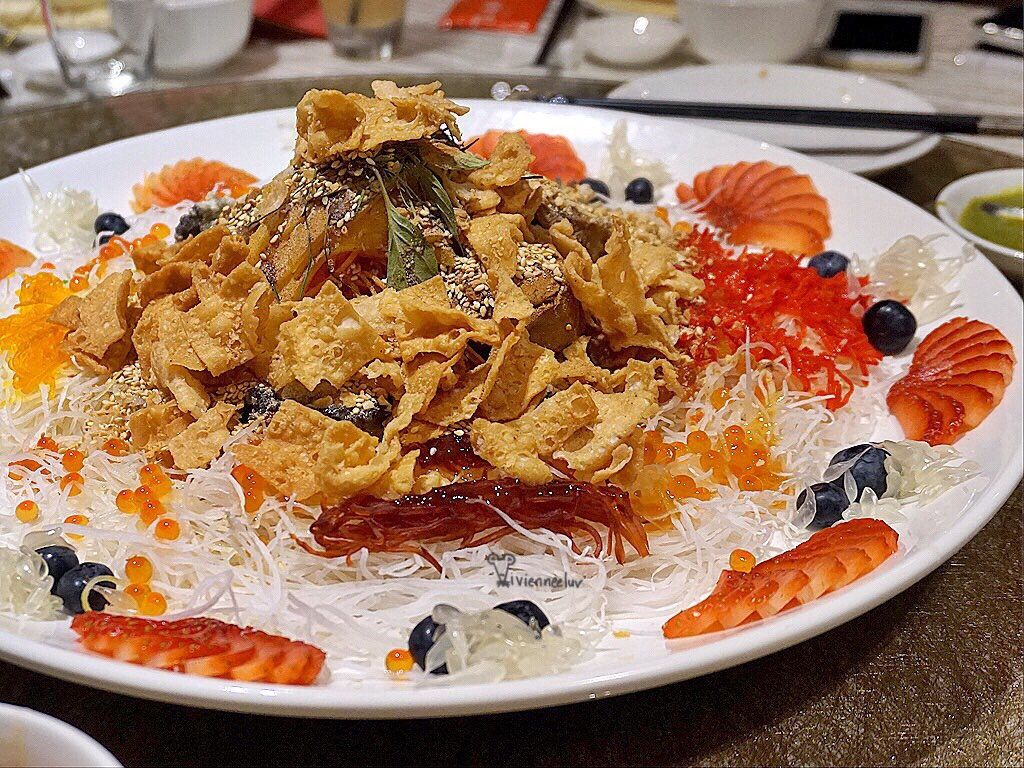 The Thai people adore peanuts and fried fish skins, thus these choice goodies found its rightful place in TAO's Thai yu sheng. The beautifully plated yu sheng, together with the thai basil leaves, plum sauce, pepper and cooked oil, gives its an uplifting flavour that is sweet, sour, zesty and most importantly, refreshingly crunchy.
All tossed up so evenly. If you are sick of the usual Yu Sheng, you can give this a try as it taste different from the usual yusheng as well.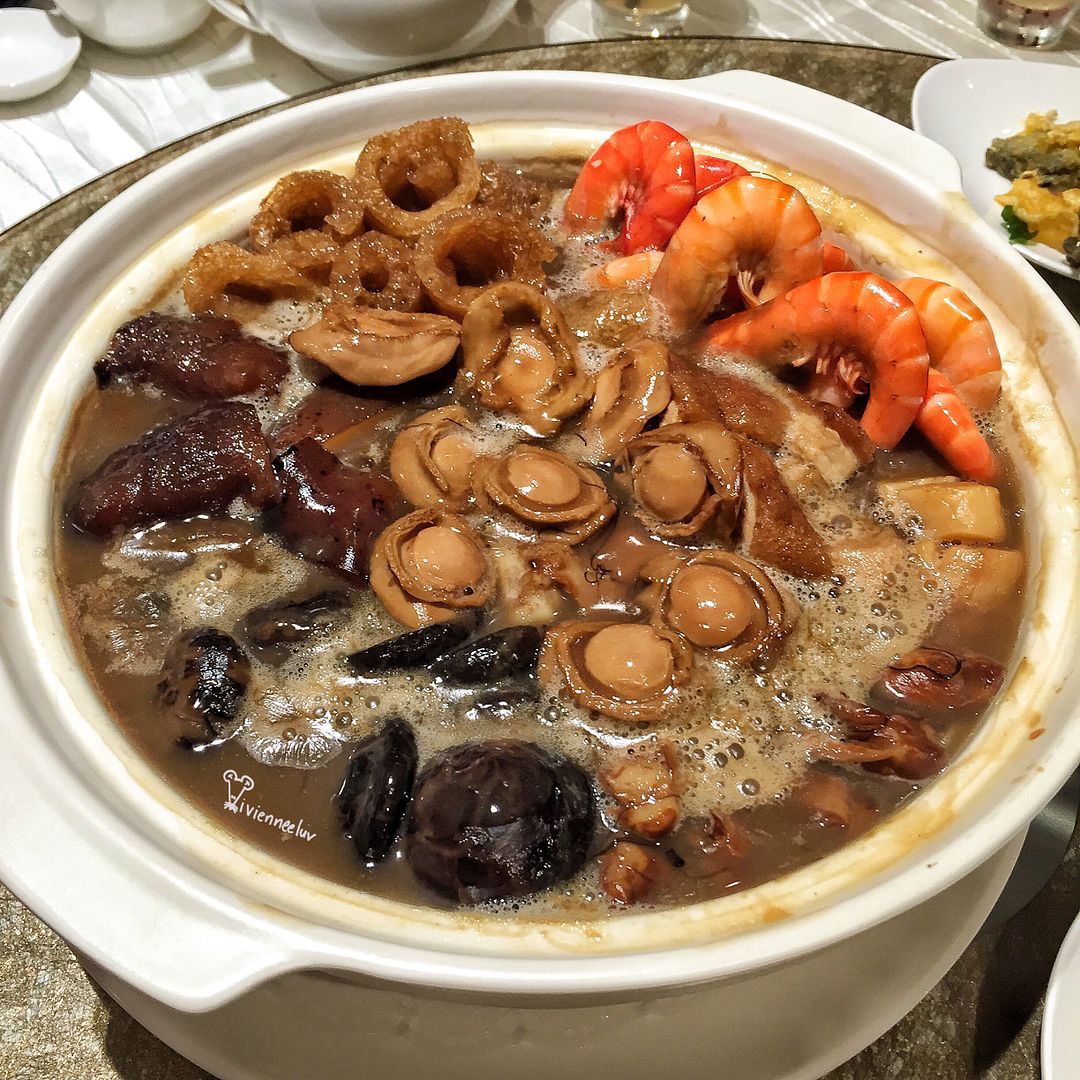 House of Golden Riches Yaowarat Pen Cai 金家福祿 耀华力盆菜 S$318++ and S$488++
Serves 6 and 10 pax respectively. 2-day advance reservation for dine-in and takeaway is required.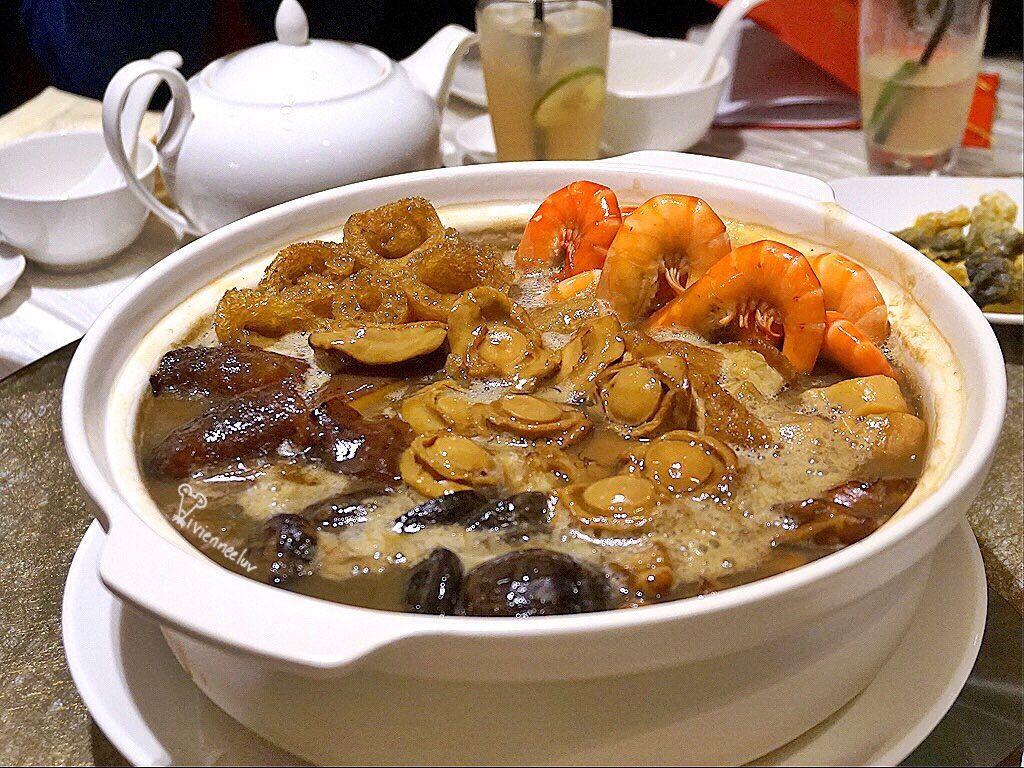 The simple peasant dish, pen cai (pot of vegetables), has come a long way since its humble beginnings. I thought its a brilliant idea to put everything in a pot and its so so so tasty!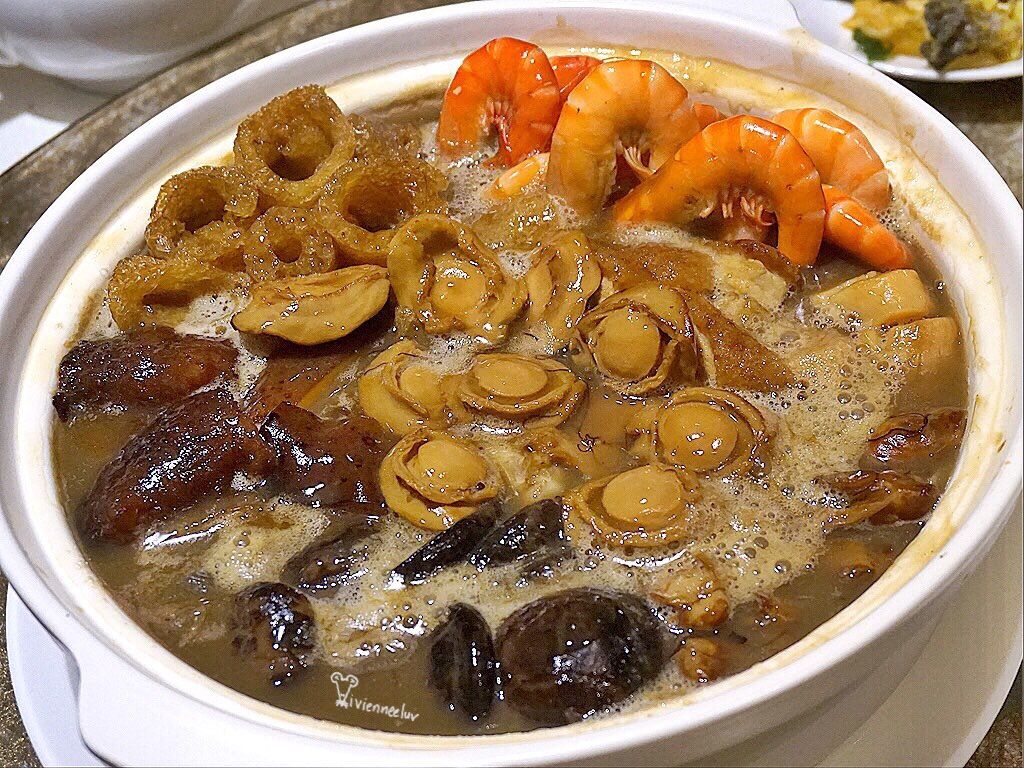 The hearty and satisfying savoury classic has long replaced its staple cabbages and garden greens with prized seafood namely the whole abalone, premium sea cucumber, conpoy, sea prawns, dried oysters and fish maw, together with other must-haves like black moss, mushroom, radish, roasted pork and mustard greens.
The difference in TAO's House of Golden Riches Yaowarat Pen Cai is the merry trinity of chef Lee's signature noble gravy soup, its spongy Thai fish maw from seafood merchants in Yaowarat, and last but not least, its addictive green chili blend.
The only downside is that the roasted pork is tough, too tough for my liking, so K had my share :P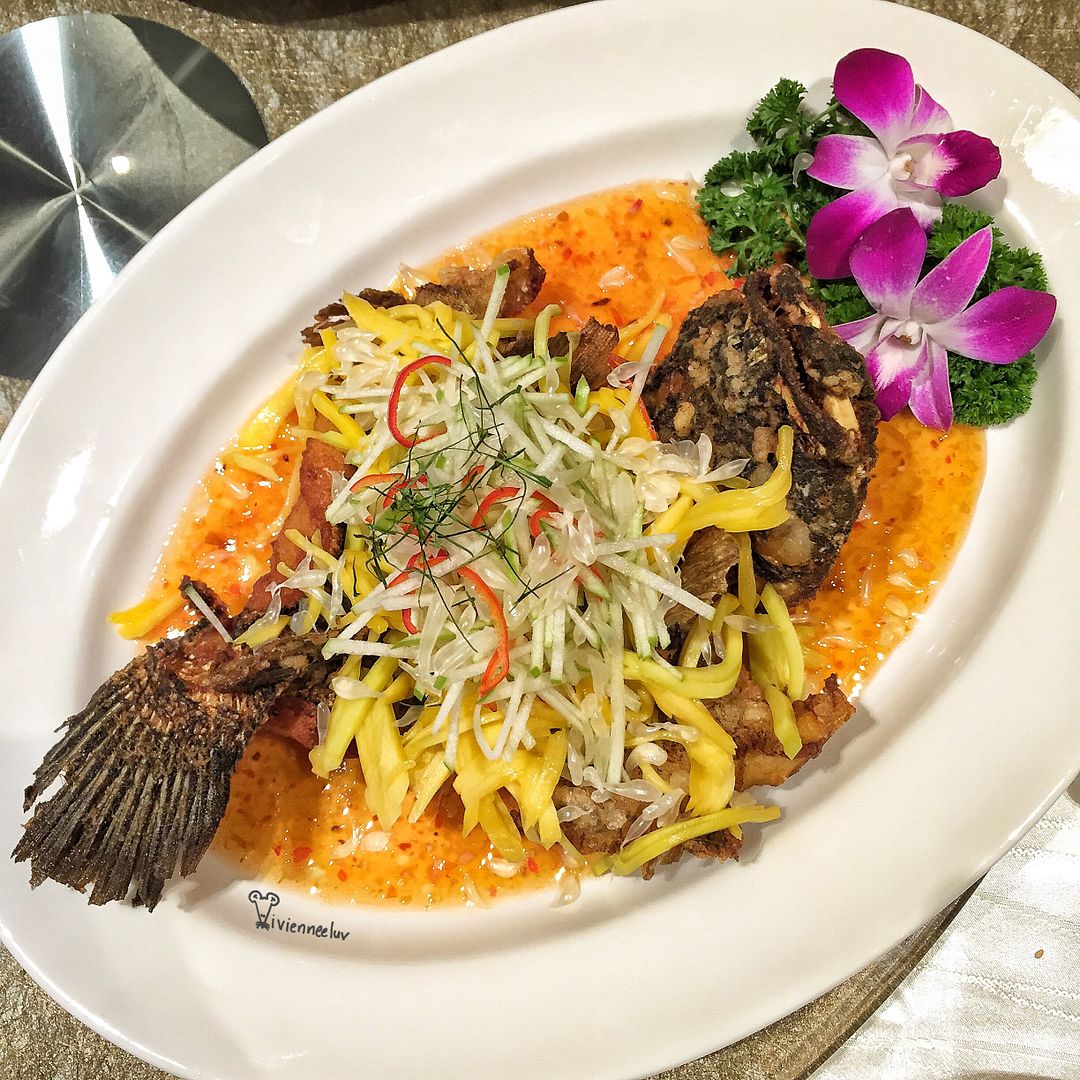 Abundance of Wealth Golden Soon Hock with Mango Slices 富貴有餘 黄金笋配芒果丝 S$9.80 per 100g
Serves 3-4 pax. 2-day advance reservation for dine-in and takeaway is required.
The mere fragrance of the golden gravy marks its place on TAO's dining table even before it arrives. Such is the wonderful pairing of the simplest ingredients in the masterful hands of culinary experts.
The soon hock is deep fried to a golden crisp, and meticulously dressed with TAO's specially concocted fruity sauce with a dash of Thai nam pla (fish sauce), topped with slices of mango, green apple and onions.
The fried soon hock might be a little dry to eat on its own, best to eat with the sauce and mango strips!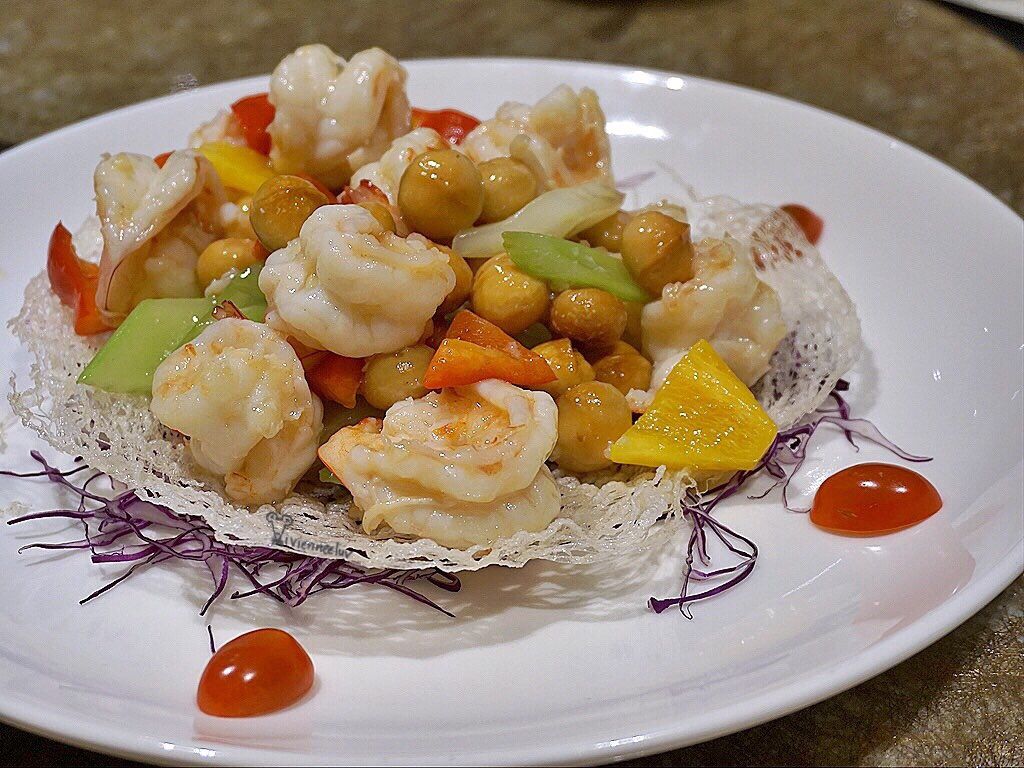 Lap of Luxury Sautéed Prawns with Macadamia Nuts 碧意如意炒虾马卡达姆坚果 S$32++
Serves 3-4 pax. 1-day advance reservation for dine-in and takeaway is required.
Though it is a less well-known dish from the said cuisine, the likes of the sizzling crispy prawns, vegetables to the addictive nuts is big on nothing but flavour and freshness.
You may think that the macadamia nuts are already soggy by the time we eat them, NOPE! The macadamia nuts are still crunchy! The fresh sea prawns rattle in the TAO's iron wok as chef Lee skillfully tossed it with whole macadamia nuts, celery, and bell peppers!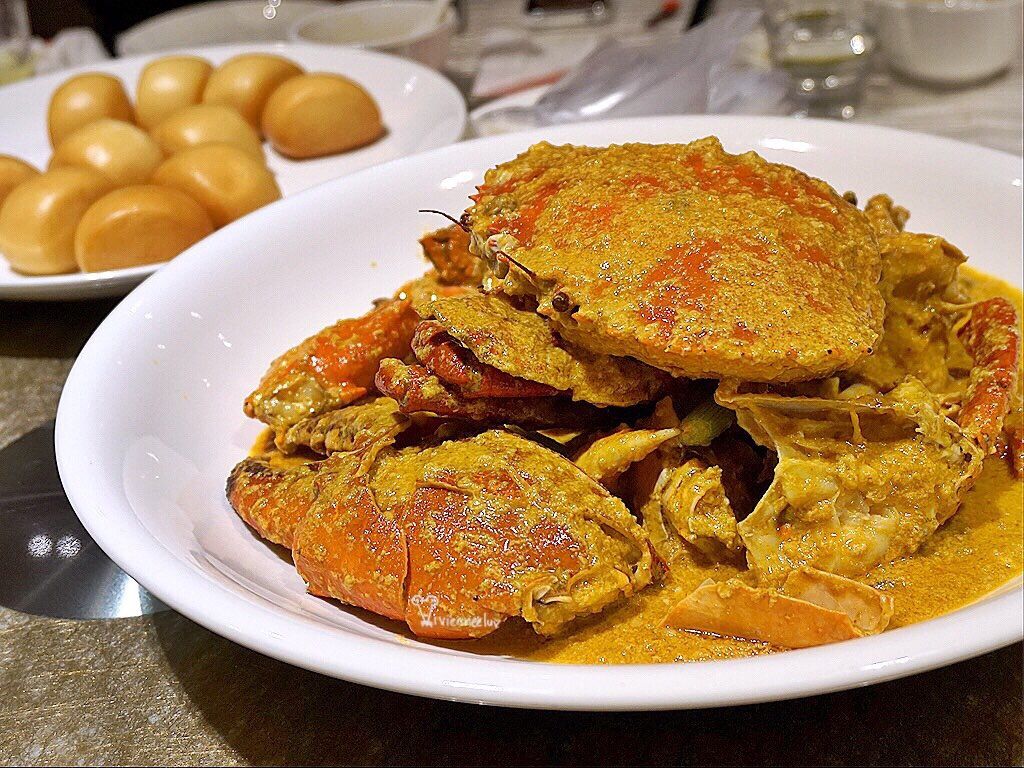 Continuous Successes TAO Thai-Teochew Curry Crab 万事如意 饕聚泰式咖喱蟹 S$6++ per 100g
1-day advance reservation for dine-in and takeaway is required.
Curry is, by and large, one of the most well- known and well-loved flavour all over the world. Each culture has its own hallmark recipe, most often laden with coconut milk, spices, and local herbs, and each claims supremacy over the rest. Needless to say, the Thai-Teochews hold that their version of curry leads the unspoken race, thanks to the good knowledge of their local produce, the clever use of Thai basil leaves, small green and red chilies, coriander, kaffir lime leaves, raw palm sugar, and coconut milk, and their Yaowarat style of cooking.
The Continuous Successes TAO Thai-Teochew Curry Crab takes its glistening golden form as the fresh Sri Lankan crabs are simmered over slow fire and glazed in the hot, delicious spice-accented gravy. is layered with spices and the distinctive flavour of wok-fried crab.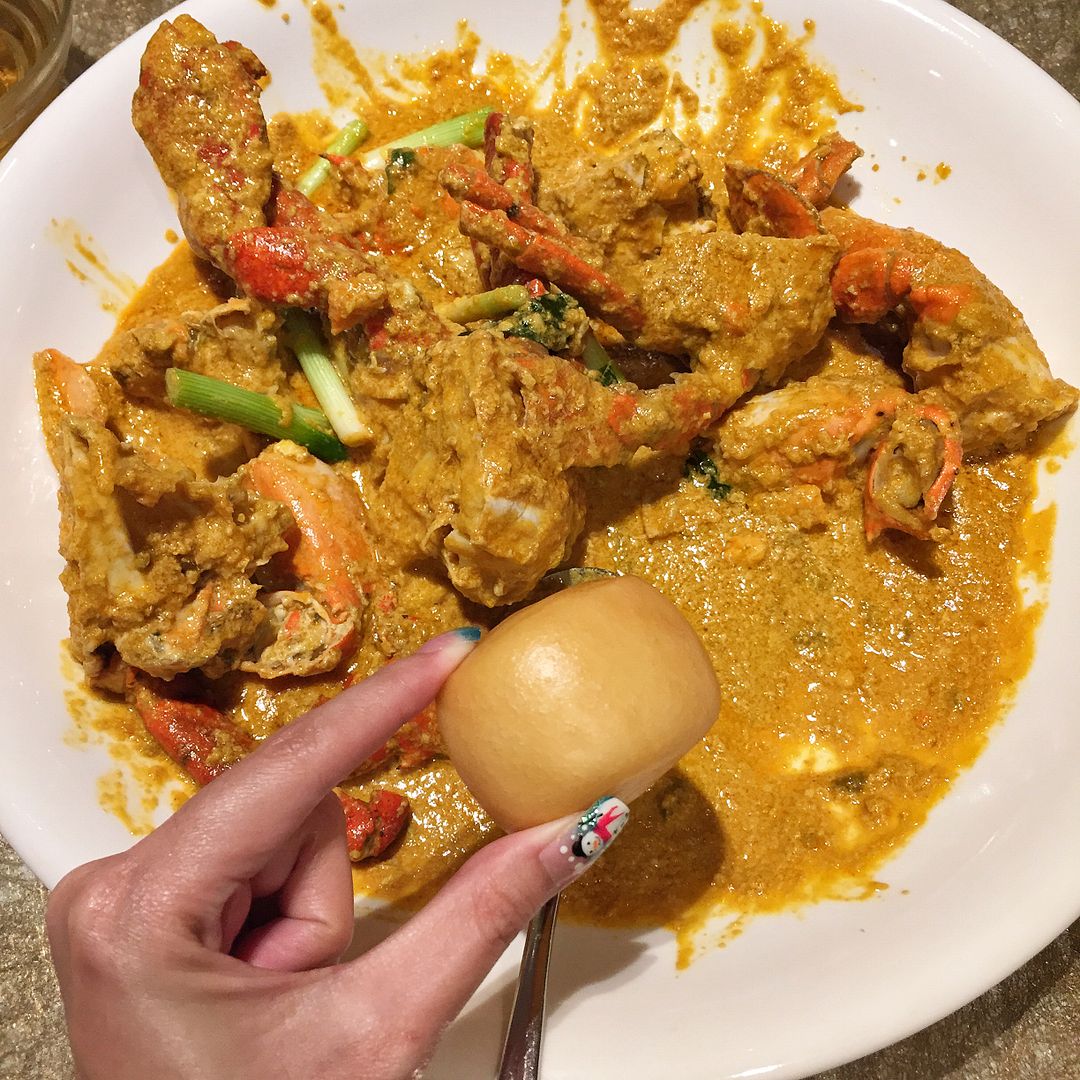 We feedbacked to Adrian that the curry crab is not at all spicy, he told us that thai curry is not meant to be spicy, its more of savoury.
It taste best with buns/man tou! More man you please :P
Flavoursomely savoury!!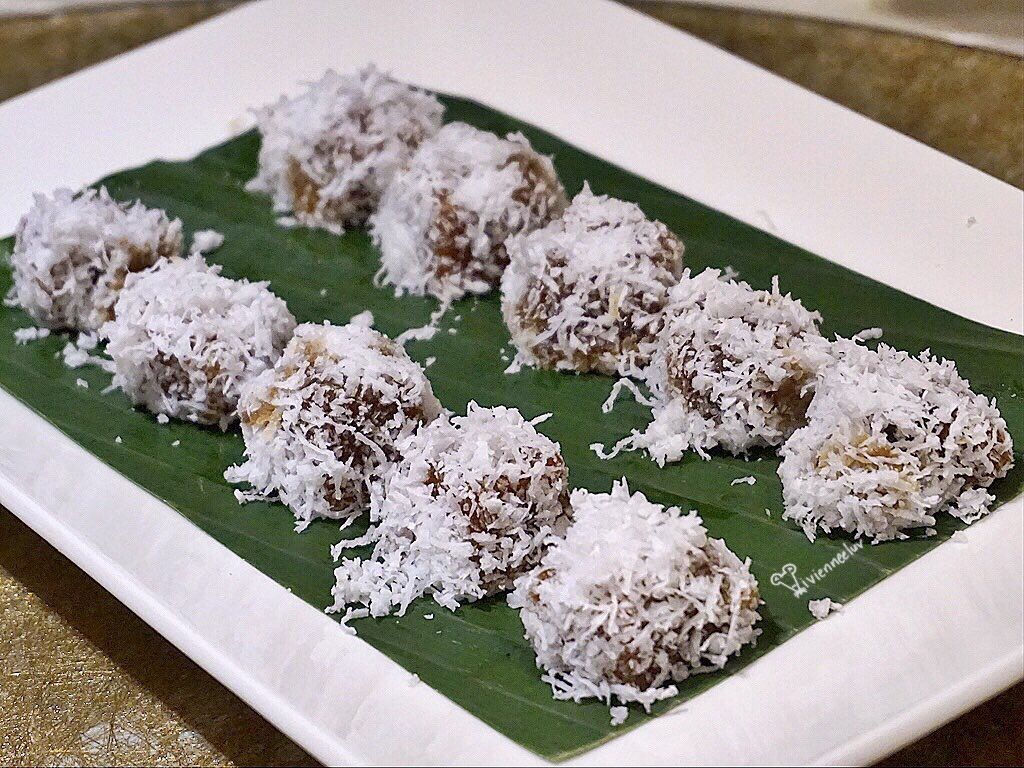 Glutinous Rice 步步高升
Lastly, ending our dinner with desserts! Nian gao in ondeh ondeh style, so innovative!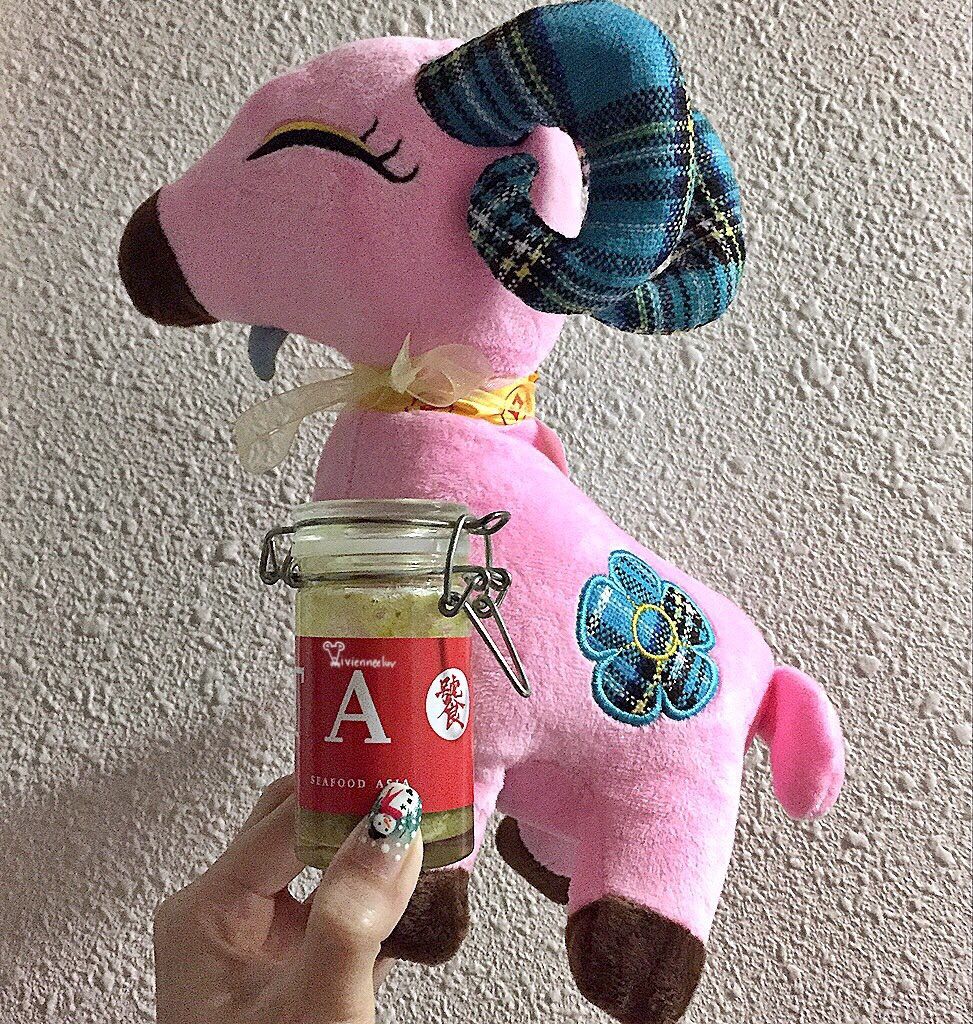 A little meh-meh plushie from Nicole and Team as well as my favourite green chill from TAO Seafood Asia!!
Thank you TAO Seafood Asia for having us!! HUAT AH~~~~~