Website: www.bakerzin.com
For Bakerzin @ Connexion's opening promotion, click
here
!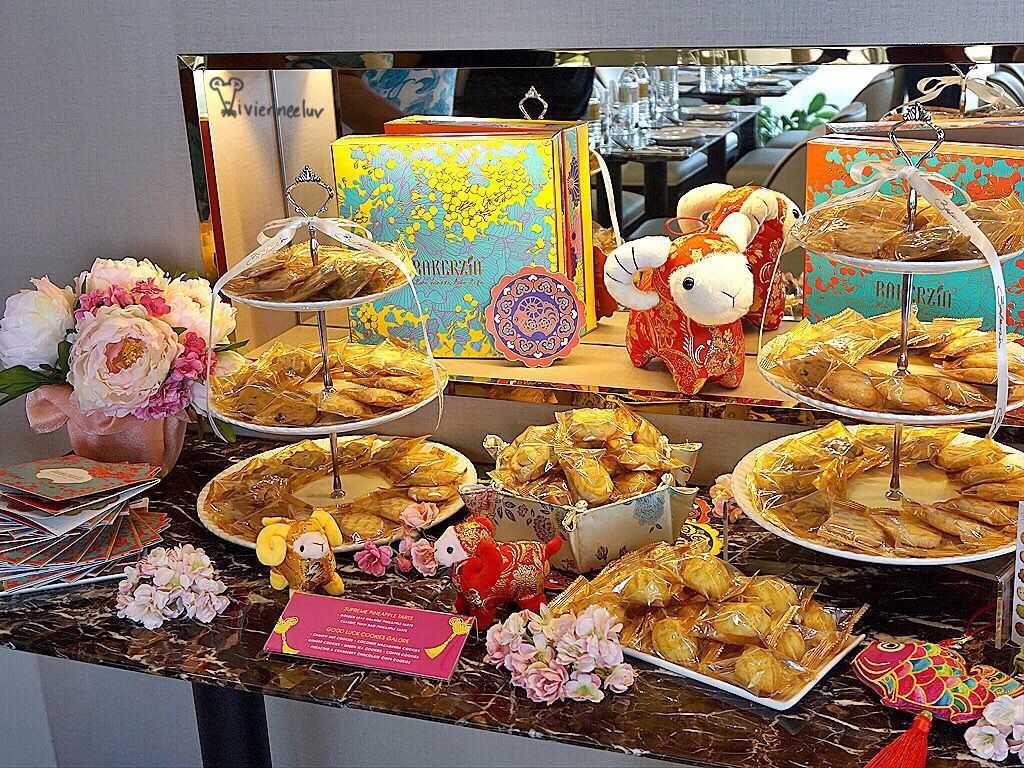 Its Chinese New Year's eve today, how is your spring cleaning and CNY feasting so far?
Mine was really awesome, I mean the latter. I have been feasting so much that I look so bloated now. Well, after CNY, dieting and wedding plannings will start.
Anyway, we were here at the newest outlet at Connexion!
It's the first time Dessert Expert Bakerzin is offering CNY set menu and look at the CNY goodies waiting for us.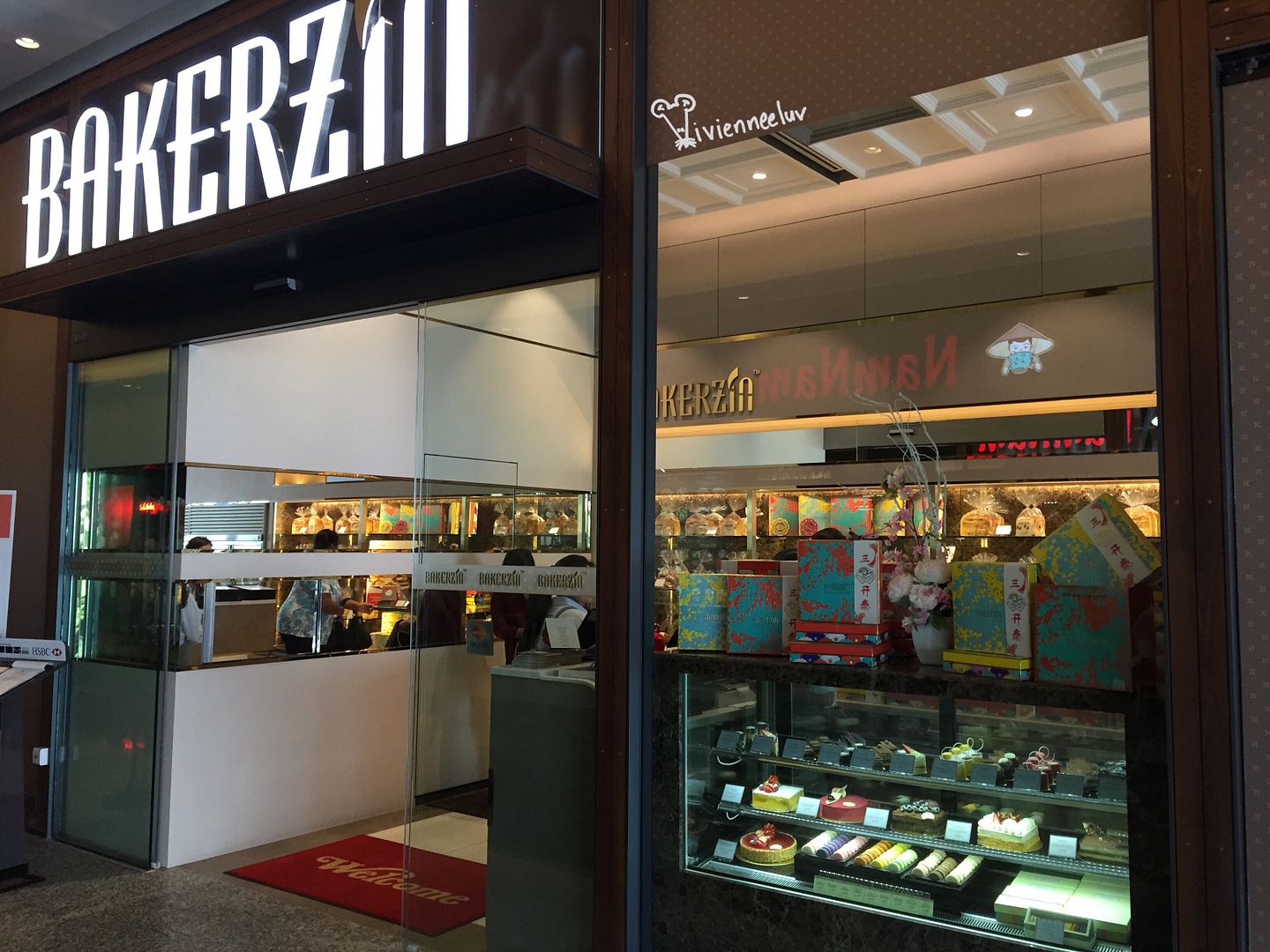 Bright and peaceful on a Saturday afternoon at this 54 seater restaurant, with a Grab-and-Go counter. The pretty boxes with attractive oriental floral motif all packed and ready to be collected by customers.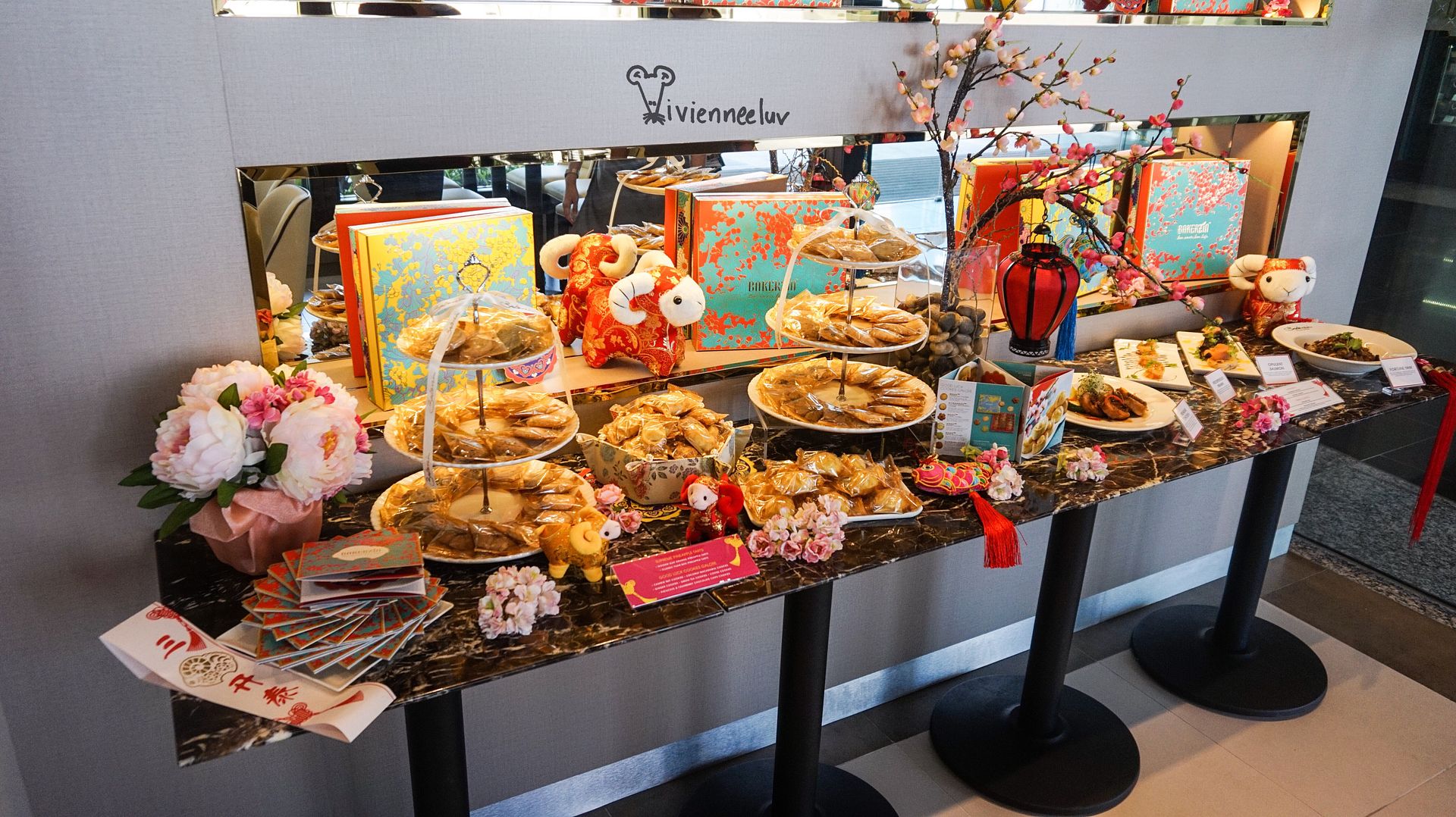 Stomach growling, can't wait to dig in!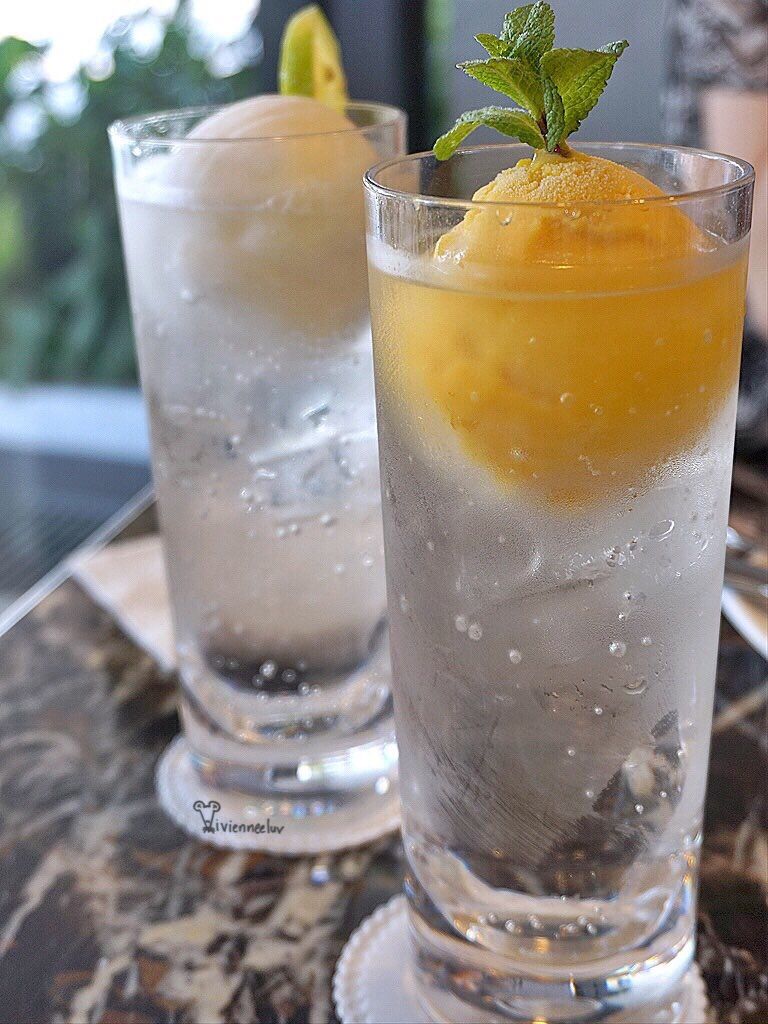 Iced Mango Passion Sorbet S$6.90
Iced Lime Sorbet S$6.90
Iced Latte S$6.90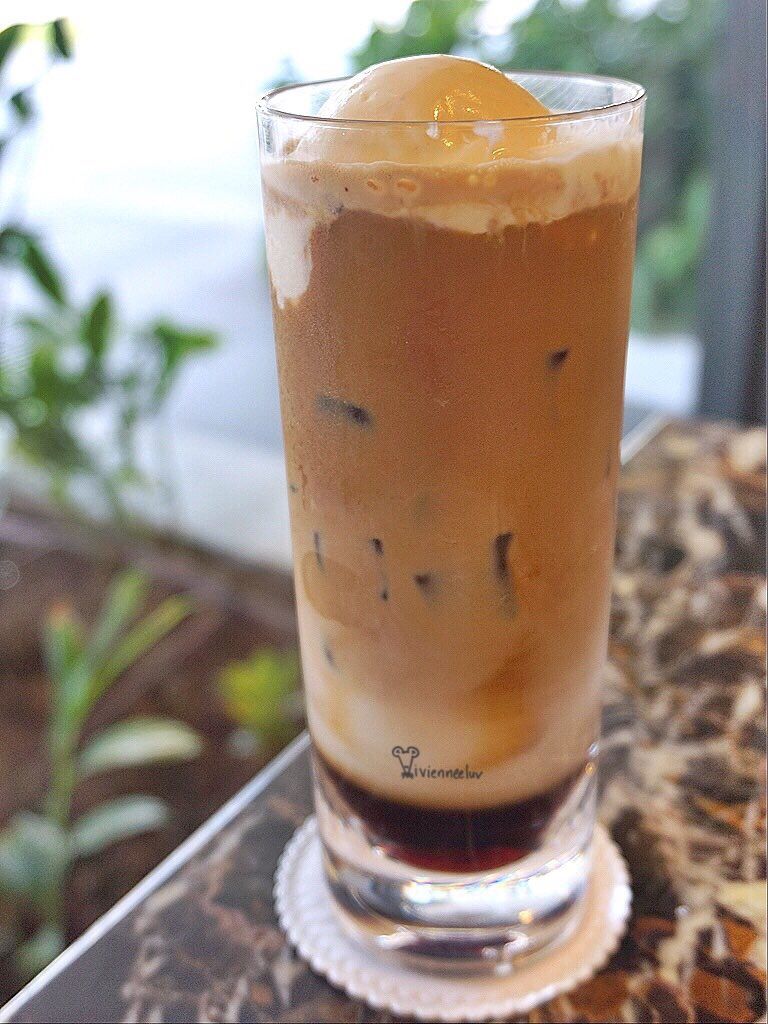 Iced Tiramisu Float S$8.50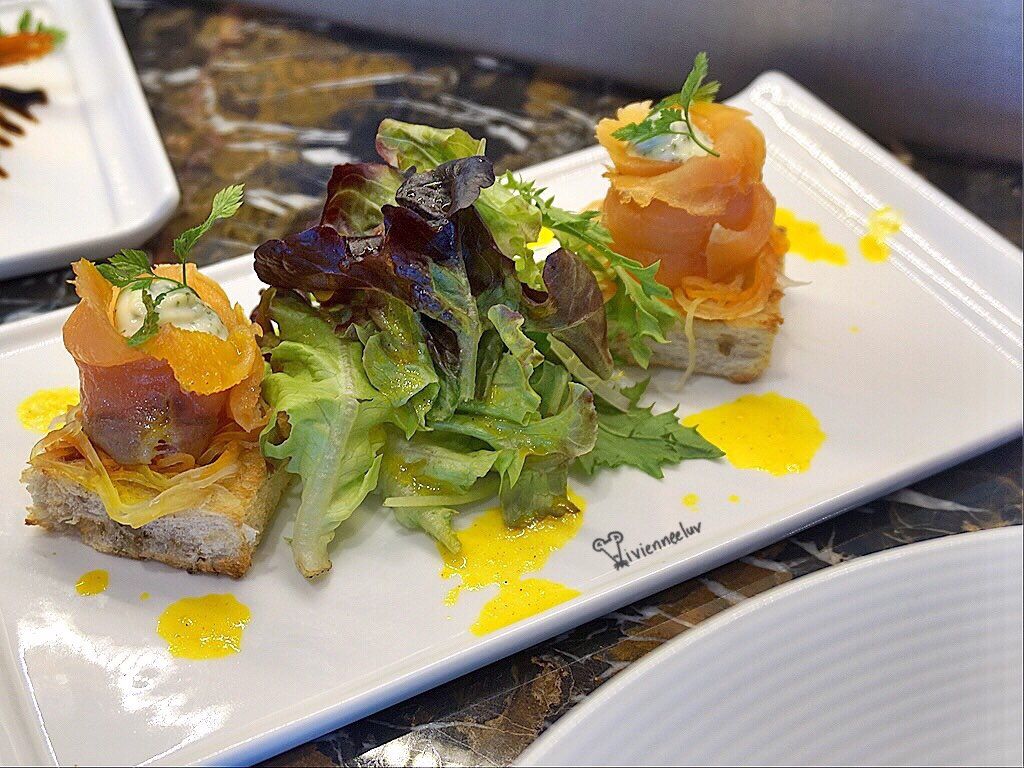 1 Appetiser + 1 Main Course for only S$18.80++, comes with a free Ice Lemon Tea!
Available all day from now till 5th March 2015.
These Chinese New Year Sets are available at all Bakerzin outlets (except Bakerzin Terminal One).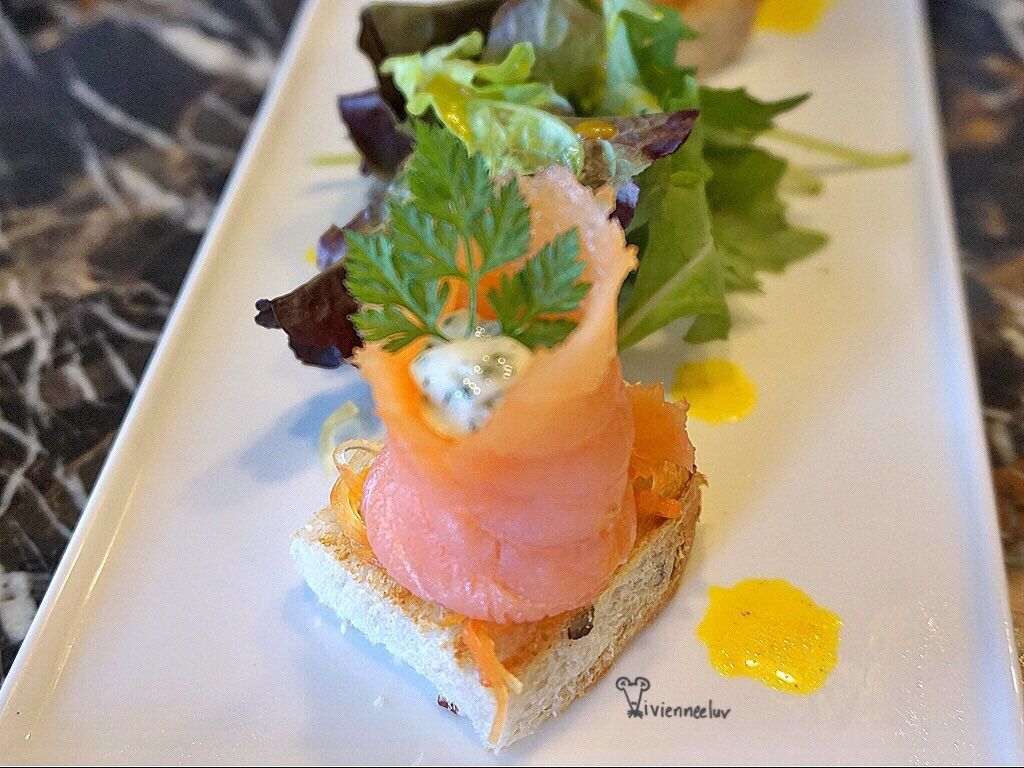 Opulent Salmon Smoked (Appetiser)
Salmon rosette with dill cream, carrot and green papaya pickle on homemade bread, served with mesclun salad.
The green papaya pickle gives this appetiser a yusheng feel, but the homemade bread is mediocre.
Prosperous Prawn (Appetiser)
Pan-seared Tiger Prawns with kumquat marmalade glaze, carrot and green papaya pickle, drizzled with stout reduction.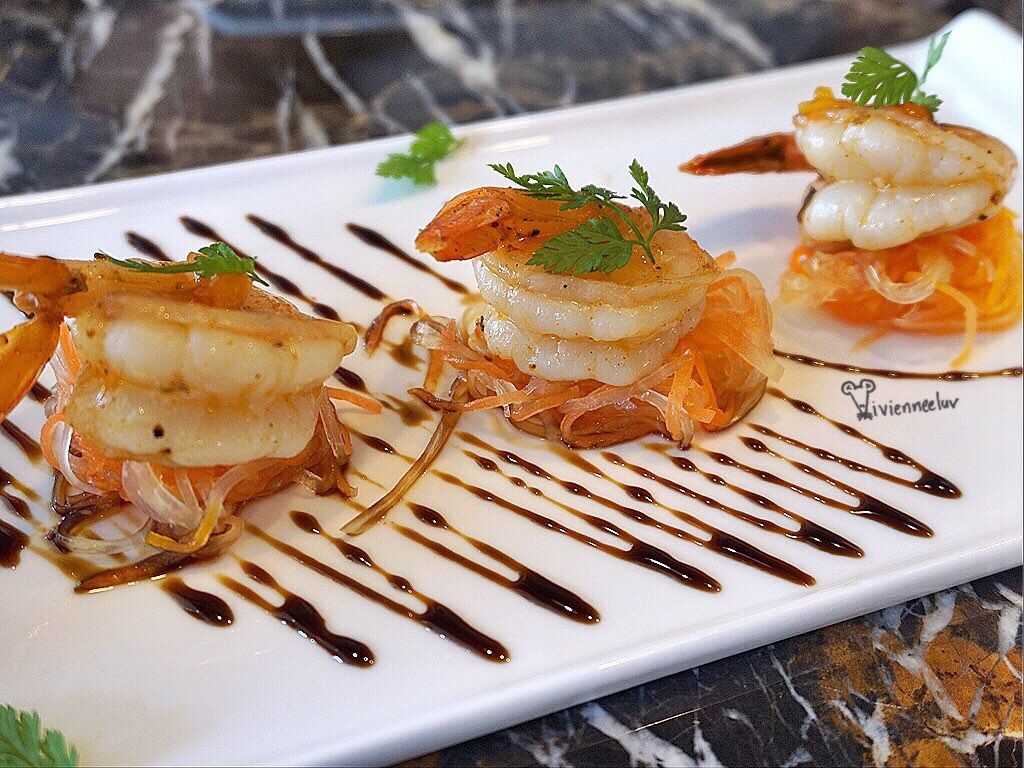 Again with green papaya pickle yums, the prawns are crunchy and fresh, I prefer this appetiser dish to the former.
Treasure Chicken (Main Course)
Oven roasted chicken roulade stuffed with glutinous rice with dried shrimp, dried scallop, diced mushrooms, macadamia nuts, served with sauté egg plant, zucchini, butternut pumpkin and marmite sauce.
As the chicken is stuffed with glutinous rice, taste like bak zhang (rice dumpling) to me. I am a bak zhang fan.
Fortune Yam (Main Course)
Yam and purple yam abacus with minced pork, sliced shiitake mushrooms, lotus root, fired shrimp and chill padi.
I had loved abacus seeds since I was young. Really thankful for my mum who exposed me to lots of food, that makes me a foodie now. I eat almost everything, but I have my favourite dishes of course.
Why am I so crazy over abacus seed? Because this dish is hard to find elsewhere. After this tasting session, I realised many people are not aware of this dish at all.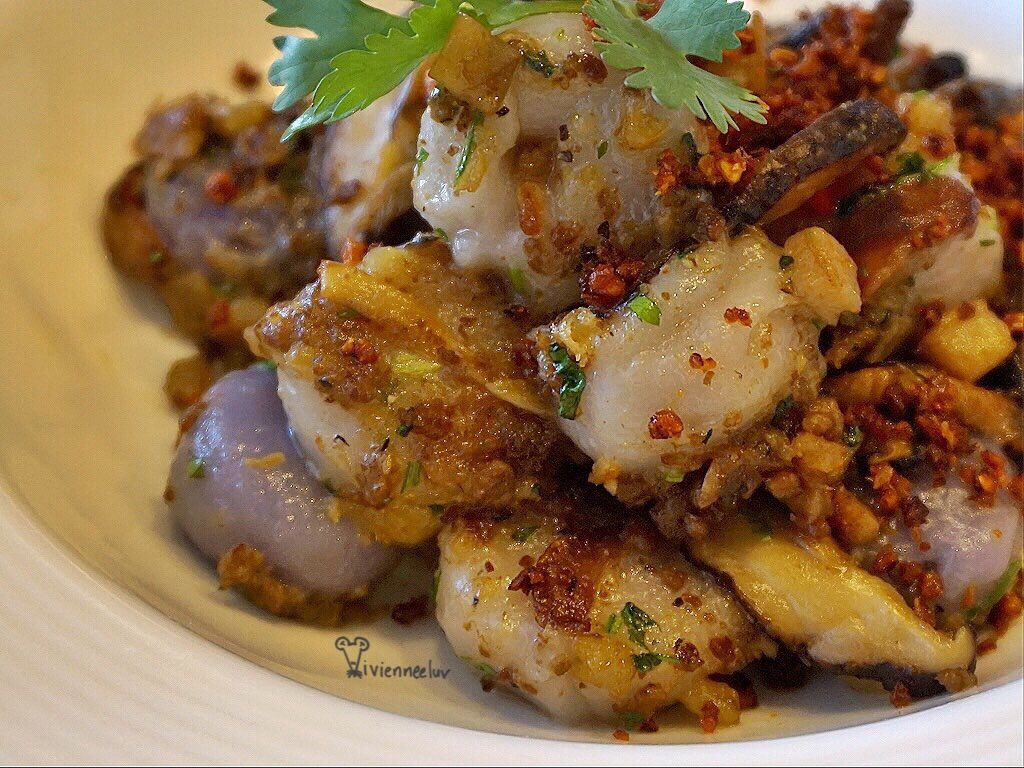 After popping 1 into my mouth, it is so spicy, i teared and drank lots of water. It is so spicy that the spiciness had masked the taste of yam. Would prefer the yam to be more chewy but this is decent enough.
The abacus seeds are made from scratch. WOW, if only its a permanent item. I will be a big fan.
Ask for less spice!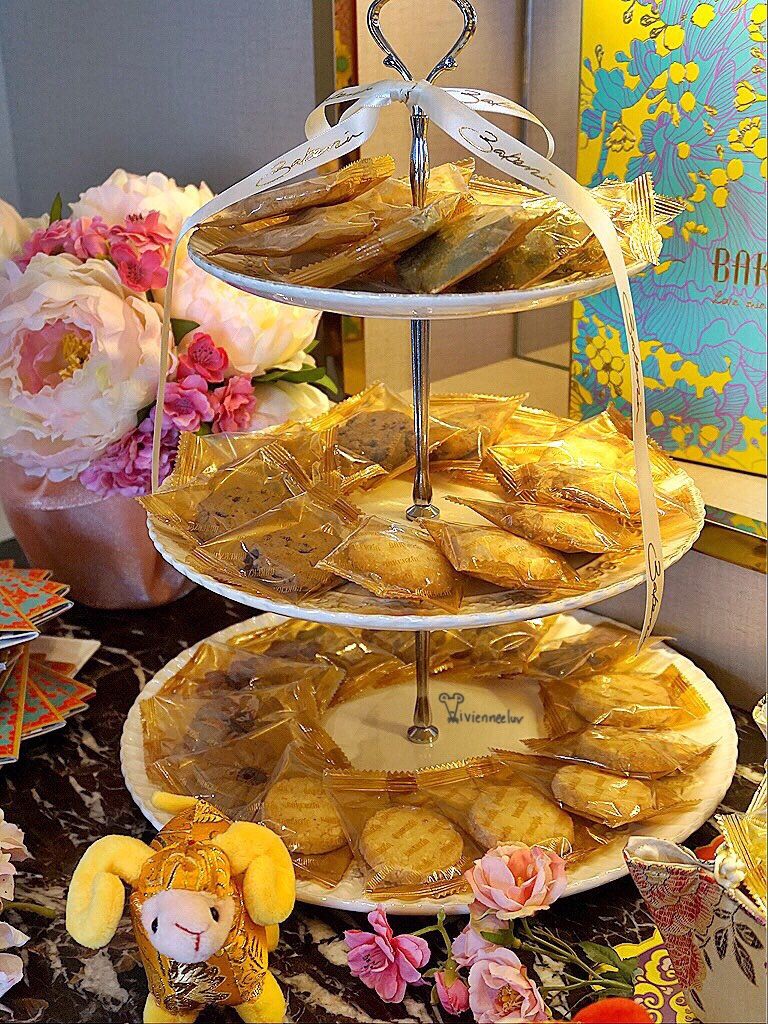 Voted top 3 out of 30 pineapple tarts by Sunday Times, I can't wait to try the tarts and cookies.
OCBC and HSBC cardholders enjoy a 15% discount for purchase at any Bakerzin outlets from now till 5th Mach 2015.
Online orders placed from now till 2nd March 2015 will also enjoy a 15% discount.
Free delivery between now till 5th March 2015 for orders above S$100.
S$30 delivery charge between now till 5th March 2015 for orders below S$100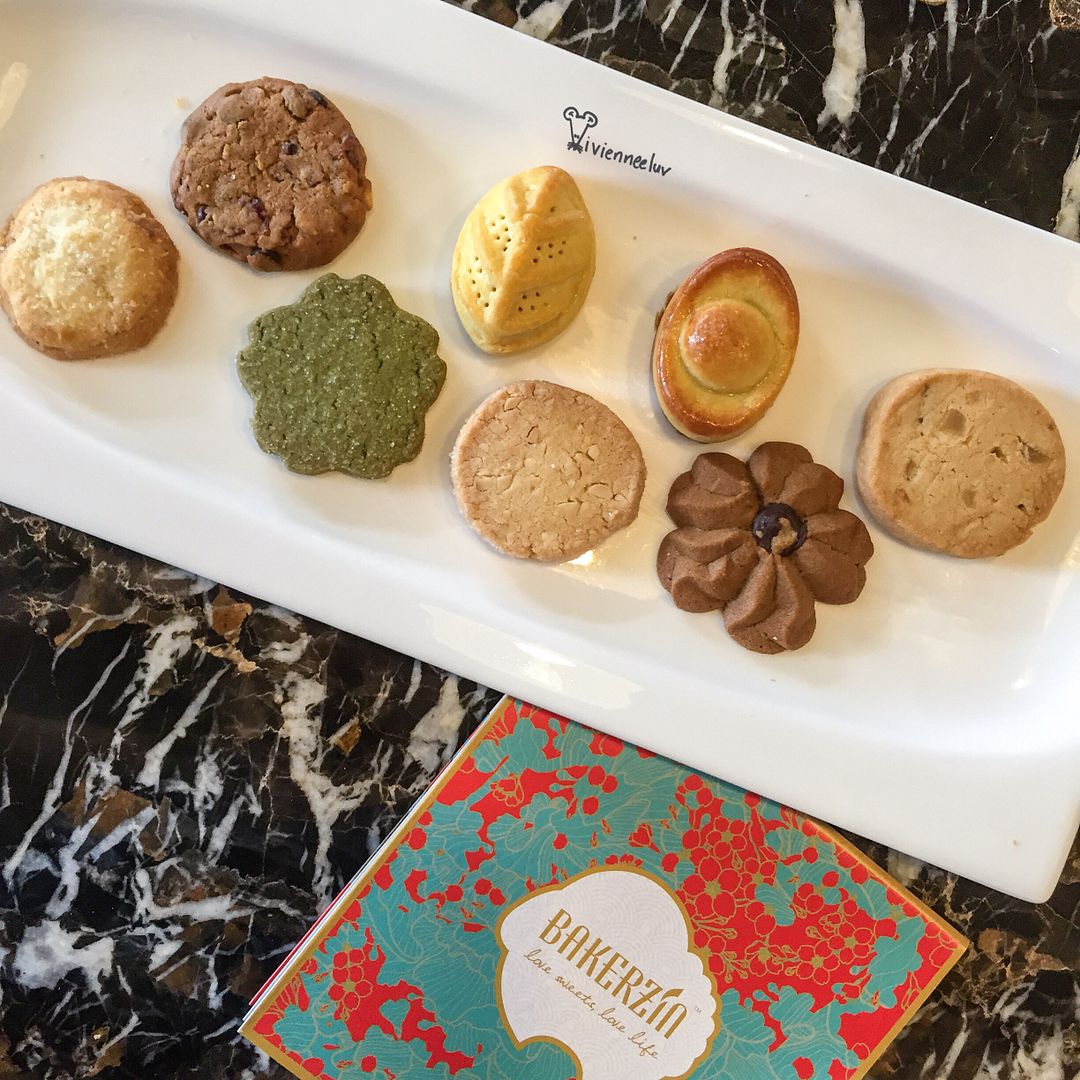 Assorted Cookie Box - 5 x 6 flavours S$21.80
Had 8 (huat ah!) good luck sweet treats from Bakerzin, including 5 new cookie flavours.
Cookies and pineapple tarts are individually wrapped to ensure freshness and printed with expiry date.
➊ Coconut Macadamia Cookie - sprinkled with dessicated coconut, a hot favourite among us!
➋ Pistachio and Cranberry Chocolate Chip Cookie - a returning favourite, a subtly salted cookie with perfectly roasted pistachio, dried cranberries and chocolate chips.
➌ Green Tea Cookie - with a sugar-crusted surface.
➍ Golden Leaf Orange Pineapple Tart S$23.80/box (21 pieces) - golden-brown pastry cradles a generous filling of fibrous pineapple laced with orange zest. Refreshing!
➎ Cashew Nut Cookie - 1 of my favourite, as I love buttery cookies! Every bite has chopped cashew nuts.
➏ Classic Yuan Bao Pineapple Tart S$23.80/box (21 pieces) - Not-too-sweet pineapple jam in a buttery, melt-in-mouth pastry. Pineapple symbolize wealth, luck, excellent fortune, gambling luck. :P
➐ Coffee Cookie - aromatic coffee infused confection with a chocolate chip in the middle, definitely a coffee lover's favourite.
➑ Ginger Cookie - featuring a combination of sweet vanilla, chewy candied ginger nibs and lemon zest, I love it!
Golden Leaf Orange Pineapple Tarts S$23.80/box (21 pieces)
Classic Yuan Bao Pineapple Tarts S$23.80/box (21 pieces)
Assorted Pineapple Tarts S$23.80/box (21 pieces)
Brought home a box of pineapple tarts for mummy & MIL, they both love the Ingots, pineapple fillings are not overly sweet either.
All prices are subjected to GST.
Thank you Bakerzin for having us! Wishing everyone a Happy New Year.