| | |
| --- | --- |
| Address: | 23 Merchant Road Level 1, Park Regis Singapore 058268 |
| Opening Hours: | 11.30am to 2.30pm and 6.30pm to 10.30pm Daily |
| Tel: | +65 6818 8851 |
| Website: | http://www.parkregissingapore.com/dining-bars/royal-pavilion/ |
The inaugural Chinese New Year creations at Royal Pavilion are available from 9 February to 5 March 2015. 1-day advance order is required.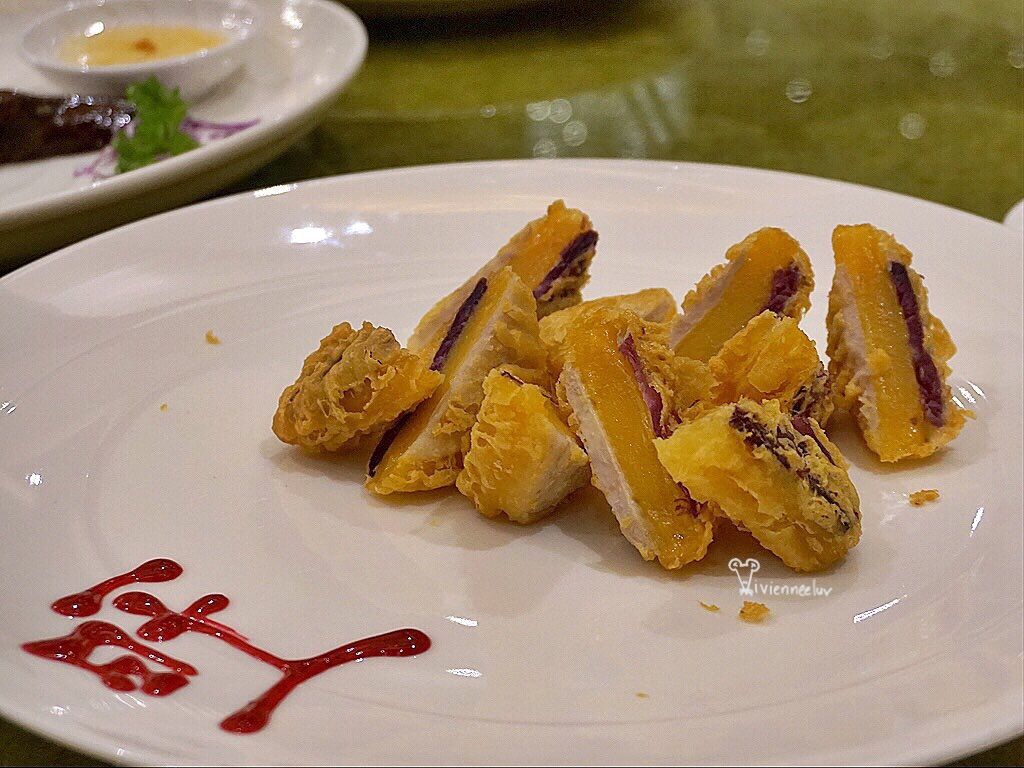 So glad to be here at Royal Pavilion, I love the food so much!
Royal Pavilion known for its new-world Cantonese delicacies and classic dishes, ups the culinary ante with its first selection of Chinese New Year creations by the brand's Director of Kitchen and Operations, Mr Ray Tso, from Hong Kong.
From the premium festive must-haves to the old classics with new twists, each dons the elegant touchmark of fine Cantonese cuisine.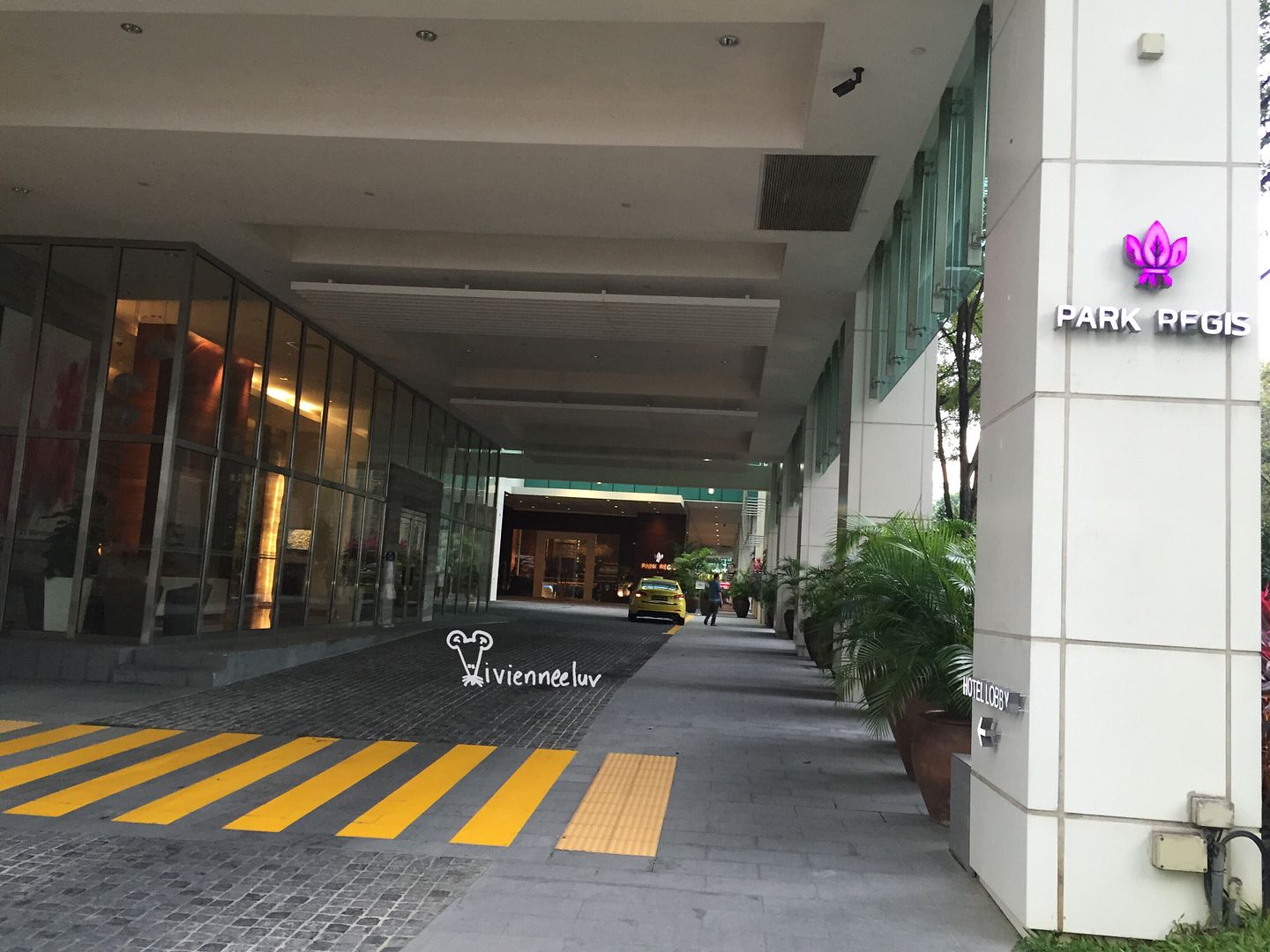 Upon reaching Park Regis, go all the way in, where the yellow cab is.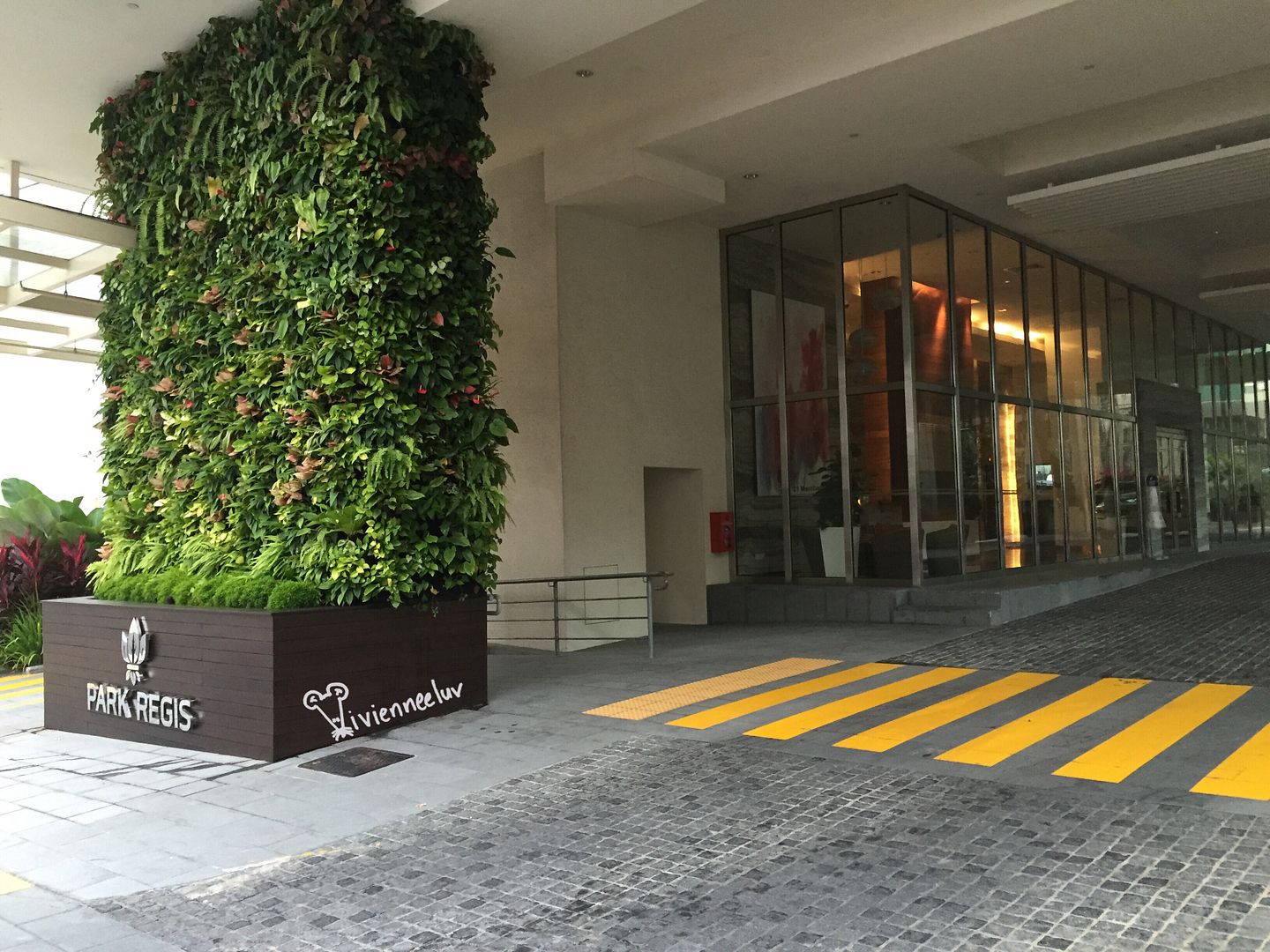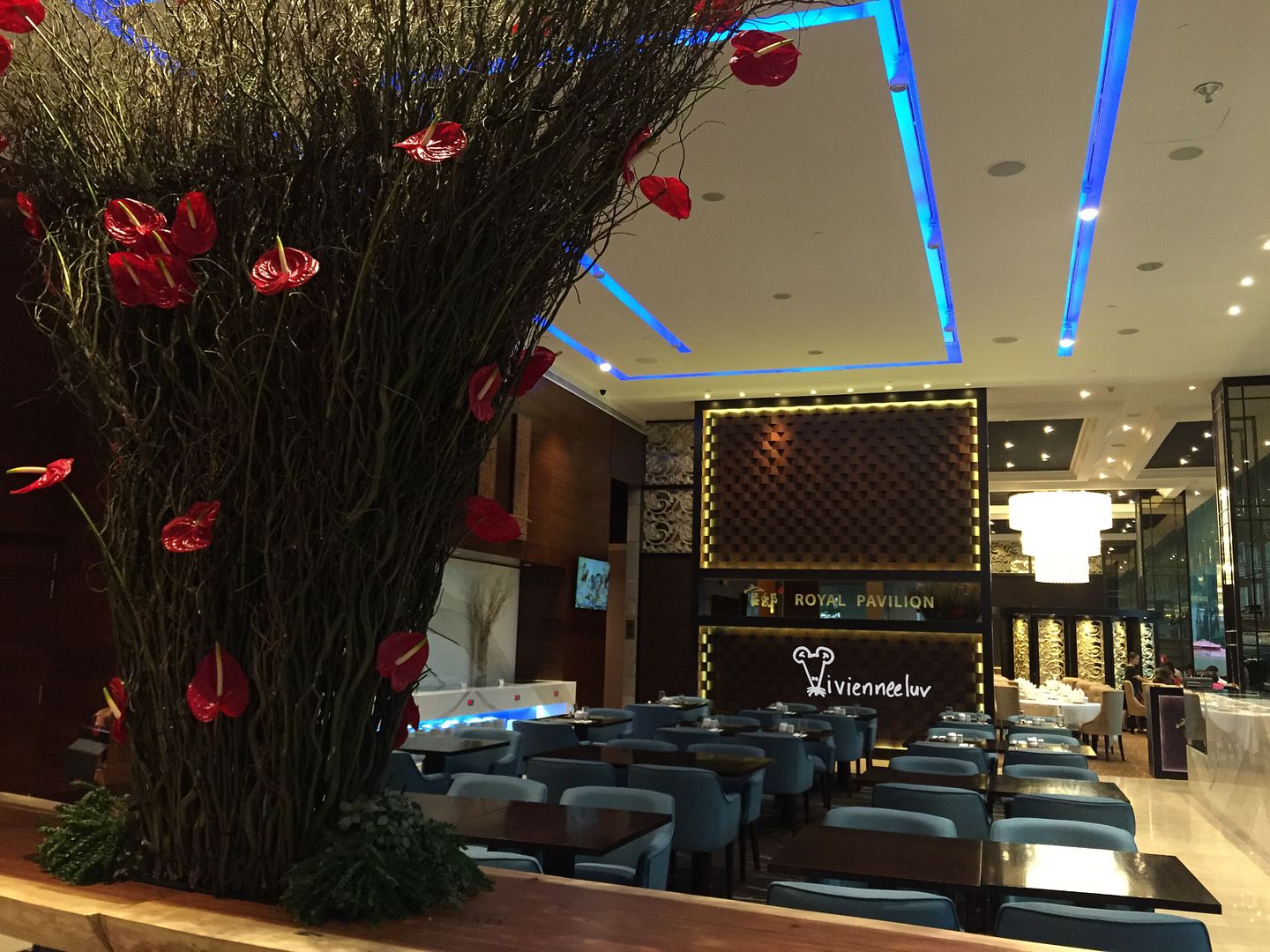 Located right at the lobby, its head to miss. Royal Pavilion is right inside. These blue seats here are part of the lobby's cafe (yet to start operations).
The 142-seater modern Cantonese concept has seven private rooms.
With Executive Chef Chung Ho Shi at the helm, Royal Pavilion aims to raise the appreciation of Cantonese fine dining in Singapore and the Asia pacific region with its brand of unique contemporary creations.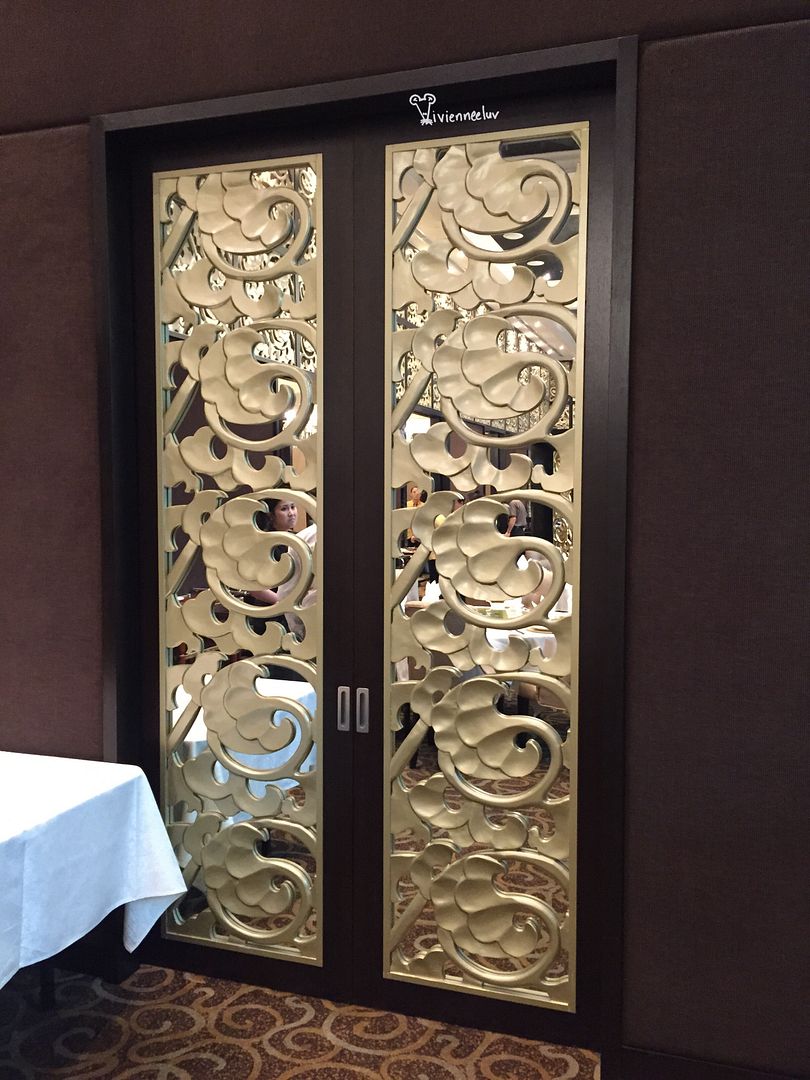 In the largest private room, so grand and comfy.
The majestic 5-figure chandelier, for a moment I wished this is my house. So pretty! Sorry my iPhone couldn't capture the beauty of it.
Standing in a private room, they opened up the doors to reveal a big private room with 3 tables.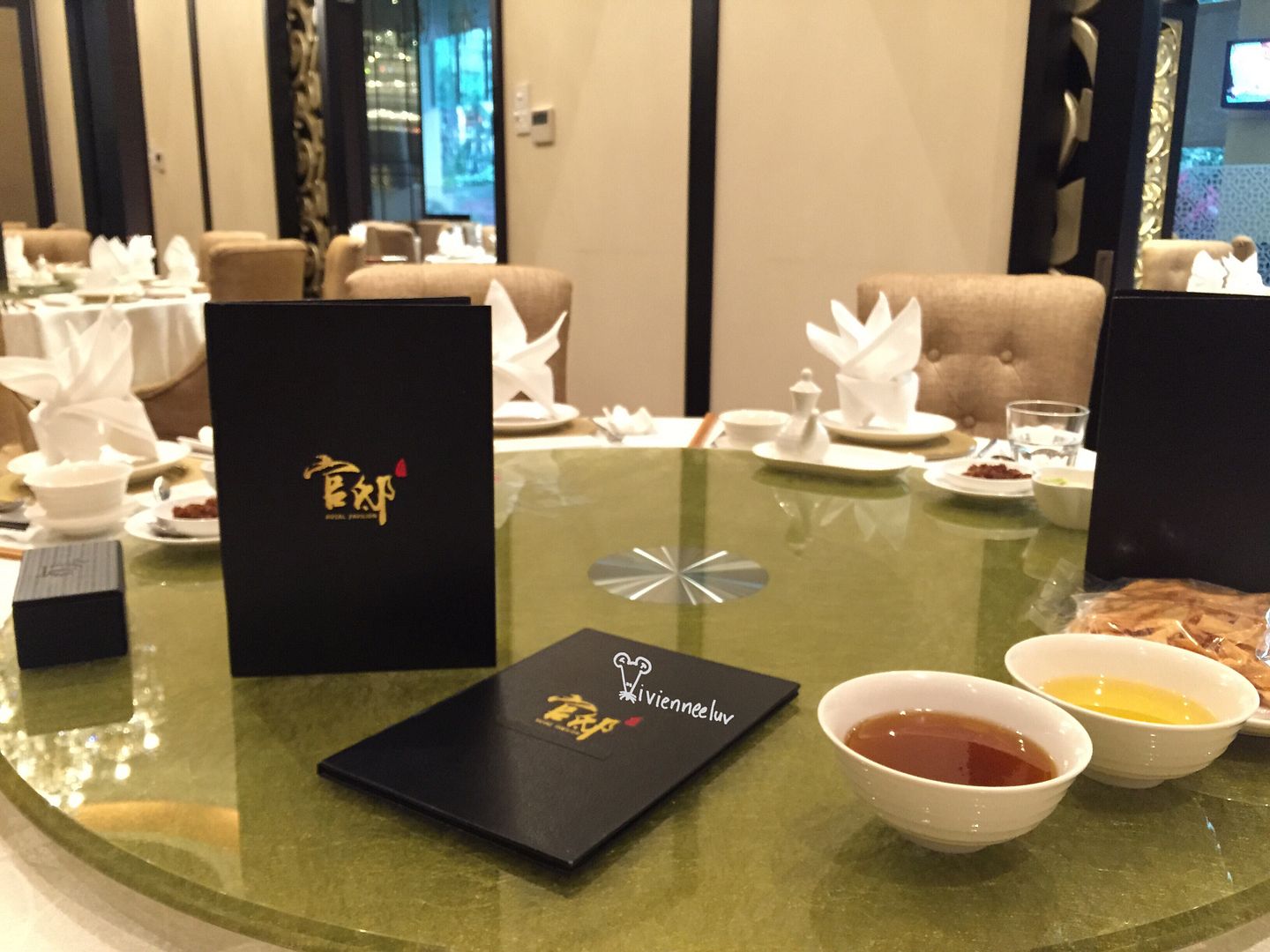 Appetisers & ''Lao Gan Die'' Chili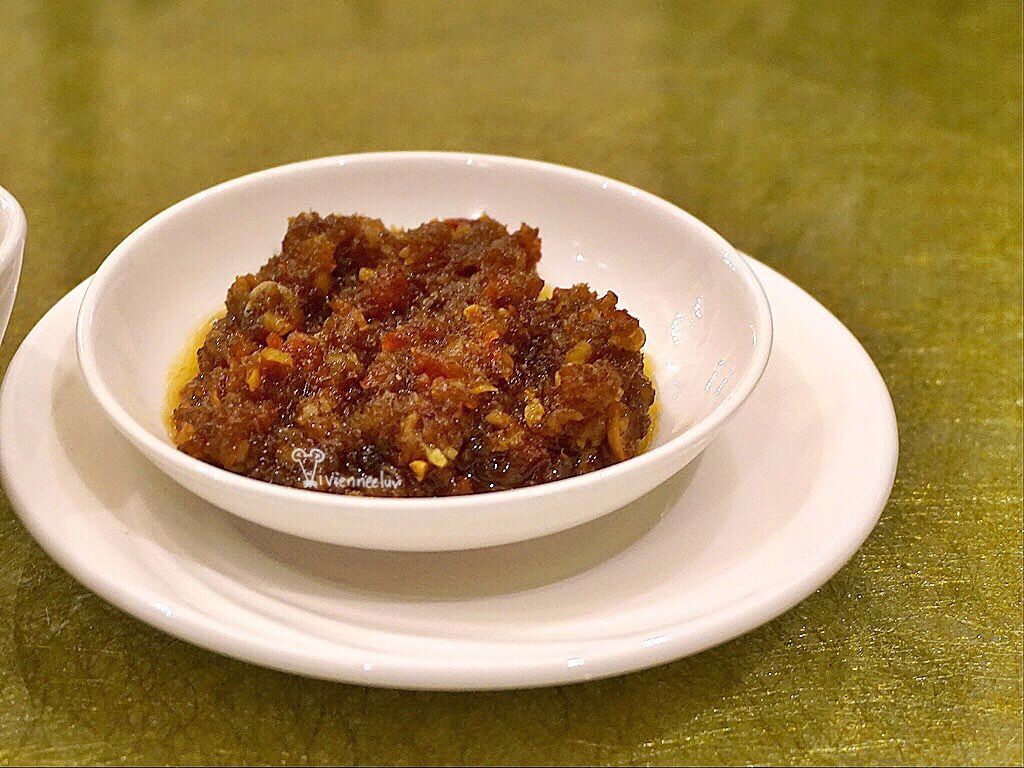 ''Lao Gan Die'' Chili which taste like XO sauce, it should go well with most of the dishes.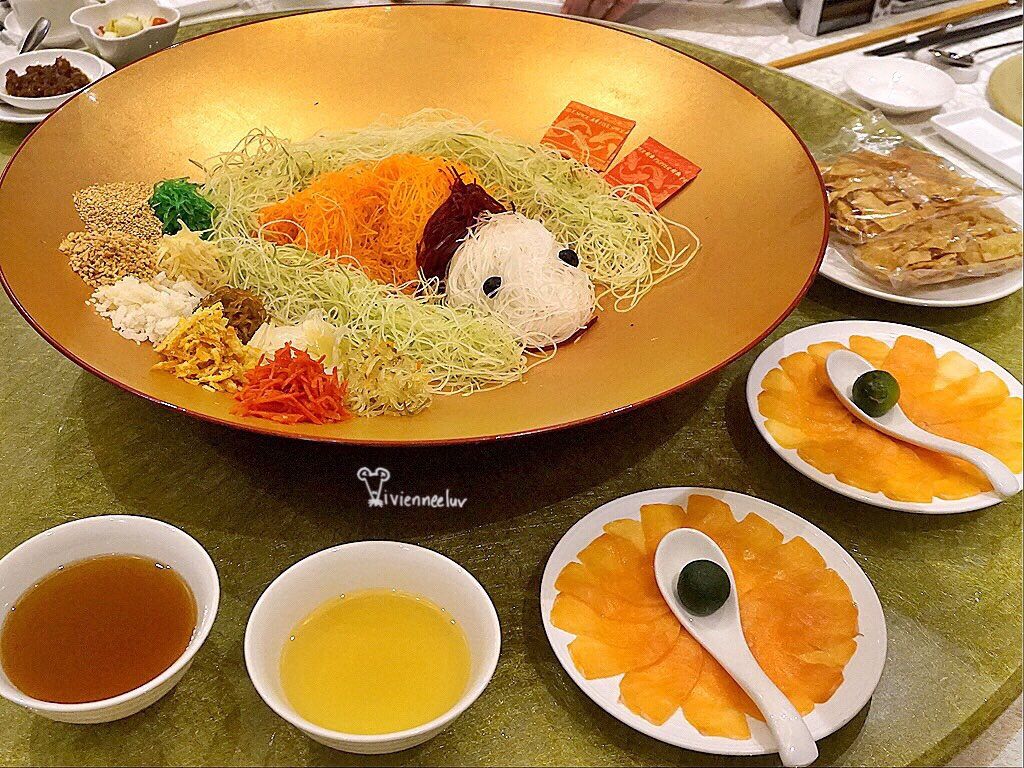 Royal Prosperity Salmon Yu Sheng 开运鲑鱼劳生 S$68 (serves 4-6 pax) and S$88 (serves 6-8 pax)
1-day advance order is required.
The Royal Prosperity Salmon Yu Sheng symbolizes a reflection of the balance between the sea's treasures and the earth's gifts.
Taking the auspicious art form of a fish, the finely sliced fresh white radish, carrots, cucumber, pickled ginger and red yam sit on a big, bold and beautiful show plate.
With accompanying mains such as Canadian salmon slices, unique condiments in the likes of roasted peanuts, ground cinnamon powder, the 5-spice Chinese powder, toasted sesame seeds, ground pepper and olive oil, and the brand's fruity apple-and-plum sauce.
The tangy zest and crunch of this dish perks us up, and ready for the following dishes. A great kick-start to a feast!
So evenly tossed!
Royal Fried Lamb Shank 横财就手炸小羊腿 S$48 (serves up to 4 pax)
1-day advance order is required. Dine-in only.
Ringing in the lunar new year of the goat, the Royal Pavilion's team, led by Mr Ray Tso, judges that a modern Cantonese lamb creation is more than befitting to claim a rightful spot in its festive menu.
Doesn't this look like Beijing Duck to you, with handcrafted wraps and hoisin sauce.
Lamb shank prepared the cantonese way thanks to ingredients like fermented beancurd (nanru), coriander, Chinese rock sugar along with soya sauce, star anise and cinnamon, and a lengthy cooking process (boil, marinate and deep-fry).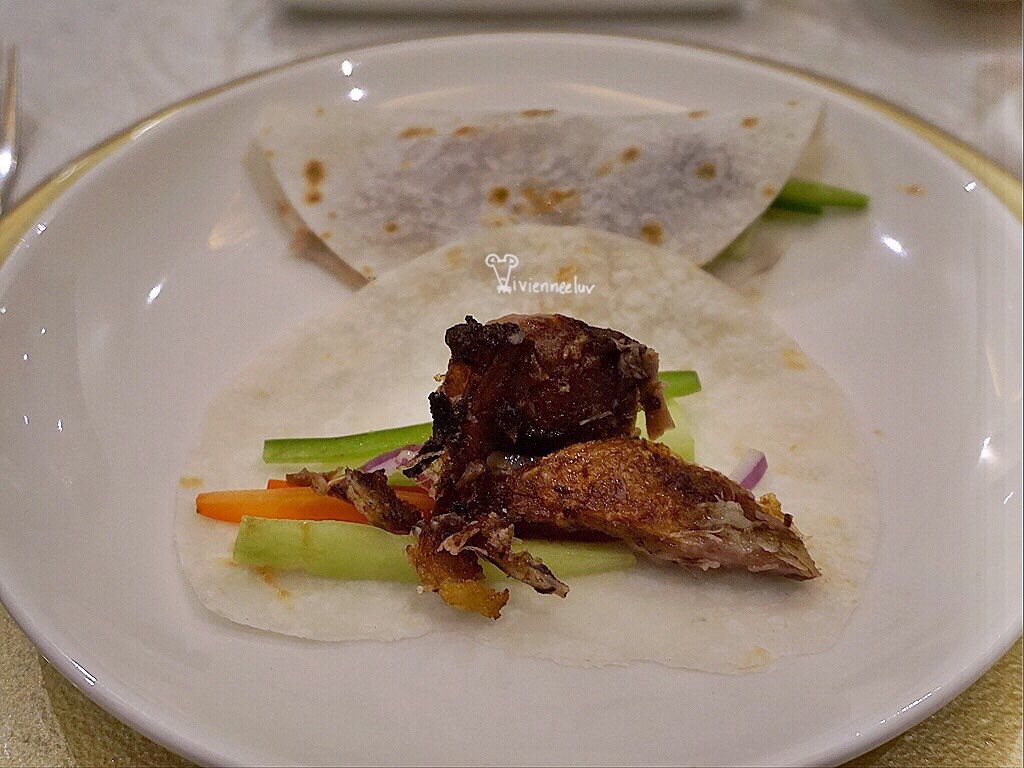 Pick a wrap, top it with sliced spring onions, hoisin sauce, coriander, sliced cucumber and lastly lamb shank!
Some of the ladies at my table dislike the lamby taste, however it is still bearable to me and K loves this! He had 2 more extra portions.
I personally love the crunch when I bite into the wrap, the sweet hoisin sauce is a bonus!
Braised 4-Head South African Abalone in Superior Pumpkin Broth 黄金满地炆鲍鱼 S$68 per serving
1-day advance order is required. For dine-in and takeaway.
This dish is an old classic with a new humbling twist!
Abalone - a well-loved favourite on every dining table as it signifies wealth and one's pure appreciation of the cuisine.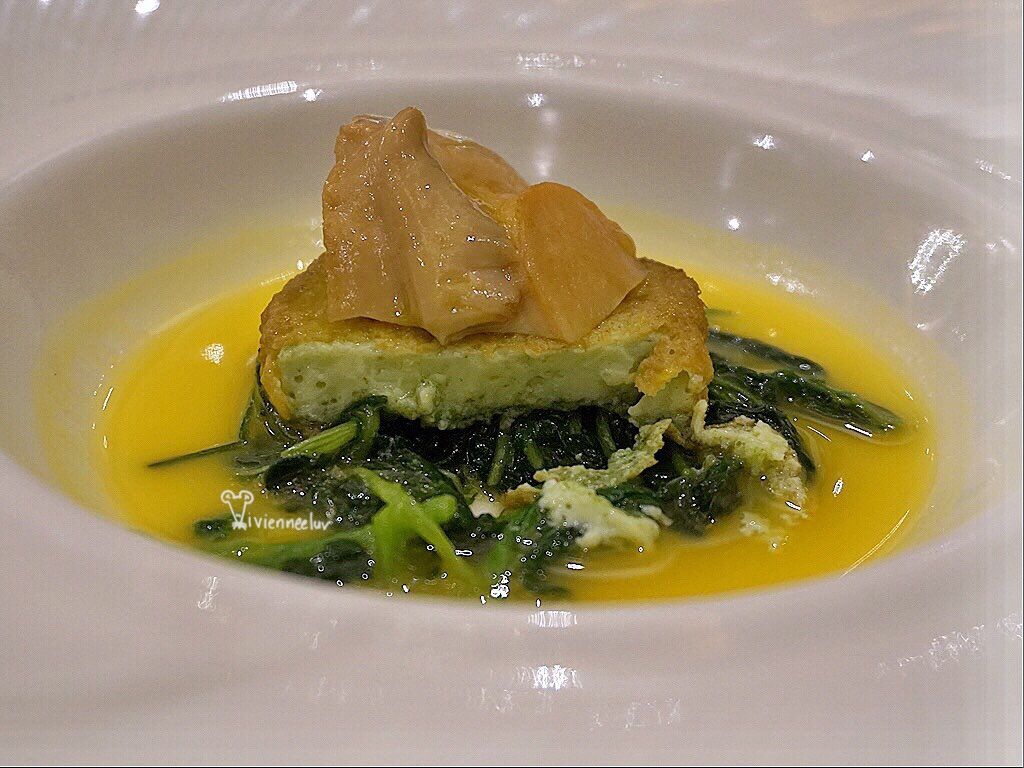 The abalone laid atop freshly made bean curd and a bed of perfectly-blanched spinach, by the side is savoury collagen-rich pumpkin broth.
The taste captures the smooth flavoursome texture of the abalone with a sweet aftertaste of the distinguished and aromatic brew that is enhanced with choice cuts of chicken and pork. I drink up everything!
K who is not a fan of abalone and pumpkin or even spinach, cleaned his plate, i thought I could have his share :/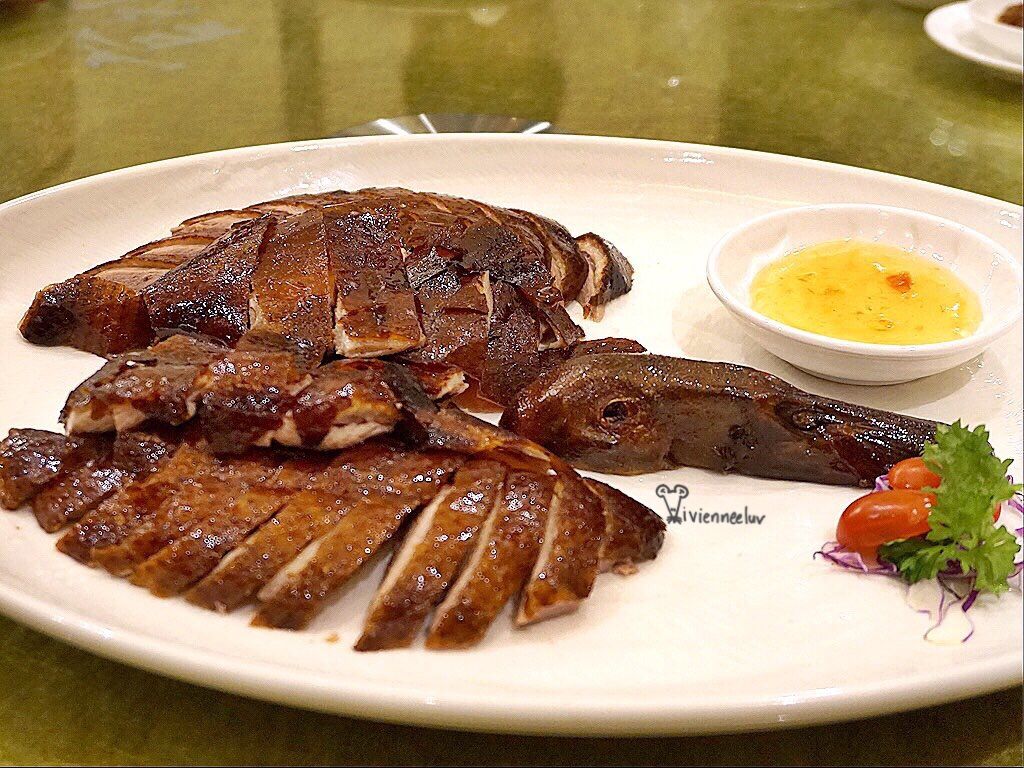 Royal Smoked Duck S$35 half / S$68 whole
Flavored with lychee tea leaves and smoked over chipped wood, taste so good on its own, tender meat and skin is roasted to a slight crisp. There is plum paste by the side but I still prefer the duck on its own. MUST TRY.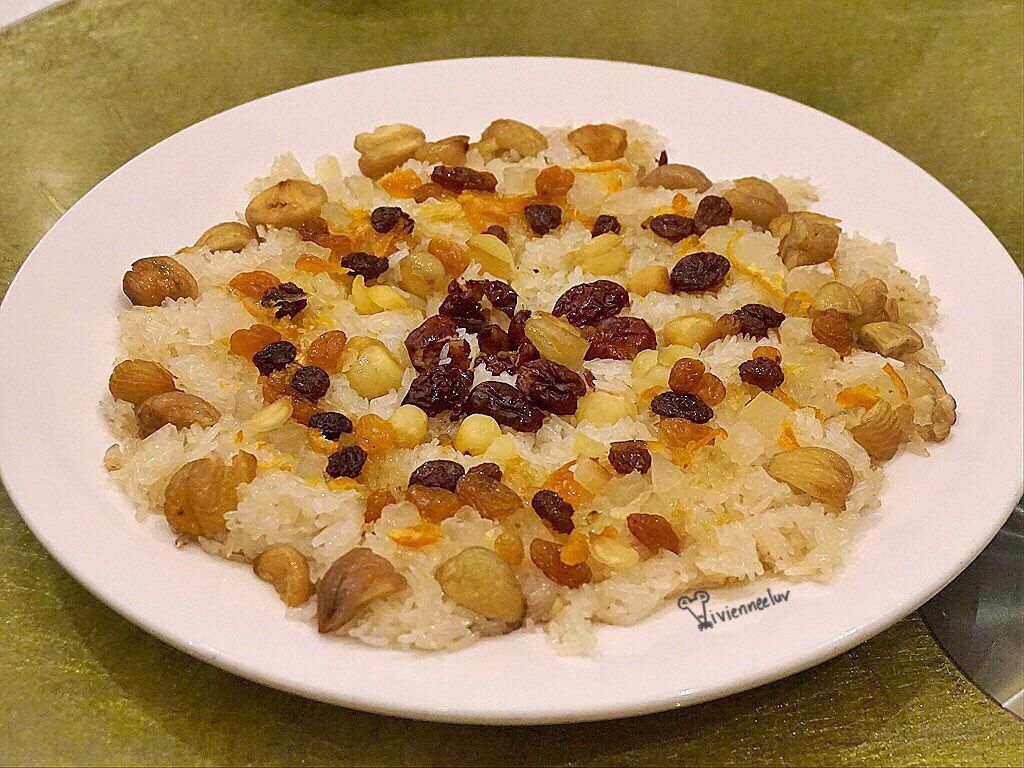 Pan-fried Eight Treasures Glutinous Rice served with Brown Sugar
Ending dinner with sweet treats. My first time eating such a dish, its was pretty good.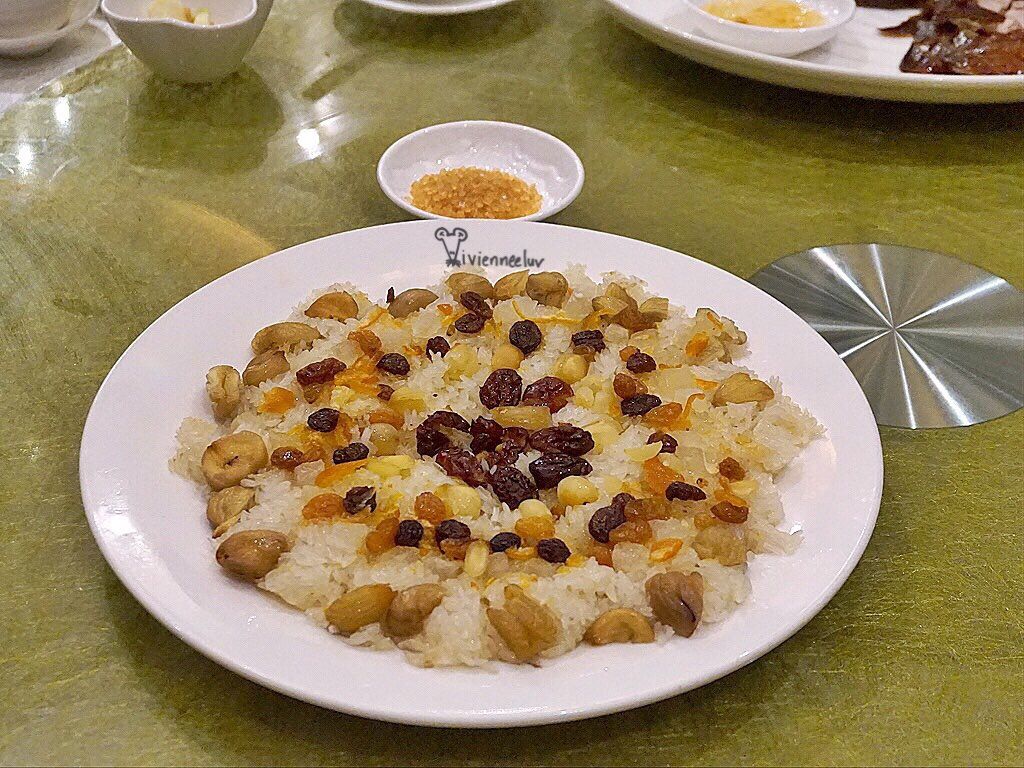 Topped it with brown sugar, but I still prefer it without the sugar as the grains of sugar is too coarse.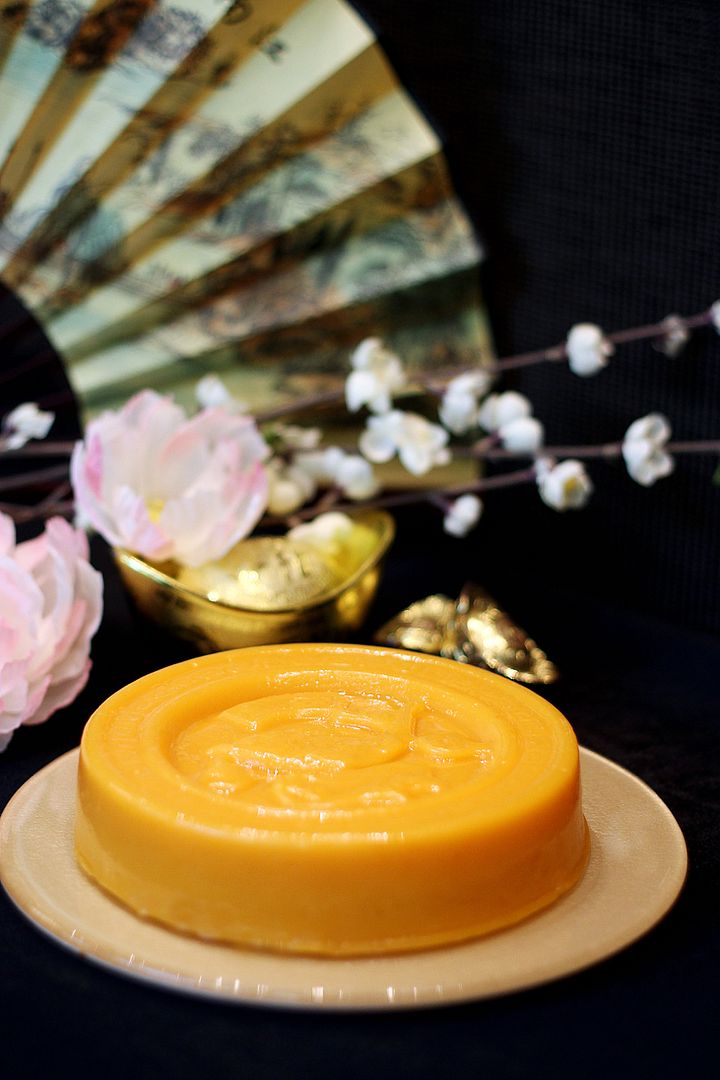 Picture Credit: Royal Pavilion
Golden Sweet Potato New Year Rice Cake 步步高升金瓜年糕 S$18 (serves 10-12 pax)
1-day advance order is required. For dine-in and takeaway.
The Chinese glutinous rice cake, nian gao, is a classic culinary touchstone every lunar new year. The traditional sweet sticky dessert symbolizes endless fortune, good luck and opportunities with new heights in one's career. Once again, the fascinating favourite is prepared with a new twist in the hands of the Royal Pavilion's culinary team. The twist is none other than the always-reliable sweet potato, thus, gracing the rice cake in a golden hue. The enduring festive wobbly treat is packed with a rich, sweet yet light flavour and a pleasant chewiness that trumps any over-processed pastries.
Pan-fried Sweet Potato New Year Rice Cake
Lightly egg-coated Sweet Potato Rice Cake and then pan-fried, totally taste of homemade comfort.
Deep-fried Three-Layer Glutinous Rice Cake
Last dish of the night, this is so good, I had a few pieces!
3-layer = purple sweet potato + glutinous rice cake + yam. Who doesn't love fried fritters right?
Thank you Royal Pavilion for having us!