| | |
| --- | --- |
| Address: | 30 Victoria Street #01-31 Singapore 187996 |
| Opening Hours: | 11am to 12am Sunday to Thursday |
| | 11am to 1am Friday and Saturday |
| Tel: | +65 6694 4341 |
| Email: | infoapplebees.sg@gmail.com |
| Facebook: | https://www.facebook.com/pages/Applebees-Singapore/309963769187915 |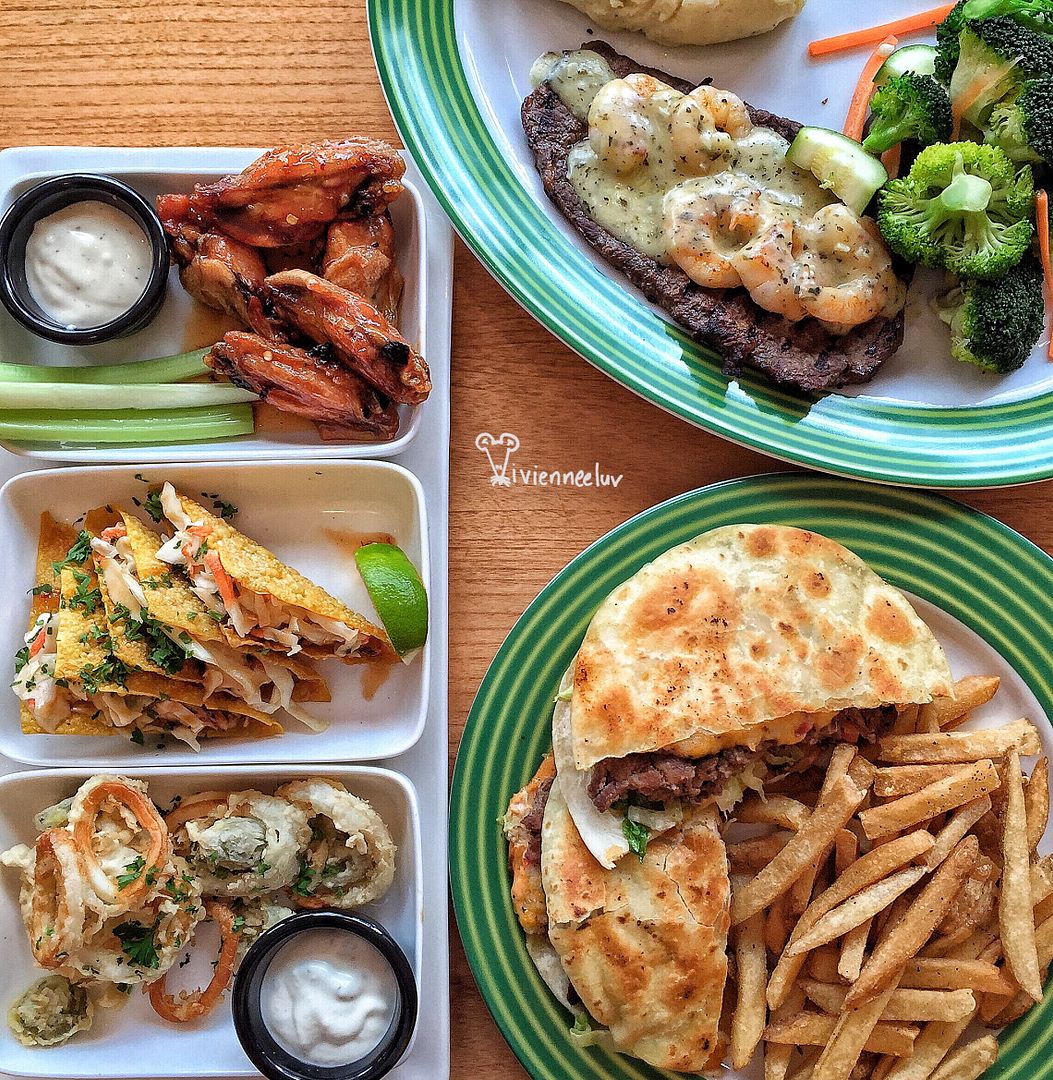 Applebee's reopened last month at Chijmes! I think its quite a harsh harsh affair for now, therefore we haven't see any extensive advertising yet.
K and I were at Applebee's on Valentine's day to check it out! Don't you think the food looks good? (taken by my iPhone 6)
OOTD! Although its Valentine's Day, both of us don't celebrate Valentine's Day, so its just a simple usual weekend for us.
Here at the beautiful Chijmes, had always love this place, even thought of holding my wedding here but afraid that both parents might disagree due to the ''church''.
Was pretty sad that Applebee's at TripleOne closed down as I used to work in the same building. I was thrilled when Jamie invited me for a tasting here at Chijmes, if not I wouldn't know it had reopened (under a different boss, that is)!
It was a luncheon, so it was pretty hot. Applebee's is still waiting for their umbrellas from Chijmes.
This 136-seater restaurant has more alfresco seating as you can tell from the pictures, so I suppose it will be cooling and super nice ambience at night, but no no for the hot and humid afternoon.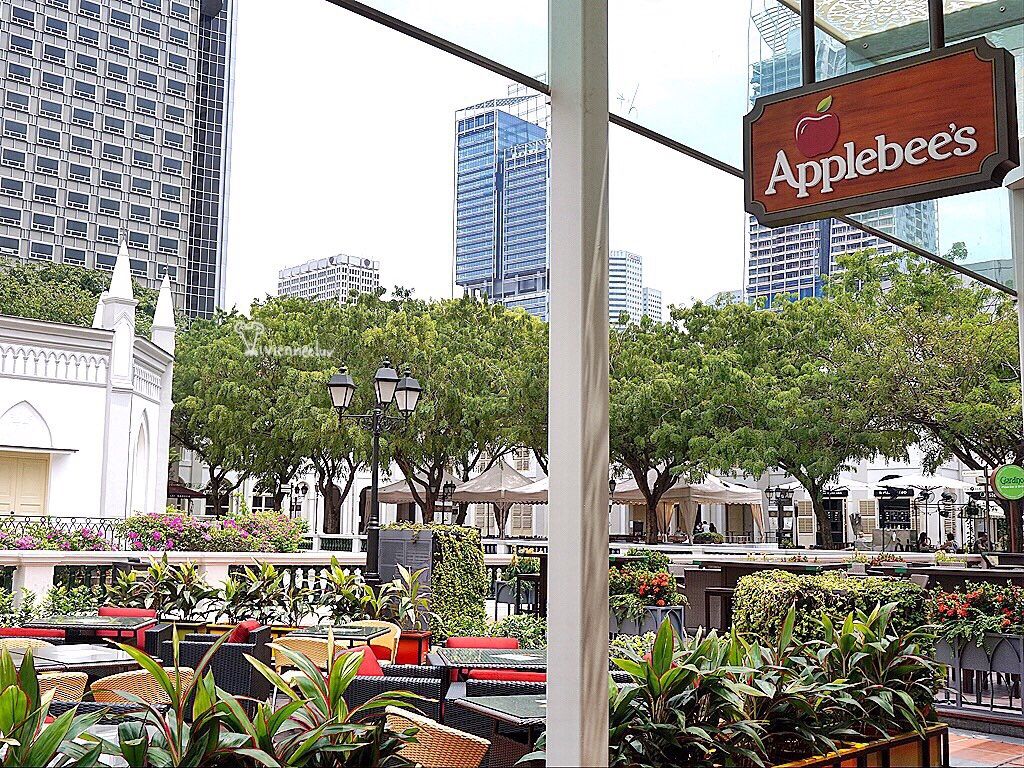 After flipping through the menu, we realised there is nothing over S$25! WOW, a good deal!
Raspberry Lemonade S$4.90
Other flavours available: Strawberry, Mango, Kiwi.
There are frozen flavoured lemonades, flavoured lemonades, flavoured ice teas, limeades, soft drinks, coffees etc. Too spoilt for choice.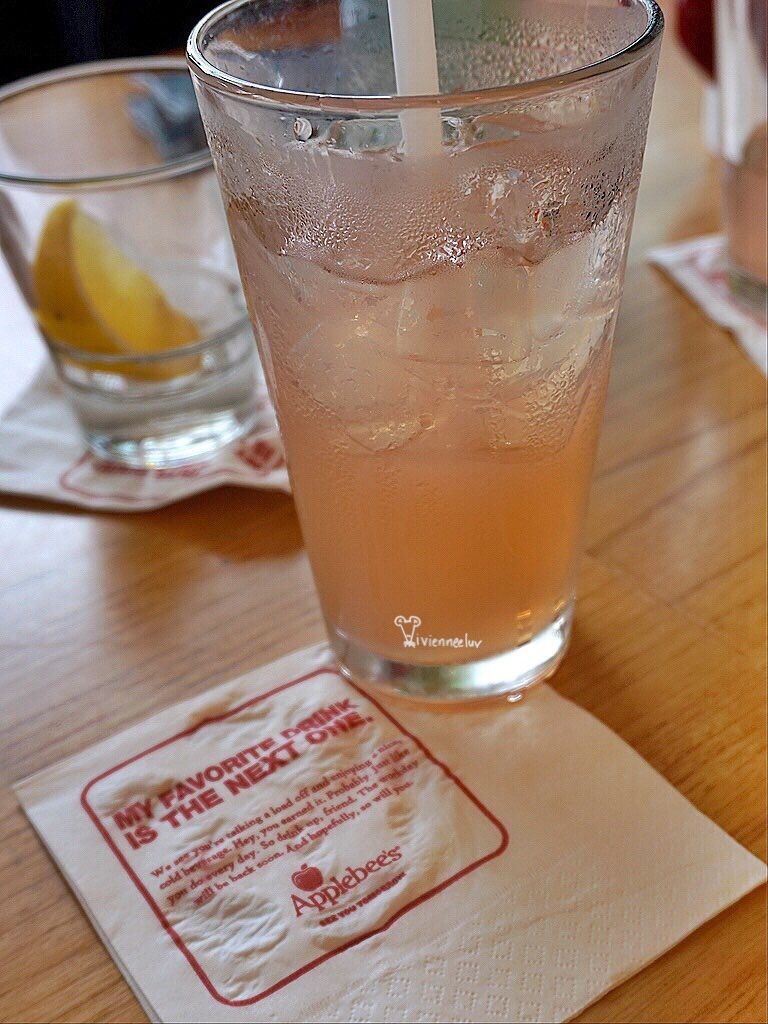 Coasters were replaced by squarish serviettes while thicker and rectangular serviettes are for diners.
Ultimate Trios S$20.90
Appetizers can be ordered separately but they have this Utimate Trios whereby we can have 3 appetisers in a platter with an amazing value. And most of the appetisers come in half portion, can get to try more without a bursting stomach!
You can choose from, Spinach and Artichoke Dip, Mozzarella Sticks, Fried Calamari with Jalapeños, Chicken Wonton Tacos, Boneless Wings and Buffalo Wings.
We had the Utimate Trios so we chose Buffalo Wings, Chicken Wanton Tacos and Fried Calamari with Jalapeños!
There are 4 Wing Sauces to choose from, starting from the mildest to spiciest: Honey BBQ, Classic Buffalo, Sweet and Spicy, Hot Buffalo.
We decided to go for the 2nd spiciest which is Sweet and Spicy. Actually we were expecting slight spiciness, however we only taste sweetness and no spiciness at all. The wings were a little boney, not much meat and dry.
Buffalo Wings are available at S$10.90 full portion / S$7.90 half portion.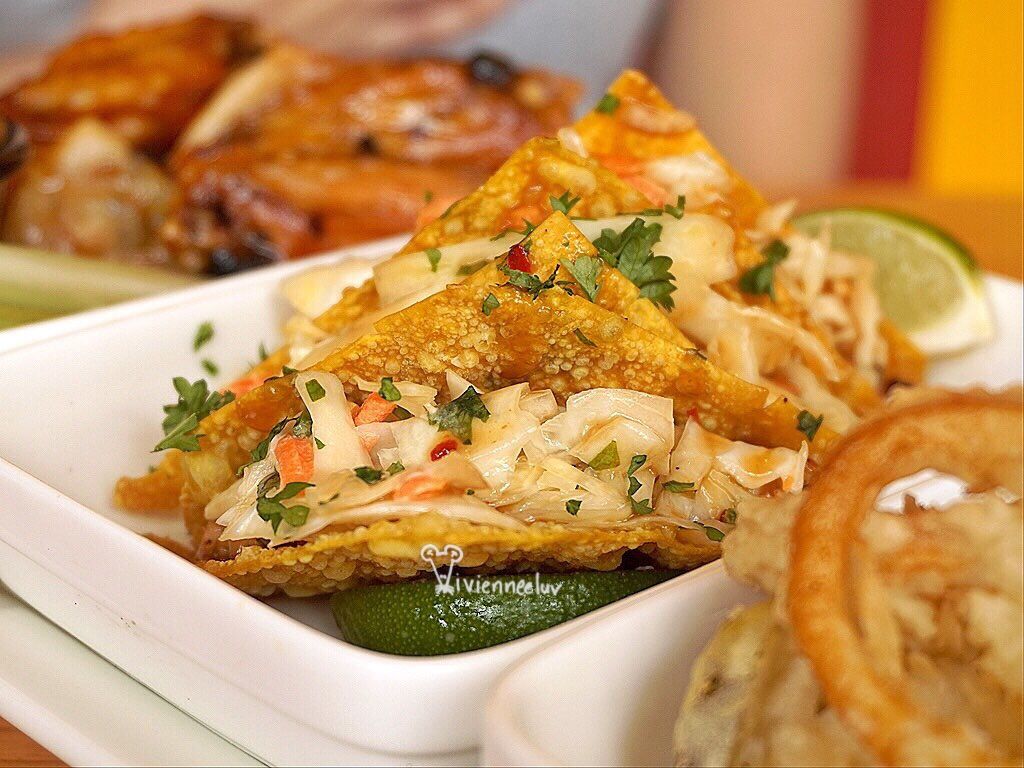 Chicken Wonton Tacos available at S$10.90 full portion
Chopped zesty grilled chicken stuffed in crispy wonton shells and topped with crunchy Asian slaw and cilantro.
Our favourite appetiser! The coleslaw is very crunchy and refreshing and fried wonton skins never go wrong isn't it?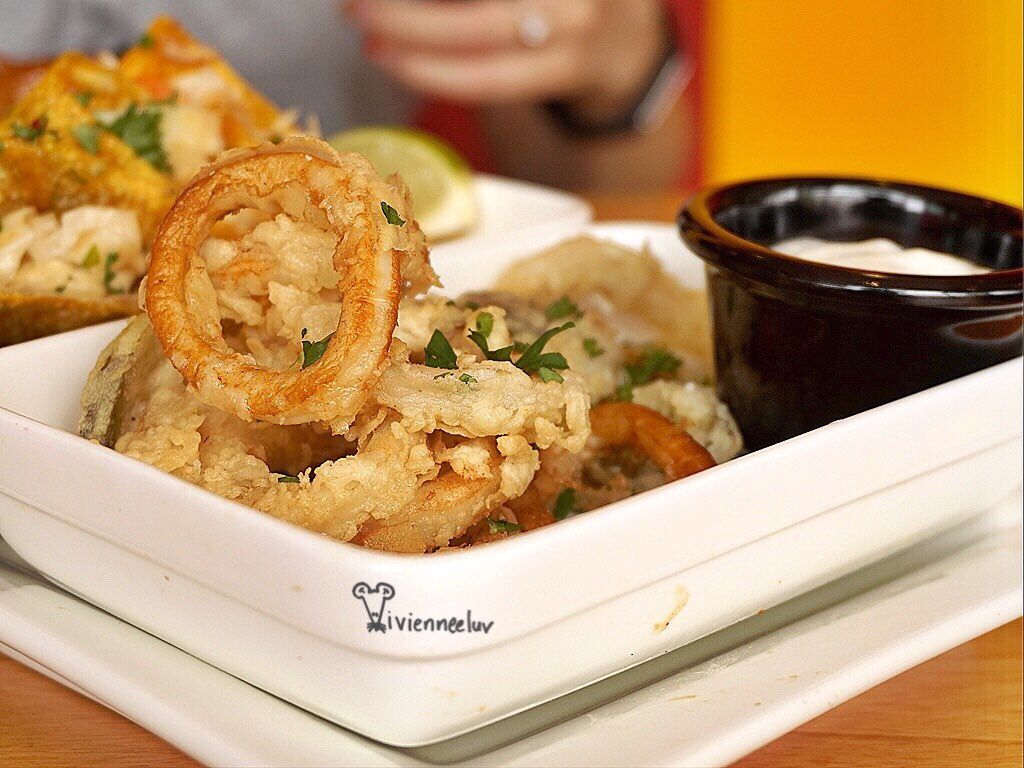 Fried Calamari with Jalapeño available at S$11.90 full portion / S$8.90 half portion
Lightly breaded and fried calamari rings teamed with our homemade fried jalapeño slices. Served with lemon aioli and marinara sauces.
Alex told us the squids were soaked in milk to get rid of the fishy smell, while asians use lemons.
Appetizer Sampler S$18.90 is available to please everybody! It consists of Mozzarella Sticks, Spinach and Artichoke Dip, Cheese Quesadilla Grande and Boneless Wings.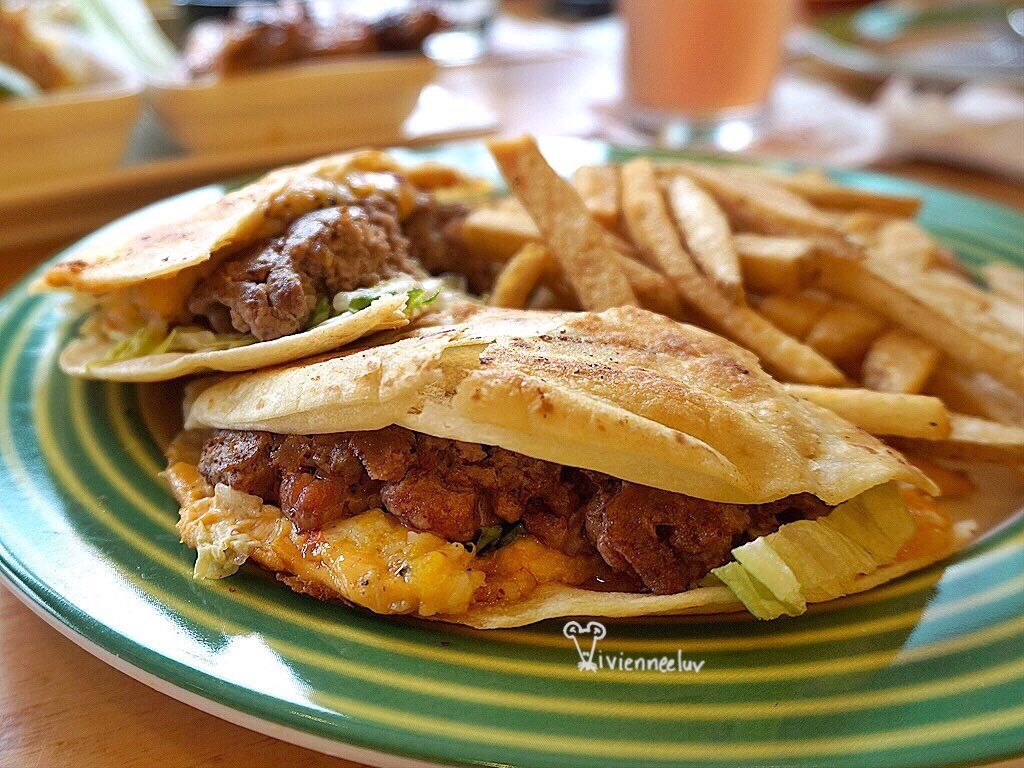 Quesadilla Burger S$13.90
A juicy burger with their signature mexi-ranch sauce with Pico de gallo and shredded lettuce, served in pepper-jack and cheddar quesadilla (contains bacon).
An option of pink or not pink, go for the pink one (don't worry, not bloody) as its more tender and for this kind of price, where to find!
I am not a burger bun person, I thought this is prefect for me!
We were spoilt for choices, we didn't know what to order because the menu has salads, ribs, pastas, seafood, sandwiches, chicken, sizzling entrees, flatbreads and burgers. Thanks to Alex who recommended this to us!
Shrimp N Parmesan Sirloin S$21.90 270g
An option of 210g is available at S$18.90
Grilled shrimps and rich Italian cheeses atop of sirloin, served with seasonal vegetables and garlic mashed potato.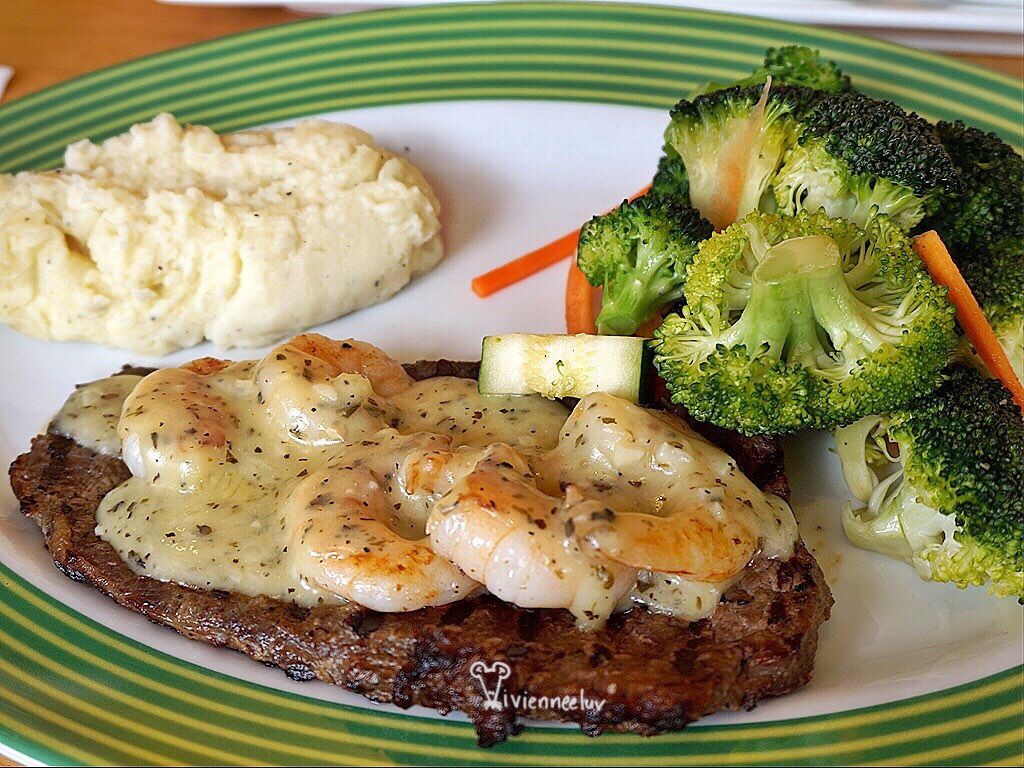 Shrimps are very fresh and crunchy and cheese sauce goes well with the steak and shrimps, however our medium-well steak taste like well-done :(
Butter Pecan Blondie S$9.90
Baked with nuts, topped with both ice cream and chopped pecan, and served sizzling at your table where its covered with a rich, maple butter sauce.
Another dish recommended by Alex, sweet treat just nice for the 2 of us. Love the maple butter sauce, it added fragrance to the blondie!
A perfect finish to our meal is always DESSERT!
A Blondie Bite S$2.90 is available if you don't want such a full portion, however it will not be served on a sizzling plate. :P
Thank you Applebee's for having us, and thank you to Jamie, Alex as well as a Malay lady for the awesome service! See you tomorrow!