The Icing Room
Outlets:
1) 9 Bishan Place #L1-35/36 Junction 8 S.C Singapore 579837
Operating hours: 10am to 10pm daily Tel: 6354 3659
2) Jurong Point 63 Jurong West Central 3 #B1-105 Jurong Point S.C. Singapore 648331
Operating hours: 10am to 10pm daily Tel: 6861 4644
3) 23 Serangoon Central #B2-58/59 NEX Singapore 556083
Operating hours: 10am to 10pm daily Tel: 6634 4486
♡ It's the "Mooncakes Season" again!
I remembered last year they had snow skin Hello Kitty Mooncakes, this year its baked Hello Kitty Mooncakes!
♡ Look at this sweet pink Hello Kitty Carrier of 4-piece Baked Hello Kitty Mooncakes, exclusively available at all The Icing Room outlets!
[Hello Kitty Carrier + 4 pieces of mini mooncakes (2 pieces of each flavour) S$26.80]
➊
[White Lotus with Cranberries]
- Premium white lotus paste mixed with the tangy flavours of chopped dried cranberries, these little gems are baked to 'purr- fection'. Power up with this mini mooncake packed with anti-oxidants!
➋
[White Lotus with Macadamia Nuts]
- A perfect combination of crunchy and soft textures, this delightful treat is brimming with premium white lotus paste and generous pieces of macadamia nuts.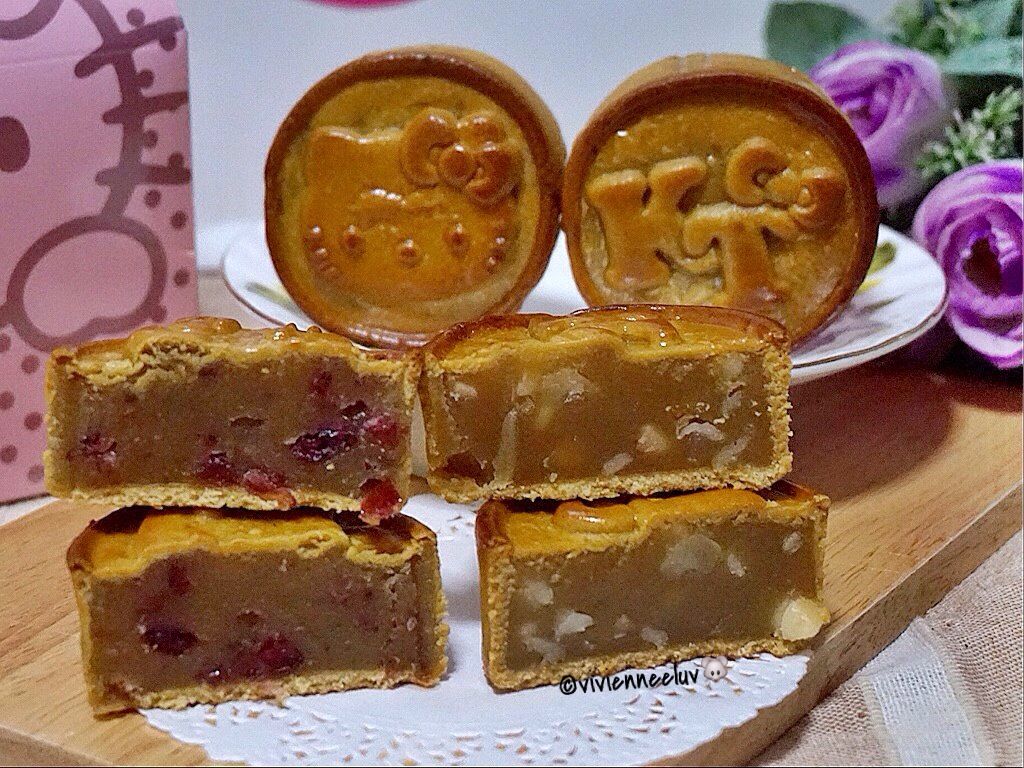 Look at the amount of cranberries & macadamia nuts in the moon cakes.
☞ Only 800 boxes are available! You have to hurry!
☞ Pre-order/Early Bird (19 Jul – 17 Aug) - 12% off mooncake set
NTUC members are entitled to 15% discount when you flash your NTUC card.
If you are not so early every year, then between 18 Aug – 8 Sep, purchase 2 boxes of mooncakes at $48.00 (U.P. $53.60)
15% off promo code for orders made on TIR delivery website (code will be revealed on Facebook page)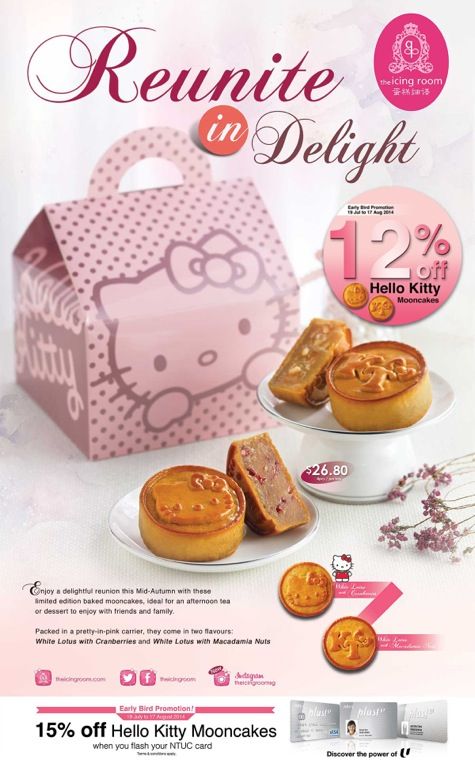 (picture credit to The Icing Room)
Thank you The Icing Room for this sweet looking pink box and adorable & delicious moon cakes!