Hopped to Flee Away Cafe the other day with K.
It is a cafe cum ''flee market''. What I mean by ''flee market'' is that they have box displays in their cafe, where you can rent the box and sell your stuffs! Like Toy Outpost, if you know what I am talking about. Because it was rather new when I was there, the box displays were empty so I did not take any shots.
Flee Away Cafe does not serve pork/lard and there is no GST or Service Charge.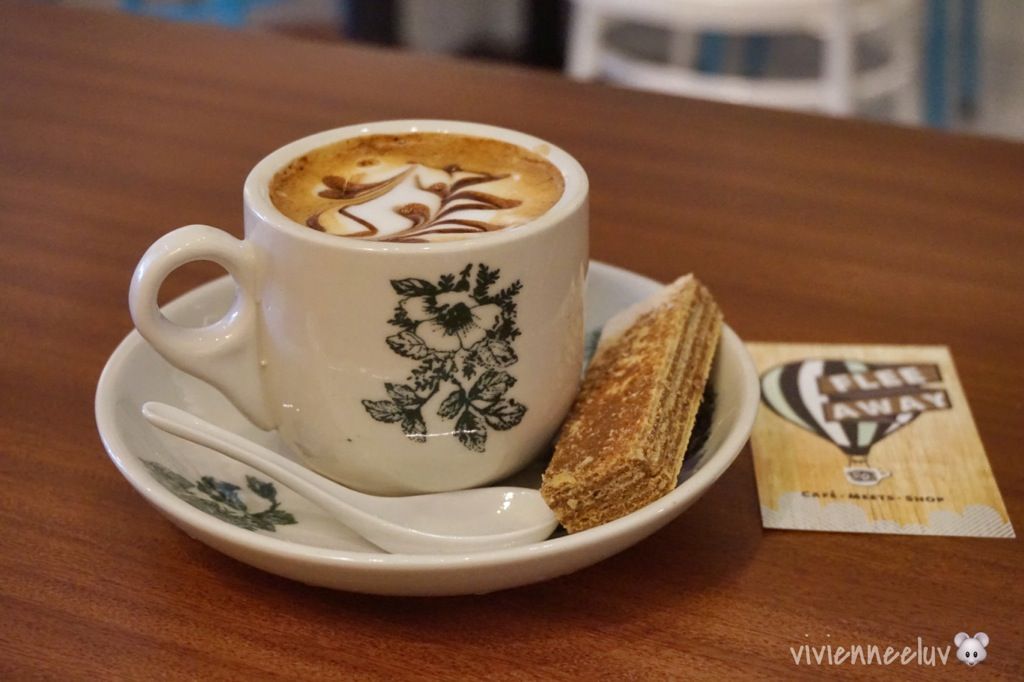 I took lots of coffee shots for 1 cup of Mocha. I love the old school cup plus the overall looks pretty isn't it?
[Mocha S$5.50]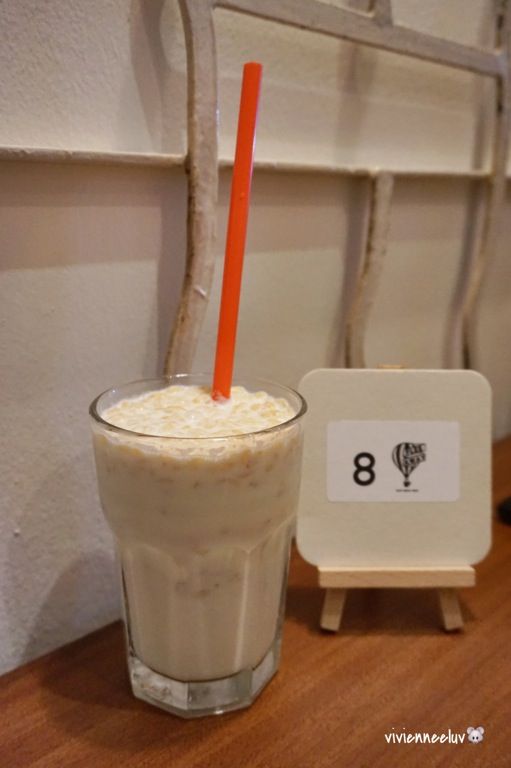 Because it was pretty warm out there, K ordered [Rice Crispie Milkshake S$7.50]
They placed condiments and ice water on the old school TV Cabinet.
Salt & Pepper in cars.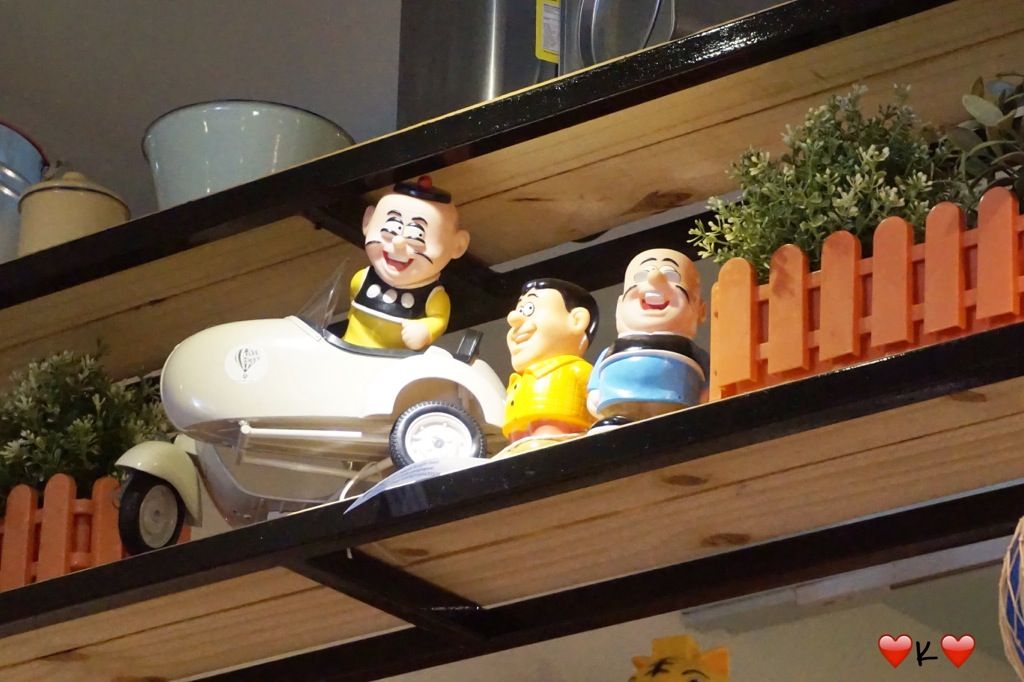 Lao fu zi!
Love the layout and decorations of this shop.
Another coffee shot, sorry. Its the same cup of Mocha.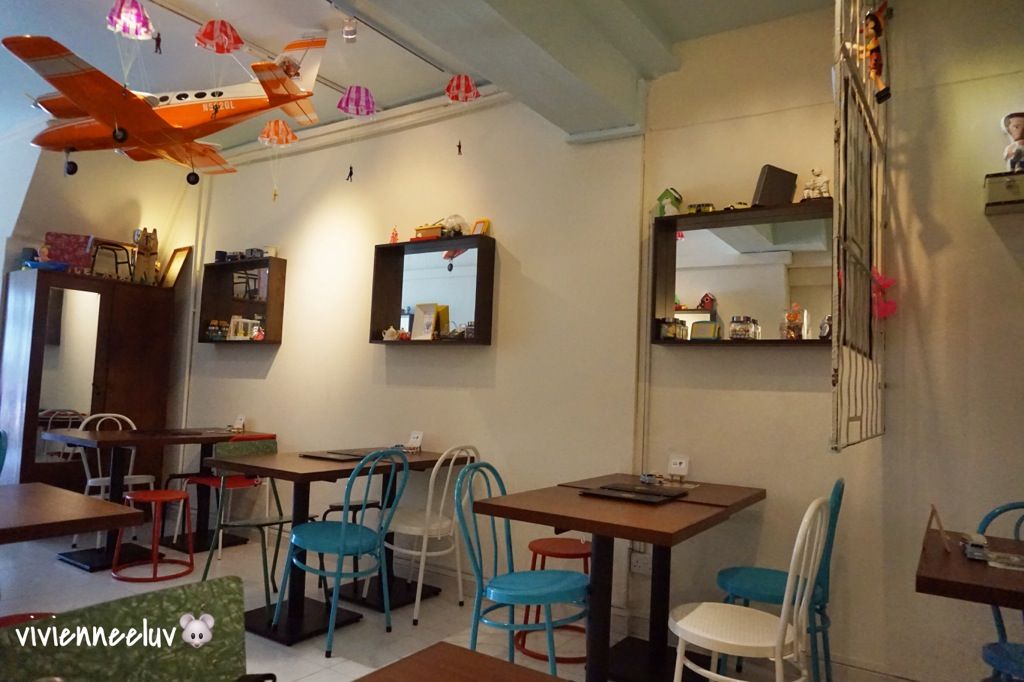 Cool right?
The friendly staff introduced us some of the food, they specialised in their Le Char Kueh.
When I first heard Le Char Kueh, the first thing that comes to my mind is Fried Carrot Cake. People always call Fried Carrot Cake as Char Kueh, which I don't know why.
Anyway their Le Char Kueh is customised youtiao made like baguette. All Le Char Kueh comes with side salad & chips.
So, you can choose fillings like, Coleslaw, Chicken Floss, Chicken Curry, Egg Mayo, Tuna Mayo. S$12.50 each.
If you find that 1 filling is too boring, you can add on fillings of the above for S$1.
However, if you still find it boring, be adventurous like us la. We don't choose typical fillings like the above, we chose NOT SO TYPICAL FILLINGS.
Choices of the not so typical fillings are All Day Breakfast, Chicken Bak Kwa with Crushed Cracker & Wasabi Mayo, Chili Corn Beef, Dry Laksa and lastly, Salmon with Capers, Onions & Cream Cheese.
[Dry Laksa Le Char Kueh S$15.50] - it consists of course bee hoon, tau pok, sliced eggs, fish cake.
When I took my first bite, I was blown away!
Firstly the you tiao/baguette/Le Char Kueh is not oily! Hard to imagine, but it is true, I eat it the barbarian style - using my bare hands, its not oily.
Secondly, the laksa is so nice or even nicer than some dry laksa out there. I was craving so badly for laksa for a few consecutive days after my visit here.
Close up.
K chose [All Day Breakfast Le Char Kueh S$15.50] - it contains turkey bacon, egg, tomato. Baked beans, chicken sausage by the side.
I would say this is pretty good too, but I still prefer laksa as it is tastier. They always say Singaporeans like flavourful, tastier, more salty food. Maybe thats why.
Lastly, we were too hungry so we over ordered.
[Classic Fries with 3 Dips S$8.50] - the dips are cheese, chill sauce and wasabi mayo.
Flee Away Cafe
70 Dunlop Street
Check out their Facebook page here!