Last Sunday was spent at ToTT!
Such an honour to be here to learn about sustainable seafood and I also had an enjoyable cookout session! It was actually my second cookout session, my first one was the day before which I will be blogging about later.
What is SUSTAINABLE SEAFOOD?
Sustainable seafood can be explained as "seafood from either wild caught or farmed sources where the amount harvested can be maintained or increased in the future without endangering the ecosystems from which it was taken". WWF recognises the following types of seafood as "sustainable":
1. Marine Stewardship Council (MSC) certified seafood
2. Aquaculture Stewardship Council (ASC) certified seafood
3. Seafood listed on the green list on the
WWF Singapore Seafood Guide
Through food pics we always see on social media, we all know that Singaporeans love seafood!
Do you know that we devour over 140 million kg of seafood A YEAR? With 90% of the world's fish stock being fully exploited or OVERfished, our oceans may run out of seafood by 2048?!?!
Help our oceans & future generations by consuming responsibly!
Imagine your future generation not knowing what these food are? You don't want your grandchildren to miss out on delicious seafood like chili crabs, mussels, salmon, seafood tom yum soup right?
Find out more at www.picktherightcatch.com & www.wwf.sg !
Partnering with ecolabel partners like Marine Stewardship Council (MSC) and Aquaculture Stewardship Council (ASC), WWF-Singapore will be launching an inaugural Sustainable Seafood Festival to promote sustainable seafood choices at all levels from supply chains to retail and consumers at restaurants. By empowering participating businesses to source, supply and promote sustainable seafood in their establishments, and educating consumers on how and where they can support sustainable seafood, WWF-Singapore hopes to change the market and build a new movement for responsible seafood consumption in Singapore.
Singapore's first ever sustainable seafood festival will kick on 8th June 2014 to 15 June 2014! Find them at Wisma Atria at 4pm on 8th June 2014, spot the cute Panda!
Feeling very happy to be here on a Sunday morning! As I am staying at the other side of Singapore, I seldom have a chance like this, to be at ToTT early in the morning!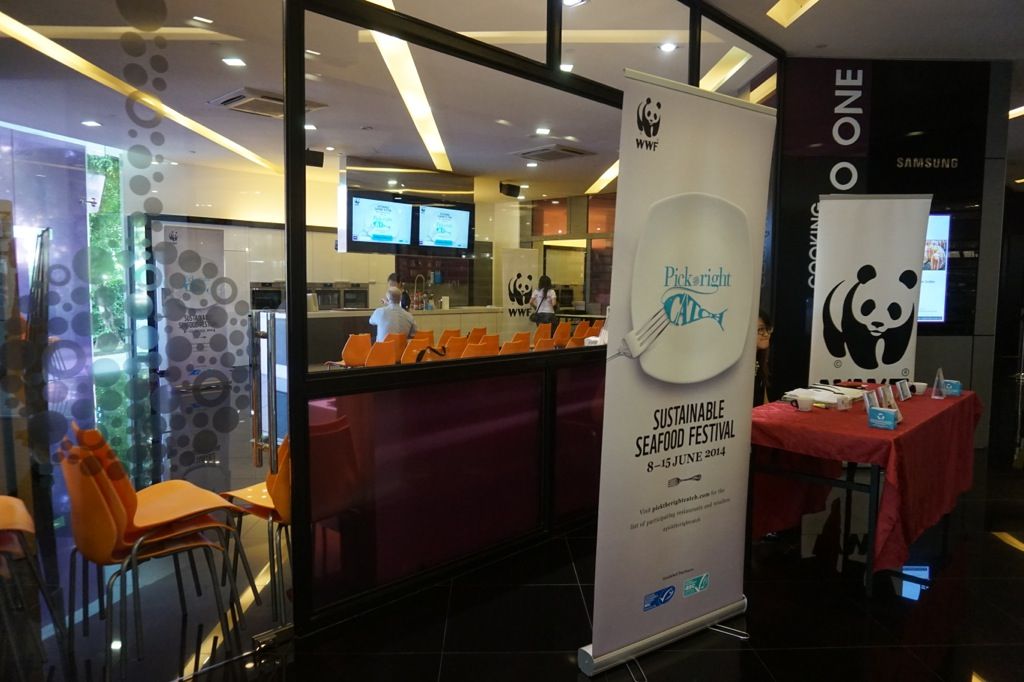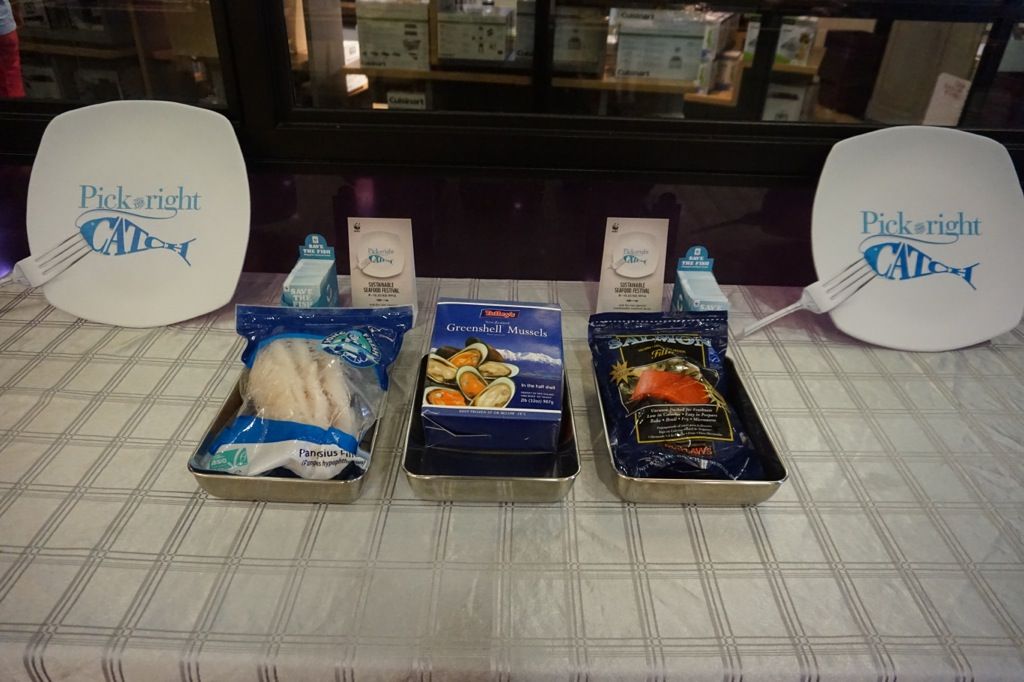 Sustainable seafood that we will be cooking later!
The staff of ToTT were preparing the kitchen for us, and they did a good job! Cooking is so easy here as they had already prepared everything for us.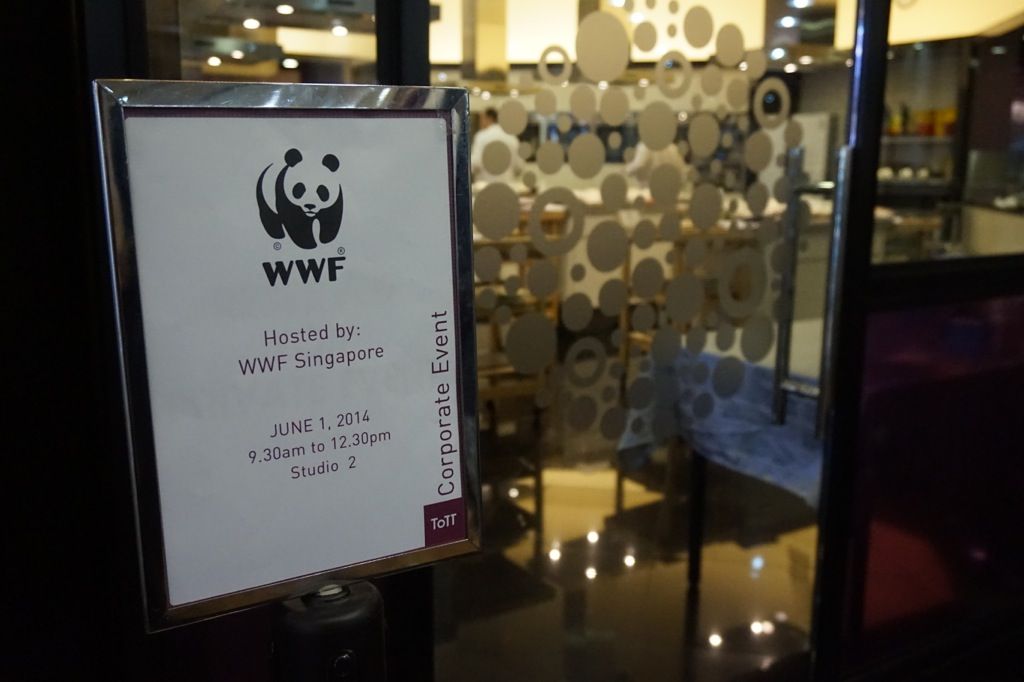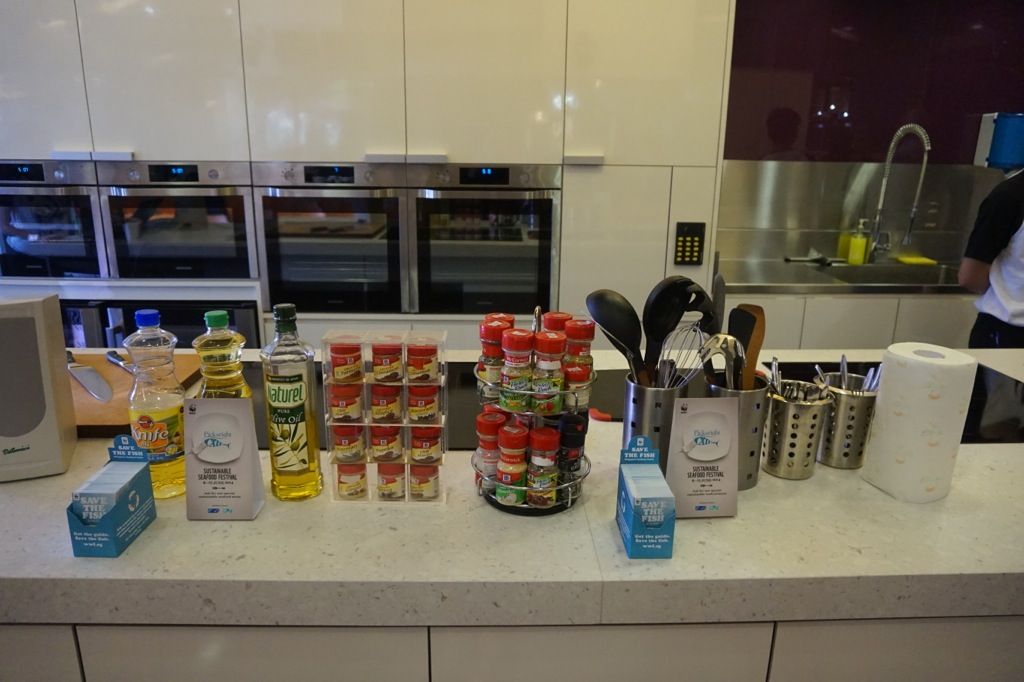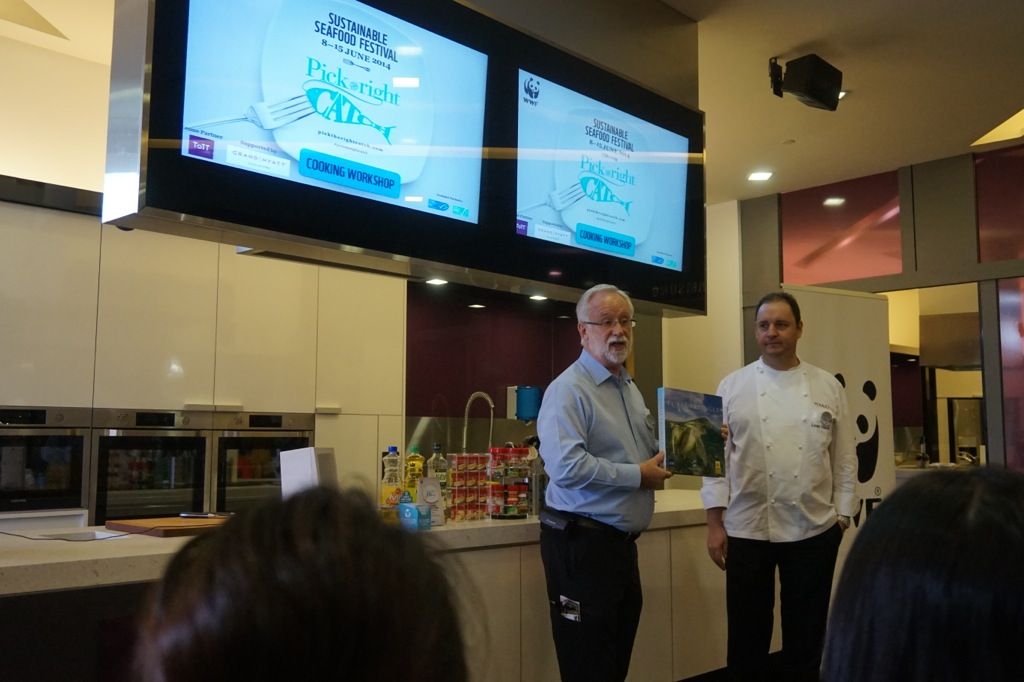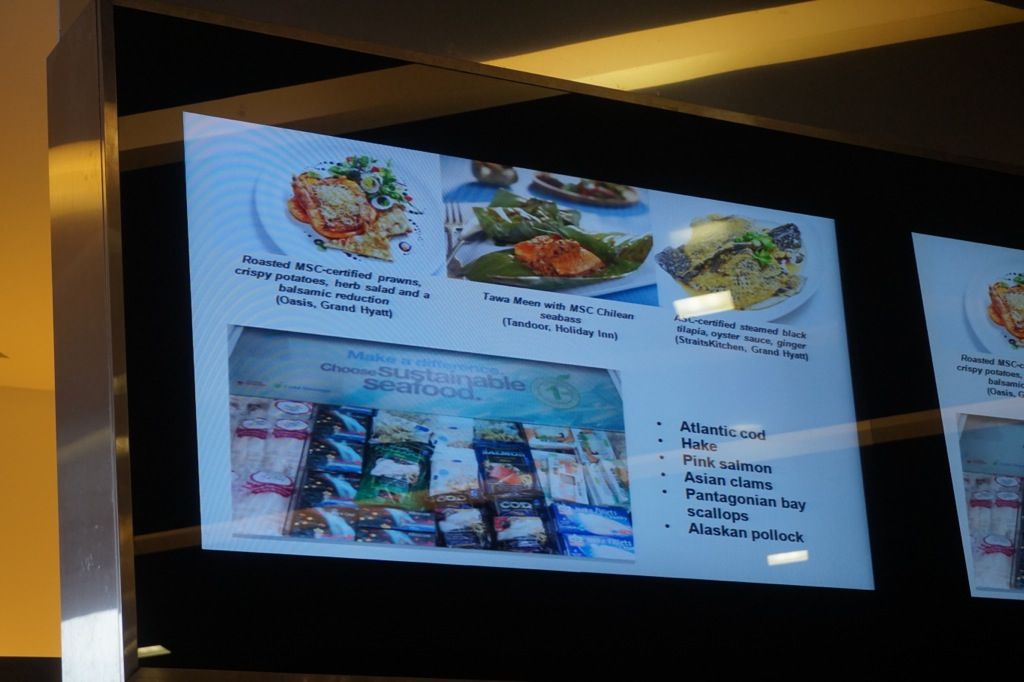 And now…. The workshop! Such an honour to have Chef Lucas Glanville (Executive Chef of Grand Hyatt Singapore) here with us, guiding us to cook with sustainable seafood.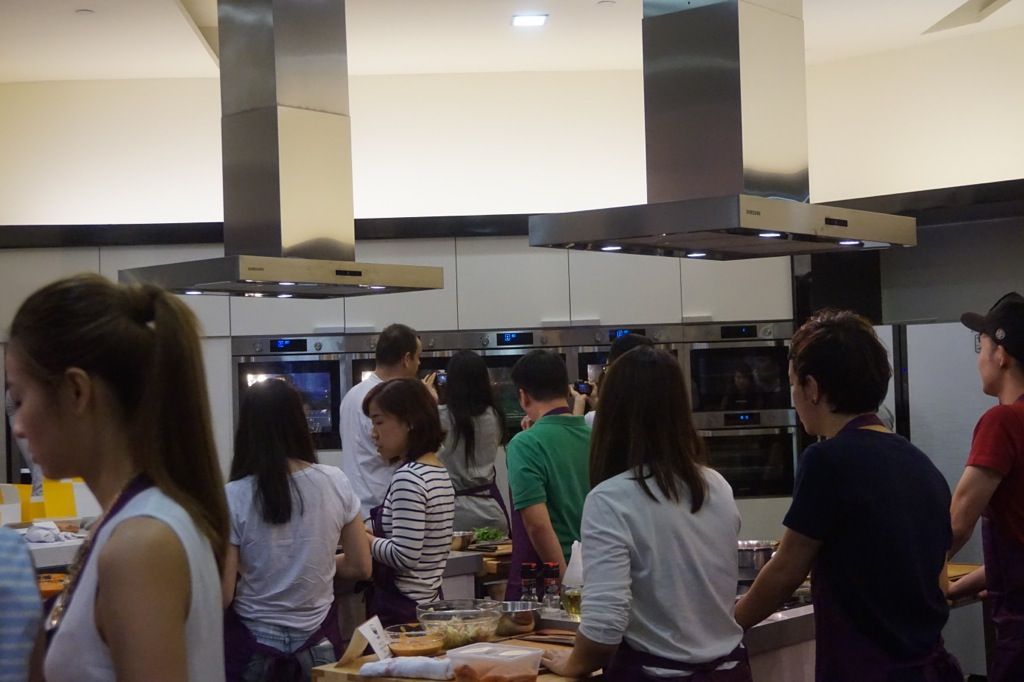 MSC-Certified Pink Salmon is the most abundant of the Pacific salmon and is found throughout the North Pacific. The MSC (Marine Stewardship Council) certified pink salmon is sustainably harvested off its pristine natal habitat, with little impact on the marine environment and other sea species.
First dish that we cooked:
Salmon Pastrami, Shaved Fennel Salad, Radish, Lemon and Extra Virgin Olive Oil (4 portions)
TADA!!!! Done and looks delicious!
Salmon pastrami:
4 x 200 gm Salmon portions
Spice Rub:
25 gm Salt
25 gm Brown Sugar
25 gm Course Black Peppercorns
15 gm Coriander Seeds
10 gm Juniper Berries (available in the spice section of premium supermarket)
5 gm Chilli Flakes
Shaved Fennel Salad:
2 Fennel bulb
4 Whole red Radish
Picked Dill leaves
Extra virgin olive oil
Lemon Juice
Salt
Pepper
Method:
1. For the Salmon pastrami, combine all ingredients together from the spice rub.
2. Dust the spice rub over the salmon and remove to the side.
3. Shave the fennel bulb and the radish with the mandoline into a bowl, add dill leaves, extra virgin olive oil and season with salt, pepper and lemon juice.
4. Heat a non stick frying pan, add a little oil and gently cook the salmon for a minute on each side, depending on the thickness of the fish. Remove and place on a plate.
5. Arrage the fennel salad next to the salmon pastrami and drizzle a little olive oil over the salmon.
Second dish:
Tom Yam Pla - Spicy fish soup with lemongrass (4 portions)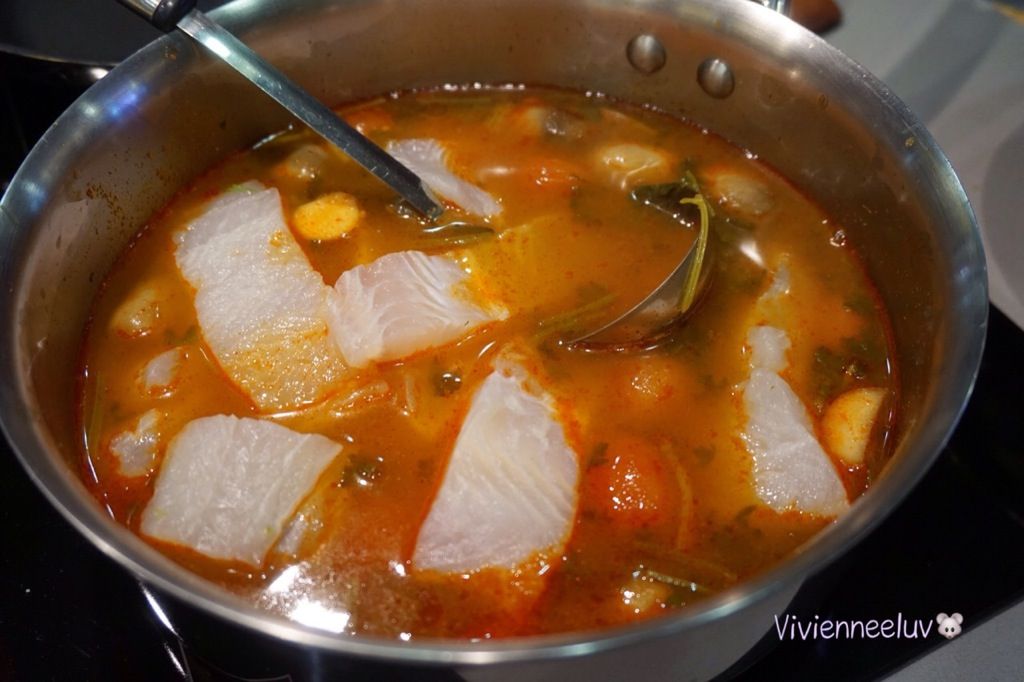 Ingredients:
200 gm Basa fish
12 Straw mushrooms
2 Sticks of lemongrass
20 gm Galanga
4 Kaffir lime leaves
1 litre Chicken stock
25 ml Fish sauce
25 ml Lime juice
20 gm Sugar
2 tablespoons Thai chilli paste
4 Chilli Red & Green
40 gm Coriander with root
100 gm Thai cherry tomatoes
Method:
1. In a pot add chicken stock, lemon grass, kaffir lime leaves, galanga, coriander root, thai cherry tomatoes and straw mushrooms, gently simmer for 1 hour.
2. Season with fish sauce, sugar, lime juice, chilli paste and then bring to the boil.Taste and ensure seasoning is correct.
3. Add Basa fish and cook for 2 minutes on a low heat.
4. Remove from the heat, serve in a bowl and garnish with red, green chilli and coriander leaves.
Now, the final dish, are you hungry already?
Baked Garlic and Parsley Mussels (4 portions)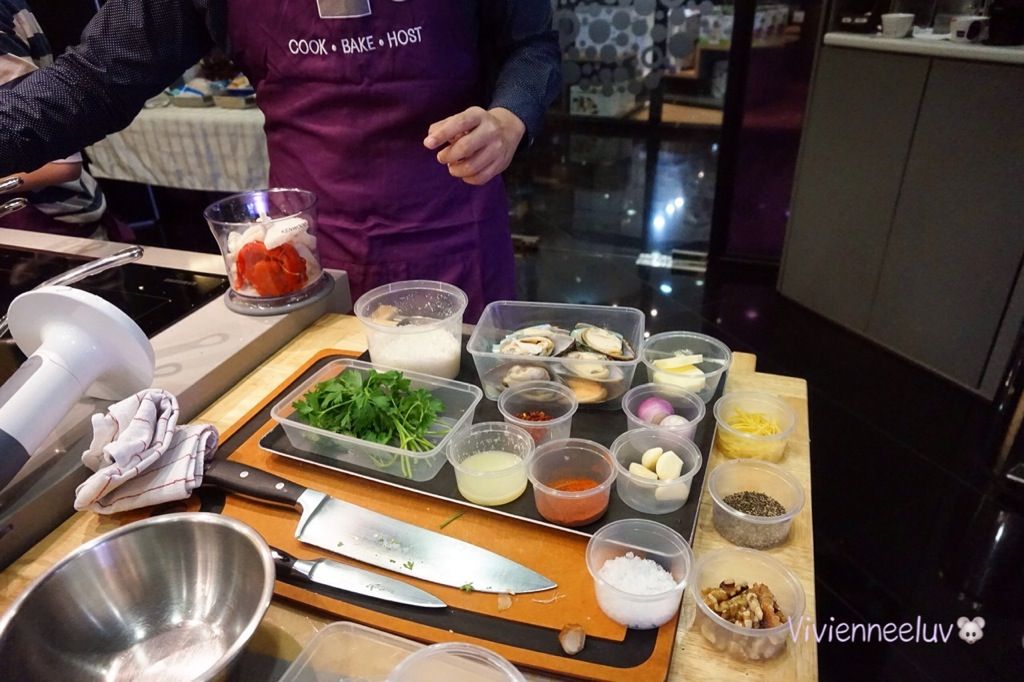 Chef in shirt and apron. :D
Ingredients:
24 ½ shell green lip mussels
1 large peeled garlic clove
1 large peeled red shallot
Handful of italian parsley leaves
Zest of a ¼ lemon
100 gm unsalted butter, softened
75 gm white breadcrumbs
Salt and pepper to taste
Sauce Tarator:
100 gm peeled red peppers
2 slices white bread without crust
80 ml Milk
40 gm crushed walnuts
1 glove chopped garlic
Pinch of Cayenne pepper
Pinch of Chili flakes
Lemon juice
Salt and pepper to taste
Method:
1. To make the sauce tarator, combine all ingredients into a food processor and blend into a fine paste, season with salt and pepper and a few drops of lemon juice
2. Refrigerate before serving.
3. To prepare the Mussels, combine garlic, shallots, lemon zest and parsley into a food processor and blend into a fine paste.
4. Add the softened butter and pulse, once all ingredients are combined, then add the breadcrumbs and season to taste with salt and freshly ground black pepper
5. Cover each mussel with some of the garlic and parsley butter.
6. Lay them on a baking tray and baked in an oven at 180oc until they are crisp and golden brown.
7. Serve immediately with Lemon and Sauce Tarator on side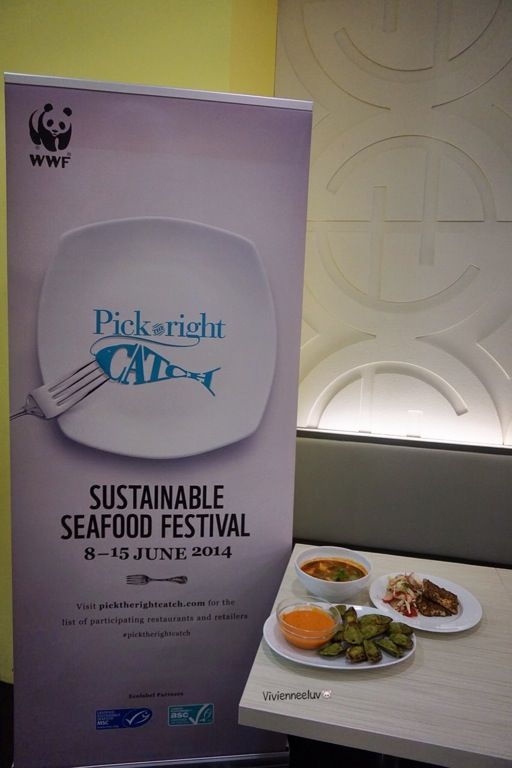 Our humble dishes!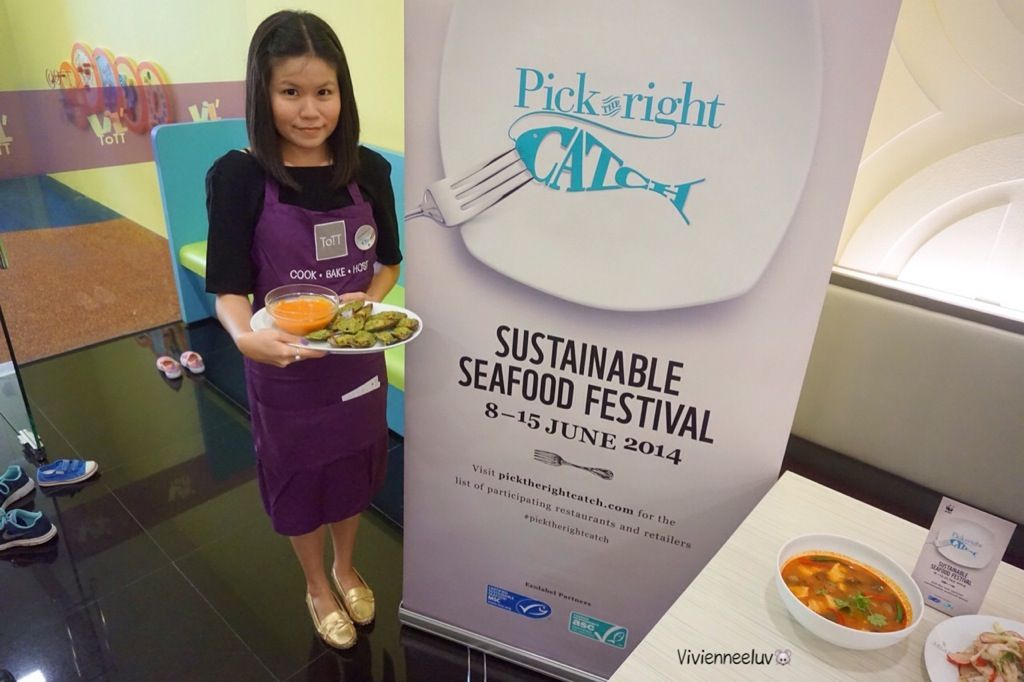 Chef for A DAY.
Chefs for the day!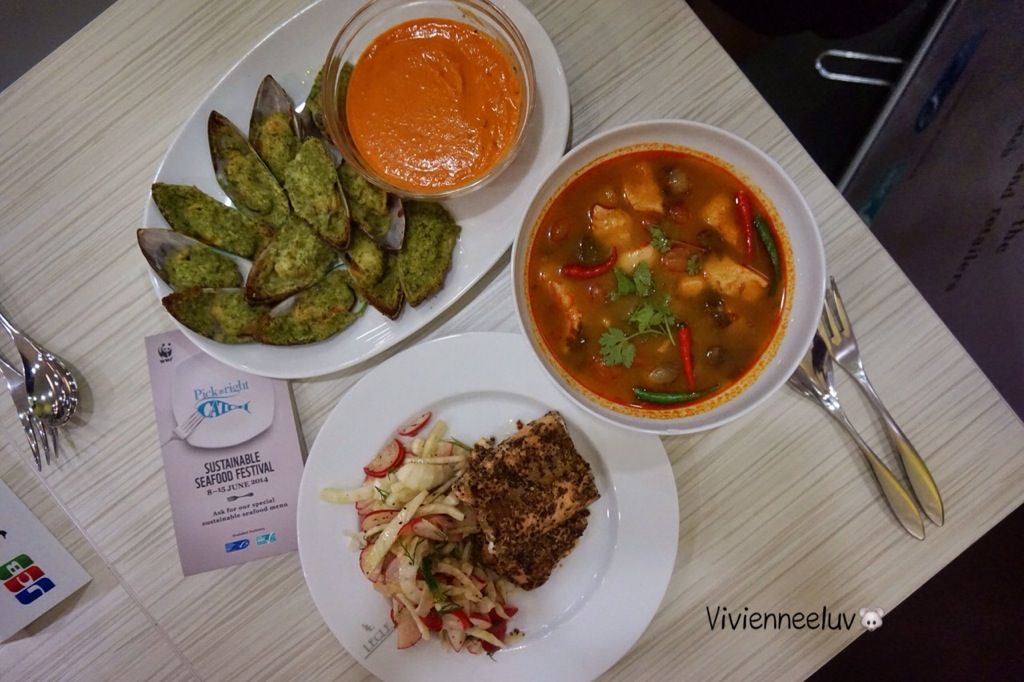 Our dishes for today, all cooked by ourselves but with Chef Lucas' guidance. We were famished and the food is really tasty!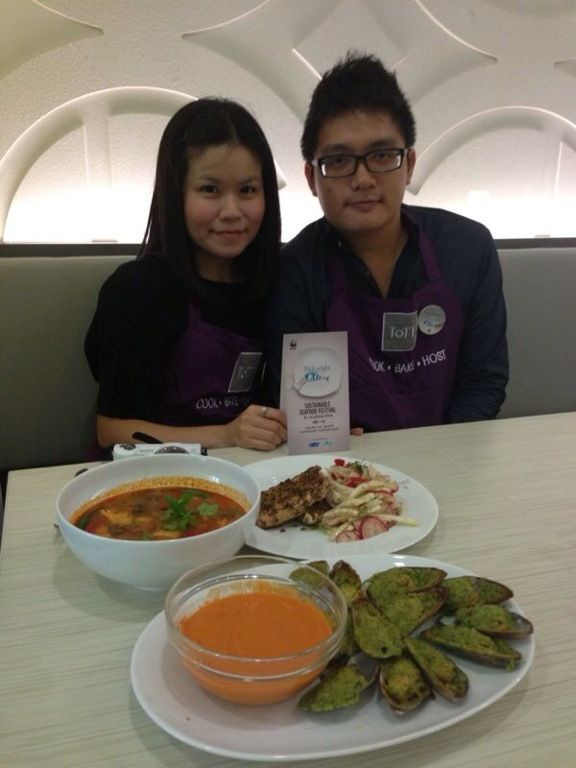 In conjunction with the Festival, there will be marine conservation-themed roadshows and exhibitions during the month of June and beyond across Singapore to educate the public on the pressing need for responsible seafood consumption and long term food security.
Dates and venues are as follows:
IKEA Tampines – 9 to 15 June
Woodlands Regional Library – 13 to 15 June
IKEA Alexandra – 7 to 13 July
Sembawang Shopping Centre – 7 to 13 July
Hougang Mall – 1 to 7 September
IKEA Tampines – 8 to 14 September
IKEA Alexandra – 8 to 14 September
Bedok Mall – 15 to 28 September
What makes it more great is that, there is this Instagram contest ongoing:
Snap a photo of your sustainable seafood choice (
participating restaurants/hotels, caterers, 8 cold storage supermarkets
) and post on Instagram! Hashtag #wwfsg & #picktherightcatch for a chance to win a one-night deluxe seaview room stay cation at The Rasa Sentosa and a breakfast for 2! Help our oceans, future generation and win a big prize! Closing date: 15th June 2014! Good luck!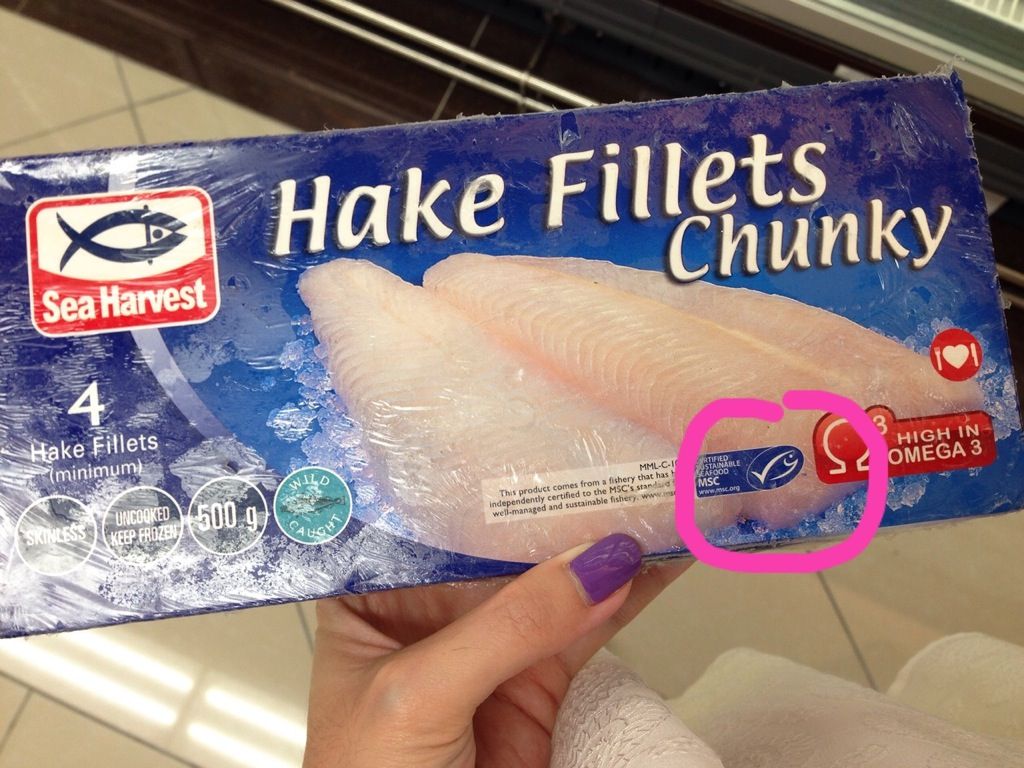 If you go grocery shopping and will be cooking seafood, look out for these logos on the packaging or use this
guide
!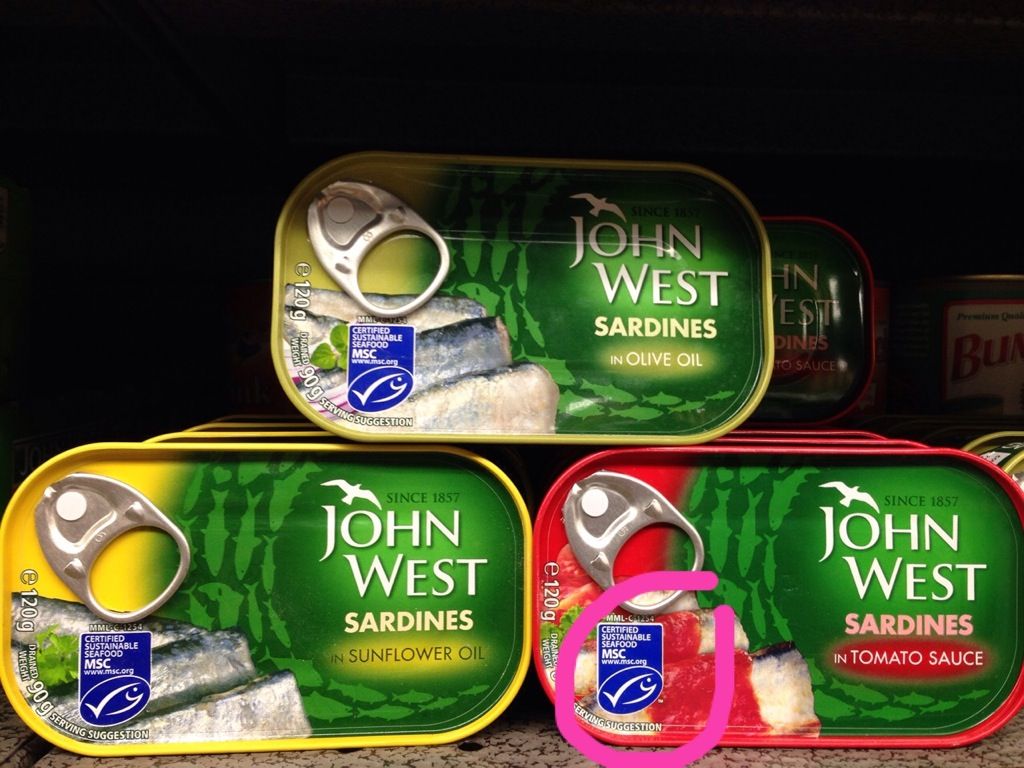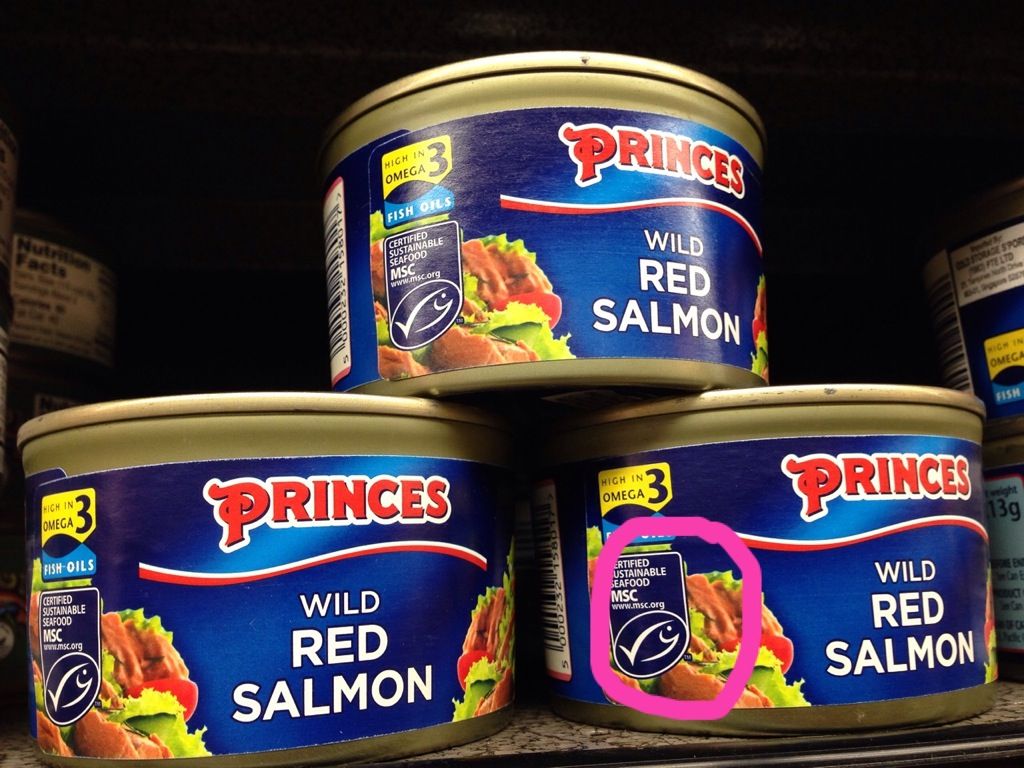 Lastly, thank you WWFSG, Grand Hyatt, ToTT!