Partnering
Health Promotion Board
,
Dian Xiao Er
recently introduced healthier set meals as well as lower calorie dishes with the launch of HPB's Healthier Dining Programme - debunking common conceptions that healthier dishes compromise the taste factor.
This was my first time to the Dian Xiao Er at NEX. I always go to Vivocity, Tampines One & Bedok Mall. Wow and it was pretty big. Much bigger than what I thought, good for holding mini birthday, engagement parties etc.
Look at how spacious the restaurant is. There are other smaller seatings outside, as you walk along a narrow pathway, it leads you here to the bigger dining are. Usually they will close this section unless its occasions like Chinese New Year, Mother's Day, Father's Day.
Always love Dian Xiao Er's layout and inn-like feel.
Reprinting of menus
Dian Xiao Er will be reprinting their menus because their menu will feature healthier recommendations, and addition of informative features such as calorie contribution label, logos for healthier choices, recommended calorie allowance. They are collaborating with Unilever to develop a full selection of Healthier Set Menu by July 2014.
Reprinted menu will be out on 18th July 2014, together with the opening of new outlet at Junction 8!
Healthy set meals for two & promotion on lower calorie dishes
Look out healthy set meals for 2 pax for only S$21.90-S$29.90++
and also enjoy 30% off selected Lower Calorie Dishes. (Check in store for more details!)
Switching to healthier cooking method
Dian Xiao Er is the first amongst restaurant chains to do a switch-over to rice bran oil. Rice bran oil reduces risks of cardiovascular diseases and amount of free radicals in the body. Enjoy a tasty yet nutritious meal! I have tried the dishes and they still taste the same, still as delicious!
[Signature Herbal Roast Duck in Angelica Herb S$13.60]
[Signature Herbal Roast Duck in Ten Wonders S$13.90]
[Signature Herbal Roast Duck in Wild Ginseng S$14.30]
770kcal for small portion.
[Fish Maw Thick Soup with Seafood S$16.90] - 260kcal for small portion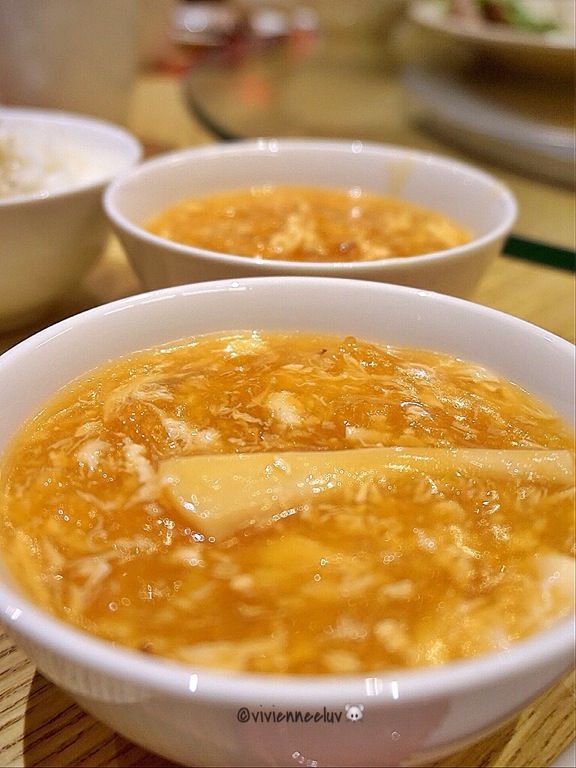 We love the top shell (slices you see on the soup), sweet and flavourful unlike abalone.
Medium size cod fish.
[Hong Kong Style Steamed Silver Cod Fish S$26.90] - 320kcal for small portion.
I love cod fish, and it seems like i now love cod fish more than salmon! Cod fish is smooth, with a buttery taste.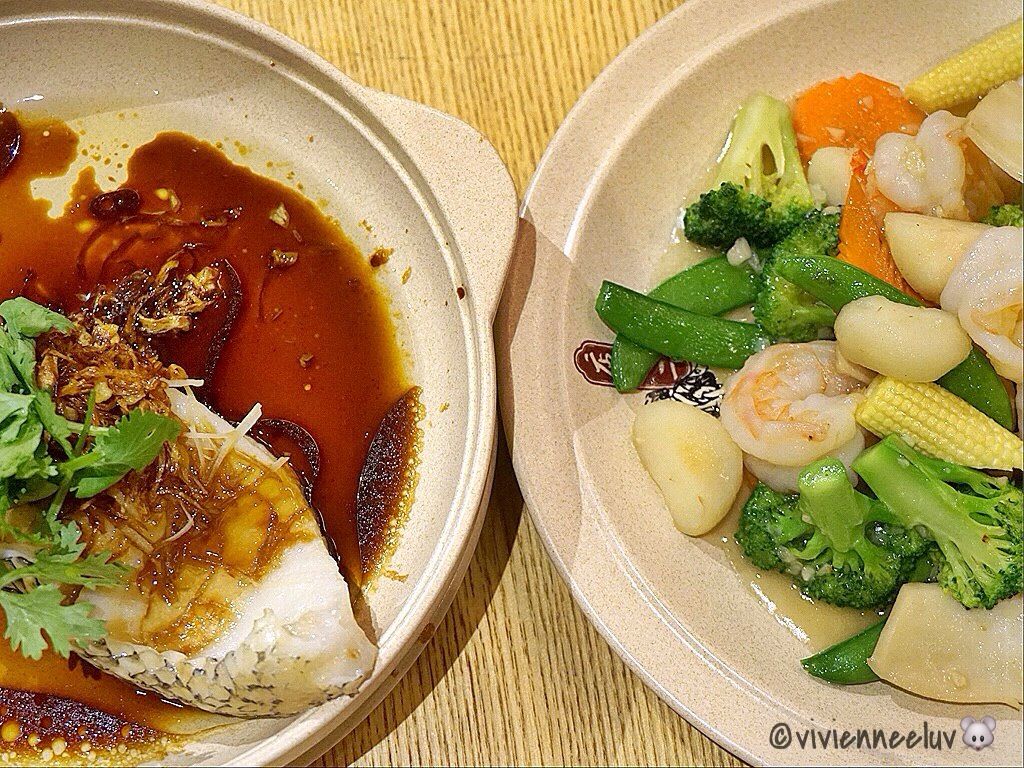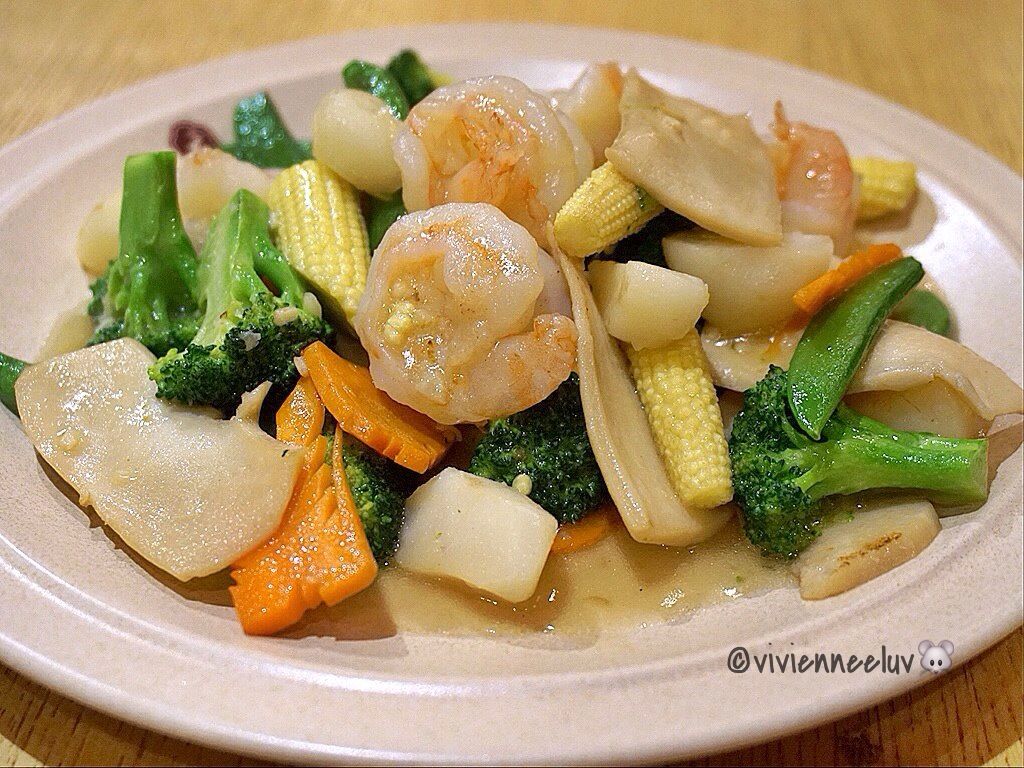 [Seafood Combo with Assorted Vegetables S$15.60] - 360kcal for small portion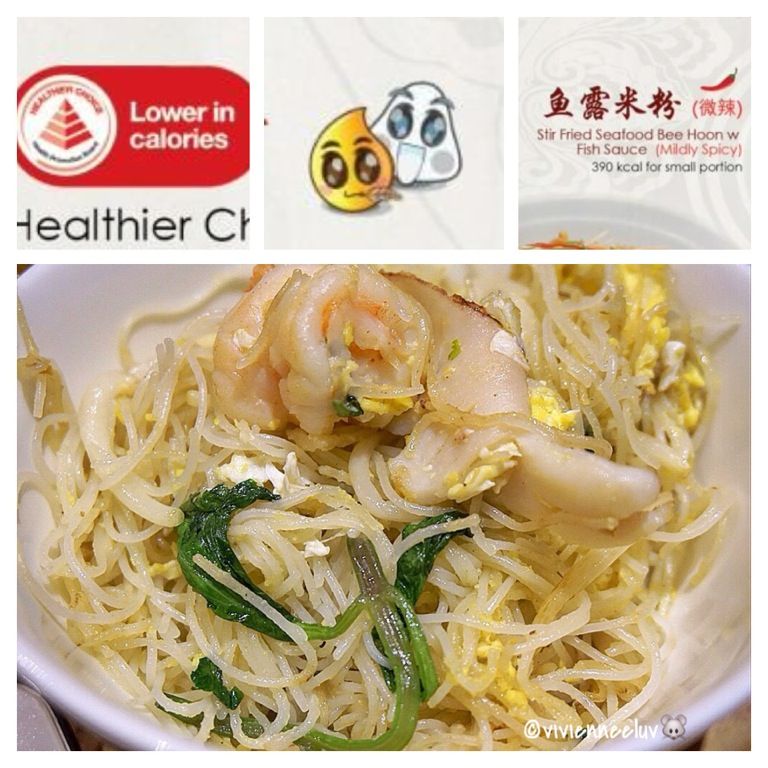 Spot the logos for healthier choices, calorie contribution label, ask for less oil & salt logos when flipping through the menu.
[Stir Fried Seafood Bee Hoon with a Fish Sauce S$9.90] - 390 kcal for small portion.
Wilson love this so much, he wanted to replicate this at home. 😋👍
(Picture credit: Dian Xiao Er)
(Picture credit: Dian Xiao Er)
Do you know that they have a [Herbal Roast Duck Meat Rice S$7.90]?
Its 530kcal and is o
ne of the healthier set meal choices!
[Baby Kai Lan with Salted Fish & Lime S$9.90] - 230kcal for small portion.
Pleasantly surprised by the taste of lime in this dish, unlike the usual Kai Lan we have in Chinese restaurants. Couldn't taste much of the salted fish which is good for those who don't like salted fish smell or taste.
Soups!
[Stewed Crocodile Soup with Sweet Almonds & Chuan Bei S$7.60] - 120kcal for small portion
If you ask me how crocodile meat taste like, its very much like pork, but much more tougher and dry.
[Double-boiled Wintermelon Soup with Conpoy S$7.30] - 130kcal for small portion
[Double-boiled Black Chicken Soup S$7.30] - 160kcal for small portion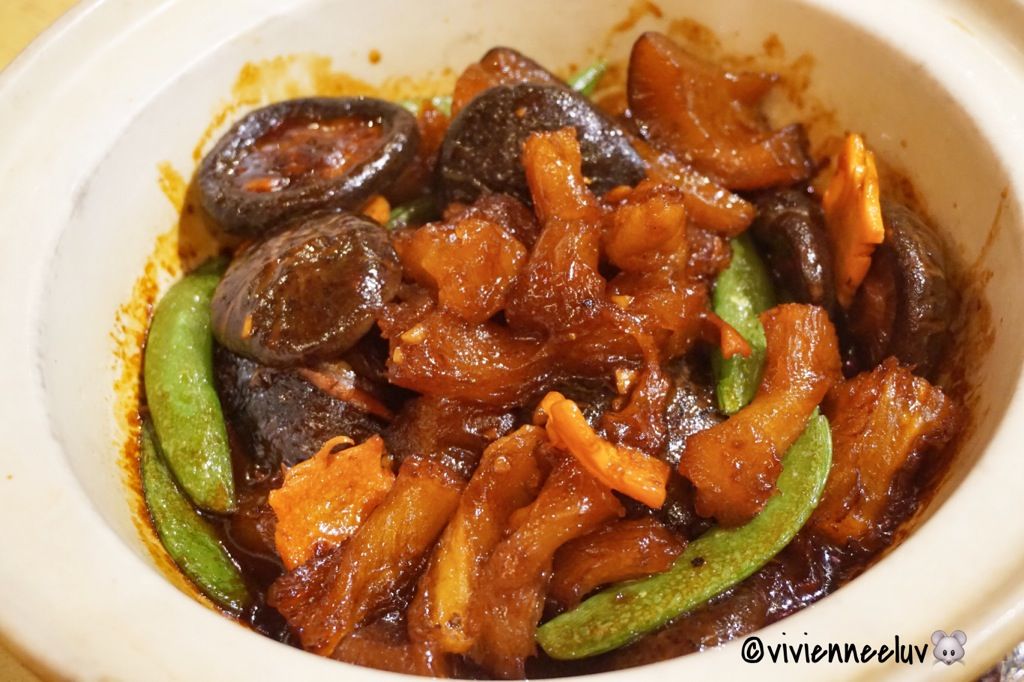 [Claypot Braised Sea Cucumber, Mushroom & Pork Tendon S$26]
I know my mum will love this!
Dian Xiao Er decided to pamper us and let us try a not so healthy
[Mongolian Spare Ribs S$13.90] - 960kcal for small portion
I am not a rib person but I should just try it. It is fried to a slight crisp, and coated with a layer of mildly spice sauce, balanced with a sweet and sour tinge of plum to give a unique flavour.
[Marmite Superior Chicken Wings S$10.90] - 860 for small portion
It kind of taste like Bonchon Chicken, crispy and tasty, fingers licking good.
An exclusive Ice Lemon Tea made by the head waitress there. Feels so refreshing after a hearty meal!
Healthy Go Lucky Stamp Card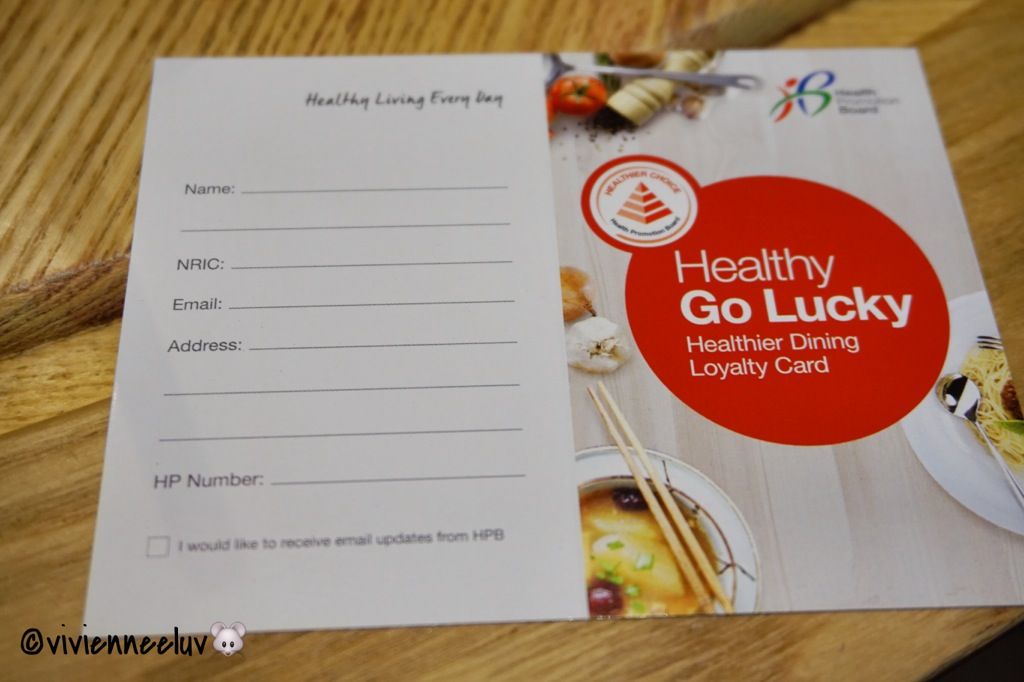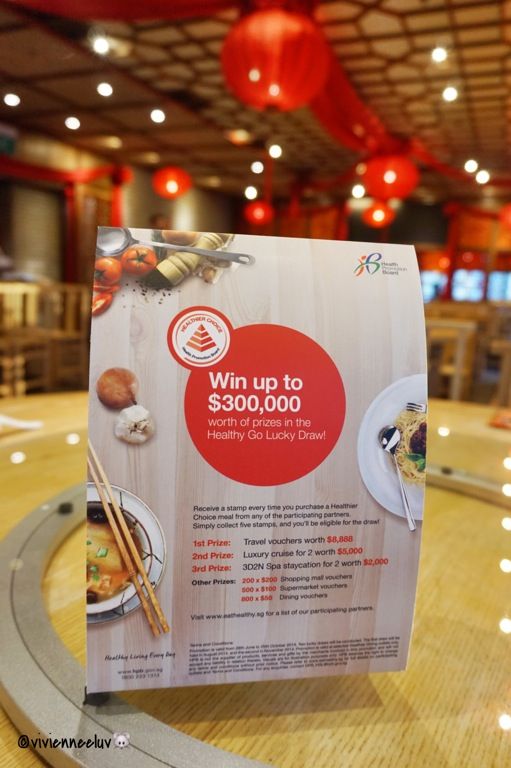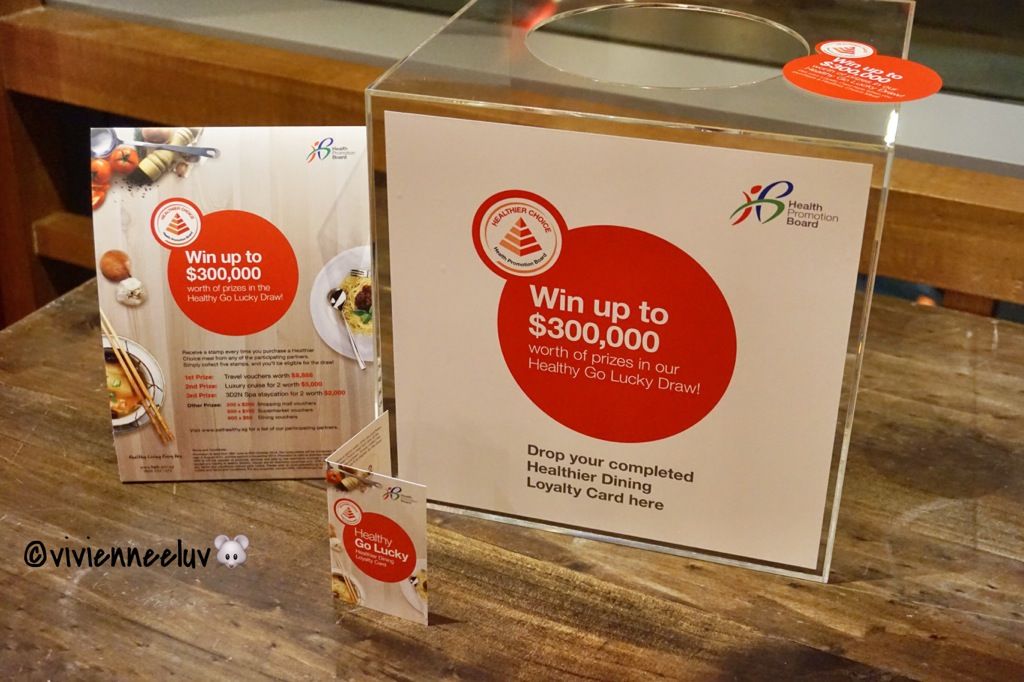 Starting from now till 25th Oct 2014, order any healthier choice dishes (from participating partners) and earn a stamp. (Look out for the Healthier Choice Symbol in the menu)
Collect 5 stamps and stand a chance to win up to S$300,000 worth of prizes in this HEALTHY GO LUCKY draw!
1st prize: travel vouchers worth S$8,888.
2nd prize: luxury cruise for 2 worth S$5,000.
3rd prize: 3D2N spa Staycation for 2 worth S$2,000.
Other prizes include:
200 X S$200 shopping mall vouchers, 500 X S$100 supermarket vouchers & 800 X S$50 dining vouchers!
My card all stamped and ready to win! MUAHAHA!
#healthycanbetasty campaign
Apart from eating healthy and the HEALTHY GO LUCKY stamp card, there is another campaign!
1) Order any healthy choice dishes
2) Take a photo
3) Upload the picture to Dian Xiao Er's Facebook page
First 50 to get 50 likes win S$20 dining vouchers!
From 26th June till 25th July 2014.
Thank you Dian Xiao Er for the invite!
Dian Xiao Er
Click HERE for their outlets & opening hours.