All prep and heading out to meet The Lion Men's Tosh & Wei Liang's meet-and-greet fans session as they perform the art of making Xiao Long Bao/Steamed Pork Dumplings.
Din Tai Fung is one of the sponsors of The Lion Men.
Fans waiting patiently for the arrival of Tosh & Wei Liang.
The host for that day is Charmaine Yee from radio Hot FM 91.3.
Here they come! Wei Liang & Tosh arriving from upstairs and the fans were screaming away. YOOHOOO!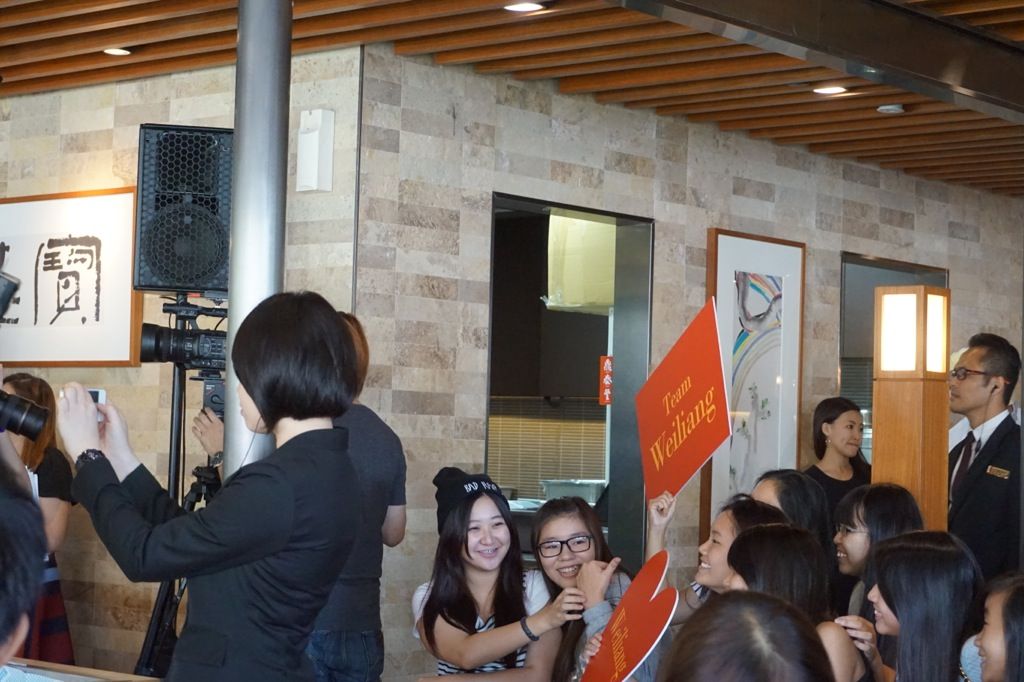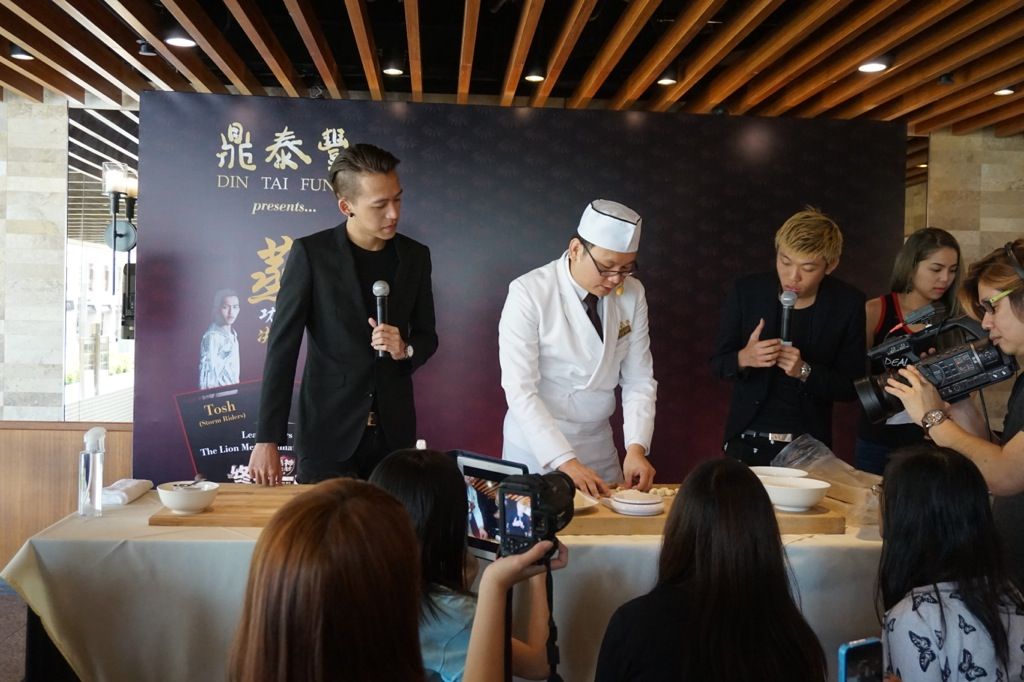 The starts watched on as the Chef demonstrate the making of Xiao Long Bao.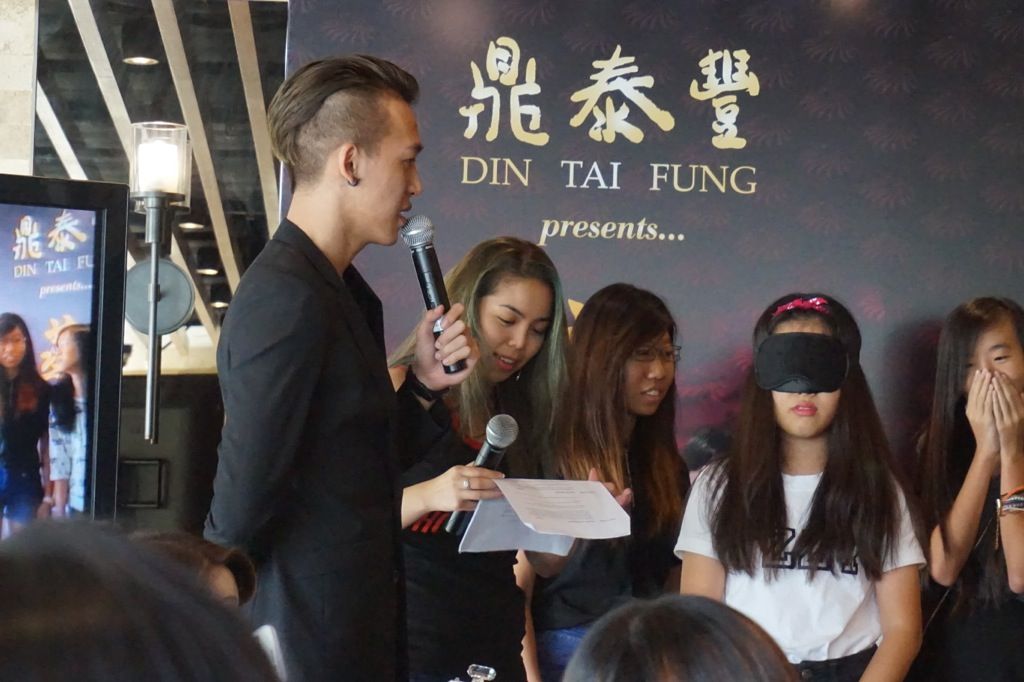 There were games with the fans and they were to be blindfolded, fed with the signature dishes by the stars and to guess what are the names of the food. I can feel the excitement of the girls.
Next, we get a close up of Wei Liang & Tosh eating.
Hello, are you star struck already?
Next up…. FOOD!
Before we start enjoying the dishes, we were served
[

Roselle Drink

洛神

花冰 S

$4.30] - a

perfect accompaniment to the meal is the Roselle drink which is high in nutritional value and packed with wholesome ingredients known to reduce blood pressure, aid in digestion and refine complexion.
Sounds too good to be true! And I have to tell you, this Roselle Drink taste so refreshingly good. Some liang-teh (herbal tea) shops sell Roselle Drink, however they are very bland in taste, too much water.
However I really love the Roselle Drink here, full of punch, gao-gao (thick, non diluted).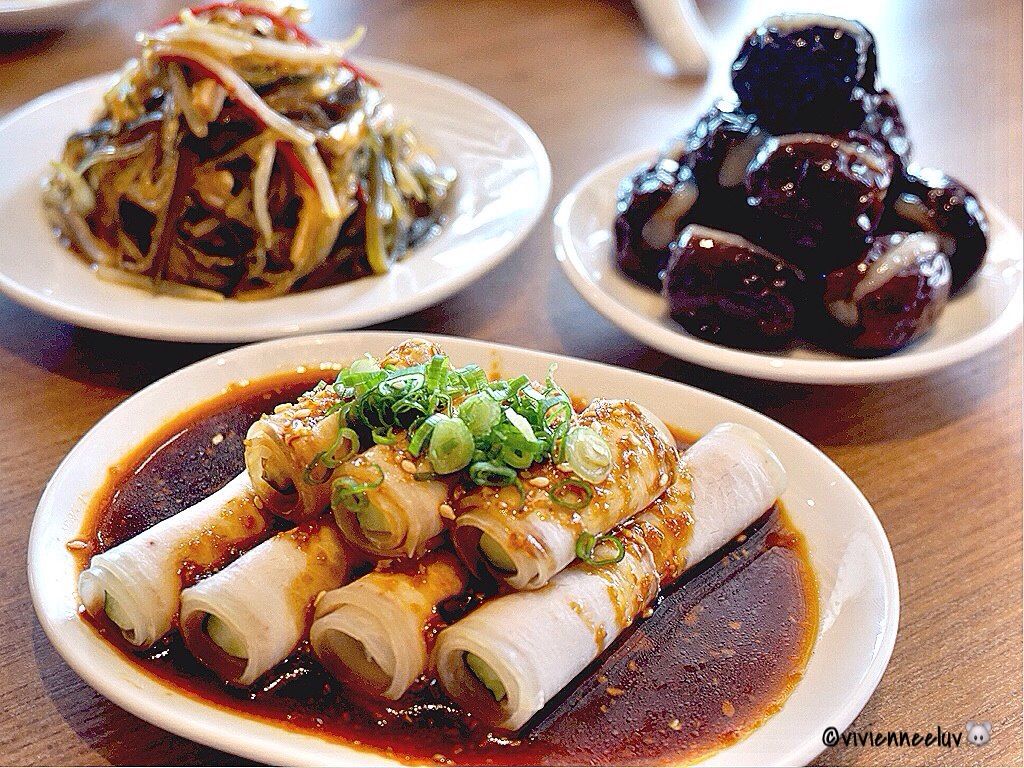 I am sure this is not unfamiliar to you! This is almost everyone's favourite, including my mum!
[Oriental Salad in Special Vinegar Dressing
小菜 S
$4.00] - a simple and refreshing chilled starter comprising a mix of julienned seaweed, bean sprouts, chilli, bean
curd strips and rice vermicelli tossed in an appetizing light tangy dressing.
[Red Dates with Glutinous Rice
红枣圆 S
$4.80]- enjoy a healthy and light starter with these fragrant red dates that are generously filled with steamed
glutinous rice fillings.
If you love red dates, I am sure this is the one for you. I popped one into my mouth, its like nian gap red date. Chewy chewy texture with the mouth full of red date taste. Its sweet too!
[Fragrant Pork with Crushed Garlic
蒜泥白肉 S
$7.30] - a
delightful cold dish consisting of crunchy cucumbers encased in thin layers of succulent poached pork and steeped in a fragrant garlic sauce with sesame and green onions.
Not my first time eating this, I love it. As maybe you already know, I don't like pork due to that porky taste, but this don't have such smelly pork taste. The slice of pork is used to wrap the crunchy cucumber and eat it with the garlic sauce, it taste awesome!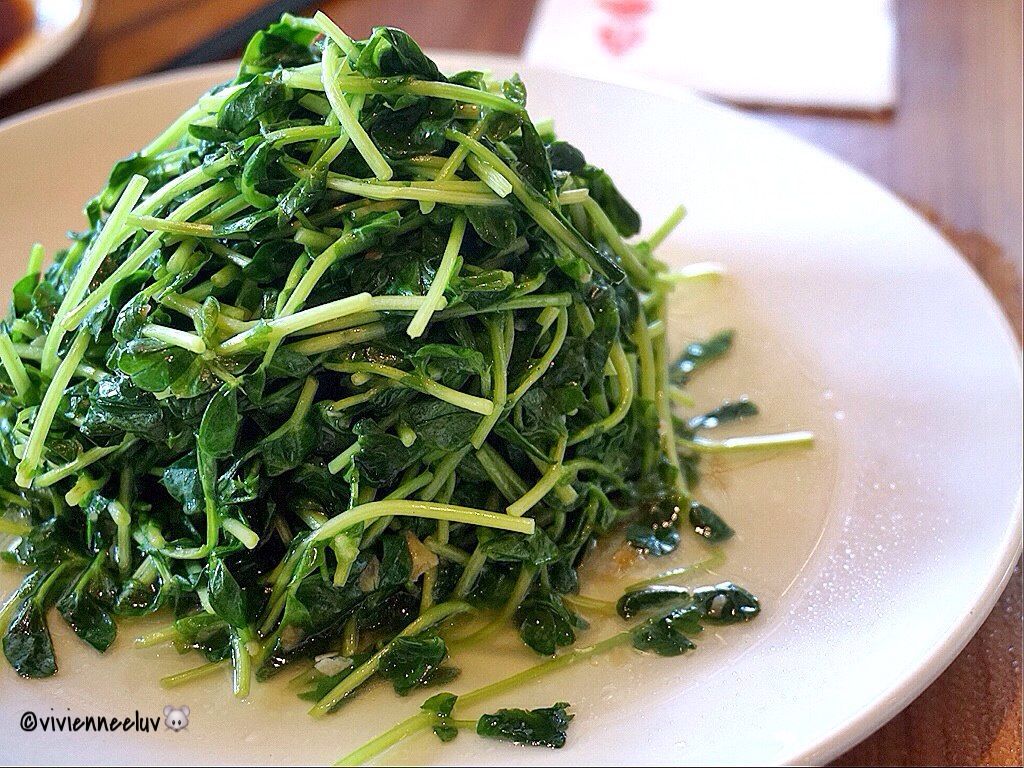 When K first fall in love with duo miao, is when we were dining at Din Tai Fung and i wanted to order 1, because I love it so much. Since then this is a must-order for us whenever we dine at Din Tai Fung.
[Stir-fried Dou Miao with Garlic
蒜炒豆苗 S
$12.00] - a
deceptively modest dish made with only premium young, tender shoots. Every batch of specially selected vegetables is almost identical in length and quality, and is trimmed with precision before being tossed in the wok with just a teaspoon of sunflower oil, bringing out the natural sweetness of the vegetables.
Actually this is also our must-order :X
[Crispy Golden Prawn Pancake
酥脆腐皮虾饼 S
$9.30] - c
onsisting of fresh prawns wrapped in a delicate layer of bean curd skin and deep-fried to perfection, the
Crispy Golden Prawn Pancake makes a scrumptious side dish that will leave one coming back for more.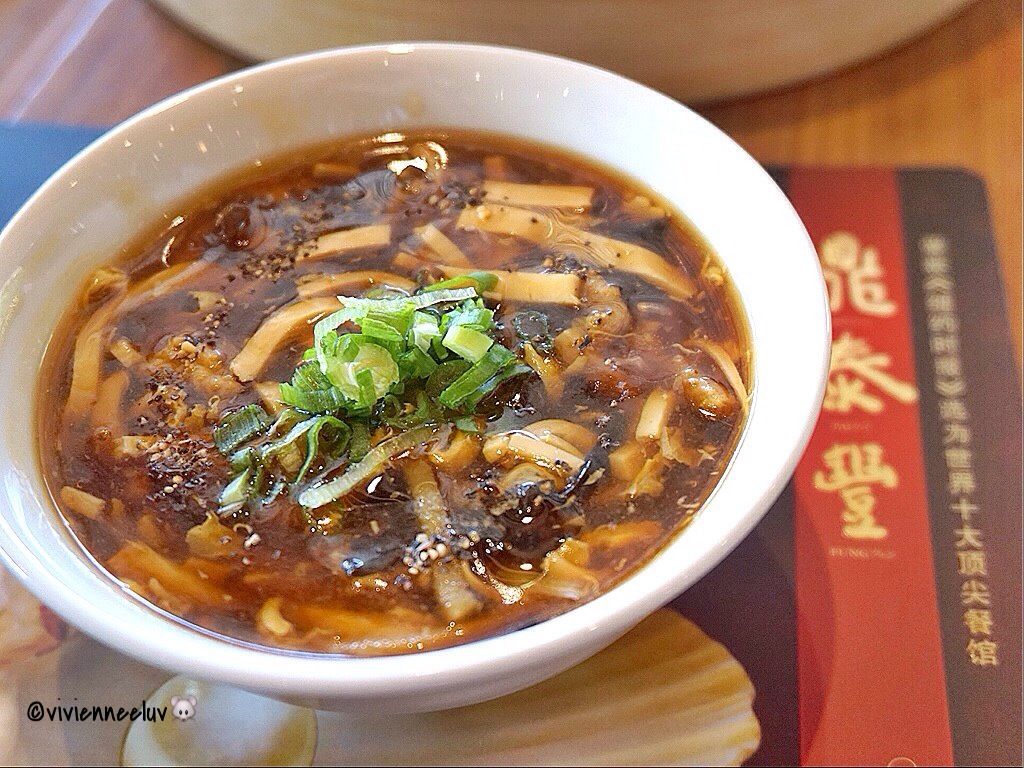 [
Hot & Sour Soup
酸辣汤 S
$6.00 (Small) / S$8.00 (Regular)] - s
triking a perfect balance of spice and tang, the Hot & Sour Soup which contains mushrooms, bean curd s
trips, bamboo shoots and black fungus seeks to warm the belly with its comforting flavours.
Take a closer look, each exquisite Din Tai Fung Xiao Long Bao undergoes 6 precise preparatory stages before being presented to you.
1) Silky smooth dough is made in small batches to maintain freshness.
2) Dough is rolled out and cut into identical pieces. Each piece is then weighed, to ensure it meets the requirements of 20.8g - 21.2g.
3) Cut-out pieces of dough are rolled out, transforming into silvers of thin, smooth skins.
4) Dumplings are stuffed with premium minced pork.
5) Pleated with a minimum of 18 exquisite folds, the dumplings are finished with a twist at the top.
6) Dumplings are then steamed at the perfect temperature, and served piping hot.
[Steamed Pork Dumplings
小笼包
10 pcs S$9.80 / 6pcs S$7.30]
[Fried Rice with Shredded Pork & Eggs
肉丝蛋饭 S$
9.80] - a c
lassic dish comprising simple ingredients such as rice, shrimps, eggs and spring onions.
Every grain of the premium Taiwan pearl rice is coated with egg and stir-fried with minimal seasoning so that the natural fragrance of the eggs and spring onions shine through.
Something that we seldom see, I didn't even realise they have this dish!
[Steamed Red Bean Dumplings with Chocolate Lava
(
巧克力豆沙小笼包
) | S$10.00 (10pcs) / S$7.30 (6 pcs) For a sweet finish, bite into the thin dumpling skin and savour a divine pairing of luscious chocolate and
premium Taiwan red bean paste filling.
Thanks to hand model Carlyn.
Chocolate oozing out of the red bean dumpling.
Lastly, a box of pineapple tarts from DIn Tai Fung.
Perfect for afternoon tea, don't you think so.
Thank you Din Tai Fung for the invite!
Din Tai Fung
Please click here for DTF outlets