Hello soccer or even non-soccer fans, join in the World Cup fever!
Feeling tired & hungry in the wee hours watching World Cup?
In celebration of World Cup fever, BreadTalk presents its Breadzil 2014 Collection of four mouth-watering creations that are available from 1 June to 13 July 2014.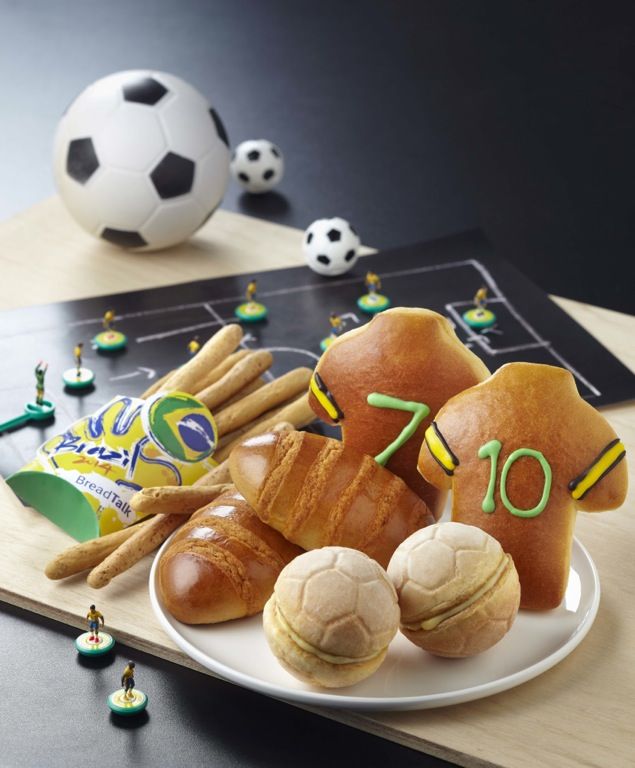 (credits to Breadtalk for this above picture)
[Superstix S$2.30] These bundles of cheese or sesame breadsticks are great as snacks to accompany you through the night matches or to kick off any meal.
[Dillopillo S$1.60]
Try this spicy sambal chicken bun that is inspired by the armadillo mascot - it's sure to get you all fired up!
[Go Goal! S$1.40]
Celebrate winning goals with this yummy chocolate and custard cream-filled brioche that is shaped like a mini football. So cute isn't it?
[Jerseylicious S$1.50]
Scoring high on taste and looks is this brioche bread with lemon custard and topped with chocolate icing. Football fans can pick their favourite numbered jersey! I AM NUMBER 1 (should be goalkeepers usually?), kick all your "Go Goal!" to me! I can handle that!
Blogging this at this timing…. makes me wanna grab one now to eat before bedtime! GOAL!!!!
Thank you Breadtalk for these Breadzil-icious breads!
Breadtalk
Please click here for Breadtalk outlets.