SYNC Korean Fusion Bistro
Address: 3 Gateway Drive #03-01 WEstgate Mall Singapore 608532
Tel: 63699913
Opeating Hours: Sun-Thu 11am – 11pm
Fri & Sat 11am-12mn
FREE WIFI, NO SERVICE CHARGE
SYNC™ Korean Fusion Bistro powered by Samsung brings us good food with technology to the people in a stylish and comfortable ambience.
With carefully crafted menu designed by their executive Chef, infusing Korean cuisine and familiar western fare, SYNC™ strives to create a vibrant meeting place for everybody, even kids!
SYNC™ wants to create a vibrant and lifestyle destination to connect people and is equipped with special enhancements to blend in technology within a lifestyle bistro making learning of new gadgets a joy especially with delicious food within reach, making connection through latest and advanced gadgets a breeze for all.
Initially I had a hard time looking for the restaurant as it is tucked away in a corner. You have to walk past all the japanese restaurant, towards Jean Yip's direction. OR it is linked (upstairs & downstairs) with Samsung, so you can look for Samsung and come up by the stairs! OR try to located the MRT track and walk towards that direction, you won't miss it!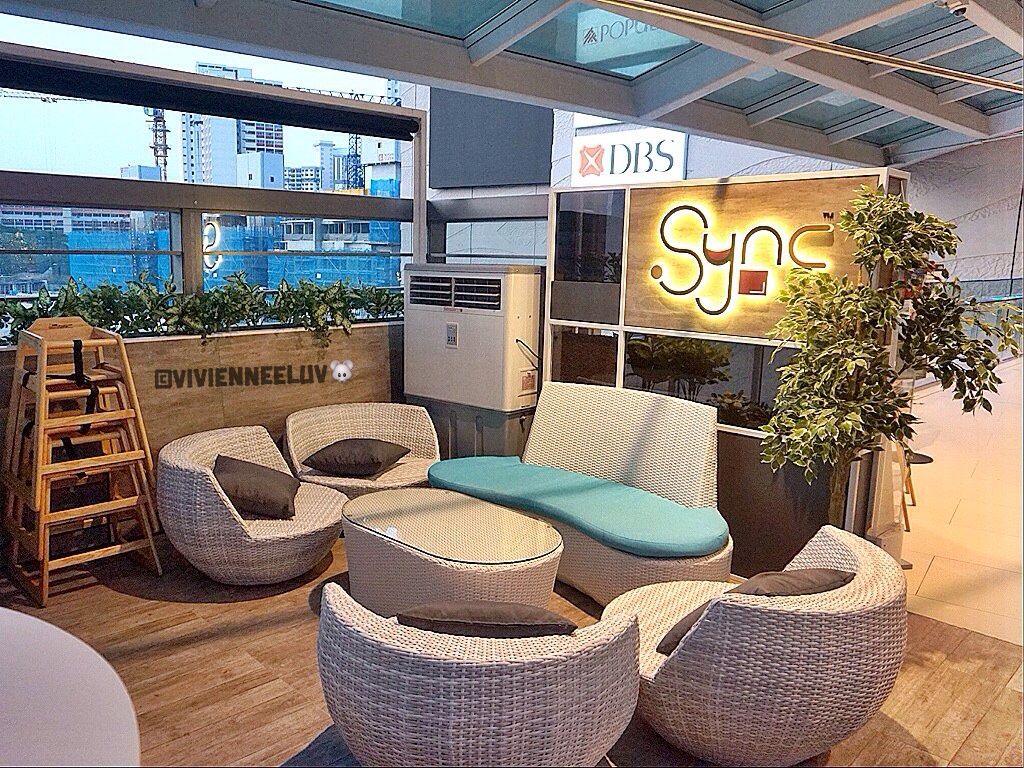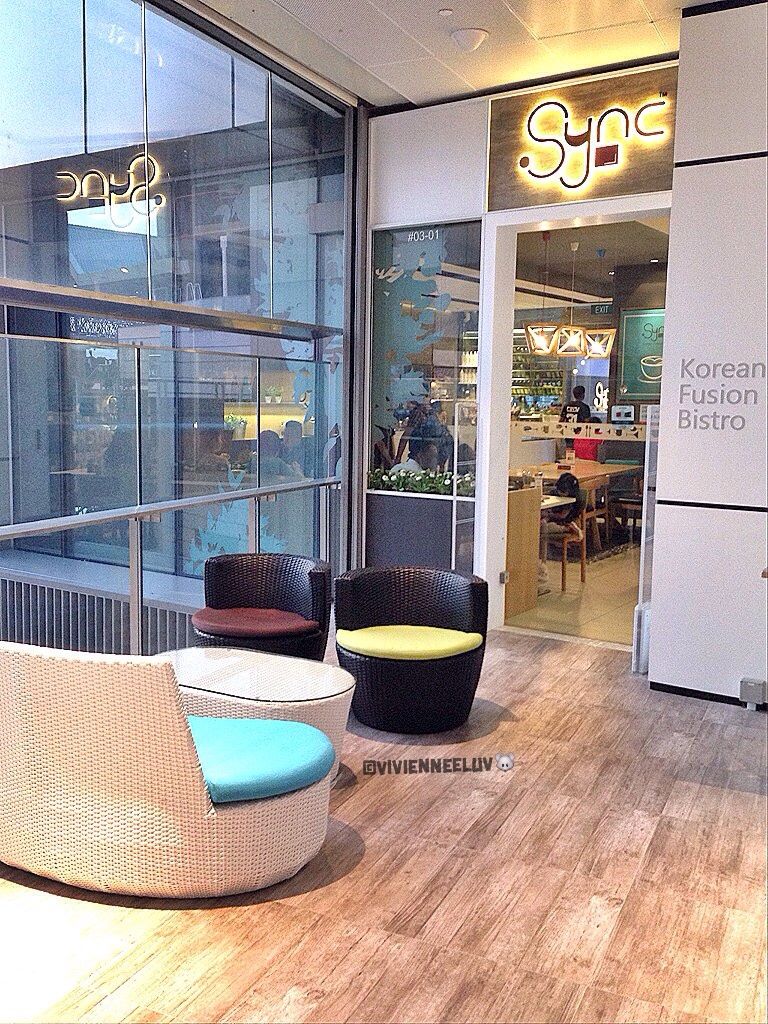 This is the entrance, not easy to miss and not easy to find. I guess that SYNC might be the only Korean Restaurant in Westgate (apart form 4 fingers), so head on to SYNC for a good Korean fusion meal, you will not regret.
Spot the MRT on the left of this picture. This is the alfresco dining area, quite romantic. We had a try of both indoors & outdoors that night. For picture taking lovers, you may find that the alfresco area is too dim, however the ambience is good, lots of fans/coolers around, you won't feel hot while you enjoy your meal.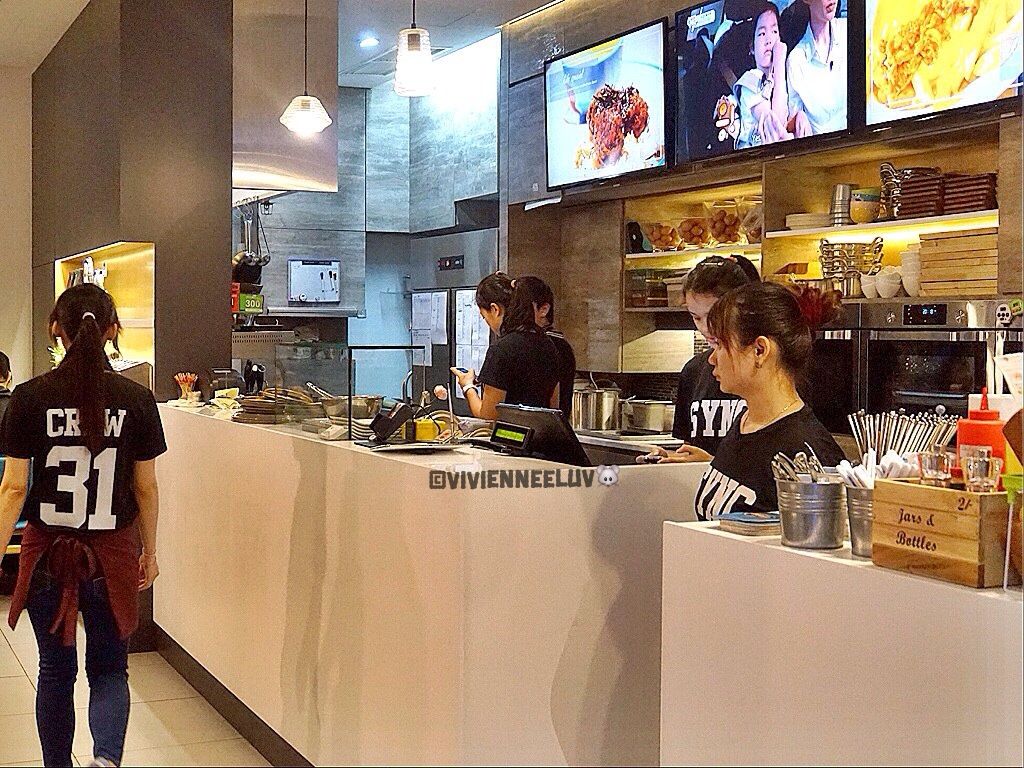 As mentioned at the start of this post, SYNC is powered by Samsung so you will expect all things Samsung here. There is this cool corner where you can play with the gadgets on comfortable sofa. I love how they make us feel at home.
ORDERING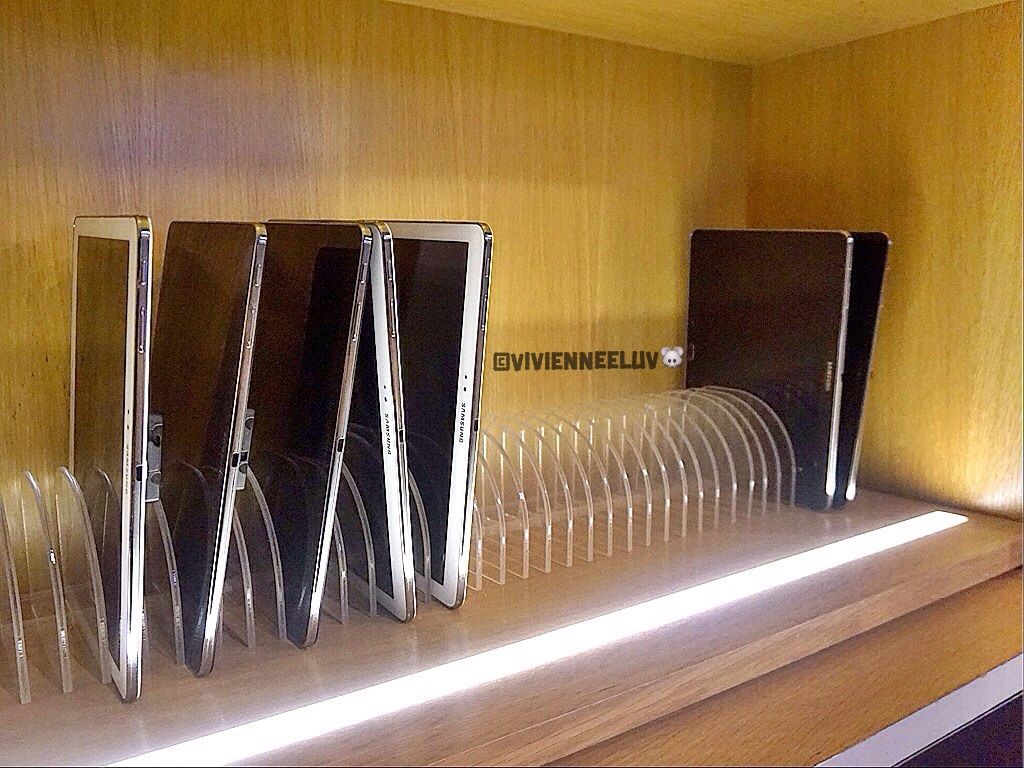 Interactive menus! I like it when restaurants go paperless, and all are tablet menus. Save resources and also easier to update the menu.
Ordering from this tablet is that you choose what you want, and call one of their friendly staff to help you to confirm the order as password is required to send the orders. This is to prevent wrong orders sent to the kitchen.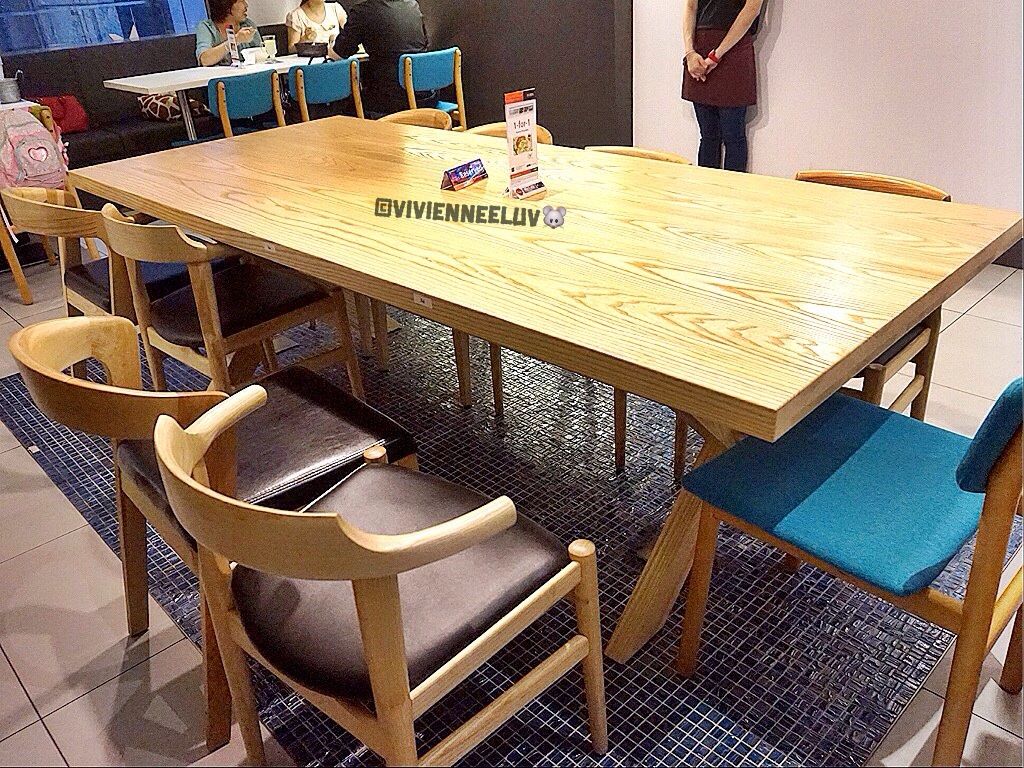 Need a table of 10? Fret not, there is a communal table (big enough to order lots of food to share), perfect for big-group gatherings and they only close at 11-12am!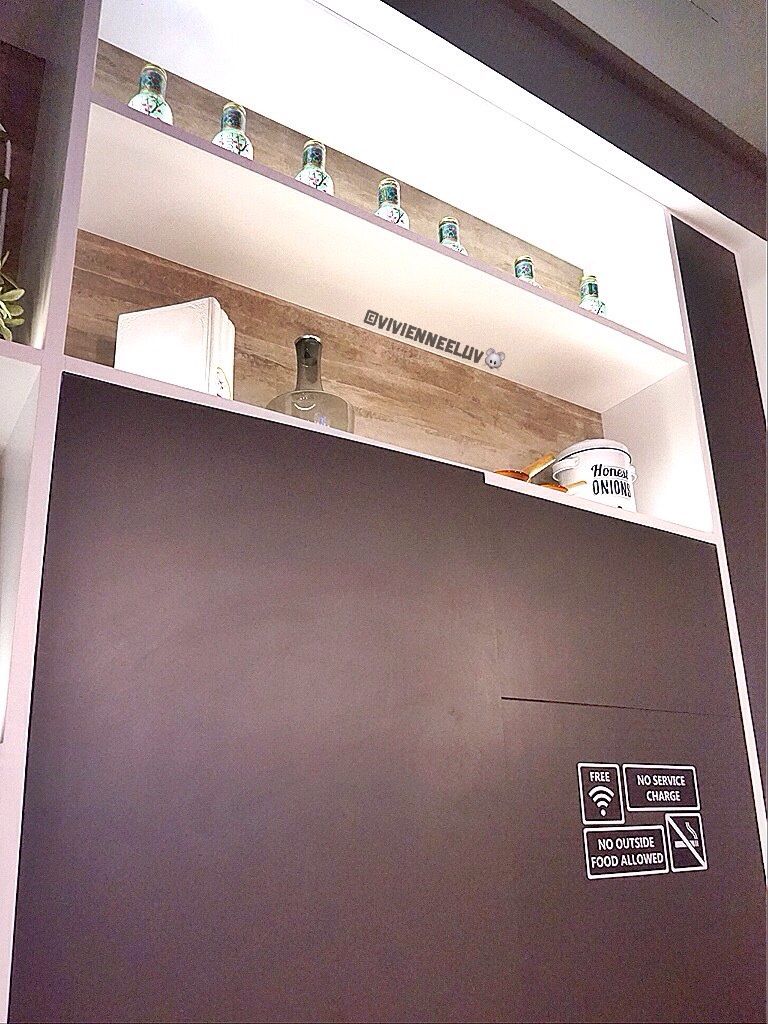 KIDS CORNER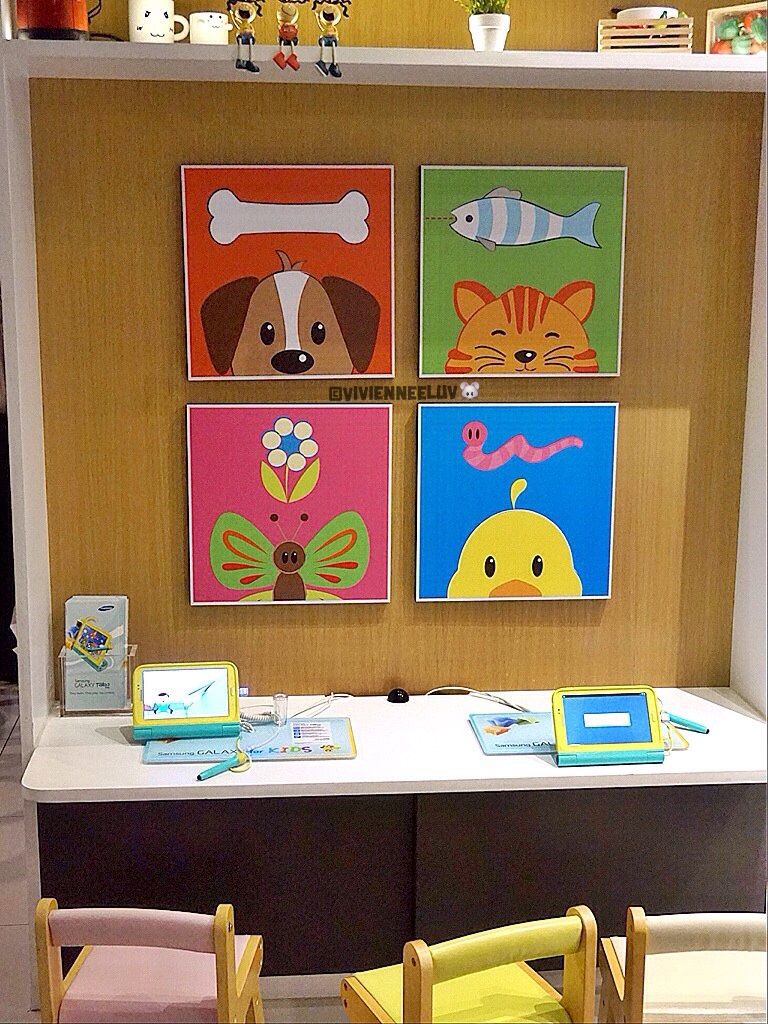 There is also a kids' corner for young children to experience the latest electronic gadgets with free apps download and a area for young professionals and even senior citizens to enjoy.
I definitely have to give it a try!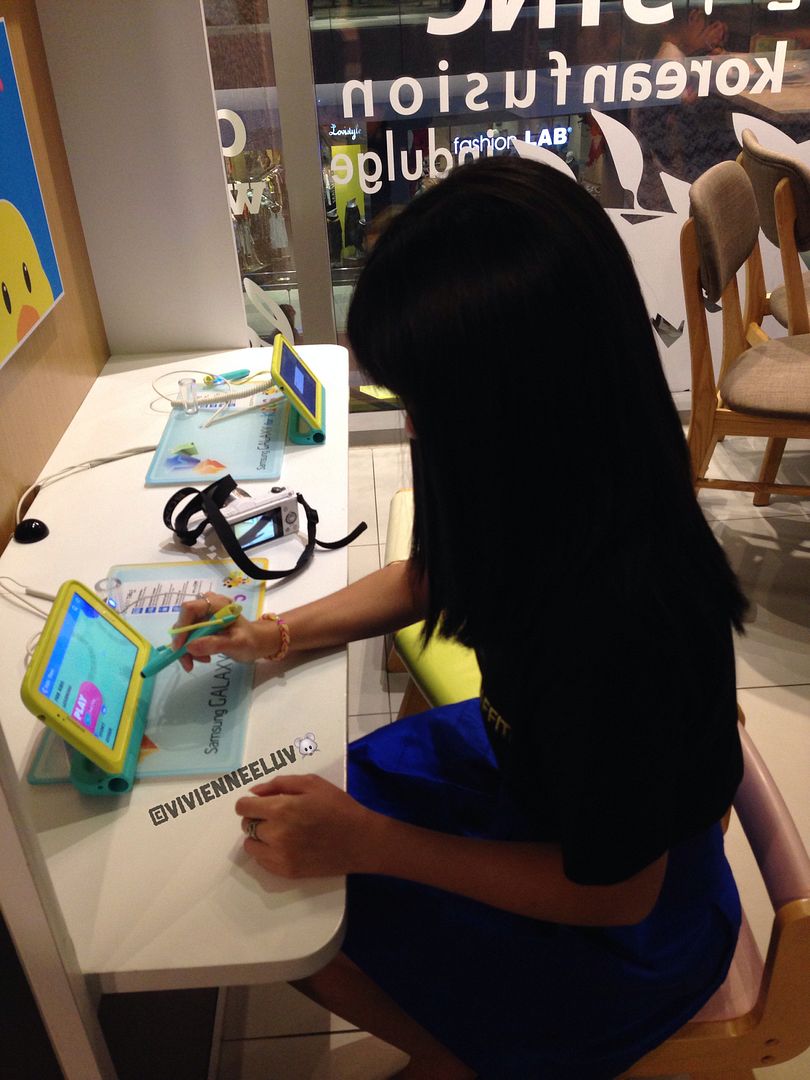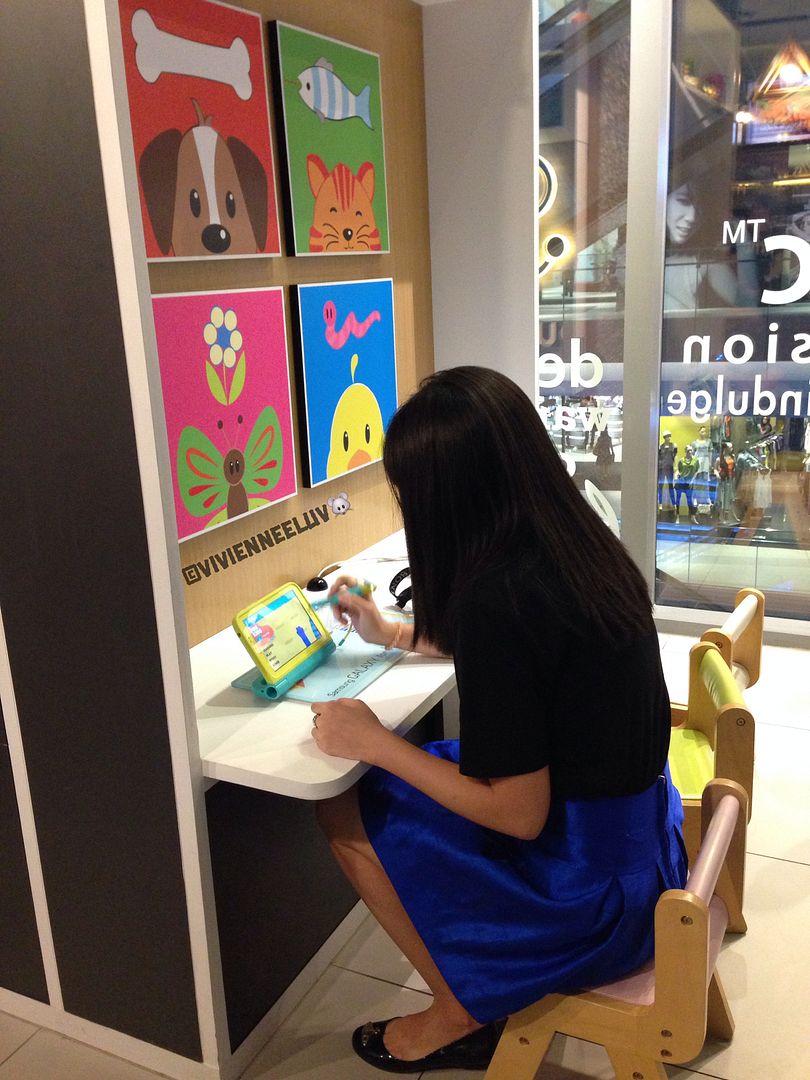 Thanks to Wilson for these few pictures of me trying to figure out a Samsung product.
SYNC have a full range of wine, beer and cocktails fully stocked at their alfresco bar which seats up to 80 person.
FOOD
TOPPOKI WITH FRIED BACON & EGG S$7.90 - new item
Not a secret anymore if you are following me closely. K is very choosy in his food. I thought he will not like korean rice cakes but I was wrong, this dish is so delicious that I suspect he didn't have enough :P
Actually I am the one who did not have enough of this, I love Toppoki and cannot attain such delicious ones at home.
KIMCHI CHEESE FRIES S$8
Fries topped with nacho cheese, kimchi and scallions, who would have thought of such an interesting combination? It serves as a great snack to munch on!
KOREAN CHICKEN WINGS S$12 - 8 pieces
Whenever I hear Korean Chicken Wings, I will think that they are like Bonchon 4 Fingers kind of fried till crispy kind but these are not. These wings are still crispy but drenched with sweet & spicy sauce then sprinkled with sesame seeds, totally moist and well seasoned. Eat while its hot!
K-PORK STEW S$16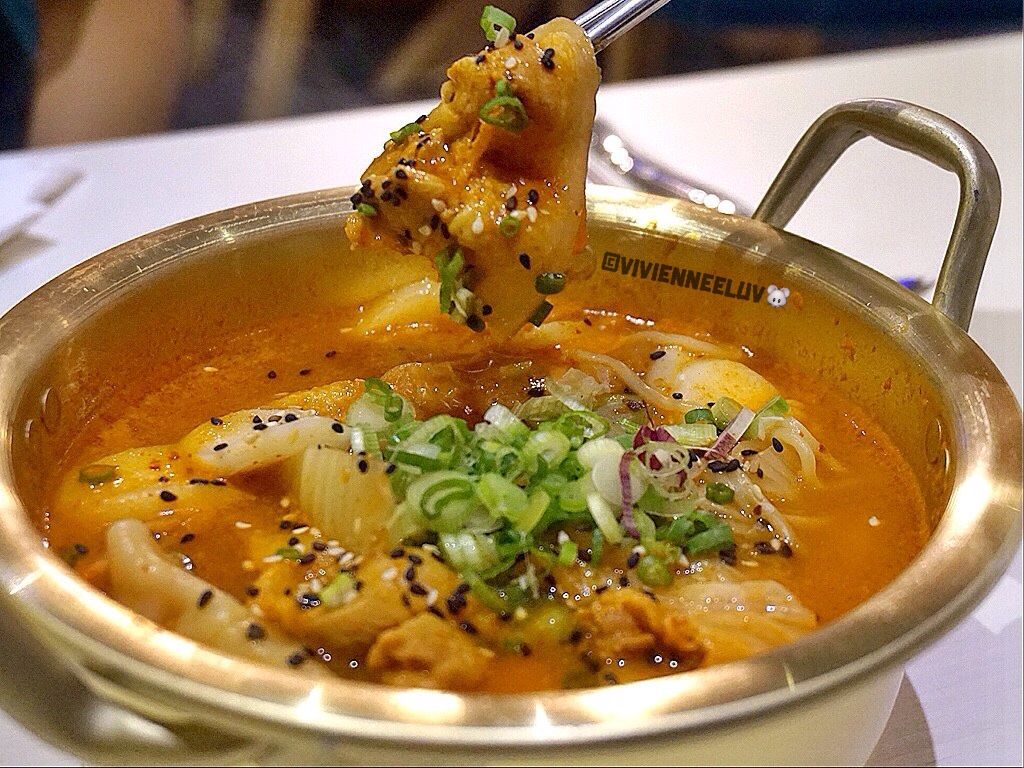 Perfect for a cold & rainy day! The stew is made up of Korean rice cakes, pork sausages, pork belly, gyoza, kimchi & ramen. Slightly spicy but not too overwhelming.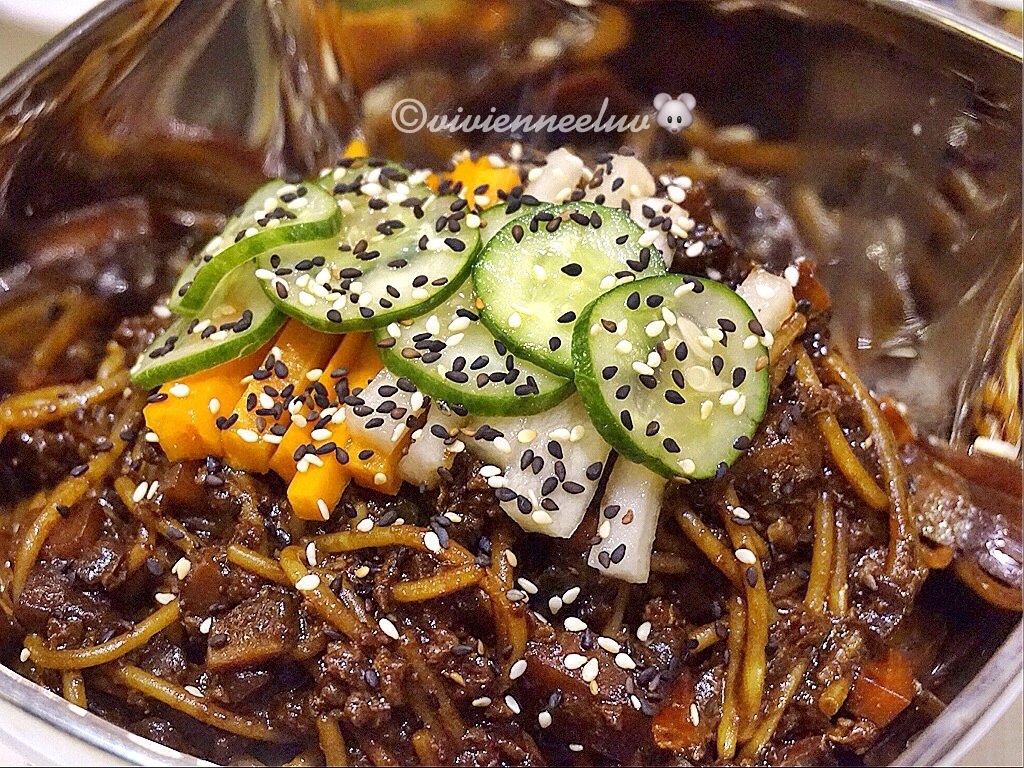 JAJANGMYEON S$12.90 - new item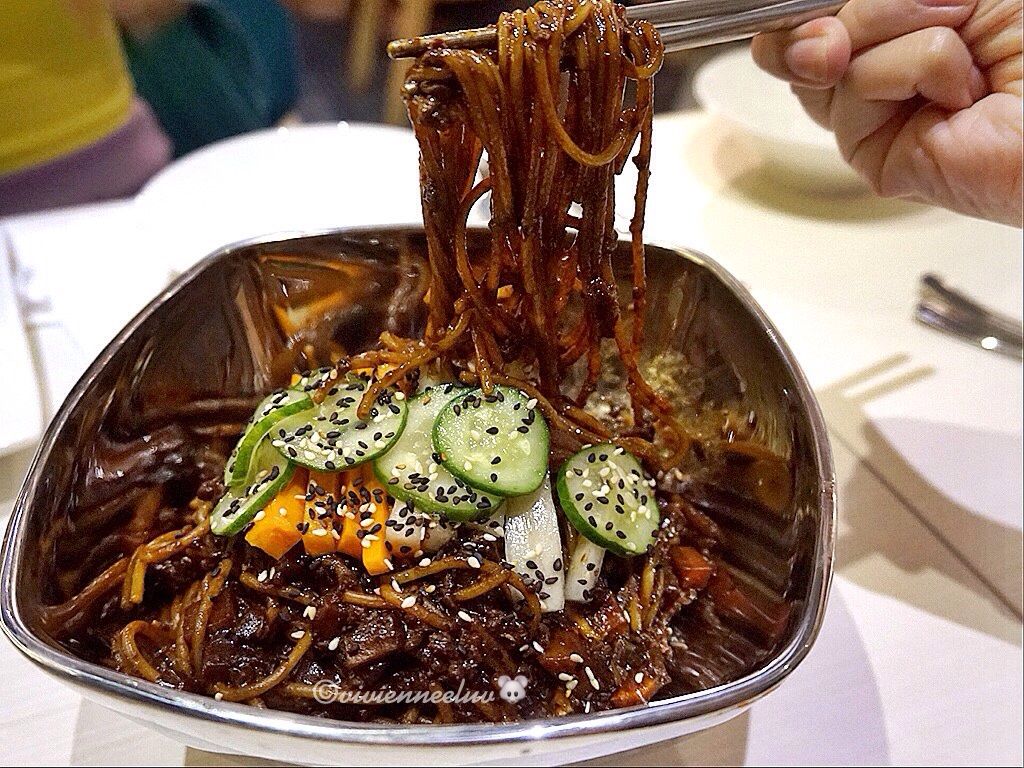 One of the favourites of our dining companion that night. What I like best about this Jajangmyeon is that it is already tossed, saved my hassle as I always get the sauce splattering onto my top. Now i can take big mouthfuls of Jajangmyeon with the crunchy carrots, radish and cucumber slices!
BAKED BIBIMBAP S$15
Bulgogi beef, rice, vegetables & sunny side egg, mix them all up together!
Thanks to Vanessa who did us the good deed by mixing the rice up. In the menu, you may choose to top up S$6.25 for a Soup of the Sea.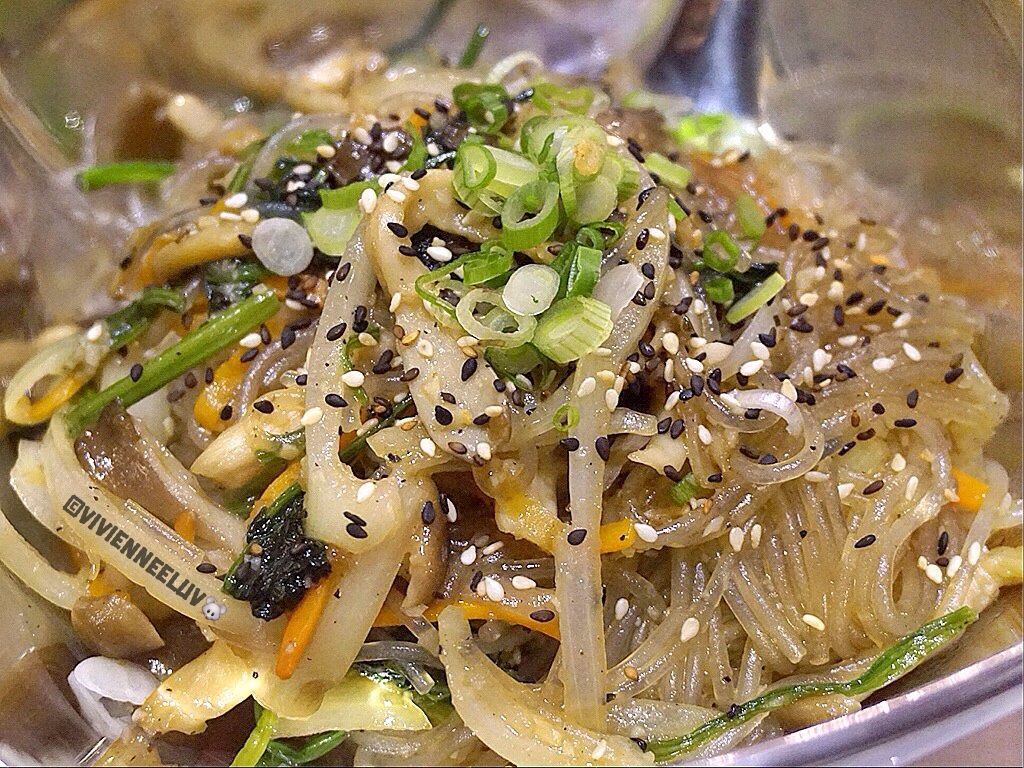 JAP CHAE S$12
Here comes my favourite!! Stir fried jap chae with mixed vegetables, if you find it too boring, not enough ingredients, feel free to add Korean Summer Salad for S$4, Seafood for S$6 & Beef for S$4.
I can't really describe how nice this Jap Chae is, I don't think its wok-hei but there is this super nice fragrance & taste in this Jap Chae!
DESSERTS
Done with the mains and we immediately want to hop to desserts! Because I was thinking about these since the first time Vanessa told me about them.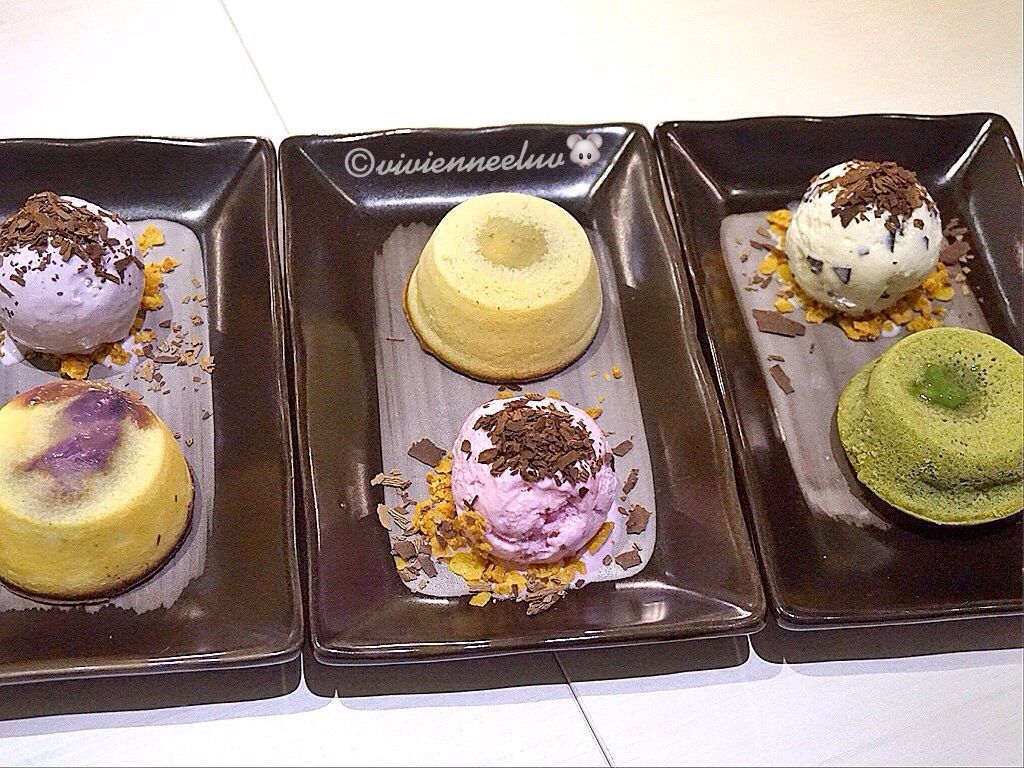 LAVA CAKES!!!!!
MATCHA LAVA CAKE WITH ICE CREAM S$10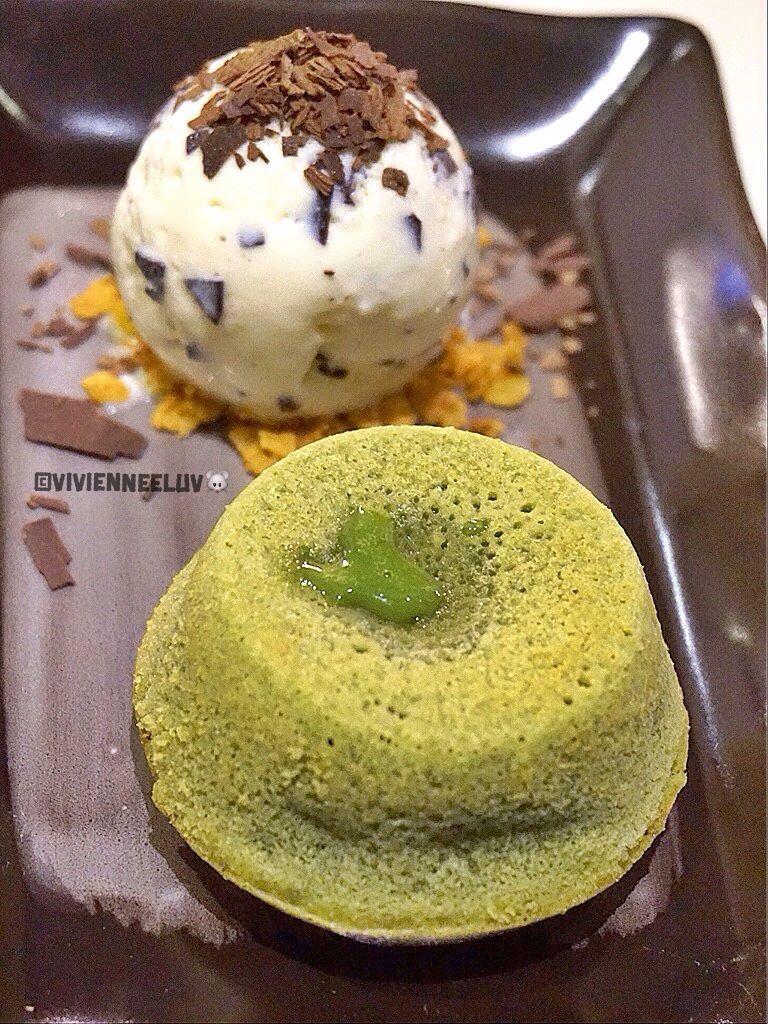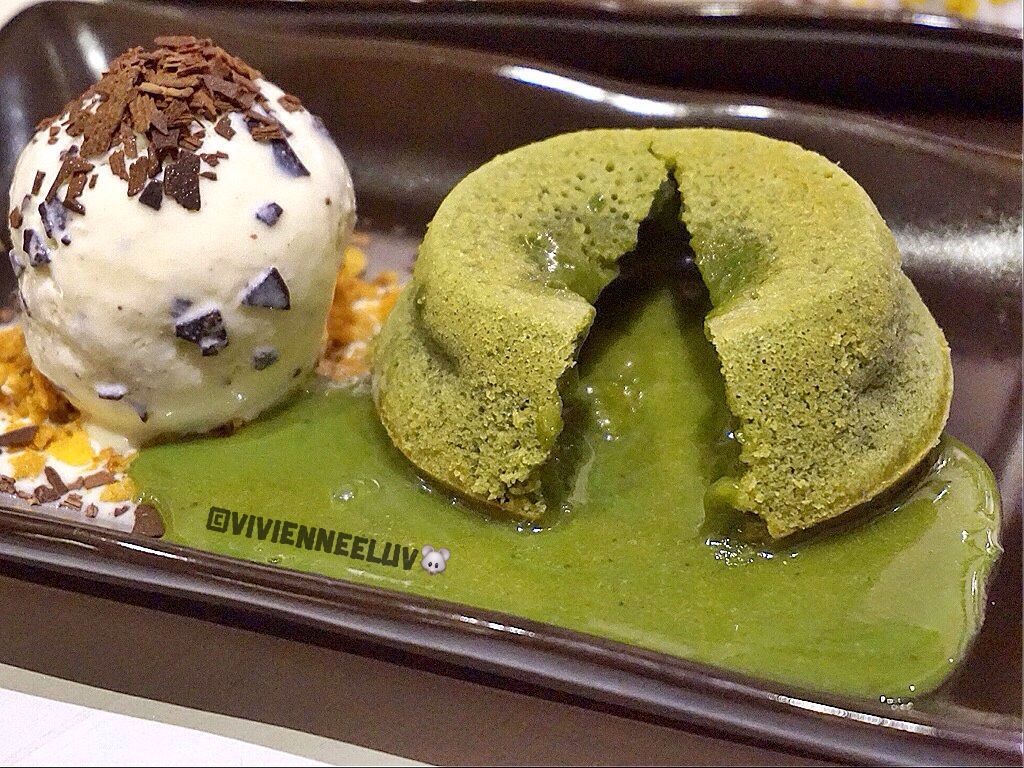 Green tea lovers definitely have to try this piece os dessert. Being a green tea lover, I must try everything green tea, some are disappointing but this piece of Matcha Lava Cake never fails! Full of Matcha taste, I only wish I could lick the plate clean.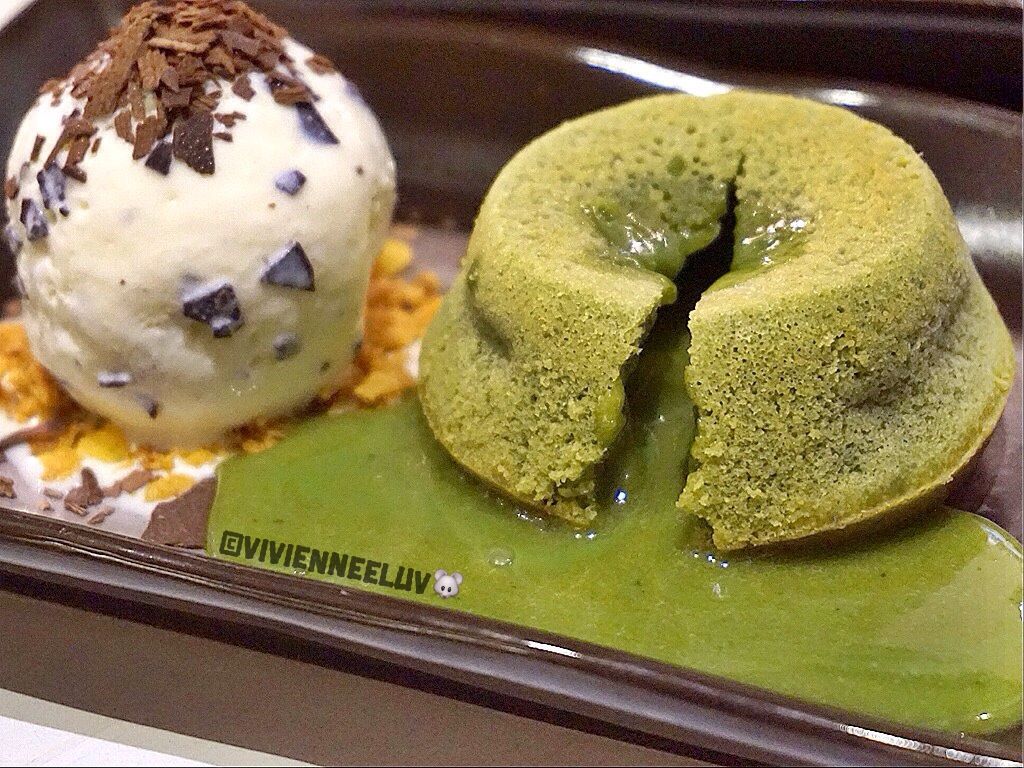 WHITE CHOCOLATE TARO LAVA CAKE WITH ICE CREAM S$10 - new item
Really, this piece is also sooooo good now I am spoilt between Matcha & Taro, I don't know which is better because both are equally good! Its almost like Yam Paste flowing out of the cake.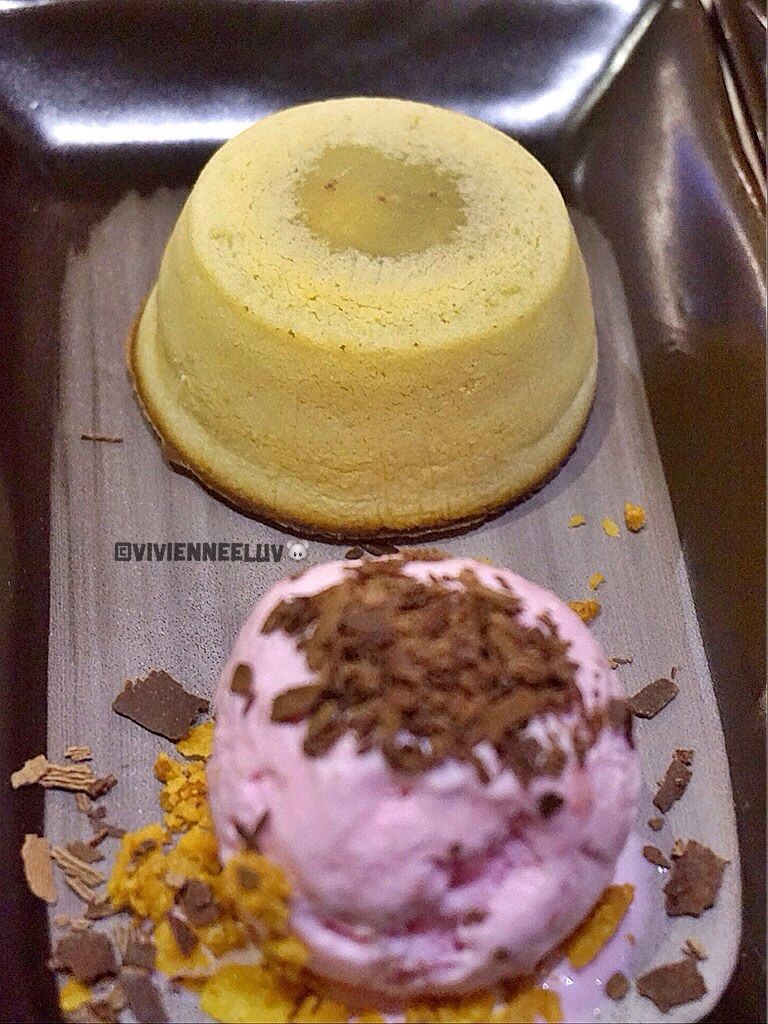 RED BEAN LAVA CAKE WITH ICE CREAM S$10
Looks pretty safe and harmless, looks dry to us, we guessed that it will not flow.
I apologise. Every lava cake flows! Red bean is also nice! Oh man, how to decide if I were to choose one.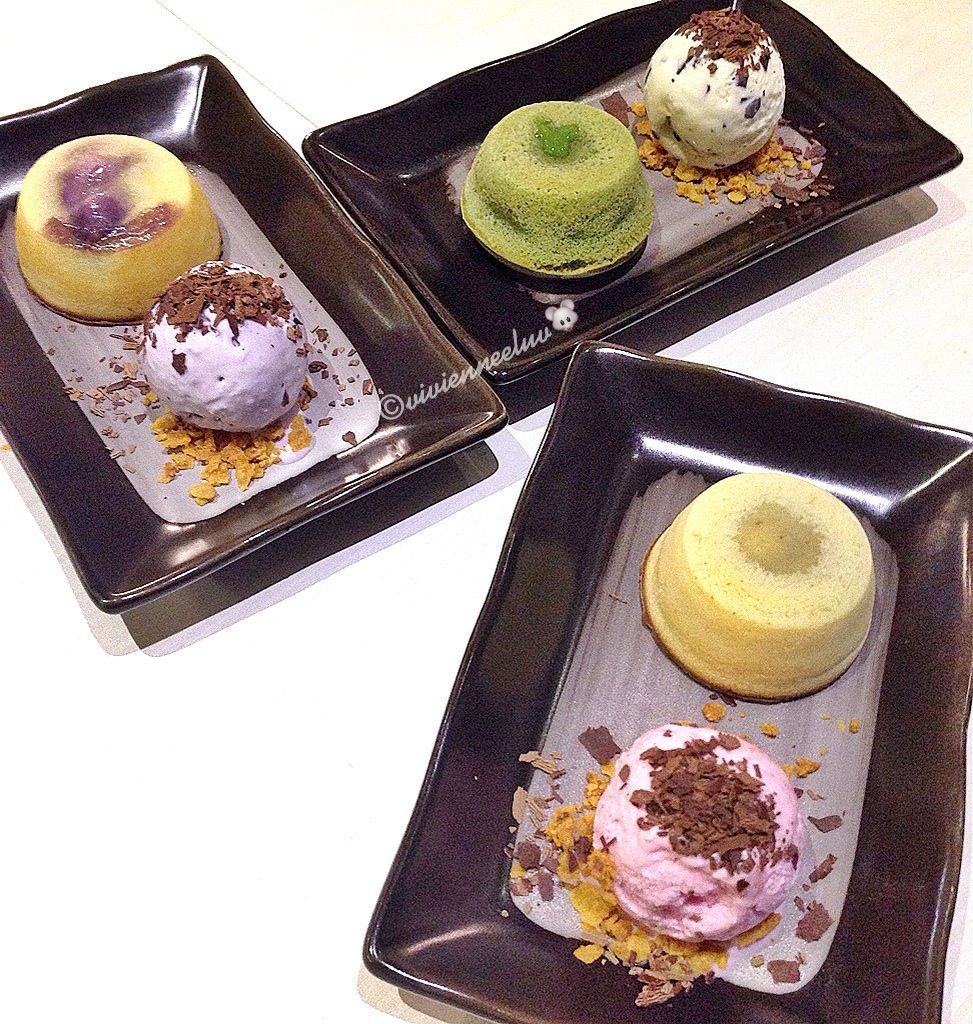 DRINKS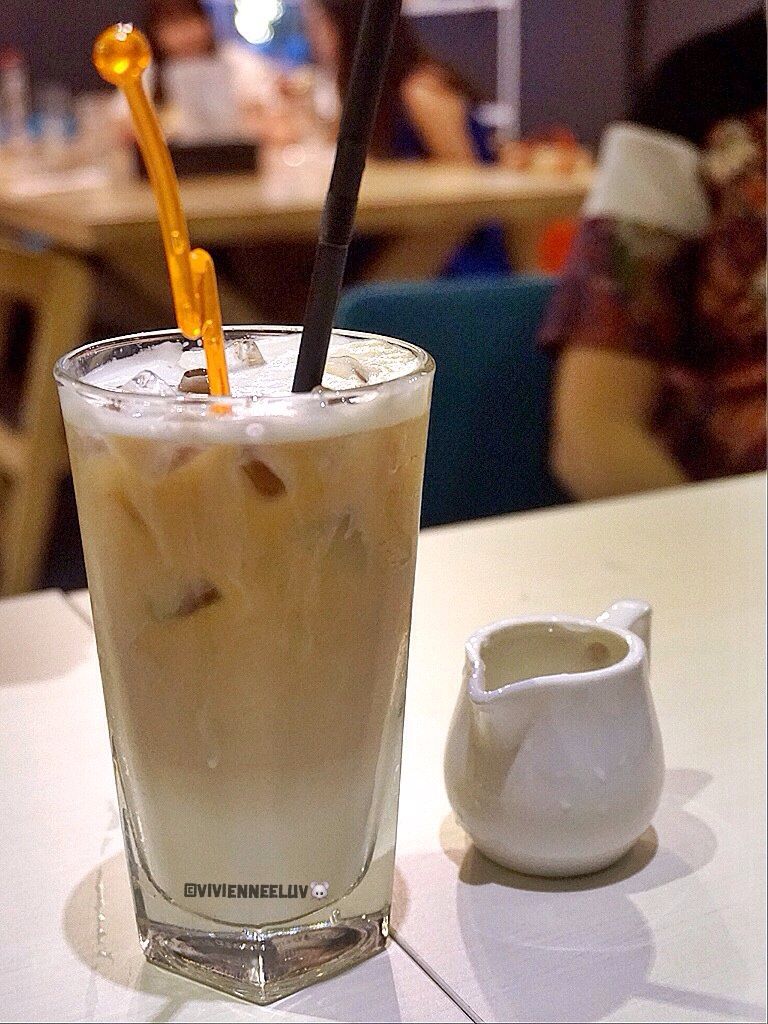 ICE EARL GREY LATTE S$7
Which taste a little too bland, don't worry we have feedback to them and SYNC had already improvise on that.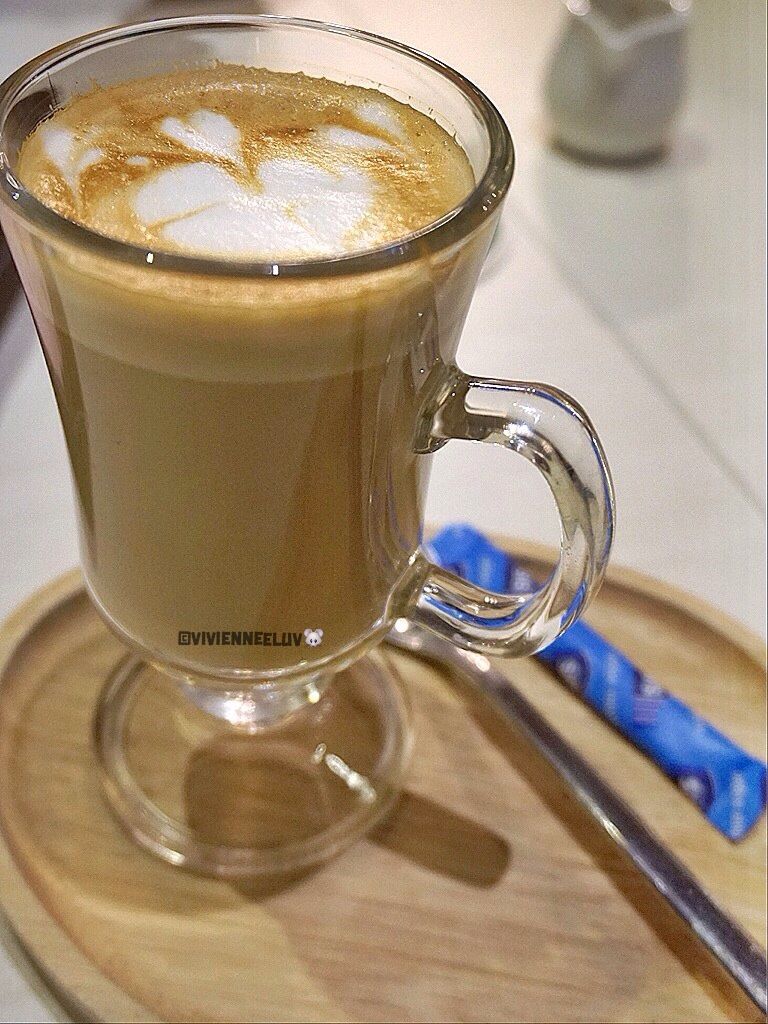 LATTE S$6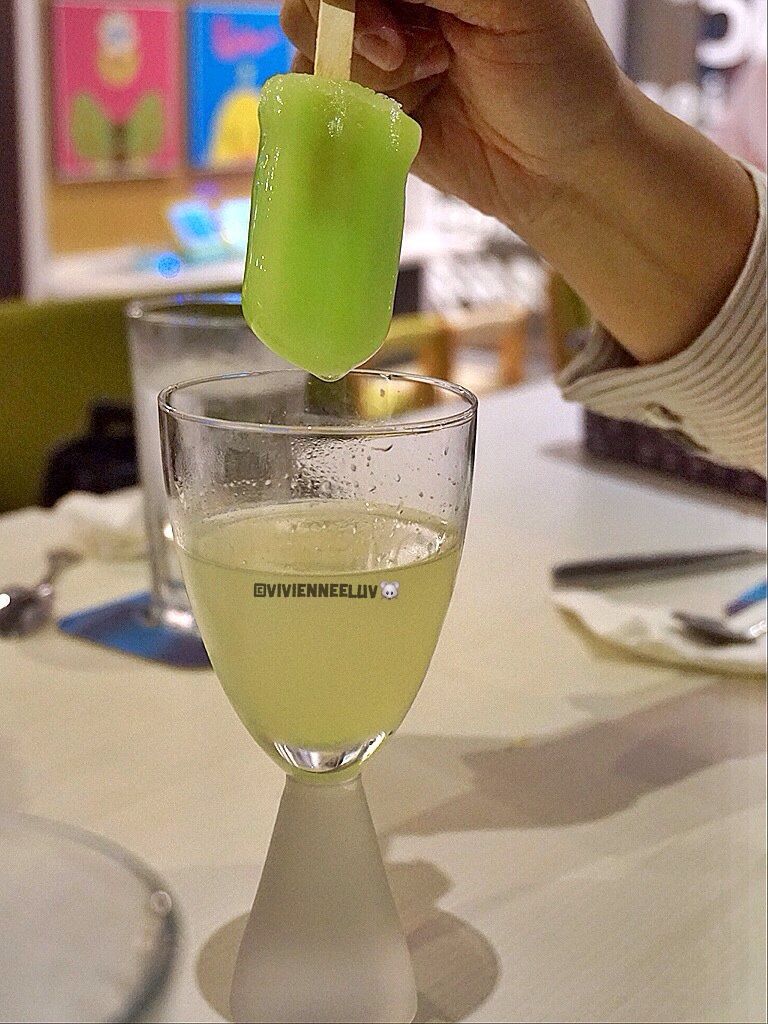 VODKA LIME POP S$10
Vodka is a little strong but thats the point for an alcohol drink.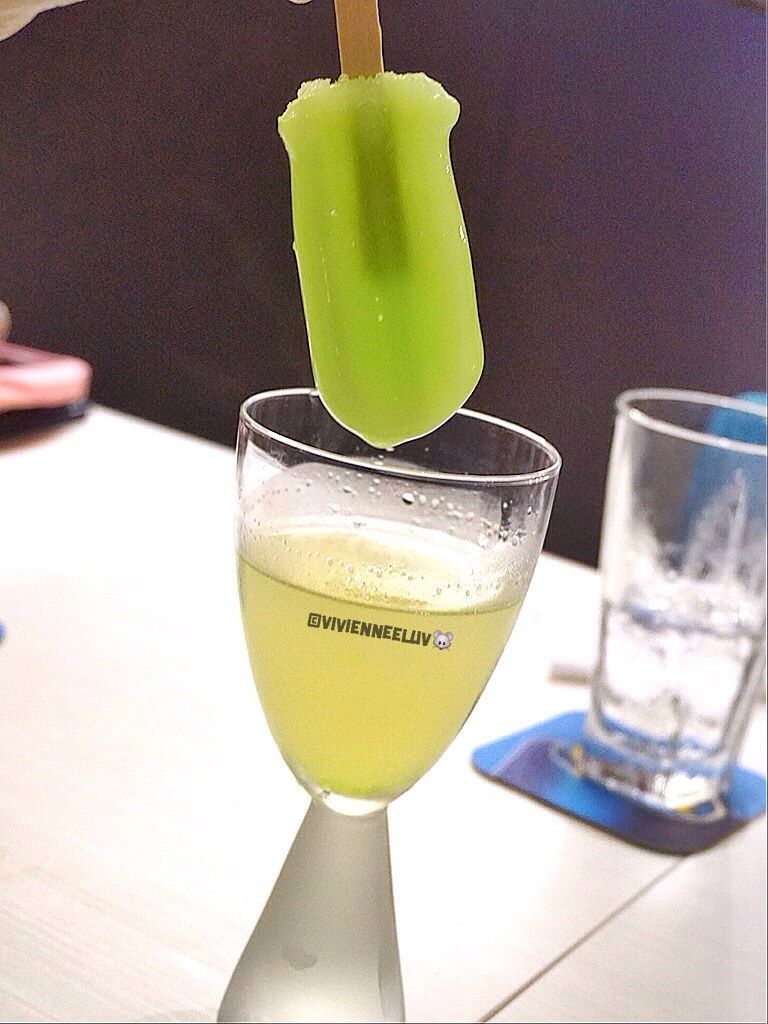 MOJITO LIME POP S$10
On the other hand is a little sweeter which makes it much more nicer to drink!
RIBENA SODA FLOAT S$7.50
SET LUNCH
Main courses are featured above.
I thought this set lunch is quite a great steal! I wish Westgate is not far away from me, but I am a Eastie. Working in a place near to a neighbourhood mall, I don't see S$7.90 set lunch in any of the restaurants at all!
TEATIME SET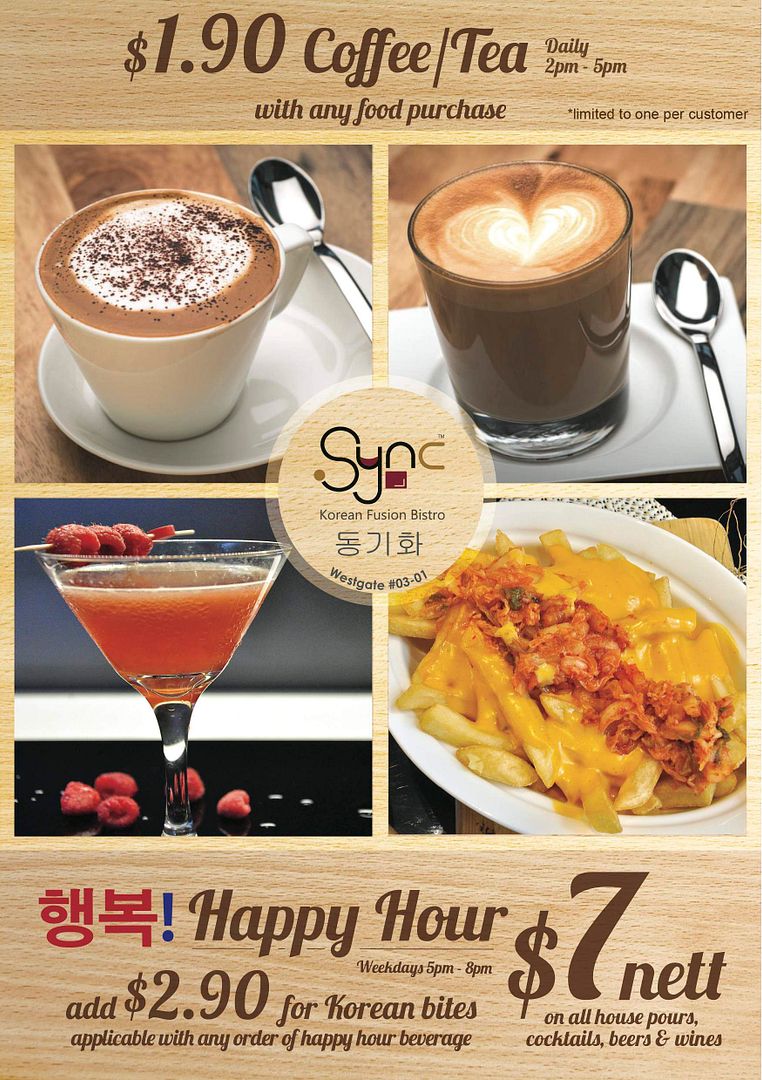 Do head over to SYNC if you are in the vicinity.
The food and desserts are definitely pulling me back again for sure! Thank you SYNC Korean Fusion Bistro for having us with such wonderful food!