Bread Society
Address: 2 Orchard Turn #B4-08/08 Orchard Ion Singapore 238801
3 Temasek Boulevard #01-301/302 Singapore 038983
About Bread Society
Conceptualised in line with the notion of 'back to basics', Bread Society features an extensive selection of freshly baked treats that draw inspiration from simple traditional loaves made with time-honoured baking techniques, using an abundance of highly nutritious ingredients such as dark rye, wholemeal flour and even wheatgrass.
Fall/Winter 2014 Collection: Natural Yeast
Bread Society is pleased to unveil its Fall/Winter 2014 collection of natural yeast breads that embody the boulangerie's back-to-basics adage as these delicious hand-crafted loaves are made with natural yeast cultivated from fruits and paired with wholesome premium ingredients.
Prepared by the bakery team at Bread Society using a time-honoured method, the natural yeast is rendered by allowing carefully-selected fruits such as raisins and other fresh fruits; which have naturally-occurring yeast, to soak in water for a period of seven to 11 days. The resulting liquid is then mixed into the bread dough that undergoes another 16 hours of proofing; essential to enhance and impart a depth of flavour and distinct aroma to the final product.
Brimming with nutritious and delicious goodness, Bread Society's Fall/Winter 2014 natural yeast breads are available from 15 August 2014.
Whenever I pass by Bread Society, they never fail to wow me with their beautiful breads on the shelves and secretly wishing that they will open one outlet near me, so that I could grab a different bread everyday. :P
The breads look big and pretty aren't they? So big but my family & I took only 2 days to finish them all. So good!
There are 10 new breads in this collection, and all look and sound delicious! I am now going to feature 6 out of the 10 breads, CLOSE UP. :P
Spinach & Cheese S$5.90
My mum's favourite and surprisingly she is not a cheese person, she doesn't take cheese in any form, however she could not stop eating this. Everytime she had one of these, she will whatsapp me to say ''Wow the bread is super nice, I can't stop eating.''
A meal-in-one, this pretty flower-shaped bread is chockfull of smoked and cheddar cheese cubes (you can tell from the picture, generous amount of cheese cubes!) and fortified with iron-rich spinach.
Black Glutinous Rice Longan S$7.90
This inventive loaf offers a familiar comforting taste akin to the popular local dessert of 'pulot hitam' with the addition of black glutinous rice, while wine-soaked longan pieces add texture and sweetness.
When I held up the bread, i go ''wooowwwwww so heavy!''.
When I sliced the bread, i was like ''wowwwwww why so generous??''
I did not expect this, usually if any bakery states ''longan bread'', its just a few chunks of longans, but this is way too generous, totally in love with this. And I think there are huge chunkcs of walnuts too, the walnuts gave a crunch to the soft bread and longans.
The wine-soaked longans remind me of what my mum always cooked during CNY (Longan Red Dates Tea), I will scooped lots of longans into my cup.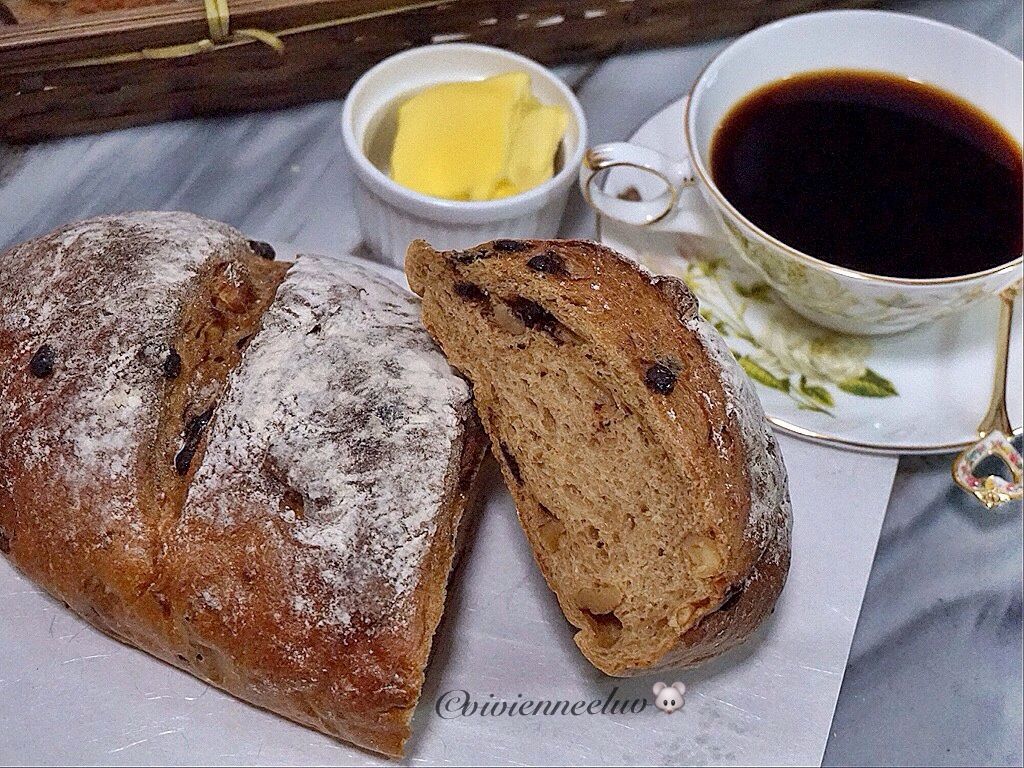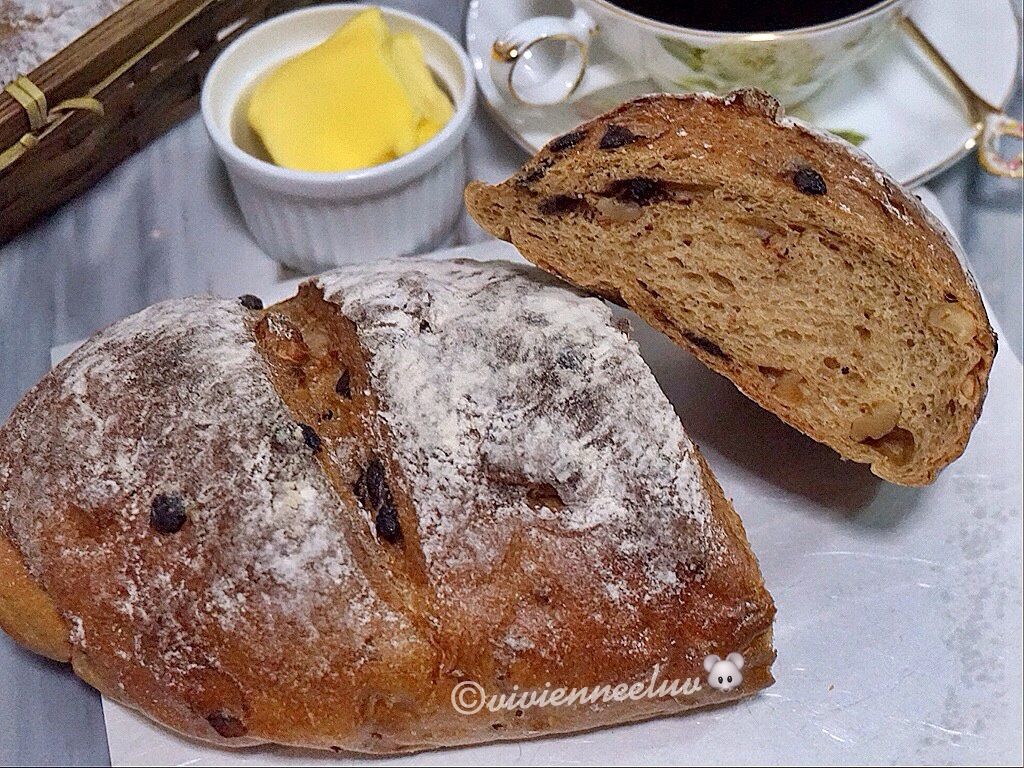 Walnut Coffee S$5.90
After slicing the bread, I took a whiff, awww smells heavenly, it showcases a bounty of walnuts, chocolate chips and roasted coffee powder, expect a burst of flavours when biting into one of these!
I guarantee you its filled with chocolate chips, as my mum needs to cut down on her sugar intake, so we are now very sensitive of the sweet stuff that she consumed, this is filled with so much chocolate chips that we forbidder her from eating.
Now I can get to eat more!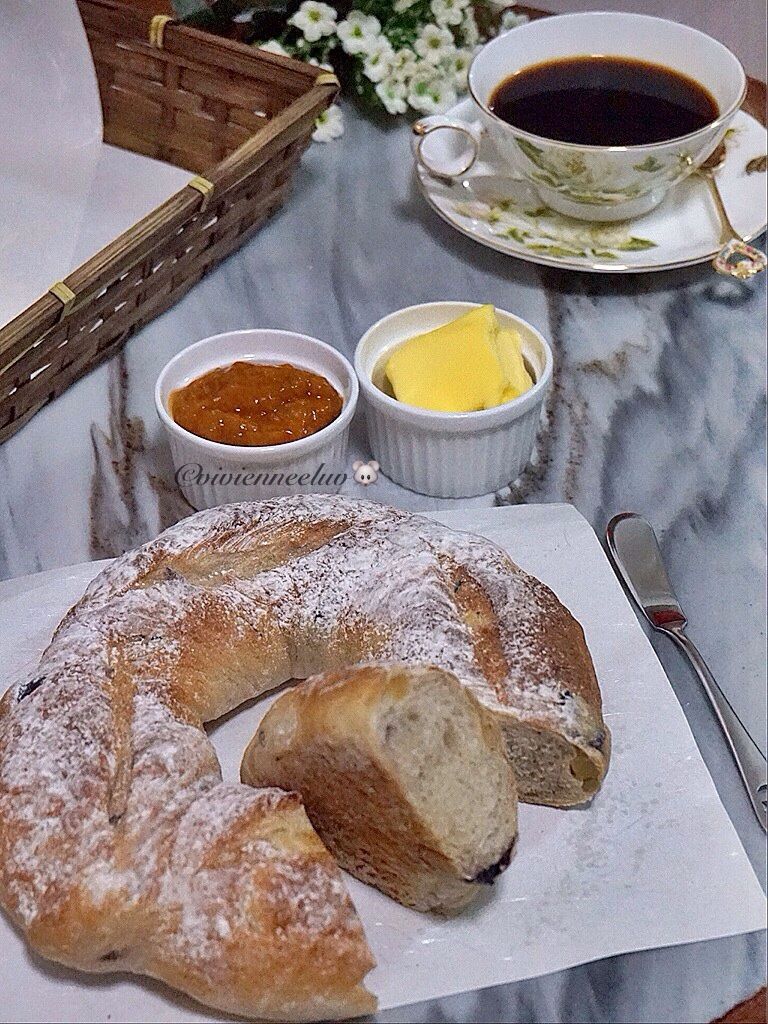 Pineapple Blueberry S$6.90
Featuring the powerhouse duo of fruits; this healthful bread ring consists of wine-soaked pineapples complemented by dried cranberries.
Double Chocolate S$4.90
Studded with a generous amount of chocolate chips, this dark beauty is also thoroughly infused with the rich aroma and flavour of quality chocolate. Chocolate never fails right?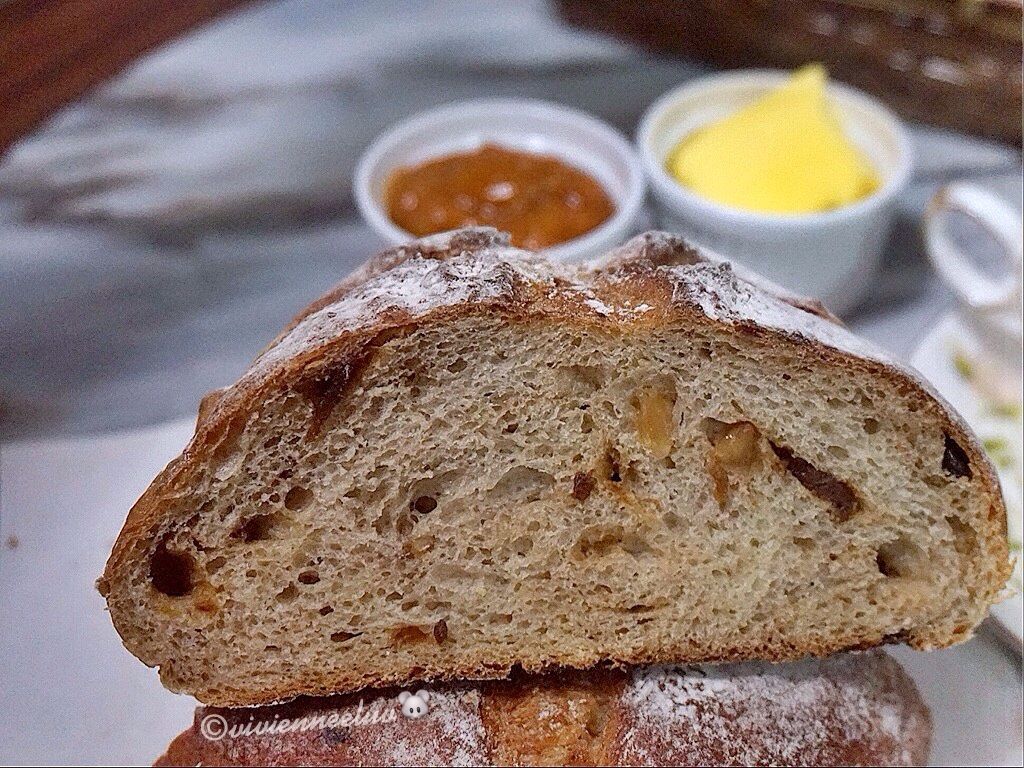 Brown Sugar Longan S$4.90
This rustic boule features moist wine-soaked longans; which are in vitamin C, in a hearty bread crafted with brown sugar which imparts a caramel note. This of course is not as ''wet'' as the Black Glutinous Rice Longan Bread, so you may spread a little butter or just eat plain!
These are the rest of the breads for the Fall/Winter 2014 Collection:
Mango Raisin S$4.90
Tasty on its own or with a touch of butter, this moist horn-shaped loaf is brimming with wine-soaked mango pieces and raisins in a moist bun.
Earl Grey Lychee S$5.90
Infused with the floral notes of Earl Grey tea, this unique offering also reveals crunchy pine nuts and juicy wine- soaked lychee.
Onion & Cheese S$5.90
Indulge in this savoury sensation filled with flavourful Cheddar and Dutch smoked cheeses, and accented with sweet onions – perfect as a prelude to a meal or accompaniment to a bowl of piping hot soup.
Orange Chocolate S$5.90
A well-loved combination, this chocolate chip and diced orange peel loaf is an excellent tea time treat best complemented with a cup of Joe.
I bet you are very tempted now! Go get them now at both outlets!
Thank you Bread Society for these awesome creations! Heading to Bread Society more often now, after trying all these breads!