Cafe Fest 2014
Address: The WaterFront Promenade (the nearest entrance to MBS is the one near Carnivore)
We had 2 VIP passes to the Cafe Fest 2014 and it is K's birthday, I thought it was quite a special experience because we don't get Cafe Fest here before so we went.
Here is a brief introduction before I start to write about my experience today.
Cafe Fest is organised in this way that they hand-picked 12 cafes to participate so that we can have 12 cafes in ONE place. Its quite a brilliant idea, I always think Singapore is too boring, we should have more weekends events/markets.
This event is open to everyone, it is a open area, anyone can pass by go come! However there are passes whereby you can purchase from as early as 2-3 months back. These passes are
Regular Passes S$20-25
and
VIP Passes S$30
.
You must be confused, why buy passes when its open to EVERYONE. READ BELOW which I extracted from their website.
From Cafe Fest Website
''Hang on. If the vent is opened to public, why do I need a pass?
Yup. Everyone's welcome at the festival but only festival pass holders can purchase F&B from the 12 cafés. Also, festival pass holders get to enjoy festival prices at the event. These prices for F&B can go as much as 25% off regular priced items at their cafés. Not to mention the awesome freebies that come with it. We're really helping you save and get the best out of this event.''
''How much are the passes?
Regular café hopping passes are $20 for early bird and $25 after that. VIP passes are $30. Either way, we promise you an amazing experience on both days!''
''What is this VIP area about?
First off, being a VIP is always amazing. The VIP area we're catering for is a sheltered tent where our VIP guests can get some shade from the sun. Trust us, with Singapore's weather, any shade would make a massive difference. VIPs can hang out in the VIP area and watch our live music acts while enjoying great food & beverage. The space in the VIP area is limited so we're operating on a first come, first served basis! We're very strict on who gets to enter so please ensure your friends and family coming with you are all VIPs, if not you'll be the only one in there and trust us, you'll have no second thoughts about leaving everyone behind! (: ''
http://mypaper.sg/lifestyle/have-day-out-coffee-20140804 - this is a write-up by My Paper, stating goodie bag worth S$100 and VIP priority queues.
Wow sounds pretty fun &
exciting! Lets get started!
I was expecting something like Savour but a smaller scale but I was wrong & greatly disappointed.
Registration booth! The crew in grey Cafe Fest tees at this booth are volunteers, so be nice to them.
We arrived at 10.10am, so the pictures you see here are not flooded with people. I came back to take a look at 2.30pm, WOWWWWW it was so so so so crowded, long queues are seen everywhere, and makes the whole place minimal walking space.
Anyway, the event starts at 10am, 1 of the volunteer was kind enough to inform us that most stalls are not ready yet, give them around 15 mins. It was fine with us, we don't expect them to be PERFECT since this is their first time anyway. 10am or 10.30am is fine.
By the way, there are Nu Smoothie welcome drinks but we were not told.
And I realised regular pass holders has a bottle of water in their goodie bags but not us :(
They will give you a stamp and goodie bag after you had registered. Remember to get your stamp as this is needed for the fabulous discounts & amazing experience that they claimed above.
Well, actually nothing to shout about. Appreciate the cloth bags, inside the bags are all ''papers'', basically pamphlets and Nets FlashPay card with S$0 value and of course a map of this Cafe Fest.
12 Cafes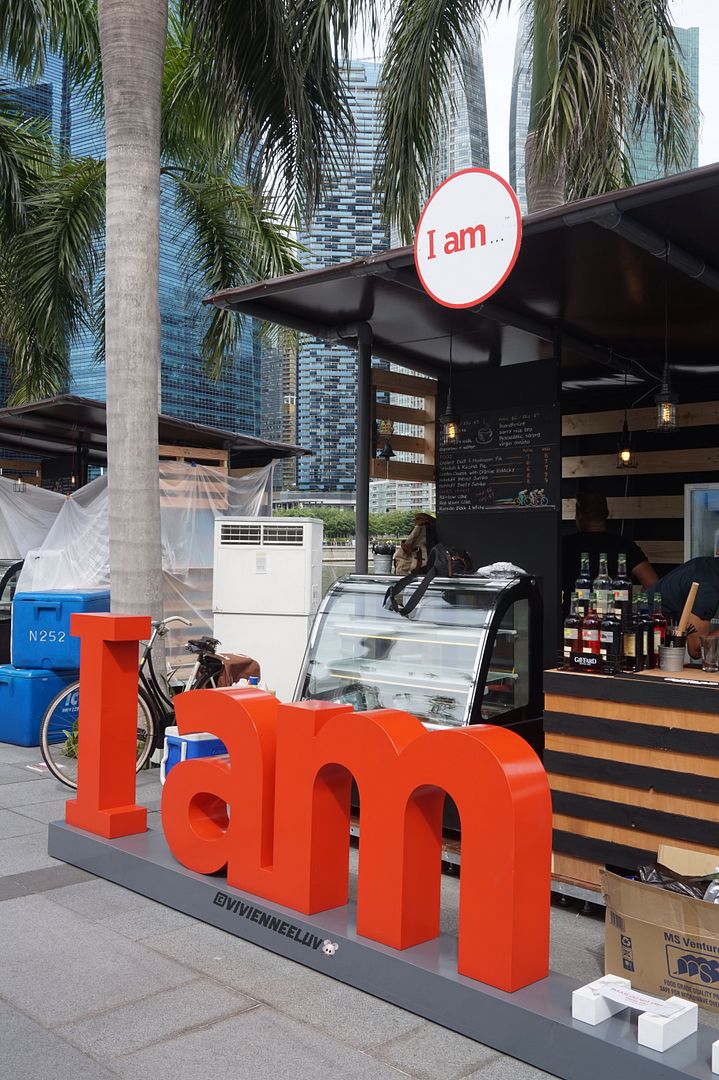 I am cafe.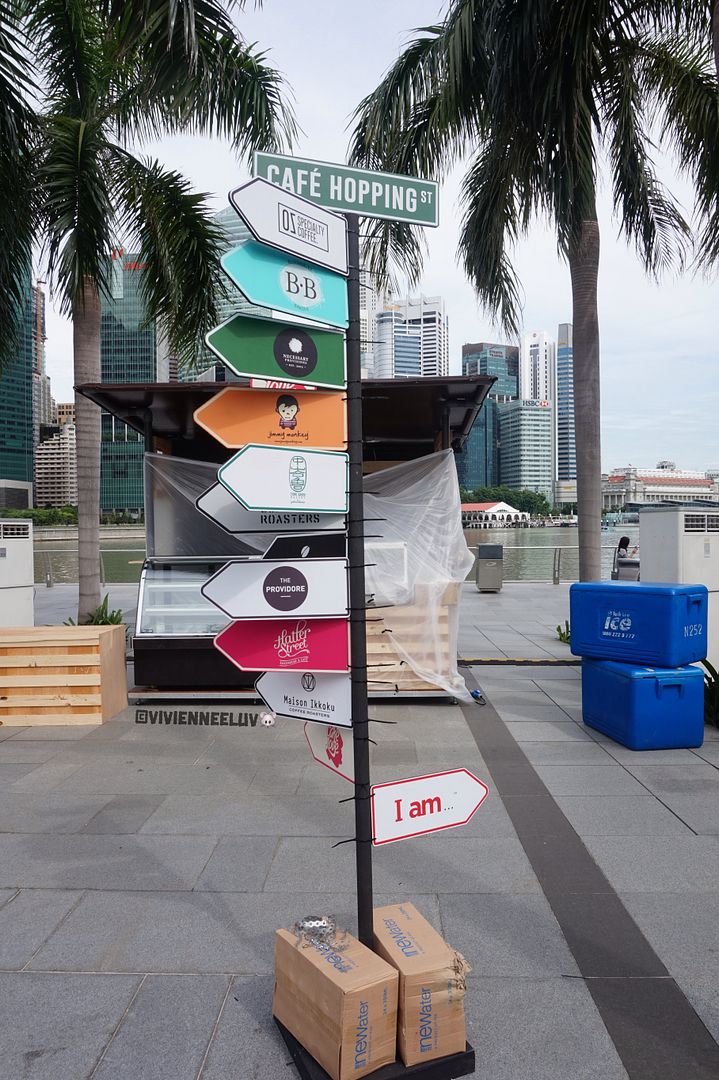 Cute signage!
Cake Love, not even open yet.
OZ Specialty Coffe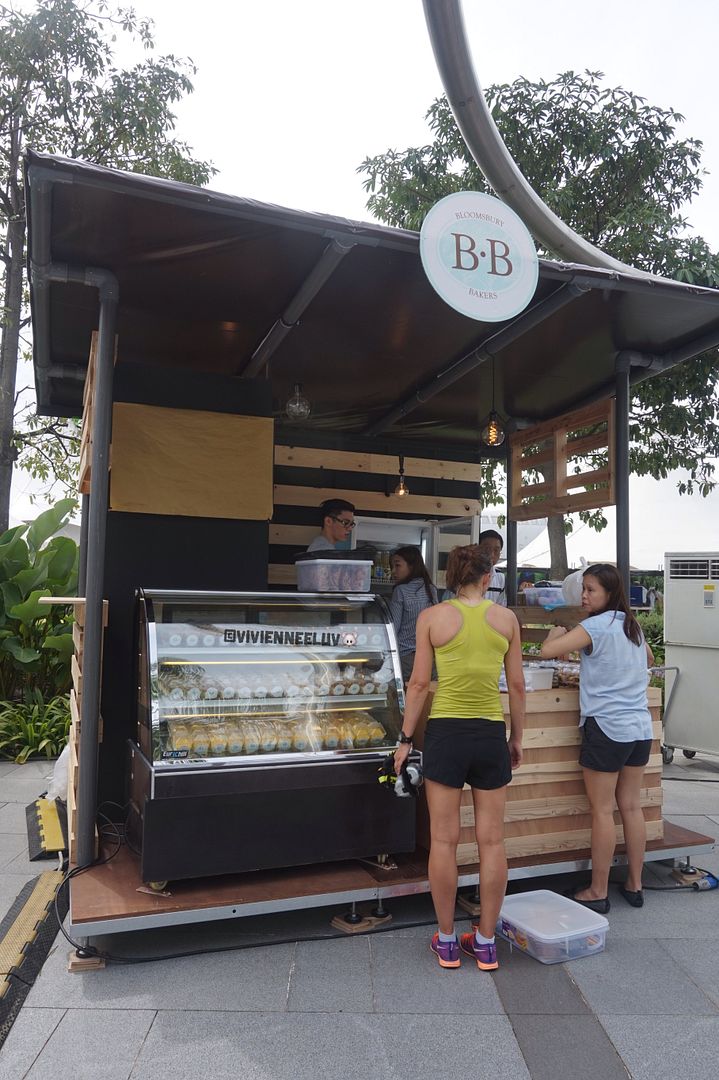 Bloomsbury Bakers
Maison Ikkoku
Necessary Provisions
Hatter Street - look at the poster on the left, it gets me all excited because I can finally try the waffles without heading to the cafe.
Jimmy Monkey
Toby's Estate
Tiong Bahru Bakery
The Providore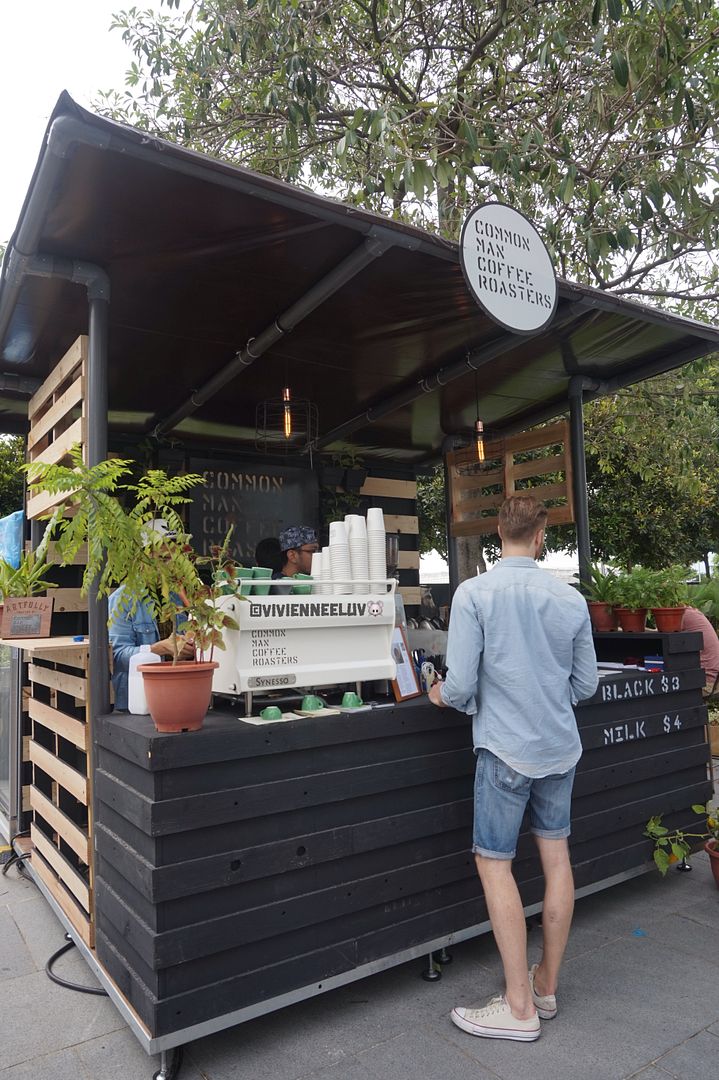 Common Man Coffee Roasters
VIP Area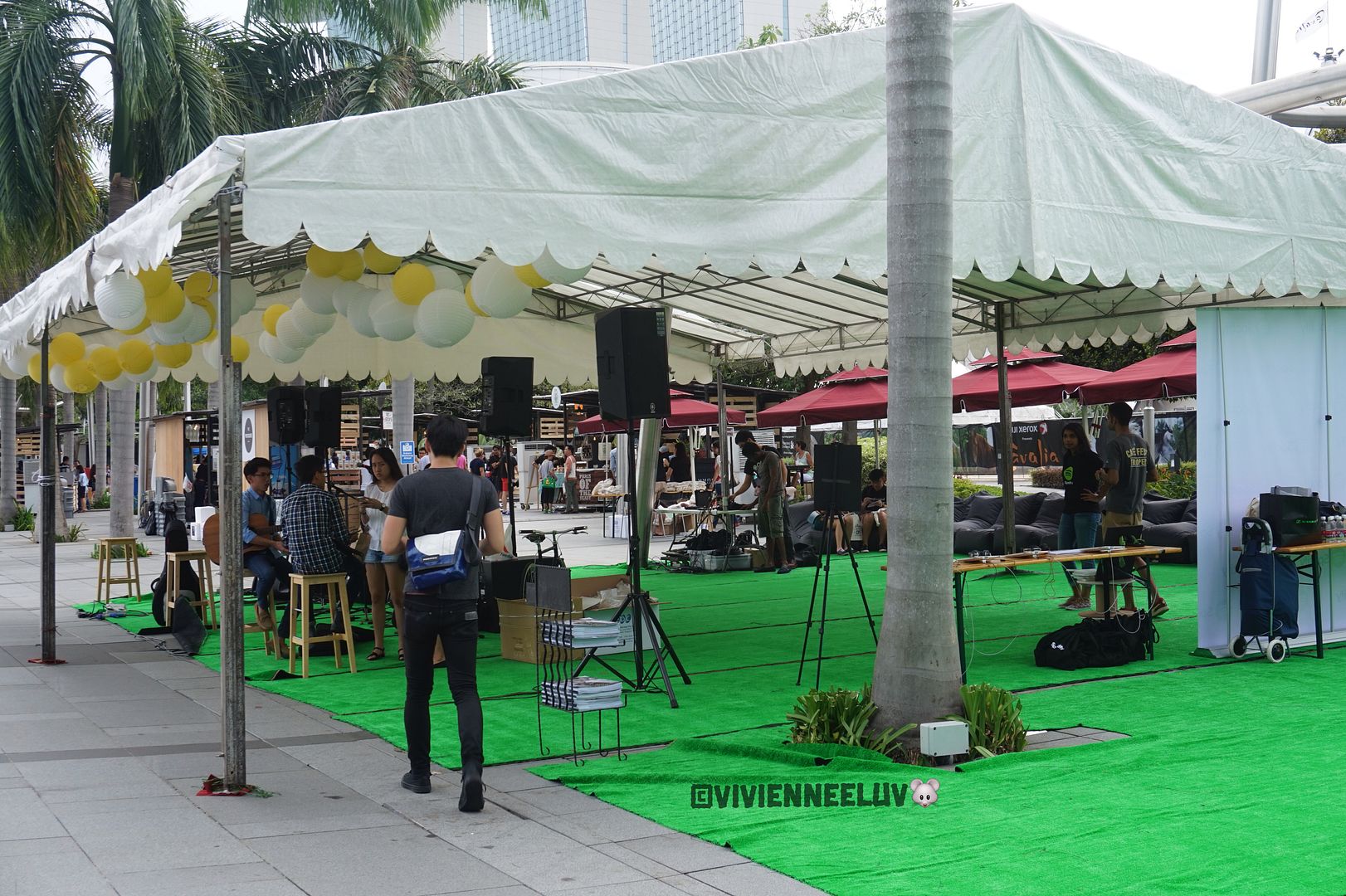 This tent here is the Live Band + VIP Seating area. I was starting to feel the disappointment.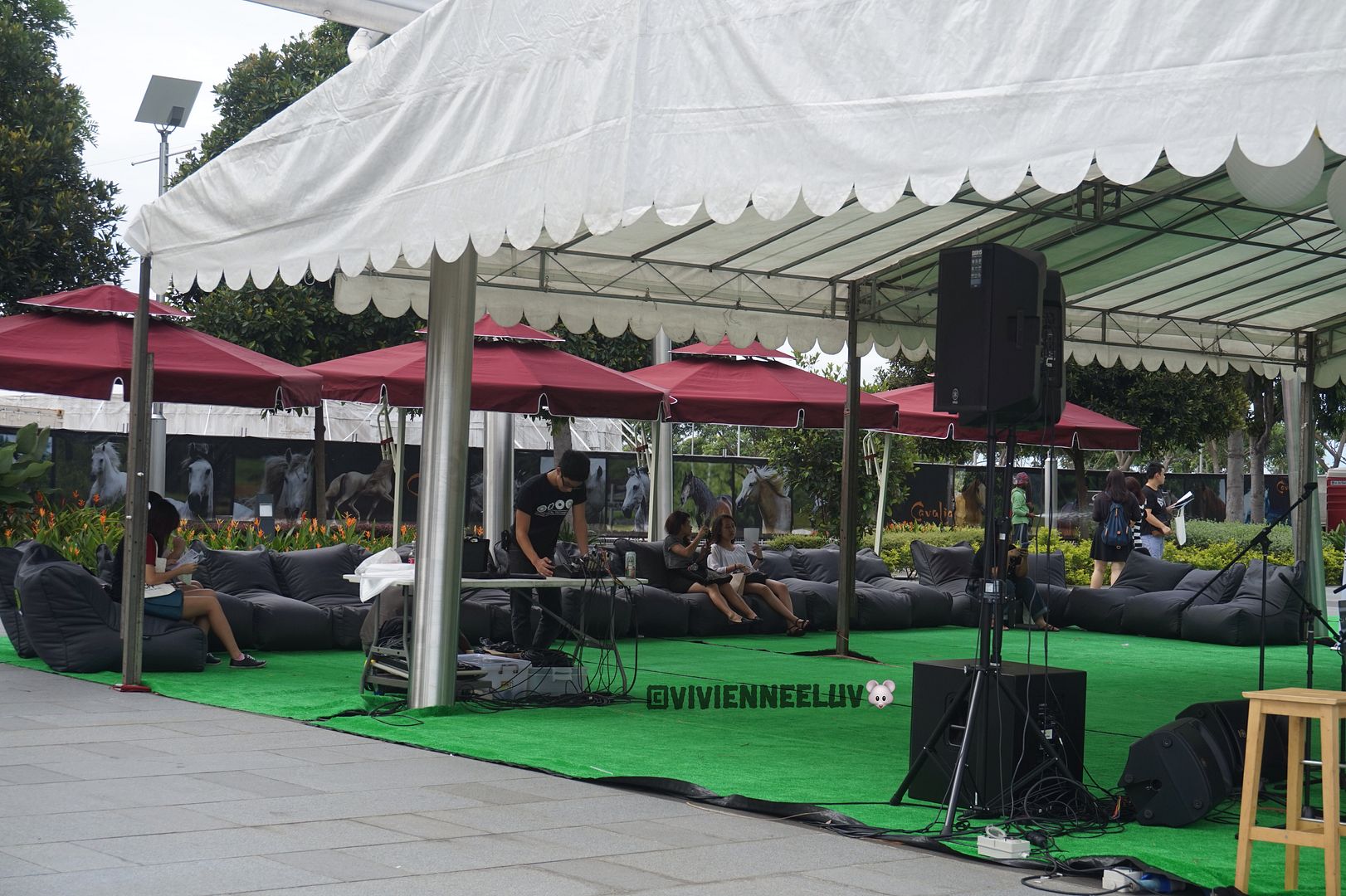 Maybe 20 beanbag chair-like in the VIP area, so VIPs, you all sit on the green grass patch ok.
Then we all realised, this VIP area is accessible by everyone & anyone. The public, the regular pass holders too. Why VIP pass holders were reminded if 1 in the group is VIP pass holder, the rest of the friends should buy VIP passes too because ''
trust us, you'll have no second thoughts about leaving everyone behind! (: ''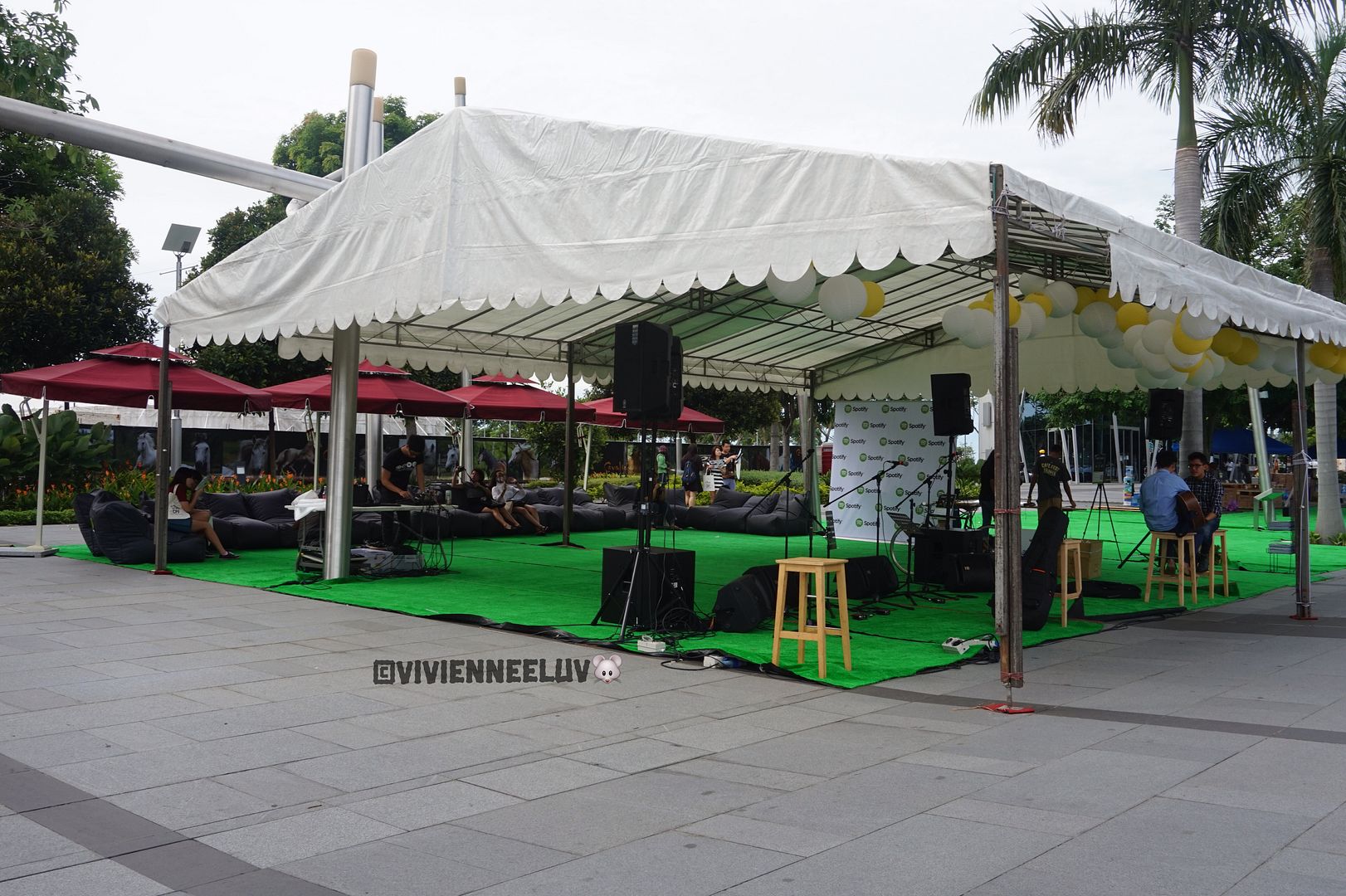 Even if there is a proper control, this VIP seating area is too open, so what is VIP or public. VIPs paid S$30 for nothing. FYI, VIPs don't have express queue, don't have any special seating areas. Go at your own risk.
Latest update from Cafe Fest's Facebook post because too many negative feedbacks & complaints on their Facebook:
''Taking your feedback in for tomorrow's festival, we will make the following changes:
- VIP express queues at certain cafés for VIP pass holders
- To create more value for our pass holders, we've decided to increase the prices for non-pass holders. That value will be at least $2 to $3 more than pass holders.
- Tighter management of access to VIP tentage
As some of you have attended Saturday's session and might not come for Sunday's, we are working out some form of compensation for you. Please drop us an email (cafefest.compensation@gmail.c
om) with your name and NRIC, which and how many passes by Sunday, September 13. We will consolidate and inform you about the compensation details.
We conceptualised this festival with the best of intentions, and we're extremely disappointed we fell short of your expectations. We know this may not put all of you at ease, but we do apologise and will continue to do our best to address all your concerns.''
Actually with this status update from Cafe Fest, I personally feel that they are trying to drive public (those without passes) away, telling them not to go for Sunday's session. They are increasing the price for PUBLIC. Meaning a coffee cost S$6 earlier on, and will cost at least S$7-8 on Sunday. So dear PUBLIC, if the increase of price is true, and you are in time to see this post, you may refer to the prices below for the food/drinks I had there.
The Food & Service
Our first stop is Tiong Bahru Bakery. Ordered:
Kouign Amann S$4 (pass holders)/ S$5 (public)
&
Chicken Hotdog with Pepper Vienna S$6 (pass holders) / S$7 (public)
1 staff packed the food for us, another collected money from me. Gave her a S$50 note, and received S$30. So I was charged S$20 instead of S$10. I went back to tell the staff and she returned me the S$10 apologetically.
Phew, got my money back hahah.
There are only 4 tables with benches around, we managed to grab seats, we opened up the bag and found ONLY A KOUIGN AMANN. By now K was fuming mad, actually I was too. We were sweating like mad already, plus the first cafe we went to, is … … Anyway, we went back to collect the Chicken Hotdog bun.
Well, anyway its K's birthday, I dont want to spoil it. I asked if he want to leave now, he said it was ok, just stay on and enjoy.
But frankly speaking, we both find that the Kouign Amann taste better here because it was heated up, and its fresh. Yums!
It was very very hot, so I saw that Necessary Provisions had this
Houjicha Cold Brew S$5.50 (pass holders) / S$6 (public)
.
Went to order, paid and waited for my drinks as there were 3 customers in front of me waiting for their coffee.
When it was my turn, I was told that they have not gotten their ice supply, can I just have the Houjicha, i said ok.
So what you see here is what I was served (just that I took 2 sips before I realised I should take a picture). Less than half a cup S$5.50.
So, this point of time, I was really quite mad.
Next is Bloomsbury Bakers.
Was attracted by their pretty & yummy-sounding desserts.
Banana Peanut Butter Cup S$5 (pass holder)
, I forgotten how much was it for public.
Was asked if I want this to be heated up, I said ok, it would be nice. 8 seconds later, i was told ''sorry our heating appliances are not ready yet.''
But it is very soft and nice even its not heated up. We enjoyed it!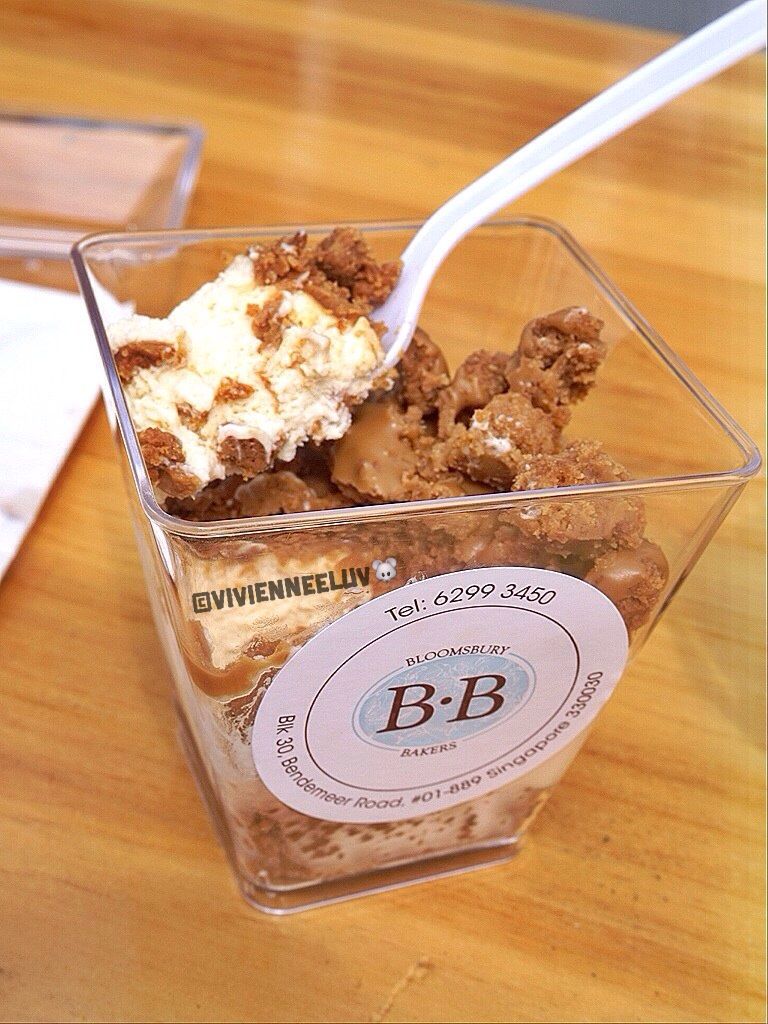 Speculoos Cheesecake S$5 (pass holder)
is really good too, however drink more water, as I sense a sore throat towards the end of the cup.
Hopped over to Hatter Street to want to order a waffle, was told that the organiser did not allow them to sell waffles here :((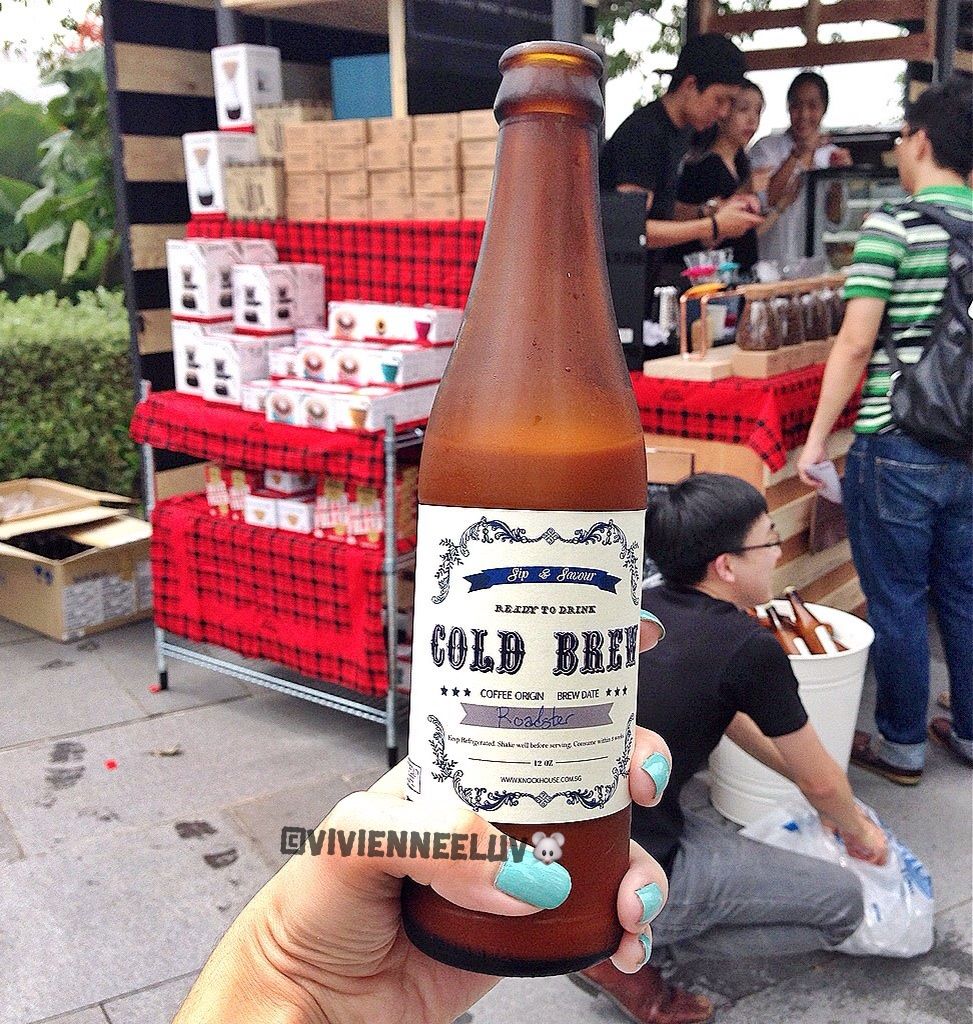 Lastly, OZ Specialty Coffee for a bottle of
Coffee with Milk Cold Brew S$4 (pass holder)
.
Coffee is the kind that I like! Grabbed the bottle and get out of there within 20 minutes. I was frankly disappointed. Very disappointed.
Its funny I hop lesser here compared to my other cafe hopping days.
Thank you to the organisers for the effort by putting everything together for this Cafe Fest. However as VIP pass holders, we expect something different if not why call VIP? VIP pass holders paid S$30 per pax for an amazing experience, however they don't expect the amazing experience to be like ''paid money for nothing'' experience. Nobody consider that as amazing.
Lastly, OOTD. All in a super good mood before heading out, but to come home feeling sad & disappointed.