Maki-San
Address:
11 Collyer Quay #01-12 The Arcade Singapore 049317 (Opens Mon-fri, close at 2pm on Sat, close on Sundays)
2 Handy Road #B1-17/18 The Cathay Singapore 229233 (opens daily)
For Delivery: 82184204 The Arcade
67378772 The Cathay
If you have not heard, Maki-San (the first Sushi DIY shop) opens at CBD in The Arcade! WOOHOO! Sad to say I am not working in the CBD, but I can feel the joy of the CBD people. DIY lunch, why not? Today, Chef Eric, the founder & Chef of Maki-San speak to us on his experience here and let us understand more on Maki-San. We are very very honoured.
Chef Eric is a chef from a very reputable hotel in Singapore, ok don't disclose too much. Anyway he shared with us his experience being a chef there. :D
Maki-San is Singapore's and Southeast Asia's first ever concept shop that lets you customise your own sushi and Japanese-Inspired salads.
Every part of your sushi roll and salad bowl can be designed to suit your taste buds - from the rice, wraps, meats - down to veggies and homemade sauces. DIY sushi and salads is that fuss-free!
And if you feel that its too tedious, simply choose from their selection of ready-made house specialities like
California Dreaming S$8.90
: California roll, with Kani Sticks, Avocado, Tamagoyaki, Asparagus, Carrots, Cucumbers, Tobiko covered in Mayo.
Keep On Shrimpin' S$9.90
: Tempura Ebi, Asparagus, Mixed Greens, Wasabi Mayo, rolled up in an unconventional sesame soy wrap.
Roast N' Roll S$8.90
: Shredded Chicken, rolled with Asparagus, Roasted Tomatoes, Grilled Zucchini and topped with BBQ Sauce.
When Maki-san opened 2 years back at the Cathay, I was so excited and pulled my colleagues to try! We already had our dinner but still shared a maki & salad. The ingredients are fresh and lots of varieties for us to choose from.
I am also a very visual person, so I love love love their sushi boxes, they are so pretty! Later I will show you. I see from Instagram, many people reuse the boxes as a pencil case, little storage box, or even cut out and make them into bookmarks!
And needless to say, the clean & simple furnishings in the shop, like a eat-and-go kind of quick and fulfilling mealtime you can have here.
Chef Eric in the picture! :X
However the outlet at The Arcade don't have any seating area, just a bar counter table that can stand maybe 4-5 person.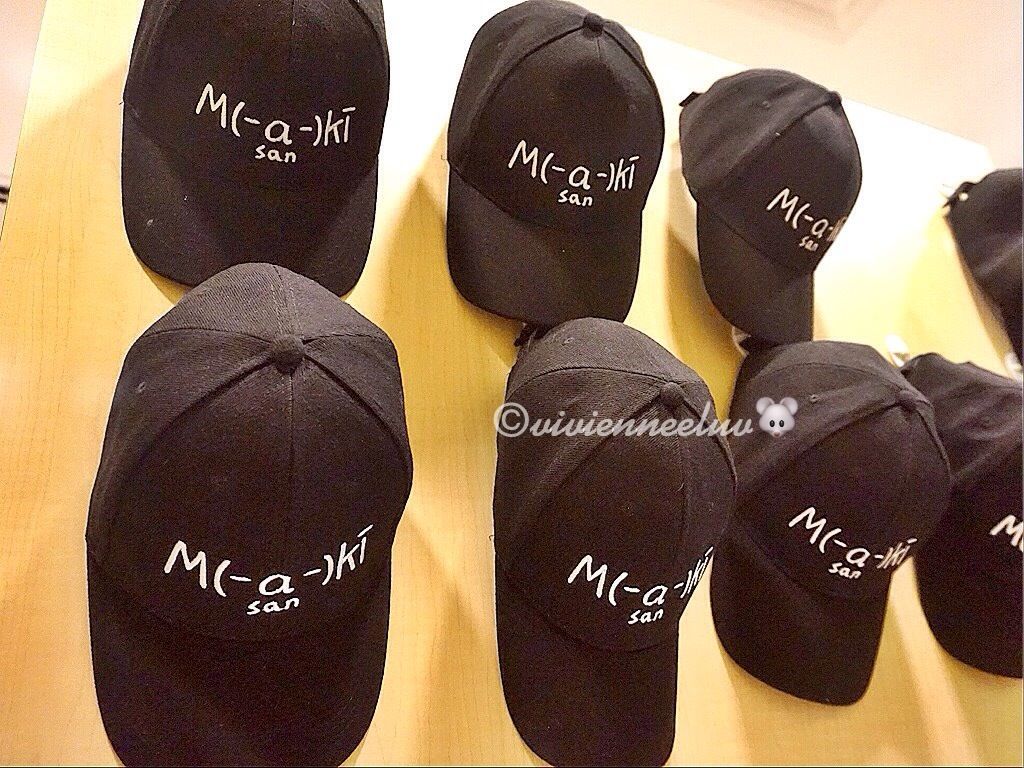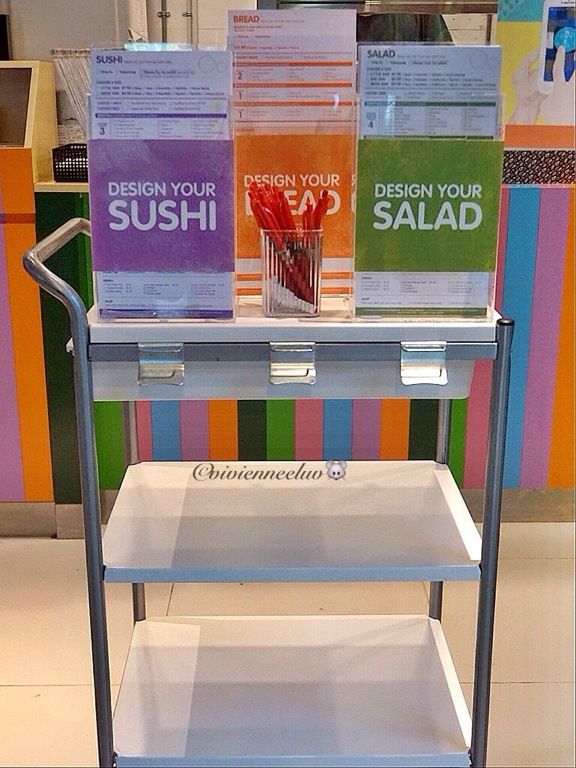 Only at The Arcade
Firstly pick up a form for either Sushi or Salad. For The Arcade outlet, there is also an additional ''Bread'' form!
So apart from DIY Sushi & Salads, Maki-San also sells Bread/Sandwiches, but only at The Arcade!
And and and, Chef Eric also tells us that he is going to have a grab & go kind of mini sizes maki and also a Yaki-BeeHoon (I would love love to try that!!) for morning rush hour! The word Yaki-BeeHoon already makes me salivate.
Maki-San is so good to CBD people, I told Chef Eric to open one near me! Anyway, they are also opening an outlet soon in London! *claps*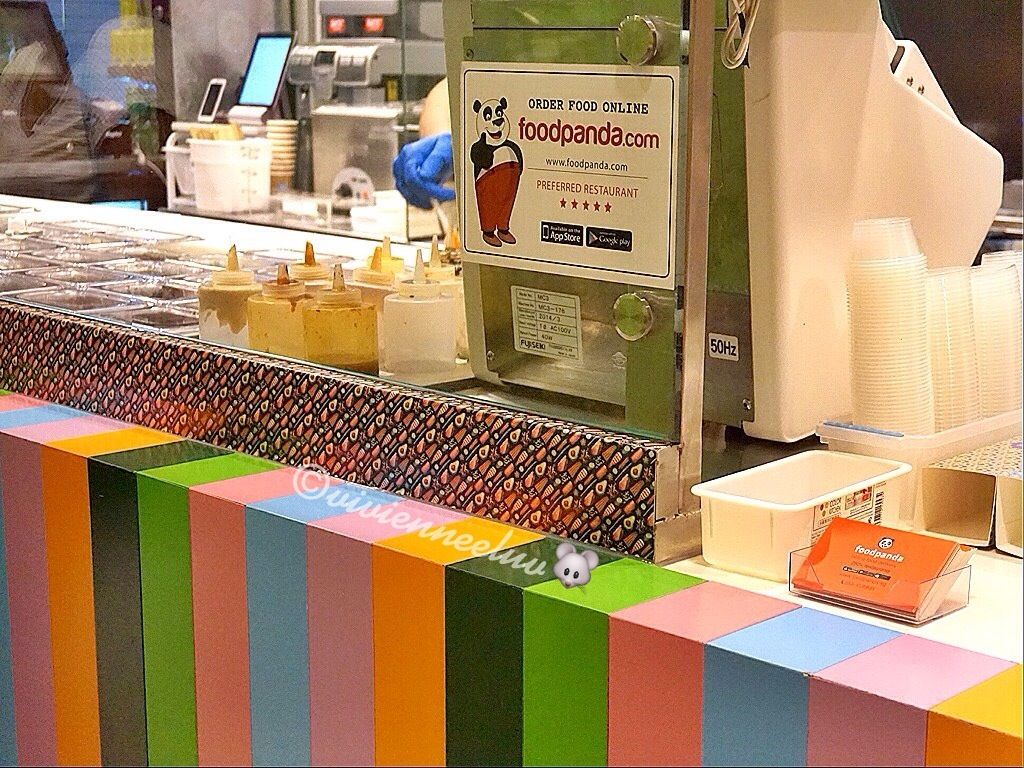 Maki-San now DELIVERS:
from The Arcade to:
Ocean Towers, Ocean Financial Centre, Clifford Centre, 16 Collyer Quay, Tung Centre, HSBC Building, Straits Trading Building, Singapore Land Tower, Chevron House, OUE Tower, OUE Bayfront, Equity Plaza, Republic Plaza, Republic Plaza II, Bharat Building, Malacca Centre, Royal Brothers Building, Bank of Singapore Centre, Sinsoy Building & One Raffles Place.
Contact us 8218 4204 to place your orders today!
from The Cathay to:
Cathay Residences, SMU, SOTA, POMO,
Peace Centre, Sunshine Plaza, Lasalle, NAFA, Wilkie's Edge, Rendezvous Hotel, Park Mall, MacDonald House, Plaza Singapura, YMCA, Concorde Hotel, Manu Life building.
Min Spend: $50
Delivery Hours: 12pm - 9pm
Contact us 67378772 to place your orders today!
Did not see your location above, order via food panda.sg!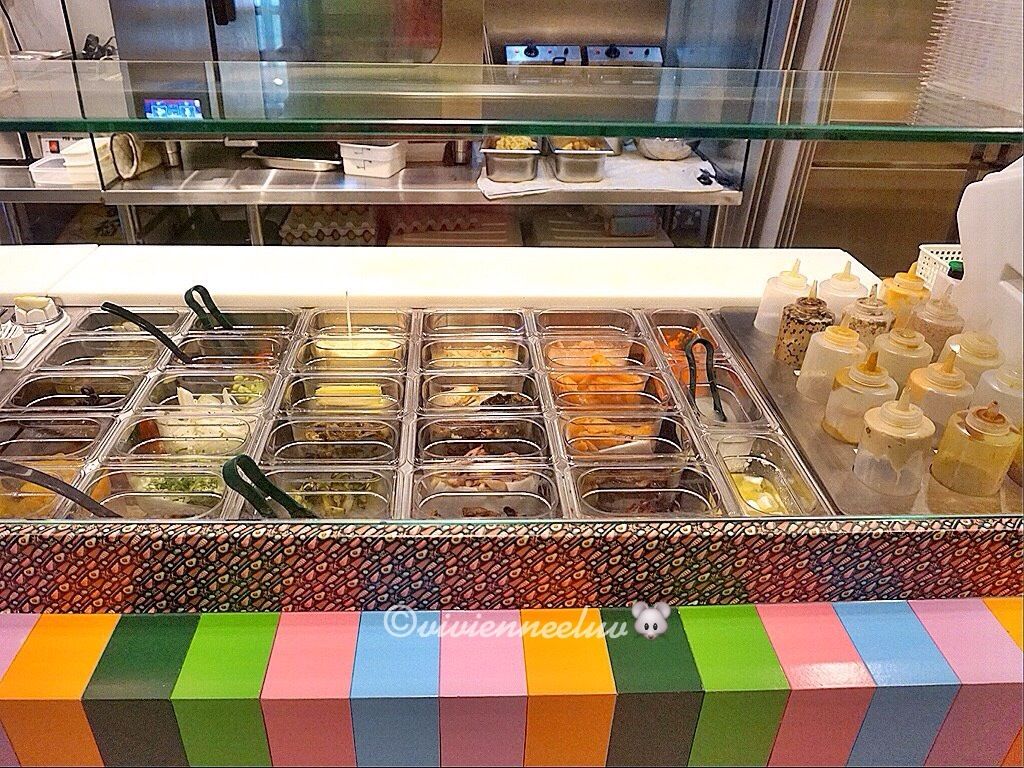 Maki-San has a large spread of raw & grilled items, freshly prepared or sourced. Western, Japanese and local flavours - all coming together for a fun, flavourful mix.
They also use unique ingredients like brown rice for sushi and glass noodles for salad base.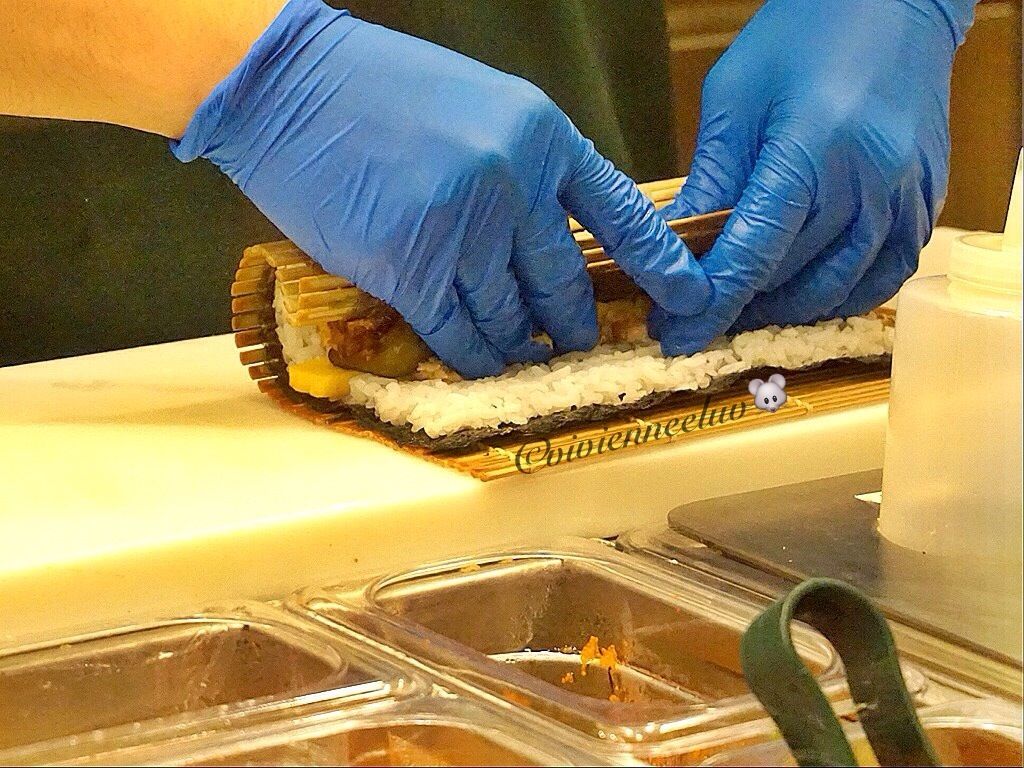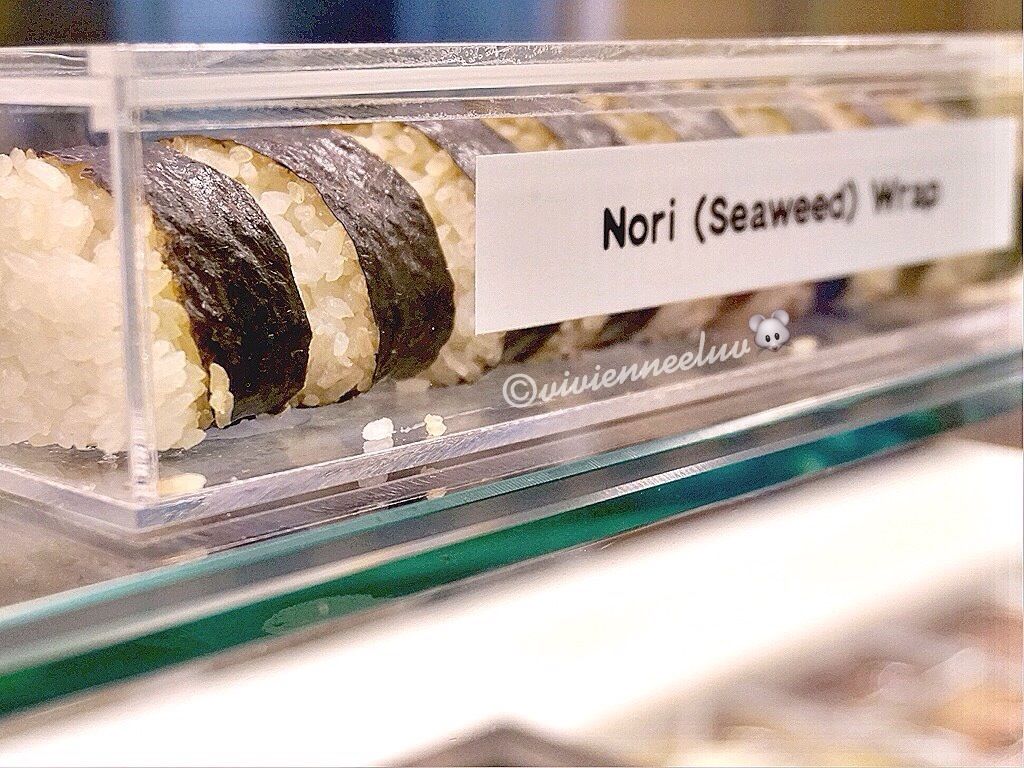 The usual
seaweed wrap
.
If you want a healthier version, you can choose the
soy wrap
instead.
We are ready to place our orders!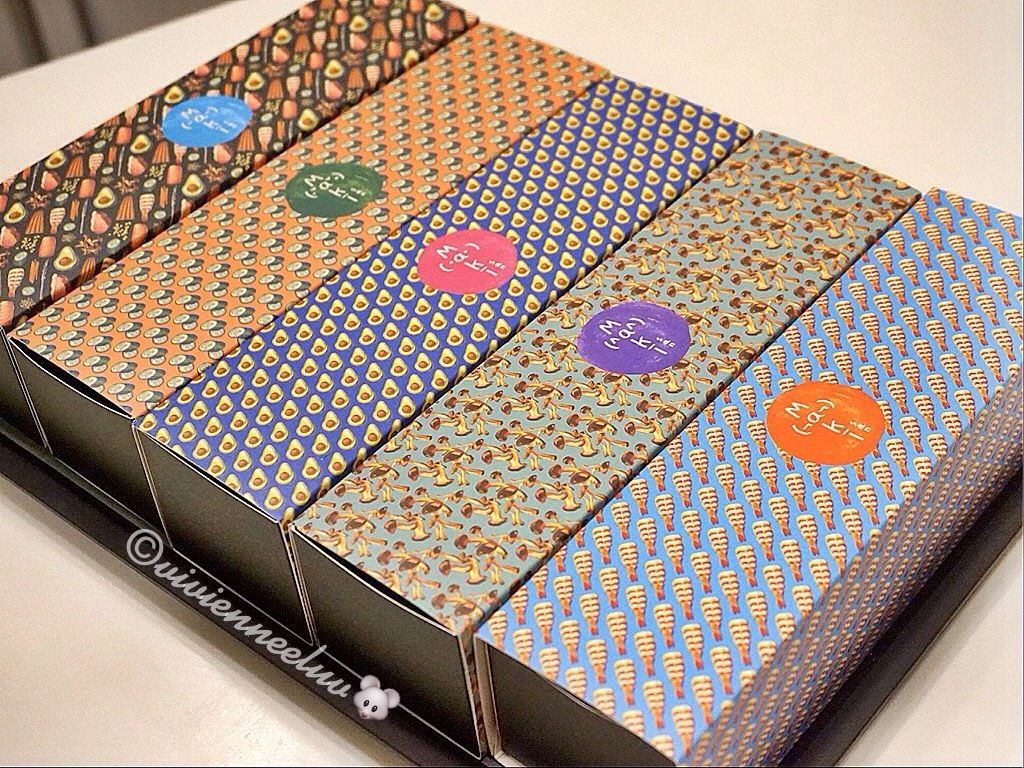 Had always love the beautiful boxes!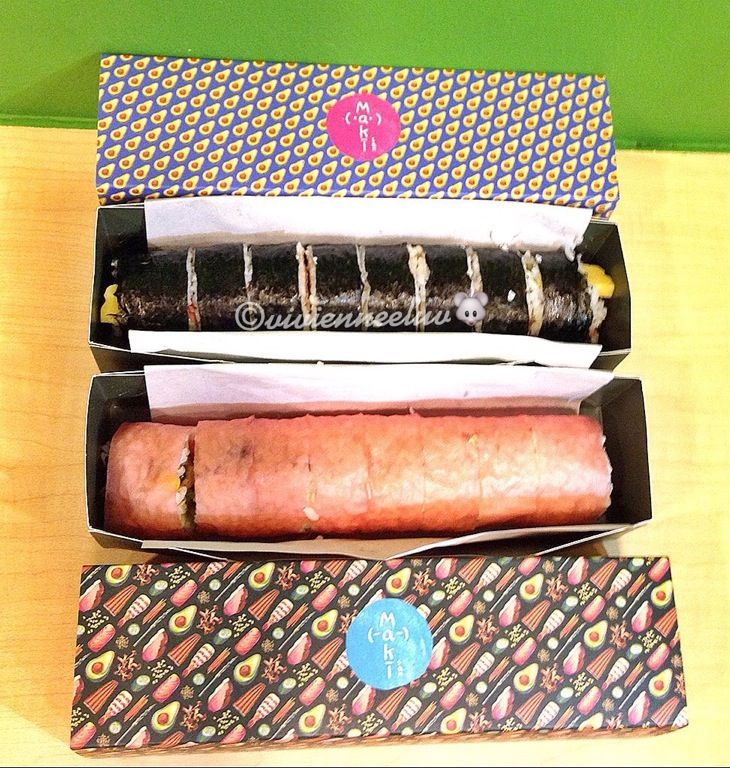 A peek into our boxes. Teehee! I can have pink sushi roll!
Our
Mega Sans
.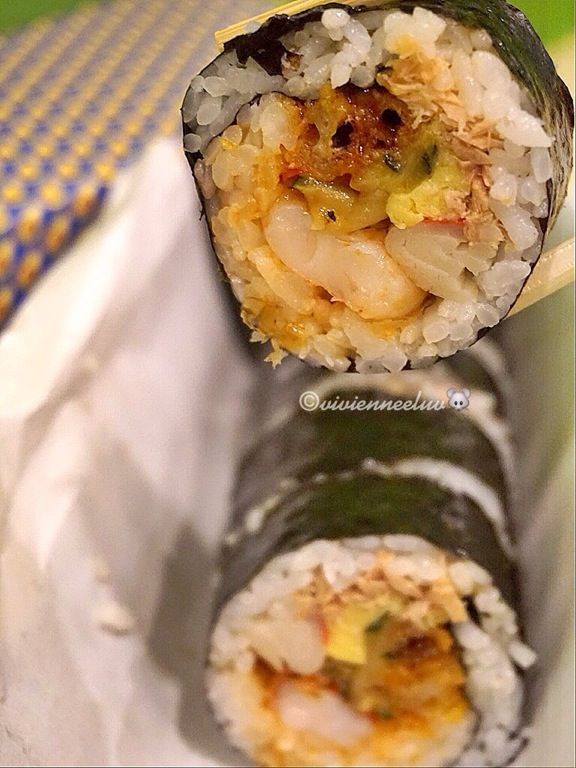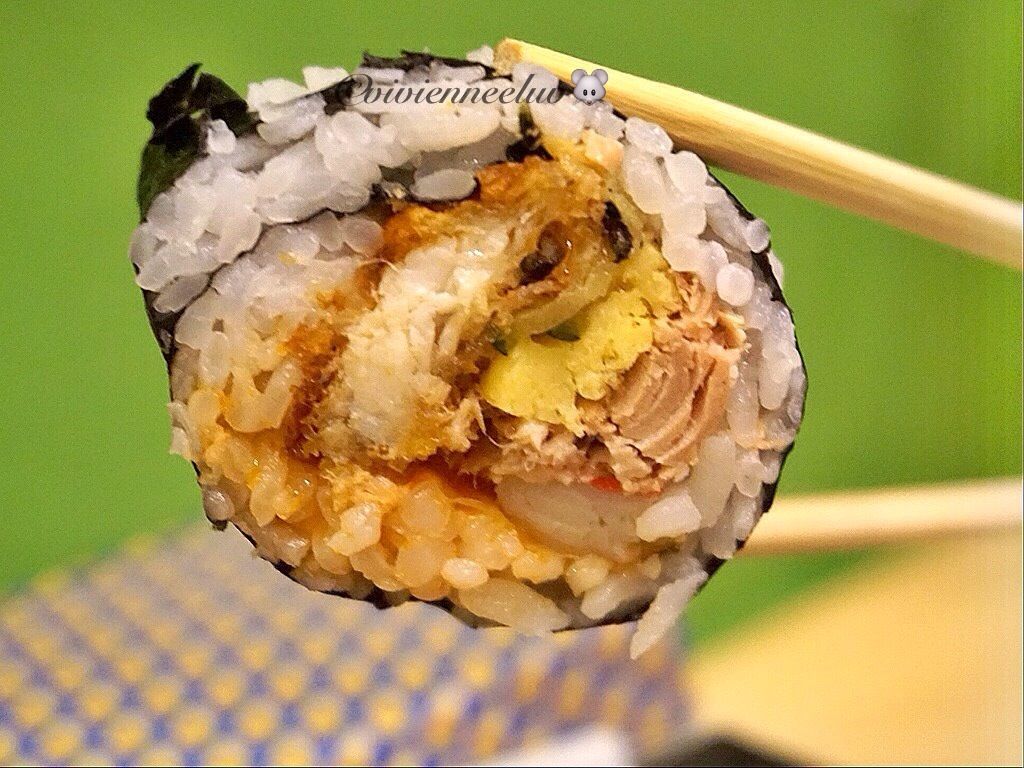 Introducing this creation of K's. I forgotten what are the ingredients except the tempura soft shell crab and chili crab sauce!!
You have to try the refreshing chili crab sauce, it is way too good! By the way, all the sauces are house made! The chill crab sauce is actually a monthly special. It receives good response so Maki-San decided to continue the sauce for a month.
Mega San S$9.90
: 1 wrap, 1 rice, 5 essentials, 1 special, 1 sprinkle and 1 house sauce.
Sounds like a good deal, creating your own sushi by choosing from a huge variety of ingredients!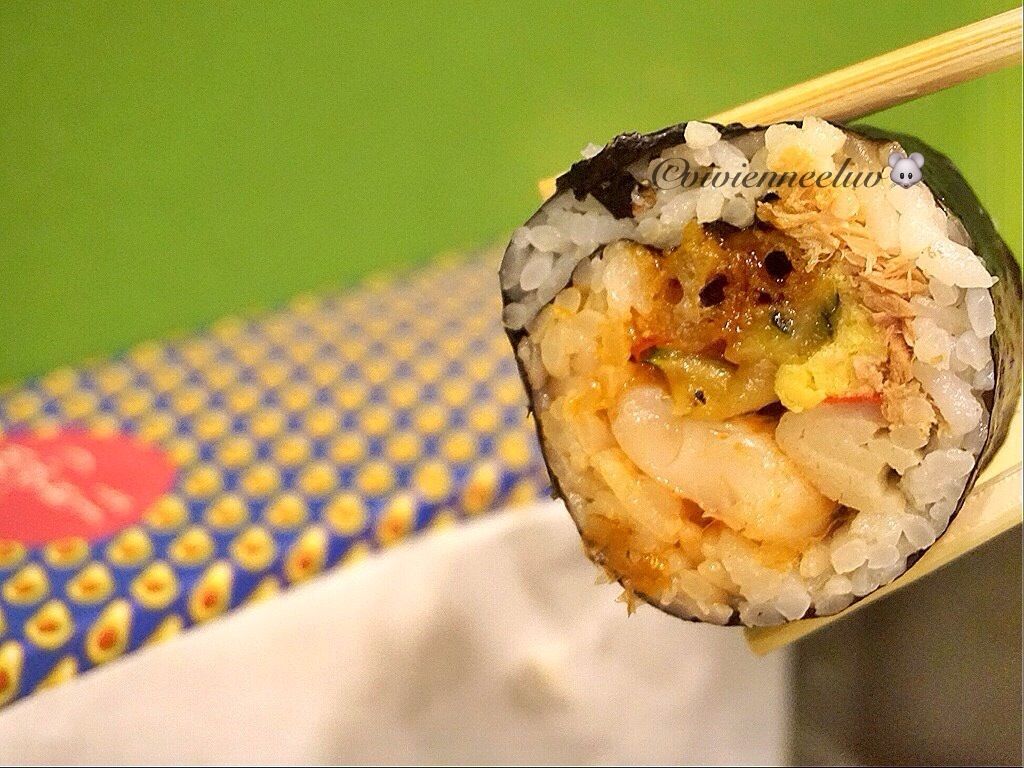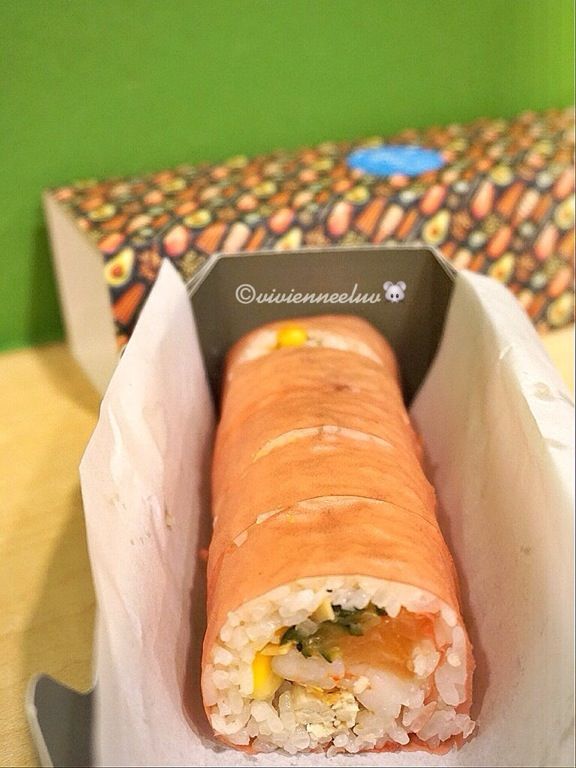 And this is my creation!
If you think that Mega San is too mega for you, you may choose Little San.
Little San S$6.90
: 1 wrap, 1 rice, 3 essentials, 1 sprinkle, 1 house sauce.
If you are expecting half the quantity, you are wrong, the maki is still a full size maki, just that it is reduced by 2 essentials and 1 special ingredient. So I always of for the Mega San instead. Love biting into a packed with different ingredients maki.
Apart from white rice, you can opt for Healthy Brown Rice and top up S$1 for Healthy Soy wrap.
You must be curious why is the my maki pink in colour. Because this is the Healthy Soy Wrap!
Chef Eric said that they will have different colours Healthy Soy Wrap for a period, depending on supplier. They have pink, yellow, green etc.
Not to worry, these colours are not colourings, they are actually natural ingredients like from vegetables.
My pink maki is actually from a radish that is pink/reddish in colour. The green soy wrap will be the greenish colour from spinach. How cool is that huh!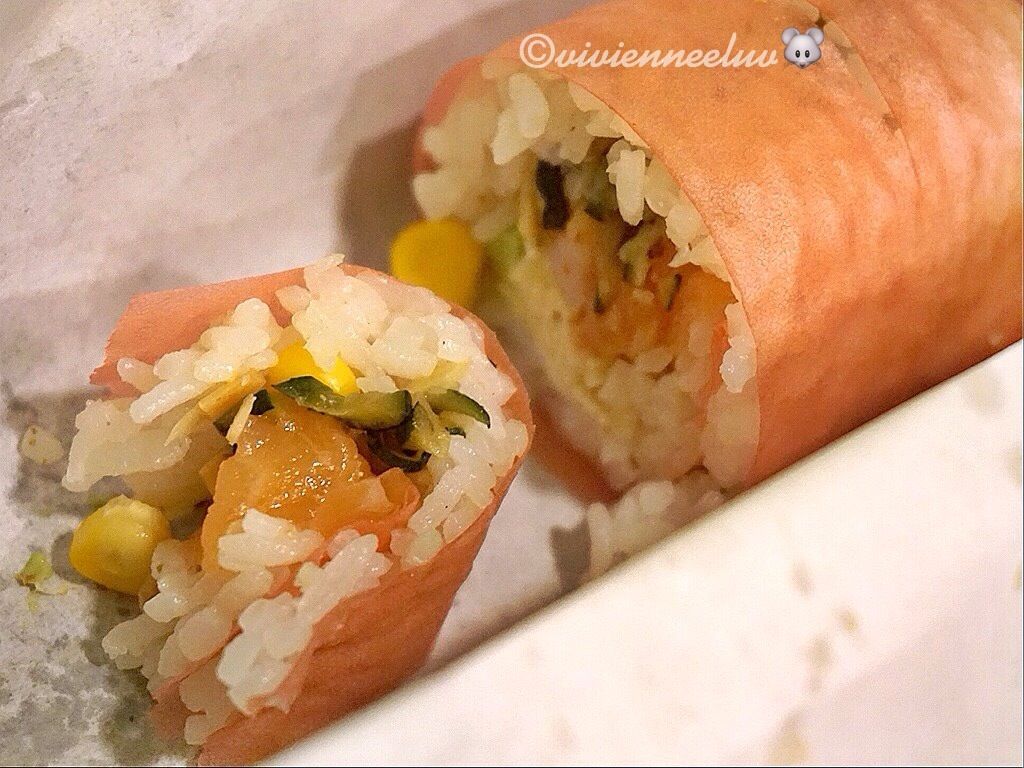 Verdict of the Healthy Soy Wrap, some hits and misses.
It lacks the seaweed taste, for seaweed lovers like me, you will find it disappointing to bite into the tasteless soy wrap with your DIY maki.
I had come across people who hates seaweeds, so this is the best for them, we seldom see sushi/maki with other kind of wraps except seaweed.
And for people who cannot really bite (like me, it gets worse with age), I had problems biting my seaweed, I will usually dig out the rice and ingredients, eat them up, before eating the seaweed on its own. So you can see form the picture above, I can bite my maki into half, without any problem!
These are some daily special deals I saw at The Arcade.
Promotions
1) As this is Maki-San's birthday month, spend S$20 and above to get
tokens to the Gashapons
! The capsules are full of surprises, you have to give it a try! Sorry, I can't help but drop you little hints to tempt you, the capsules are filled with vouchers, badges, stickers & earphones!
2) Maki-San has a new tray liners created just for their 2nd birthday, *hint: purplish colour in stead of the usual green*. Place you sushi creatively on their special ray liners, upload to instagram and hashtag #makibday, you could
win a meal for 2 at Maki-San
! Contest ends 15th September 2014.
3) Did you know Maki-San has a pre-order app in App Store? Download now & try it out! Get a
20% off
your orders when you order in advance and collect when its ready. Applicable to both outlets at The Arcade and The Cathay. For a limited time only.
Lastly, Chef Eric made us a Fruit Maki!! Not on sale, but I decided to post it as Chef Eric is so kind to make us this really special maki! It consists of peaches, dried cranberries, and it gave a refreshing taste. A good change from the usual!
Thank you Maki-San for having us and Chef Eric for being such a good host!