Seasons Bistro
Address: 111 Somerset Road #01-11/12 Singapore 238164
Tel: +65 68365841
Opening Hours: 10am to 10.30pm Daily
Pardon me, I took a long time to post this. :P
Can't wait to show you the yummy food I had here at Seasons Bistro!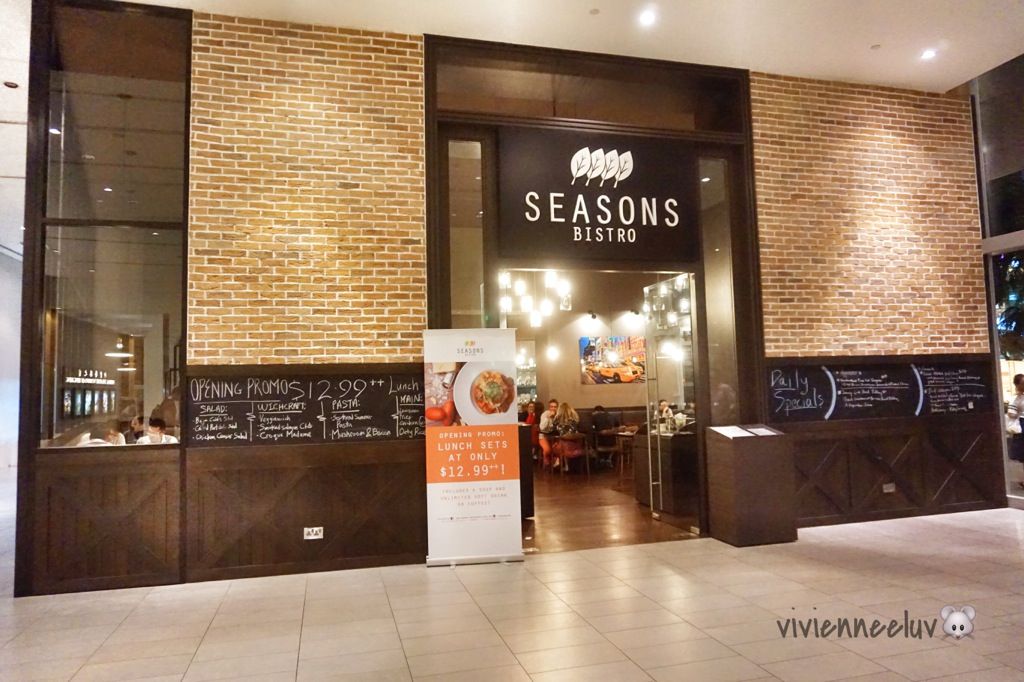 Initially there was a little bit of hiccups here and there, no drinks menu were presented to us, nonetheless everything turned out fine and taken care of. Many thanks to the friendly boss, Thomas! I need to go back for their brunch, must find time to go back soon!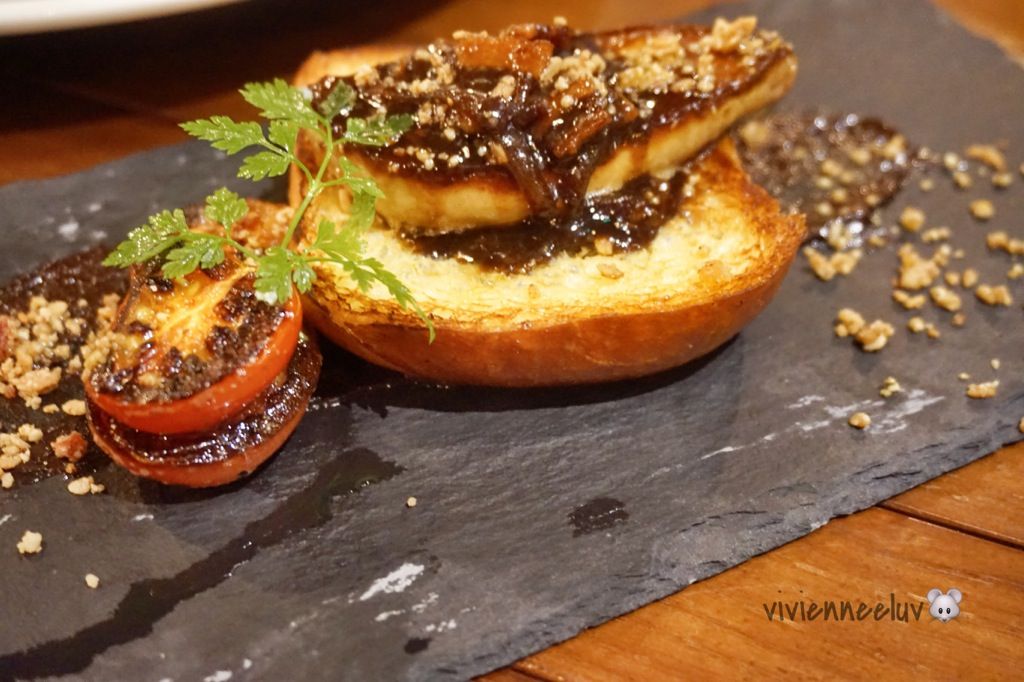 Starters -
Pan Seared Foie Gras S$16
No, its not a dessert. WHY DESSERT?
See whats in this awesome dish! Pain de mie, chocolate ganache, bacon jam, caramelised bananas and granola crumbs. Nice & special!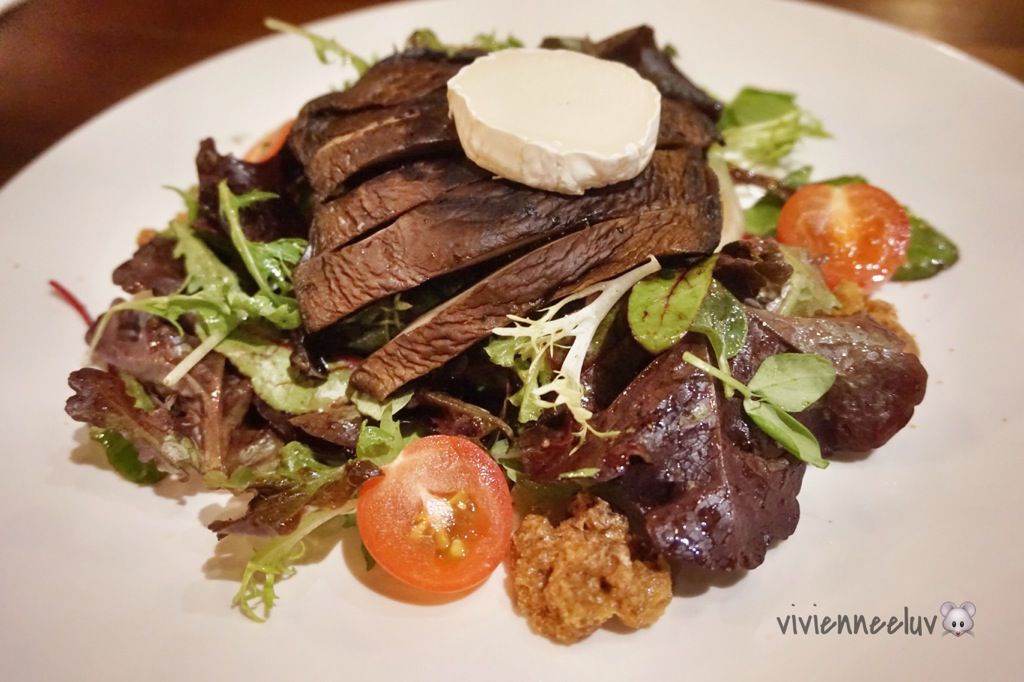 Salad -
Grilled Portobello Salad S$16
St Maure Terroir, tomatoes, beans, candied walnuts, pickled onions, bacon crisp and red wine vinaigrette. We love the candied walnuts, they added a pleasant sweet crunch to the salad.
Thomas offered us
Innocent Bystander Moscato S$35/S$65
.
Girlfriend & I love this!!
Mains -
Seared Albacore Tuna S$26
is when East meets West, consisting asian pear, avocado, jicama, watermelon with chipotle mojo and salsa verde.
Medium well was perfect and the girlfriend loves this so much!
I chose Mains -
Surf & Turf Gumbo S$27
.
A warm plate of soul food goodness. Wait till you see whats inside, shrimp, chicken, sausage, okra tomato stew with dirty rice, pickled onion, cilantro, chow chow relish & french bean salad.
If you catch the words ''dirty rice''. I bet you are as curious as me, its a traditional cajun dish made form white rice which gets a ''dirty'' colour from being cooked with cayenne pepper, veggies and bits of sausage. If you love this so much, good news, Dirty Rice is one of the side dishes that you can order.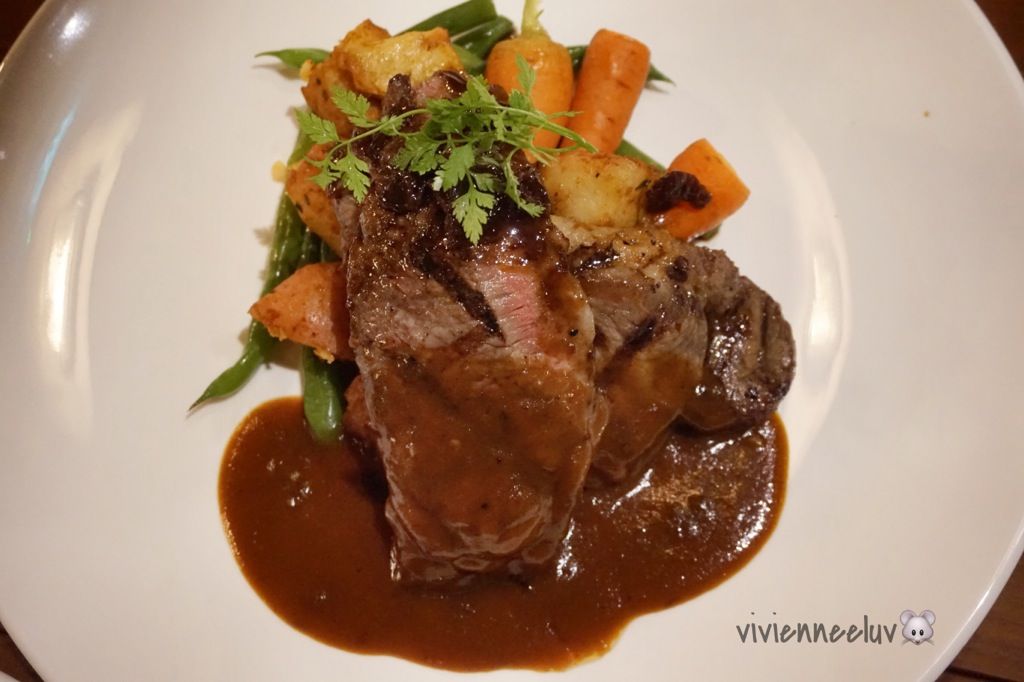 200gm Harris Ranch Angus Striploin S$32
is char grilled USDA striploin, roasted thyme potatoes, beans, homemade beef jus and bacon marmalade.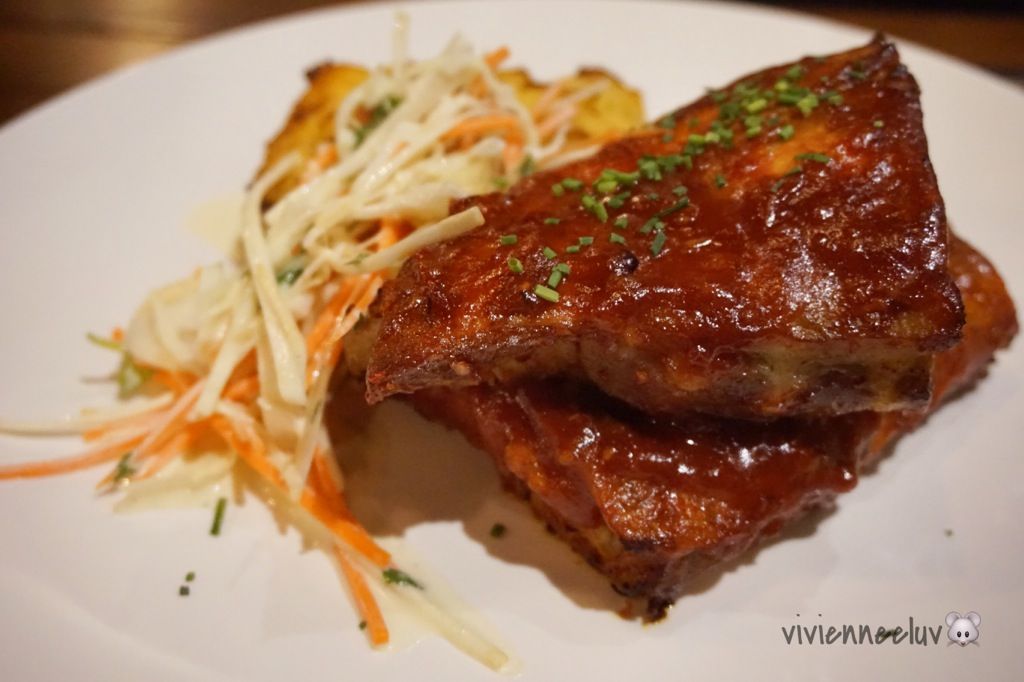 Mains -
St Louis Styled BBQ Pork Ribs S$28
Slow roasted spare ribs with stuffed baked potato, BBQ Sauce and summer coleslaw. We find this too tough for our liking.
Then Thomas came and said he will get the kitchen to prepare something special for us…
Here comes the Mains -
Beef Wellington S$29
, brand beef all natal family reserve flat iron wrapped with parma ham, st maure terroir goat cheese and sundered tomatoes, served with summer veggies and homemade jus.
I am so so happy that they got this into their menu now because it is so good, you got to try it yourself.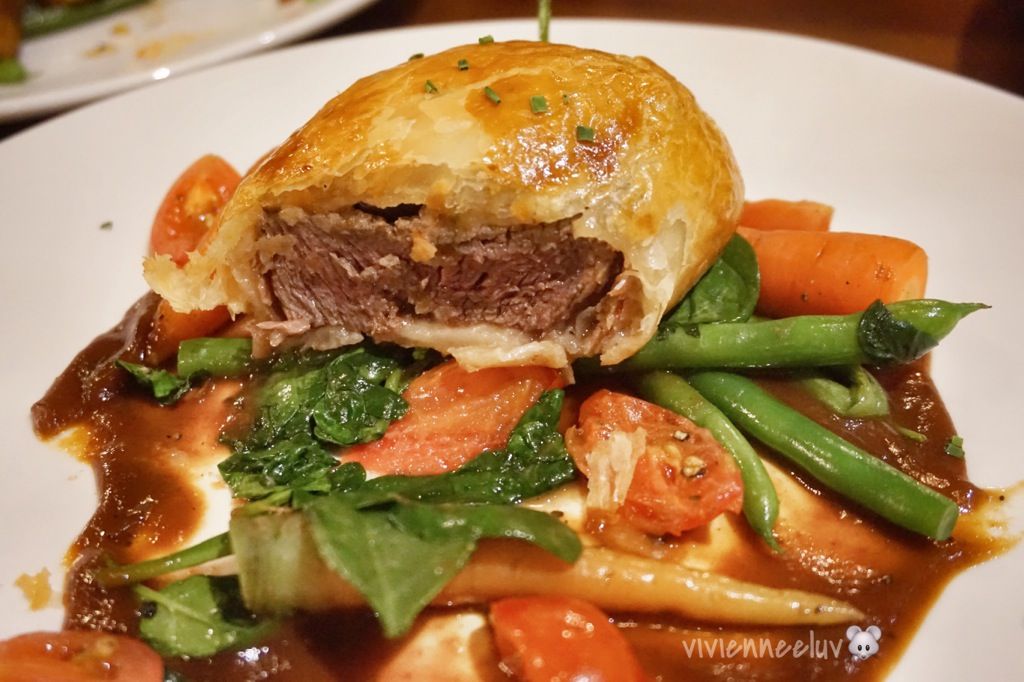 Resting on a bed of beef gravy and summer veggies, this piece of beef looking really tempting.
Another special dish that Thomas got his kitchen to prepare.
Savoury Crab Bread Pudding S$16
- baked Sri Lanka crab meat with horseradish creme.
This is so soft & fluffy and with generous serving of crab meat. WOWWWW.
I actually have a
Season's Poutine S$10
which is fries with homemade gravy & cheese and
Season's Hot Wings S$12
served with blue dip, mango & Passion fruit catsup and veggie crudités. But I lost the pictures BOOHOO!
You may go to #princessviviluvseasonsbistro in Instagram to view the picture (haha sorry, very ''helpful'')
Anyway, the fries & hot wings were so good, we could not stop munching although 4 of us were so stuffed with all the food.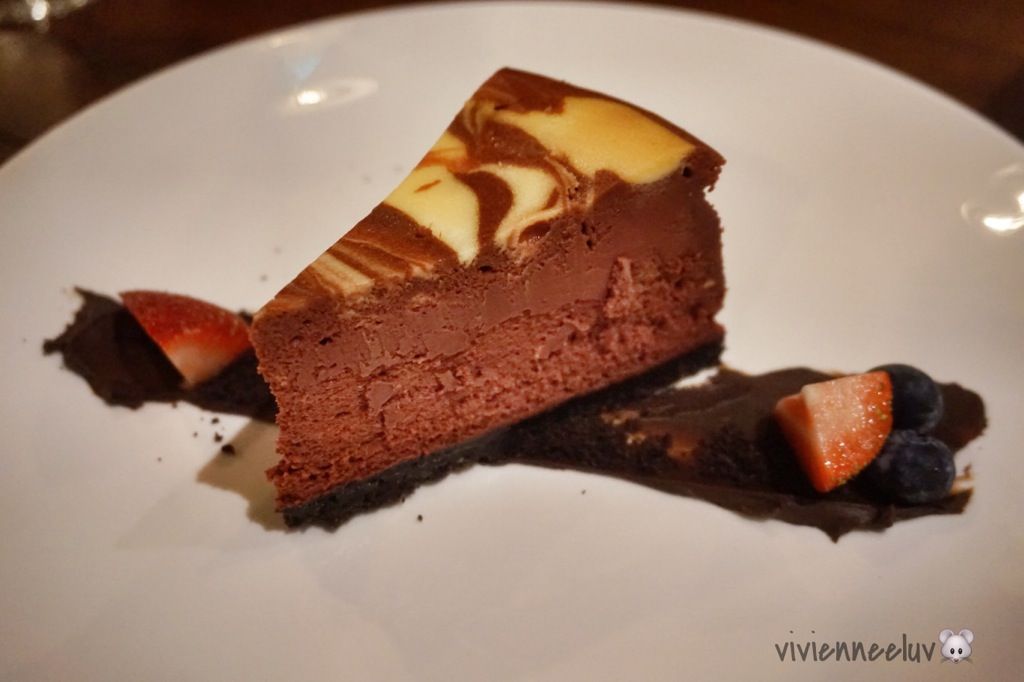 Season's Red Velvet Cheesecake S$10
is the best of both cake in one serving!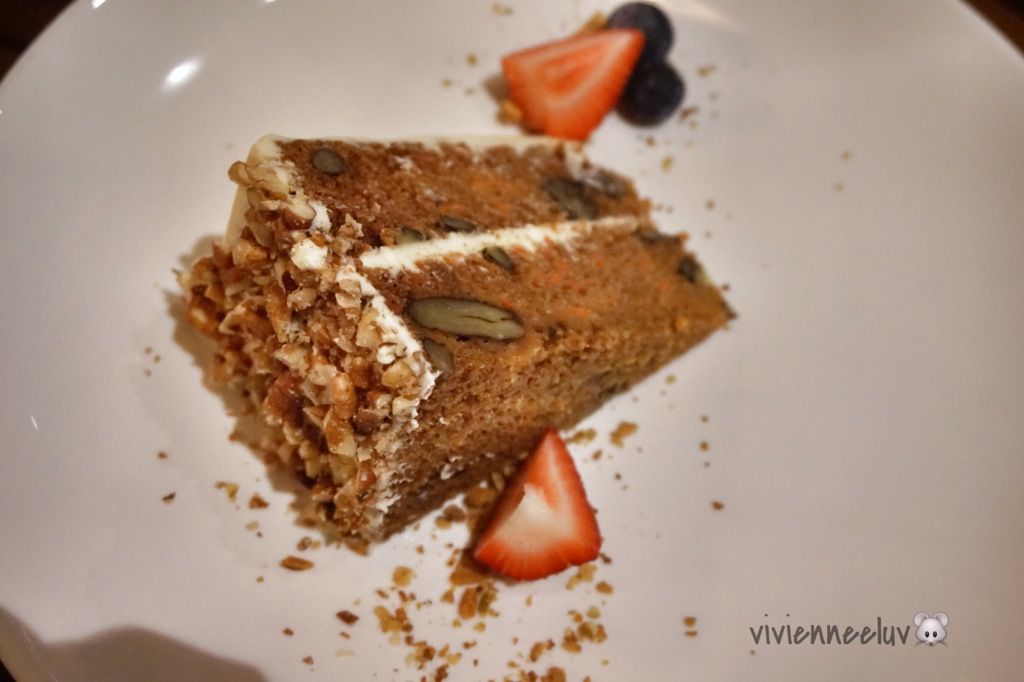 Season's Carrot Cake S$12
is so good, one of the best carrot cakes around! Generous nuts in the cake. Totally worth the money!
This was not in the menu, so we asked the poor waitress to repeat twice.
It should be
Mixed Berries Crumble topped with Mixed Berries Ice Cream with Blackberry Sauce
.
We find that the Mixed Berries Ice Cream taste more like Red Velvet Ice Cream with Oreo bits, so we get her to repeat the dish again, she confirmed that it is Mixed Berries Ice Cream.
Whatever it is, it is so good! Imagine a Red Velvet-like Ice Cream topped on a warm buttery berry crumble. Perfect to end the night.
Mojito Tart S$12
- toasted coconut tart with mint lime curd & rum cream. Refreshingly sour, very comforting for our taste buds after eating so much.
Thank you Seasons Bistro for having me & my 3 guests. We have lots of fun over awesome food! Thank you for making our Friday night enjoyable!