Harry's Marina Bay Link Mall
Address: 8A Marina Boulevard #01=03 Marina Bay Link Mall Ground Plaza Singapore 018984
Tel: +65 66346318/19
Opening Hours: Monday to Wednesday 11.30am to 11pm
Thursday, Friday & eve of PH 11.30am to 1am
A brief introduction: Its located very near to the financial towers at Marina Boulevard, spot the Standard Chartered building and walk towards it, you shouldn't miss it as it has al fresco seats.
Its 2986 square feet and has 80 indoor seats & 60 outdoor dining seats.
Harry's is pleased to launch its refreshed menu with the unveiling of Marina Bay Link Mall outlet which sports a new contemporary look.
If you notice the logos above, Harry's also changed their logo! Its sleek & chic now.
Harry's will be slowly revamping all the outlets to this classy modern-chic look. FYI, Harry's Boat Quay is currently undergoing renovation, its aimed to reopen in September! Wait for it!
I personally love the interior! I used to frequent the outlets at Harbourfront & Robertson Quay (before we gave up on drinking and went cafe hopping drinking coffees). I find that the Harbourfront's outlet is too dim and rather old. Its good to hear that they will be revamping! I look forward to more Harry's visit now.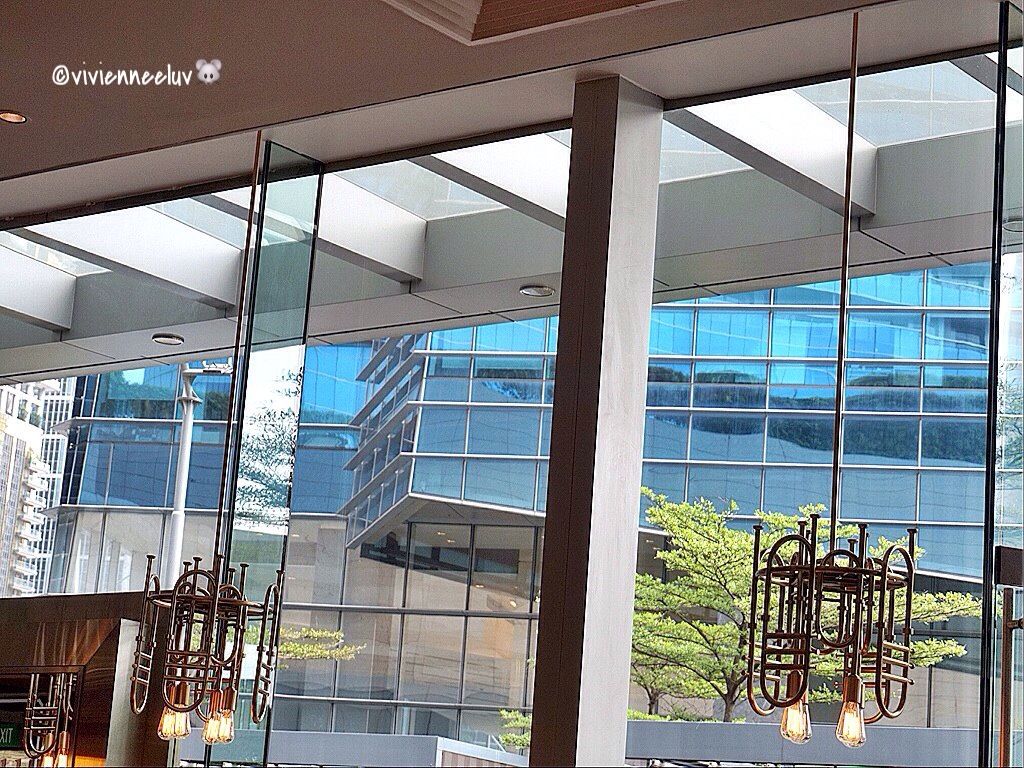 Maintaining its trademark convivial and laid-back vibe, the all new Harry's sports classy modern-chic interiors characterised by eclectic touches of sleek light fixtures which are modelled in the forms of the trumpet and trombone.
''As an established player in the local food and beverage scene, it is crucial that we regularly reinvent ourselves to remain relevant to our customers. Harry's new look and feel, coupled with the updated menu reflects how the brand has evolved and matured, yet still embracing the true spirit of the brand and our establishments; comforting, inviting and sophisticated. We aim to continue to create many more great bar and quality dining experiences for all our customers.'' - Philip Walters, Managing Director of Harry's Holdings Pte Ltd
Harry's gourmet dishes range from delectable Small Plates to scrumptious Big Plates, sumptuous Platters and tempting Desserts.
Harry's stocks an extensive variety of alcohol from premium wines, spirits, local and imported beers and cocktails.
Beer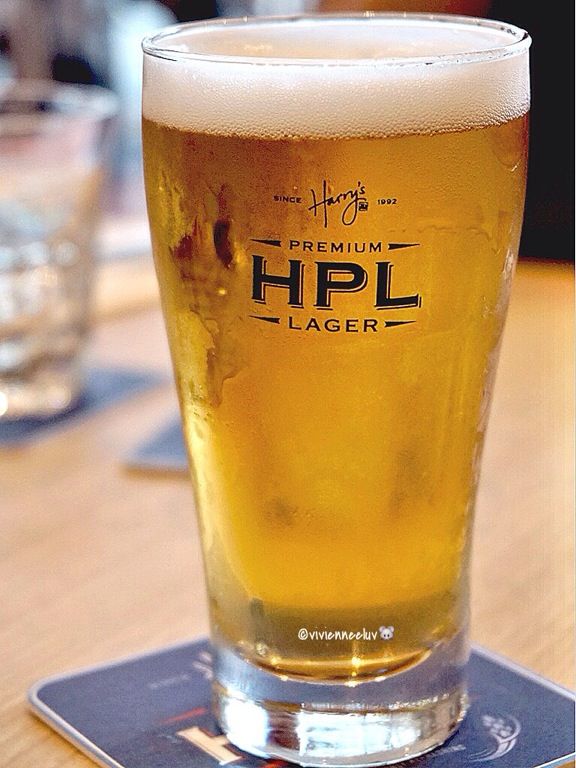 9 brews are available on tap, including the quintessential
Harry's Premium S$7 (half pint)
; a deep golden lager beer known for its pure floral hoppiness due to its characteristic malt taste and crisp finish.
Other draughts include Asahi, Asahi Black, Kronenbourg 1664, Kronenbourg 1664 Black, Carlsberg Green, Tetley's Smoothfow, Connor's Stout and Somersby Apple Cider.
Cocktails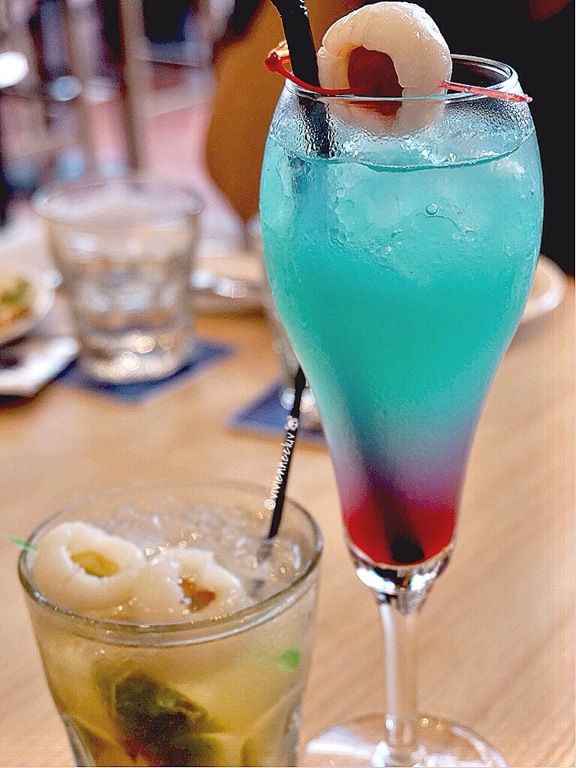 Harry's signature cocktails are a tempting collection of concoctions conjured by Harry's staff.
On the left:
Dirty Harry's S$15
is made up of vodka, lychee liqueur, brown sugar, lime wedges.
On the right:
This beautiful turquoise drink is one of the crowd's favourite and we could not resist ordering it.
It is
Harry's 1992 S$15
pays homage to the famous Singapore Sling with vodka, blue curaçao, lychee liqueur, grapefruit juice, lime juice and grenadine.
Such a beauty!
Other favourites not featured here are:
Harry's Old Fashioned S$15 - a whisky-based cocktail with a touch of Angostura bitter and orange zest.
Bank Breaker S$10 - a potent shot of Midori muskmelon liqueur, whisky and soda water and a drink that alludes to Nick Leeson, the infamous trader who caused the collapse of Barings Bank during his time in Singapore. Created by Roy Lim, Harry's Boat Quay.
Harry's food menu is crafted by Culinary Director Daniel Sia, with the objective of keeping abreast of the fast-changing food & beverage scene, it reflects the spirit of Harry's, it is polished yet unassuming.
Small Plates
Love Me Tandoor S$18 for 6 pieces
is very tasty. Anything in skewers seem to appeal to me. It is chicken skewers marinated with a feisty tandoori blend and grilled for a complementing smokiness, served with red onions, mint yogurt and coriander for a flavourful feast.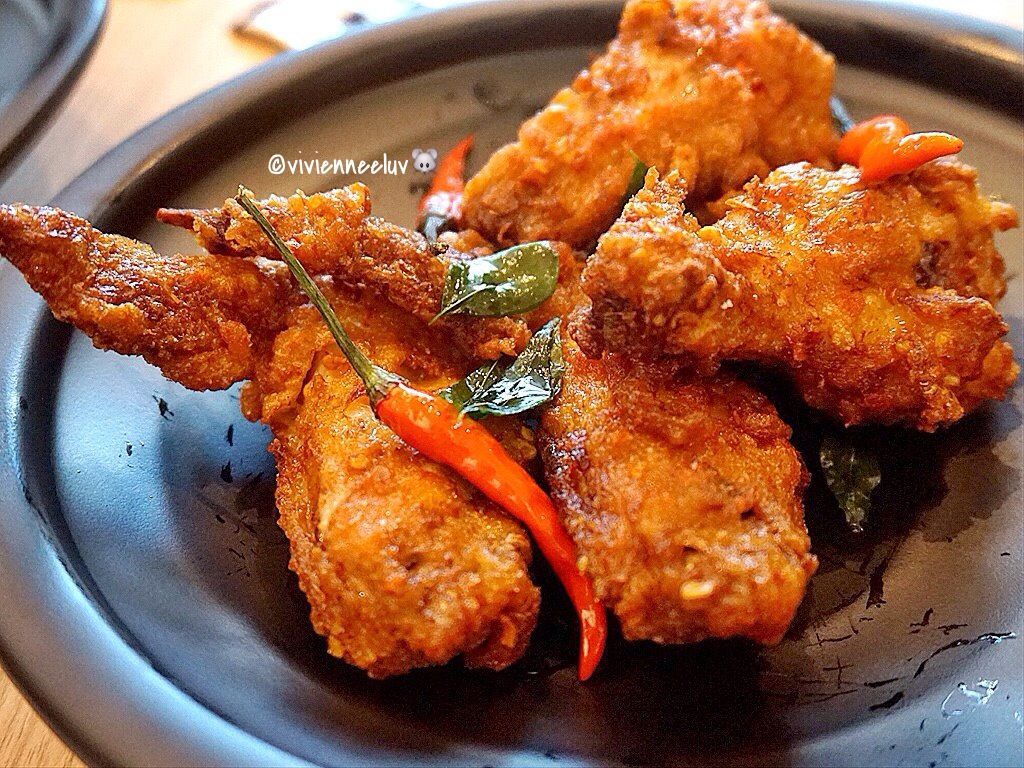 We have to try their signature
Harry's Wingmen S$8 for 4 pieces | $11 for 6 pieces
. It is their secret marinade (blend of spices and seasoning) and deep-frying them to render a delightful crunch that makes these wings deliciously additive, the perfect sidekick to their exclusive Harry's Premium Lager that was featured earlier on at the beginning of this post. I could have all the 6 pieces to myself!
Platters
Good for me & girlfriends to share over beers or cocktails!
I personally love thin-crust pizza so this is kind of perfect for me! They are called flatbread here.
Savour the following toppings atop their crisp flatbread:
Mushroom & Truffle Oil S$20
Spicy Prawns & Wakame S$24
Pulled Pork & Coriander S$20
Meat Sauce & Sausage S$24
Tomato Confit, Mozzarella, Fresh Basil & Rocket S$16
We had the
Mushroom & Truffle Oil Flatbread S$20
, it smells so nice while we were taking pictures, its make me want to tuck in so anxiously. I don't like anything that has overwhelming taste of truffle, this is perfect! Everything was just right.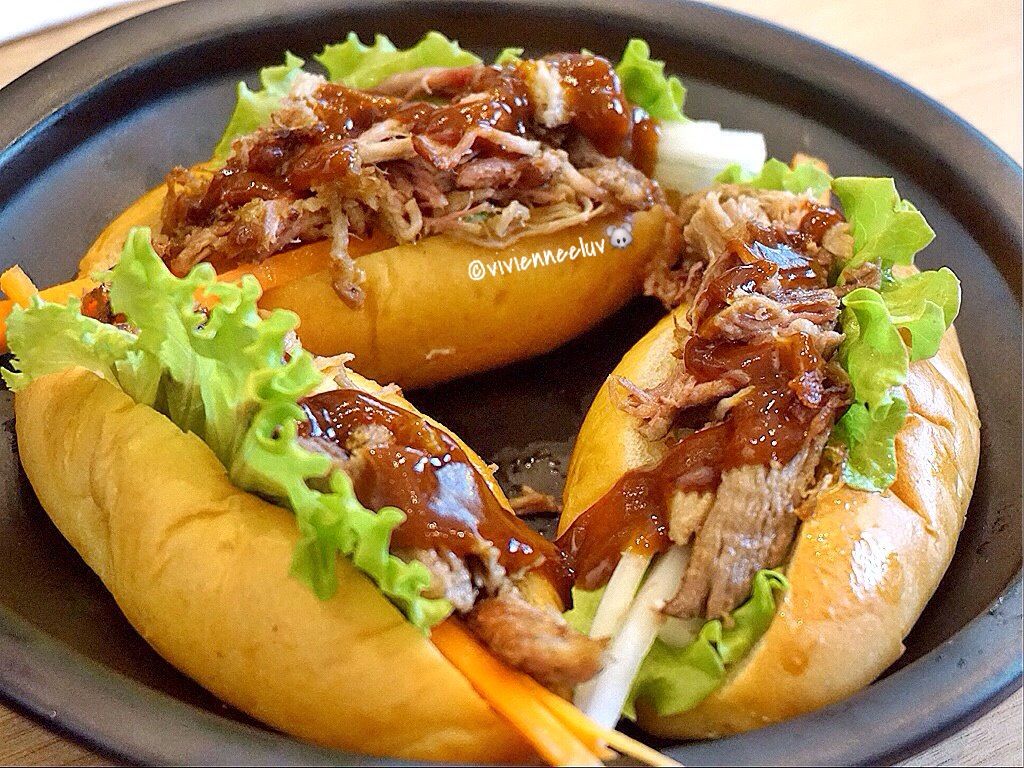 Pulled Pork Sandwiches S$8 for 3 pieces
This is quite a good steal! Small eaters or those who don't want to eat too much could have this as their main course.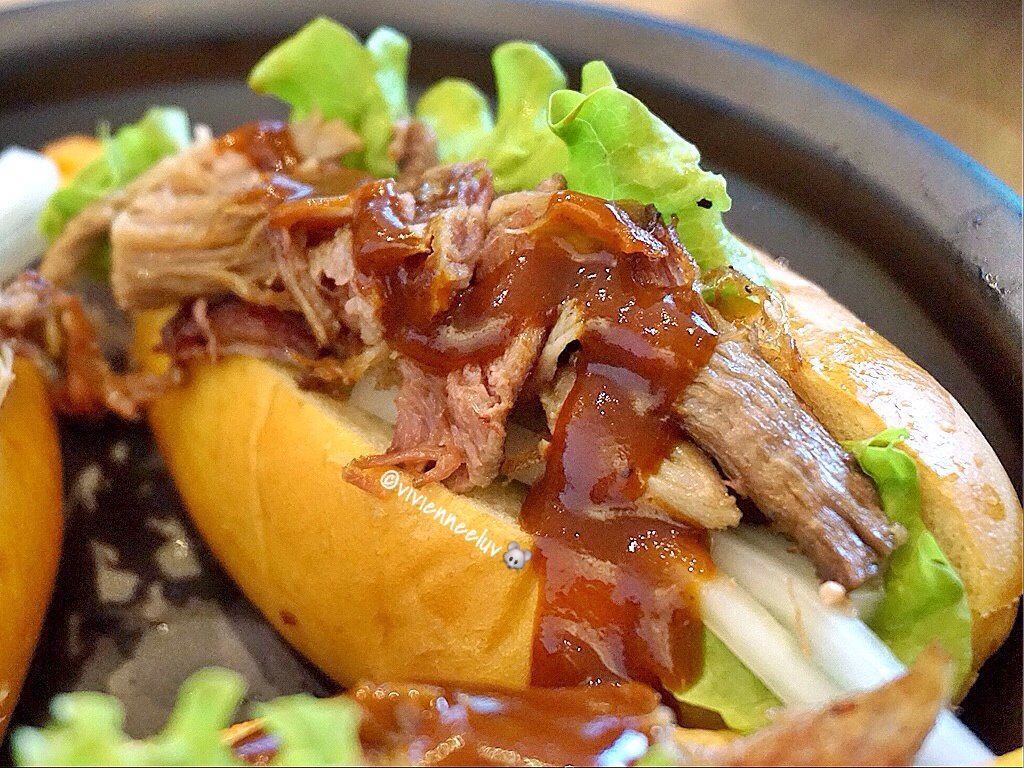 3 mini sandwiches of slow-cooked pulled pork with pickled vegetables and a tangy BBQ sauce on a bed of lettuce.
Tender pull pork and it taste great with the BBQ sauce and pickles.
Big Plates
Curried Lamb Shank S$29
- hearty NZ lamb shank marinated in aromatic curry spices and braised till fork-tender and then served with rice pilaff and raisins.
Love the curry sauce and fell-off-the-bone lamb shank complemented with fragrant jasmine rice pilaff and raisins.
Morroccan Chicken S$23
- oven roasted cornish hen marinated with chermoula spices, and served with couscous salad and mint yogurt.
What you see above is half of a whole chicken.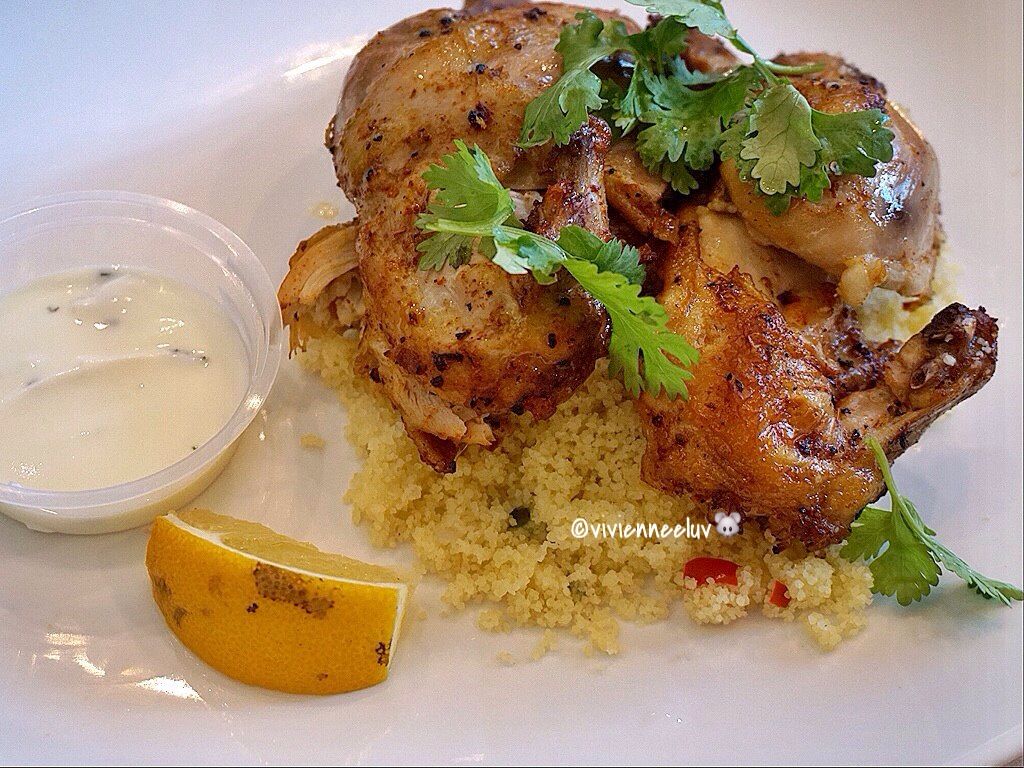 Such an exotic and tender delight.
Best of all!! Chicken is already cut into 4 beautiful pieces before serving to us, just that they plate it nicely, its a pleasant surprise especially for lazy people like me.
Desserts
Black Forest Sundae S$16
is a classic pairing of ice cream topped with freshly baked mini brownie squares and dark cherries twist.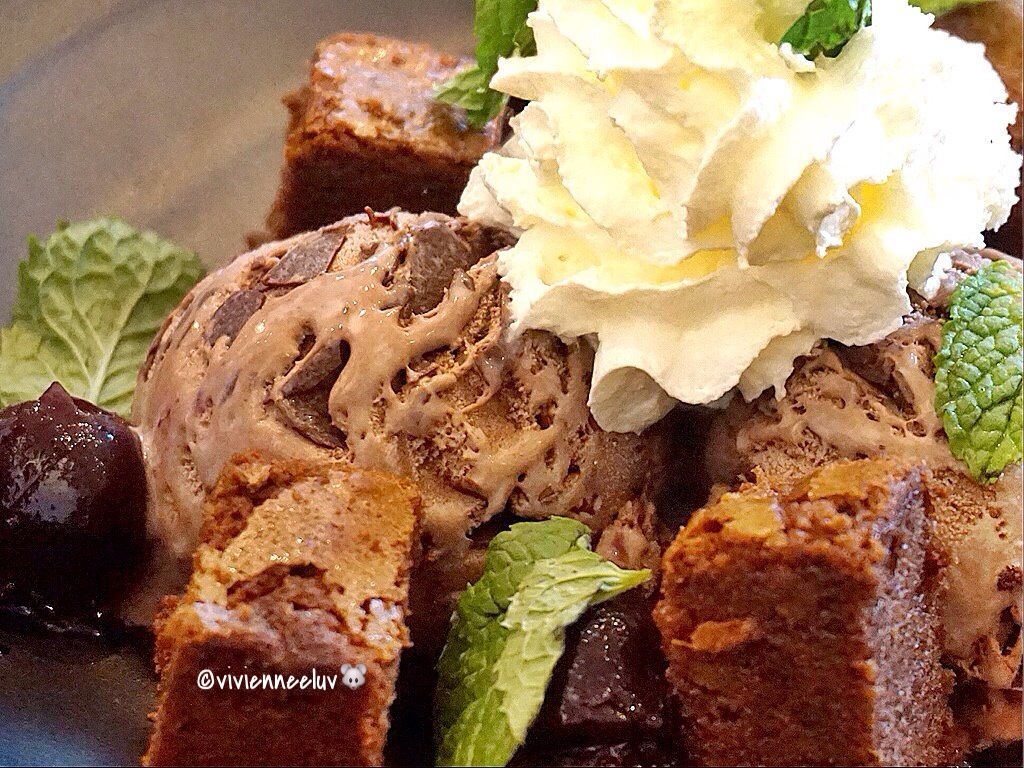 Harry's use movenpick ice cream so you can imagine how heavenly this dessert is!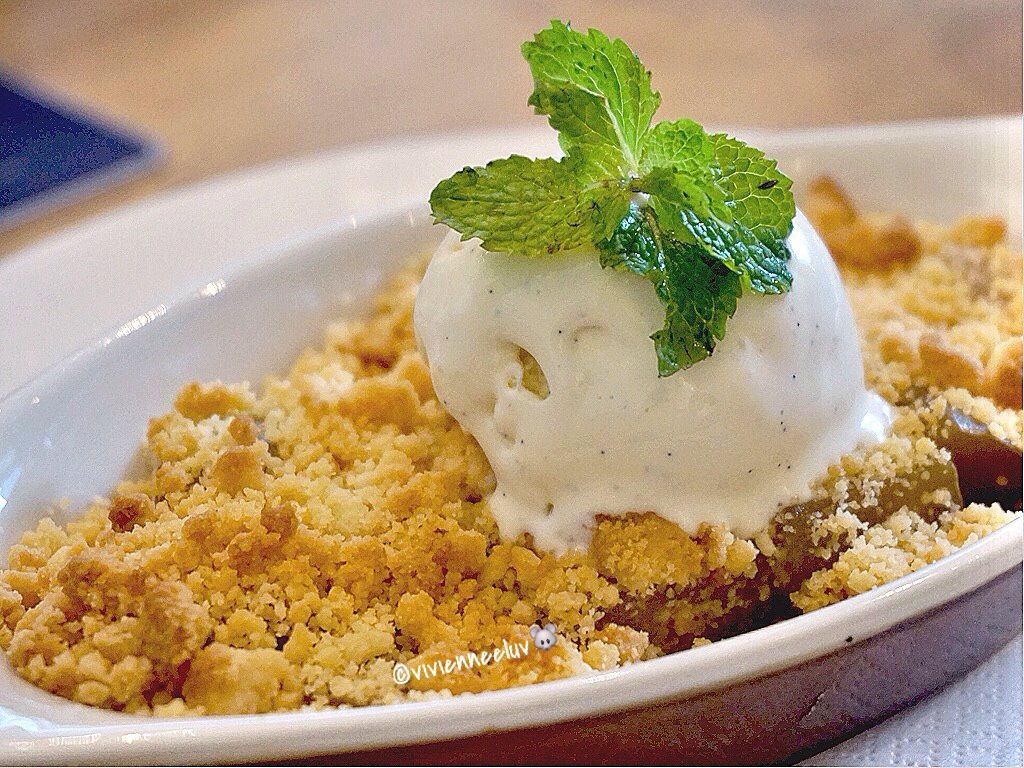 Next up, i think this is my favourite!
A comforting & warm
Apple & Pear Crumble S$15
crowned with a buttery crust with vanilla bean ice cream is the most perfect way to end a meal.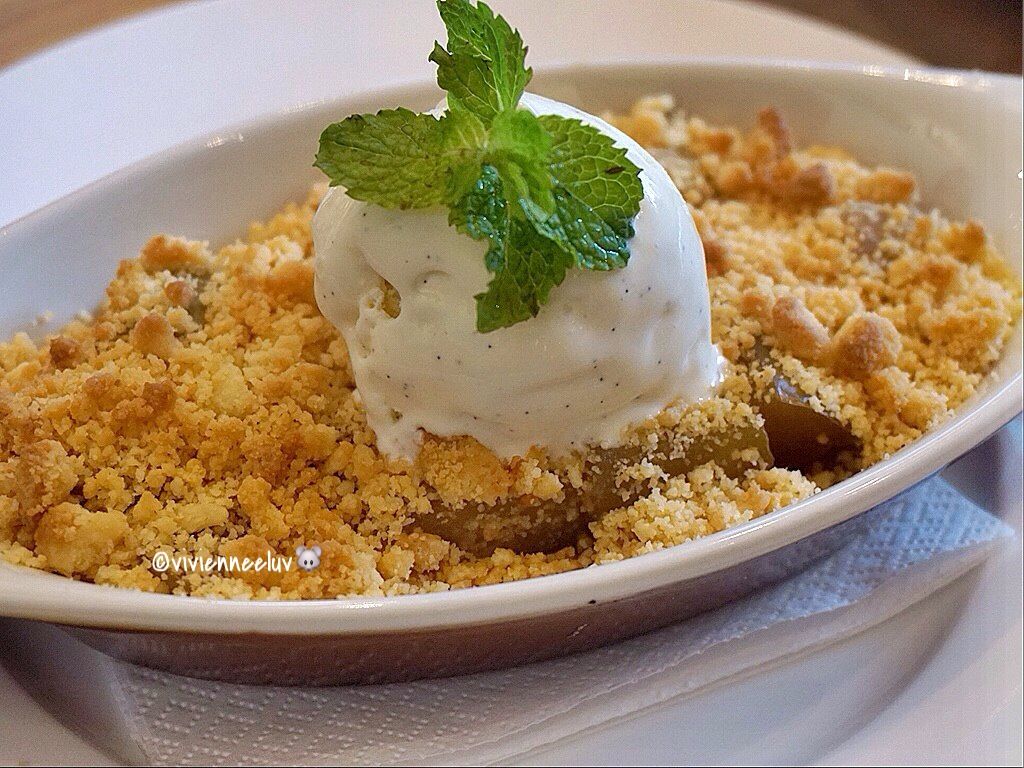 The warm caramelised apple & pear chunks eaten with buttery crust and cold ice cream is orgasm in your mouth. Come try it yourselves!
A close up to tempt you further as I will be ending my post here.
For the month of August, customers can enjoy a month-long weekday treats at Harry's MArina Bay Link Mall and Pier Robertson outlets.
MOJO MONDAYS: Complimentary small plates for every S$50 nett spent!
WHIMSICAL WEDNESDAYS: A glass of Mcguigan Sauvignon Blanc and Shiraz at S$9 per glass.
FANTASTIC FRIDAYS: S$10 vouchers will be given out.
Exciting daily deals awaits consumers to celebrate the revamped Harry's outlets.
Thank you Harry's for the invite!