Momiji Shabu Shabu
Address: 360 Balestier Road Shaw Plaza #04-01 Singapore 329783
Tel: +65 62583398
Opening hours: Lunch 11.30m to 2.30pm Daily
Brunch 11.30am to 4pm PH & Sunday
Dinner 5pm to 9.30pm Monday to Friday
5pm to 10pm Friday to Sunday, eve of PH & PH
Momiji's Facebook
In addition to Suki Group's existing 8 different concepts Japanese Restaurant, Momiji Shabu Shabu opened its doors on 30th July 2014!
Momiji Shabu Shabu presents Singapore's 1st and only collagen hotpot buffet, how cool is that! As we know, collagen don't come cheap, to have them in buffet style is even more unbelievable. Wait, thats not all… … …
Look at the prices! The are wallet-friendly too! It ranges from S$19.90++ to S$28.90++.
The first question I asked was, ''is the collagen soup (refill) free flow?'' ABSOLUTELY FREE! You may go all out, and enjoy the soup without worrying that you have to save your soup for some more ingredients or worry that you might drink up all the soup in the pot and need to top up additional $$ for the soup.
My friend & I once had this worry when we were to some hotpot restaurant (not buffet style), trying to scrimp and save on the soup because refills come at a price. Heehee…
Now we found the perfect place for us!
The Place/Ambience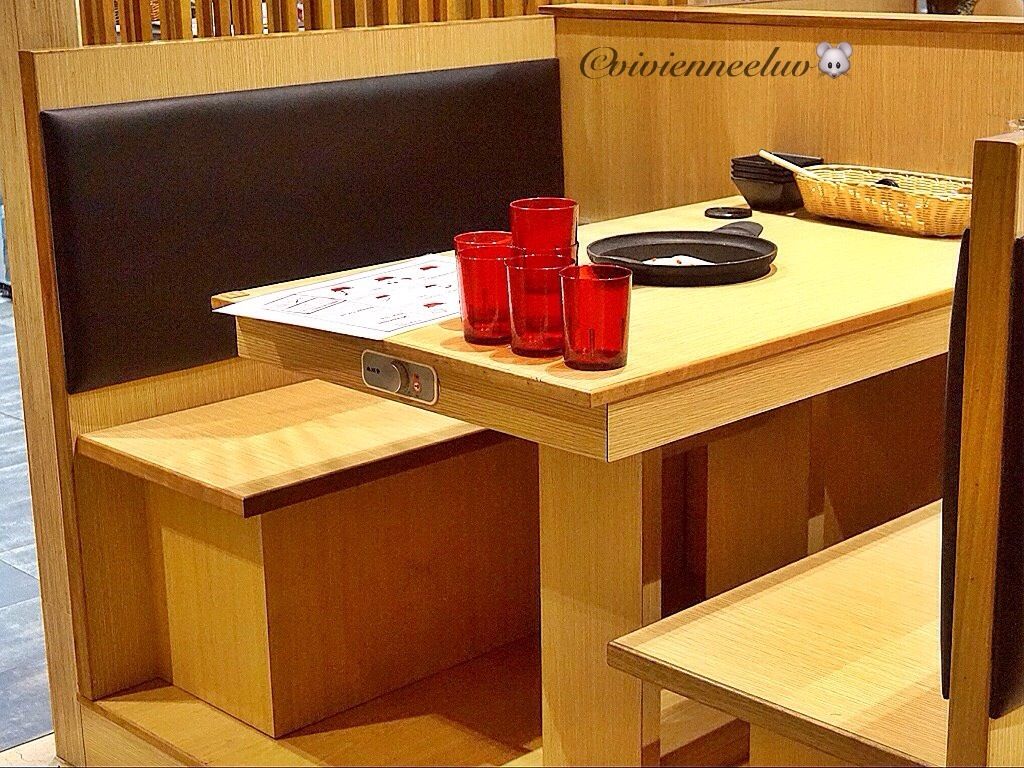 Clean & spacious restaurant, and the place is huge!
On our table
A table of 6 of us, had 2 pots of collagen soup, nom nom, the collagen is calling out to me as we waited for our fun-loving dining companions.
The divine soup base is made of collagen pudding, which is the culmination of 6 hours of simmering kampong chicken. Such long hours of simmering ensures that the chicken bones are fully dissolved - every bit of goodness goes into the broth.
Fresh vegetables are also added to lend even more nutrition and flavours. The broth is then cooled, solidifying into a silky smooth pudding that brims with collagen.
FYI, if you are curious of how it taste like, it is actually light and not salty at all. Not to worry, please read on. :D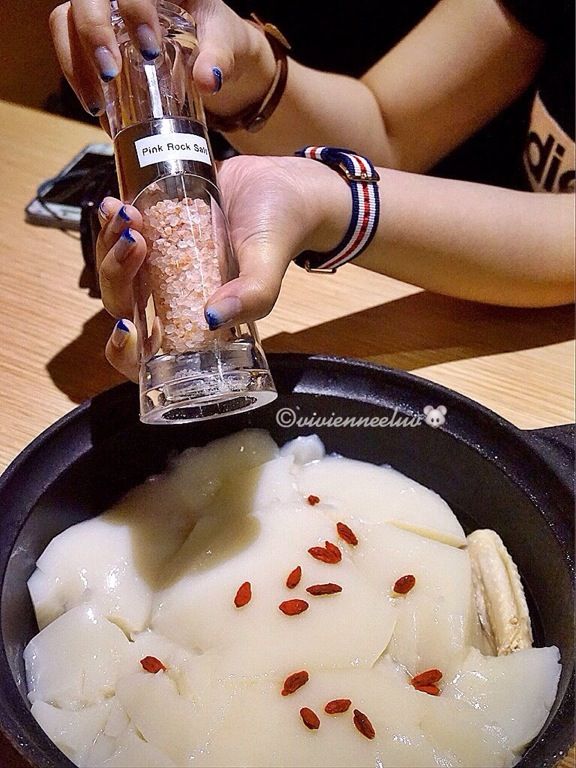 There were 3 condiments on the table (sorry, I forgotten to snap a picture for you), they are the Himalayan Pink Salt, Collagen Shoyu and Hot Kimchi Paste.
Himalayan Pink Salt
(above) is a natural and pure mineral substance gathered from the Himalayas. For thousands of years, the salt has been used as a natural medicine. Dining at Momiji Shabu Shabu is a hands-on experience: patrons will get to grind the salt themselves to adjust the soup to their own liking. (usually is about 3 dashes of the salt)
The
Collagen Shoyu
looks like any other type of Shoyu however it is sweeter. Add this into your own individual bowl of soup to enhance the taste.
Same goes for the
Hot Kimchi Paste
, if you are one who loves spicy soup, add this into your bowl of soup!
Now you can have 3 types of soup in one meal.
I was trying to take a picture of my table but suddenly it gets crowded. Even other customers were curious what exactly is happening.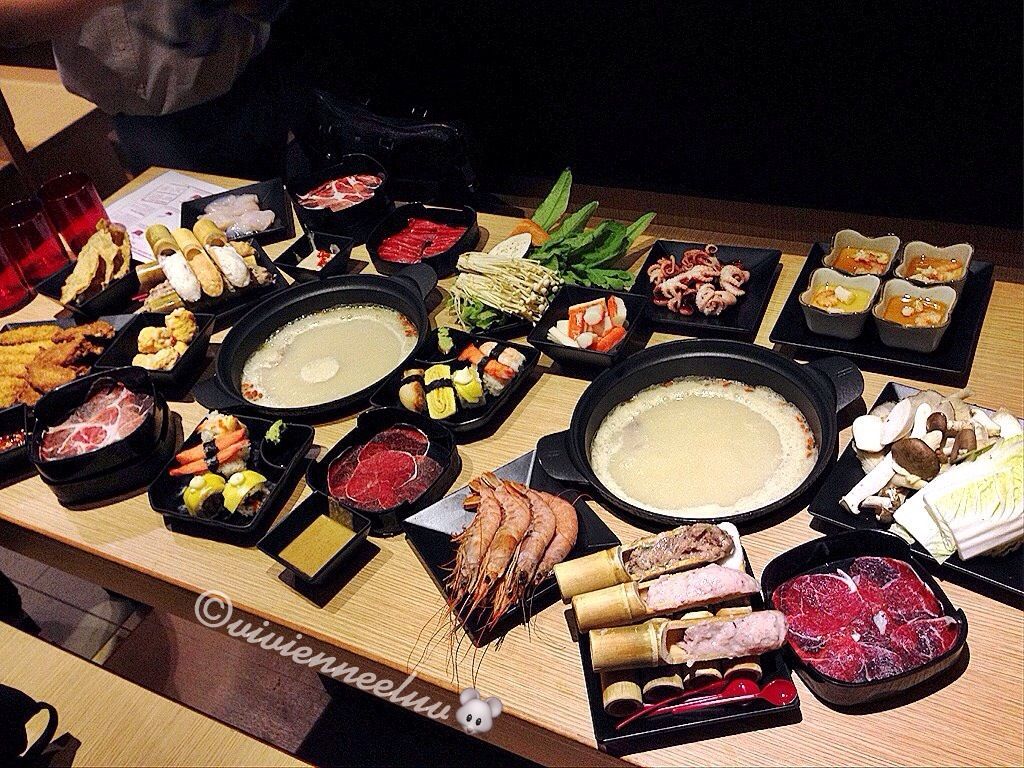 Errrr, actually nothing much. Just a table of food. Only instagrammers will know. Or maybe bloggers.
So this is our table of food that fed the 6 of us. Before you ask questions like ''take so much, can finish or not????'', fear not, we finished everything and went for 2 more rounds ok?
Good food shared among awesome dining companions is the most enjoyable thing to do in the world.
Grab some close pals, go and enjoy!
A tour around the buffet line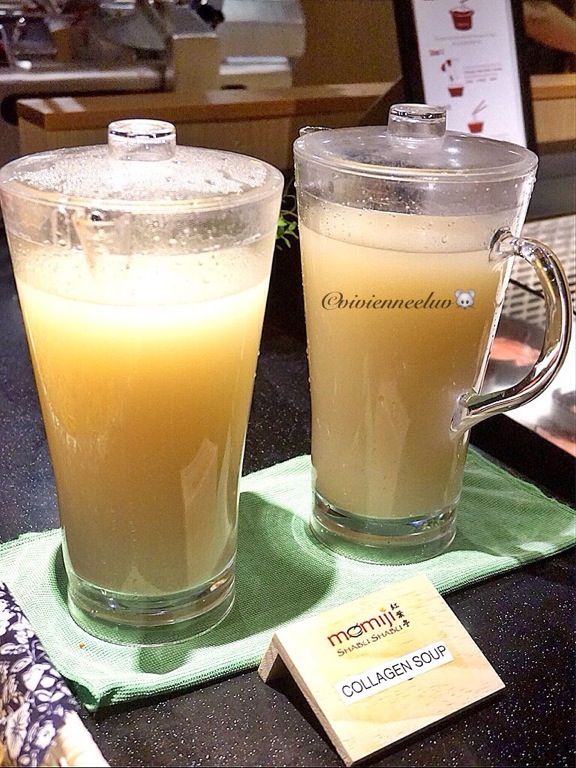 The free flow collagen soup comes in liquid instead of jelly, because as the soup in our pot had turned into liquid, we can only add liquid in. These are available on the buffet table, however the friendly staff will still be going round to help you with the refills. *Good service*!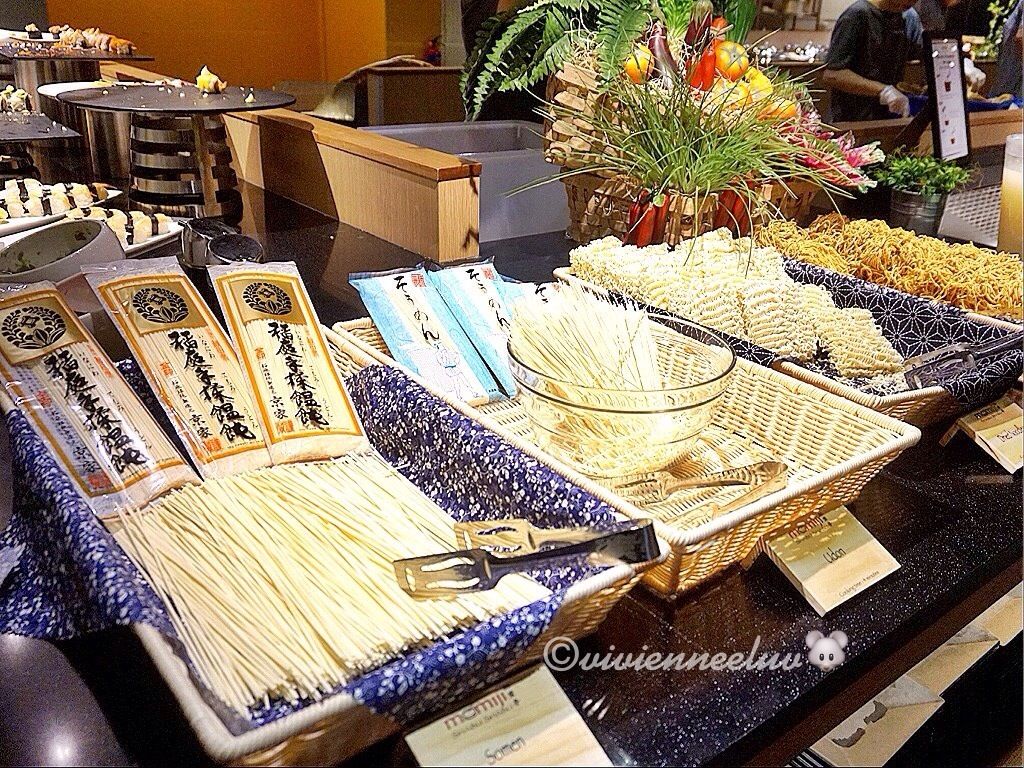 Noodles,
Somen
,
Udon
,
Dried Noodles
,
Yee Mian
.
Kurobuta Pork
(Pork Belly, Pork Collar)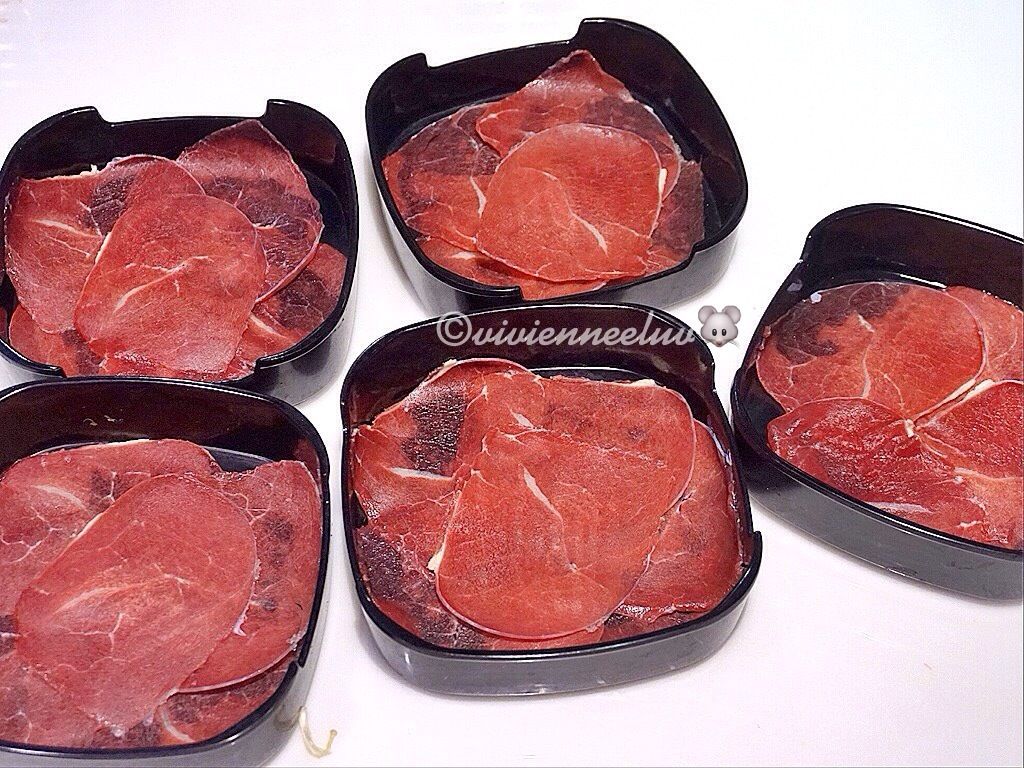 Beef
Red Prawns
Note that every name tags of the items states the cooking time. Follow it according to get perfectly cooked food!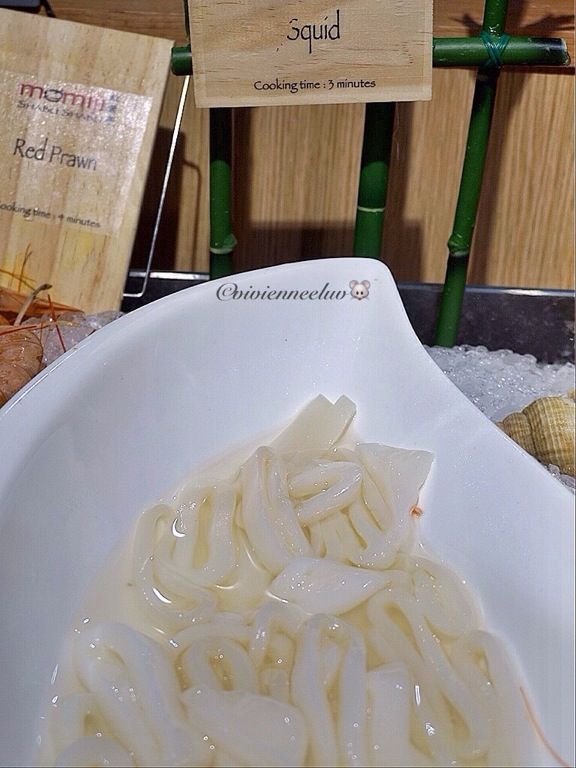 Squid
Whelk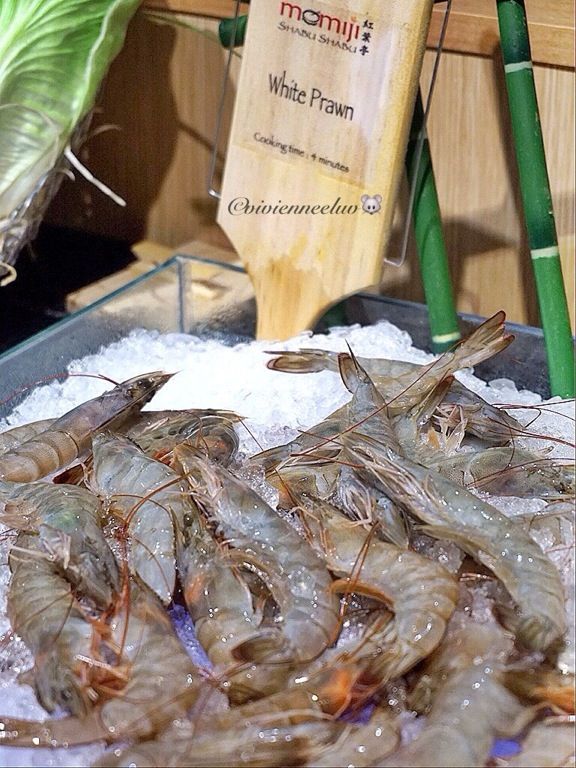 White Prawns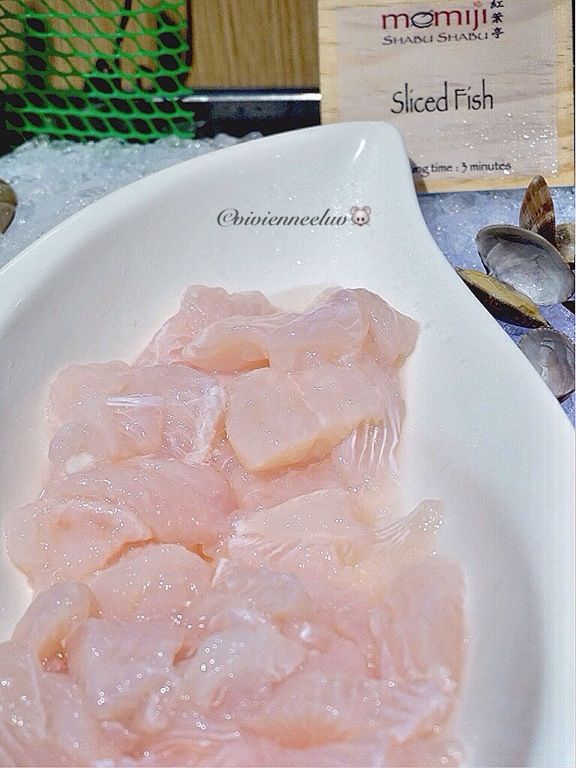 Sliced Fish
looking so fresh!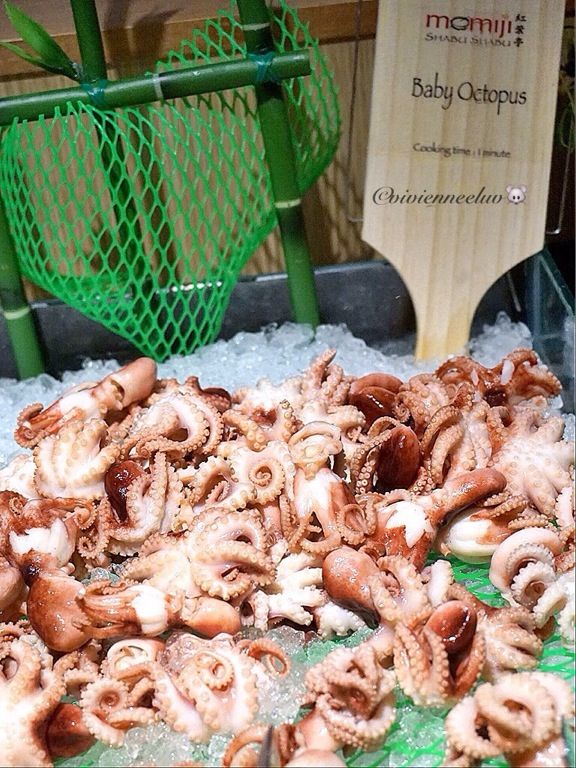 Baby Octopus
is a tad too hard for me as I overcooked it :(
There are also the usual steamboat spread of items like
Fish Balls, Meat Balls, Mushroom Balls, Crab Sticks, Lotus Roots, Fried Beancurd Skin, Tofu, Quail's Eggs
etc.
Eggs
Onsen eggs!
You have delicious ingredients, of course there are sauces to complement those ingredients!
Create your unique sauce with a total of
12 different dipping sauce choices
! (Above all the 12 bowls)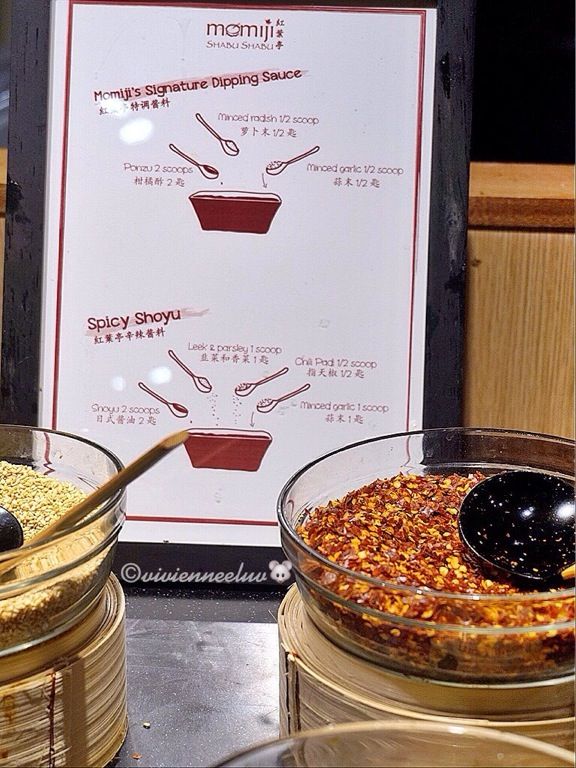 Make your own sauce, if not follow the steps to create the signature dipping sauce or spicy shoyu sauce! Very helpful!
Here comes my favourite! These are pastes in bamboo shoots. I feel like grabbing them all.
Kimchi Seafood Paste
Minced Pork Paste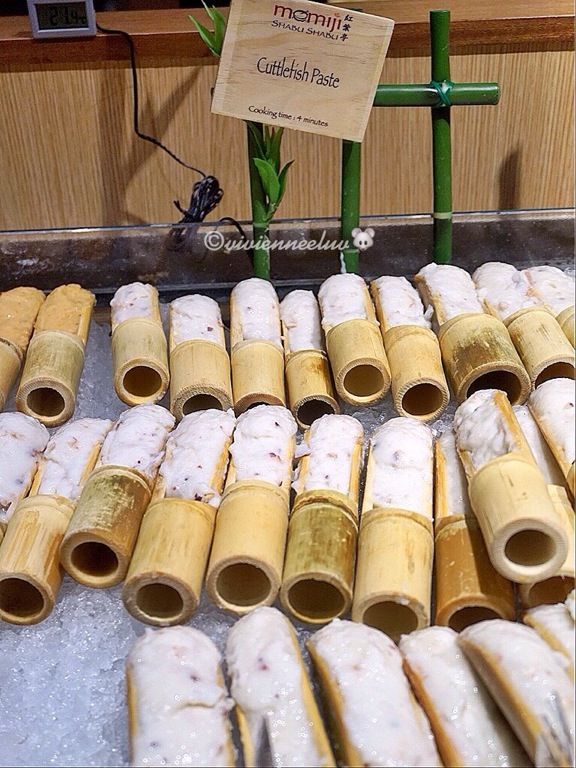 Cuttlefish Paste
Fish & Pork Paste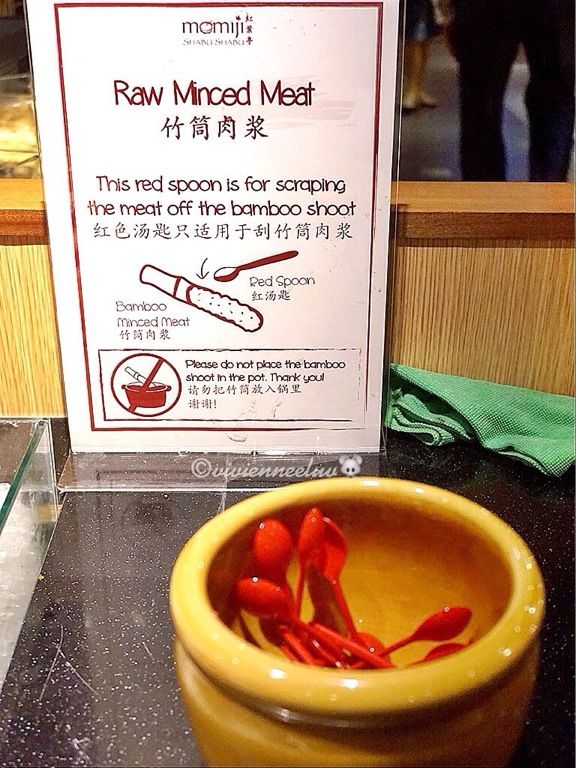 Mini red spoons are provided to scrap off the minced paste from the bamboo shoot. DO NOT place the whole bamboo shoot into the soup!
We spotted a pot of collagen. Sorry, not for us.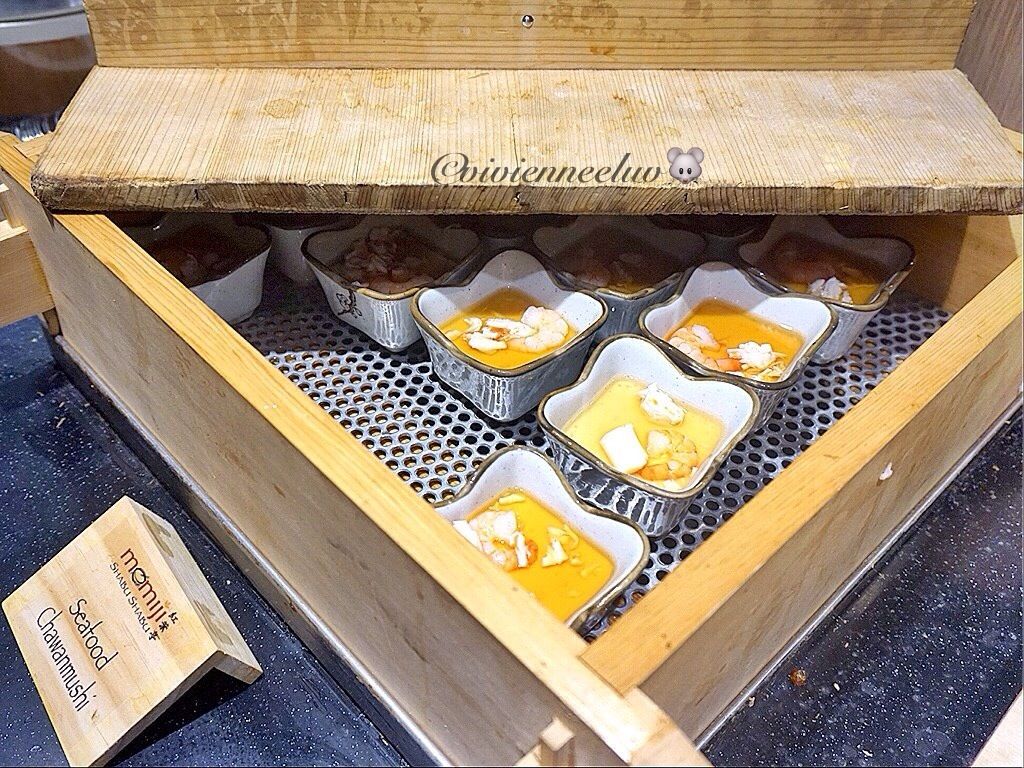 Seafood Chawanmushi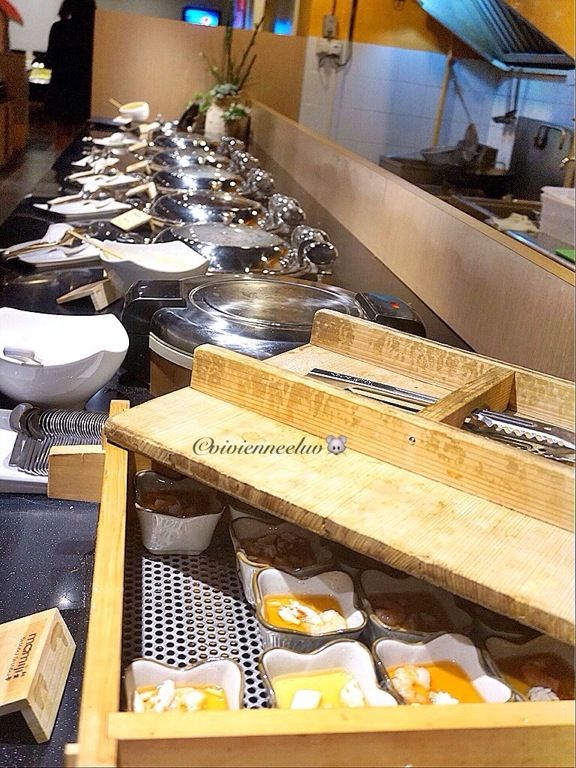 Apart from raw food, there is a whole stretch of cooked food that you can munch on while waiting for your soup to boil or your food to be cooked.
There are
Ebi Fry
,
Shrimp Paste Chicken
(this is so good, we have to take a second round),
Scallop Fried Rice
etc.
Not forgetting the greens &
veggies
.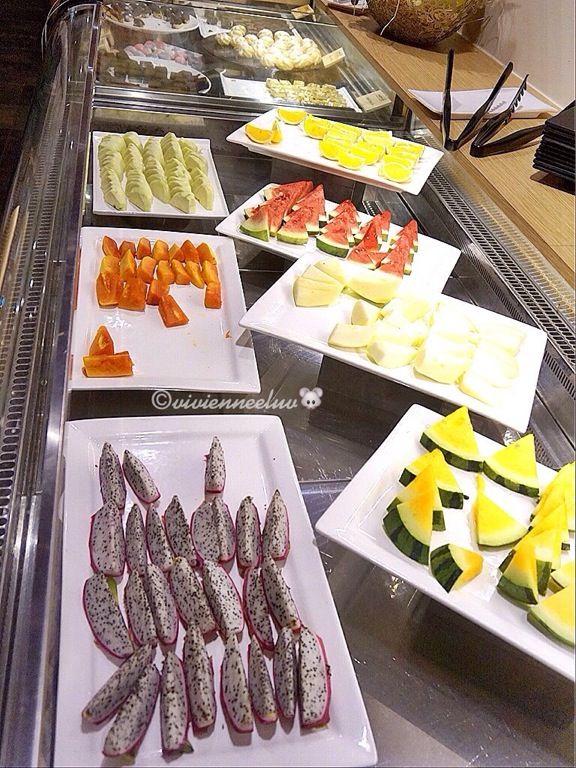 Fruits & Desserts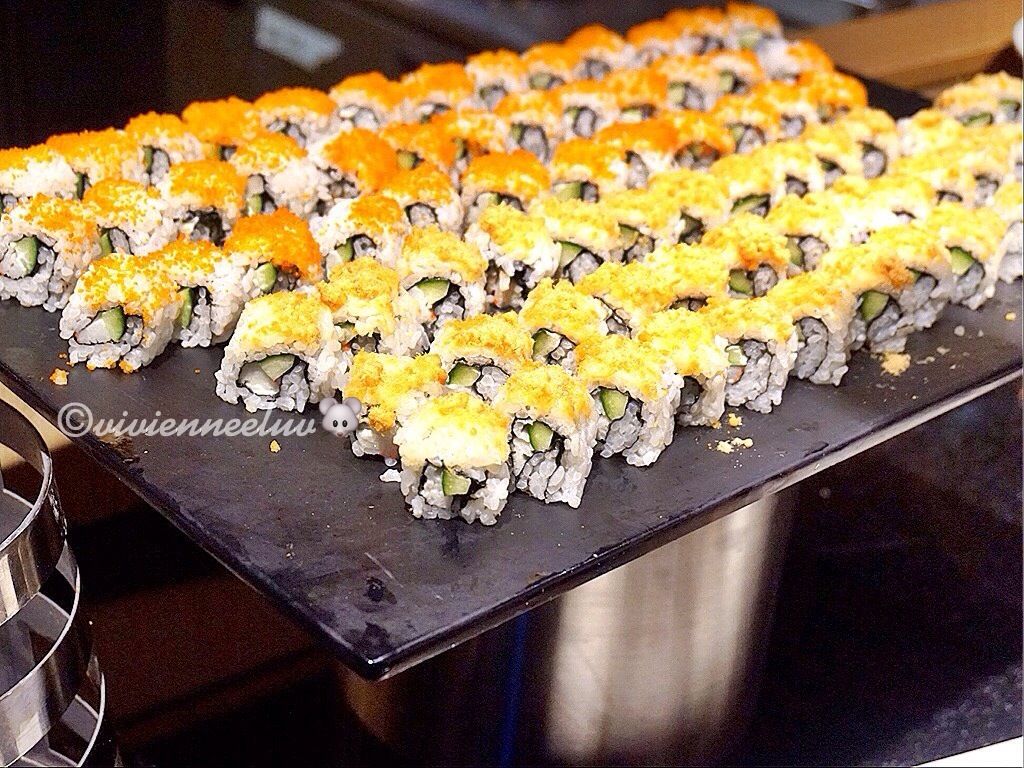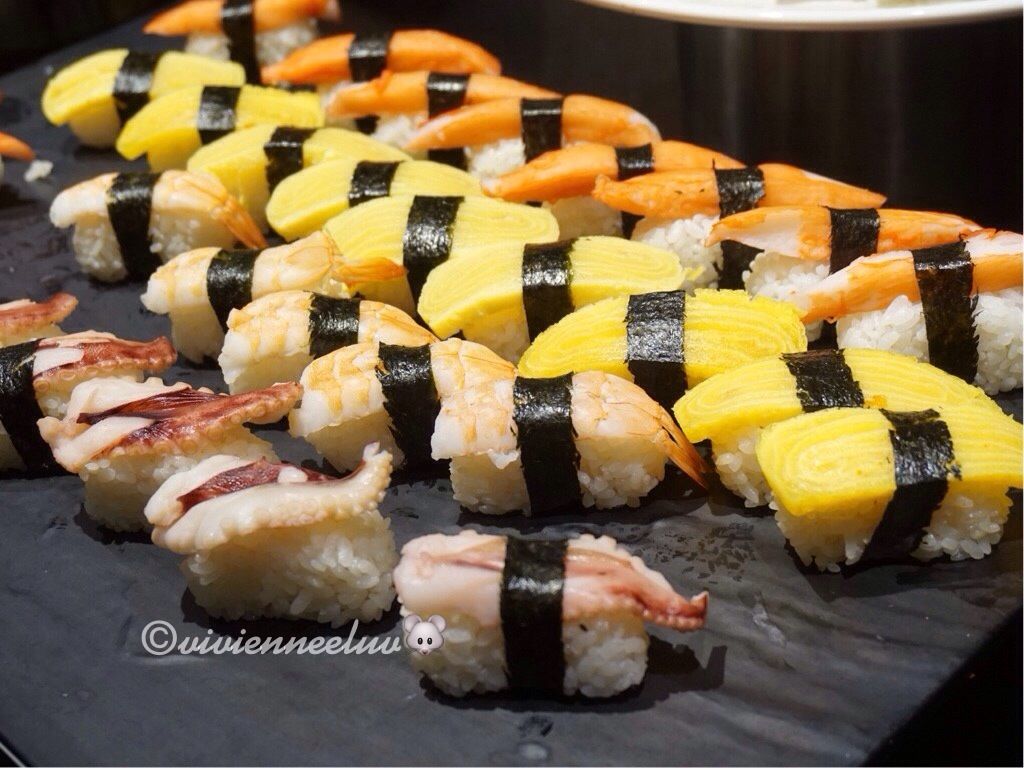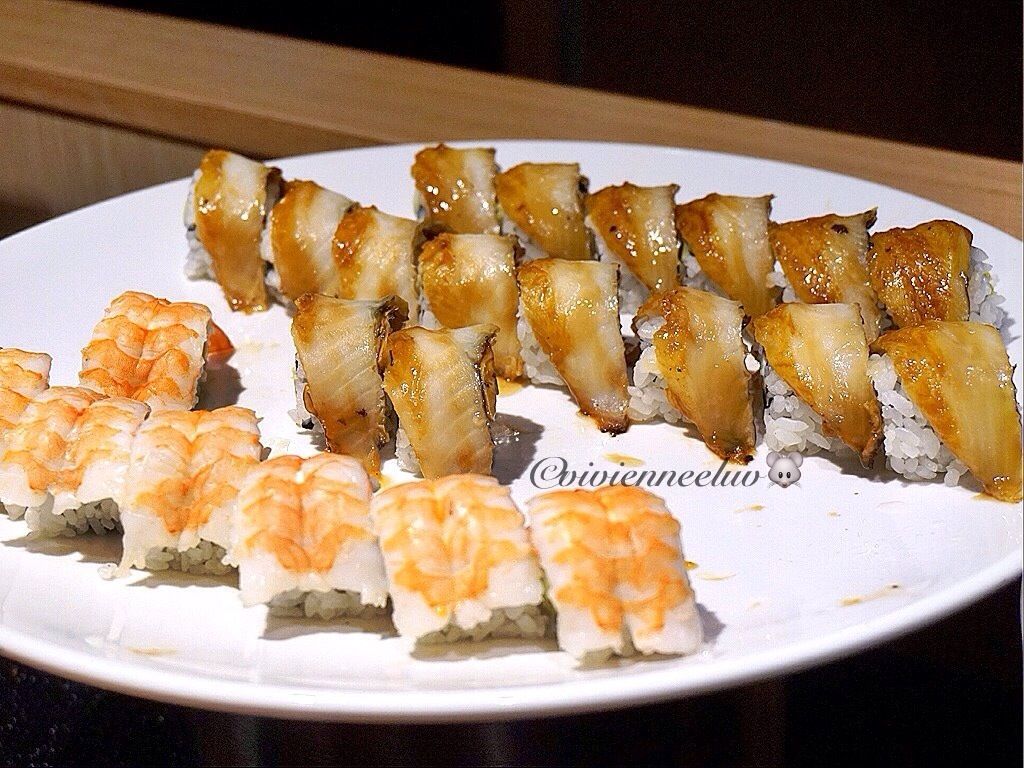 Lots of
Sushis
!
Drinks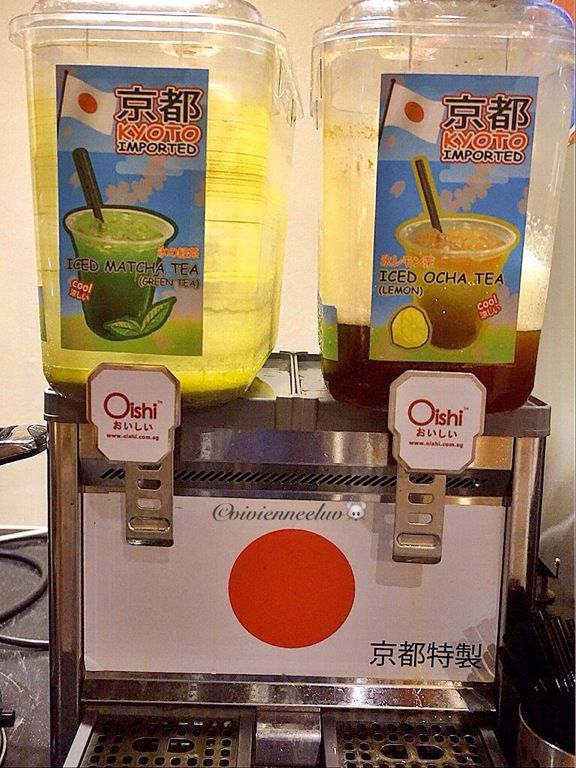 Iced Matcha Tea
(sweet) &
Iced Lemon Ocha Tea
.
Soft Drinks & Iced Water
Hot beverages such as
Black Coffee, Cappuccino, Latte, Mocha, Milo & Teh Tarik
are available.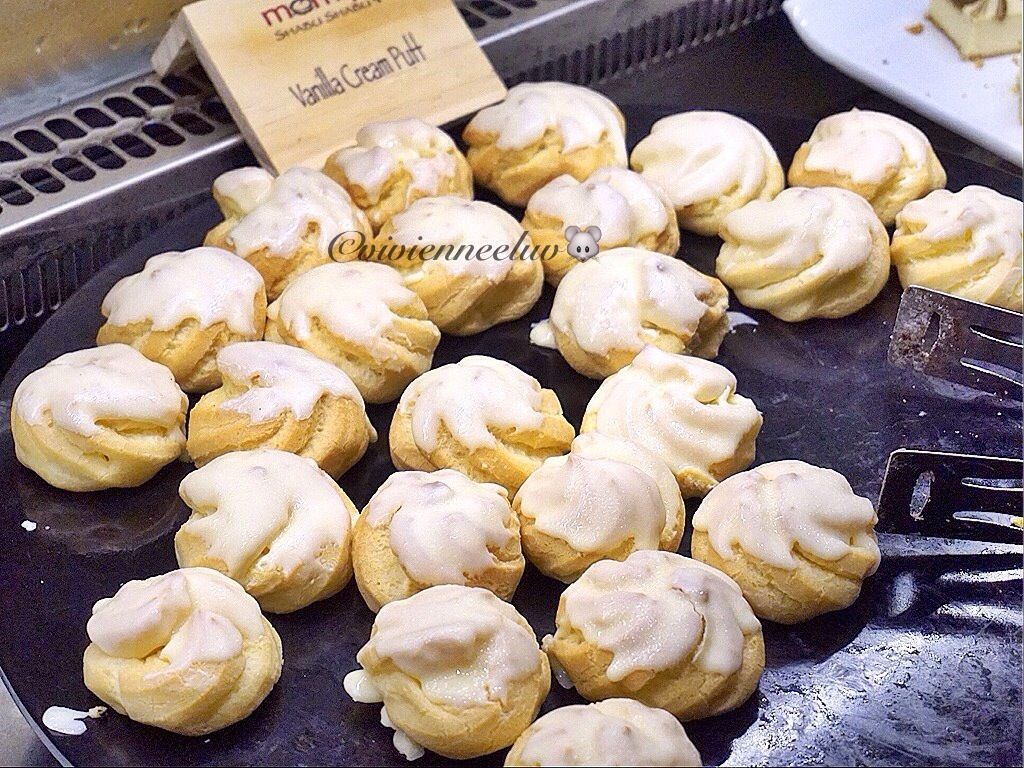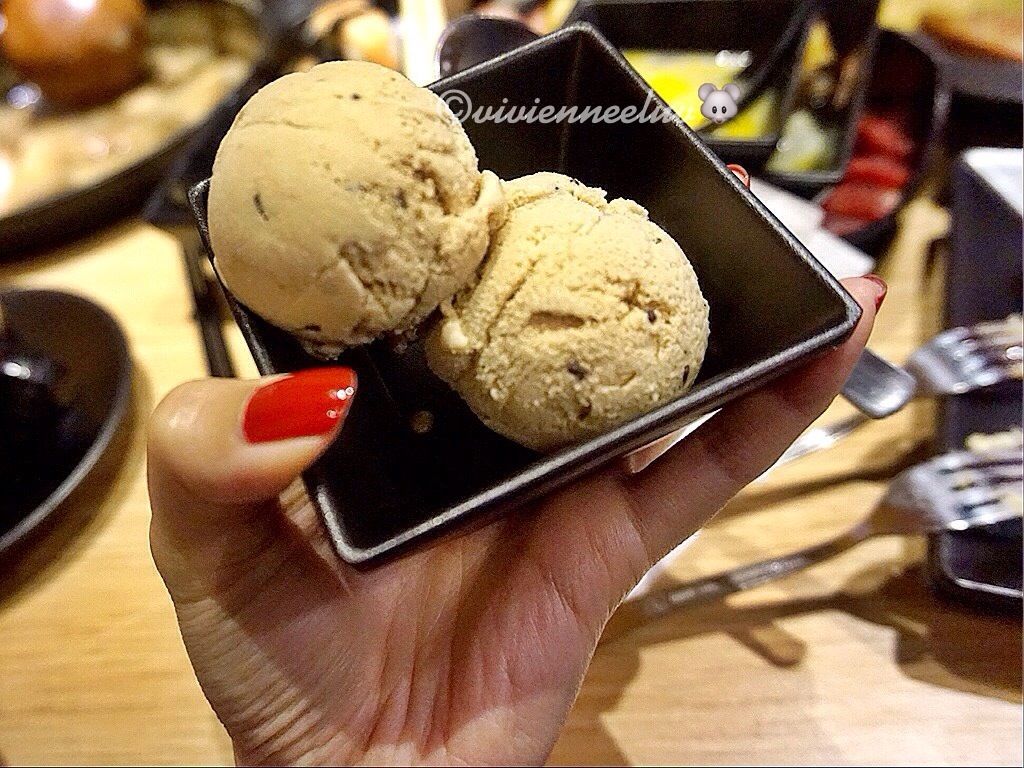 Cold desserts include,
Brownies, Cheesecakes, Eclairs, Mochis, Cream Puff and 6 flavours of Ice Cream.
Special jeng jeng jeng!
For every 2 pax dining in, customers will get a complimentary premium item such as Snow Crab or Wagyu Beef.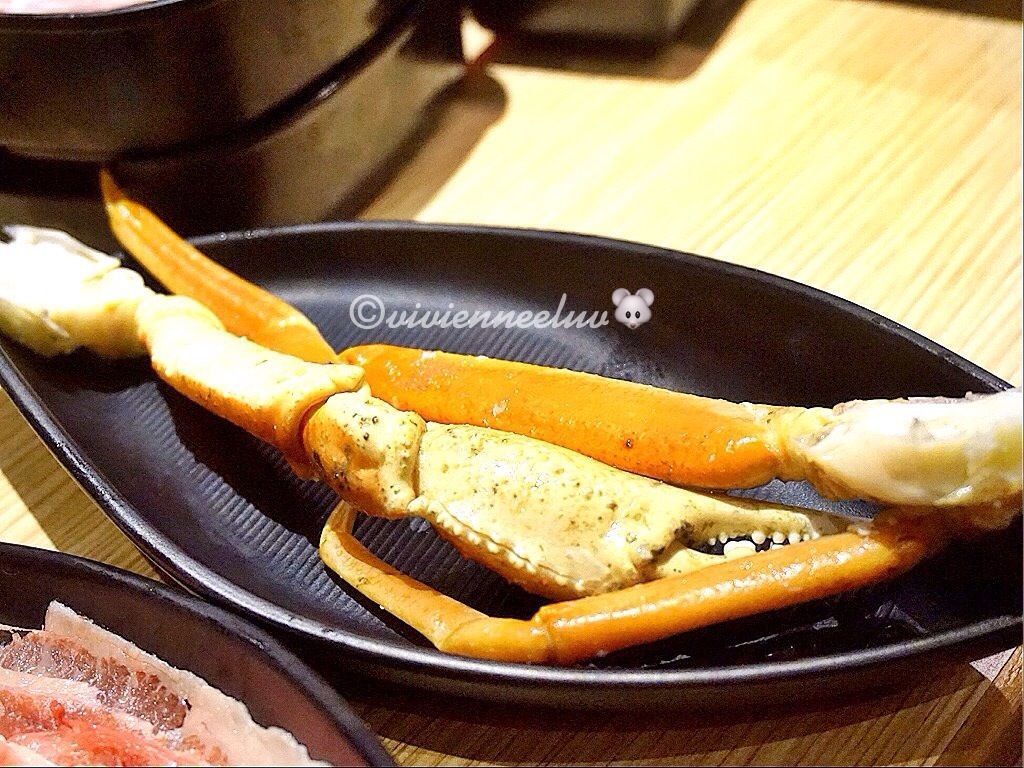 Snow Crab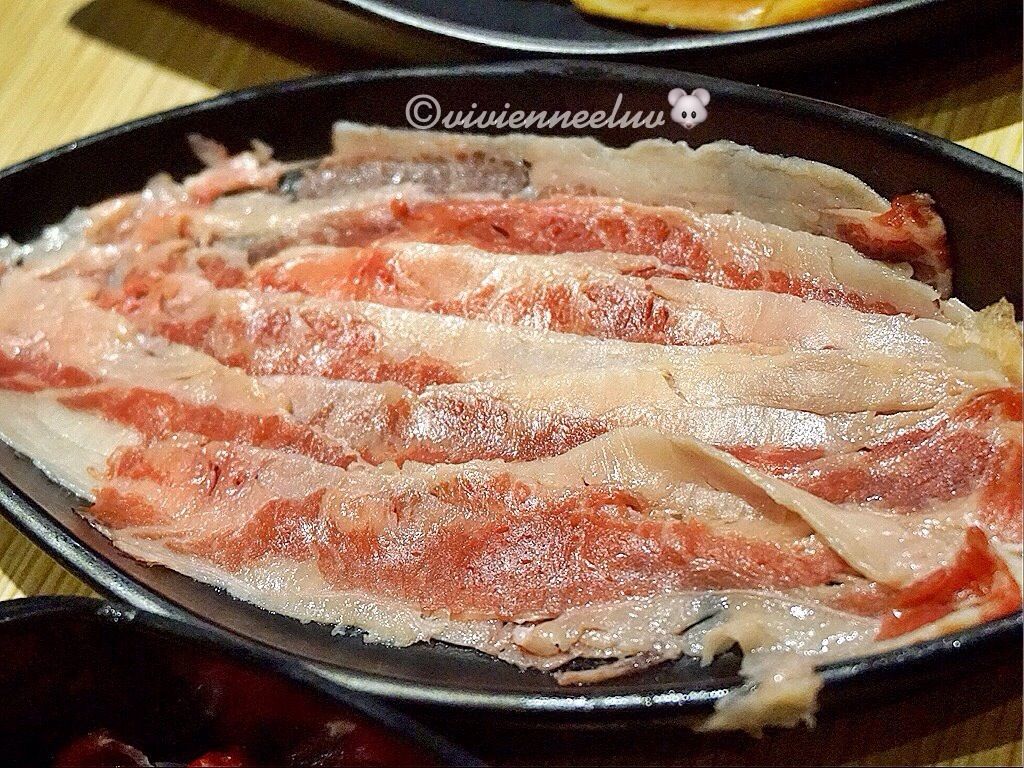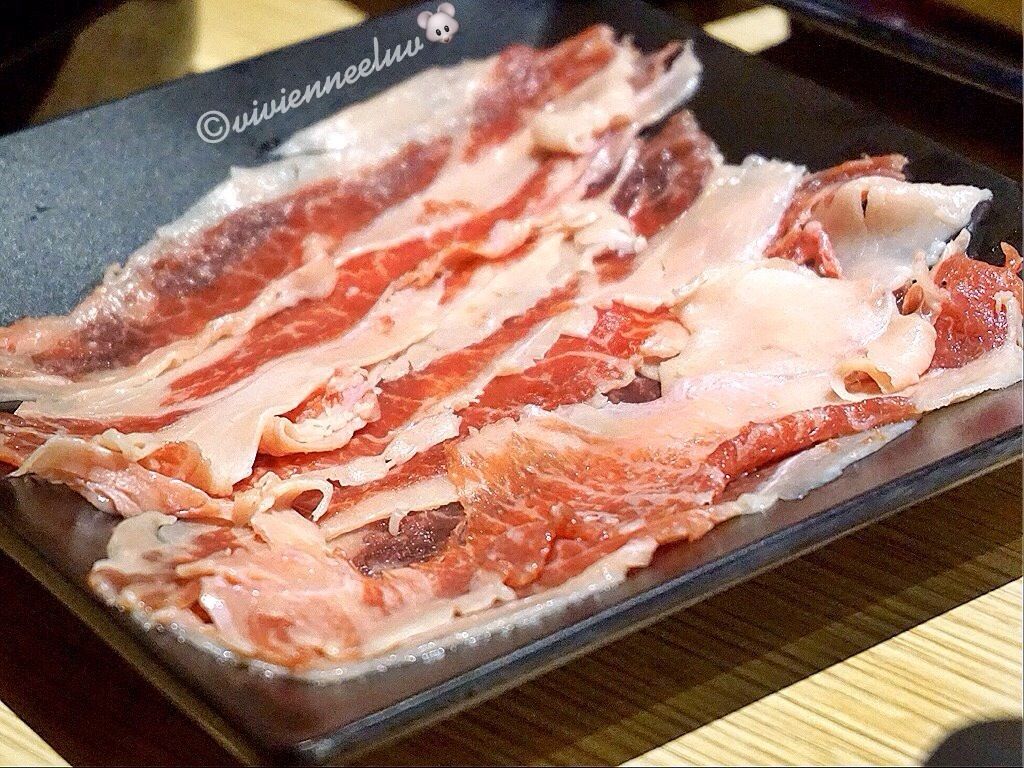 Wagyu Beef
I peronally is not a crab person, so I will go for Wagyu Beef anytime and we all love it! Its soft and tender, melts in your mouth.
Ways to indulge Momiji Shabu Shabu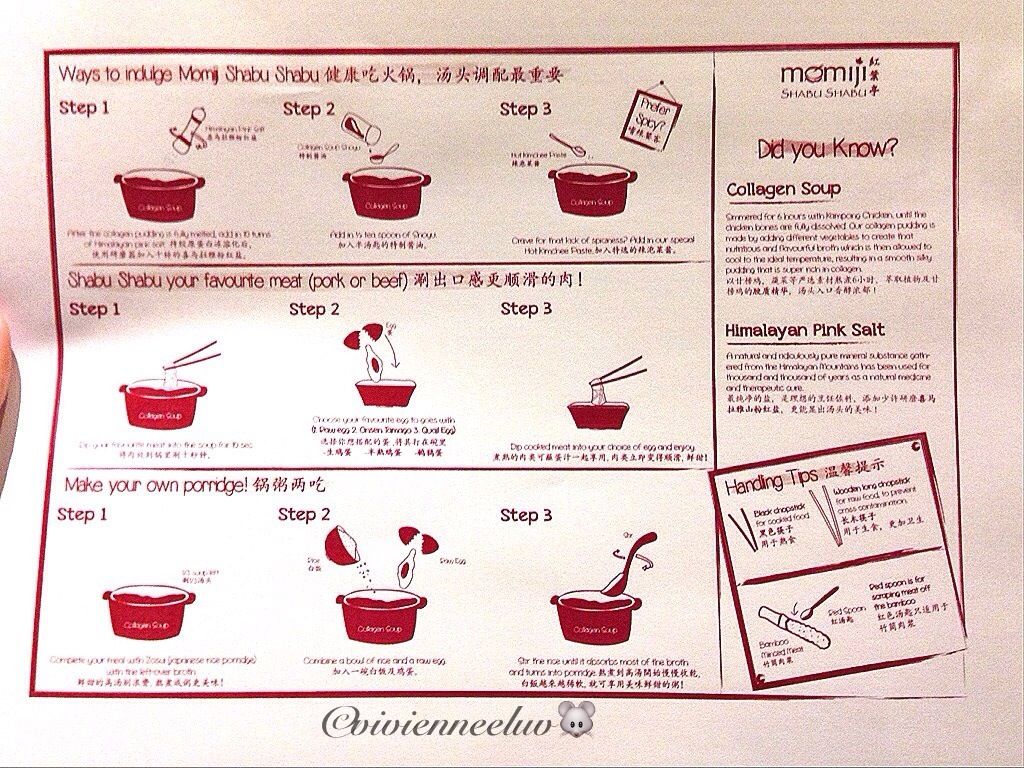 Wait no more, make your way there now!
PSST: One of my dining companion that night, woke up with a smoother face! I should have drank more of the soup, definitely going back again for more collagen goodness.
Thank you Momiji for having us!