Thye Moh Chan
Address:
290 Orchard Road #B1-11/12 Paragon Singapore 238859
10am to 10pm
133 New Bridge Road #01-45/46 Chinatown Point Singapore 059413
10am to 10pm
1 Harbourfront Walk #03-01 Vivocity (Within Toast Boast at Food Republic)
Singapore 098585
Sun - Thur 8.30am to 10.30pm
Fri - Sat, eve of PH & PH 8.30am to 11.30pm
If you have not know, Mid-Autumn Festival is approaching fast, in about 2.5 weeks or so.
It falls on 8th Sep 2014, Monday.
Always in the mood for Mid-Autumn as we get to play with paper lanterns and then setting them on fire at the end of the night, sort of a reunion dinner, usually MIL will cook lots of food and of course moon cakes!
This Mid-Autumn Festival, iconic Teochew confectionery shop Thye Moh Chan is proud to unveil an exquisite Mid-Autumn collection comprising the stalwart establishment's signature Teochew mooncakes which will be available at its's newest outlet at Paragon and Chinatown Point.
With more than 25 products in the mix, Thye Moh Chan makes a great one-stop destination for tourist and locals alike who are looking for a wide selection of all-time classics and new innovative treats as gifts for friends and family.
A Partial open-concept kitchen also allows customers to catch a glimpse of Thye Moh Chan's chef's skilfully hand-making the reowned pastries.
Packaging
Perfect as gifts for friends and family who will relish these unique moon cakes, Thye Moh Chan's quintessential Mid-Autumn selection is beautifully-packaged in stunning red or gold boxes that bear intricate lotus motif; symbolic of purity and bliss in Chinese culture, which also alludes to the good tidings these boxes of delicious creations bring to family and friends.
Cleverly designed such that boxes can be stacked, customers can mix and match different flavours to form one multi-tier package.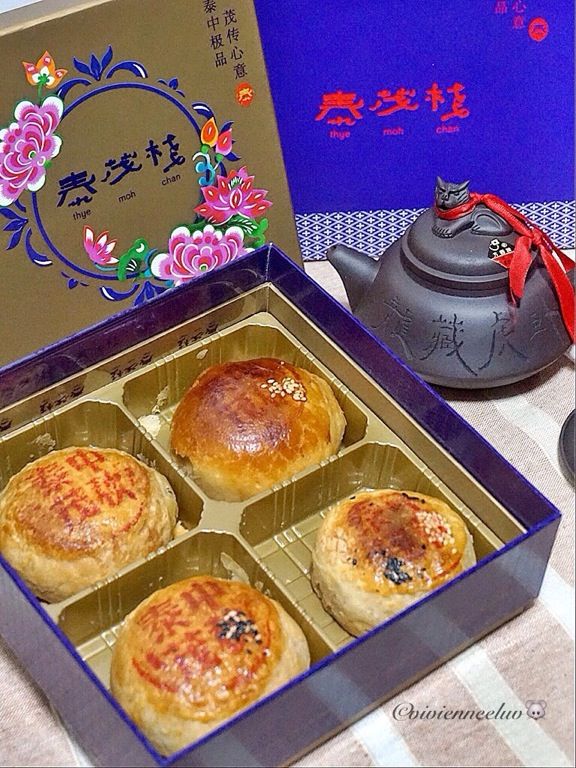 Traditional Goodness
Made with time-honoured recipes, Thye Moh Chan's Mid Autumn products are the embodiment of simple pleasures and are definite crowd pleasers among young and old.
These traditional treats boast ethereal-light flaky pastry skin and a selection of different silky-smooth fillings that are also laboriously made by hand.
Mooncakes
Salty Tau Sar (Single Yolk) Mooncakes 咸豆沙月饼 S$25.80 for a box of 4 pieces
. They have a large one available which is selling for S$22.80.
Picked from savoury mung bean filling which has been prepared with the utmost care from scratch, encompasses a blend of salty mung bean paste with a single egg yolk, fried shallots, white sesame and seasoned with white pepper.
I am a salty tau sar piah lover anytime! If you can tell from the above picture, the egg yolk is really special and unlike those egg yolks in typical traditional mooncakes. It blends well together with the mung bean paste, it makes me feel less sinful this way.
Sweet Tau Sar Mooncakes 甜豆沙月饼
S$25.80 for a box of 4 pieces
. They have a large one available which is selling for S$22.80.
This sweet rendition comprises of sweet mung bean filling and melon seeds, smooth and fragrant.
Are you a sweet tau sar piah lover?
Yuan Yang 鸳鸯月饼 S$25.80 for a box of 4 pieces
.
Brimming with a generous filling of savoury mung bean paste, fried shallots, white sesame, spicy pork floss (yes, you read right!) and salted egg yolk, this novel creation is also accented with a proprietary spice mix.
Firstly, its savoury mung bean so I love it!
Secondly, it does have a little bit of spice, not that spicy but a little pepperish prick on the tongue!
Teochew Double Delight 潮州双拼月饼 S$25.80 for a box of 4 pieces
.
I find this special too! I didn't know tau sar piah can have such fanciful ingredients!
Savour the double delights of red bean paste and a unique 'crystal' filling made with winter melon, melon seeds, citrus strips, white sesame, spring onions and glutinous rice flour.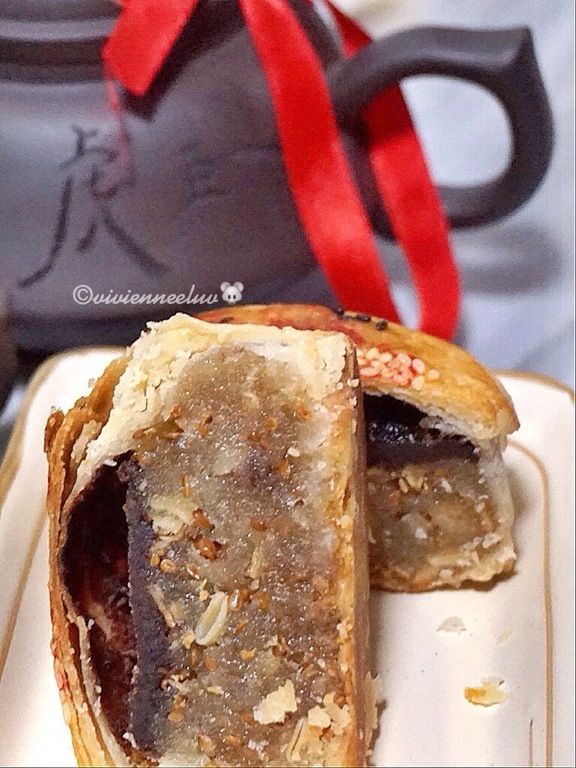 Once I bite into this piece of mooncake, I could feel the crunch of the winter melon and citrus strips. Not crunch as in crunchy type, its still soft but you can bite into bits & pieces of the sweet good stuff!
My mum insisted that I put all the 4 halves on the plate, so I have to take a shot but not a good one though :P
She is also all excited about the mooncakes.
Those who loves exotic flavours (who doesn't right??), you can try this!
Durian 榴莲月饼 Mooncakes S$34.80 for a box of 4 pieces
.
A rare treat only during the Mid-Autumn period, this hot favourite among Thye Moh Chan's loyal customers entices with its alluring durian aroma and pleasing textural contrast between smooth D24 durian-infused bean paste and crispy pastry.
Quantities are limited and purchases can only be made at Thye Moh Chan's outlets.
Traditional Teochew Mooncake 潮州月饼 S$15.80 1 piece/box
.
This old favourite presents a delightful combination of maltose, white-sesame, citrus strips and five-spice powder, rendering a unique and unforgettable taste.
As the artisanal mooncake selection is only produced in
limited quantities
, you are encouraged to place your orders in advance for collection till 5th September 2014.
Mooncakes vouchers are also available now!
Promotion
Now till 24th August 2014
You can enjoy a 20% discount for a purchase of 5 boxes and above!
(OCBC & UOB Cardmembers only need to purchase 2 boxes and above to enjoy the 20% off)
25th Aug 2014 till 2nd Sep 2014
Enjoy a 15% discount for a purchase of 10 boxes and above!
20% discount for a purchase of 50 boxes and above!
Place your orders now!
Thank you Thye Moh Chan for the delightful box of mooncakes that my family & I enjoyed! We finished the whole box even before I can write this post.