BreadTalk
Click here for all BreadTalk's outlets
BreadTalk's 2014 mooncake selection is available at all outlets island-wide from 19 July to 8 September 2014.
Coming 8th September 2014 is Mid-Autumn Festival. We waited a whole year for these mooncakes, as we only get to eat them once a year. The season always get me feeling all excited!
This Mid-Autumn Festival, BreadTalk unveils a dazzling collection of 5 exquisitely-designed mooncake boxes; each comprising a delectable assortment of popular and new flavours of baked and snow skin mooncakes that will definitely add a sparkle to the occasion.
Centred on the theme of 'Dance to a dazzling Mid-Autumn', BreadTalk aims to conjure the rousing spirit of this festival when family and friends get together with these beautifully-crafted gems nestled in elegant oriental-chic packaging adorned with a gleaming motif inspired by rabbits and butterflies; timeless symbols of the Mid-Autumn season.
Do you like baked or snowskin mooncakes? Well, I usually will choose Traditional Baked Mooncakes, but after trying Breadtalk's SnowSkin Mooncakes, I was in a dilemma so I am choosing both Baked & Snowskin this time!
Snowskin Mooncakes
Snowskin mooncakes in the recent years have evolved from the plain old Pandan Skin Lotus Paste fillings to Durian, Jackfruit, Lychee, Yuzu and many more. Some are still not as good as plain old ones.
Made with a proprietary recipe, these BreadTalk's snow skin versions use premium ingredients that are bound to surprise with each mouthful.
Love this cherry blossom pink box (also available in brilliant turquoise) with a luminous bronze-embossed print of the mid-autumn motif, these vibrant boxes will bring much joy to the recipient as it did to me. I am so in love with the box and of course the moon cakes.
And before i go on to the mooncakes, I also like the paper bag, usually mooncakes paper bags are really squarish as the boxes are laid horizontally, and it makes the overall very bulky, these at Breadtalk, are different!
The boxes are placed straight up into the paper back, instead of lying down, and i thought this is a great idea!
The moon cakes were individually wrapped and sealed and places nicely into the box, even when the box is place straight up into the paper bag, it doesn't cause any damage to the mooncakes, I can easily carry a few boxes without any problem!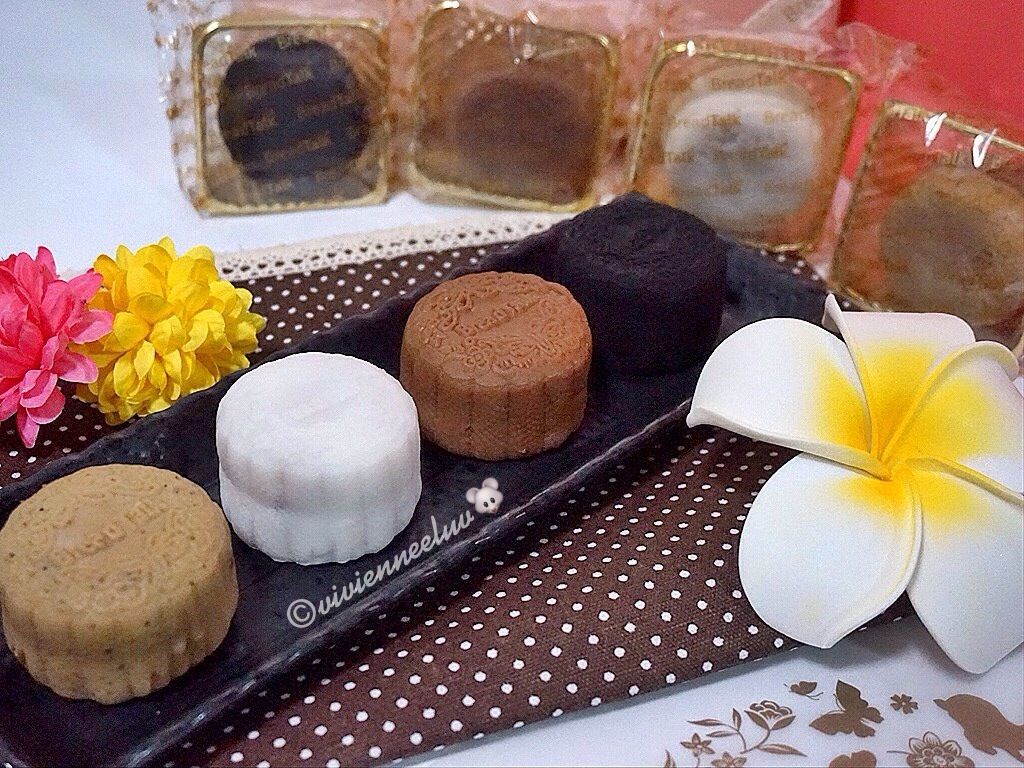 JOYOUS S$52.80 for a box of 8 mini mooncakes
, consisting of 4 different flavours (2 each)
Perfect for gifts, this simply adorned with a butterfly knot, JOYOUS showcases an auspicious 8 mini snow skin mooncakes, each enveloping a truffle with different tantalising flavours.
Read on as I reveal the flavours!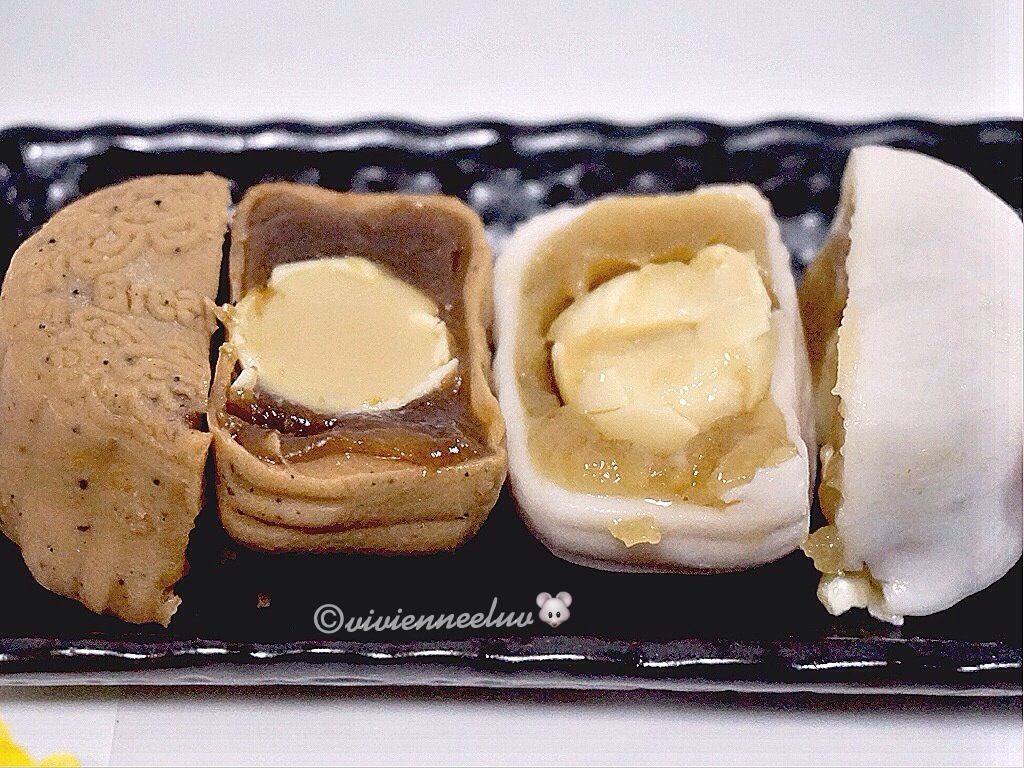 Mini Coffee Baileys Truffle Mooncake
&
Mini Whiskey Truffle Mooncake
featuring above!
My favourite is this alluring Mini Coffee Baileys Truffle Mooncake, it is very hard to choose a favourite as they are all almost equally good. Wanted to say ''Coffee lovers sure won't want to miss this!'', but when my brother was trying this (he doesn't drink coffee, not even a coffee lover for sure), ''this is like the best snow skin mooncake ever!''. His favourite among all too!
Then brother was skeptical to try the Mini Whiskey Truffle Mooncake, however I kept assuring and pestering him, he tried and he said ''this is good too!!!' *eyes open wide*
One thing about the snowskin moon cakes here at Breadtalk this year, they are all so velvety smooth!
Biting into the soft mochi-like skin, combining it with the Valrhona chocolate truffle and the respective different tempting fillings such as 12-year old Macallan whisky and Baileys Irish Cream, I have never tasted anything like this! *thumbs up*
Double Chocolate Truffle Mooncake
&
Black Sesame Truffle Mooncake
.
This rich & velvety double chocolate is a safe choice but chocolate never goes wrong!
I am always not a fan of Black Sesame, however I could tell that this Black Sesame Truffle Mooncake is smooth and fragrant. I know this is perfect for Black Sesame lover since my mum sang all praises for it!
Baked Mooncakes
BreadTalk's repertoire of baked mooncakes; including the irresistible limited edition Hello Kitty rendition, possess a thin golden brown moist pastry encompassing a generous filling crafted with premium preservative- free natural white lotus. More notably, trehalose (海藻糖), a premium sweetening ingredient that is less sweet than regular sugar is used in the mooncakes. Select varieties encompass a special egg yolk blend which is evenly distributed within the mooncake so that every slice renders a proportionate amount of egg yolk, while others include the olive kernel; an expensive ingredient generally reserved for use in Chinese medicine.
Featuring here is a box of
INDULGENCE B S$48.80 a box of 4 pieces Lotus with Melon Seeds
,
melon seeds add bite and flavour to the smooth lotus paste, most importantly it is not overly sweet!
My family loves mooncakes without yolk.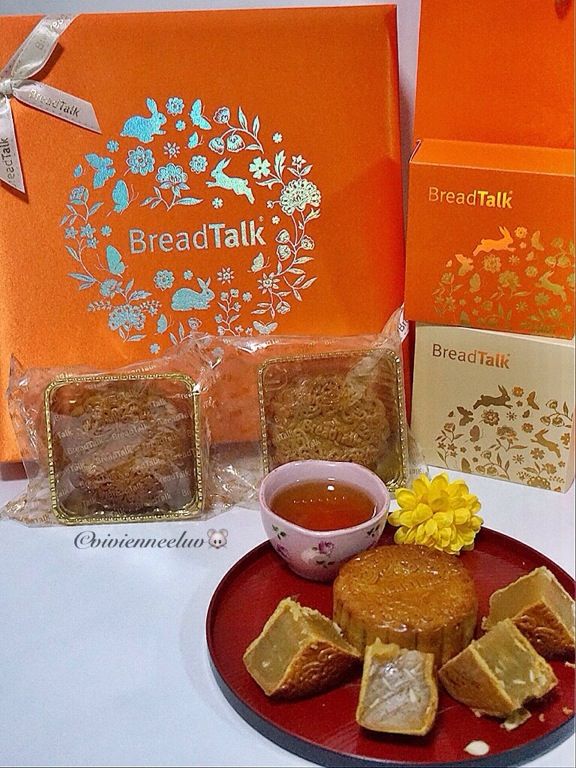 Put a smile on faces with this eye-catching cheery orange offering with favourite baked mooncakes! As you can see from the above, each mooncake is individually packed and sealed in plastic, and they are also packed into individual boxes with gold motifs. Can give to friends who doesn't want a full box of mooncakes.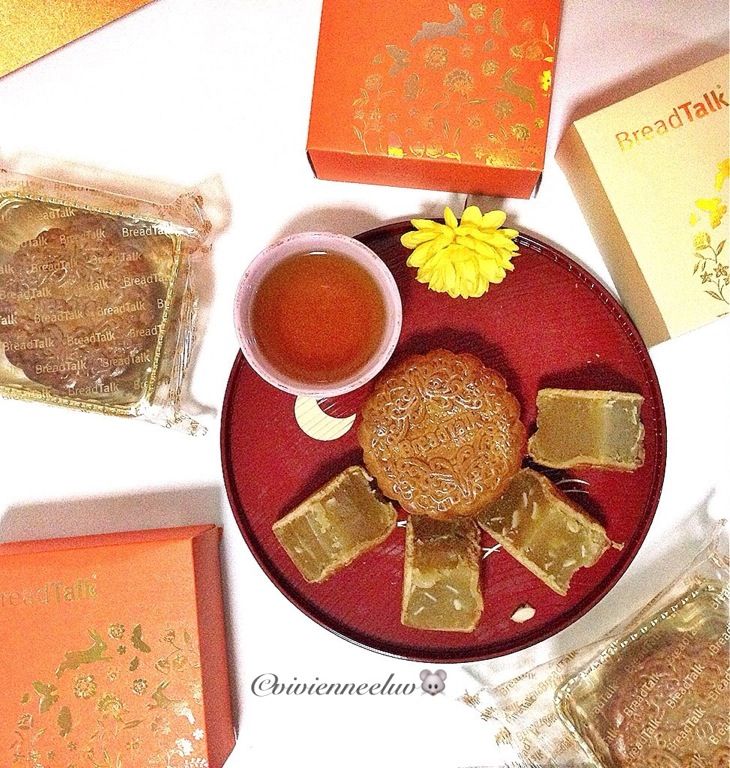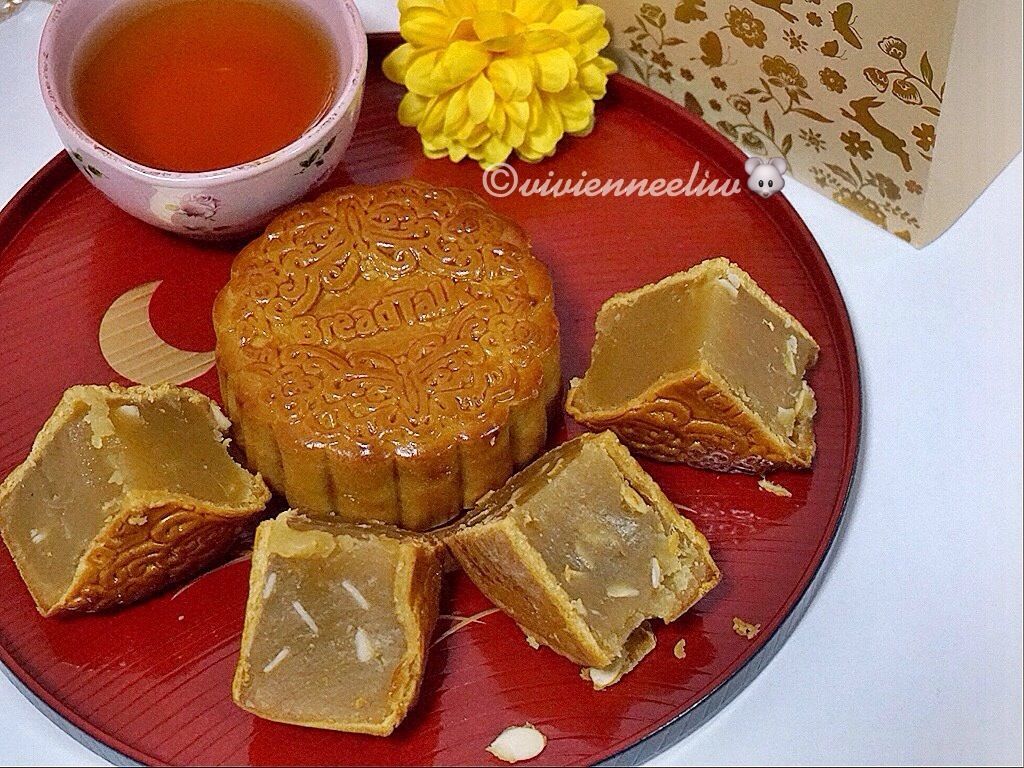 There is another version that comes in the same packaging but it is INDULGENCE A S$52.80 for a box of 4 pieces Lotus with Yolk Blend. Lotus with Yolk Blend provides a pleasing savoury and sweet combination.
Other few Baked Mooncakes
HELLO KITTY S$38.80 for a box of 4 pieces (Lotus with Macadamia and Lotus with Cranberries) (2 each)
Limited Edition. Definitely the most 'kawaii' among the collection, this adorable pretty-in-pink treasure chest with a shiny gold clasp reveals four pieces of petite mooncakes embossed with this well-loved Sanrio character's face and insignia.
PRESTIGE A S$58.80 for a box of 4 pieces 'Wu Ren' + Olive Kernel with single yolk (2 each)
PRESTIGE B S$53.80 for for a box of 4 pieces Lotus with yolk blend + Lotus with Macadamia & yolk blend) (2 each)
A picture of sophistication with its luminous gold-embossed print against the understated dark brown background embellished with a white silk bow, PRESTIGE presents four individually box-packed mooncakes with a choice of either 'Wu Ren' and Olive Kernel with Single Yolk or Lotus with Yolk Blend and Lotus with Macadamia and Yolk Blend combination.
ROYAL S$88.80 for a 3-tier box of 10 regular and mini mooncakes including Lotus with Yolk Blend, Olive Kernel with Single Yolk, Lotus with Melon Seeds, Lotus with Macadamia and Lotus with Cranberries.
This generous selection is perfect for a rousing Mid-Autumn reunion.
The luxe rhinestone-studded three-tier beauty inspired by a vanity mirror makes a classy gift with its impeccably-paired dark chocolate and striking orange silk colours which alludes to the colours of autumn.
In-Store Promotions
19th July to 19th August 2014 (Early Bird Special)
15% discount for purchase of any box of Joyous
20% discount for purchase of any box of Prestige/Indulgence
30% discount for purchase of any 3 boxes of Prestige/Indulgence
19th July to 31st August 2014
UOB cardmembers enjoy 25% discount off Prestige/Indulgence + 1 box of Joyous
19th July to 31st August 2014
Enjoy 30% off purchase of 2 boxes of Prestige or Indulgence with 14th Anniversary bounceback coupon
20th August 2014 to 8th September 2014
Purchase any 2 boxes of Prestige/Indulgence/Joyous at 20% discount
28th August to 8th September 2014
Enjoy $10 off purchase of a box of Prestige (limited to 2 boxes per customer) with Lianhe Wanbao cut-out coupon
Thank you BreadTalk for the mooncakes, totally worth the calories!