The Royal Mail Bar
Address: 2 Finlayson Green, The Ascott Raffles Place Singapore 049247
Tel: +65 65093589
Opening Hours: 3pm to 11pm Mondays to Fridays
Website: http://theroyalmail.sg
Facebook: https://www.facebook.com/TheRoyalMailSG
The Royal Mail Bar is the extended beverage arm of The Royal Mail Restaurant, established in 2002.
We past by this a couple of times, and I thought this place is very pretty, am still thinking this is a very pretty and peaceful place.
Last night, I finally get to try the cocktails at The Royal Mail Bar and I am very excited to share this with you! Not only the prices of the drinks are easy on your pocket, they are very soothing and perfect for a evening after shagging it out at work.
A trademark of the bar is the eye-catching round conter where revellers can ensconce themselves and savour cocktails as well as British-Inspired bar grub. The bar's collection of spirits and whiskeys are also displayed in its full glory.
So, after 2 years, The Royal Mail Bar introduces new speciality cocktails and British-Inspired tapas to its menus.
The facelift draws inspiration from the evolving bar culture in Singapore, where there is an increasing demand for creative drinks that really serve to impress customers based in its ingredients, presentation and originality.
Culminating 3 months of hard work by the Kitchen and bar team, they have conceptualised a revitalised direction for the bar offering with exciting choices. Guests can expect an appetising range of specialty cocktails, a well-curated range of whiskeys and spirits, as well as bar grub that boast modern Bristish sensibilities.
Drinks: Whiskey/Cocktail/Martini
Using everyday ingredients, the bar's resident bartender has whipped up 15 new concoctions. The recipes are borne out of his search for intriguing and flavourful drinks.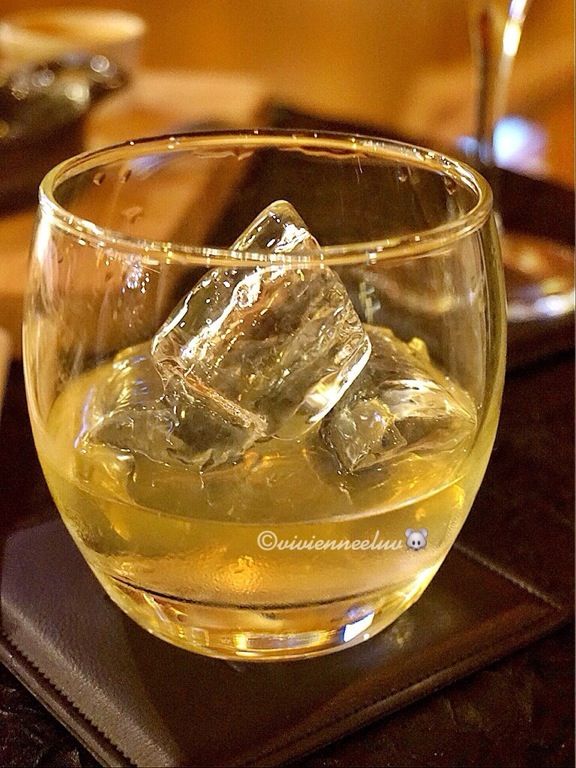 K started off with
Yamazaki 12 years S$30
.
Timeless English S$18
- brewed Earl Grey Tea shaken with Vodka and Sweet & Sour. The bergamot oil in tea leaves delights with its incredible aroma.
This is one of their signature drinks.
A Day of Summer S$18
- Orange juice shaken with Baileys, Amaretto and Bols Triple Sec. Its a milky citrus mix with fresh notes of almond.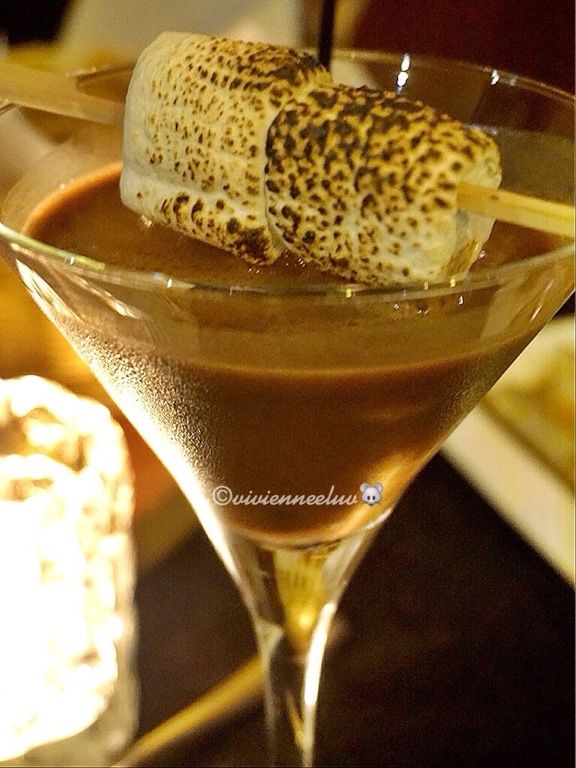 I start off with
Chocolate Dream S$18
- Shaken Baileys, Kahlua and Vodka poured onto a swirl of Chocolate Syrup, topped with Roasted Marshmellows.
I love this drink. You have to try at least once!
Another 1 of their signature is
Old Fashioned Spice S$18
- a smokey combination of Bourbon with Honey, Cloves and a burning stick of Cinnamon.
Teach an old drink new tricks with the reinvention of the classic men's drink with honey and clove infusion.
The both of us with our drinking companion last night, love this! Even K, someone who dislikes cinnamon also love this. I guess it is the hot favourite here. *Thumbs up*
We want to wake up at the
Wrong Side of the Bed S$18
muahahaha.
Another one of my favourite, I am sorry, too many favourites, I ended my night trying hard to choose a favourite from the favourites. No, I am not having a hangover now. XD
It is a shot of Espresso shaken with Vodka, Kahlua and Baileys. I think this is for coffee lovers, or maybe not. Almost for everyone!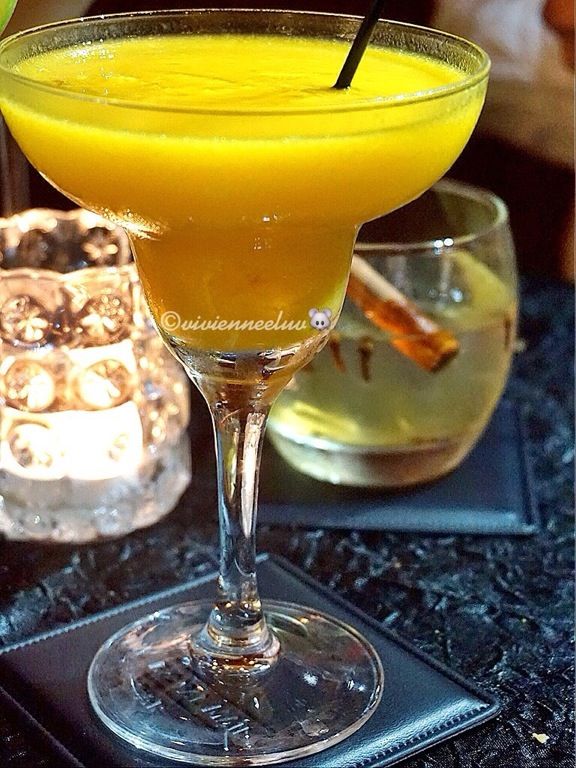 Would you like to
Be My (Man)go S$18
? Mango Puree blended with Run & Sugar. A fruity take on the classic daiquiri drink!
Well, what you see here might not be what you will be getting, because its all melted. Its supposed to look lil a margarita, frozen kind of drink.
We were all pleased with all the drinks! And I apologise for the bad pictures as its a bar, so its not very brightly lilted. But we have a good helper, my fiancé, K. He helped me and my friends with the lightings, holding 2 iPhones XD it must be a funny sight.
The handsome bartender torching the cinnamon stick for the Old Fashioned Spice. Do check out the geotag location of The Royal Mail
The flaming of Agent 006 S$18.
As you can see the flame got on to the table cloth omg, i got a little frantic and started to blow off the flame on the table.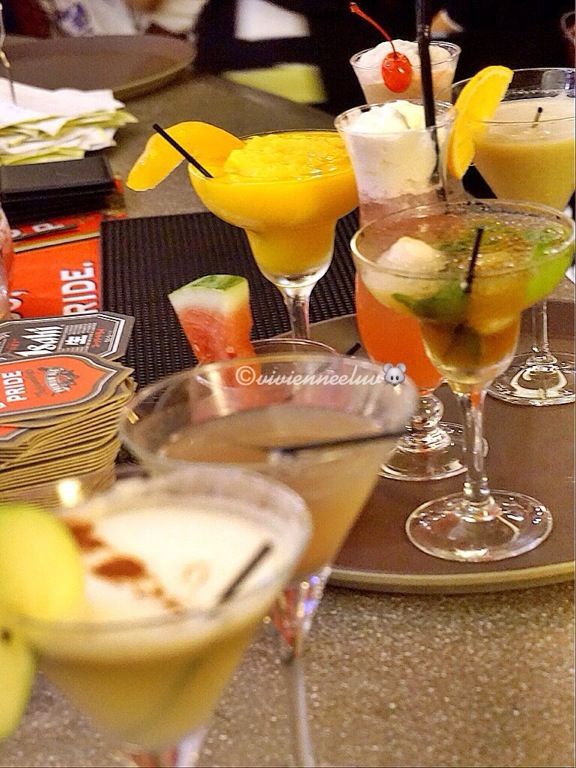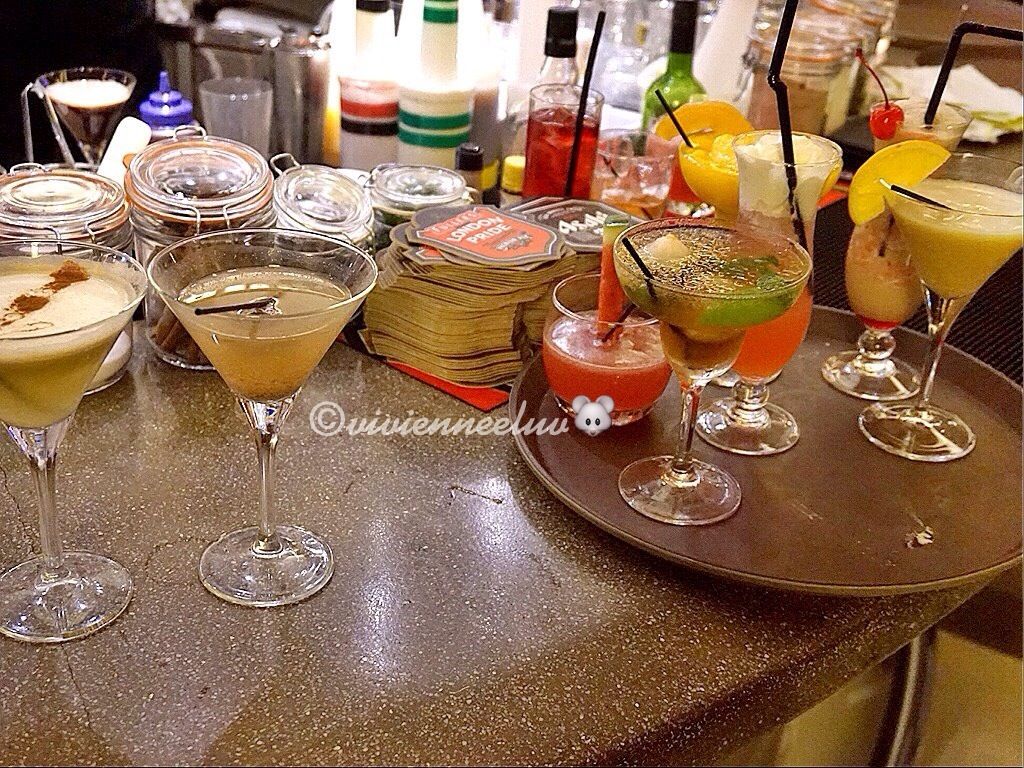 Would you like to
Foam Party S$18
with us? A party in a cup complete with a fuzzy white top.
A fizzy combination of Malibu, Bols Triple Sec, Lime Juice, Grenadine and Sprite with Whipped Cream and Rainbow Sprinkles.
Love all the names given for the drinks.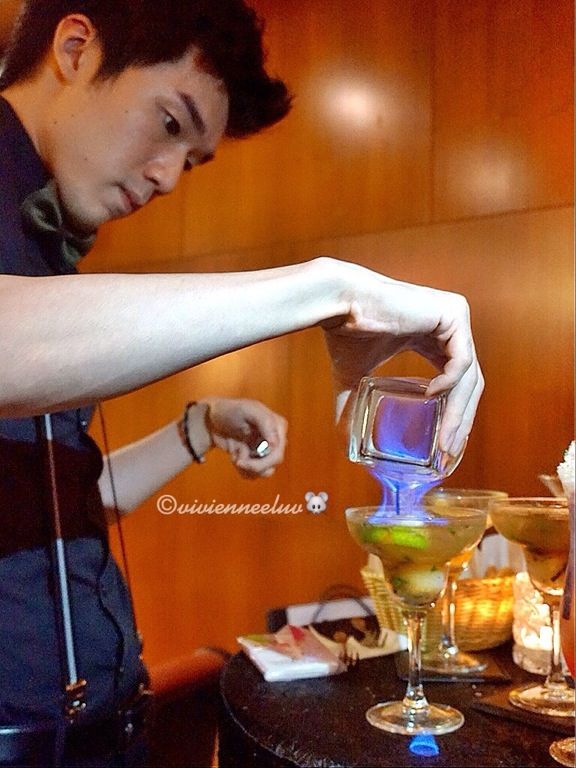 This is the drink shown in the video above.
Agent 006 S$18
- Muddled Lime Juice, Sugar and Mint leaves, with Rum and Lychee Juice with a burning stream of Bacardi 151
Burn baby burn <3
And we order 2 more, 80% to see it burn and capture a shot! hahah but of corse we drank it.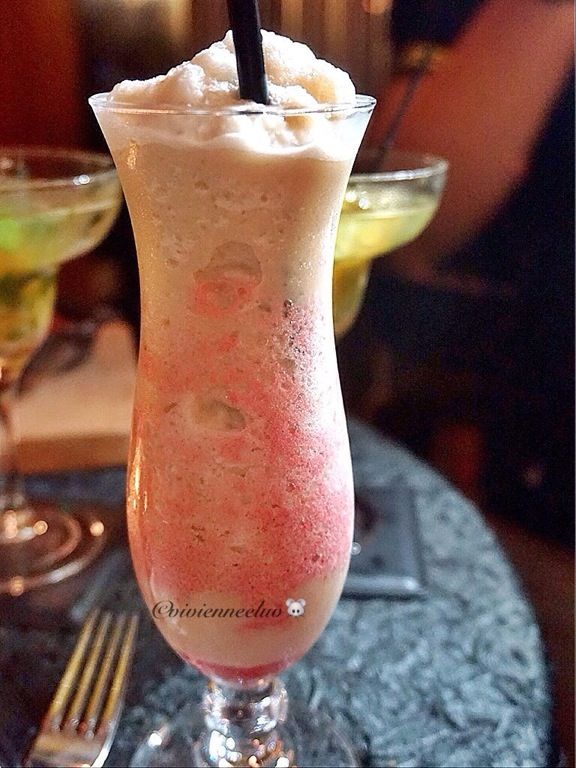 Tina Funfetti S$18
- blended mix of Baileys, Chocolate Syrup, Milk and Butterscotch with a drizzle of Grenadine and sprinkles. A very ladies drink or a boozy milkshake for the kid with a sweet tooth in you.
I kept have pronunciation problem with ''funfetti'' last night, but when I was typing this and reading it out, I have no problem. I think you can test your friends if they are still sober, by pronouncing this word. I kept getting ''funtini'' ''funfetini'', I hope the rest don't realise that.
Moulin Rouge S$18
- flame-torches Star Anise and Cherry shaken with Gin, Sweet & Sour and Lime Juice. A little sweet, spunky, and leaves you wanting more.
Or would you like a
Plum Job S$18
instead? Sour Plum Powder shaken with Vodka and Sprite, garnished with a Sour Plum for a lingering taste. Hazel & I love this too! The sweet and salty taste of the Plum Job is appetising to me.
Dear Cupid S$18
- Gin shaken with Basil Leaves, Sugar Syrup and Lime Juice topped with a Strawberry. On cupid's bad days, this is his choice of poison.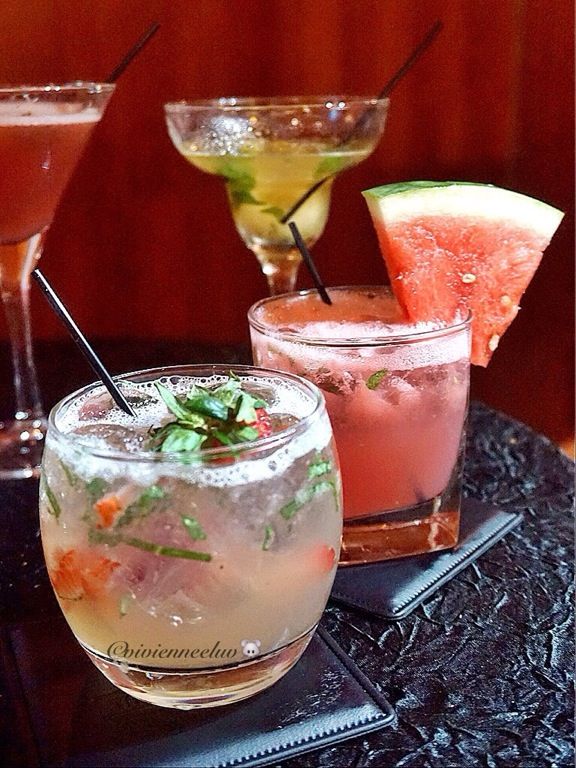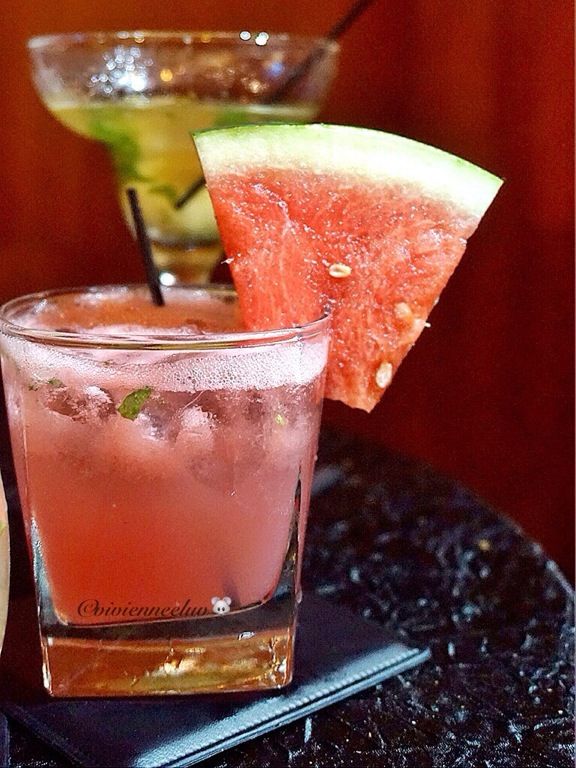 Lovestruck Ginny S$18
- Gin shaken with Watermelon Juice, Sugar Syrup, Mint Leaves and Sweet & Sour. Concocted by one who was struck by love at first sight. We all felt that it taste like watermelon juice, or our threshold for alcohol content increase for the night. For those who want a light alcohol drink, this is perfect!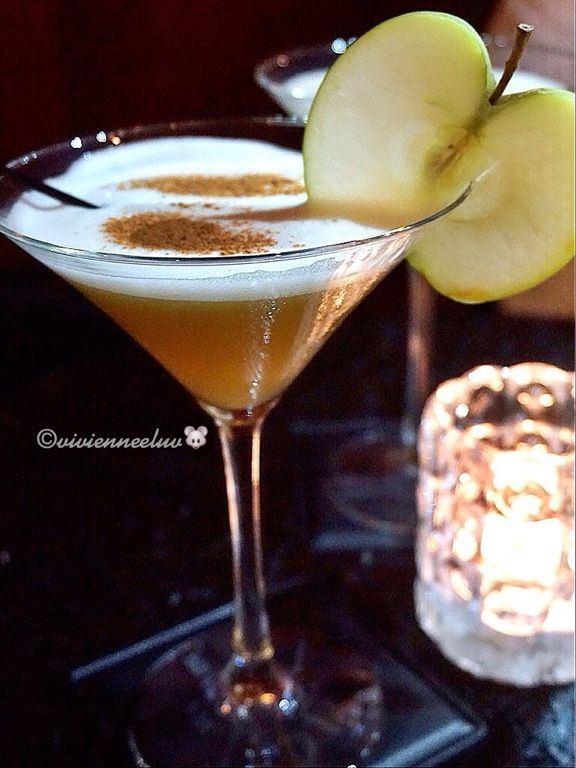 Lastly,
Apple of my Eye S$18
- muddled Green Apple Slices shaken with vodka, Frangelico, Sour Apple and Egg White for frothy finish. They use 1 whole apple for a martini, so you get all the nutritional goodness of a whole green apple in this glass!
If you are tempted by the above cocktails, good news!! See below, happy hours and daily promotions!
Happy Hour
Happy Hour at the Royal Mail Bar is from 5pm to 8 pm where all specialty cocktails go for S$10 each and 1-for-1 House Pour (Gentlemen's Pour 45ml) go for S$15!
Daily Promotions
is from 6pm to closing
Monday: S$5 - Dirty or Dry Martinis only
Tuesday: 1-for-1 House Pour and Premium Wine
Wednesday: 1-for-1 Whiskey by the Glass
Thursday: S$5 Draught Beer Half-Pint
Friday: S$10 Champagne by the Glass
''The offering of these specialty cocktails is in keeping with customers' changing preferences. The burgeoning trend of cocktail bars in SIngapore has inspired a demand for 'off-the-menu' drinks. WIth these novel creations, the Royal Mail Bar is able to offer an enamouring experience.'' said Mr Lois Blanc, Chief Executive Officer of Argentum Group.
Bar Grub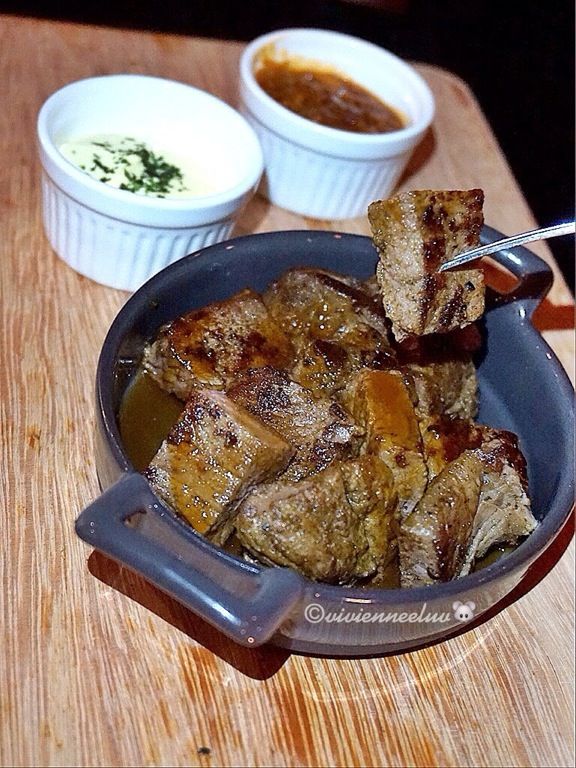 Complementing the specialty cocktails is a gamut of tasty bar grub.
Cubed Beef: Prime Roast 140g S$28
is a irresistible offering: each morsel is tantalising, especially when indulged with spicy crab-tomato and béarnaise sauces.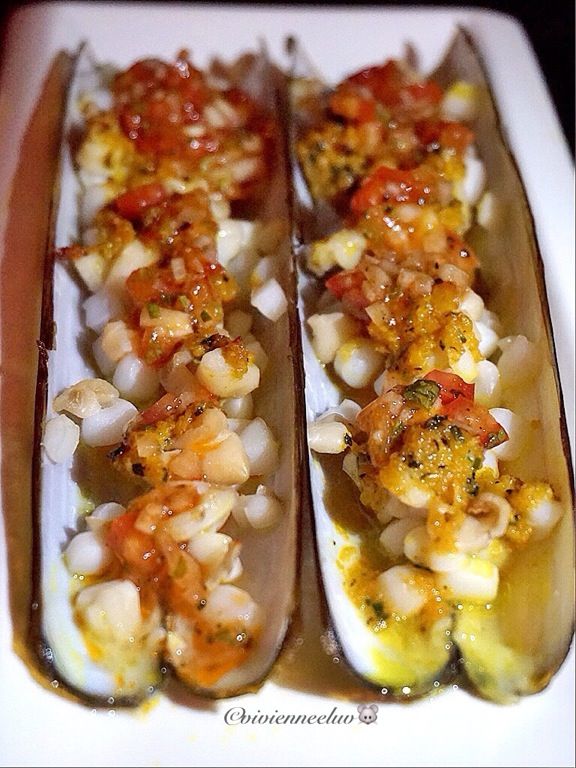 Razor Clams & Squid S$20
with chill and tomato salsa. Quite a appetising starter before the alcohols!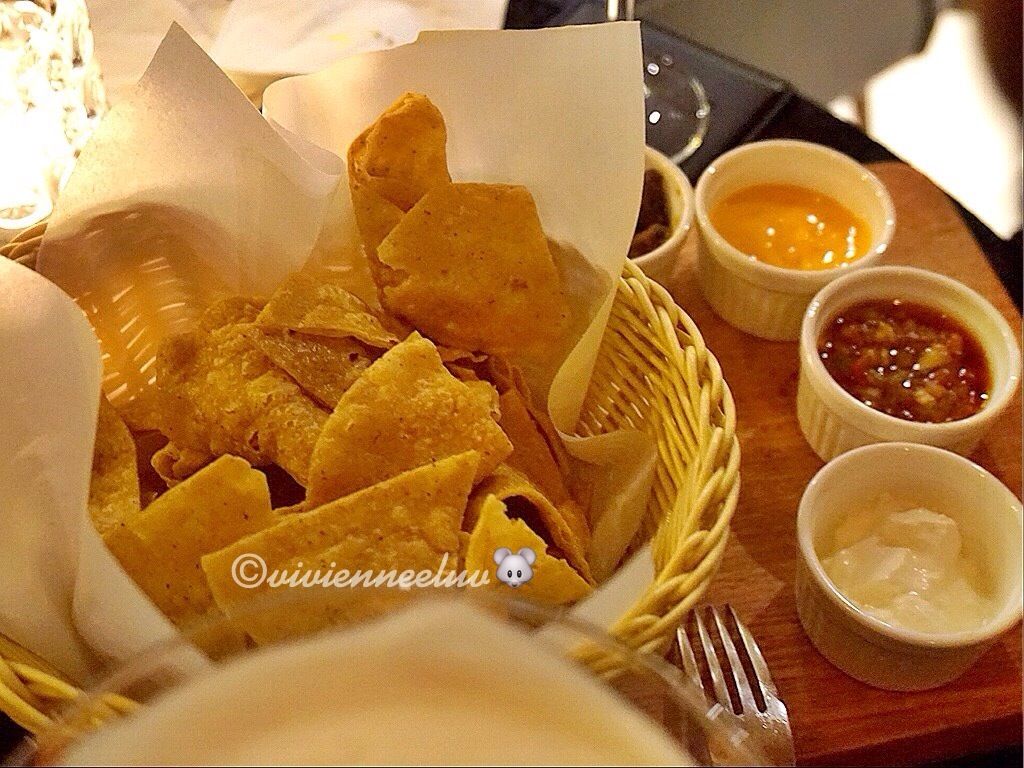 Classic Corn Tortilla Chips S$12
with Spicy Beef Ragout, Jalapeños, Melted Red Cheddar with Tomato Salsa, Sour Cream ad Cheese Sauce.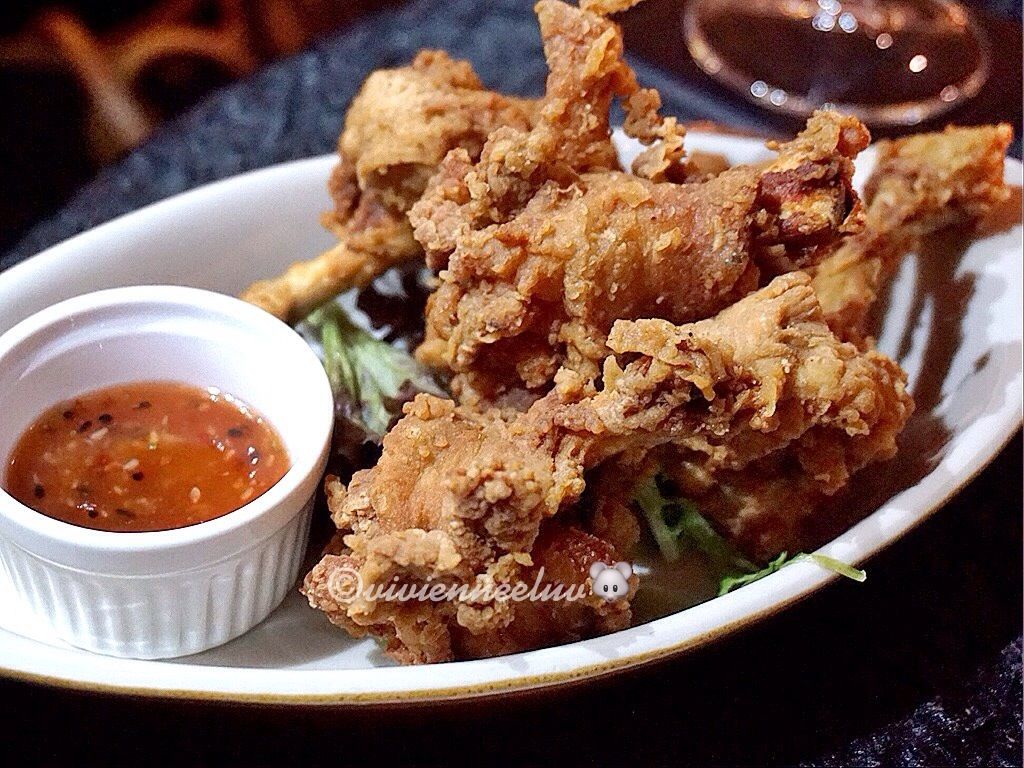 Shrimp Paste Chicken Drumlets S$14
are as what we said, ''we love fried food!'' These are perfect for beers!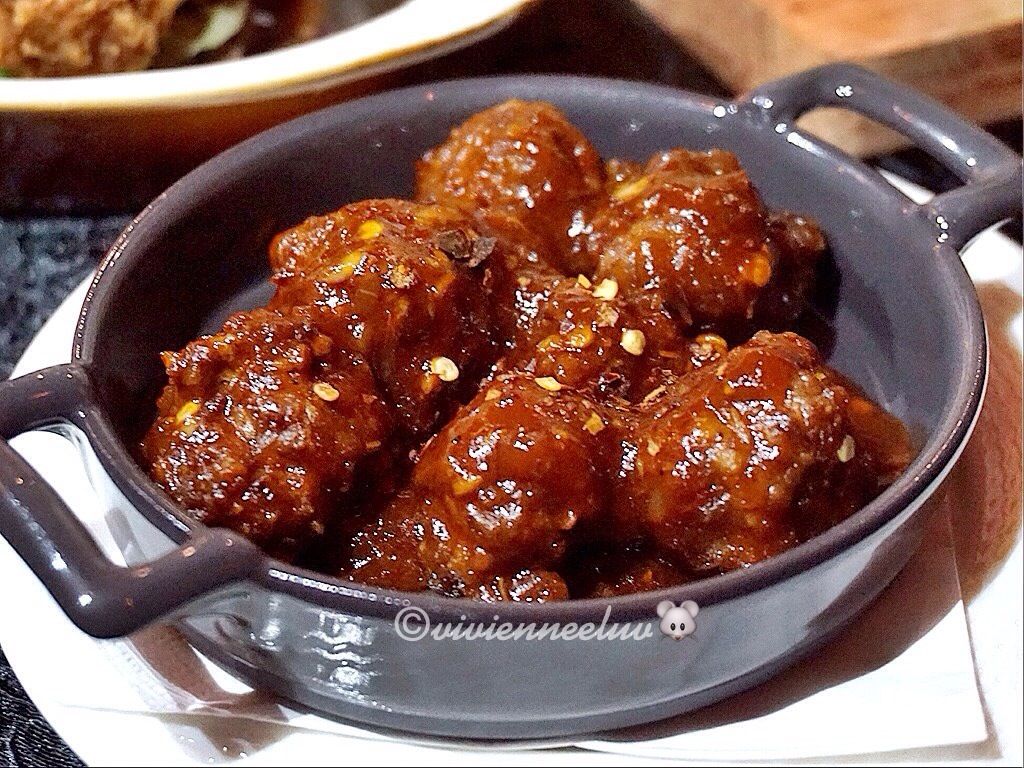 The other equally satisfying and new item on the bar grub menu is
BBQ Sweet & Spicy Meat Balls S$14
. Flavours leap off tehe plate as the meatballs are doused in a piquant homemade BBQ sauce, tempered by Raspberry jam and chill flakes - an excellent sharing dish among colleagues and friends.
Food is meant to be shared and it taste nicer this way.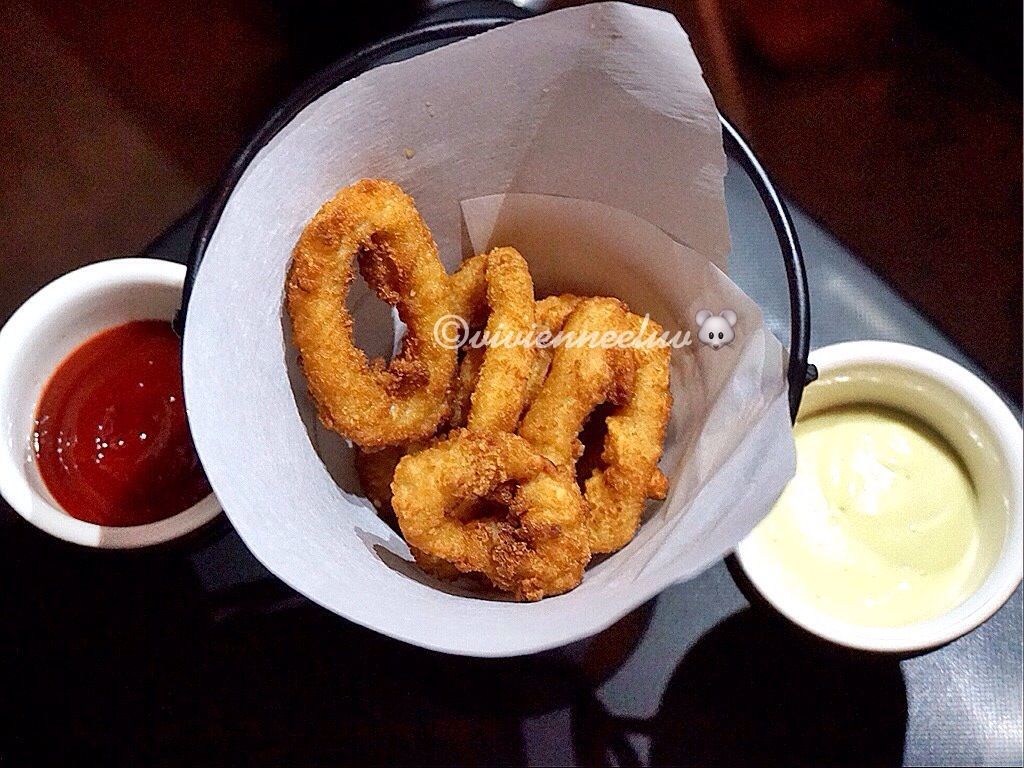 Beer-Battered Calamari Rings S$16
with Wasabi Aioli and Lemon Wedges.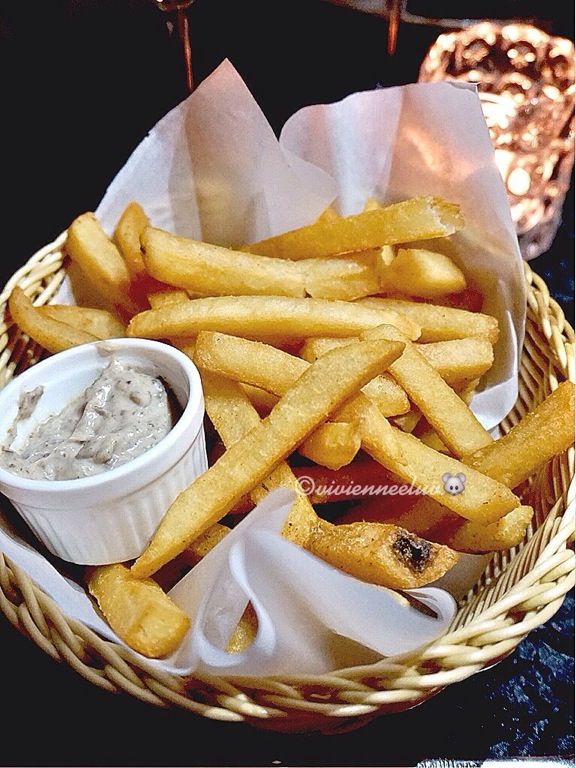 Straight Cut Chips with Truffle Mayo S$12
, the crispy fried dipped into the truffle mayo is so good!
I apologise for the not-appealing picture here, I bet you can't tell what this dish is!
Sauteed Chorizo Sausages S$16
with Tomato Concasse, Saffron, Chili Flakes and Toasted Baguette.
Garlic Bread S$8
(half loaf)
The presentation of this garlic bread is cool! For us barbarians, we peel it off and eat it. One of the better garlic bread around!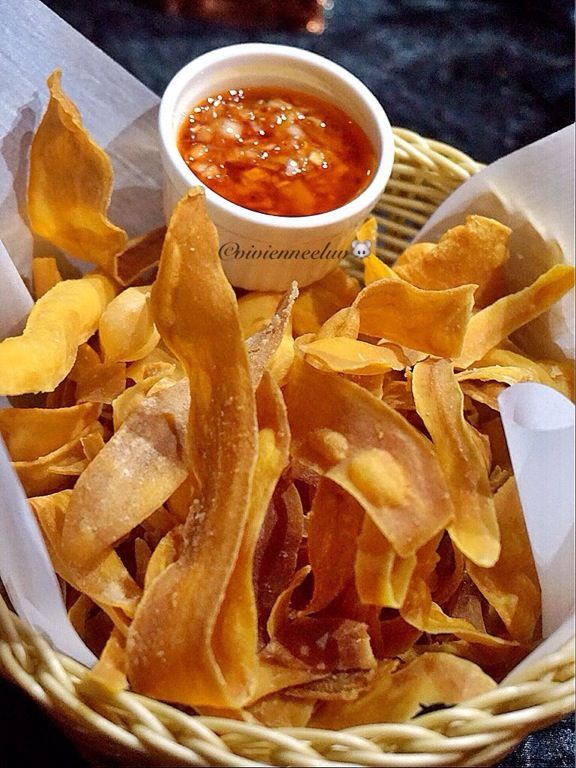 The kitchen team presents
Sweet Potato Chips with Shallot & Onion Salsa S$8
.
These homemade roasted chips are enticingly crispy on their own; dip them into the salsa and the enjoyment is increased manifold.
''Our new bar grub menu focuses on working the taste-buds of guests as they enjoy our improved menu - especially with the new specialty cocktails. As the tastes of these new cocktails vary differently from the classic alcoholic drinks, we had to give the new drinks a good try before working on complementing its taste. Hence, the teamwork behind this menu revamp is crucial to what our guests can experience and enjoy.'' said Group Executive Chef, Chef Micail Chepi.
Apart form Bar Grubs, the Royal Mail Bar also offers main course such as Sandwiches, Chips, Burgers, Pizzas, Pastas and even Asian Selections like Kung Pao Chicken, Black Pepper Beef, Nasi Goreng Kampong!
Desserts
Vanilla Creme Brûlée S$8
with Balsamic-marinated Mixed Berries to end off the night! Sweet & satisfying, I am sure we had sweet dreams after that!
Wait no more, quickly grab a couple of friends here for a drink or two. Or three, or more!
You may also book the place for events! Do contact them if you have something in mind!
Thank you The Royal Mail Bar for having us last night. Its a great and wonderful evening with drinks, and everybody letting their hair down.