| | |
| --- | --- |
| Address: | 1 Stadium Place Kallang Wave Mall #01-16 Singapore 397628 |
| Opening Hours: | 11.30am to 10pm Daily |
| Facebook: | https://www.facebook.com/basilbythaiexpress |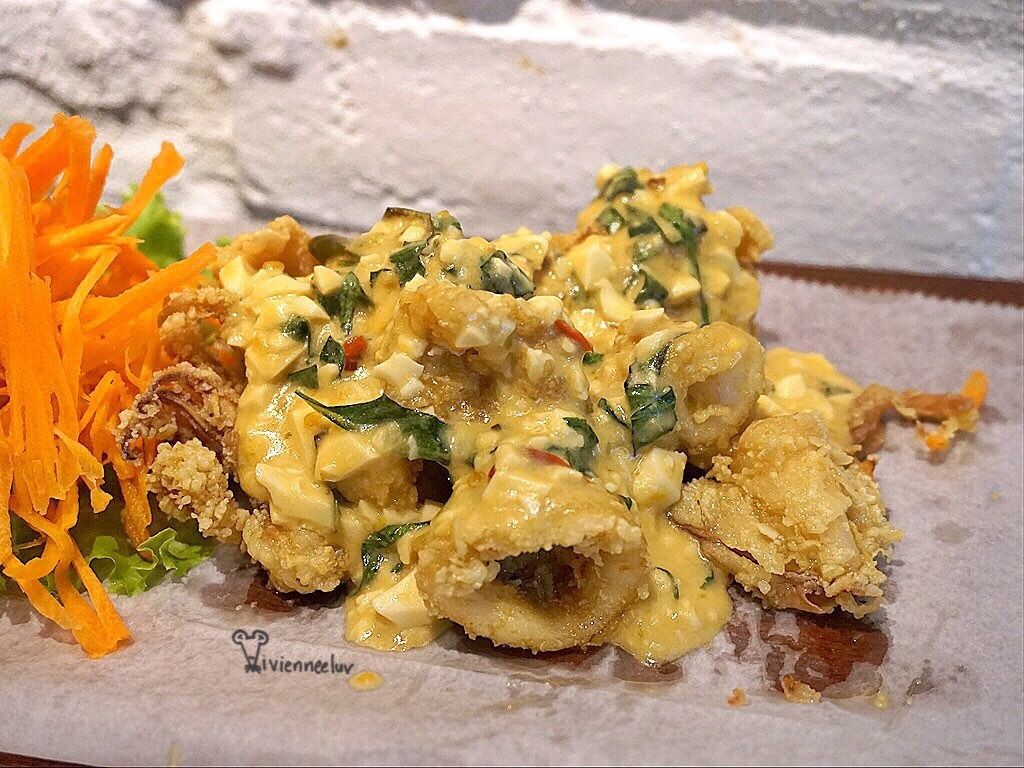 Last Thursday, Le Khakis, Sissy, K and myself got ourselves saucy and wet at Basil by Thai Express. Find out why!
Thai Express offers 4 new dishes to celebrate Thailand's traditional Songkran Festival.
Located right inside the iconic Kallang Wave Mall, spotting a cosy, hip and rustic look, Basil by Thai Express is serving good and affordable food in a nice ambience to the younger generation. It is also catering to people of different palates from vegetarians to non-spicy food lovers.
The interior.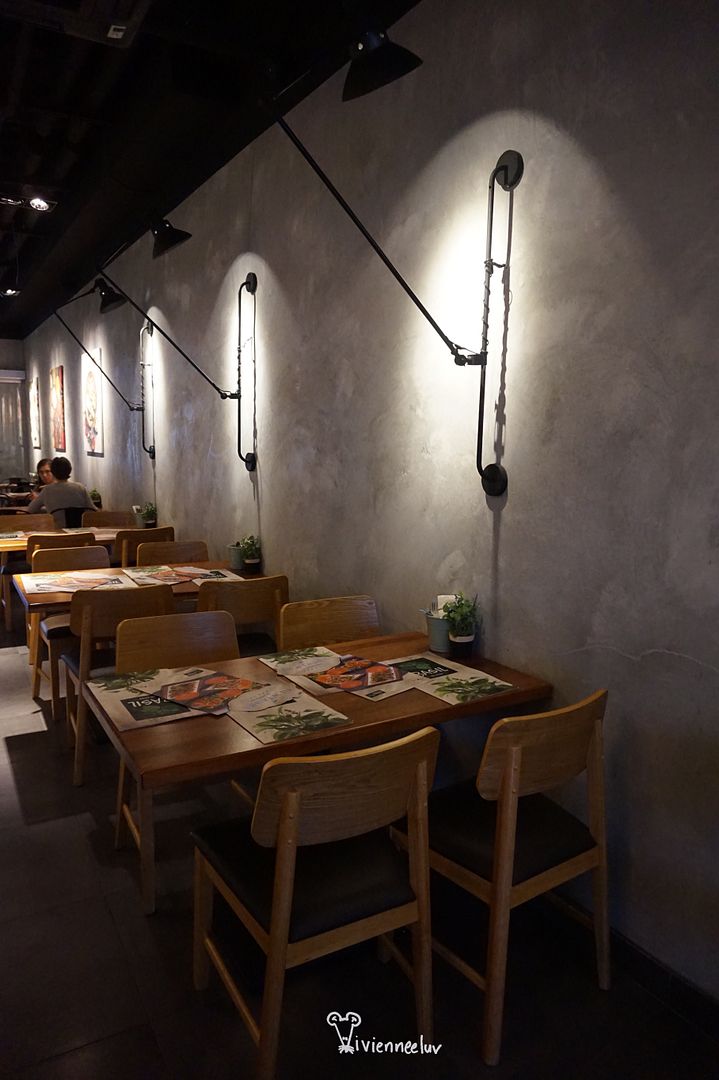 Taken from the outside of Kallang Wave Mall.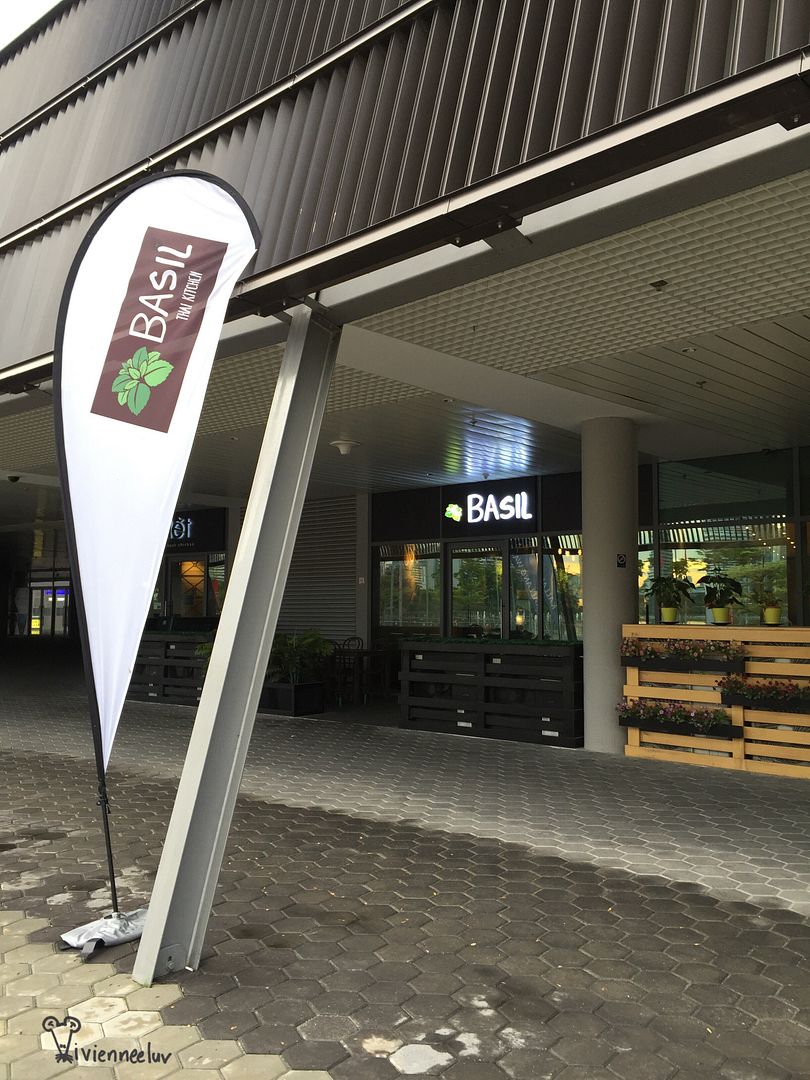 Spot alfresco dining, which will be so romantic at night.
Lets see what food are offered here at Basil by Thai Express. Most of the dishes are presented with a touch of Basil leaves and are prepared fresh daily.
Thai Fishcake S$7.90
Moist and spicy fish patties which has a slight tom yum taste, served with light cucumber and peanut dipping sauce. We enjoyed this 1st dish.
Spiciness level: 1 chili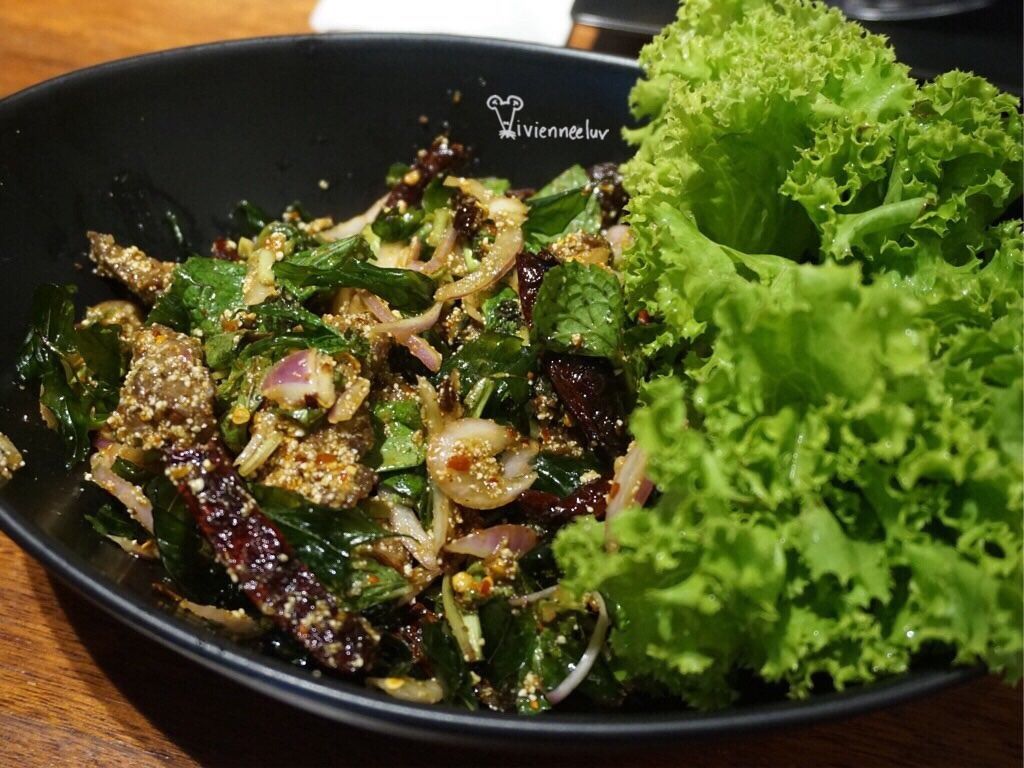 Grilled Beef Salad S$10.90
Sliced ribeye steak tossed in chili and lime dressing and sprinkled with roasted rice and fried basil leaves. Each piece of steak is tender and flavourful.
Spiciness level: 1 chili
Nam Prik Mamuang S$8.90
Homemade mango and shrimp paste chili dip (rightmost) served with crispy stick rice (leftmost) and vegetables platter in the middle.
K commented the crispy rice balls look like sotong balls, they are actually rice rolled into balls.
We cut the rice balls into half and took a little of the dip to spread in between the rice. OUCH its spicy mind you! Although its 2 chilis, we can't finish the dip.
Spiciness level: 2 chilis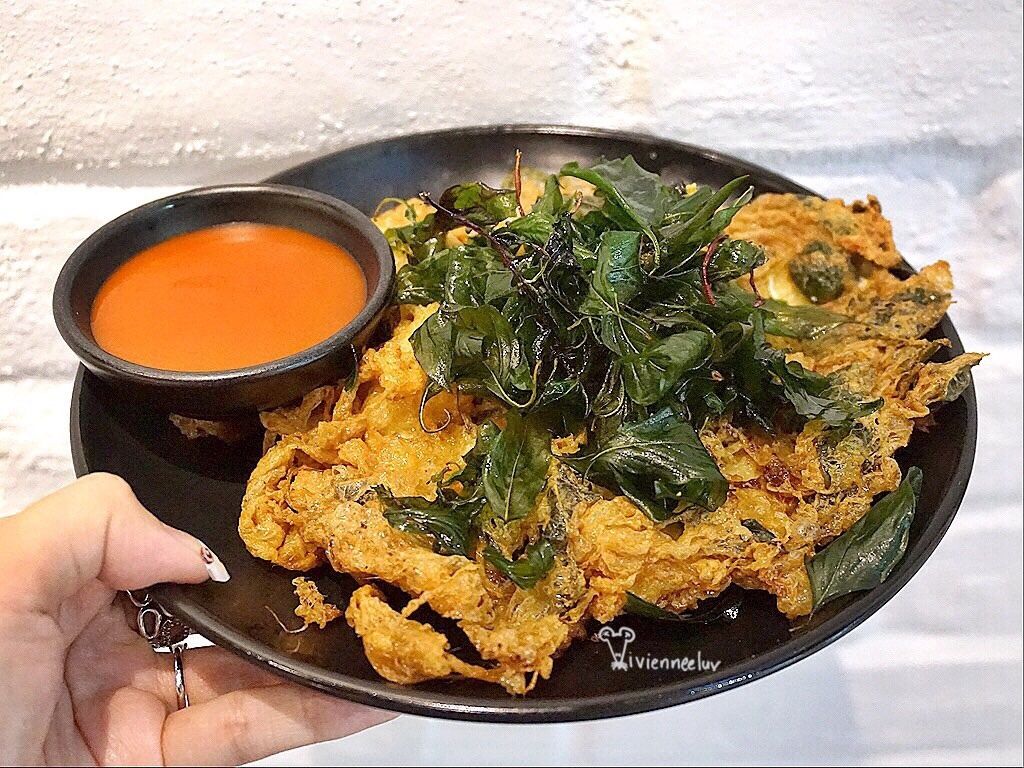 Fresh Prawn Omelette S$8.90
Finally a dish without chilis as we were sweating madly, call us lousy.
This fluffy thai omelette is infused with basil aroma.
Phad See Ew Seafood S$10.90
Another non spicy dish is flat rice noodle stir fried in sweet soy sauce, love the wok hei taste in this dish.
As I was saying earlier, Thai Express introduces 4 new dishes specially for Songkran, we get to try them all! The Sonogran menu is available from 9th March 2015 to 19th April 2015!
Som Tum Papaya Salad S$9.90
Love the taste of the salad but it was WAY too spicy! When I first put the salad into my mouth, i get to taste the full flavour of the salad, the sourness, and crunchy of the fresh papaya and vegetables, shortly after the spiciness kicks in! It was a pity as I really love the taste of the salad but I have to leave it untouched.
Those who like spicy food, should really try this.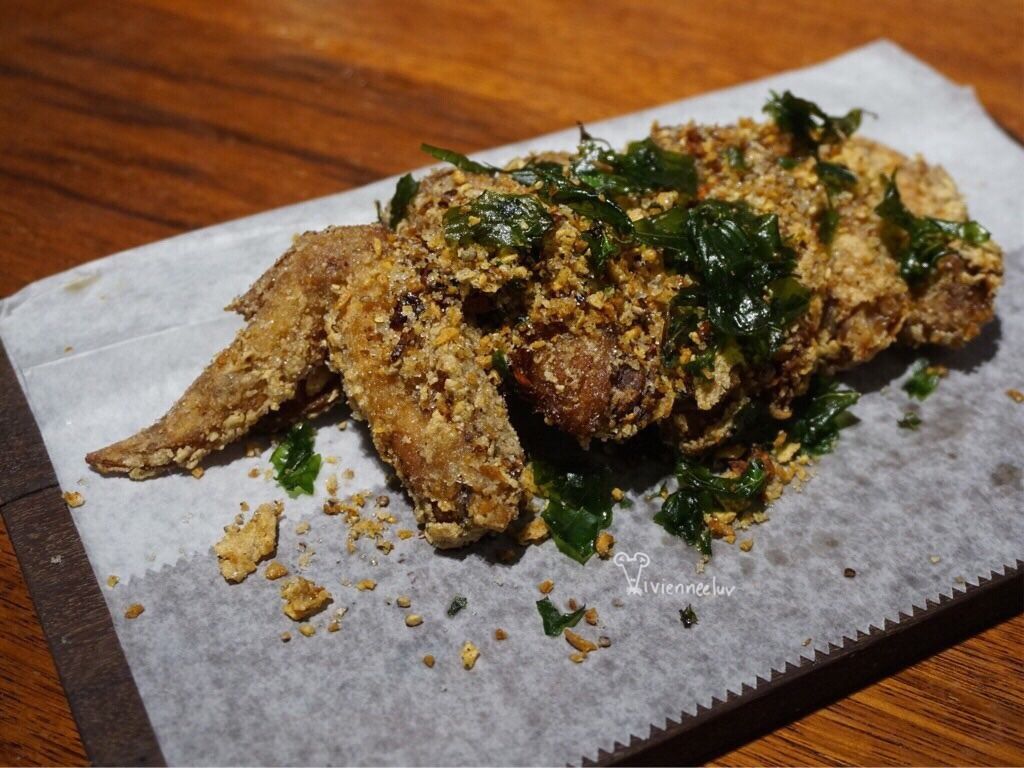 Singkran Chicken Wings S$10.90
Fried chicken wings were so flavourful, and fried to a crisp with lots of garlic flakes sprinkled on top. I wish I had more than 1. Will definitely come back for this.
Pla Muk Khi Khem / Thai-Style Salted Egg Calamari S$10.90
Deep fried calamari drizzled with chef's special thai-styles salted egg sauce.
Still prefer our chinese zhi char salted egg sauce which is more salty and tastier in comparison.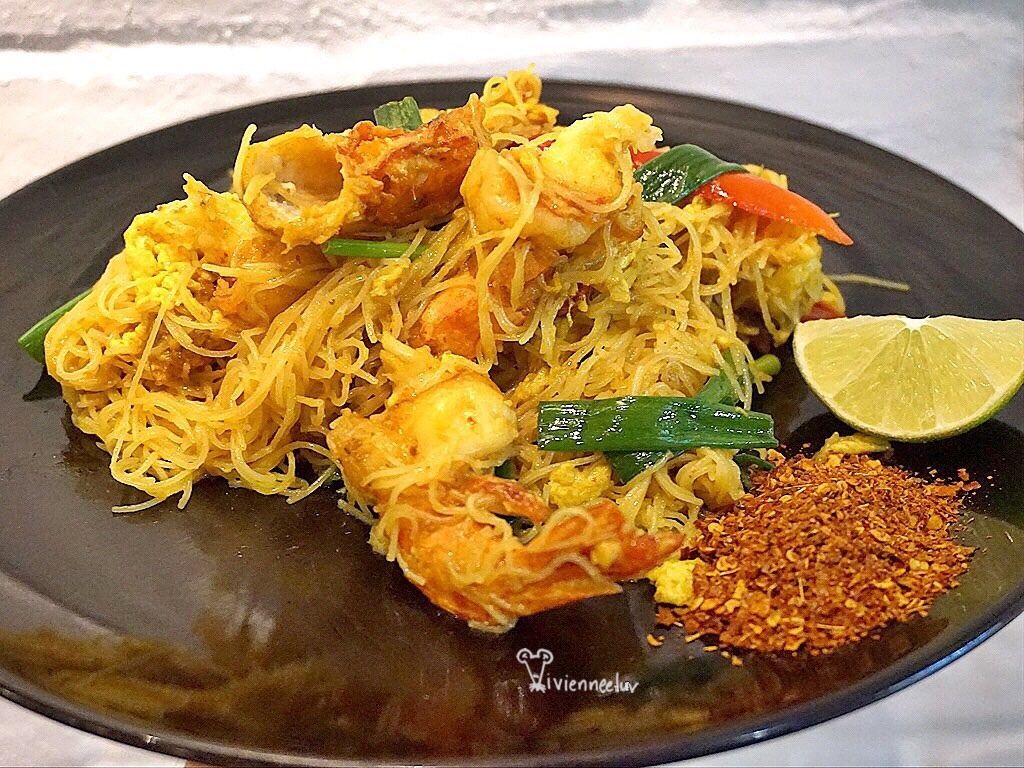 Phad Mee Phuket / Stir-fried Phuket Bee Hoon with Tiger Prawns S$16.90
Taste similarly to fried curry bee hoon due to the notes of fresh coconuts in this dish.
After all the spicy food, we of course need some thirst-quenchers, to also bring down the heat on our tongues.
Thai Iced Tea S$3.90
Bael Drink S$3.90
Bale is a type of apple, I chose this due to its health benefits like aid digestion, contain anti-inflammatory properties, help weight loss and lower cholesterol.
It wasn't too sweet too.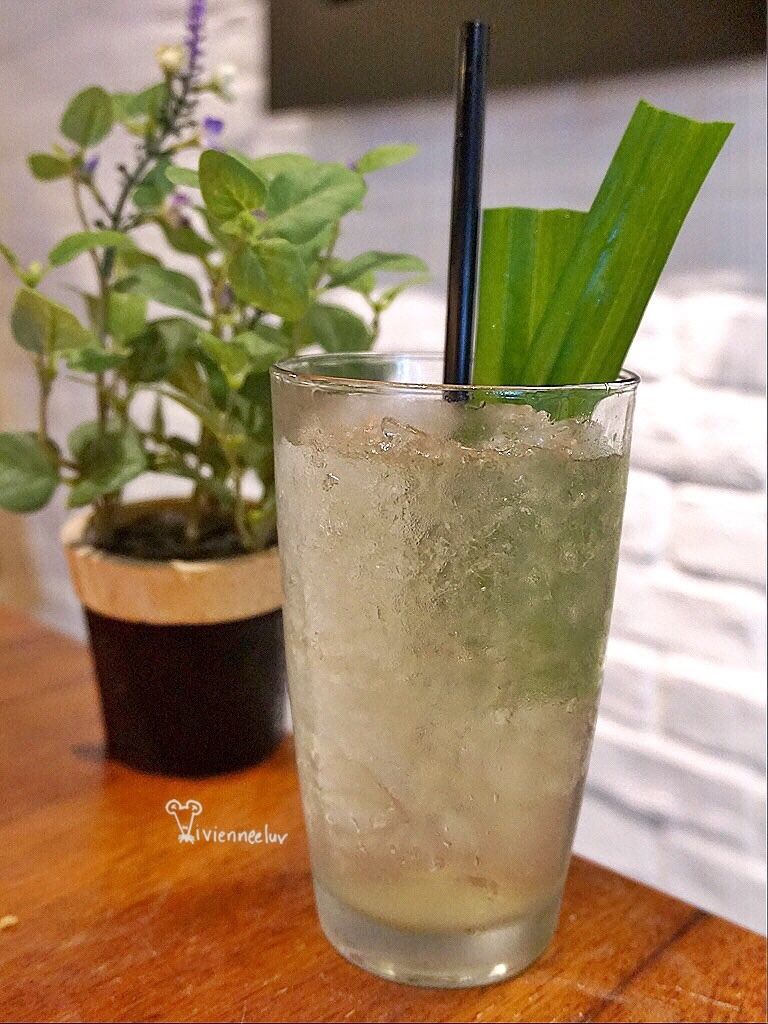 Pandan Drink S$3.90
Next drink I had was Pandan Drink, Jamie told us that the staff squeezed pandan juice everyday, all of the drinks are house made.
Drinking every sip with appreciation.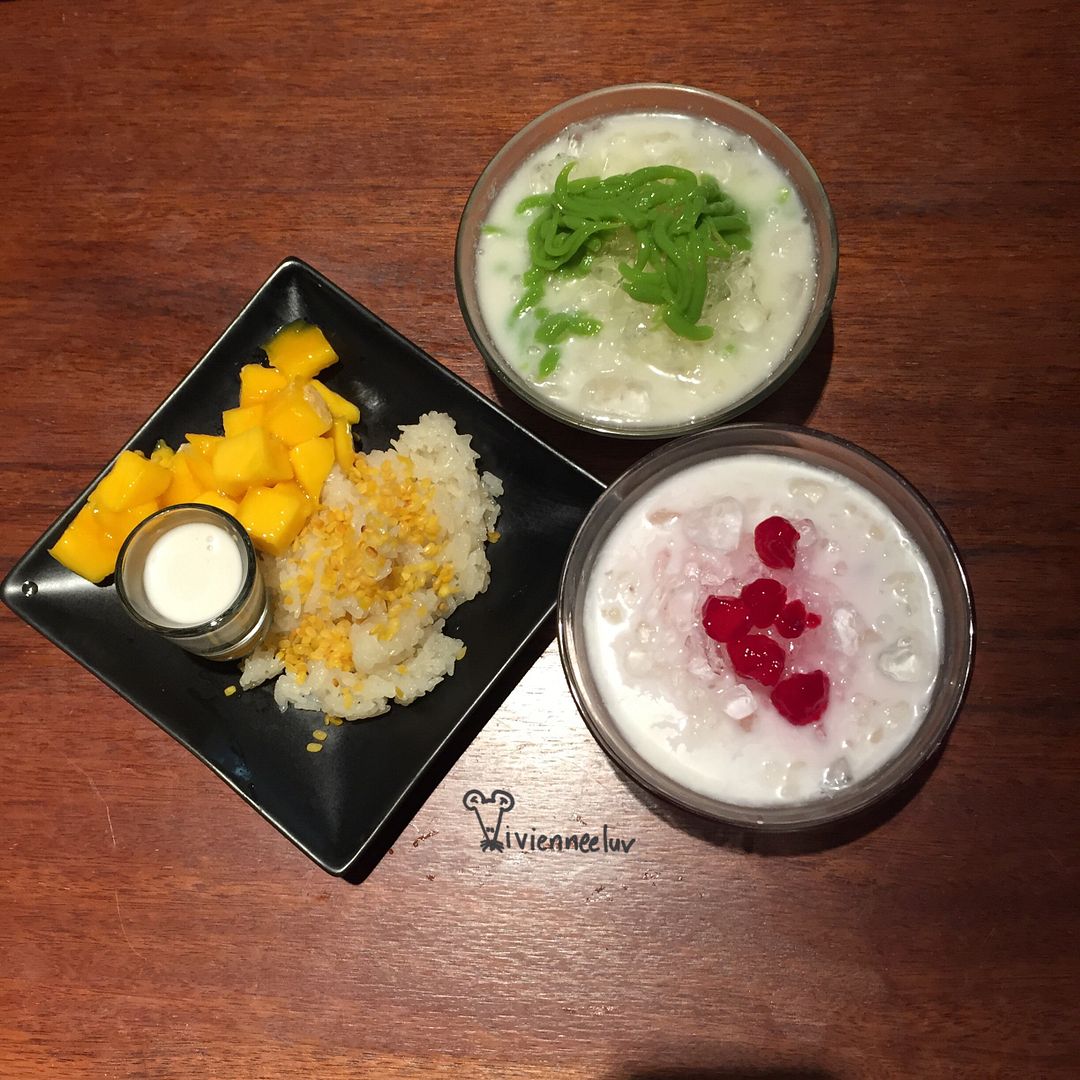 Complete our meal with thai desserts of course!
Mango Sticky Rice S$6.90
The mango is sweet, however the toasted rice was too hard, i can't totally enjoy my favourite thai dessert.
Homemade Lod Chong S$5.90
We mistaken this to Chendol, so long as we see the green jelly on a coconut dessert, we will relate it to dessert :P
This is actually coconut with the green jelly. No other ingredients or gulf melaka like chendol. Those who loves chandelle but find it too sweet, should try this! I fell in love with this good bowl of Lod Chong. However, 1 downside of this dessert is the course ice, would prefer finer ice-kachang-like ice instead of the big chunks of ice.
Red Ruby with Coconut Cream S$5.90
Lastly, red ruby! Love the generous water chestnuts in jelly. The same downside as Lod Chong is the coarse ice they used.
Spend a minimum of S$50 (before GST and Service Charge) to get a free mini water gun and a unique code to enter the lucky draw for the grand prize. However, there is already a winner to the grand prize which is flying Business Class on Bangkok Airways to Bangkok and Koh Samui!
But you are still in time to win S$100worth of Thai Express Vouchers. All you have to do is to pose and take pic of with the ''Trick Eye'' Museum-like standees outside every Thai Express Outlets, post your pictures on Instagram and hashtag #ThaiExpressSG and #SongkranThaiExpress.
3 most creative photos will win! Good luck!
Thank you Basil by Thai Express for having us!