Website: http://www.joeanddough.com
Joe & Dough celebrates 6th year anniversary by introducing a special sandwich, ''The Ultimate Sandwich'' at S$6 a pop. However when we were there, the promotion ended the day after, 5th April 2015.
Anyway, its better late than never! I will still be writing this post as I thought the sandwiches at Joe & Dough are so much better than what I had expected.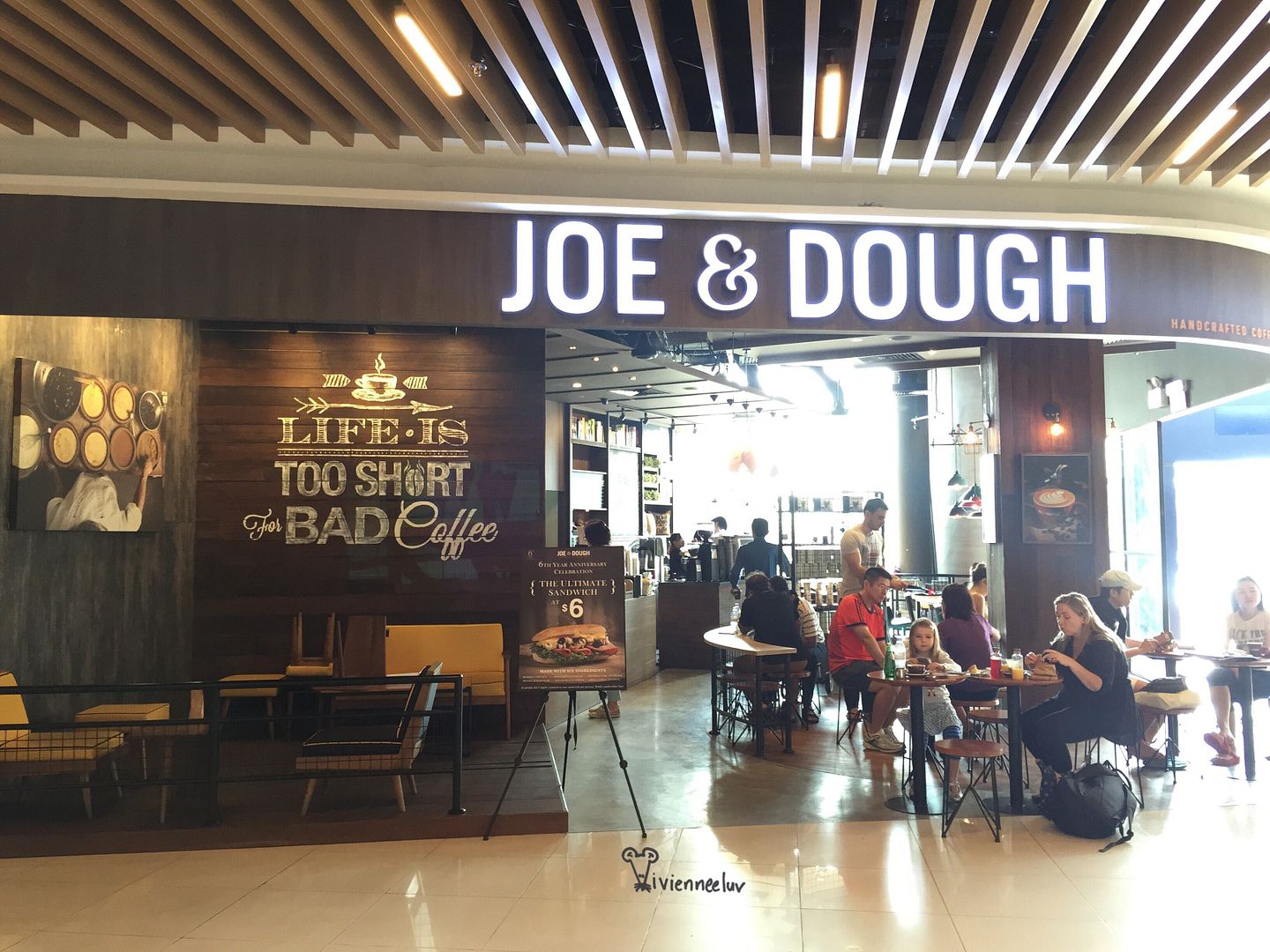 Joe & Dough recently opened their seventh and eighth outlets at Madam Tussauds Singapore and Square 2.
Despite the ever changing names in the café scene in Singapore over the years, Joe & Dough has managed to stand their ground with their meticulous attention to detail - only the finest sourced Arabica beans are used in their coffee roasts, and their sandwiches are made using fresh baked artisanal breads with no artificial additives which makes for a wholesome experience.
Since inception to the scene in 2009, the unflagging husband-and-wife team, Damien Koh and Dawn Wee, have evolved from being a humble independent café to a multi-chain success. Spreading their unwavering love of signature quality coffee, handcrafted sandwiches and baked goodies island wide.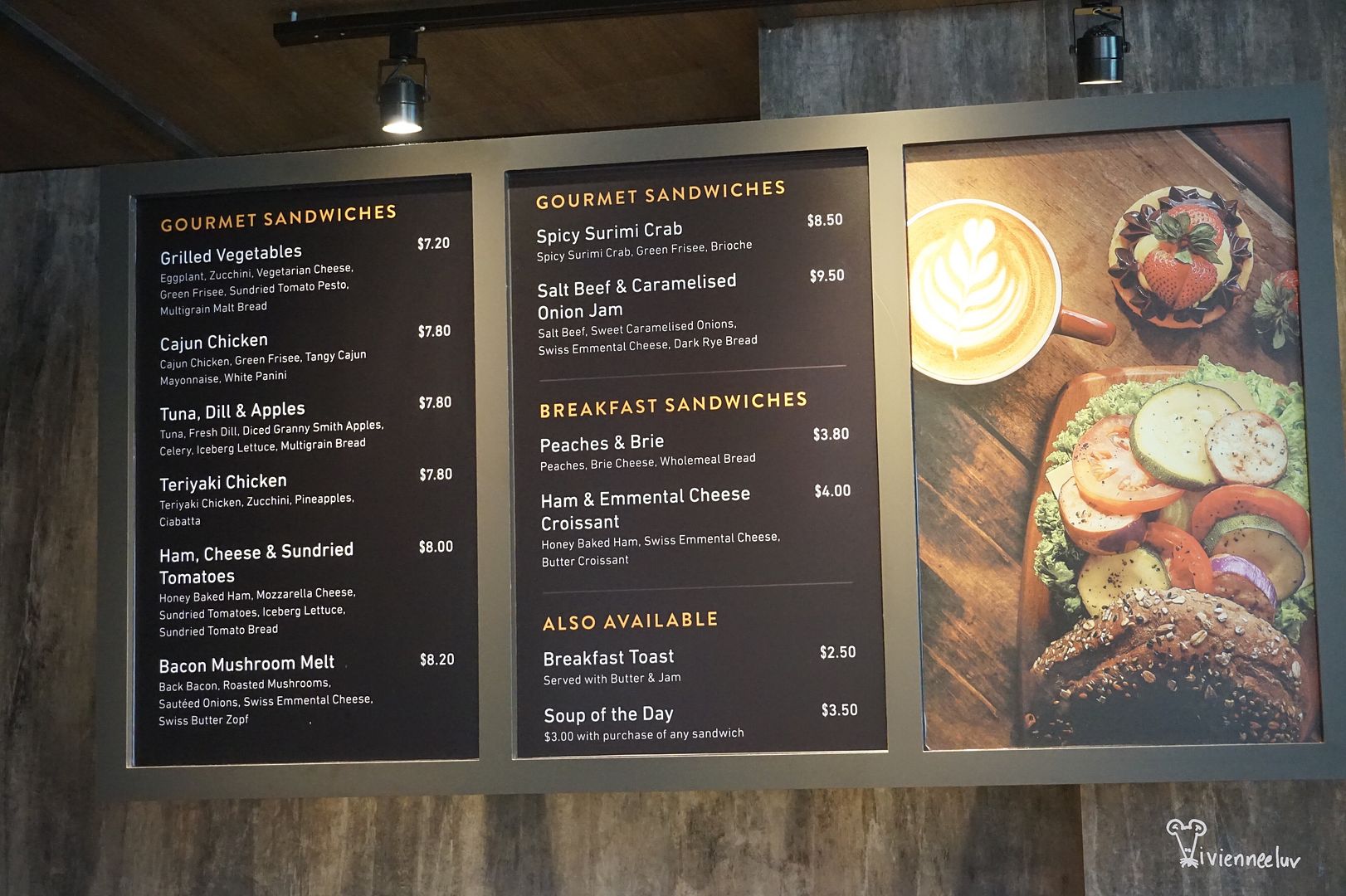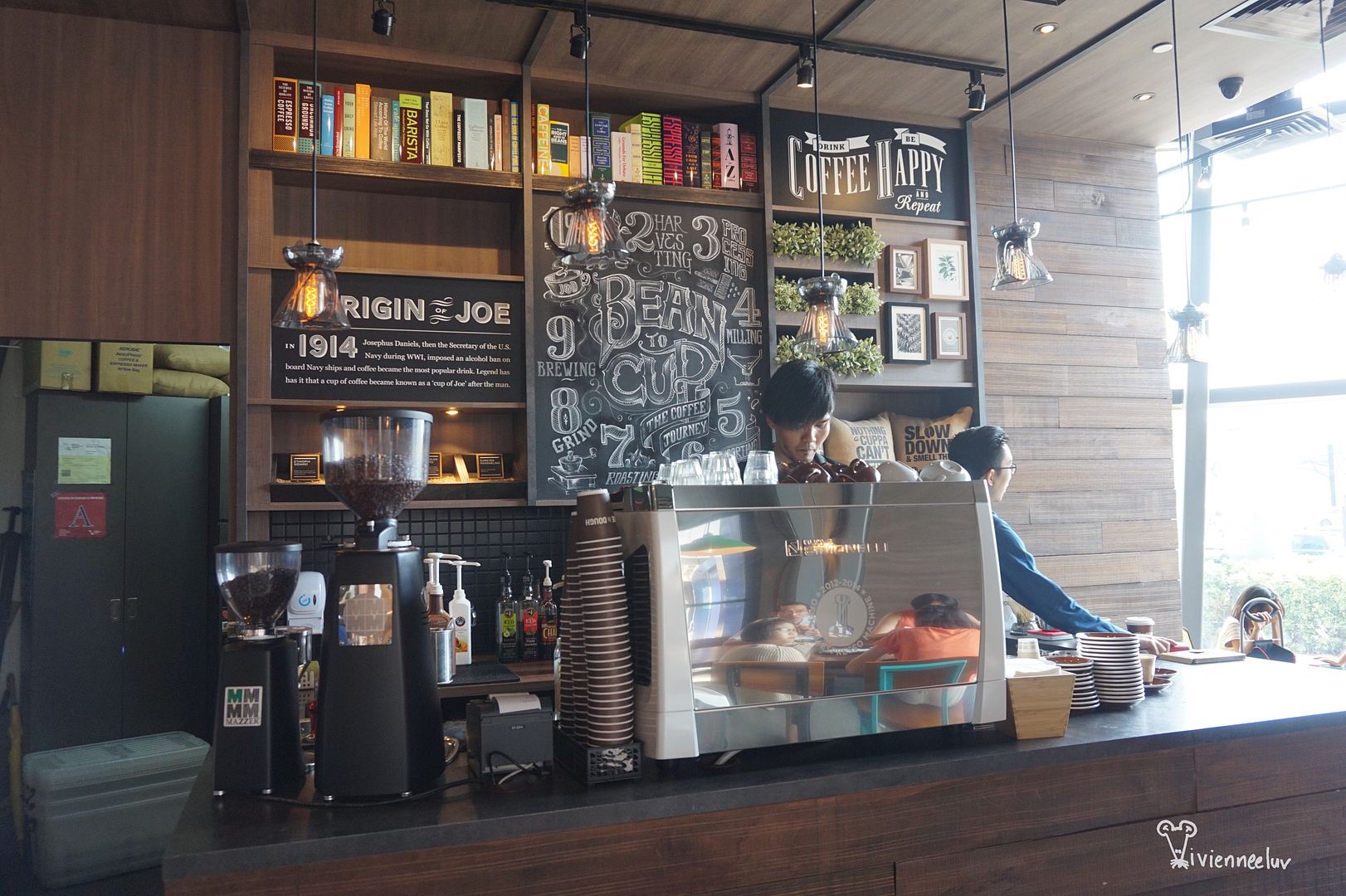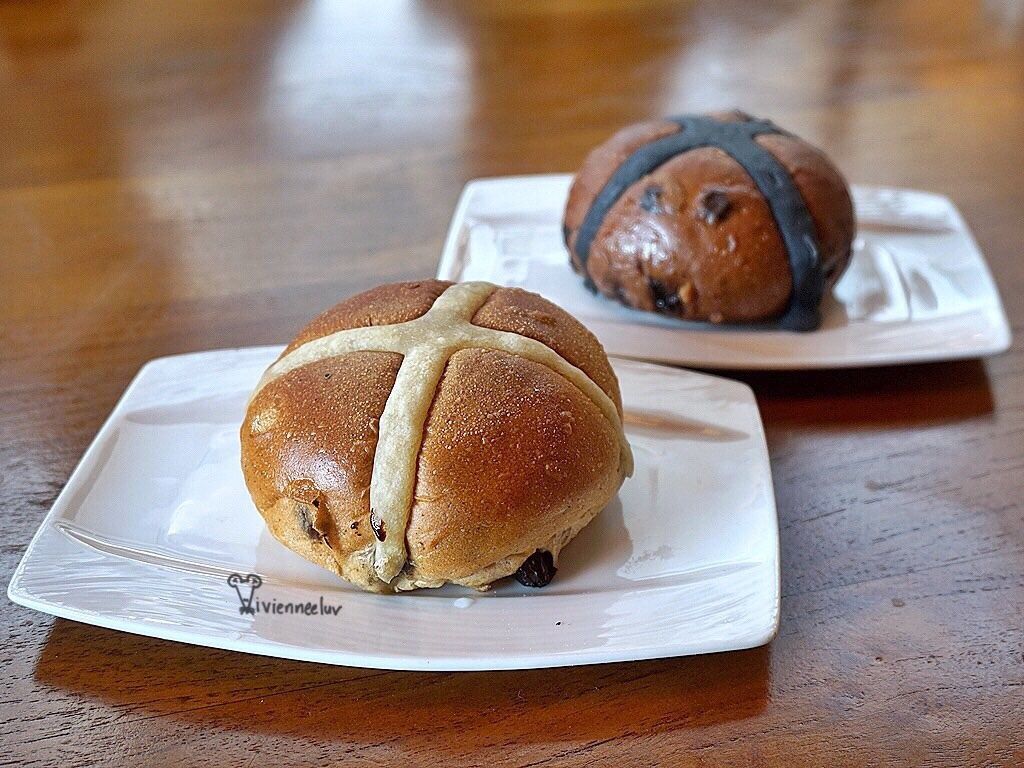 Hot Cross Buns - Cinnamon / Chocolate S$2.50 each
No longer available, be sure to catch them next year!
Love the warm, freshly toasted cinnamon hot cross bun!
The Ultimate Sandwich S$6
No longer available. However Millenia Walk's outlet was closed for relocation that time, this will be available when it reopens.
This is the 6th Anniversary sandwich that I was talking about earlier. The sandwich was toasted to a crisp, I am not a sandwich person but after trying some sandwiches here, it changed my impression of sandwiches. This is
sissy
's favourite.
Without using extravagant ingredients, the sandwich embodies what Joe & Dough stood for - honest and unassuming good food.
Ham, Cheese and Sundried Tomato S$8
Honey baked ham, mozzarella cheese, sundries tomatoes, iceberg lettuce on sundries tomato bread. I had a very hard time trying to cut up the sandwich as its was so crispy and hard, just use your hands and eat!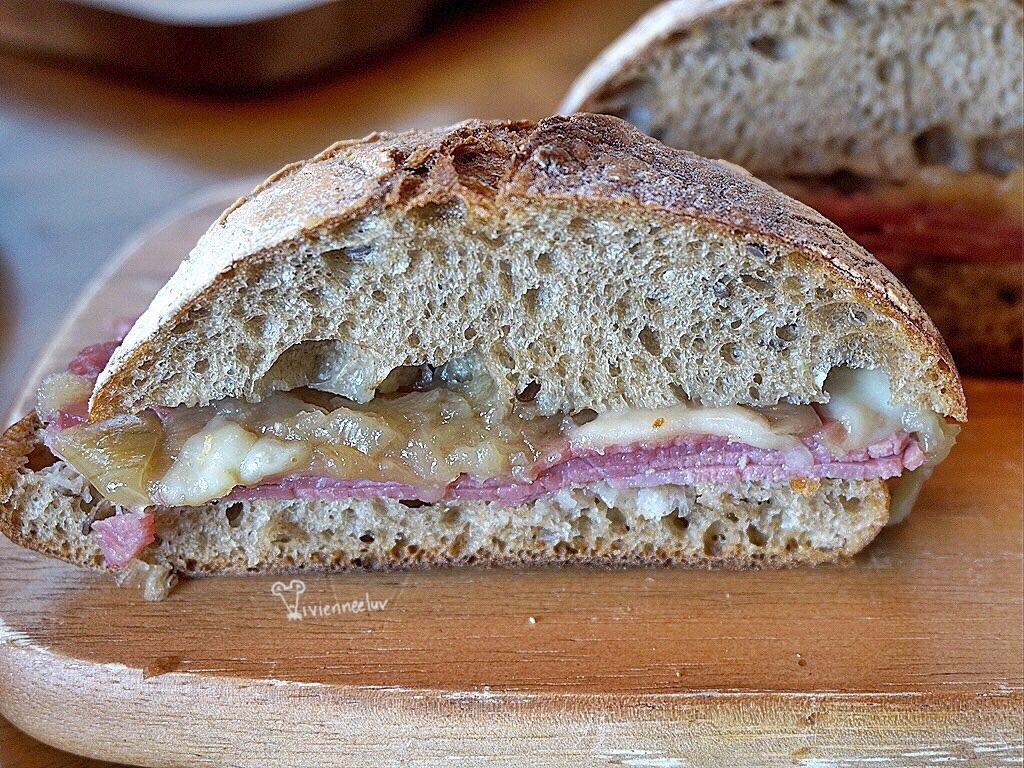 Salt Beef & Caramelised Onion Jam S$9.50
Salt beef, sweet caramelised onions, swiss emmental cheese on dark rye bread. The onion jam tasted a little like pickles to me.
Bacon Mushroom Melt S$8.20
Back bacon, roasted mushrooms, sautéed onions, swiss emmental cheese, swiss butter zopf.
My favourite among the 4 we had tried! Firstly its not as hard as the sandwiches, secondly the soft buttery bread taste so good on its own already, lastly bacon, mushroom and cheese will never go wrong.
Zesty Orange Tea Cake S$4.20
Cakes were heated up for us as well, therefore you see this creamporn here. Tasted really good with the melted cream.
Blueberry Yoghurt Tart S$6.50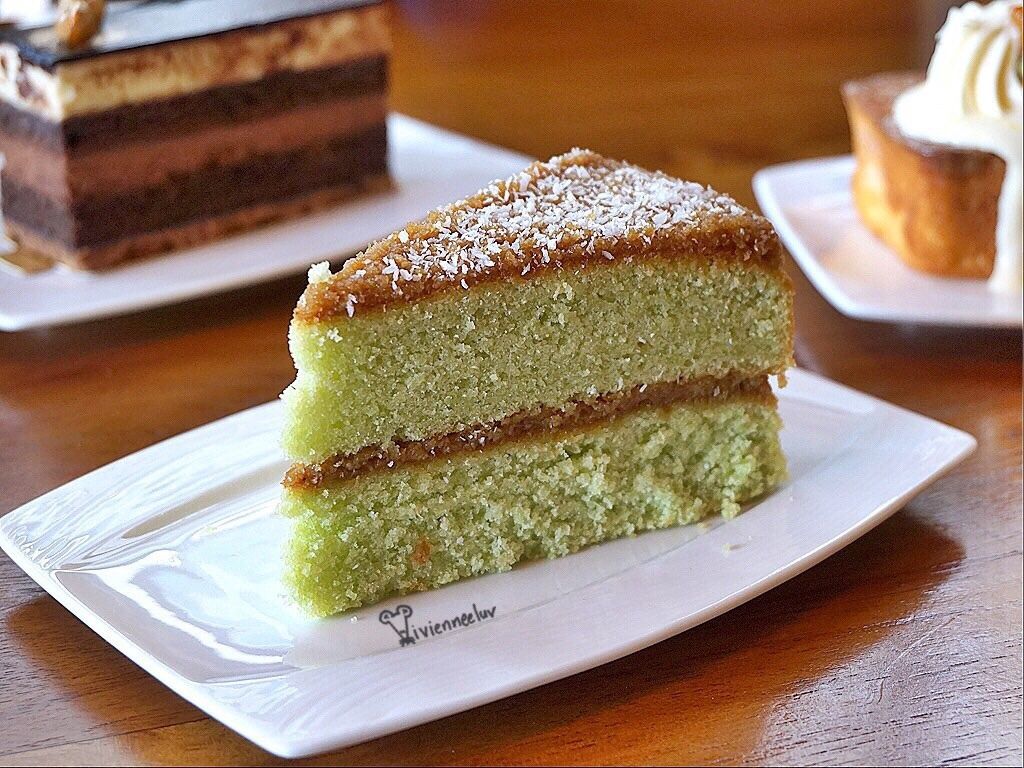 Gula Melaka Pandan Cake S$5.50
This tempted the ladies so we had to order, I thought it looks a little dry to me. The taste was not bad, pandan and gula melaka is totally for Singaporean, however its a little dry for my liking.
Chocolate Trio S$6.50
Love the layers of this cake, definitely for chocolate lovers.
Carrot Cake S$6
The cream cheese is a little too sweet.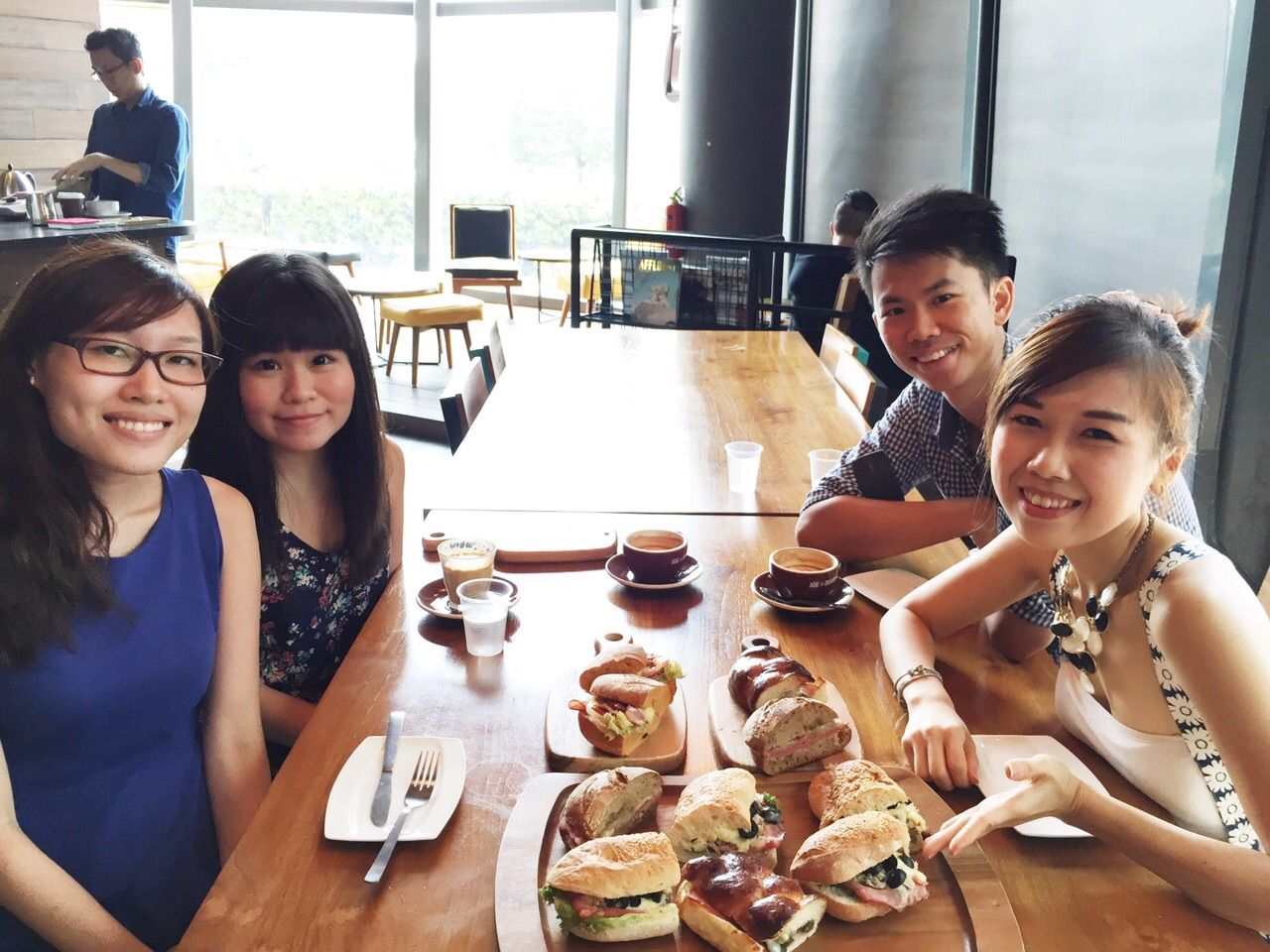 All of us, happy and can't wait to start munching on the sandwiches.
We came here, not just to eat...
After filling our tummies, we start our coffee appreciation class!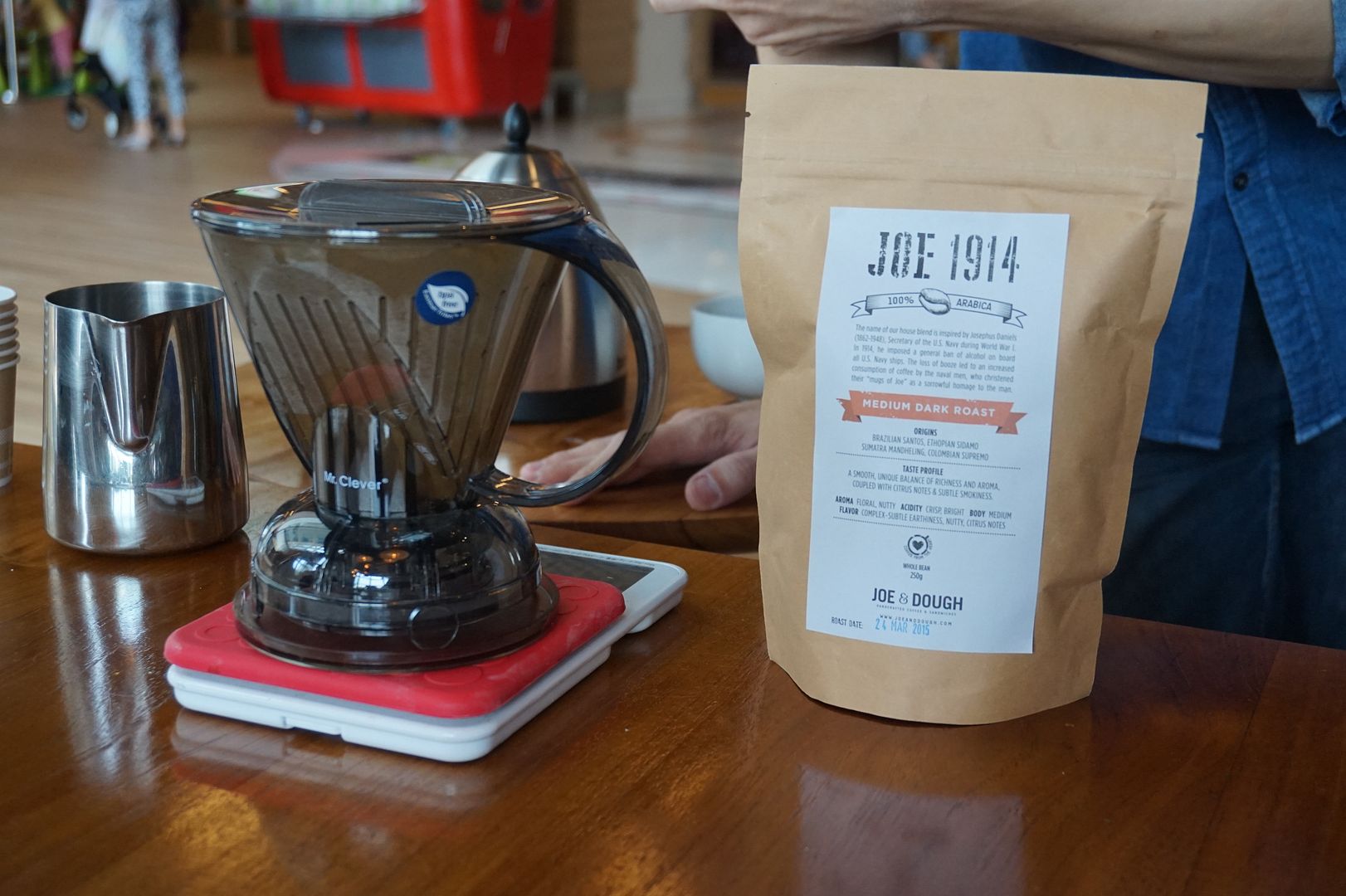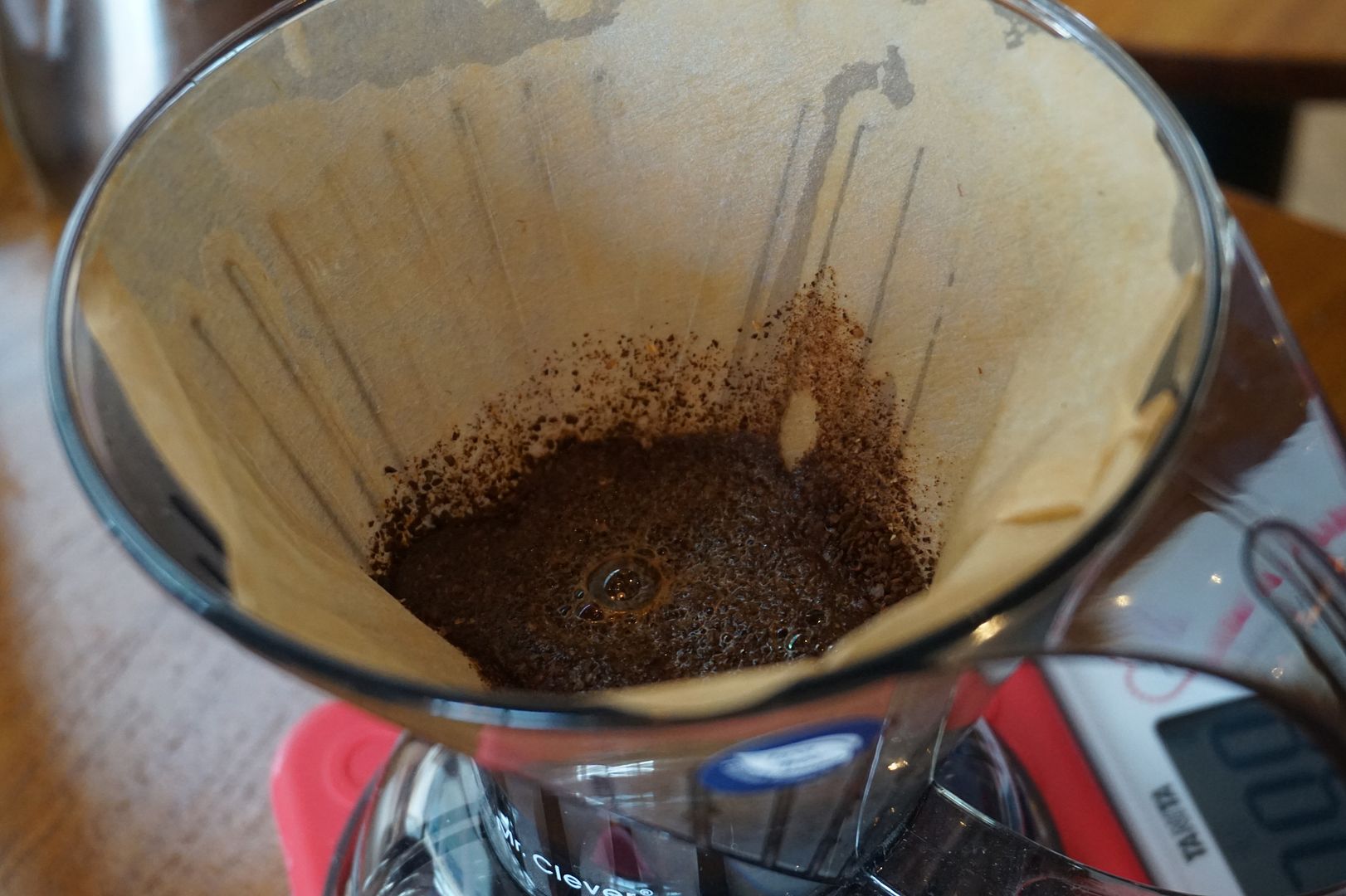 Adrian, the trainer, showing us how to make kopi! :P
Measurements, temperature, time are all important. We get to try this coffee, and it is light, tasted almost like tea, most importantly, we have to slurp it read loud in order to incorporate air and coffee into our mouth.
Washing my hands getting ready to make myself a good cup of latte!
Shifu Adrian making coffee for customers while I stare scarily at the coffee machine. HAHA.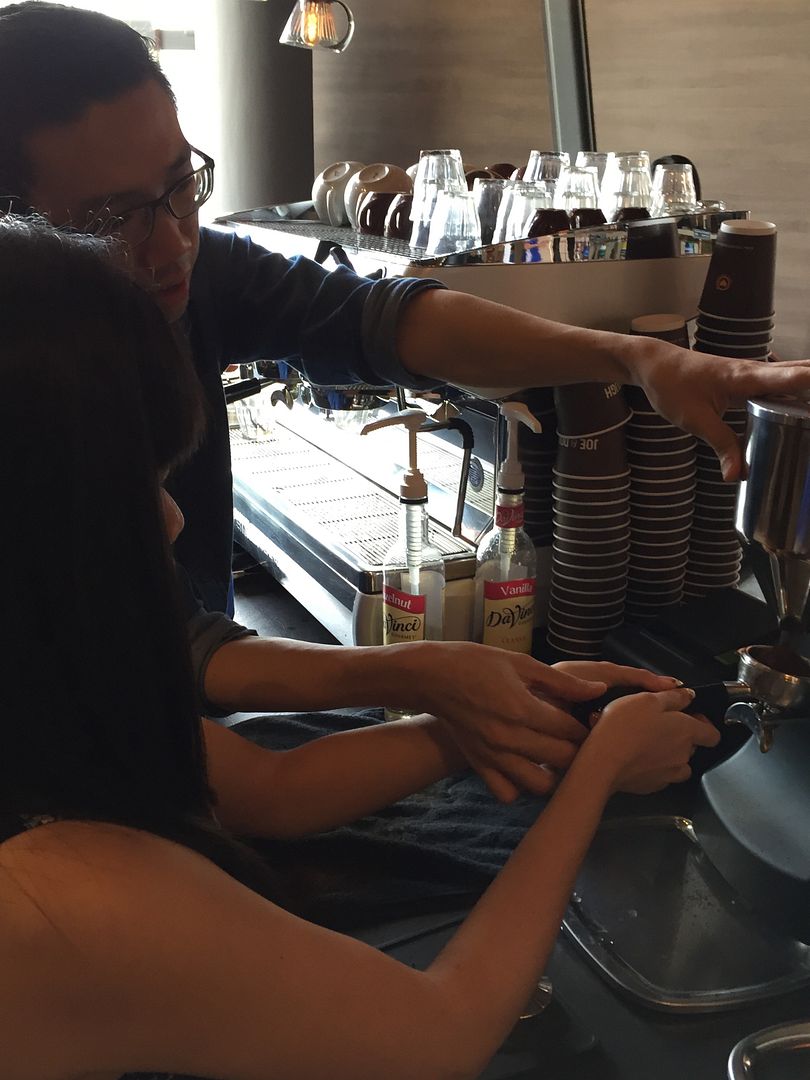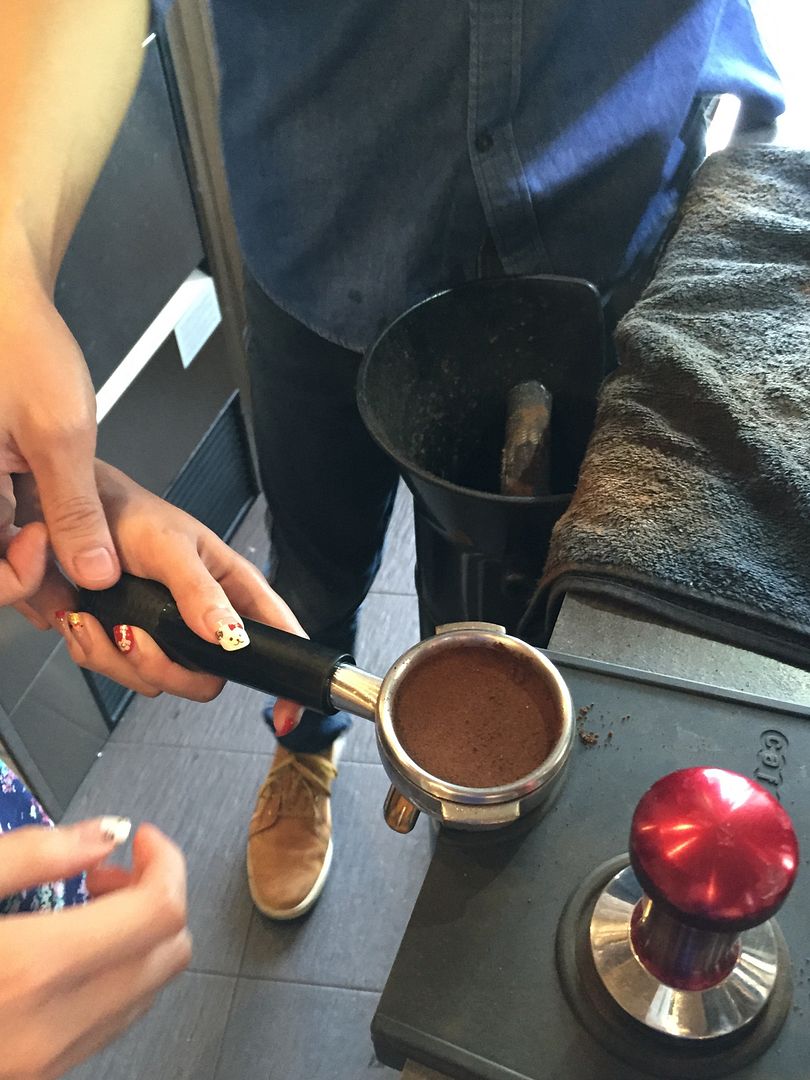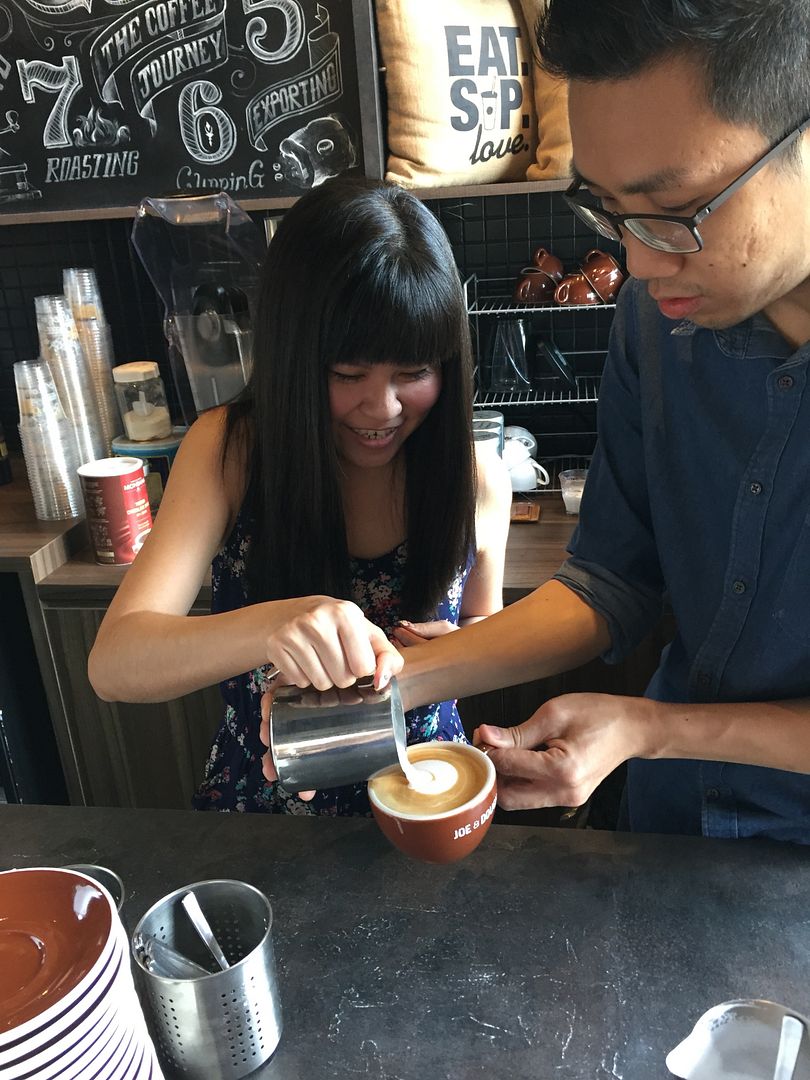 Nervous and laughing away while pouring a latte art.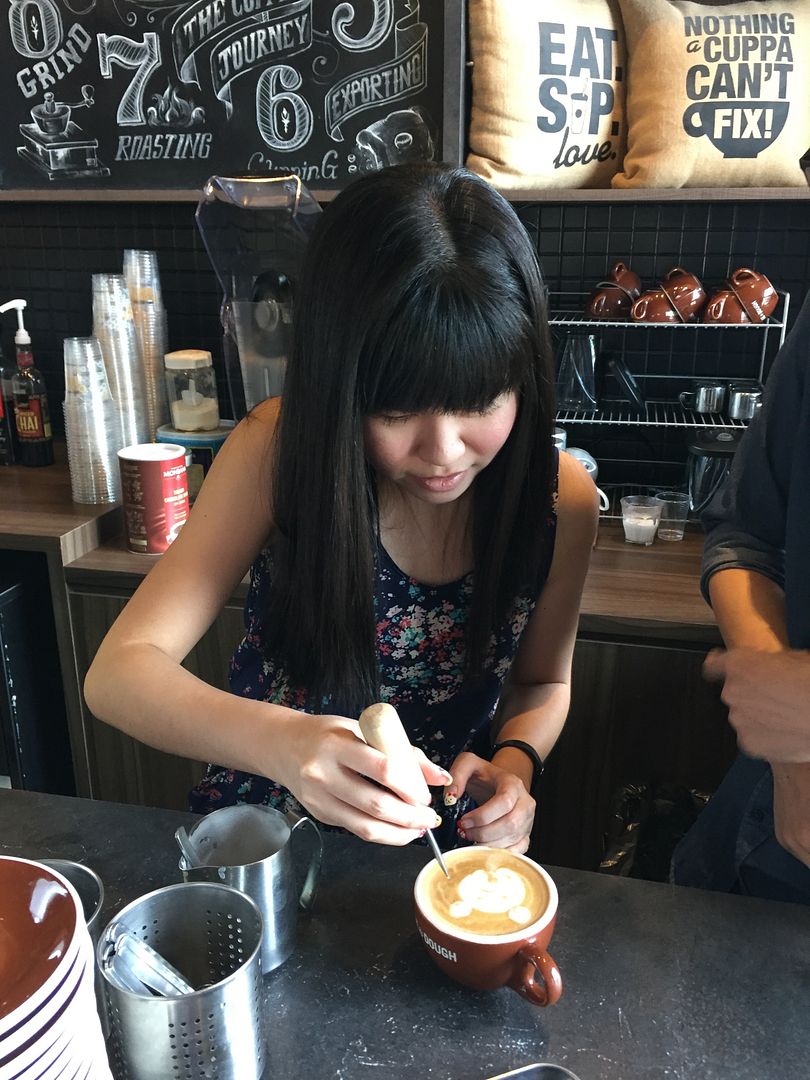 Thanks sissy for helping to take the pictures.
Mine is bear art, sissy's heart.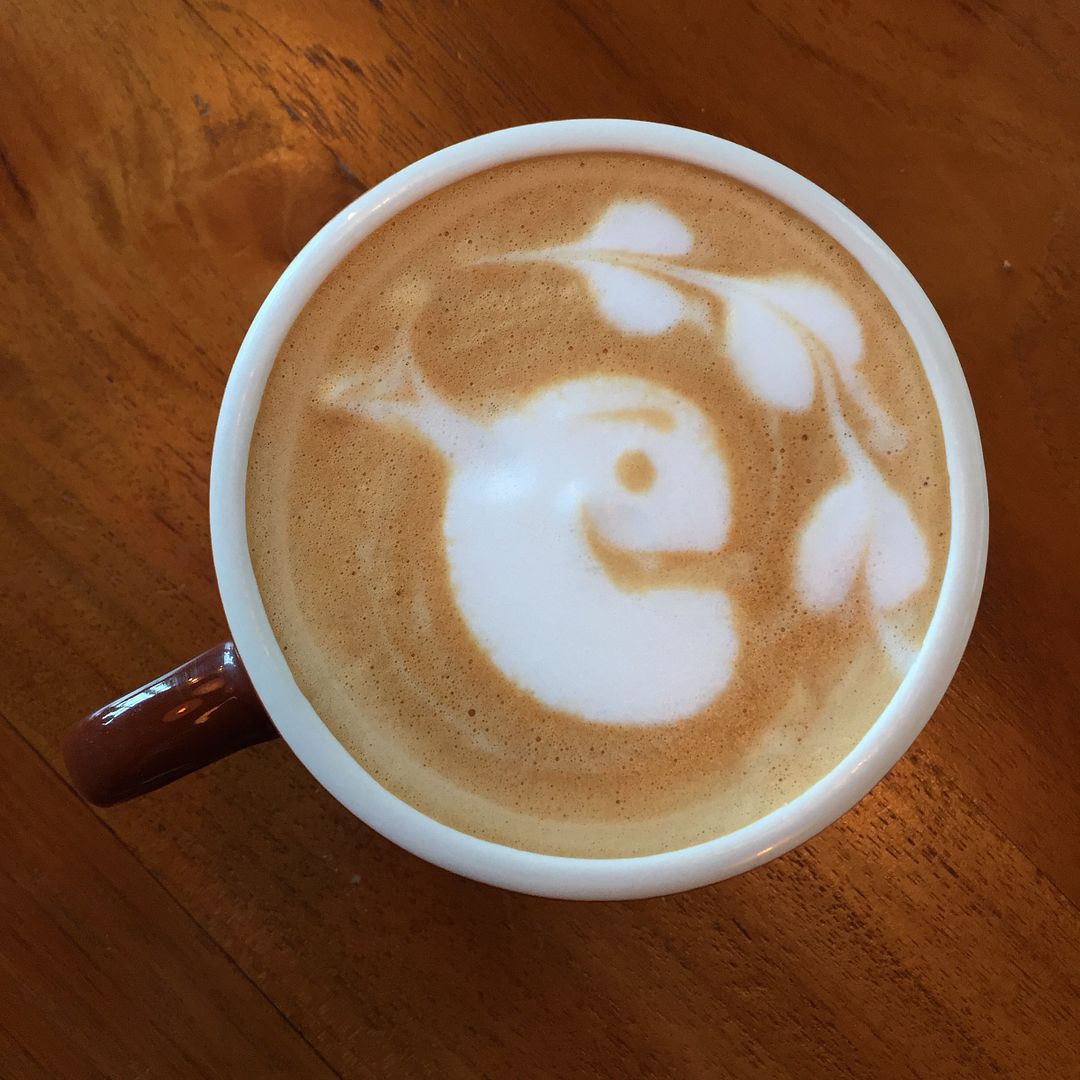 YG's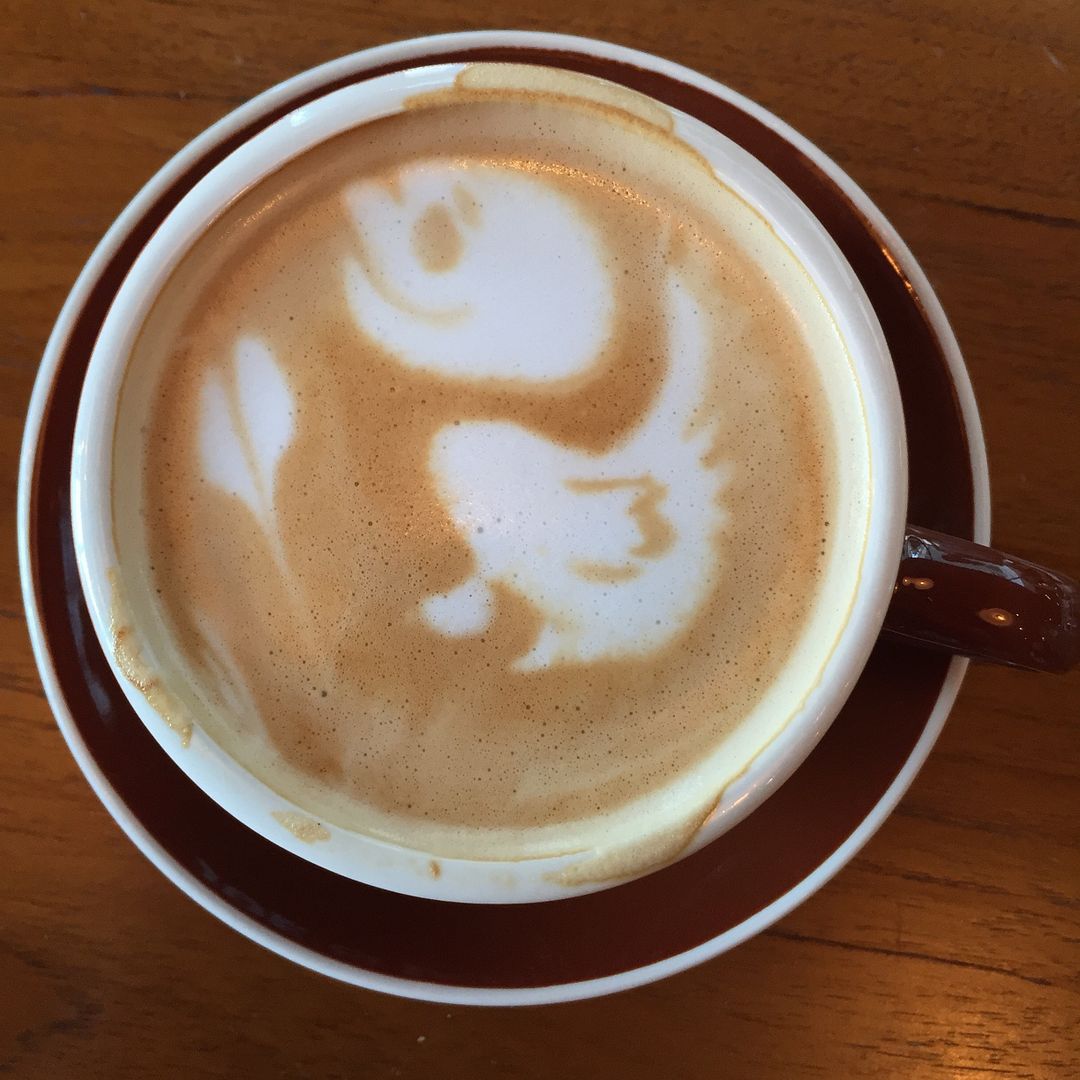 Lirong's
Thank you Joe & Dough for having me, I had lots of fun, of course not forgetting my dining companions too!