19th December 2014 Friday (10.7°C - 14.7°C)
Its lao niang's birthday!!
Hello, I am finally back with my Hong Kong posts! GOSH! 1 post took me weeks or months!
1. The Proposal
Earl Grey Ribbon Macaron HKD30 ↝ S$5.20
Raspberry Macaron HKD28 ↝ S$4.80
8.27am: Rise and shine, macarons to munch right before heading out. Its my birthday and K chose today to propose to me, thank you love. Cant wait to spend the rest of my life with you. These were what we bought the day before.
G/F, 47-49 Parkes Street, Jordan
9.06am: Our first stop is Australian Dairy Farm!! It rained on and off the whole of today so the weather is even colder!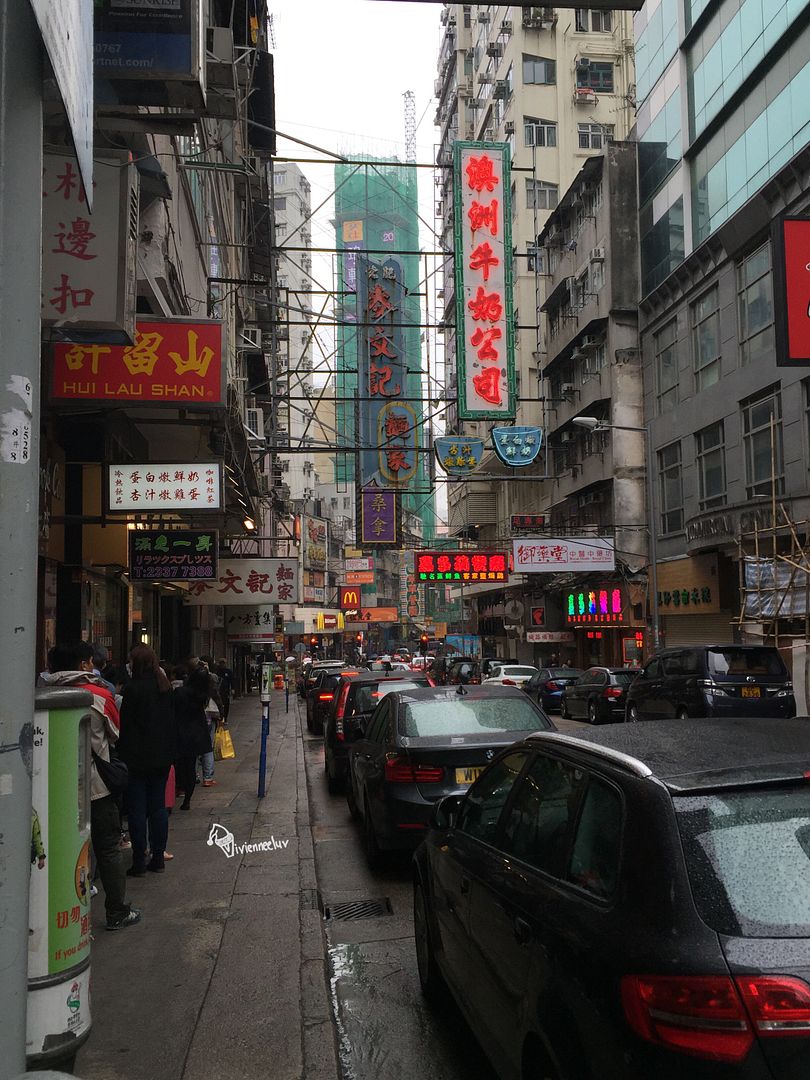 Just after I took this shot and went back to join the queue, I spotted Lirong and YG!! So they came to join us and queued together :X
There was a long queue but thank god it moved really fast and we were in at 9.20am! We actually planned to sit separately so that we can get seated faster, who knows fate arranged for us to be seated together! So we get to share our food.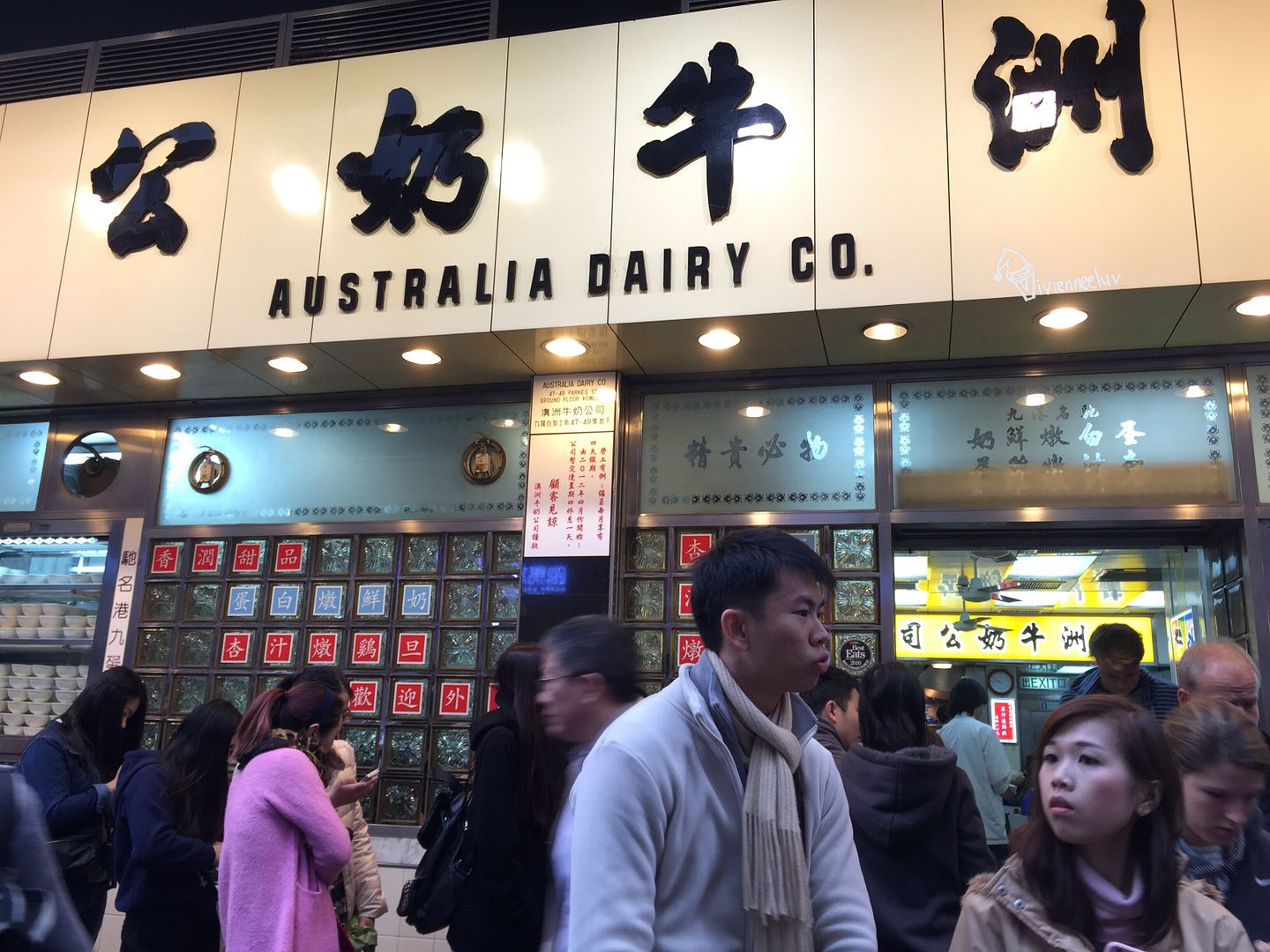 Lirong and YG in the picture!
9.27am: Food was served so quickly! I love Hong Kong's efficiency no wonder they say Hong Kong is very fast paced. I like, it suits my impatience character.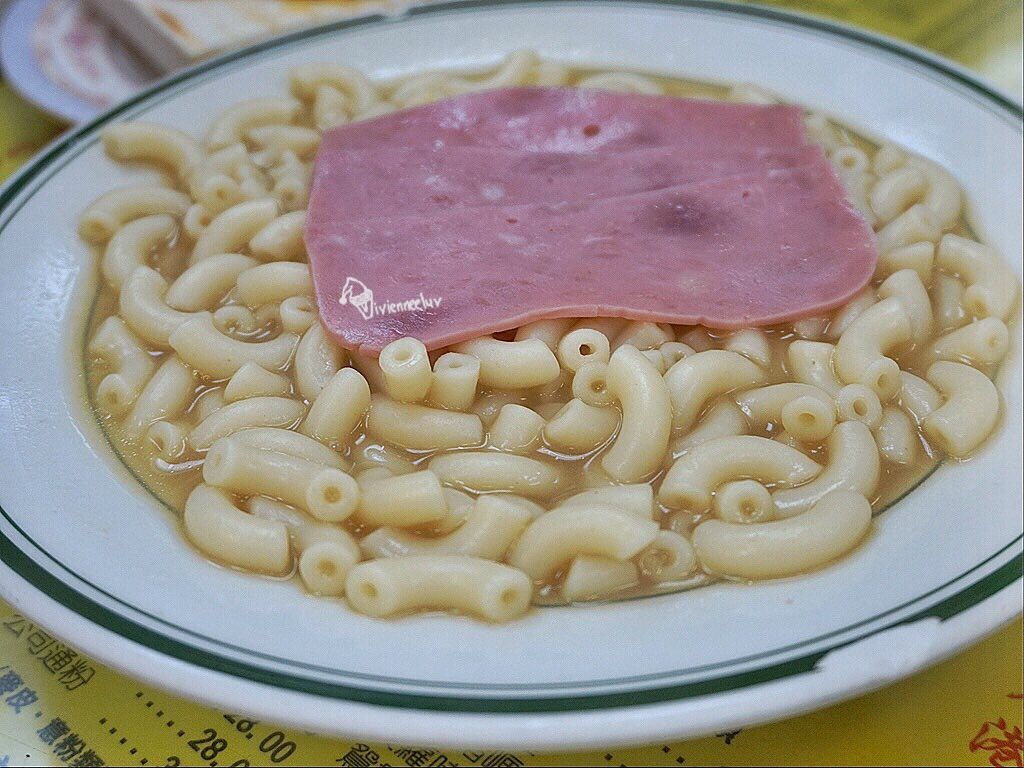 Ham Macaroni HKD25 ↝ S$4.30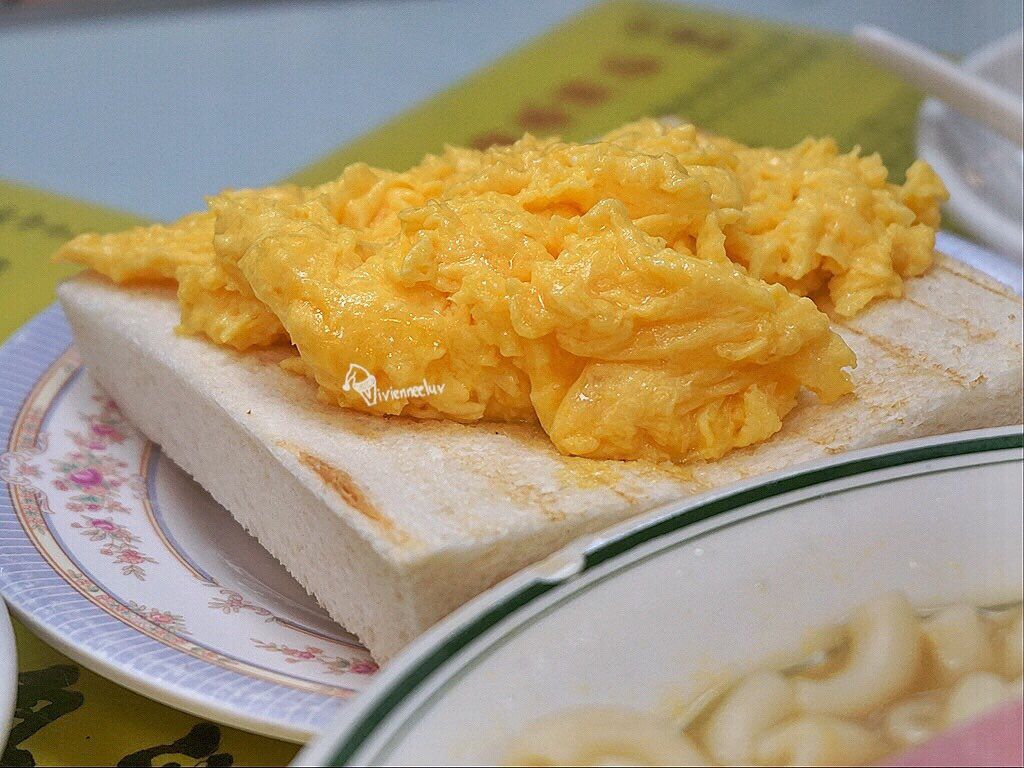 Scrambled Egg Toast HKD17 ↝ S$2.95
OOOOOh the egg!
Some love the scrambled egg here, some love the one at Capital Cafe. K personally prefer the one here, while I prefer Capital's. :P
Next time we die die have to go back to these 2 cafes.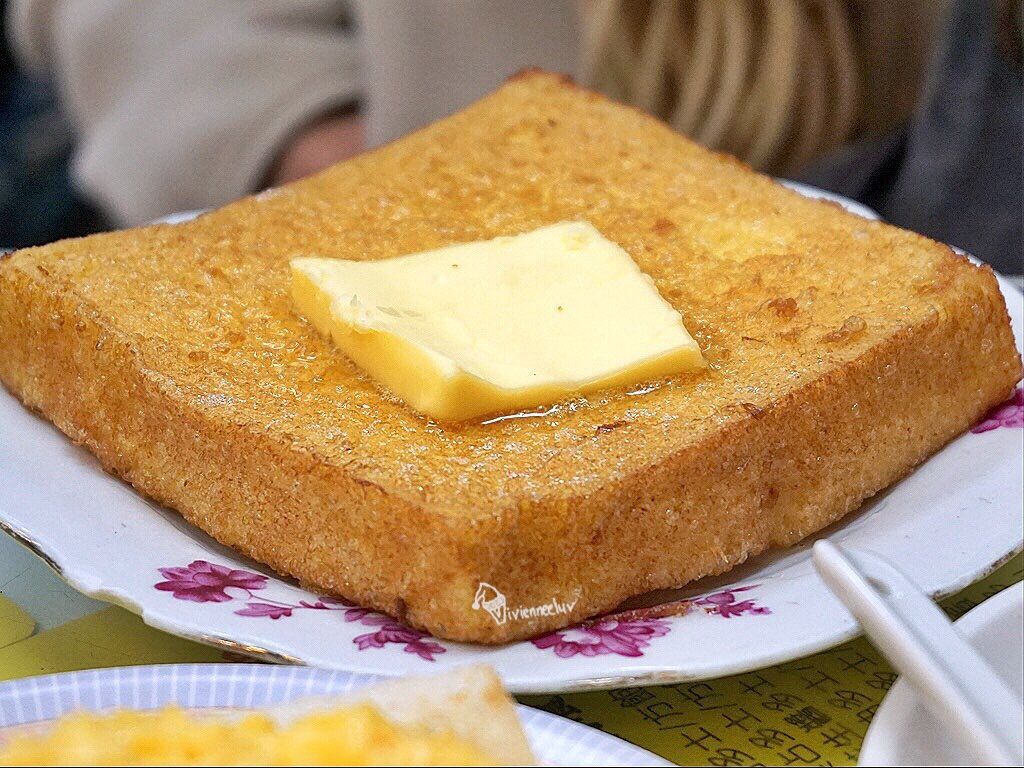 French Toast HKD$20 ↝ S$3.45
It was ok, nothing fantastic, maybe because there were too many other nice food on the table!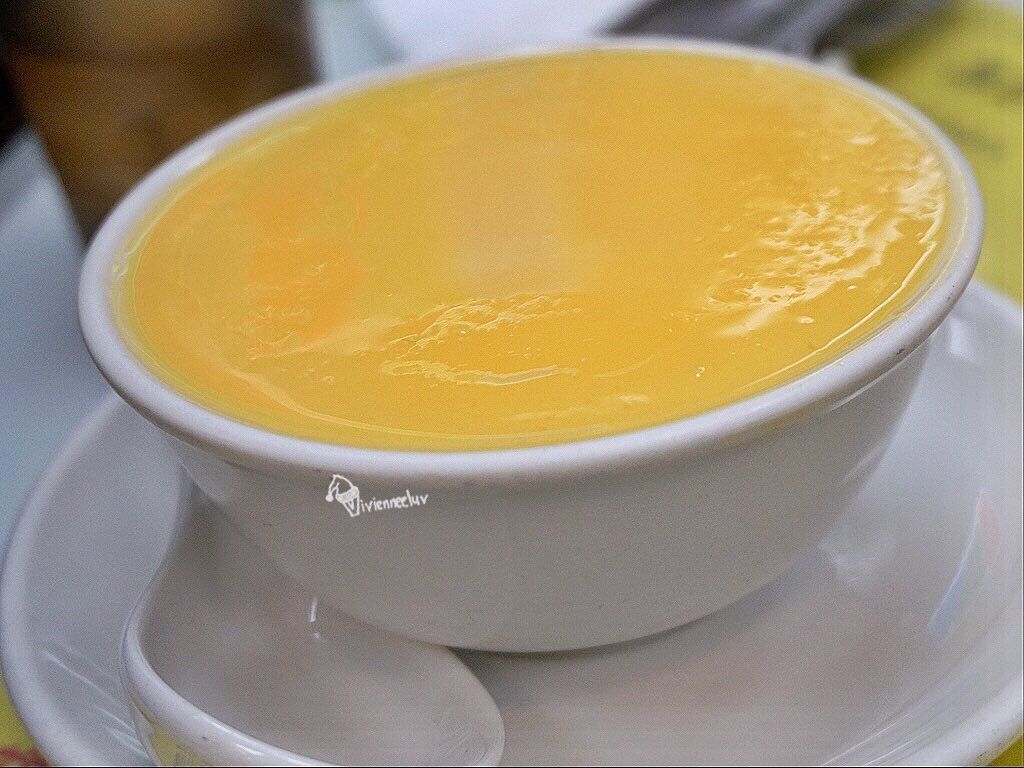 Almond Milk Pudding HKD26 ↝ S$4.50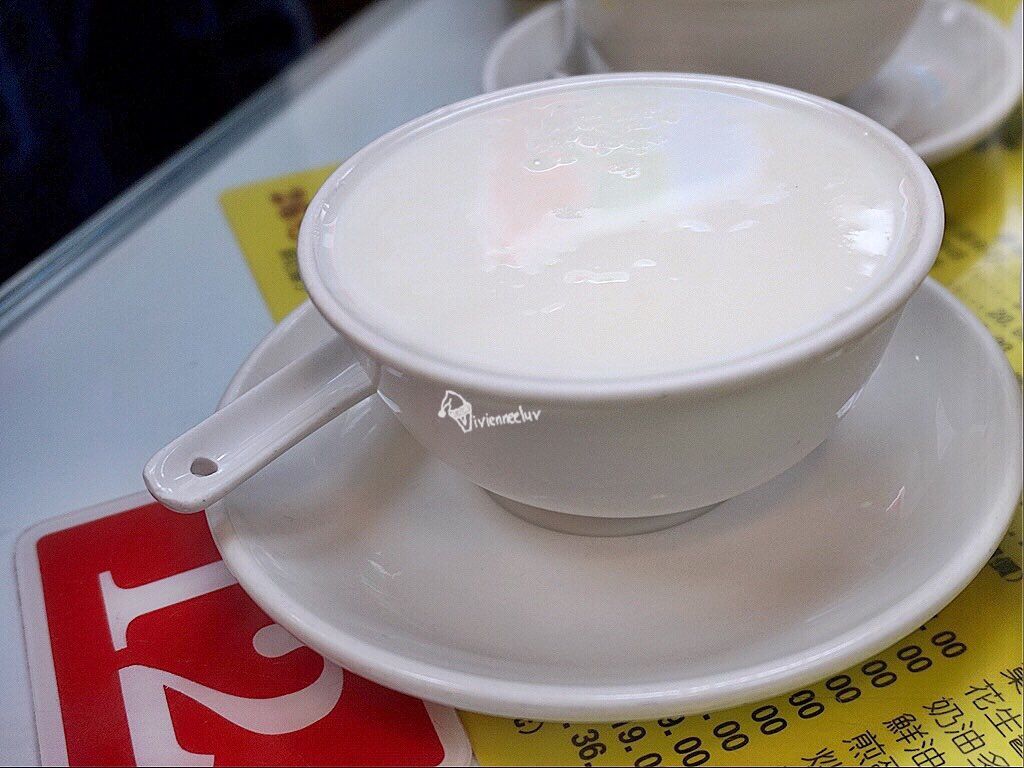 Egg Milk Pudding HKD26 ↝ S$4.50
I wasn't pinning much expectations on this, but it was woooooooooowwwww! Even K loves it so much. Firstly, the weather is so cold, the pudding comes steaming hot, hot enough to scald your tongue, the pudding is silky smooth with milk fragrance. OMG. I need to eat this daily, but well, too many food! After today, every night I was craving for this in Hong Kong. Whenever I feel cold, I would crave for 1.
Frankly speaking, after having 1 bowl, I was quite full already. :X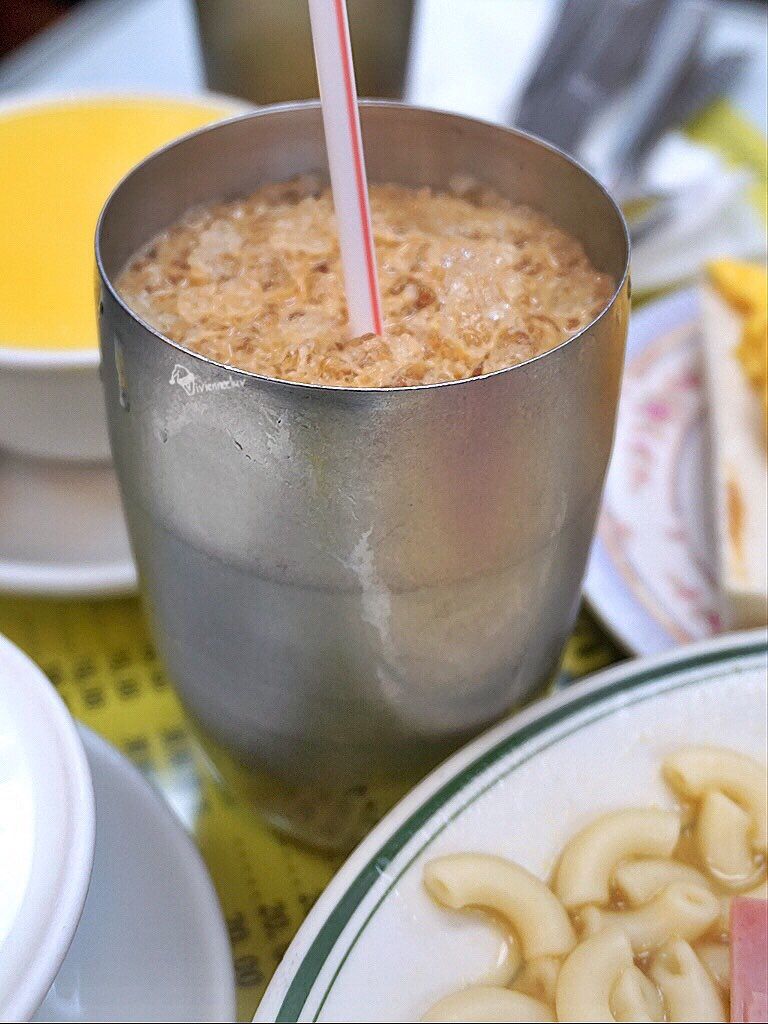 Iced Milk Tea HKD20 ↝ S$3.45
K is hooked on Ice Milk Tea after his first cup. So here is another 1.
9.50am: After breakfast, we parted ways with Lirong and YG.
They were heading to DisneyLand, while K and I continued on our food journey.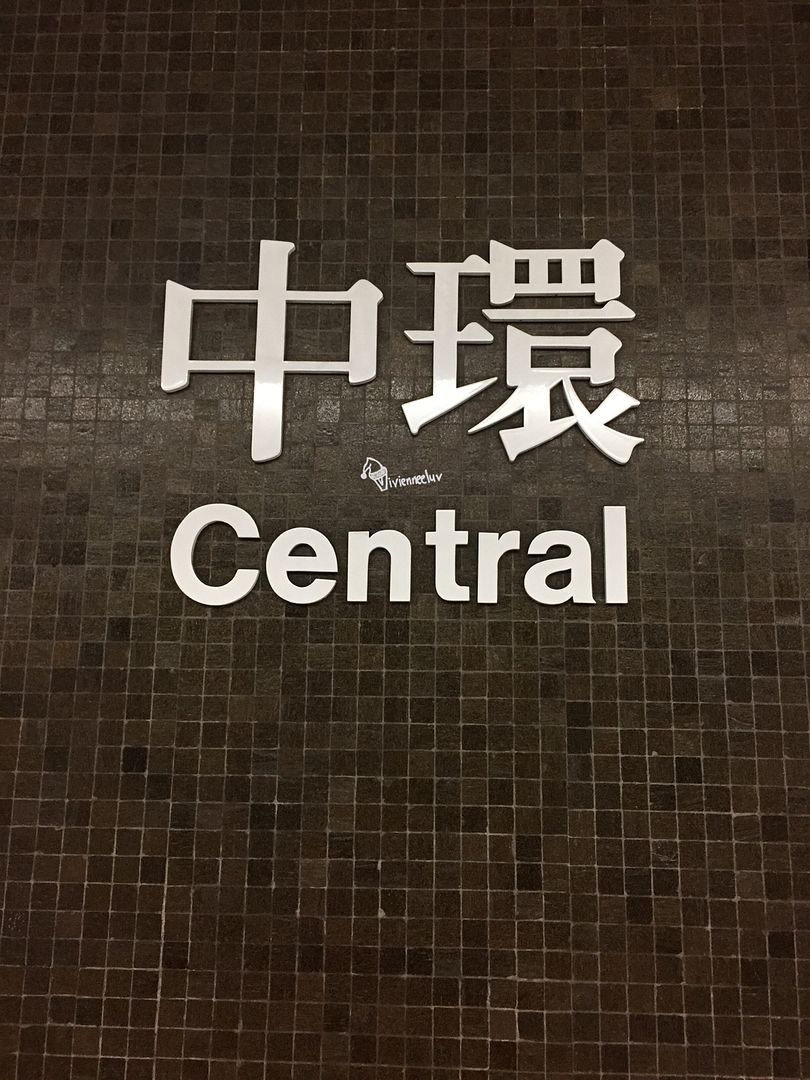 3. Pacific Coffee
1 and 3-5, G/F, Hollywood Centre, 233 Hollywood Road
10.29am: K wanted to bring me to Teakha but it is still early and its not opened yet according to google. It was drizzling again and we passed by Pacific Coffee freezing cold, so we went in for a coffee.
It was so warm and comfy in here.
Xmas Berry Delight HKD32 ↝ S$5.50
Caramel Latte HKD39 ↝ S$6.70
Coffee was ''ma ma teh'' and the slice of cake is so awful. After forcing myself to gorge down most of it, we can only manage half of the cake. No wonder they did not survive in Singapore.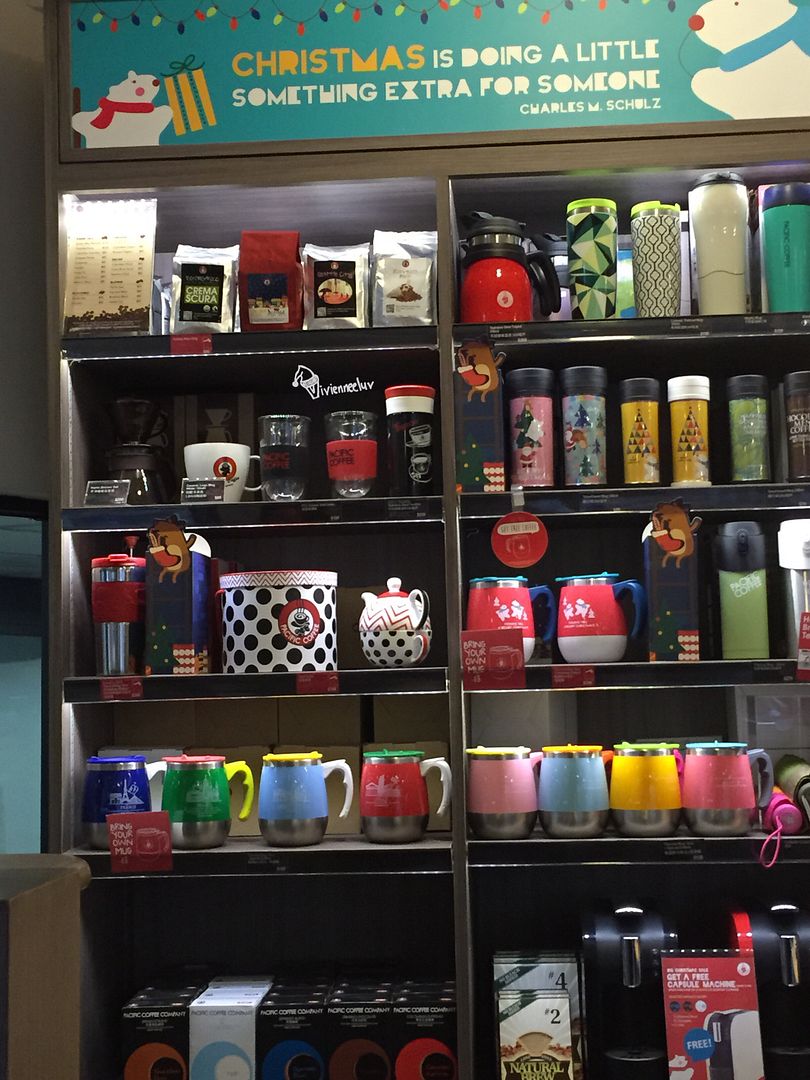 After quite some time, we decided we shouldn't waste time, so we parted with the warm cafe and head off for our journey.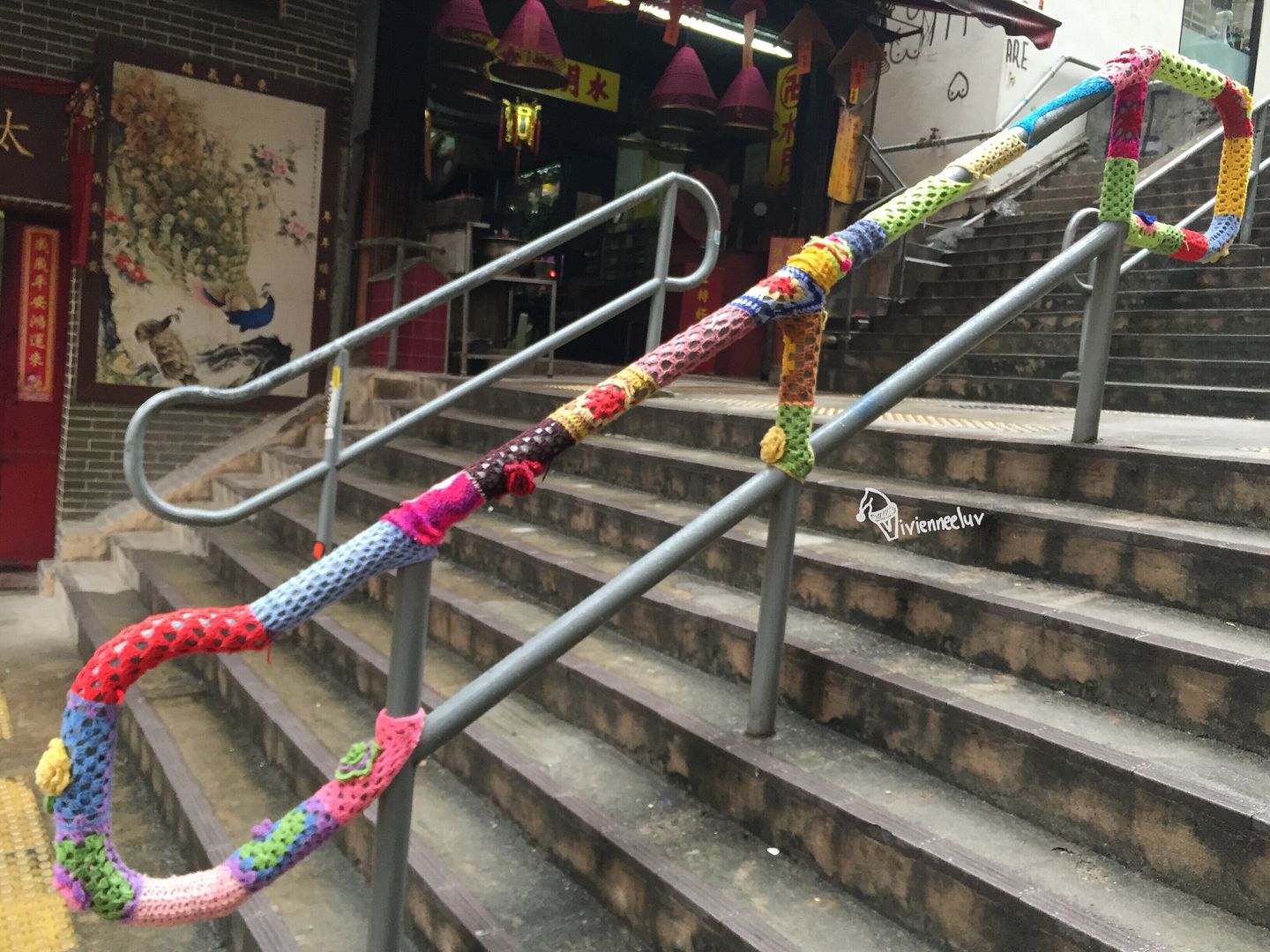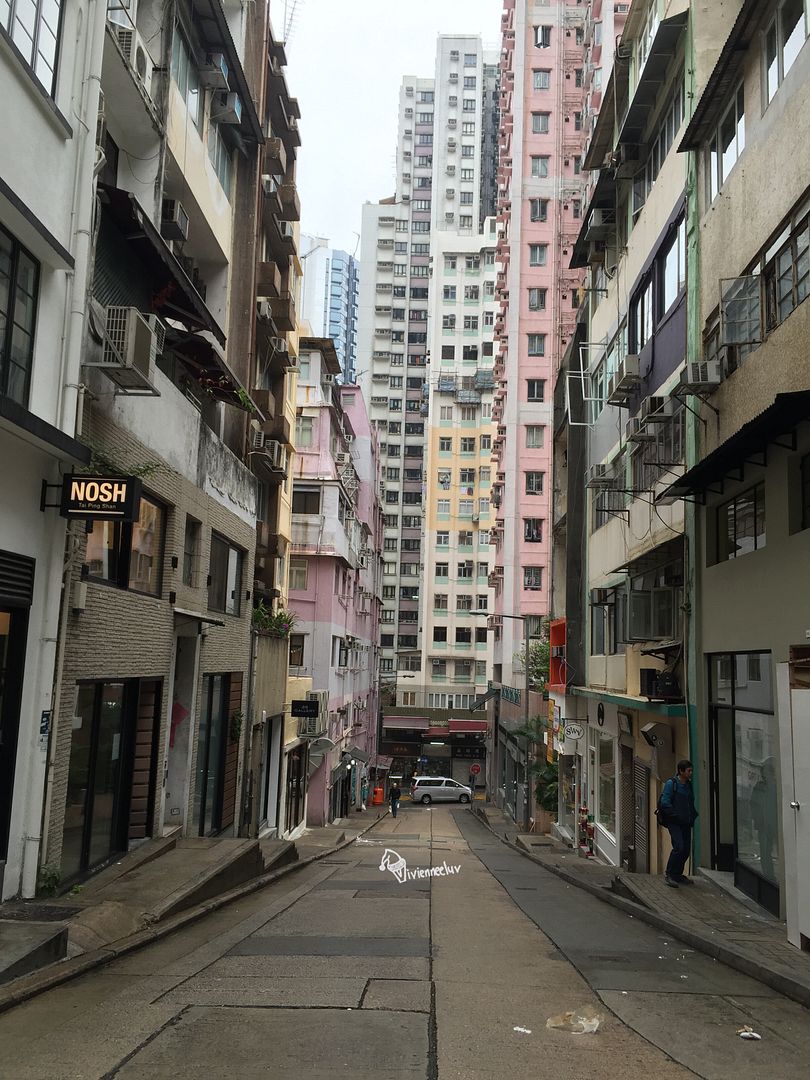 Lots of walkings, and lots of slopes…
Shop B, 18 Tai Ping Shan Street, Sheung Wan
Opening Hours: 11am to 7pm Tuesday to Sunday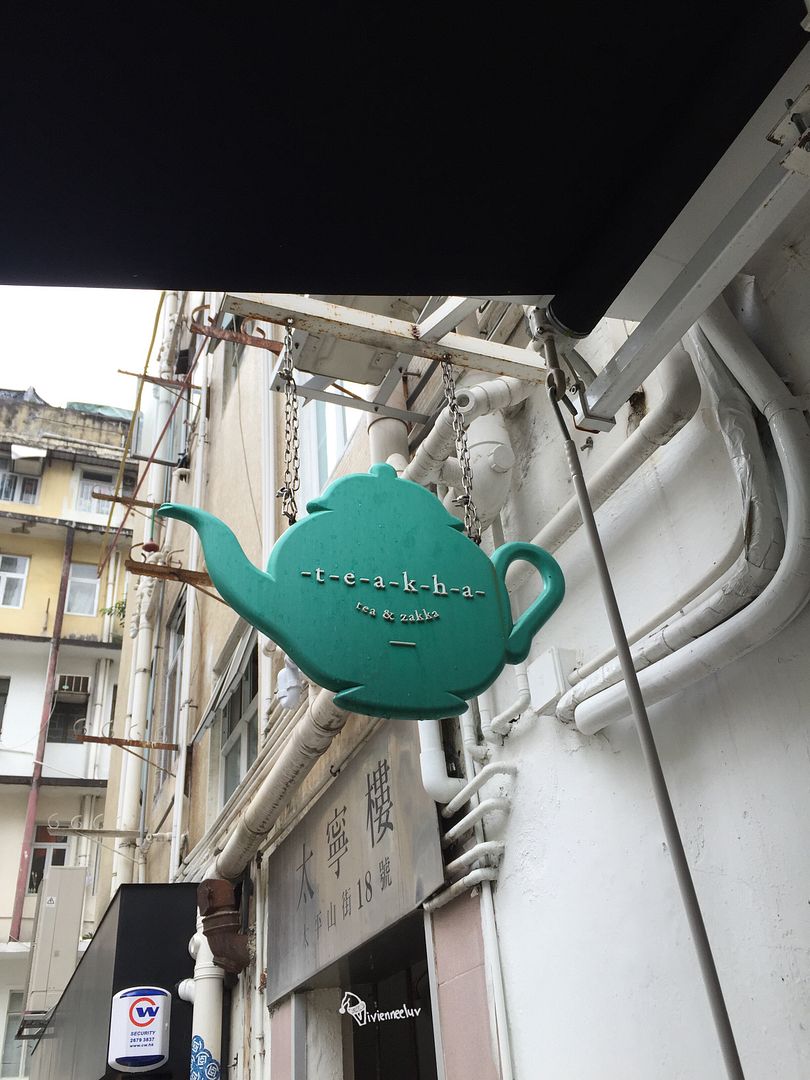 11.39am: We finally arrived!!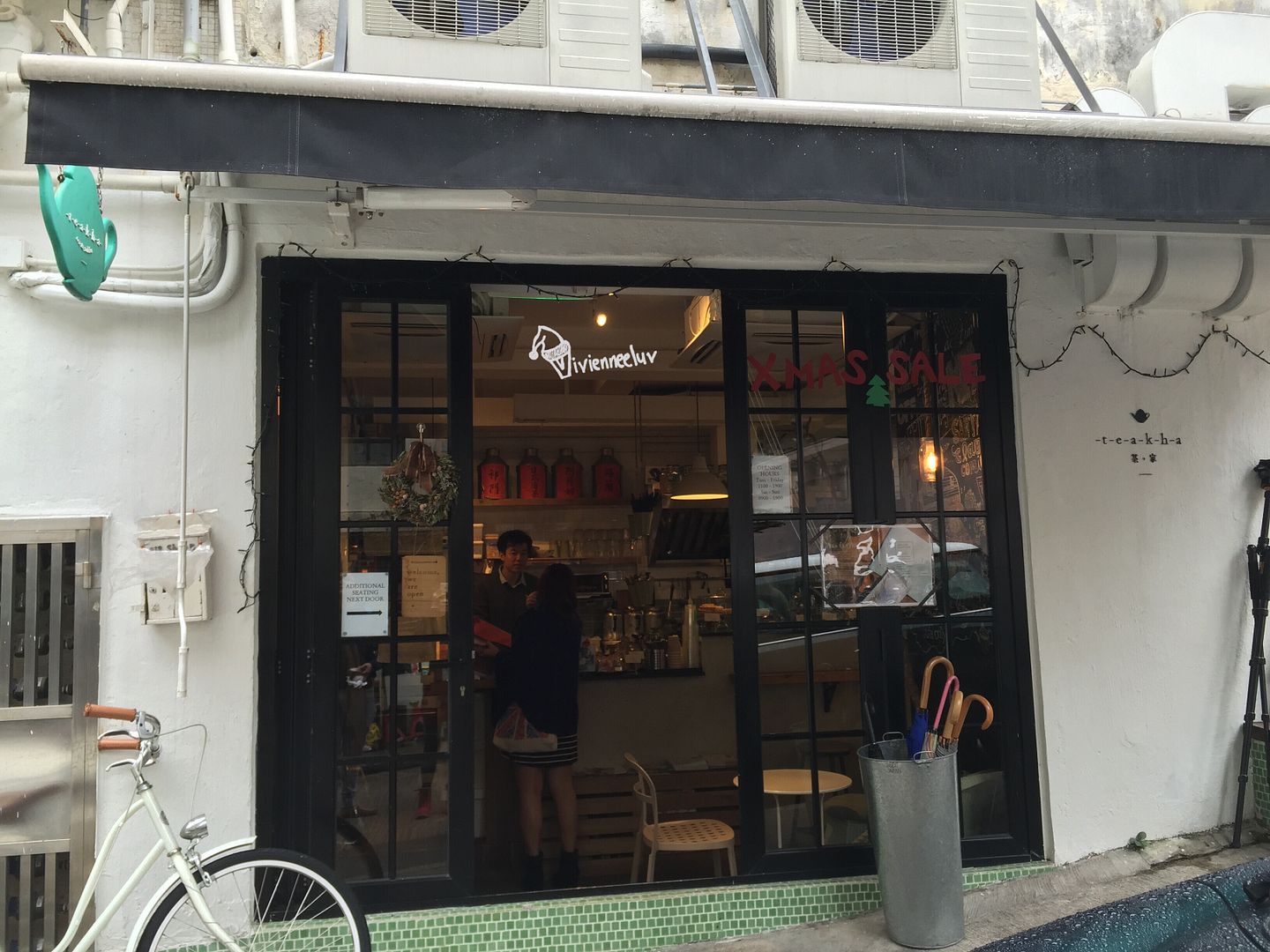 A very small space in here, like 6 pax at most.
We were told that they have more seats next door, yay!! To the left of the shop, note this door on the right.
Have to go down a flight of steep steps...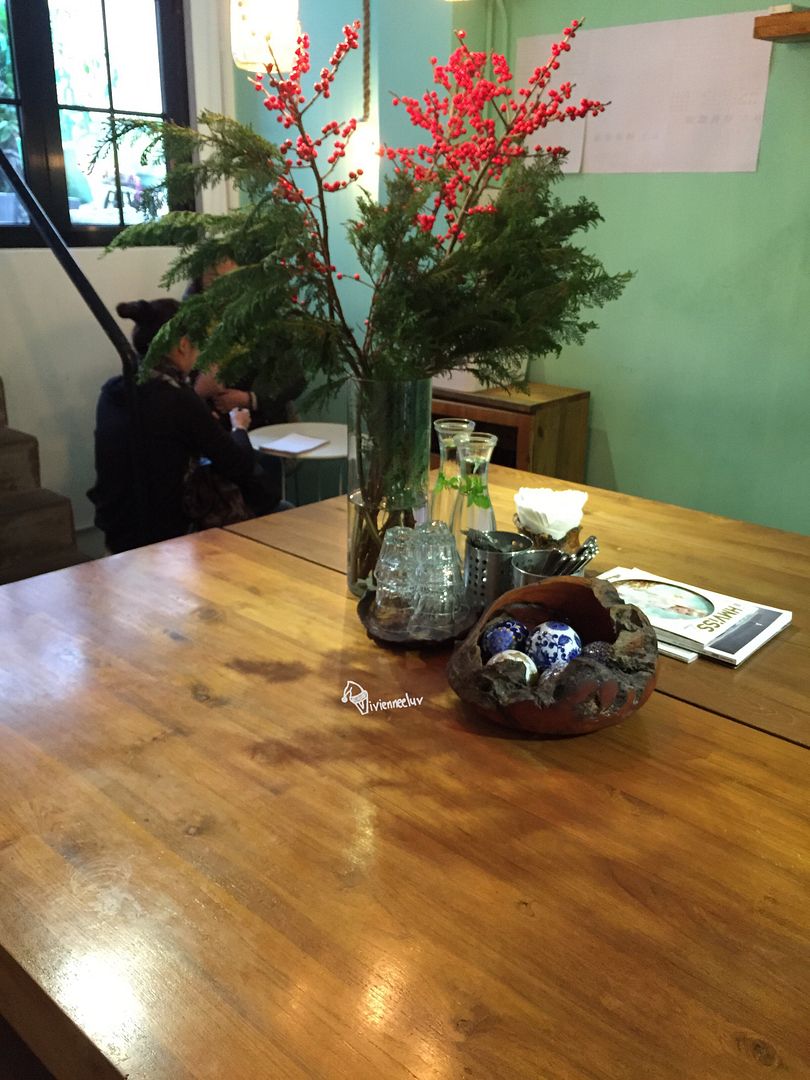 There is a big communal table, with a small table by the side. There are more seats upstairs.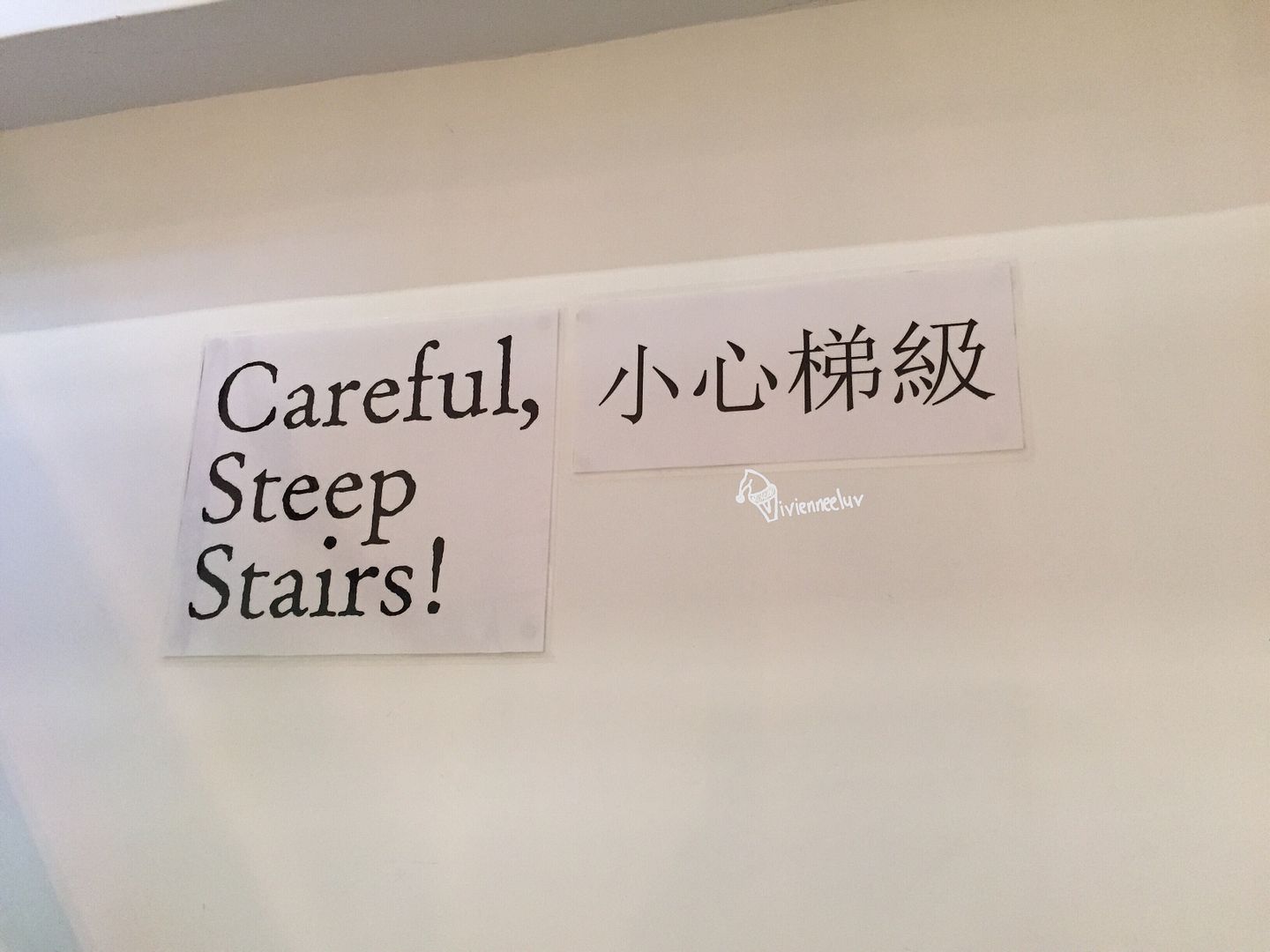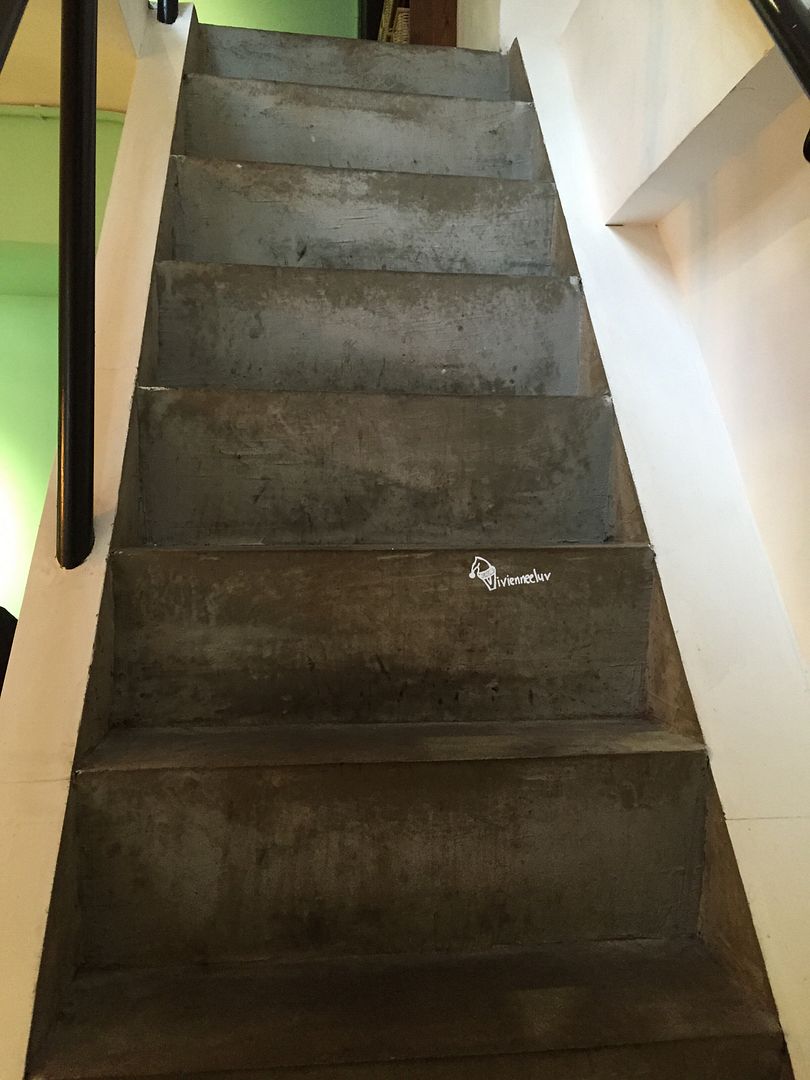 SUPER STEEP STEPS.. … …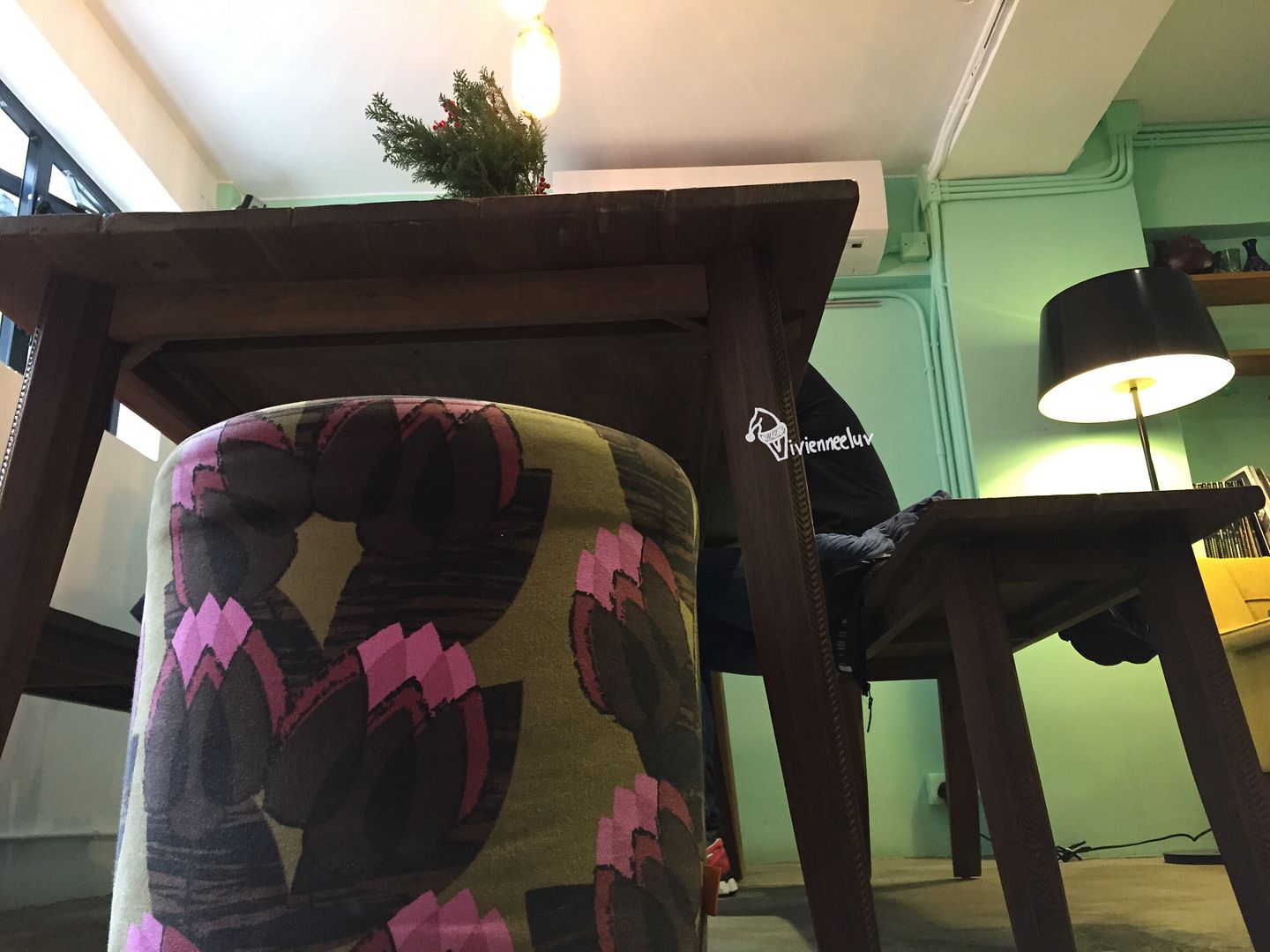 Climb half the steps, sneak a pic of the place and came down.
Selfie!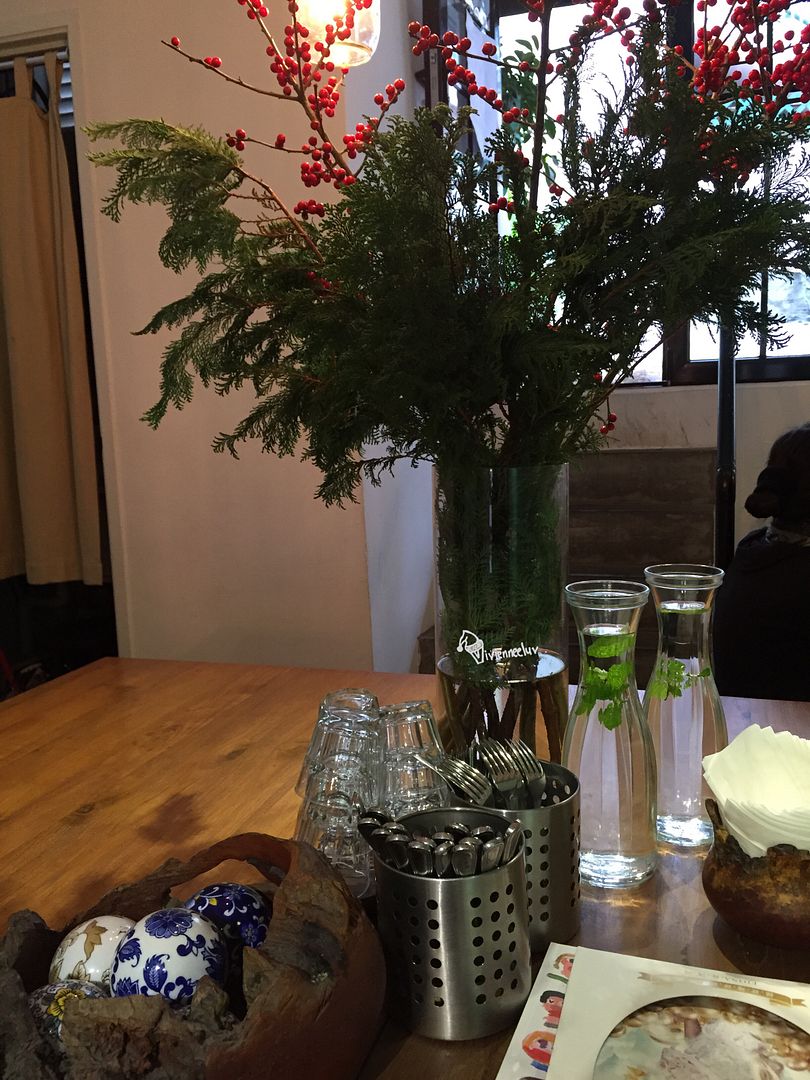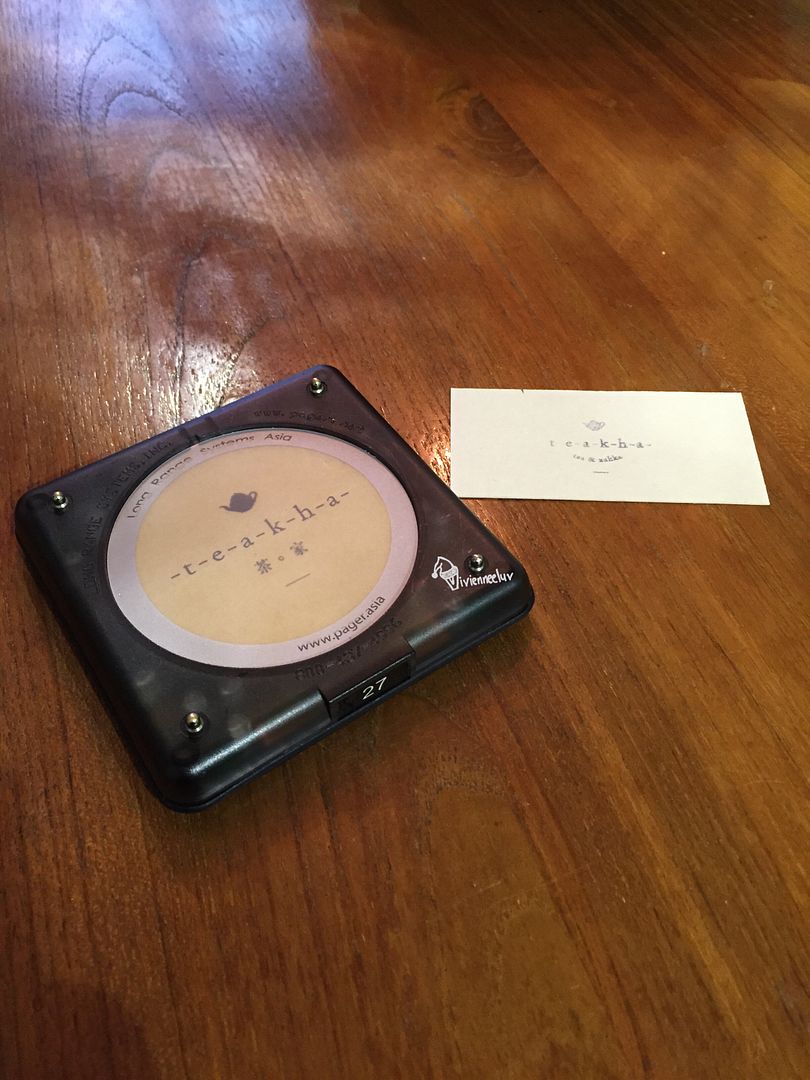 This is the reason why I didn't choose a upstairs seat, because once the pagar rings, we have to self-collect our drinks, too many steps to handle, I might just spill my tea and break the china.
2 ladies went upstairs with their drinks and almost fell on the stairs O.O
Houjicha Au Lait HKD45 ↝ S$7.80
Sea Salt Yin Yang HKD40 ↝ S$6.90
We were still full from the breakfast and coffee earlier, we only managed 2 teas. Houjicha was good, however I did not manage to finish the sea salt yin yang. Its not to my liking, I guess this is the one and only time I will try this. But I will go back for other teas!
Right beside the communal table was a mini toilet, so small that it was hard for me to turn. I was peeing and suddenly a huge croackroach appeared! I was butt naked, no space for me to run to. I stomped my feet on the floor a few times and it slipped out underneath the door, then I heard moving of tables and chairs, because K was sitting right outside. HAHAHAHHAH!!! We quickly drink up and left the cafe.
Shop 17, 2/F, Sheung Wan Municipal Services Buildin, Sheung Wan
12.57pm: This place is like our food court in Singapore. This is located on the 2nd floor, so we took an escalator up. 1st floor is something like our wet market as it smells badly like it. It already spoil my appetite.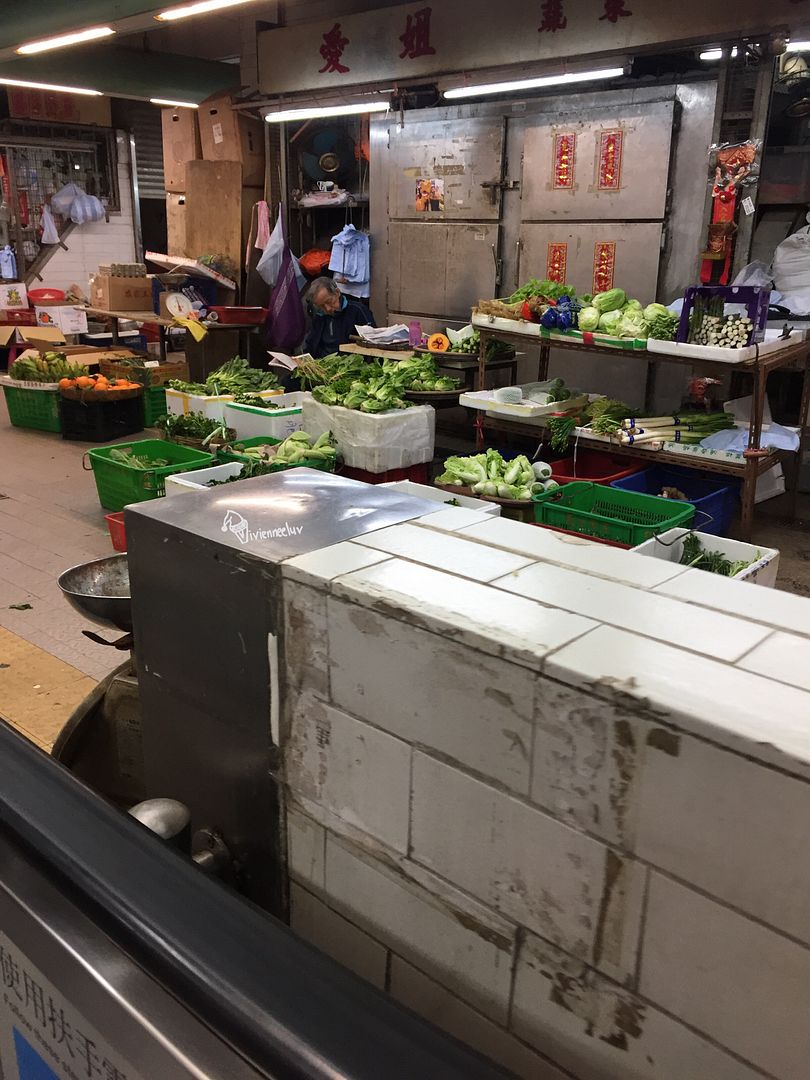 This is the wet market downstairs.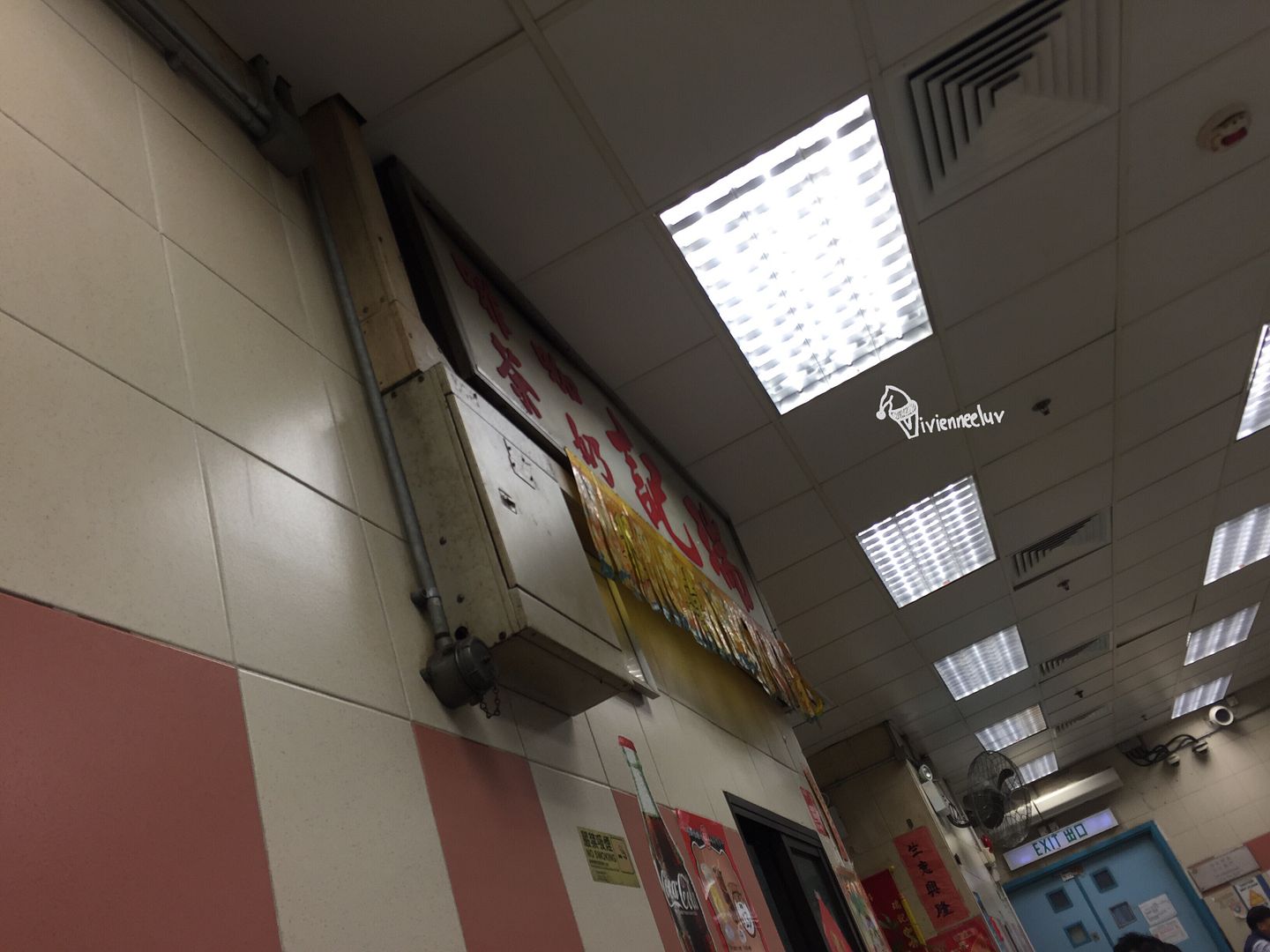 Cold Milk Tea HKD13 ↝ S$2.25
Still prefer the ice milk tea a xi xi the night before.
Don't expect clean eating environment here.
Egg and Beef Bun HKD12 ↝ S$2.10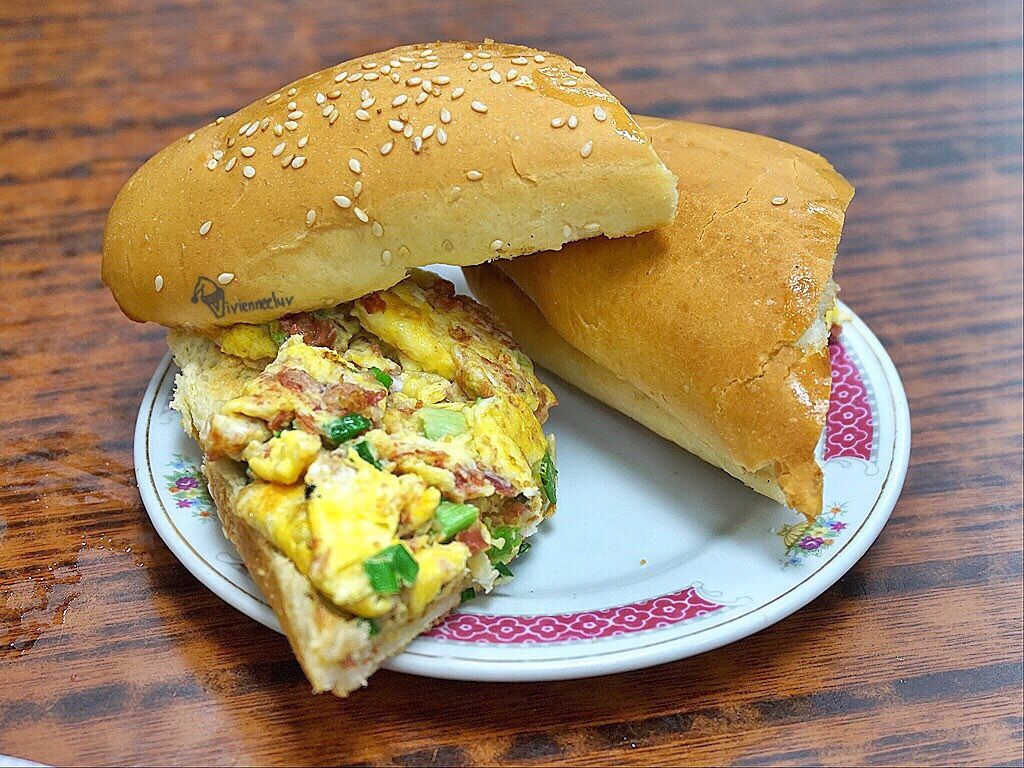 With the not-so-clean environment and the bad smell of wet market, I see the beef, I feel like puking. No joke. Months after,when I see this picture now, i know I will not eat this again.
But to be fair to the sandwich, it taste ok, not fantastic.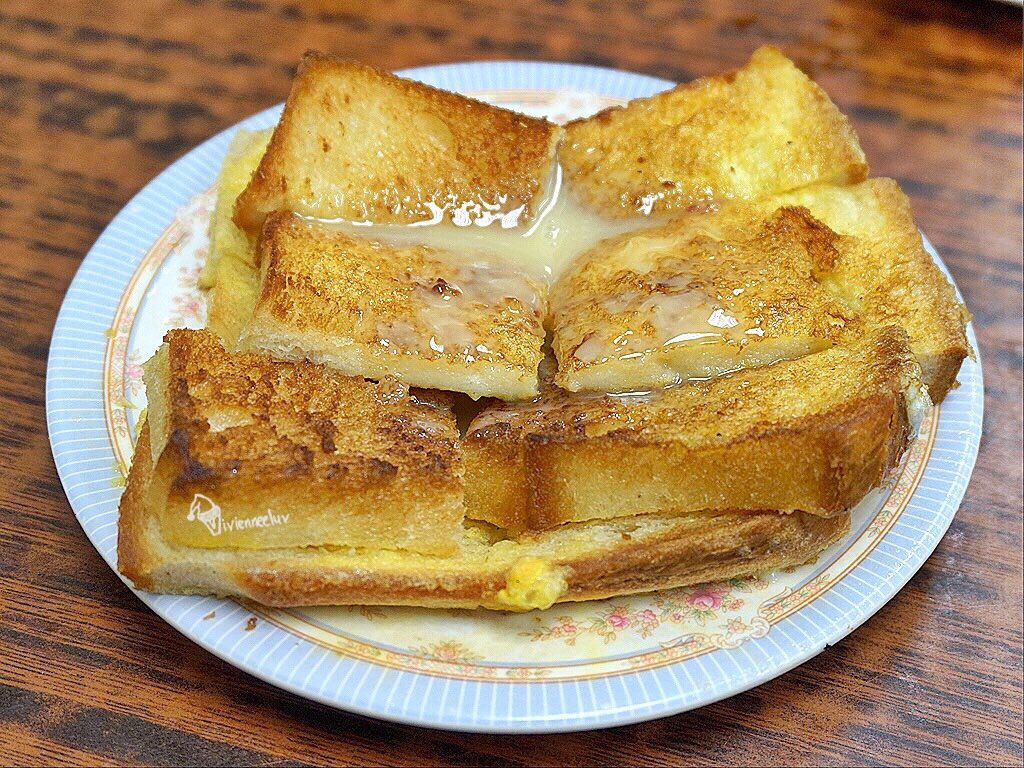 French Toast HKD20 ↝ S$3.45
While we were planning for this trip, I know I HAVE TO come here all thanks to tempting pictures of this french toast. I guess you can more or less imagine, its french toast with lots of condensed milk.
I still prefer Tsui Wah's crispy toast with condensed milk, I believe the boy thinks the same too.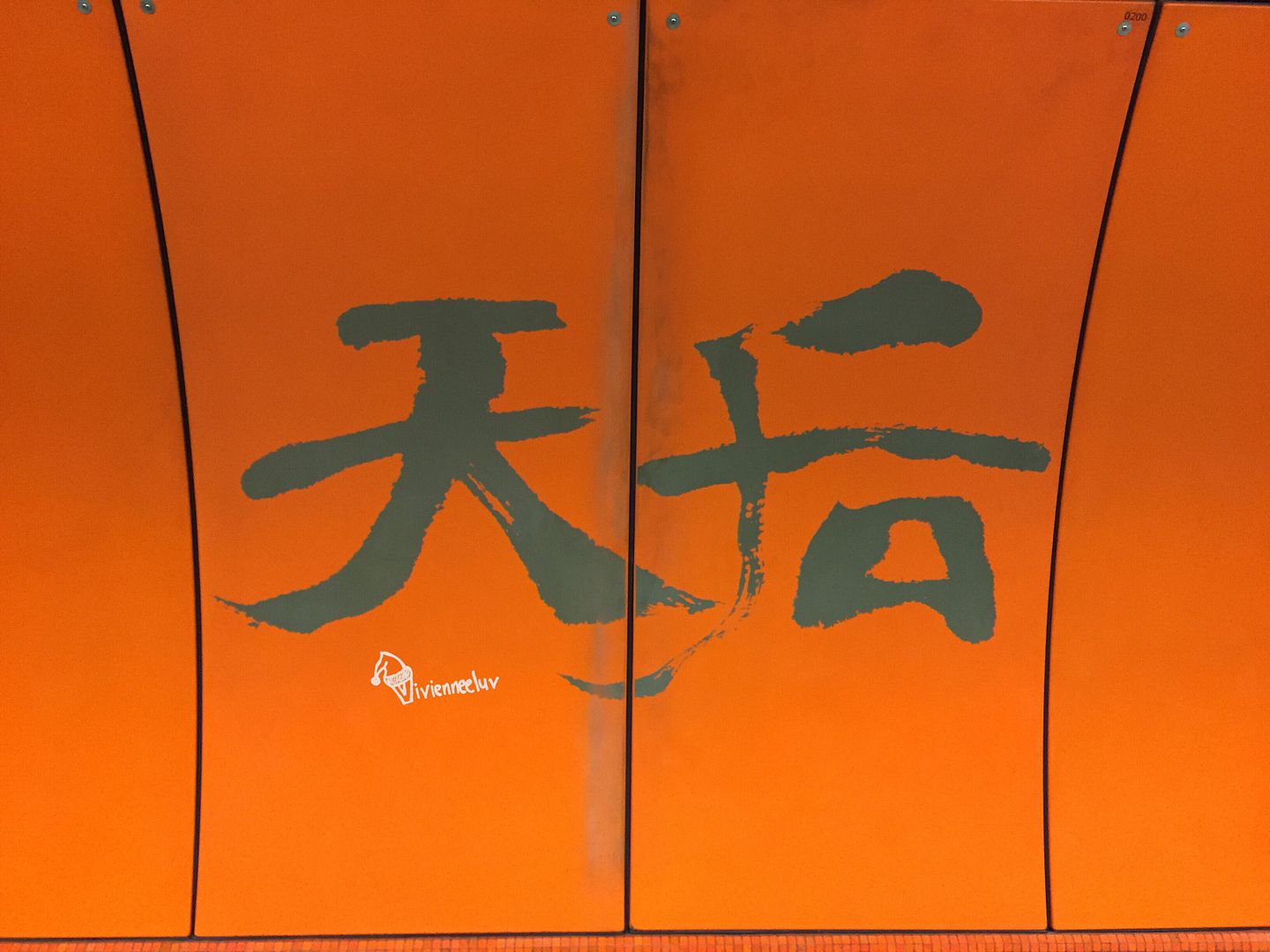 1.54pm: Continuing our journey...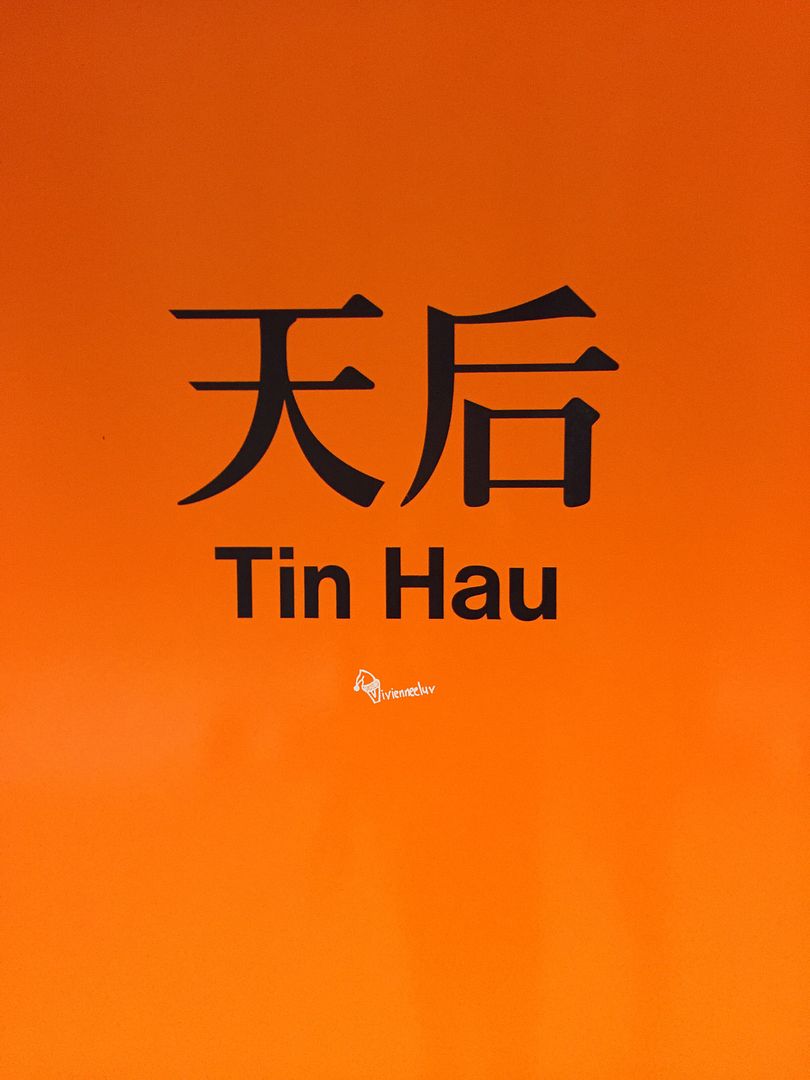 On the streets, they have this specially for dogs to poop in there.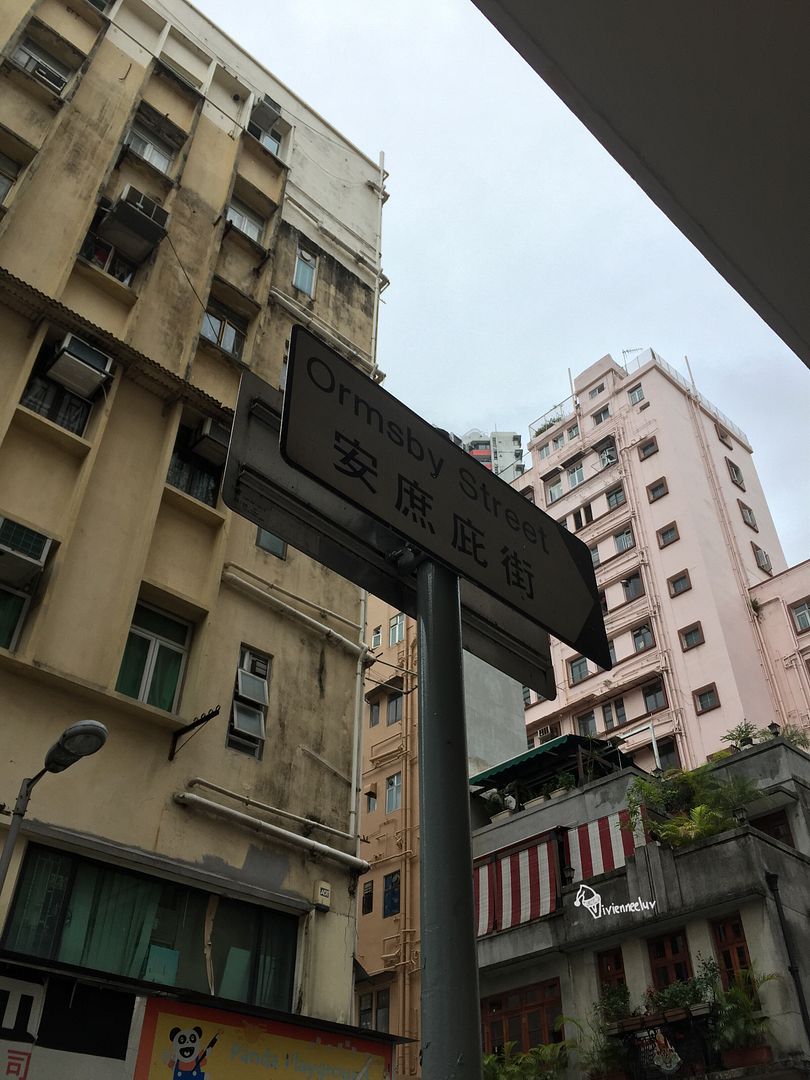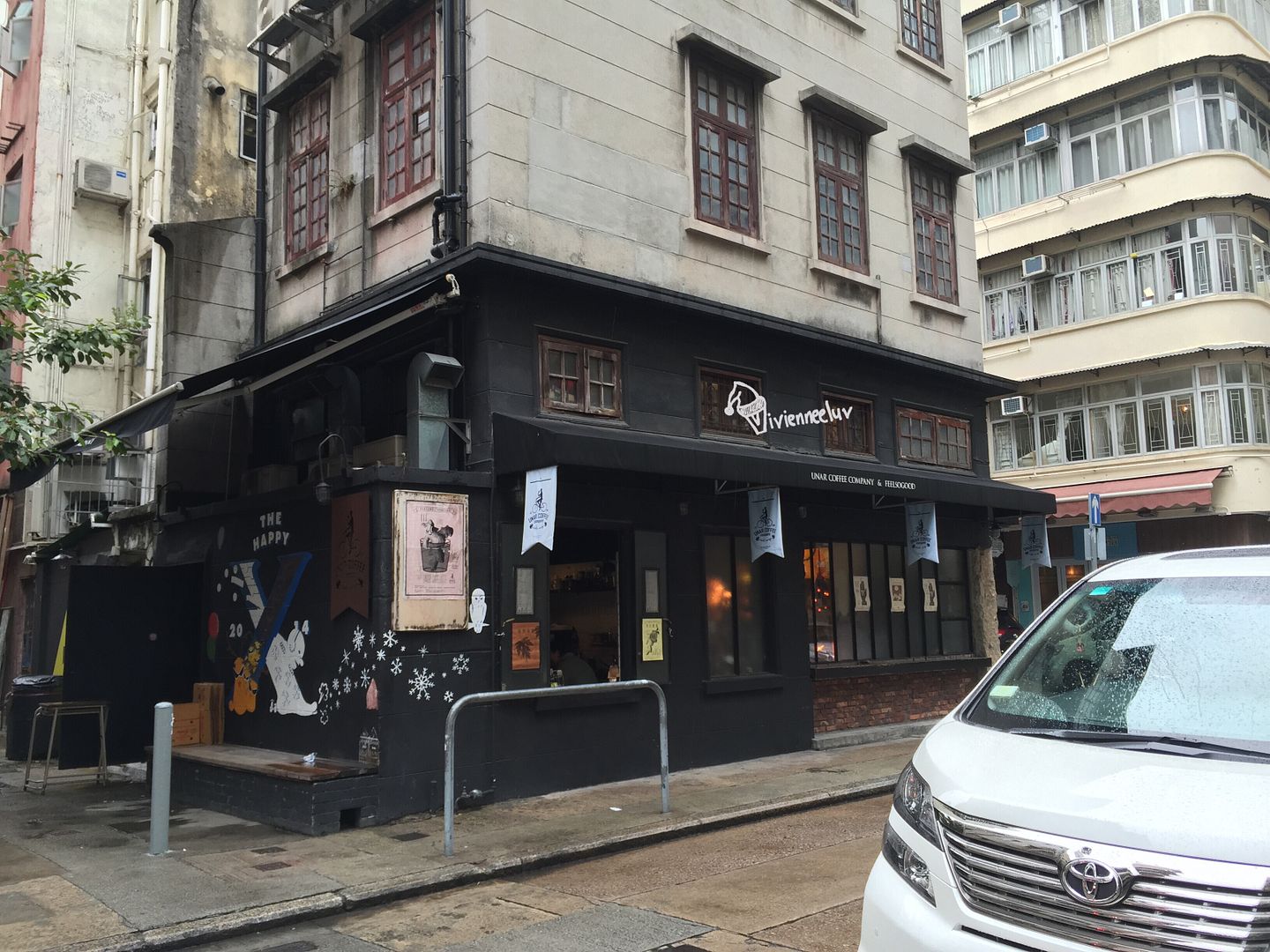 The shops here are all so cool, I suggest maybe half a day spent at Tin Hau will be good. There is Hello Kitty cafe, Soft Creme and a few more cozy looking cafes. We were too full from everything, we were like eating non stop, almost every hour. This is crazy.
19 Ormsby Street, Tin Hau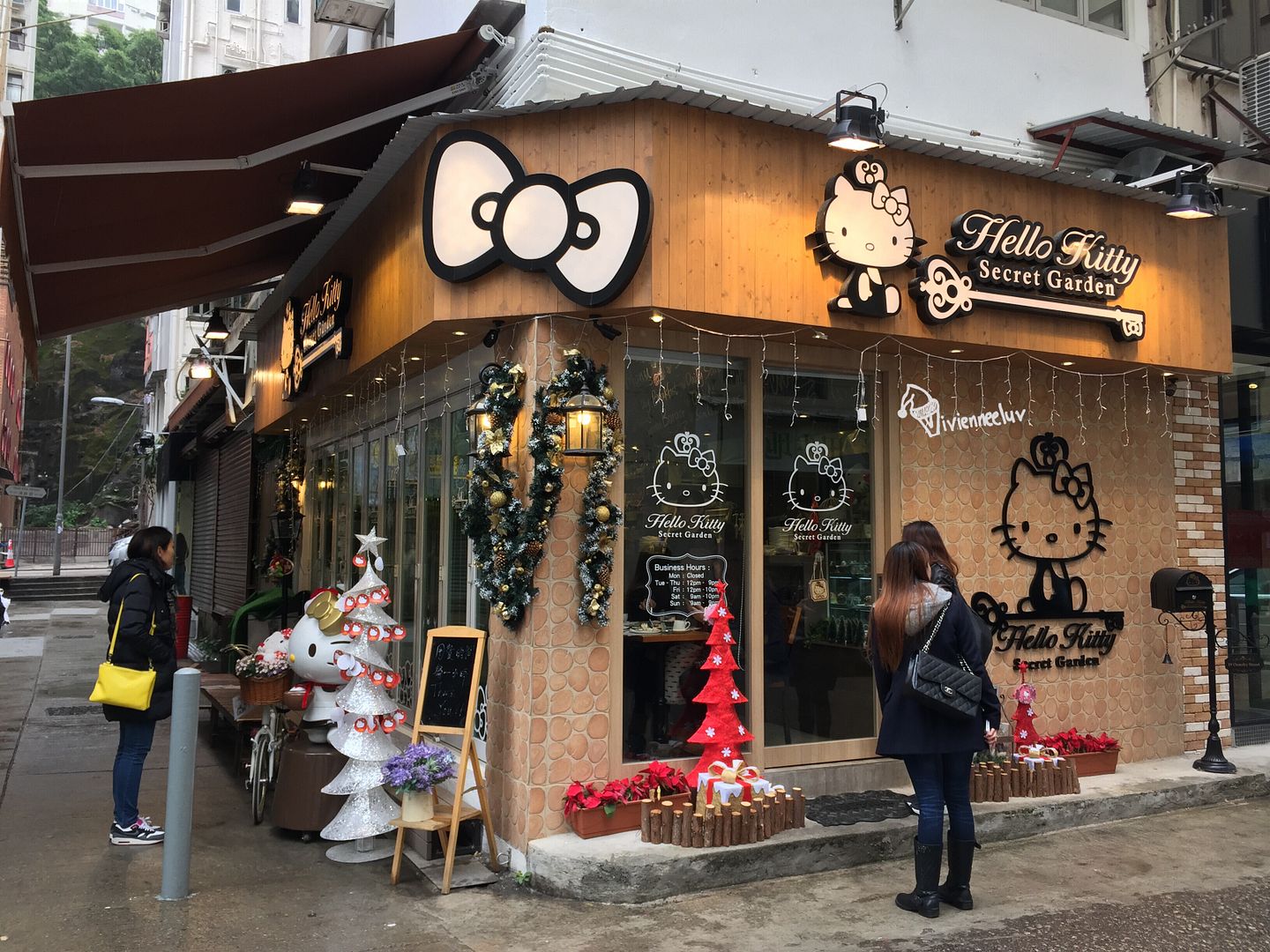 2.16pm: Squealed in delight from far, finally I am here! It was full house when we arrived, so we told service staff ''table for 2'' while i go around snapping pictures and quickly went back to the entrance to wait for our table, in case she gave it up to other customers.
This was actually taken next door, I believe they were in the midst of expanding, I am sure by now, the extended shop space has opened. They ought to, because the original shop space is too small, maybe about 20-seater.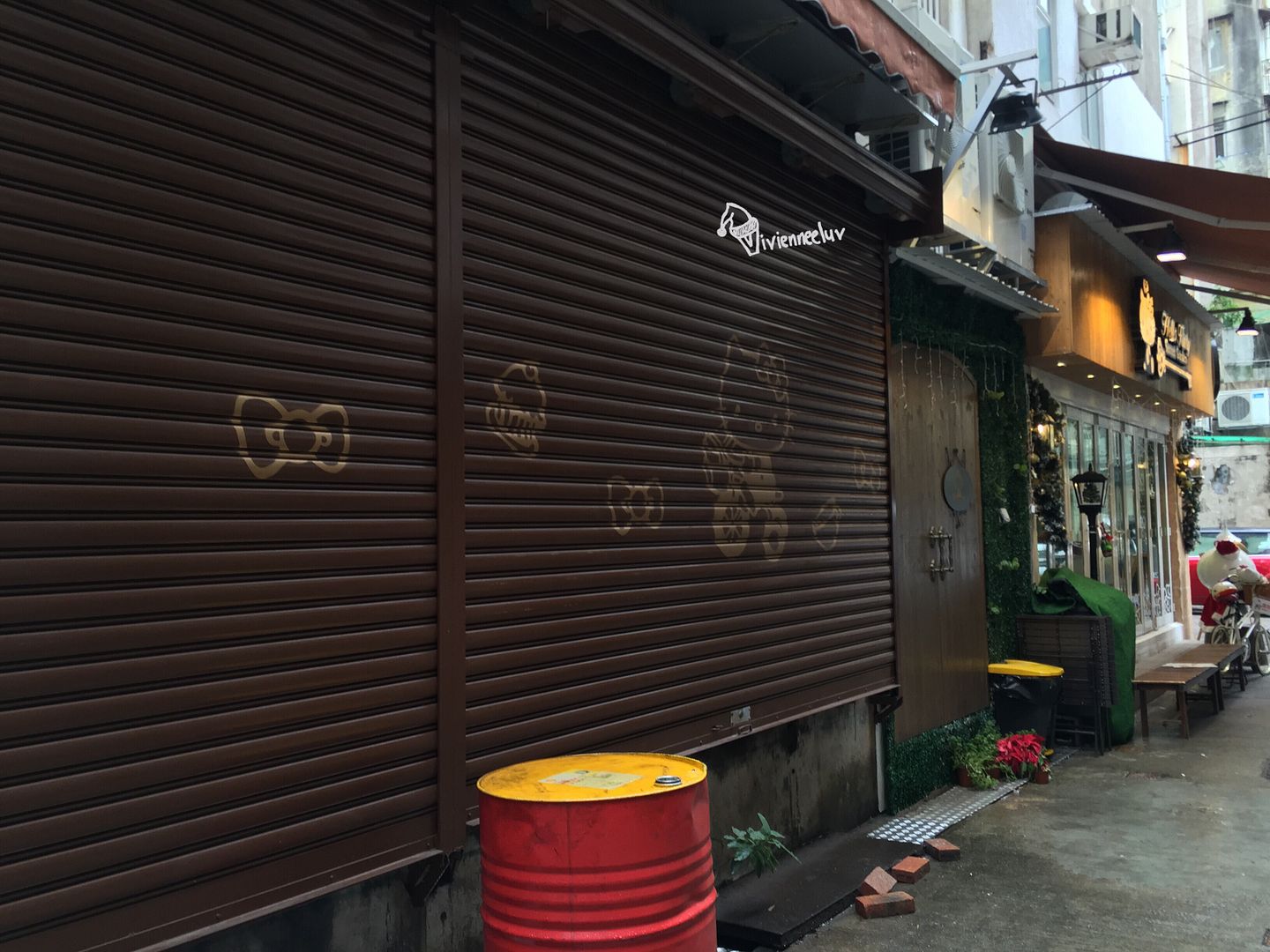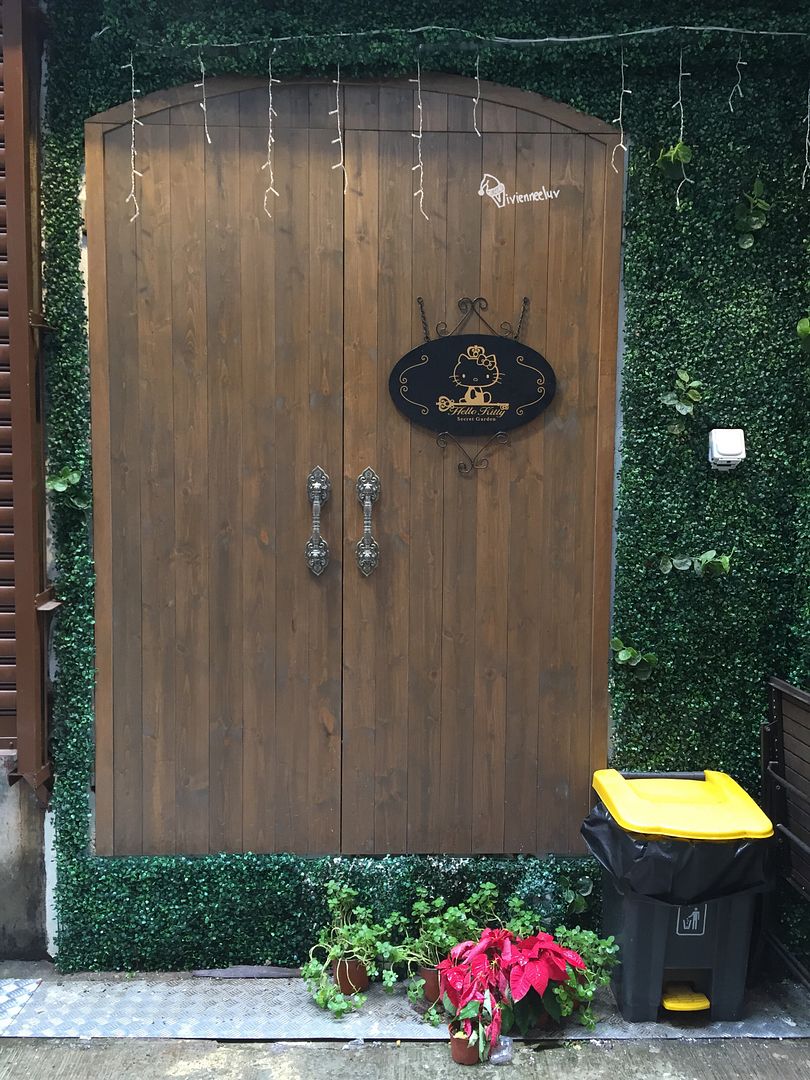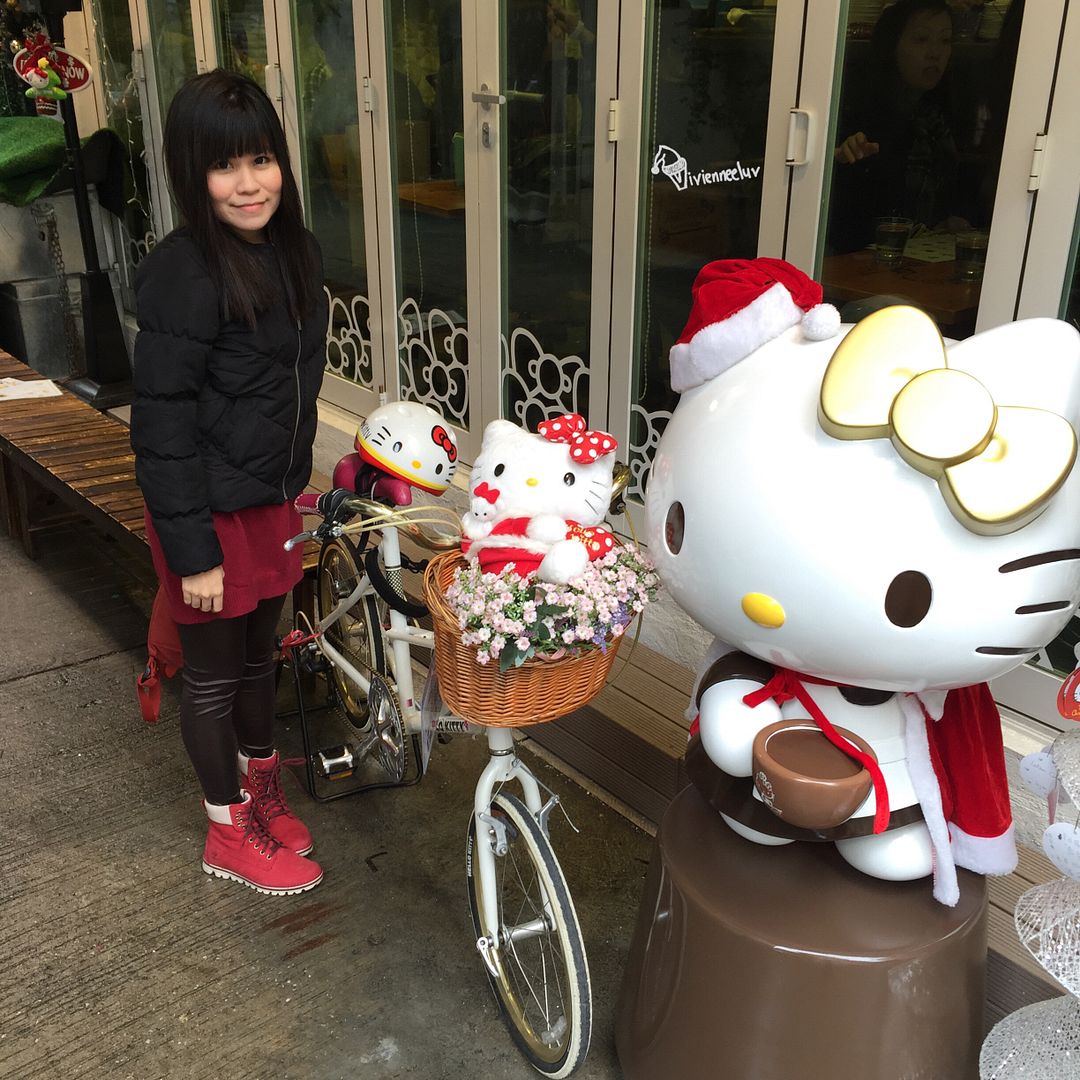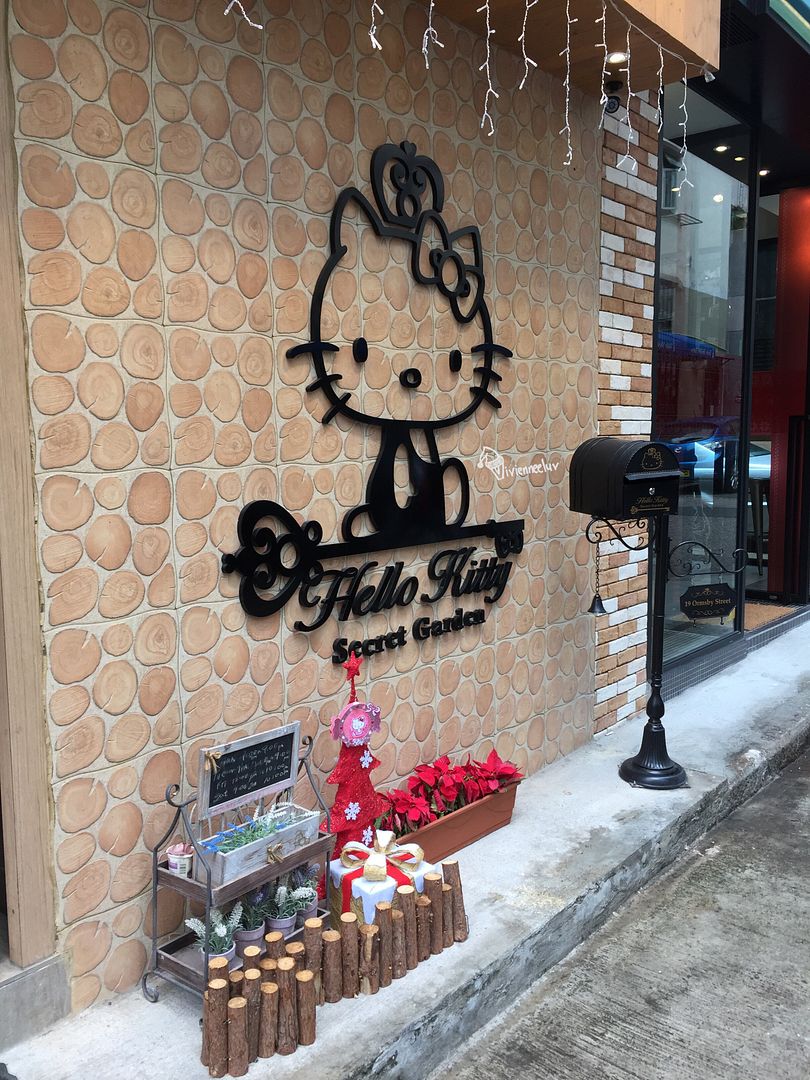 Everything is so pretty :(
I look like a hulk here. :P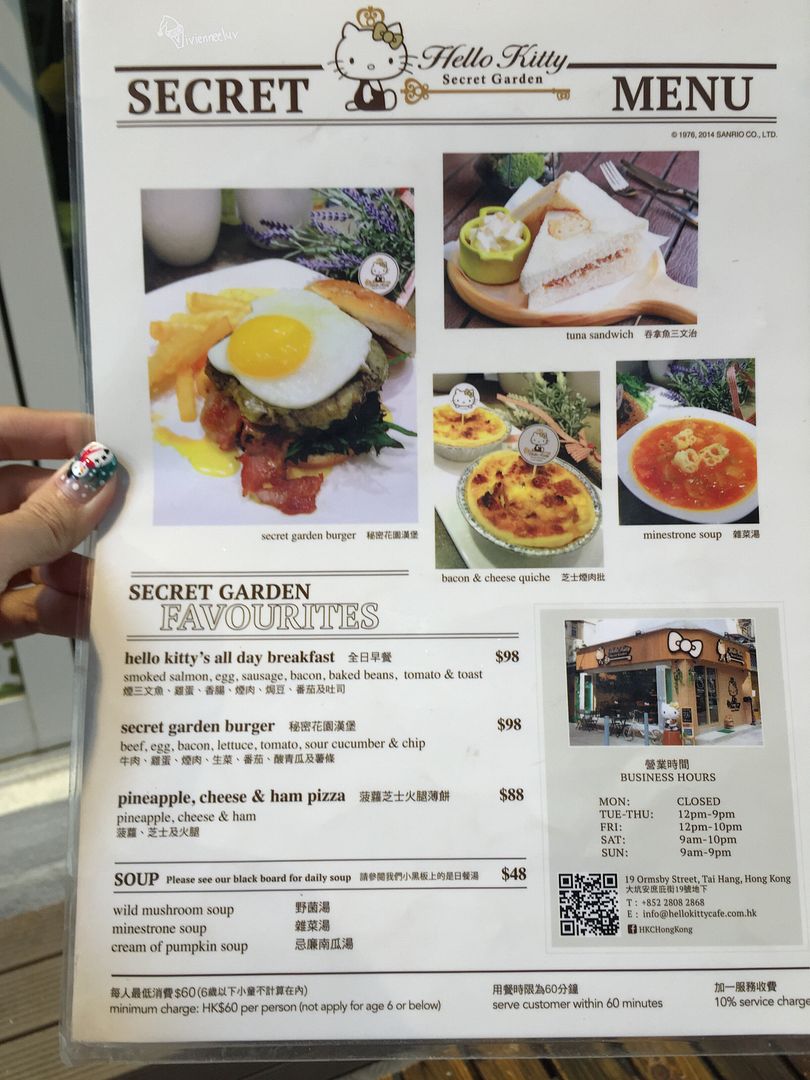 Do note that there is a HKD60 minimum spending per person and 60 mins dining time i suppose.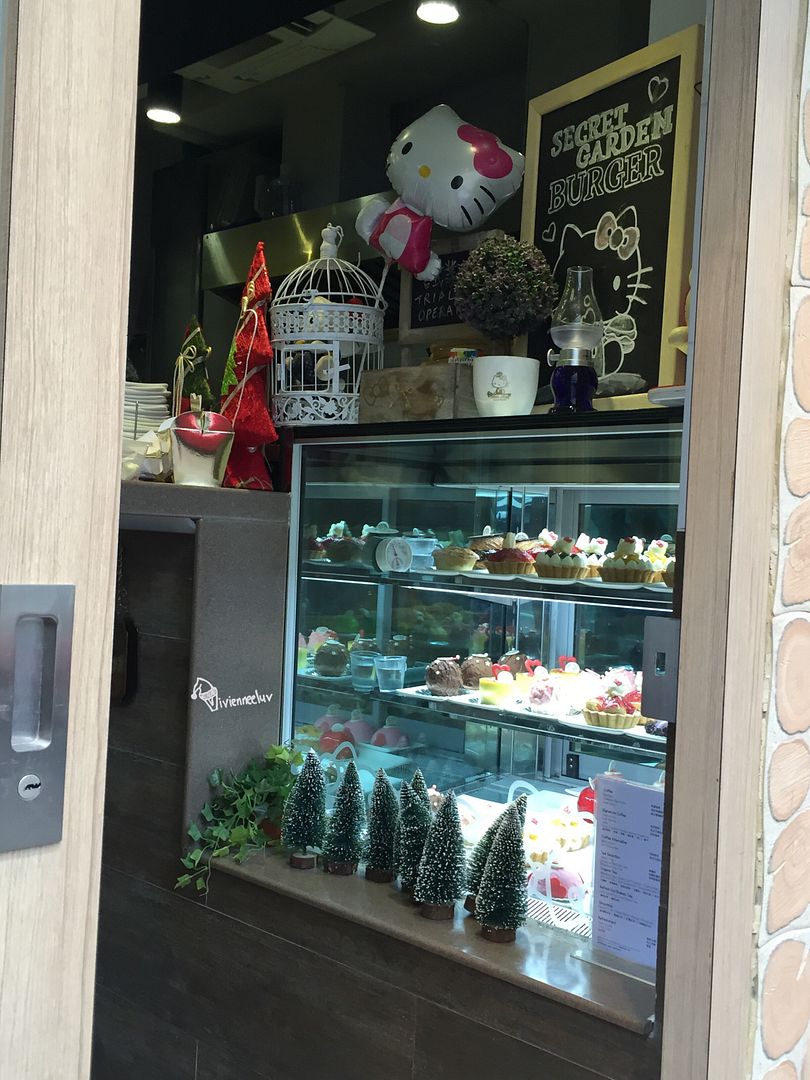 2.34pm: Finally its our turn! Basically if you only want to takeaway the cakes, you can visit
Sogo's Hello Kitty Le Petit
that I visited the day before. The cakes are exactly the same. However, in my opinion, dining here is a total different feel from takeaway cakes from the counter definitely. Worth a try.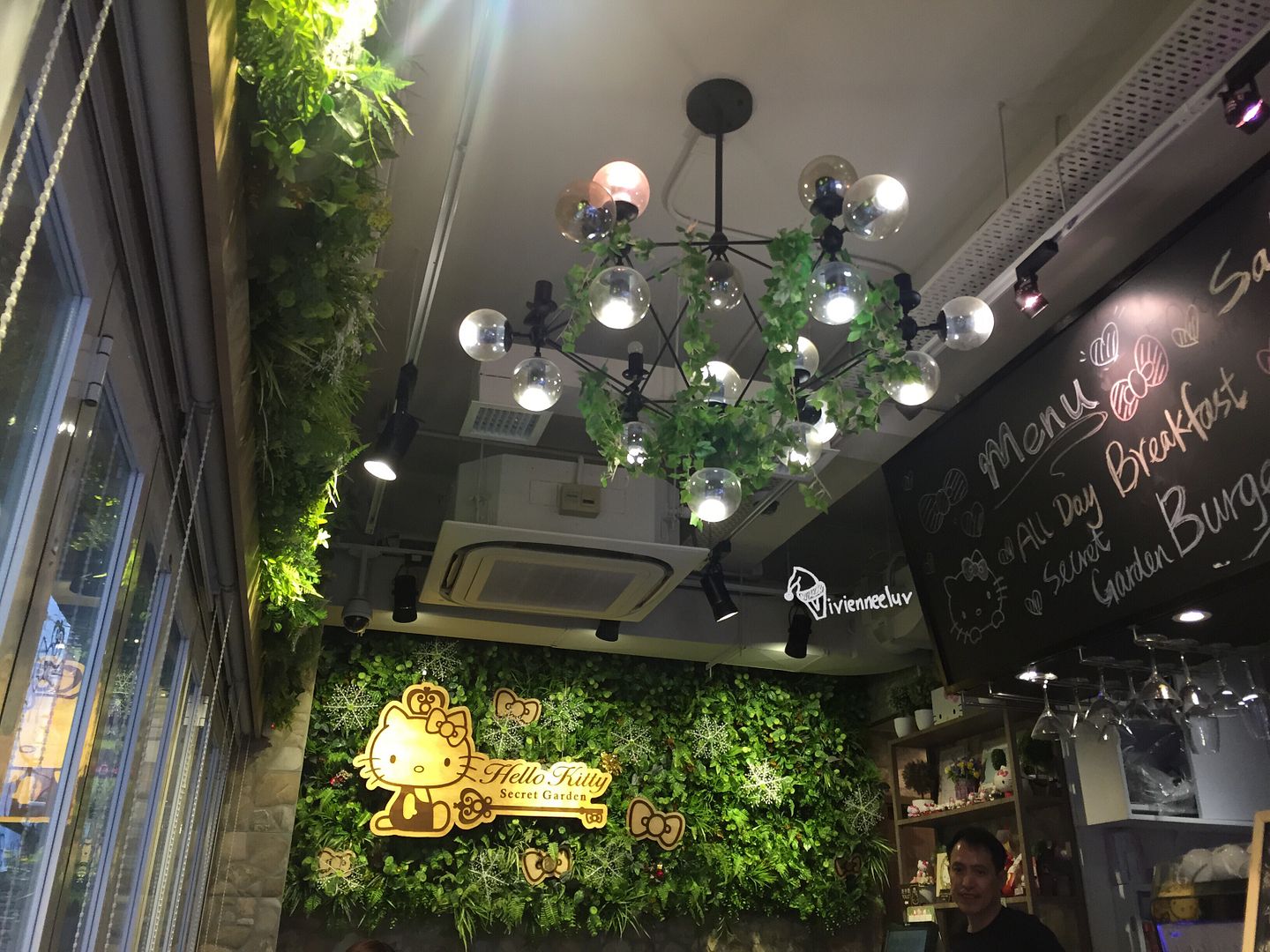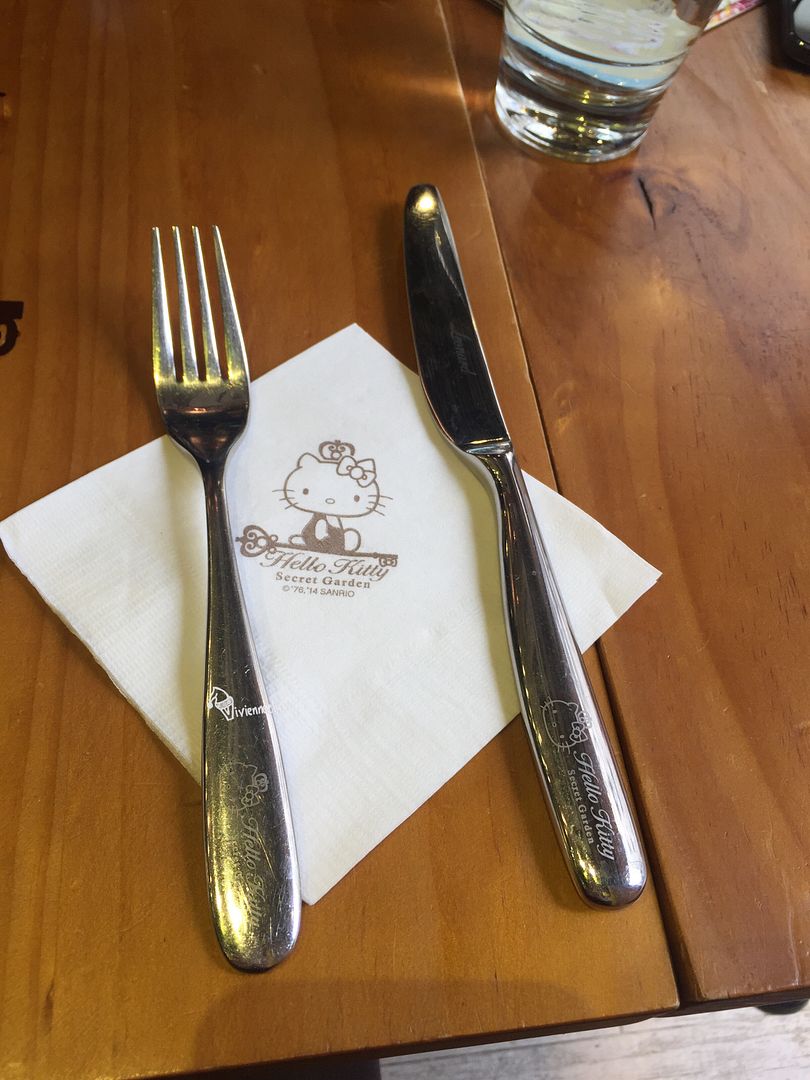 Even cutleries are so cute.
Our stomaches only can managed these.
Rose Latte HKD40 ↝S$6.90
Similar to the rose lattes (coffee-based) we had in Singapore, except that this had a raspberry after taste. I will order this again the next time!
Rose Mousse Cake HKD48 ↝ S$8.30
As it is my birthday, so this is my ONE and ONLY birthday cake that day.
Rose cake is pretty good too, light and not over cloying.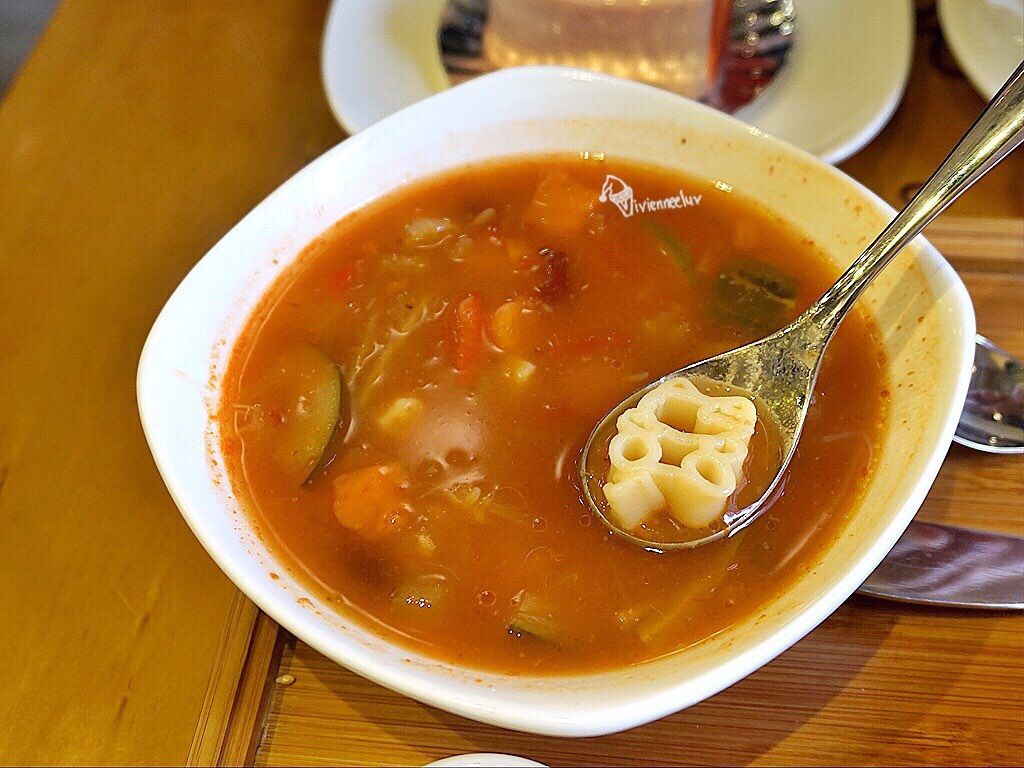 Secret Soup HKD48 ↝ S$8.30
Actually its minestrone, I bet you can tell. Wanted something savoury after so many sweets, and this is good. Comes with hello kitty pasta in the soup too!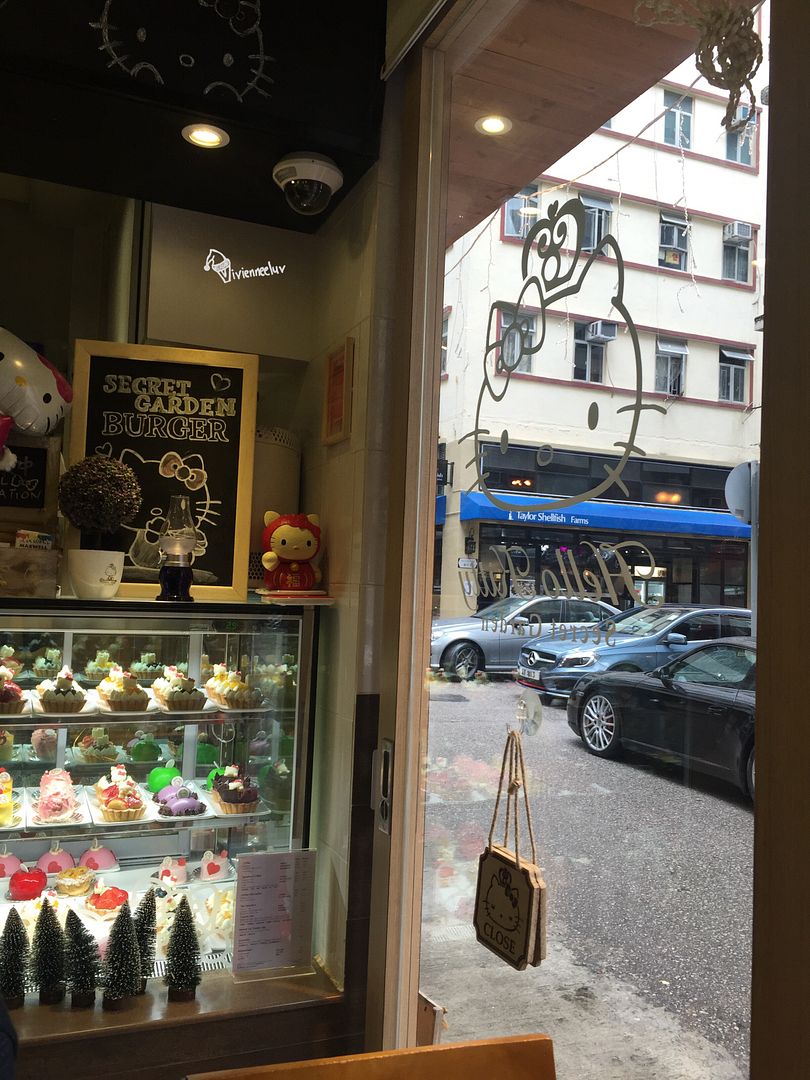 Best part is that we were seated by the window or rather glass panel, you know it rained on and off the whole day, its so relaxing.
A visit to their washroom... Didn't want to go but I have to at least take a peek of the decors.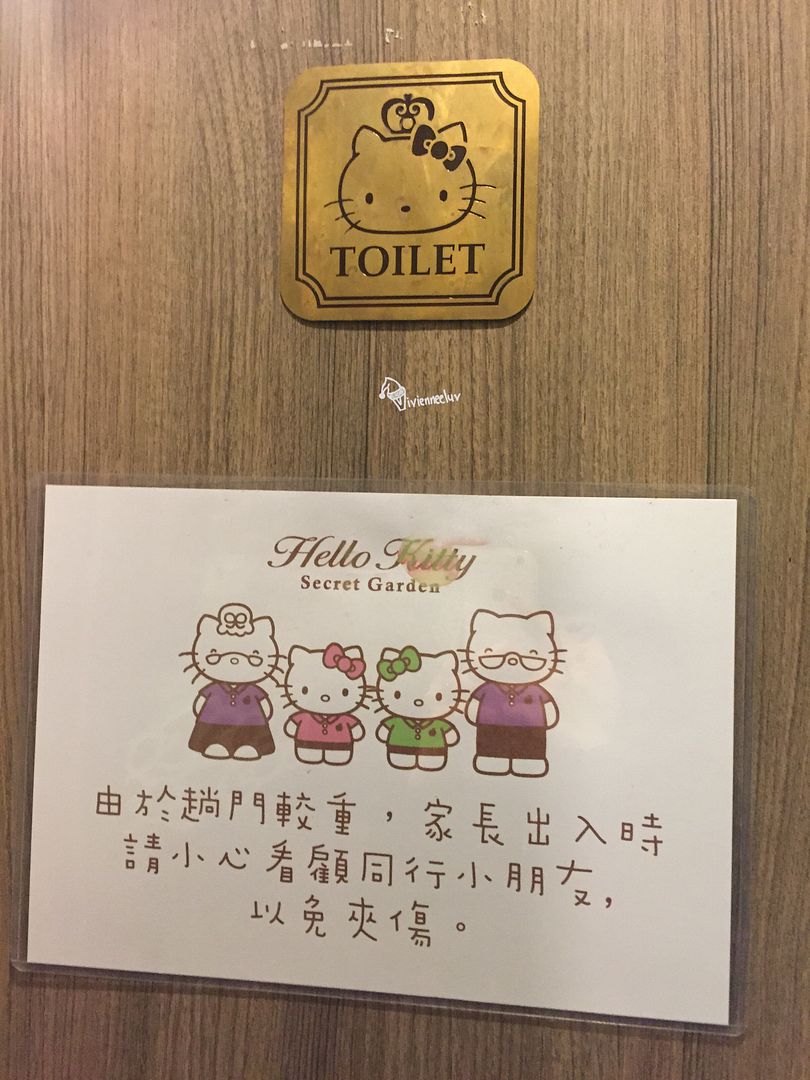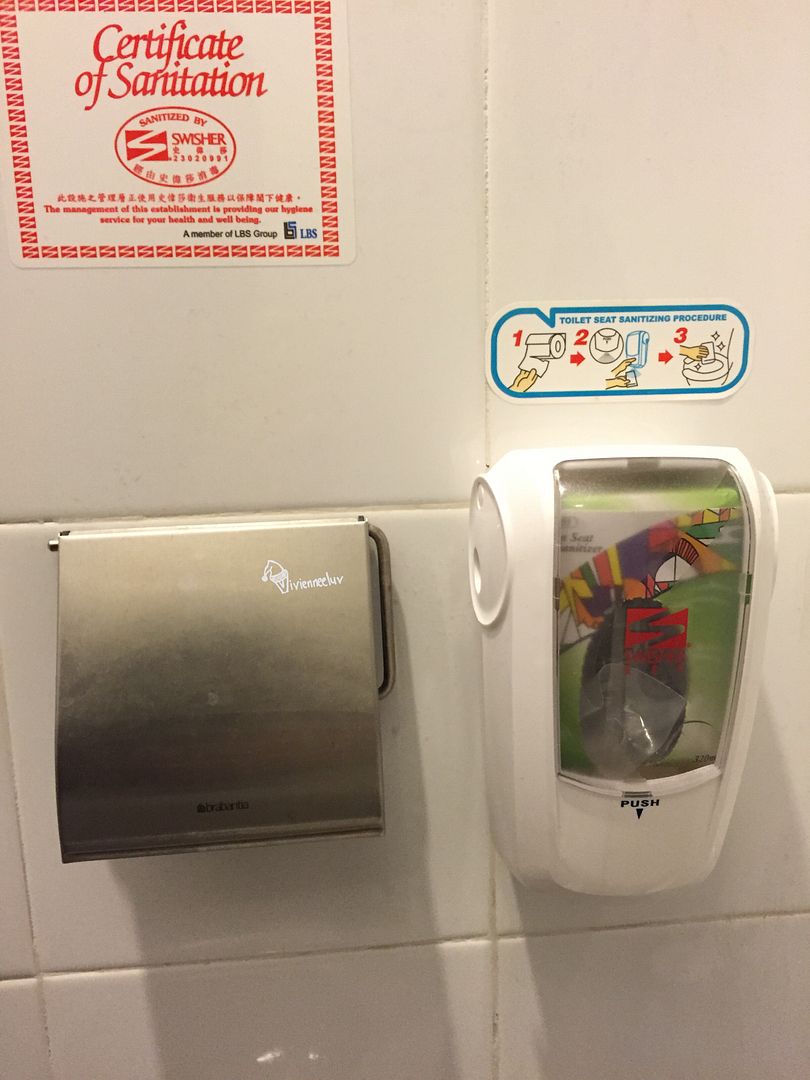 Lastly also took a picture of the chair.
We left the cafe within an hour, and we spotted SINGAPORE laksa hahah! Nah, I didn't try.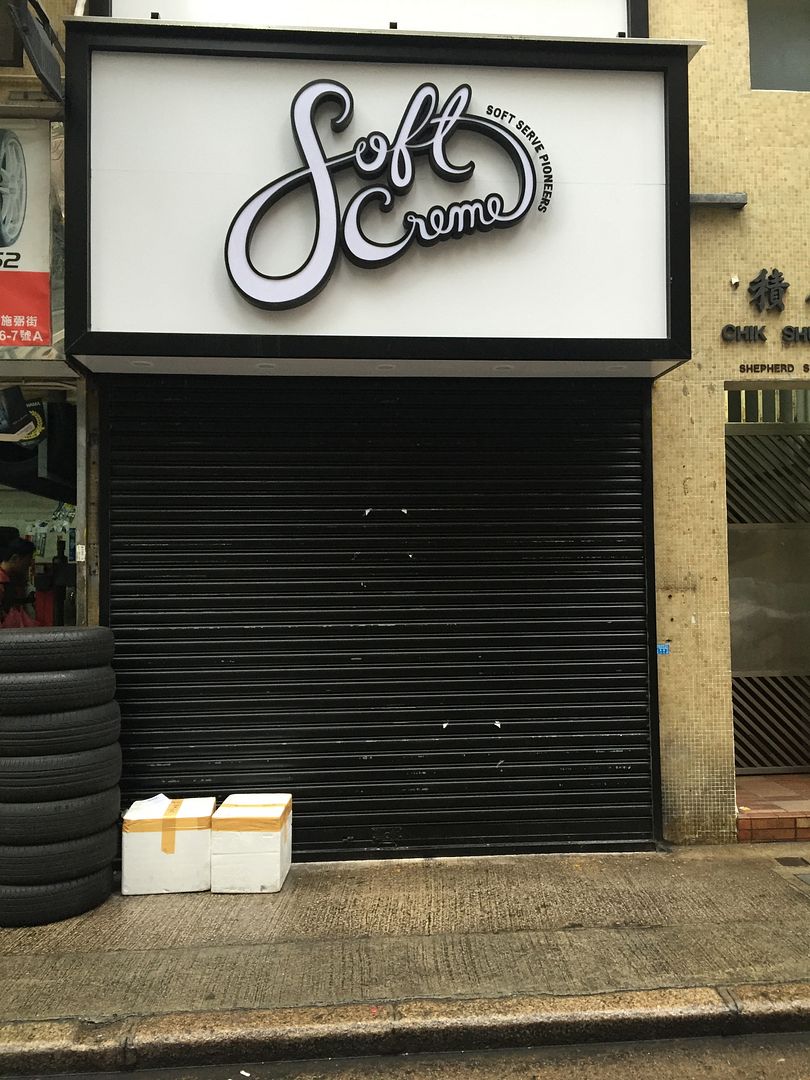 Our motive to Tai Hang was actually for Soft Creme and Hello Kitty Cafe. After our hello kitty cafe, it was already 3pm+, but soft creme is not opened yet. We actually stood for a while like 10 mins but no signs of life here, we called them but no one answer. So... I turned to the Tony! HAHA! Good to have HK friends. He told me they don't open so early, maybe around wish in the evening. So we decided to leave Tai Hang.
Don't trust the operating hours on their Facebook page:
Tue - Thu:
3:00 pm - 11:00 pm
Fri:
3:00 pm - 12:00 am
Sat:
12:00 pm - 12:00 am
Sun:
12:00 pm - 11:00 pm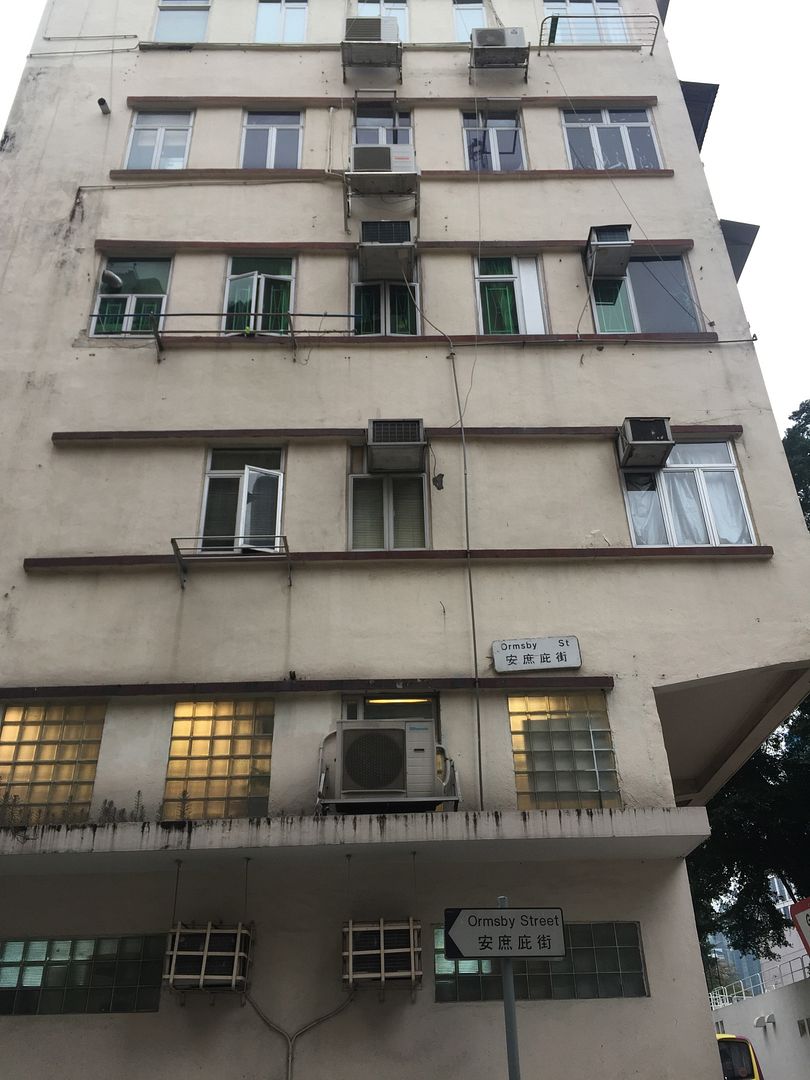 4.20pm: Here we arrived at IFC Mall (international Finance Centre), there is a HUGE APPLE store and its flooded with people. I swear. Its 2-storey but still flooded by irritants. Can you see how crowded it is?
Thats not all. Guess what?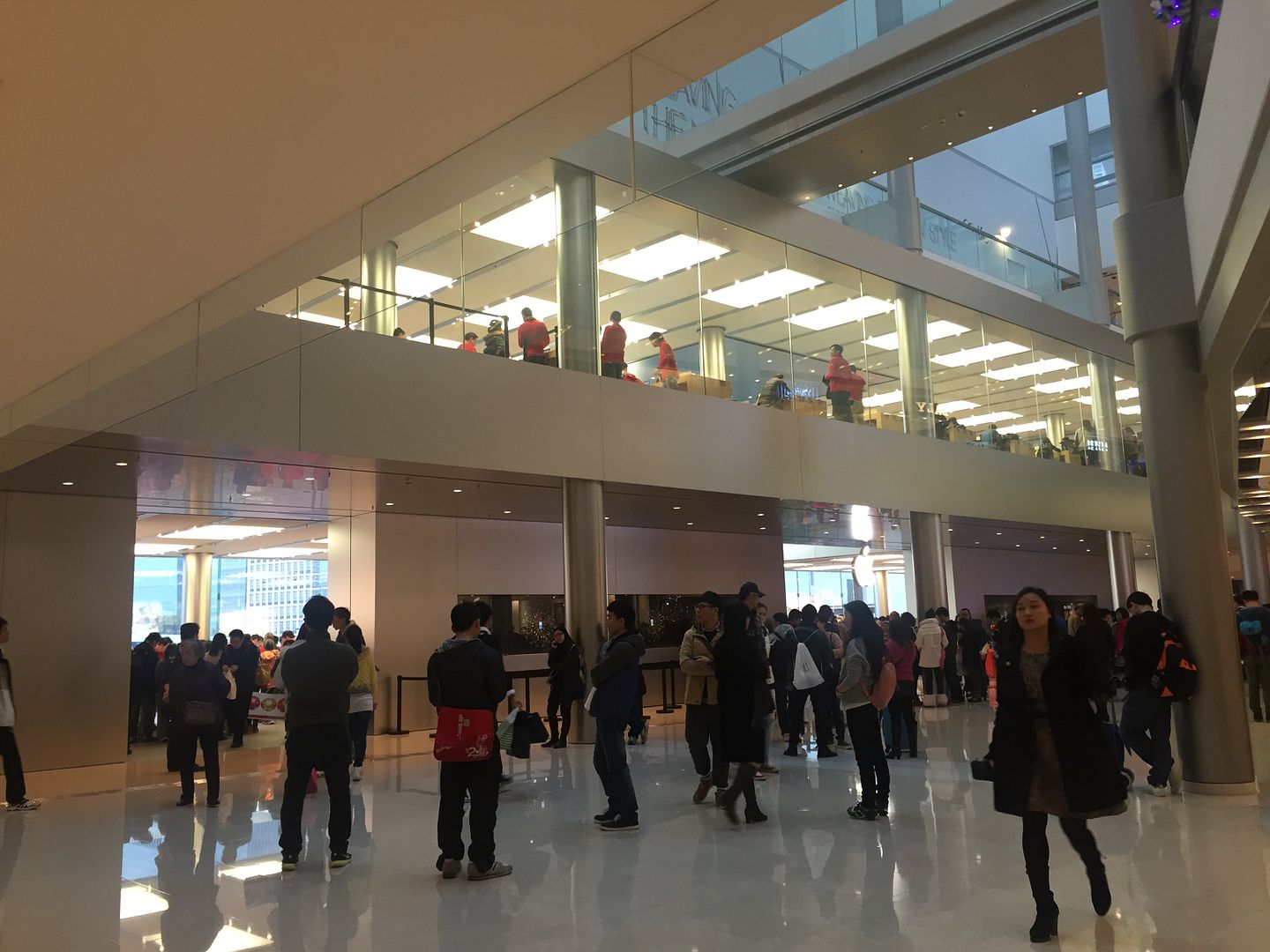 50% of the number of irritants stood RIGHT OUTSIDE Apple store, opened their luggages, I swear they were luggages, and inside them were lots of iPhone 6. Why did Apple not stop them, why did the security do nothing?
IFC Mall is quite an ''atas'' mall.
Well, whatever, we continued our journey.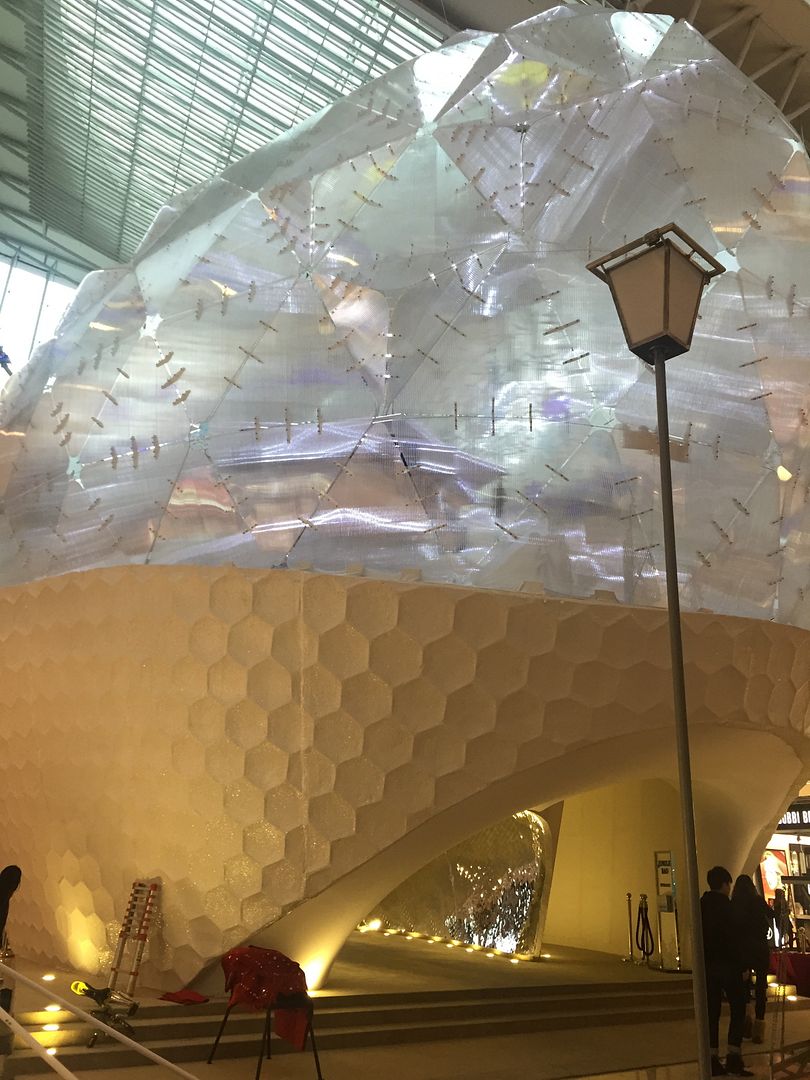 Headed out in the cold again, there is a long bridge from IFC leading to the HK Observation Wheel.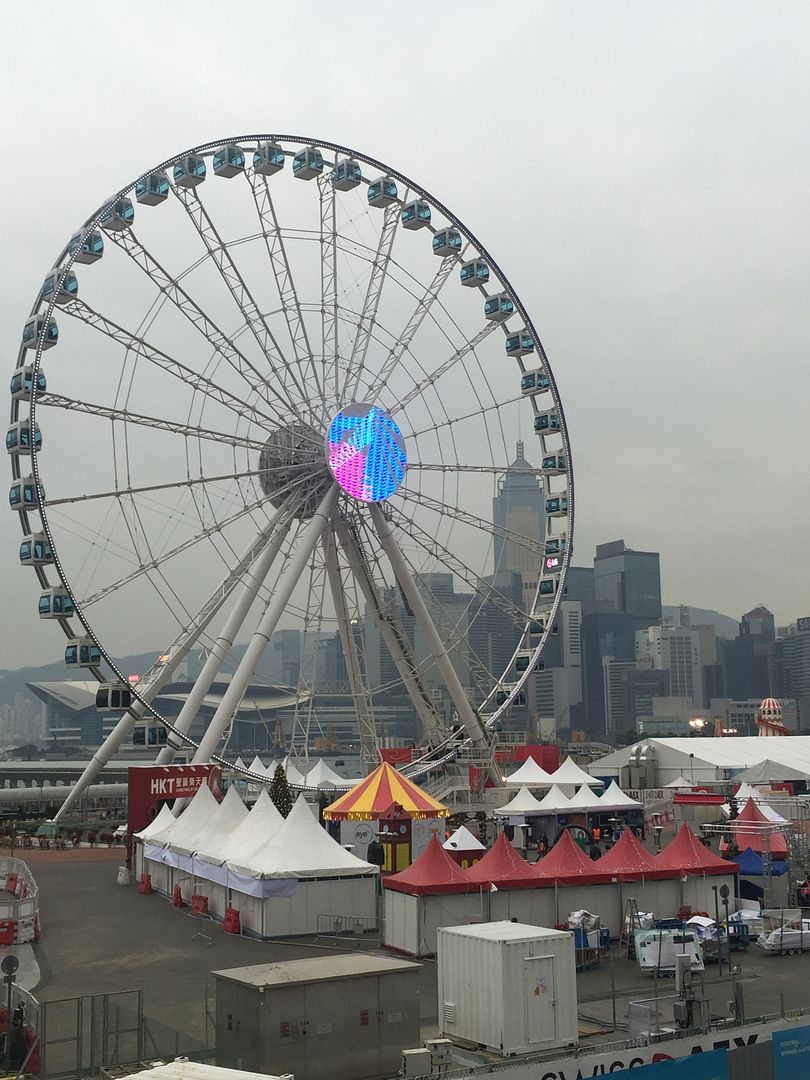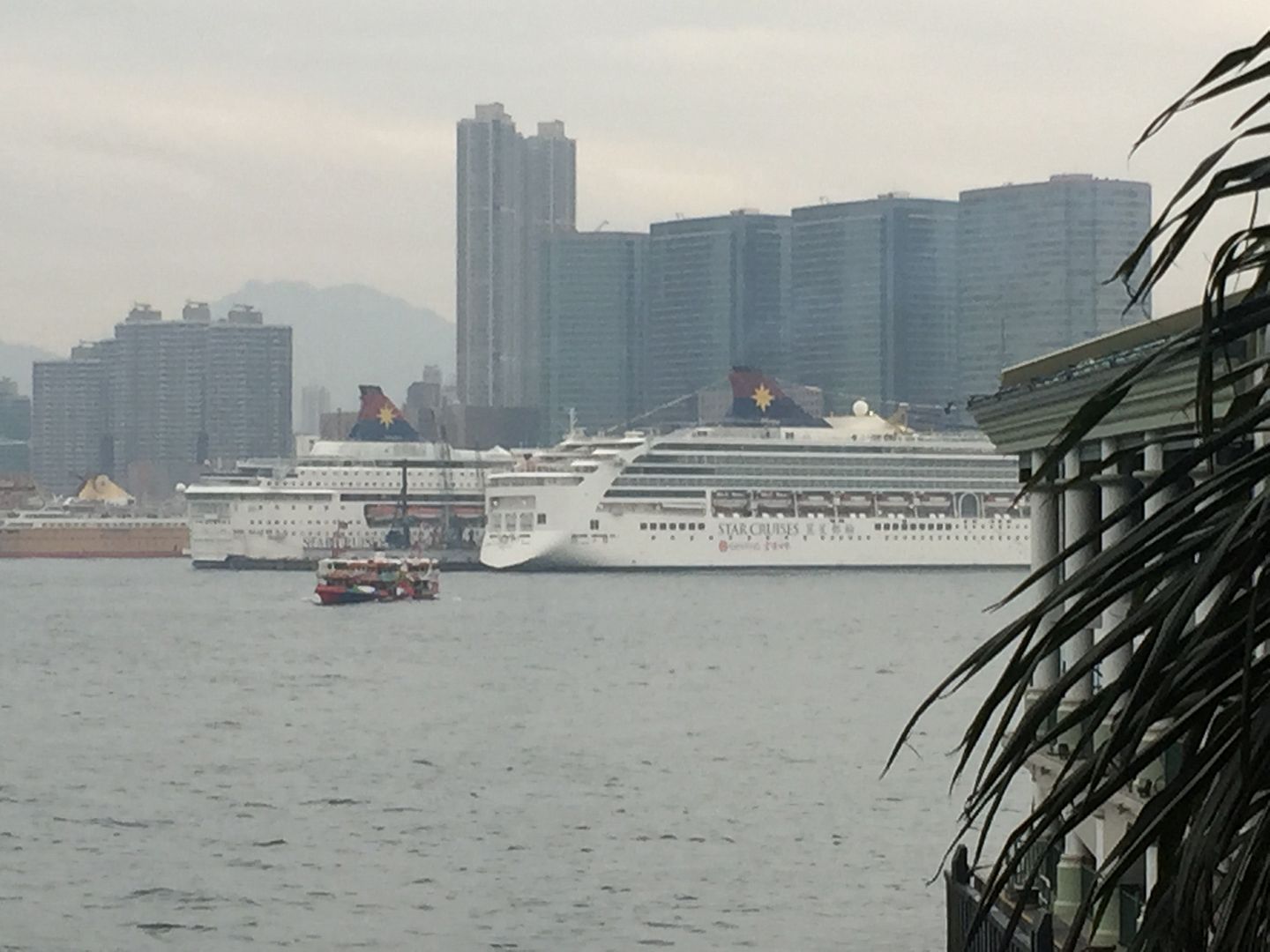 Star Cruises were here!
7. HK Observation Wheel
33 Man Kwong Street, Central (In front of Piers 9 and 10)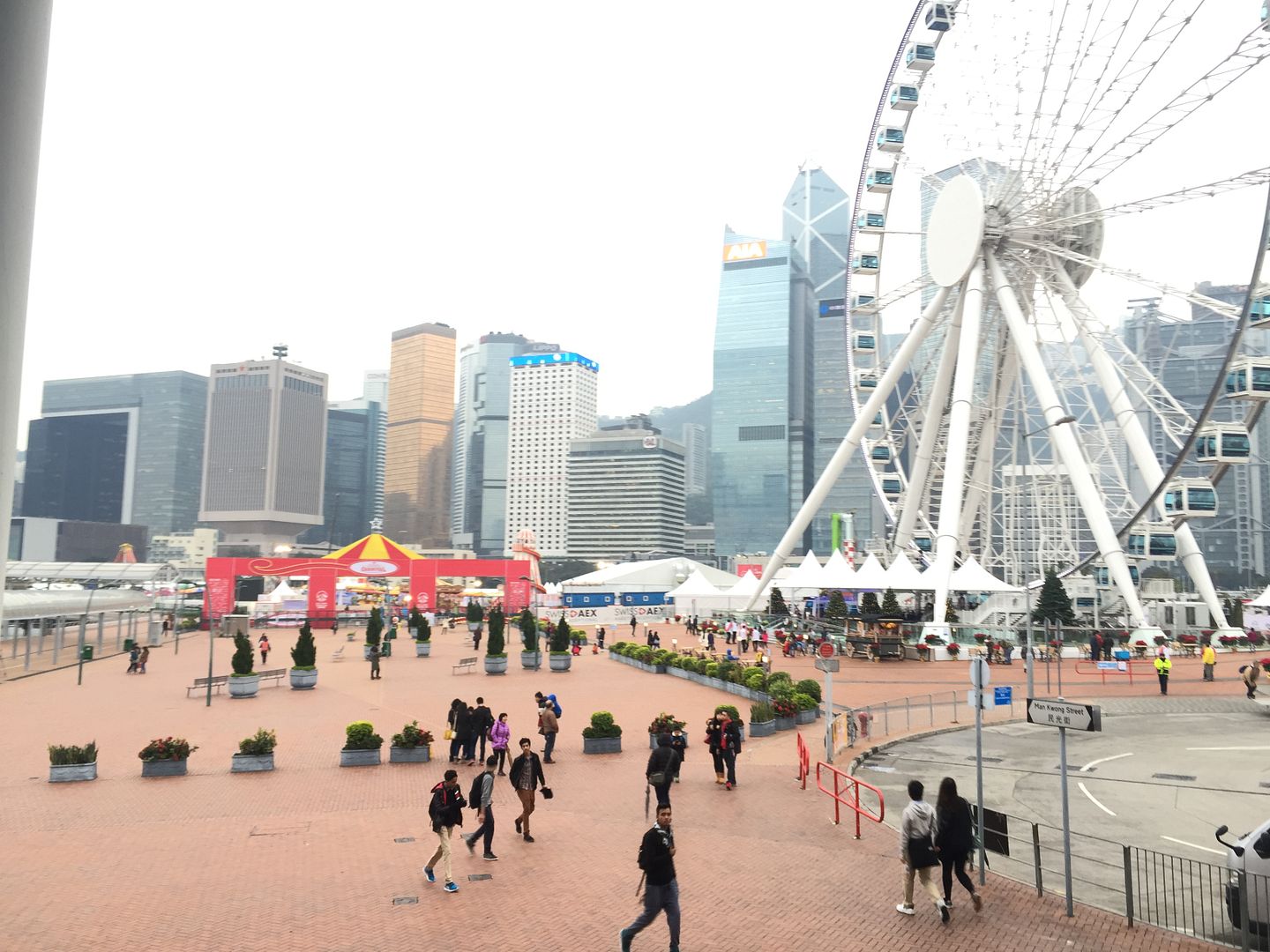 4.42pm: The fair that was at the bottom of the HK Observation Wheel is actually The Great European Carnival that was held from 23rd Dec 2014 to 22nd Feb 2015.
Too bad we were too early.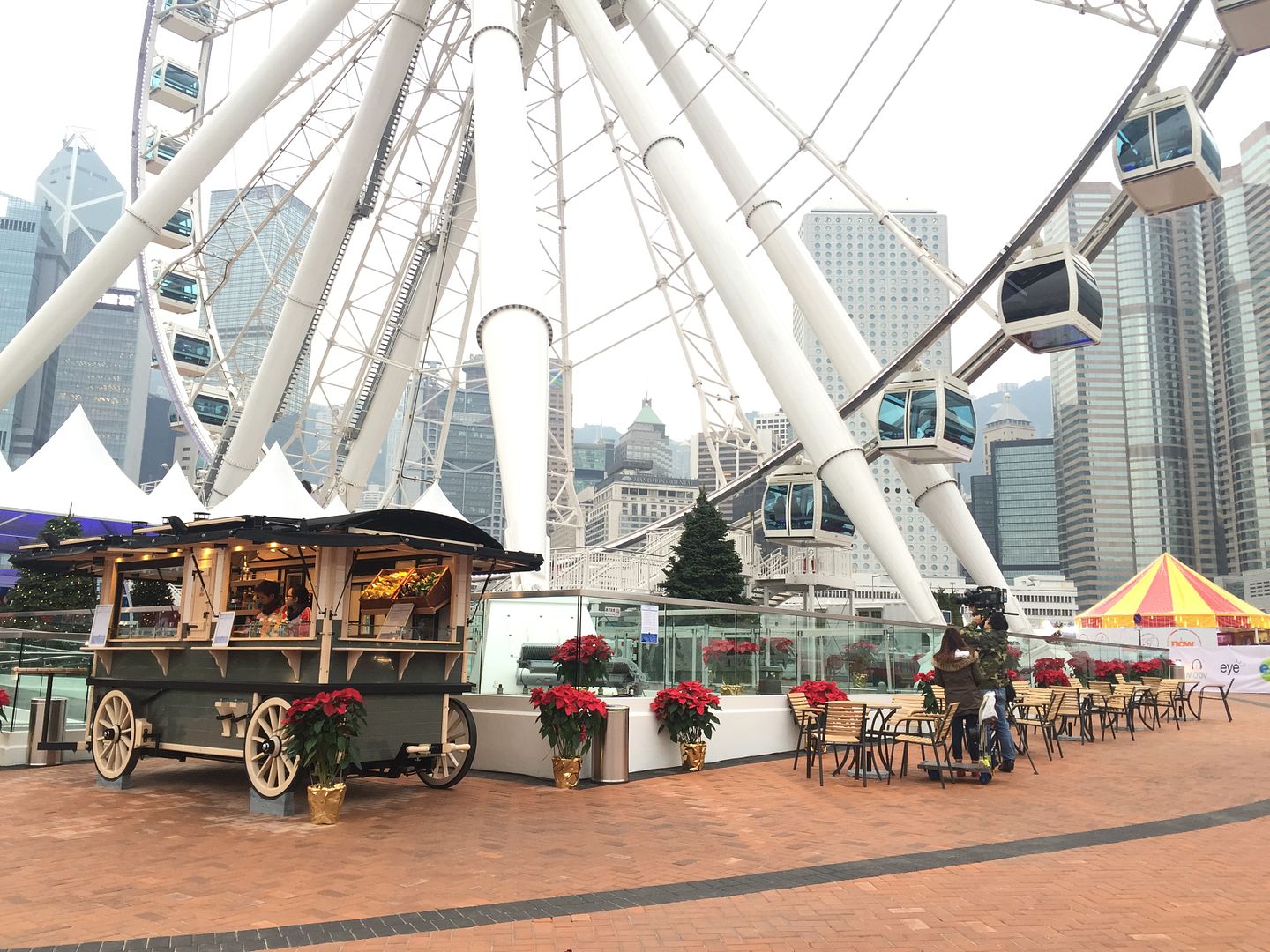 This place is so chill!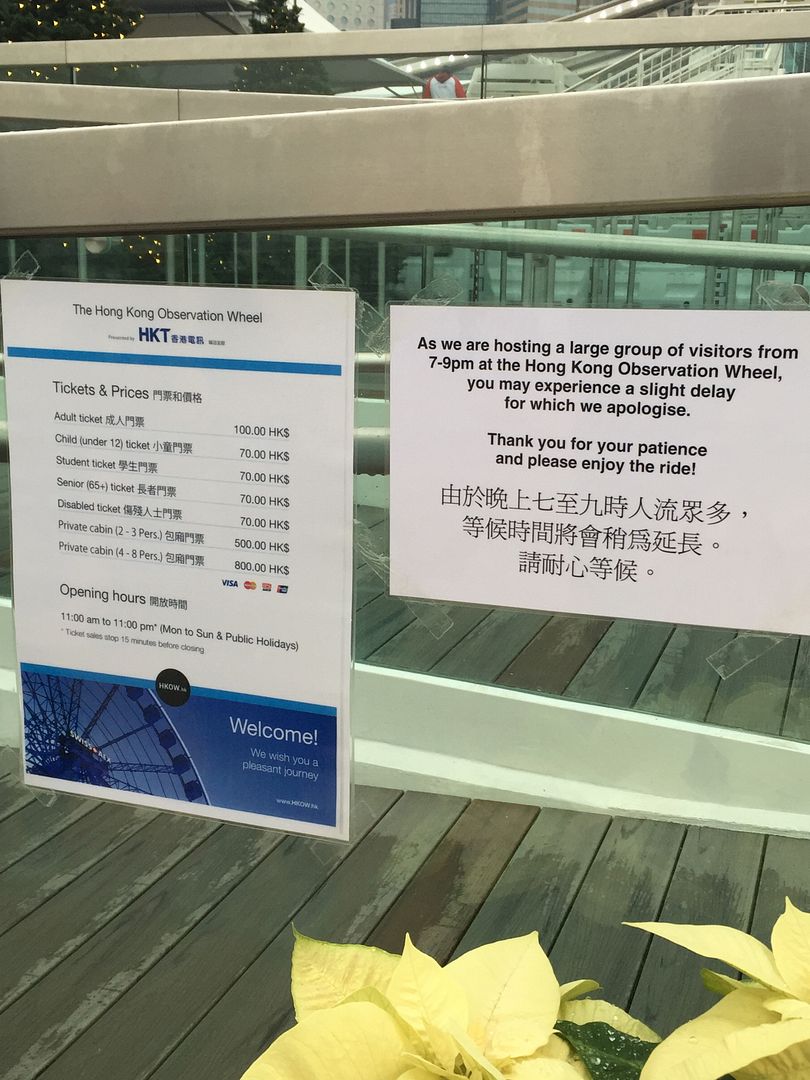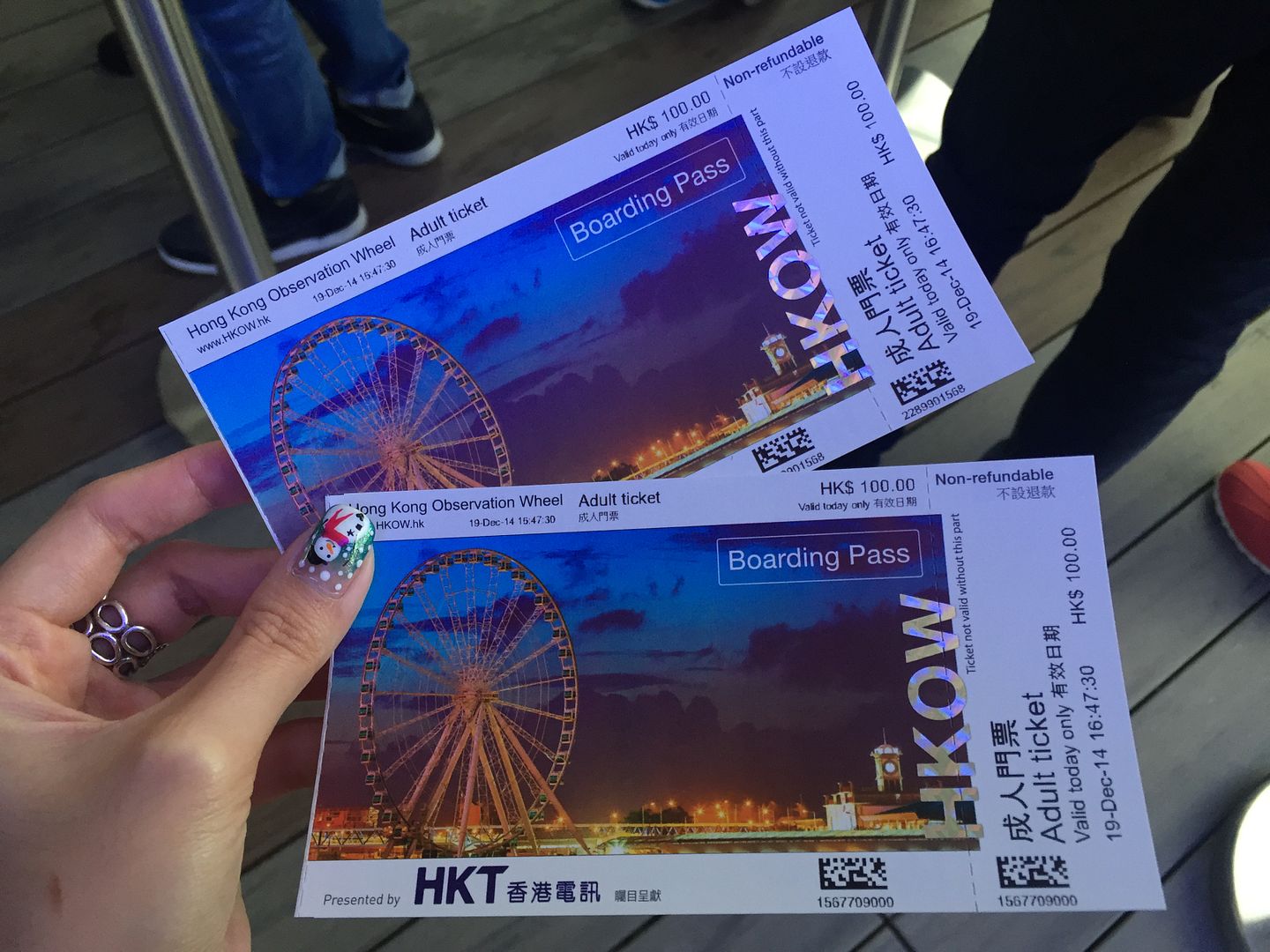 Ticket to HK Observation Wheel HKD100 ↝ S$17.25 per adult
The cabin of the Observation Wheel is like our Cable Car, which can take about 4-6 persons. We have to remain seated throughout the ride. While boarding, we ask the staff how many rounds will we go, he said ''maybe 3, some had 4 rounds''.
So we actually go round and round until they told us to alight. I can't recall how many rounds we had though.
Below pictures are what I took...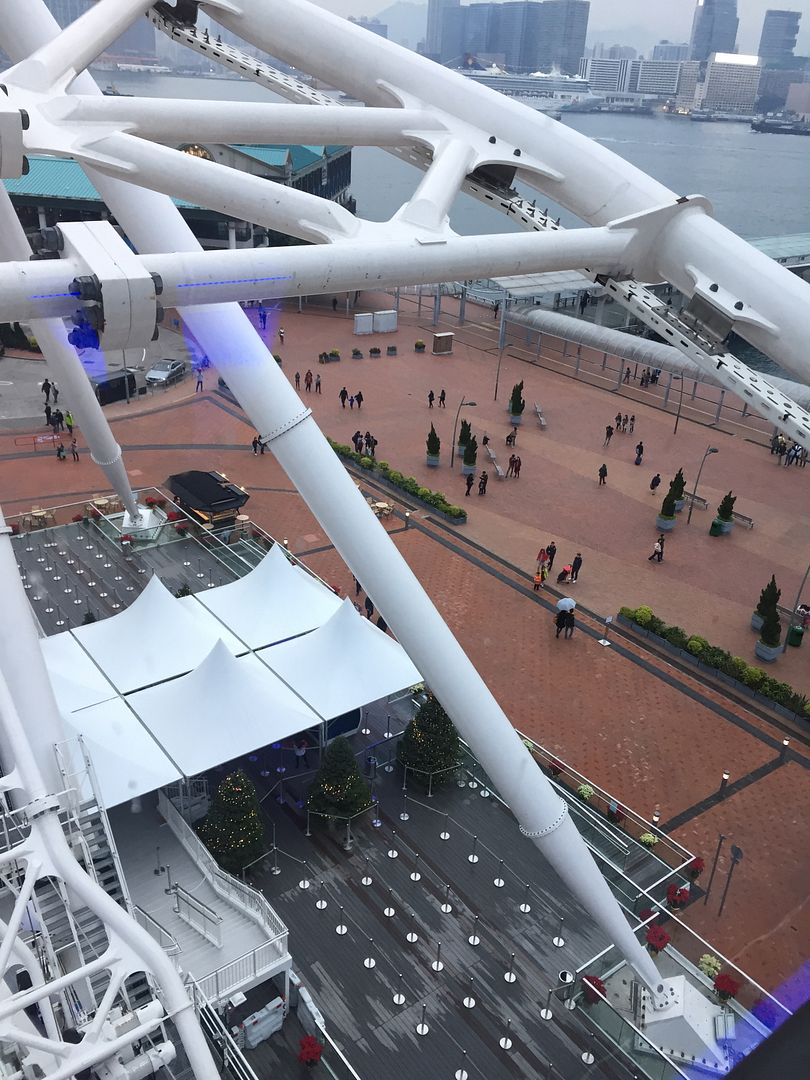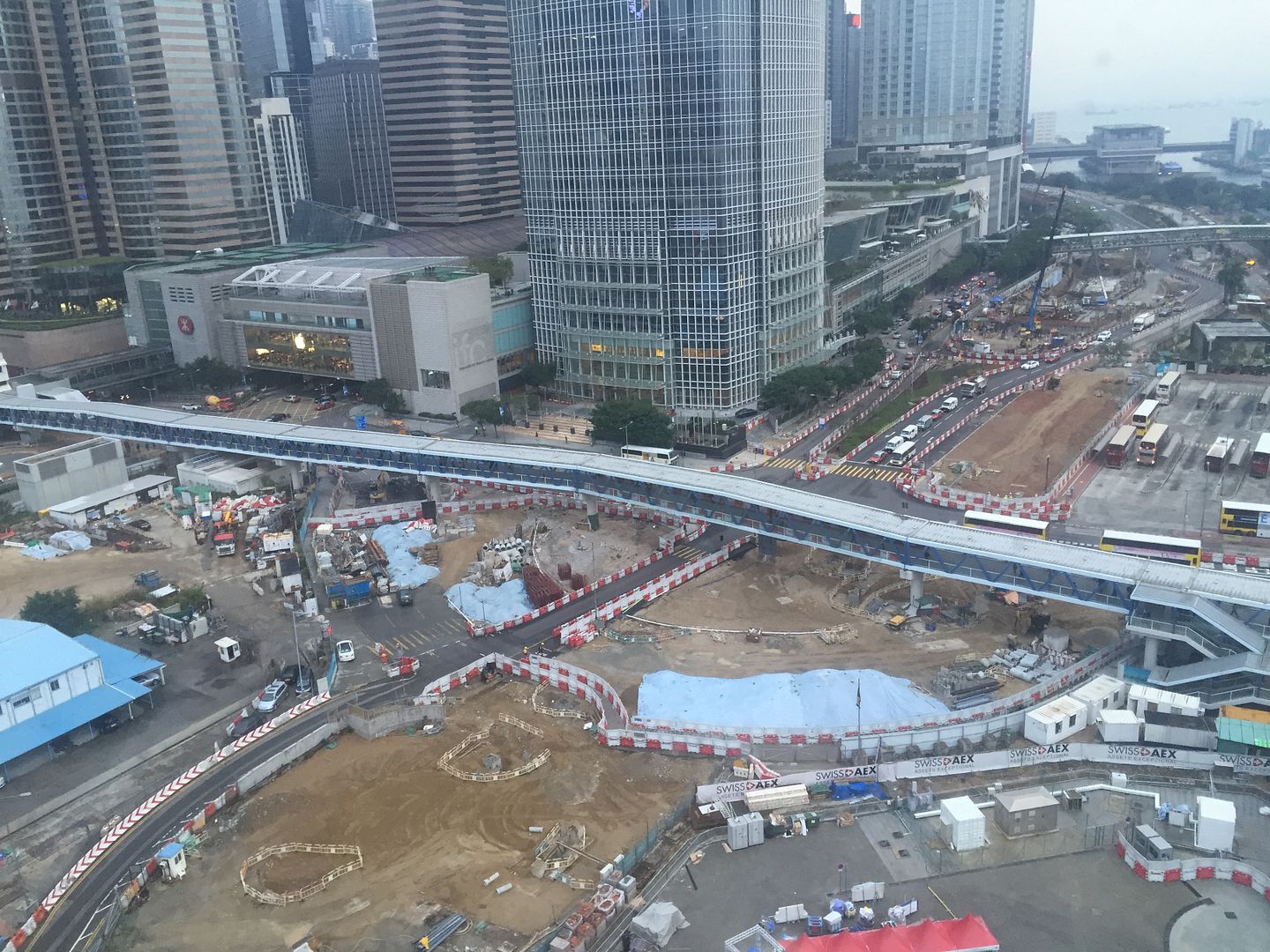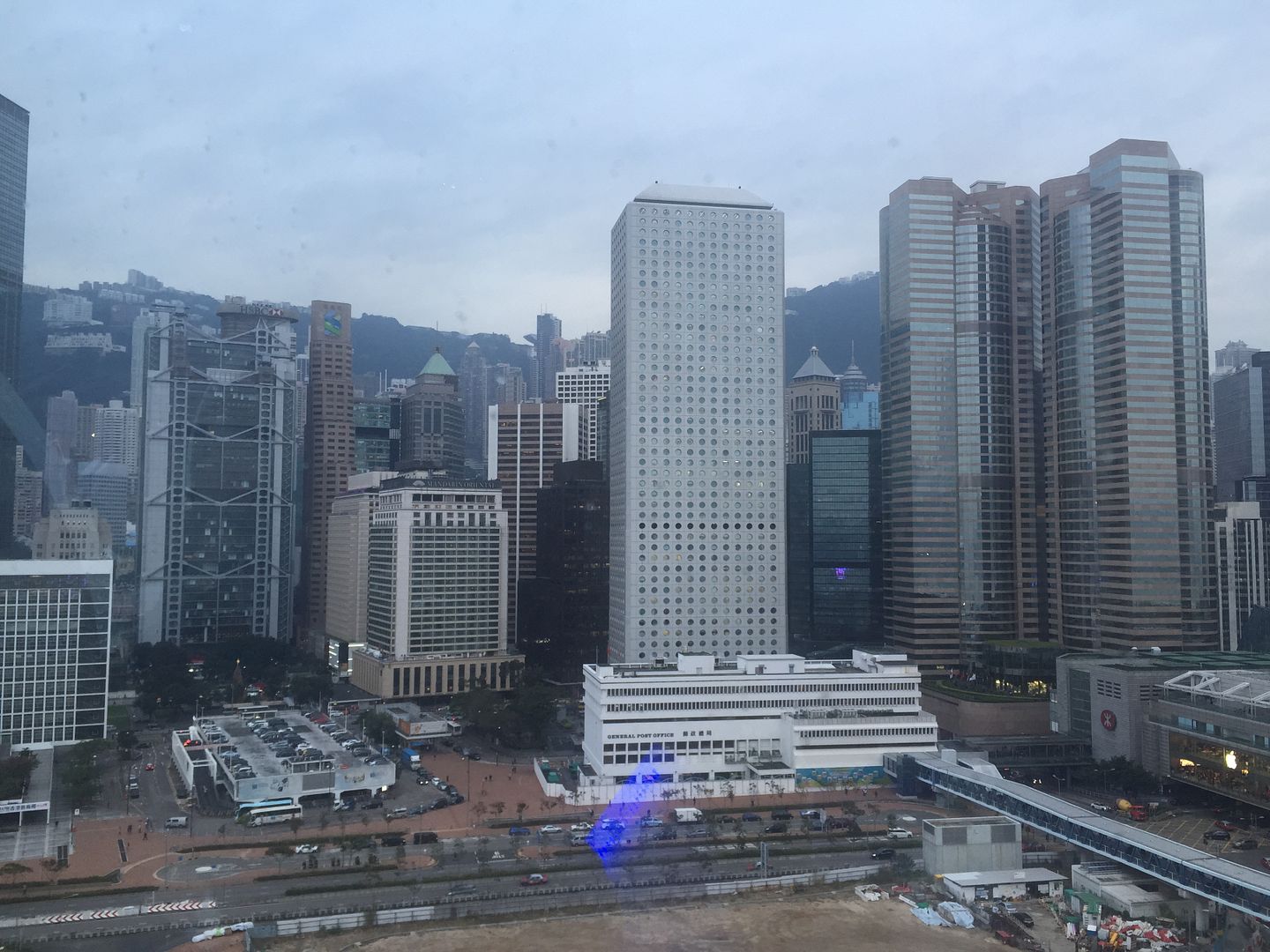 This may be the picture I took when we were at our highest.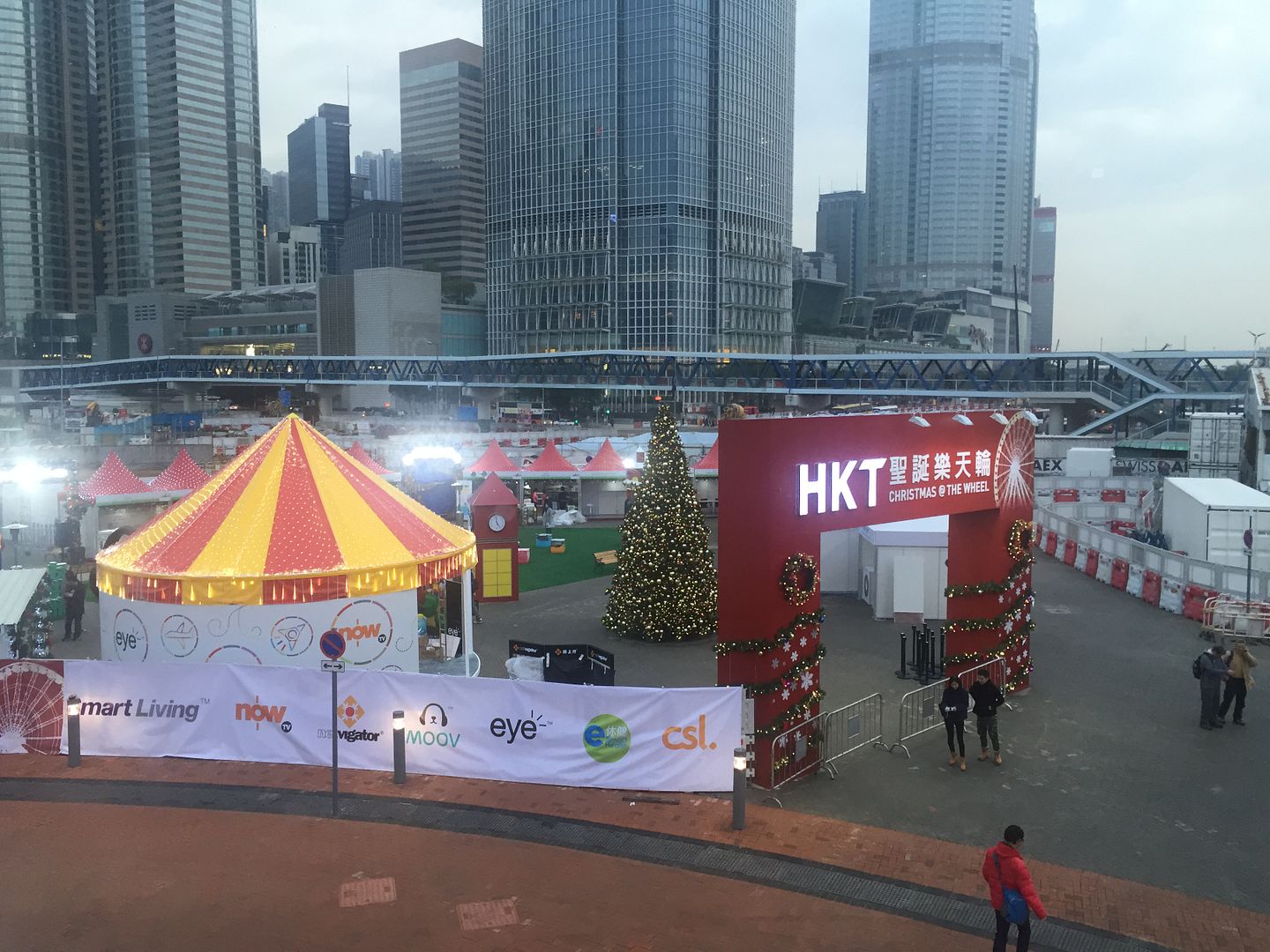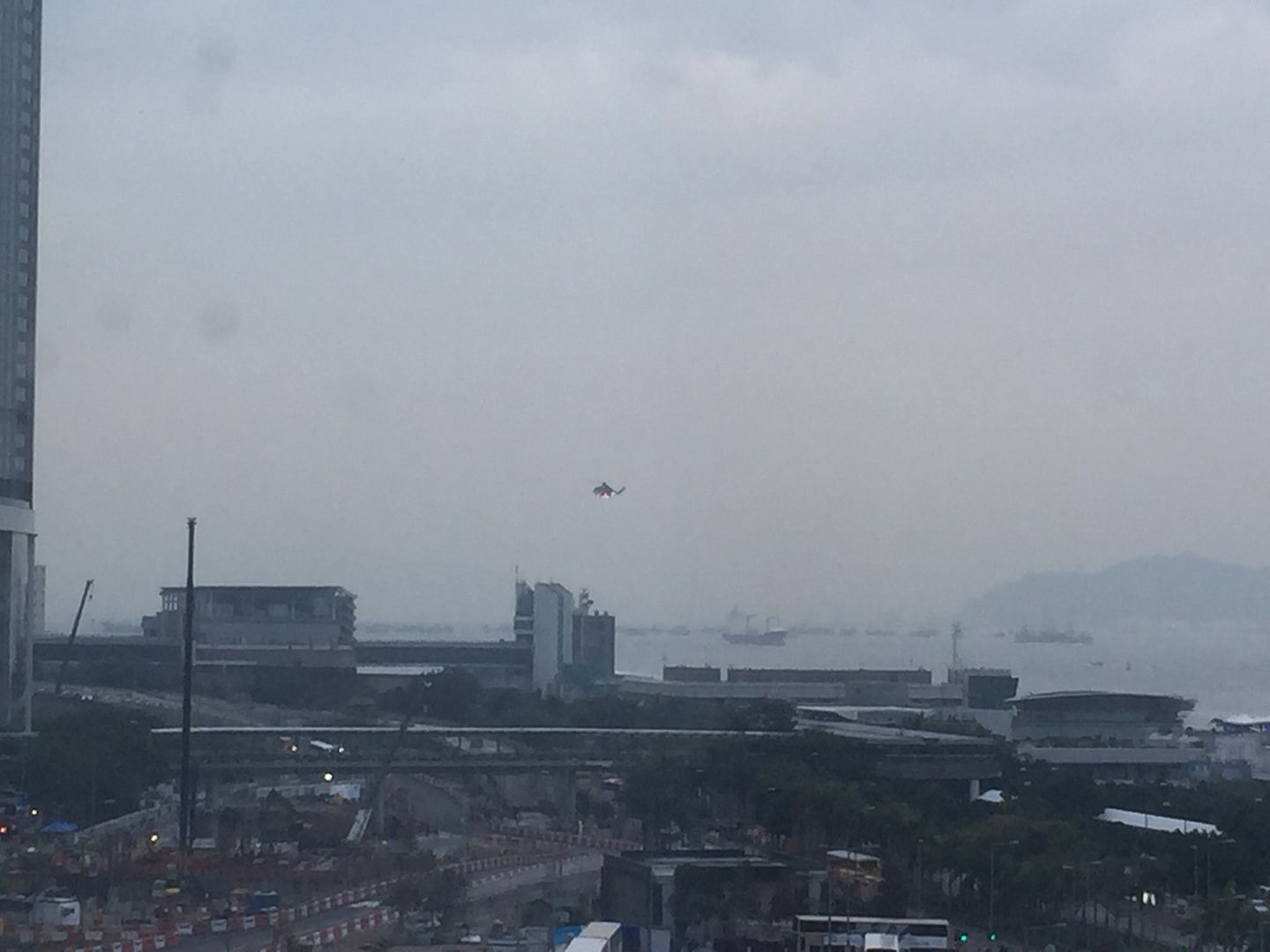 Piers.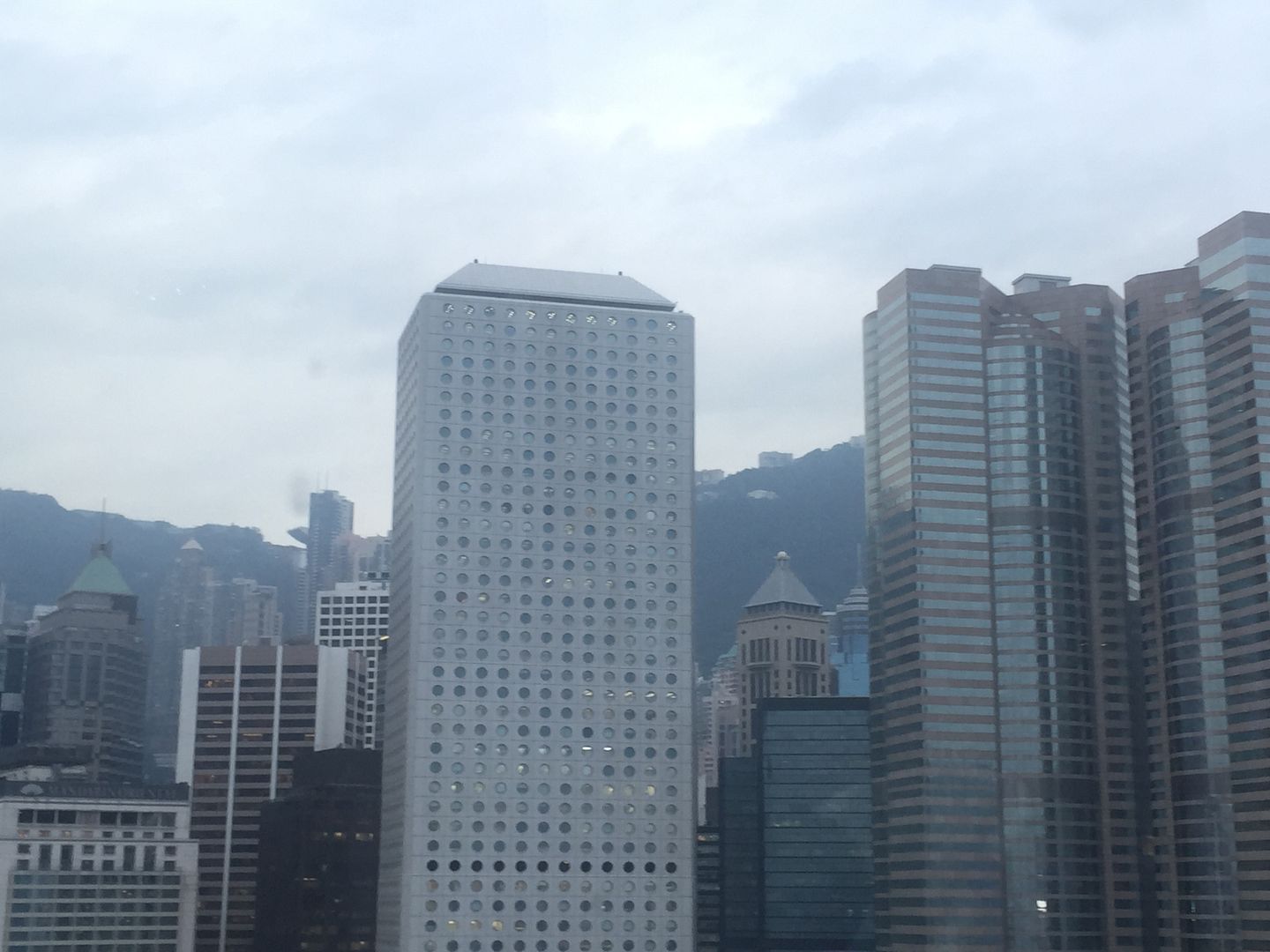 Discussing about dinner after 2 rounds, it gets boring after a while.
98 Wellington Street, Central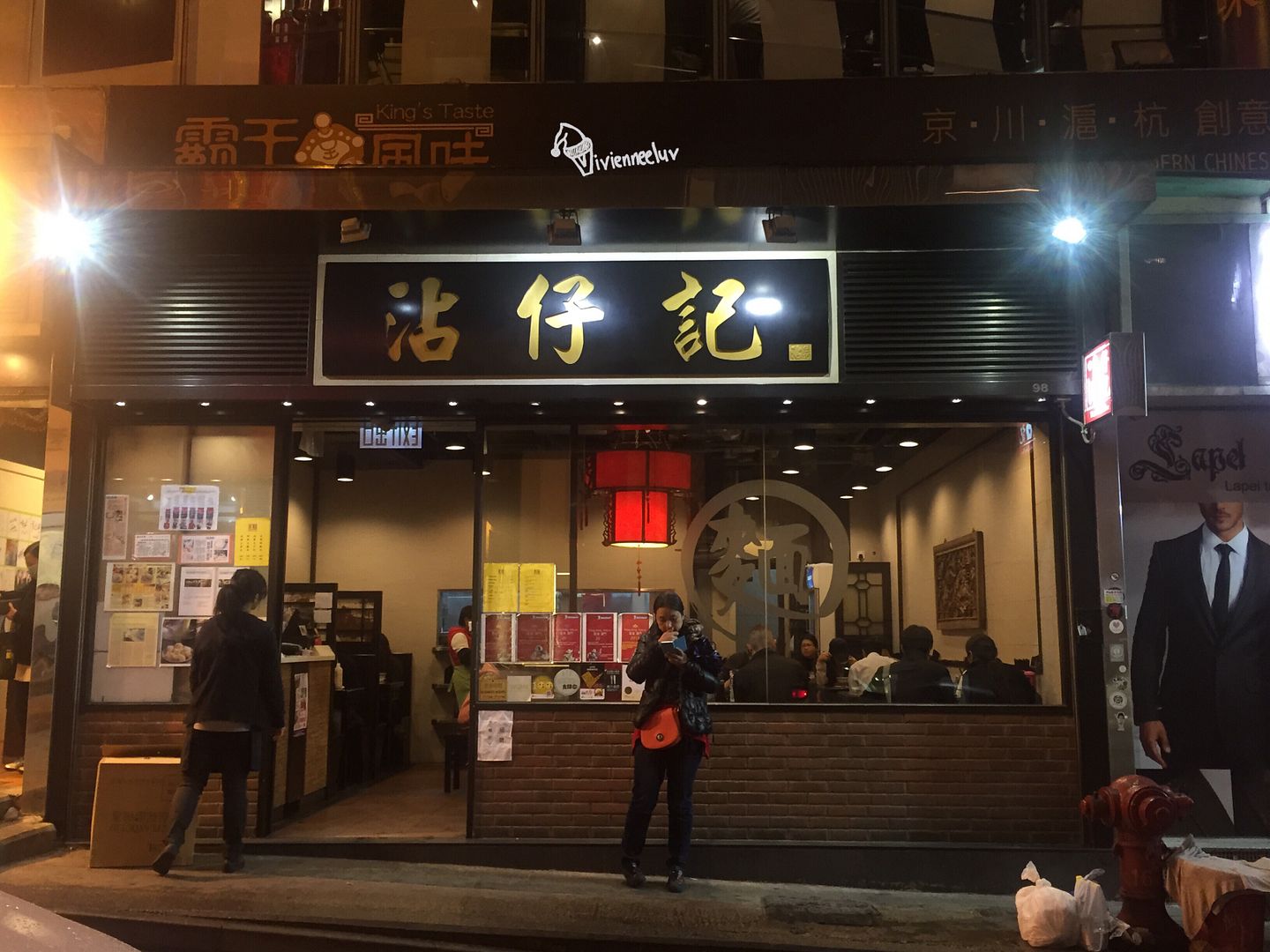 6.24pm: Arrived at Tsim Chai Kee, introduced by my dear HK friend Florence.
Three Toppings Noodles HKD35 ↝ S$6
The boy had this, as the name of the dish said, it has 3 toppings, wanton, minced fish ball and fresh sliced beef.
Fresh Minced Fish Ball Noodle HKD25 ↝ S$4.30
So much cheaper, nicer and bigger portion than Mak's!
However I will go for the wantons next time. The fishballs were so huge, they scare me.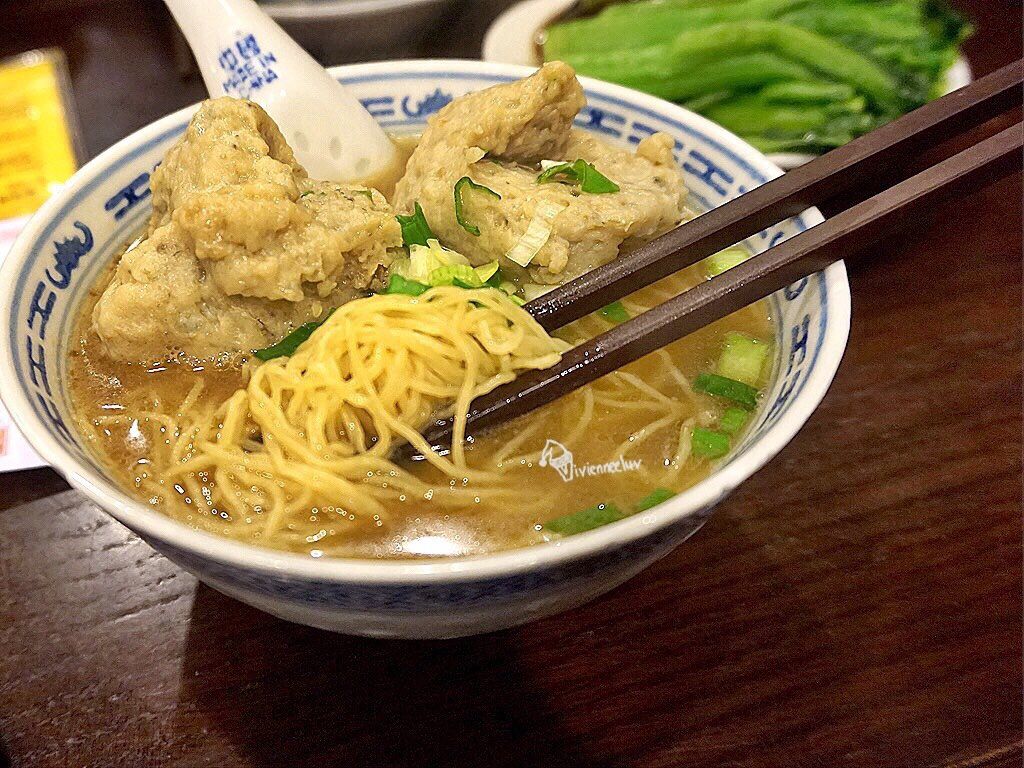 If only they have more outlets like Mak's, we will definitely have this DAILY.
Vegetables that was served wrongly I sneaked a shot before the auntie took it back.
After warming and filling our tummies, it was drizzling again as we left the eatery.
9. Starbucks
Shop M2, Mezzanine Floor, Baskerville House, 13 Duddell Street, Central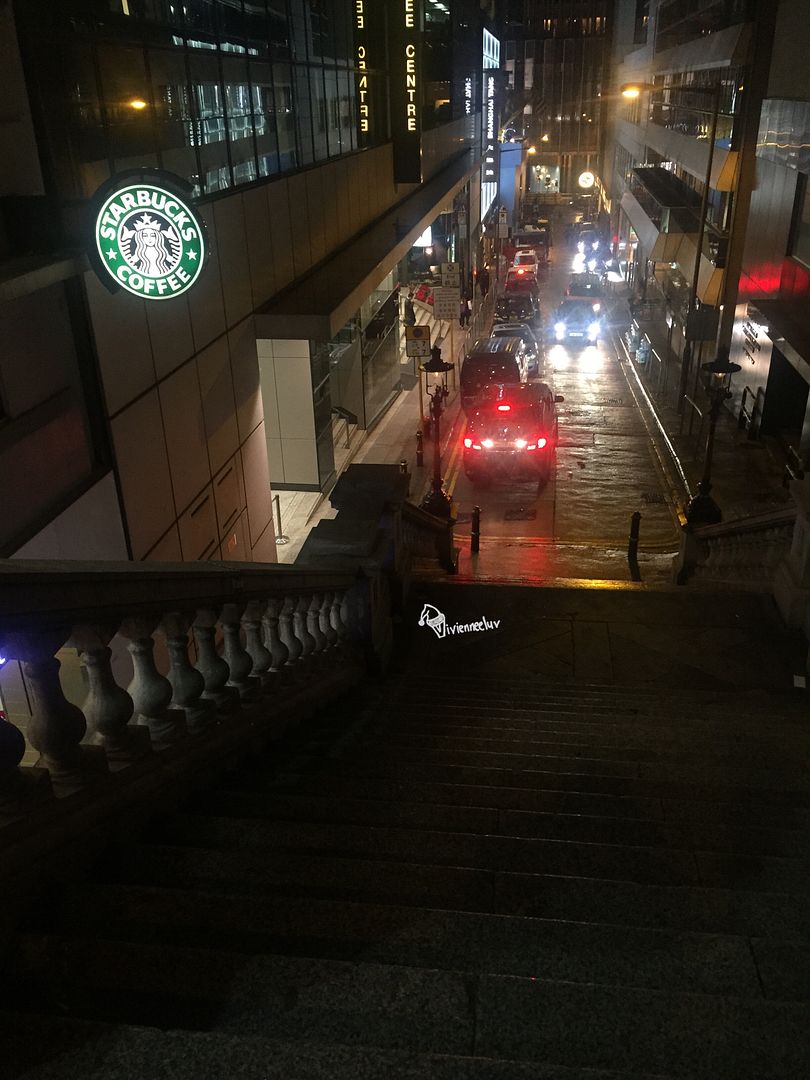 6.58pm: Feels like 9pm. After putting time stamp here, did you realised how fast we had our dinner. Ordered, eat, out we go to Starbucks, all settled within half an hour. O.O
Ok you got to climb up the stairs to get to this Starbucks.
Then down the stairs...
What makes this Starbucks so special?
The World's first-ever Starbucks store, partnered with local lifestyle brand G.O.D., to incorporate a BING SUTT corner - fusing together a nostalgic retro style with a contemporary coffeehouse design.
It is a blend of western modernisation (one corner of the Starbucks was the normal Starbucks we always see) and Eastern traditions.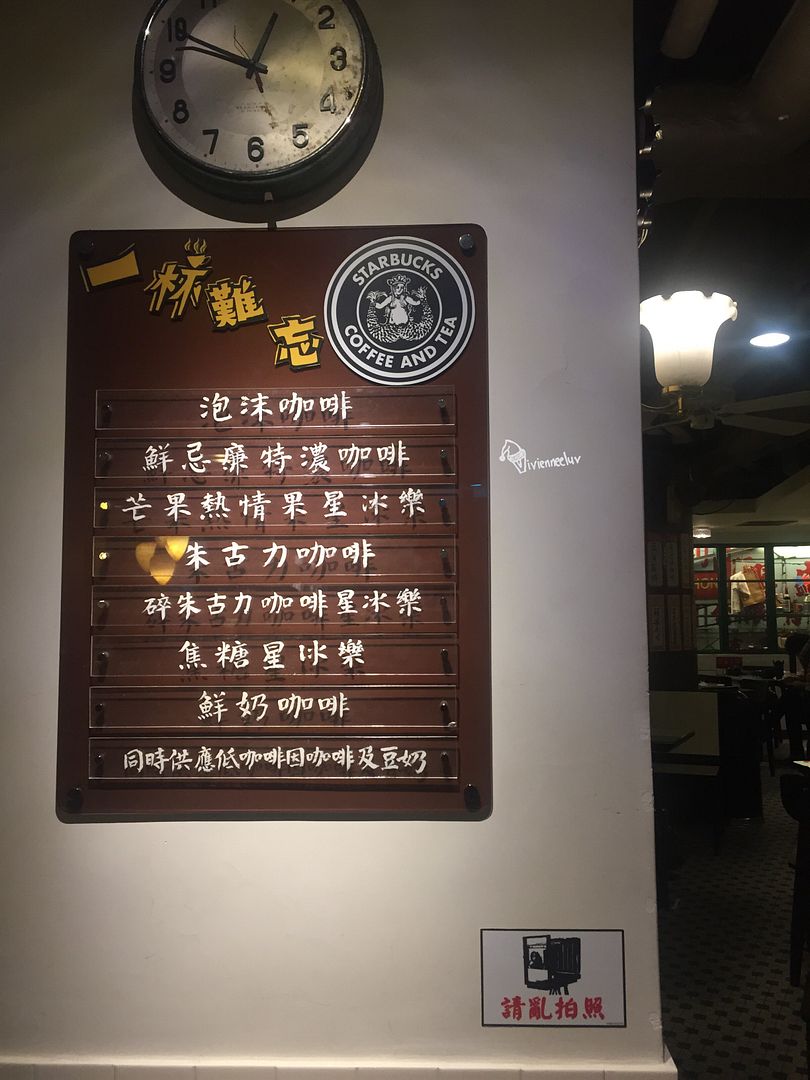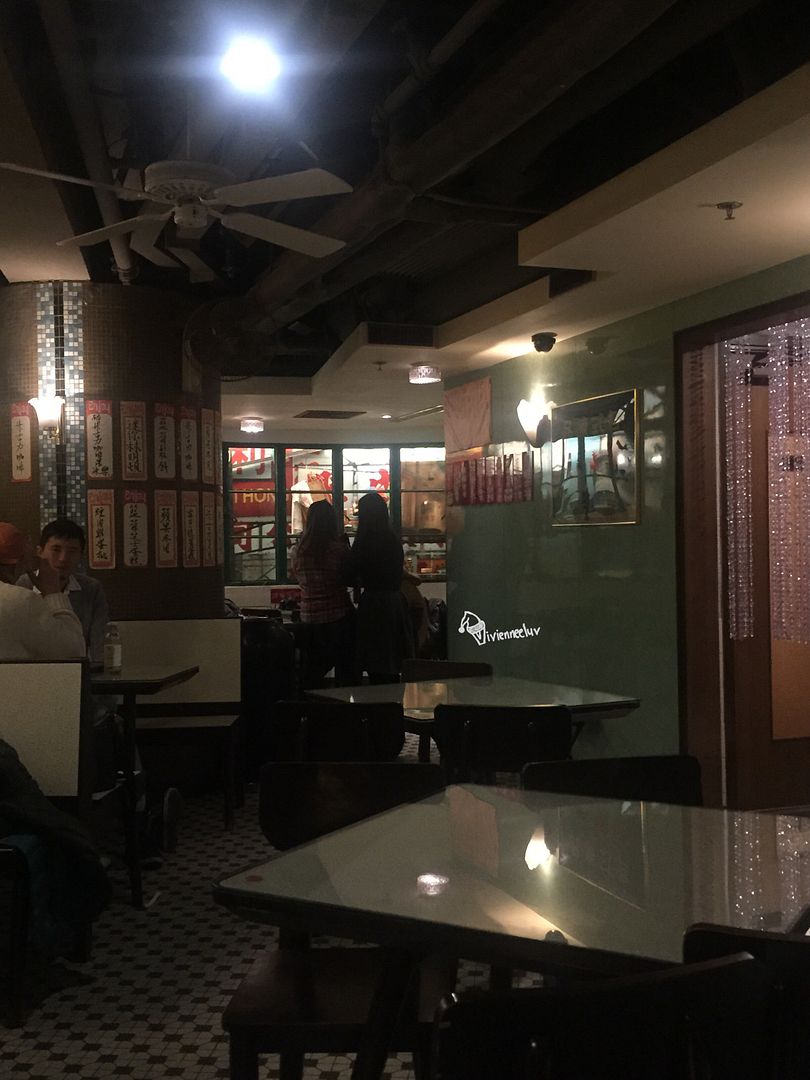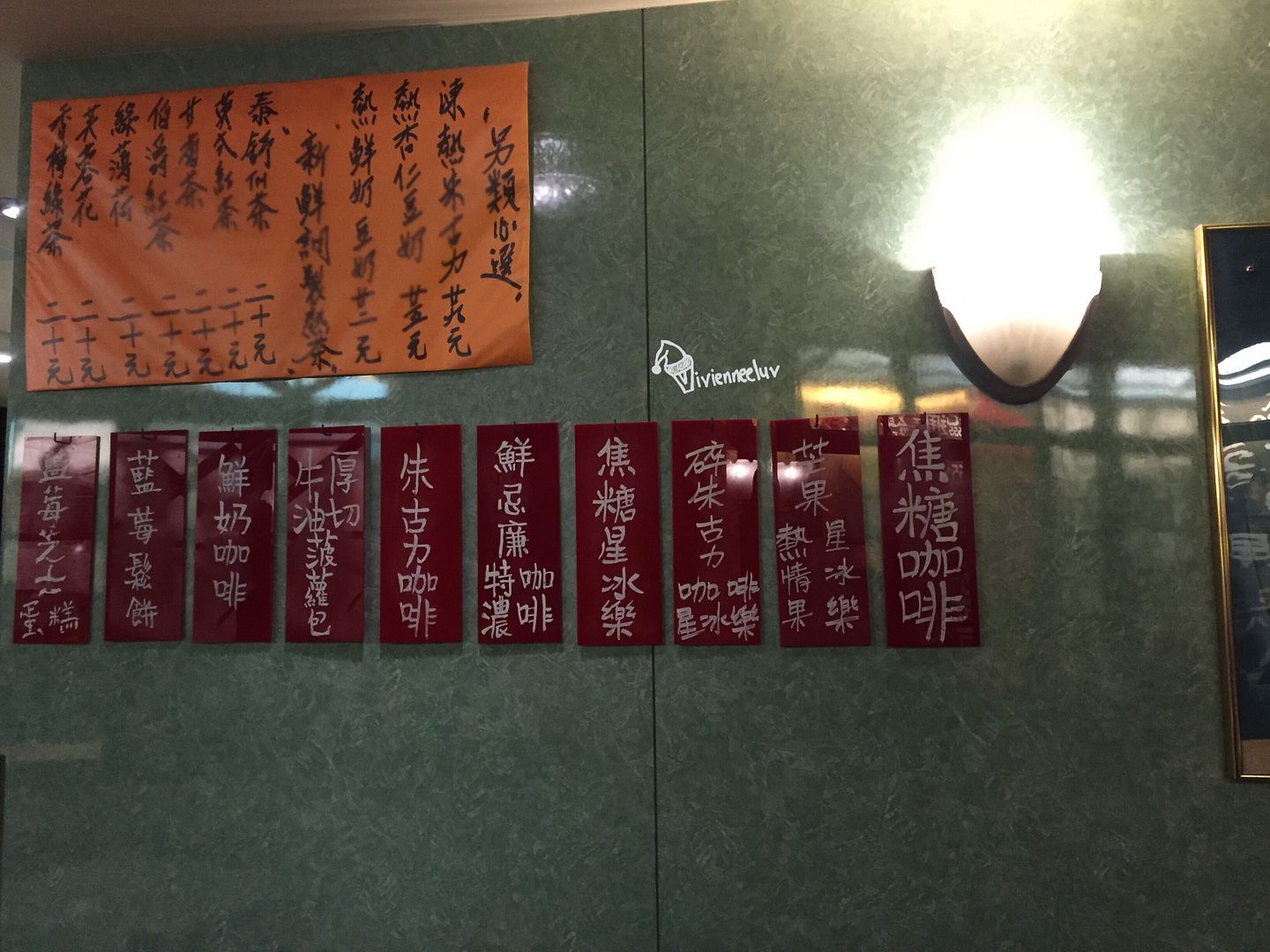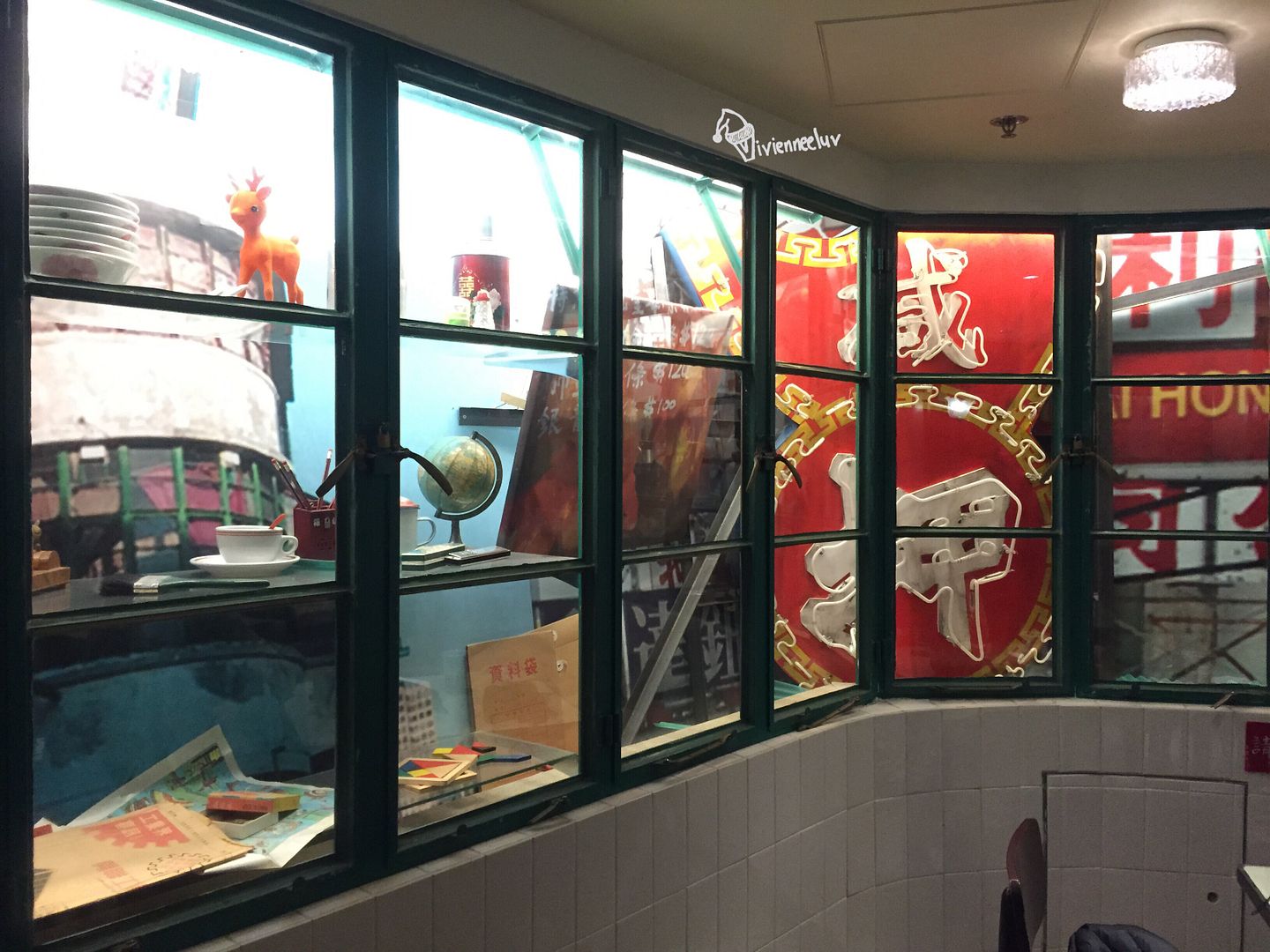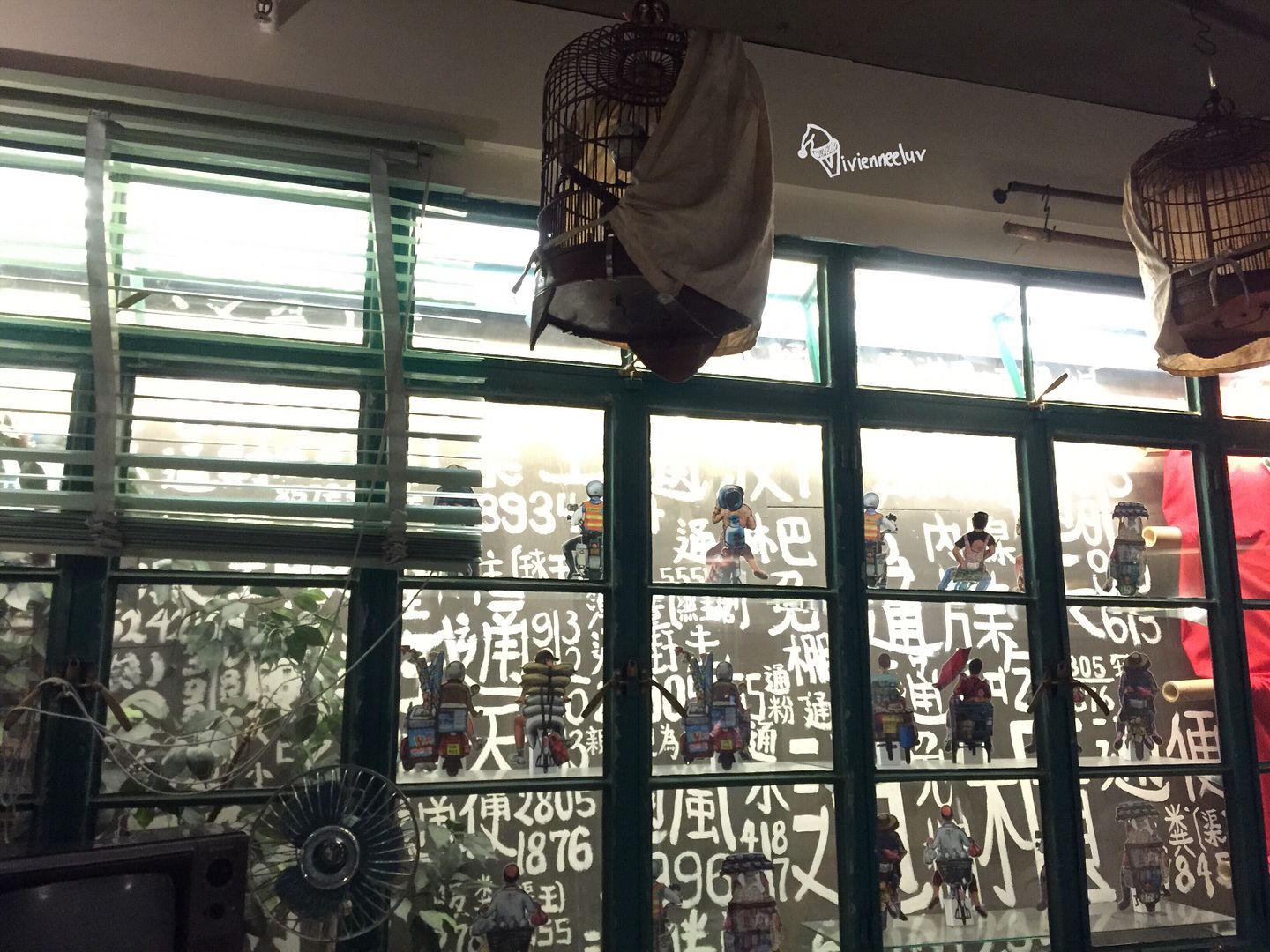 ToffeeNut Latte HKD41 ↝ S$7.10
Didn't order anything special, just my usual favourite Christmas drink.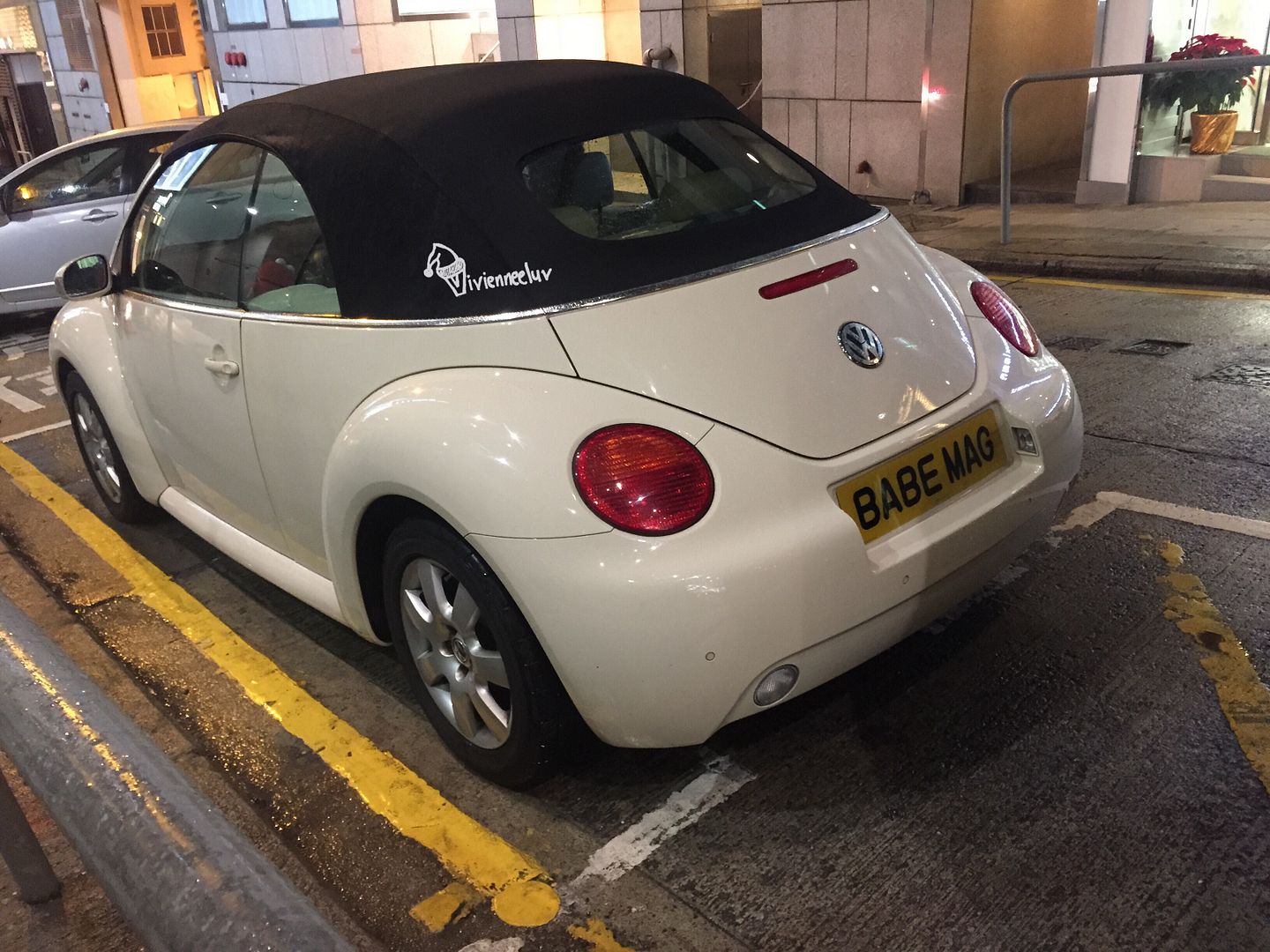 7.41pm: Left Starbucks and saw a cute car plate of a Beetle!
10. Soft Creme
7 Shepherd Street, Tai Hang
8.13pm: Alright... K knows that I am SUPER SUPER SUPER disappointed, he decided to bring me back to Tai Hang to get Soft Creme. Yay!! I was really scare, ''what if its closed today?''
Thank god, I am still lucky!
A small shop space of only 3-4 tables.
Flamed Bacon HKD42 ↝ S$7.25, topped up HoneyComb HKD10 ↝ S$1.70
Can choose between Cereal Milk Ice Cream and Hokkaido Milk Ice Cream.
We order the former. It was good!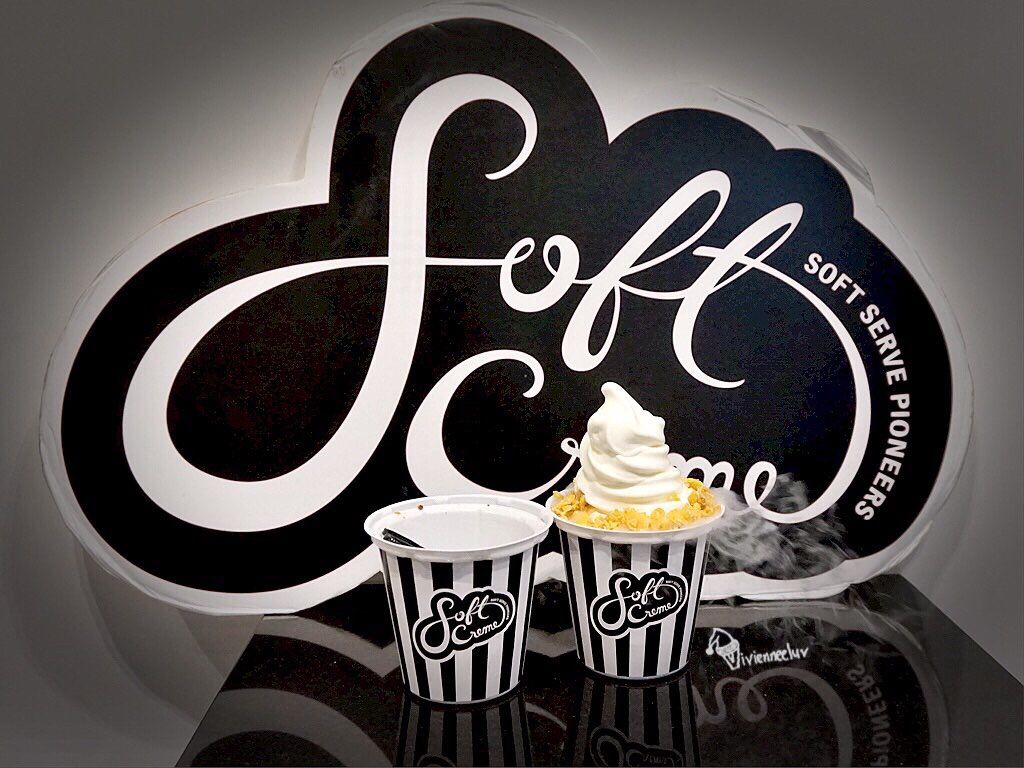 So good that we ordered a 2nd cup!
Caramelised Cornflakes HKD38 ↝ S$6.55
This time we had this with Hokkaido Milk Ice Cream. The cornflakes here are so crunchy!
We prefer the Cereal Ice Cream though.
After we finished, it was raining quite heavily. But we had to leave, there are many people in the shop. Give people chance to eat.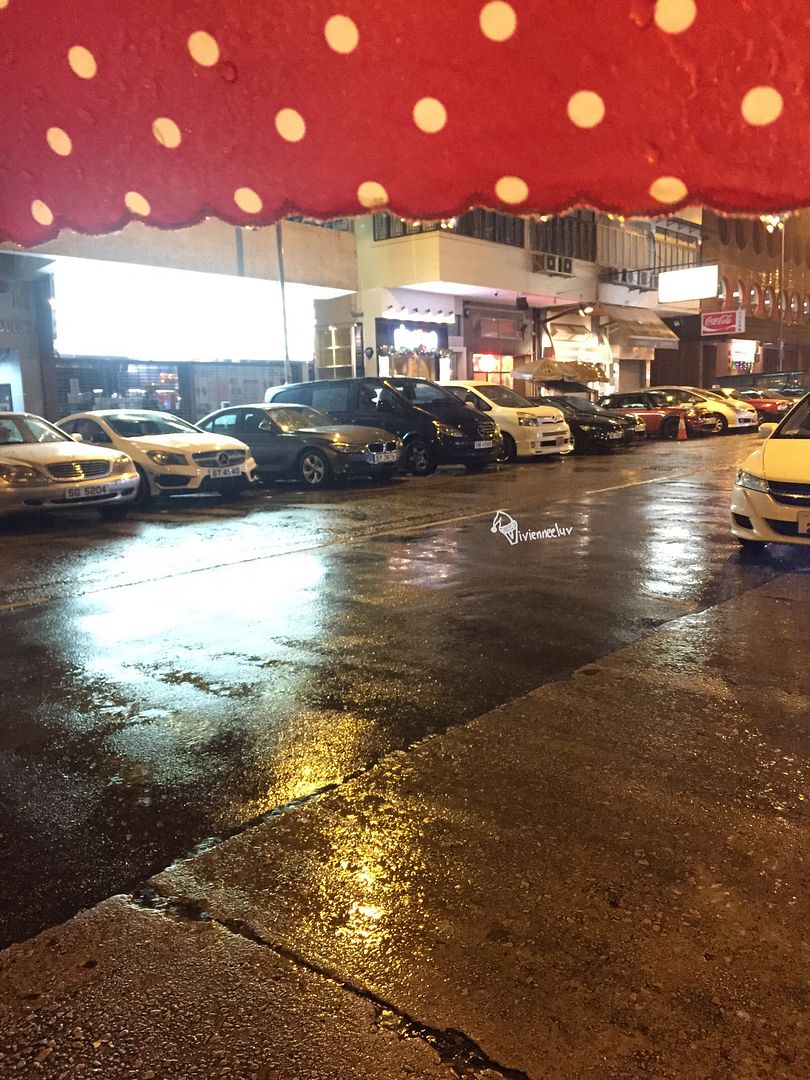 It was raining heavily and we only had 1 small foldable umbrella, we ran a few streets and took shelter outside 7-Eleven. Freezing cold. It was quite a long walk to the train station, we decided to wait for a cab but there was no cabs :(
I bet it was 10 deg cel at that point of time.
11. 7-Eleven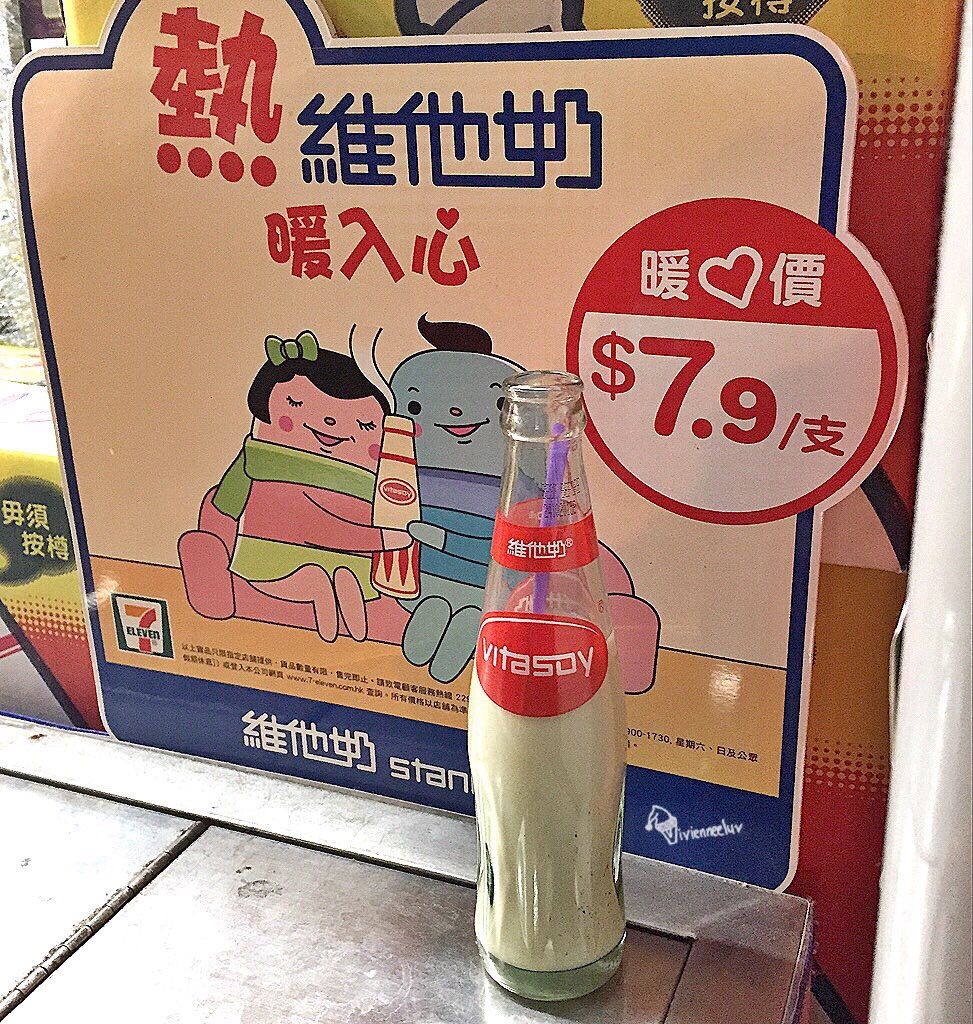 8.50pm: Then I spotted something magical. Warm vitasoy OMG!
We went in to 7-Eleven and bought 1. It warmed us up immediately. Vitasoy never tasted so good and comforting before.
The rain got smaller and we finally left. Walked to the train station to go ''home''.
Shop LG08-13 iSQUARE, 63 Nathan Road, Tsim Sha Tsui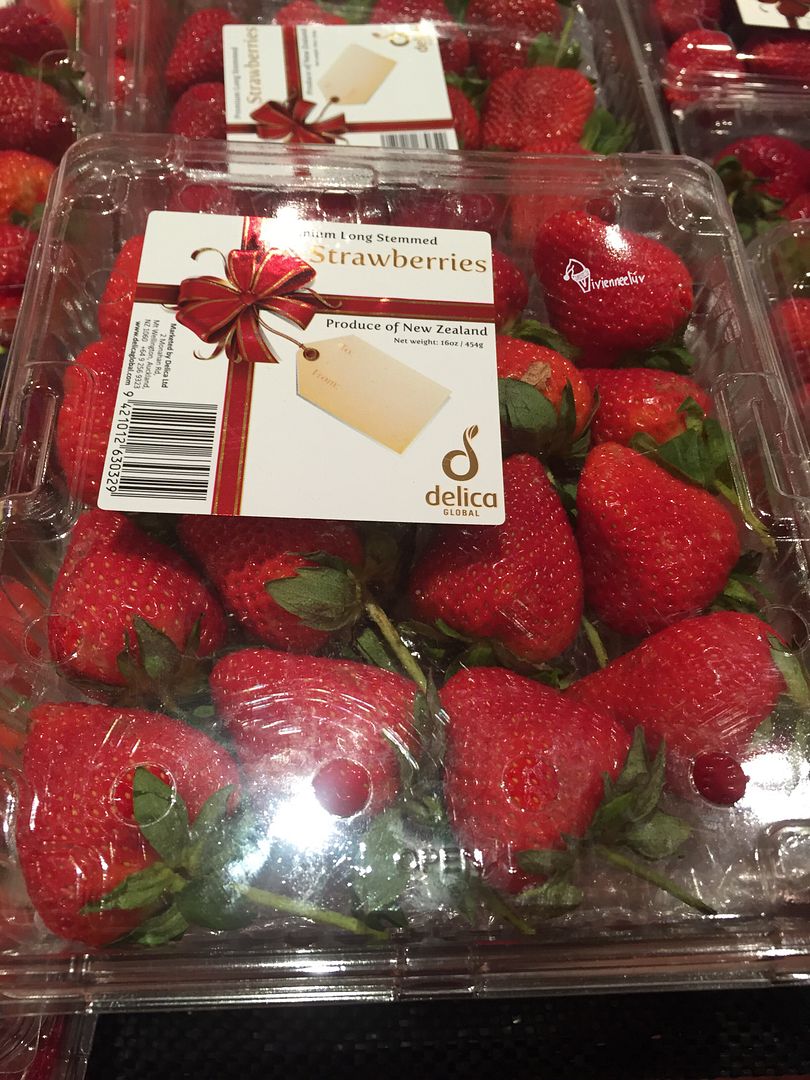 9.27pm: After reaching our station, we went to Jasons Marketplace for some shopping.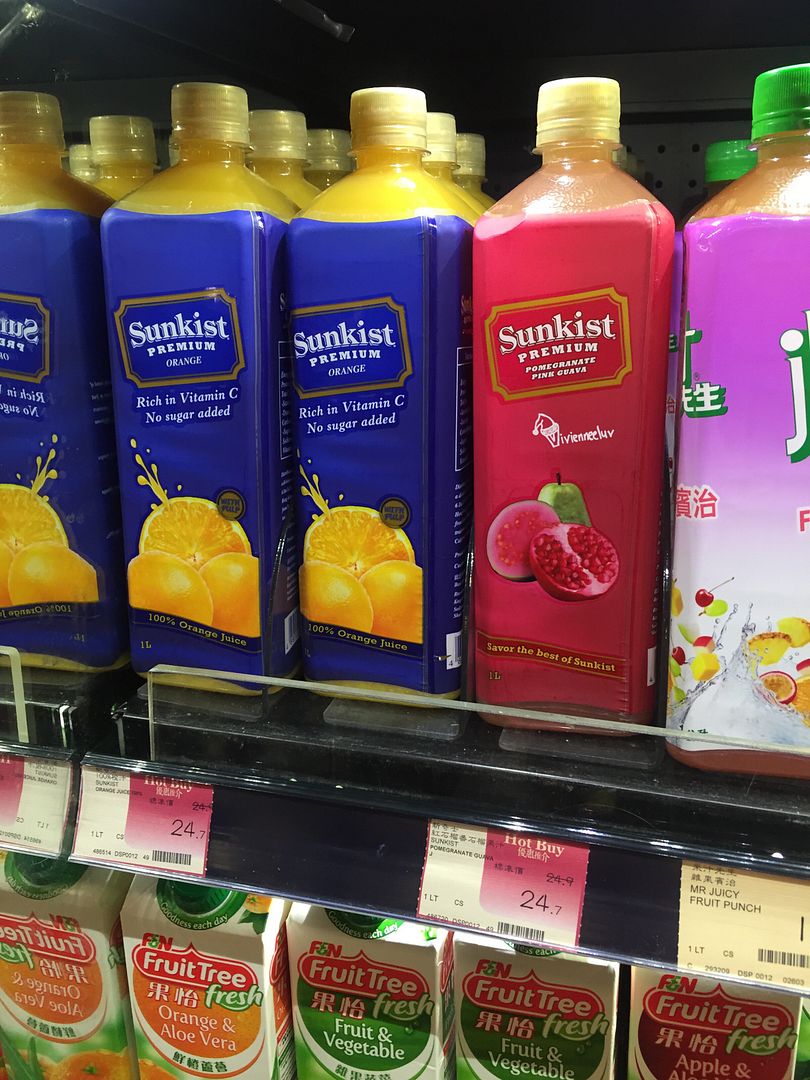 Bought these to drink in our room, it was a mistake, every night we reached the hotel feeling so tired and full.
Some cute cakes at a bakery. We went back to the hotel, and I felt hungry. :(
K suggested we go for supper a few doors down at Mak's. OKAY lets go!
13. Mak's Noodles 麥奀雲吞麵世家
19 Lock Road, Tsim Sha Tsui
11.16pm: Thank god they close late and we went downstairs in slippers and him, bermudas hahahah! Very Singaporean-ish. A Japanese couple was looking at us in disbelief. Wells... we were freezing.
Overheard the staff saying the temperature was 10 deg cel at that point of time.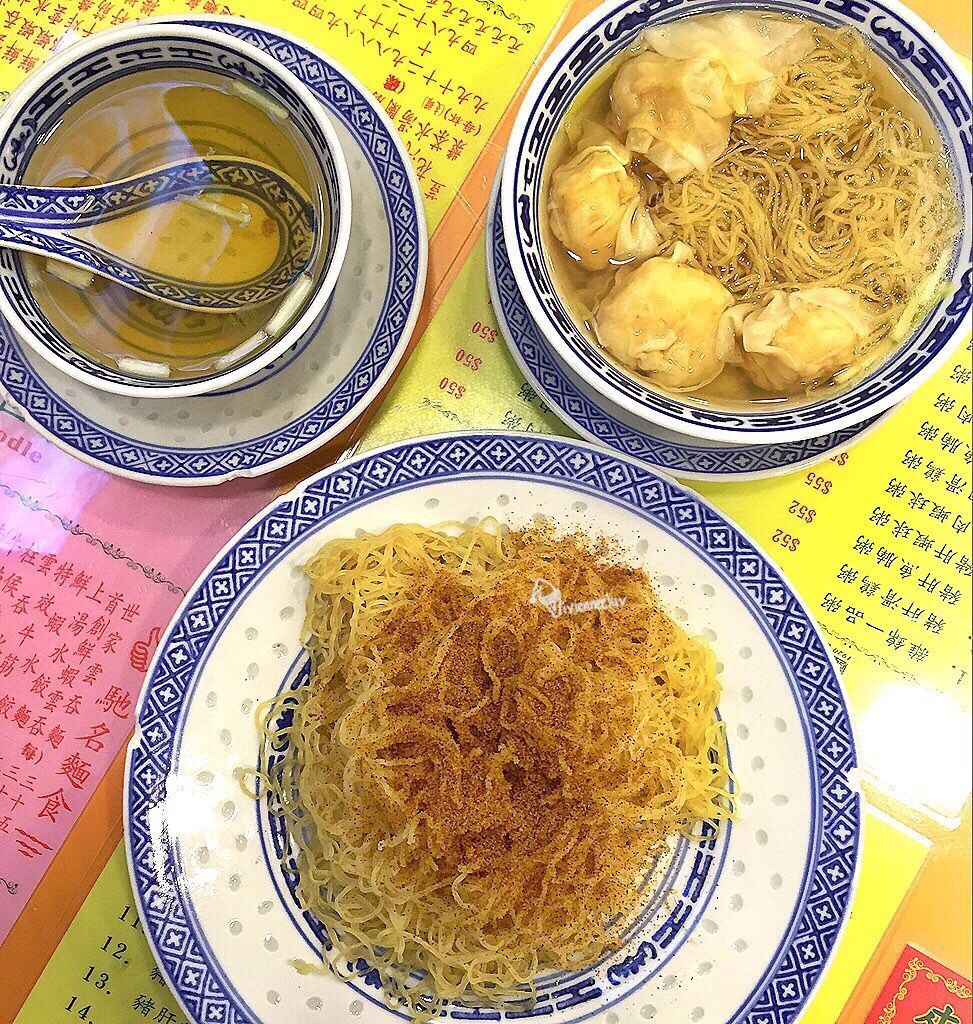 Tossed Noodles with Shrimp Roe HKD50 ↝ S$8.60
Still prefer noodles soup, the noodles was so cold. When I posted on Instagram, Shaun told us that the soup has to be poured over the noodles.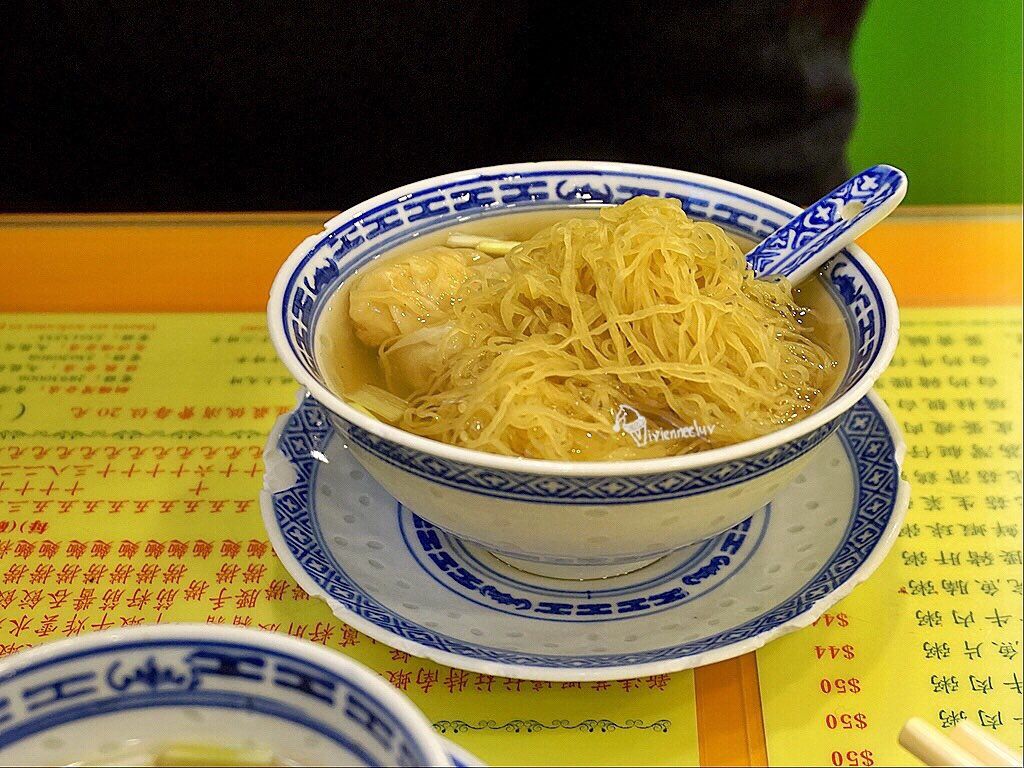 Wanton Noodles HKD35 ↝ S$6
Satisfying supper, so comforting, I want to cry while blogging this. I miss wanton noodles.
Finally I am done with my Hong Kong Day 4 post! Stay tune for Day 5 at DisneyLand! WOOHOO! I hope I don't take a few months.