| | |
| --- | --- |
| Address: | 19 Boon Tat Street Singapore 069619 |
| Opening Hours: | 11am to 11pm Monday to Friday |
| | 9am to 11pm Saturday |
| | 9am to 4pm Sunday |
| Tel: | +65 62213707 |
| Facebook: | https://www.facebook.com/FYRBTS |
A unique marriage of heritage and modernity, pronounced as Fire Kitchen and Drink, FYR is the first spelling of ''fire'' in olden days.
All of FYR's cuisines and dishes are whipped up using Josper Charcoal Oven, which is an elegant combination of a grill and an oven in a single machine. The FYR chefs use lychee wood which gives the dishes a wonderful smoky note that is tinged with sweetness.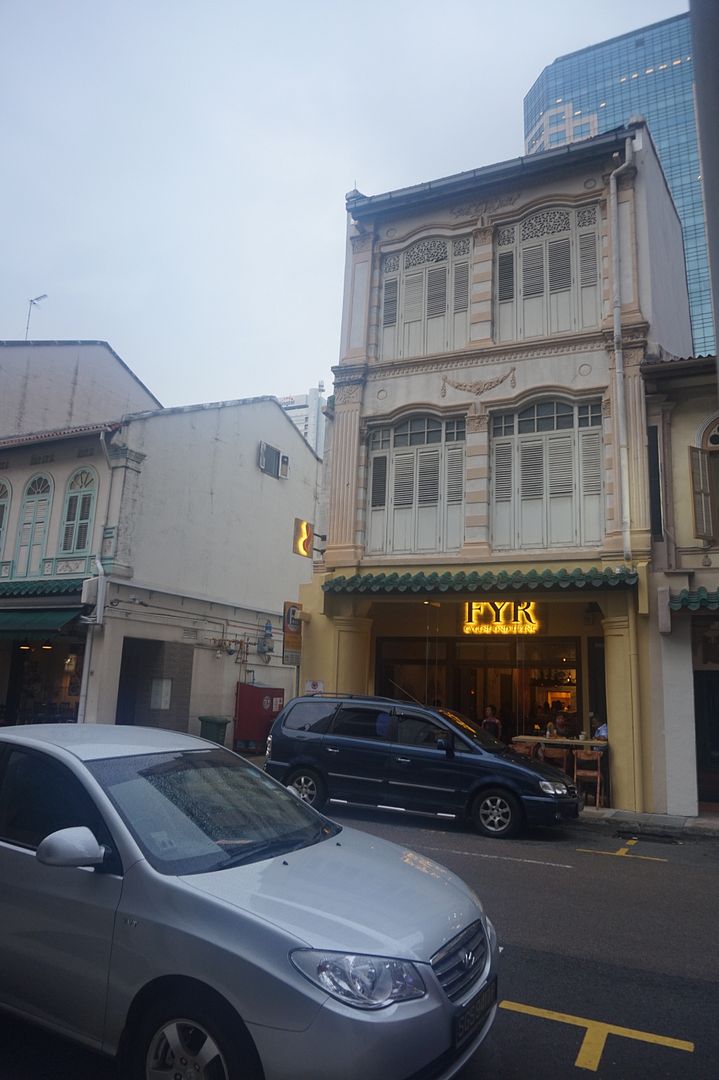 Against the backdrop of Chinatown;s historic allure, FYR promises an intriguing experience that harks back to a simpler time.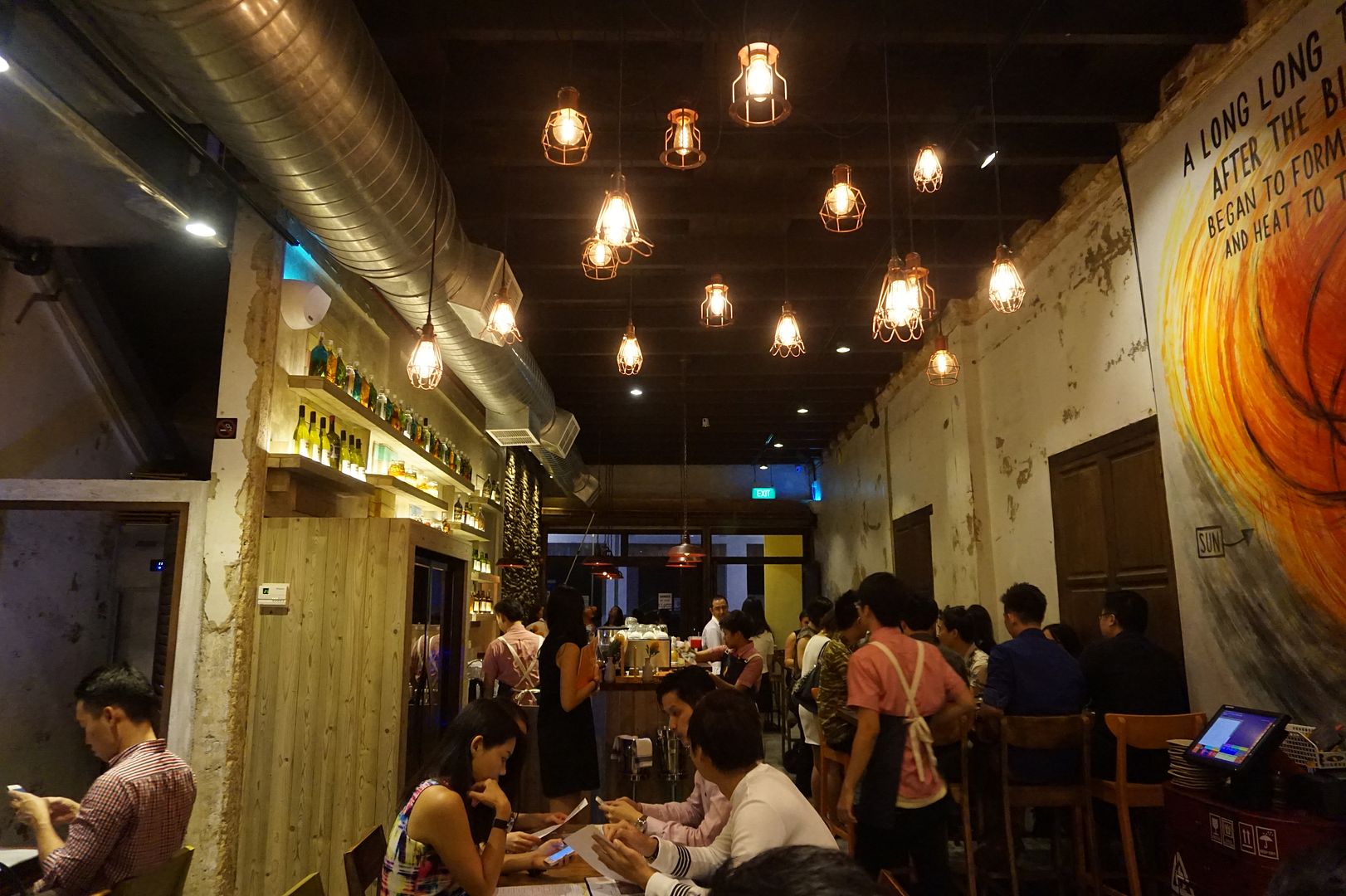 Rustic decor and storied wall murals lend the restaurant a distinct olden-day charm. Even its moniker is as old as time - it is the etymology of fire.
Photo Credit: Jacq
FYR's special concoctions at S$4.50 each
Grilled Orange Juice - seasonal fruits were grilled before juicing. If you ask me, how it taste like, it actually taste no different form freshly squeezed juice.
Apple Rosemary - blend of fresh apple juice, fresh rosemary, infused lemon syrup. The gang loves this.
Lime & Mint - mix of fresh lime, mint leaves and mint syrup. Jacq said that this is good so i ordered 1, but mine came blend, I think they forgotten the syrup.
Ginger Lemongrass - made with lemon tea, fresh ginger and lemongrass.
Hibiscus Mint - hibiscus tea, fresh apple juice and infused mint syrup. Wanted to order this but it was sold out.
Rice Crisp
Served to every table. It was crispy, more to the hard side, and pretty tastteless.
Baked Half Bone Marrow S$15
Served with a side of bread.
Frankly speaking, ''bone marrow'' sounds scary, didn't enjoy this dish. Actually to be fair, it taste like beef Bolognese.
Baked Freshly-Shucked Oysters S$15
Noble sweet paprika, roasted garlic, chilis paid, spring onion and calamansi were topped on these fresh oysters. I am not a oyster person, nonetheless I enjoyed this dish. Fresh oysters played a part too.
Baked Aubergine & Chickpea Ragout S$10
Chewy eggplant and chickenpea stew mixed with refreshing miso and béchamel.
Five-Spiced Half Chicken, Striploin, Asian-Spiced Tiger Prawn S$55
Having the best of 3 worlds in a sharing platter, comes with side salad, on a pricey side.
Didn't enjoy the chicken or striploin as they were dry and tasted bland, only had 1 small piece each. The prawns on the other hand is fresh and crunchy.
You get to choose ONE out of three dipping sauce: Tomato Salsa, Foie Gras, Black Truffle sauce. It would be great if 3 sauces were served, as the meats were dry and the sauce compliments it.
Mashed potato and Buttered Cassava
Choose from 1, if you ordered the platter above.
Buttered Cassava taste like tapioca. Go for the mash.
Grain-fed US Holstein Cow Ribeye 365 Days S$32
Comes with side salad and either Mashed Potato or Buttered Cassava to choose from.
I was pinning hopes on this, but it came Medium, as it was too raw for me to take. On the other hand, Jacq had this on a different session, it was much better.
Spiced Deboned Red Snapper with Sambal Belacan S$25
My favourite savoury item that night. I am not a fish person instead and it doesn't look appealing at all, but it was the tastiest! Don't expect any legit sambal bellman, the sauce tasted sweet like sweeten tomato relish. Not complaining as the sauce goes well with the fish.
Seafood Linguine S$18
Al dente pasta with clams, prawns, lobster bisque, laksa leaves and thai basil. Its hard to go wrong with safe ingredients and pasta.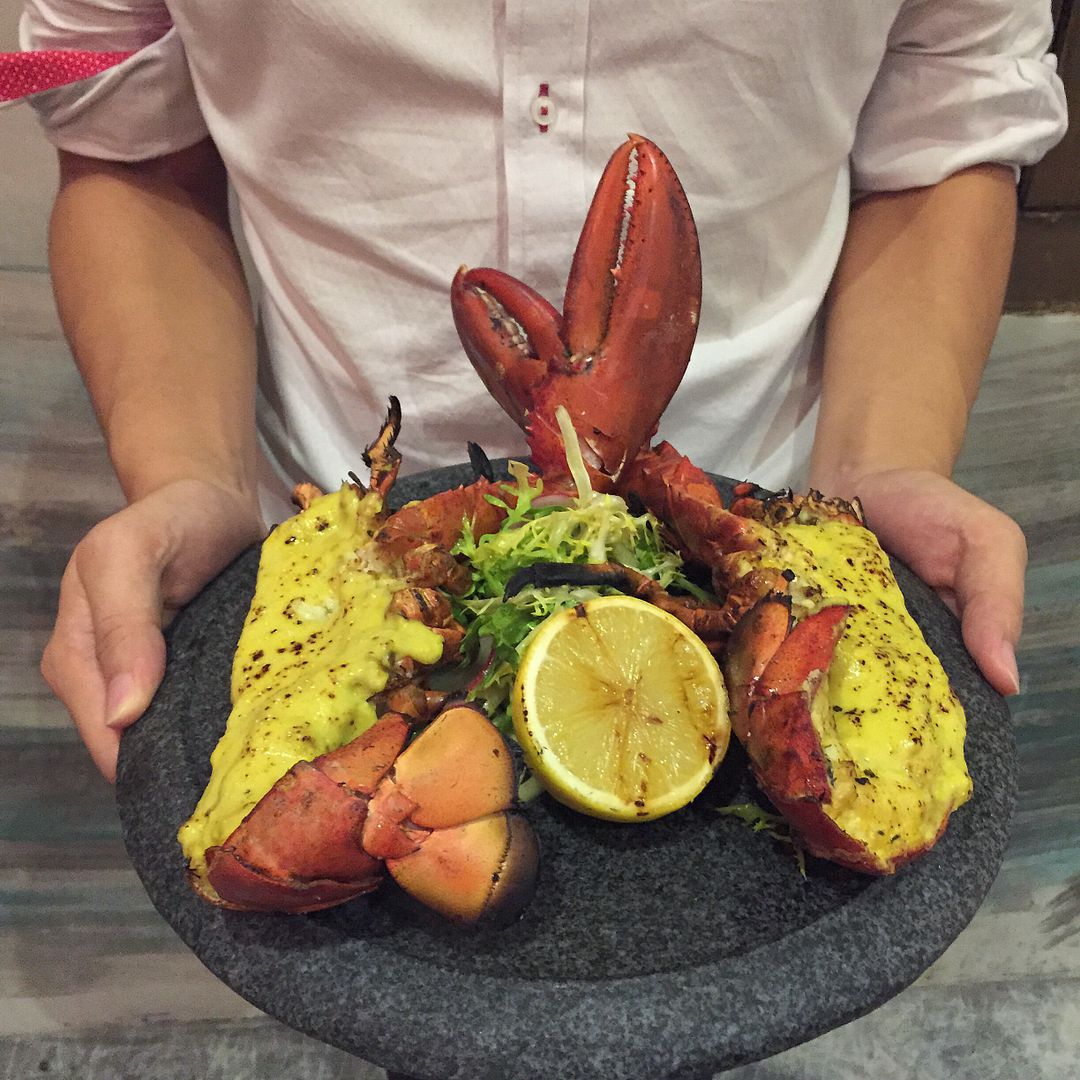 Whole Maine Lobster S$35
This gigantic lobster sprawled across the plate is magnificent.
Baked pistachio Melt & Pandan Ice Cream S$10
Saving grace of the night. The combination of Pistachio flavoured lava cake and homemade pandan ice-cream is perfect. Although 24 hours to make the pandan ice cream seemed too long, since it came out yummy, they should keep it up. 7 of us shared this tiny plate of dessert, there is no more when we requested for a second round.
Some current promotions:
Lunch Promotion: S$25++ for 2 courses, S$29++ for 3 courses.
House pour at S$38 with 2 main courses ordered during lunch.
Happy Hour all day, everyday with drinks starting from S$7.80
Overall experience wasn't that good. Need to work a lot on food and drinks consistency, as well as the manager's attitude towards customers. Pushing customers is a no-no, one can always be polite, just open your mouth and say it out.
Thank you, FYR Cycene Ond Drinc for the kind invitation.