Afternoon Tea Set is available at 6 outlets:
| | |
| --- | --- |
| Raffles City Shopping Centre | #03-30/30A (Tel: +65 6336 8208) |
| Millennia Walk | #01-47B/53/54 (Tel: +65 6337 7848) |
| Wheelock Place | #01-K2 (Tel: +65 6836 5383) |
| Wisma Atria | #01-42 and #01-49/50 (Tel: +65 6884 4601) |
| Paragon | #03-09 (Tel: +65 6733 3595) |
| Changi Airport Terminal 3 | L2LF1 (Tel: +65 6585 6369) |
Available DAILY between 2pm to 6pm from 2nd February 2015 to 30th April 2015.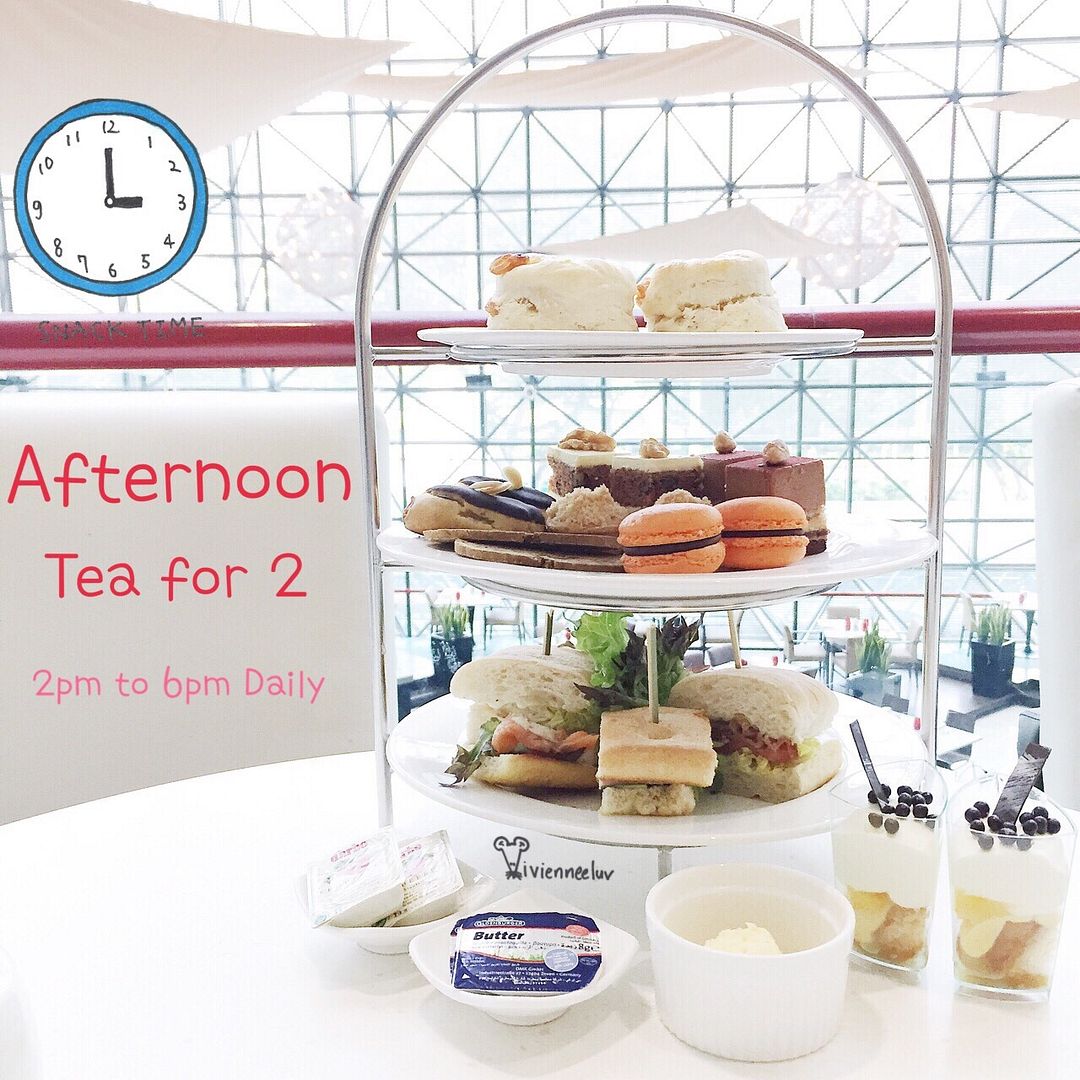 It's been awhile since K and I had high tea because either those high tea starts quite late or they are too expensive. So glad that we have found a 3-tier high tea set for two, at a wallet-friendly price of S$28++ (serves 2 pax) featuring sweet and savoury treats. Now I can even eat them as dinner, early dinner :P
The Afternoon Tea set is also inclusive of O'Coffee Club's premium coffee, latte, cappuccino and a selection of Gourmet Gryphon teas.
This is the outlet at Raffles City and it feels like I am dining in a hotel. :P
Brought out the plates from each tier so that I could get a top shot.
There are 2 pieces of each item so we don't have to fight for each & every piece.
Let me do a brief introduction for every tier:
Top Tier
Raisin Scones
with accompanying spreads of strawberry jam and homemade orange peel mascarpone.
The scones are huge, I can only manage half of it. It is crusty on the outside and pillowy soft inside, eat them when they are warm!
Middle Tier
Carrot Cake
: Classic carrot cake generously studded with walnuts, chunks of pineapple, and layered with luscious cream cheese.
*
Orange Mile Chocolate Cake
: Thick chocolate cake with a hint of orange.
Peanut Butter Macaron
: Rich peanut butter and chocolate cream sandwiched between crisp orange blossom shells. However we can't taste any peanut butter at all, was a little disappointed.
Almond Biscotti
: Traditional Italian cookie made irrepressibly fragrant with the infusion of coffee. My favourite on this middle tier!
Chocolate Eclairs
: Dainty choux pastries plumped up with light chocolate mousse and iced with chocolate ganache. The choux was a little hard.
Apple Cinnamon Crumble
: Fun-sized tarts filled with spiced apple and sprinkling of powdered sugar.
*Any item that is not available, O'Coffee Club will replace them with an item of similar value.
Our Orange Mile Chocolate Cake was replaced with Mango Diva (Light mango yoghurt mousse on a moist base of red date and walnut cake).
Overall, I didn't quite fancy the middle tier although I am a dessert person.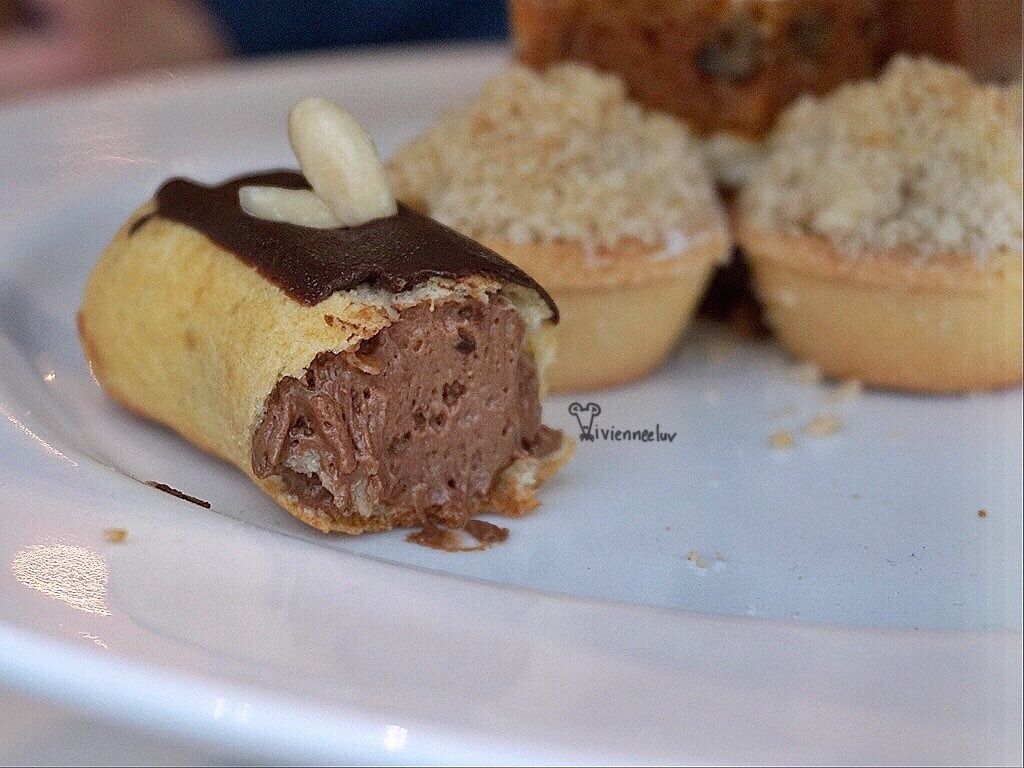 Bottom Tier
BLT Sandwich
: Ciabatta bread with bacon, lettuce, tomatoes, and mayonnaise dressing.
Smoked Salmon Sandwich
: Open-faced toasted focaccia topped with smoked salmon and honey mustard dressing.
Ham and Cheese Sandwich
: Focaccia bread with pork ham, sliced cheese and mayonnaise dressing.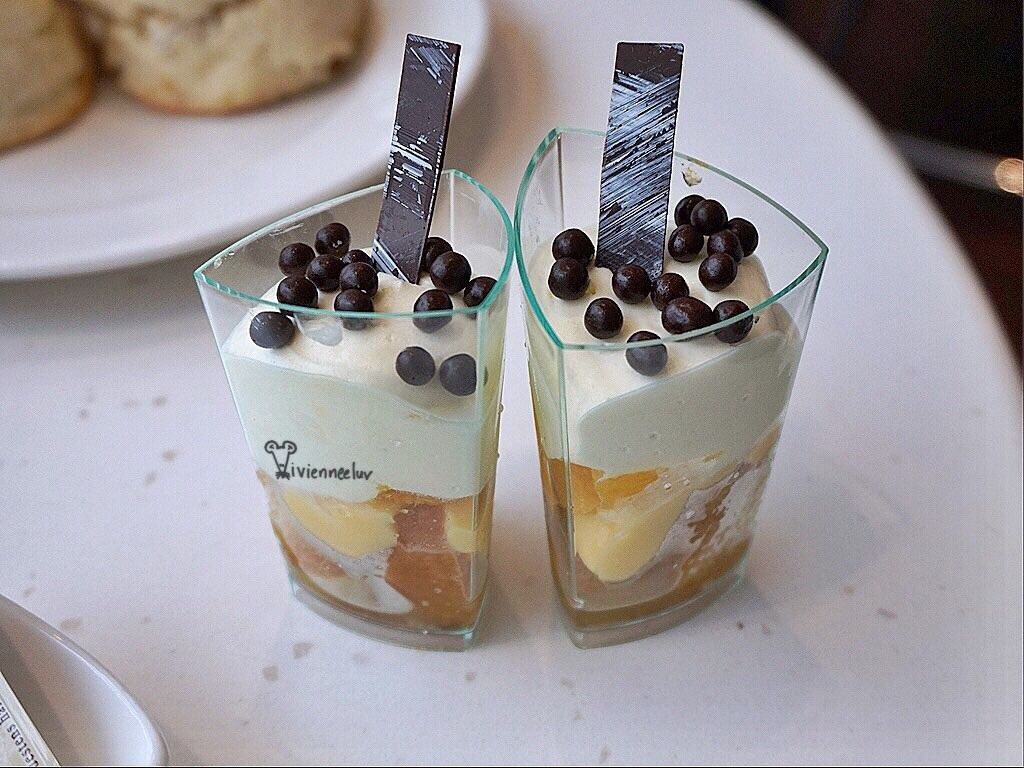 On The Side
Verrine
: Rum and passionfruit syrup-soaked sponge with fresh orange, whipping cream and chocolate pearls served in a petite glass.
For diners turning 25 this year, the Afternoon Tea set is made even more special with a promotional price of just $25++ in conjunction with O'Coffee Club's 25th Anniversary celebrations.
Although the food was nothing much to shout about, we think that the afternoon tea set is quite a good deal for its portion.
Thank you O'Coffee Club for having us!