HONG KONG DAY 1 - 16th December 2014 Tuesday (13
°C
- 19
°C)
- Hong Kong Airport (Purchase of SIM card & OCTOPUS card)
- Airport Express
- Mak's Noodle
- Oh Cow
- K11 Mall
- Smile Yogurt & Dessert Bar
- Tsui Wah
- The One
- Mira Mall
- Chee Kei
- I Square
-1881 Heritage
- Harbour CIty
- Agnes B Cafe
- Hui Lau Shan
Finally get started on the REAL ADVENTURES of my Hong Kong trip, basically above are the summarise places that we went to and usually shopping malls are nothing much. Stuff are pretty much the same or even more expensive than Singapore's.
I will do a separate short post of my hotel as my pictures are all jumbled up, some with watermark, some without, so I will do a post on my hotel soon.
So we stayed at Tsim Sha Tsui, we decided to cater our Day 1 to roam about Tsim Sha Tsui (I swear 1 day is not even enough)
The itinerary that we have planned, sad to say we didn't follow accordingly at all. >_< because we got more adventurous than our itinerary. LOL! So actually we end up having more fun than our planned schedule, which is not a bad thing after all.
So prior to my trip, Rachel had ''warned'' me again & again that Hong Kong-ers have this attitude. So I got myself prepared. And I wasn't offended by them, but in fact I was very annoyed by the IRRITANTS I thought I would get into a fight with them. I am glad I didn't, and I came back in one piece. Safe & sound!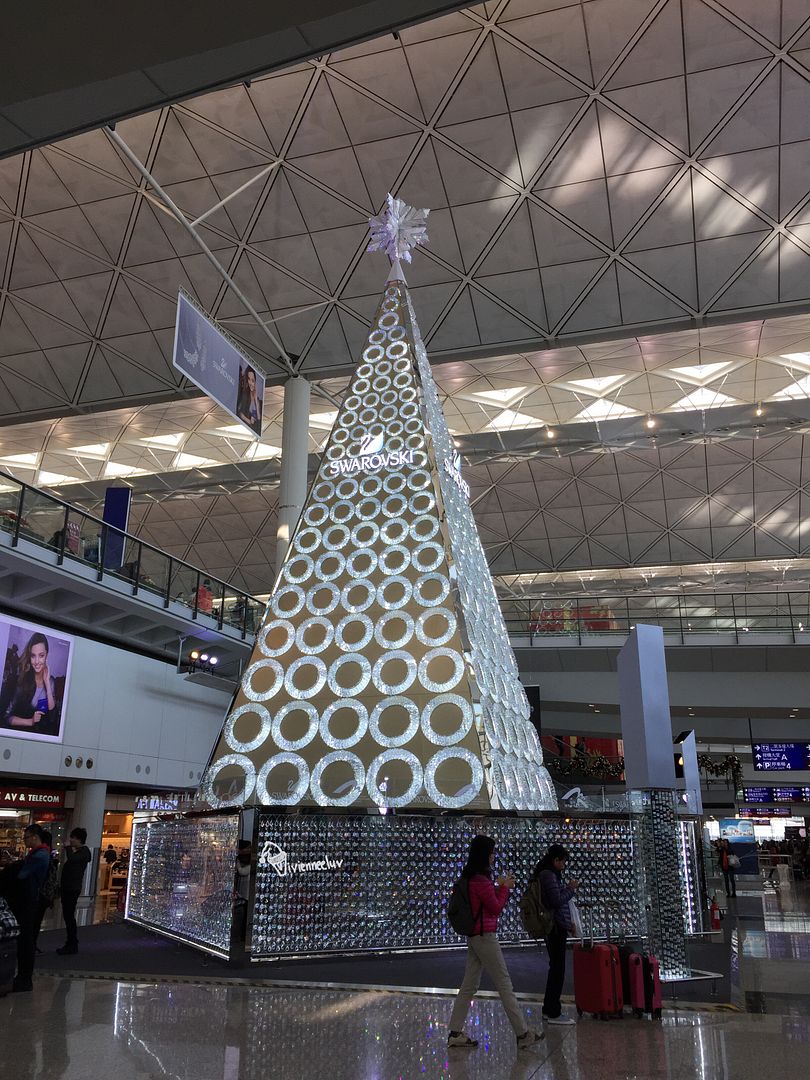 11.27am: Finally out of Immigration! The queue was very long and it is literally the moment we stepped onto the ground of Hong Kong, we see lots of people (from that particular country, lets call them IRRITANTS for my Hong Kong posts). They tried to cut queue, they speak really loudly, they pushed people. Well, they are them. One of them dropped a piece of document, I told him that he dropped something, he picked it up and walk off. O.O
1) IOIO
Hong Kong Airport Terminal 1
Once you come out of immigration, turn left, walk straight. (On your right, its all the cafes & restaurants) Look out for the below on your left.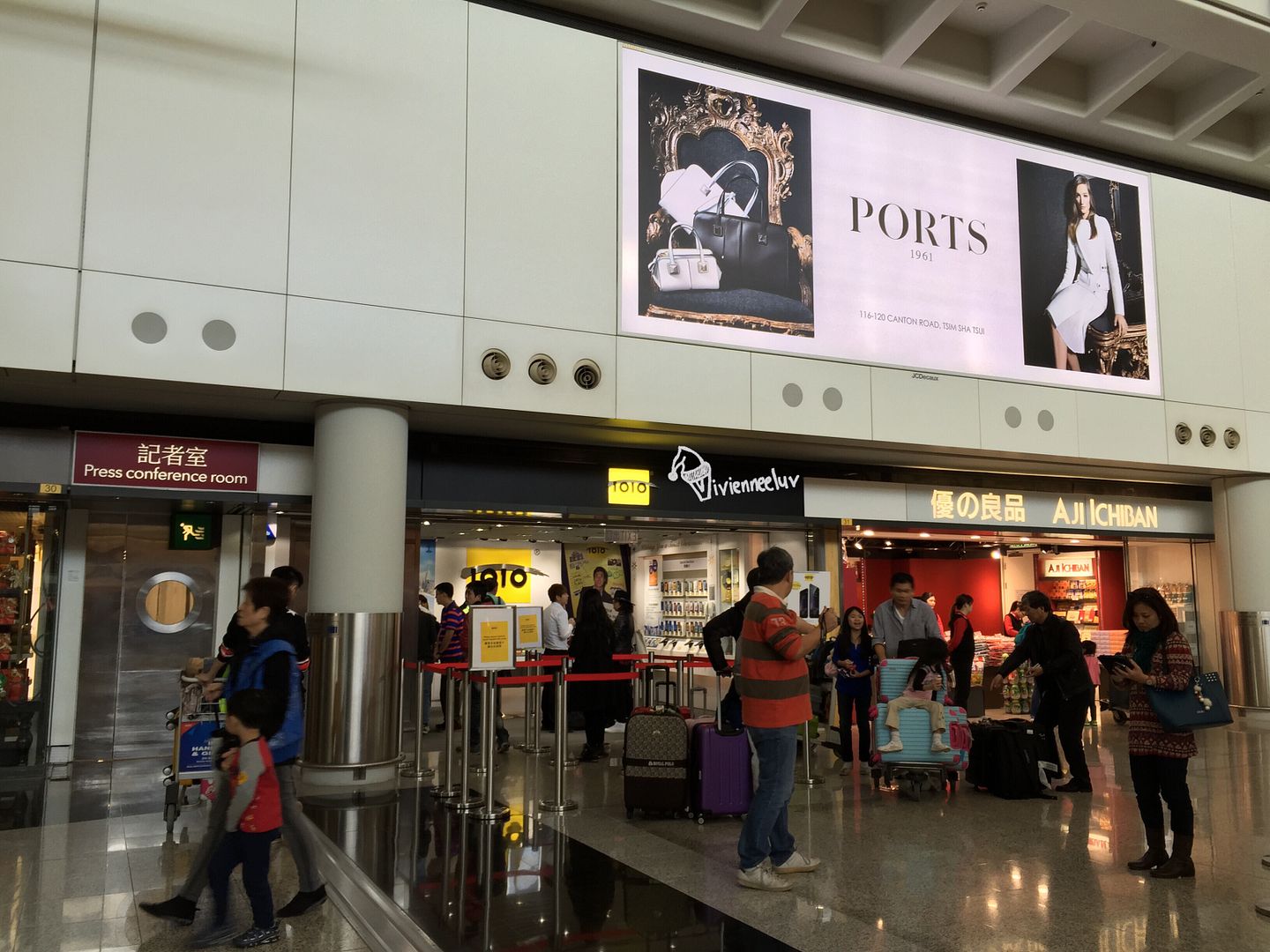 Thanks to my friend Jacq, she recommended me this telco shop (yellow signboard) to buy SIM cards. Say yay to spamming of Instagram posts for the rest of my trip!
K went in to purchase the SIM Cards for us while I stood outside to take care of our luggages. The good people at IOIO helped us to put in our HK SIM cards, activated it. When the staff passed back our phones to us, we can use it immediately! Such a convenience, high recommended!
UNLIMITED DATA SIM CARD (7 days) HKD100
↝
S$17.25
And it comes with about a HKD40 talk time to Hong Kong numbers too!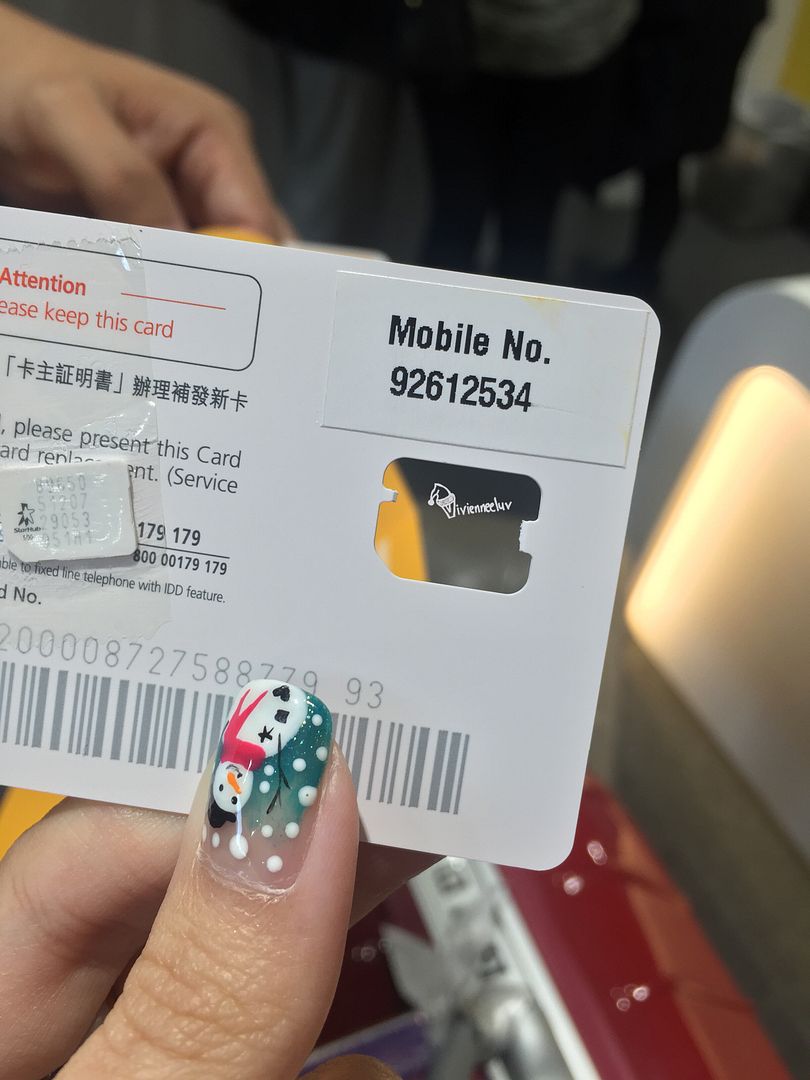 This is my Hong Kong number and the staff pasted my Singapore SIM on this card. Super nice.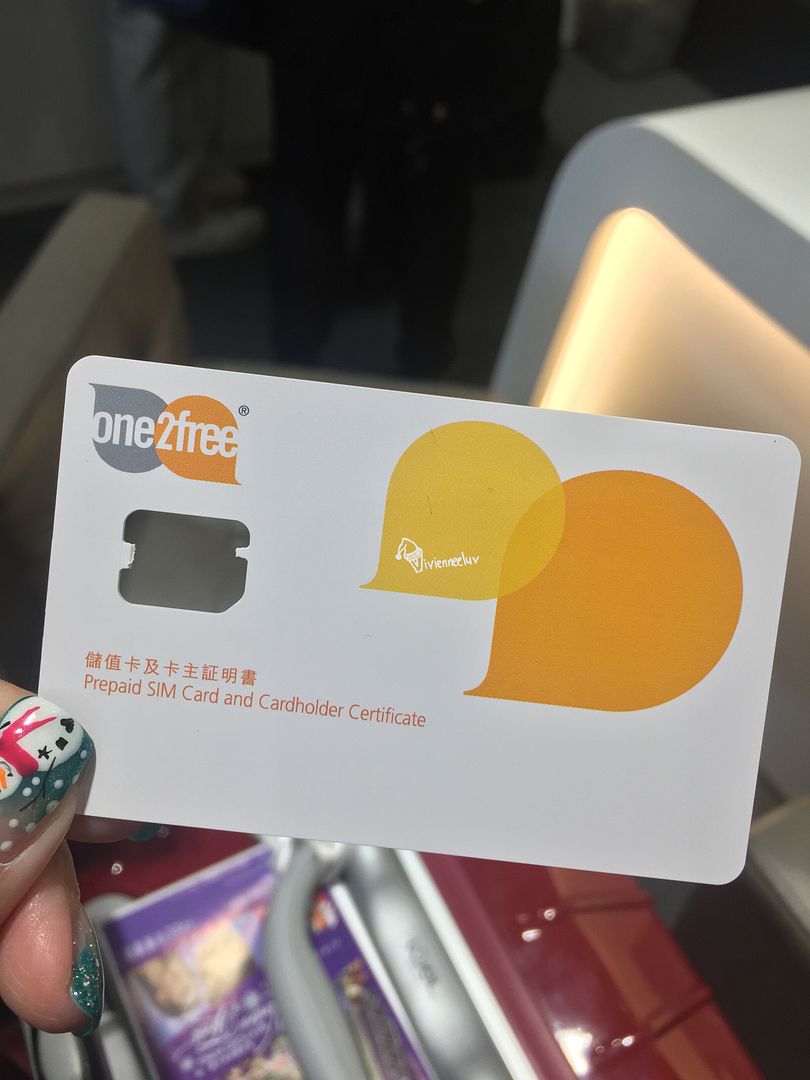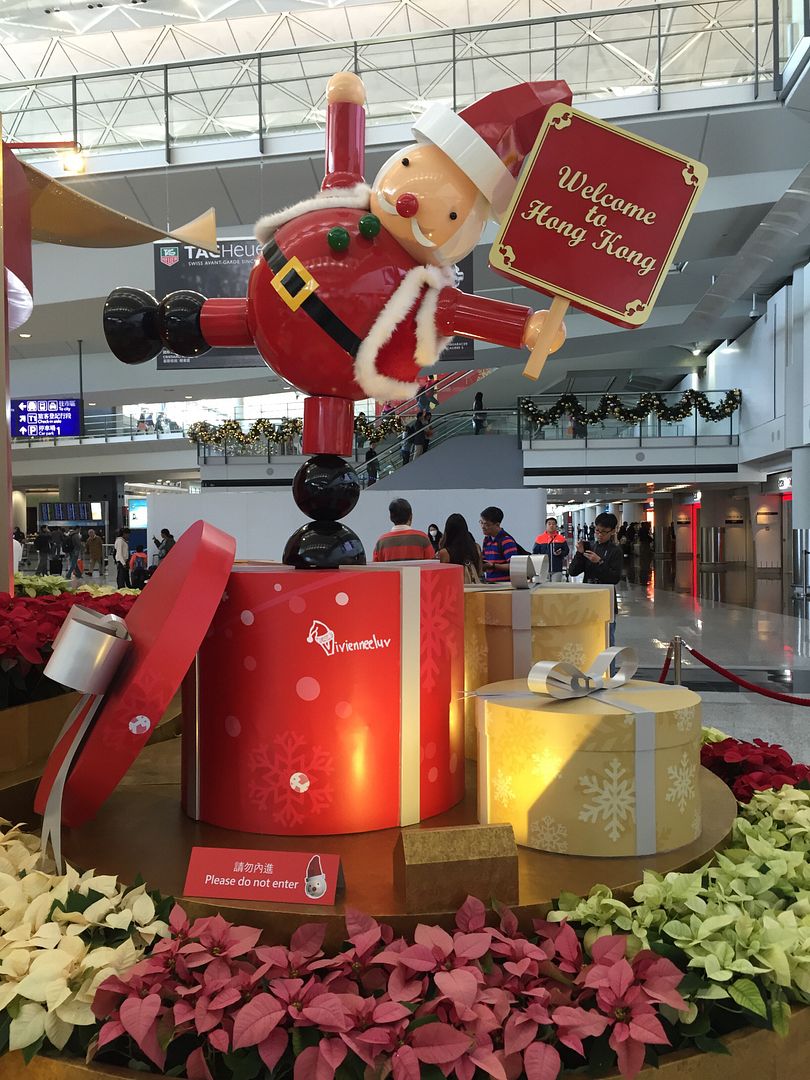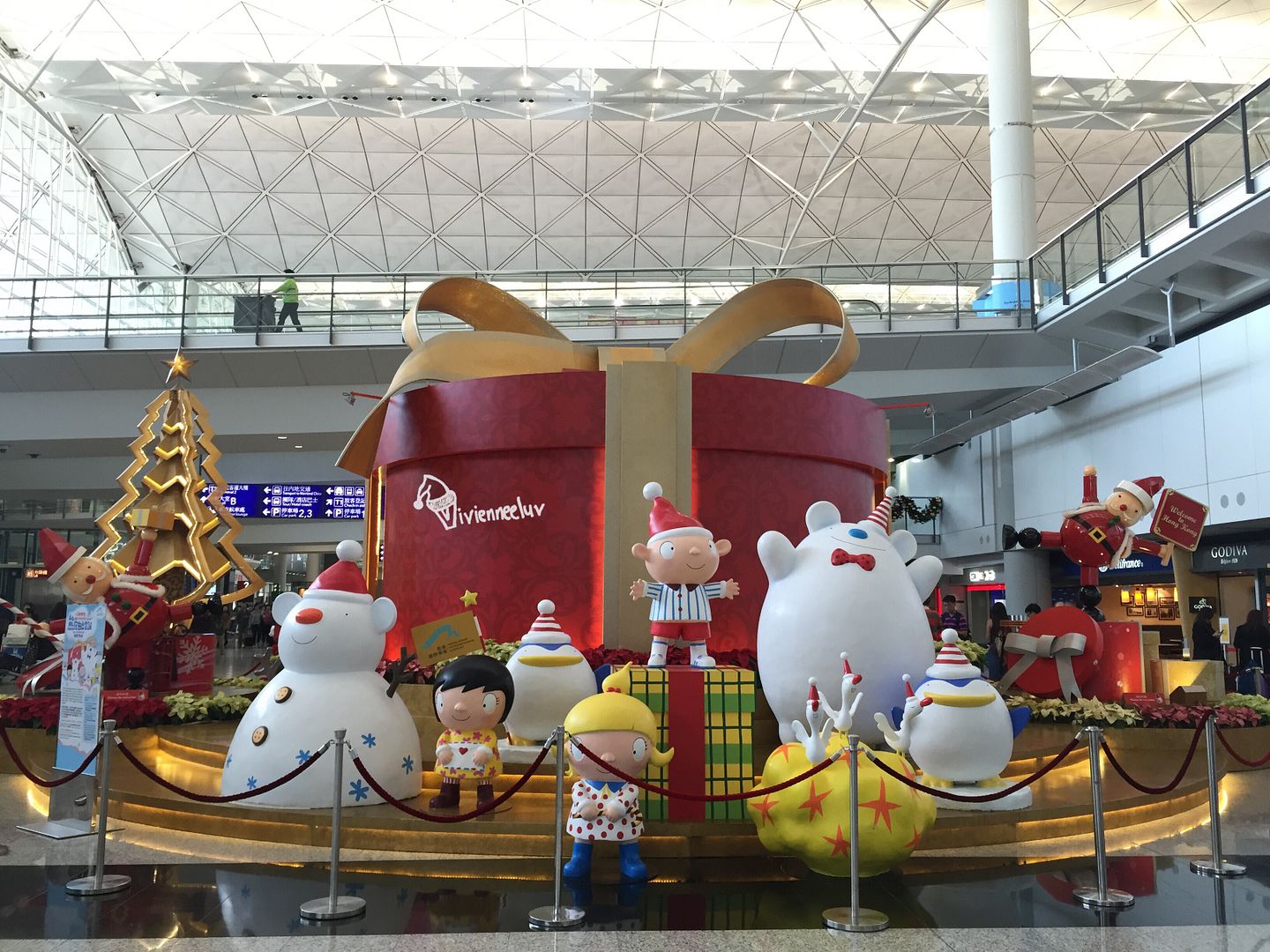 A few more pictures at the airport, we quickly head for the Airport Express.

We passed by a counter selling Octopus card so we gotten 1 each at HKD150 ↝ S$25.85 (HKD50

↝ S$8.60

is deposit). Octopus card is their EZ Link card.
The rest of our days, we took trains ONLY, so Octopus card is very very useful. Train fares are more or less same or slightly more expensive than Singapore.
2) AIRPORT EXPRESS
One of the exits of the airport (near IOIO) is leading to the Airport Express. No gantry, no card is needed just yet. So we happily hopped on to the train.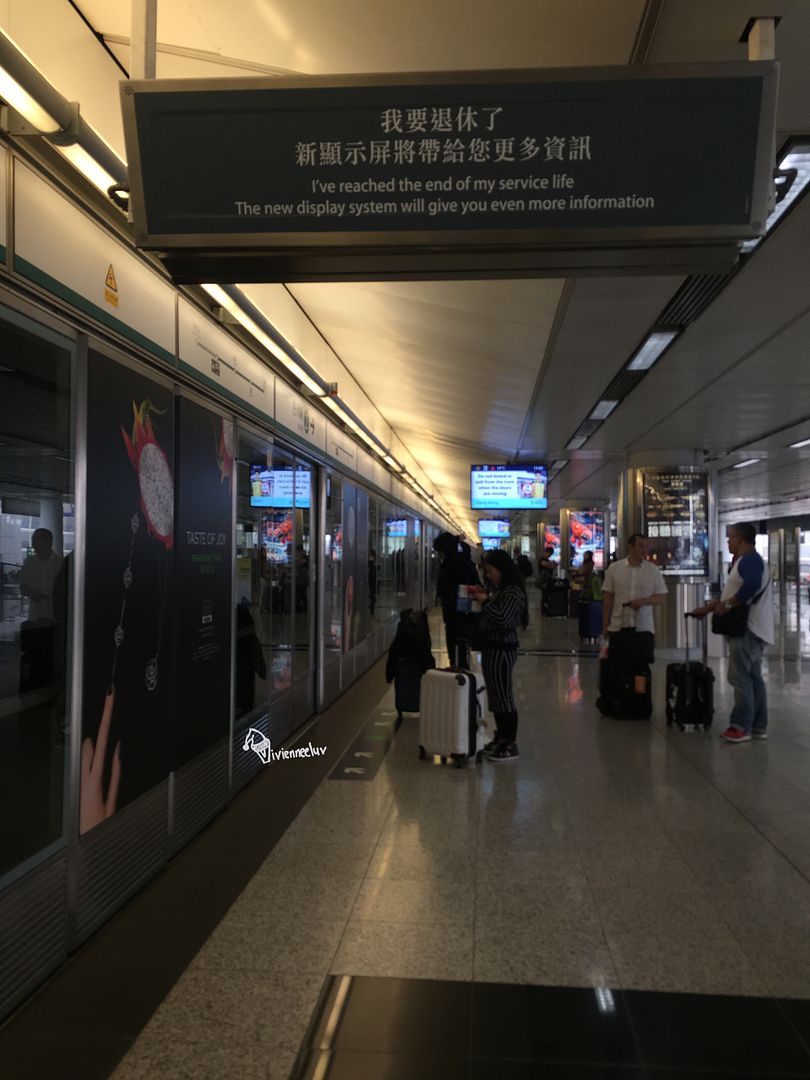 Alighted the next stop at Tsing Yi! Its travelling at a very fast speed, so in no time, we arrived! I realised not much of pictures as we were busy figuring which direction to go etc.

Upon exiting Tsing Yi, we were told that we can either pay by Octopus card or buy a separate card which is cheaper at HKD90 ↝ S$15.50 for 2 person. I actually took a picture of the card but I can't find it. Will insert picture here once I found it.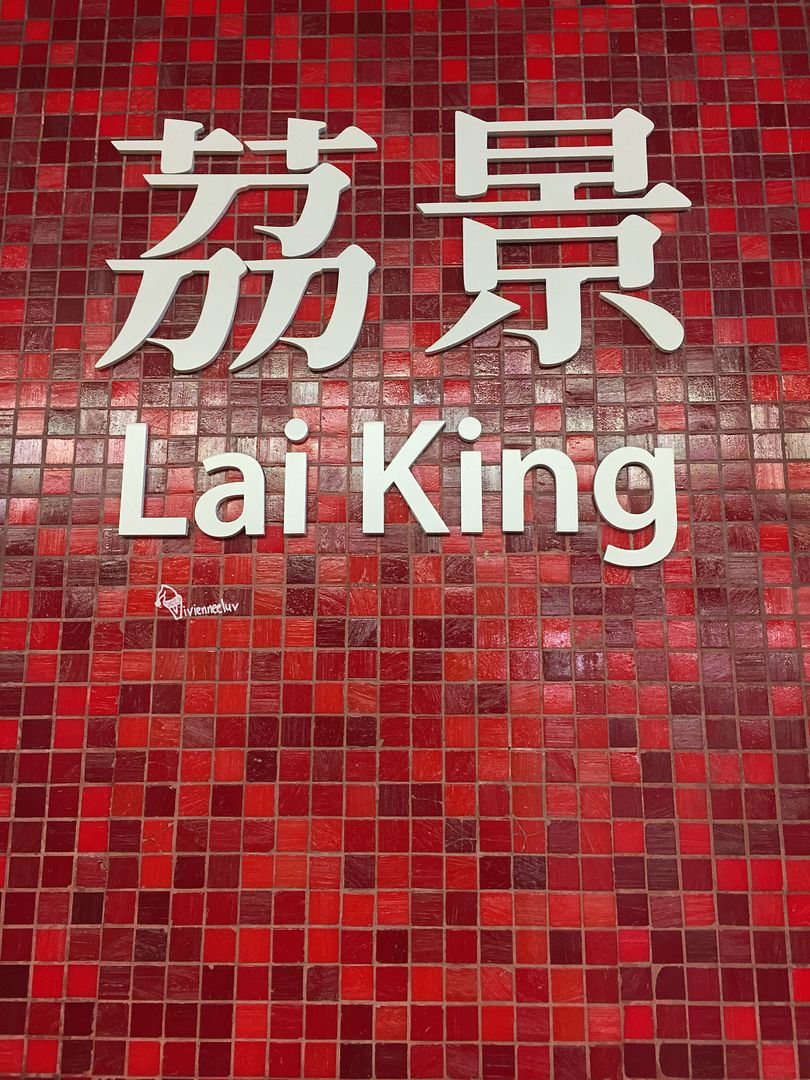 12.14pm: From Tsing Yi, we took 1 stop to Lai King where we continue on the Red Line all the way to (9 stops) to Tsim Sha Tsui station. WOOHOO!
We walked to (5 mins walk) our hotel, so glad that the room is ready for check in. We dispose our luggage and off we go!!
3) MAK'S NOODLE
麥奀雲吞麵世家
19 Lock Road, Tsim Sha Tsui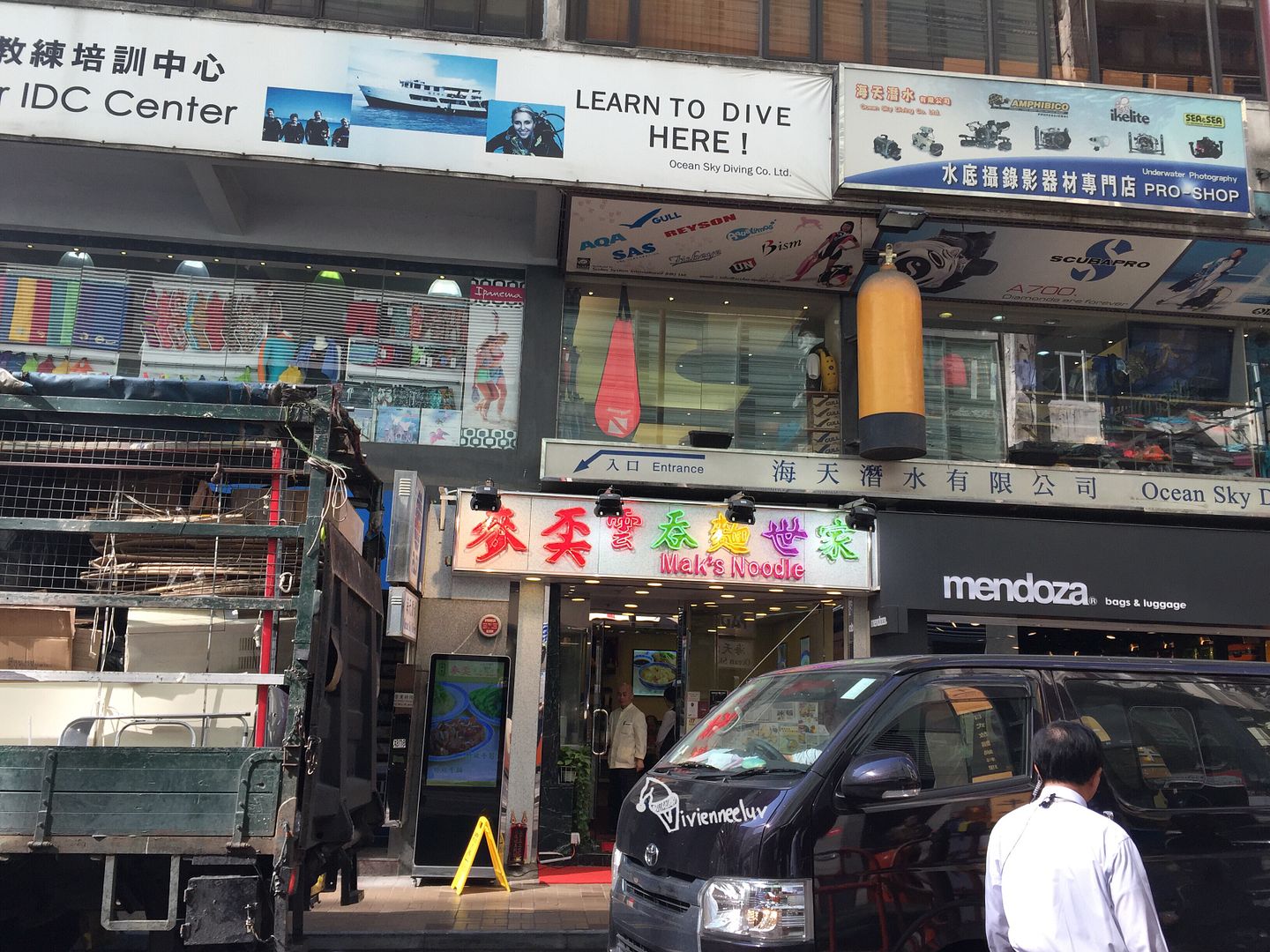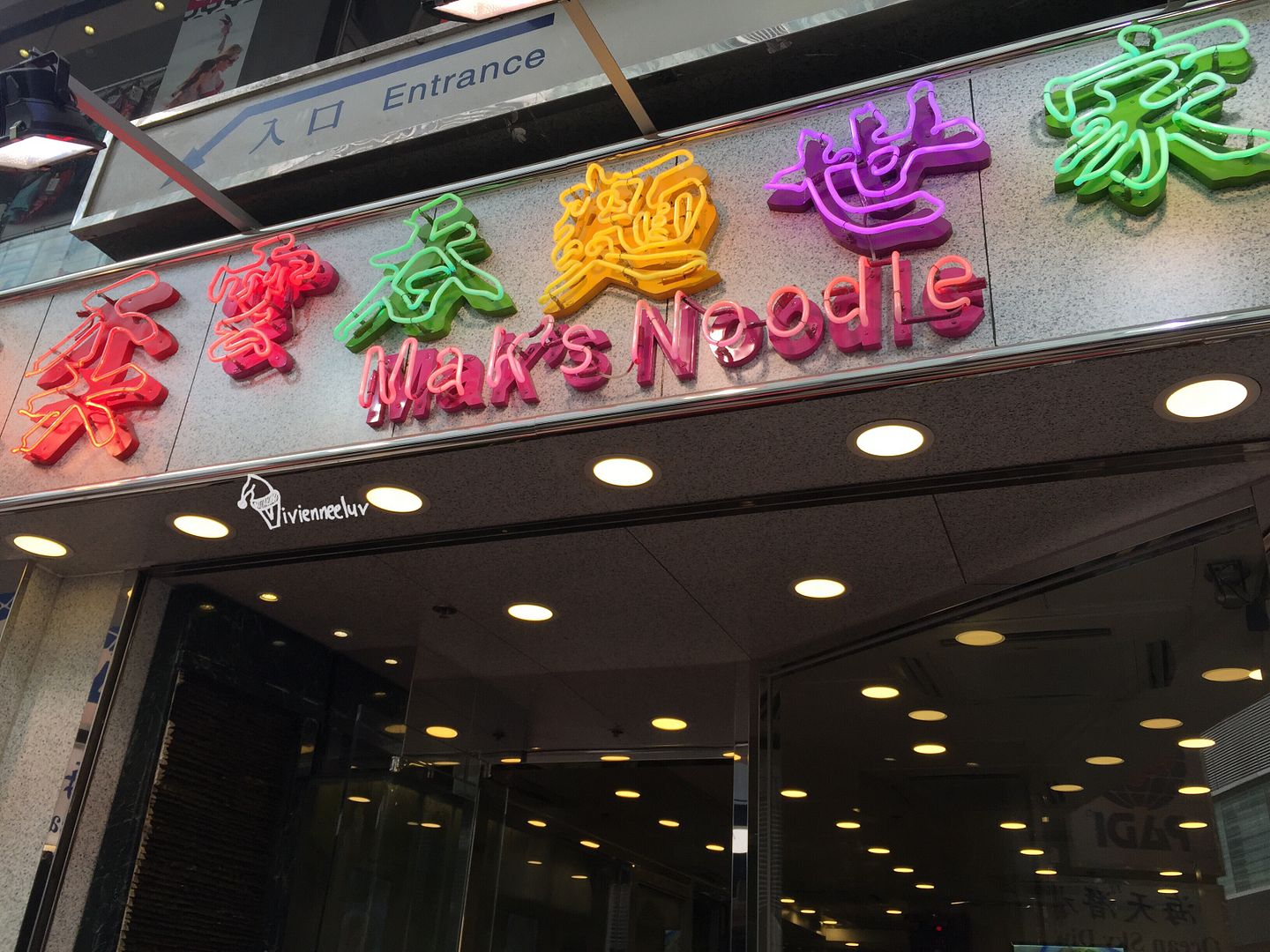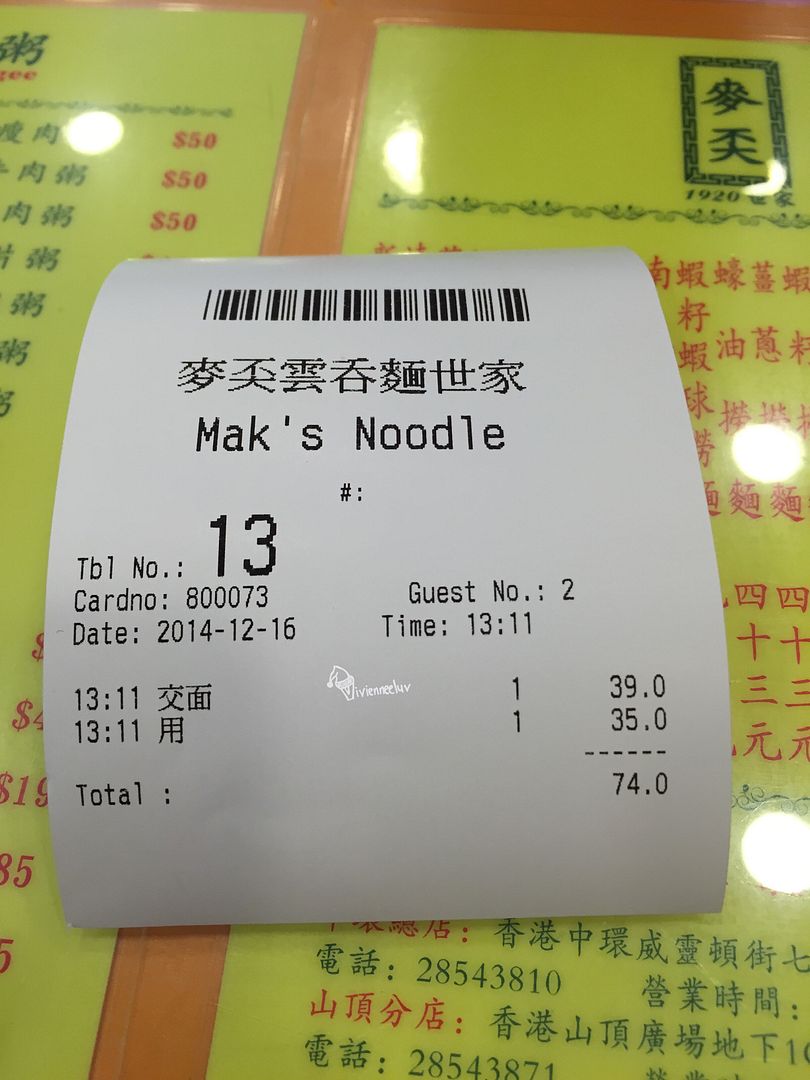 1.11pm: This is the beginning and the first stop we are already not following our itinerary! HAHAH!
Mak's Noodle was just a few steps away from our hotel, we were tired, cold and hungry, so we popped in here for lunch!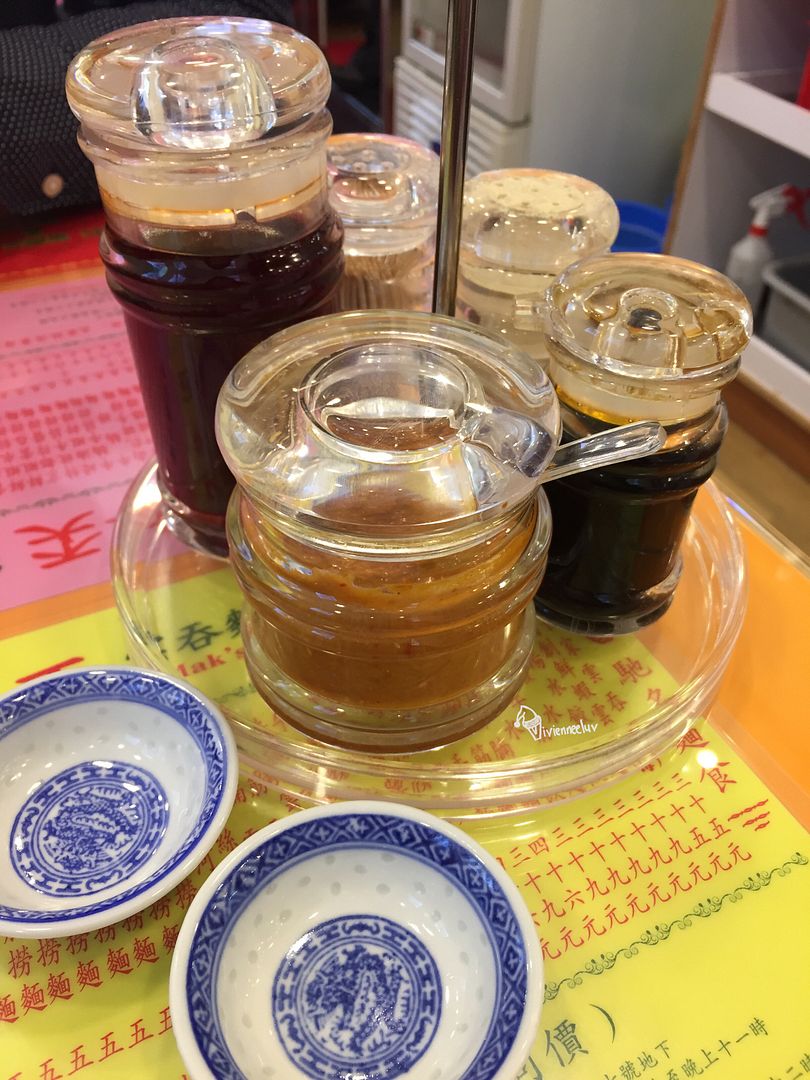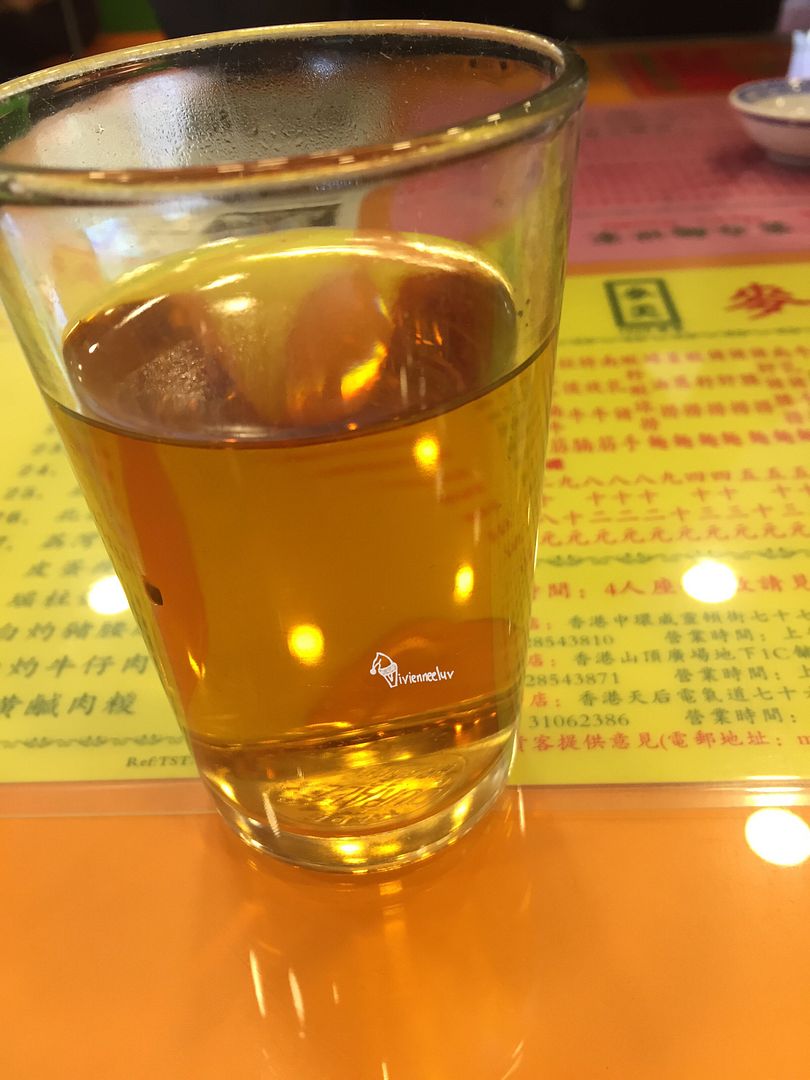 What I love about Hong Kong is that their menus are all slotted in between the glass panel and table. Once seated, we can immediately look at the menu. Fuss free and efficient.
The auntie who took our order, came back and pointed to some paper slotted in the table, she did not ask anything. So we ignored her. LOL.
Then she come and asked (or scold) if we want any drink, we say nope. Then she came back with 2 hot teas. Fierce but still kind. :D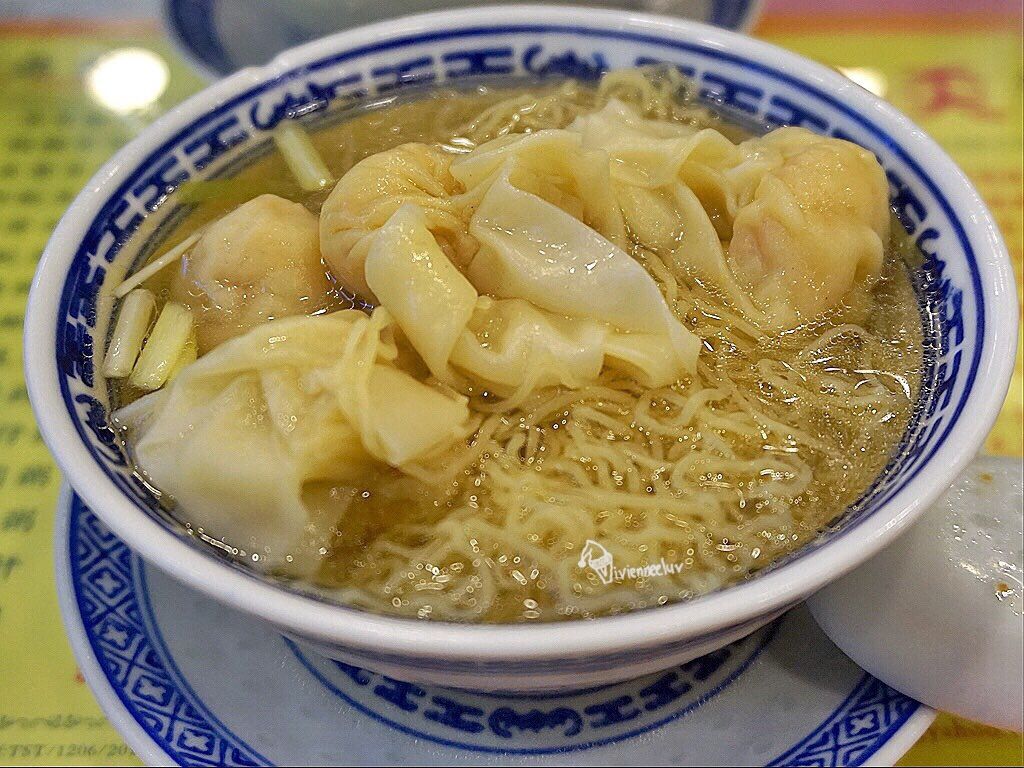 WANTON NOODLES HKD35
↝ S$6
We love the noodles! So springy and chewy.
When we are on holiday, we are happy to pay S$6 for a bowl of wanton noodles, no complains, only compliments.
PRAWN DUMPLING NOODLES HKD39
↝ S$6.70
Prawn dumplings are bigger than wantons and has mushrooms. I still prefer wantons though.
4) Oh Cow 放牛牛
G/F, 32 Mody Road, Tsim Sha Tsui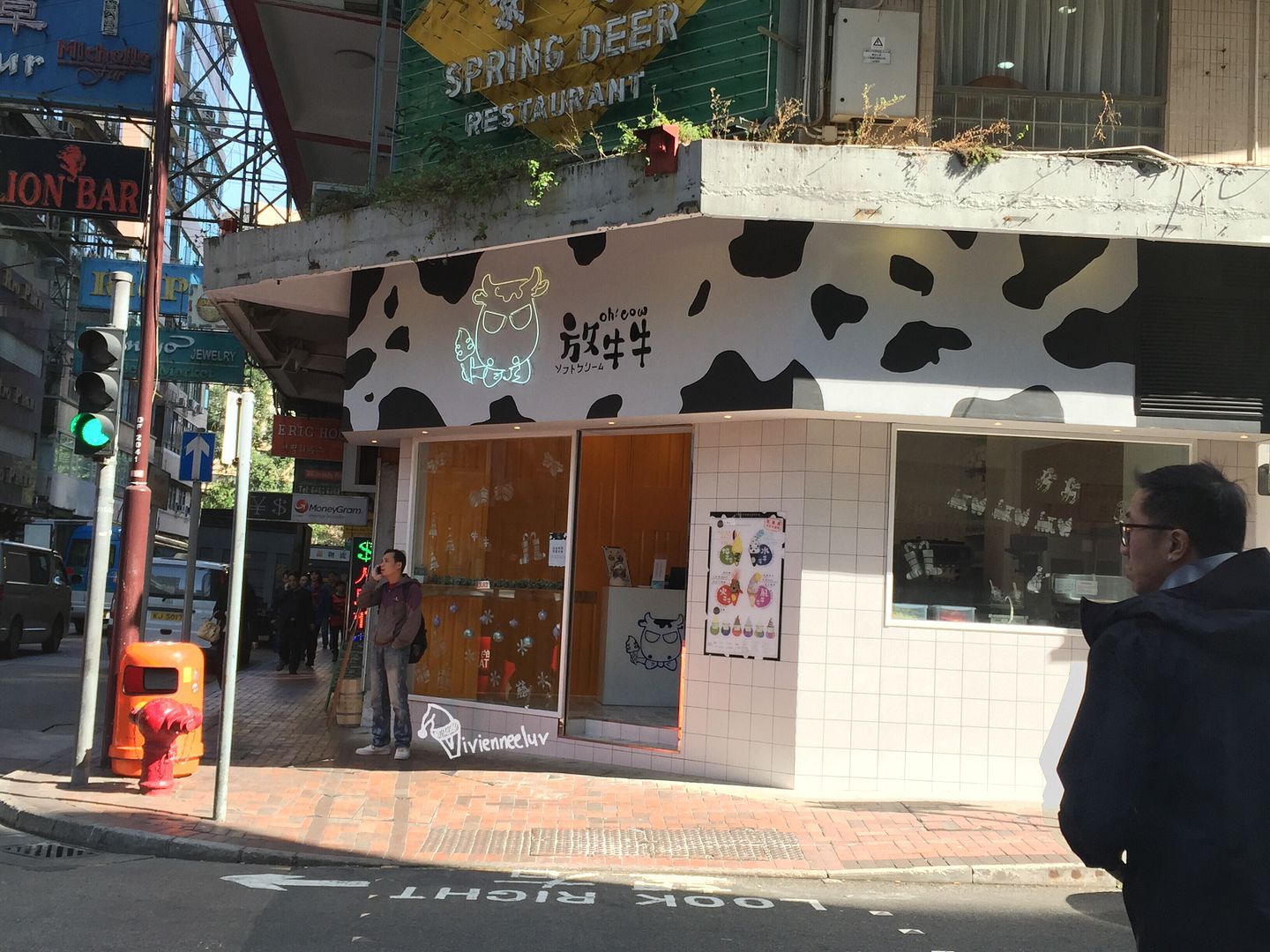 1.34pm: We were feeling very cold but k couldn't resist popping by here as I wanted to try their beautiful desserts. All of their flavours are really special.
As they are running a trial operation at that time, there were limited flavours/quantities so the one I wanted badly was not available :(
The boy even messaged them while he is in Singapore, to check on opening hours etc. So sweet!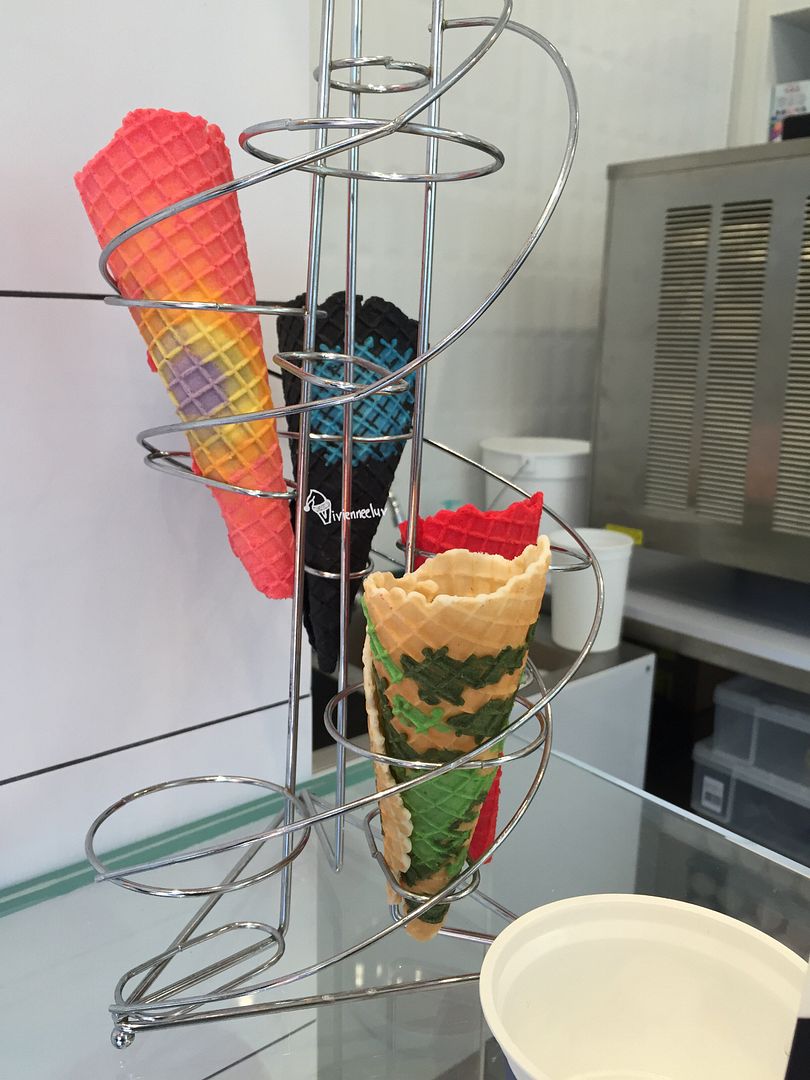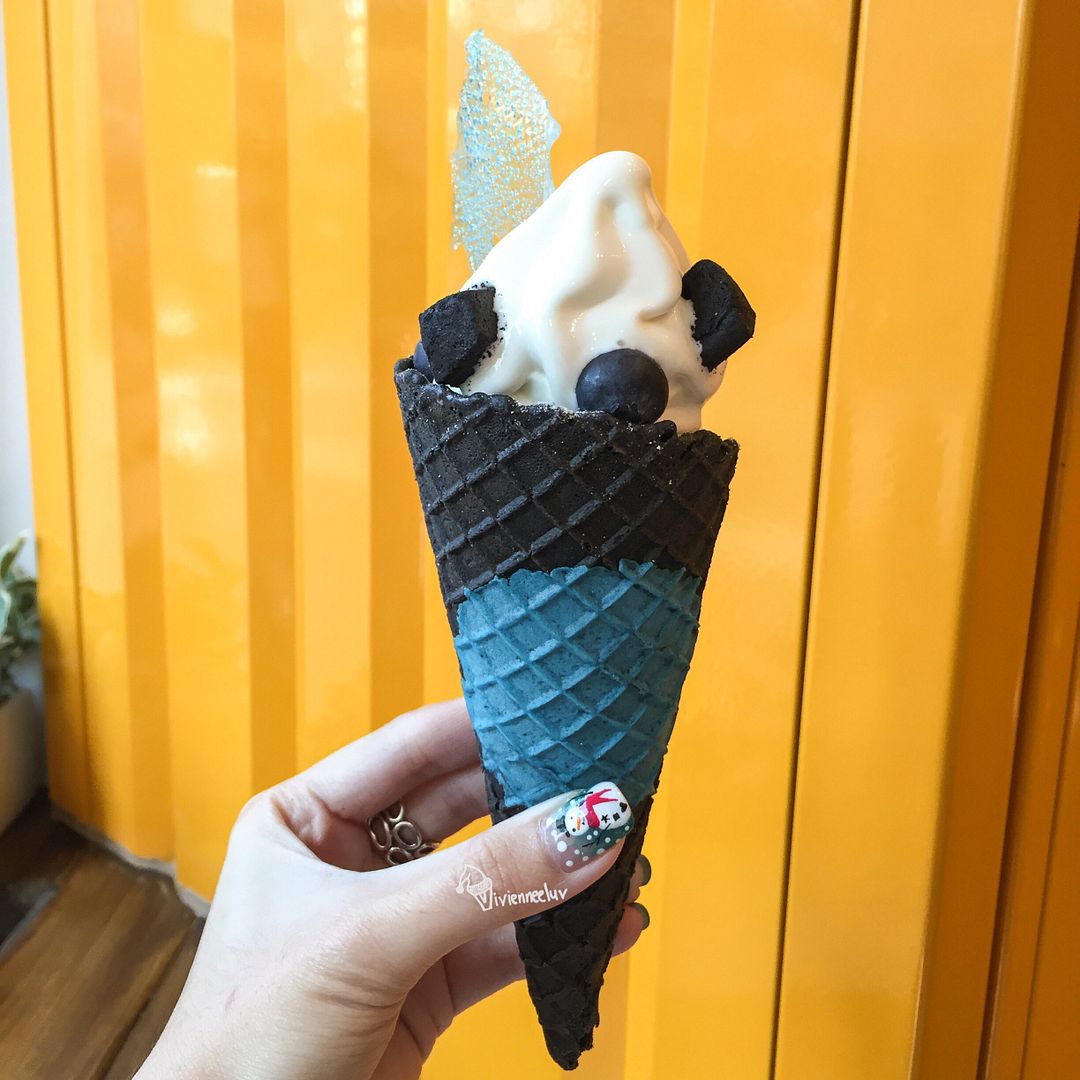 HOKKAIDO SOFT SERVE with INK SHORTBREAD, NITROGEN FROZEN BLUEBERRIES topped with BUBBLE SUGAR HKD42
↝ S$7.20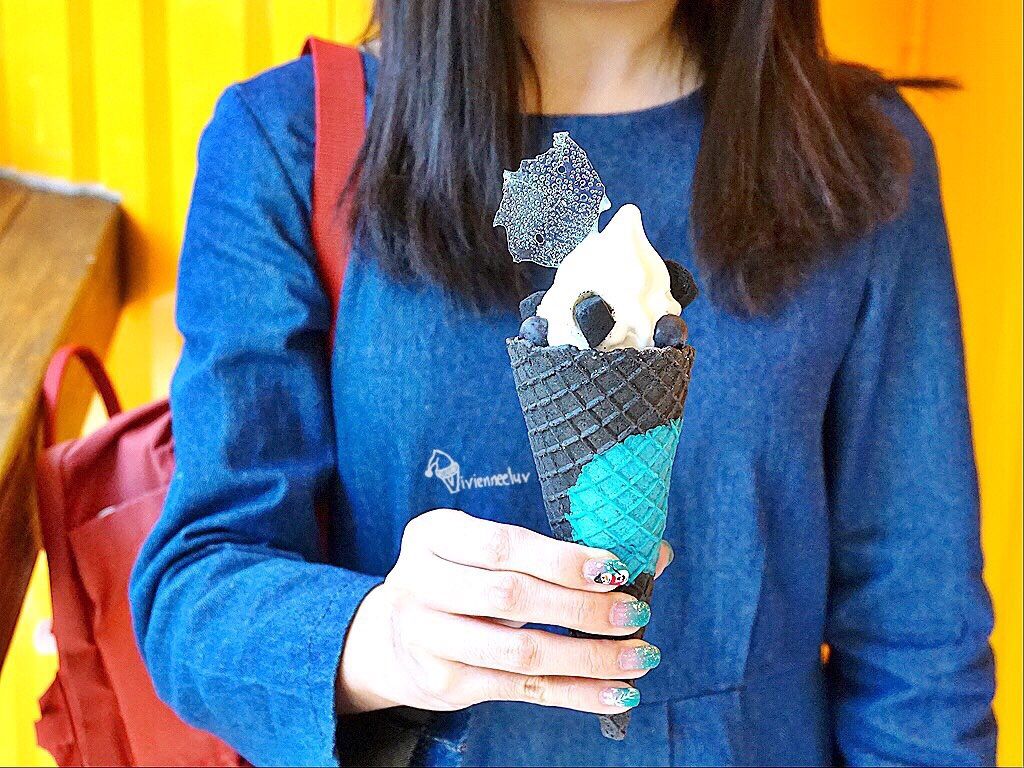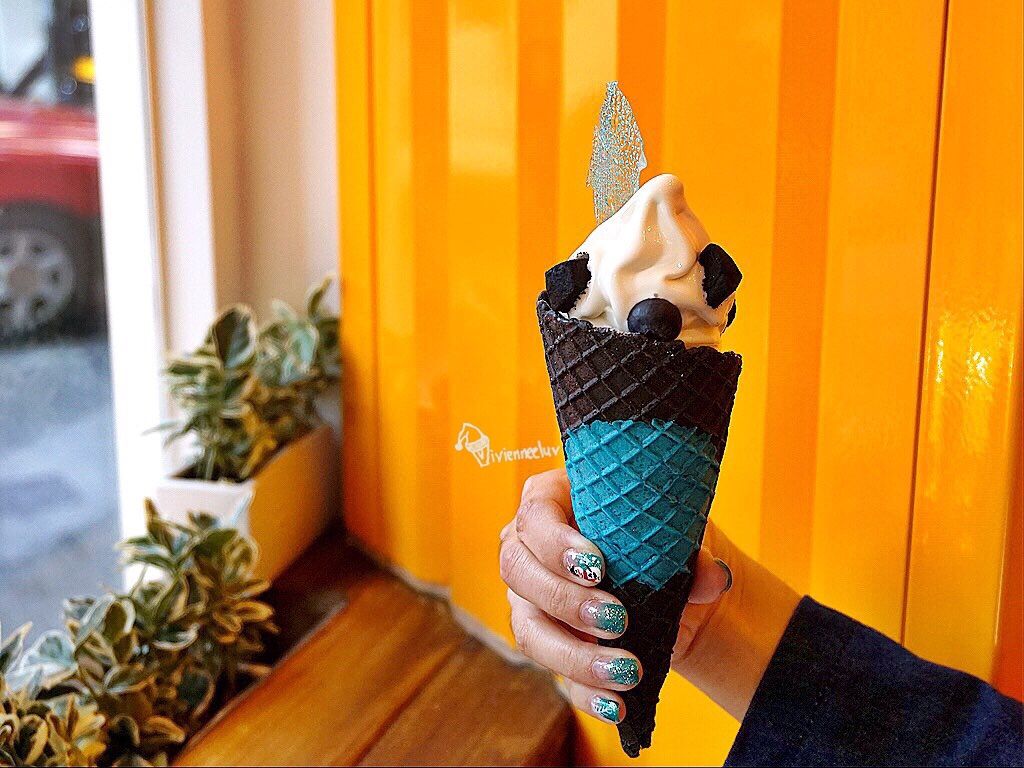 It looks more beautiful in real life, I was too cold and excited to care about anything else.
5) K11 MALL
18 Hanoi Road, Tsim Sha Tsui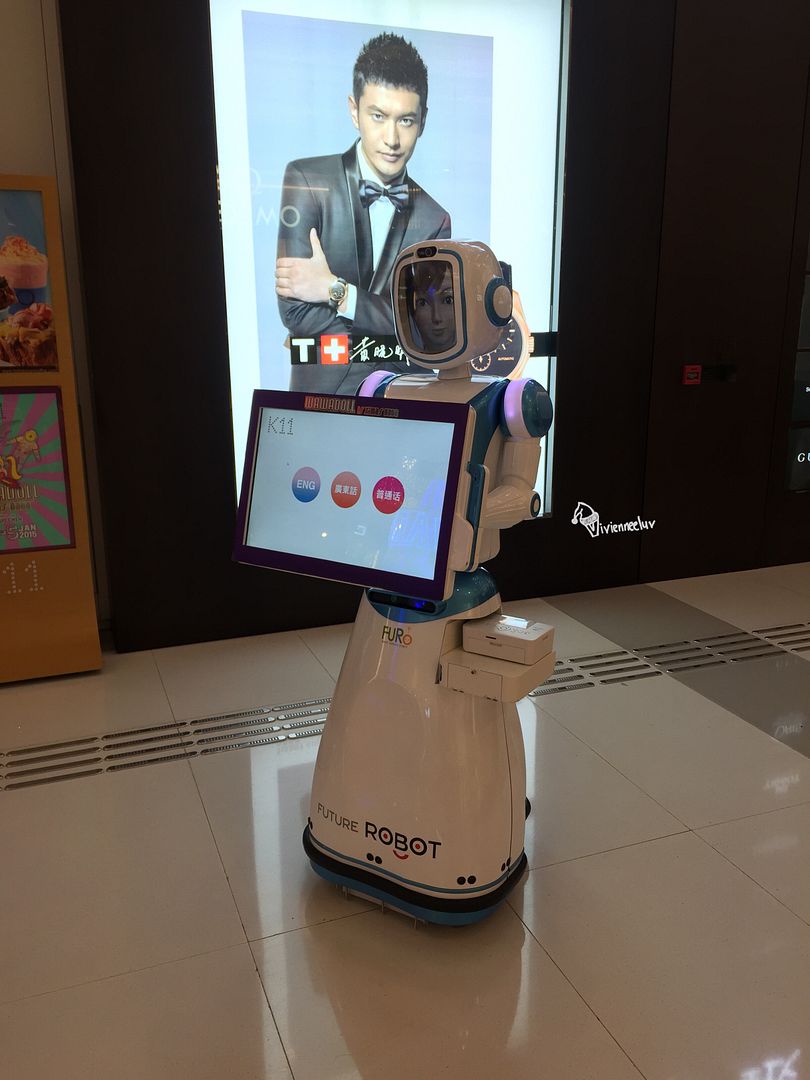 A walking information counter, how cool is that. K11 is an art mall. Looks rather new, I think it was opened this year?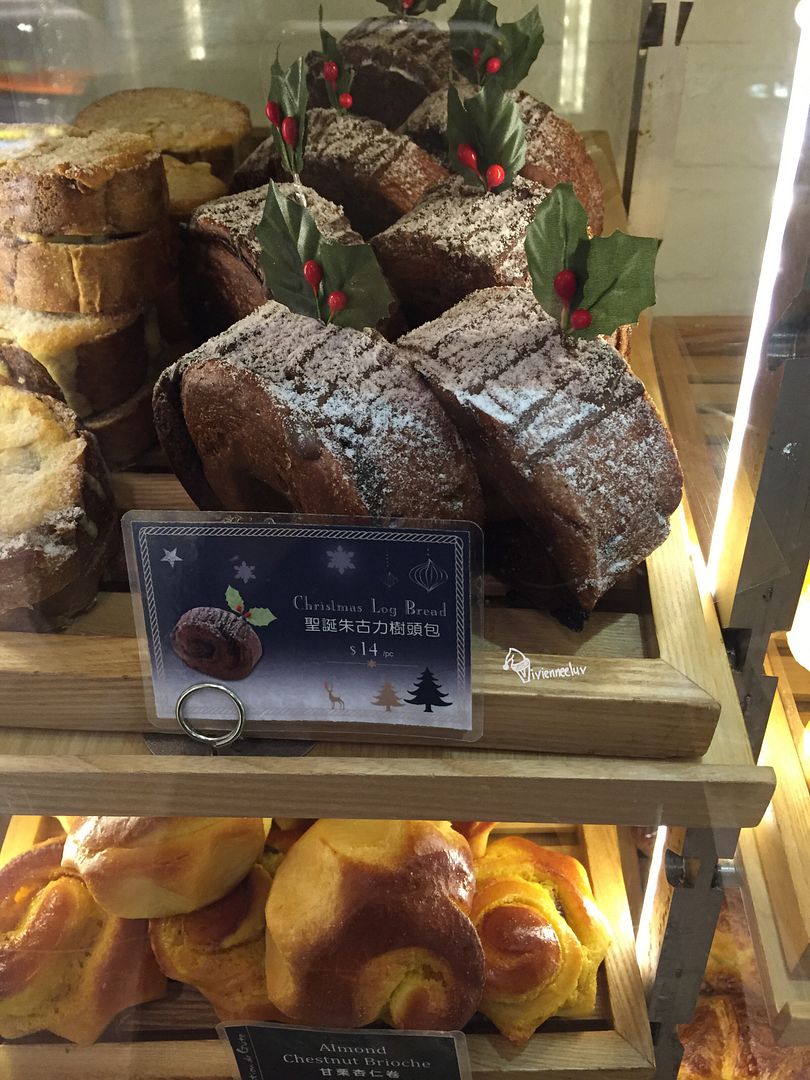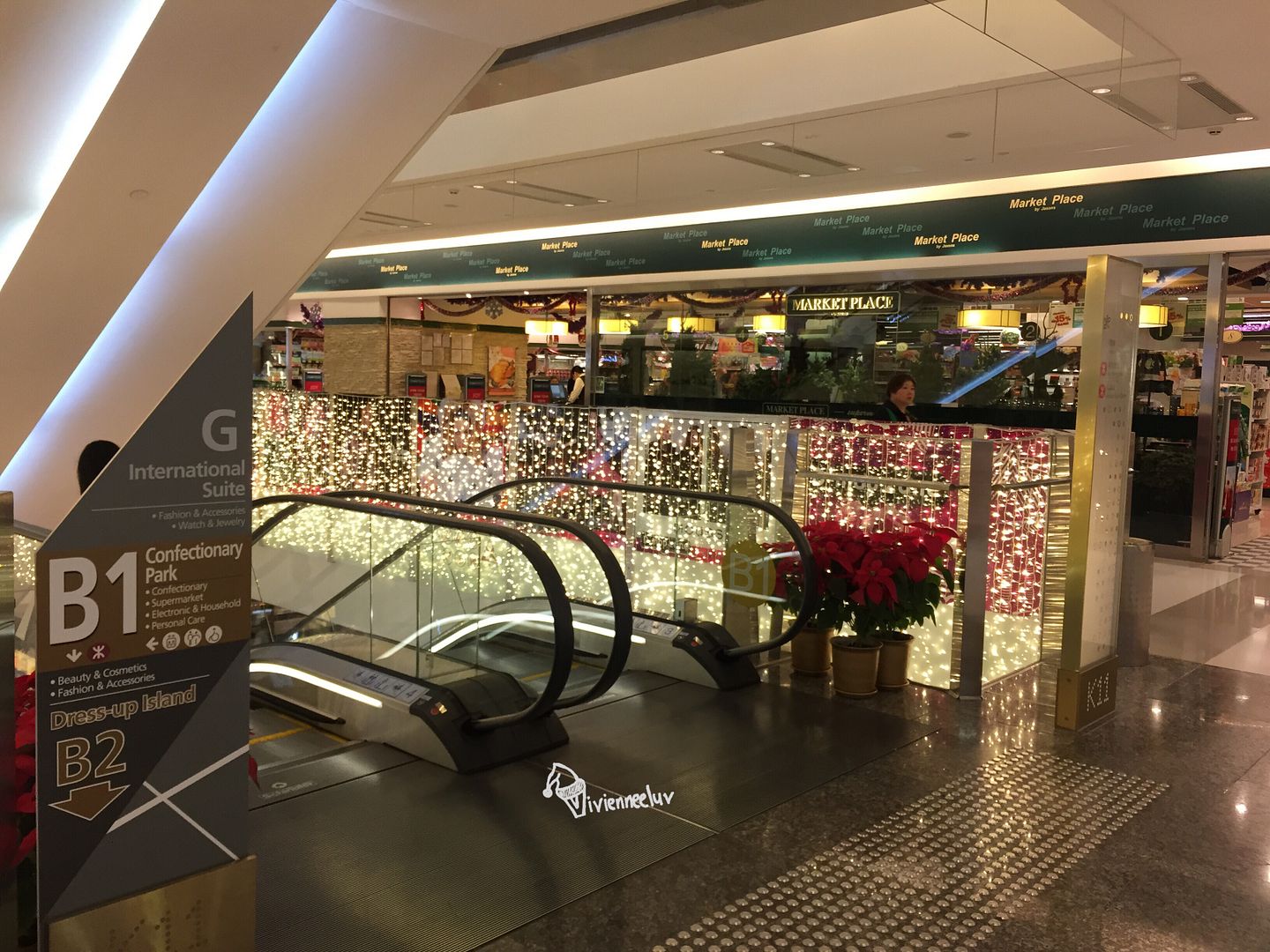 Jasons Market Place was pretty common there, and is by far the most atlas supermarket I had seen in Hong Kong. So glad to have a Market Place near us. Actually this is not the nearest. I Square's nearest! Just a small street away!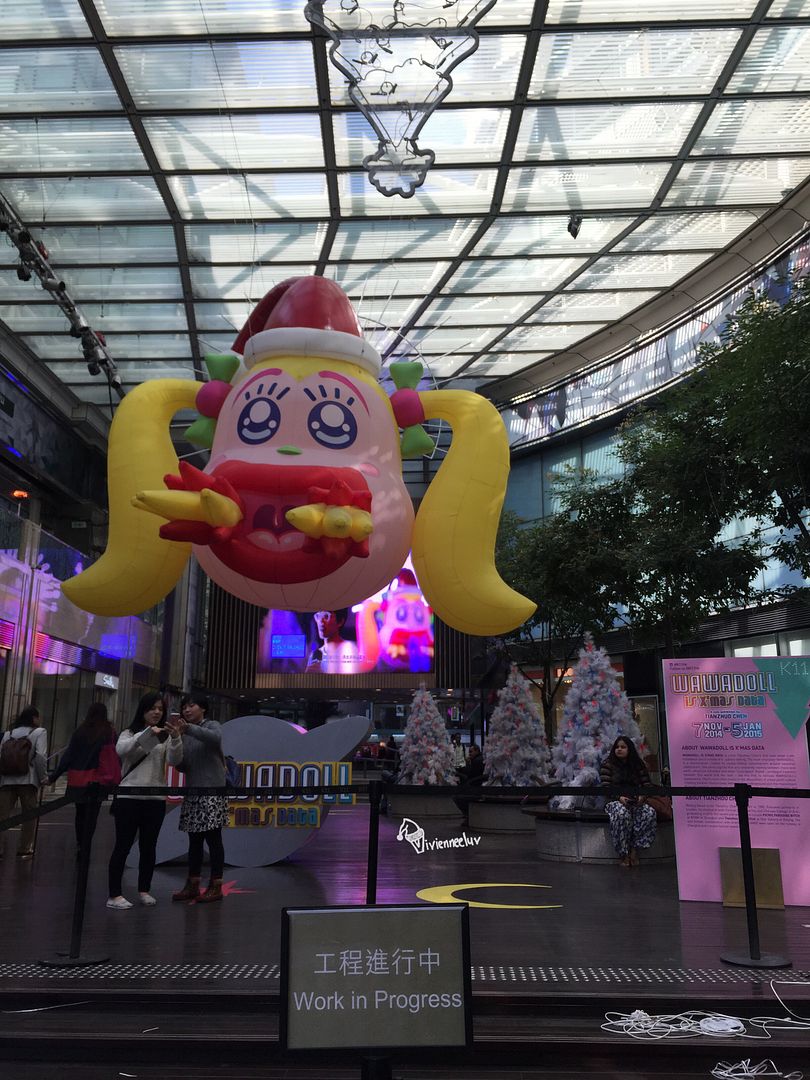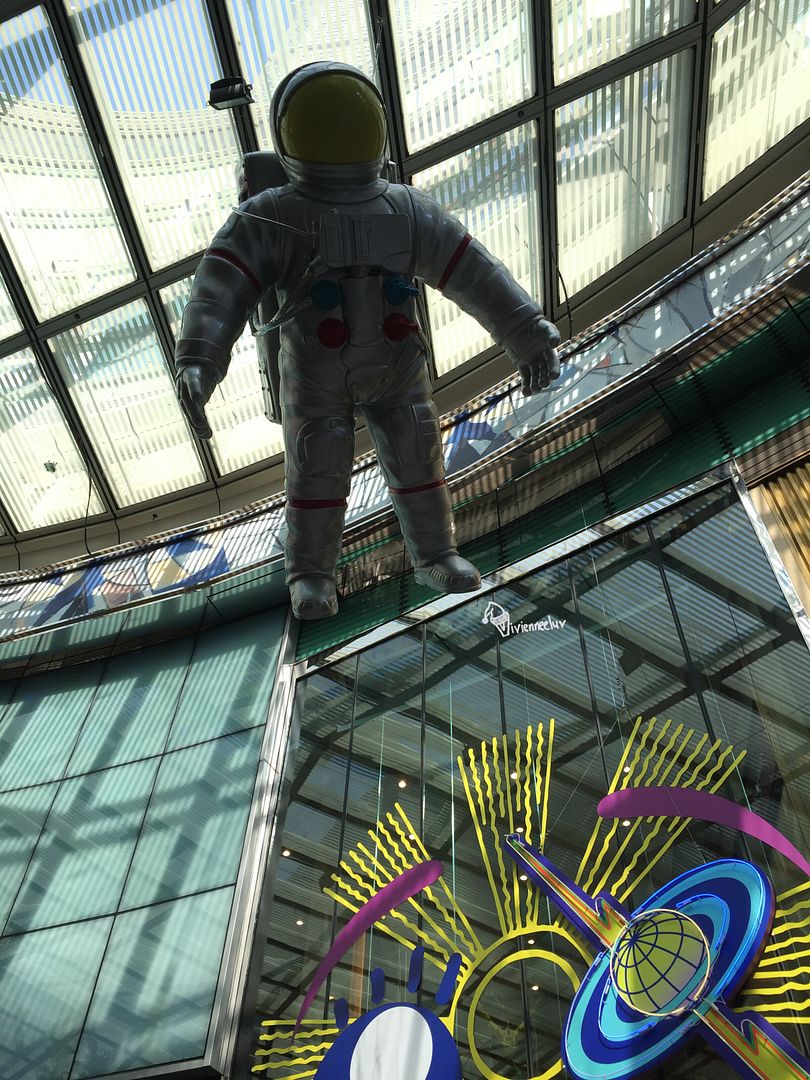 6) SMILE YOGURT & DESSERT BAR
18 Hanoi Road, K11 Mall G32 & G33, Tsim Sha Tsui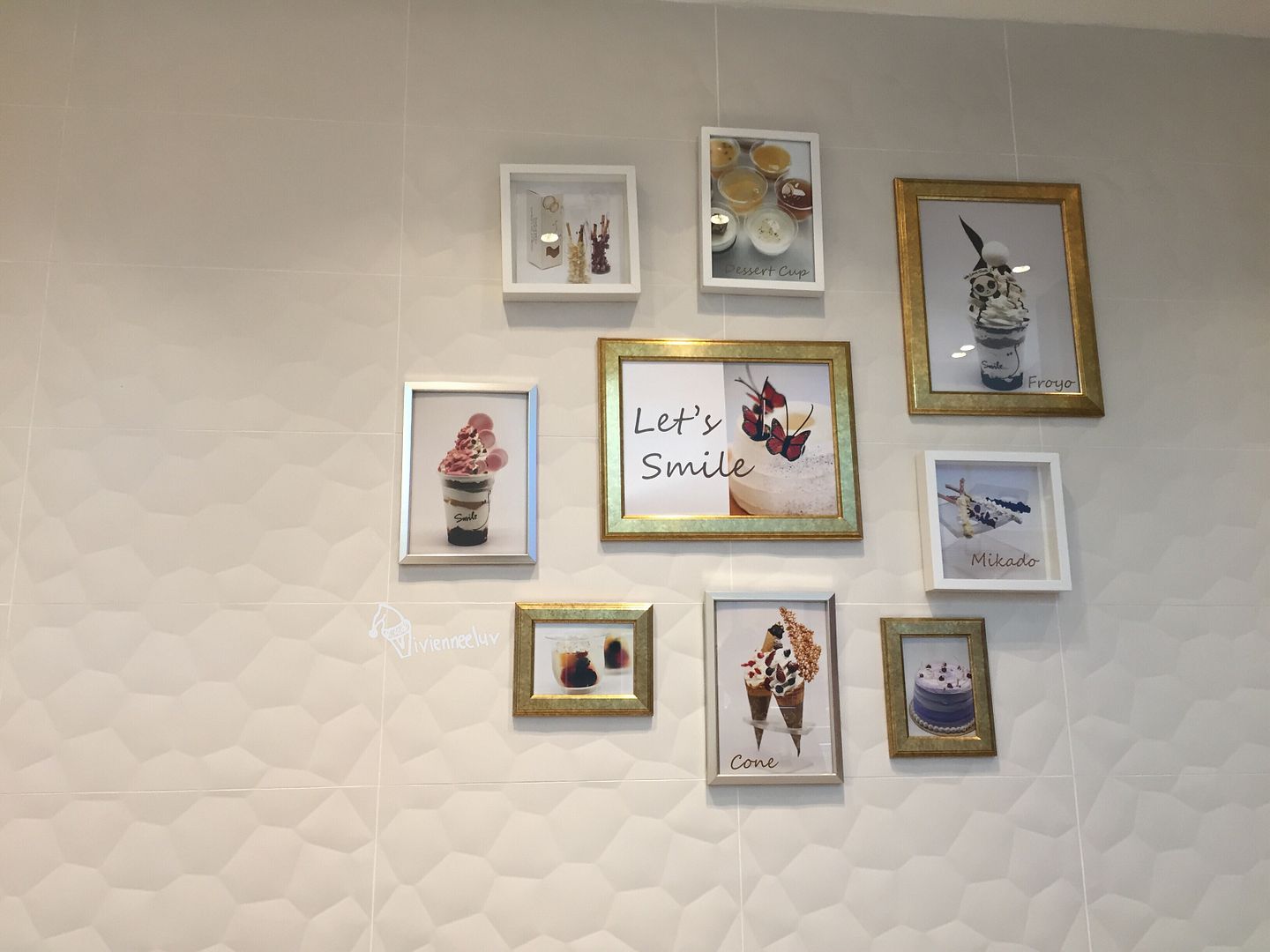 2.36pm: As if it is not cold enough, we popped in for another dessert! This was actually not on our list, but the cafe looks really pretty. Ok, I won't call it a cafe, the shop space was pretty big but there are only 4 stools.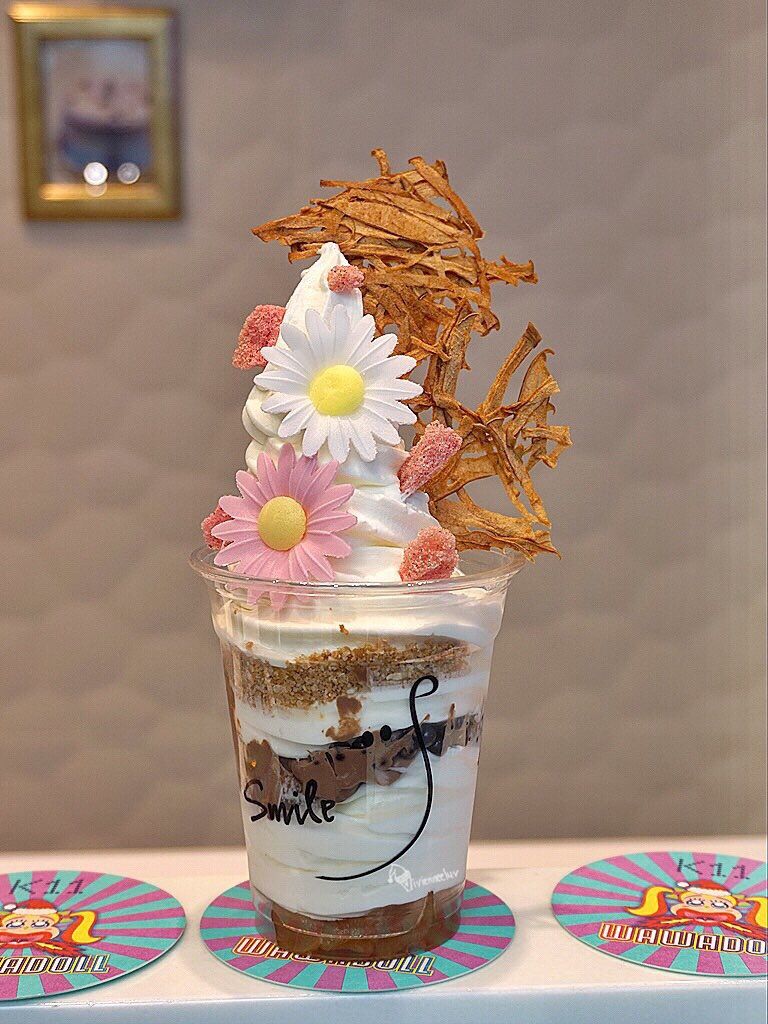 HAPPY 2014
HKD70 ↝ S$12
Caramelised pear, chocolate mousse, waffle flowers, fizzy raspberry rock, cripsy fruit lace, homemade explosive crumbs, chocolate crunchy pearls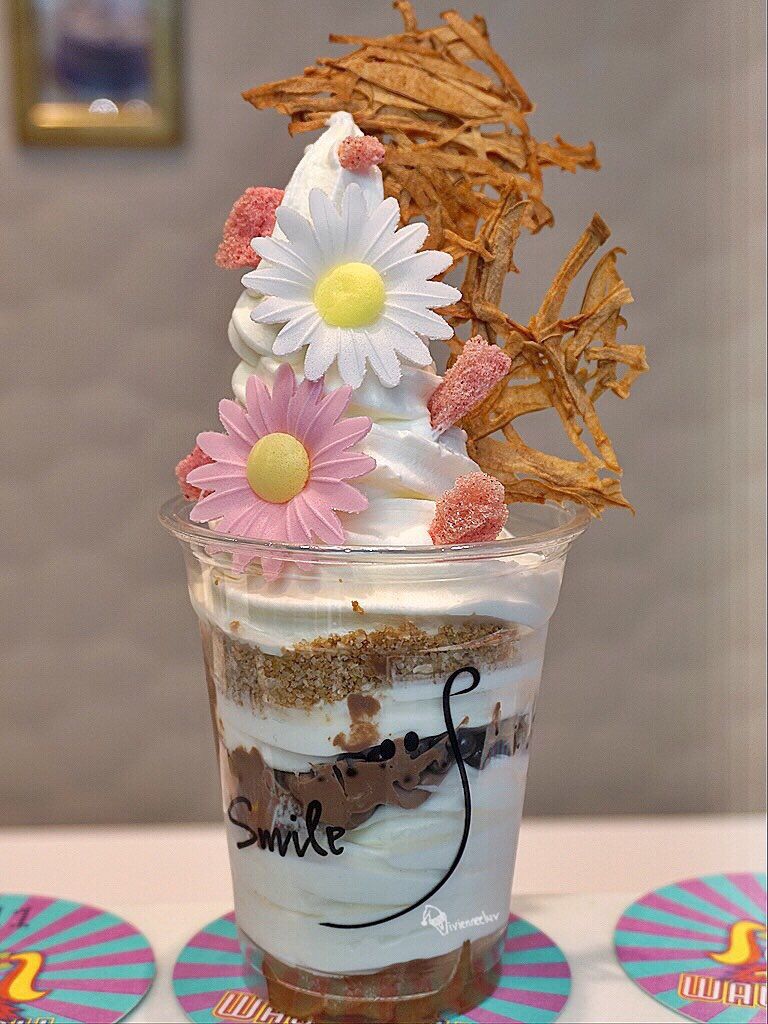 There are so many other interesting flavours, like Almond Roca also, but I chose Happy 2014 to mark a happy 2014 for us literally. And also I think this might be an exclusive limited edition item because of its name. So might as well.
7) TSUI WAH
G/F & Cockloft, 2 Carnarvon Road, Tsim Sha Tsui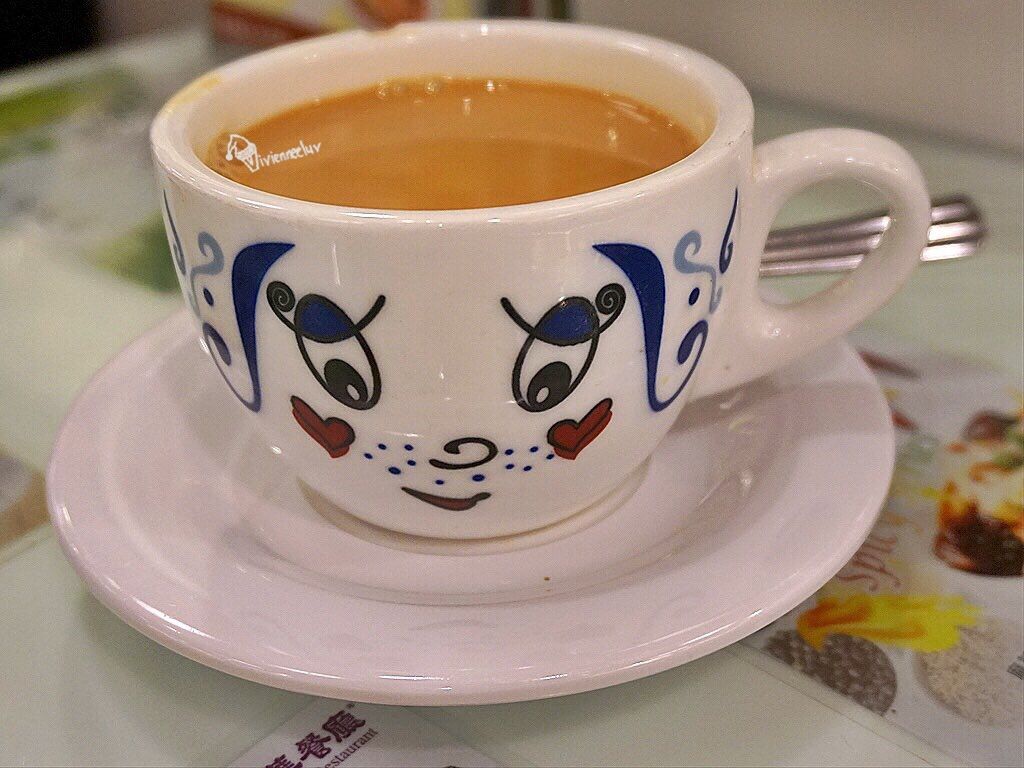 MILK TEA HKD19
↝ S$3.30
3.04pm: We were feeling so cold after the ice cream treats, came in here to eat more food to keep warm. I know right, we are like eating non stop after we were free from our luggages.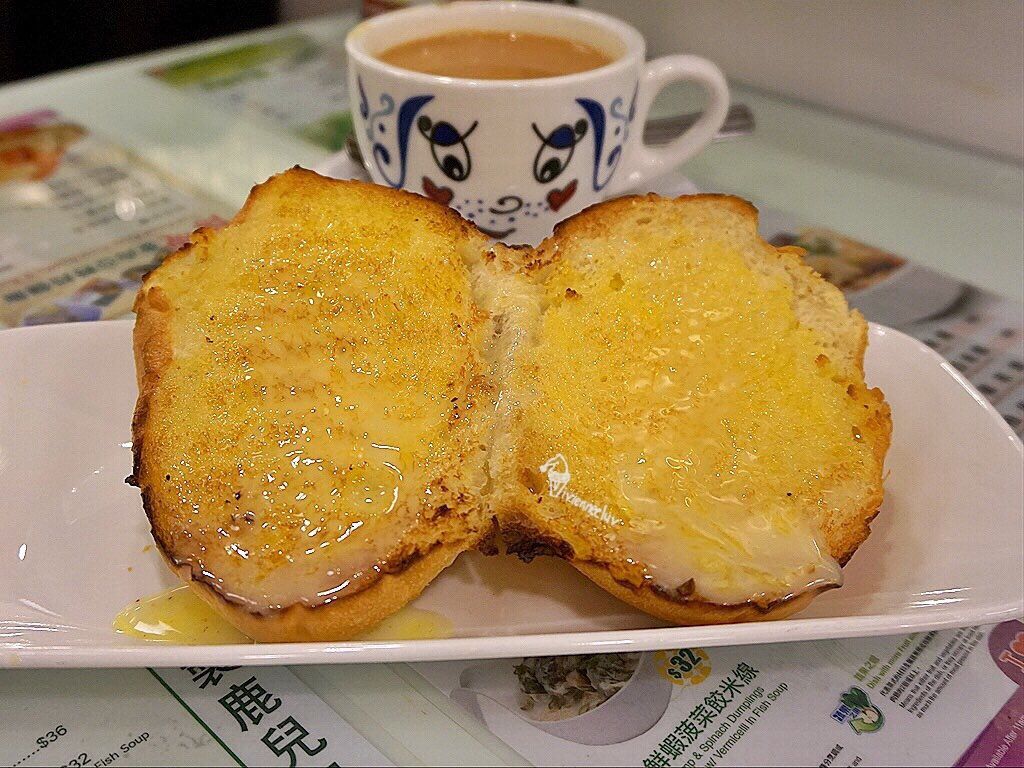 CRISPY BUN with CONDENSED MILK HKD18 ↝ S$3.10
Highly recommended by the boy, how can I not try! Good recommendation OMG. This is the BEST condensed milk bun after a week of eating.
When you bite into it, the butter and condensed milk burst into your mouth. Not that explosive but it feels like it.
KING PRAWNS with VERMICELLI in TOM YUM KUNG HKD47 ↝ S$8.10
We were so cold that anything spicy + soupy appeals to us! It was good but I prefer to keep my stomach for more wanton noodles!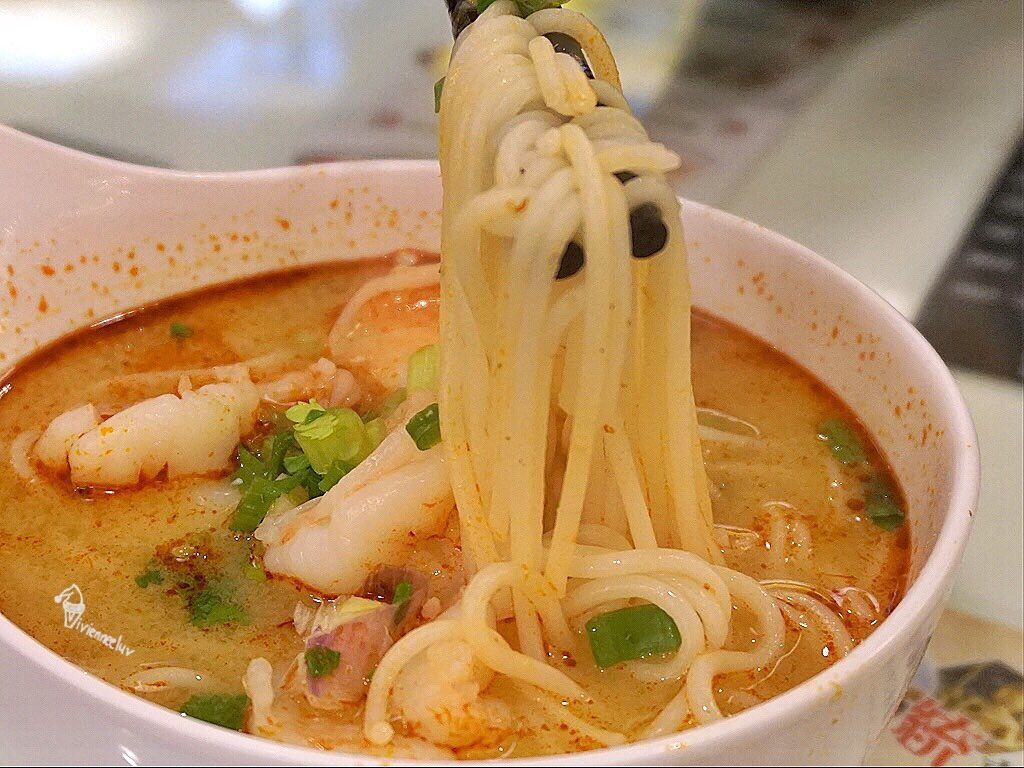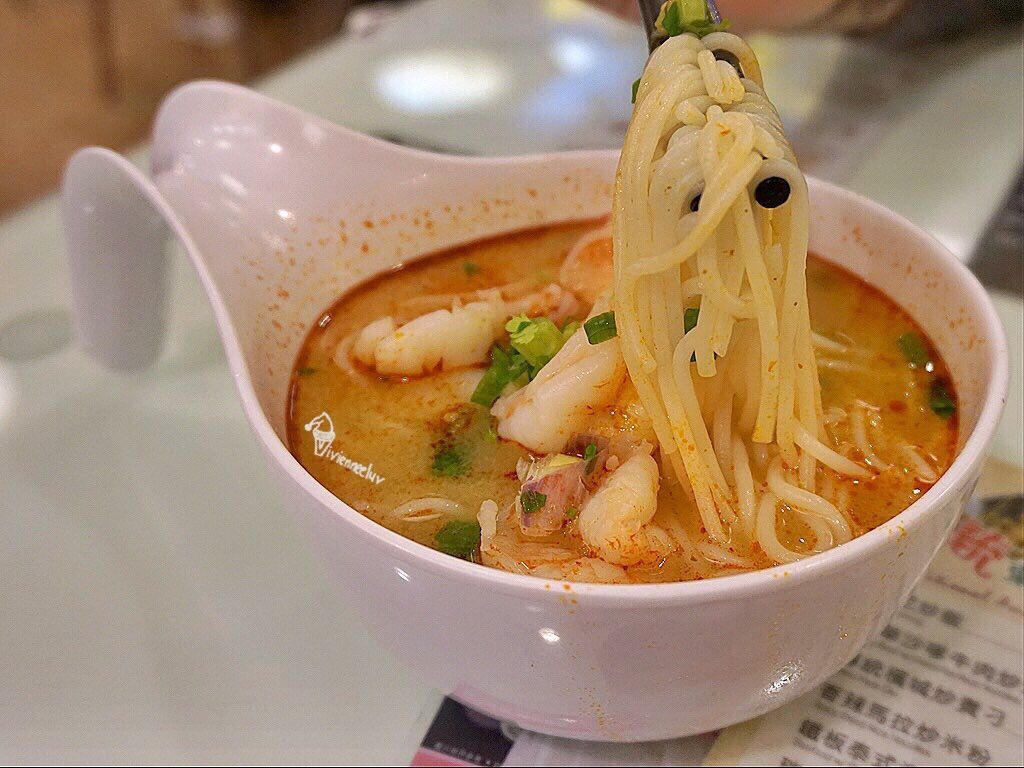 Finally more walking after filling our stomach. I couldn't recall if our tummies are bursting already.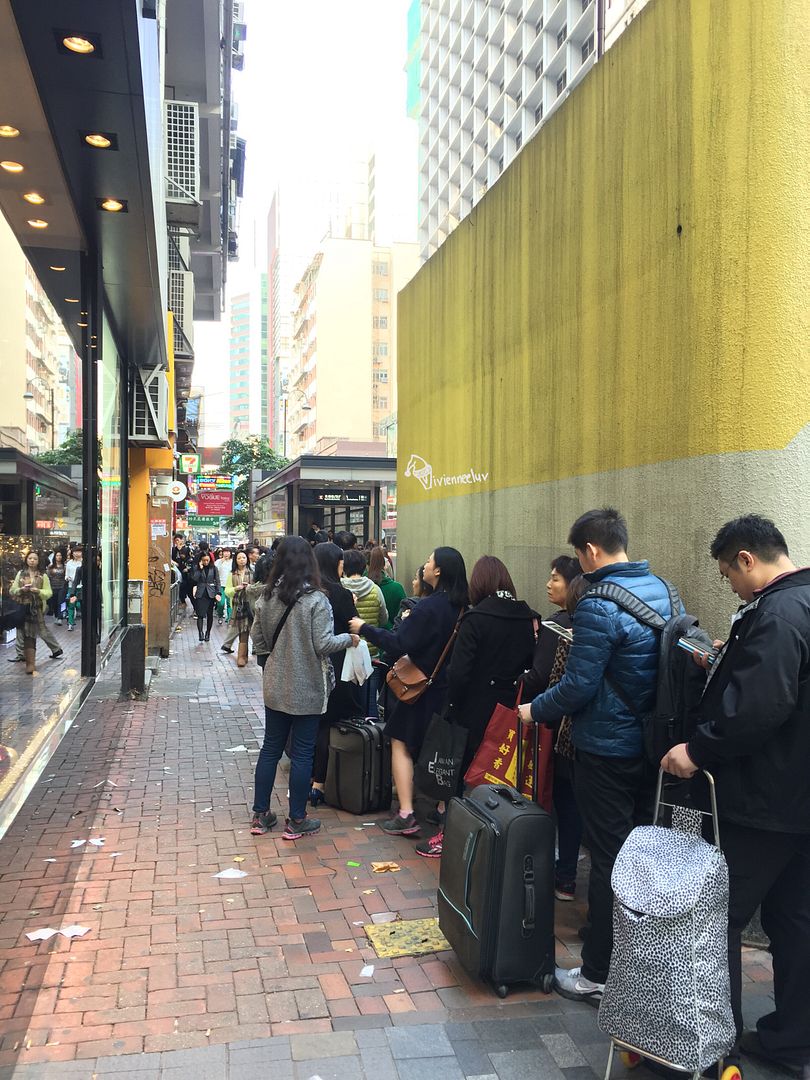 3.44pm: Passed by this queue and the first thing that comes to my mind is ''Jenny's Cookies''. We were standing around and looking what exactly are they queuing for and I don't see any shop front as well. A kind Indian man told us this is indeed the famous cookies. Ok too long, bye.
8) THE ONE
100 Nathan Road, Tsim Sha Tsui
4.04pm: Itchy me, stepped into Chanel to put on red lipstick for fun. Because the weather is too dry, I feel that my lips are cracking.
So I left with a Chanel Red Lipstick HKD260 ↝ S$44.80. Some one year back, I bought the same range of lipstick in Singapore at S$45. So.. actually yea, come to Hong Kong, you can save your money on Departmental Stores items.
I checked a Longchamp bag for my friend, and it was more expensive than Singapore's DFS. FYI :P
4.14pm: Right outside The One.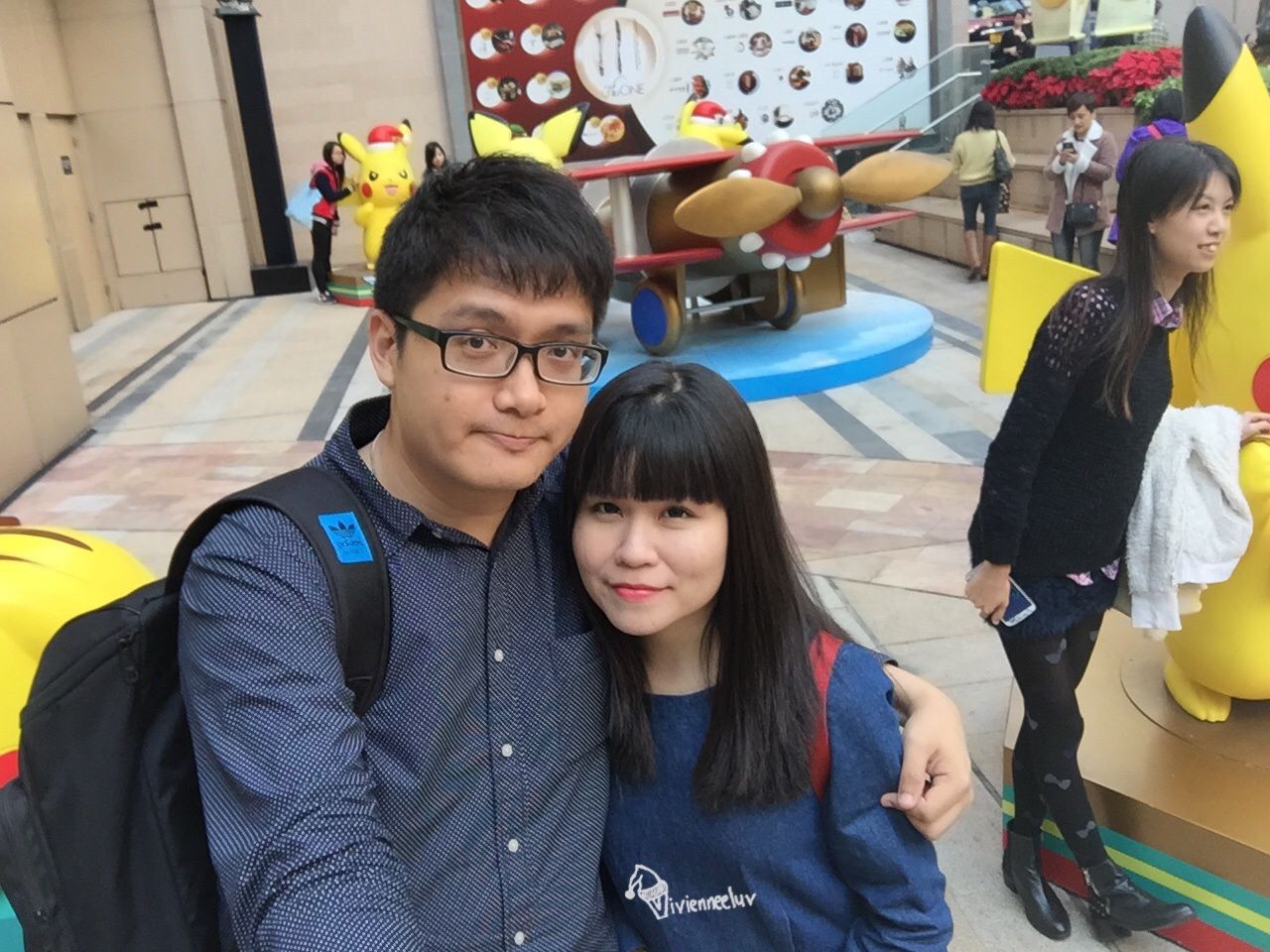 Us freezing and tired. But nothing can stop us.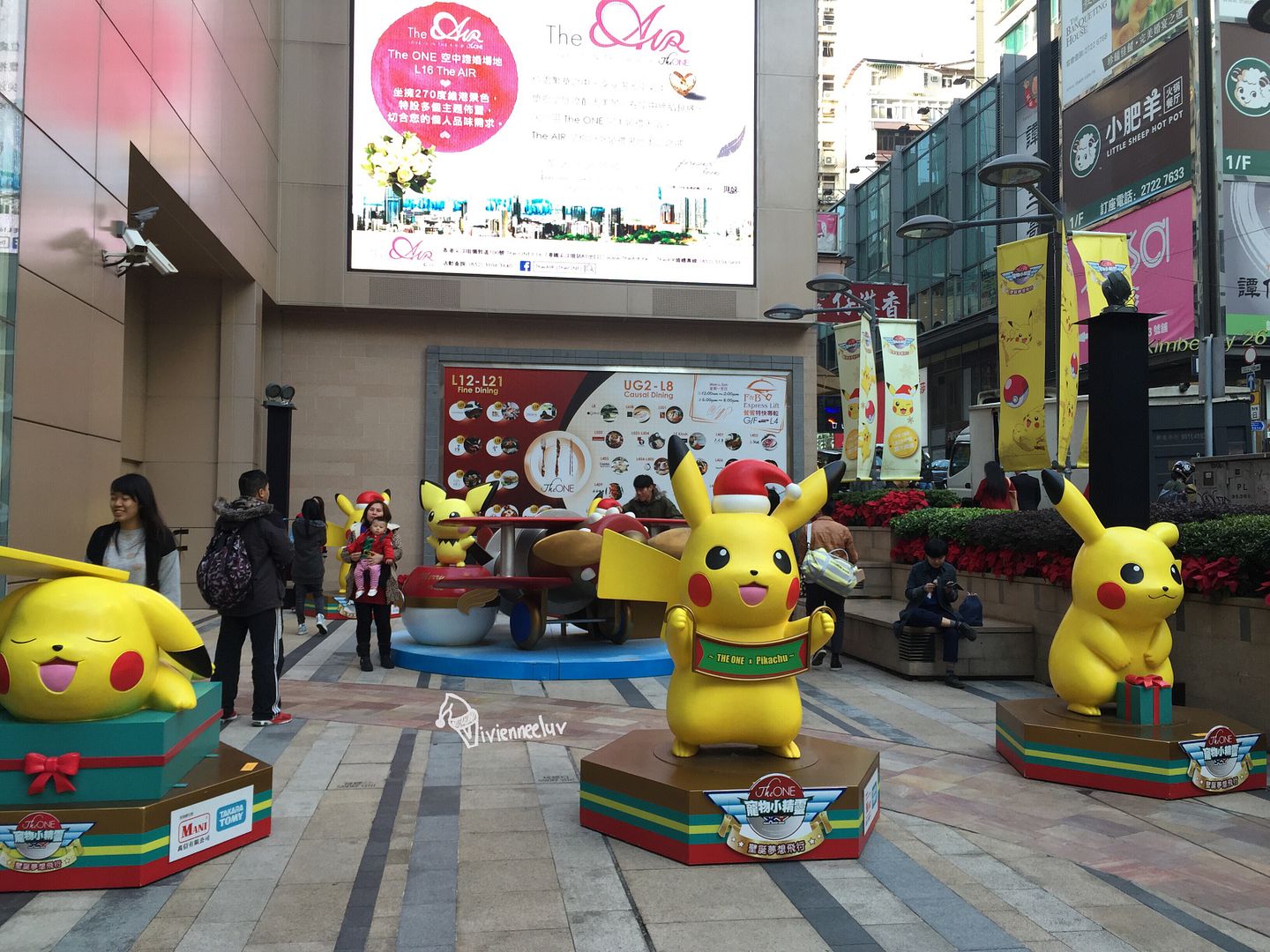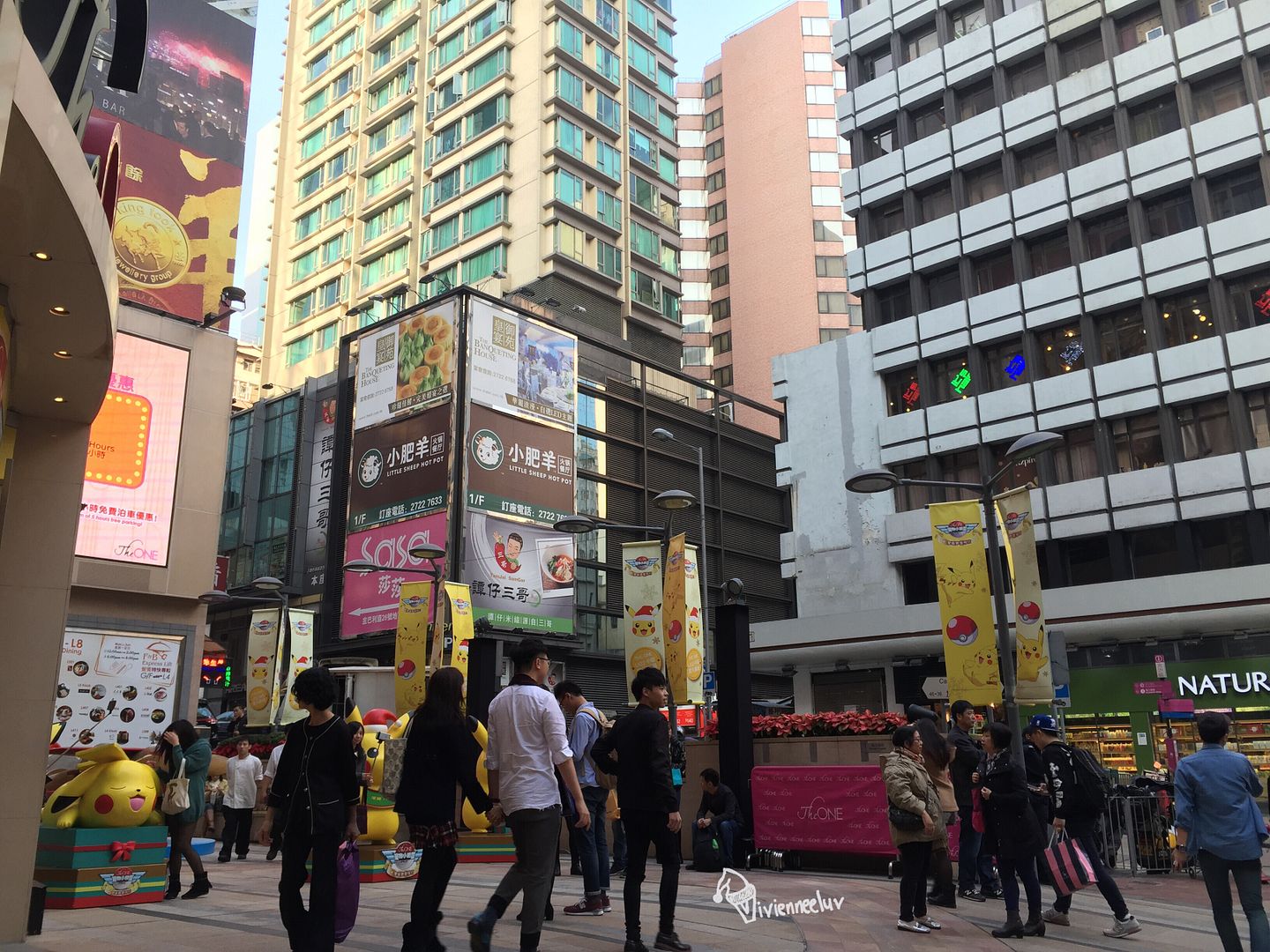 9) MIRA MALL
118 Nathan Road, Tsim Sha Tsui
4.24pm: Its like our La Senza but quality of bra is lousier so I didn't get any bras here.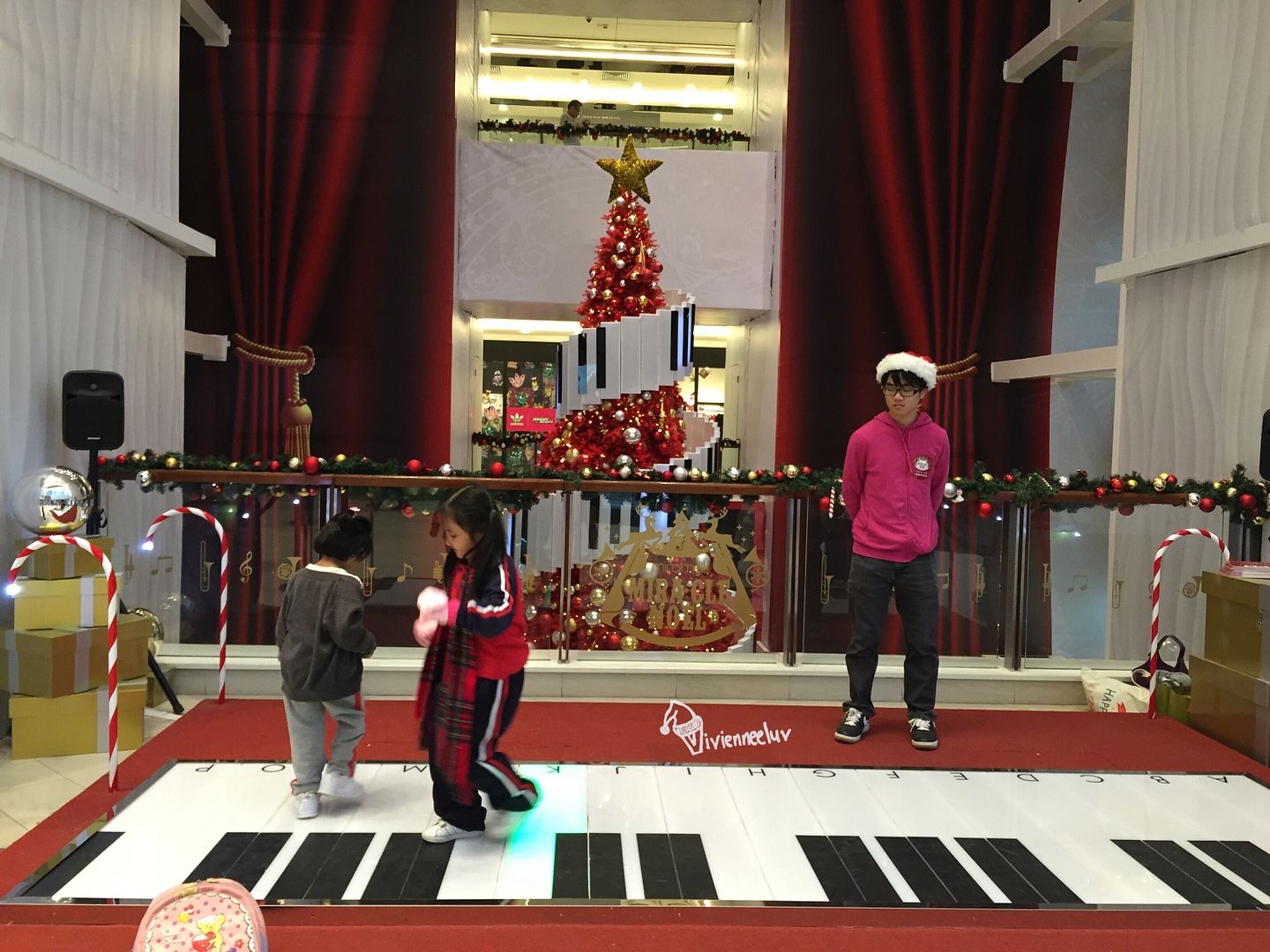 5.14pm: Giant Piano for kids to play music on.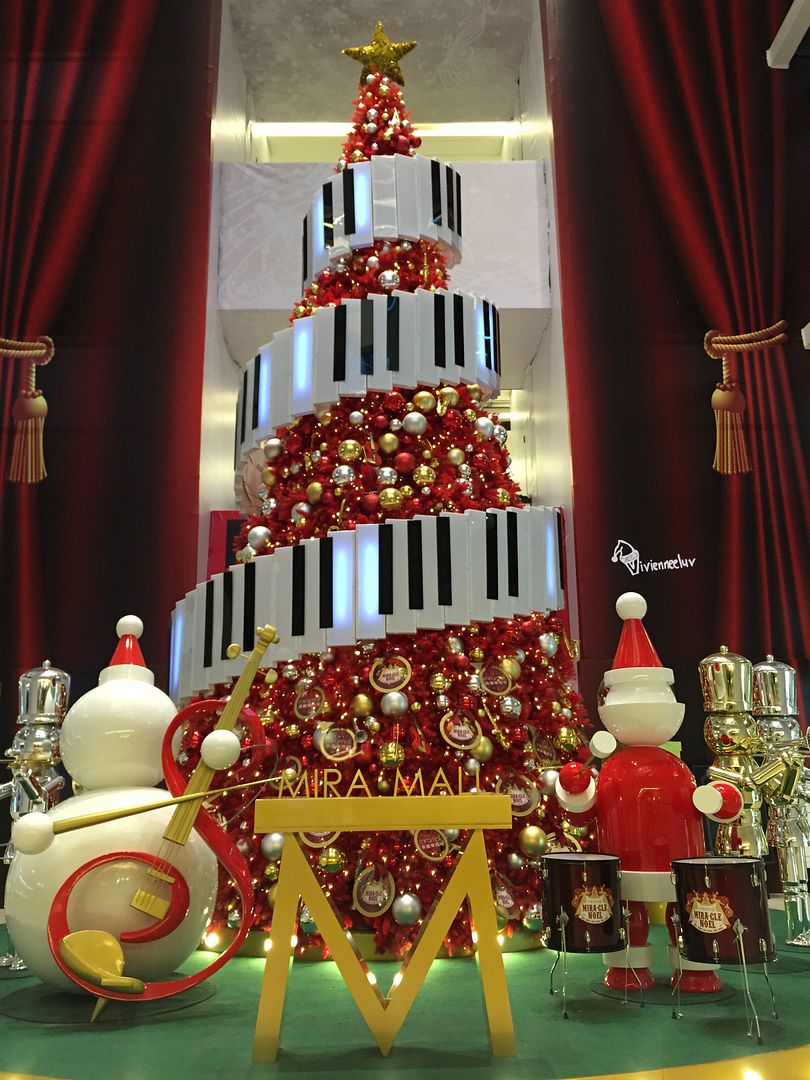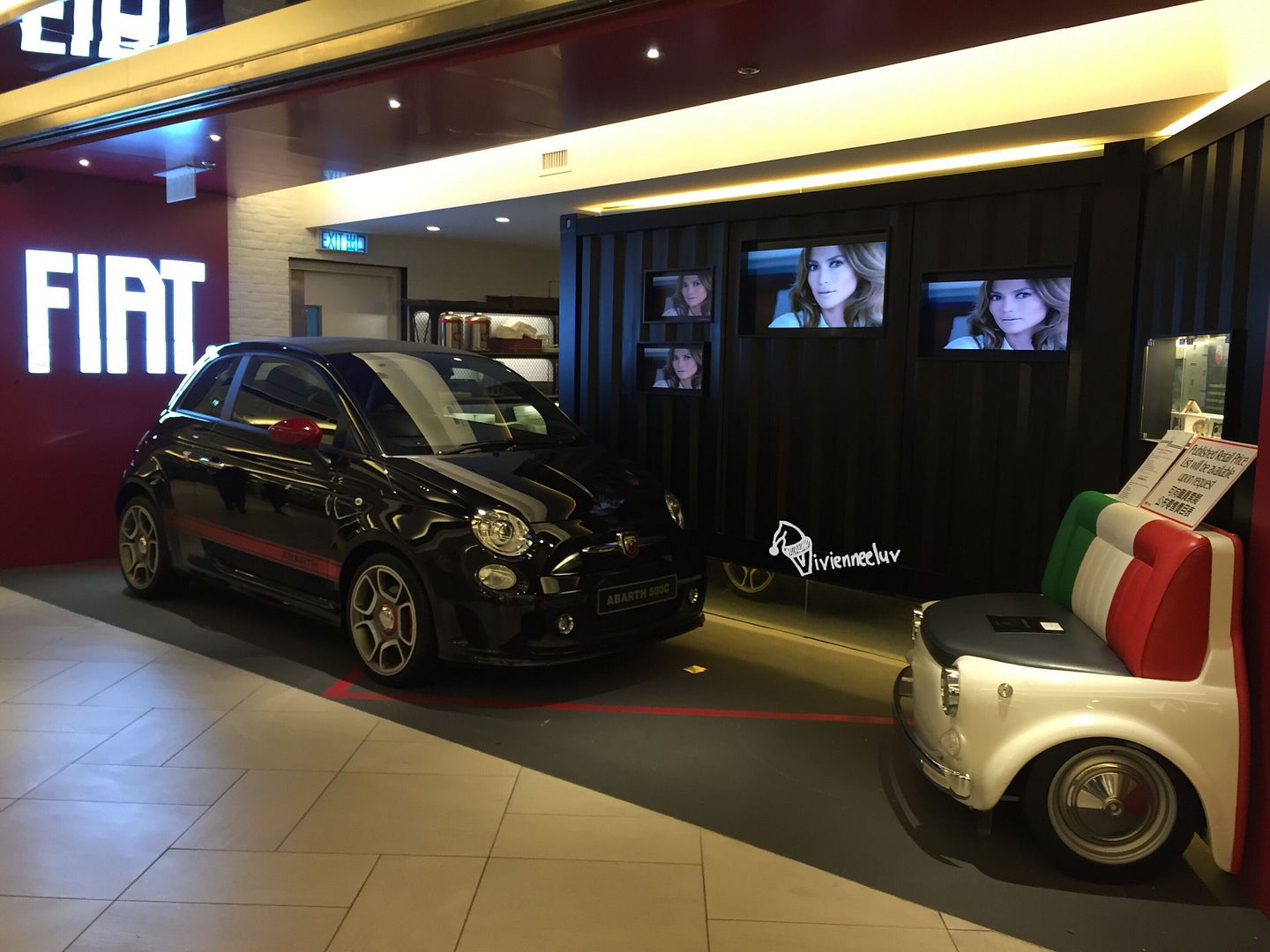 Fiat Cafe in the mall!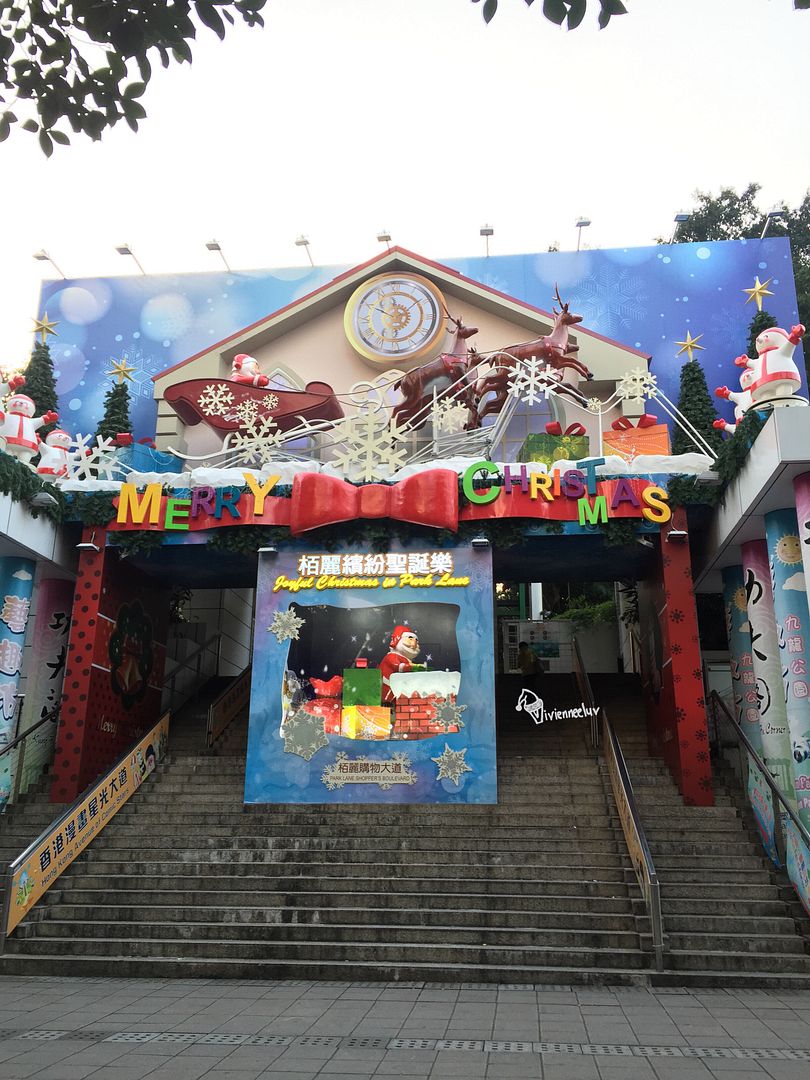 Avenue of Comic Stars
Back to the hotel for a while to change into my boots as it gets colder at night. So glad that there are may eateries downstairs along the street of our hotel.
10) CHEE KEI
37 Lock Road, Tsim Sha Tsui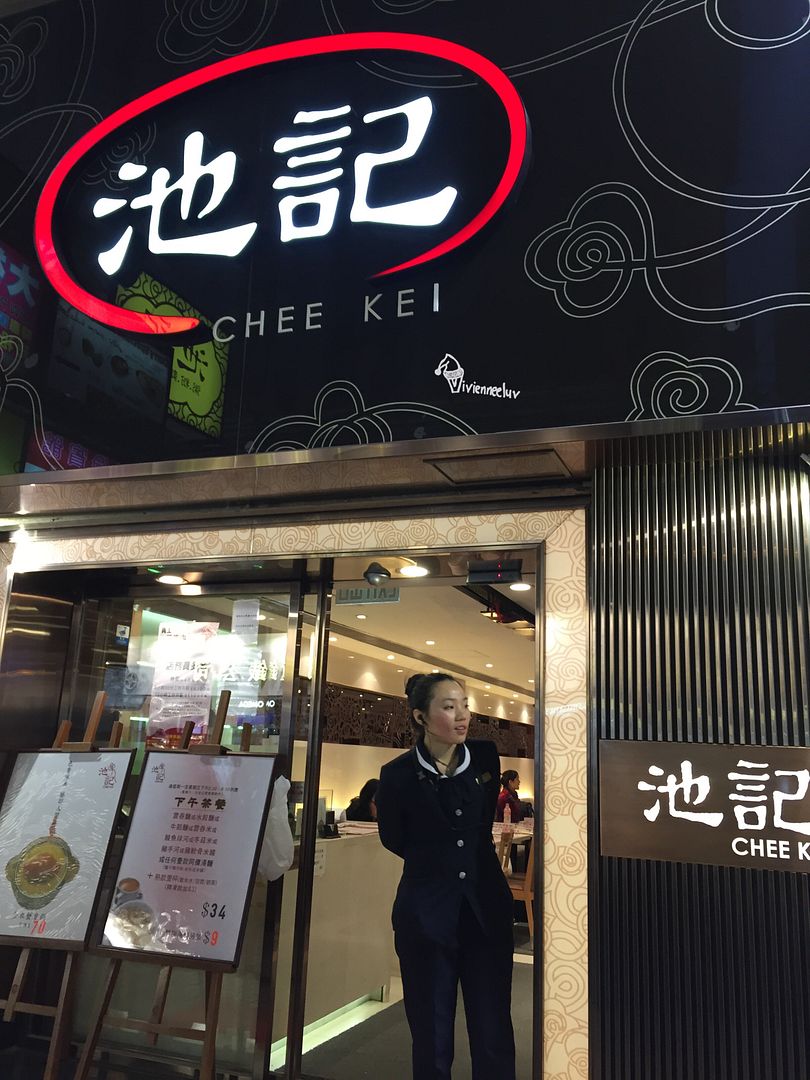 5.58pm: We figured that we should eat something after changing into boots. HAHAH AGAIN.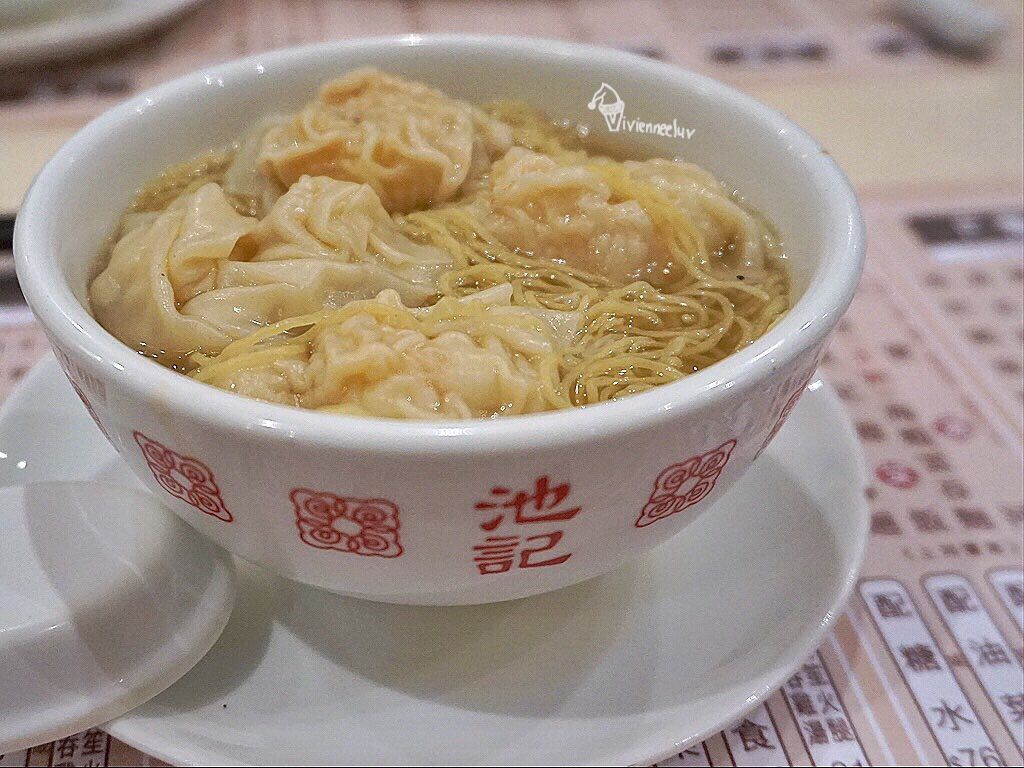 WANTON NOODLES HKD35 ↝ S$6
Noodles here are of course better than what we have in Singapore but the noodles taste of more ''kee'' taste than Mak's but it is still good! K says the wanton here are better than Mak's!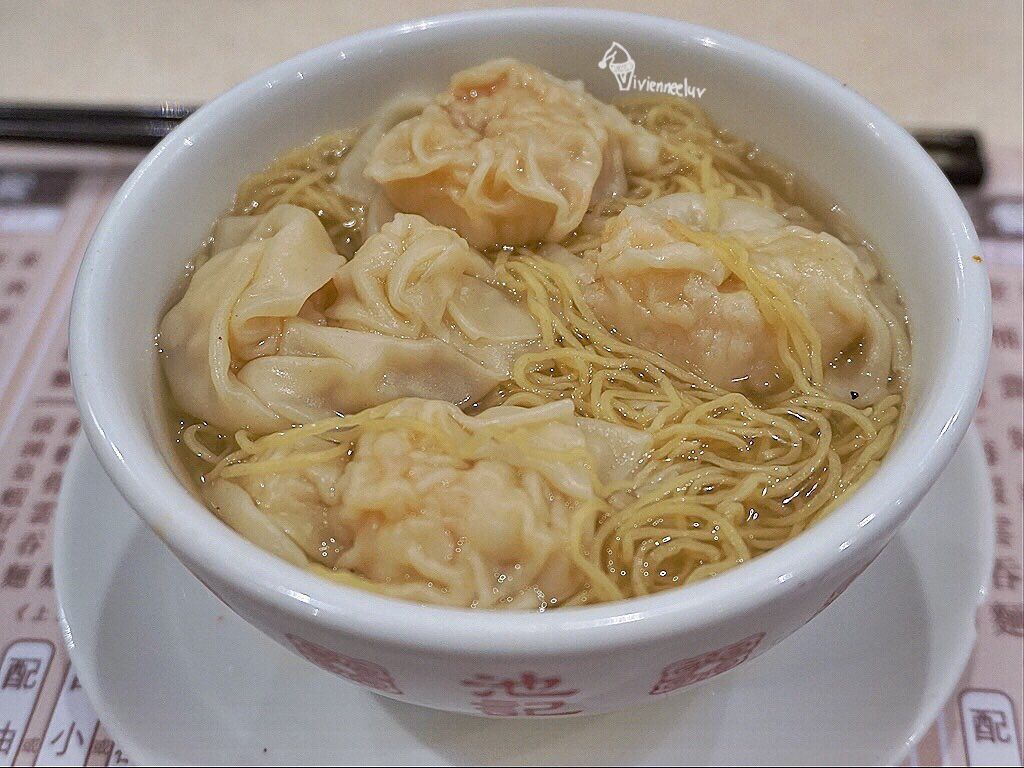 WANTON NOODLES DRY HKD45 ↝ S$7.75
11) I SQUARE
63 Nathan Road, Tsim Sha Tsui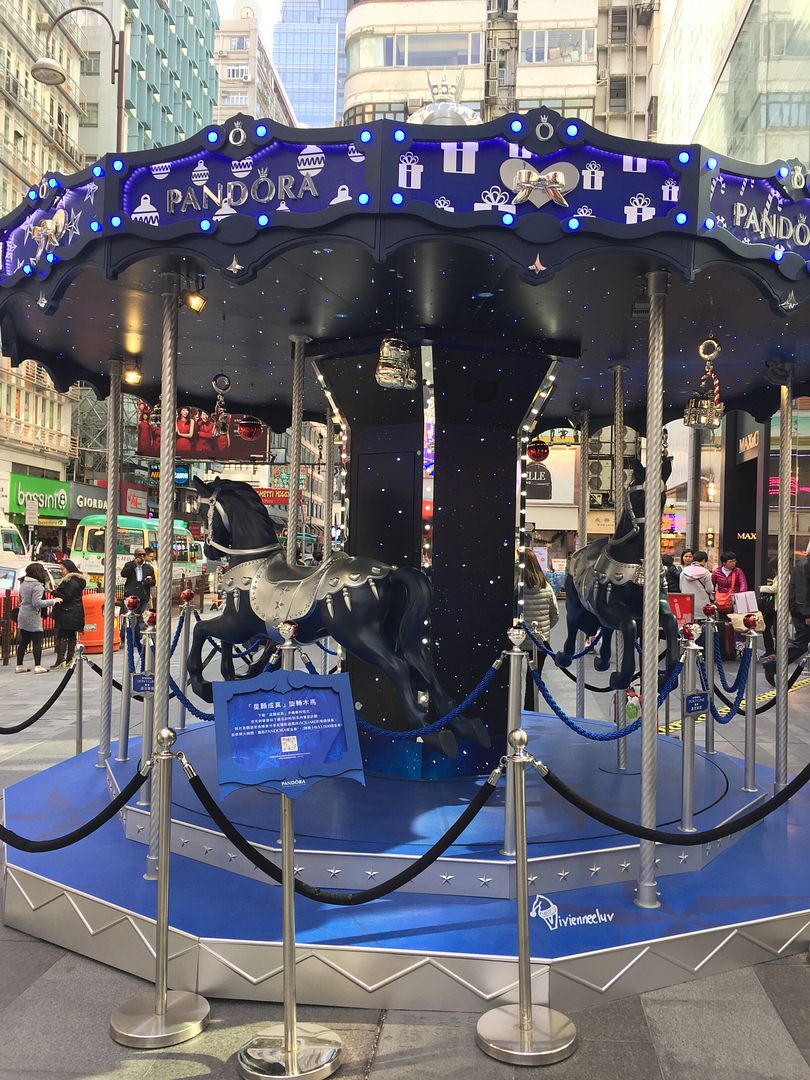 1.26pm.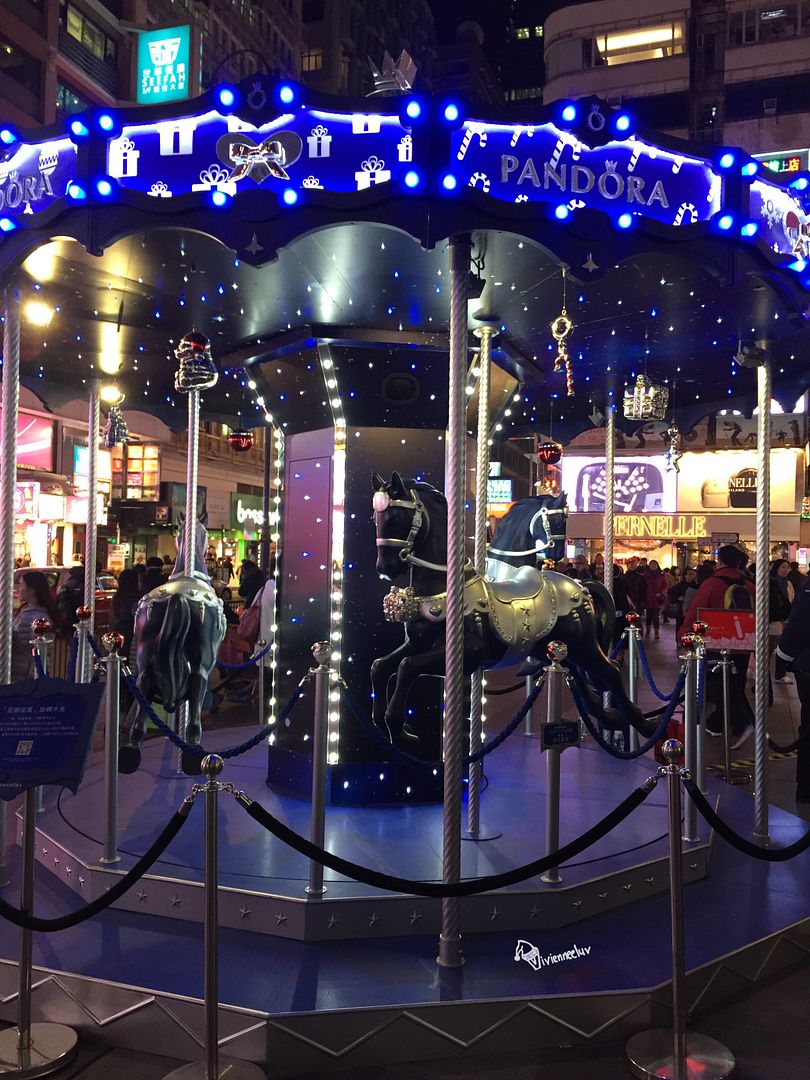 6.30pm: Longer nights during winter.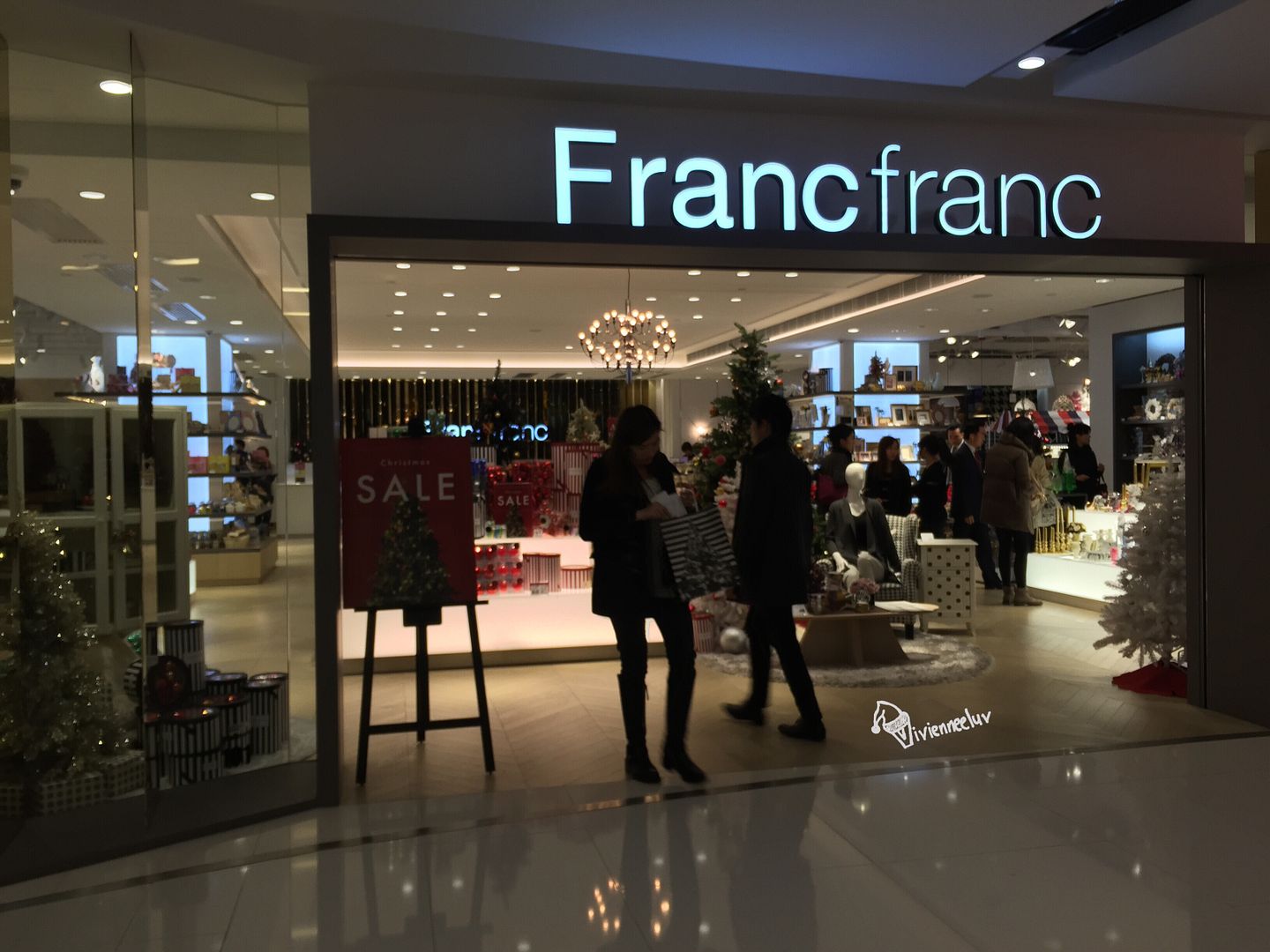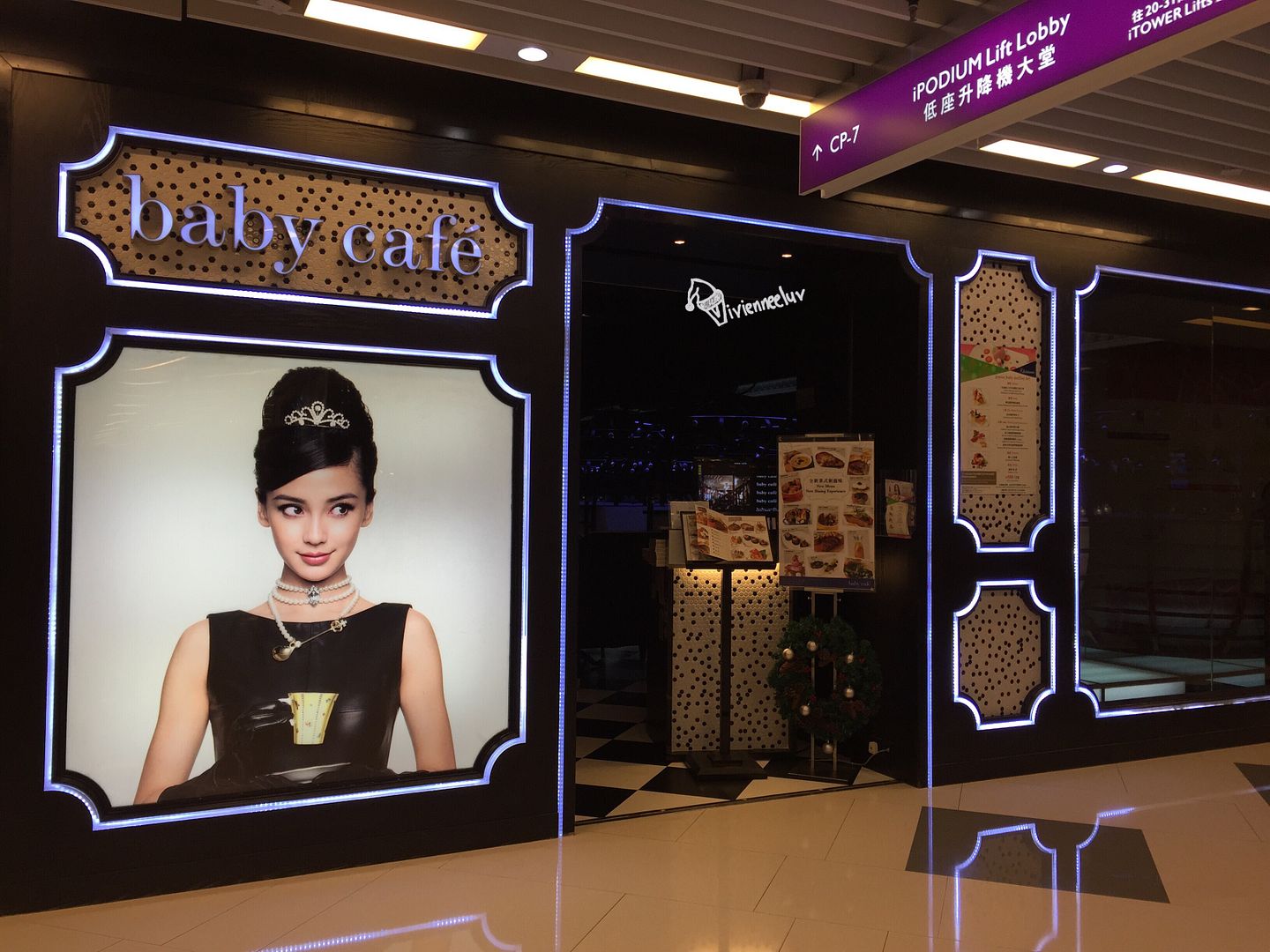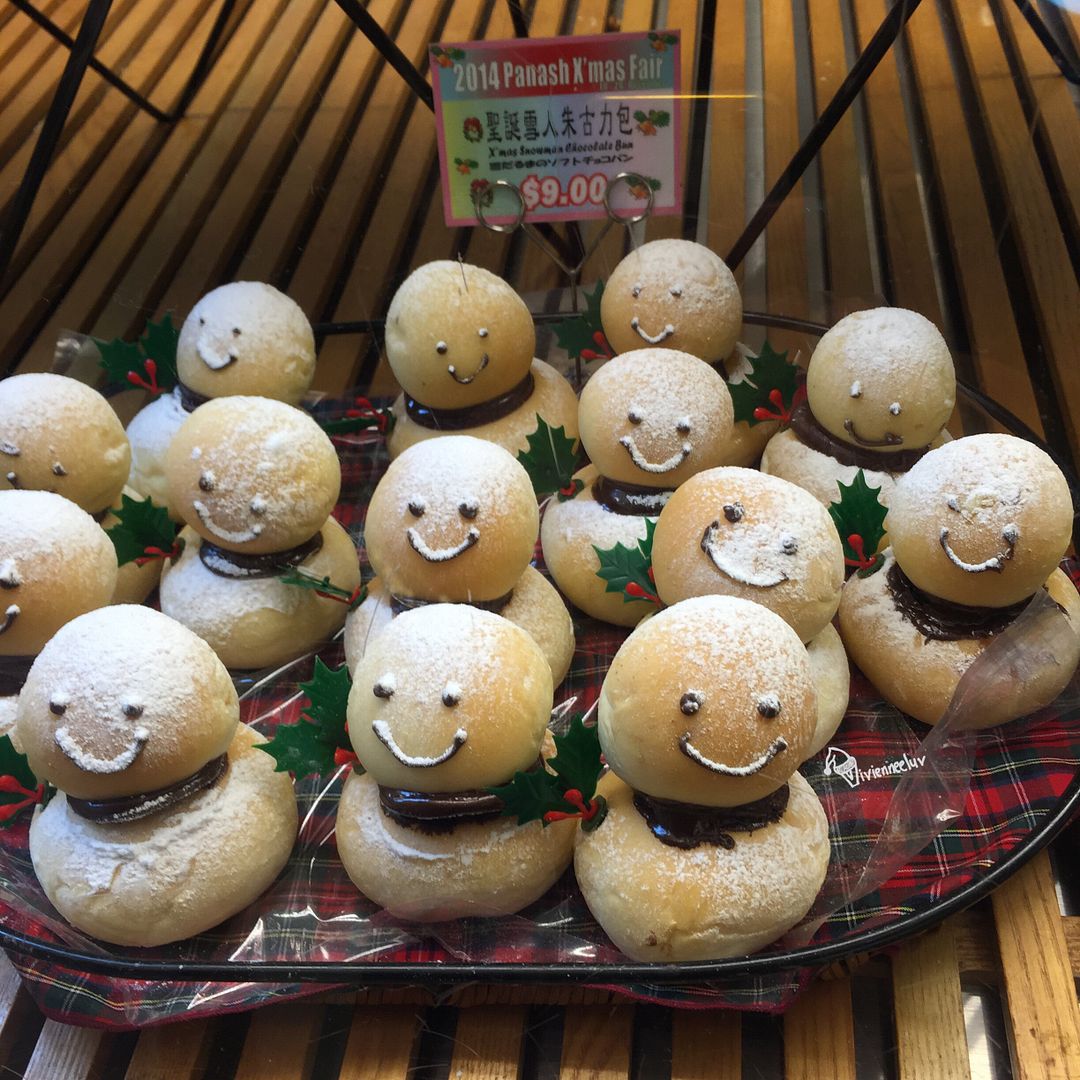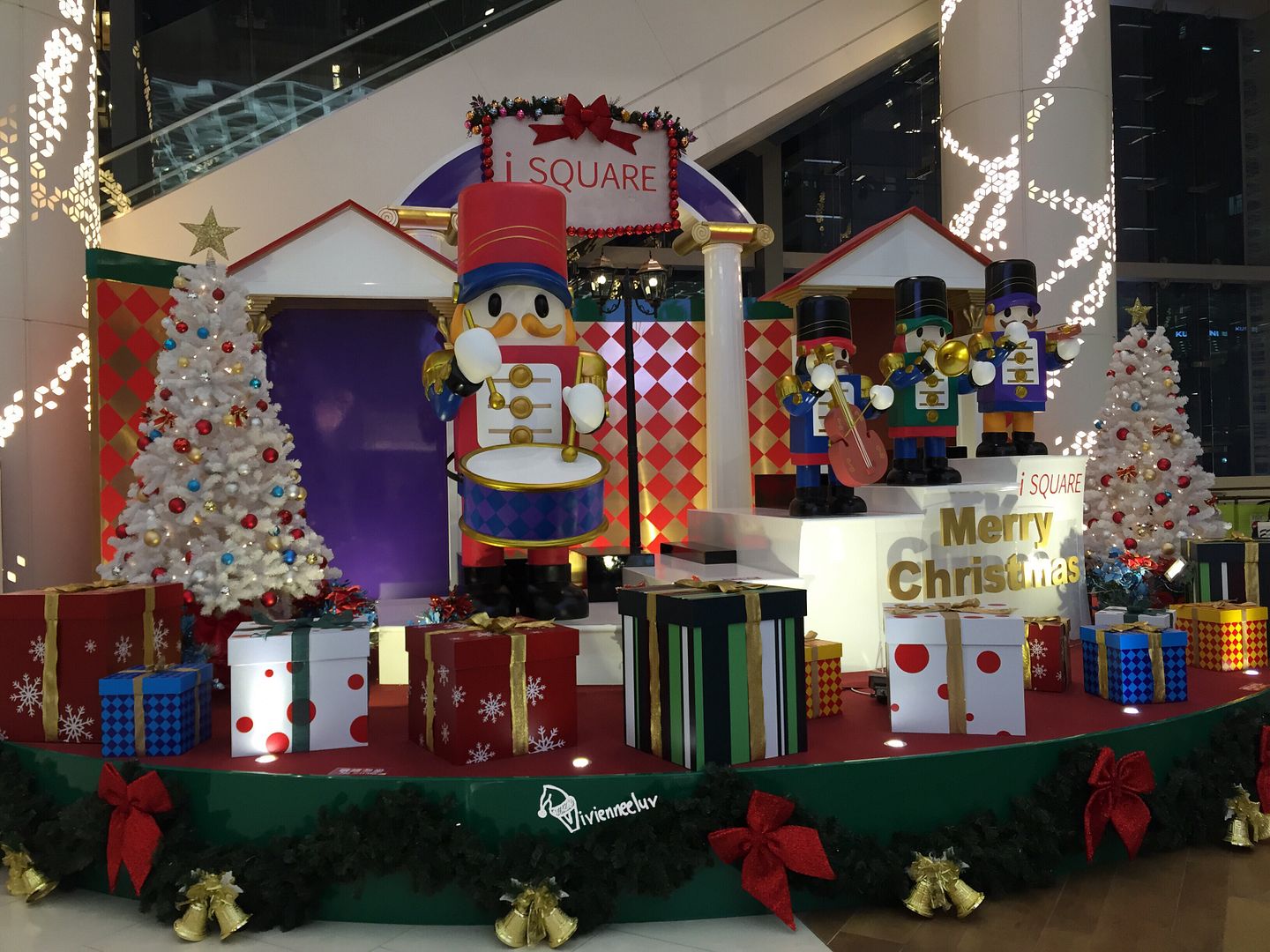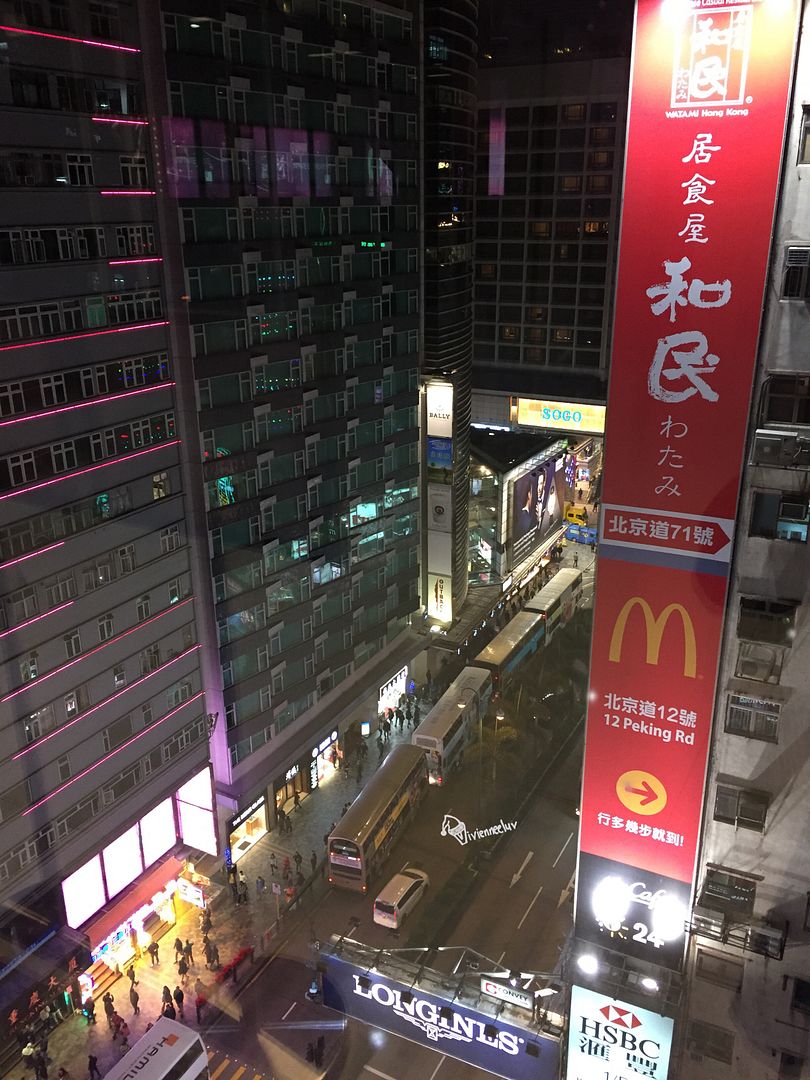 This was taken on the 6th or 7th storey of I Square but looks taller than that.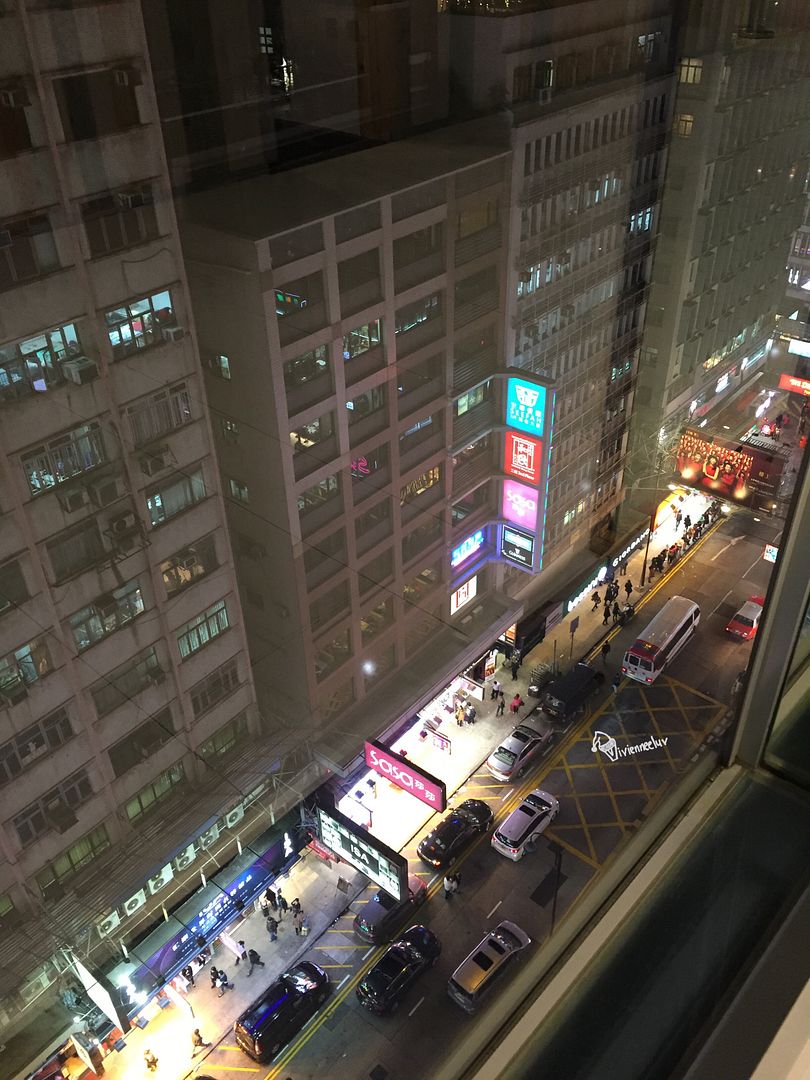 12) 1881 HERITAGE
2A Canton Road, Tsim Sha Tsui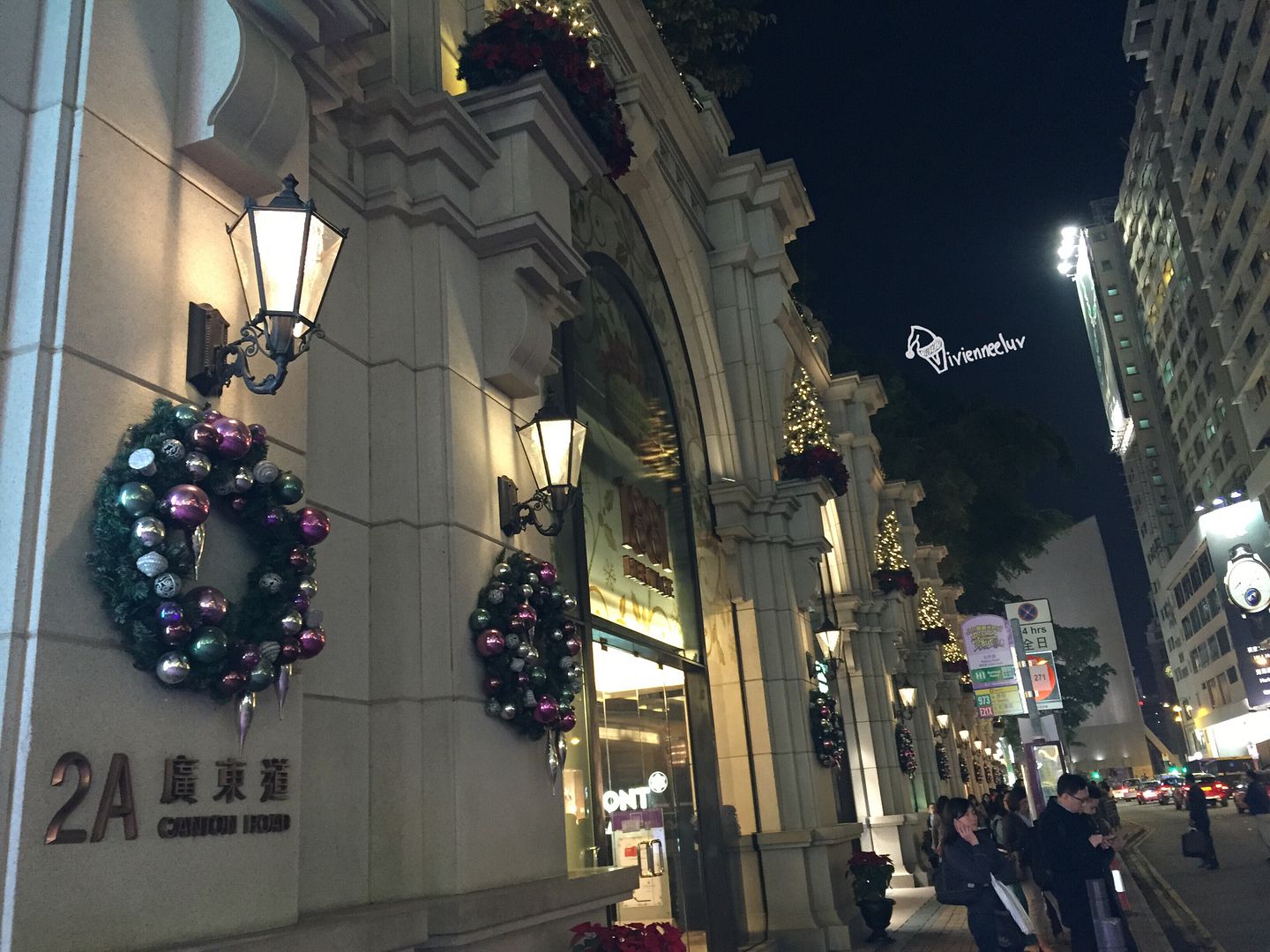 7.03pm: This is a beautiful place I swear but I just couldn't get nice pictures here. You have to visit this place for photo taking when you are in Tsim Sha Tsui!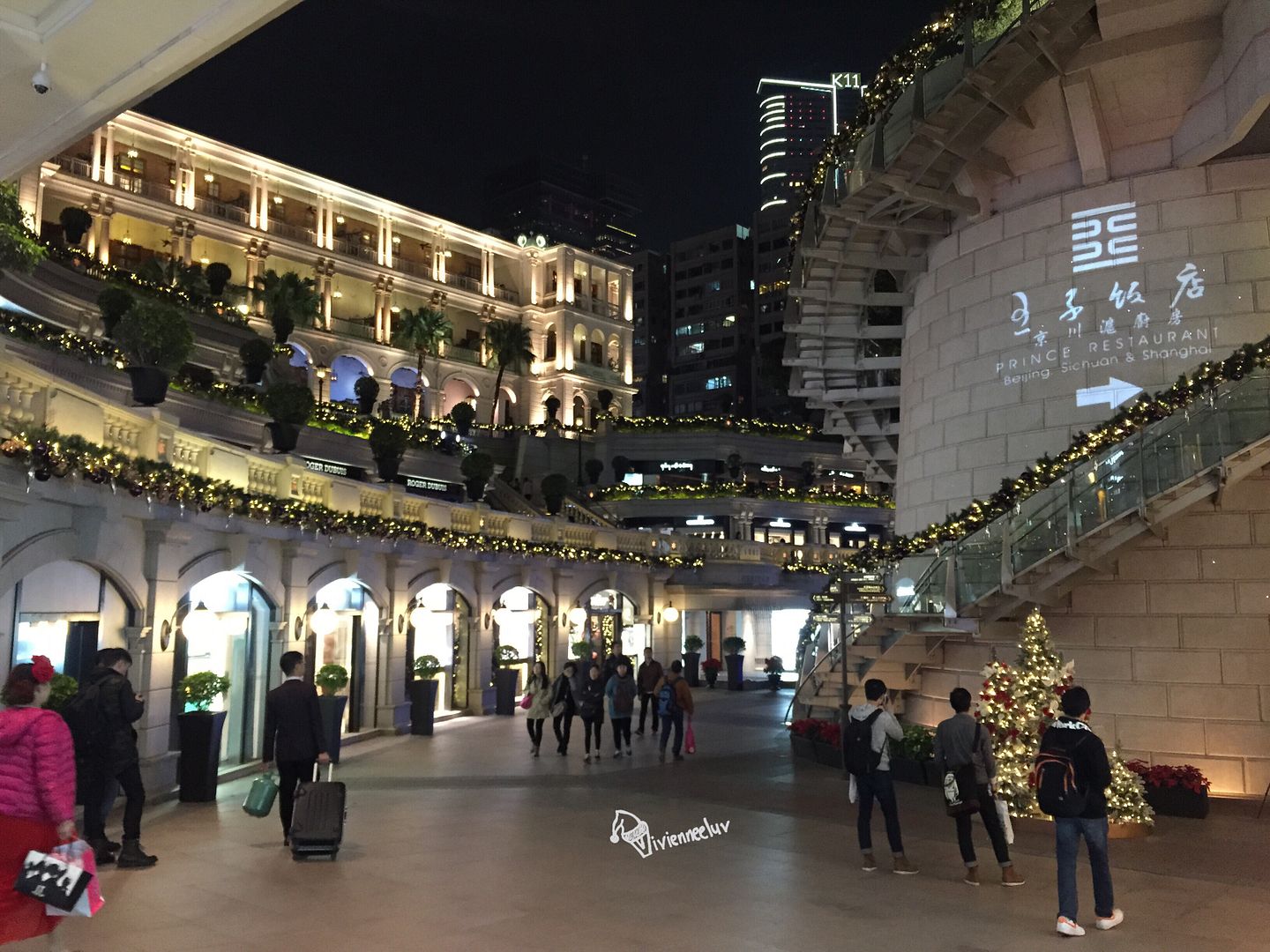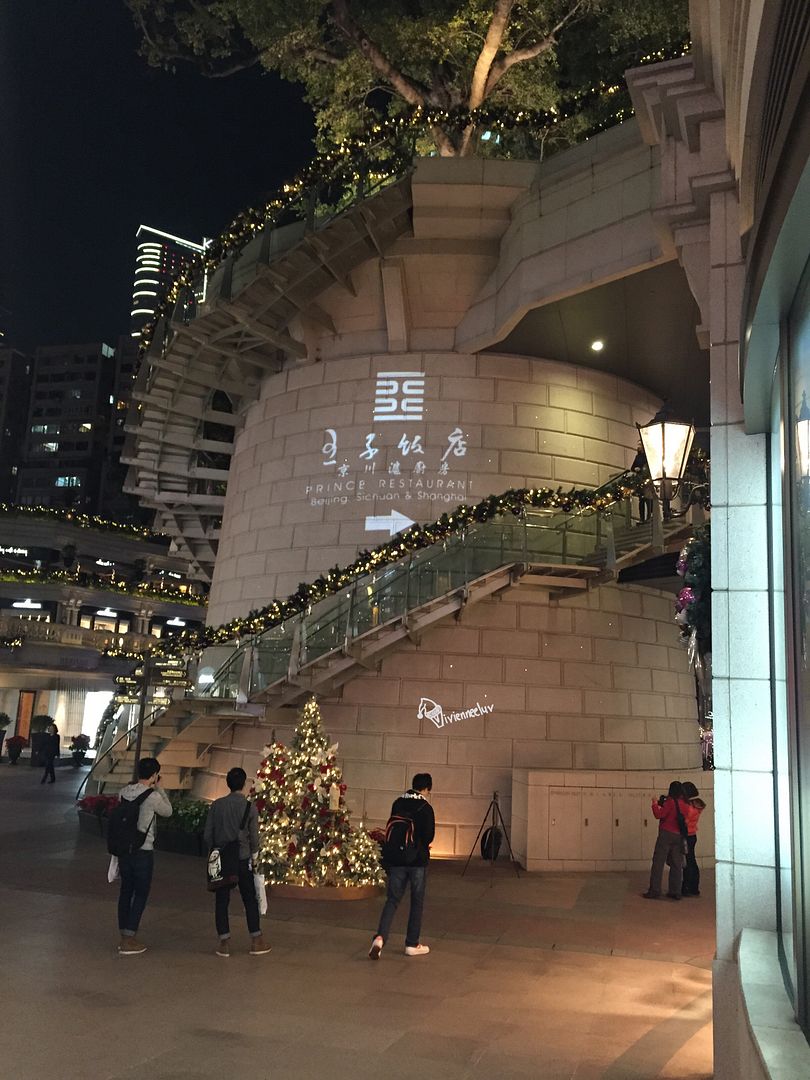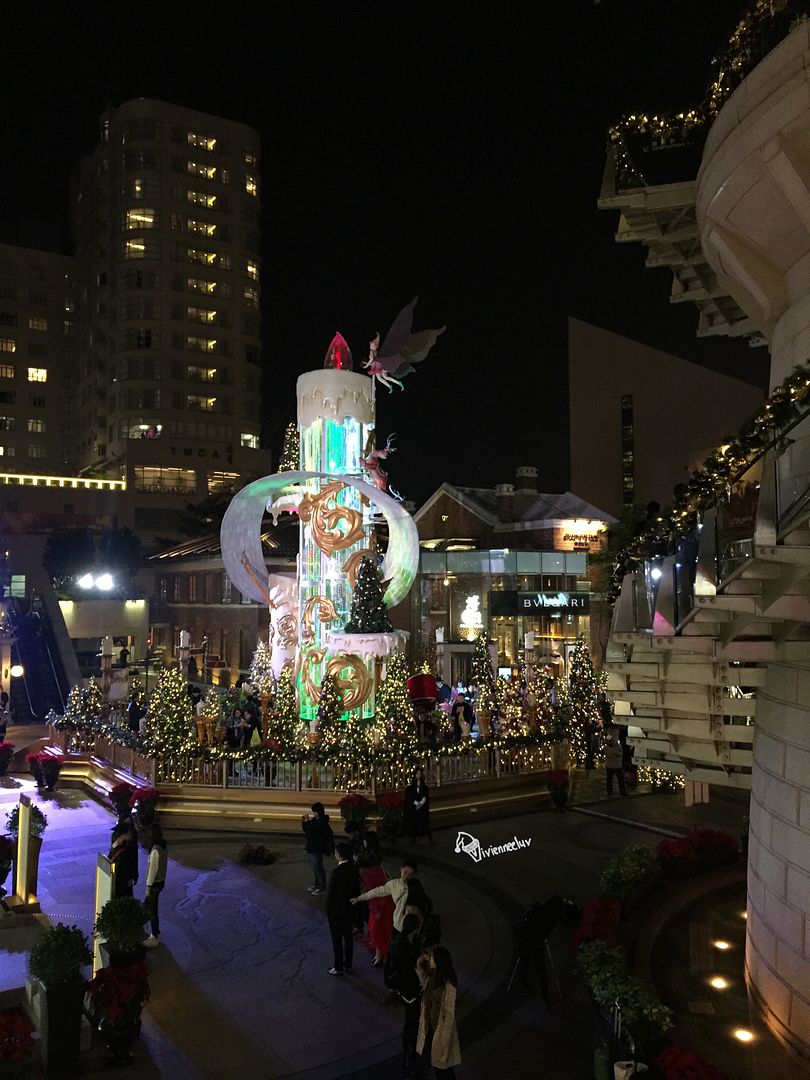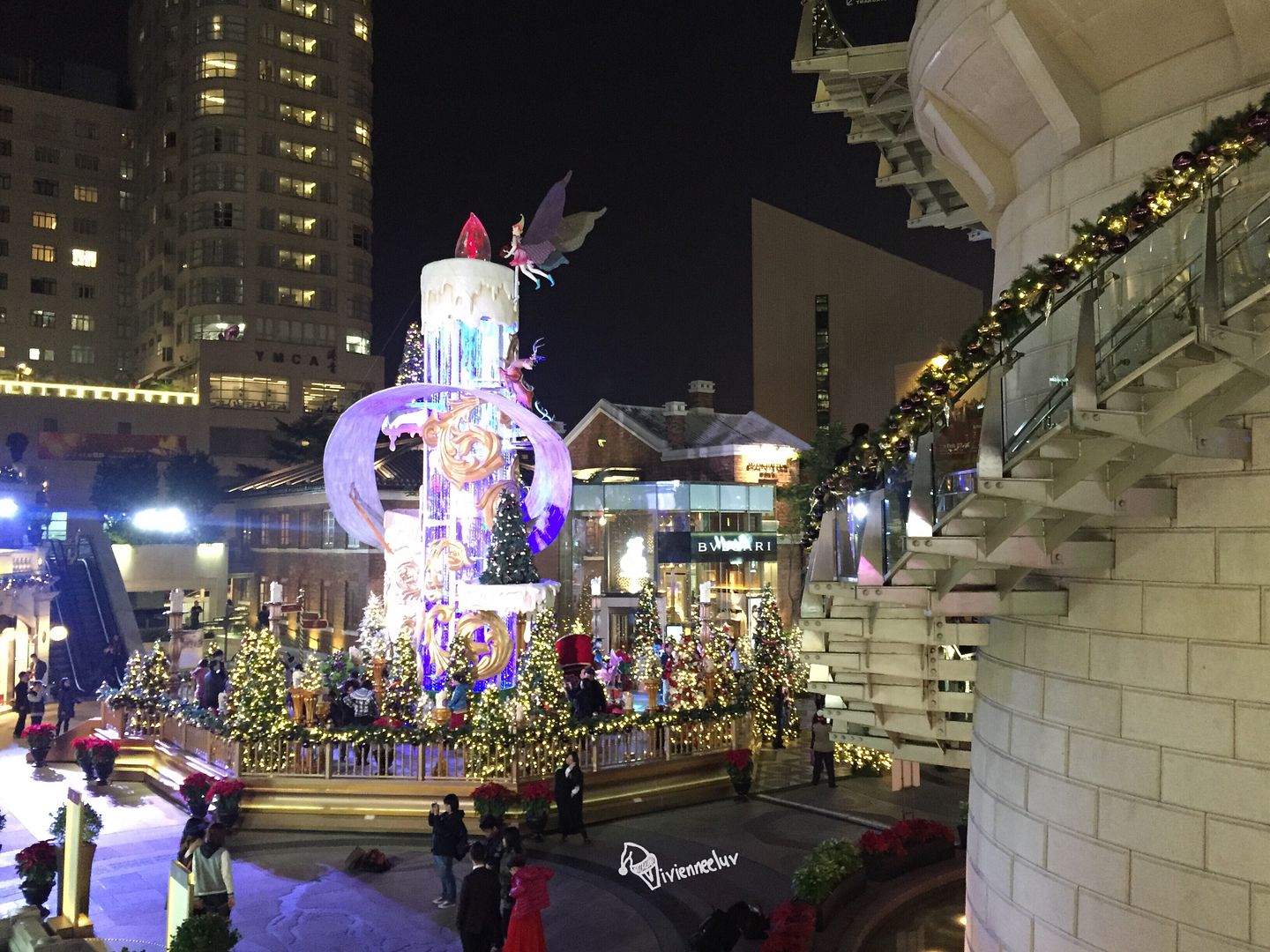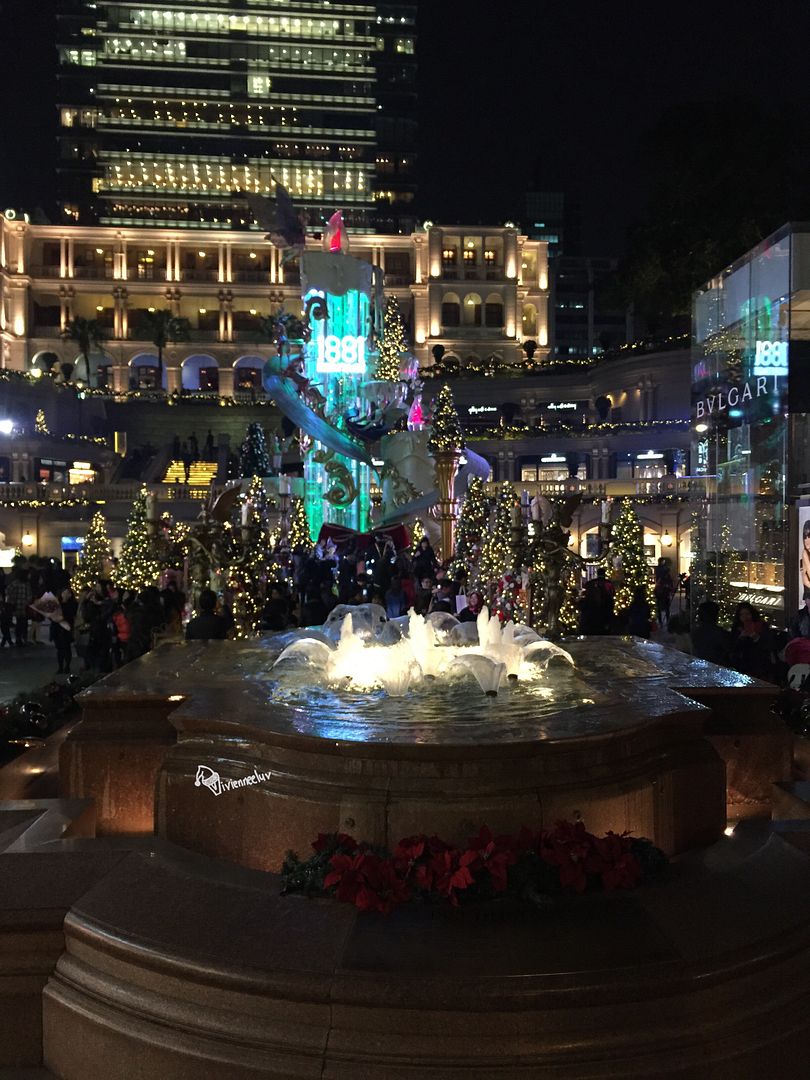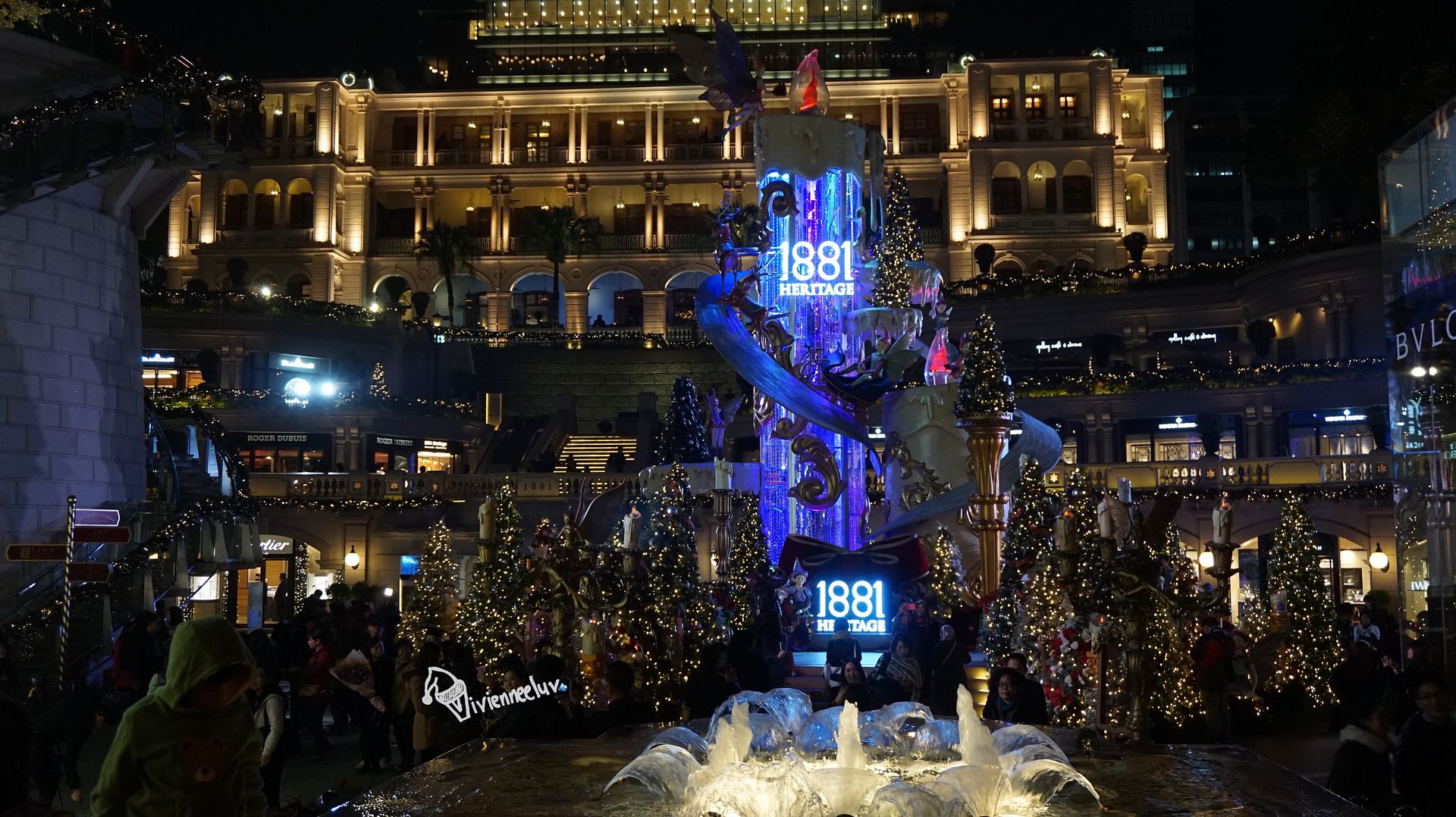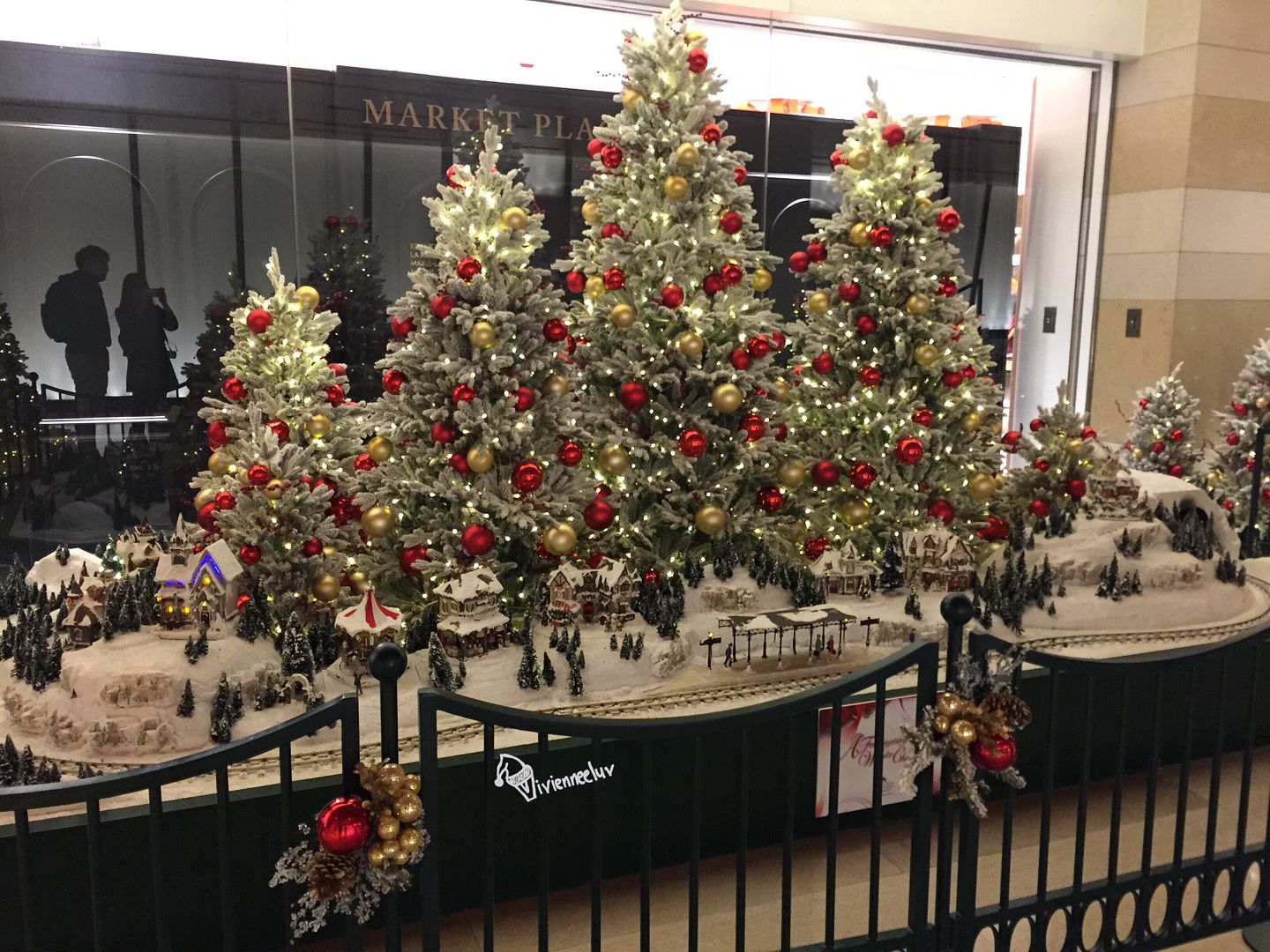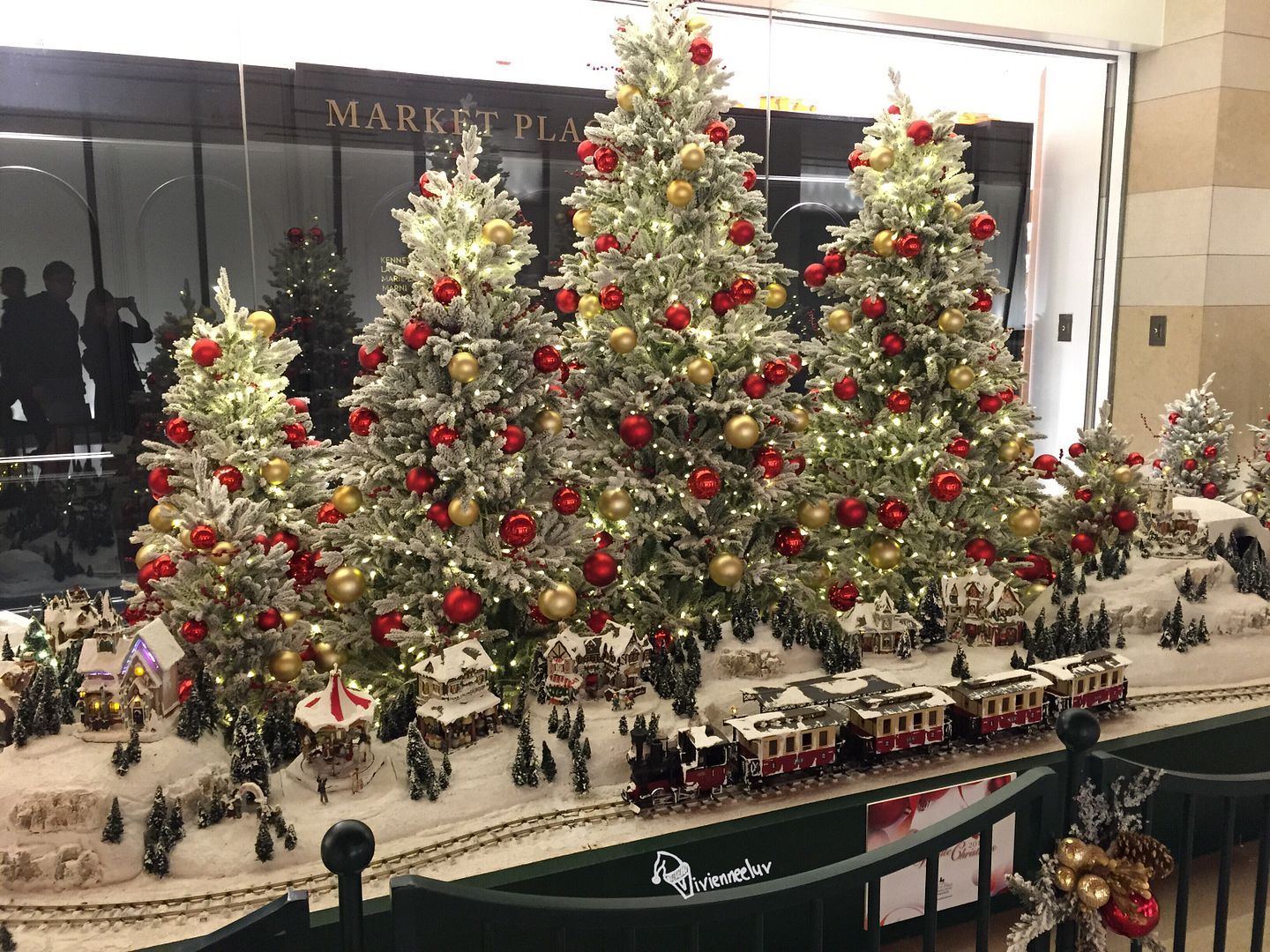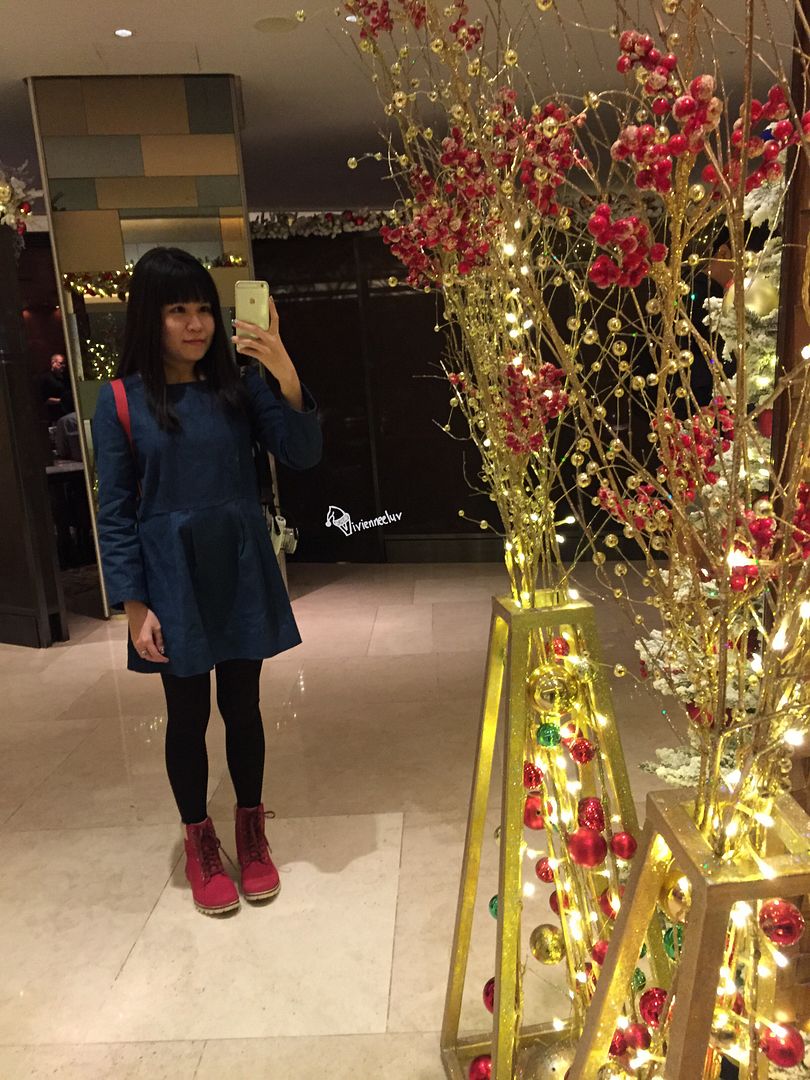 13) HARBOUR CITY
7-27 Canton Road, Tsim Sha Tsui
7.19pm: The address is to warn you. 7 to 27 Canton Road is REALLY HUGEEEEEEE.
Ok so we went to take a walk outside Harbour City, its so beautiful but very crowded too.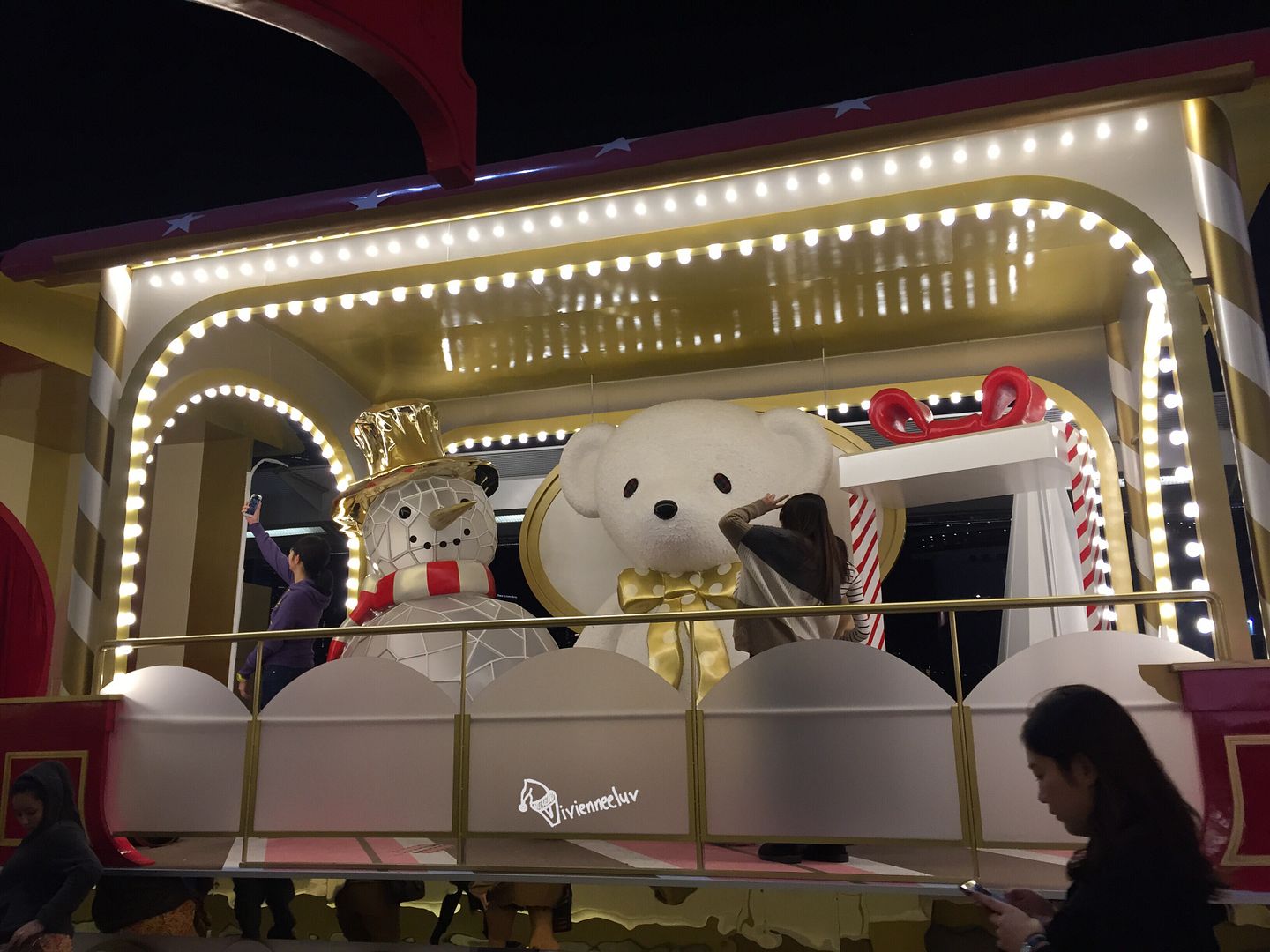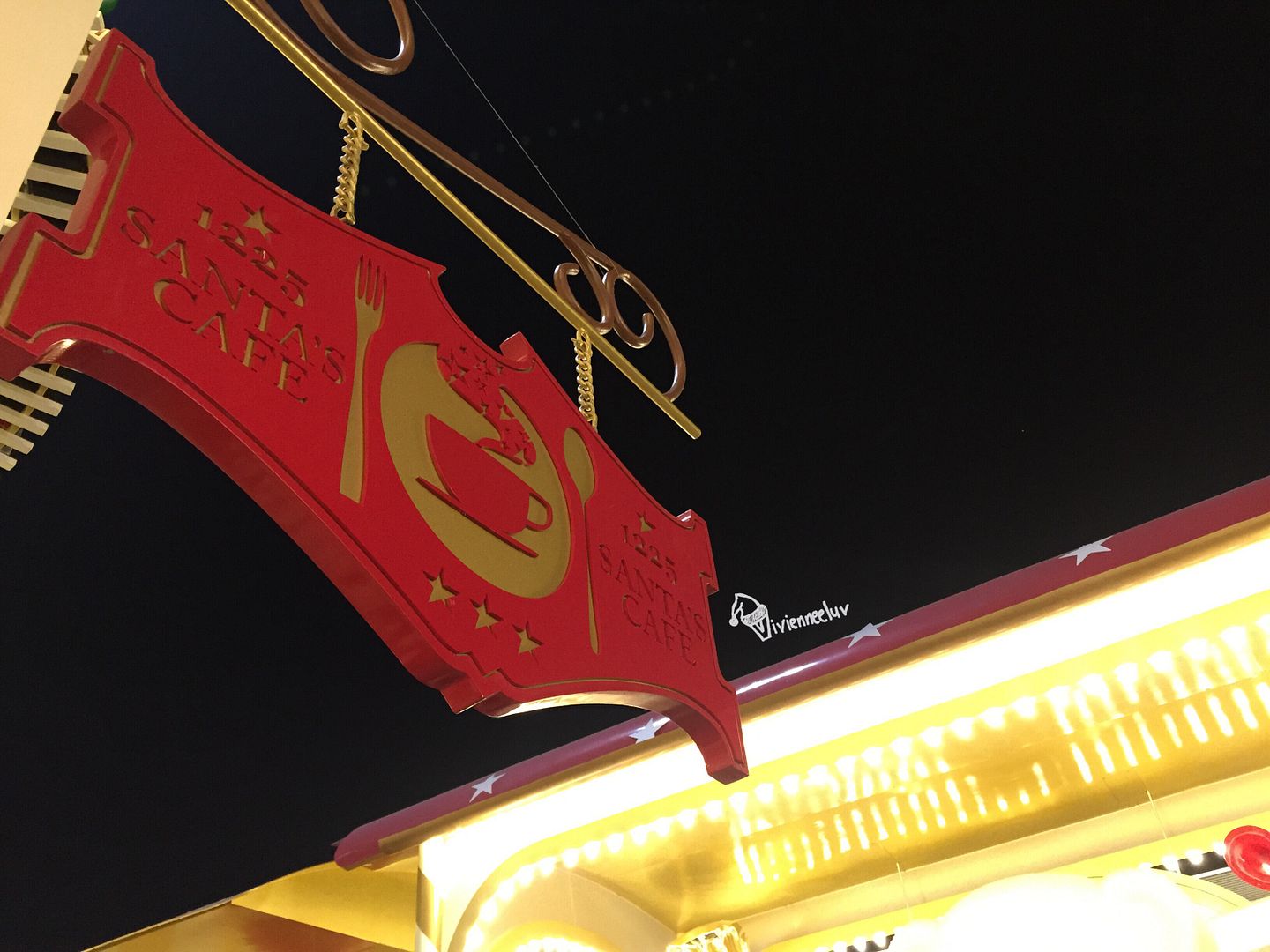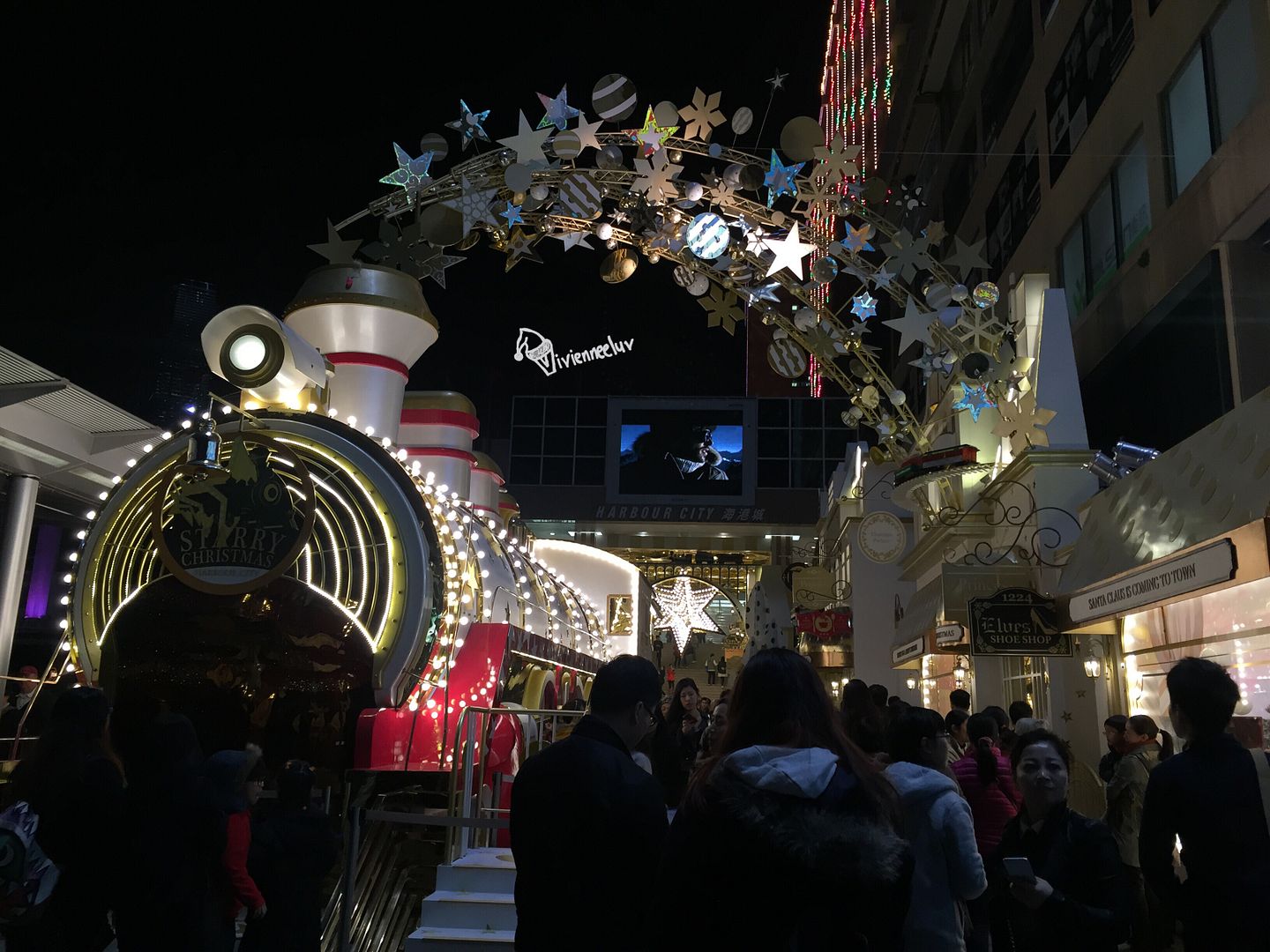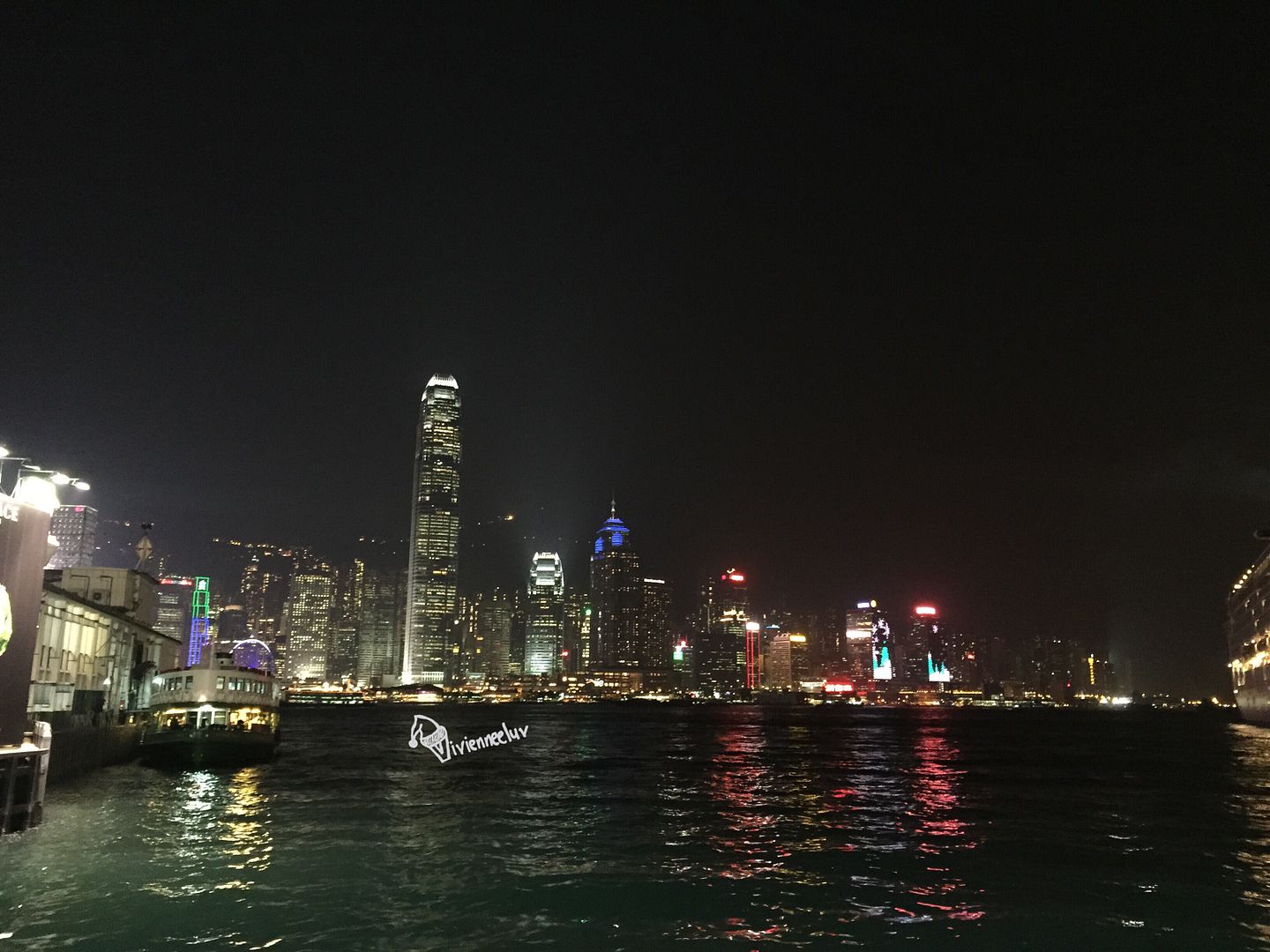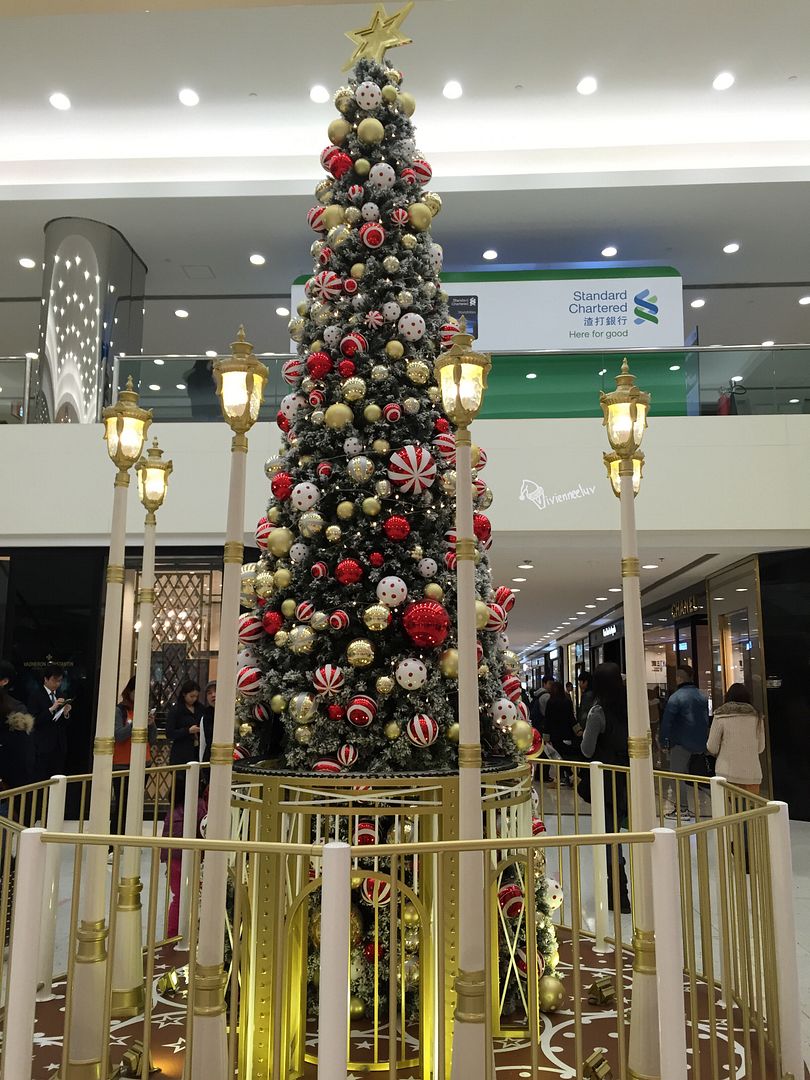 Then we shopped inside Harbour City and it almost killed us on our first day here. The place is so freaking huge like 5 times of Vivocity or more actually. Its is rectangular and long, so when you get to the furthest point, walking back to point 1 really wants to make you kill yourself. And best of all, the unit numbers are all messed up.
14) agnès b. CAFÉ L.P.G.
Harbour City, Gateway Arcade Zone, Level 2F/2402K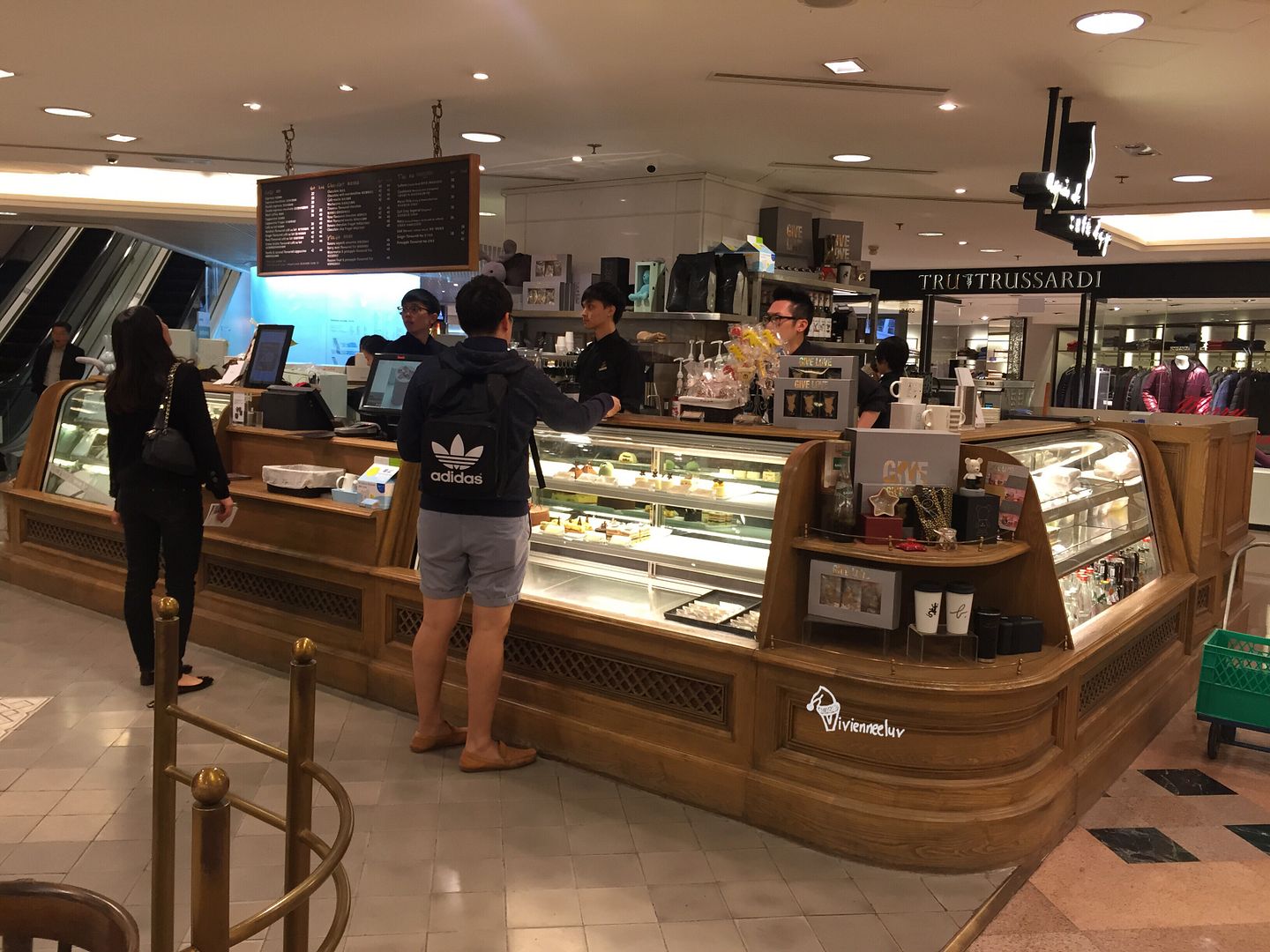 8.09pm: We surrendered and K brought me to Agnes B and rest! YAYYYY! Brave boy wore berms and only brought berms! After our rest at Agnes B, we decided to head to H&M and Uniqlo to buy winter clothings. HAHHA!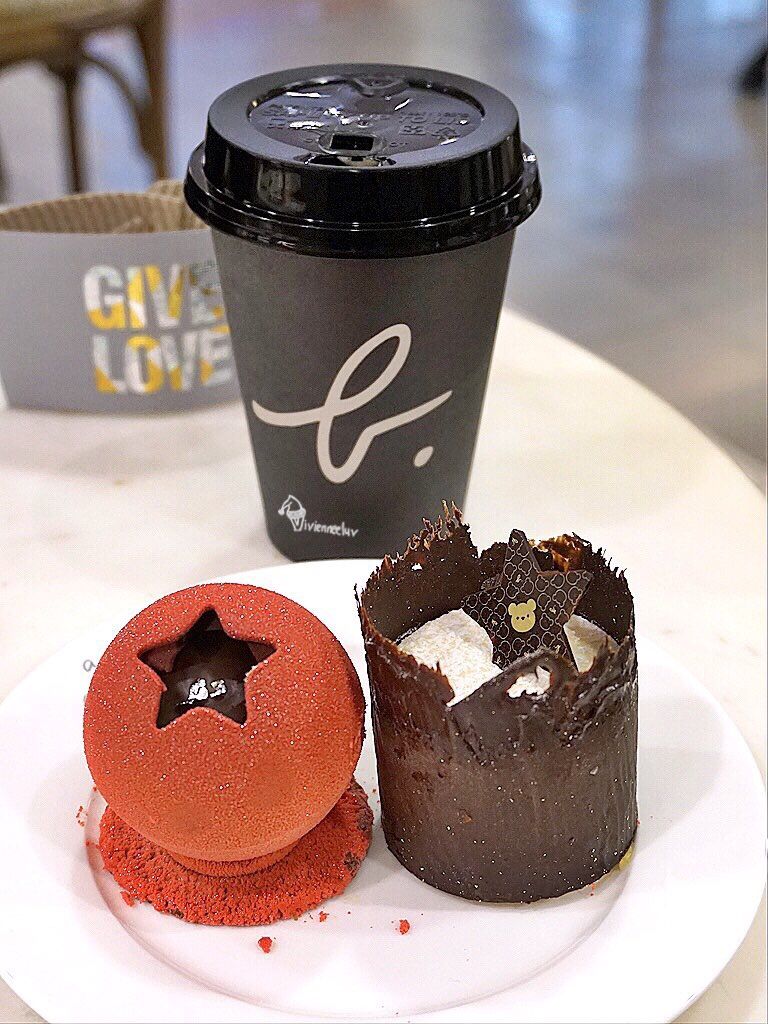 ROSE LAIT HKD42

↝

S$7.30




Rose latte taste nicer in Hong Kong. Bias or not?
BOULE DE NOEL HKD50 ↝ S$8.60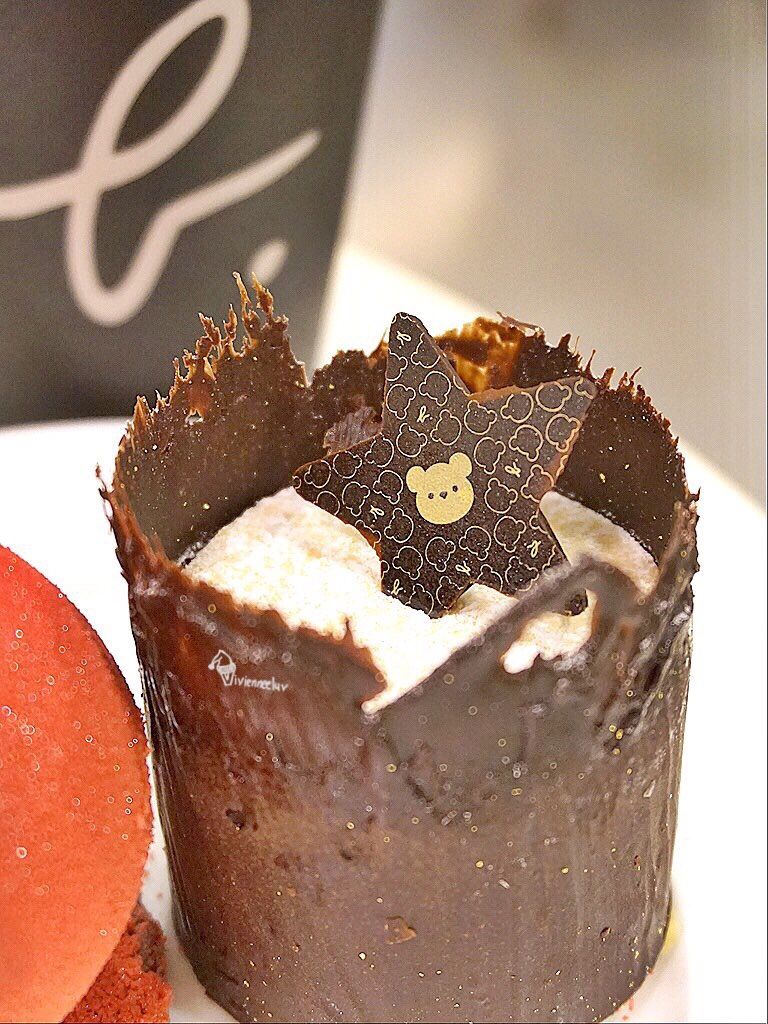 ST NICHOLAS HKD48 ↝ S$8.30
Well, just stick to the coffees.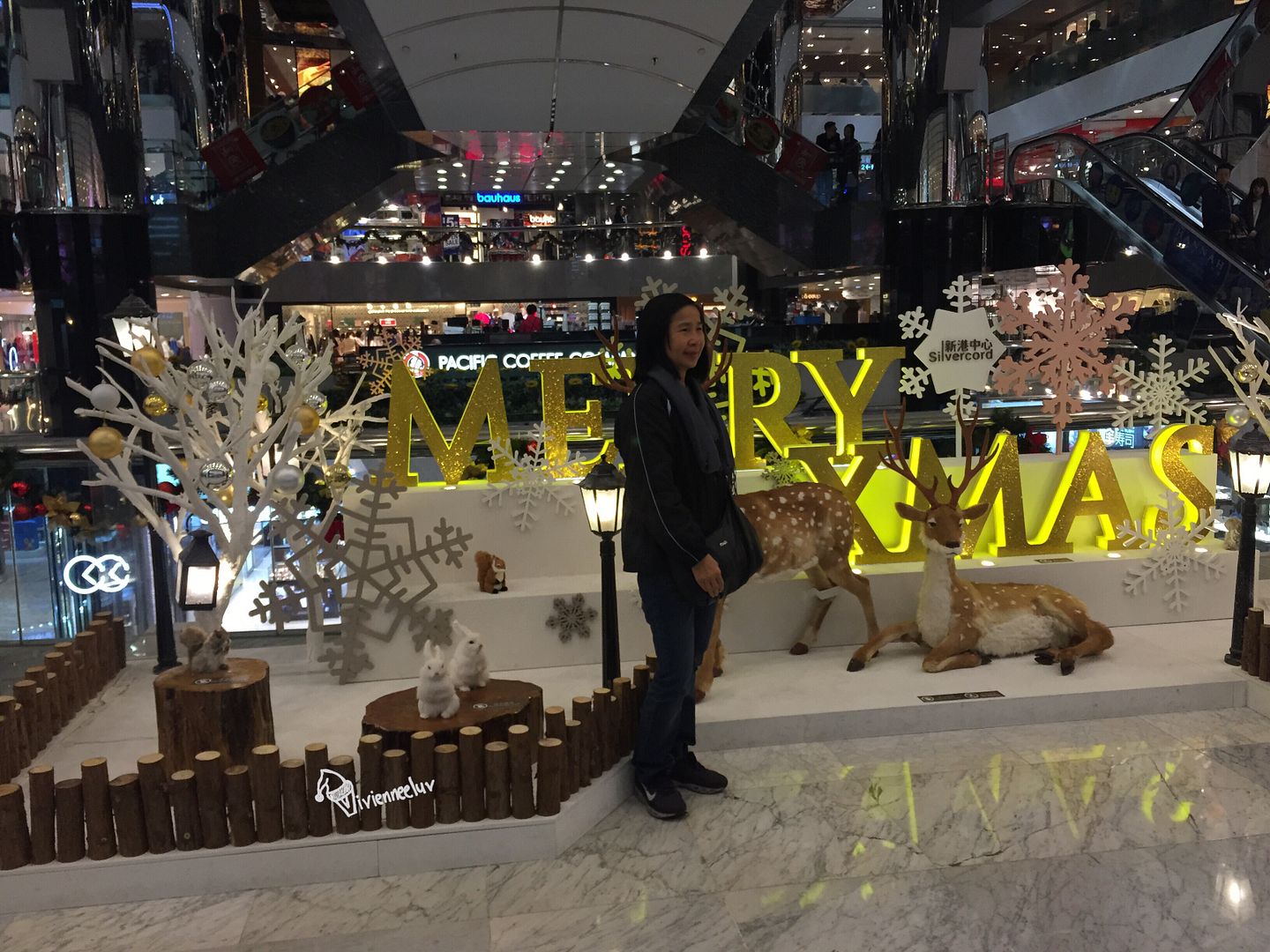 15) MOOMIN CAFE
Shop 32, Level 3, LCX, Ocean Terminal, Tsim Sha Tsui
I am supposed to meet my school mate Ivy (whom I have not met for 18 years) at 9.30pm for Moomin Cafe as it close at 11pm. She didn't get any Hong Kong Sim Card so we said a time & place to meet and she was late, I don't know if I should even wait for her! Why you so stingy. Then she regretted not getting a SIM Card after knowing how cheap it is.
Well, anyway our Moomin Cafe failed because the cafe gave out queue numbers and by 3pm, the queue numbers were all given out. :(
By the way Moomin cafe opened on 5th December 2014, that explains the hype and long queue for now.
10.09pm: So she is half an hour late, thank god I waited for her as she will be flying back to Vancouver the next day, I don't know when will be the next time I will be seeing her again.
Cannot get to eat, but we have to take some pictures!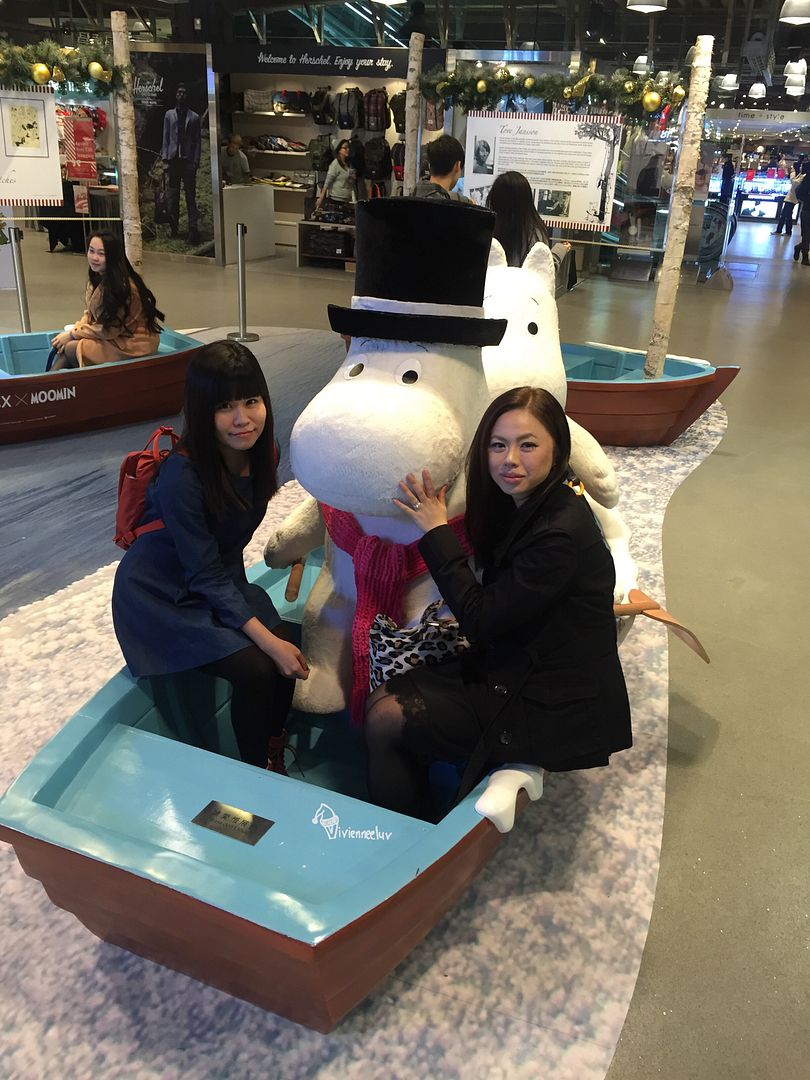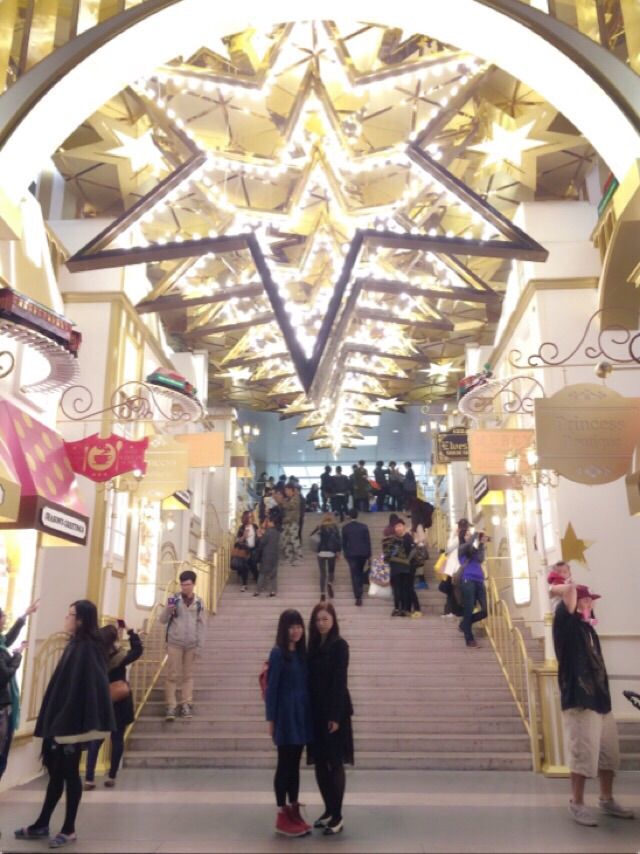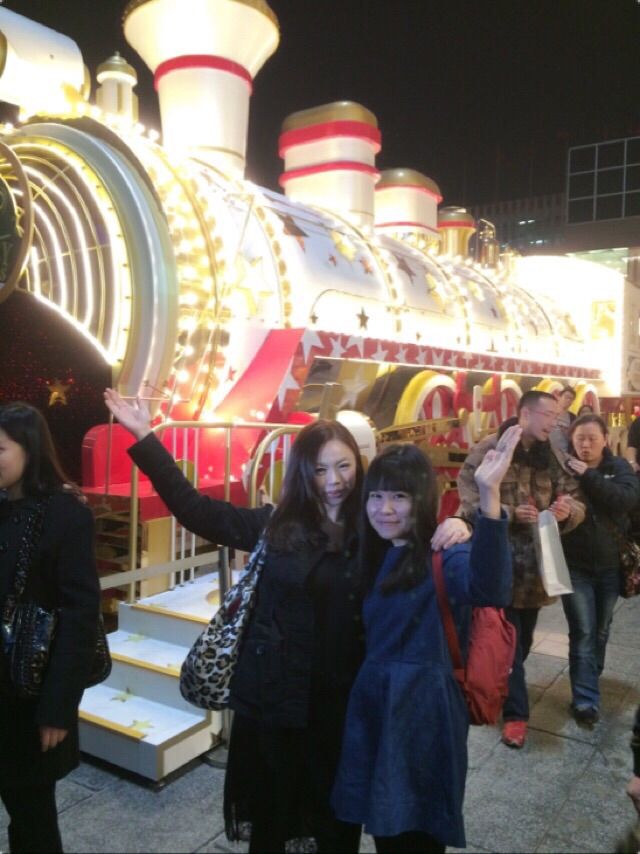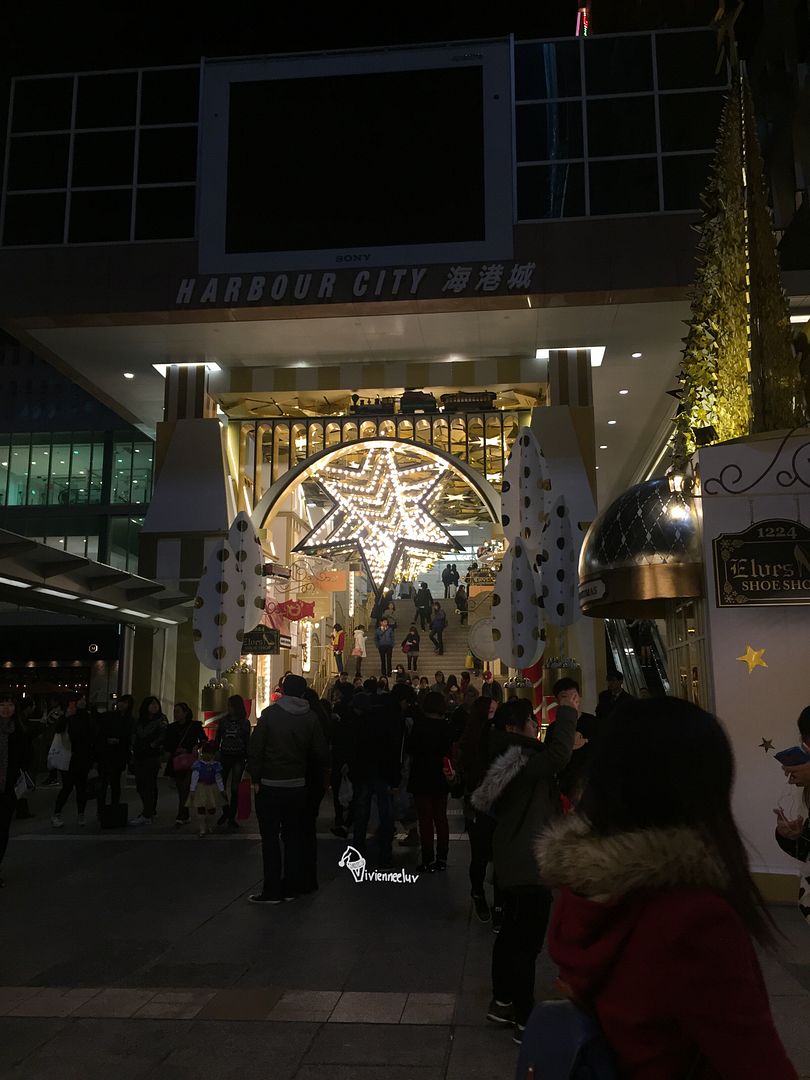 16) HUI LAU SHAN 許留山
Shop No.6, G/F, Star House, 3 Salisbury Road,
Tsim Sha Tsui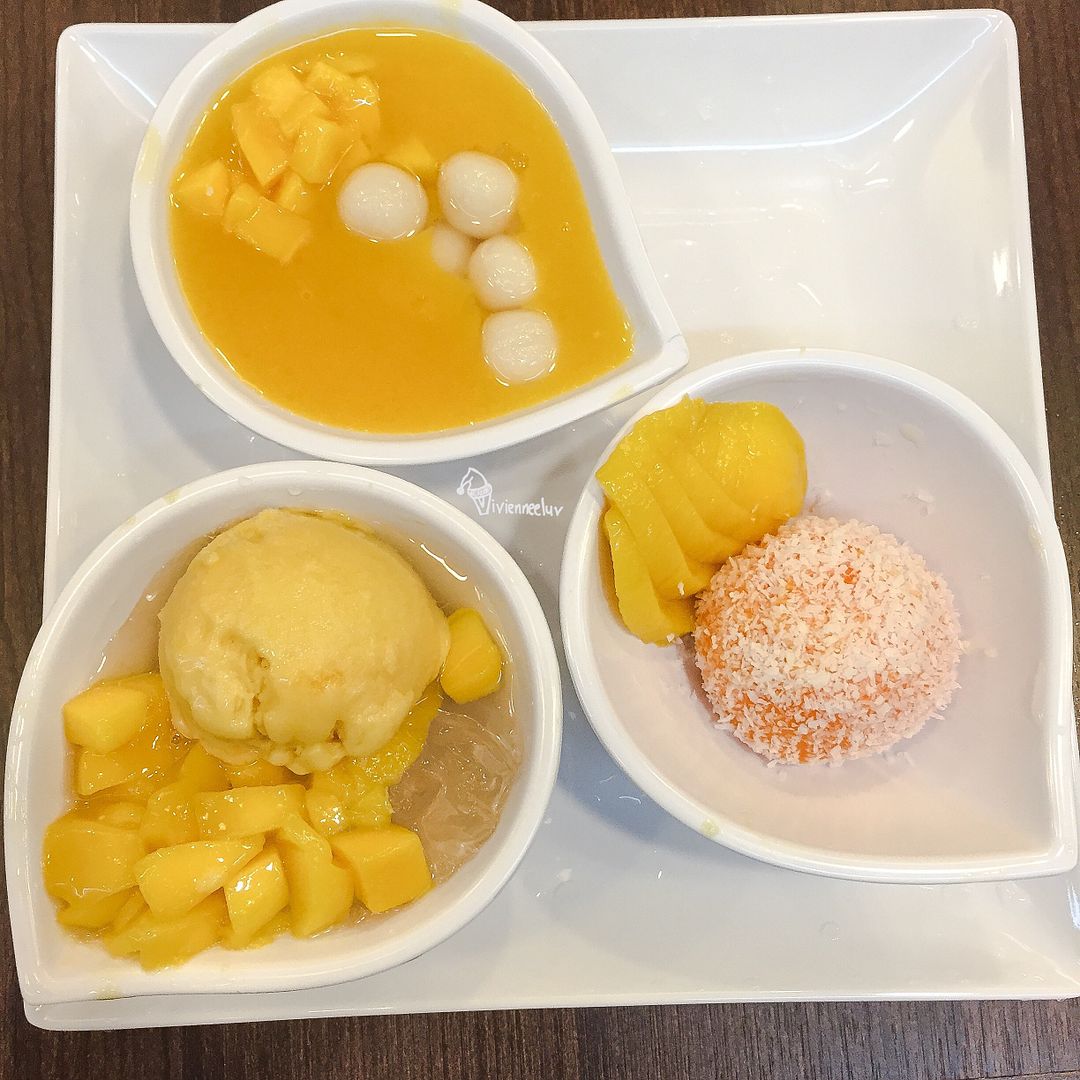 MANGO PLATTER HKD57

↝

S$9.80




10.30pm: Since Moomin failed, Ivy brought us to Hui Lau Shan! Thanks to her superb cantonese :P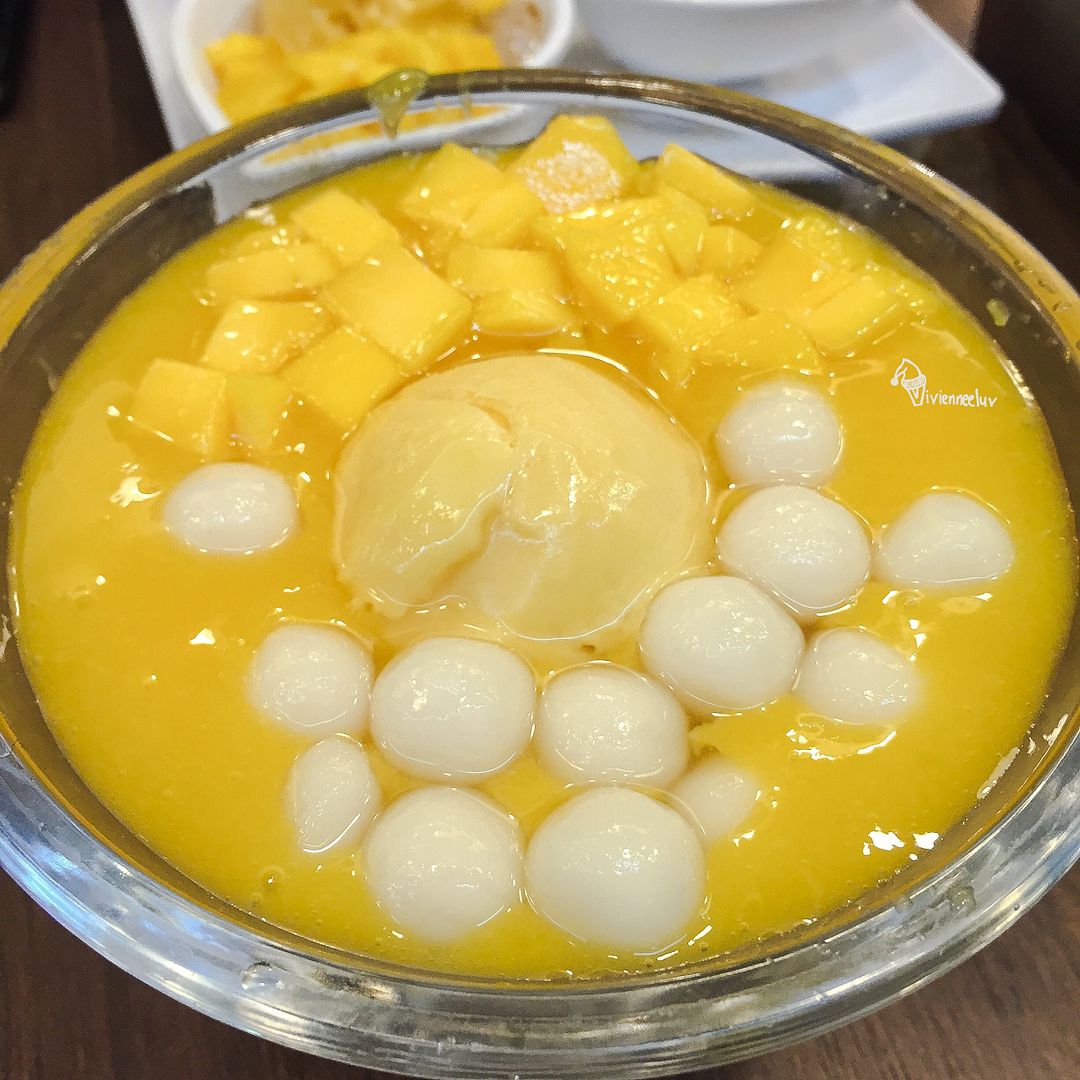 MANGO with ICE CREAM & MOCHI HKD 53 ↝ S$9.15
BIRD NEST MILK EGG PUDDING HKD49 ↝ S$8.45
Hot dessert for Ivy as she wasn't feeling too well.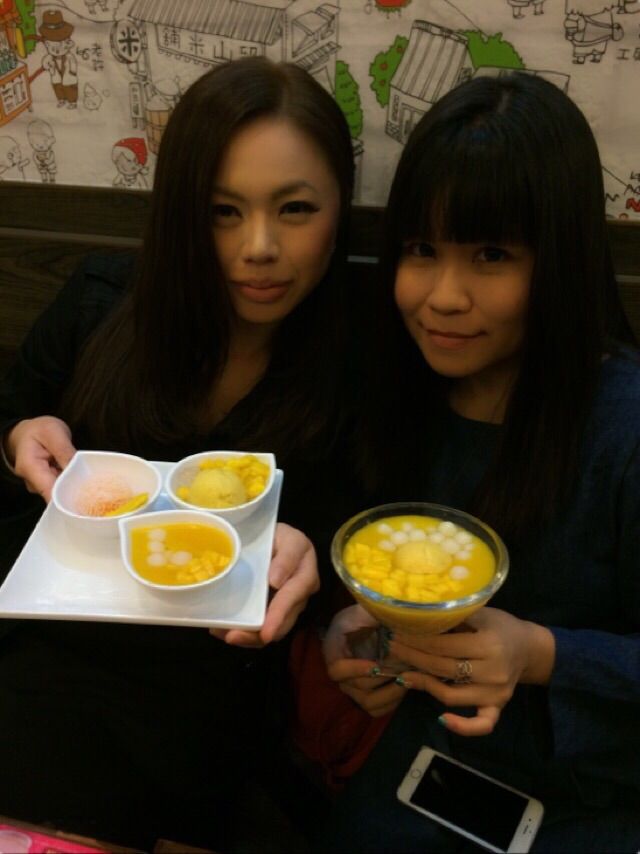 Awesome catch up, although short. How many times can you meet up your friends overseas? Like coincidently happened to be at the same place for holiday. Especially when she is now in Vancouver and I am in Singapore.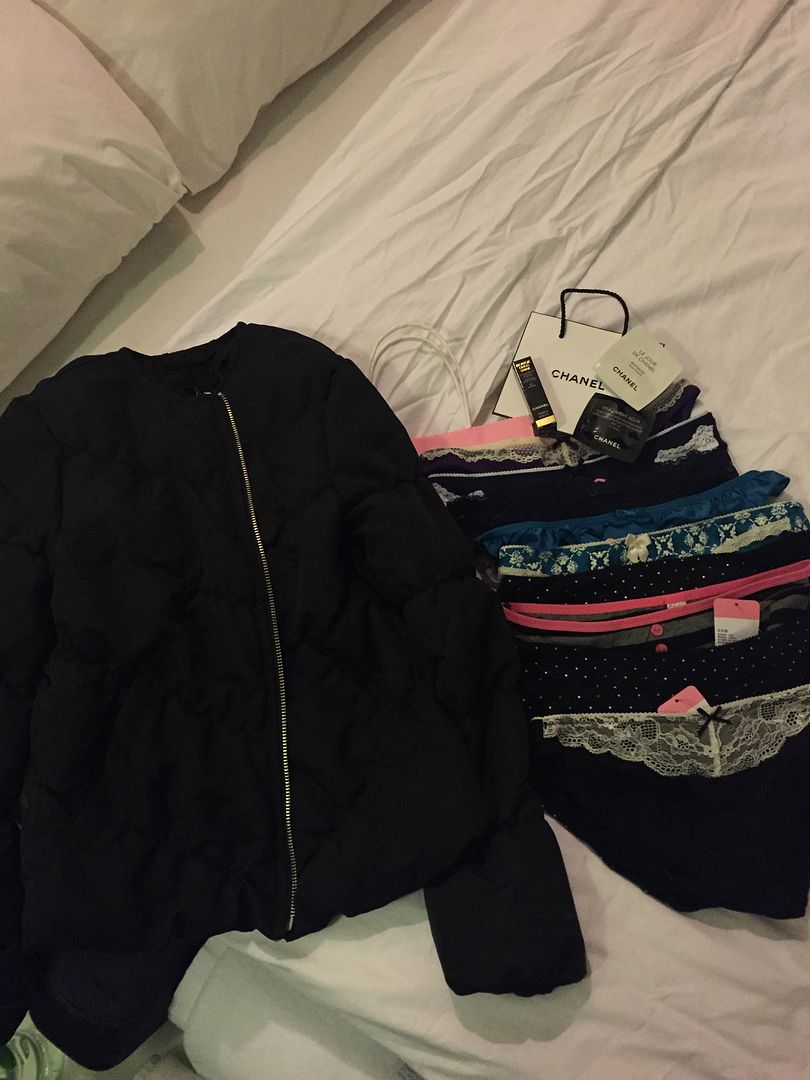 11.33pm: Back at the hotel The walk back to the hotel is life threatening! HAHA. The wind adds on the pain, I feel like my nose is dropping off. :P
It was a really tiring day! 2 hours of sleep then catching the plane and then walk and eat non stop!
Day 2 coming up!