ARBITE
Address:
66A Serangoon Gardens Way Singapore 555902 (2nd floor)
Opening Hours: 11.30am to 3pm, 6pm to 10.30pm Tuesday to Friday
11am to 10.30pm Saturday & Sunday
Closed on Mondays
Arbite [ahr-bahyt] noun ~ A pun on the German/Danish word for work (arbeit/arbejde). Inspired by Europe but rooted in Singapore. An intrinsic honesty to the word. This permeates everything that we do and serve.
As close friends had known, I work rather near to Serangoon Gardens so Arbite is not an unfamiliar name to me. Always wanted to try this place but no chance, either timing is not right or I had already taken my meal.
Finally I had the chance to try out Arbite's revamped menu and oh boy, what took me so long! I am definitely bringing the boy back here for brunch! (Because the lighting is so good, you see my pictures turned out great and appetising) :P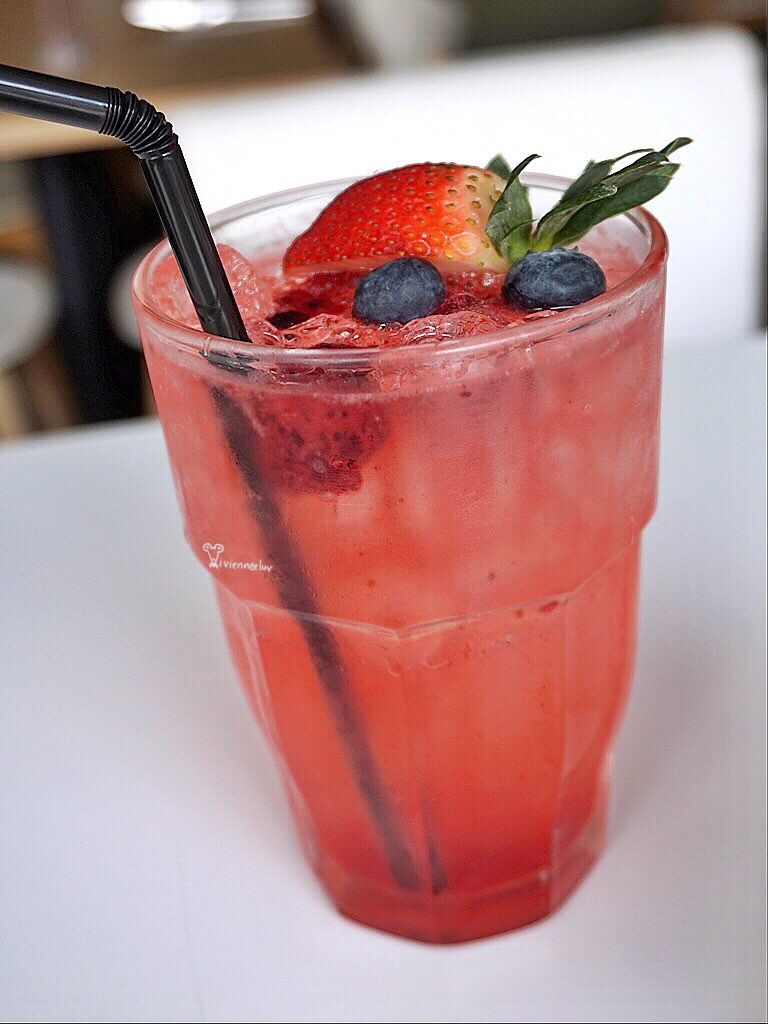 Started off with drinks, and they serve Gryphon tea with flavours exclusive to only cafes. There are flavours like: Special Breakfast, Osmanthus Oolong, Lychee Rose, Sakura, Melon & Mangosteen, Apple Strudel with Pistachio, Peach Nectar etc.
Teas are ranging for S$5 to S$7.
SMALL BITES
🔽
What small bites, I think it make a decent meal, not too over filling. Or you can order a few to share among your friends.
GADO GADO SALAD S$10
Potatoes, fine beans, cucumbers, tempeh, tofu croutons, romaine lettuce, peanut dressing and garnish with prawn crackers.
This dish is so Singapore! I love the malay version gado gado but I wished that this is as wet as the real gado gado though, being one who love peanuts! But then again, if its drenched with peanut sauce, it may be too cloying.
Overall of course this is already pretty good.
BEEF TATAKI S$8
All small bites that we've tried are pretty good, but this is my favourite, and its so cheap! Super worth it!
Seared beef tataki served rare, accompanied with sautéed mushrooms and drizzled with a green onion oil and sesame sea salt flakes.
So glad it make its way back into the menu!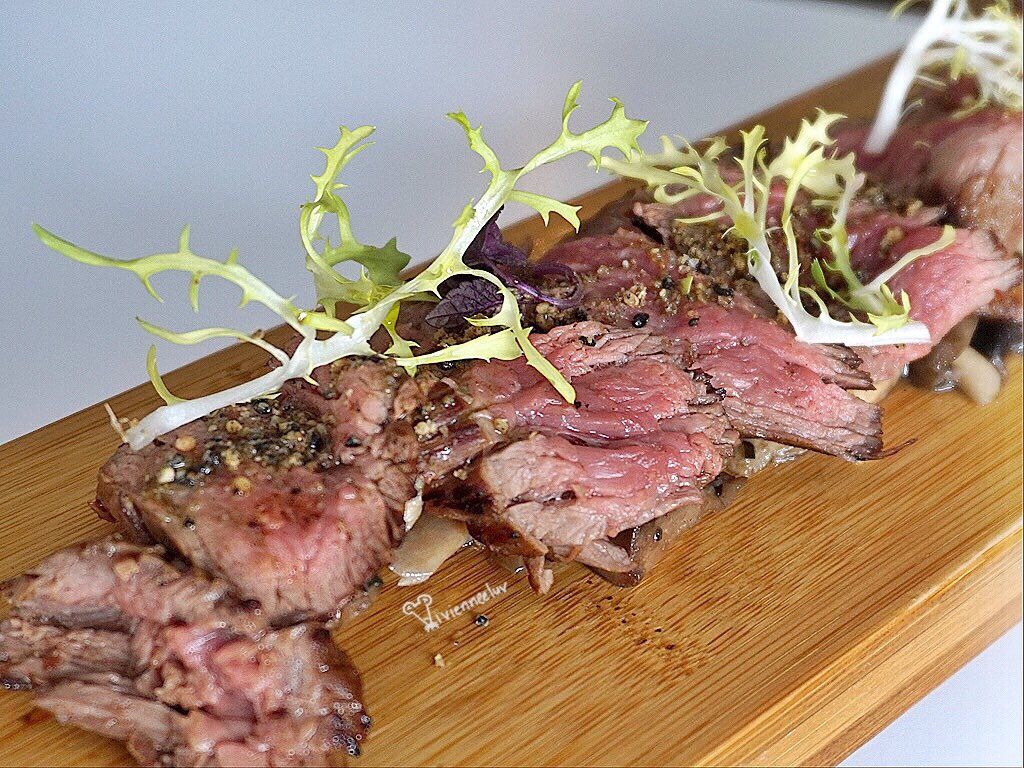 SALTED EGG FRIES S$6 (fries of the month)
Quite an interesting dish. I imagined it to be fries with salted egg yolk sauce drenched all over it but I was wrong. Would prefer this to be stronger in taste.
BIG BITES

🔽
MALABAR CHICKEN S$15
Grilled chicken with Kerala spices, roasted potato and a chopped cucumber, tomato and yogurt relish.
The chicken is marinated so well, every bite is bursting with flavour. The cucumber tomato yogurt relish by the side is so fresh.
You know I hate it when restaurants & cafes served stale veges/salads by the side.
PAN SEARED SALMON S$20
Pan seared salmon served with a creamy mash and Asian Vegetables laksa pistou.
We took so long to take pictures that the food had all turned cold. (I really mean cold) However, what surprised us is that the salmon skin is still so crispy! Love the crunch as I bite into the salmon skin.
XO DUCK TAGLIATELLE S$16
Tagliatelle, duck breast, XO chili sauce, sugar snap and corn kernels.
Al dente style, we finished this up in no time! Whats carb to us?
EARLY BITES

🔽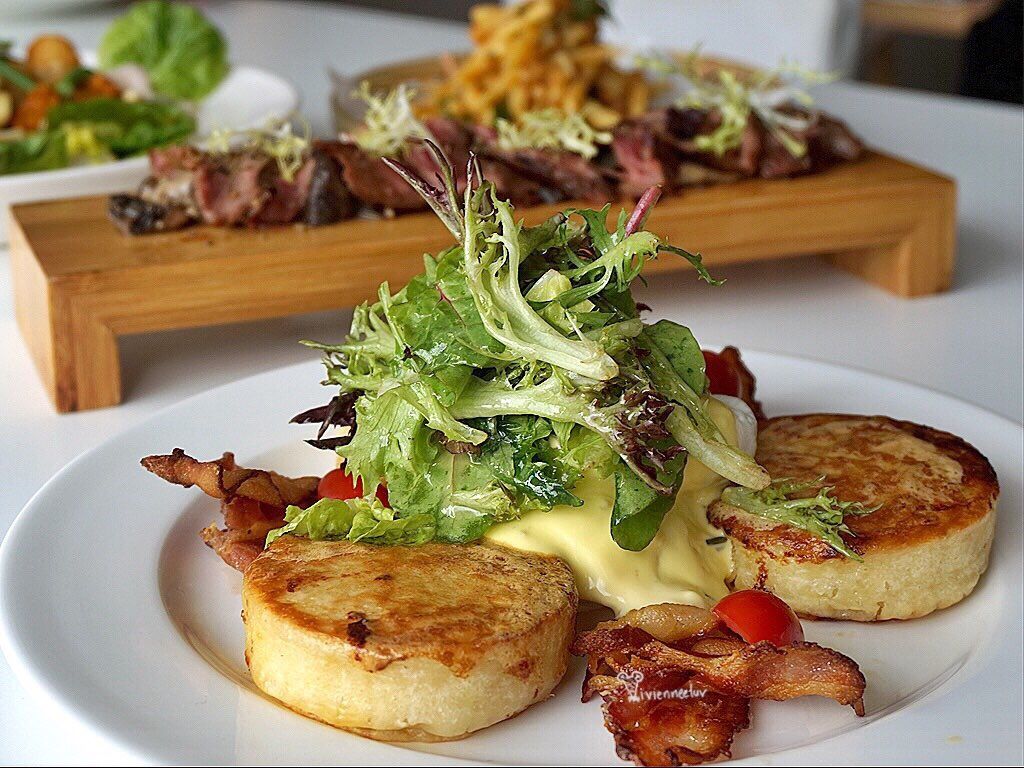 CRUMPETS & BACON S$9
Chewy homemade crumplets, marmite butter, poached eggs, hollandaise & fresh greens.
Crumpets are something like pancakes, soft and spongy, much much spongy than a pancake. Like a very ''Q'' min jiang kueh. Wow, I am impressed! I must get the boy to try this. And its only S$9!
LIU SHA FRENCH TOAST S$9/3s
Was super delighted when Chef Marc brought this to our table. I was telling everyone ''OMG thats Liu Sha French Toast!''
Because the first thing that 4 ladies saw on the menu is this! Its very catchy I don't know why.
Matcha soaked brioche, salted egg custard, candied nuts & fresh berries. Quite a special item, eat it warm as it taste so much better when it's warm.
We were a little disappointed that the Liu Sha did not liu, but nobody cares anymore as the combination is great and the taste is perfect!
It might get a little dry when its turned cold, so eat it warm!!
SWEET BITES
🔽
HORLICKS PANNA COTTA S$12
Malt flavoured panna cotta, granola, milo crumbs, honeycomb with rum & raisin ice cream.
Smooth and creamy panna cotta, goes well with ice cream. The honeycomb is so so good!
PINA COLADA CREME BRULEE S$7
Baked pineapple, coconut cream and white rum custard topped with a contrasting layer of hard caramel.
Another interesting combination. (I said this on almost every pic)
Arbite is quite a nice place to hang out with friends or loved ones, with cheap & quality food.
I must bring the boy back!
Arbite is bringing us an Asian Inspired Christmas menu:
1) Braised Adobo Pork Belly S$36+
Slow braised pork belly in soy, vinegar and spices served with steamed leaf buns, homemade pickles and fresh greens. (8-10 pax)
2) Roasted Chili Spiced Chicken with Buah Keluak Stuffing S$42+
Asian spiced chicken slow roasted and accompanied by a minced pork, bacon and bush keluak stuffing, roasted potatoes and fresh greens. (4-5 pax)
3) Gula Melaka & Ginger Glazed Ham S$30+
Studded with cloves and glazed with palm sugar and grated ginger. Served with pineapple slices and a cherry jam. (8-10 pax)
4) Salted Egg and Crab Pasta S$70+
Penne pasta, salted egg, crab meat, chili, deep fried soft shell crab and curry leaf oil. (8-10 pax)
5) Christmas Sugee Cake S$15+
Mix fruits, rum, semolina, butter pound cake. (10 pax)
Orders must be placed 3 days in advance, before pick up (from either Arbite or A for Arbite outlets).
Order online here or email itsxmas@arbite.com.sg
All prices subjected to GST.
Thank you Marc for having us at Arbite!