O'Coffee Club
A few weekends back, I attended O'Coffee Club's media Christmas party and I was awed by the food.
I actually didn't remember O'Coffee Club serves any food nice enough for me to remember and dying to go back.
This time round, a few dishes captured my heart. Can't wait to show them to you!
O'Coffee Club introduces its Christmas range of confectionery this year as part of its 2014 festive collection themed ''My Favourite Things''.
(Pardon my huge watermark, was used to my new iPhone app)
We were at the O'Coffee Club at Raffles Place and I really love this place! So bright, lighting is great and it makes my pictures looking great!
ICE EARL VANILLA S$7.90
The lovely Valerie & Sharen of O'Coffee Club mentioned that this is nice so I decided to give it a try. It was really good!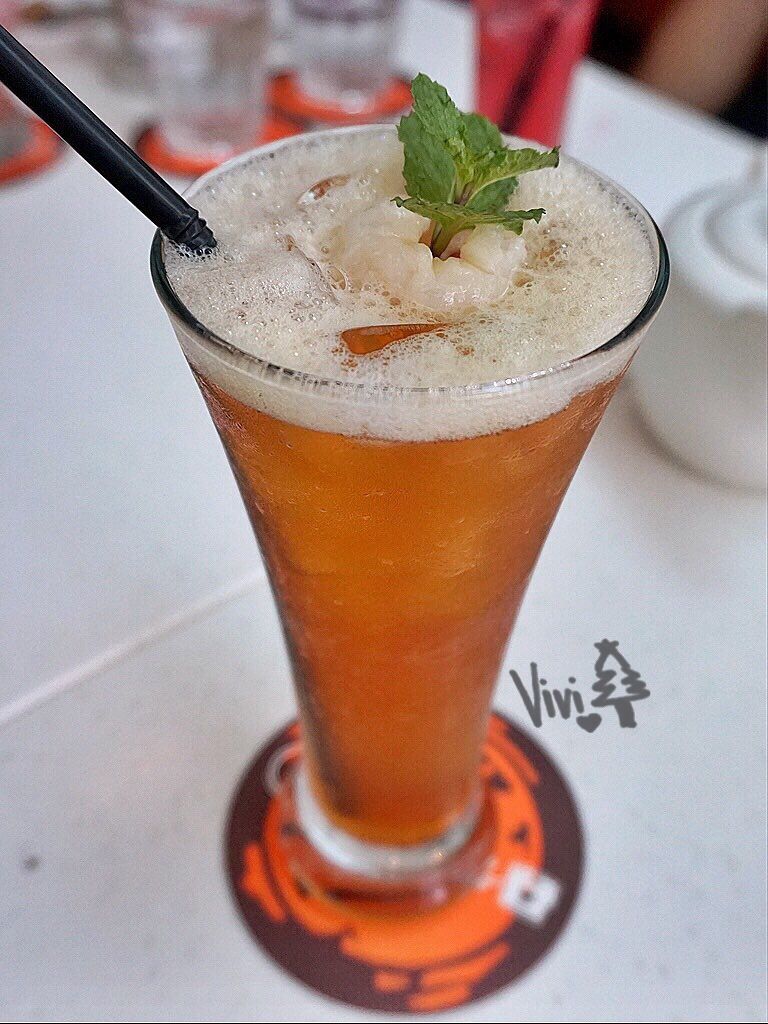 ICED LYCHEE PASSIONFRUIT TEA S$6.90
I love my 2nd drink too, so refreshing, especially after all the food I have eaten.
Sad to say, some of the food below are made specially for the party, so you don't have the honour to try them. I was glad I did.
BRUSSELS SPROUTS WITH BACON & ONION
(Specially for this party)
OVEN-ROASTED ROOT VEGETABLES WITH THYME & BUTTER
(Specially for this party)
CHICKEN PIE (Specially for this party)
CHICKEN TRUFFLE MUSHROOM PASTA S$16 (
available in for dine-in at selected outlets till 31st December 2014)
Spaghetti with roasted chicken, mixed mushrooms & truffle cream.
I am sooooooo happy to say that this is so delicious that we had second helpings, I wished I could pack some home for dinner & supper though. Not to fret, this is available for dining in!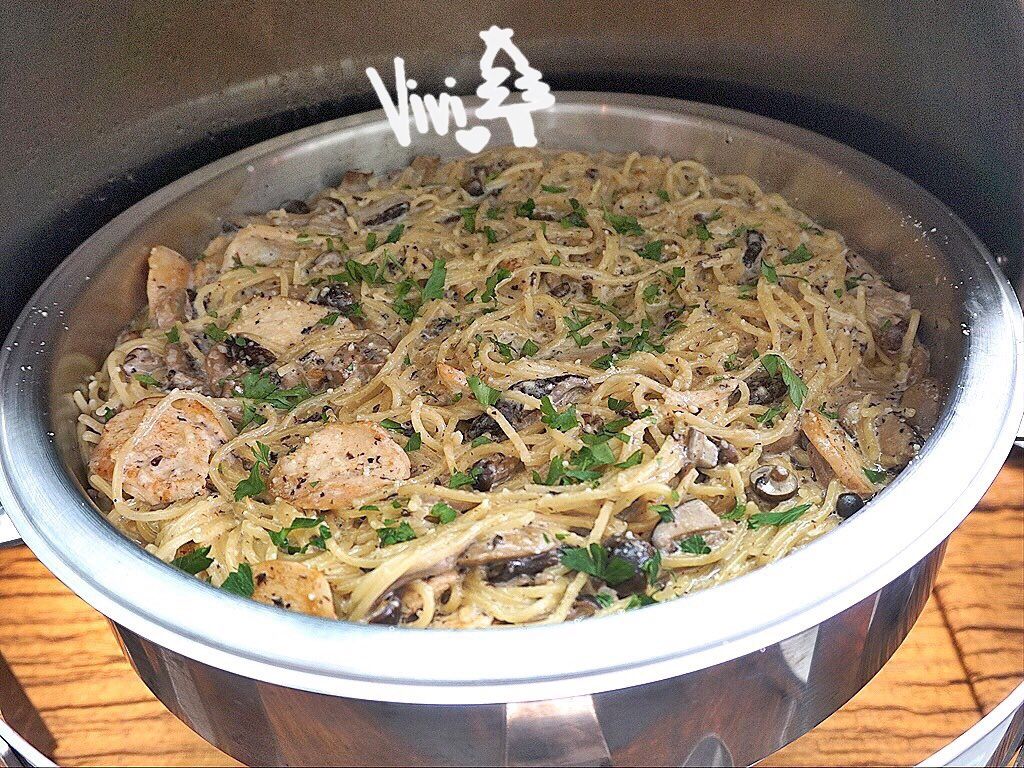 TURKEY ROULADE WITH CRANBERRY COMPOTE S$18 (available in for dine-in at selected outlets till 31st December 2014)
Turkey & mushroom roulade, buttered baby carrots, asparagus & mashed potatoes.
SMOKED DUCK SALAD WITH CITRUS VINAIGRETTE S$12 (available in for dine-in at selected outlets till 31st December 2014)
Meclun, dark cherries & sliced smoked duck. An awesome appetiser to start with!
SANDWICHES (Specially for this party)
WHOLE ROASTED TOM TURKEY
(Specially for this party)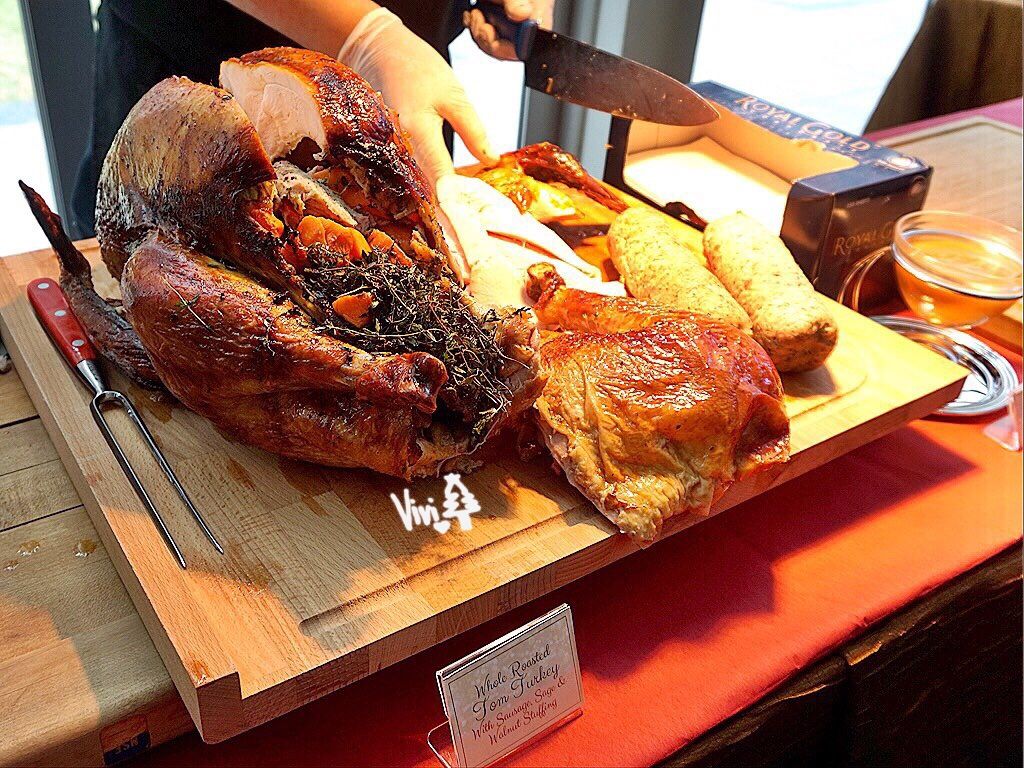 SLOW-ROASTED 120-DAY GRAIN-FED RIBEYE WITH RED WINE SAUCE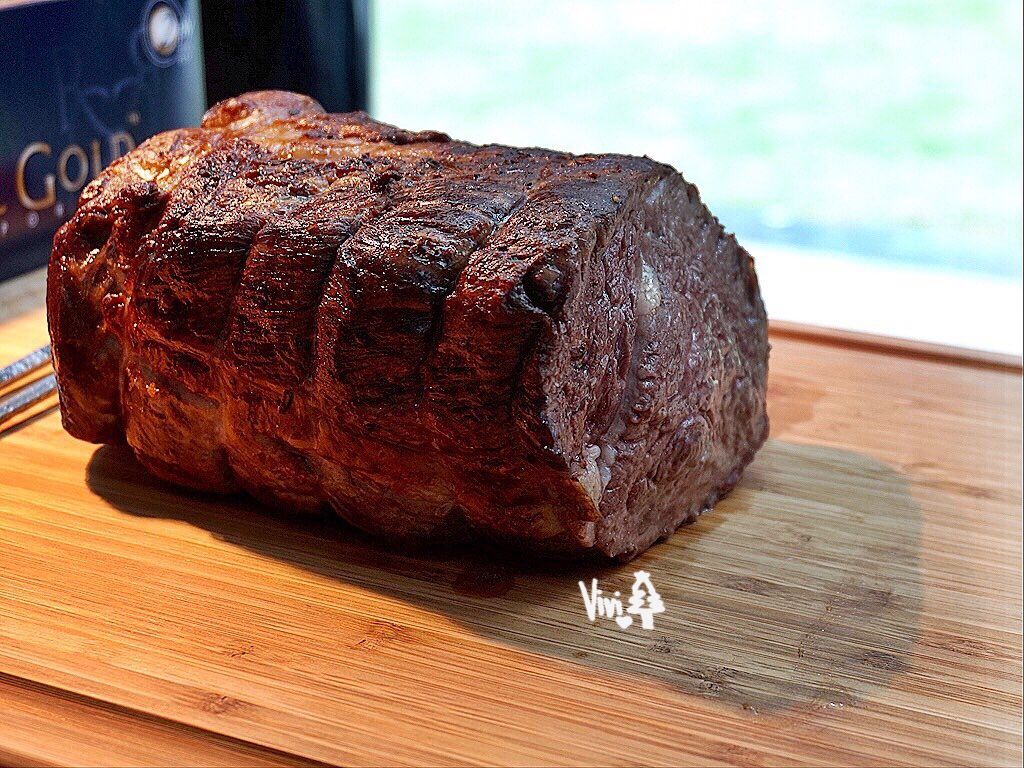 Thats the ribeye on the left and the SUPER AWESOME pasta on the right. Thanks to Lirong for the hand model for this shot.
The desserts table!!
CHOCOLATE WONDERLAND S$53.50 NETT (approx. 1 kg)
This classic chocolate log cake starts with a luscious chocolate sponge, it is then covered with layers of indulgent dark chocolate ganache, budgets of cream cheese & crunchy praline feuilletine.
This is a hot favourite! At the first bite, it wasn't anything awesome really. However as I fork it further up to the crunchy praline feuilletine, it was pretty good! Rocher cake anyone?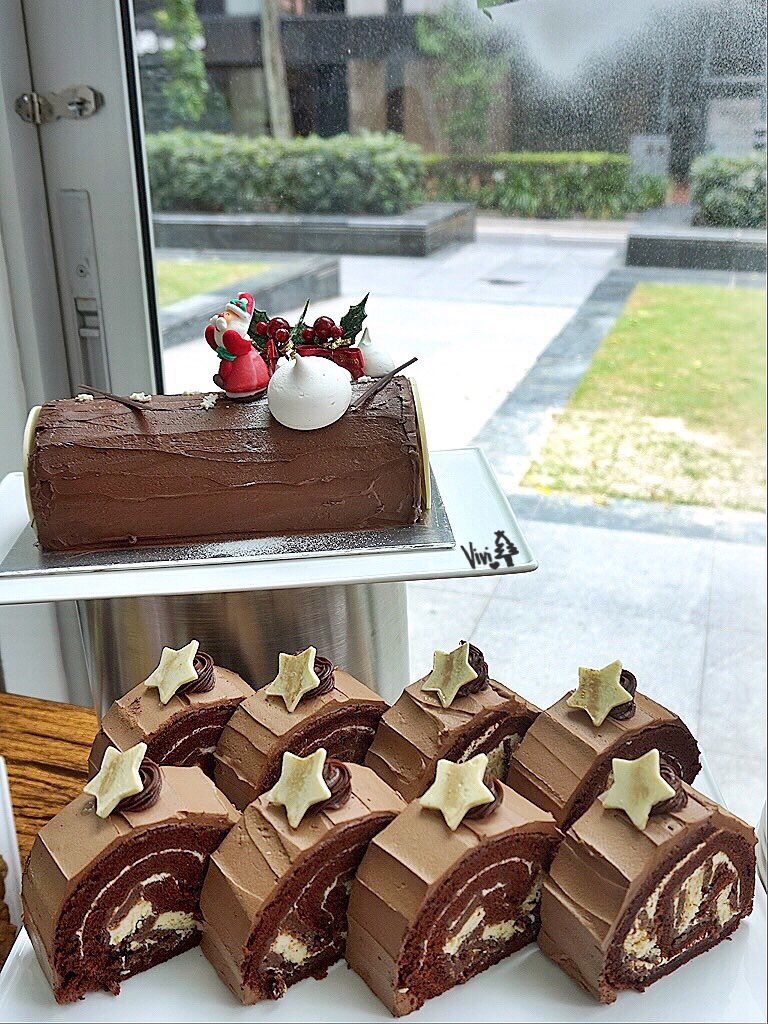 I past by the new O'Coffee Club at The Seletar Mall and saw that they were selling the log cakes in slices like these! Now you can have log cakes while dining in! How cool!
WHITE LYCHEE CHRISTMAS S$58.85 NETT (Approx. 1kg)
NEW FLAVOUR! and I love this! or you may call me a lychee fan.
This traditional swiss roll features a light orange sponge cake layered with fragrant lychee emulsion and piquant raspberry jam. Nestled in the centre is a rose essence cream, which will definitely pique your interest.
Not only it taste great but the cross section looks pretty too.
There are 2 more log cakes which are also new flavours, they are:
MONT BLANC YULETIDE S$53.50 NETT (Approx. 1kg)
Made up of generous layers of velvety chestnut with kirsch and zesty blood orange jelly, enveloped in an aromatic chestnut mousse on a base of almond sponge.
SANTA's MACADAMIA NOEL S$63.15 NETT (Approx. 1kg)
The nutty and crunchy ensemble features a crisp sable breton base, layers of macadamia sponge dotted with crunchy macadamia pieces, and a smooth praline mousse infused with Gianduja chocolate.
Order at any of the 20 O'Coffee Club outlets 3 working days in advance. You may pick them up from the outlet or request for delivery.
Taking orders till 22nd December 2014 and last day of collection/delivery is 31st December 2014.
PRALINE GIFT BOX S$24/12 pieces
Earl Grey Raspberry, Grand Marnier Sesame, Baileys and Crispy Chocolate Feuilletine are the flavours.
Don't they look like crystals?
CLASSIC CHRISTMAS STOLLEN S$14/400g
A traditional German Christmas cake packed with juicy golden sultanas and mixed fruits and coated with snow sugar.
SABLE COOKIES S$17.10/jar
CHECKERBOARD COOKIES S$18/jar
OATS & RAISINS COOKIES S$13.50/jar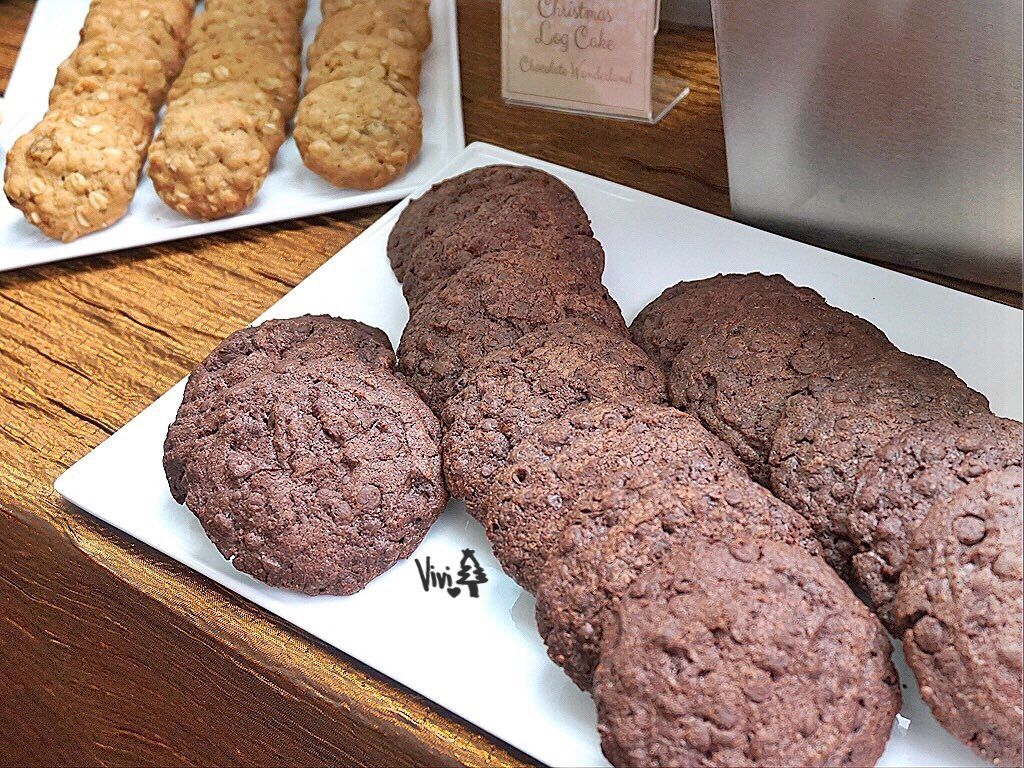 DARK CHOCOLATE COOKIES S$9.80/pack
CHRISTMAS MACARONS S$9.65/box of 4 | $25.70/box of 12
Christmas edition macarons come in Earl Gret Marshmallow, Gingerbread & Grand Marnier Sesame!
Plating done by sissy, so pretty!
JOY S$9
Grand marnier parfait with raspberry sorbet, sweet almond nibs.
I have to say this is a very special mudpie compared to what I always had. It is so good that I really urge you to try before they are gone!
JOLLY MUD PIE S$12.20
Layers of strawberry sorbet honey parfait, crunchy almond & Italian Mint Meringue. Both are really equally good, with berry sorbet, I really cannot decide which is a winner, I take both!
Lirong, Jennifer
With the lovely ladies as my afternoon tea companion.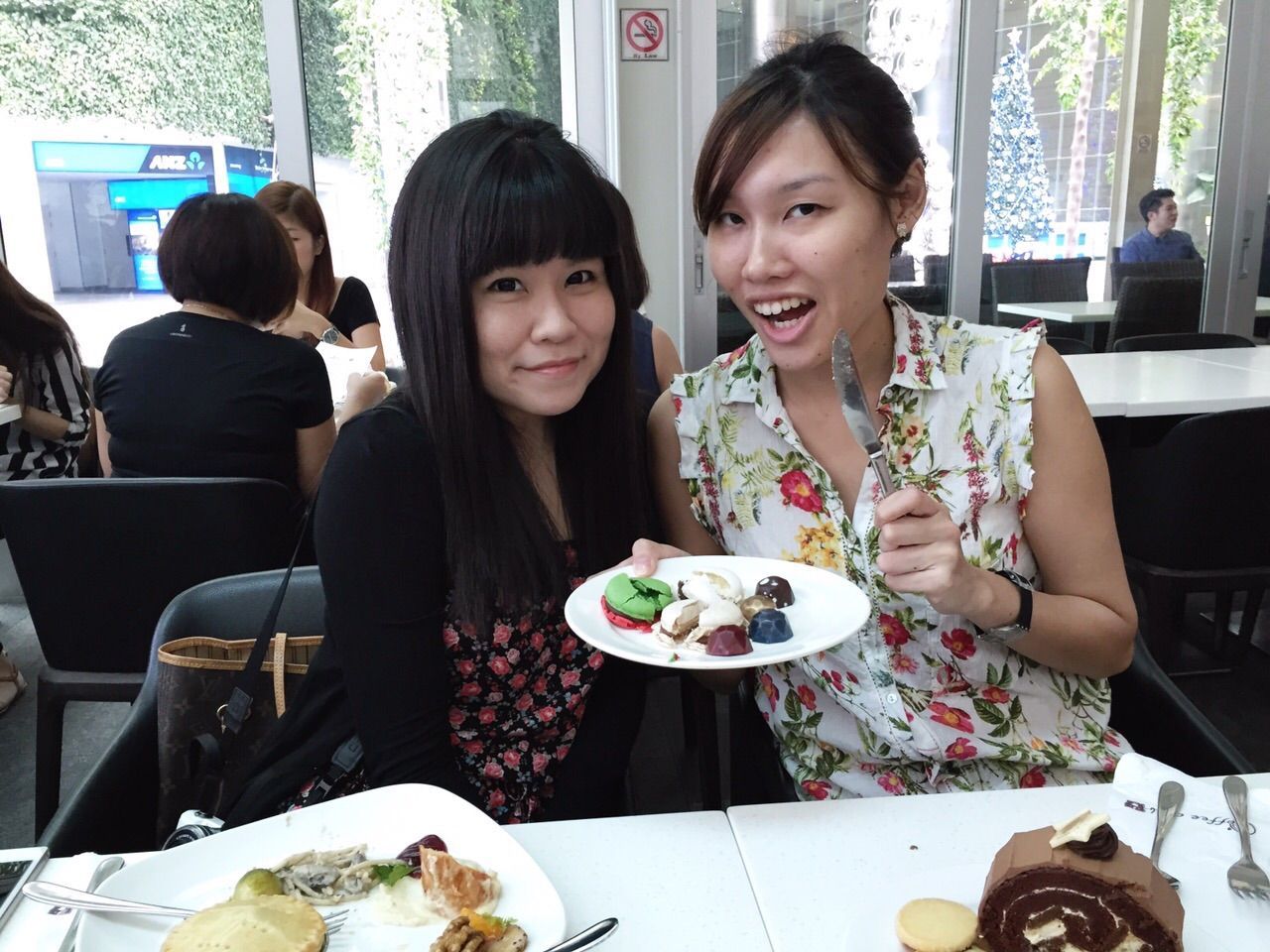 As usual, sissy helped us cut the chocolates, macarons, desserts. Will always laugh at her cutting skills but still grateful to have a foodie sissy to share food with!
EXCLUSIVE PROMOTIONS!
15% discount for DBS/POSB/CIMB cardholders for festive dining from 13th November till 31st December 2014!
20% discount for CRM cardholders for festive items and dining from 13th November till 31st December 2014!
DELIVERY CHARGES
FREE delivery for purchases of S$500 and more, to a single location
S$20 delivery fee applies to purchases less than S$500 to a single location.
Thank you O'Coffee Club for the lovely afternoon tea party. Now I look forward to go back to O'Coffee Club!