AWARD-WINNING HUIJI GIFT SETS
Exclusively available at Fairprice, Fairprice Finest, and Fairprice Xtra for a limited period only.
Feeling blessed as I've just received a perfect New Year's gift from Huiji right to my doorstep. (Mummy is very happy too!)
A little introduction if you haven't know what is Huiji Waist Tonic:
Huiji Waist Tonic, which is now produced in a local GMP ('"Good Manufacturing Practices") certified factory that upholds stringent quality control. With state-of-the-art extraction technologies and a finer extraction of the essence and goodness of top-grade herbs, it now tastes richer and is packed with more goodness.
BACKACHES
If your loved ones are facing backache problems, then Huiji Waist Tonic is an ideal gift. Backache problems can be traced to these causes: inadequate nutrition, lack of exercise and poor posture.
SUPPLEMENT
As a supplement, Huiji Waist Tonic helps enhance blood circulation and physical strength. It also keeps fatigue at bay.
Huiji Waist Tonic is a blend of six premium herbs, all known to have tonifying properties. On its own, each ingredient offers numerous health benefits.
Cordyceps: A well-known traditional Chinese herb, Cordyceps can strengthen one's constitution.
Duzhong: Consists of barks that strengthen the waist and legs. Duzhong is also taken by those with liver and kidney deficiency.
Dang Gui: Consists of fibrous roots prepared by cross cutting. Danggui helps to promote blood circulation. It also helps to nourish blood.
Shouwu: Its root tuber possesses the ability to darken hair, invigorate the liver and kidney.
Dazao: Invigorates the spleen and stomach. Nourishes the blood and calms the mind.
Ginseng: Boosts energy level. Huiji Waist Tonic is suitable for vegetarians and has no alcohol content.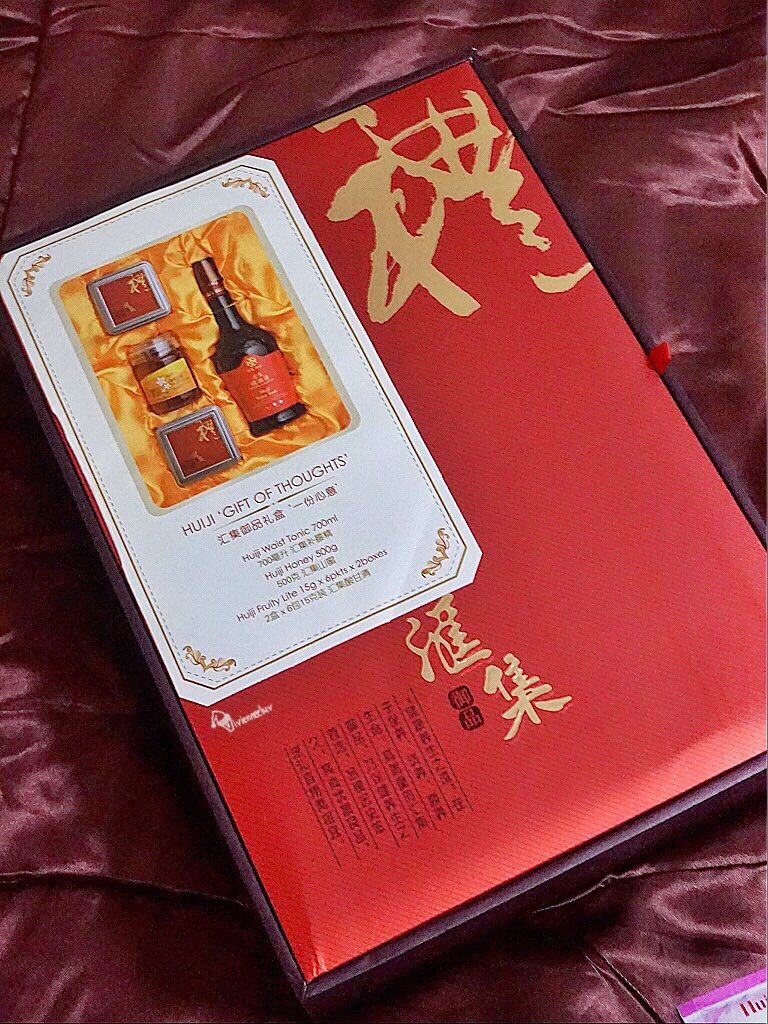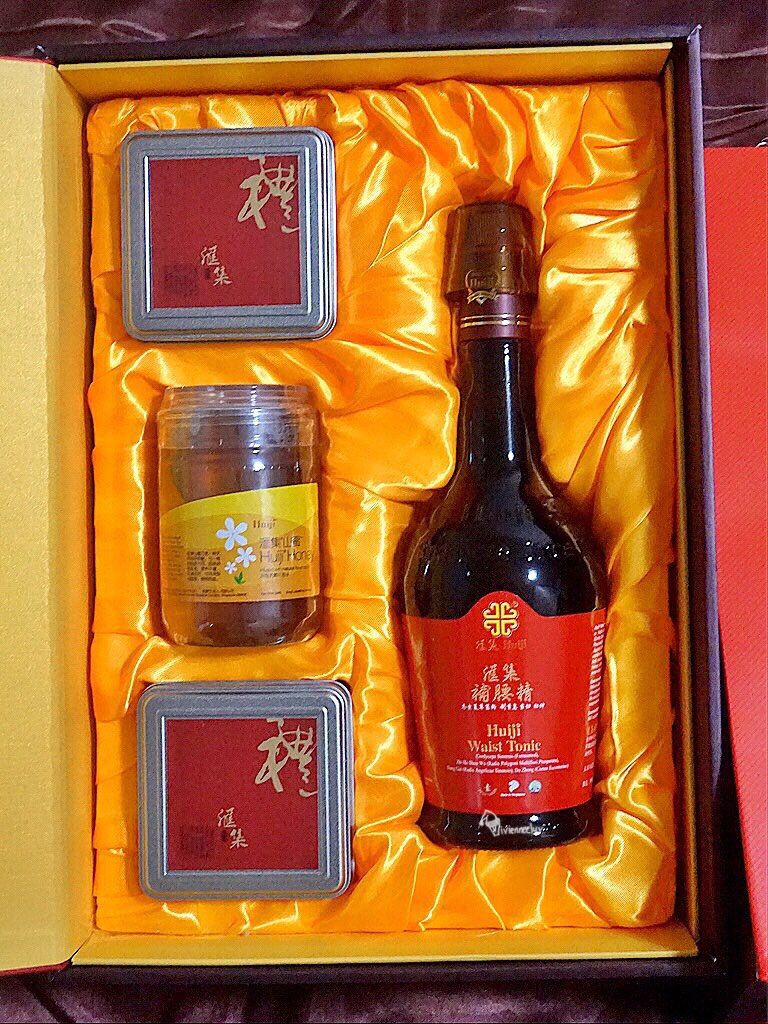 Chinese New Year is just next month, make use of this chance to bless your loved ones and friends with the gift of good health.
The Huiji gift sets are a mark of quality and excellence. They were recognised at the Great Singapore Food Gifts Award 2014. The award was handed out by Minister for Trade and Industry, Mr Lim Hng Kiang. Adding to this accolade, Huiji Waist Tonic has once again clinched the Unity Ch0ice Award for TCM Supplement. This is the fourth year since 2012 that Huiji has won the award.
There are 2 exquisite gift sets to choose from:
GIFT OF THOUGHTS S$63
Which includes:
➊ 1 X HUIJI Waist Tonic 700ml
➋ 1 X HUIJI Honey 500g
➌ 2 X 6 sachets Fruity Lite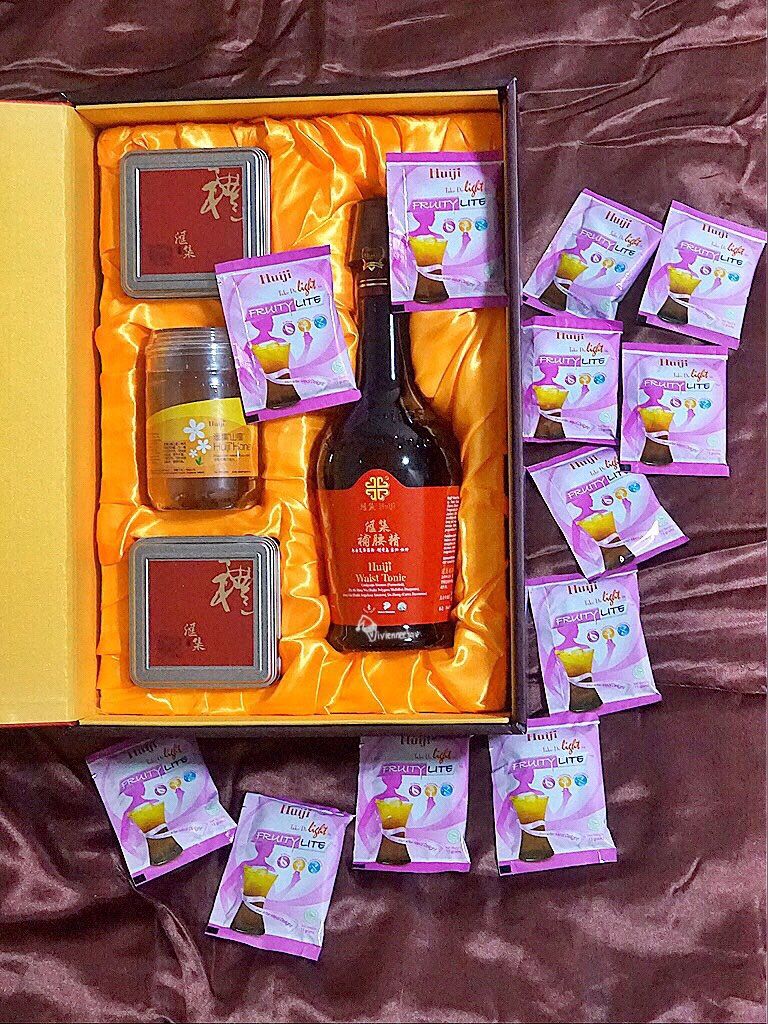 Another gift set which is not featured here is
GIFT OF LOVE S$138
Which includes:
➊ 2 X HUIJI Waist Tonic 700ml
➋ 6 X NESTURAL Bird's Nest with rock sugar
Thank you Huiji for the love!! Say yayyyy to good health in 2015!