JOYDEN CANTON KITCHEN
Address: 4 Hillview Rise #02-21 HillV2 Singapore 667979
Opening Hours: 11.30am to 9.30pm Daily (last order 9pm)
Tel: +65 64659988 (no reservations)
A few weeks back, I went all the way to the west. Ok, not really ALL THE WAY but it is still far so I am actually feeling sad because I cannot come here as and when I like.
My family and I love chinese food, whenever there is a birthday coming up in the family, we will definitely go to a nearby chinese restaurant for a meal.
The food here at Joyden is so good, I know my family will definitely love them as much as I do.
After more than ten years of serving up some of arguably the best seafood in Singapore at Joyden Seafood Restaurant in the west, the Joyden brand is set to make waves once again with a myriad of hearty, comforting Chinese dishes at its new dining establishment -
Joyden Canton Kitchen. Cantonese (Yue) Cuisine originates from Guangdong Province and encompasses tastes from dynamic cities such as Shantou, Chaozhou and Guangzhou.
Joyden Canton Kitchen embraces the philosophy of Cantonese cooking by using only the freshest seasonal produce married with skilful culinary techniques to produce a carefully curated menu. Customers can look forward to both traditional and contemporary dishes that are diverse, original, wholesome, and big on flavours. Conceptualising the unique menu was a six-month process that involved extensive field trips to various parts of Guangdong to garner inspiration and better understand the essence of Cantonese cuisine. Embracing the holistic quality behind the culture, natural and herbal ingredients such as aged mandarin peel, hawthorne and fresh huai shan (wild mountain yam) are incorporated into several Joyden-original dishes to enhance their overall flavour and nutritional value.
Housed in a new mall in the residential neighbourhood of Hillview, Upper Bukit Timah, the spacious 120-seater exudes an almost zen feel with its minimalistic and contemporary interior of light wood and elegant panel work. A backdrop of lush greenery and natural light flooding in through the floor-to- ceiling glass windows offers a serene, laidback atmosphere. A glass panel in one wall also allows guests a peep at the bustling activity in the theatre kitchen.
A variety of seating options including banquet seats, cosy four-seaters, and larger tables for eight to ten diners. Joyden Canton Kitchen is the ideal location for any occasion, be it celebratory get-togethers with friends and colleagues, or a casual weeknight dinner with the family.
We were there on a weeknight and it was so zen and peaceful. Really love the ambience and clean layout of Joyden Canton Kitchen.
HOMEMADE HAWTHORNE AND APPLE DRINK S$4
Thoughtfully created to ease digestion and cleanse the palette. The drink is made fresh daily and comprises only natural ingredients and fruit. Although I was freezing cold from the rain and the air con in the
restaurant, I couldn't help sipping non stop.
CRISPY GOLDEN LOTUS ROOT CHIPS S$8.80
One of the Chinese New Year must-buy products, you can find it here at Joyden! A pity that they taste a little ''lao hong'' that night, but usually they are crispy, that leaves you eating non stop! Better than potato chips if they are cripsy!
CHICKEN WITH FRESH HUAI SHAN AND WOLFBERRY IN OLD COCONUT SOUP S$12.80
You cannot leave a Cantonese restaurant without drinking their soups! And how nice it is to have soups these days as the weather is cooling.
Fresh huai shan, wolfberry, chicken and other herbs are steamed in an old coconut over low heat for up to 3 hours to extract the essence from every ingredient. The soup is sweet, light and has the coconut aroma but yet not over-powering and the chicken is so tender!
I am so glad that they served this soup, don't you think that its very special, be it presentation wise or the ingredients.
Other nourishing Claypot Soups include perennial favourites such as Old Cucumber with Dried Oyster and Prime Rib Soup S$15.80, and Lotus Root with Dried Cuttlefish and Prime Rib Soup S$15.80.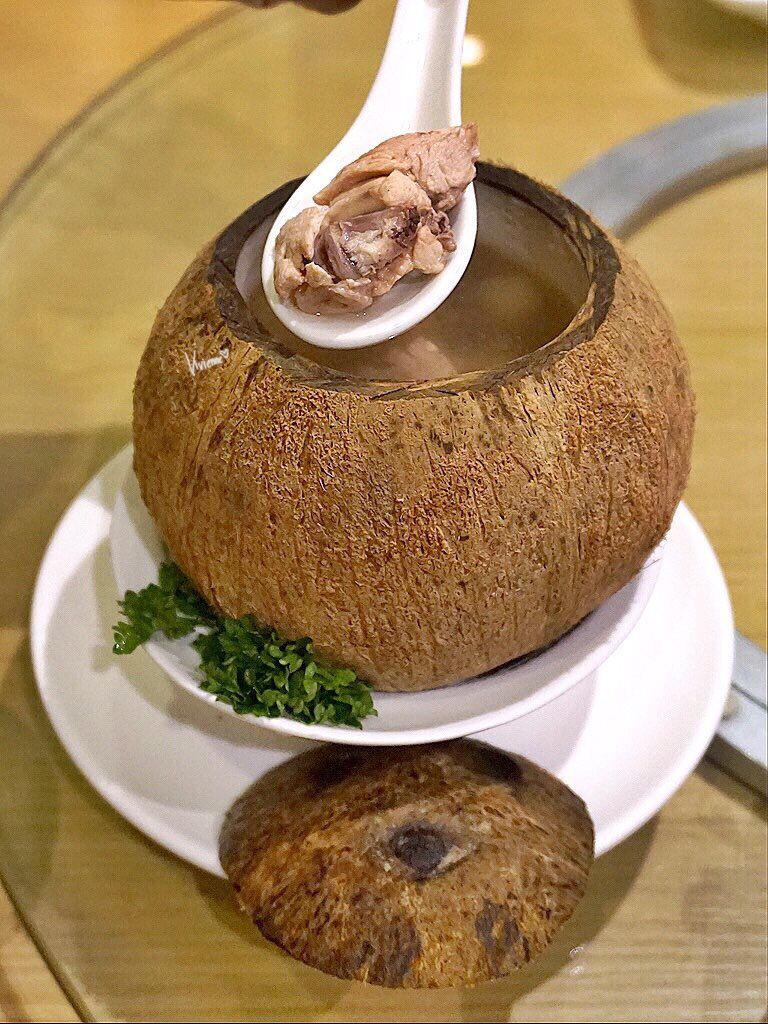 SIGNATURE SOY SAUCE CHICKEN S$12 quarter / S$18 half / S$32 whole
At Joyden Canton Kitchen, this is definitely a must-try.
Gently steeped in a secret blend of superior light sauce and other herbs, the chicken is skilfully poached to achieve a silky skin and tender, pull-apart meat. Rosewater, a traditional ingredient used in classic roast techniques, imparts a refreshing and subtle floral sweetness to this dish.
How many can incorporate rosewater in their dishes? Prefers this to the dish below, as it is sweet - my kind of food. :P
Other must-tries include the Cantonese Roast Duck S$14/27/50,
Signature Crispy Shar-Pi Roast Pork S$12 and Barbeque Pork Char Siew S$10.
SIGNATURE TRADITIONAL HAKKA SALT POACHED FARM CHICKEN S$17
A whole kampong chicken is gently steeped in a salt and herb stock, then rested to fully absorb the Flavours before being served with joyden's secret-recipe ginger sauce.
The chicken goes so well with their homemade ginger sauce!
CRISPY HOMEMADE SHRIMP & PORK ROLL S$8.50
What had always attracted me to this dish is the sweet sauce. But of course the shrimp & pork roll plays a part too.
Wilson was telling us that his boss will definitely order this dish at Joyden and he said it was so good!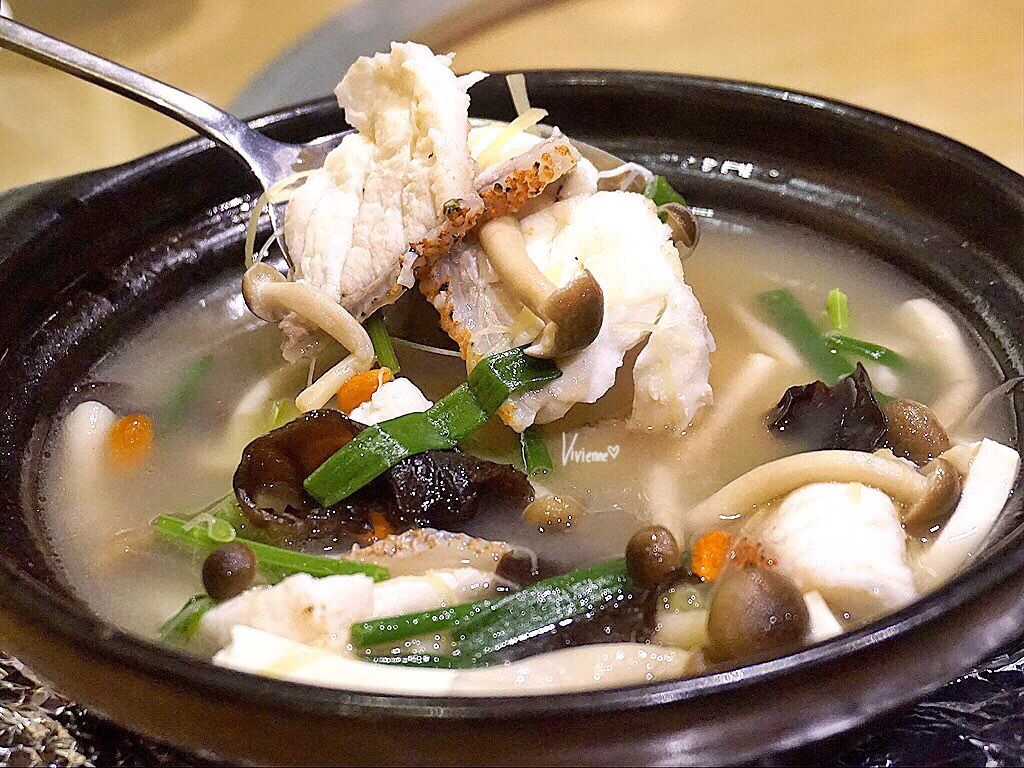 SIGNATURE SLICED GROUPER FILLET with PINE MUSHROOM and BLACK FUNGUS in RICE WINE BROTH S$17.80
I guess the long name of this dish had said it all!
It is a veritable pot of comforting goodness, where the heated claypot accentuates the flavours of superior fish soup and rice wine in the dish.
FISH MAW AND PRAWNS WITH GLASS NOODLES IN HOMEMADE XO SAUCE S$18.80
My favourite dish that night! Its pretty hard to choose a favourite because all dishes are almost on par, but since I asked if they sell the XO sauce, I guessed this is my favourite!
The XO sauce has dried scallops and Jin hua ham, it's so tasty!
BRAISED HOMEMADE BEANCURD COIN WITH POACHED SHANGHAI BABY CABBAGE S$14.80
This is another signature dish at Joyden Canton Kitchen.
A viscous, milky broth made from boiling pork bones for several hours, young baby cabbage steamed in said superior pork broth until sweet and succulent, and homemade patties of beancurd, seafood and vegetables fried till golden-brown.
The broth is so good, I could have the broth and white rice and eat for 3 meals a day.
BRAISED PORK RIBS IN AGED MANDARIN PEEL SAUCE S$16.80
These prime pork ribs are first braised so the flesh attains a fall-off-the-bone texture, then tossed in a special aged mandarin peel sauce before being broiled to a smoky, caramelised finish. Super tender, I can peel off the flesh with chopsticks and love the sauce so much that I paired it with the shredded cucumbers by the side.
SIGNATURE TRADITIONAL RICE VERMICELLI WITH POACHED EGG WHITE, CRABMEAT & SCALLOP S$15.80
Wok-fried rice vermicelli is tossed with crabmeat, fresh and dried scallop, then finished with a swirl of vinegar and a dash of pepper.
For those seeking a soothing staple, this dish will hit the spot.
We tried ALL the desserts on the menu!
FRESH MANGO PUDDING S$4.50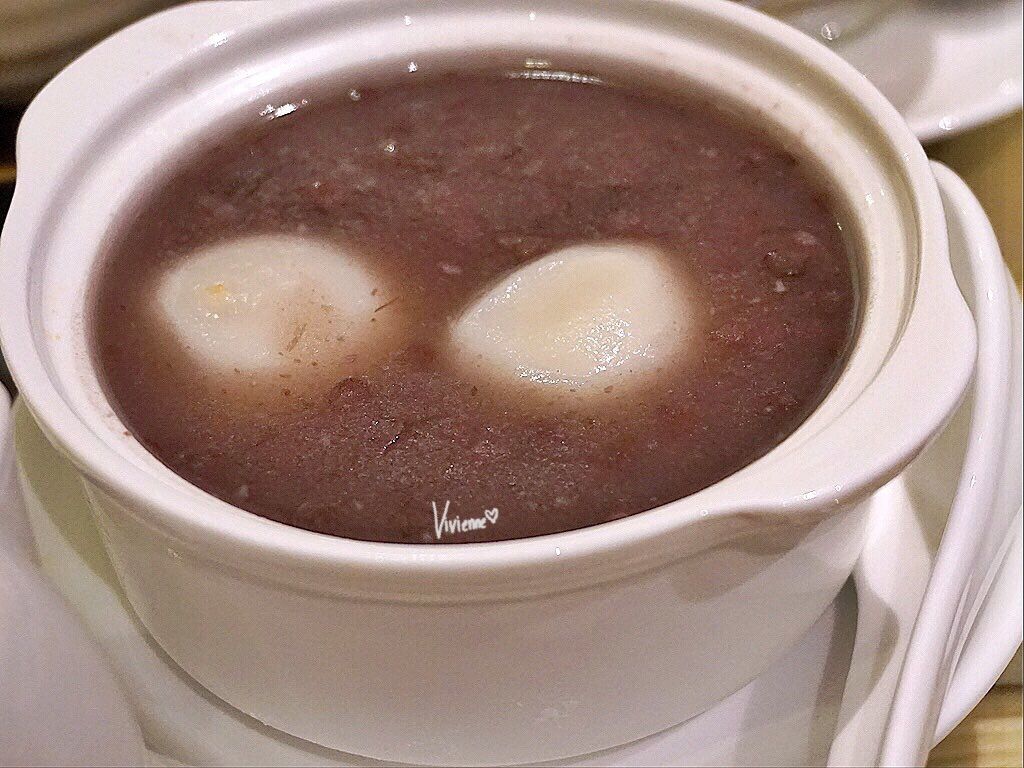 RED BEAN SOUP WITH PEANUT GLUTINOUS RICE DUMPLINGS S$4.50
Craving for comforting bowls of hot desserts whenever it rains like this. The rice dumplings are peanut filled. Peanut and red bean, the best combo!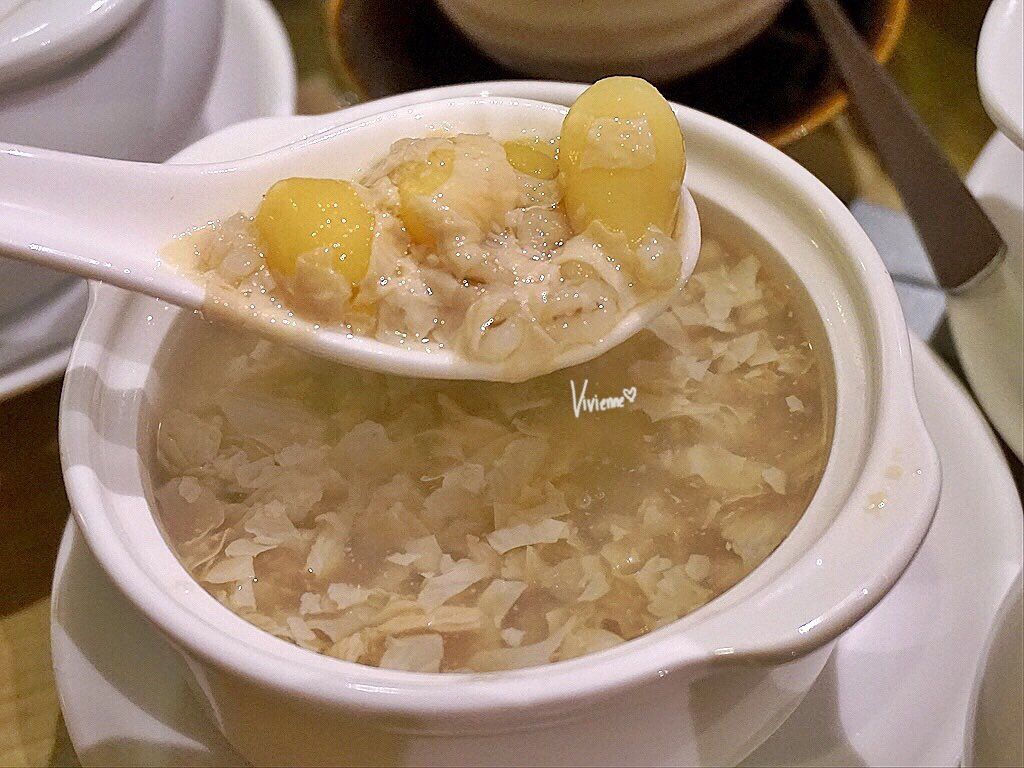 BEANCURD SKIN with BARLEY and GINGKO NUT SWEET SOUP S$4.50
HOMEMADE HERBAL GUILIN JELLY S$4.50
SAGO & POMELO in MANGO JUICE S$4.50
Thank you Joyden Canton Kitchen for having us for a homely comfort dinner! (Although I am still secretly hoping that they will open 1 in the East!)
Ending the post with a Christmas Tree (oh and did I mention, we have the Christmas Tree view in the restaurant) right outside HillV2.