MARKET PLACE
Address:
252 North Bridge Road
#B1-01 Raffles City Shopping Centre S(179103)
Opening Hours: 9am to 11pm Monday to Sunday
Tel: +65
6336 2676
Established in 1903, Cold Storage Supermarket has established itself as a popular household name trusted by consumers in Singapore. Cold Storage Supermarket is amongst the leading s
upermarket chains in Singapore with 51 Cold Storage Supermarkets and 10 Specialty Supermarkets.
The one i always frequent is Market Place @ Raffles City, used to be called Jasons. Even until today I am still calling it Jasons Market Place.
During my younger days while waiting for O Levels results, I worked in Raffles Hotel for a period. We used to have a sandwich shop in Raffles City which is only 2 doors away from Jasons Market Place. Whenever we ran out of food/ingredients or we just want to take a walk after work, we will definitely hit the supermarket. Those were the times where Raffles City's basement is only a roundabout, with only a few shops, unlike now! Wonder how did they expand it so spaciously.
So now, Jasons is no longer the old Jasons, it is already called ''Market Place'' and it has now revamped and brought us consumers numbers exciting changes!
After its revamp, K brought me there for quite a few times already (see I told you, this is my most frequented Market Place Supermarket).
I was so thrilled to be invited for a media tour there!
Click here for a short clip of the Lion Dance!
See, so bright and spacious.
To create a more conducive shopping experience, the layout at Raffles City Market Place has been re-organised for a spacious and luminous impression.
Greeted by beautiful juicy fruits from Japan and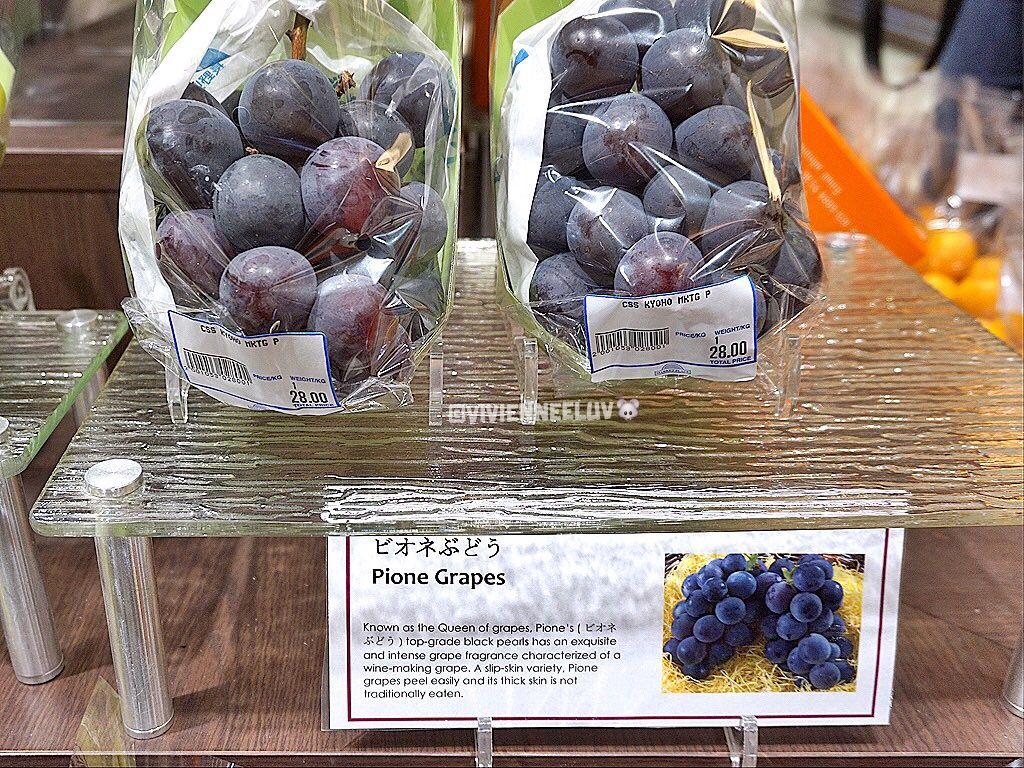 flowers.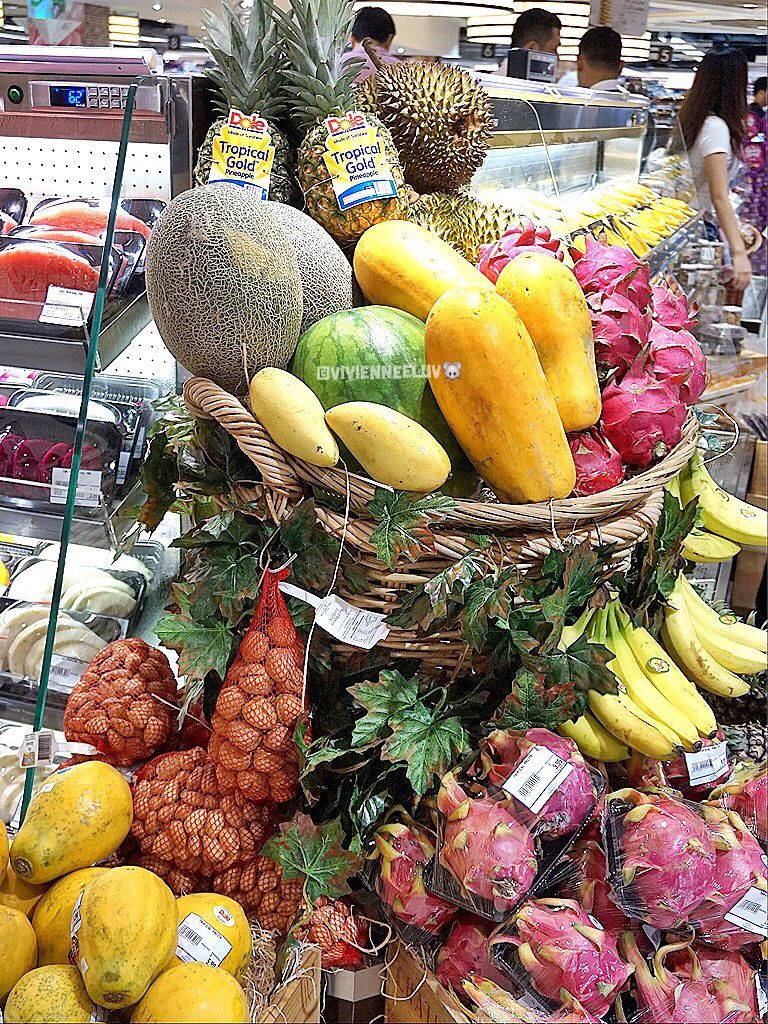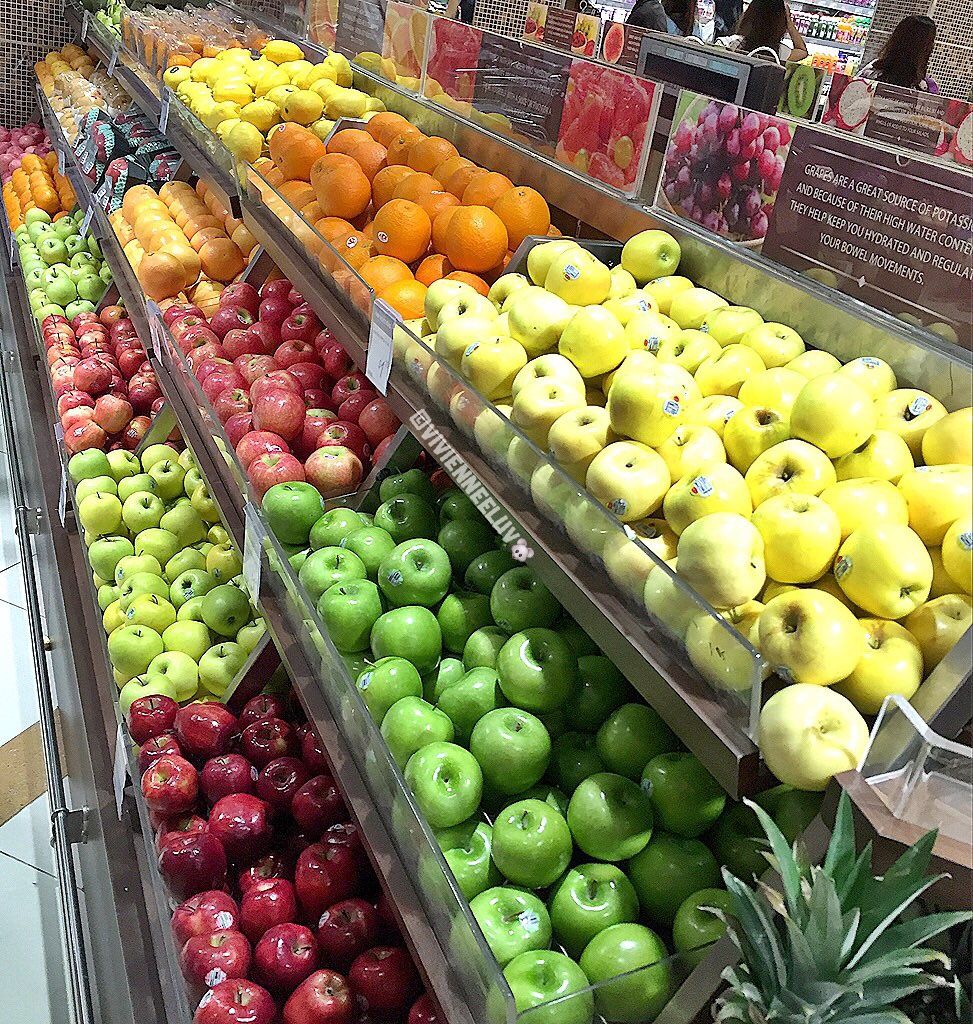 Walking further in, there are shelves of vegetables and lots of vibrant fruits that makes me want to grab them all!
I actually love this newly revamped Market Place because it is like a one-stop market to grab EVERYTHING at one go. Lets see more!
FOOD-TO-GO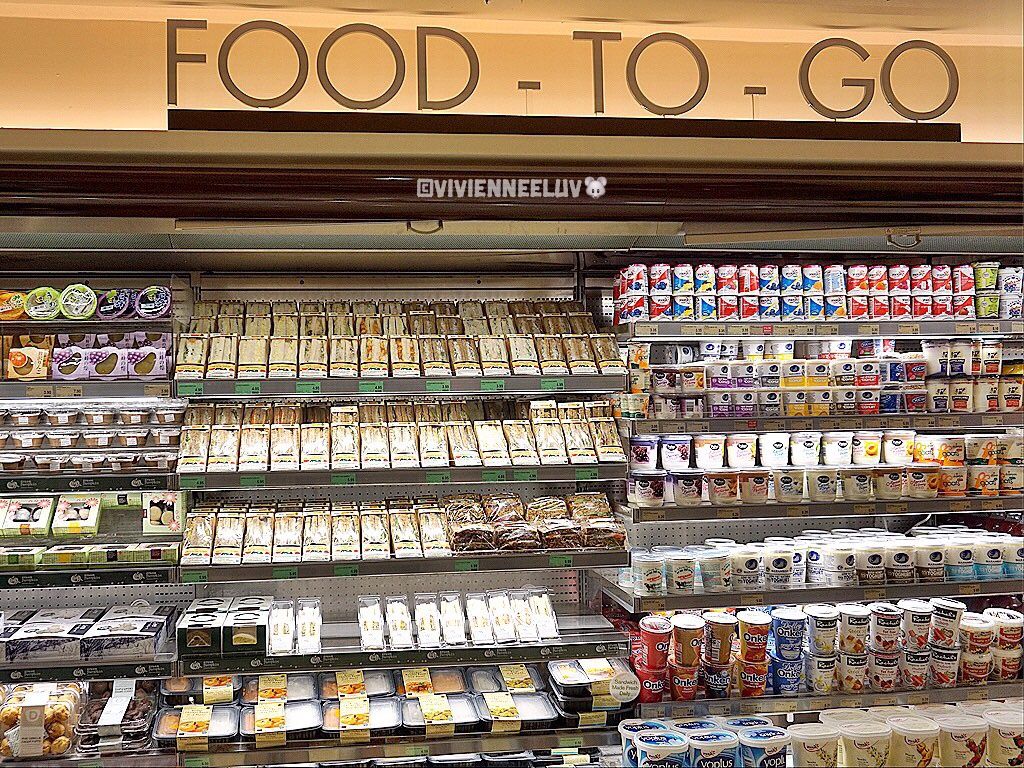 On the left, we have ''Food-to-go'' range - the office crowd can grab quick & nourishing lunch fixes from this range.
Tapping on its unique location right in the heart of CBD, Market Place had thoughtfully set this section up, which begins from the entrance and stretches into the centre of the store.
The chiller is stocked with grab-and-go items like assorted dips that comprise of beetroot dips, sweet potato & cashew dips, hummus guacamole, salsa; potato, grain, pasta salads, cakes, pastries, a new selection of Japanese treats that include pickled beans, kakocha salads, puddings and kochi from Ichiban/Fiesta;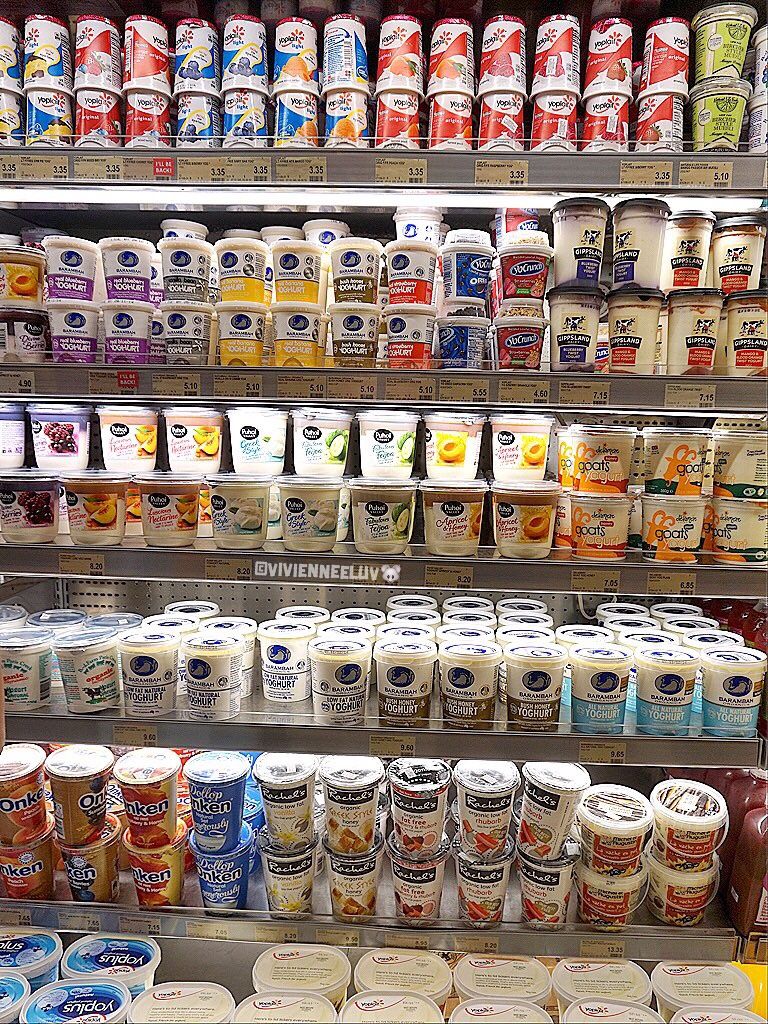 individual-sized yoghurt and muesli cups,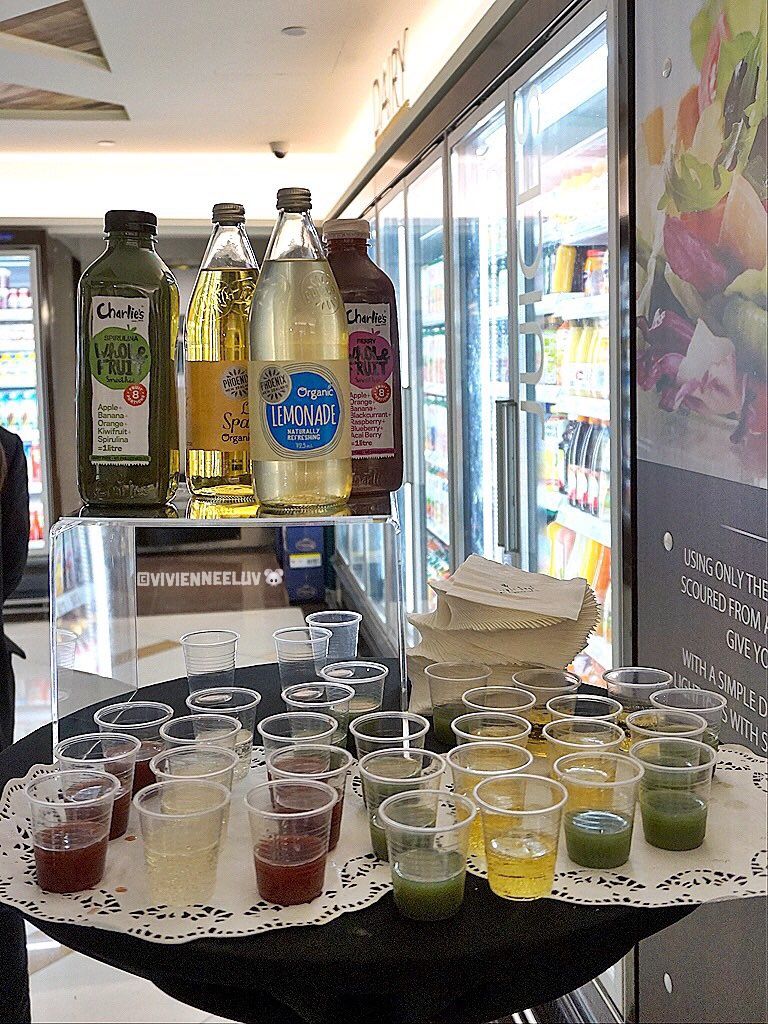 fresh juices,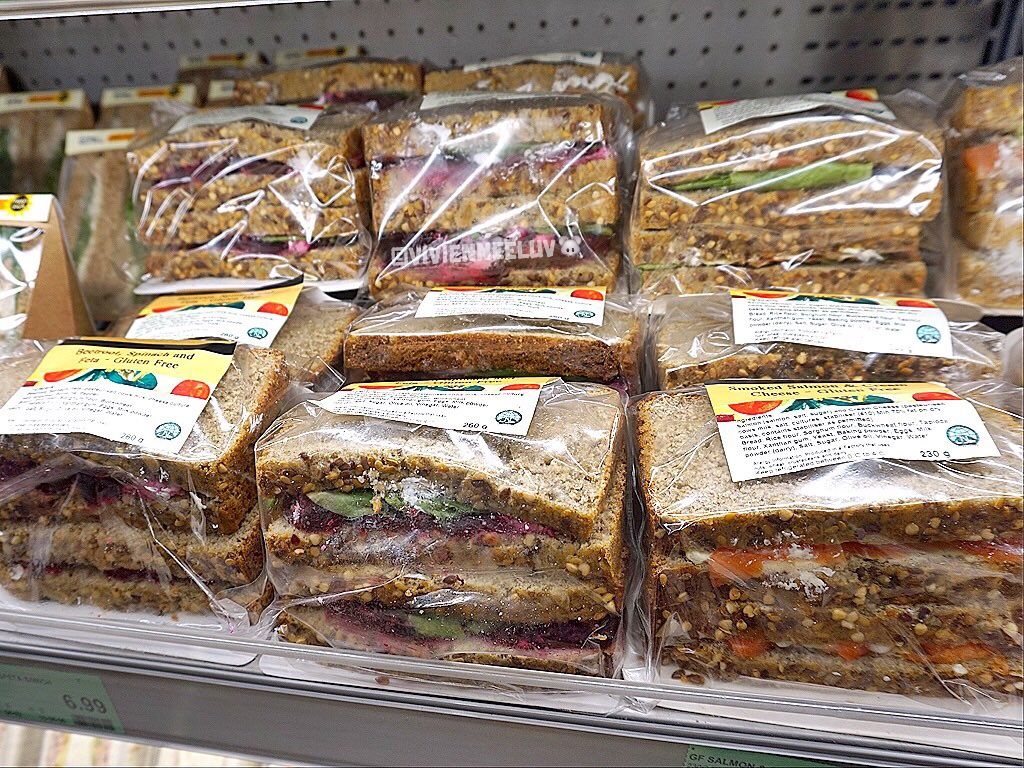 wide range of chilled sandwiches from classic egg mayonnaise to chicken salad with mango chutney wraps.
Customers can even purchase cooked meals such as BUTTER CHICKEN BENTO S$6.50, THAI GREEN CHICKEN CURRY BENTO S$6.50, CHICKEN BRIYANI BENTO S$6.50, ITALIAN PESTO BENTO S$6.50 that they can easily heat up in the comfort of their office pantry or at home.
FRUIT BAR
If whole fruits are troublesome, for added convenience, trays of cut fruits can be readily picked up at the Fruit Bar! I am a very cut-fruits person, I will only eat cut fruits at home or in the office.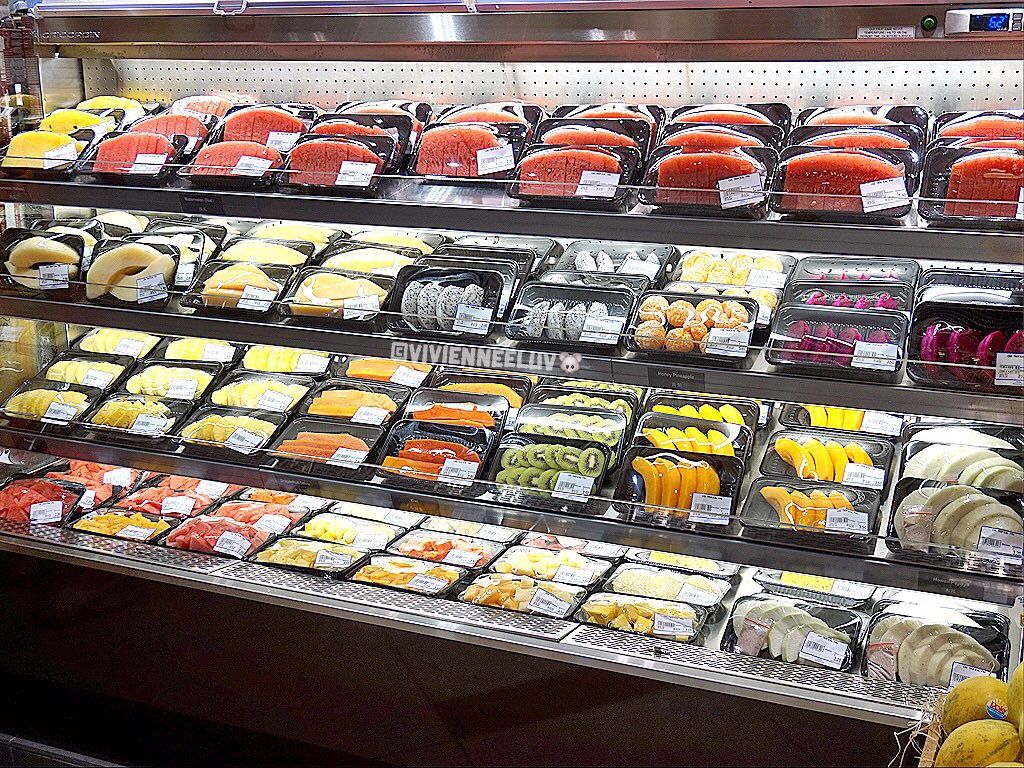 This fruit section also features a myriad of ready-cut fruit selection from Asia, Japan, Australia, USA & more.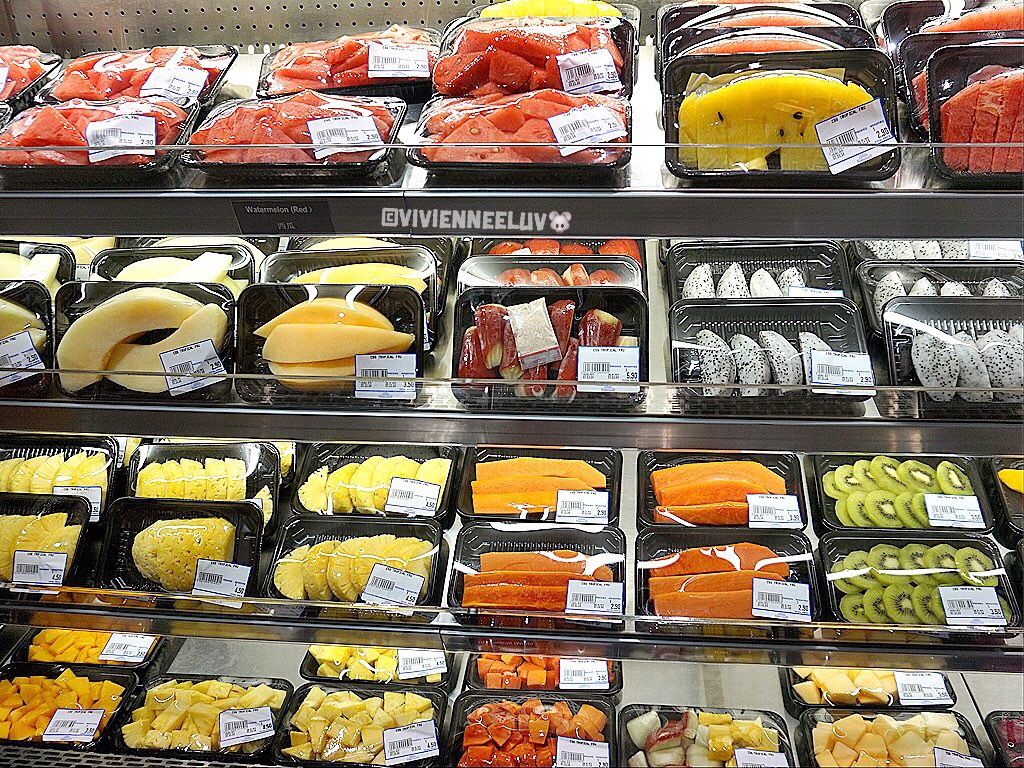 Lots of choices here: Papaya, pineapple, mango, rock melon, dragon fruit, kiwi, watermelon and more. This is just to name a few.
MAKE YOUR OWN SALAD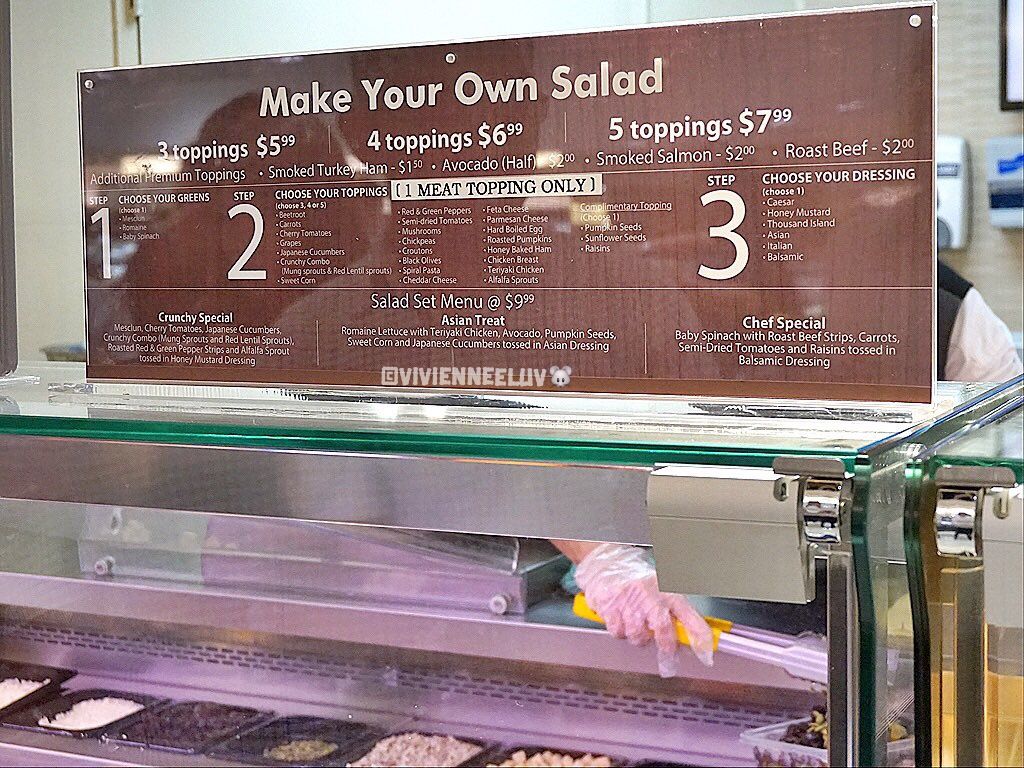 Moving on to ''Make Your Own Salad'' Counter, shoppers can mix-and-match salads (from S$4.99) with their preferred toppings and dressing. The comprehensive list of toppings spans the likes of beetroot, sundried tomatoes, feta cheese, smoked salmon and roast beef.
BBQ / PIZZA COUNTER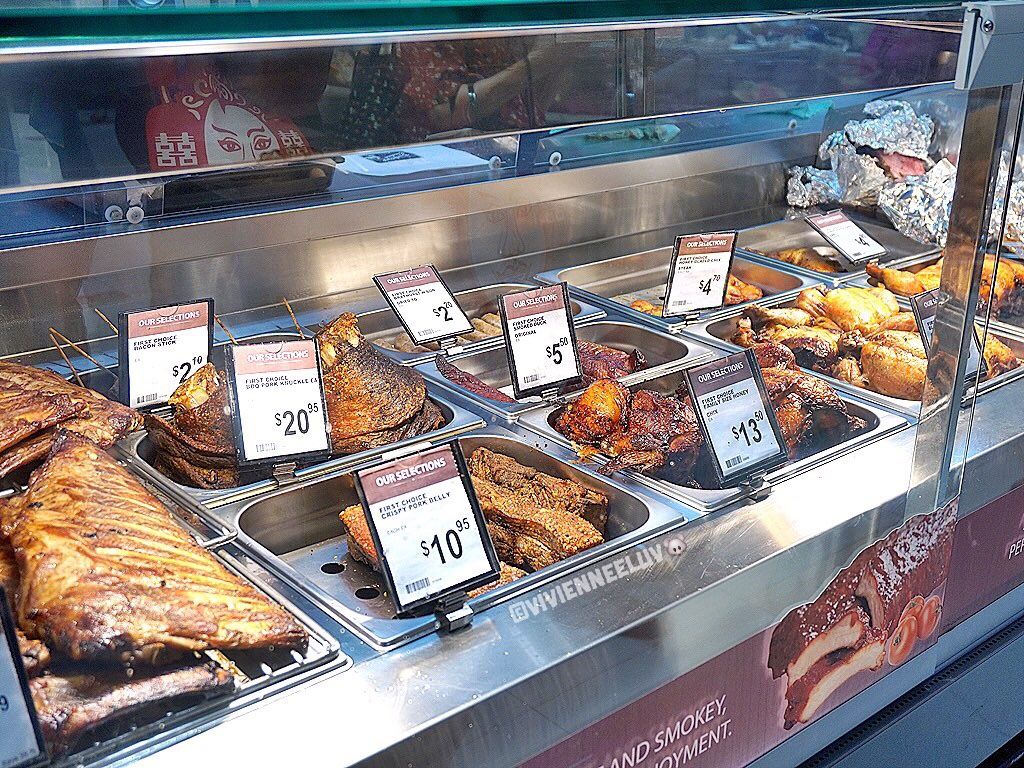 Hot food is available at the BBQ and Pizza counters, with delectable choices such as SMOKED DUCK BREAST S$5.50, CRISPY PORK BELLY S$10.95, HONEY GLAZED RIBS S$2.89 per 100g - perfect as a main course for lunch, or shared with colleagues over a convivial office potluck.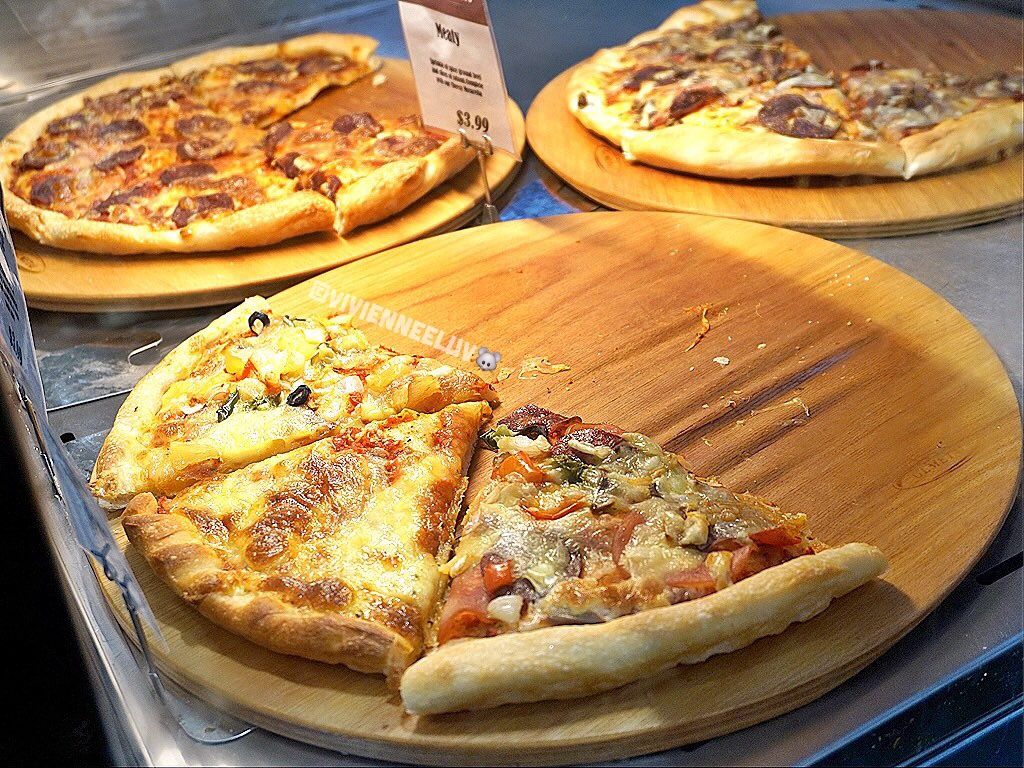 SUSHI / SASHIMI
The Japanese segment of the Ready to Eat Section has also expanded to offer sashimi, sushi, bento boxes and cold soba.
SEAFOOD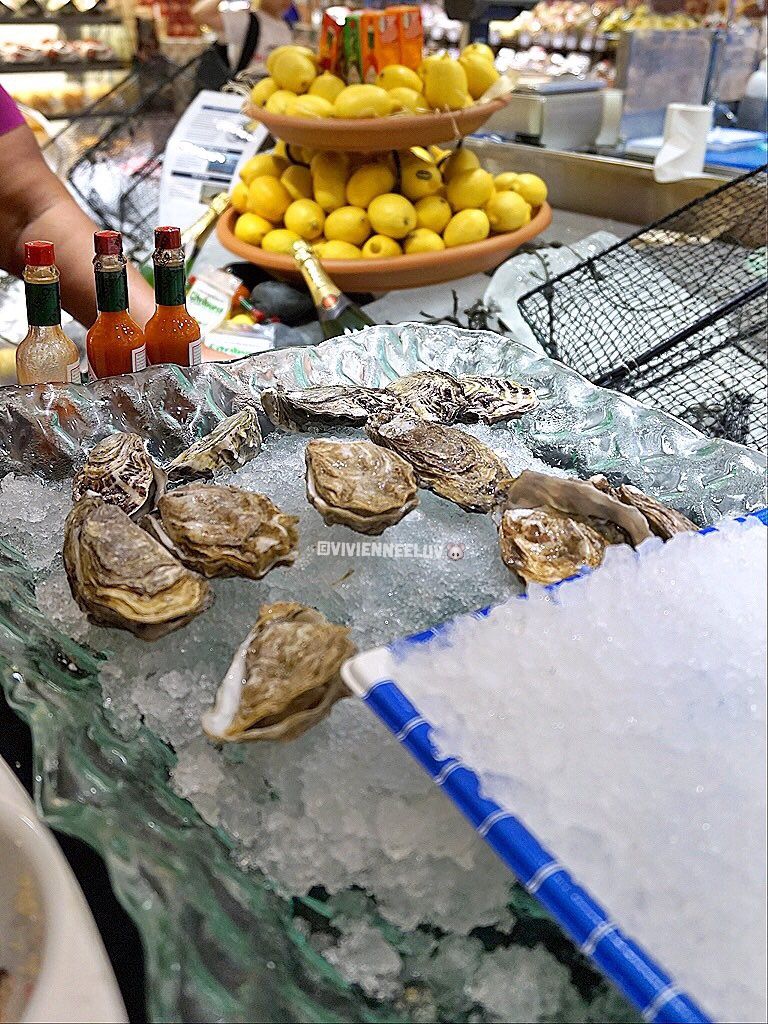 The Fresh produce, meats and seafood sections have also been broadened to provide more grocery options for the supermarket's discerning shoppers. Highlights include heirloom tomatoes from France, rose garlic from Spain and choice cuts of beef from USA.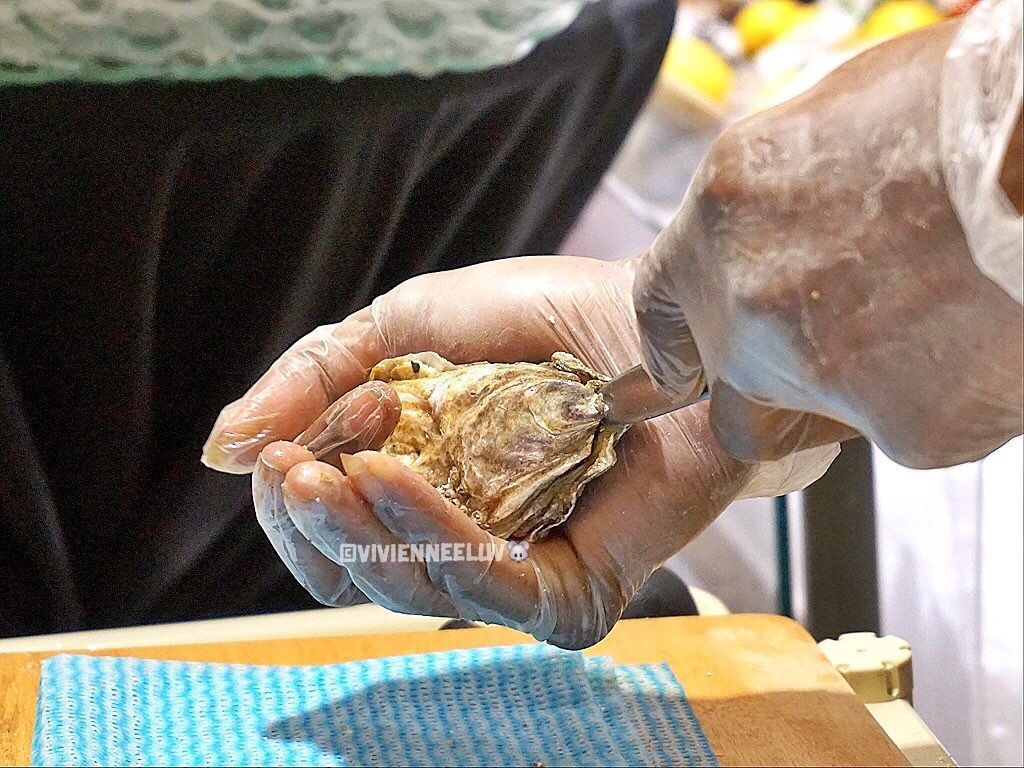 You can buy oysters and get them to shuck for you! I think it takes some skills to shuck those oysters.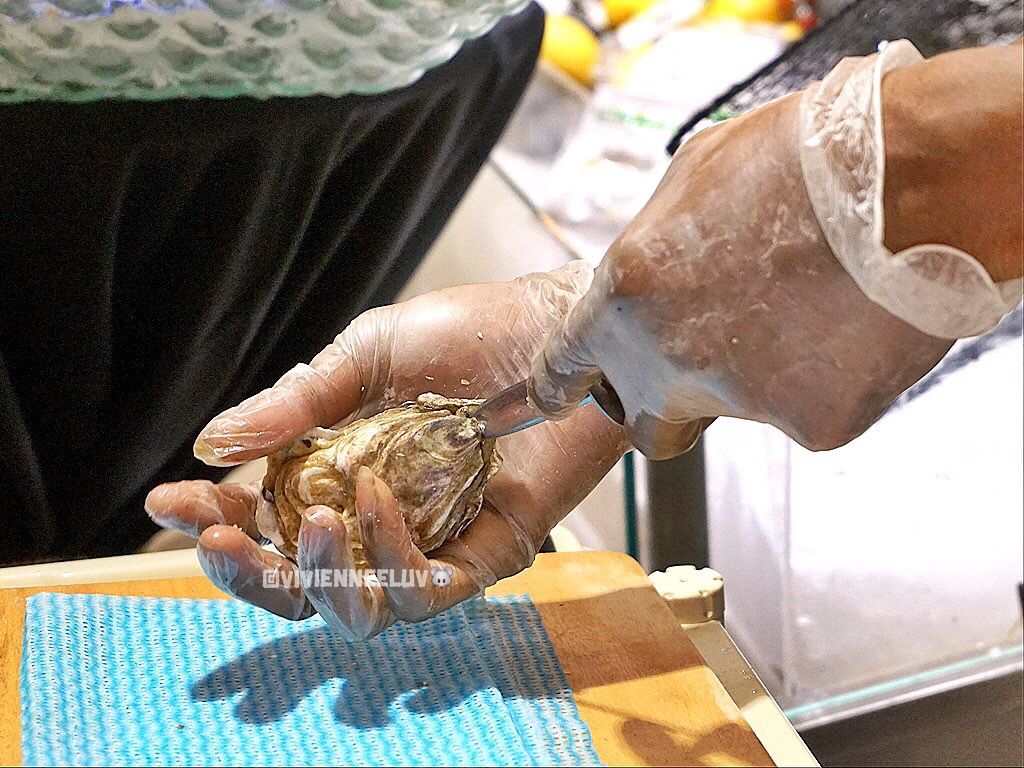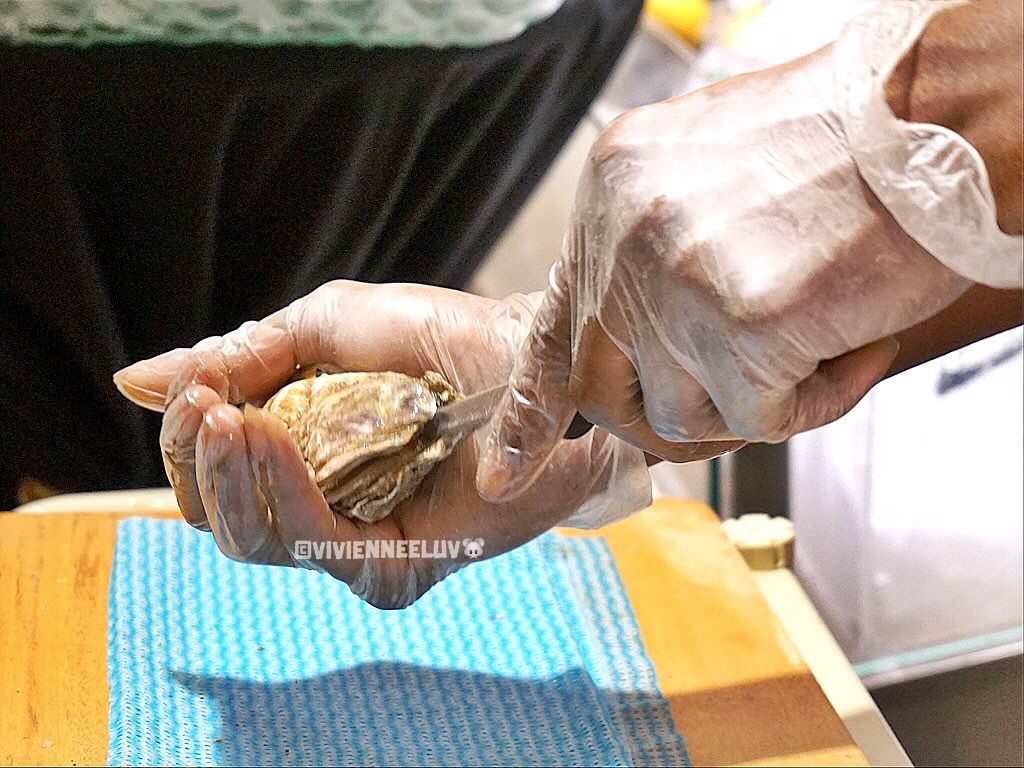 These are limes, but they are not available for sale yet.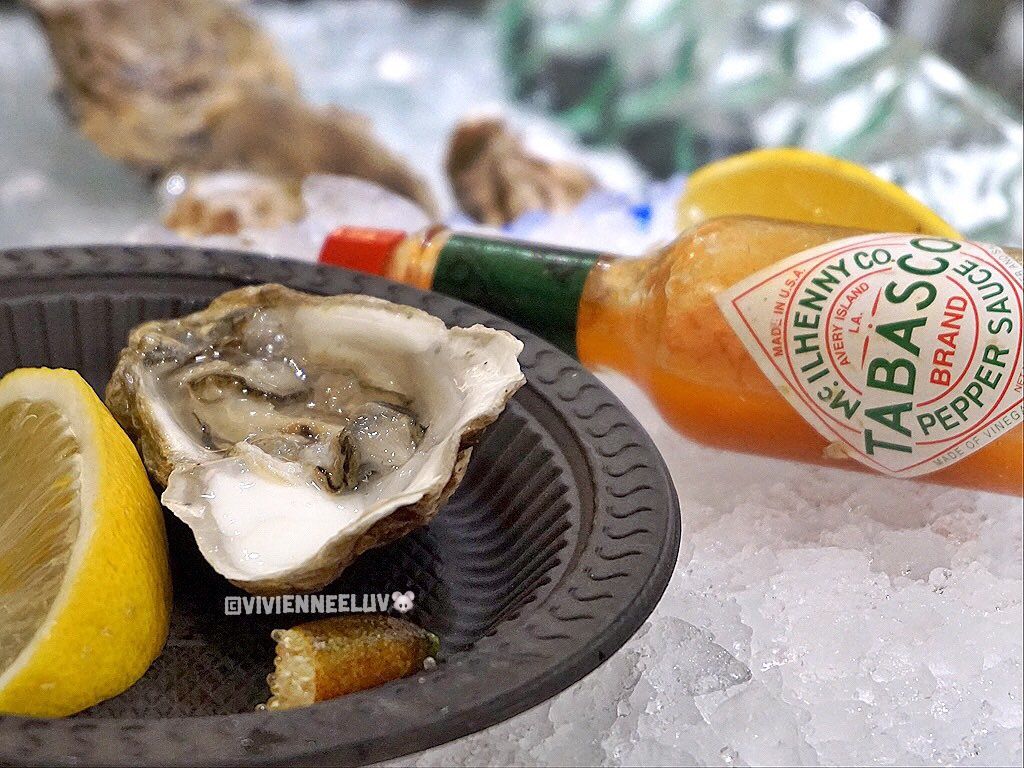 I get to eat the oysters on the spot! I am not an oyster person but I can tell that these are really fresh!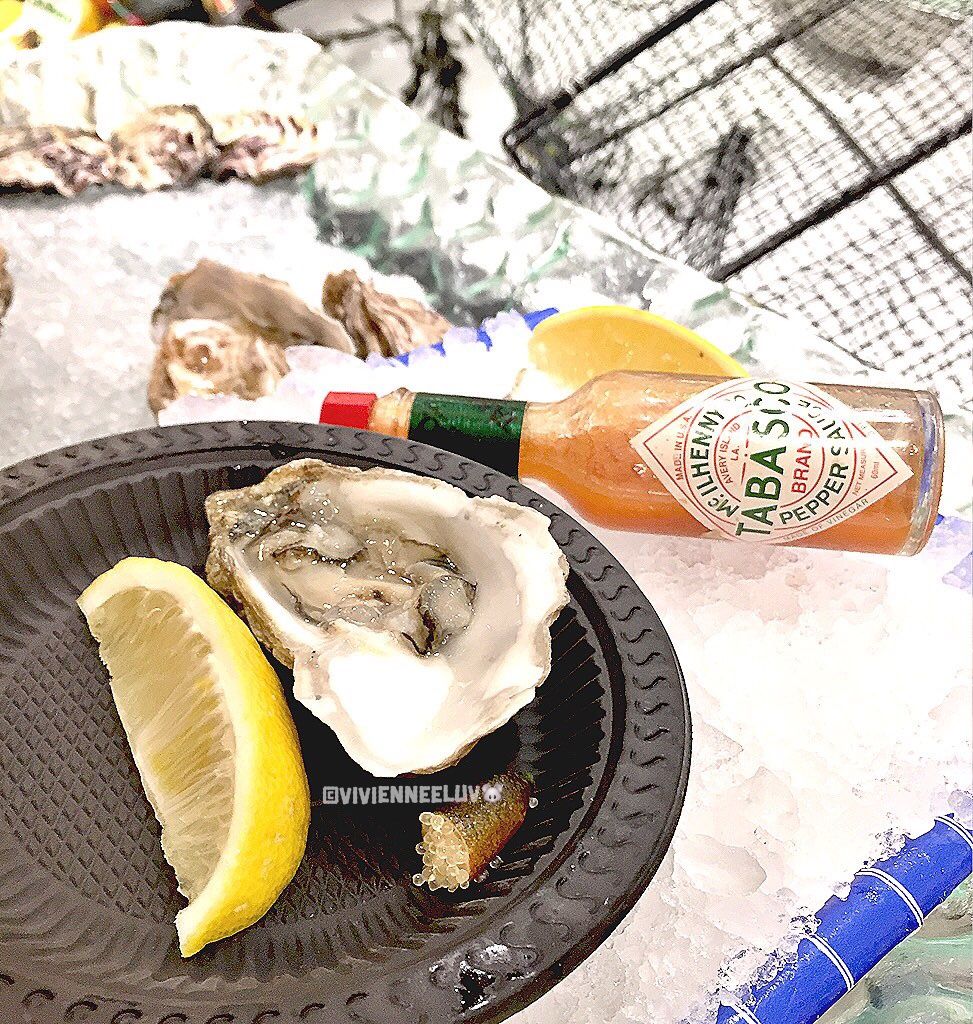 Don't the pictures above looks scary? Do you feel that the whole place will smell like a wet market? NO! you are wrong, I was quite surprise too, but the whole place is clean and doesn't smell bad at all!
And look at the huge prawn!
''READY TO COOK'' PRE-MARINATED MEATS / DELI SELECTION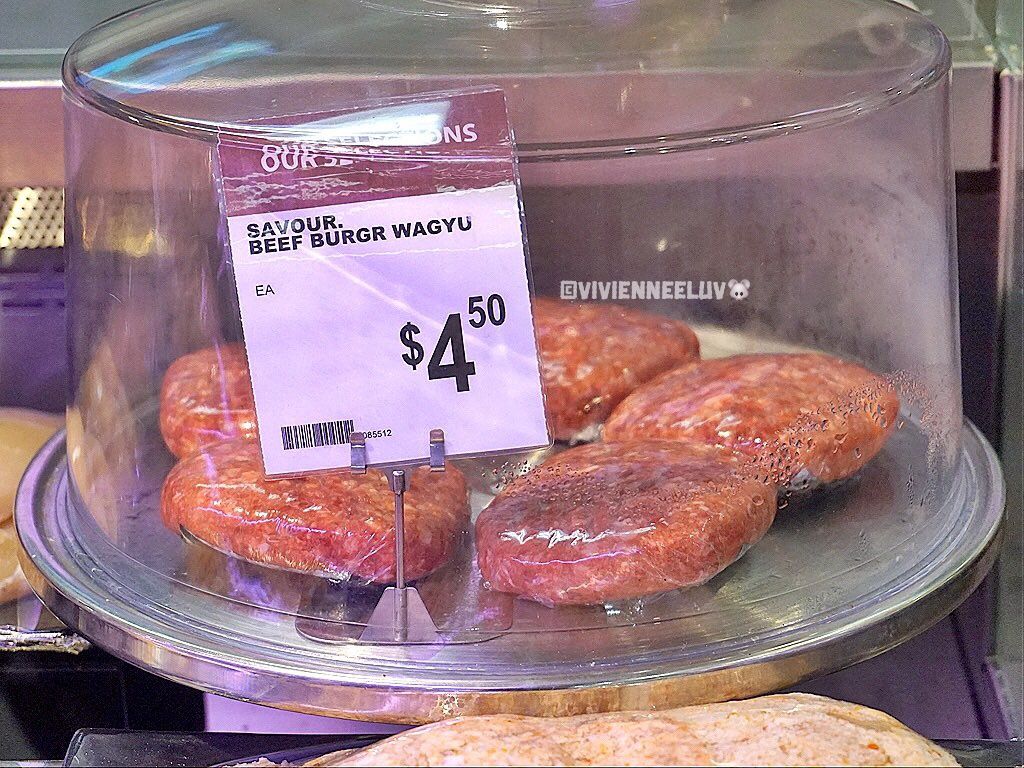 Busy working adults can browse the array of pre-marinated meats to whip up simple and easy-to-prepare dishes at home.
The assortment of seasoned kebabs, steaks, chicken, pork, burger patties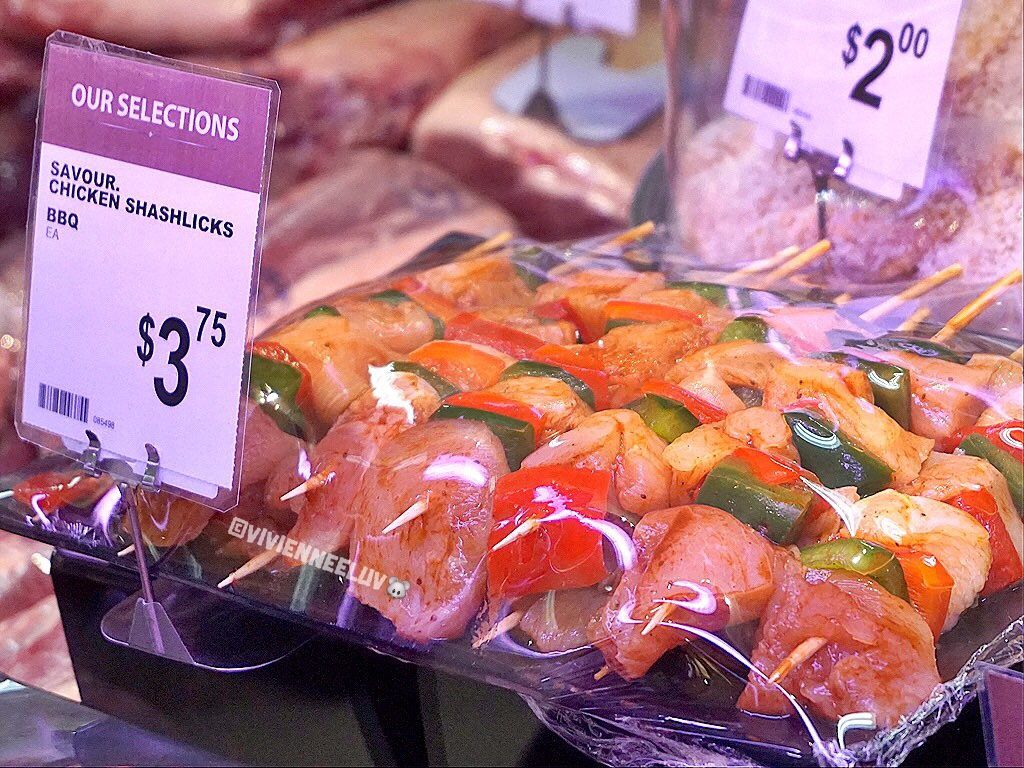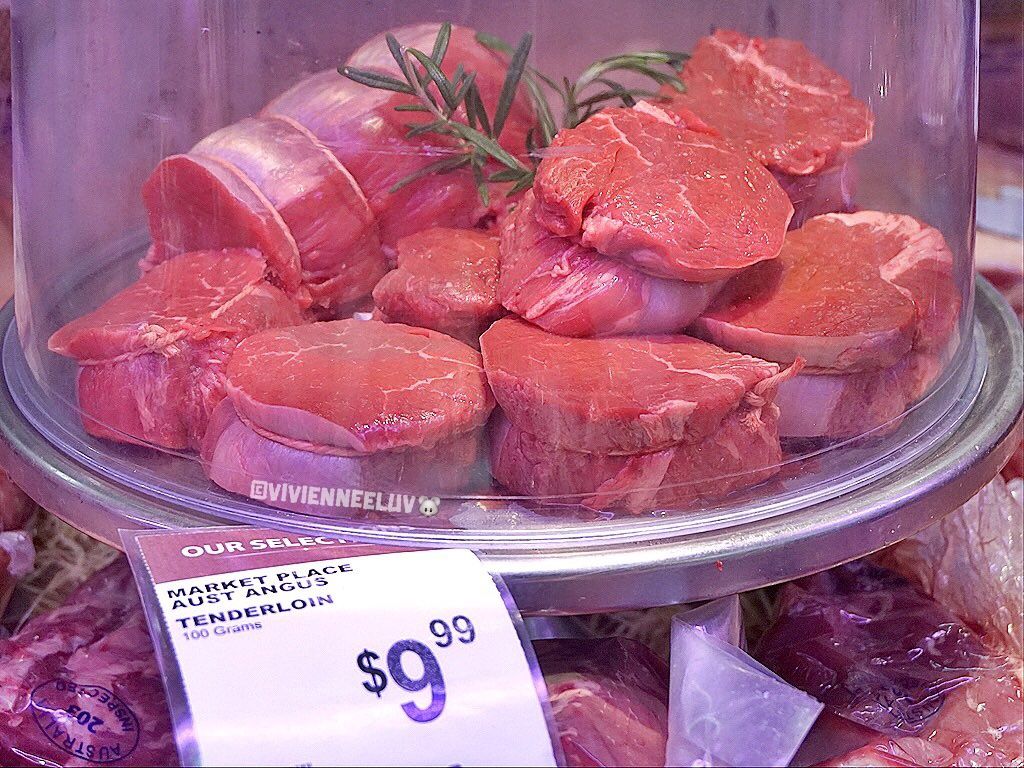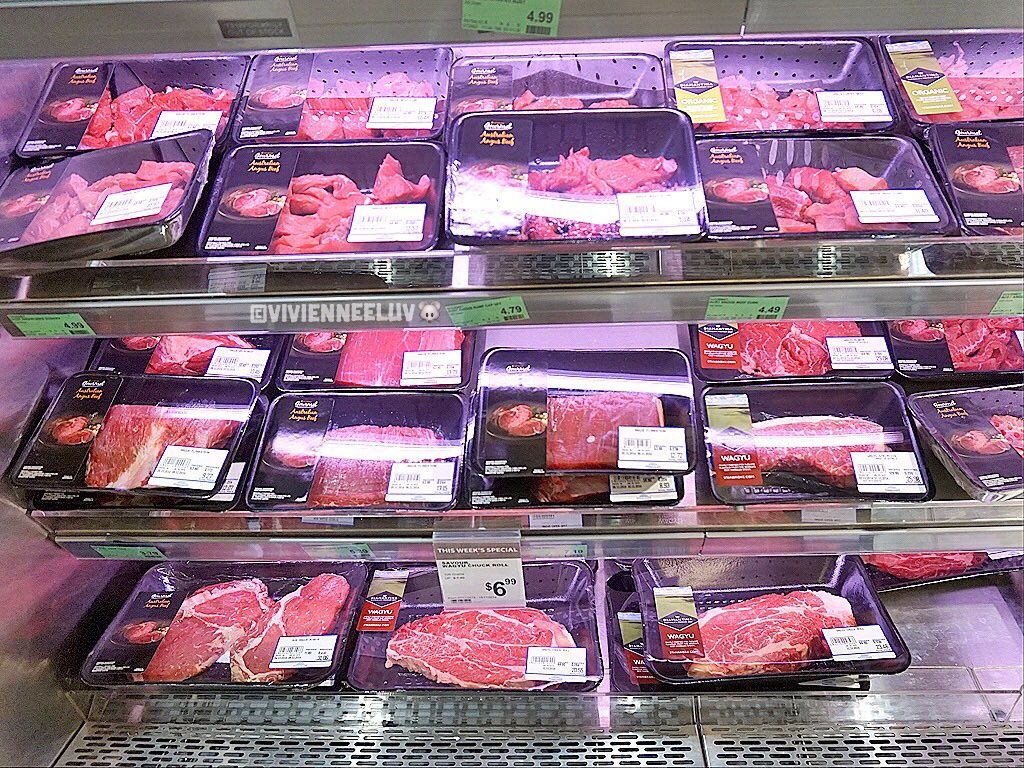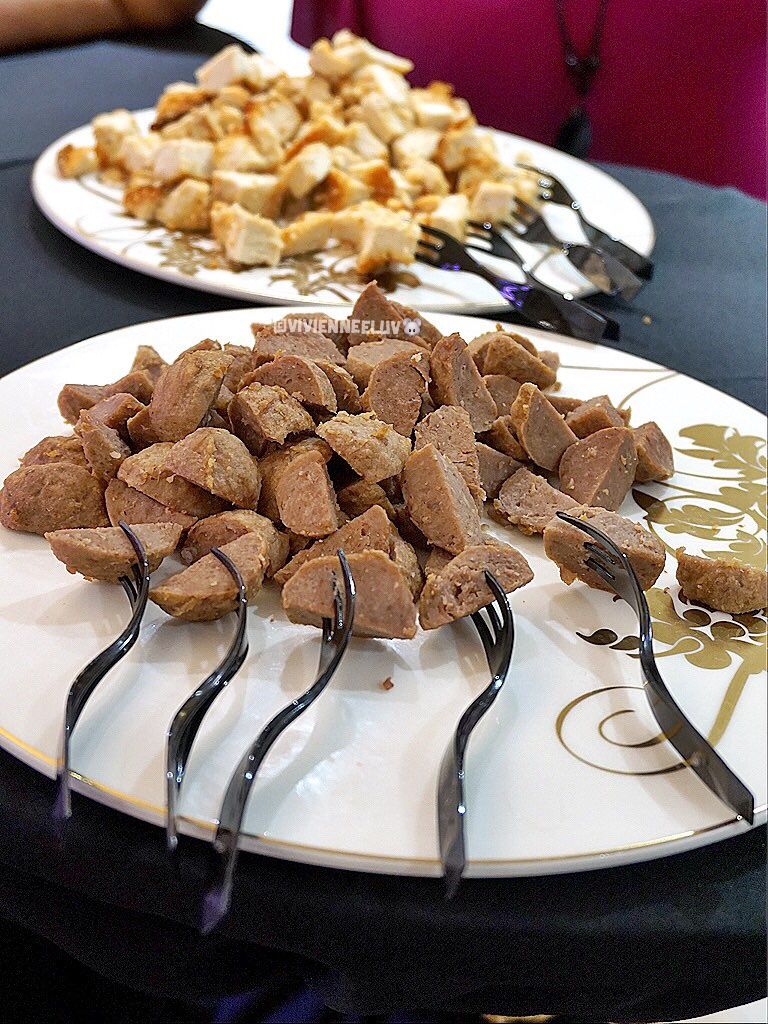 and Schnitzels provide hassle-free solutions for a simple dinner.
From the deli section, shoppers can look forward to a larger range of salami, sausages and artisanal cheeses.
We tried beef balls and
chicken
schnitzels
. Love the chicken
schnitzels!
I think I will be buying lots of these for K, I know his taste well, he will definitely love this!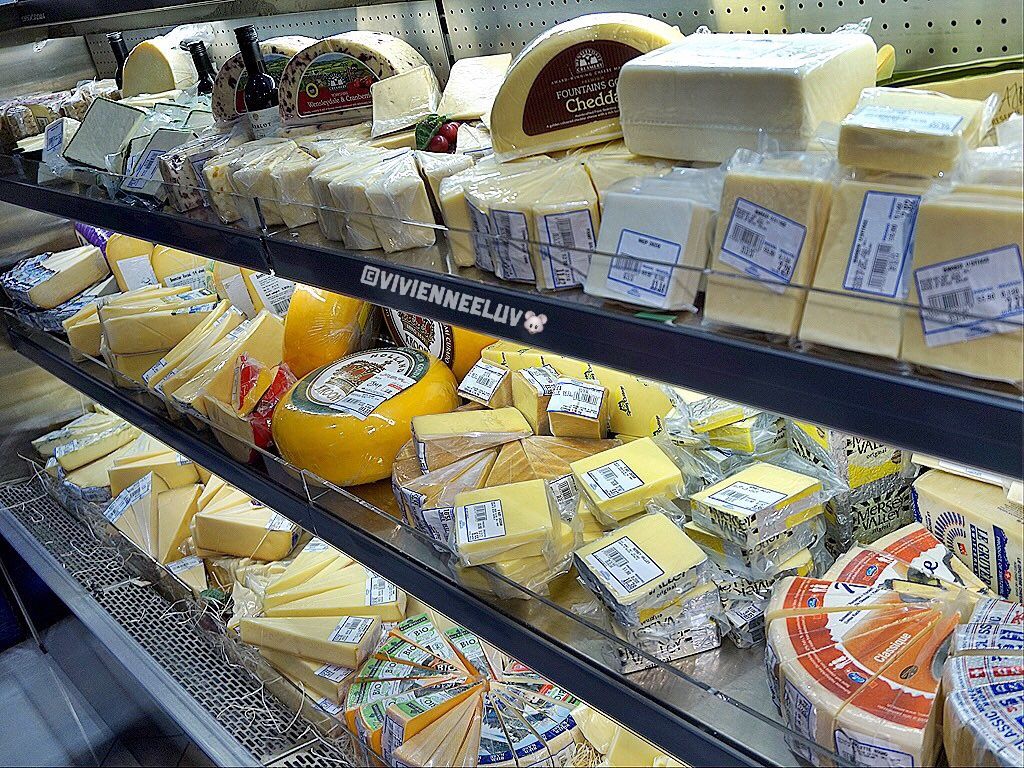 ''FOOD OF THE WORLD''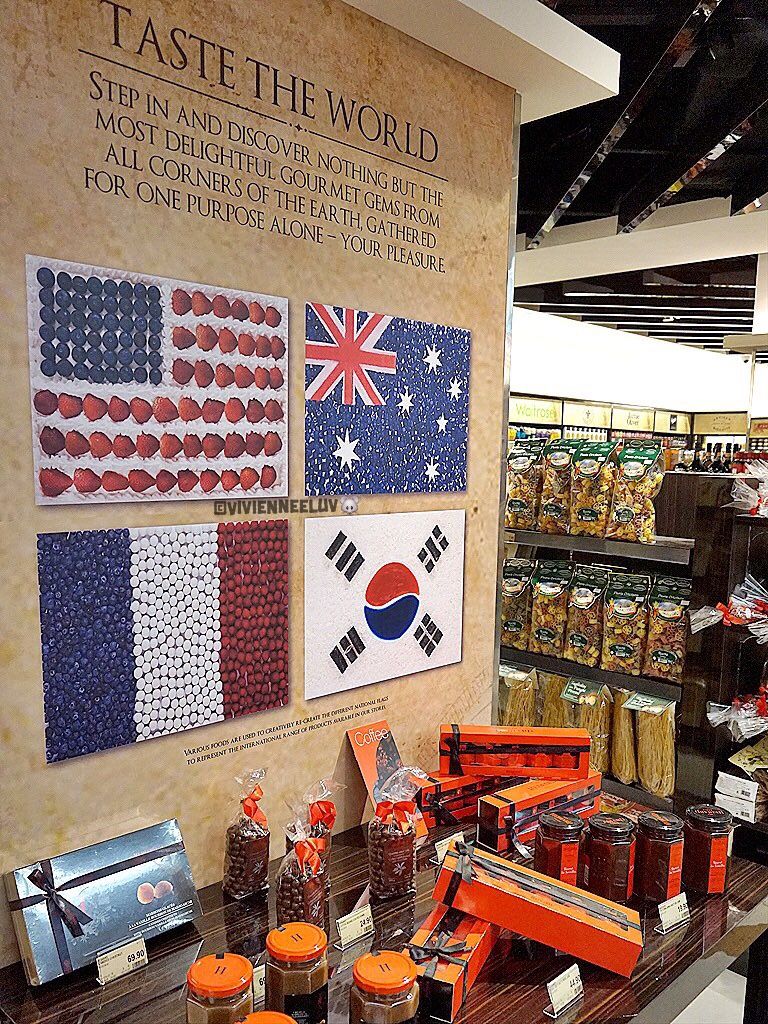 In addition, Raffles City Market Place has established dedicated shelves for ''Food of the World'' section showcasing gourmet products from the world's food capitals.
Well-heeled gourmands who seek out the finer pleasures in life will be thrilled to learn that Market Place will present a carefully-curate selection of epicurean indulgences at the new Food of the World section. Shelves will be stocked with a mind-bogging spectrum of fine foods from all over the world; artisanal aged balsamic vinegar from Modena, Italy; pickled as well as dried premium mushrooms from Germany; assorted flavoured sea salt from France; dried pasta of al colours and shapes form Italy, artisan biscuits from UK and more!
TARALL FARFALLE COLOURED BOW PASTA S$6.25
SENG CHOON EGGS also from Market Place!
Packed these to work for lunch, happy food!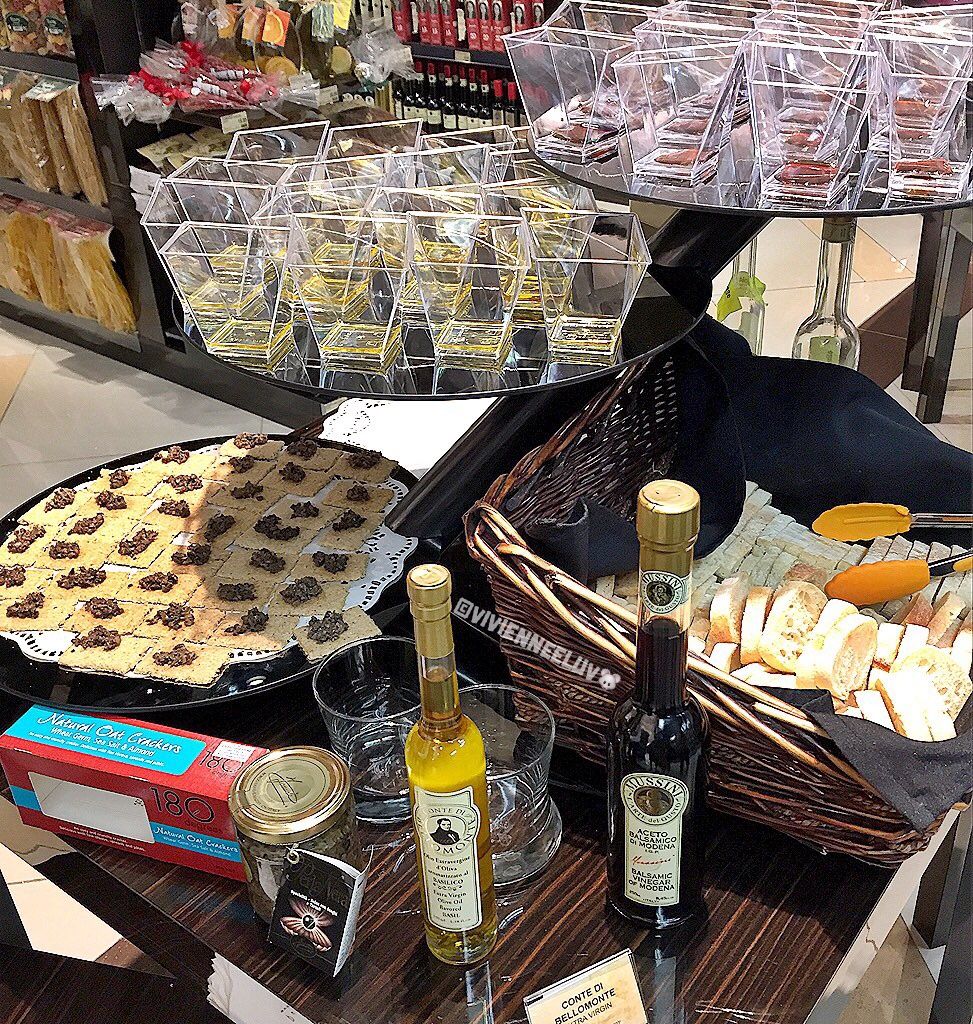 We had some bread with olive oil & balsamic vinegar, I am in love!
CONTE DI BELLOMONTE EXTRA VIRGIN OLIVE OIL S$8.90
MUSSINI BALSAMIC VINEGAR OF MODENA S$31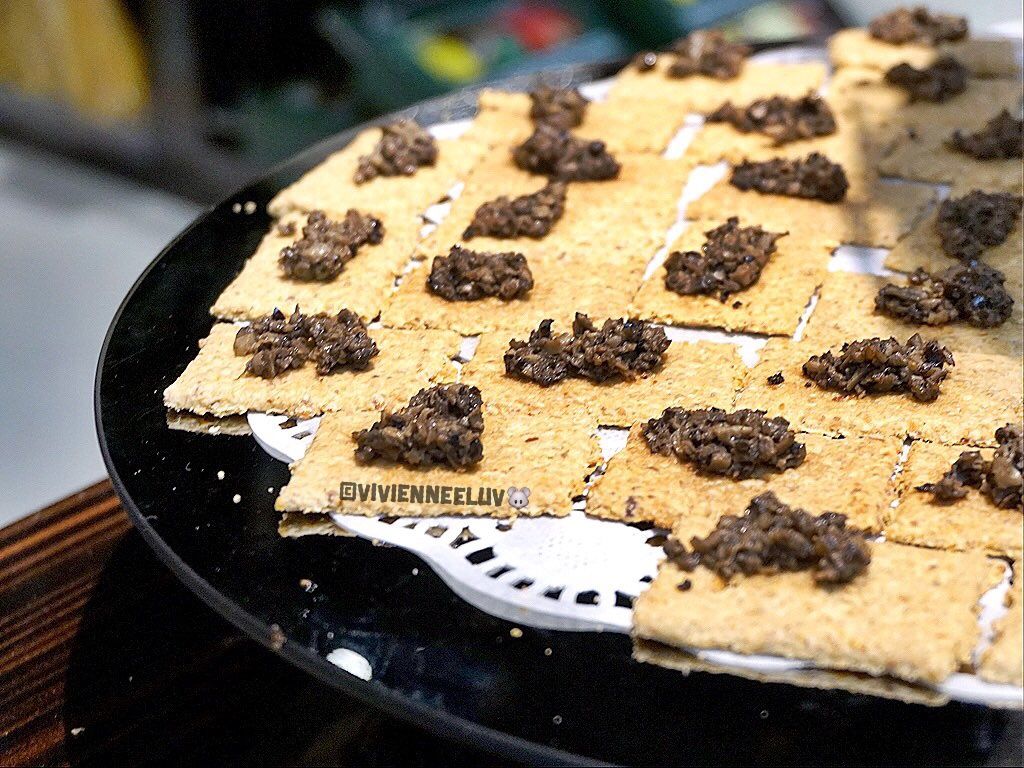 TRUFFLE! Now you can play cheat and pretend that you whip up lots of yummilicious, atas food but in fact all were grabbed form Market Place!
FROZEN
MINI BLACK FOREST GATEAU S$14.95
MINI STRAWBERRY & CREAM CONES S$14.95
MINI VICTORIA SPONGES S$14.95
I love the mini victoria sponges, I am always bias towards raspberry jam & cream!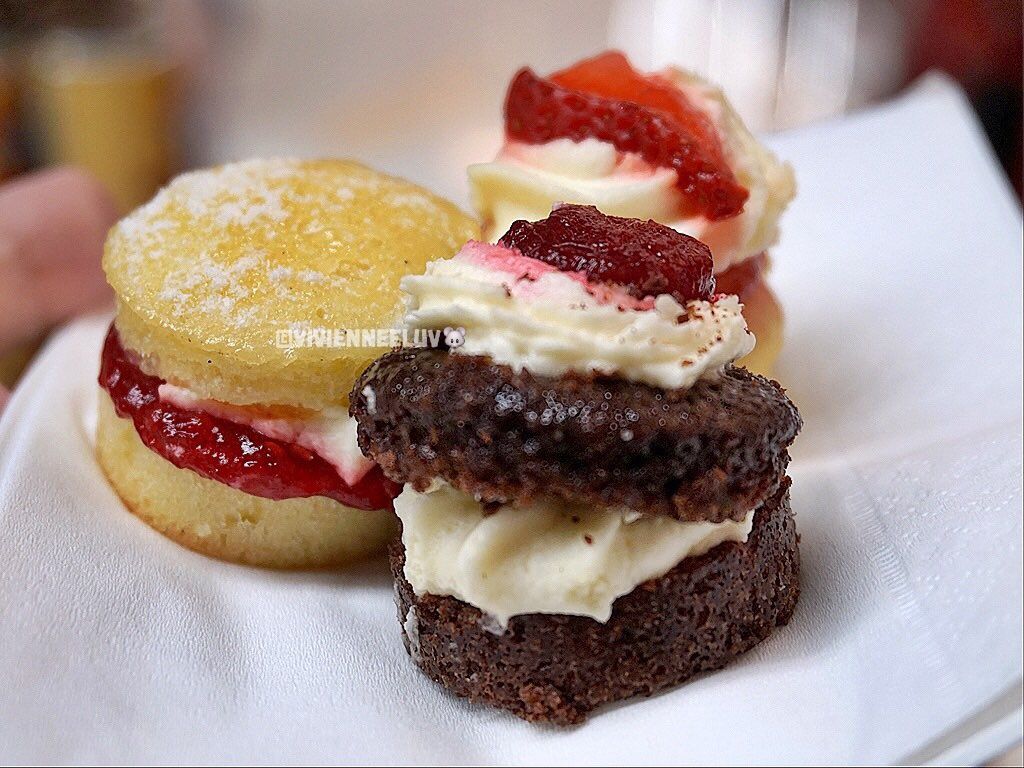 Do you agree that these are very pretty. Too pretty that I can't believe that these are actually frozen cakes! Just need to defrost for 45 mins and you can serve them at your mini party!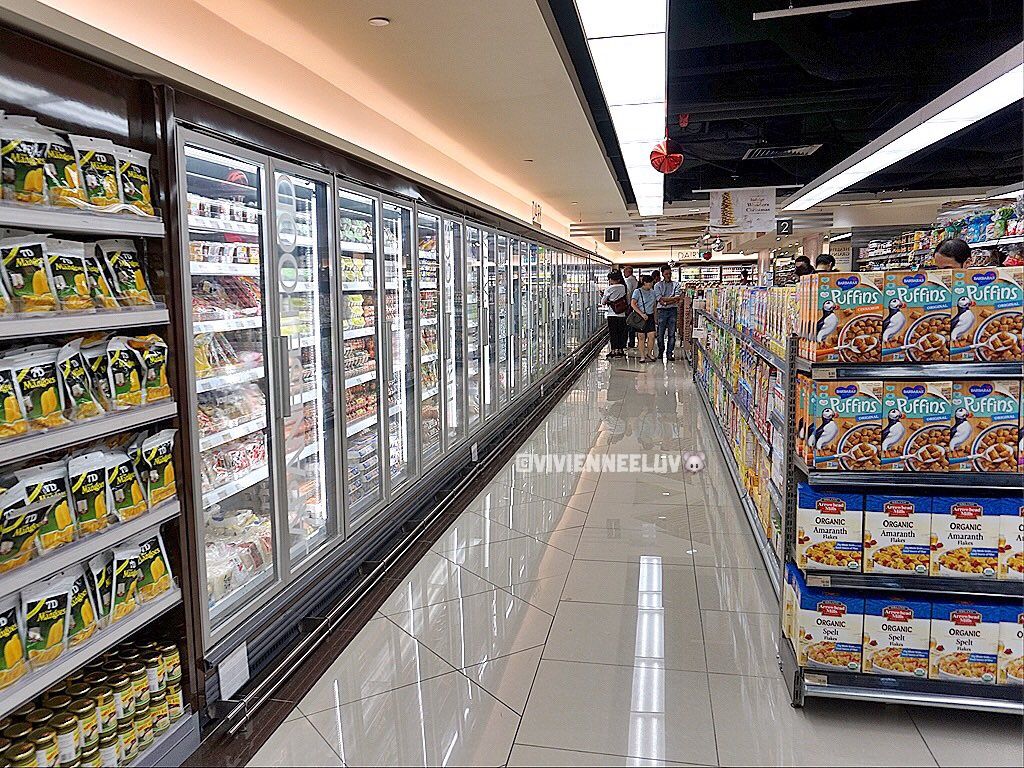 Love the neat shelves of goodness!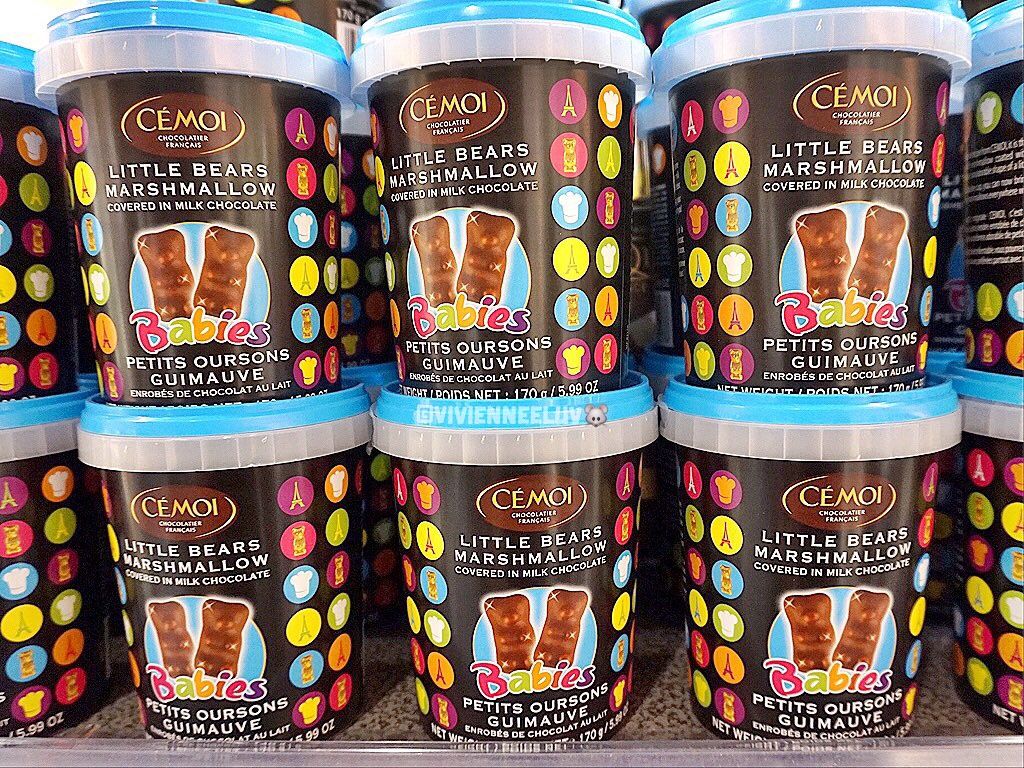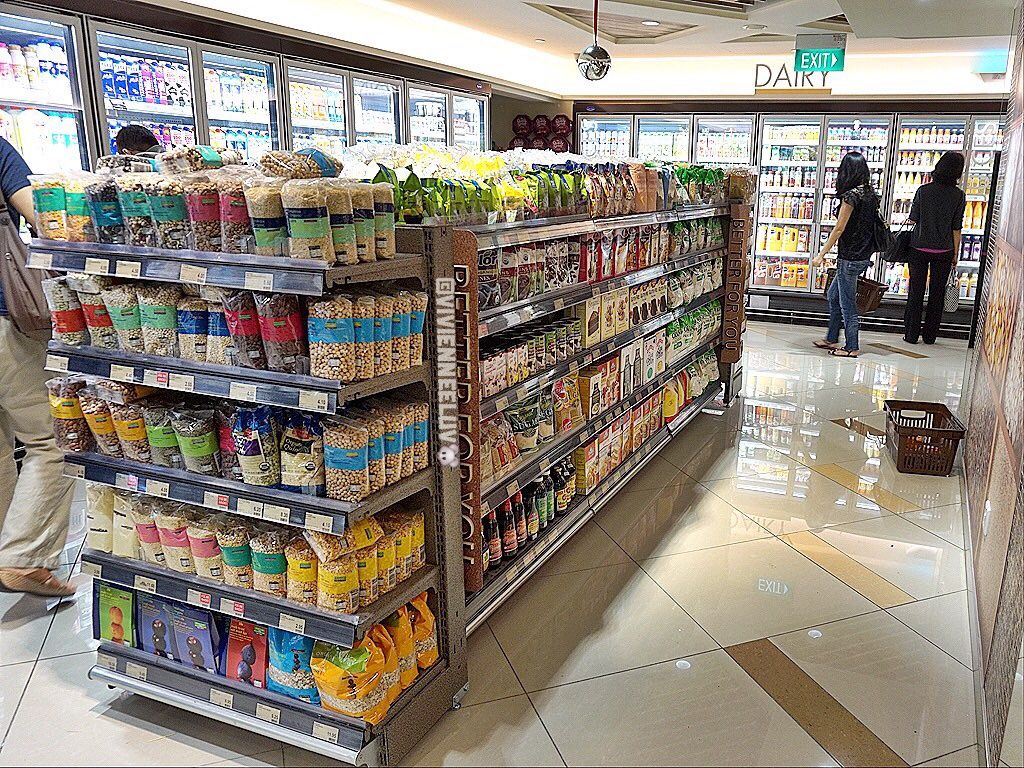 The '"Wellness'' section of healthful products like whole-grain pasta, gluten-free snacks, and organic pantry staples, is also prominently featured at this store.
To cater the increasing demand among customers for health food products, Market Place has established a Wellness section for all things healthful, going beyond essentials like organic grains and pasta, to encompass even baby foods, as well as low glycemic-index and gluten-free snacks!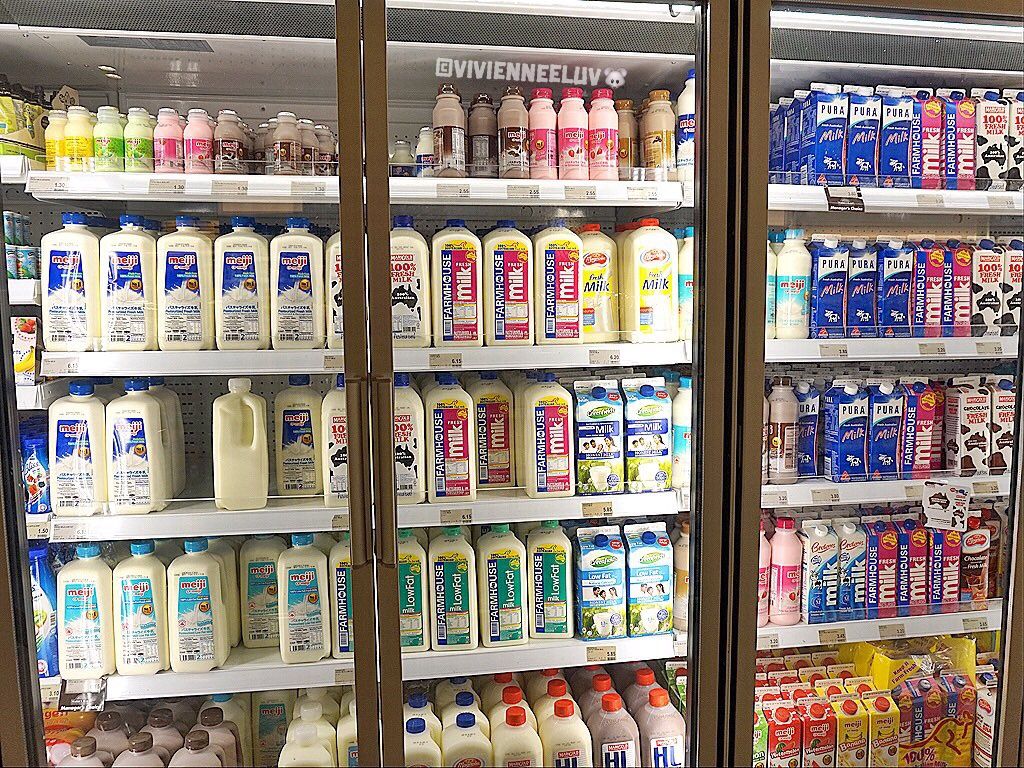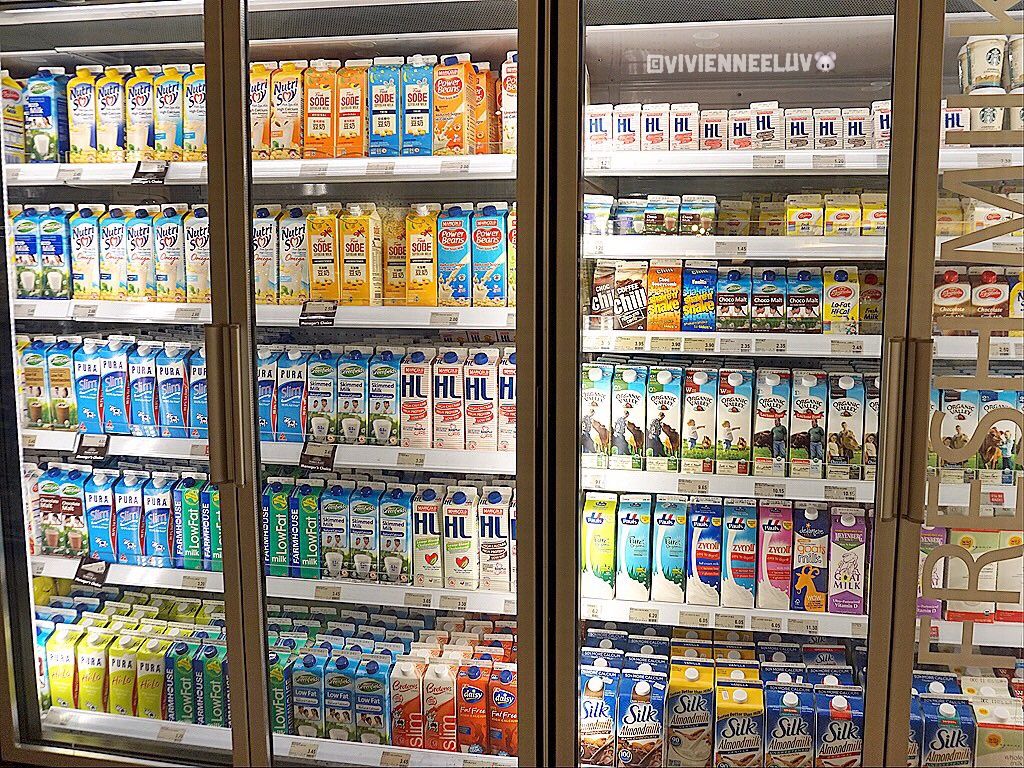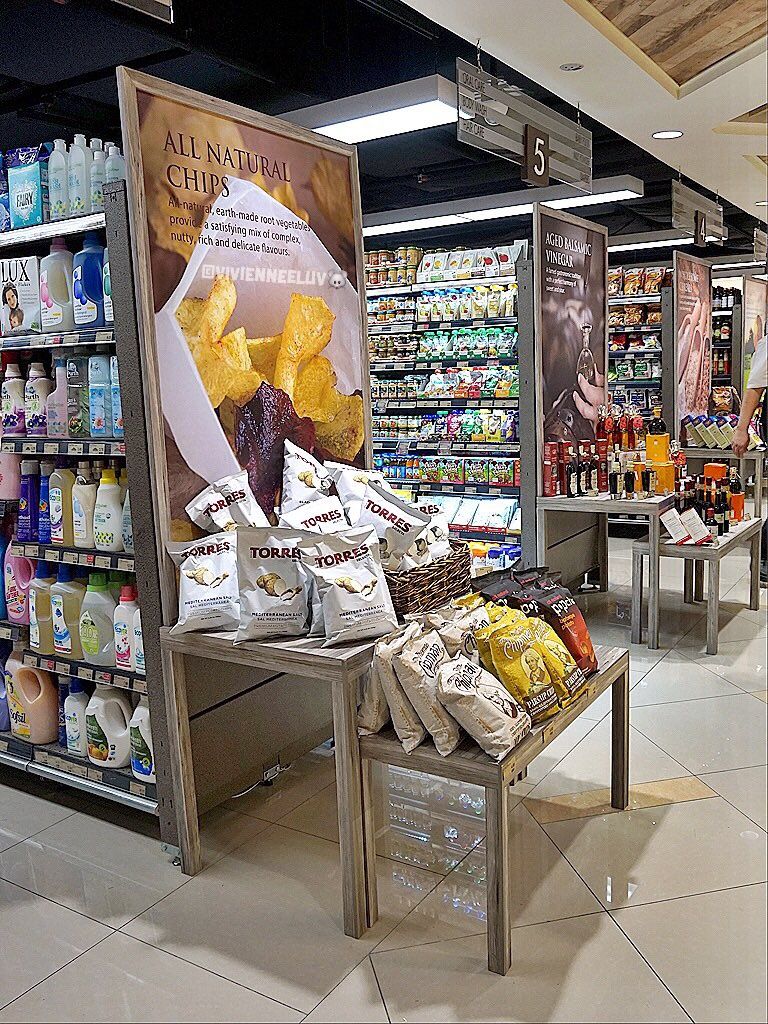 Each quarter, the store puts up display of new product highlights to alert its savvy shoppers on the latest offerings.
K bought me something here some 3 months ago!
We are bound to find interesting buys here at Market Place!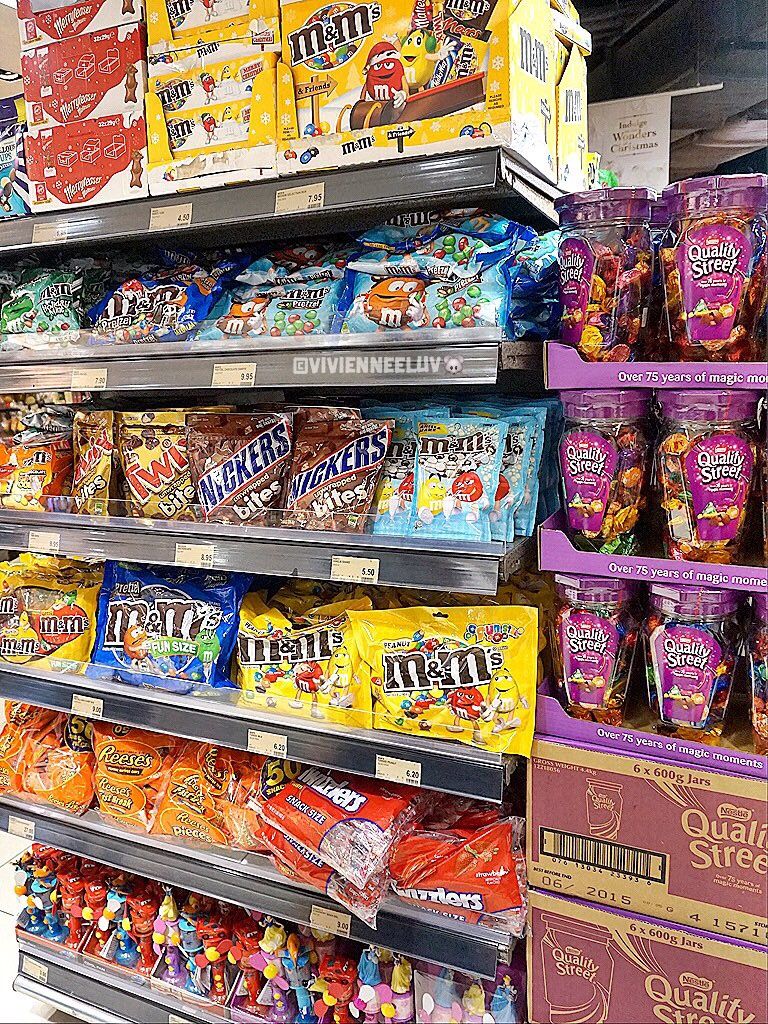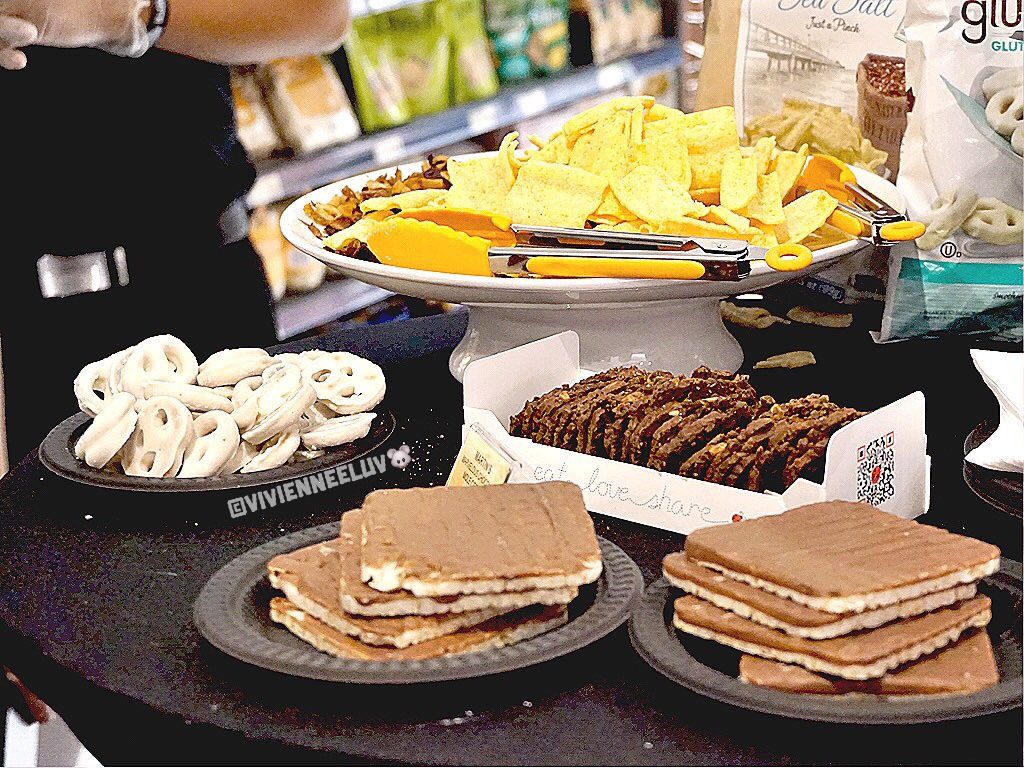 CHOCOLATE-COATED KALLO ORGANIC RICE THINS S$6.55
and the yogurt coated pretzels are a must-buy!! They are simple delicious!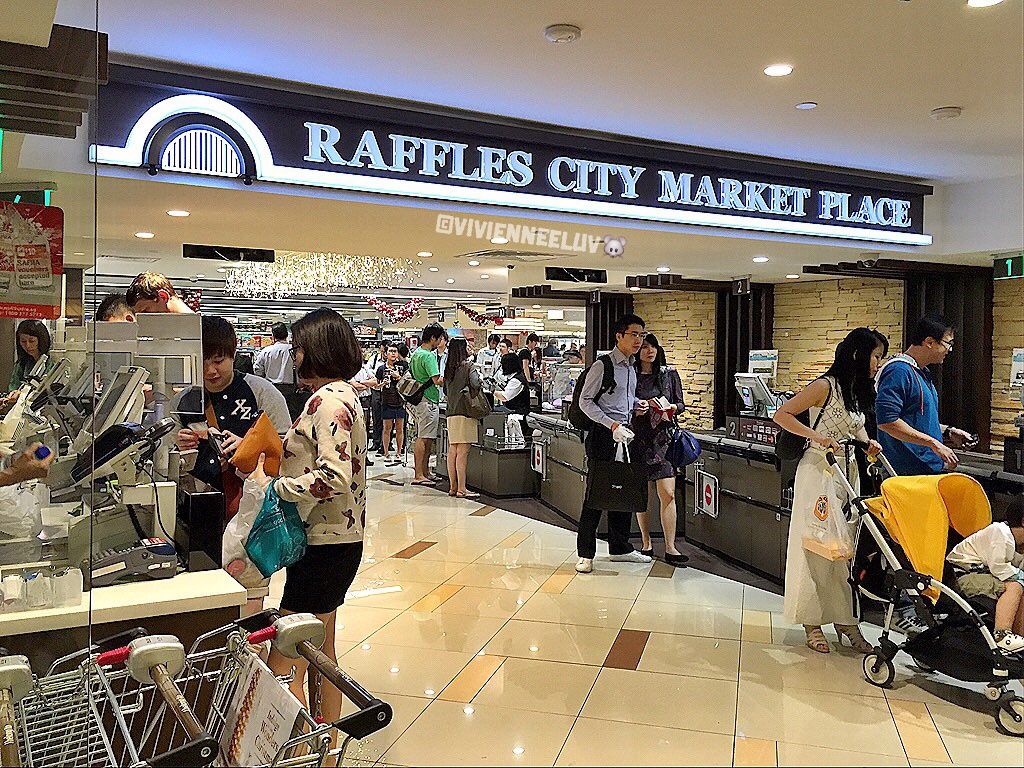 Our goodies bag, how awesome is this!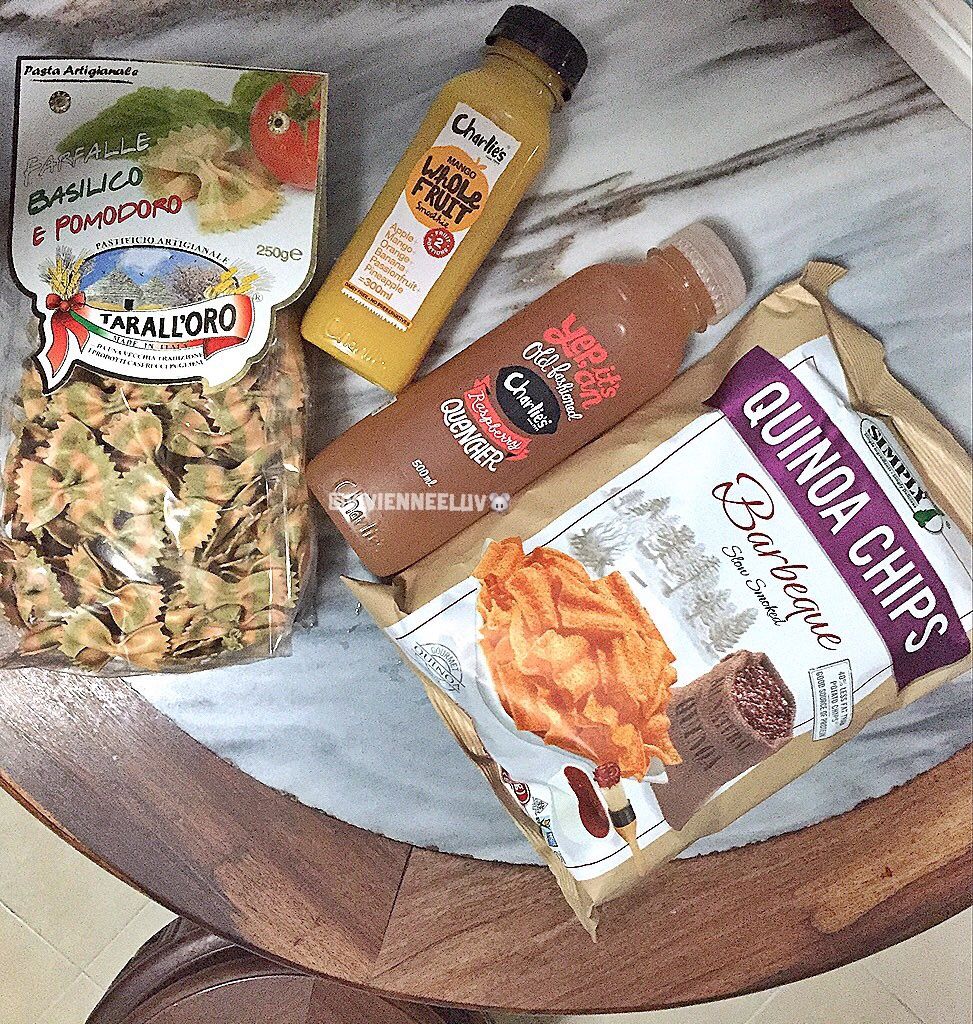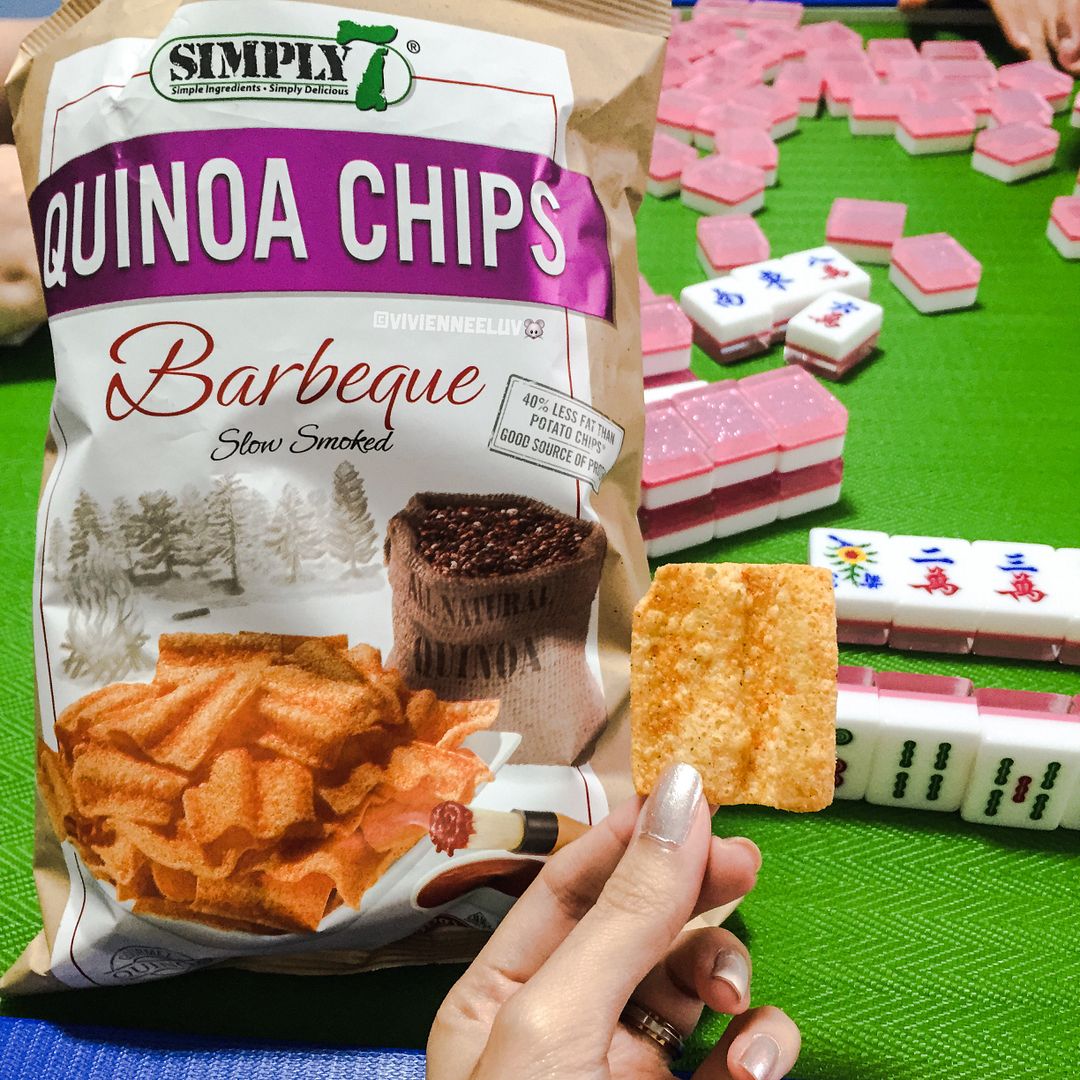 We had a mahjong session and its a perfect timing to bring out a packet of Quinoa Chips to munch!
With the Christmas season around the corner, there should be plans of potluck parties ad all, head down to Market Place for a brand new shopping experience!
Thank you Market Place for hosting us!