Address:
3 Temasek Boulevard #03-334 Suntec City Mall Singapore 038983
Tel:
+65 63419200
Operating Hours:

Lunch 11.30am to 3.30pm

Mon to Fri S$36.90++/adult & S$18.90++/child
(check in and out of the restaurant within 1 hour to enjoy the buffet at only S$24.90++/adult)
Sat, Sun & PH S$38.90++/adult & S$18.90++/child

Dinner 5.30pm to 10pm

Mon to Thu S$54.90++ /adult & S$18.90++/child
Fri to Sun, PH eve & PH S$58.90++/adult & S$18.90++/child

Family Affair 11.30am to 3pm

Sat & Sun only S$84++/2 adults + 1 child

Afternoon Delight 3.30pm to 5pm

Sat, Sun & PH S$18.90++/adult & S$9.90++/child
KuishinBoSG reopened at Suntec City Mall on 15th May 2015, how time flies when they first opened this outlet here was in year 2001!
Expect the usual buffet spread of over 100 favourites across 7 sections: Salads & Appetisers; Sushi, Sashimi, Seafood; Teppanyaki; Paper Hot Pot; Fried Food; Soups; Desserts.
During dinner hours, you can also enjoy a free flow of Zuwaigani (snow crabs) and a ''special''/limited quantity dish that will be distributed at the front of the restaurant when the iconic ''dong dong dong'' bell is sounded.
Apart from these above, there will also be a quarterly thematic food fairs showcasing gastronomic highlights from various regions in Japan. (The Kyushu and Okinawa Fair just ended on 27th September 2015, do keep a lookout for the next one!)
Kuishin Bo is fitted with wooden beams, quirky sake barrel-shaped booth seats and vintage beer posters, decked with paper lanterns making the whole place cosy and welcoming.
The first I headed straight to is, the Kids Haven corner, which is only exclusive to the outlet at Suntec City Mall. Rows of vivid-hued masks depicting cartoon characters like Doraemon and Pikachu, and coloured lanterns and pretty ceiling fixture of ''sakura'' flowers dangling overhead.
On weeknights and weekends, the thoughtfully designed low counters are laden with kids-friendly dishes such as Chicken Ragout Spaghetti, Chicken Karage, Curry Cream Baked Rice and also there is a popcorn machine on the left and DIY ice caching machine on the right!
I wish I'm a kid again...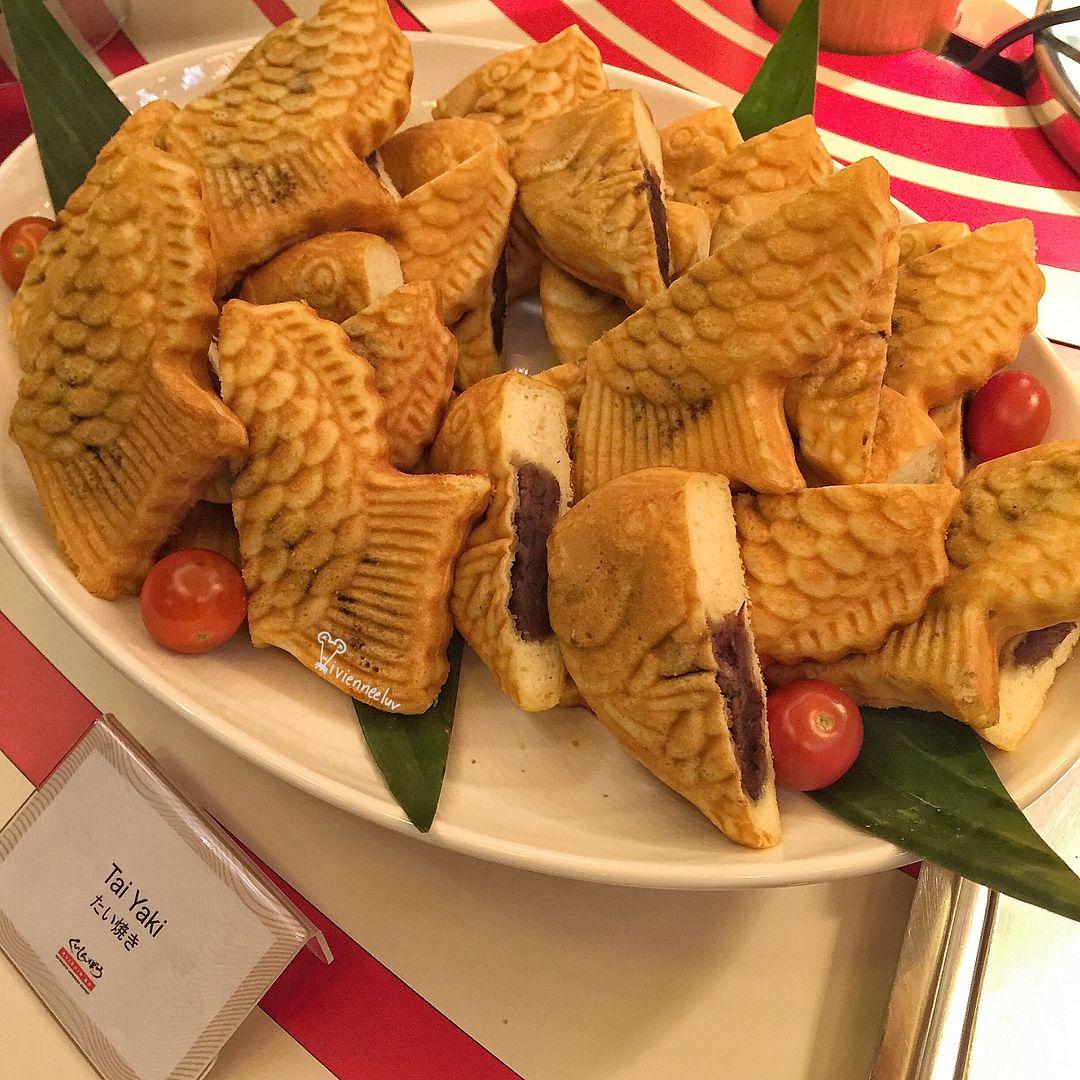 I love how every dish has a tag, neatly displaying on every counter.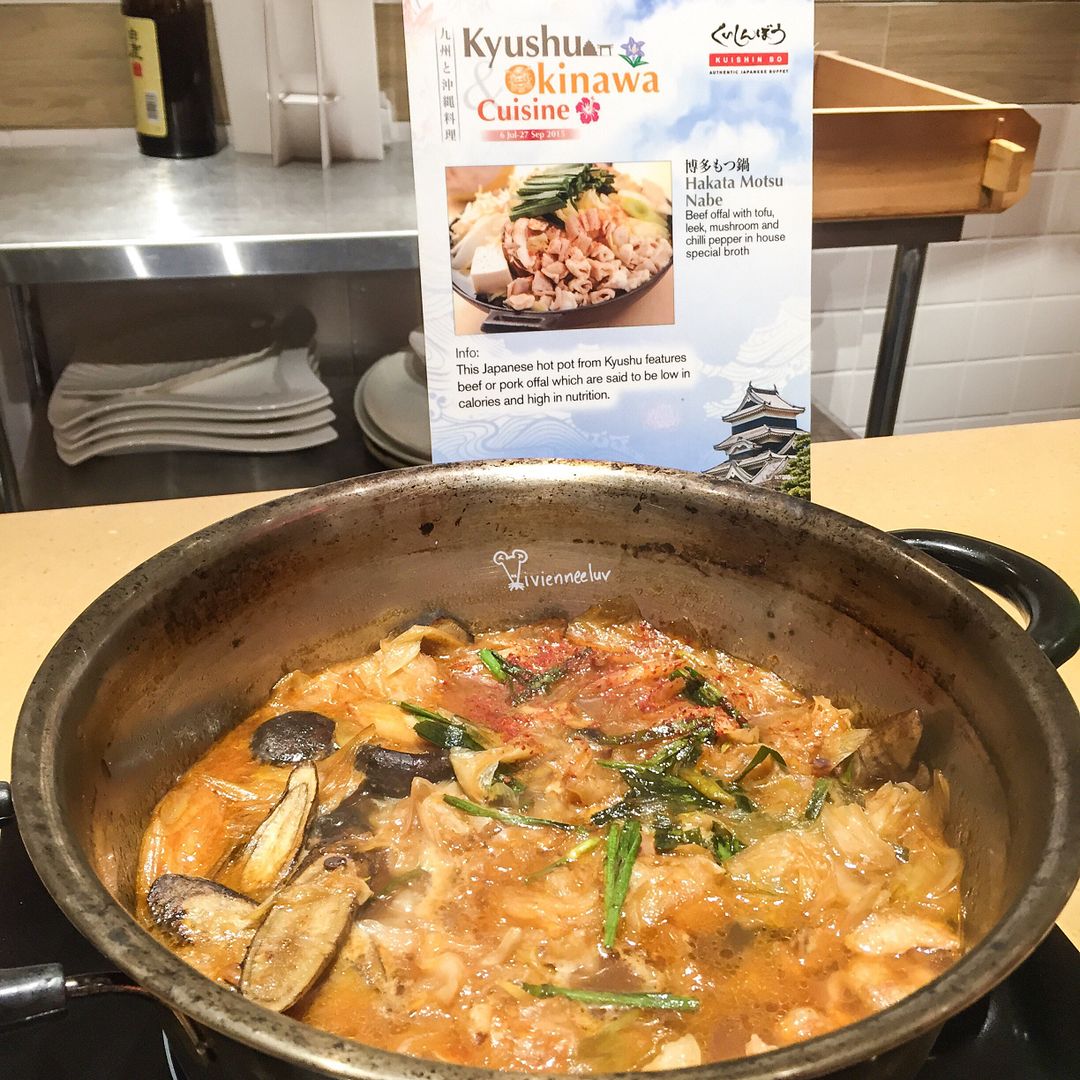 Dishes that are part of the thematic fair will come with a board like this! So you better grab the food, if not the next time you are back, you won't be able to taste them again.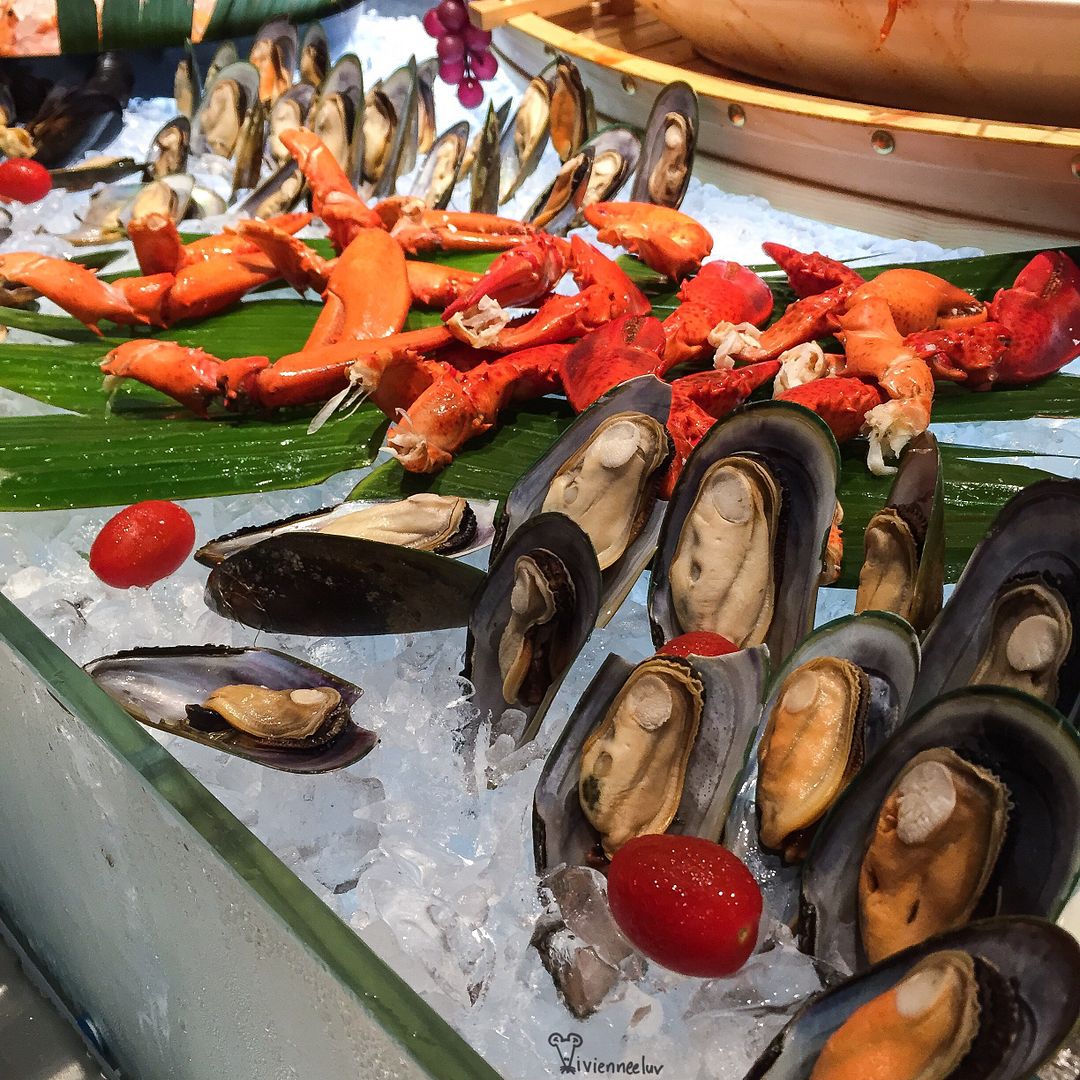 Of course not forgetting the usual fresh seafood!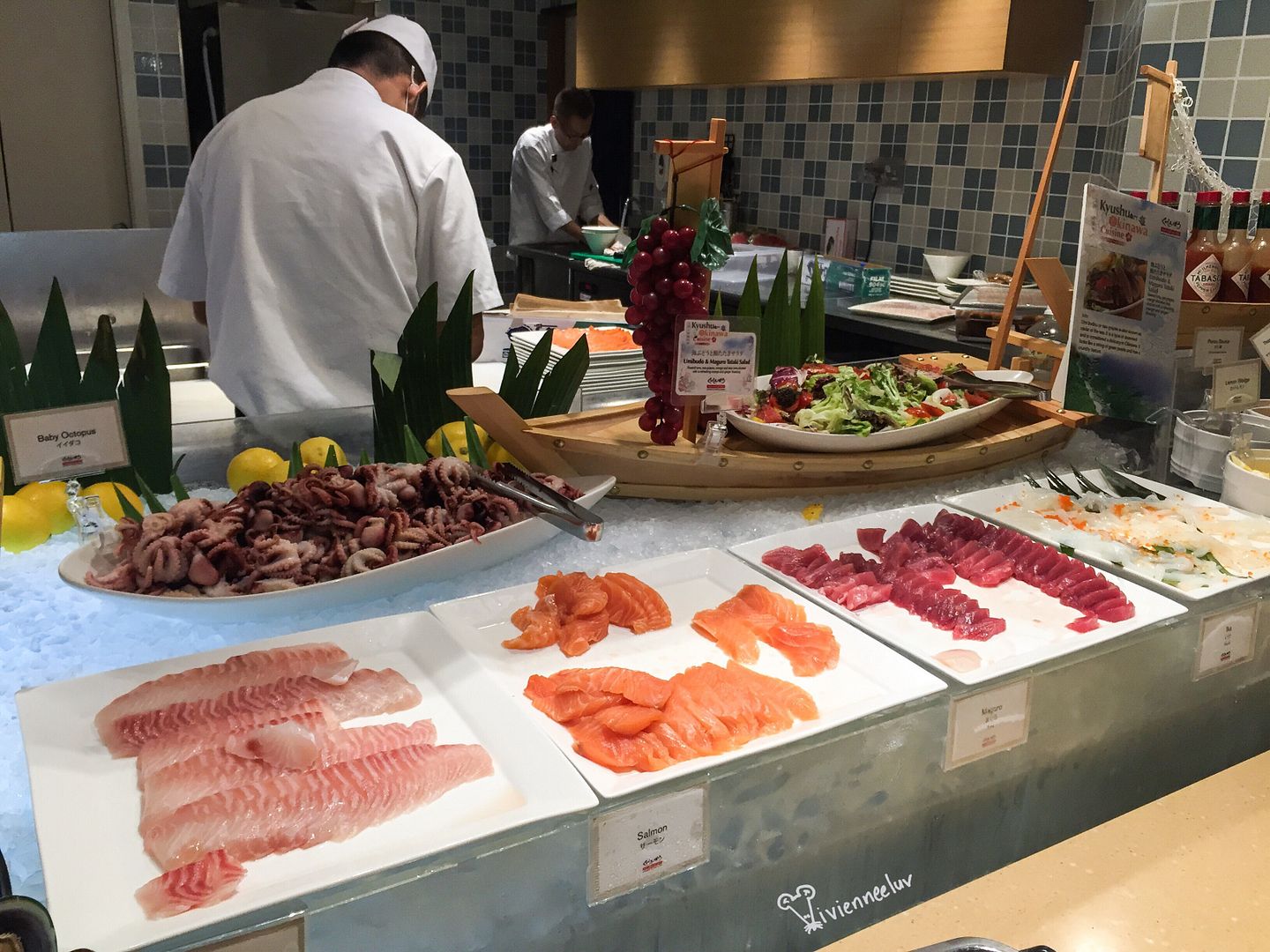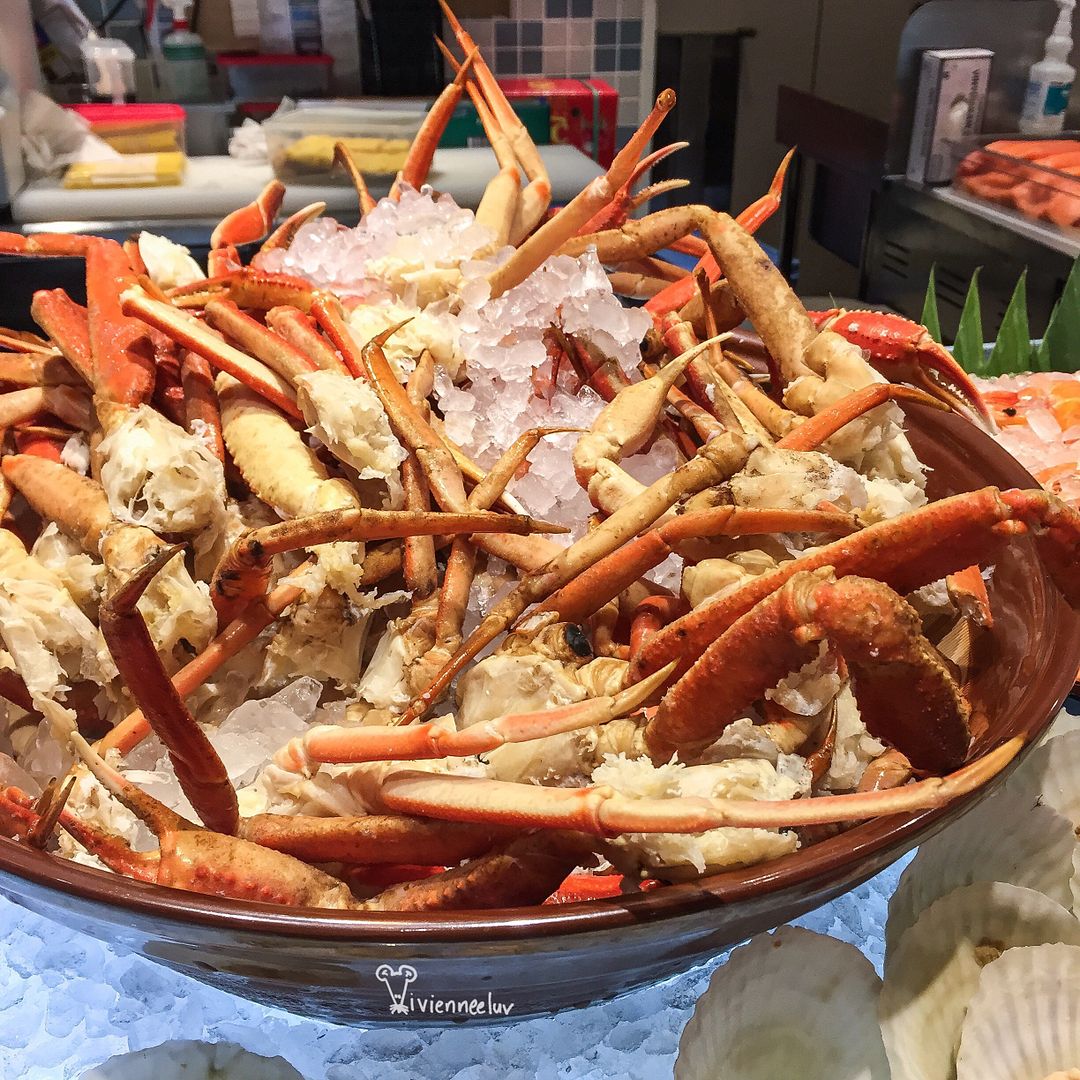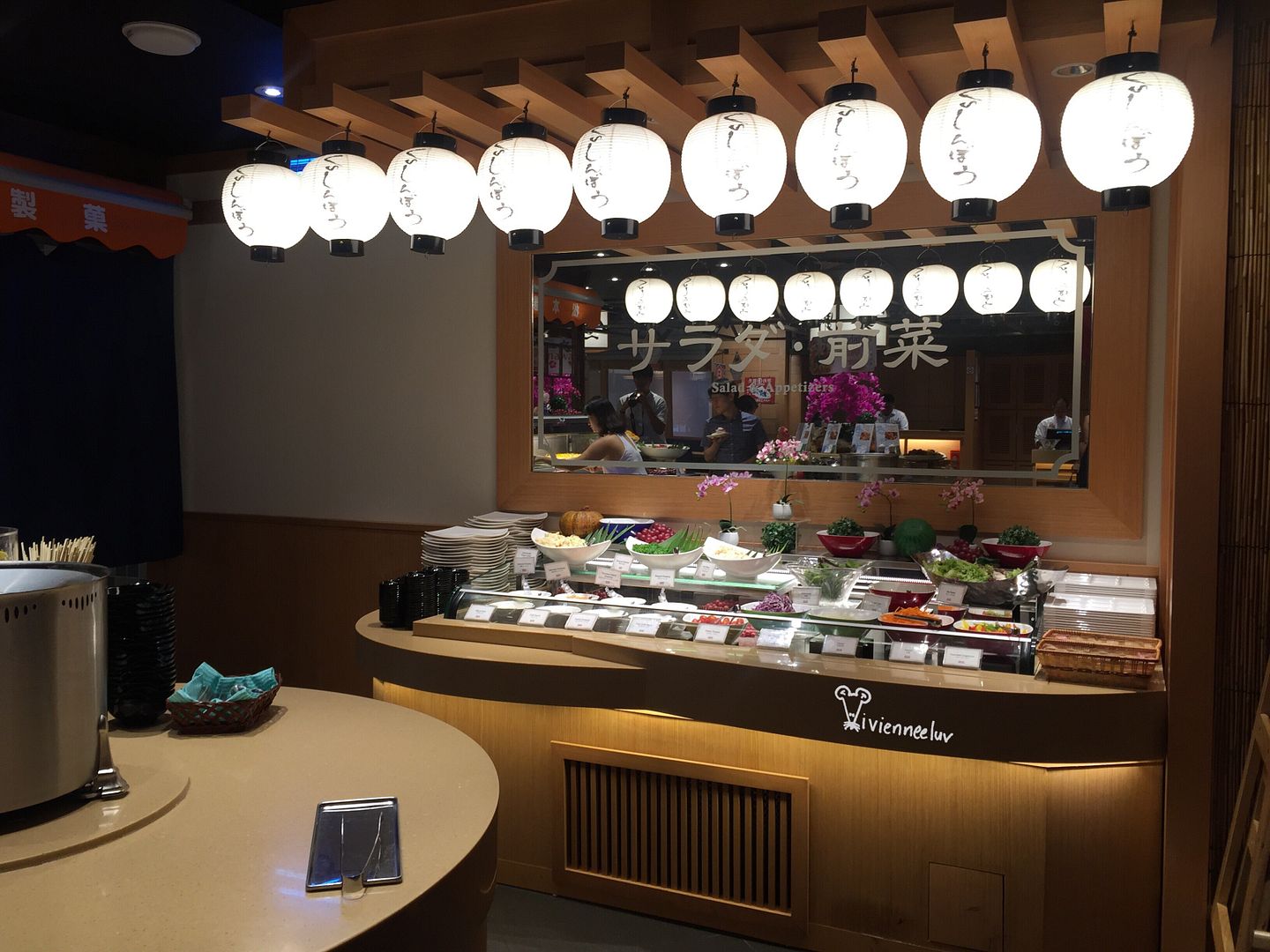 Salad bar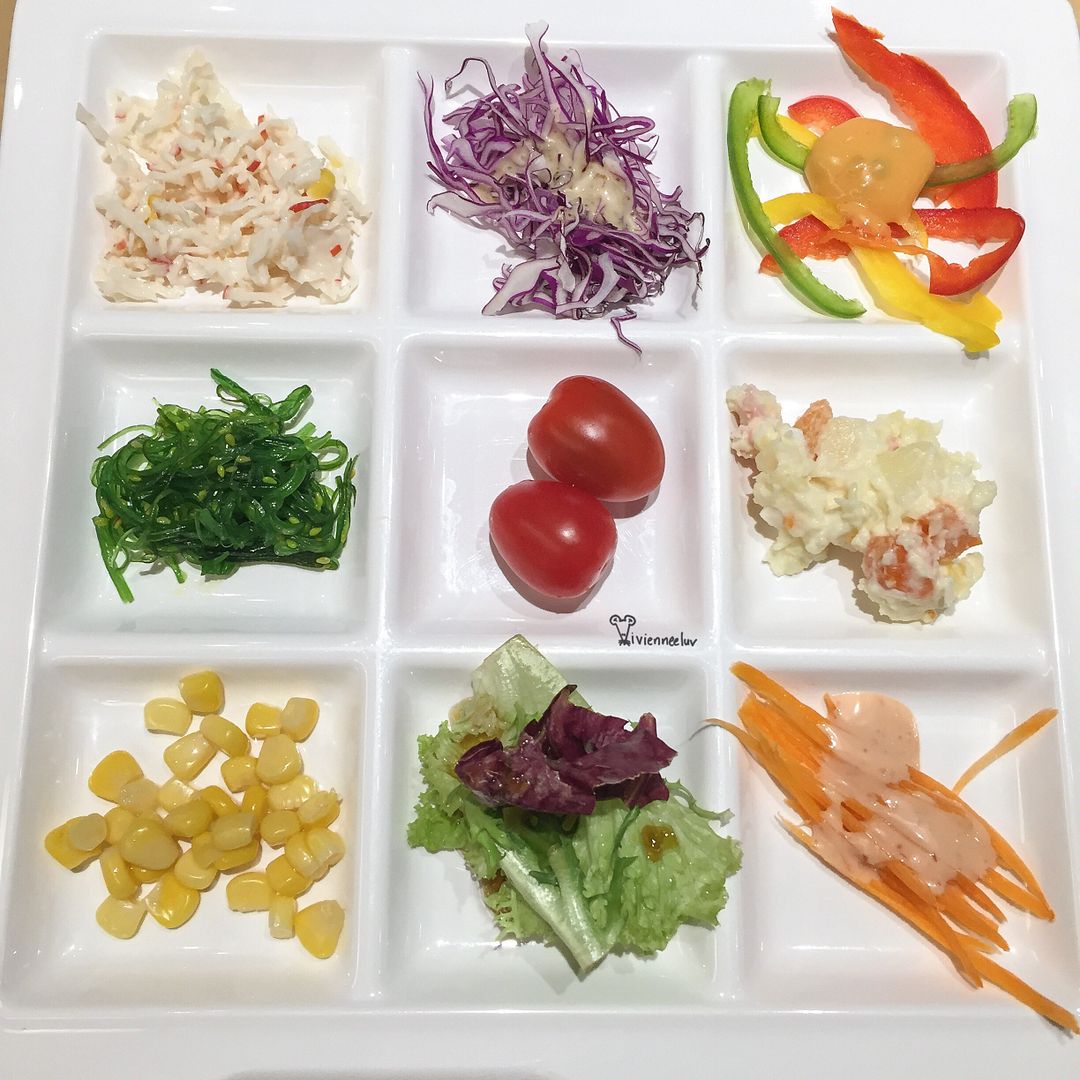 This was what I took from the salad bar! Pretty or not?
Sweets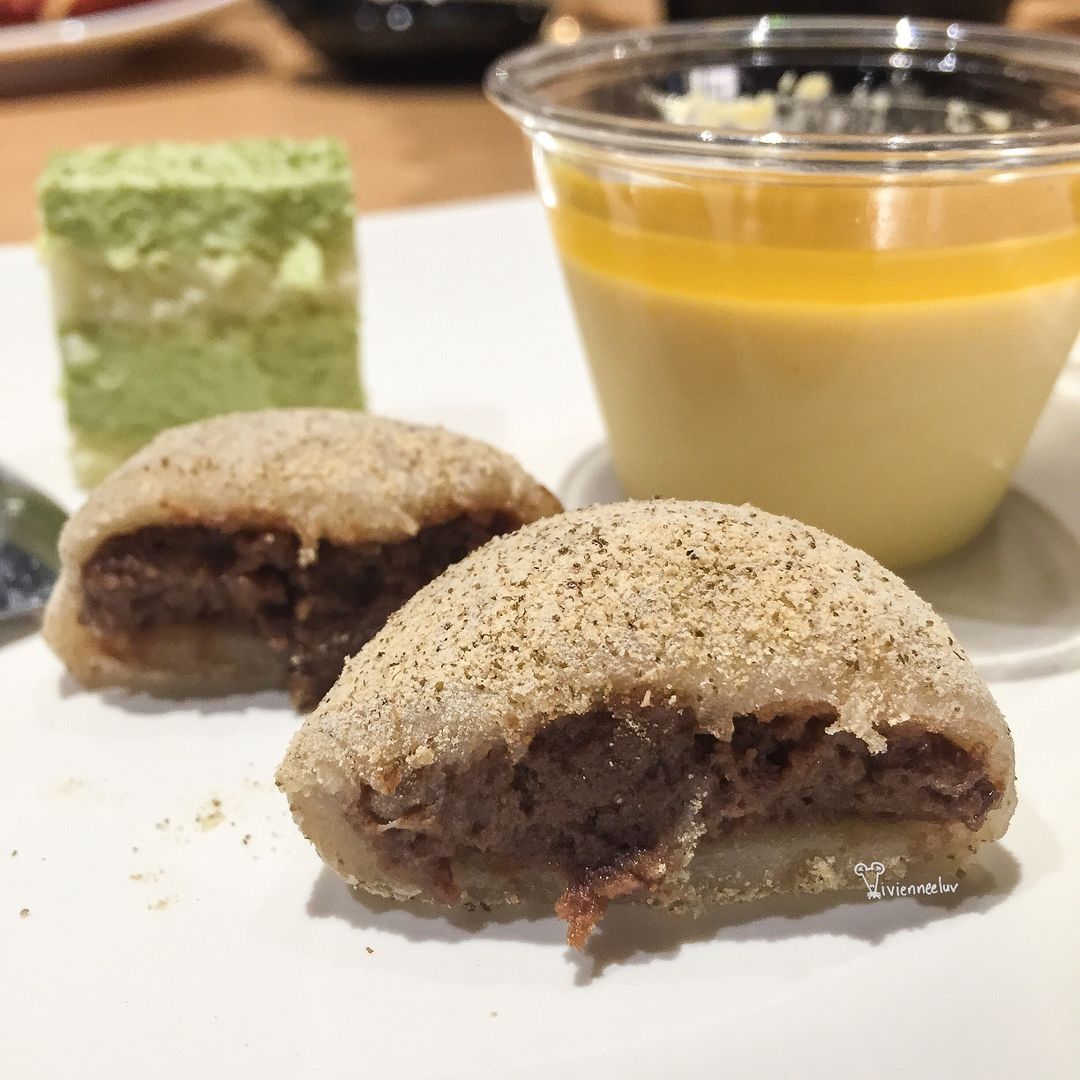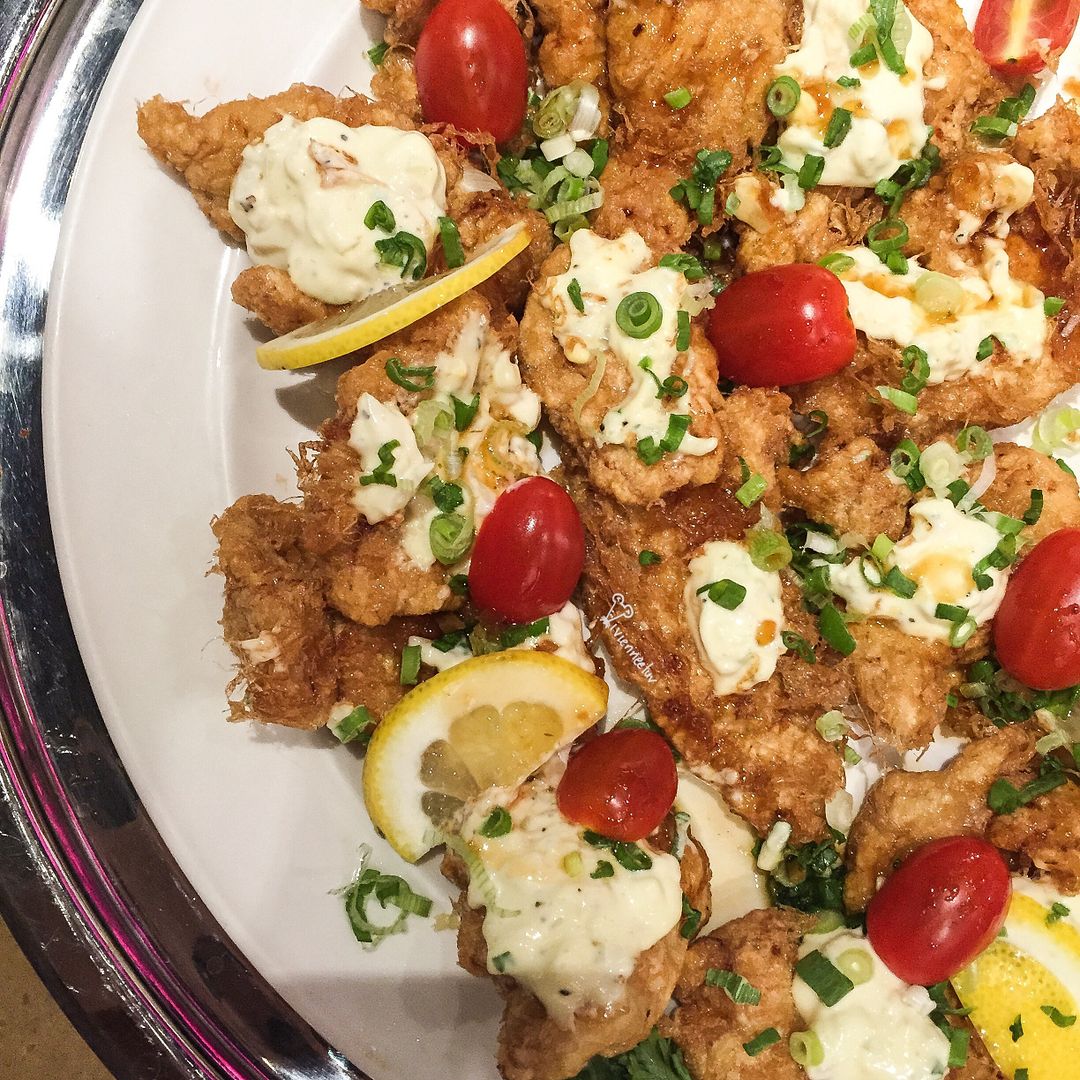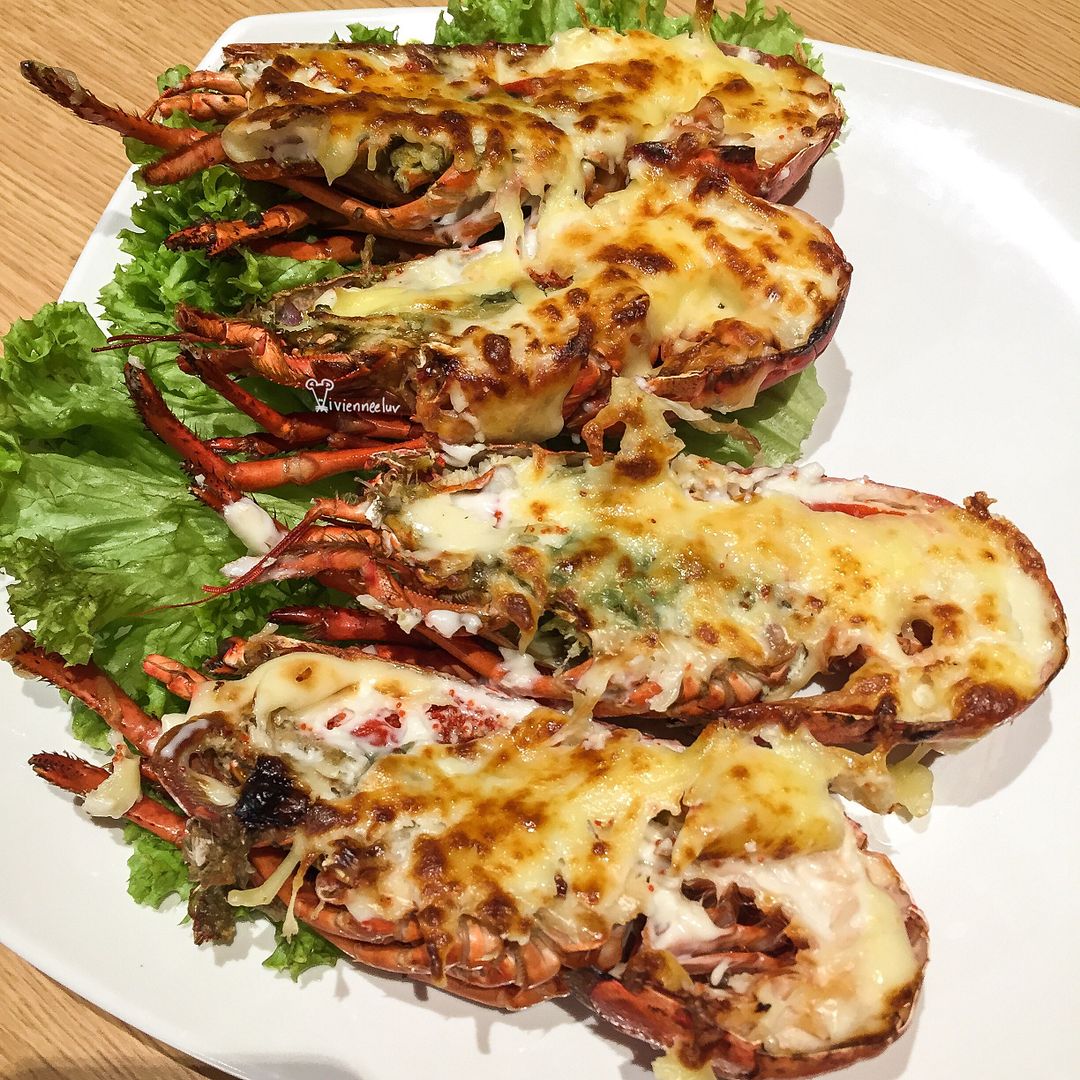 Cheese Baked Lobsters
These are exclusively to diners who make reservations before 3pm on the day of dining. You secure your table, and get to eat lobsters, why not. And these are delish, I wish I can have more :(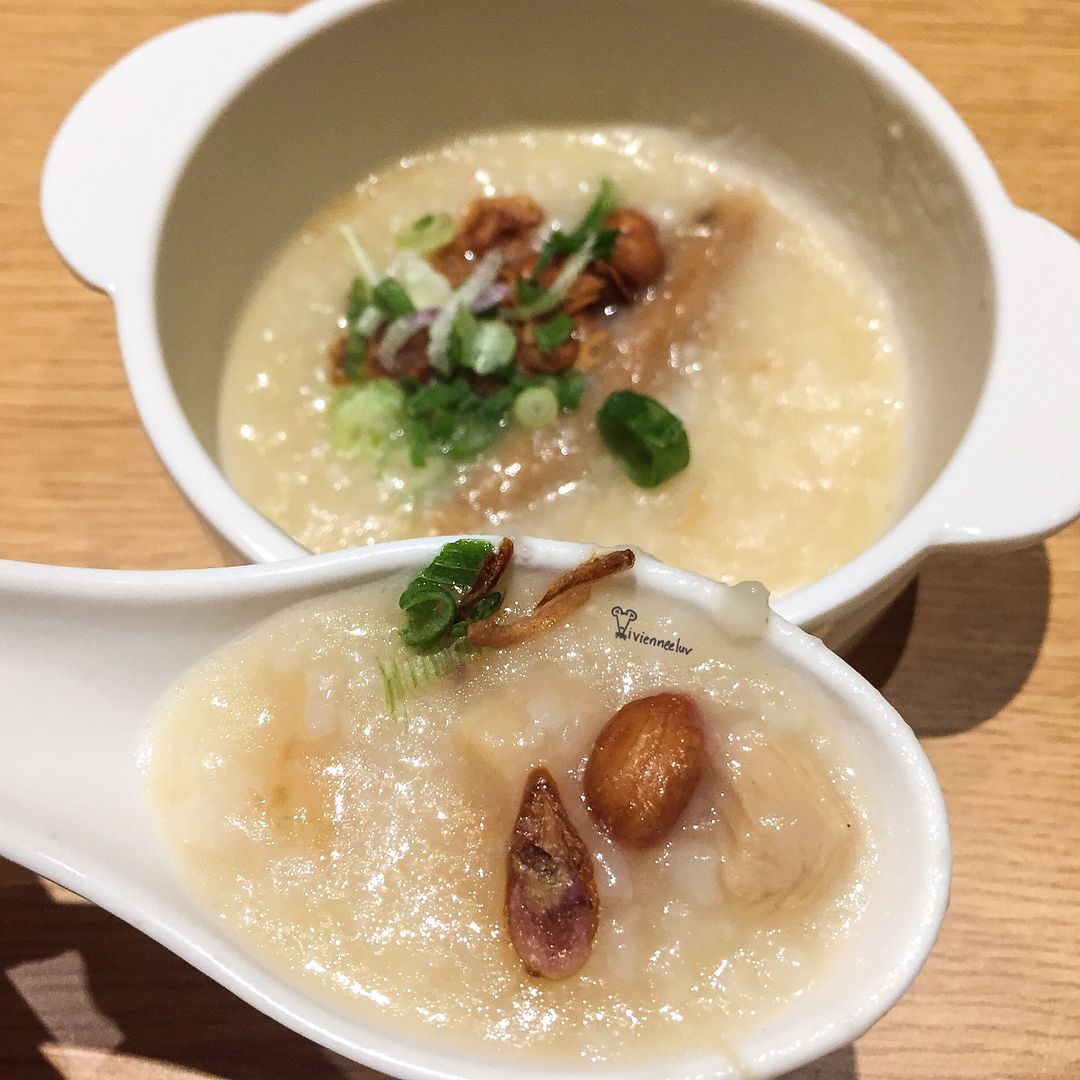 Ginseng Porridge
Tasted so good!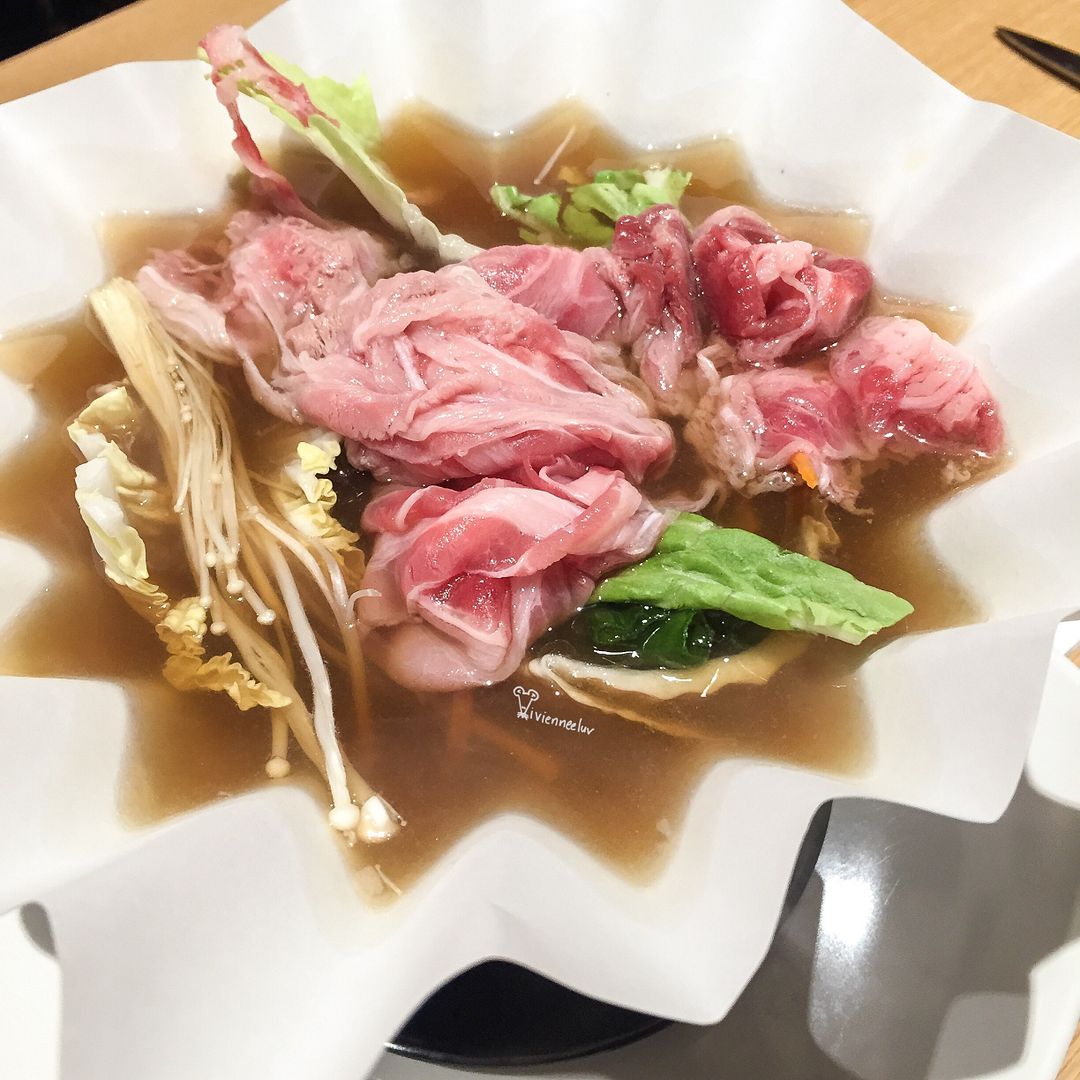 Paper Hot Pot
So comforting!
Dong Dong Dong....
Everyone is streaming (some ran) towards the same direction!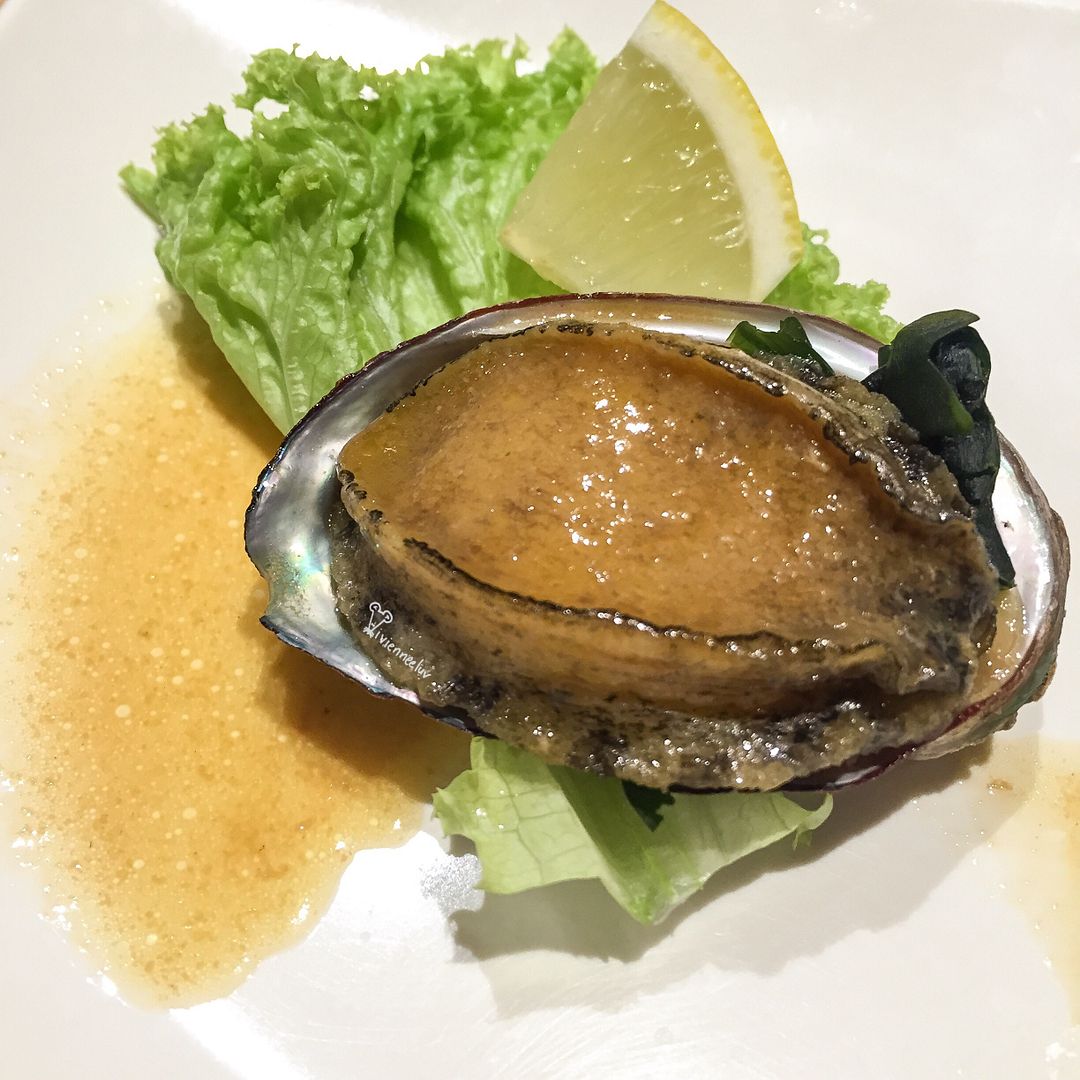 Abalone
Given out during the ''dong dong dong'' session!
Another one, this time is a sweet mocha-like skin with sweet potato and red bean! YUMS!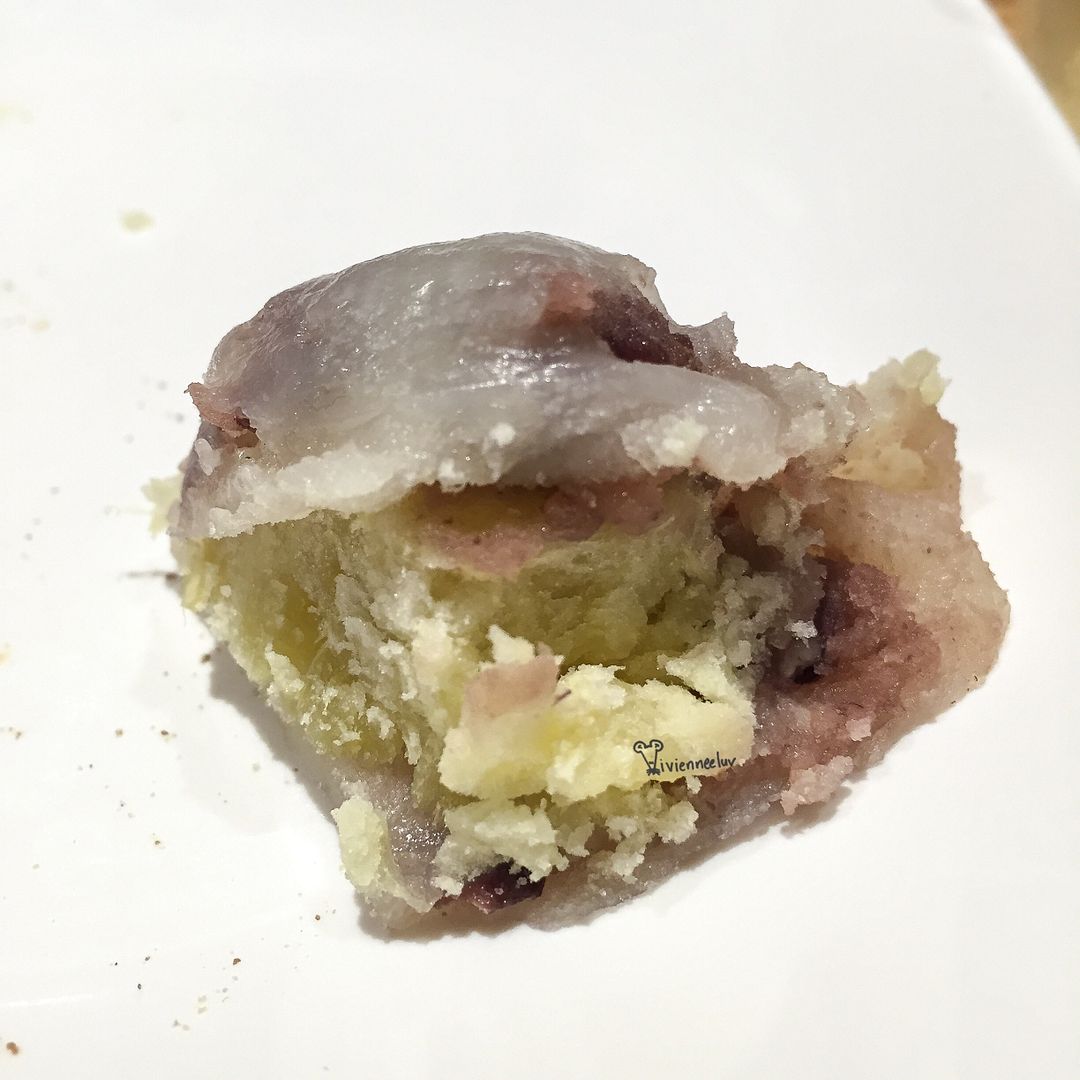 Nothing tasted bad here, the only sad part is, I didn't manage to try each & every single item because I was too full, the range is huge, not because I have a small tummy.
Thank you Kuishin-Bo for having me! See you soon, am going to drag my friends to feast with me.