| | |
| --- | --- |
| Address: | 5 Tan Quee Lan Street Singapore 188094 |
| Opening Hours: | 5.30pm to 12am Daily |
Pardon for the lack of updates due to busy weeks at work :(
However, I still will find time to relax and unwind after work. Visited
Joo Bar in Jan 2015
, I cannot forget the makgeolli cocktails, now Joo Bar introduces a new range - 5 new makgeolli cocktails!
Launched in late February 2015, Joo's new range of makgeolli cocktails is set to excite the fermented rice brew lover even more! Korean bartender Eddy Jang was inspired by the atmosphere of Korean cities as well as districts, and has dreamed up a collection of five tipples that evokes the spirit of each area. The base for each cocktail is Joo's House brew organic makgeolli (also known as Joo Brew) - a cloudy, light-bodied and mild tasting drink.
Hong Dae Tripping S$24
Picture Credit: Joo Bar
A zesty drink akin to the artsy vibe of this area, and is a delicious mix of Joo Brew, Grey Goose, Apricot Brandy, Cherry Blossom syrup, Lemon, and fresh Rosemary. This blushing beauty is shaken and served in a martini glass.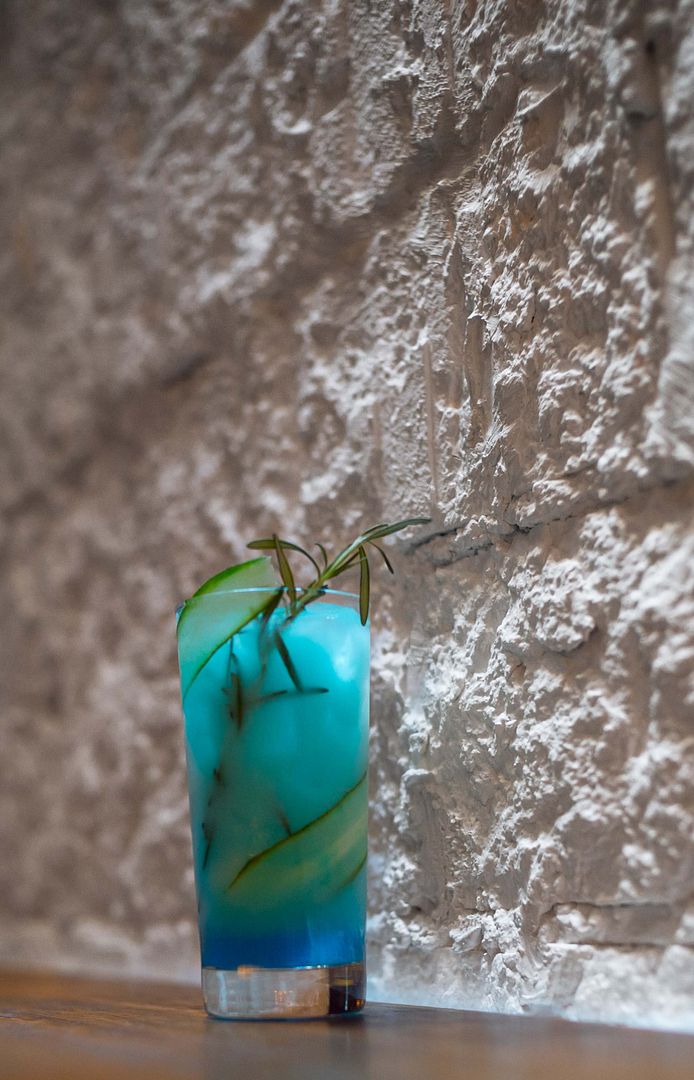 The Busan Breeze S$20
Picture Credit: Joo Bar
A free-spirited blend of Joo Brew, Tanqueray No. 10, Peachtree schnapps and Blue Curagao and is a nod to the city's coastal beauty.
The other 3 makgeolli are:
Gangnam Dreaming S$22
- a stylish nod to the trendsetting and upmarket district, consisting of Joo Brew, Chambord, Grand Marnier, St-Germain and Champagne. Best enjoyed in a champagne glass, this berry-tinged fashionista is fruity with a touch of elegant fizz.
Itaewon Freedom S$22
- combines the best international flavours in one drink to mirror the cosmopolitan vibe of the area. Punchy flavours from the Balvenie 17 yr Double Wood, and house-infused Cinnamon and Coffee Vodka are tempered by the milder Joo Brew, making this drink an ultra-smooth concoction.
A sip of Insadong Memories S$20
- one might feel a sense of nostalgia reminiscent of this neighbourhood that is filled with historic buildings. Robust notes of Amaretto and muddled ginger accentuate the Joo Brew tor a soul-fulfilling drink. It is crowned with shaved cinnamon and sliced Korean dates.