| | |
| --- | --- |
| Address: | 313 Somerset #B3-04/04/06 Singapore 238895 |
| Opening Hours: | 10am to 10pm Sunday to Thursday |
| | 10am to 11pm Friday to Saturday |
| | (Last orders is half and hour before closing time) |
| Facebook: | https://www.facebook.com/pages/Chir-Chir-Singapore/1551584908411319 |
2nd outlet is opening soon at Bedok Point.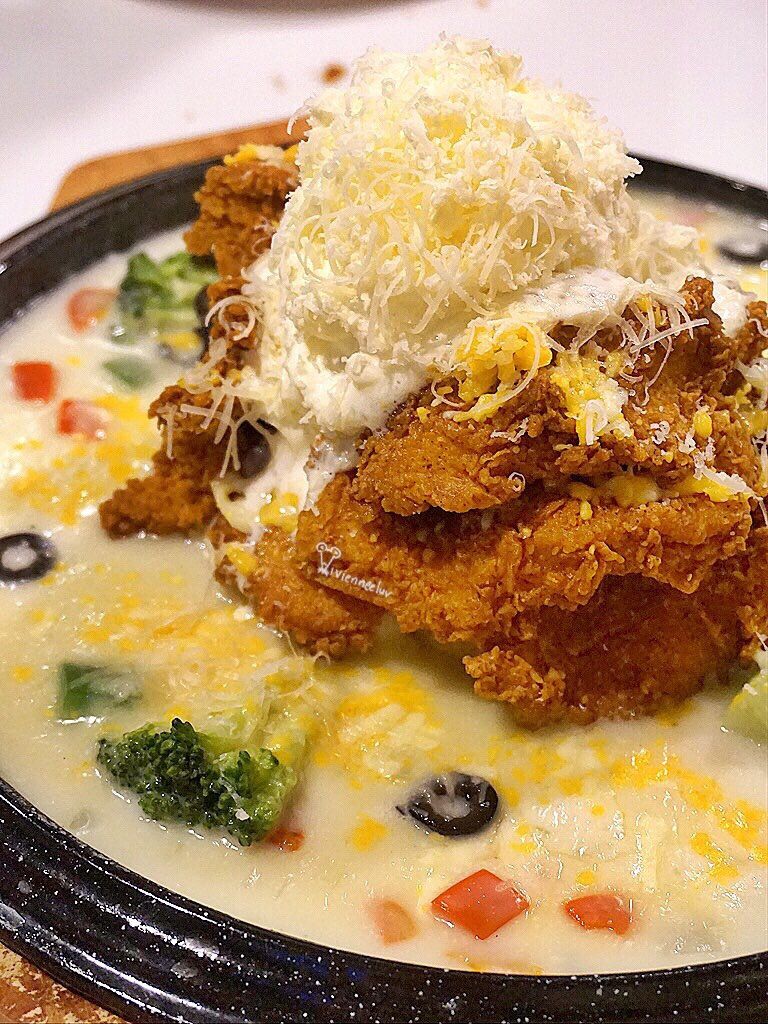 Chir Chir (pronounced as chi-ruh chi-ruh) Fusion Chicken Factory has 100 outlets spanning South Korea, China, Taiwan and now it has arrived in Singapore!
It embodies the chimaek culture, which represents the combination of chi form chicken and make from maekju for beer. It is a wildly popular concept that is all over Korea.
Why the name: Chir Chir?
It gets its name from the bubbling sound that oil makes when the chicken hits the deep fryer. So cute.
Chir Chir Singapore is franchised by 5 friends (all from the financial services sector), and they are really fun people to be with. Although they are bosses, they run and help out with the operations, including serving customers, which we hardly see in young bosses these days yea?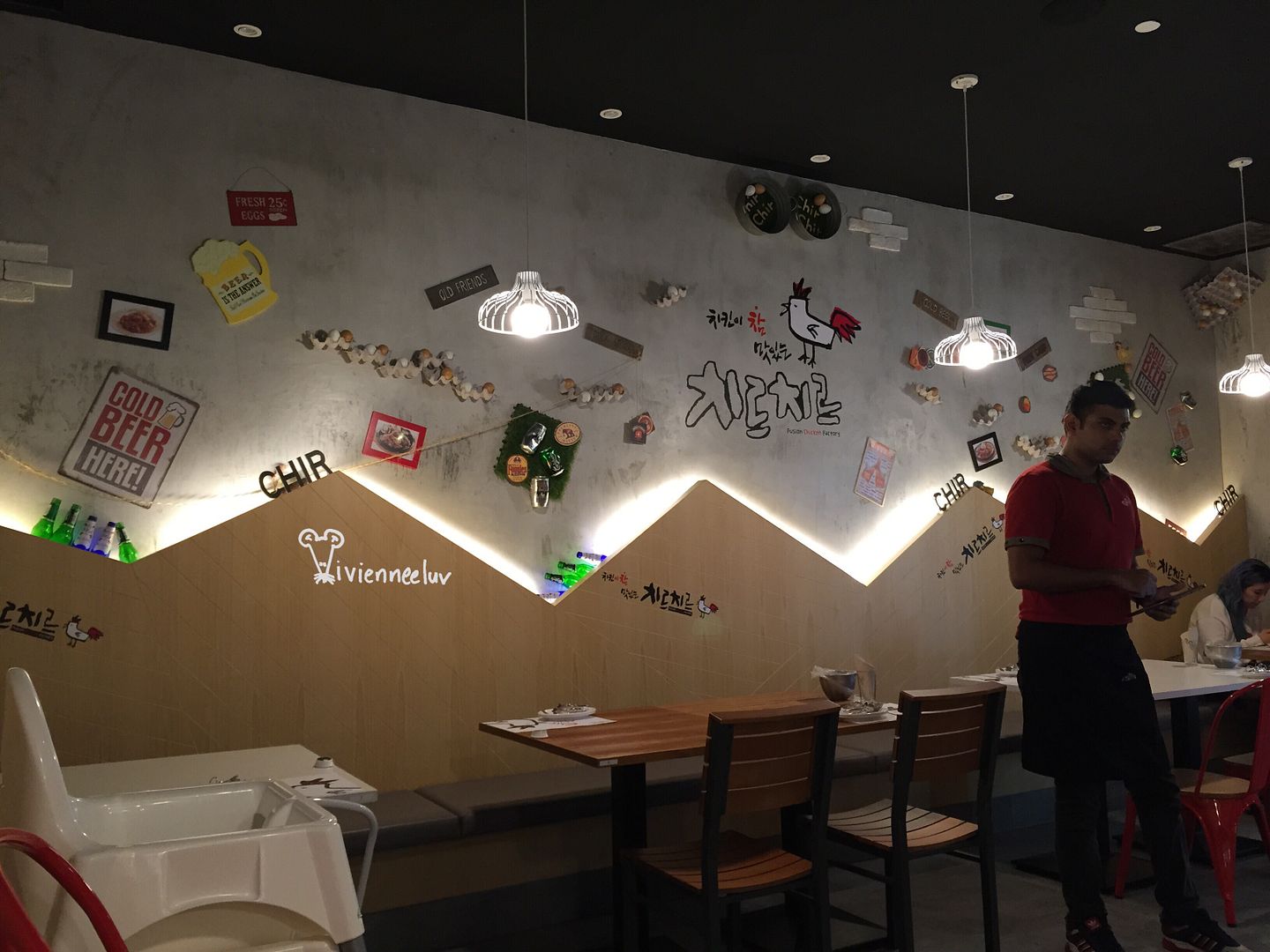 To exude a fun and casual vibe, Chir Chir is designed to resemble a chicken run with mesh wires and cute touches like eggshell displays and cartoonish illustrations. And this is my favourite corner!
Table setting is a paper placemat, side dish, a fork and a ''giap-er'', which is actually mini tongs for you to grip hold of the chicken and tear off the meat using a fork. Very thoughtful.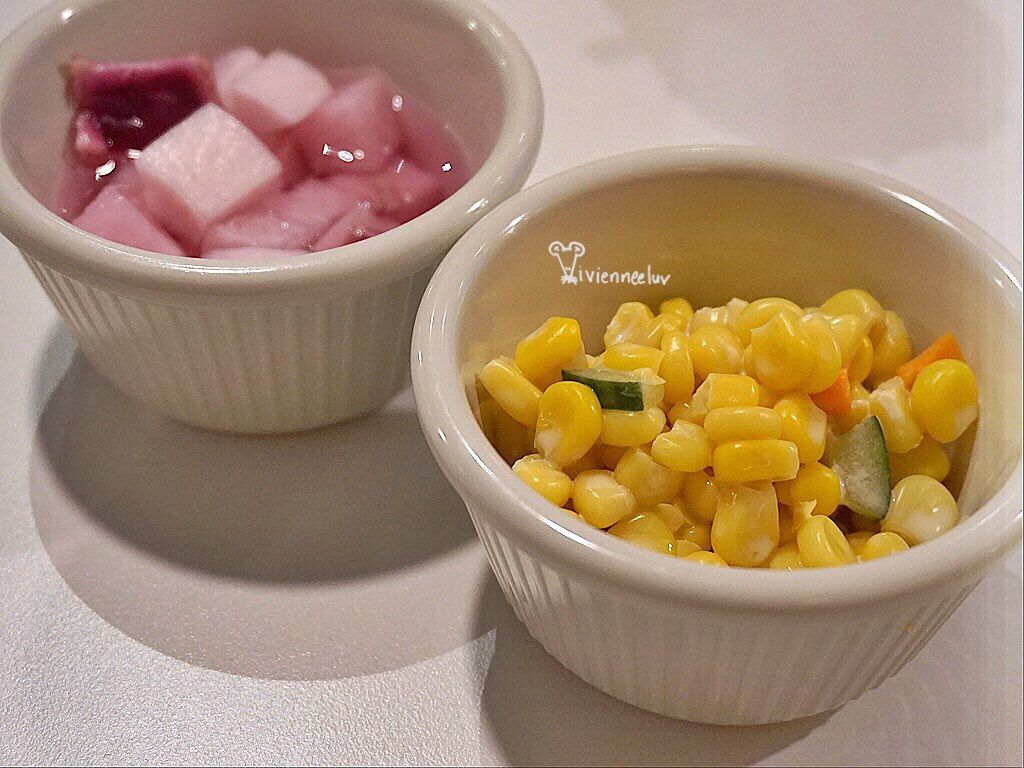 Appetizers were provided for every table.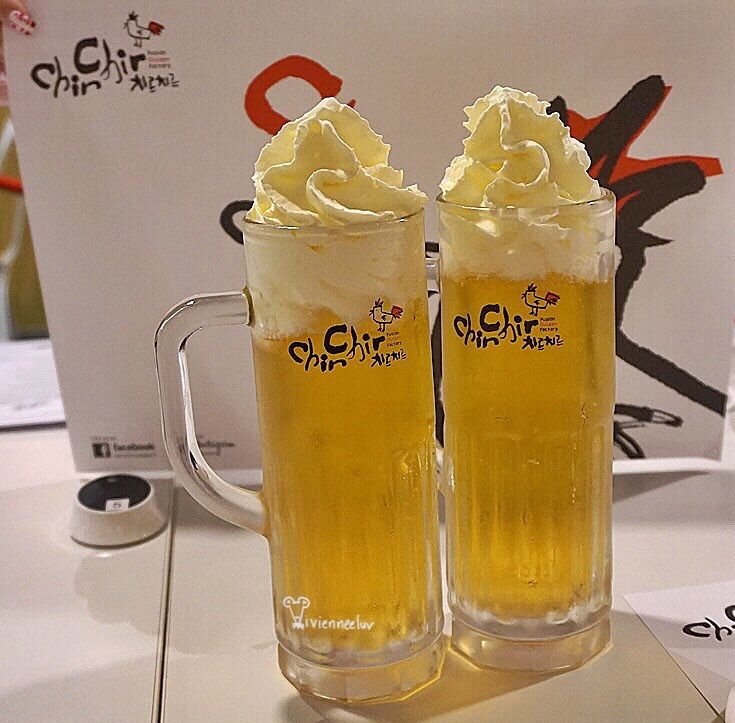 Chir Cream Beer S$13.90 (350ml) / S$18.90 (650ml)
Interesting looking draught beer with freshly whipped cream! Inspired by the popular Korean Drama, Latte Kiss: The lady taking a sip of the beer, leaving a cream "moustache" on her upper lips, prompting a kiss from the guy! Not sure if the beer or the lips is more alluring but, cream for me anytime!
If you noticed, a buzzer is affixed to every table which alerts the wait-staff immediately to their needs. I really love this concept instead of raising our hands and waiting for wait-staff to see us.
Passion Yellow Tok Tok S$14.90 (non-alcoholic) / S$18.90 (alcoholic)
Tangy and sweet Tok! Tok! cocktail of tropical passion fruit.
Tok! Tok! are fizzy, flavoured cocktails available in 4 flavours. An iSi soda charger is used to fizz the drinks up at your table side before being served.
Alcoholic version is also available at S$18.90 whereby soju is added to transform these cocktails into cocktails.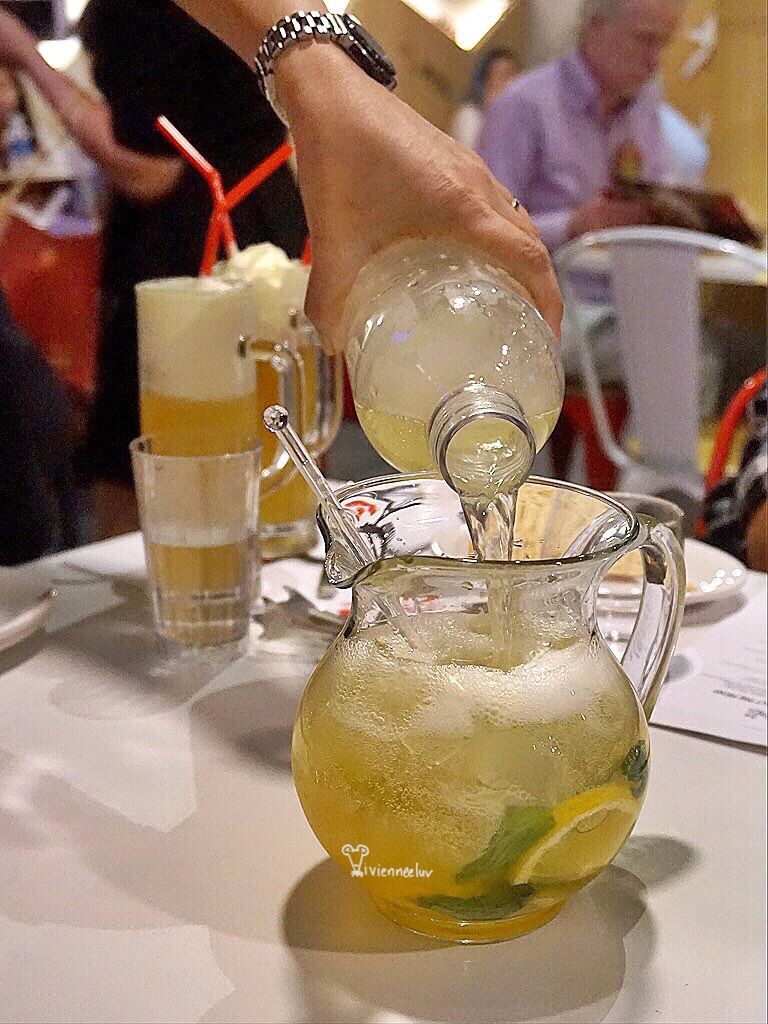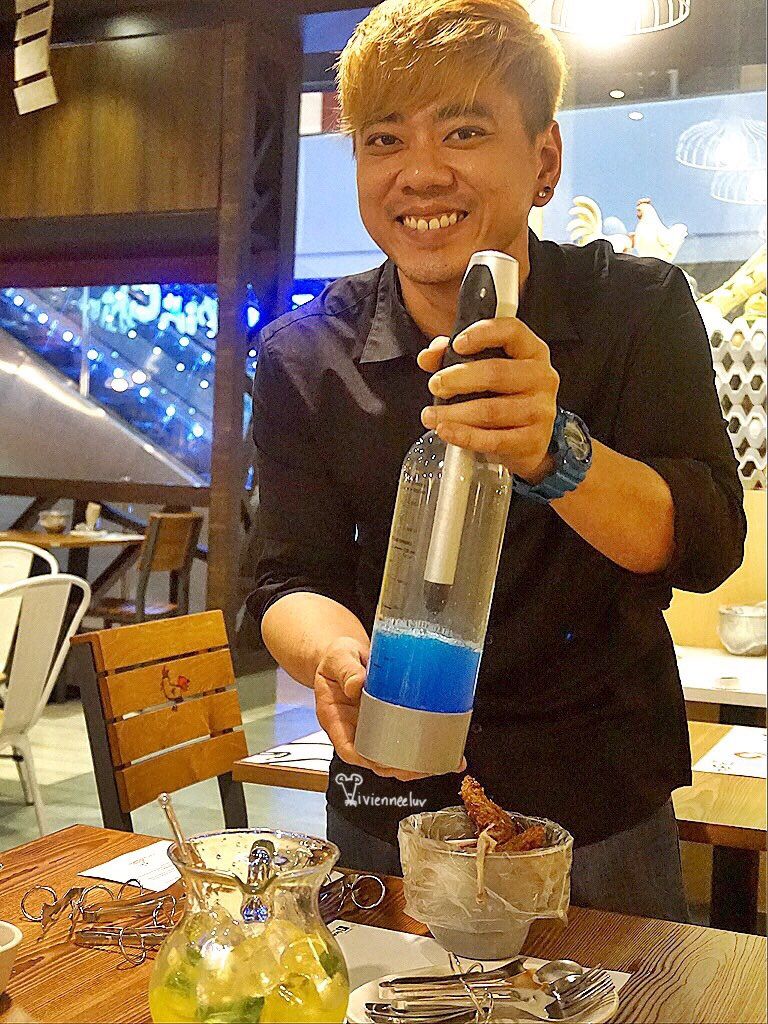 Next up, the restaurant manager charging up the soda for us! Do you see a beautiful blue soda?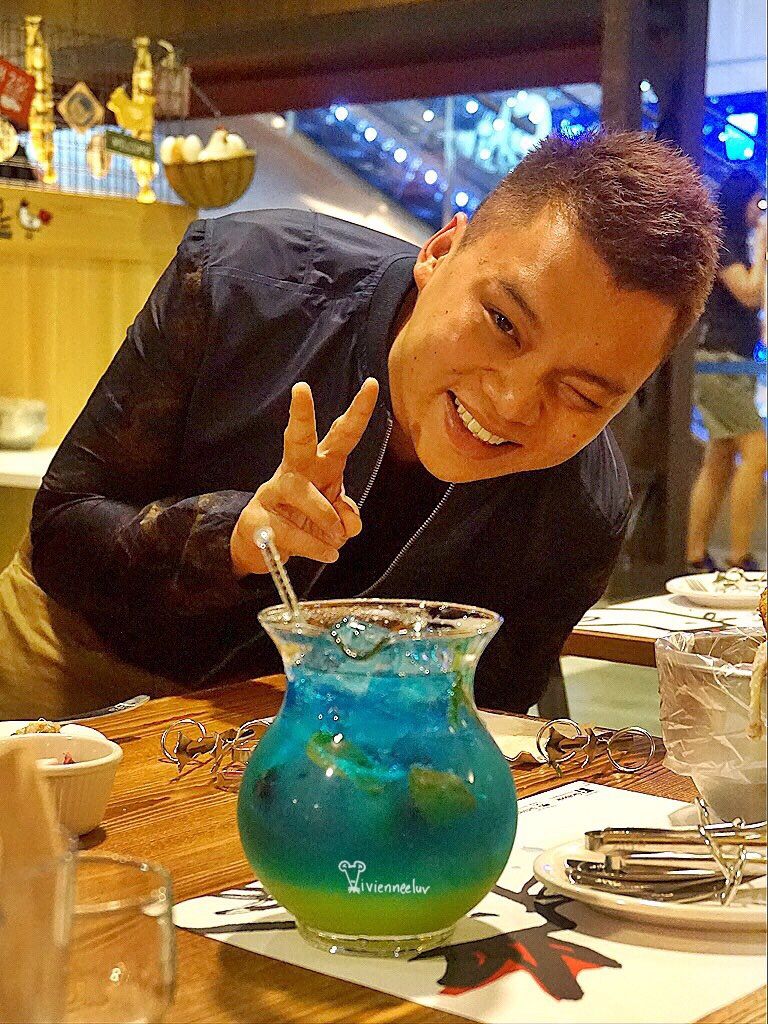 Levi, 1 of the bosses of Chir Chir striking a cute pose.
Blue Marine Tok! Tok! S$14.90 (non alcoholic) / S$18.90 (alcoholic)
Blue lemonade soda.
After trying both Tok! Tok!, all of us ladies love the Passion Yellow one!
Honey Grape Salad S$18.90
Sweet, plump, seedless green grapes, walnuts, pine nuts, almonds, raisins dressed with dollops of house-made ricotta and whipped cream, served with 2 pieces of crispy honey-and-garlic tortillas.
Mix up the salad, and go with the tortillas-that-already-taste-so-good-on-its-own, it's like party in my mouth!
Where else can you find grape salad this nice? I personally feel that this is a must-try dish!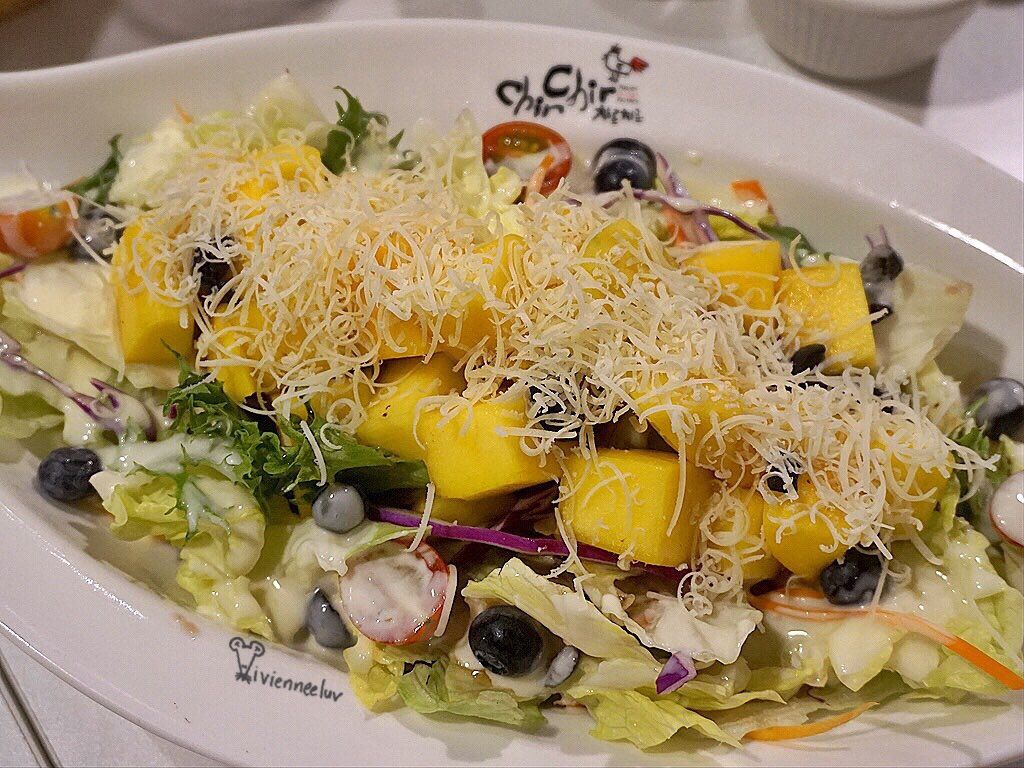 Mango Salad S$11.90
Mixed greens with sweet and juicy mangoes, blueberries, topped with yogurt dressing.
Chir Chir distinguishes itself by using only FRESH poultry married with a myriad of special garlic-soy, spicy and cream-based sauces and even whipped cream.
All proprietary sauces and marinades are imported from Seoul to ensure consistency in flavour across Chir Chir's outlets worldwide.
The pre-marinated chicken are only deep fried/roasted upon request. Deep fried chicken takes about 8 to 12 minutes to be ready, while roast chicken takes 20 minutes. However, please cater for longer waiting time if the restaurant is full house.
Crispy Fried Chicken S$26.90 (whole chicken)
Marinated for 6 hours in Chir Chir's house seasoning before being battered and deep-fried. Its succulent flesh is tasty from skin to bone!
One of the better fried chicken in town!
If you don't fancy a whole plate of different chicken parts, Crispy Fried Tenders S$24.90 and Crispy Fried Wings S$26.90 (7 pieces) are also available.
Spicy Chicken S$28.90
What you see here is half portion only.
The chook, sweet potato cubes and fried toppoki are slicked with a sticky sweet-spicy chill sauce that packs a real punch.
Totally suits those who love spicy food. This is too spicy for me or rather, my dining companions too!
Spicy Tenders S$26.90 and Spicy Wings S$28.90 (7 pieces) are available.
Garlicky Wings S$28.90 (7 pieces)
What you see here is half portion only.
The garlicky chicken comes ensconced in a lip-smacking house-made soy sauce, sprinkled with minced garlic and fried garlic cloves. This dish is completed with roasted sweet potatoes and fried toppoki (Korean rice cakes)!
The favourite of all my dining companions that night!
Garlicky Tenders S$26.90 and Garlicky Chicken S$28.90 are available.
The rice cakes in these dishes where fried therefore the the skin is a little crispy while the inside is chewy.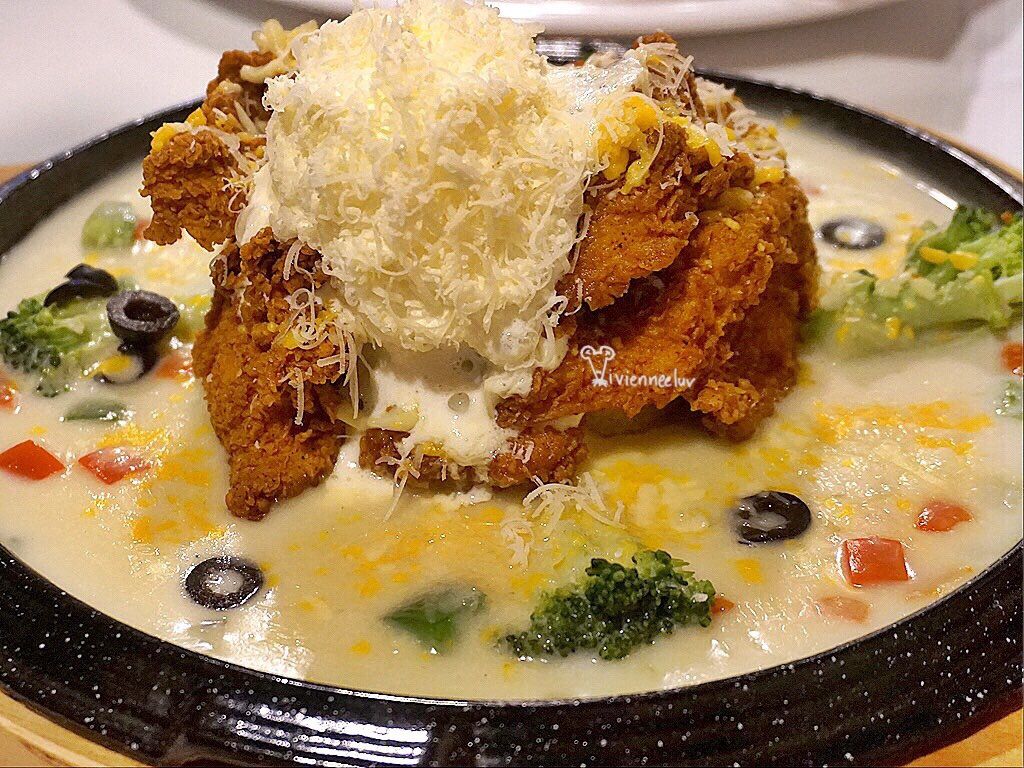 Nest Snow S$32.90
Spicy Cajun chicken tenders on a bed of sweet potato purée luxuriating in a cream sauce flecked with olives and peppers, topped with Chir Chir's freshly whipped cream and shavings of Parmesan, mozzarella and cheddar, served on a Hotplate.
Look at the sweet potato puree! Love the puree but I still prefer the garlicky chicken. Spoilt for choices.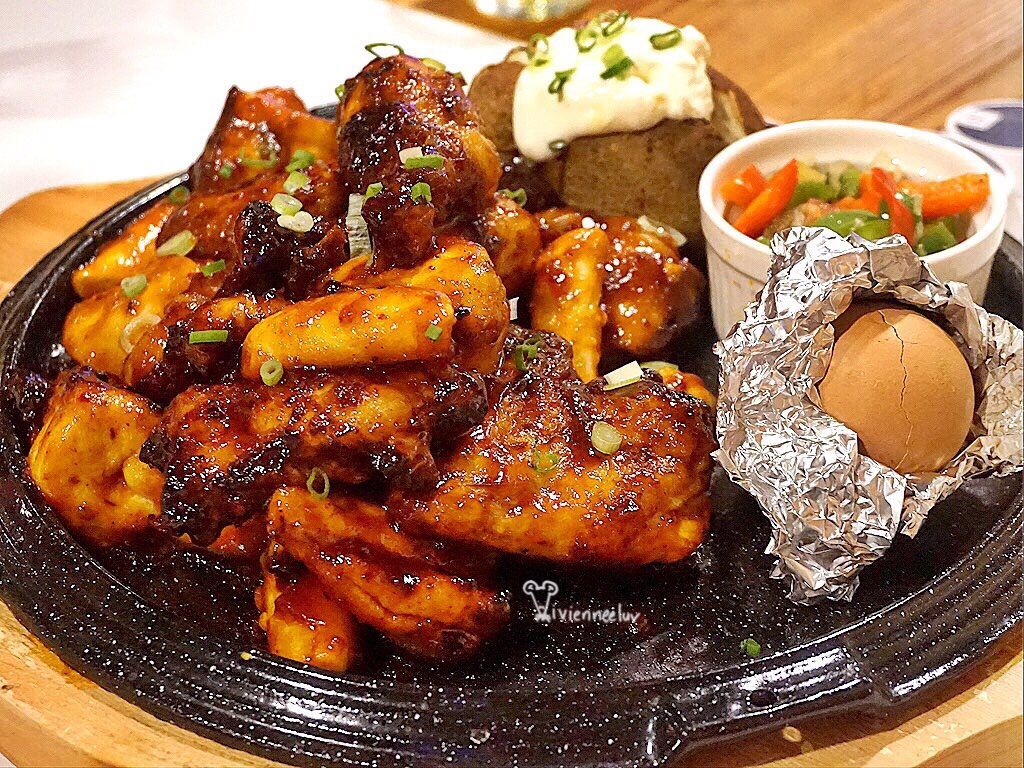 Spicy BBQ Roasted Chicken S$32.90
The whole chicken is marinated for 12 hours then oven-roasted to perfection. The spicy BBQ version undergoes an additional step of pan-frying so that the chicken is evenly coated in sauce. Each is accompanied with Salsa, a whole salt-baked egg and a fluffy baked potato with sour cream.
Apart from fried chicken, Chir Chir also offers non-fried versions, fret not if you don't fancy fried chicken.
Said to be even spicier than the Spicy Chicken, please go ahead and try!
After we are done with the chicken, we eyed on the egg, was actually wondering how a baked egg would taste like.
Sissy
as usual, is kind enough to peel the egg for us. It actually taste and look the same as hard boiled egg, so I don't really fancy the egg yolk.
Howevr, do peel the egg while its still hot, because the shell is sticking to the egg white.
I was raving and raving about the Garlicky Chicken to K, so I brought him back here on the same week! I want him to try the Garlicky Chicken, I know he will love it.
Kkanpung King S$28.90
A combination of spicy and sweet sauce with dipping cream, tasting very much like gong bao chicken. I would still say I prefer garlic chicken the most.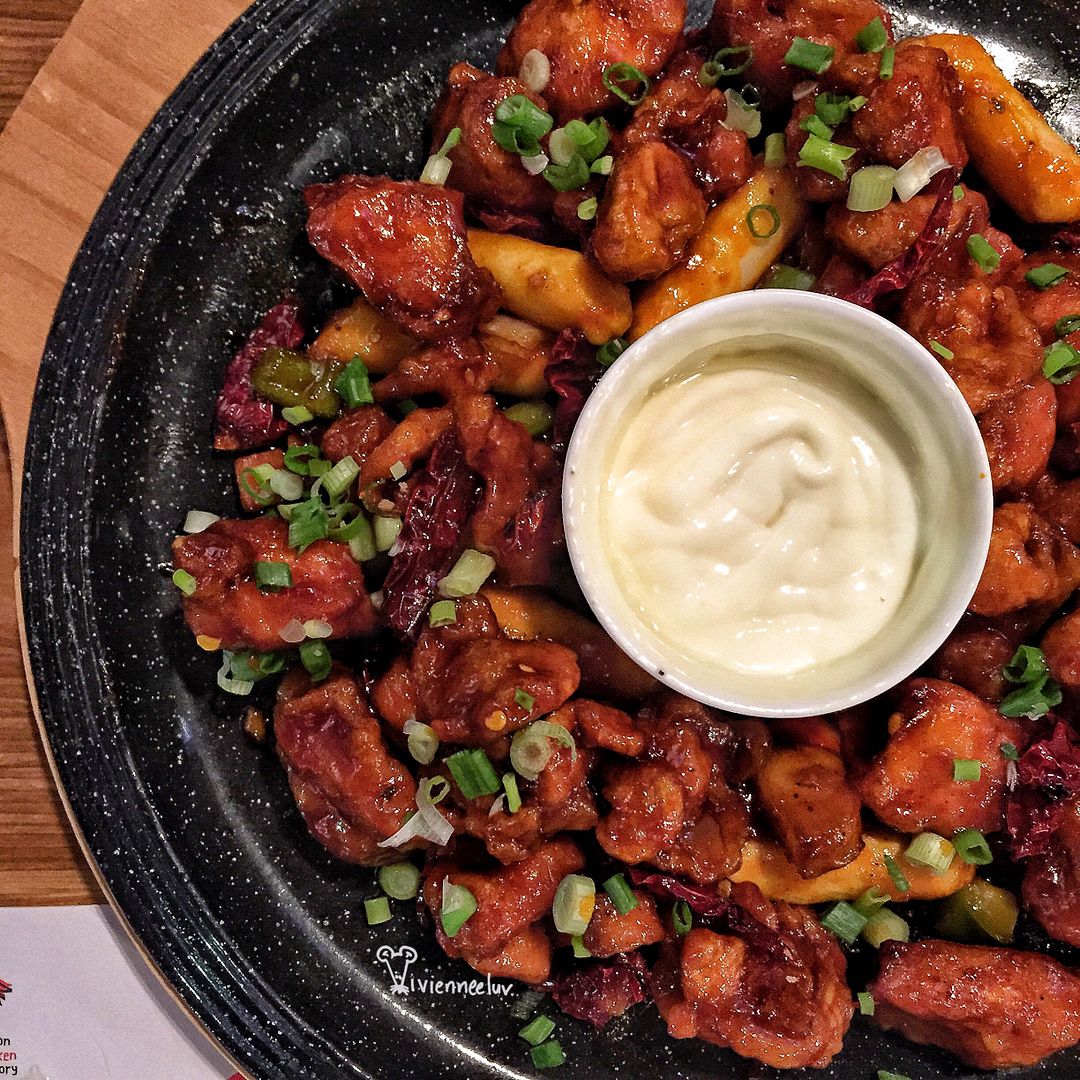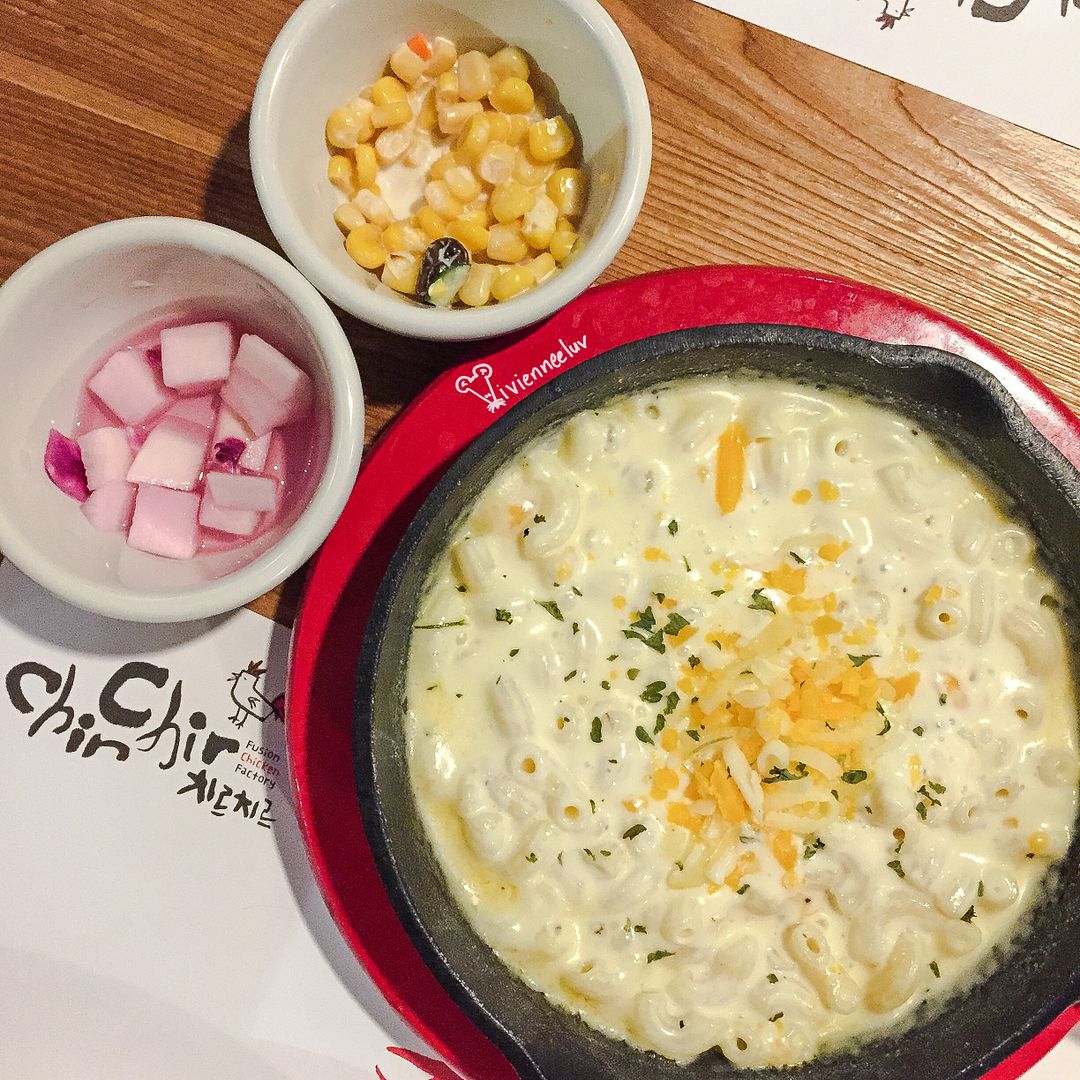 Mac and Cheese S$9.90
Macaroni covered with soft cream sauce and cheddar cheese, perfect for cheese lovers. As for us, just nice for 2!
One downside of Chir Chir is that the chicken portions are huge and good for 4 pax and above to share.
If its just the 2 of us, we can only try 1 main. So end up, K didn't get to try the Garlicky Chicken :(
Gather a group of friends and head to Chir Chir! A group of 4 can share 2 mains and maybe 1-2 sides/salads.
Thank you Chir Chir for the invitation!