| | |
| --- | --- |
| Address: | Blk 21 Ghim Moh Road #01-213 Singapore 270021 |
| Tel: | +65 6710 7804 |
| Opening Hours: | 9am to 6pm Tuesday to Sunday |
| Website: | http://www.flock.sg |
| Facebook: | https://www.facebook.com/flocksg |
I know I am a little slow here, it was my first time to Flock Cafe yesterday! Never been to the one at Tiong Bahru,
sissy
and I ventured into Ghim Moh estate yesterday (which is a walkable distance say like 10 mins form Buona Vista MRT). So glad to have a westie to bring me around!
It was raining pretty heavily yesterday (Mr LKY's state funeral), we took a slow walk to Flock Cafe. It was located at a void deck, it was deserted for me, a eastie, hopefully this cafe will draw crowd as I love the interior design and the food here.
Love the simple, clean and bright lightings in the cafe. All thanks to the big glass panels that allows sunlight to penetrate in! Love how the food turn out in good and natural lighting!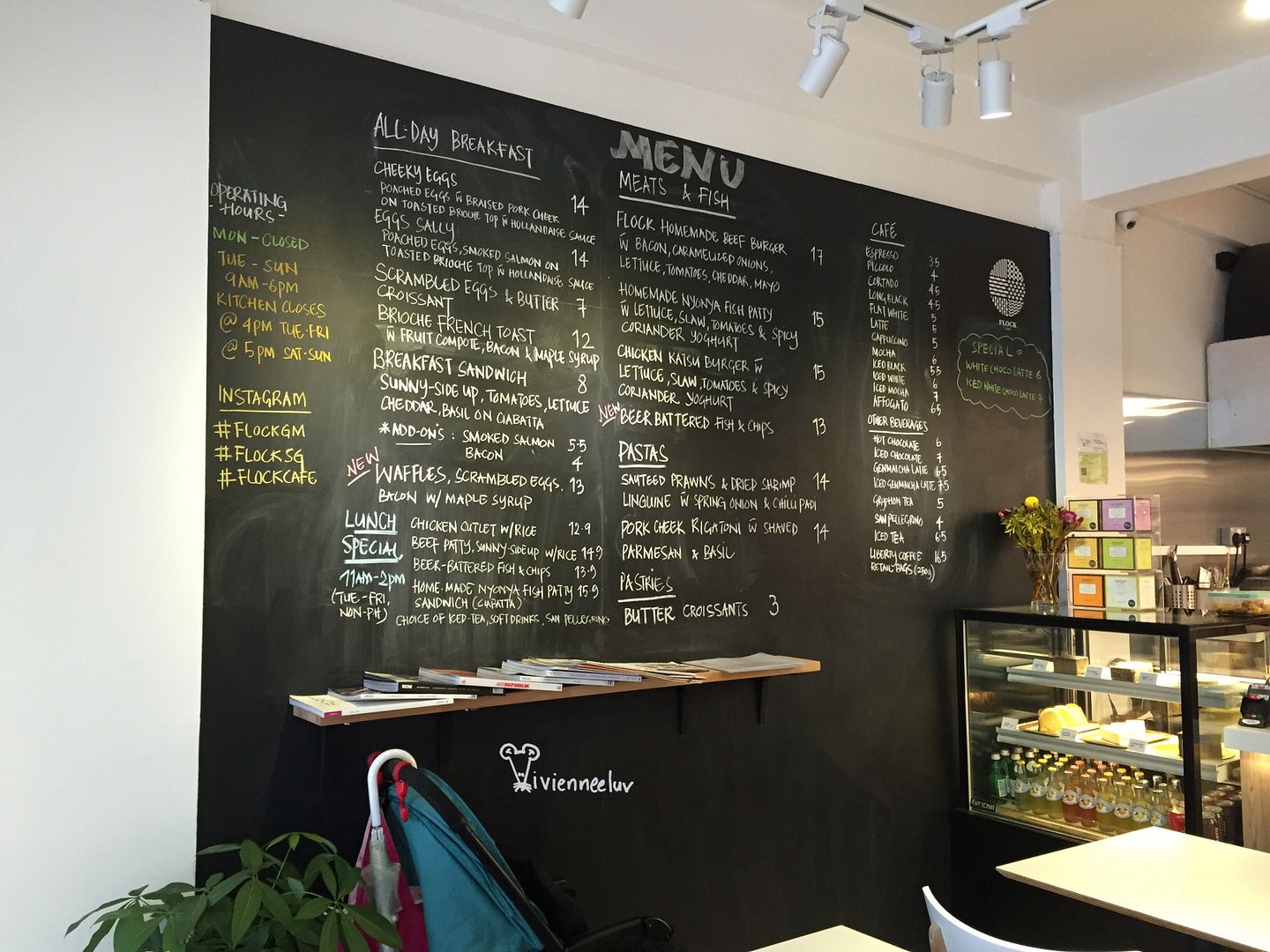 Menu is written on the huge wall chalkboard, can see everything in one glance.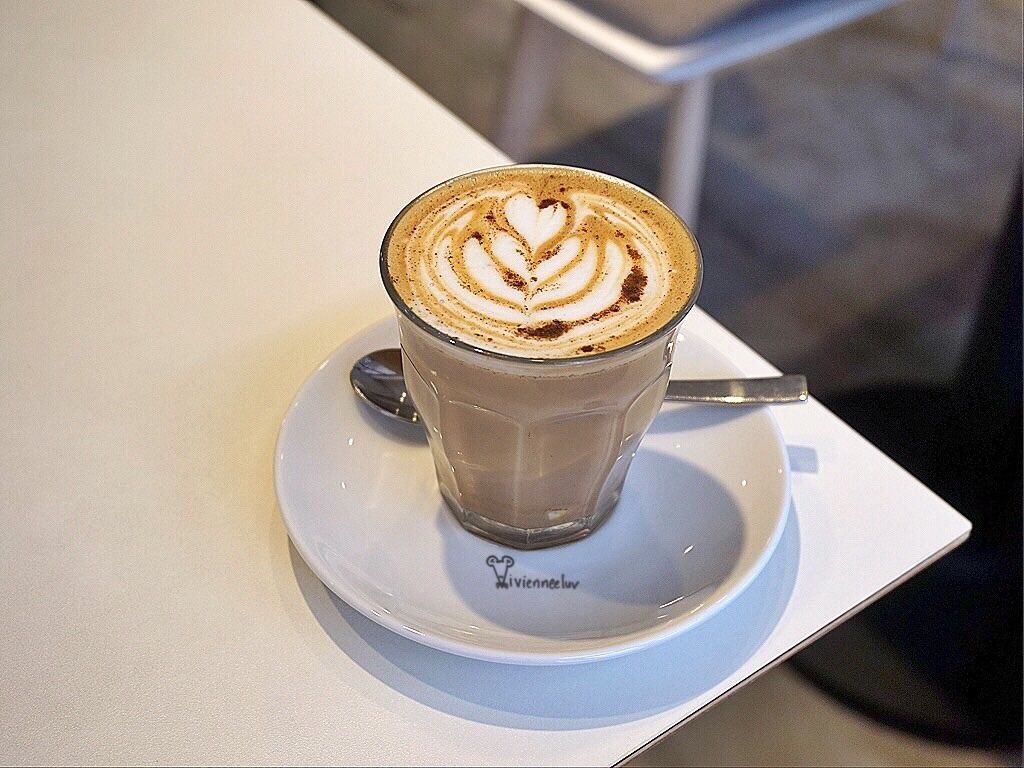 White Chocolate Latte S$6
Ordered a skinny white chocolate latte to warm myself after getting partially wet from the rain. White chocolate latte taste milder as compared to mocha. Coffee is smooth and not overly sweet. Ice version is available too!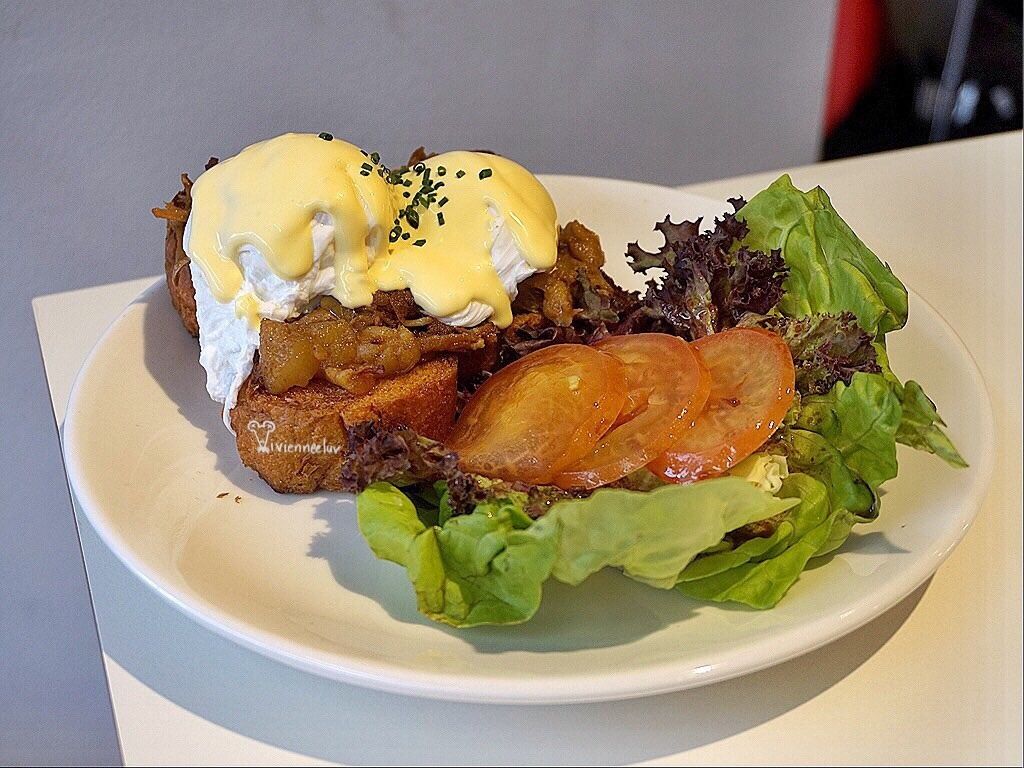 Cheeky Eggs S$14
Poached eggs with braised pork cheek on toasted brioche topped with hollandaise sauce.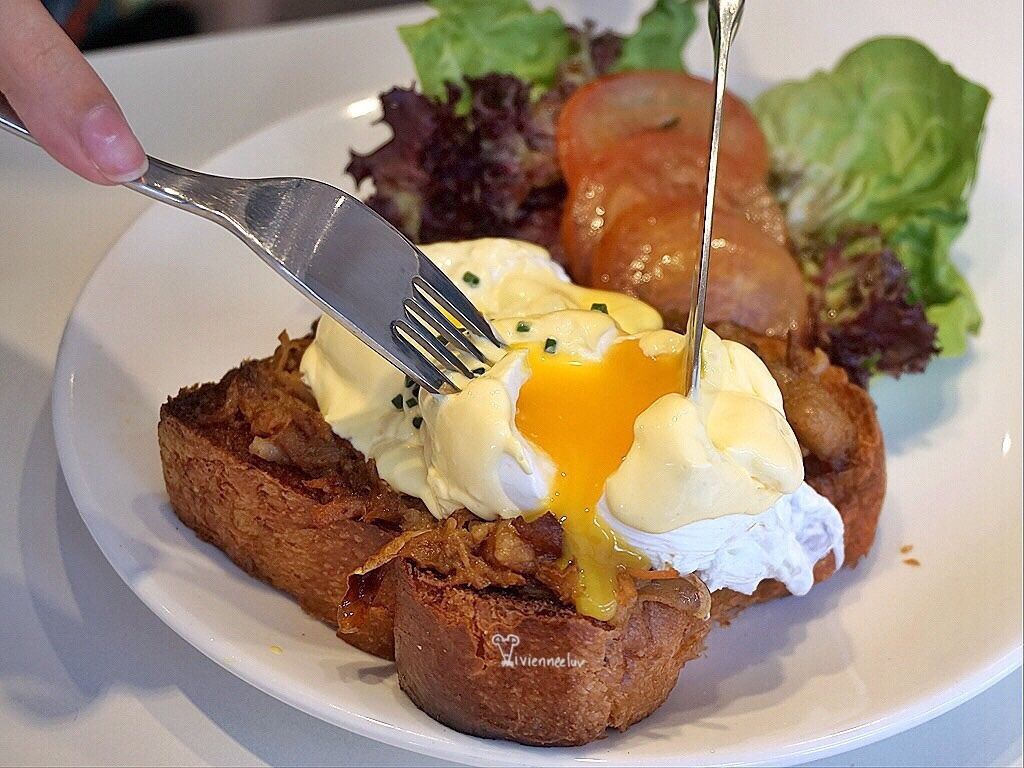 The word ''pork'' in general puts me off, unless the pork is well flavoured, tasty and doesn't taste or smell ''porky''. This is one good pork cheek that leaves me craving for some now. The pork cheek is also very tender, goes perfectly well with the poached egg and fluffy brioche. Brioche is sissy and my favourite bread!
I could safely say this is my favourite dish!
Sauteed Prawns and Dried Shrimp Linguine with Spring Onion and Chili Padi S$14
This is a fusion of western and chinese cuisine by adding dried shrimps to the pasta.
The dried shrimp taste was a little overpowering for me.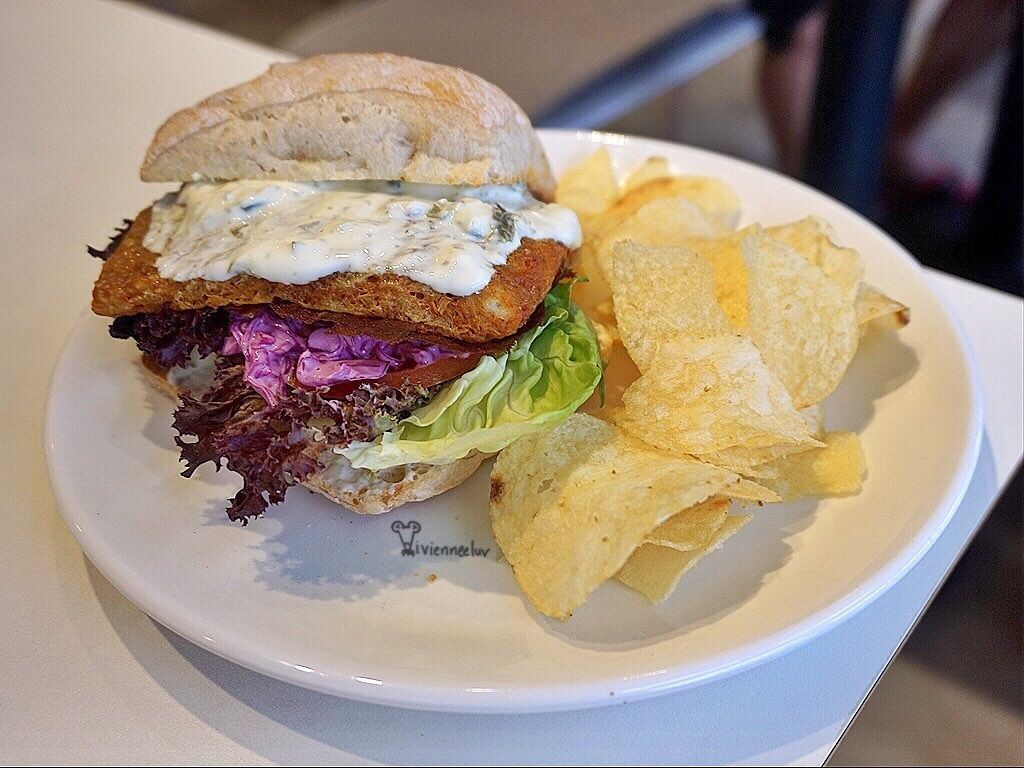 Homemade Nyonya Fish Patty S$15
Served with lettuce, slaw, tomatoes and spicy coriander yoghurt.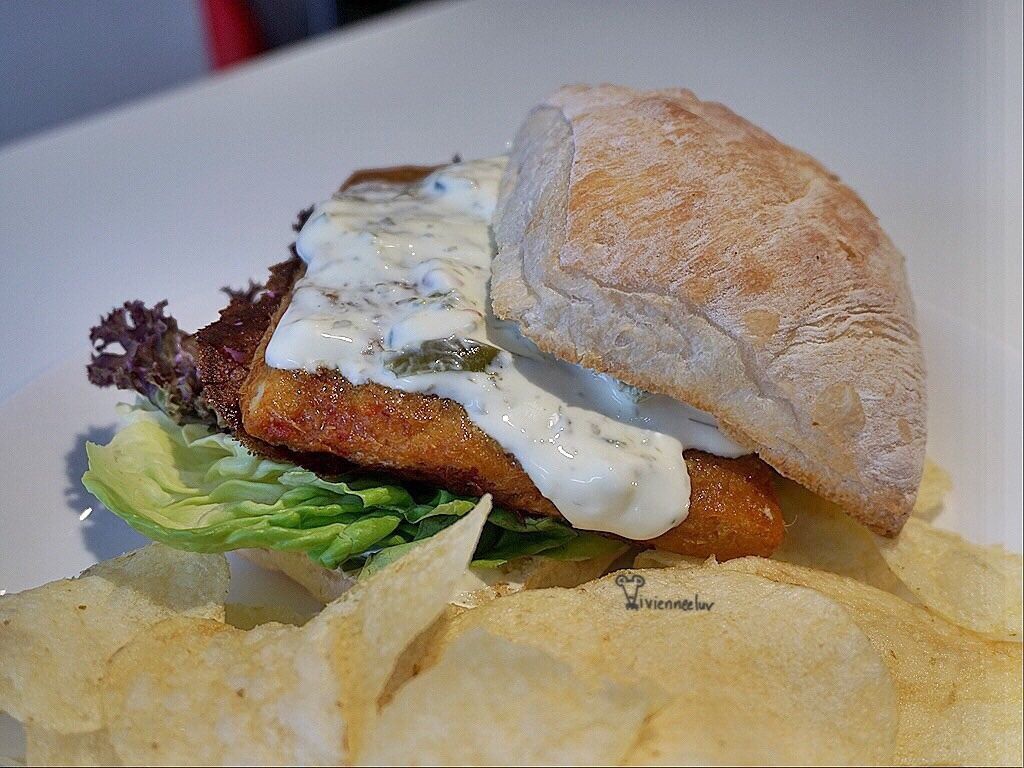 Another fusion dish where Flock Cafe serves ''otah'' in a sandwich. The ''otah'' is not those we eat at nasi lemak stalls, it is very juice and goes really well with the coriander yoghurt. We were not a sandwich or burger person, but we enjoyed this dish.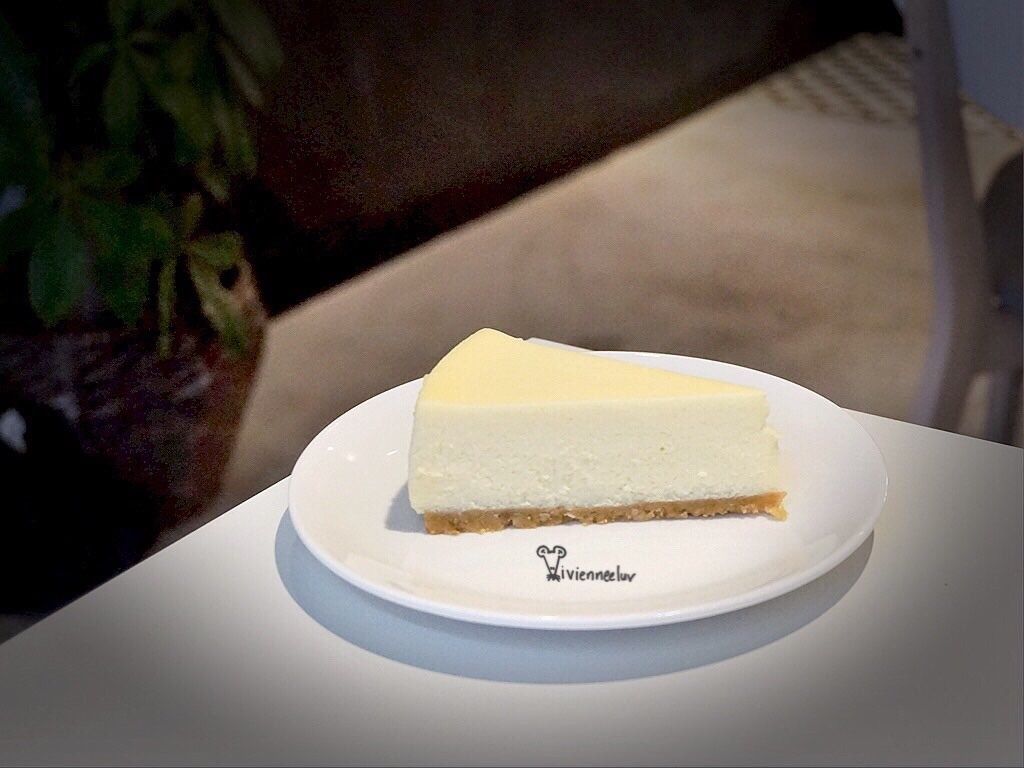 American Cheesecake S$7
The cheesecake was good except that the crust is a little too hard, sissy thought the crust was made of nuts. However, Nicholas (1 of the bosses) said that it might still be frozen therefore its a little hard. Anyway, its better than soggy and wet crust.
Lemon Tart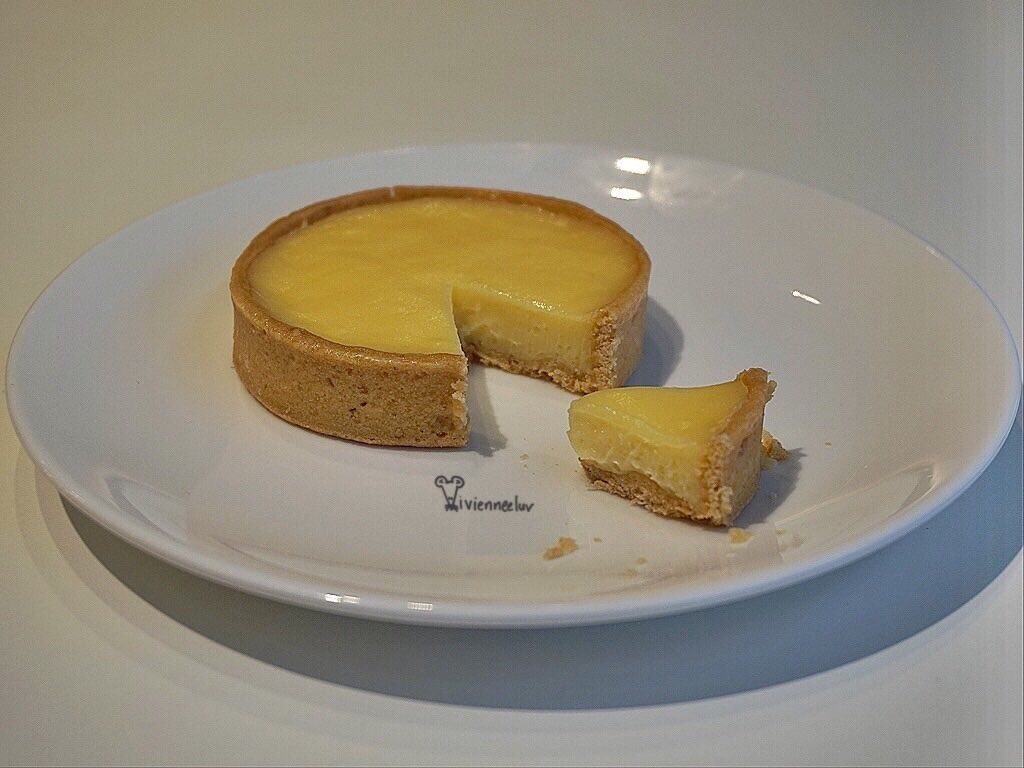 On the contrary, the crust of this lemon crust is perfect, not too crumbly or hard. Perfect dessert to end our satisfying meal as it is refreshing. The sour sweet tart leaves me wanting more.
Flock Cafe is revamping its Tiong Bahru's outlet's menu! I am so going to head there soon.
Thank you Flock Cafe for having us!