1. Food Panda
The night before flying to Hong Kong, I decided to use up my Food Panda credits as I was too busy packing and buying last minute stuffs. Food delivery is always a better option during such situation.
Instead of the usual fast food, I can now have many other choices too and Wingstop, so near (Bedok) yet so far, I have been wanting to try it out but no chance.
Ordering is also a breeze, just a few clicks away!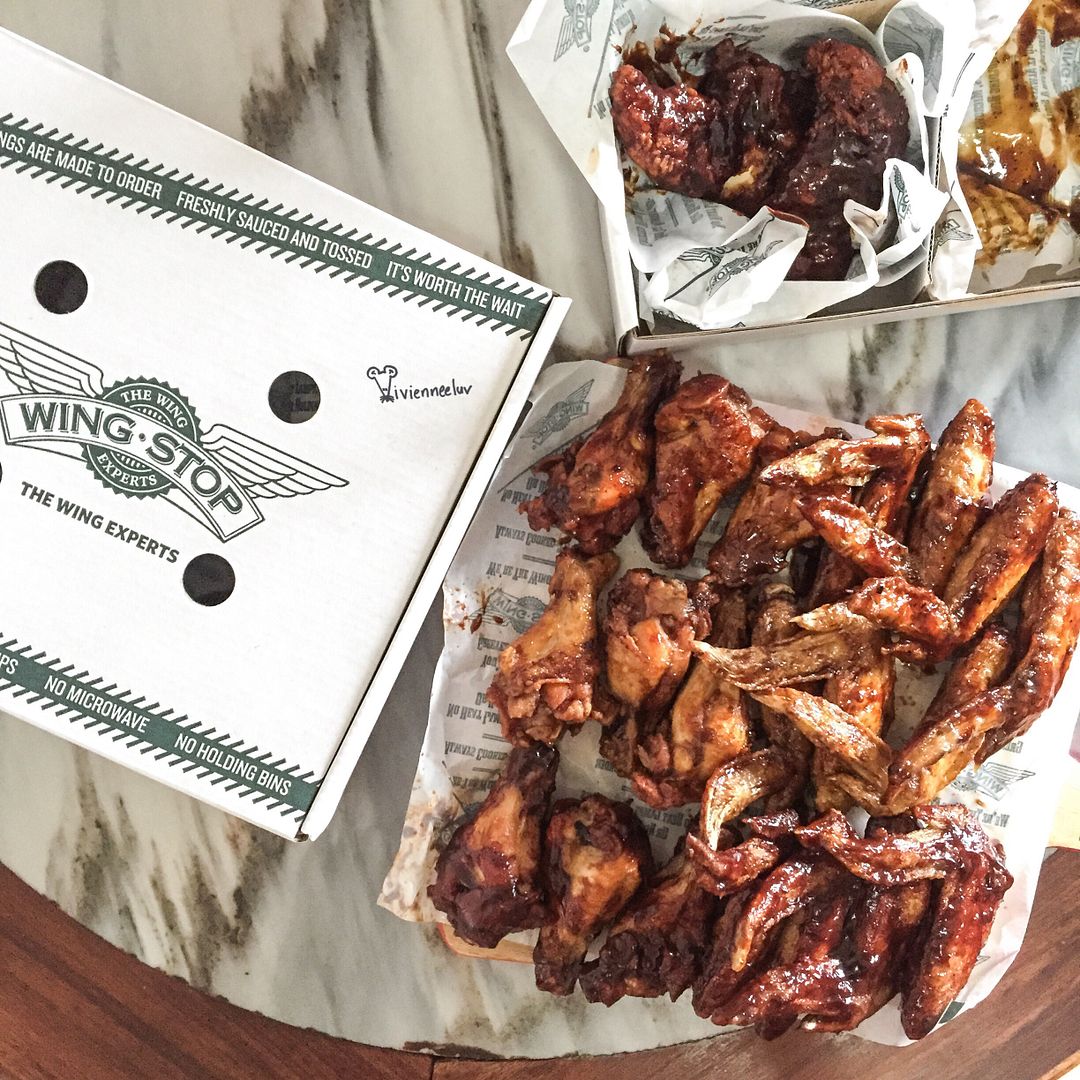 Sorry for the badly taken picture, actually wasn't in much mood to take picture. Snapped a few before I started eating and continue with packing O.O
The boy missed this because he was working and going home to pack before coming to my place :P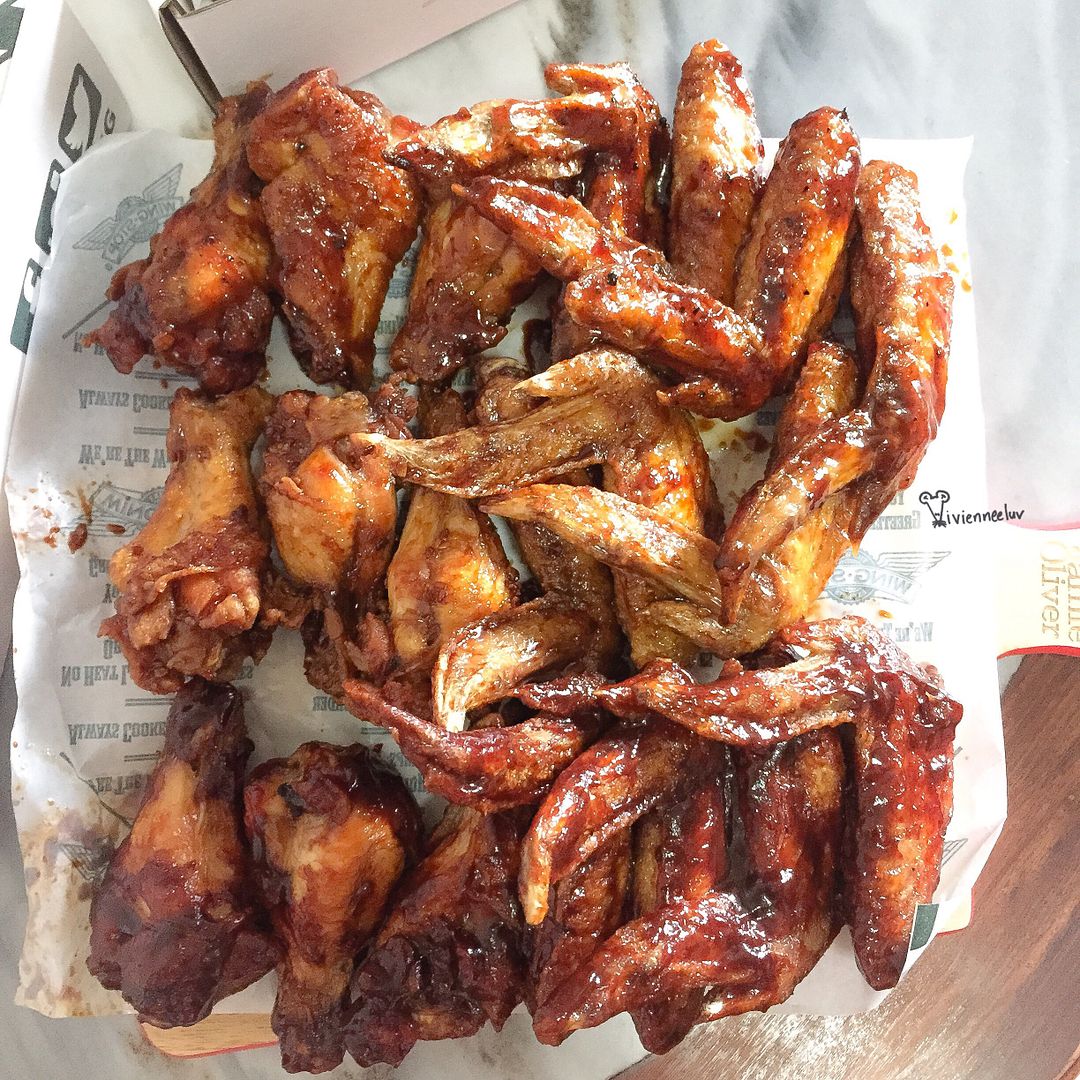 20-Piece Classic Wings S$22.39
Can choose 3 out of 10 (soon to be 11!) flavours if you ordered 20 piece chicken wings.
I chose:
Lemon Pepper
- A zesty favorite from coast to coast.
Oriental Soy Pepper
- A masterful creation for the Asian palate. Exclusive flavour for SIngapore! Light and goes very well with the other 2 flavours as they were very flavourful.
Teriyaki
- Traditional Japanese flavor with a hint of sweetness. Actually I can't really taste the teriyaki sauce, it might be empowered by the BBQ sauce.
6-Piece Tender S$10.24
Can choose 2 out of 10 (soon to be 11!) flavours
I chose the safest flavour as my brother is choosy :P
Hickory Smoked BBQ & Teriyaki
!
All these meat are kinda perfect for 4 person I feel, the tender is quite a huge chunk of meat.
2. Citysquare Mall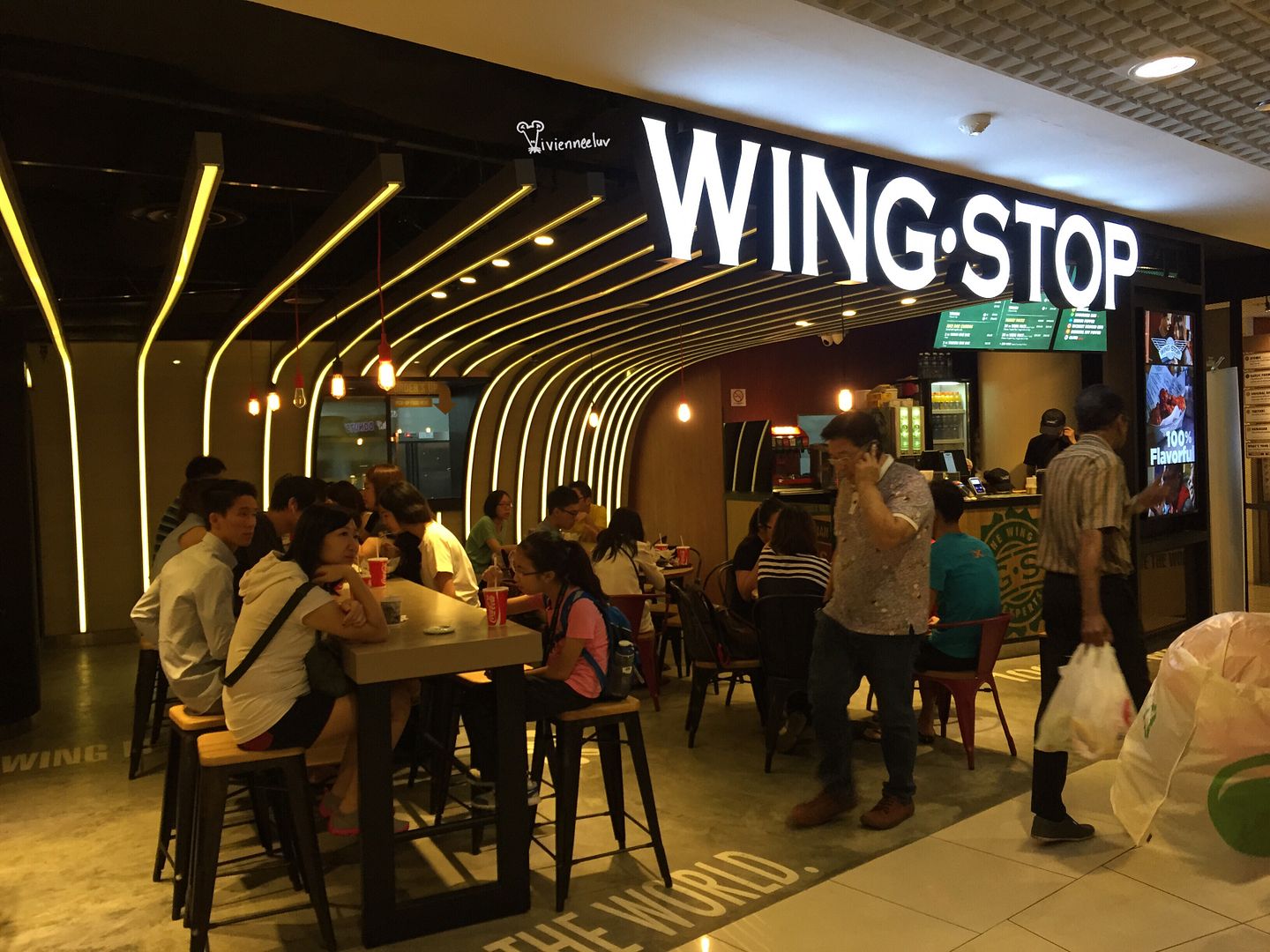 Citysquare Mall's Wingstop just opened last month, in December 2014!
Look at the crowd at 2.52pm!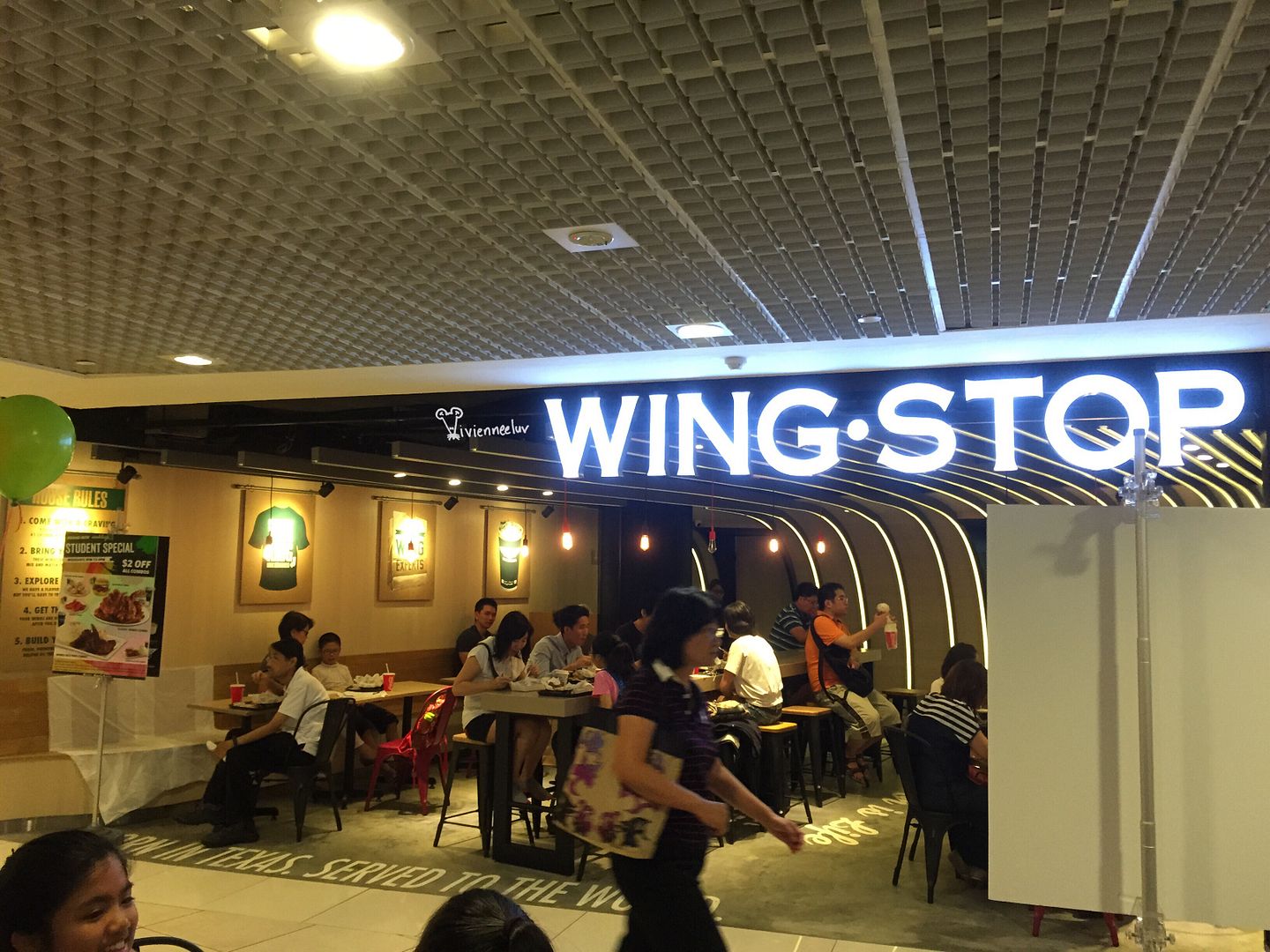 These balloons are cute, I didn't pay much attention to them at first and decided to give them to my god children that evening.
When I placed them on top of presents in a paper bag, a 2 year old kid ''pick pocketed'' it from my bag as we were shopping.
Then on our way to meet the gals, many other kids saw the balloons and wanted to touch them.
After meeting up with my god son, he headed straight for the balloons O.O
My 7.5 year old god daughter also love the balloon dearly. WOW. Sorry I digress but I was pretty amazed, I don't remember I love balloons this much.
Us, before the start of the event.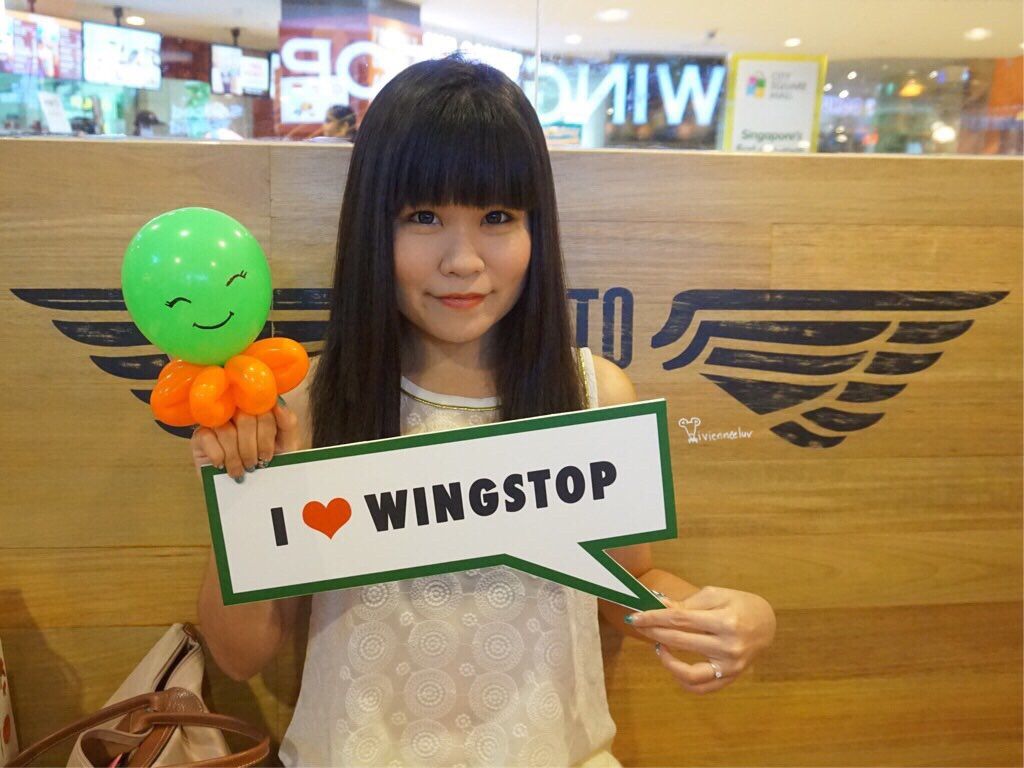 We played some games, and had some Q&A session before we start getting our fingers all yummy.
Winners get to win some Wingstop vouchers and the sista Eileen won a voucher!
Let me introduce you the upcoming new flavour, launching on 16th Jan 2015 Friday!
MANGO HABANERO!!
Its said to be the most popular flavour in the U.S and its the second most spicy flavour after the Atomic flavour!
There was an Instagram contest on the most creative post in Instagram before we leave the event, and this is the winning post hahah by luck, sorry not creative, I know. Because I was too busy eating.
Thanks to the boy for helping me to snap this slightly artistic picture, holding the cup and taking a picture of me & my drumlet.
So I won 12 wings! YAY to more wings.
Sweet meets heat in the newest flavour to hit Wingstop menu on 16th Jan 2015 Friday!
It is sweet, no tinge go mango, and not spicy! I feel that the spiciness and sweetness is just alright.
I still prefer Lemon Pepper personally.
Atomic Boneless Wings
Eileen was saying this is the bomb, super spicy etc etc etc, I really must try!
Ordered 2, I first dipped my fries in the sauce, ''ay like no kick leg, why ah?'' after like 3-5 minutes, my tongue starts to feel the spicy kick.
I took a bite, and started to tear and sweat. How the hell did I eat my level 30 sunset grill wing and get the cert O.O must be the age.
I will not try the Atomic again, but if you feel very adventurous, and love spiciness, please go ahead. LOL!
Thank you FoodPanda for the fuss-free service and credits, and thank you Wingstop for the exclusive invite to be the first to try MANGO HABANERO!