Address:
920 East Coast Parkway #01-25/26/27 Parkland Green Singapore 449875
Opening Hours:
5pm to 12am Monday to Thursday
5pm to 1am Friday and Eve of PH
10am to 2am Saturday
10am to 1am Sunday & PH
Hello! Its been quite a while again. Although it seemed like a few days past my last post, and its barely a month since the new year started, I am already overwhelmed by lots of backlog be it my posts here (I'm so so behind especially my Hong Kong posts, the woes of taking too many pictures) or my full time job.
I am currently involved in a project at work so it makes me very very busy having long meetings on alternate days having to run from 1 office to another. Oh wells, time past faster this way! Christmas will come in a blink (most optimistic girl ever).
Ok, back to last Saturday casual and comfort wear to hide my tummy. But its was so hot, I immediately regretted.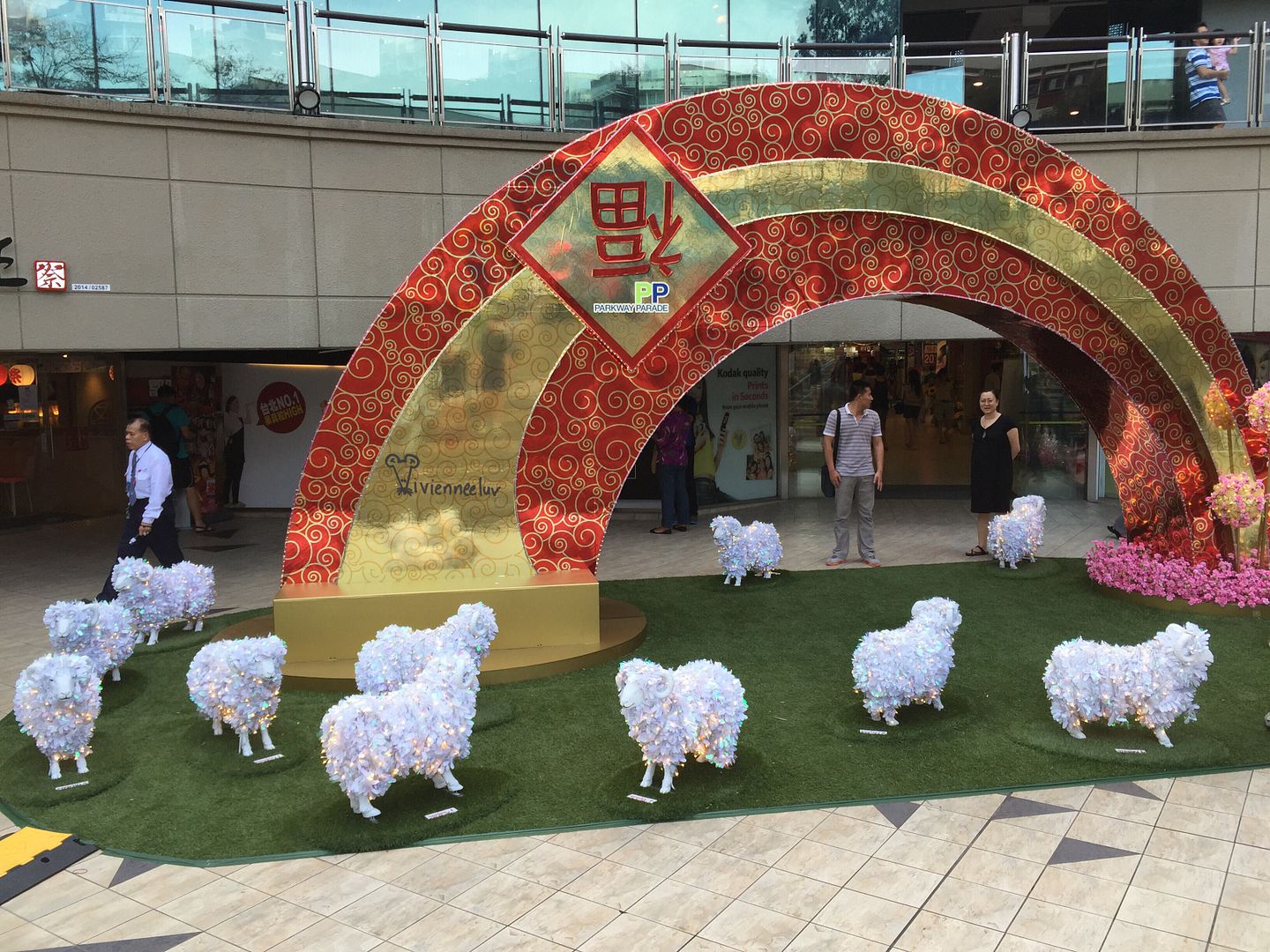 Lunar New Year 2015 - The year of Sheep
Right outside Parkway Parade's Watsons!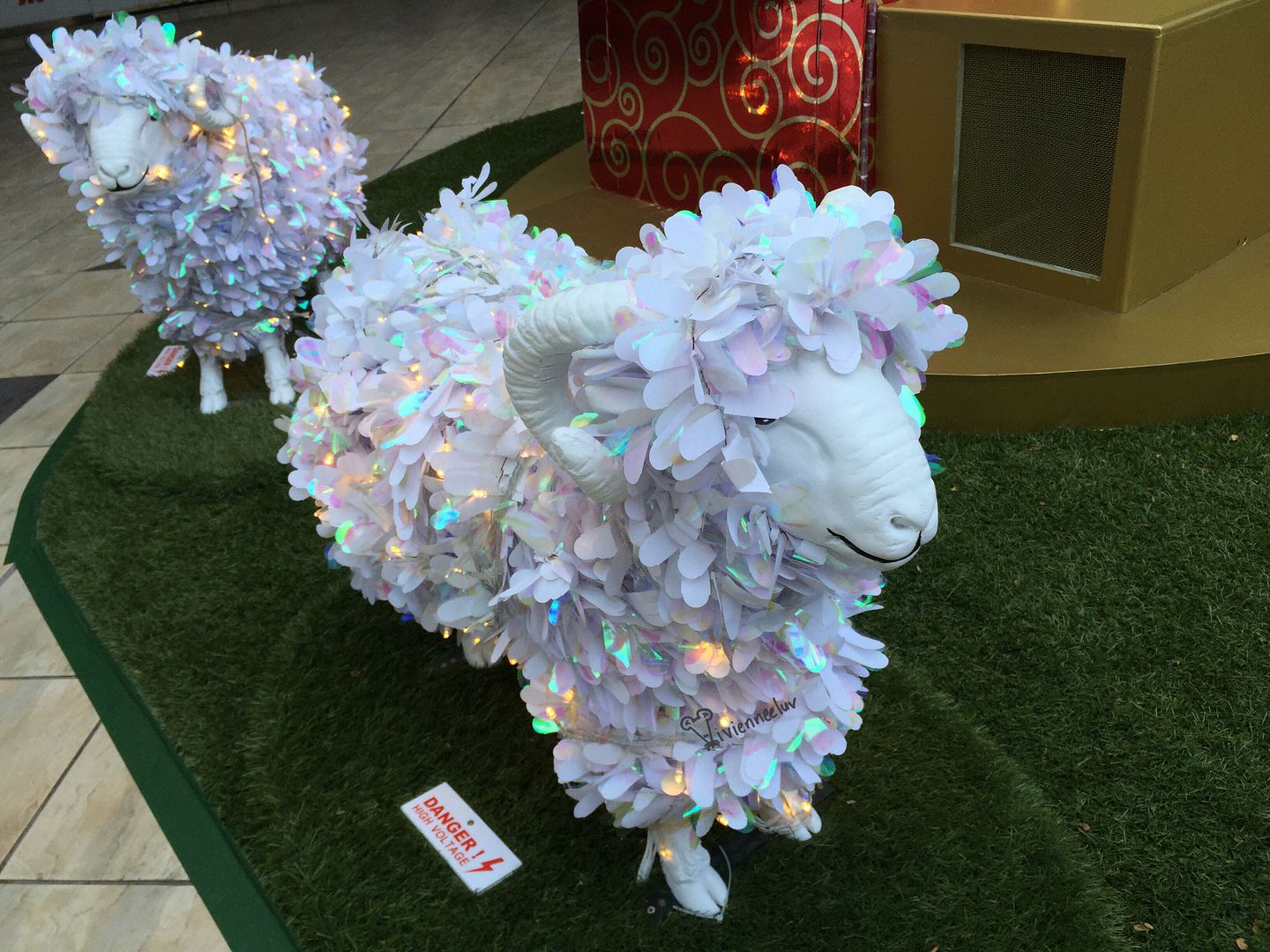 Shimmering meh meh
Joined sissy
Jennifer
, as well as
Alain
&
Reina
at Atmosphere Bistro on Saturday evening. It was so breezy, thank god!
Atmosphere Bistro is located right opposite Parkway Parade!
1. The Place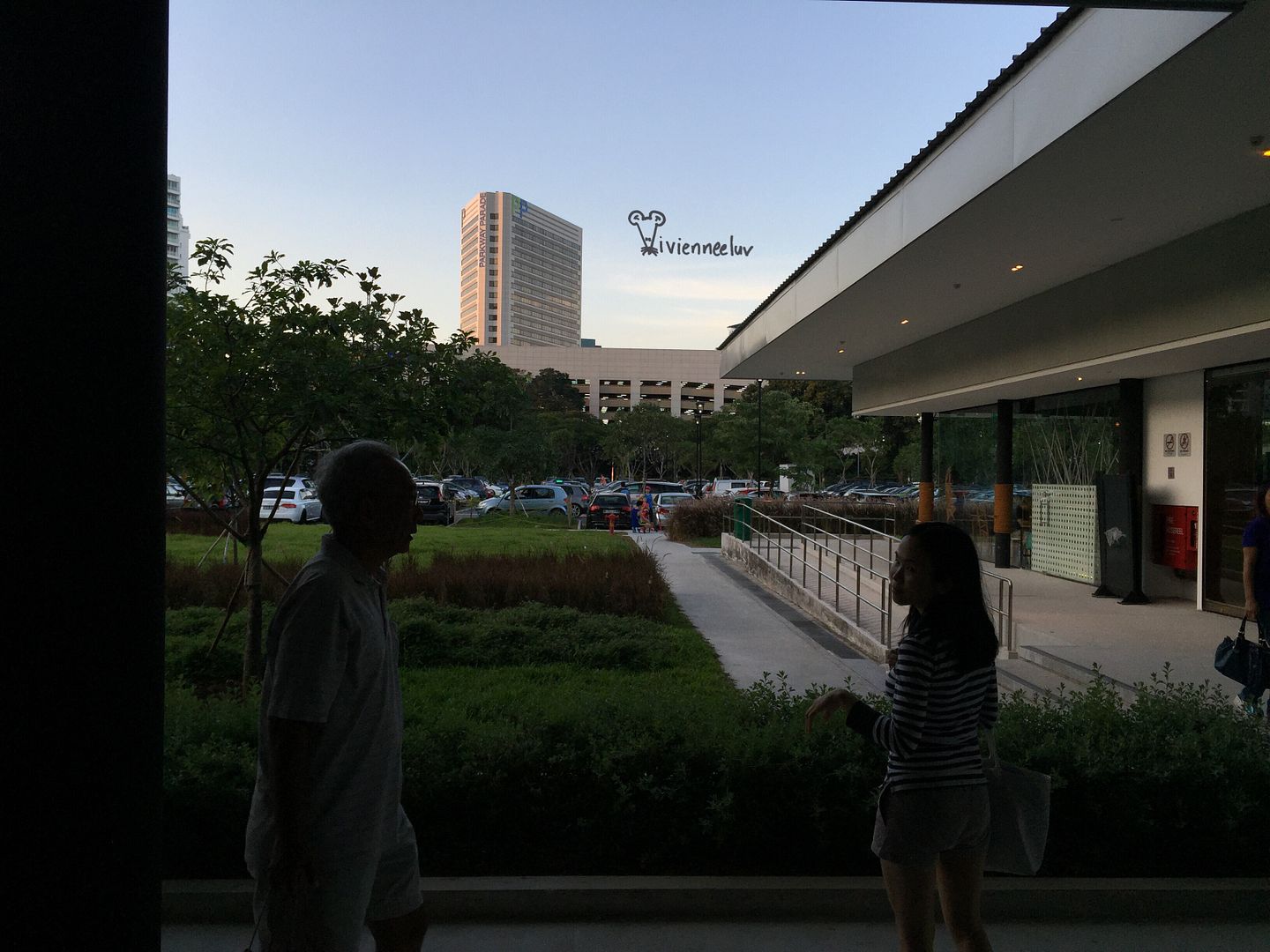 This picture was taken right at where I am seated. Just take the underground tunnel behind Marine Parade Central's NTUC Fairprice Supermarket and you will be led to Parkland Green @ Killiney and Cheers. Head right, and you will soon see Atmosphere Bistro.
Atmosphere Bistro, brought to you by the same people behind Shin-Sapporo Ramen, caters to both families and beer-lovers alike at the recently unveiled Parkland Green - a recreational space at Singapore's most popular coastal park, East Coast Park.
Atmosphere Bistro opened its doors on 6th October 2014, is 1 of the 8 dining establishments at the park. The bistro, which operates from 1000hrs over the weekends, makes for an excellent pit stop for families before or after engaging in the myriad recreational activities available at Greenland Park's wide-open space.
2. The Menu
I love their interactive iPad menu on every table, apart from the breeze ordering of food, for limited quantities food items, you are able to see the quantity left!
Like theMolten Lava Cake, its left with 11 servings at maybe 6.30pm.
You know the feeling when you happily ordered something, only to find the waitress coming up to you ''Sorry the item you ordered is sold out!''.
In another words, I prefer to be straight to the point, having been told ''SOLD OUT'' straight in your face right from the start. Thumbs up for this!
3. Drinks
Mocha + Art S$6.50
Ice Latte S$7 + 3D Art S$1
You can choose the 3D art or art option while ordering on the iPad.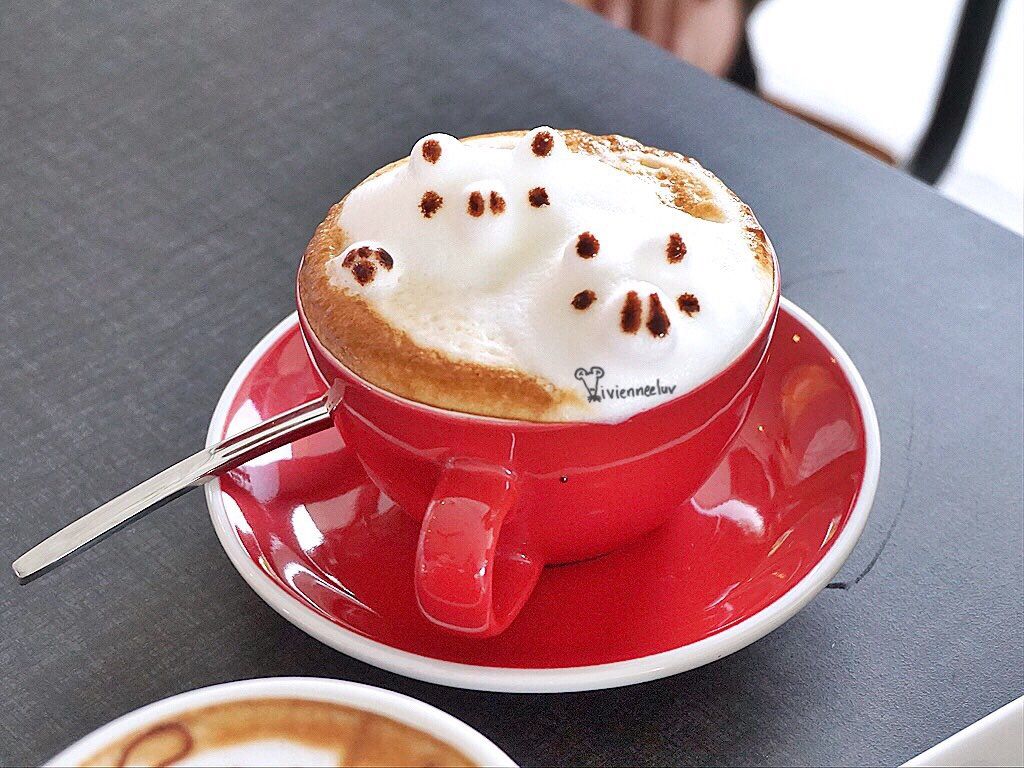 Latte S$6 + 3D Art S$1
Cappuccino S$6 + 3D Art S$1
Overall, the coffee is decent, and of course thumbs up for the coffee art. My friends headed there after I have posted them on Instagram for the 3D coffee art and of course for the food too.
Mango Milkshake S$9
Mango milkshake on the other hand is a little bland and diluted. If only its thicker, more mango flavour it will be very nice!
Kirin Frozen Beer
Kirin Frozen Beer - Calpis S$13
Calpis frozen beer gives a sweet finish but I still prefer lychee's which is not available here, but worth a try!
4. Food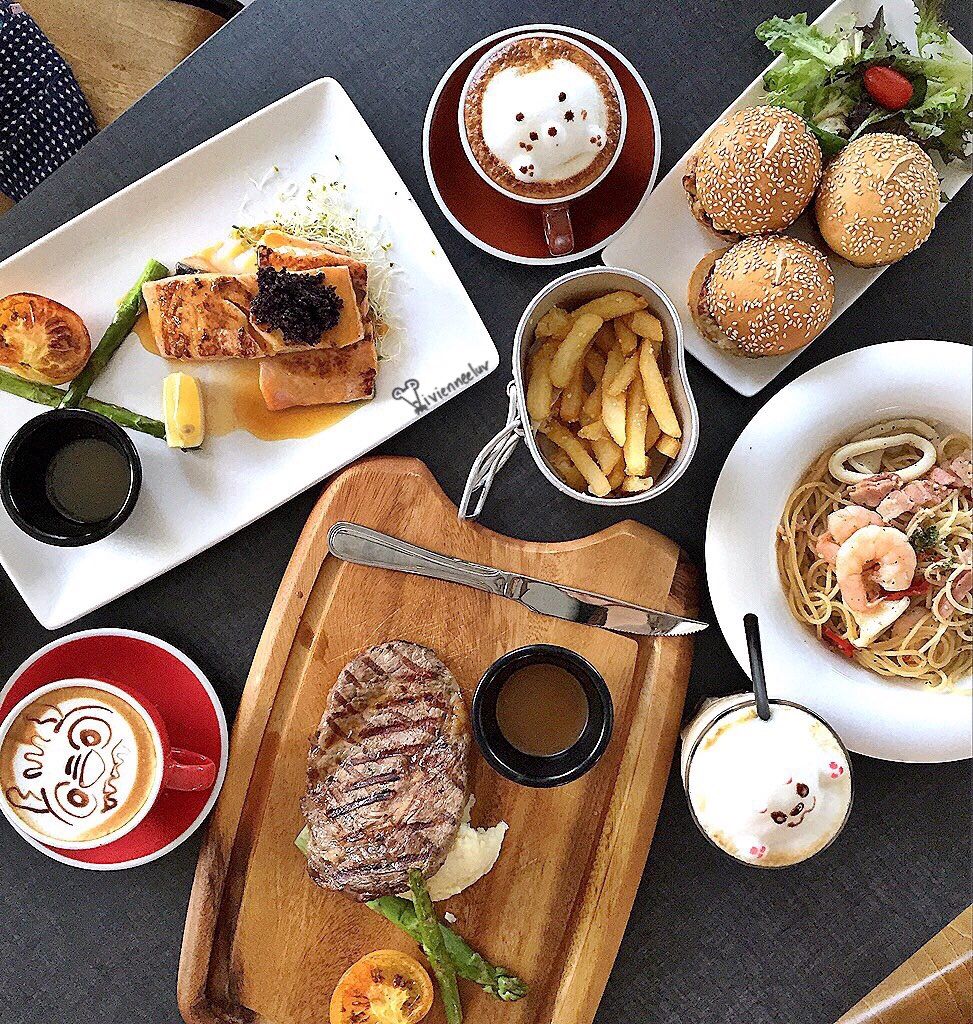 Truffle Fries S$8.80
Fries were good, the truffle taste was evenly spreaded/coated on every fries.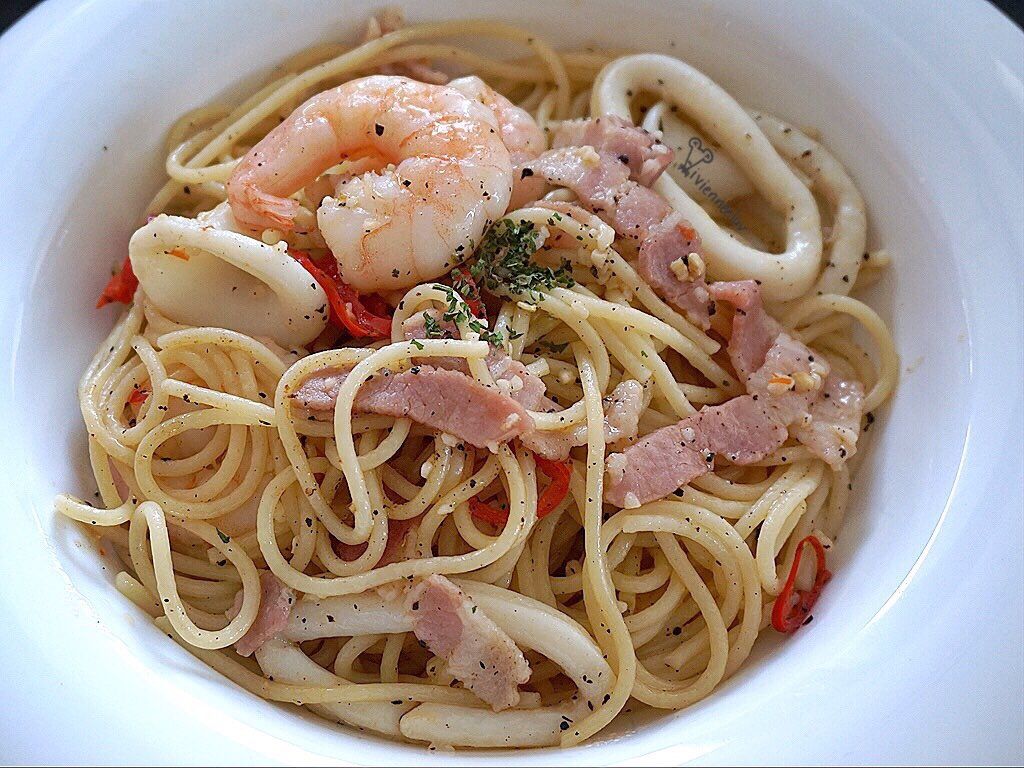 Seafood Aglio Olio S$14.80
We couldn't resist ordering pasta, so the most basic to start us off, however it lack a little in flavours.
Mini Burgers S$11.80 (chicken / beef)
My favourite among all! 3 mini burgers with BBQ grilled patty. The chicken patty is tender and taste so good with the BBQ sauce.
Rib Eye Steak S$25.80
200g of 70 days grain fed beef. Its a pity that the steak is serve almost well done, its a little tough.
I dipped the beef into the gravy that comes with it, its taste like mash potato gravy, so it doesn't really go well with the steak.
I didn't try the mash potato but sissy commented it tasted a little sour.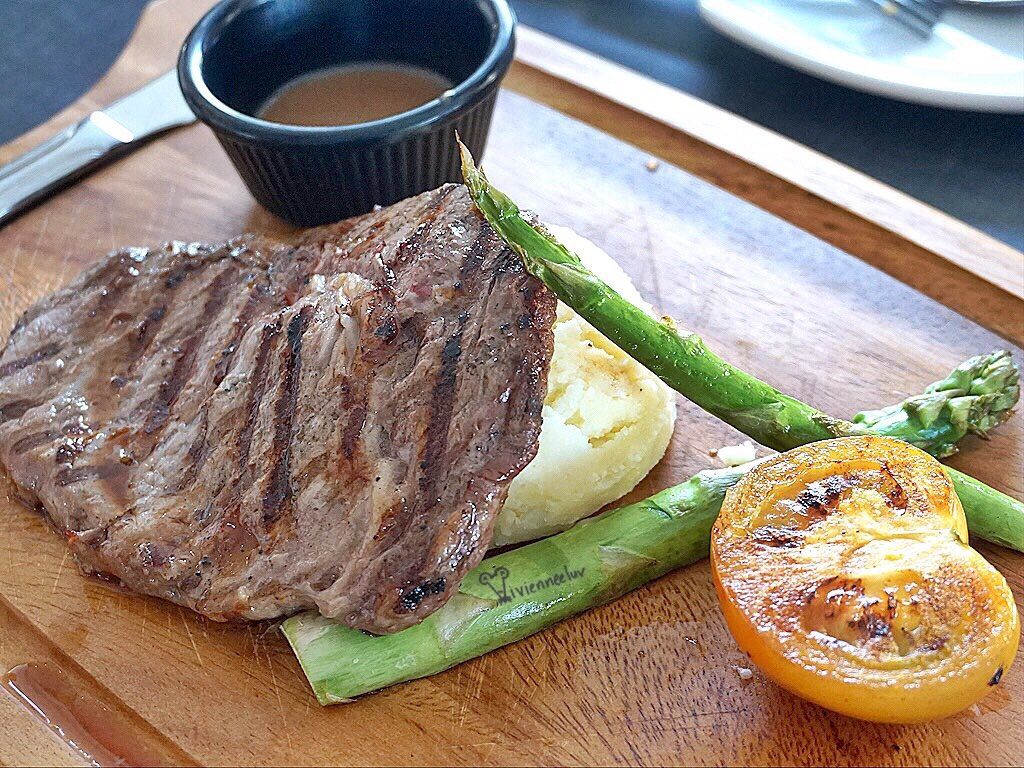 Miso Salmon S$18.80
Baked Norwegian salmon glazed with miso sauce. You can imagine this is a sweet main that I like. It is also topped with caviar which brings additional crunch to the dish.
The portion is also big, I doubt I can finish this by myself is there are sides.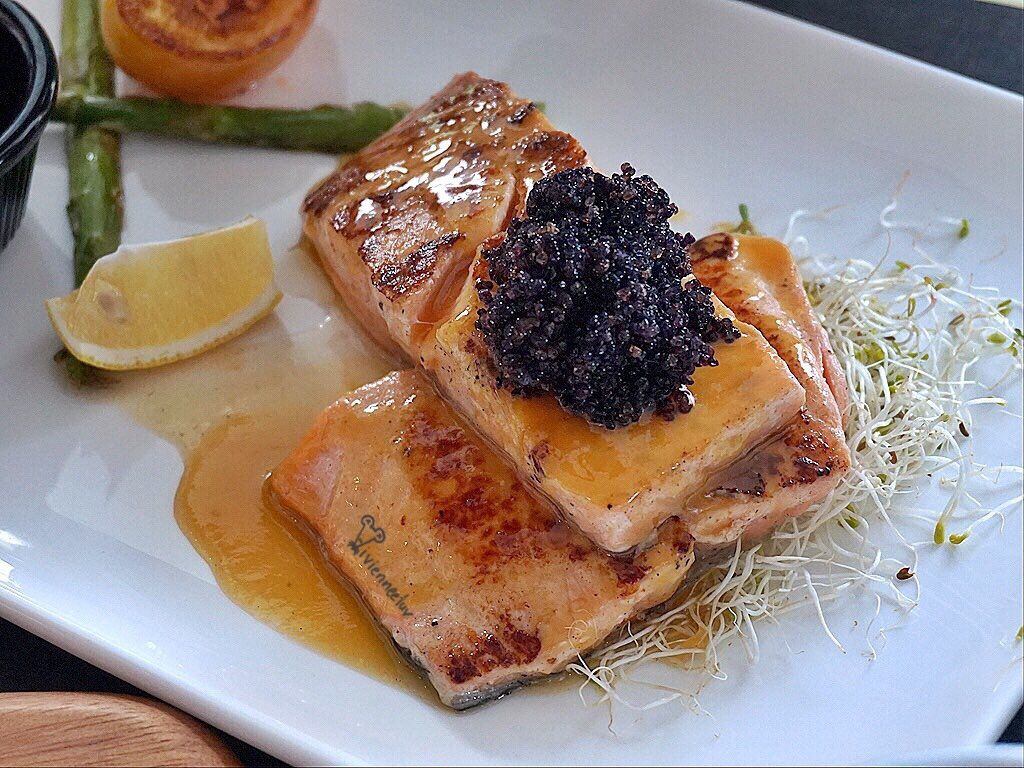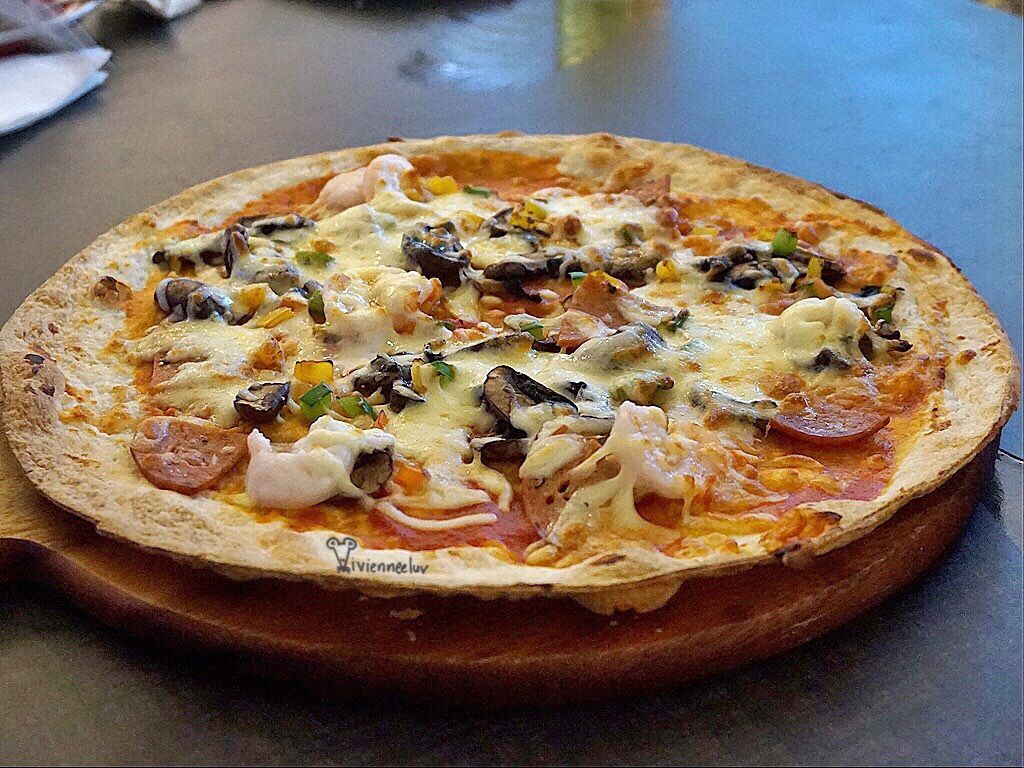 Flaming Pizza S$22.80
There are 17 pizzas for us to choose from OMG? So many!
Before you think that we are spoilt for choice, we go for the most outstanding, FLAMING PIZZA.
Oh wait, where is the flame?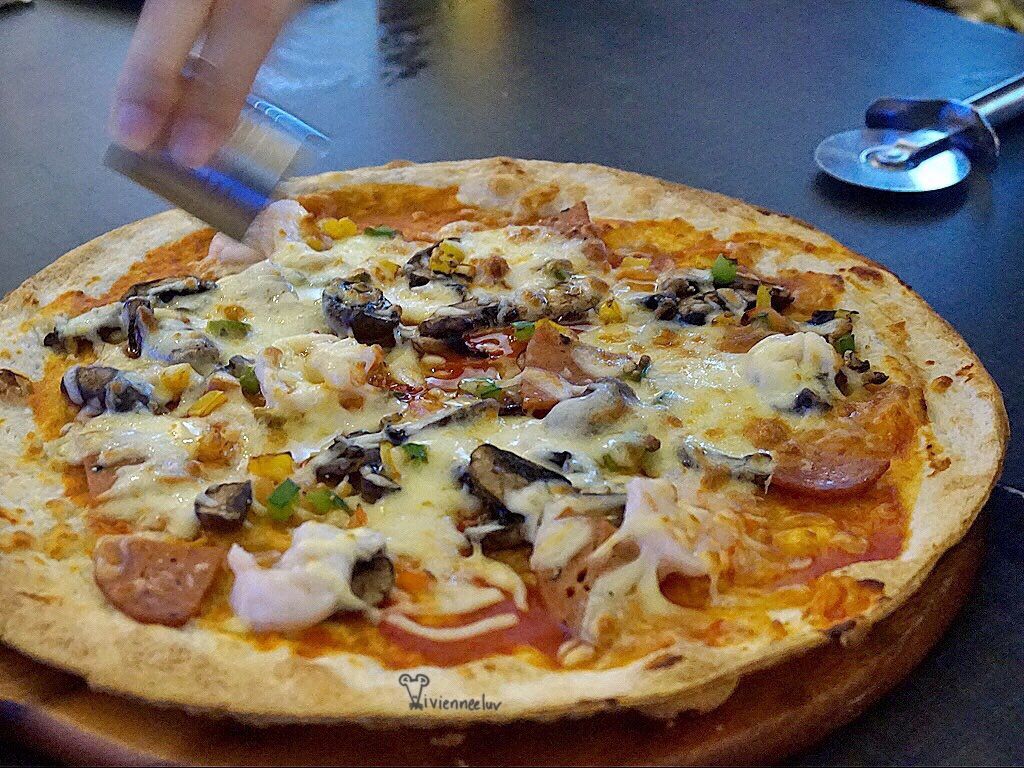 The staff pouring alcohol on the pizza so that she can lit it up.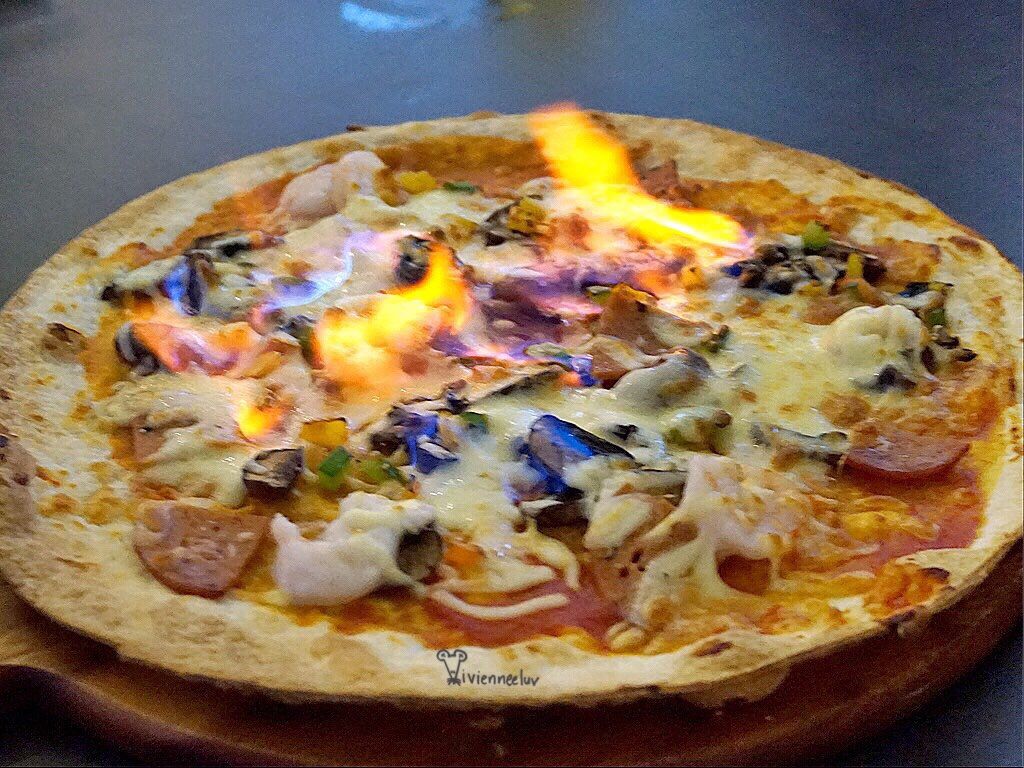 After much difficulty (the wind is too strong!), finally! After double dosage of alcohol. LOL
Thanks to sissy for this shot.
The piece I took has no alcohol taste, however, Alain tasted slight alcohol in his share.
5. Desserts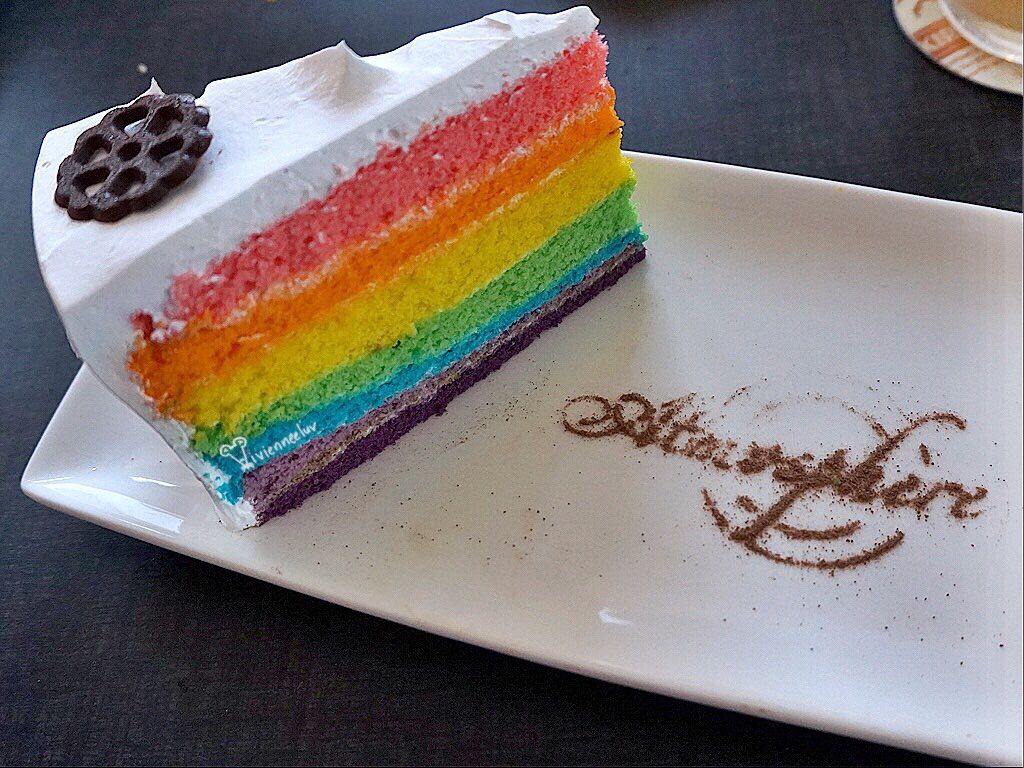 Rainbow Cake S$7.80
I won't say this is the best but it taste so much softer than it looks.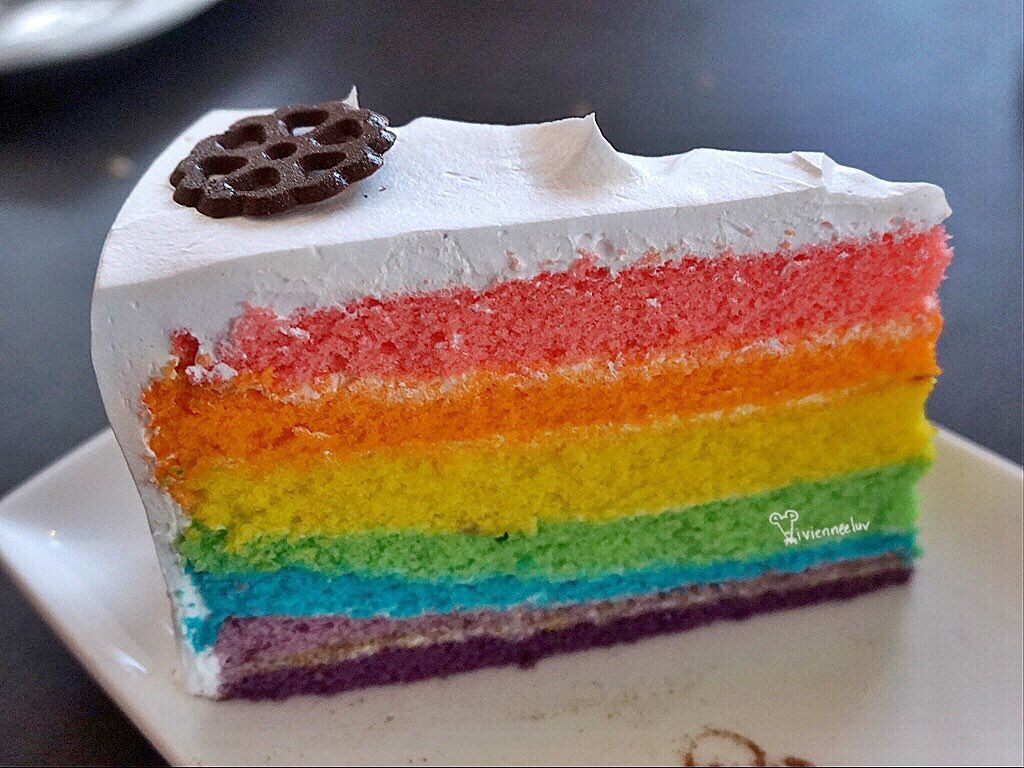 Atmosphere Molten Lava Cake S$11.80
Before it was served, I was skeptical. Maybe of the many failed lava cakes that we had tried. Some flows, some don't. Those that flows, had a weird and fake chocolately taste.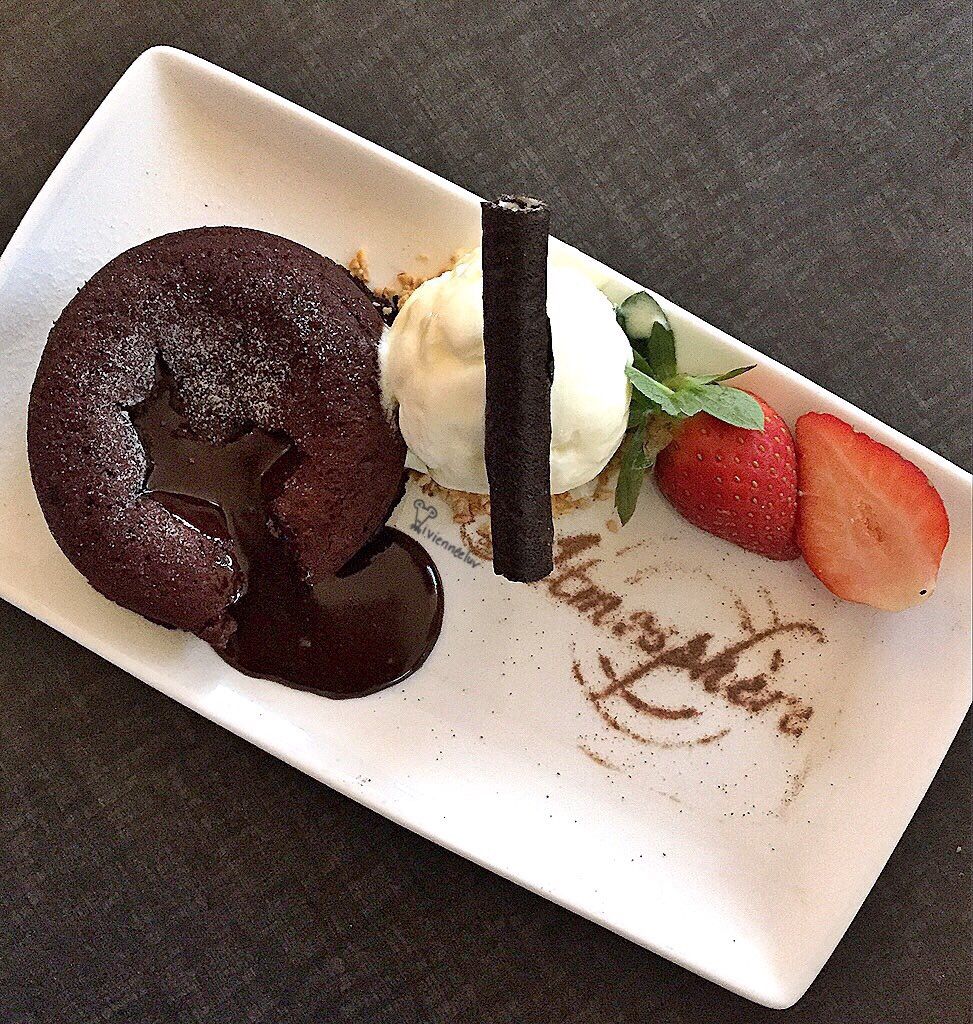 As sissy cut it with a fork, we can tell how thin the cake is, the chocolate lava flowed out immediately.
Now I am curious about its taste.
WOW it was awesome! The chocolate is not overly sweet, not too cloying either, it goes well with the Vanilla Ice Cream and look the ice cream didn't melt so easily after many pictures taking. THUMBS UP, must try!
Whether you're after a delicious bite to refuel after sweating it out at the park, or simply chilling out with friends at night, Atmosphere Bistro's smorgasbord of appetisers and snacks promises to hit the spot.
Thank you Atmosphere Bistro for having us! Awesome atmosphere, good food!