Website: http://www.oldsengchoong.com
Discount for online purchases: 11th Jan to 6th Feb 30% discount
Chinese New Year Fairs:
Raffles Exchange 11th Jan to 5th Feb
Bugis Junction 18th Jan to 6th Feb
Jurong Point 18th Jan to 6th Feb
Century Square 22nd Jan to 6th Feb
Novena Square 22nd Jan to 6th Feb
AMK Hub 25th Jan to 6th Feb
Causeway Point 25th Jan to 6th Feb
Junction 8 25th Jan to 6th Feb
Parkway Parade 25th Jan to 6th Feb
Waterway Punggol 25th Jan to 6th Feb
Heartland Mall 29th Jan to 6th Feb
| | |
| --- | --- |
| Discount for purchases made at the above booths: | 11th Jan to 24th Jan 20% discount |
| | 25th Jan to 31st Jan 15% discount |
| | 1st Feb to 6th Feb 10% discount |
Seng Choong Confectionery, established in 1965 but ended its business in 1996.
Chef Daniel Tay did not succeed in expanding his father's business then, and had always regretted.
Now he is ready to revive the Seng Choong brand in his father's honour, so he founded Old Seng Choong.
The launch of Old Seng Choong is timed to coincide with the upcoming Lunar New Year.
If you haven't know, Chef Daniel was a pastry chef at Les Amis, and he founded Bakerzin in 1998, and Cat & the Fiddle in 2013.
Yam Cake S$23.80 500g
Carrot Cake S$23.80 500g
Each cake is packaged in a stylish box sporting a vintage floral motif, they make excellent gift ideas for loved ones during this auspicious season.
This carrot cake is loaded with generous pieces of dried shrimp and lup cheong (chinese sausage). Old Seng Choong uses white radish that is cubed instead of grated, so as to create more bite to the cake. The white radish were then steamed till tender before being mixed with premium rice flour.
I cut half the portion out to fry them with egg, to make my own fried carrot cake, mum loves this a lot! So mum kept the other half and ate them all, for the next few days.
I also coat the yam cake with egg and pan fry them.
The yam cake recipe was handed down from Chef Daniel's mother. Thai yams are specially selected for their superior flavour and texture, along with steamed whole peanuts, dried shrimps, fried shallots and silvers of dried shiitake mushrooms, this yam cake is created.
Then the next day, i steamed the rest to bring them to work to share with colleagues and they love it!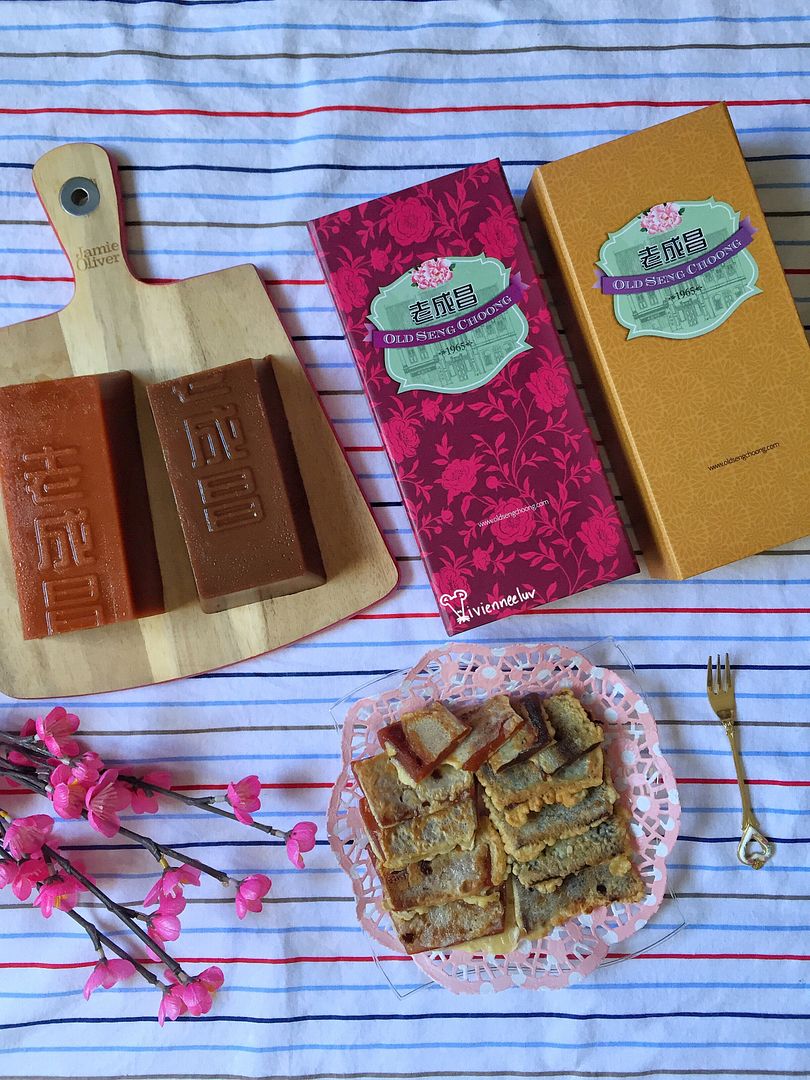 Nian Gao S$23.80 540g
Red Date Cake S$23.80 540g
Nian gao signifies good fortune for the year ahead, I like how it's not as sweet as compared to other nian gaos out there, and I can taste the significant coconut cream which makes the steamed version very much like nyonya Kueh.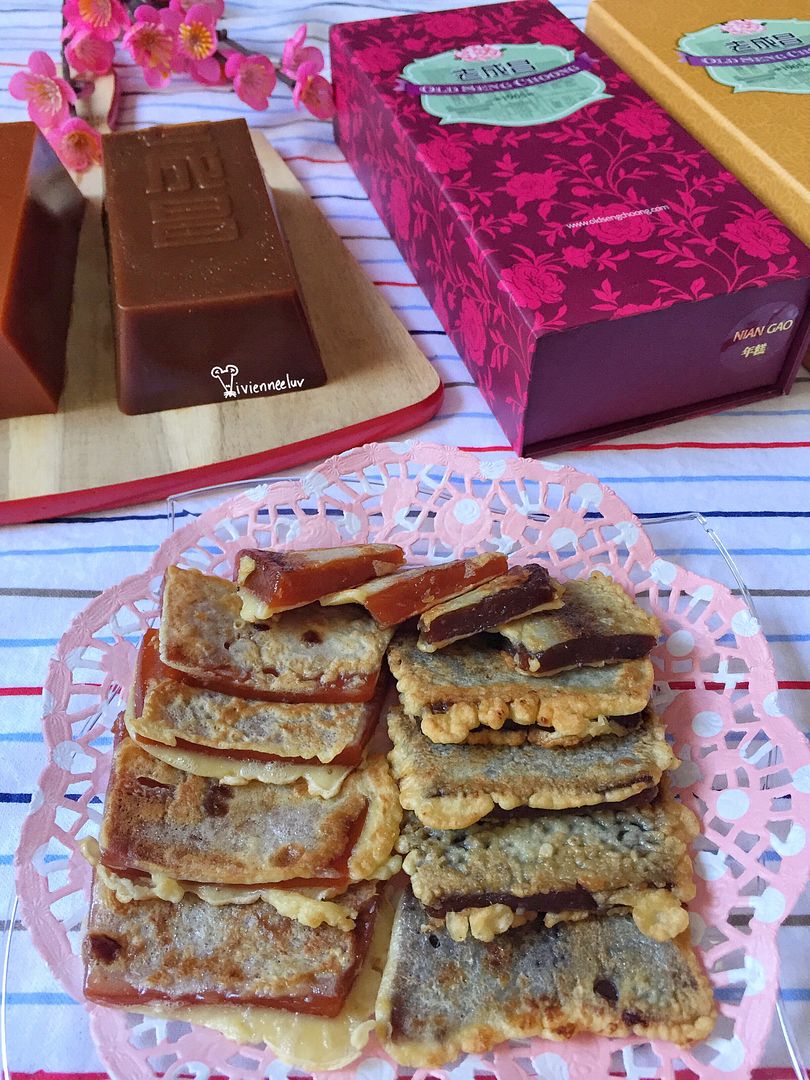 This HK style red date cake on the other hand also has coconut cream but the red dates taste overpower it, I love this so much! The Chinese dates are skinned, pitted, steamed with raw sugar then sieved into a smooth paste which is mixed with tapioca flour and steamed again. QQ 的.
Old Seng Choong also offer customised special occasion cakes and bakes for celebrations such as babies' full month parties, 80th and 100th birthdays.
Thank you Old Seng Choong for sending these delicious festive cakes!