| | |
| --- | --- |
| Address: | 16 North Canal Road Singapore 048828 |
| Tel: | +65 65322777 |
| SMS/Whatsapp/WeChat: | +65 90991777 |
| Email: | contact@fulinmendoulao.com.sg |
| Operating Hours: | Mondays to Sundays Lunch: 11:30am to 2:30pm |
| | Dinner: 6:00pm to 10:00pm |
| Seating capacity: | 220 indoor inclusive of private rooms |
| Private Rooms: | 5 rooms on the 2nd floor. 1 room and 1 function room on the 3rd floor |
| Private Room Seating capacity: | From 6-guest to 12-guest private rooms to 30-guest function room |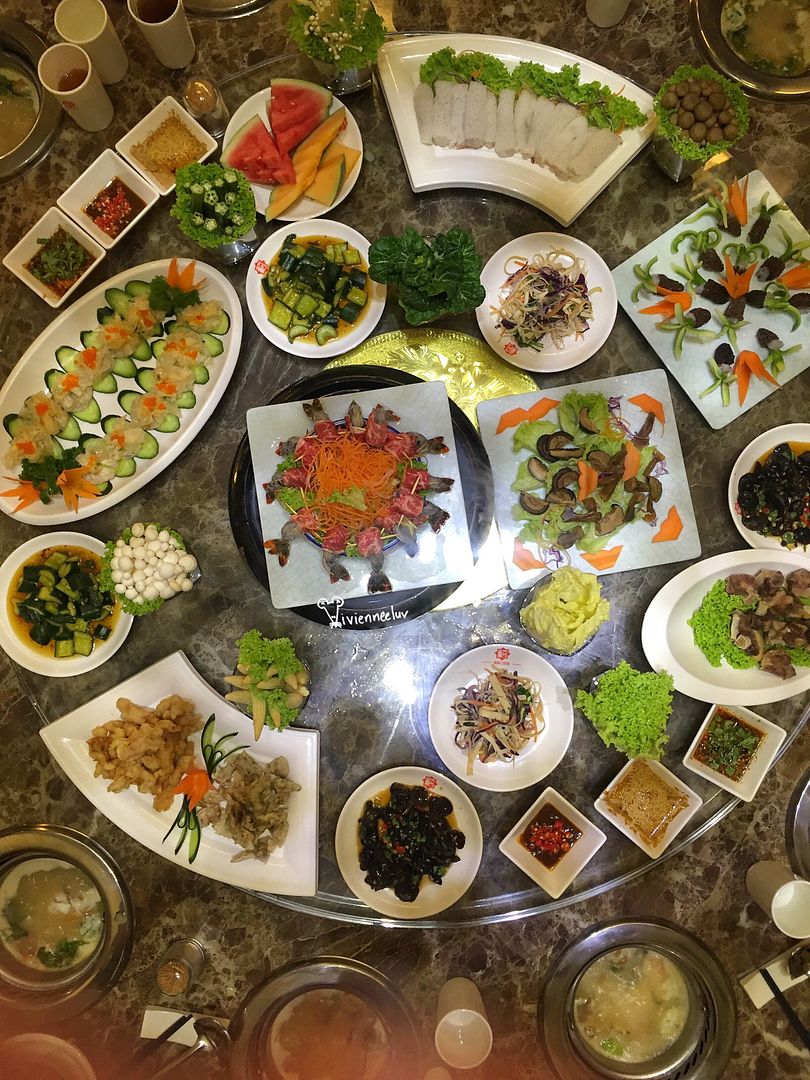 (Pic Credit: Shaun, for standing on the chair helping me to snap a overall picture)
Fu Lin Men marks the 1st Media tasting for 2016 for me, and its a good start because the food is good, the host and service is even better! We almost rock the whole restaurant down.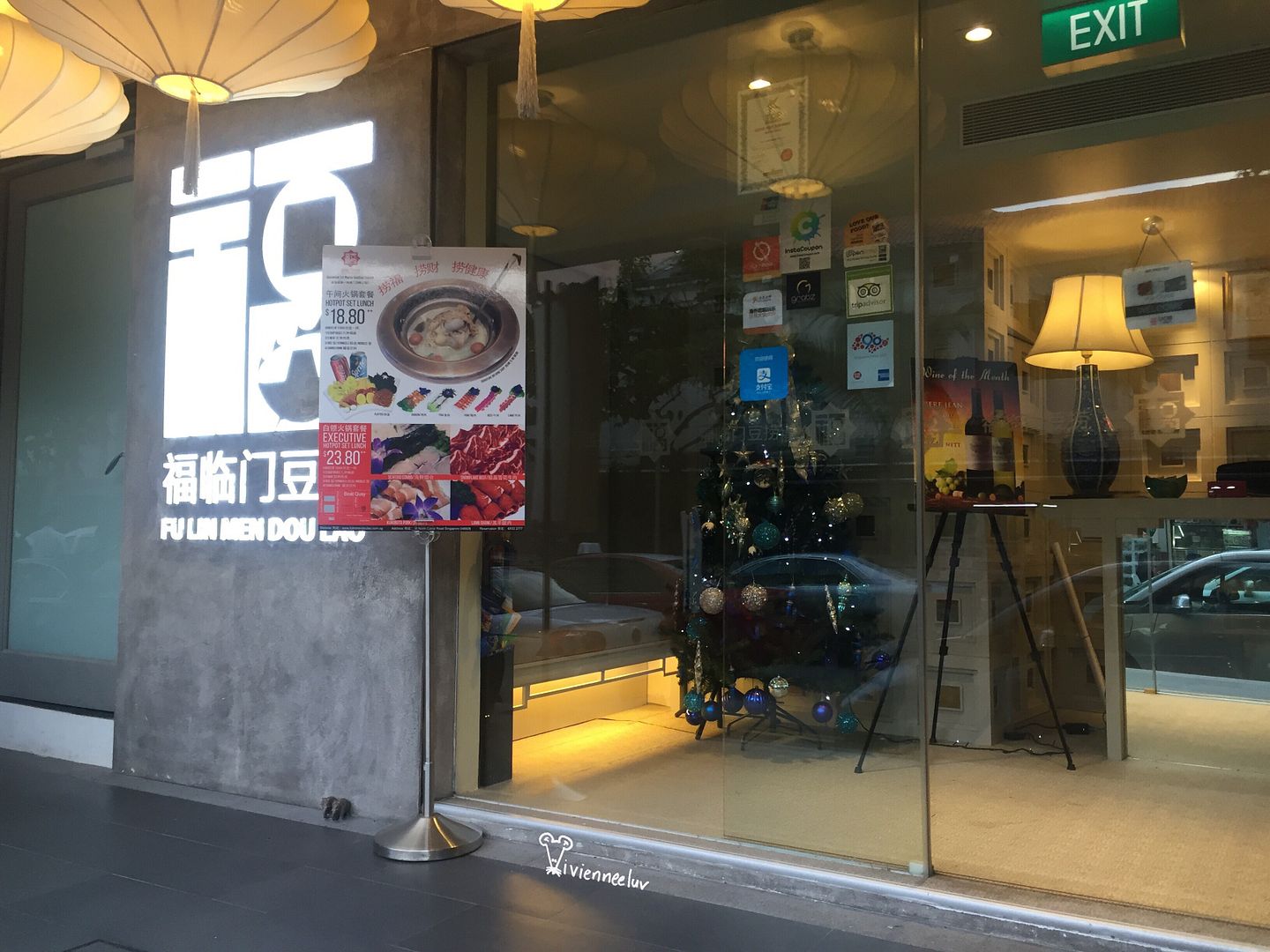 The brand, Fu Lin Men (which symbolises fortune bestowed upon one's home) Dou Lao, is founded by orthopaedic specialist and senior researcher, Professor Zhang Ming, from the coastal province of Zhe Jiang which is blessed with a fresh and wide variety of seafood. - Prof Zhang, the head of Taizhou Orthopaedics Hospital and Dafeng Tongren College Hospital, comes from a family of medical academicia who treasures their pot of nutritious home brew more than its weight in gold. - During his few visits to Singapore, Prof Zhang struggled to find a healthy soup close to his liking. Thus, he decided to build a gimmick-free Dou Lao hot pot brand based on traditional broths in Singapore. Through a business partnership with a like-minded gourmet and former banker, Simon Lim, Fu Lin Men Dou Lao restaurant opened its door in April 2015.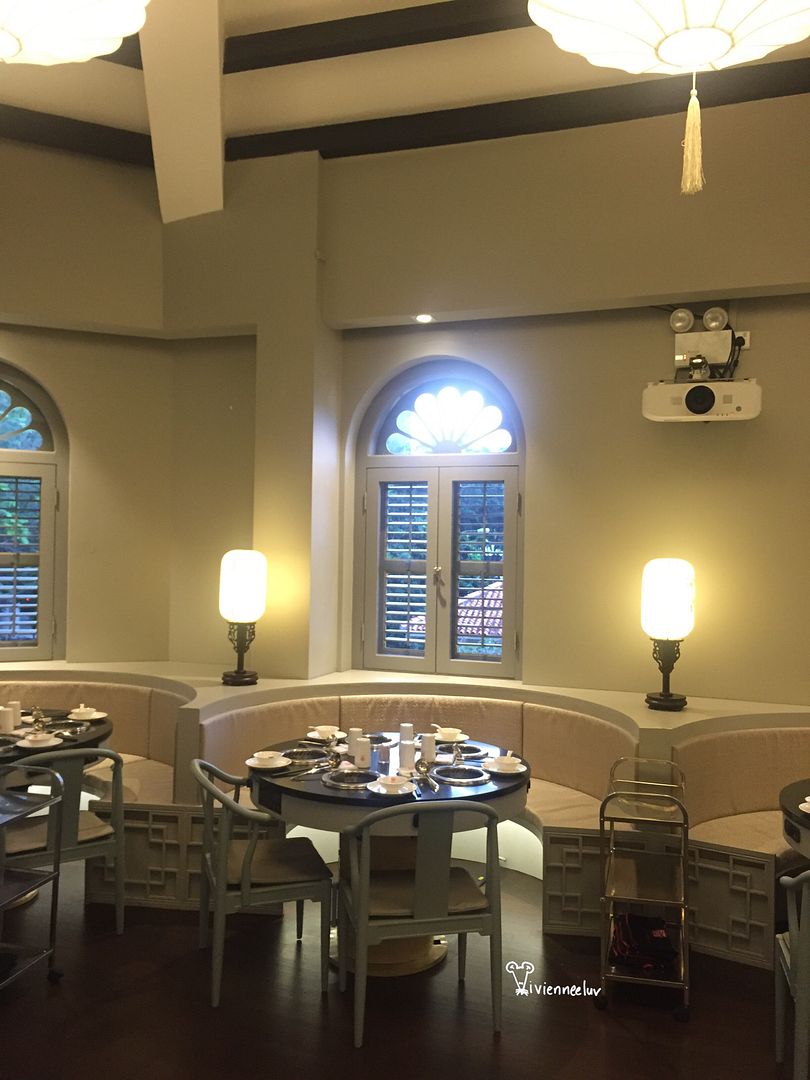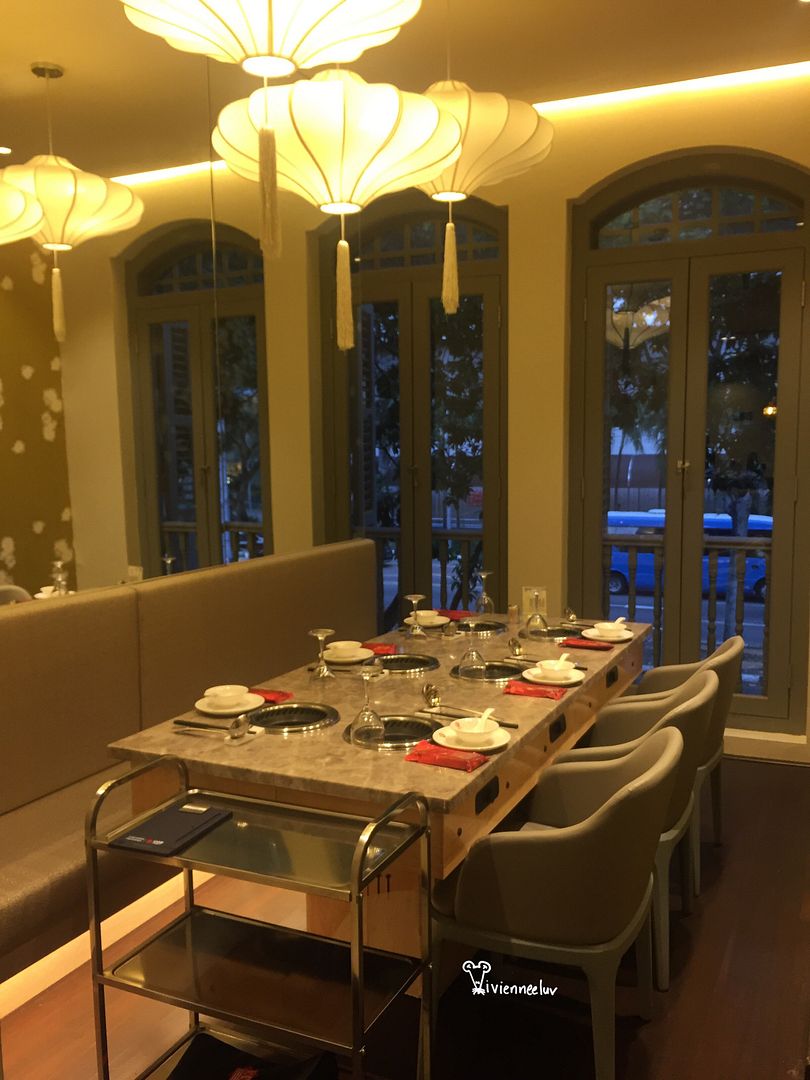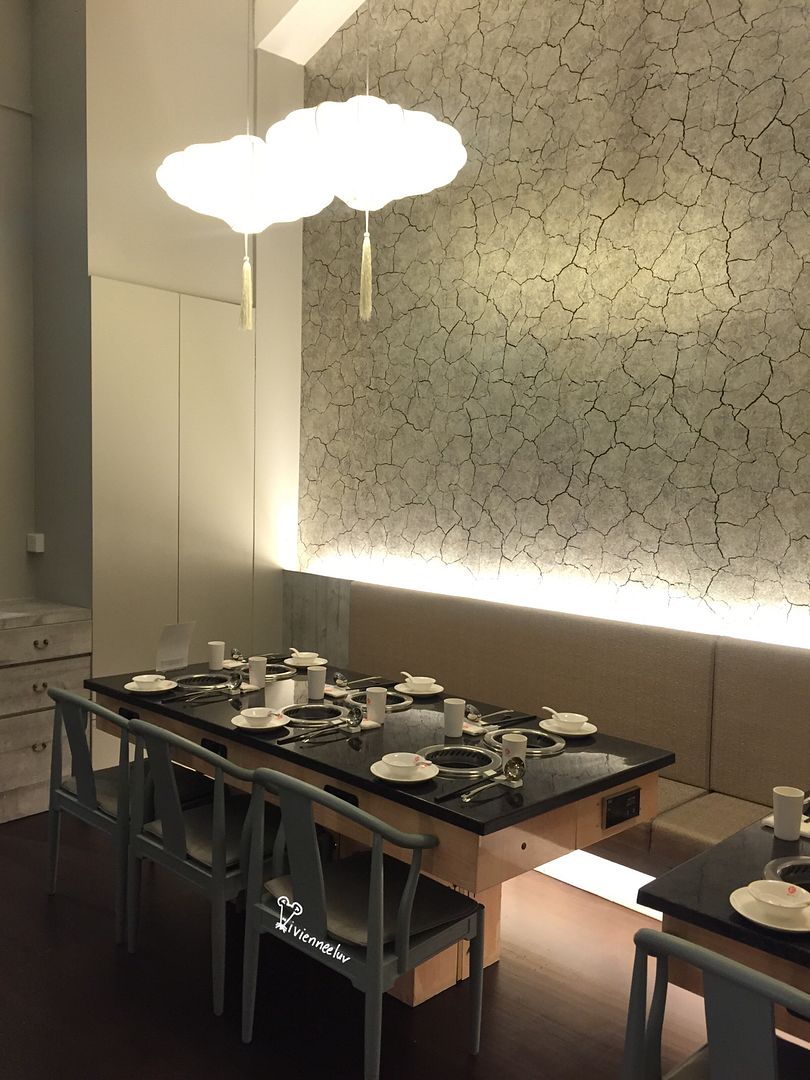 These are the pretty and cosy dining areas of this 3-storey shophouse.
At Fu Lin Men, each person gets an individual pot of soup and individual temp-control knobs, no need to worry about hygiene and washing chopsticks in the common pot.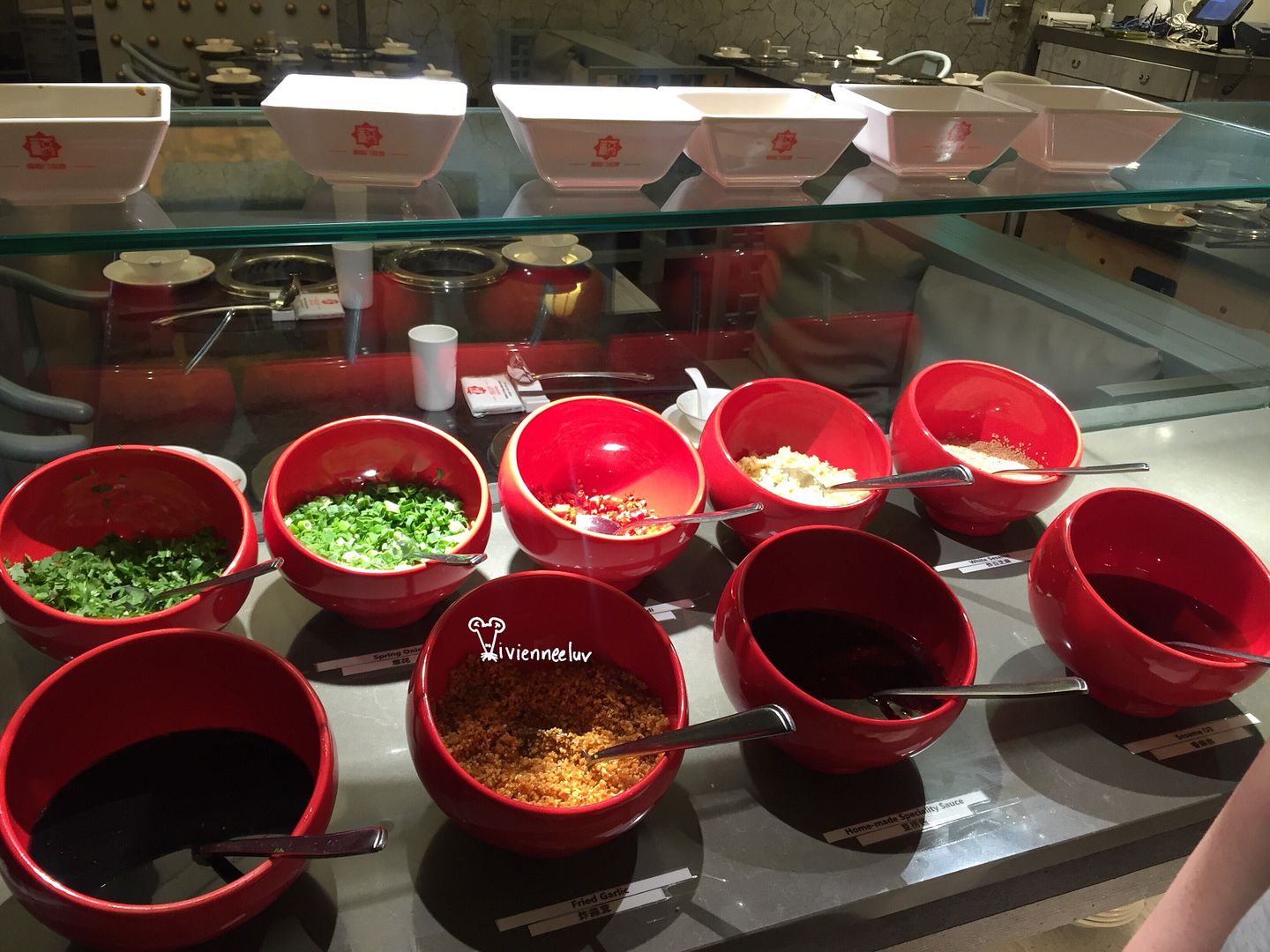 Free flow sauces is charged at S$2 per person.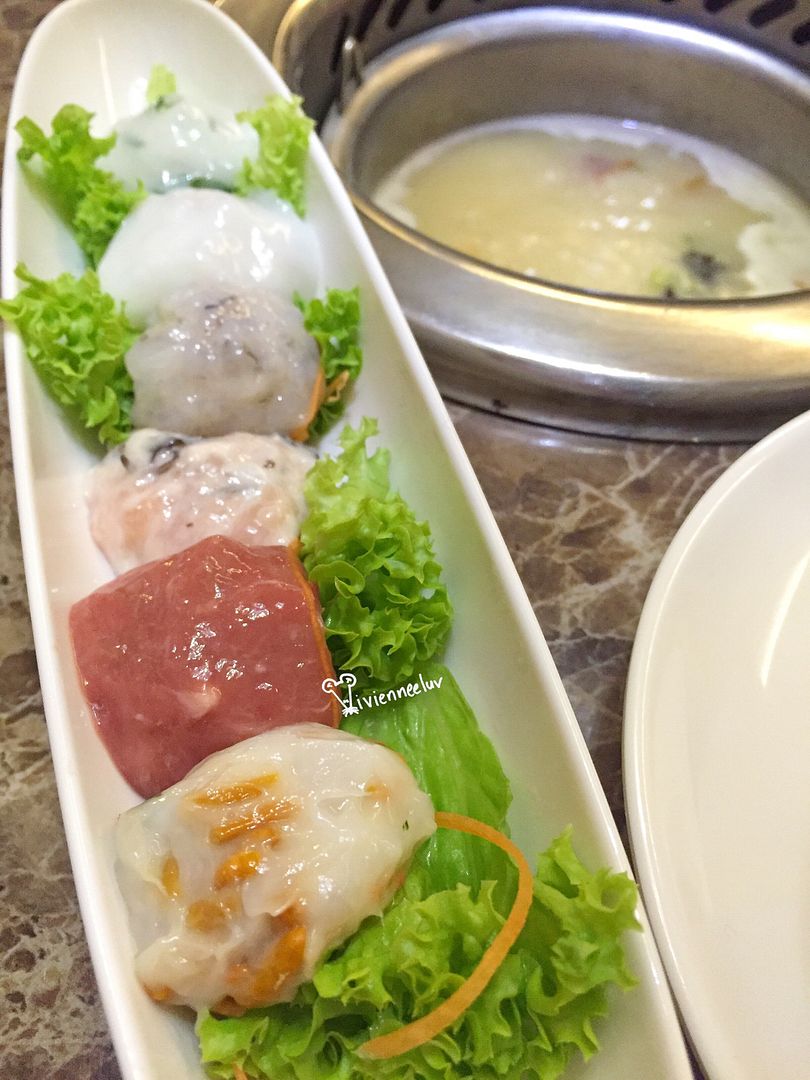 Family Bliss Freshly Handcrafted Dou Lao Meat Balls S$7
Consist of:
Prawn meat ball with golden roe
Beef meat ball with cheese
Squid meat ball with chocolate
Pork meat ball with water chestnut & black fungus
Seafood-meat ball with golden mushrooms
Squid-meat ball with Spinach
Among all these, the 1 that leaves an impression is Squid meat ball with chocolate! It may sound weird but its quite an interesting flavour, and its real chocolate la, don't doubt. Second one will be Beef meat ball with cheese which is also good.
As for the Fu Lin Men's Signature Golden Imperial broth, it is a Manchu & Han Imperial Feast classic favoured by the royals (especially the females) during the Qing dynasty, it is brewed for over 12 hours with fresh red carrot puree, chicken bone marrows, pork shin and thigh with skin and dry-aged cured ham (金华火腿). It is presented with gold flakes on top of the soup.
Each simmering personal Dou Lao pot is layered with skin-boosting collagen, easily digestible vitamins, protein, minerals and antioxidants. The tastes are enriched dynamically by the individual guest's picks of fresh seafood, slivers of marbled beef, freshly-cut vegetables of varied colours, handcrafted dumplings, meat-balls and rare seasonal mushrooms. Collagen!
Didn't quite manage to capture a full table of food, the food that was served to us, was like never-ending. Thank you for the hospitality Fu Lin Men & Simon.
The Dou Lao cuisine is widely acknowledged as the "royals" of hot pots in modern China because it focuses on improving one's health & vitality through food (食疗 – which means food therapy in Mandarin). The term, Dou Lao, is also a play of words, meaning scooping everything – health, wealth and fortune – together.
The fundamental differences set in the use of rare, top-drawer ingredients its broths and the platters of freshly harvested meat, greens and seafood. No processed food, preservatives or chemical additives (like the bubble-removal additive).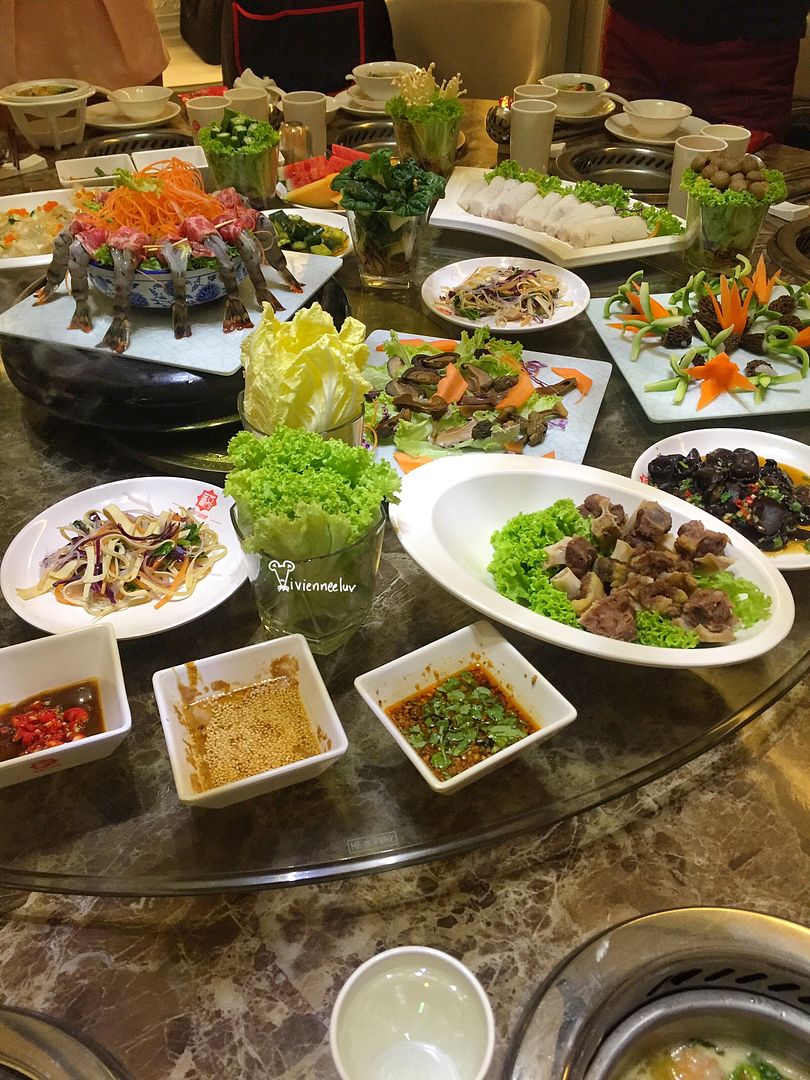 Fresh Beancurd Pockets with Fresh Seafood Paste S$10
Wild Bamboo Pith with Fresh Prawn Paste S$18
Freshly Cultured Sea Prawns with Marbled Beef S$18
The dish that wowed us, is this prettily presented prawns & beef with dry ice.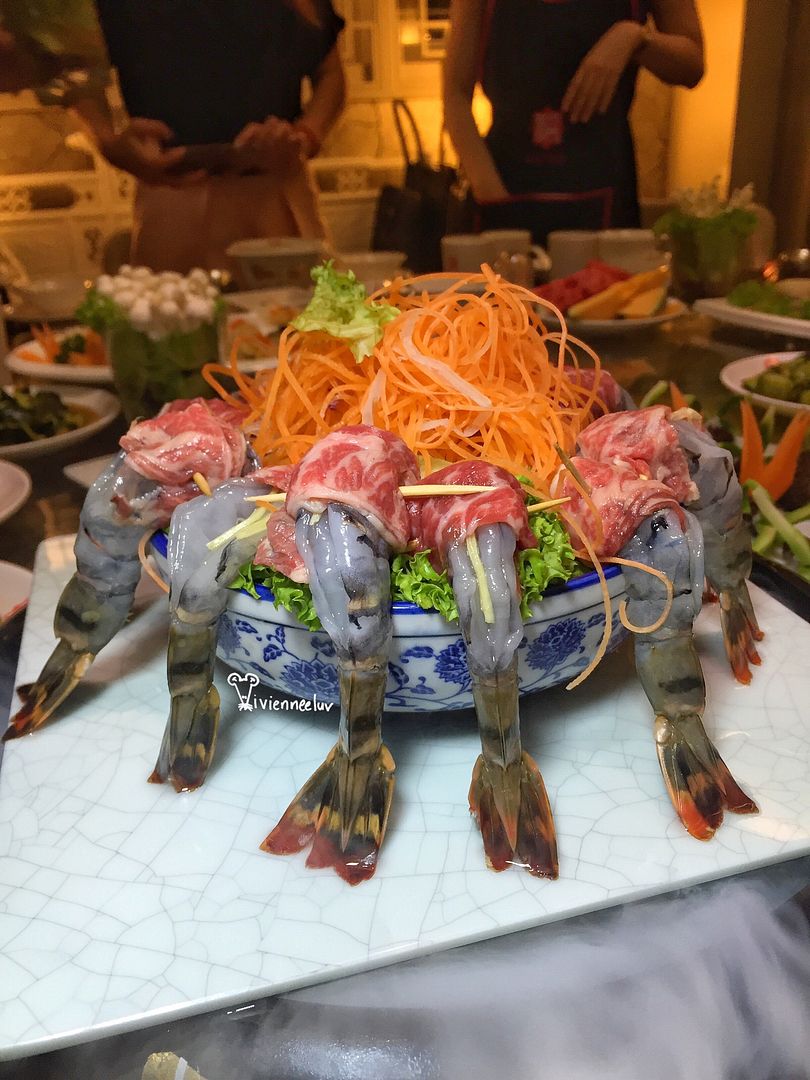 Because its so pretty I have to post 3 almost-the-same picture.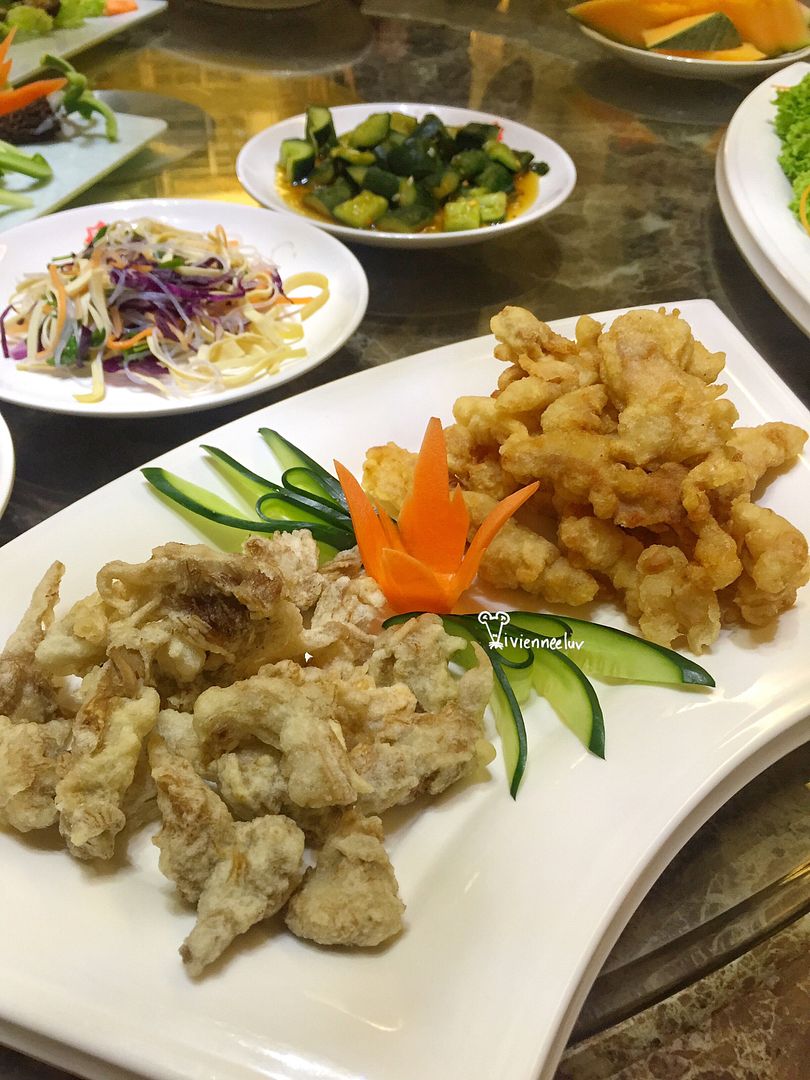 Roars of Success Lion's Mane Mushroom with Chicken Fillet S$12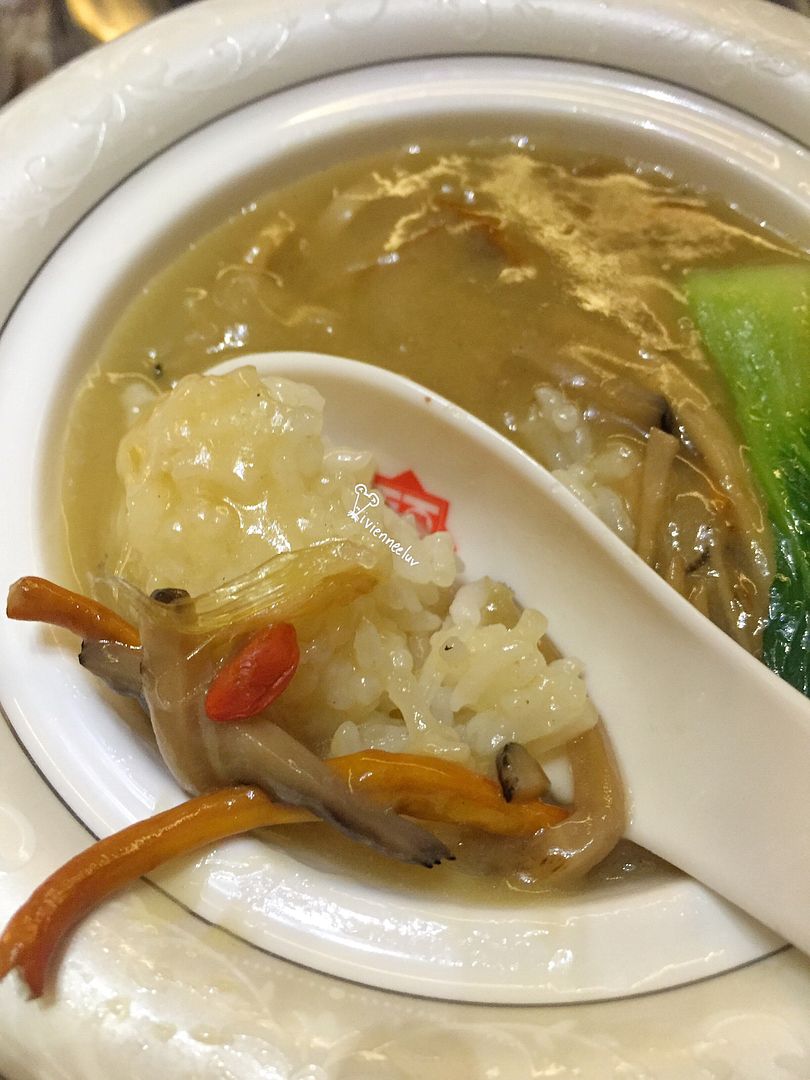 Fortune Chalice S$38
This lao fan is packed with rename sea cucumber, abalone and mushrooms. Comfort food while waiting for my food to be cooked in the hotpot.
Premier Oxtail S$10
Beer marinated Marbled Beef S$28
I guess this is my favourite dish for that night! We were told to dip our beef in the beef for about 3 minutes, thereafter put the beef into your hotpot and cook. I was surprised that the beef still has the beer taste I thought the soup would have washed away the taste. I tried one without beer and one with beer marinated, I prefer the latter. Not that I am a jiu gui but it taste better this way!
Love the service, the staff will on & off come around to scoop the bubbles atop of the soup for us.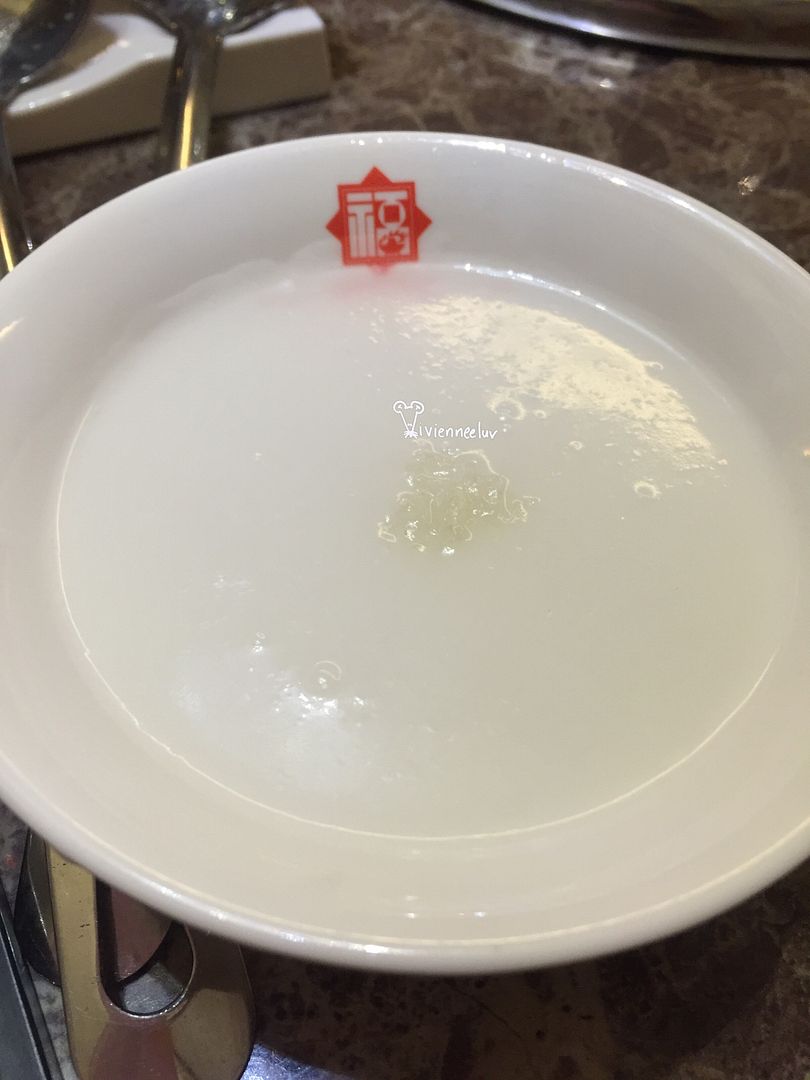 Grand Imperial Premium Bird's Nest S$28
Didn't really like this dessert as all I taste was coconut cream, feels a little cloying especially at the end of the meal.
House of Gold Pineapple Glutinous Rice S$9
Its also a dessert dish. Warm, sweet, sticky glutinous rice. I personally feel the savoury is much better here.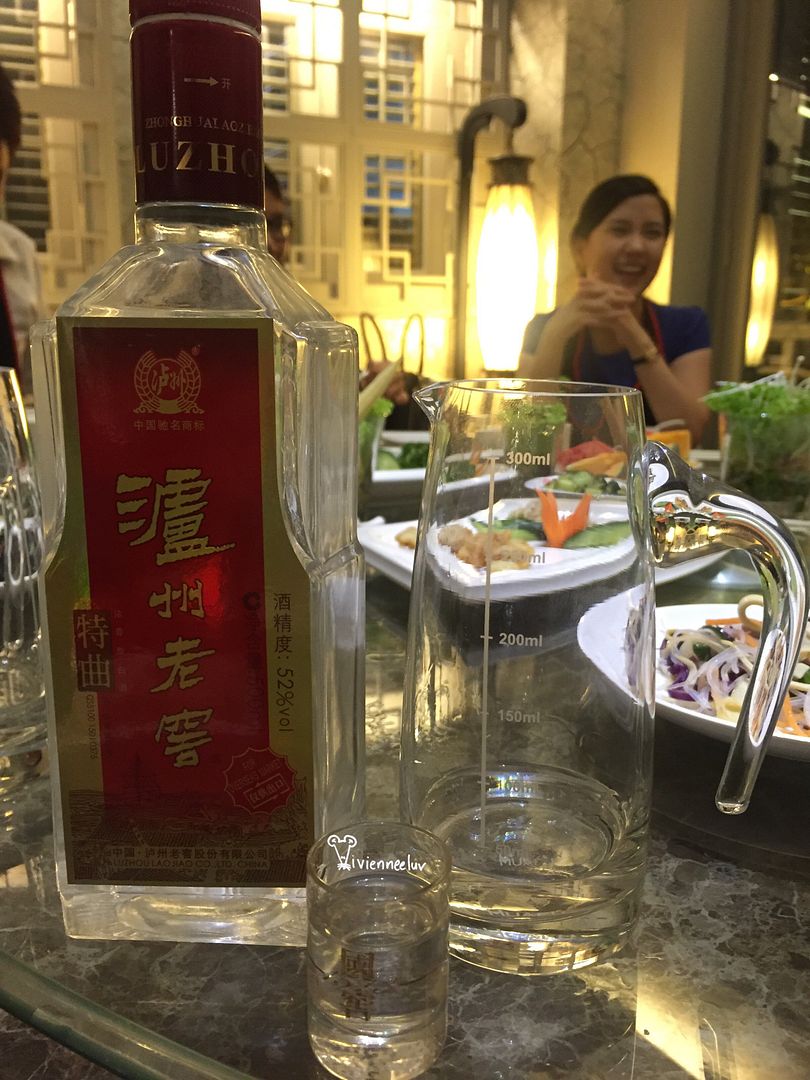 White Wine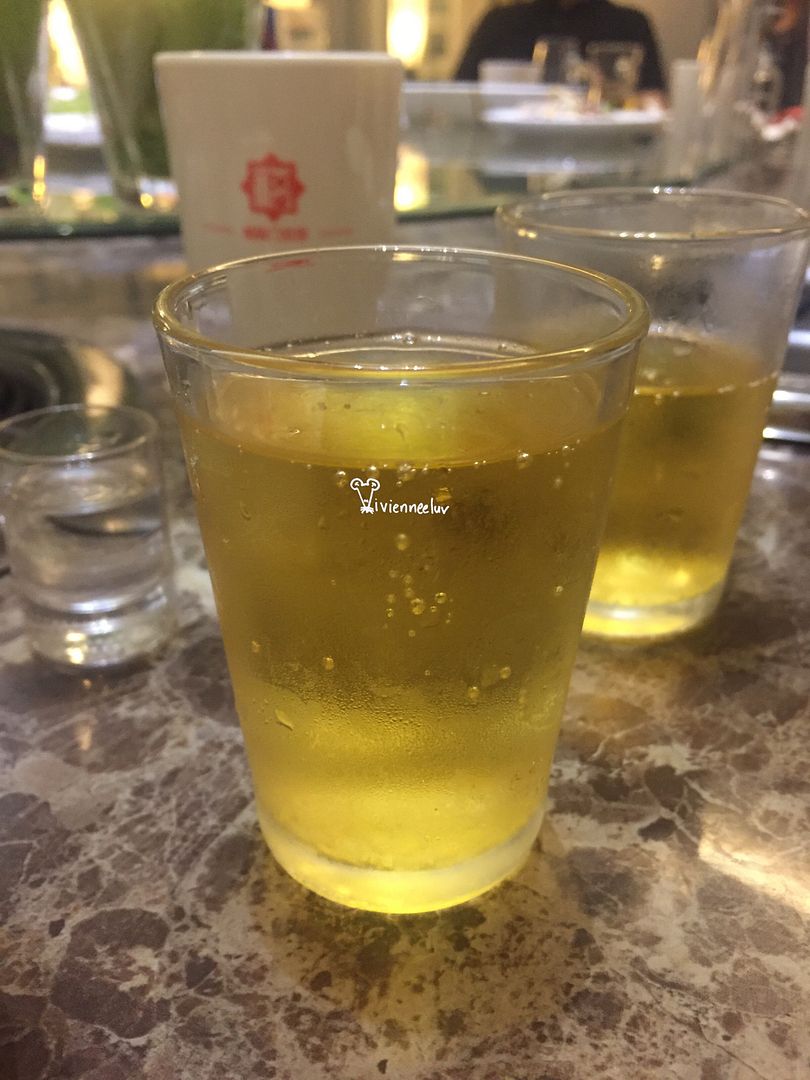 Qingdao Beer
Qingdao tasted so good that night, especially in the comfort of fun-loving people.
Thank you Simon & Fu Lin Men Dou Lao for hosting us!